We offer a private apartment in our pool home which is centrally located for those who want to explore the keys, everglades, and beaches. Your area is furnished with a pillow top queen bed, mini kitchen, private bath/entrance and parking for one car
We provide a private studio with it's own entrance accessible from the side of our home. It's furnished with an overly comfortable Queen sized bed, all cotton linens and at least 4 pillows. In your bedroom there a large closet, a dinette, and Internet TV with Amazon Prime, Netflix and Sling TV. You have internet access and parking for one car. Your studio has a mini kitchen with sink, refrigerator with freezer, microwave, Toaster, coffee maker with coffee, creamer, and sugar. You have a private bathroom with toilet, sink and shower. We provide towels, shampoo, soap, conditioner, hair dryer, iron, ironing board. The pool/jacuzzi and gardens are your to enjoy as your time permits. We have another room offered through Airbnb so you may run into other travelers. And we offer camping gear for $25/night if you would like to camp in the keys.
We live in a residential neighborhood. Safe, friendly-you can walk at night without any worries. There are many restaurants/banks/shopping within walking distance (1-2 miles) If you want to see all the main attractions (keys, everglades, Shark valley, downtown, Wynwood and the beach) we are located in the center of them all.
This was the perfect place for us to relax and unwind after a week of camping. Marlene was an excellent hostess and welcomed us warmly with fresh coconut water from a tree in her yard. The pool, lush garden, and Jacuzzi are an amazing oasis in the Miami suburbs. We'd love to stay here again on our next trip to Miami.
Kenny
2016-01-04T00:00:00Z
This is a tiny accommodation with one bedroom, a bathroom and kitchen stuff in a cupboard. We stayed here with three: my daughter, my hudband and me and even with little space we didn't miss a thing because of the really, really nice garden! We ate outside, used the BBQ, the pool and hammocks! Marlene and Jo were around a couple of times and we had some nice chats. The bed is a bit noisy when turning around at night and the street is noisy when sitting in the garden. But you hear nothing of the street inside the building. My daughter loved the pool, my husband the BBQ and it is close to the airport, which was important for us as well. So I can recommend this accommodation!
Jessica
2016-07-05T00:00:00Z
Marlene was a great host and the room was clean and comfortable. It has everything you need for a long stay or a short stay. I felt super welcomed and the small details really shine through. Its close to good food as well but it is better to have a car. I really enjoyed the Netflix on the TV. It was great to be able to watch Netflix on the TV after being in hotels. I would greatly recommend this place.
Sean
2015-12-29T00:00:00Z
Staying at Marlene was great! I was able to check in at 9pm since my flight to Miami was so late. Marlene's place is a perfect place to stay right before a cruise. I was shocked that she had a mini kitchen in the private studio which was super helpful when my boyfriend and I got take out and were not provided utensils. I was also satisfied with the bathroom, where Marlene provided soap, shampoo, conditioner, and towels. The place was very neat and super convenient and I definitely recommend Marlene's place!
Cindy
2017-03-12T00:00:00Z
Very Nice place! Without stress, confortable and The hostesses are so kind, generous and smiling. We felt as home! Even the pets were welcoming.
Roqueirol
2016-03-06T00:00:00Z
We loved our time at Marlene's. The apsrtment was great and we loved the Jacuzzi. This was much better than staying at a hotel. The bed was a little hard, but that's my only complaint. I will definitely suggest friends look up this spot when they travel!!!
Rachel
2016-04-04T00:00:00Z
It was so welcoming to see my name outside of the cottage. The neighborhood was quiet with many families in the area. I always felt safe in the area. It was wonderful to relax in the hot tub or read under the covered patio.
Nadine
2016-07-21T00:00:00Z
The apartment was comfortable as described. Perfect for our stay. It had everything that we needed. Sorry we didn't get a chance to meet Marlene,
Marci
2016-06-11T00:00:00Z
Room Type
Entire home/apt
---
Property Type
House
---
Accommodates
2
---
Bedrooms
Miami, FL, United States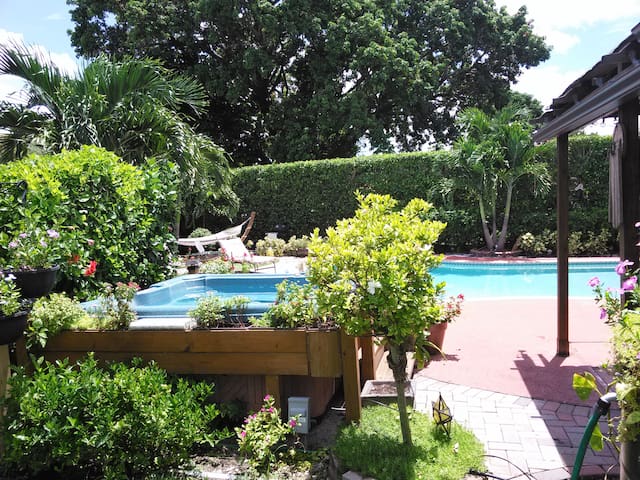 You have your own entrance through our garden with privacy to come and go as you please in our single family POOL/SPA home. We include towels, linens, shampoo, body wash, conditioner, hand soap, coffee, creamer and sugar. Your room is furnished with a plush pillow top Queen sized bed, private bathroom, a mini kitchen, wifi, Prime/Netflix TV & use of garden areas. The gardens include dining areas, hammocks, lounge areas, pool, Jacuzzi, charcoal grill. We have parking for one car.
This is a private room that is accessed from the side patio by the outdoor dining area. It has a private bath and is completely separated from the rest of the house. It offers a lot of privacy-for example you can arrive home at any hour and no one will hear you. The room is furnished with coffee/cream/sugar and a coffee maker, a mini frig, microwave, and a toaster. The bed is a new pillow top queen sized bed with 100% cotton sheets and 4 pillows. We provide towels, wash cloths, hand soap, shampoo and conditioner. Your room is also equipped with a hair dryer, iron, ironing board and luggage stand. We grow coconuts, plantains, limes and fresh herbs on the property and we are happy to share. If this room in unavailable we have a second room in the same home furnished with a King sized bed. If you check our other listing you will see it. Thanks, Mjo Please note: We provide towels but because of our schedules and our love for the earth and conserving water we do not change them daily, just when you arrive or stay longer than a week. Thanks for understanding. (there's additional towels in the garden for the pool/Jacuzzi)
The Neighborhood is a quiet and safe residential area. Our home is located very close to dinning/shopping/banks...and is centrally located between Shark valley, Miami beach, the Everglades and the Keys. We are 16 miles from the Miami Airport. We are 22 Miles from Miami beach
Wonderful host and stay: Mary Jo and Marlene made everything very friendly and perfect. The room is small but nice and functional, the house itself and the pool are simply great! Quite neighborhood, easy access from the airport and to the Keys. I highly recommend! Thanks a lot for all;)
Federica
2015-08-18T00:00:00Z
Within a couple minutes of arrival Mary Jo came to greet us with trusty side kick Milo. We felt instantly welcomed. The room was great! It had everything and plenty of space. They were hosting a small family garden wedding in their backyard and were gracious enough to invite us. We were immediately immersed in local culture and cuisine and felt part of the family. It was an awesome experience! The room was quiet, even with a small infant in the neighboring room and a busy street running behind the house. The neighborhood was a nice location, a little ways from the big city but not too far a drive to be inconvenient. We loved our time there and would recommend Mary Jo's place to everyone. We will stay again with them on future trips for sure; with location in Miami and Orlando, check them out!
Lisa
2015-06-03T00:00:00Z
When we arrived, i had a welcome board for me. The place was nice and cozy. We really enjoyed our stay. The pool was cute and private and the jacuzzi was nice and warm. It was an interactive home. Defientely worth it!
Hina
2016-02-07T00:00:00Z
The place was great. The pool was clean and ready to use, my daughter and I arrived at 8pm, and she wanted to get into the pool, and I was happy to see that the pool was ready. I was surprised to see that Mary Jo rented another room in the facility, but did not mind. The room was clean, and she had all the amenities of a hotel. Take water thou, I forgot to bring water and there was none. There are many restaurants close by, the majority close by 10pm. Pollo Tropical closes at 11pm. Mary Jo doggies, is super cute and friendly. I felt very welcome. I love it
Jessi
2015-08-15T00:00:00Z
Very clean room, and gorgeous yard. Mary Jo was very friendly and welcoming (the most friendly airbnb host I've had). The room is small, but perfectly laid out. And the bed is very comfortable, and good pillows too. We were late arriving, but Mary Jo sent me a message with instructions to settling in. I wish I could have spent more time here because I could just sit all day in her beautiful yard. Lots of gorgeous plants, so much seating & lounging areas, great pool and hot tub! And also a very friendly little dog. It was a great start to our trip!
Bonnie
2015-02-18T00:00:00Z
My fiancee and I felt welcome in Mary Jo's home. From the sign out front to the snacks and water, it was a homely space. All the amenities were accurately listed, very clean and tidy. The poolside offered an intimate relaxation space for me and my fiancee. We were merely surprised with the size of the place, but it wasn't a big deal nor a problem. The neighborhood was also very quiet and safe. Thank you for hosting us Mary Jo. I will recommend this space for couples who love the quiet, cozy space, wonderful amenities and away from the hustle and bustle of Miami.
Greg and Renae
2016-07-12T00:00:00Z
My boyfriend and I stayed with Mary Jo for three days, and had a wonderful time. Mary Jo was a phenomenal host. This was our first airbnb experience, and we were so impressed by the time she has obviously taken to prepare a beautiful and comfortable space. We also had access to the backyard, which is, like the room, impeccably well maintained and designed for guests' comfort. Mary Jo also went above and beyond to help set up a surprise for our anniversary. Throughout the planning, she was very communicative, and really helped make the day special. The house is a little farther than we had expected (we'd never been to Miami before, so didn't have a great sense of the distances), but easily accessible by a couple of main highways that run the length of Miami. Guests should budget about 30 minutes to drive to most places that aren't in the immediate area. There are a few great restaurants nearby (go to Dr. Limon!), though, and Mary Jo gave excellent recommendations. Mary Jo's home is obviously very popular (both available rooms were booked all three nights we were there), and she seems to have many repeat guests. All told, we are so glad that we stayed with Mary Jo during our trip to Miami, and would absolutely stay with her again!
Antonia
2015-02-24T00:00:00Z
Mary Jo and Marlene were amazing hosts.They welcomed us warmly and invited us to use all the amenities their beautiful house has to offer. The back yard is very relaxing and we really enjoyed sipping on their signature coco locos by the pool. They were social and friendly but also allowed us some privacy. Their dog Milo is adorable. We hope to be able to go back real soon.
Daniela
2014-04-28T00:00:00Z
Room Type
Entire home/apt
---
Property Type
House
---
Accommodates
2
---
Bedrooms
Miami, FL, United States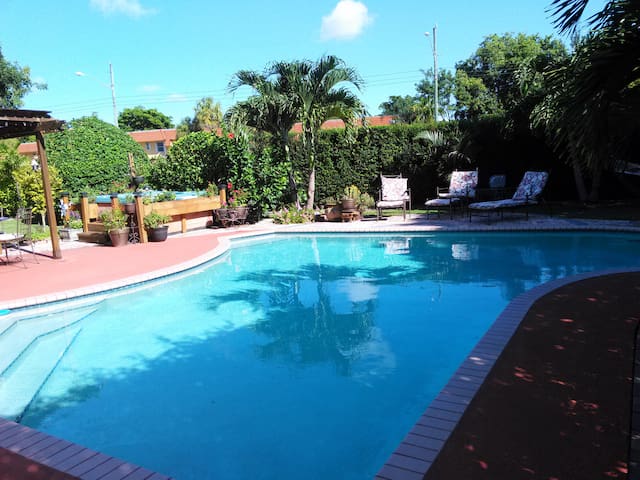 We have a beautiful apartment centrally located near FIU, Miccosukee Casino, near malls and tourist attactions (Shark valley, airboat rides). We offer a completely private apartment with your private entrance/bath/bedrm/living room/kitchen/courtyard
What people like about the space is the spaciousness and the location. We are situated in the middle of many tourist attraction. About 16 miles from the airport. 20 miles SW of Miami Beach, 20 miles EW of shark Valley, Close to Casino and FIU, On the way to the Keys and surrounded by delicious restaurants.
Our neighborhood is safe and quiet. You can walk to restaurants and coffee shops, shopping mall center and supermarket.
Nice house but smaller than expected.
Ting
2016-01-11T00:00:00Z
We stayed overnight in Helena's beautiful apartment on our return from Buenos Aires. We had stayed for 2 nights before we left. Fortunately, as we arrived from the airport, Helena and her family were just pulling into the driveway. We met and exchanged hugs and spent another night in her lovely apartment.
Jenni
2015-11-01T00:00:00Z
The Helena's place is amazing. We found everything that we needed. The place is well equipped and very well thought to make your life easier during the staying there. The place is exactly as showed in the pictures. The place is very clean and all the things seem to be very new.
Kleber Rudson
2015-05-21T00:00:00Z
Helena was a great host she give me a hug like we knew each other for years.The house is lovely,clean and very comfortable. When we arrive we had a lot of groceries to use. I really recommend her house,was a great choice!
Sofia & Egon
2017-03-12T00:00:00Z
Helena is very helpful. Her house is perfect for a couple. Good space. You can make your breakfast or another meal. Very good. Thank you Helena for receiving us.
Anderson
2016-02-16T00:00:00Z
Along with clean and quiet accommodations, Helena added kindness, class and generosity. Great Super Host. Thank you again, Helena.
Rhonda
2017-01-18T00:00:00Z
Helena was very warm and welcoming. She was super fast in getting back to me with any questions I had and made sure to stop by when we arrived. The place was immaculate and such a cute space, very cozy. It's exactly as shown in the pictures and was the perfect place to stay that wasn't much of a drive to all of the places we wanted to see.
Stephanie
2015-07-17T00:00:00Z
Helena was a very gracious host, the place was very welcoming and is situated in a nice, quiet neighborhood. Everything is also within close proximity. I would definitely recommend.
Justin
2016-08-14T00:00:00Z
Room Type
Entire home/apt
---
Property Type
Serviced apartment
---
Accommodates
3
---
Bedrooms
Miami, FL, United States
Hi, we have a private efficiency available in our pool home. Furnished with: Comfy king sized bed, private bath, dinette, mini refrig, coffee maker & microwave. Back yard has: living & dining area, fire pit, pool, Jacuzzi, hammocks, outdoor grill. All the garden areas are shared with my family and other airbnb guests. Your Studio is accessed through the back garden off the pool area and separated from the rest of the house with a locked door.
We offer a large bedroom with a separate entrance and private bath. You can come and go as you please at any hour. It's furnished with an overly comfortable king sized bed, a mini refrigerator, microwave, coffee maker. Also has a 32 inch flat screed internet TV with Netflix, Amazon Prime and Sling TV with ESPN and WIFI. We provide towels, hair dryer, curling irons, Iron, Ironing board, shampoo, conditioner, body wash and hand lotion. Separated from the rest of the house with a locked door. Please note: We provide towels but because of our schedules and our love for the earth and conserving water we do not change them daily, just when you arrive or stay longer than a week. Thanks for understanding.
The neighborhood is residential-safe and quiet. We are walking distance to several restaurants. (1-2 miles) An easy bicycle or scooter ride to many restaurants/movies/shopping/banks. To get to tourist areas such as the Everglades, Keys, Miami Beach a car would be useful. UBER is also an option that many guests have been pleased with.
Mary Jo was fantastic to stay with! The place was fantastic and she was warm and welcoming. We had a fantastic room to ourselves and the other guests we met were nice. My only regret was that I was too busy to enjoy the pool and company.
Liz
2016-08-13T00:00:00Z
Mary Jo and Marlena were the most gracious and welcoming and giving host I have ever experienced!!!!! The pool home was so clean and fresh. It is literally steps away from the pool and spa. This home is so unique. Especially the wood burning backyard BBQ!! Smiles welcomed me from a long journey into Miami. My new friends Mary Jo and Marlena.
Eddie
2014-05-08T00:00:00Z
Mary Jo made us feel extremely welcome. Our room was exactly as described, and then some! We arrived somewhat later in the evening after a day full of traveling and while it took a couple tries to find the house, Mary Jo let us know exactly how to get to our room so we could get settled. We met another lovely couple that was staying the night and they had more than wonderful things to say about Mary Jo. Our room was absolutely beautiful (bed was incredibly comfortable). The next morning we were greeted by the infamous Milo and finally got to meet Mary Jo. The pool and surrounding flowers/foliage were breathtaking as we had our breakfast out by the pool. Another great perk was the shower -- with its awesome water pressure. (Again, remember that the hot water is cold and the cold water is hot) We couldn't have asked for a better home to stay at or a better host!
Chelsea
2015-02-23T00:00:00Z
Welcoming was a friendly experience. Everything was about making sure we were happy and comfortable. We really enjoyed our 4 days here. Pool and hot tub every relaxing. Close to all we needed. Fantastic hosts.
Sue
2016-07-13T00:00:00Z
We had an amazing trip and stay here at Mary Jo & Marlene's place! Everyone we met was warm, welcoming and friendly, including the cats and Milo (the awesome Pom!). The hammocks, pool, hot tub and energy of the entire backyard was incredible! Especially if you could put on some ear buds and drown out the busy street behind. But the vegetation, flowers and plants were so soothing. Even though there are quite a few people in the space we rarely even saw anyone. Mary Jo was great about response, she even checked in with me before we had arrived to the house. The room was lovely, inviting and the perfect size. We loved the King bed and the sink was gorgeous! A little small for practicality, but a beautiful piece of art (that we later found out was hand made). We already have been highly recommending this space to everyone we know and we'll definitely be back!
Ashley
2016-04-06T00:00:00Z
Great place for an over night stay! Very close to a town center with restaurants and shops. We checked in at 11PM and everything was ready for us. We never met our hosts but communication was great! Thank you again, Mary Jo!
Daniel
2017-03-26T00:00:00Z
We loved staying with Mary Jo, even though we never had the opportunity to meet her! The room was perfect for two and we loved everything about the garden! If we ever go back to Miami again we will definitely try to stay there again!
Cecilia
2015-07-15T00:00:00Z
Mary Jo is very hospitable and her home is very clean and comfortable. I highly recommend staying here!
Frank
2016-10-30T00:00:00Z
Room Type
Entire home/apt
---
Property Type
House
---
Accommodates
2
---
Bedrooms
Miami, FL, United States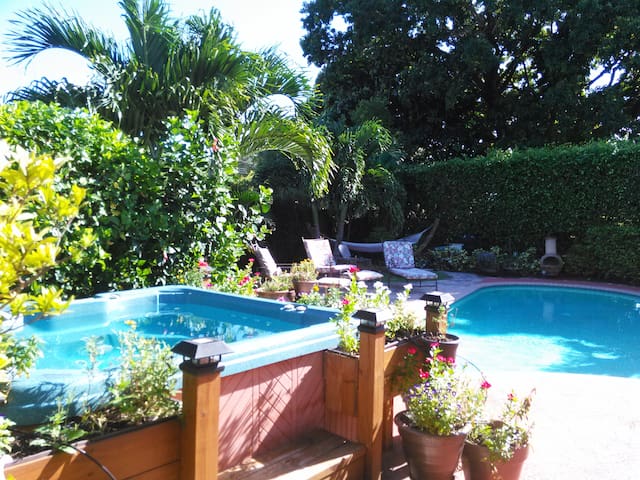 Apartment with private entrance in a family home. Located near Turnpike highway which can take you fast to shopping malls, everglades, and Miccosukee Indian village, resort and casino, airboat riding, Key West, Miami Beach, and FL Intern, University.
Private apartment in Westwood, Miami. The entrance is completely independent from main house. The main bedroom has a queen size bed and a queen futon bed. A roll away twin bed is also available for extra guest at a small additional fee. The kitchen is full equipped with gas stove, dinnerware, cookware set, toaster, oven, microwave and full size refrigerator (Ice and filtered water). A coffee machine is also available to brew fresh american coffee (Coffee, cream, and sugar will be provided). A bottle of wine will also be provided at no extra charge. In the main bedroom there is a walking closet large enough to fit an extra roll away bed for an extra guest. The cable TV has free Netflix available to watch thousands of movies. Smoking is only allowed around the premises, a tea table set is provided in the backyard to smoke. Amenities include: Shampoo, conditioner, shower gel, towels, clean linens, free bottle of wine, coffee, cream, sugar. Free parking is provided.
The apartment is located in Westwood, a Family oriented and safe neighborhood in Miami. We are located 20 minutes from Miami International Airport, Everglades National Park, Miccosukee Indian Tribe resort and Gaming, Florida International University, and Most famous beaches, and shopping Malls.
Marilin and her husband were very hospitable and extremely friendly! They were prompt when asking for extra towels and to fix our tv. The apartment was very clean and spacious.
Ashley
2016-10-08T00:00:00Z
It was a nice relaxing stay
ashley
2016-03-15T00:00:00Z
I have to say Marilin and her husband Guan is amazing! Their house is clean and neat, quiet, they offering us clean towels in three types, all things you need they all prepared, even wine! Actually they have three beds, space is enough to six people although we only four. They are passionate and helpful, taught us how to use TV and other things, patiently! They replied your message at once. Wow I can't imagine my moving by words. In a word, it's really like a home! I will translate the experience in Chinese so Chinese people can see it. Hope that can help Marilin. 这个房子太棒了!单独的门停车不要钱非常安静。房东人很好很热情,发信息及时回。性价比太高了,比一般的旅店好太多了!强烈推荐,是我在佛罗里达住的最好的家庭旅馆。
Lei
2015-12-29T00:00:00Z
Marilin and her husband were great hosts. The house was very clean and cosy. We had a good talk with Marilin's husband and he also gave us some recommendations on places to visit. Parking our car outside the house was great. Since we didn't have to look for other places to park the car. Overall a great experience and will definitely recommend.
Harsh
2016-03-27T00:00:00Z
Great location and place
Claudette
2016-08-31T00:00:00Z
Marilin and her husband are very kind and help You with whatever You need. Especially they helped us with our baby. We absolutely recommend to stay there!
Rainer
2016-03-03T00:00:00Z
Marilin and her husband very kind and helpful and the apartment was amazing. When we got there they were both there and very nice and pleasant. We were able to asked a few questions about where to eat around them and they suggested the food truck Plaza that was happening that night we were there. Seems it happens once a mine on the 3rd Friday and Marilin was very excited about it. The apartment was very was very clean was very clean and nice had all you may need. It was very easy to get to in the directions were great. Thanks again for letting us stay.
christina
2016-04-24T00:00:00Z
My mate and I spent 2 nights at Marilin's place and it was just great. The appartement was just as described. A little kitchen in the entrance with everything we can need for cooking. Including microwave,oven,coffe maker and more. A big and really confortable bed room (in my point of view it was big). And a bathroom(also quite spacious with everything needed including towels) Marilin answered all our questions really quickly even if it was late in the evening. We arrived really late at Marilin's place but everything was right and well done. We really appreciate all the efforts that have been done to make the place confortable. If by chance I can go back to Miami, I will ask Marilin to be my host again.
astrild
2016-09-12T00:00:00Z
Room Type
Entire home/apt
---
Property Type
House
---
Accommodates
4
---
Bedrooms
Miami, FL, United States
Small apartment attached to our pool home but with completely private entrance. Next to the expressway for fast access to Miami Beach, Key Biscayne, Everglades, other private beaches, Bayside, and Key West. Located in a quiet and safe neighborhood near Miami International Airport, famous Shopping Malls, everglades and downtown Miami
Private apartment with its own entrance accessible from the side of our pool home. The apartment has a small living room, full equipped kitchen, one bedroom, a private master bath, and a non heated salt water pool. The apartment has 1 queen bed and a queen futon bed spacious to fit 4 guest. In your bedroom there a large closet and Internet TV with Amazon Prime, Netflix, amazon gaming with controller, music, and TV shows for free. The kitchen includes microwave, full size refrigerator, modern coffee maker (coffee, tea, chocolate, cream, and sugar will be provided for free), toaster, Panini press sandwich machine, and free popcorn as well. In addition includes: dinning table set, full cookware set, and a bottle of wine included with no extra fee. The apartment entrance is completely private and independent from main house. We provide an outside smoking area. Shampoo, hair conditioner, soap, towels, blankets, clean linens, free bottle of wine, coffee, tea, and hot chocolate are some of the basic amenities. More are listed, see amenities. An exercise Bike is available for those who would like to burn some calories. Free parking space is available for two cars inside the apartment gate or driveway. The pool, barbecue, and patio are your to enjoy as your time permits.
The apartment is located in a quiet, prestigious, and safe neighborhood near Miami International Airport, the Everglades National Park (Airboat rides), Shark Valley, Miami Beach, Crandon Park beach, Key Biscayne beaches, Bayside Marketplace, Magic City Casino, Little Havana, most famous shopping malls, main highways, restaurants, supermarkets, and about 25 minutes away from Miami Beach and Downtown Miami when heavy traffic, otherwise it takes you less time to reach these tourists attractions. The apartment is at Walking distance to Tropical Park (Santa's Enchanted Forest and Youth Fair). We are in the center of all the attractions
For our first experience with Airbnb, I could not have been happier with the absolutely wonderful service and accommodations that Yampier provided. If all Airbnb host and accommodations are like Yampier we will have a fabulous road trip wherever we go. He set a high standard for us...
Egle
2016-01-18T00:00:00Z
That was our first trip to Miami, and it was great. Very clean, nice and cozy place and NICE host. Without the doubt if I go to Miami again I will stay in Yampier's apartment.
Alireza
2016-01-08T00:00:00Z
Very clean house, very enjoyed it. Very friendly owners.
Сергей
2016-01-14T00:00:00Z
Great place to stay for a night or two. Clean apt, well equipped. Convenient location.
Rachel
2016-04-10T00:00:00Z
Felt very welcome, the house matched the pictures and descriptions and within walking distance of anything we needed
Jenny
2016-01-11T00:00:00Z
It was an amazing experience. The house is really good and comfortable. There is everything that you need to cook, everything is super clean, the beds are really good and comfortable. We really enjoyed to stay there.
Tamiris
2016-01-03T00:00:00Z
Yampier was really easy to reach. The neighborhood was really beautiful and calm, the apartment was clean, comfy and really really nice. We had an amazing experience there so I recommend it to everyone :)
Rafael
2016-10-25T00:00:00Z
Everything was great and yampier was a great host.
Aws
2016-05-10T00:00:00Z
Room Type
Entire home/apt
---
Property Type
House
---
Accommodates
4
---
Bedrooms
Miami, FL, United States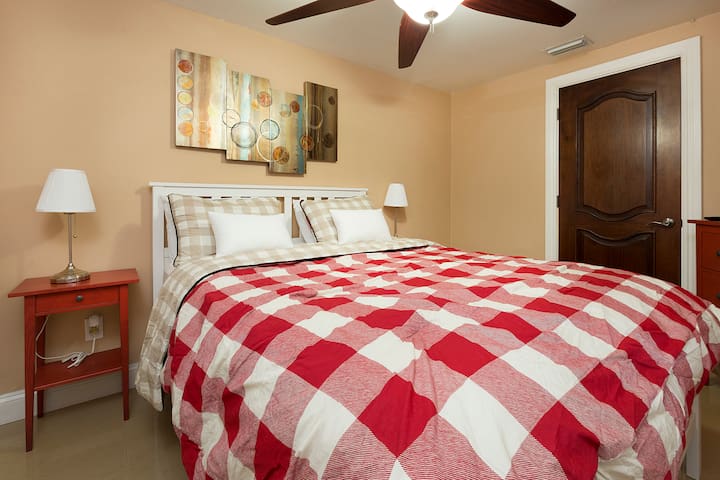 Super nice bedroom with full-size bed, flat screen TV, view to the lake sharing a bathroom with another room. Ample walk-in closet.
I love these guys! Victor and Ana Maria are wonderful hosts and I really enjoyed staying with them. They are warm and friendly and I felt welcome in their home. Having breakfast each morning was a great way to start the day. It was hard to leave :) I am 100% certain I will be seeing them again soon!
Thomas
2016-07-05T00:00:00Z
Excellent hosts who were incredibly accompanying of our last minute request. Felt like family shortly after meeting. The house is comfortable and in a great neighborhood. Will look forward to visiting again in the future.
Douglas
2016-11-15T00:00:00Z
Victor and his wife are warm and welcoming hosts. Staying with them was a great experience. There house is very close to the miccosukee casino and the everglades. i definitely recommend staying with them.
Yulian
2016-09-16T00:00:00Z
Victor and his wife run a very comfortable, warm and inviting space set in a tropical paradise. I had an excellent night of rest and a hearty breakfast!
Charlie
2016-01-27T00:00:00Z
Victor came out after i rang the door bell and offered to help carry my gear in.
Fred
2016-05-05T00:00:00Z
The host canceled this reservation 6 days before arrival. This is an automated posting.
Sarvesh
2017-03-31T00:00:00Z
This was definitely a good place to stay at! When we arrived Victor and his wife welcomed us really nice! They showed us the room and asked if there is anything they could do for us . We liked that a lot! The room was not too spacious but big enough for two people. The bathroom which was right next to the bedroom was alright supposed to share with other guests if there would be any. Luckily we were alone this night :) Offering a breakfast in the morning was very kind and I also think it's a good way to have a chat with the guys hosting. We had other Airbnbs before where you never got into having a chat with them! The only thing that we didn't like very much was the cleanness in the bathroom. It was quite a few long black hairs lying on the ground . It's no big deal to clean that up before the next guests come I think so this would be something to do better . still overall it was a good experience ! The hosts were great :)
Daniel
2016-01-17T00:00:00Z
befor booking i asked for quietness and privacy ,i didnt get it at this place,somebody walk in my room while i sleeping at night,i guess that was at day time too when iam was out.no privacy ,very loud hosts talking while i sleeping.barking dogs all night under window,no respect from host to a guest.they watch every my step ,no trustfull,aircon dont work at night time but at day time very cold since i got flew there,i left form there with loosing next days and the host not confirm changes of dates so i lost money.i would not recomend that place!
kristina
2016-11-06T00:00:00Z
Room Type
Private room
---
Property Type
House
---
Accommodates
2
---
Bedrooms
Miami, FL, United States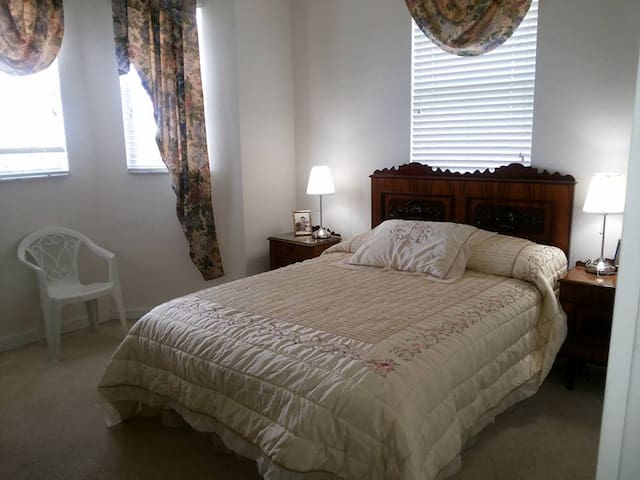 Nuestro estudio es confortable tranquilo permite un descanso relajado, compuesto de una sala con sofá, refrigerador, microwave, mesa para dos personas, separado un cuarto con cama queen y colchón tempur-pidec, baño y amplio Closet, entrada independiente de la casa principal.
Para dos personas , toallas para playa y silla de playa con nevera, wi-ffi, DIRECTV y Netflix tenemos cama adicional con tempur pidic mattress para niño u otra persona con un costo adicional de 15 dólares.
Barrio Residencial tranquilo y seguro para que te sientas como en casa pero de vacaciones dos noches como mínimo gracias
The place is just great, everything was clean and comfortable, we loved this place, irís and Douglas are awesome hosts.
Jonathan
2017-01-28T00:00:00Z
Lovely private room. It's really like having your own space with a private entrance, own bath, patio, living area and kitchenette. The neighbourhood is beautiful and felt safe. Close to Dolphin Mall (about $8 on a Lyft taxi). Public transportation is also a very short walk away. I highly recommend. My husband and I would definitely stay here again. Great value for money!
Alyssa
2017-02-28T00:00:00Z
Great host and accommodating as well. We needed to actually book for more days and we decided to stay at Iris. It's very comfortable and close to everything. Thank u!
G
2016-12-24T00:00:00Z
Great place to stay if you want to visit Everglades National Park. Miami is also just a 30 minutes ride away (depending on the traffic). The house is located in a nice and in my regards safe neighborhood. The room was clean and also a bit luxury. The mattress of the bed was one of the best I slept in the last six months.
Christoph
2016-12-20T00:00:00Z
Iris's place was great! Not only was it affordable. It was clean, comfortable, and spacious. She was very attentive & made us feel welcomed. I would definitely stay again.
Nika
2017-04-02T00:00:00Z
Thank you Iris for your hospitality. The house was very nice and clean. The location is very close to the express way and in a very nice area.
Mariana
2017-04-06T00:00:00Z
Iris and Douglas are an excellent a hosts. Excellent accommodation, well maintained and we highly recommend, Thanks, Naveen
Naveen
2017-02-12T00:00:00Z
Iris is a really nice host. She was there to receive us and to say goodby. She even put some beers in the fridge for us for free. The place is very nice to stay, with a comfortable bed. A little far from Miami Beach. But close to everglades. Parking at your door. Private entrance.
Eduardo
2017-01-19T00:00:00Z
Room Type
Private room
---
Property Type
House
---
Accommodates
2
---
Bedrooms
Miami, FL, United States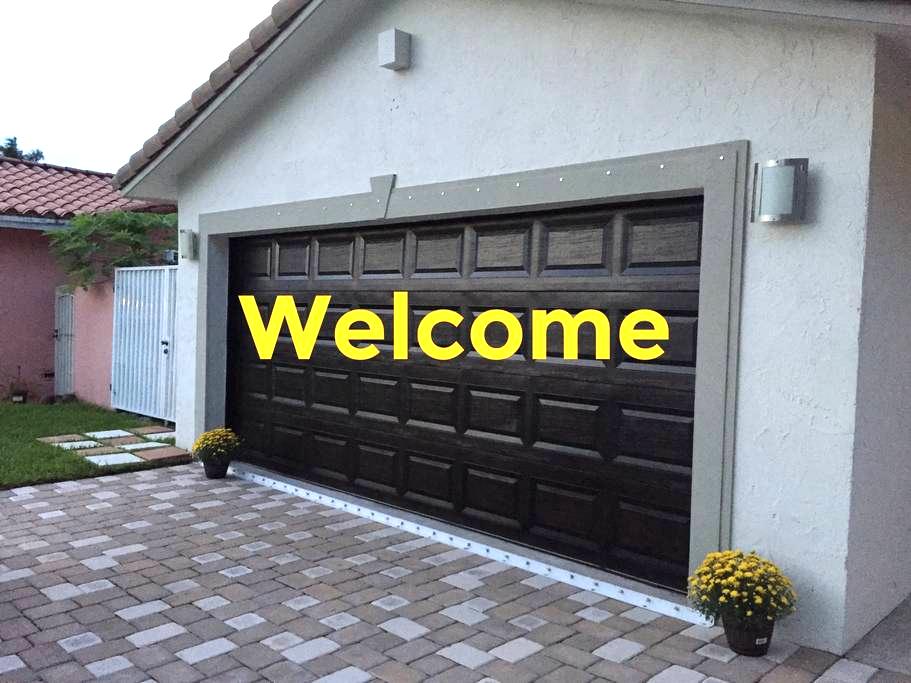 beautiful room: - Spacious room with private closet and air conditioning - Queen size bed with memory foam mattress and pillows very comfortable - 32 Samsung Smart LED TV with Comcast and Netflix - shared bathroom with bathtub and shower - Mini refrigerator in room - Parking in front of the house - Near the Dolphin Mall and International Malls
This house is very cozy. Nice and clean
Room Type
Private room
---
Property Type
Apartment
---
Accommodates
2
---
Bedrooms
Miami, FL, United States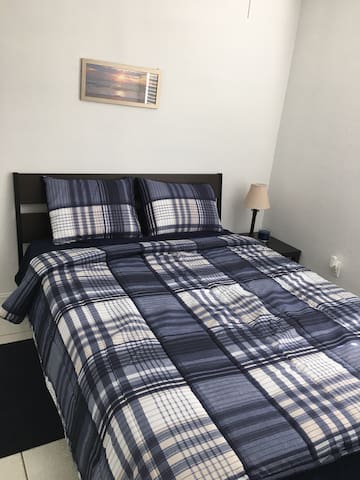 5 minutes from the dolphin or international malls 5 min to micosuukee casino. 20 min airport and 25 to 40 min to s beach close to mayor hwys to the keys everglades broward county no check in after 9 pm park for free
private entrance,very spacious kitchen tv sitting area, parking pots and pans utensils plates bowls iron and iron board blower coffee maker blender nice entrance fully tropical landscape and nice view to the lake
i have lived here for 13 years without incident
This place was very nice! Great price! Javier was always available for any inconvenience! I would stay here again!
Yamaris
2016-03-18T00:00:00Z
Beautiful spot
Alexandria
2016-12-01T00:00:00Z
Very roomy studio apartment for two, just as described by Javier. Javier was very accommodating, polite and friendly. Studio is was clean and nicely decorated. Private entrance made getting around easier and Javier was ok with my husband and I having our cat with us. We would definitely stay here again.
Michelle
2017-02-05T00:00:00Z
Javier house is ok if you just want to stop for 1 or 2 nights, the room is actually a garage, no windows, air conditioning really noisy, the room is noisy because you can hear the voices from the main house and all the motors of the air conditioner are situated just in the entrance to the room, the shower is inside the room (just the shower). We asked to leave our luggage for a couple of hours, they say yes but in the morning, they wouldn't return my messages. The check in was ok, and location is ok too, near to airport and Dolphin Mall
María Dolores
2017-03-26T00:00:00Z
We had a short but great layover in Javier's beautiful home. It is nicely located, easy to get to with car and the place is nice, clean, has everything you might need and Javier is great at responding and was really understanding of our need for only renting the place for one night. I would definitely recommend you to stay in his home if you get the opportunity!
Sia
2017-02-13T00:00:00Z
Had a wonderful stay as usual.. Our second stay.. We had one slight problem..but soon as we called Mr. Javier it was taken care of right away. As in some previous post about the door and hot water. It all works perfect. The door locks but a little different than normal.. (Just ask) The host will show you. Overall everything was clean, working fine, just as stated on the site. My boyfriend and I will stay again.. Mr. Javier is a great host.
Dee
2016-09-06T00:00:00Z
If you want to get a good night's rest, conplete privacy, and feel at ease, come here. Javier is welcoming and nice. His spot is close to the best shopping in Miami I believe( Dauphin Mall), minutes from the airport and but too far from the beach.
Jah & Ikiomoye
2016-05-27T00:00:00Z
Javier was a great host. Very accommodating and always making sure our stay was good. The location is great, just a few minutes from Dolphin mall and major roads. Everything in our room was great as expected. We didn't smell any cigarette smoke while our stay. Javier told us he's no longer smoking inside the house. So this was not an issue for us. I would highly recommend this place. Can't beat the location and price.
Juan
2016-12-28T00:00:00Z
Room Type
Private room
---
Property Type
House
---
Accommodates
2
---
Bedrooms
Miami, FL, United States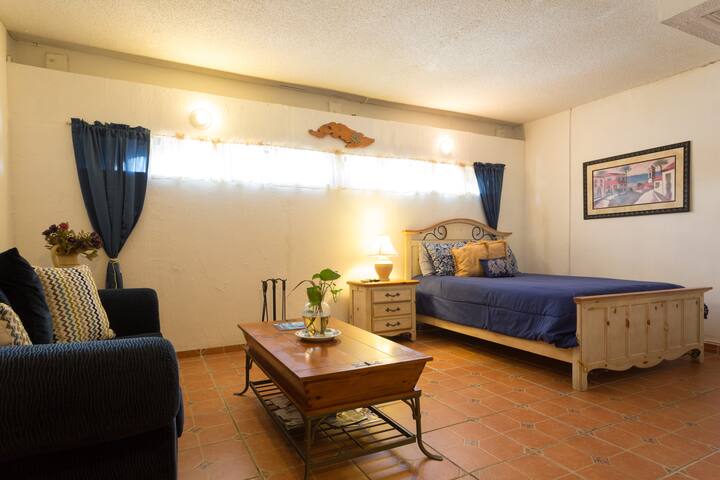 This sweet room is centrally located in Miami, close to main roads and shopping centers. Walking distance to the shopping center, 10 minutes to Dophin mall and Mall of Americas. Next to FIU MMC Campus, Turnpike highway. 15 minutes to MIA airport. One bus to Miami downtown.
I had a restful night in this quiet room. Nice hosts. They shared breakfast with me. Thank you!
Cécile
2017-03-23T00:00:00Z
Best place to stay It felt like home. I would recommed this place to stay.
Ismael
2017-01-25T00:00:00Z
Absolutely incredible couple. Zeynep and her husband took such good care of me during my stay and made me feel so at home!! I honestly missed them when I left... They made me feel like family. Can't thank them enough for everything they did for me.
malarie
2017-03-10T00:00:00Z
Very kind and helpful family. Place was clean and everything went smoothly. I would stay here again.
Austin
2017-01-29T00:00:00Z
You will immediately feel at home once you step inside your room. It was very clean and neat, which is always a relief when you go somewhere new. Zeynep and her husband are very friendly, generous, and kind. You almost feel like a visiting house guest instead of an Airbnb patron. Bottled water, snacks, and all of the basic necessities were provided. Movie theater right next door. Other shops and restaurants not too far away. Turned out to be perfect for my needs on this trip. The only thing is that parking in the evenings can be challenging, but they are very helpful to address that as much as possible. I would stay again in the future. Highly recommend.
Avidahn
2017-03-05T00:00:00Z
Zynep and her husband are excellent, pleasing hosts and try to make the stay as comfortable as possible. The price at which the stay is offered is good value for money.
Anurag
2017-02-24T00:00:00Z
Good place to stay. Very accommodating hosts. Stay is good and private for one person and very clean. Very peaceful neighbour to have a very comfortable rest.
Sandra
2017-02-05T00:00:00Z
Awesome hosts! A great cultural experience and still got an amazing dinner made by Zeynep as a bonus. The room is perfect for a single traveler, water pressure in the private bathroom is good, and you still get your own parking spot. Very good deal, I'd definitely stay there again.
Rafael
2017-03-01T00:00:00Z
Room Type
Private room
---
Property Type
Condominium
---
Accommodates
1
---
Bedrooms
Miami, FL, United States
Comfortable room in a quiet neighborhood. WI-FI , Two block from Supermarket, Restaurants, Pharmacy, 18 min from airport, and 28 min to the beach,The best way to go to Everglades. Perfect for Family or friends 1 floor. Queen size Bed and twin bed & trundle bed up to 4 people.
You can stay alone or with your friends or family in the same room max 4 p. First floor
Safe, quiet and too many things close
Maria's house was beautiful and clean, with a large kitchen and wonderful garden and pool area. The bedroom itself was spacious and comfortable with everything we needed. Maria was helpful and friendly, would definitely recommend staying here.
Laura
2016-06-19T00:00:00Z
Maria was great and the family living in the house were lovely. Great, felt safe. Maria let us rent her car for a great price and was really relaxed about having us chill out around the pool and use all the facilities. We never felt awkward which can sometimes happen when staying in a busy house. Would totally stay again!
Lois &
2016-09-06T00:00:00Z
It was a lovely space, very clean and welcoming.
Rainbow
2016-11-13T00:00:00Z
Felt like a good and quite neighborhood. Situated really close to Dolphin outlet, one of the biggest in Florida. The room, the suite, is really big, with two walk in closets and a big bathroom wit both shower and bathtub. The place was clean and fresh.
Tudor
2016-06-28T00:00:00Z
Maria was very kind and her home was lovely. She was knowledgeable about the area and we felt like we were at home... so much so, that we decided to spend 2 more days with her.
Angelo
2016-07-09T00:00:00Z
This was my first time doing AirBNB. Had to leave town because of hurricane Matthew. Didn't have the money for a hotel room so I decided to give this a try. First thing off the bat after booking, Maria promptly responded to inquiries and made late check in possible without any snags. Second Ivan greeted me and was friendly and very helpful with whatever I needed. The place was clean, quiet and safe and easy to get to. If you like your host to have kindness, friendliness and personality then I iwould highly recommend Maria as a host to anybody and this will not be the last time that I use her to host me again.
Joseph
2016-10-09T00:00:00Z
Confortable room but noisy
Frank
2016-10-23T00:00:00Z
The description of this place is very accurate. Maria is very welcoming with a warm and friendly personality so communication was never a problem. Though we stayed for just one day, it was a very comfortable relaxing stay and I would definitely recommend this location for family and friends.
Rohan
2016-11-26T00:00:00Z
Room Type
Private room
---
Property Type
House
---
Accommodates
4
---
Bedrooms
Miami, FL, United States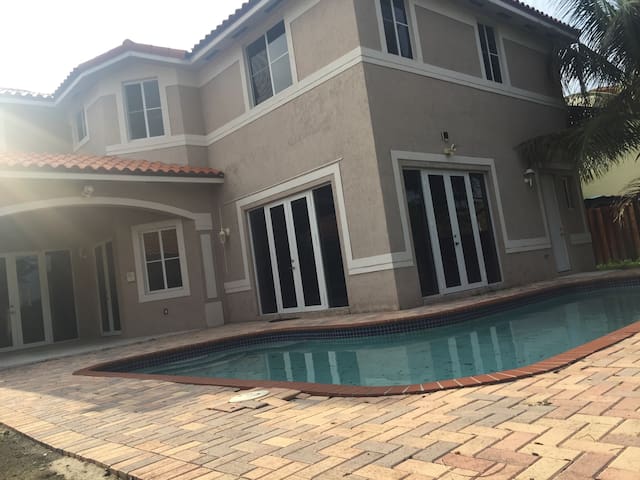 Nice studio with parking included, very near to the airport and shopping malls * Dolphin Mall* and five minutes from FIU ( Florida International University). The studio includes, queen size bed, Flat screen TV, Internet, Cable, Refrigerator, Microwave and bathroom.
Near the Miami International Airport and the Florida University of Miami.
Quiet and peaceful community.
It was wonderful to have so much privacy and quiet! The room felt spacious, clean and comfortable. I had access to a microwave and refrigerator so eating in was a breeze. Had my own parking spot so that was awesome! Ines and her family were very friendly and hospitable. I would recommend this place to others and I would definitely use it again!
Jorge
2017-03-13T00:00:00Z
It was a such beautifull place. Quiet neighborhood, very private and clean. Very close from malls, bus stop and highways. Definetelly 5 star recommendation.
Joel
2017-03-19T00:00:00Z
Nice place to sleep, host available when you need it
Angel
2017-03-05T00:00:00Z
Ines and her family were incredibly welcoming and kind, I felt right at home. The space was very cute and cozy and made my move to Miami much more comfortable. I was sad to leave! The area was very safe and so close to FIU, so it was a perfect match for me!
Tahnee & Conor
2015-09-01T00:00:00Z
Very comfortable, quiet, and clean; host was helpful and responsive. Nice patio, and refrigerator in unit was useful.
Laurie
2015-03-20T00:00:00Z
Fantastic experience. Great location. Friendly. Everything we needed.
Lacey
2017-02-12T00:00:00Z
Ines is super sweet. The neighborhood was really nice. The studio was cozy and I really like the private entrance and patio.
Veronica
2014-08-31T00:00:00Z
Ines and her lovely family are super sweet and extremely helpful during our stay there! The place is cute and clean. Very convenient to get around. Close to the main entrance of the Everglades national park (shark valley visitor center). We had an amazing time there!
Tuo-Yen
2016-12-27T00:00:00Z
Room Type
Private room
---
Property Type
House
---
Accommodates
2
---
Bedrooms
Miami, FL, United States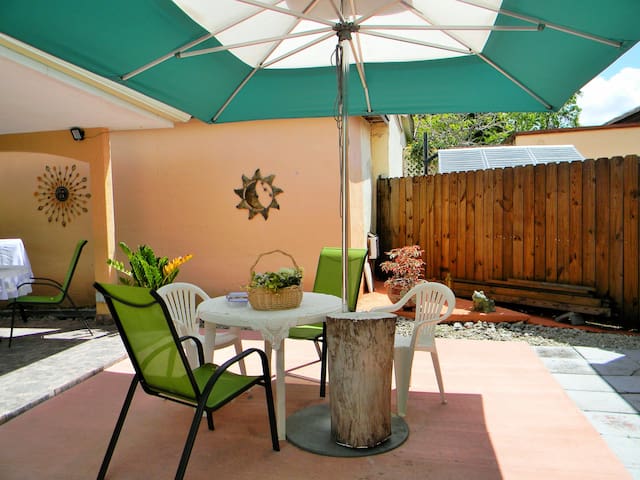 Big house great neighborhoods very quite space close to dolphin mall, Miami international airport,fiu university If you're looking for rest after your shopping or beach day my house is your best option
Modern furniture with minimalist space design. Luxurious and plush, two full size beds ,mattress for comfort and a good night's sleep! Along with Pillows in each beds . Clean blankets, duvets and pillow cases provided. Personal bathroom inside the room, clean towels provides Big empty walk in closed for your stuff in
Very quiet and very close to everything in in the middle of Miami Just 5 minutes to the dolphin mall,Miami international airport ,FIU university,mayor express ways
Nice quiet stay! Big room with a private bathroom. Very easy and convenient process. Highly recommend.
Jeremy
2017-04-03T00:00:00Z
Great host
Shondrea
2017-03-22T00:00:00Z
The host was very friendly and communicated really well/gave really good recommendations. Home is close to Everglades around 20-25 min drive
Jack
2017-03-18T00:00:00Z
The place is close to Dolphin mall (approx 5 min). The place was clean and confortable. Great for what we needed.
Sara
2017-02-20T00:00:00Z
Great host, very nice location close to everything!
Carlos
2017-03-30T00:00:00Z
What an amazing home! Santiago was very helpful in going local adive in spots to visit. He has a very clean and comfy home. If you are staying in this city I would highly recommend coming here!
Jesus
2017-03-15T00:00:00Z
The attentions of Santiago were very good and the house and other details were excellent.
Eymer
2017-03-14T00:00:00Z
Santiago is very kind. He keeps to himself, but will provide anything he can if asked. His place is clean and beautifully decorated. He shares the house with three others who were nice and unobtrusive. The room has a separate lock on the door for security. The neighborhood is extremely quiet and we felt very safe there at all times. The bedroom has two decent beds and a little set of seats with a table to sit and have a drink or play a game. The walk in closet was a nice feature and added space to the already spacious room. The bathroom has a nice big shower and two sinks. Everything was very nice and we enjoyed our time there every night.
Paul
2017-02-06T00:00:00Z
Room Type
Private room
---
Property Type
House
---
Accommodates
4
---
Bedrooms
Miami, FL, United States
Independent bedroom for up to 3 people. Very accommodated with kitchen, bathroom, 1 full queen bed , Futon , Sofa, LG TV with DVD, Microwave, and Fridge packed with water. Elegant place, free parking, friendly environment very clean and organized.
Relaxing and safe neighborhood close to the Turnpike for any trips you wish to make.
The neighborhood is calm, quite, very peaceful and no one will have a problem with the location,
Stayed here a second time. Arelys was nice enough to accommodate my booking date. The room is very private which I love. With a private entrance. You won't have to see the owner if not desired but there are always there if needed. Thank you Arelys for again.
Maggie1
2015-12-14T00:00:00Z
Very welcoming
Mercedes
2016-06-21T00:00:00Z
It was a great experience, exactly as described and very private. The parking space it was in front of the door all the time. Very bright and clean room and they think of every little detail that you will need. Definitely is in our number ONE place to come stay in Miami.
Otilio
2015-03-10T00:00:00Z
Flexible arrival, very nice and clean place. Good location, well equipped. Matched the description. I would stay here again.
Daniel
2015-07-20T00:00:00Z
The room was great! Everything was very clean and the area around was beautiful! The Everglades are very close such as many restaurants and shops.
Ann
2015-08-08T00:00:00Z
What a great place! It is convenient to all the freeways, close to the airport, clean and very comfortable. Accommodates 2 or 3 persons and your hostess is really nice. This for us was 5 stars. Le Moore
Le
2016-05-28T00:00:00Z
We had a great experience here. It was a clean studio with parking. The futon converts into a third bed and was quite comfortable. The kitchenette had about everything needed to survive few nights. Value for money as it's a separate entrance and a mini-studio sort of, with private bathroom and parking! Arelys was very cooperative and flexible with our check in / check out / plan changes.
Pritish
2015-06-12T00:00:00Z
Very clean room, as like on the pictures. It is really near to the dolphin mall and the everglades. Arelys was an uncomplicated host for us.
Christian
2015-05-15T00:00:00Z
Room Type
Private room
---
Property Type
Dorm
---
Accommodates
3
---
Bedrooms
Miami, FL, United States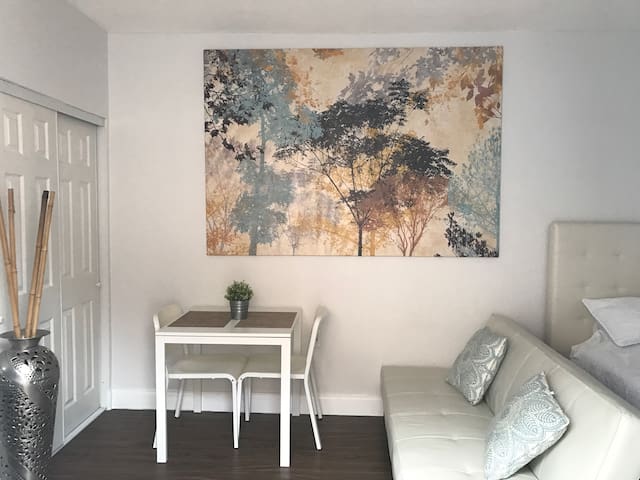 Near to the Dolphin and International Malls, with easy access to the major highways. Close to FIU and the Everglades. At 20 mins from the MIA airport. 2 Bedrooms, Full bath, Kitchen, Cable TV, WIFI, Parking, Access to Pool and Tennis Court. Hablamos Español.
Comfortable, charming and space-full in a family friendly environment. Dinner area with a four chairs dining table, and nice sofa. Cozy leaving room with Cable high definition TV. Very convenient to wait for your cruise or to stay after the cruise to go shopping and get to know Miami!
Located inside a Townhouse community with private entrance. Near a neighborhood park, where you can walk/run or just relax. Bus stop at the neighborhood entry. Very safe neighborhood with private security .
Roscoe and his family were very welcoming both before n during our trip. The apartment was very cozy n clean and they had stocked the fridge with eats n drinks and provided a bed for the baby also. The apartment was easy to find and very close to restaurants and the malls. Like abt 5 mins to dolphin mall.
Nadia
2016-01-05T00:00:00Z
The place is really cozy and the hosts are really nice. Will definitely come back.
Alessandra
2016-11-28T00:00:00Z
I was happy to live in Roscoe's place, which were quiet, clean and near to Miami International Airport. Roscoe and his wife were super friendly and tried their best to help us. Thanks Roscoe!
Yang
2016-12-23T00:00:00Z
The place was great for our family of four. We had plenty of room. Roscoe was a great host and provided some great housewarming goodies for us. We would recommend this place.
Mike
2017-01-16T00:00:00Z
They are amazing host, I like their apartment very much. I will introduce them to my friends who will go to Miami!
Leizhen
2016-02-12T00:00:00Z
Roscoe is a lovely man - helpful, friendly, interesting - and Maria is sweet, too. We were greeted with a fruit basket and fixings for the next day's breakfast. The apartment was PERFECT - comfortable beds, very clean, with all the household amenities, in a quiet, safe neighbourhood. A bit far from Miami Beach but for the price it is well worth the bit of extra time (but don't even think about that route during rush hours!)
Angela
2016-04-24T00:00:00Z
This was my first airbnb experience, and it was a great introduction to the website. The apartment is very clean, cute, and the bed comfortable. Wi-fi service is excellent. Plenty of TV channels, if one is interested in that kind of thing. Just like a hotel, soap, shampoo, and plenty of towels are available. If you like to cook, everything you need is there: pots, pans, toaster, plates, forks, etc. The neighborhood is quiet and I felt safe. I even went for a walk to the park one morning and walked around the track a few times. There were families with kids playing on the playground, and a fitness zone with a bike, elliptical machine, etc.! I'd never seen that before in a public park, so if you're into fitness, that's very convenient. The hosts, Roscoe and Maria, met me on time the first day and were friendly and gracious. Strawberries (which I love), sodas, and bottled water (I drank all the water!) were available when I arrived. As another example of their thoughtfulness, on Sunday, when it was pouring down rain, Roscoe loaned me an umbrella so I could have one when I was out and about in Miami, for which I was grateful. Overall, a 5-star experience, and I highly recommend this apartment and these hosts.
Ophelia
2017-01-30T00:00:00Z
It is a beautiful place to stay. The neighbourhood is calm, hosts friendly and kind. :)
Eliška
2017-03-25T00:00:00Z
Room Type
Entire home/apt
---
Property Type
Townhouse
---
Accommodates
4
---
Bedrooms
Miami, FL, United States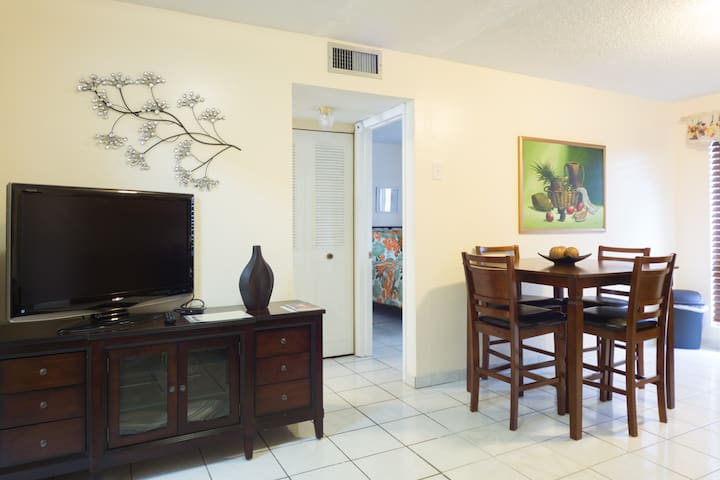 My place is close to Main highway, grocery stores, FIU Main Campus. You'll love my place because of It's next to (836, Turnpike, Palmetto, Dolphin Mall). My place is good for couples, solo adventurers, and business travelers. 12 minutes away from International Airport, 8minutes away from Dolphin Mall. private parking in front of house. No car? You can walk to 2 big shopping centers, 6 blocks away. *For my security I have a camera in the living room and a camera on the front of the house outside.
You will be staying in a room with its own tv drawers and small closet space. You have a private bathroom right outside of the room. The kitchen and refrigerator can be used to store your own food or cook your own food. Just leave everything off all alliances in room kitchen and bathroom and all lights off when you exit each room. ***For my security I have a camera in the living room and a camera on the front of the house outside.
I am sourrounded by elderly people that mind their business. Quiet neighborhood. Safe neighborhood. Guest parking is available for free but there is 1 car space for you right in front of the house. ***For my security I have a camera in the living room and a camera on the front of the house outside.
Amazing house! Everything was upto the mark! Definitely recommend Rene's place!
Gayatri
2017-03-18T00:00:00Z
Easy place for us to spend a night before heading to the Everglades
Chris
2017-01-28T00:00:00Z
Comfortable for our nights stop off and close for a cab to dolphin mall
Karmen
2017-03-16T00:00:00Z
Loved the room! Rene was very accommodating, helping us set up or playstation on the tv & I love love love the bathroom!!! Mirrors everywhere. Beautiful
Anjel
2017-03-03T00:00:00Z
Rene was accommodating and the room was just like the pic
Jay
2017-03-31T00:00:00Z
Rene is an open a friendly guy. His house is close to the university and the bedroom is small but comfortable.
Matthew
2017-03-12T00:00:00Z
Rene's place was great! Very close to the turnpike and close to many places to eat! Only 20mins away from downtown! The room and home was very nice and Rene was very accommodating!
Halle
2017-03-26T00:00:00Z
It's a quiet neighborhood, and the house is cool, with fish tank and automatic lights etc,. We arrived at 11 pm and Rene have no problem with that, which saved us.
Yu
2017-02-03T00:00:00Z
Room Type
Private room
---
Property Type
Townhouse
---
Accommodates
2
---
Bedrooms
Miami, FL, United States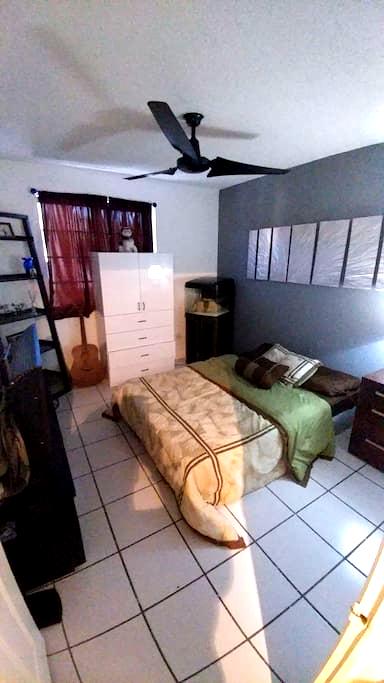 If you are traveling to Miami and desire a nice and quite place where you can seat back and relax after a busy day enjoying the entertainments of beautiful miami, this house is for you. Conveniently located near malls and shopping centers, minutes away from the main highways and entertainment.
Great location and very clean. Loved staying here.
Angie
2016-12-27T00:00:00Z
very nice
Joyce
2016-12-24T00:00:00Z
Lovely home. Alicia was amazing.
Tamara
2016-12-18T00:00:00Z
Place was Great and Alicia was very friendly! Would definitely recommend it!
Nanak
2016-11-03T00:00:00Z
Place was nice and clean. Easy communication with homeowner! Highly recommend
Justin
2017-01-15T00:00:00Z
Beautiful house, big sprawling place that we could really relax in.
Errett
2017-04-01T00:00:00Z
Very nice house
Kevin
2017-03-28T00:00:00Z
The house was nice and clean overall. If i could rate in stars out 5, i would still say 4 out of 5 despite the 2 annoyances below. The night we got there we turned the temperature up because it was sooo cold. By the second night, my friend who was at the house alone was startled when someone knocked and asked her to lower the temperature because they apparently live in the garage. She lowered it about 2° and i started to get an ear ache that night. By the 3rd night we were asked to lower it 2° more (too low for my friend and I). There were not enough blankets for us to accomodate that temperature so we were just cold that 3rd night. She slept in a hoodie. Also hurricane matthew had just threatened to hit so the metal shutters were still up and stayed up, i guess to stay ready in case another hurricane comes by? We got no sunlight or morning indication unless we were in the living room/kitchen...otherwise we weren't really even at the house in the daytime.
Lakesha
2016-10-10T00:00:00Z
Room Type
Entire home/apt
---
Property Type
House
---
Accommodates
4
---
Bedrooms
Miami, FL, United States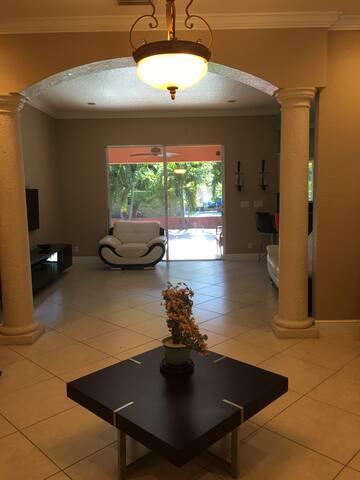 Tamiami - Airbnb
:
Average

4.92

out of

5

stars from

1516

guest reviews
Enter dates to see the total trip price including additional fees (but excluding any taxes).