My nice and cute home with king size beds is proudly welcoming her guests.
Room Type
Entire home/apt
---
Property Type
House
---
Accommodates
6
---
Bedrooms
Vinegar Bend, AL, United States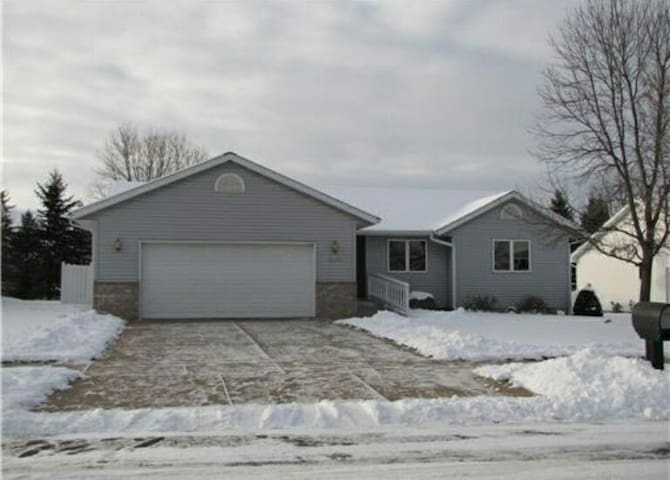 Queen bed, good for couples or single traveler. This is an 1950's style cottage built when things were much smaller. Shared bath if other room is booked. 2 minutes from US45. 25 minutes to Saraland . 35 minutes to Mobile. Great for cruise persons. Leave your car here and I'll deliver you and pick you up curb side of the boat. We love hosting. We love to spoil our active military and missionary or clergy travelers.
Queen bed, fresh crisp linens. Towels and washcloths provided. There is a dresser and small closet. Bathroom is located outside your room. Private unless other room is booked. Coffee maker, TV and internet. Iron and board available upon request. Mattress covers are allergen, mite and bedbug protectors. Pillows are double covered for your peace of mind. High quality sheets for a great nights sleep. Temperature is controlled by you. Going on a cruise, we can store your vehicle for you. I'd be more than happy to deliver you to the boat, and pick you up again for a 20.00 fee. Active or retired military ask before you book about your discount. Active Missionary on traveling furlough? Ask about your discount. This home was a derelict home just a few short years ago. We are constantly updated as time and money allows. Currently it is peaceful, and pleasant with normal older home flaws. We do not pretend it is perfect. We love ❤️ our home enough to share with you. We think you will find it charming as many others before you have.
There is a 2 mile walking trail, one block from our house. Citronelle has several old Victorian homes, built when the town was a "spa town" There is an old train depot that can be explored on weekends. A local golf course is 15 minutes away. Small diners and fast food is one the menu, small bars are here, I'm not sure of their quality. We do have a VFW, which serves specials each night. For fancier fare you will need to continue into Mobile. While there you may want to see our famous battleship. Or go on down to the beaches. Around here we don't talk in miles but in amount of time it takes to get from a to b. We like our tea sweet, our family close, and strangers are never that for long.
Ann and her family were lovely hosts. They generously invited us to have dinner with them and we had a great time. The bedroom was cosy and comfy and the breakfast was delicious. Ann was very friendly and flexible regarding pur arrival time.
Camille
2016-09-23T00:00:00Z
This is an absolutely wonderful place to stay. The food was great and the conversation was even better.
Lyndsey
2017-03-12T00:00:00Z
Literally, the best host!!!
Amin
2016-12-08T00:00:00Z
Ann's home was so comfortable, very clean, and very welcoming. A prime example of southern hospitality! We had a lovely chat before bed and the next morning she woke up at four A.M. to wish me a safe journey, offer me breakfast, and fill up my coffee thermos! I was very well cared for and happy to have chosen her home to stay in.
Lizzie
2016-12-22T00:00:00Z
We had a very pleasant stay, the room was lovely and clean. Ann is a great host and she provided lots of information about the country and the area. She cooked us a very nice breakfast! Thanks again for your hospitality.
Romain
2017-02-18T00:00:00Z
When staying at Ann's place, I felt like part of the family! The house is homey and the breakfast she made was phenomenal. What a wonderful experience!
Michelle
2017-02-22T00:00:00Z
Ms. Anne is a gracious and attentive host who goes the extra mile to make your stay pleasant.
Ron and Meredith
2017-03-02T00:00:00Z
Ann was accommodating and generous. She opens her home to you. We enjoyed our stay very much.
Dustin
2017-04-04T00:00:00Z
Room Type
Private room
---
Property Type
House
---
Accommodates
2
---
Bedrooms
Citronelle, AL, United States
Quiet and serene. King size bed room with crisp sheets. Room darkening drapes. Great for couple or singles. Prefer a smaller bed? check out Queen Bed Southern Cottage
Cozy room with King Bed, climate controled by you. Bathroom is right outside your room (shared by the other room if booked at the time.) There is a double dresser, TV (outside antenna) coffee and tea supplies, ice bucket. Gourmet Breakfast. All dietary needs are observed. Mattress covers are allergen, mite and bedbug protectors. Pillows are double covered for your peace of mind. High quality sheets for a great nights sleep. Fluffy towels for your use.
The town Is dotted with old growth oak trees. With Spanish moss hanging down. We love that it is classic small southern town. If the humidity and bugs are in check it's a great place to hang out in the evenings and watch the chickens, wave at the occasional passerby. Our tea is sweet, and folks are friendly to guests provided you are too. Save time to check out all,the lovely older southern homes. Many of our guests seem to be coming from or going to New Orleans. We also get equal amounts of east to west or vice versa. Whatever your reason for needing a good nights rest, just know we love to spoil our guests. Bicyclers, runners or health walkers will enjoy the towns lighted trail located 1 block from our home. 2 minutes from US45, 25 minutes to Saraland, 35 minutes to Mobile (depends on traffic flow).
Ann is a wonderful host, she is a a very welcoming person and me and my boyfriend felt almost like we were part of the family for one night ! We had a amazing breakfast in the morning, Ann is a very good cooker ! So if you want a peaceful and warm stay in a very nice and kind family, I would definitely recommend this house !
Emilienne
2016-09-16T00:00:00Z
Ann and Tim graciously open their home and lives to share with others. Their home is as described and is peaceful, warm, inviting. You will feel like you are part of their family. Had a wonderful breakfast before we left. One of the best Airbnb stays we've had!
tara
2016-08-03T00:00:00Z
We loved our stay with Ann and Tim! We felt like part of the family and enjoyed the comfy quiet room as well as eating breakfast with them in the morning. They were very sweet to our kids and went above and beyond to make our stay comfortable.
Amy
2016-12-30T00:00:00Z
Ann, Tim, and their family are all wonderful. Great conversations and a fantastic breakfast. For a small fee, Ann even drove us to the port in Mobile for our cruise, while letting us leave our car at their house. Nice small town atmosphere.
Mark
2017-02-25T00:00:00Z
Wow, this host knows about hospitality! Yuuuuuuuummy breakfast, uuuuuber soft sheets, and lots of wonderful, thoughtful touches! The bed was comfortable, the shower was hot, and the location incredibly peaceful - I felt incredibly grateful to have found her!
Victoria
2017-01-11T00:00:00Z
I absolutely adore Ann, her family, and her home!!! The best Airbnb experience I've ever had. The bed is cozy, the breakfast is delicious, and Ann's conversation is delightful. Would recommend to anyone!!
Catie
2017-03-17T00:00:00Z
If you are even considering booking this Airbnb, BOOK IT NOW! Ann goes above and beyond all expectations and delivers a fantastic Airbnb experience. Our stay could not have been any better. Thank you again Ann. We will definitely book here again if we are ever in the area.
Alex
2017-03-16T00:00:00Z
This place was exactly what Ms. Ann said it was! Perfect place to stay for my daughter and I as we ventured through Mobile, AL. Ms. Ann is a wonderful cook and very knowledgeable about the area. We can't wait to visit again❤️
Tina
2017-03-14T00:00:00Z
Room Type
Private room
---
Property Type
Bed & Breakfast
---
Accommodates
2
---
Bedrooms
Citronelle, AL, United States
Enter dates to see the total trip price including additional fees (but excluding any taxes).