Smart and simple. 3 bedroom Mount Gambier stone country b & b located in the idyllic small town of Coleraine in Western Victoria.
Smart and simple 3 bedroom Mount Gambier stone country b & b located in the idyllic small town of Coleraine in Western Victoria.
Coleraine has approx 1300 people and consists of mainly sheep, cattle and agricultural properties. Hamilton only 30km away is known fondly as the Wool Capital of the World. Holding the World renowned SheepVention first Monday & Tuesday of August each year and the famous Kelpie carnival held in Casterton, 30km from Hamilton towards the SA border, every long weekend in June.
Room Type
Entire home/apt
---
Property Type
Bed & Breakfast
---
Accommodates
6
---
Bedrooms
Coleraine, VIC, Australia

Newly renovated second apartment of the Black Horse Inn. Heritage features remain a strong element in this beautiful light airy building. Traditional style furniture, compliments the architectural design of high ceilings and french chandeliers.
A cozy little place full of elegance. Would definitely stay here again
Damien
2015-08-07T00:00:00Z
This was a lovely place to stay, right in the heart of town. Liz left some lovely touches such as a loaf of fruit bread and butter, as well as some chocolates and fruit. It was very comfortable and had everything we needed.
Melanie
2016-03-31T00:00:00Z
We really enjoyed our two nights at The Black Horse Inn. A great location right in the middle of town, only a short walk to the supermarket. It is an historic building, but well appointed inside. The apartment is a good size, with a big kitchen and lounge area that has a log fire - perfect for cold winter nights, and there's plenty more wood out the back. Check in was easy, even though we arrived late, there was a bowl of fruit and supplies for tea, coffee and breakfast ready for us. We are very happy to recommend a stay here, there was a bit of a mix up with bookings but Liz quickly sorted it all out and it was all handled perfectly.
David
2016-06-13T00:00:00Z
Great location in Coleraine being central to everything, beautiful touches with the decor in keeping with the period of the building. Lovely sunny backyard.
Karyn
2017-04-06T00:00:00Z
Liz was always available and able to help if needed. The home was perfect for what I was after. Loved the fruit and snacks that were left behind - a really nice touch! I'll be back next time I visit.
Colleen
2016-09-12T00:00:00Z
We have just spent a great week @ The Black Horse Inn. Despite the wintery weather, a cosy log fire & warm comfortable bed made the stay much more pleasant. Thouroughly enjoyed our week in this quiet country town.
Ray
2016-07-19T00:00:00Z
Room Type
Entire home/apt
---
Property Type
Apartment
---
Accommodates
3
---
Bedrooms
Coleraine, VIC, Australia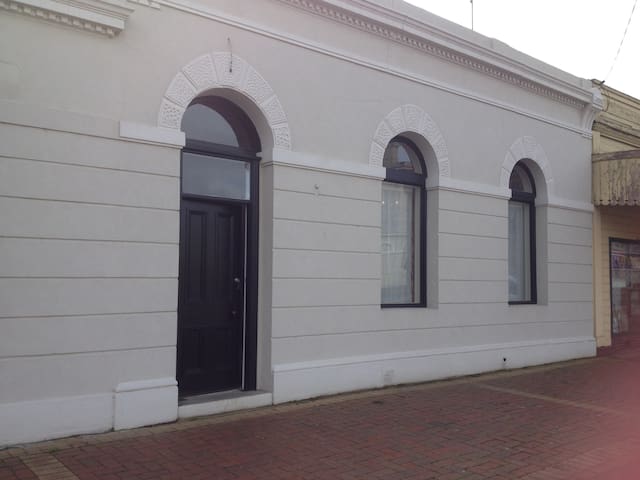 Country house. On a large uninterrupted acerage.
Nice quiet place for a very quiet getaway and less than an hours drive to the Grampians.
Jamie was super kind and friendly. The house is amazing and it's in a perfect location to stop during a road trip!
Loredana
2017-03-26T00:00:00Z
Room Type
Private room
---
Property Type
House
---
Accommodates
2
---
Bedrooms
Tahara, VIC, Australia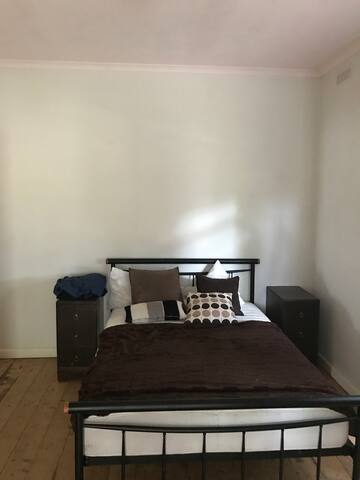 Our cottage is located on a 700 hectare/1700 acre sheep and cattle farm, ideally situated 20 minutes from the City of Hamilton and an hour from the South West Coast, Great Ocean Road, Coonawarra and the Grampians. The renovated cottage, previously the shearer's quarters, has an open fire place in the living area with sofa, fully functional kitchen, four bedrooms and can sleep nine. Undoubtedly, what strikes most visitors is the almost eerie, peace and serenity of the property compared to cities
Room Type
Entire home/apt
---
Property Type
House
---
Accommodates
9
---
Bedrooms
Wannon, VIC, Australia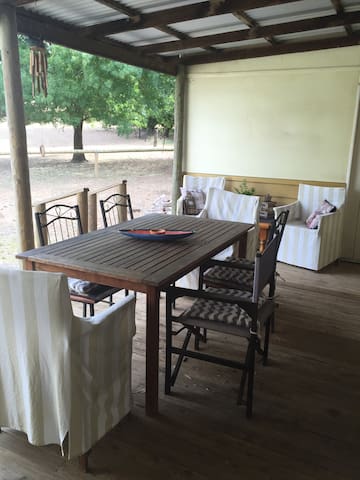 Open plan, fully restored heritage building. The Black Horse Inn is the last remaining Inn from the many that once lined Whyte St. The building has been fully renovated and yet has retained its olde worlde charm.
We had a lovely experience at the Black Horse Inn. It was a quaint homestead with very good facilities. We would definitely return.
Ben
2015-09-25T00:00:00Z
another lovely stay at the Inn. After a busy Xmas the late checkout was very much appreciated. This time we discovered the river at rear of property which was great for dog walking - even saw a kangaroo! Thanks again Liz!
Angela
2015-12-28T00:00:00Z
Liz is the perfect host, rapid response to my booking. Keys were waiting for me upon my arrival and checked in to ensure that everything was OK. I've travelled a lot for work and stayed in many accomodations and the criteria for me are: 1. Premises are spotlessly clean and tidy 2. Premises are quiet 3. There is a good hot water system with a good shower 4. There is a comfortable bed and pillows This place scores 10/10 for all four points. It's an apartment that is stocked with a full kitchen for those who want to stay in and cook Plus it's spacious and has a great wood heater fire which we used on one night. There is lots of wood available for the fire. It's just the perfect getaway for those who want to get away from the hustle and bustle of the city.
Michael
2015-11-29T00:00:00Z
It was lovely to arrive after a 4hr drive from Melbourne to this hidden gem in Coleraine. The fire was lit and the Inn was cosy and inviting. It is spacious, clean, tidy and very well equipped and had everything we needed and more. It has a lovely old world charm and is much more than what can be seen in the photo's. We will definitely recommend the Inn to friends and family.
Neale
2015-09-27T00:00:00Z
The White Horse Inn was a fantastic place to stay. It had oodles of historic ambience, all the amenities we needed, and was very spacious. We appreciated the wood fired stove, as it was pretty cold at night. It was right in the middle of the main street of Coleraine, but the highway there is not very busy and the bedrooms are at the back, so there was no downside to being central. Lots of great cycling in the district, and the Arboretum in Coleraine is a gem.
Ruth
2015-09-22T00:00:00Z
Liz (our lovely host) was amazing. She got back to us super fast about questions before we booked. She gave us heaps of useful information before we arrived and contacted us the day before we arrived to see if we would like her to leave the makings for supper in the fridge. The apartment was just gorgeous. Spotlessly clean, full of charm and really cosy. We loved the coonara heater and comfy leather armchairs. The treats waiting for us (fresh fruit, choccies and other nice things) were a wonderful surprise. Liz was really fast to respond to any questions we had and was extremely helpful. We really loved the apartment had been renovated. Bed was fantastically comfortable (I want one!!). Coleraine is a quiet town but is a good central spot to explore the surrounding region and has a lovely walking track and lots of interesting buildings. I spent many hours wandering the streets taking photos. We enjoyed fossicking through the 2nd hand shops in Coleraine and Casterton very much. The apartment is located on the main street (Glenelg Hwy) but has double glazing and the bedroom is at the rear.
Nancy
2016-05-10T00:00:00Z
Great stay. Arrived late at night and the Inn was warm and everything was as expected. Will definitely be returning.
Brooke
2015-10-02T00:00:00Z
Everything was fantastic, very comfortable and felt like home, would definitely recommend, and would stay here again.
Sophie
2015-09-28T00:00:00Z
Room Type
Entire home/apt
---
Property Type
Apartment
---
Accommodates
4
---
Bedrooms
Coleraine, VIC, Australia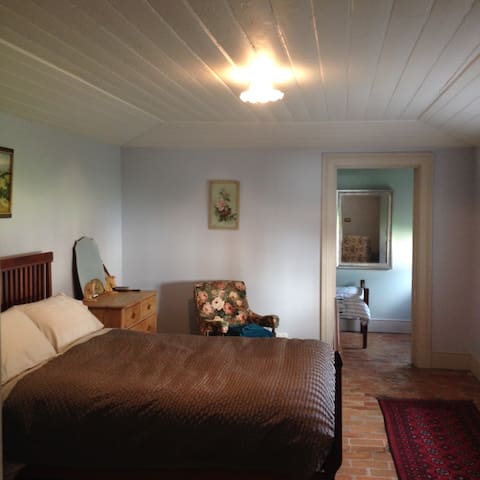 Nestled in the sleepy valley town of Coleraine, Victoria. Definitely a step back in time. Smack dab in the middle of "Australia Felix". I am a hobby beekeeper too so there are a few working beehives in the backyard. I'm happy to provide some tuition on beekeeping for a small fee.
The little cottage is only 6m x 6m square. Two bedrooms, one is yours. There is only a single bed available.
Room Type
Private room
---
Property Type
House
---
Accommodates
1
---
Bedrooms
Coleraine, VIC, Australia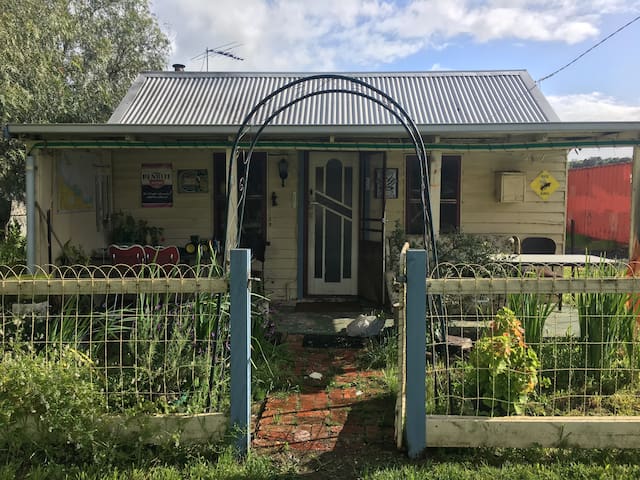 Enter dates to see the total trip price including additional fees (but excluding any taxes).