The Nook is your Home Away from Home, it is warm and cozy. The beds are comfortable enough to give you a good rest at the end of your journey.
The space is all yours and that waha makes it unique.
The neighbourhood is with security 24 hours per day. It is a small village so you can see kids and families on the street. We have a convenient store nearby which is open 24 hours per day.
Room Type
Entire home/apt
---
Property Type
House
---
Accommodates
4
---
Bedrooms
Sibulan, Central Visayas, Philippines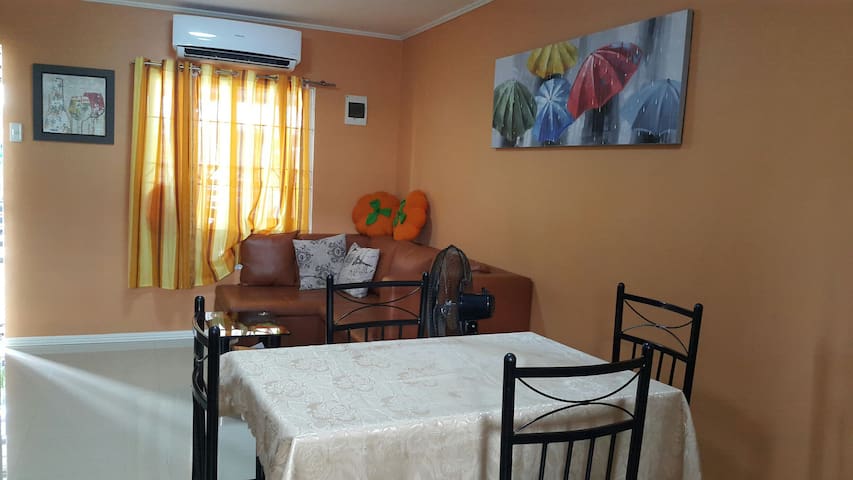 Nice room, in popular tourist area. Located in the heart of the picturesque City of Valencia. Clean and Green. One of the few cities in Philippines where foreigners are left alone to stroll by the friendly locals. Nearby is famous Casaroro Falls, Forest Camp, Banica Swimming Lagoon, and Various Resorts.
Room Type
Private room
---
Property Type
House
---
Accommodates
2
---
Bedrooms
Valencia City, Northern Mindanao, Philippines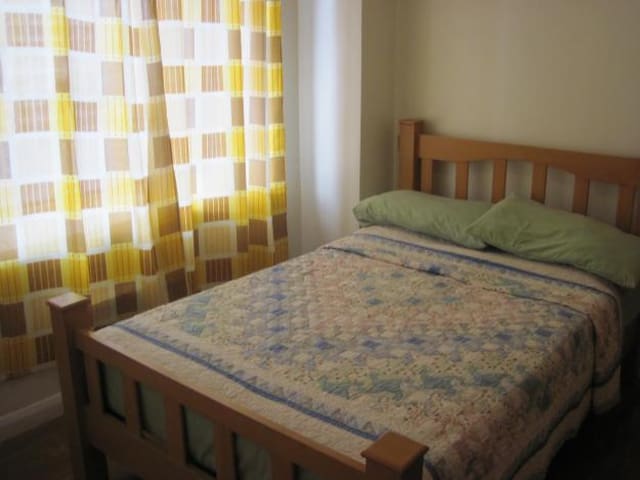 4 bedroom home located within a private fully fenced compound with free cable TV and internet. Fully equipped indoor and outdoor kitchen, air con, hot water, BBQ and spacious parking inside the compound. The area is safe and clean, close to the beach and only a short ride to Robinson's Mall. We can pick you up from the airport or pier.
Our home is safe, bright and clean and close to the ocean. The house is inside a secure gated compound and has hot showers, aircon, Free Cable TV, WiFi, Gas BBQ and a fully equipped indoor and outdoor kitchen. We can accommodate up to 8 persons with spacious parking inside the compound. We are close to the Dauin dive sites. Apo Island, Siquijor and Cebu are also nearby and can be easily reached by ferry.
Our home is in a very quiet neighborhood and close to the ocean. Dumaguete City and ferries to Apo Island and Cebu are only a short distance away. The gated compound is surrounded by a 2 meter high wall and the area is very secure. Only my brother and his family live a quiet and peaceful life within the compound. Like everywhere in the Philippines there are roosters in the neighbourhood.
We stayed at Mona's house for 3 nights and honestly we couldn't be happier. It's a wonderfully set up house. Very comfortable and pleasant. The power did go out for a while once but that's common in this country. Highly recommended home to rent. Especially if you rent a motorcycle, the few kilometers distance from the city isn't bad at all. Very convenient to go to Apo Island since it's already south of dumaguete. Freddy was very helpful and we just had a perfectly smooth stay. Loved the outdoor shower when coming home from the beach too. Thanks Mona!
Eli
2016-04-08T00:00:00Z
It is my great pleasure to stay in Mona. It is a nice place to stay, comfortable and even my stay is very short I do enjoy the great staff and wonderful service in Mona. And I am very sure that I will come back next year.
Yuyong
2016-07-25T00:00:00Z
Mona is always a very gracious host and always willing to make your stay the best that she can.Her house is clean and comfortable. It is like staying at a friends home.
Michael
2016-06-13T00:00:00Z
Mona is one of the best host on Airbnb. Her house is in good condition as it was just refurbished. I hope to stay there again. Thanks.
Michael
2016-01-19T00:00:00Z
good choice,good for friends or family
Yuanqi
2016-10-04T00:00:00Z
Located in a quiet spot, away from traffic and only 100m from a small beach, Mona's house is modern with gas cooker, laundry machine, aircon, wifi and sattelite TV. Enough tiny shops around for the necessities (soap, noodles, beer,...) but the closest carendarias are a tricycle ride away. The house is conveniently situated halfway between Dauin (great diving) and Dumaguete (all amenities). All the neighbours are very friendly and always greet you with a smile and a "Mahyung Buntag"! Freddie, the caretaker is most helpful with any assistance you may require and has all the local knowledge you may need. All in all, we had a great stay at Mona's and considering you could fit up to 8 people in it, not bad value at all!
Fabrice
2016-07-13T00:00:00Z
clean house, nice Freddie helpped a lot.
wq
2016-02-12T00:00:00Z
good room provide roast stove and her brother take me to market by his motor. you can diy BBQ. if you need help ,her brother can help you ,any question. smoking in the room is not allowed .but you can smoke at the porch. in the evening smoking at the porch yourself, the feeling is good . 房子非常超值,而且提供了烧烤炉(用煤气的)。房主的哥哥早上骑着摩托车带我去当地市场买海鲜等。晚上自己BBQ,超值。 房子干净,设施齐全。性价比非常高。 去apo码头大约15公里。去杜马盖地突突车5,6分钟就到。
xin
2016-08-16T00:00:00Z
Room Type
Entire home/apt
---
Property Type
House
---
Accommodates
8
---
Bedrooms
Bacong, Central Visayas, Philippines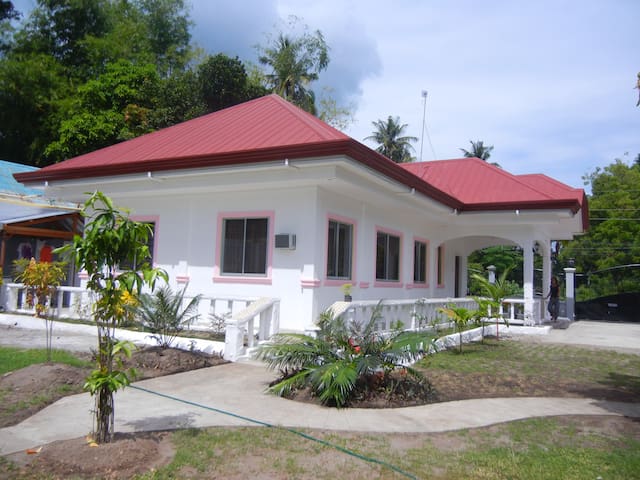 Moffatt residence offer comfort and safety, with our 1 bed room shared apartment with your own bathroom, 10 minutes from the city and 5 minutes from the beach and airport, your in the middle of dumaguete, resto bar with a pool is a 2min walk.
Room Type
Shared room
---
Property Type
House
---
Accommodates
2
---
Bedrooms
Sibulan, Central Visayas, Philippines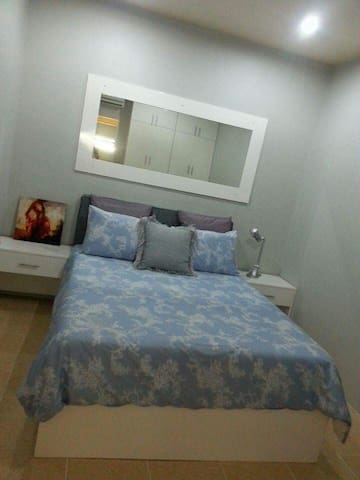 My accommodation in Bacong is close to Dumaguete, the capital of Negros Oriental. In 10 minutes They are Attracted to the city center did with endless shopping and other atractions. 80 meters from the house is a beautiful black Lavasansstrand with views of the islands and Siquijore Appo Iceland. My accommodation is good for couples, solo adventurer, business traveler, families (with children) and small groups.
Ruhig gelegen, 80 Meter zum Meer, 100 Meter zum Higway. Komplett neu renoviert. 2 Schlafzimmer, 1 Wohnzimmer, sehr große Küche mit Esstisch, Bad mit Dusche (Heißwasser) Wohnraum ca 66 m2. Parzelle ca.250 m2. Kabel TV. Free Wireless Internet! Unmittelbare Nähe zu verschiedenen Tauchresorts. Tauchausflüge nach Apo Island usw.
The host canceled this reservation the day before arrival. This is an automated posting.
Мария
2017-03-08T00:00:00Z
Room Type
Entire home/apt
---
Property Type
House
---
Accommodates
4
---
Bedrooms
Bacong, Central Visayas, Philippines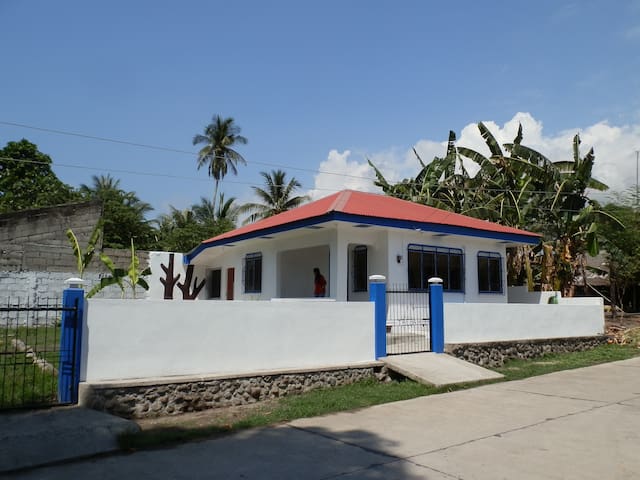 Bright and sunny...cool mountain breeze...wide expanse...picturesque view...Let all these revitalize your senses. Enjoy as we guarantee ease, comfort, and security.
The Farm: The farm is just the right place to relax and unwind. At night, let the chilly wind and the sweet songs of the cicadas lull you to sleep while bright stars watch over you. Let your energy be awakened the next day by the soft beams of the rising sun accompanied by the melodious chirping of the birds. The Farmhouse: * Currently has 1 Room with connecting Kitchen and Bathroom * Wide outdoor space for lounging, stretching, and relaxing * With Stand-by Generator * Peaceful, safe, and private neighborhood Bedroom Features: * Quality King-sized Bed with comfortable mattress * Cozy pillows, sheets, & comforter * Split-type inverter air conditioning * Colored TV with cable channels * Free Bedroom Slippers Kitchen & Dining Room Features: * Large sink & food preparation area * Digital Refrigerator * Induction stove, gas grill, electric grill, coffee maker, microwave oven, blender * Top of the line cookware and flatware * Dining table * Hot & Cold Water Dispenser Bathroom Features: * Hot & Cold shower with great water pressure * Toilet * Guest pack of shampoo, conditioner & bath soap * Large towels * Non-slip floor tiles
The host canceled this reservation 8 days before arrival. This is an automated posting.
Klaus
2015-05-21T00:00:00Z
A beautiful stay with a sad unexpected twist 4 days after I departed The farm house is exactly what I was looking for; secluded in a mountain, quiet and peacfull. The host were hospitable during my 14 day stay. Picked me up form the air port even when I was willing to pay for a taxi. Gave me a brief tour of the city. My 14 day stay was lovely. Any issues that arose were addressed promptly. The gas for the BBQ expired, I offered to pay but they where kind to refill it. The wifi was "down" but the host was prompt to bring a pocket wifi/ hot spot when I inquired. Mid-week it felt so much like home that I paid someone to clean the beddings and wash my clothes. On the last day I tidied up the farm house, washing the dishes, etc and picked up the trash off from the floor etc. I availed transportation to the airport for my return flight, but hosts were so kind to call me and make sure I had a ride at 6:30am. Under normal usage, I accidentally damage the plastic towel rack in the shower. When I informed host she said in Airbnb that's okay things happen. I was so enamored with their place and my experience. Then, surprisingly, after arriving home in my country 4 days later was received word they were upset and felt really disrespected at the condition of the farm house. I was confused and shocked and felt any mess remaining was constant with a 14 day stay and I did tidy up to the best of my ability as mentioned. I learned directly from Crestlynn she waited 4 days after I departed to have the farm house cleaned. In a warm tropical environment, I can't take responsibility if it wasn't turned around in a reasonable amount of time. I further learned Crestlynn called my girl friend and gave her a piece of her mind which made my girl friend cry and stay home all day. She gave me a piece of her mind too and I was so disappointed but I listened. Apparently this sweet heart had an expectation for me to clean the entire farm house above and beyond normal use. I feel any mess in the kitchen and elsewhere that remained was constant with a 14 day stay, nothing excessive and I disagree with the grammar in which she describes the negative things. I even offered to pay for the towel rack and for any other damages if any but have heard nothing back from them, perhaps they realized. I still recommend this place but I would also recommend to utilize the farm house helper and pay them with your own money. I agree with my other review in Airbnb from my stay in Hawaii- Peace and Blessings- Keith
Keith
2016-08-22T00:00:00Z
My fiancee and I were looking for a quiet out of the way place to spend a few nights on Negros and we found the perfect place at Creslynn and John's SunnynBreezy Farmhouse. The farm is beautiful and huge with lots of fruits and vegetables to be picked. The house itself is set-up with aircon, a hot shower, satellite tv, wifi, and a generator in case of brownout. The kitchen is complete with everything you need and more. There's fresh fish and other seafood to buy from local fisherman just down the road after 5pm. The area near the farm is a lot of fun to explore on motorbike and by foot with paved roads, dirt roads, trails and very friendly people. Creslynn picked us up at the port of Dumaguete and took us to rent a motorbike and quickly responded to all of our texts. There is a multicab that goes up and down the road and habal-habals in the area of you're not into riding motor bikes. The caretakers Romeo and Dori near the farm were super nice and very helpful. All in all, awesome property, great people and an incredible bargain.
Eric
2015-04-16T00:00:00Z
Our stay was peaceful and relaxing. The deck outside provided a relaxing place to sit and enjoy the views. Inside, the kitchen was good for cooking in. A good-sized refrigerator stored lots of food. The chilled water dispenser was a nice addition.
Roderick
2015-01-11T00:00:00Z
We had a wonderful time. We enjoyed the birds, garden, the peace and quiet, the night sky filled with stars and shooting stars. We liked the house and the simplicity of it all. We had a truly relaxing retreat from the hustle and bustle of cities and traveling. We would come back here if we are ever in the area again. We stayed 2 weeks and could've stayed more! Thanks for the hospitality Cresslyn and John. You were wonderful! Thanks for all the help and all the tips! Thanks as well to Doring and family who cooked delicious chicken tinola. We miss it already!
Virgie
2016-01-12T00:00:00Z
Very welcome, felt secure, slept like a baby, lol.
Karl
2015-08-31T00:00:00Z
Огромная благодарность Крислин и Джон! Они замечательные, очень внимательные и радушные хозяева! Нам с мужем очень понравилось гостить в ихнем доме! Они предоставили полную информацию о месте где мы проживали и сделали небольшую экскурсию по городу! Для того что бы быть для нас доступными по любым вопросам Крислин и Джон предоставили нам телефон для связи с ними, а также за очень хорошую цену байк на весь период проживания в доме! Крислин так же порекомендовала очень хорошую массажистку, которая приезжала к нам домой в удобное для меня время! Нам было уютно и спокойно в этом доме! Огромное спасибо Крислин и Джо! P.S. Дом и территория гораздо лучше выглядит чем на фотографиях! Единственный недостаток дом достаточно удален от основной дороги и океана! Но это не недостаток для тех то умеет управлять байком!!
iuliia
2014-03-09T00:00:00Z
Room Type
Entire home/apt
---
Property Type
House
---
Accommodates
2
---
Bedrooms
Bacong, Central Visayas, Philippines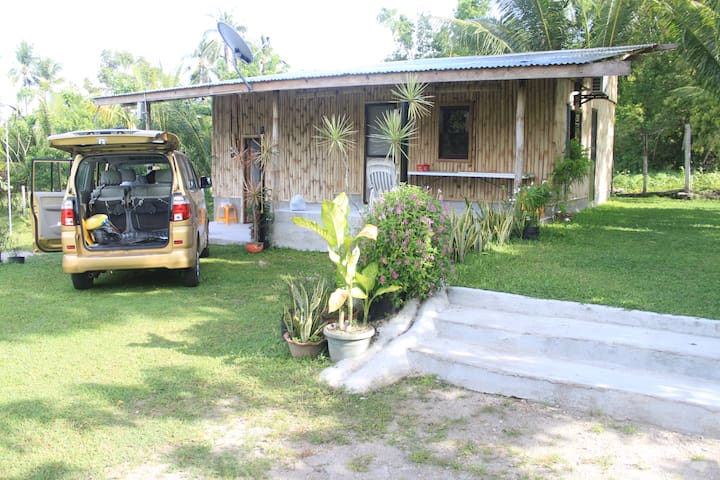 Mediterranean villa style. Quality furniture, nice art and decor, 2 beds, can sleep 4. On quiet rural road, bit over 1 km from National Hwy, Bacong. Approx 8 km from Dumaguete City.
Room Type
Entire home/apt
---
Property Type
House
---
Accommodates
4
---
Bedrooms
Bacong, Central Visayas, Philippines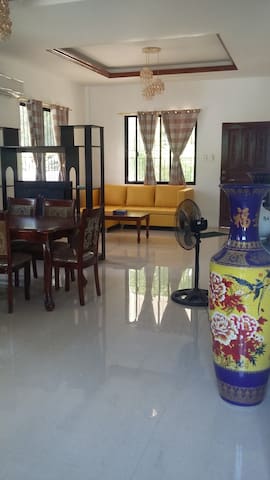 Guesthouse, with kitchen and bathroom. Complete with utilities. Can accommodate upto 4 persons or more if mattresses are added Private property. Large swimming pool in front. Quiet, Green, Clean. Just perfect for your friends and family ! Usage of pool is complimentary.
Guesthouse, with kitchen and bathroom. Complete with utilities. Electric Fan (no aircon). Can accommodate upto 4 persons. Located on private property. Very large swimming pool in front. Quiet, with lots of trees. Access to aviary with tropical birds. Only 10 min. from city center and airport and 25 min. from beaches. Free parking. Free wifi. Large private swimming pool, nice aviary (with beautiful and exotic birds), orchid garden. Just perfect for friends and family, Location Features: •Aviary •Delicatessen •Gardens •KTV •Live Music (Non Acoustic) •Natural Beauty •Sari-Sari Store serving beverages, snacks, etc. •Swimming •Water Slide •Wildlife •Scuba diving training
Very quiet and peaceful neighborhood. Lots of greens, such as trees , flowers, plants. Very secure and safe. Your space for freedom, peace, events, nature, and anything under the sun. Private & Relaxing You won't find a more exclusive location in Dumaguete to take some time off. Don't just hope for peace and quiet—expect it.
Very nice flat, seems a little piece of heaven on earth!ELena and Danny are very nice person, help us for all. I only say ALL WONDERFUL! I want to return in Dumaguete and if possible in the same flat. Thanks very much Elena!
Wen
2016-02-10T00:00:00Z
The place was really nice, so quiet and comfortable. Good service:)
Amparo
2017-01-29T00:00:00Z
The guesthouse was nice and the pool was beyond amazing. We travel with our three year old son and he loved staying in the birdpark. There are also more animals then birds to look at. The place is far out from Dumaguette and there is no stores och restaurantes around. This made us feel isolated since we did not want to drive our self in the city becuse the heavy trafic. There were few trikecykels around the place we stayed. The house is gated and some times felt more than a resort than a place rented on airbnb. I would say that we got everything we asked for but in the same time we did not feel that warm and welcoming feeling that we are used to
Björn
2016-03-22T00:00:00Z
it was a good break for the kids and myself. we wanted to spend time outside the city proper and take on a different experience of dumaguete read the unfamiliar and new. somehow staying with Danny and Elena was a good decision their place is just 15 minutes from town center, it's secluded and quite if not for weekend guests who would use their pool. what helped was that it rained heavily during our stay and the electricity and Internet connection fluctuated. that truly gave us a break from the usual, sort a bonding time by force. we are grateful to our hosts for treating us like family, we felt most welcomed and they went out of their way to make our stay comfortable.
Sharon Joy
2015-07-06T00:00:00Z
Overall really loved staying here. We were cozy and made at home by the owners and their nice staff. The place, pool and nature are one of the nicest in Dumaguete. We had a lot of fun swimming and relaxing. Beds were modest and comfortable. No AC and a slow drain were the only drawbacks. Would love to visit here again. We rented a self drive van (P2500/day) for our family of five. Close To movies at robinsons, went to Valencia, and massage near Siliman. Roads a bit rough.
Joseph
2015-01-05T00:00:00Z
Danny and Elena were great to communicate with. They were prompt, professional and considerate in the way they approached the needs of guests. Often times, land lords will cancel guest reservation and as well the guests cancel on the land lord; that is just the nature of travel. Technically I did not stay here. My girl friend choose another place closer to her family. I understood in advance the strict cancellation policy and knew I would not receive a refund for my 7 day reservation due to the last min nature of changing my itinerary. I presume any land lord would not have any great objection to receiving payment in full for guest no-show's. (Not a bad deal to still get paid). As a business man myself, on a hyper-teclical note, Danny may have wished to find a guest with a longer stay intended to maximize profits; so in one sense their is a subjective finacial loss here although I did communicate with Danny on the first day and second day via email that I wold not mind if he double booked. However, my intention was to stay here. Danny may not have been fully aware as to the last min nature of my change in my itinerary. I would recommend this place to anyone due to the professional way Danny and Elena engaged and corresponded with me initially, I'm certain that would translate to an excellent stay had I stayed there. It looks amazing and perhaps I may have the opportunity to utilize a stay here in the future.
Keith
2016-10-16T00:00:00Z
Elena made us feel very welcome and our stay was very relaxing. The garden is beautiful and we enjoyed seeing all the birds there. The place felt very safe and the people very kind. Many thanks for a memorable stay.
John
2015-11-01T00:00:00Z
Danny and Elena were just perfect hosts; between them and their employees, they took brilliant care of us and made us not only feel welcome but honored. We visited for about a month with our 1-yr-old baby; the place was beautiful and serene, very peaceful and inspirational. The pool was clean, the gardens were super green and lovely, and the animals were really fun to look at. The listing is a standalone building from the main house and is a large studio with kitchen and full bathroom. There was a mid-sized fridge, cooktop, portable oven, and toaster that suited all of our needs. The entire place was very, very clean - more so than any other listing we've visited so far - and we felt at home. Realizing that you're in the middle of a rainforest in a developing country, this place is unrivaled for convenience, beauty, and is well worth the small cost. There are also several additional large rooms (with A/C) to serve larger groups/families.
Scott
2014-08-04T00:00:00Z
Room Type
Entire home/apt
---
Property Type
House
---
Accommodates
6
---
Bedrooms
Dumaguete City, Negros Oriental, Philippines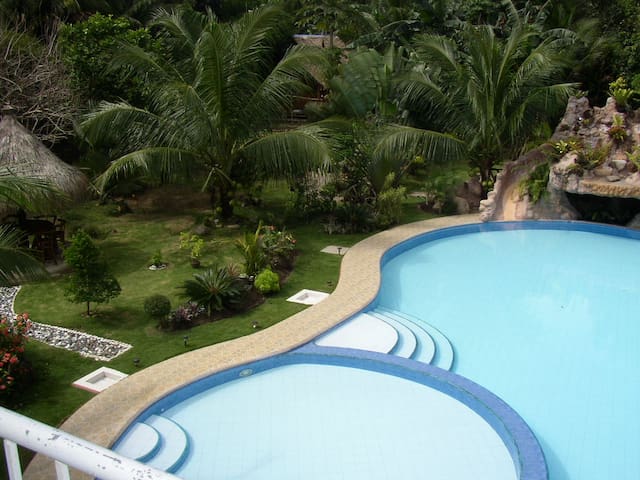 Very spacious aircon room The room has one king size bed and a bathroom Access to very large terrace on 2nd floor overlooking swimmingpool Located 15 min away from city and airport Secure and private property. Quiet, green, clean and beautiful
The room has a king size bed. Good for two persons. Include bathroom and aircon. Possible to accommodate more persons, but need to inform us in advance. Access to very large terrace on 2nd floor. overlooking swimming pool. Very clean, green and friendly environment. Quiet neighborhood. Large private swimming pool, nice aviary,orchid garden. Good for families, friends and groups.
Very quiet and natural environment. Lots of trees, plants and flowers. Your space for freedom, peace, events, nature, and anything under the sun. Private & Relaxing You won't find a more exclusive location in Dumaguete to take some time off. Don't just hope for peace and quiet—expect it.
Room Type
Private room
---
Property Type
House
---
Accommodates
2
---
Bedrooms
Dumaguete City, Central Visayas, Philippines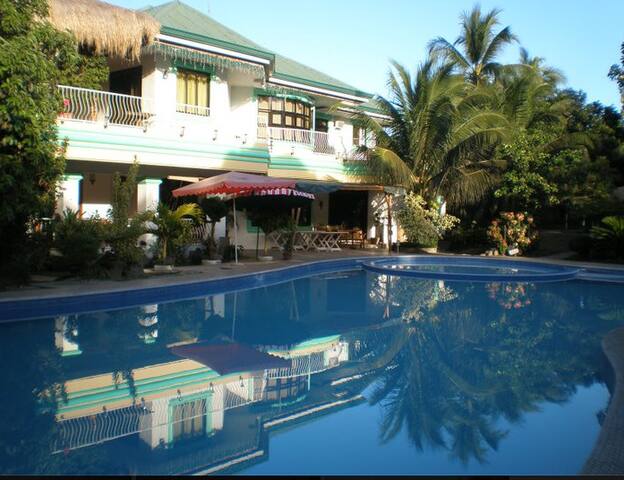 Our home is located almost at the heart of the city :) its near to various places like.. hospital, convenience stores, restaurants and cool hangout places. We have a vacant mini house or kinda like a guest house.. more kinda like a big room. An extension of the house. It has a big bed with air conditioned, cr, and extra room as well.. if your planning to stay with us.. we will clean the room and make it the best it can be for your super comfortable staying experience. We can add additional beds if your in a group :)
It looks like a mini house than a room
Peaceful and easy access to your needs :) like stores, restaurants, and hospital/drug stores.
The host canceled this reservation the day before arrival. This is an automated posting.
喆
2017-03-10T00:00:00Z
Room Type
Private room
---
Property Type
House
---
Accommodates
2
---
Bedrooms
Dumaguete city, Negros oriental, Philippines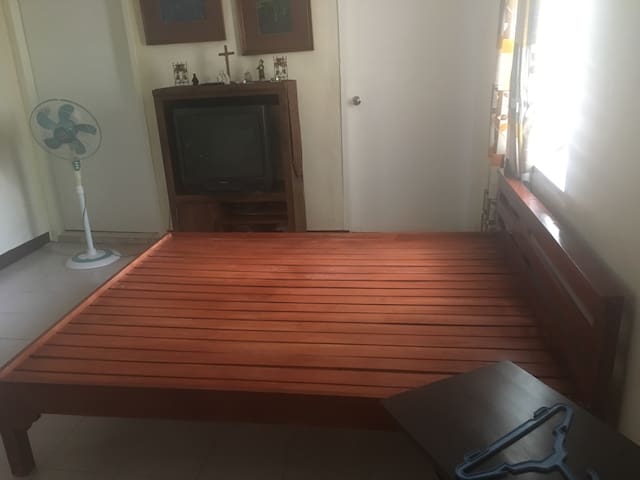 Enjoy your stay in a homey self-catering beachfront house while exploring Negros Oriental. The house has a nice terrace and balcony with a stunning view at Apo Island and the ocean. Sunbeds and hammocks wait for in the garden to dwell on. The kitchen invites you to cook delicious meals. The beachhouse is located 4km south of Dauin, away from the hustle and bustle of the city. The house can accomodate up to 10 persons. The price includes FREE Pick-up from the city and FREE Wifi. 免费接送.
The beach house had been built on an elevated property overlooking the ocean. Huge windows fronts makes the house bright and allows the refreshing breeze to cool you down. The amazing view towards Apo Island can't even be described with words. The house can easily accommodate up to 10 persons. The place has two private bedrooms with kingsize beds and one studiotype bedroom good for 5 persons. One living room and one dining room complement the place. The living room can easily be equipped with extra beds. A newly renovated shared kitchen with its cozy atmosphere invites you to cook and to dwell about. The surrounding trees and the nicely landscaped garden make your stay a truly relaxing and memorable experience. And not to forget the hammocks and sunbeds in the garden. :) The place invites you to enjoy nature with all its beauties. I always encourage my guest to experience their vacation as unplugged as possible. :) We have a strong and stable WIFI connection. Download speed up to 2mbps and upload speed up to 1mbps. Exclusive day trips to Apo Island can be arranged. Boats from Apo Island pick you up directly infront of the beach house at affordable rates. Please feel free to inquire about the available packages. :) On the property we have two new Honda scooters, which can be rented on a daily basis. If you wish to have a breakfast or other meals prepared for you, just let us know. There is almost nothing we can't do. :) SERVICES OFFERED: - Transfers from the city and back - Breakfast, Lunch, Dinner - Motorcycle rental - Day trips - In house massage - Booking of tickets
Set in a place by the sea and away from the hassle and bussle of the city. The beach house is located directly in front of Apo Island in a district 4km away from Dauin, famous for its resorts, diving, snorkeling, and a relaxed lifestyle amidst the backdrop of the sea, sand, and towering coconut trees. Dauin is 20 kilometers away from Dumaguete City, the capital of Negros Oriental. The beach house is set inside the parameters of a private residence in a local fishing village, just 10 minutes away from the famed Malatapay Market, which only opens every Wednesday and sells pretty much everything you can think of, plus everything you can't.
This property is a great deal on a scenic naturally landscaped property probably not to be bested for a couple or large group visiting Dumaguete. That is, for those not wanting to be in the City, and not needing hotel/restaurant amenities. The house is large and modern with living room and eating area with ocean views. The property is adjacent to the ocean for good swimming, once you get past the beach stones. The owner rented us a motorbike, wish facilitated all our shopping needs either nearby, or in the City. The caretaker onsite provided us with all the information about the house and surrounding area that we needed. Children would enjoy the upstairs loft with 3 single beds with a deck under an A-frame wood decking roof giving it an alpine feel (separate bath). Coconut trees surround the house, and grass covers the ground throughout. Mattresses provided sleeping for 5, but there is much more floor room for improvised sleeping. Surprisingly the house does not have heated water for the bath, but we find bucket baths with other water heating methods just fine. There is no TV or cable internet so one is encouraged to enjoy the serenity of this exceptional vacation setting "unplugged". The owner was kind to provide us with free transportation from town to the house on our first day. This is where I would want to return during any future visits to the area.
JOHN
2014-04-22T00:00:00Z
The house was very lovely and would be a good place to stay for a large group of people. It is a bit far from the city proper of Dumaguete (about 30mins) but if you are looking for a quiet place, Hans' house would be the perfect choice. For me, the best part was the house is at the beach front and sleeping while hearing the sound of the waves was relaxing. The Room upstairs (attic) was the best, as it had a deck and view of the sea. It was also very helpful that they had a kitchen where we cooked and was complete with utensils. However, the best part would be the people who helped us during our stay. Hans was very accommodating with my questions from the start. Heather helped us a lot during our trip to Apo Island as she arranged our boat with reasonable prices, my family also loved talking to her during our stay. Lastly, big thanks to Daisy (Hans' assistant), as she was very kind. We left important things but she was kind enough to arrange to ship it back to us. Will definitely go back to this house!!!
Maimai
2016-08-23T00:00:00Z
I just recently stayed at Hans' beach house with a party of 10 and it was perfect! Hans and Heather were more than helpful prior to and during our stay. Prior to our arrival, our arrival, my questions were answered promptly. The house is beautiful and there was more than enough space for all of us. Just a few steps down from the beach are some lounge chairs, at which we spent an entire afternoon just hanging out and laying out on. The beach itself is a bit rocky, so I wouldn't say it is ideal for swimming and such, but I didn't think of it much as a problem. If you walk further down the beach, there is an area that is a bit sandier should you wish to swim there. The bedrooms upstairs had such beautiful views of the ocean and it was amazing hearing the waves as I fell asleep and as I woke up. My friends and I did not shop for our own food to cook in the common kitchen, but Hans was able to arrange our meals for us, as well. Our plan during our stay there was to visit Apo Island. We were told that typically, a boat would be able to pick us up and take us there directly from the beach house. Unfortunately, we were there on the eve of the town fiesta on the island, and so all boats were very busy. During the process of trying to get a boat, however, Hans and Heather were very helpful. I still hope to visit Apo Island sometime, and would love to be able to stay here again!
Abby
2016-04-05T00:00:00Z
The host canceled this reservation 2 days before arrival. This is an automated posting.
Marina
2015-11-24T00:00:00Z
This is a perfect house to relax and listen to the waves. It's right on the beach. I rented the whole house and you should too even if there are only 2 of you! This way you have all the peace, quite and only the waves to listen to. I was lucky I found this place. The house has a maintenance staff outside and they are the best! Daisy and her mom and Tito made our stay even more perfect. Sweetest people and always working! I want to be totally on vacation so I ask Daisy if I can pay her to cook for us. We planned our meals and she cooked the most tasty Philippine food! Fish soup, steamed fish, chicken soup, chicken adobo, fried eggs, garlic fried rice, etc. you are in the Philippines so eat Philippine food! Then I got lazy and ask her mom to wash our clothes!!! And she did not hesitate. She came early in the morning to wash them and I gave her some money. Perfect vacation!!! Hans arranged for us to go to Apo Island, one of the top diving destination and the boat picked us up from the beach at the back of the house!!!! How cool is that!! Top notch service! You have to go to Apo. You can't stay in this beach house and not go to Apo! The island is staring at you from your bedroom window every day. Go! Hans arranged so his boat people will take care of us in Apo down to having our own cottage table. The snorkeling was so much fun. We had a snorkeling guide. And also hired a camera person for under water pics. There is no air conditioning in the house. If you are not used to the Philippine humidity, it can drive you crazy and leave! Don't! Instantly find the shower and take a Philippine cold shower and turn on the fan! Everything gets so much better after that. You will feel fresh and cool!!! Cold shower here is not cold like in North America. It's perfect cold. Don't be scared. You will absolutely love it! It will become your best friend. :) the fresh feeling is so addicting!!! The house is not screened but don't be scared. I am the number 1 mosquito magnet and I have not been bitten! I do use Off at night but I think it's mostly because of the fan that there are no mosquitos bothering me. Our driver decided to sleep by the beach outside one night and not a single bite. :) Hans has suggested us to experience the farmers market and we were glad we went. It was very interesting. Like Hans said, it's not close to town so if you don't have a car, rent a scooter or motorcycle. Hans is also very easy to contact and answers questions fast. Very nice guy!! You will love it here. I will not stay anywhere else if I come back to...
Tess
2015-12-30T00:00:00Z
We had such a good time at Hans's house ! The house is beautiful just 10 meters from the sea and the view from the bedroom is breathtaking. Hans is realy nice host and we hope to come back someday to Dumaguete
Charlotte
2015-03-15T00:00:00Z
The reservation was canceled the day before arrival. This is an automated posting.
JEAN
2014-06-29T00:00:00Z
A very good experience, thank you very much for the care of Hans and Adrian, the house can see apo Island, we in the house after a memorable Chinese Mid Autumn Festival, I believe that Adrian is also very memorable, we drink whisky until 2 o'clock, ha ha. The last day, the family invited us to eat authentic Philippines lunch, a pleasant journey.
kenny
2015-09-29T00:00:00Z
Room Type
Entire home/apt
---
Property Type
House
---
Accommodates
10
---
Bedrooms
Dauin, Central Visayas, Philippines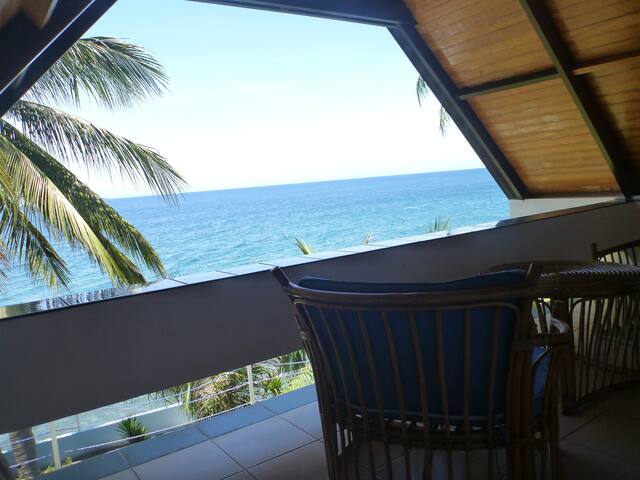 My place is close to the city center. You'll love my place because of the outdoors space and the neighborhood. It is a quiet and safe area.
Xenia is an excellent host ! We took a room which is equipped with a rest room and air condition,having a housekeeper and service on call is so convenient. She gave us a lot of suggestions on the trip,we really enjoyed staying here,and we love Dumaguete. We will definitely come back !
Ada
2017-02-02T00:00:00Z
I strongly recommend Xenia's place. The place was really awesome especially xenia and his partner. They go out of their way to help you and make you feel comfortable. They assist on anything you need and any question you ask. We were affected by the typhoon and we already booked 2 nights in Xenia's place. But Xenia gave us a one night refund and still allowed us to stay and used our porfeited one night stay. The room was big, bed is comfortable and the place was really, really cool. They even provide airport pickup and did some extra service in touring us around Dumaguete. Great people, great place. We even ended up as friends. :).. Nothing to improve at all. It was perfect.
mecca inah
2016-11-29T00:00:00Z
The place was just perfect! The hosts were amazing. If you're looking for a place to unwind and de-stress or maybe even host a party, this is the place! I guarantee you, it will be worth it. :)
Cheryl
2016-11-27T00:00:00Z
Room Type
Private room
---
Property Type
House
---
Accommodates
3
---
Bedrooms
Dumaguete, Central Visayas, Philippines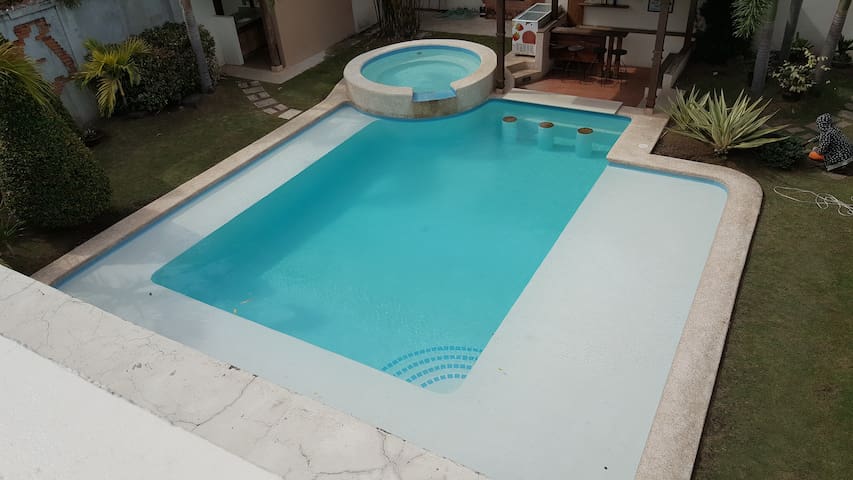 Enjoy the peaceful and glorious view of ricefields and a walking distance to the beach. I have more rooms available. Please ask for availability. 15mins away from SILLIMAN UNIVERSITY, the Boulevard and around the city proper, 5minutes to airport.
My space is quiet but not lonely. From my place, you can see the ocean, ricefields, mountains and the airplane taking off from the runway. You can have a quiet country atmosphere yet just 10-15minutes away from the city.
the house is more beautiful than the pics, clean and peaeful… Sharon and her brother are very nice and helpful, the last day Sharon drove us to th port at 5 in the morning…i do appreciate
di
2017-02-18T00:00:00Z
Sharon has been very kind and helped us a lot, dropped us off to city and airport in the very early morning. If you are looking for a quiet countryside place with great view of green field and cows in backyard and also a budget price, it's your best choice. If you come here with lots plan going on, then the location you might need to think twice. We took tutu most of time from city back to the place, but you need to guide them the direction cuz they wouldn't know. The road could be very bumpy and dark in the night. I appreciated Sharon took us to downtown at 6am for our snorkeling tour. or else it's impossible to call a tutu at the time.
Penny
2017-04-04T00:00:00Z
This is like a little paradise
Myrko
2017-02-09T00:00:00Z
Sharon & James are very friendly.Dogs are cute.The view in the morning is amazing. Thanks! This is wonderful trip!
TIANYI
2017-01-14T00:00:00Z
Very nice and clean place!! We had a neat room with a wonderful view. The place was quiet but not too far away from the town center! The hosts were really helpful and friendly, all in all I can totally recommend that place in Dumagete! Thanks for hosting us!
Klara
2016-05-30T00:00:00Z
sharon's villa is one of the most amazing place I've lived!!! awesome view and convenient place. We even have our own private bath room. Kitchen is free for use(btw, it is a super big kitchen) and sharon's brother is keen to teach us how to cook and introduce philipine cuisine. Will definitely introduce this place to every one.
Shuting
2016-09-18T00:00:00Z
The house is much more beautiful than in the photos!! Technically it is a villa. I can see the sunrise right in my room, so amazing! It is quite close to the ferry and the airport also.
Eric
2016-03-27T00:00:00Z
Here is a nice place. I am very happy every day.Thank you Sharon and her family people are so eager to entertain us.
Summerbb
2015-11-16T00:00:00Z
Room Type
Private room
---
Property Type
House
---
Accommodates
2
---
Bedrooms
Dumaguete, Central Visayas, Philippines
15 - 20 minutes away from the city of Dumaguete. In a tropical rainforest mountain oasis. Fireflies-fresh air-endless coconut water-peaceful. FULLY FURNISHED Bohemian style 1BR air-conditioned + daybed. SAVE and COOK your own food -fully equipped kitchen! FREE internet - WIFI & CABLE- TV ready. FREE Pickup and Drop-off.
PAHUWAY [pa-who-why] v. means to "rest awhile" Newly completed charming COTTAGE situated high above the MOUNTAINS OF CAMBUCAD, VALENCIA . "A cozy and romantic haven overlooking distant hills and mountains. Ideal for newly-weds and couples celebrating their anniversary! Or for a relaxing get- away. 15 to 20 minutes drive from the shopping and dining city of Dumaguete. The hosts, the Tolentino, live nearby. BOHO COTTAGE Fully furnished cozy LIVING and DINING area with Patio. - with a Twin -size Day bed, (for an extra guest) - additional toddler / child's bed available (upon request.) - WIFI READY and CABLE TV. BEDROOM: - QUEEN SIZE BED, - Fully air conditioned BATHROOM: Tropical style with loose river rocks - Comfortable toilet with bidet spray - with 100% Cotton plush towels - Natural chemical- free toiletries - Hot and cold shower - supplied with Natural SPRING WATER from the property. KITCHEN: Fully equipped with all the necessary utensils and, mini-appliances, essentials to make it a home away from home, stay. - Stocked with :silvers, dishes, pots and pans; - toaster-oven, - refrigerator, - gas stove, - rice cooker, - coffee maker, - and a Hot and Cold Drinking water DISPENSER with * FREE *COMPLEMENTARIES: - 5 gallon MINERAL water bottle, - ORGANIC coffee - An assortment of Organic Teas - Organic IFUGAO Rice ( from the famous ancient rice terraces of the Mountain Province of the Philippines). - NATURAL SEA SALT - Organic Coconut Sugar WE carry GLUTEN FREE AND ORGANIC SNACKS ( when available) upon request. NOTES TO CONSIDER: *Located on a township road, guests are ensured a provincial country charm of Filipino culture. LONG spans of solitude intermingled with the occasional neighboring fiesta sounds and high spirits, that breaks the spell of silence (reminding us of the simpler life where there simply is no hurry.) **Due to the open closeness to nature, you may be visited by the occasional harmless lizard, gecko, frog or firefly. We do not use harmful insect sprays that are both detrimental to man and nature, instead we use natural remedies. Such as lemongrass, citronella, oregano and lavender planted strategically around the area. *** If you are not "creature friendly" or are afraid of harmless insects, this will not be the right choice for you. Also be advised, there are a number of steps leading down to the cottage so not advisable for the less fit and very young children.
5 minutes to RED ROCK Hot Springs and sulfur soak pool 10 minutes to PULANG BATO RED Waterfalls 15 minutes to The Filipino Japanese Amity Memorial Shrine 20 minutes to Tejeros adventure Park 20 minutes to Forest Camp 30 minutes to Casaroro Falls 45 minutes to Lake Balinsasayao, Twin lakes 30- 60 minutes to most Dive Spots 15 minutes drive to Bravo Golf Course 25 minutes to and from the airport 25 minutes to the city of Dumaguete and the Robinson Mall
Room Type
Entire home/apt
---
Property Type
House
---
Accommodates
3
---
Bedrooms
Dumaguete, Central Visayas, Philippines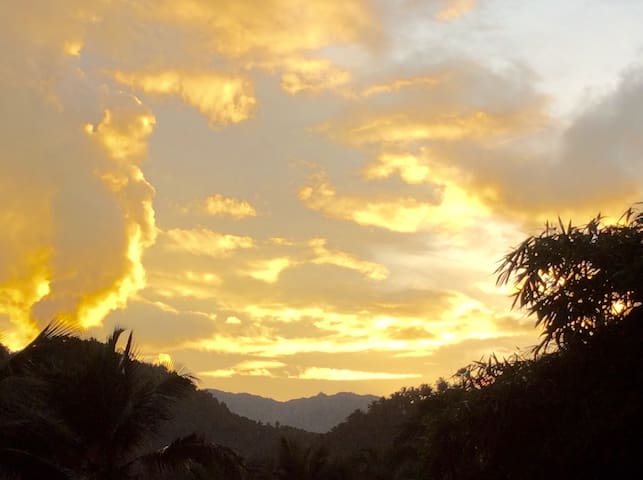 四间卧室,免费接送 5 Bedrooms, 2 bathrooms, FREE pickup from anywhere in Dumaguete. 100m from the ocean, about 1km from the main road, so peaceful! 10 minutes to Robinsons, 20 to the airport, 20 minutes drive to the boat to Apo Island. FREE
Bright, and spacious! 光线好,空间大! Master Bedroom - With queen sized bed 60 x 80inches, Private ensuite, large balcony. 主人房卧室: 双人床150cm x 200cm大小,室内有浴室,大阳台 Second bedroom- With queen sized bed 60x80inches, private balcony. 卧室2: 双人床150cm x 200cm大小,私人阳台 Third Bedroom- With queen sized bed 60 x 80 inches 卧室3: 双人床150cm x 200cm大小 Fourth Bedroom- With Double bed 54 x 74 inches. 卧室4: 双人床140 x 190cm大小 Fifth Bedroom - With Double bed 54 x 74 inches, and a Single. Wall mounted television with cable. 第五个房间是双人床 Fully equipped kitchen - Gas stove, and oven. Fridge/freezer, microwave, rice cooker, coffee maker, blender, 厨房设施一应俱全:煤气罐、烤箱、冰箱、微波炉、电饭煲、咖啡机、搅拌器 Outdoor traditional BBQ Grill - Traditional nippa hut, with out door event area, Natural sea breezes flow through the double storey home. Blue tinted glass. 室外花园有传统BBQ烧烤设施 - 花园有一间传统风味的小茅屋和活动区。 别墅为蓝色色调,站在两层的别墅可以享受来自大海的自然风。
Bacong, a small suburb of Dumaguete is a lush green tropical heaven, fresh food markets, and beaches galore! The surrounding neighbours are very quite, you can almost forget that you are in such a large city! 别墅位于Bacong附近,Bacong是杜马盖特的一个近郊,是一个郁郁葱葱的绿色热带天堂,这里有肉菜市场,附近也有很多的海滩!别墅附近非常安静,你甚至会忘却原来你是居住在杜马盖特这个大城市里。
Tropical Hideaway is a clean, roomy, well maintained property. Seemingly isolated and unknown to the locals...a more descriptive address, directions and landmarks will help heaps. But having a caretaker on site help. Quite further than I expected but the free pick up and resident shuttle for additional costs came in handy. Trajan response is prompt when we were communicating in Australia but the liaison degressed when we were already in the Philippines. Tata is very patient, kind and caring Thank you for your hospitality... ANNE
Anne
2016-01-19T00:00:00Z
Great place ! Beautiful house, with a very nice garden, and the beach at 100m. Tata is here to help us at any time, bring us where we want, etc. Thank you !
Christian
2016-02-08T00:00:00Z
Great stay, we all enjoy ourselves in glass house, it's indeed a home away from home. Tata and his wife are very nice. Great experience.
TIANJING
2015-06-16T00:00:00Z
This was an amazing house in a great location. The house manager Tata and his wife Jean Marie are amazing people and so kind. They were extremely helpful. Trajan was also very helpful in preparations for arriving. Overall we had a great time in this house.
Satyajeet
2015-06-12T00:00:00Z
The house is very clean,and Tata is accommodating,the only downside is that the wifi signals are terrible.
Jin
2016-09-21T00:00:00Z
The host canceled this reservation 25 days before arrival. This is an automated posting.
Mark
2016-02-22T00:00:00Z
Very nice and confortable apartment. Not far from the beach. Not only overlooking the blue sea,and can catch crabs. Each one takes what he needs,both children and adults. Tata very patient. Communicate with Trajan,can quickly get a response.
mei
2016-01-12T00:00:00Z
We had a nice stay. The house is beautiful, well designed. There is a karaoke system in the living room. There are a few books, I wasn't able to finish The October Horse, I hope I can find it in the bookstore or online. Free drinking water. Complete cookware and dining utensils. Place wasn't hard to find. Safe and quiet neighborhood. Thanks very much.
Mikko
2017-03-18T00:00:00Z
Room Type
Entire home/apt
---
Property Type
House
---
Accommodates
11
---
Bedrooms
Dumaguete, Central Visayas, Philippines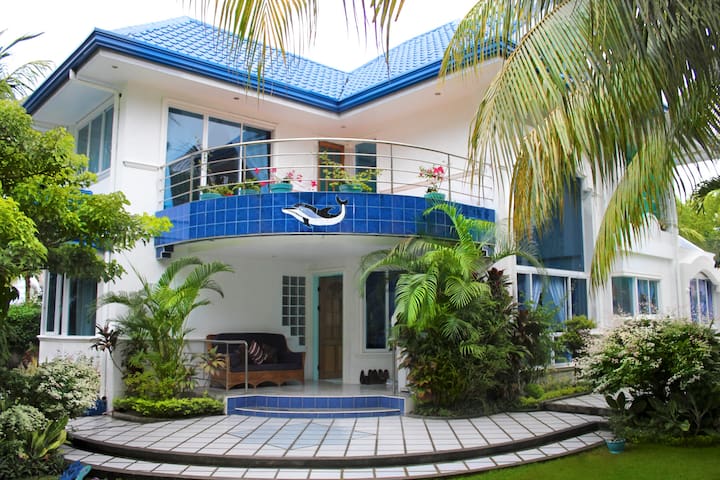 A bamboo pyramid house located in the cool mountains of Valencia, Dumaguete. It is only about 20 minutes from downtown, Dumaguete. The house is surrounded by nature and a quiet and relaxing cool place to stay in the hills.
The Pyramid Wellness Center is located in Apolong, about 5 minutes from Valencia town (Valencia has been recognized as one of the cleanest towns in the Philippines). The house is only a few minutes to several beaches and dive resorts. We are located on the hills about 800ft above sea level, much cooler than Dumaguete. Air conditioning is not needed. You can visit a lot of places here: - Casaroro Falls - Japanese Shrine - Forest Camp nature pools - Other swimming pools - Hot Springs - Oslob whale sharks - Mabinay Caves dolphin watching in Bais - Twin Lakes - Lake Balanan ...
Natural surrounding. Away from the noise of the city.
THe host of this property is very nice, some of the best and friendliest service we have enjoyed over a year of travel throughout the country. The property is beautiful, the house is made with native materials and the rooms are nice, close to US standards. It is cool at night as this resort is in the foothills of the mountains. The neighborhood is mostly clean with a light density population.
John
2016-06-02T00:00:00Z
We were greeted by Leonor in the airport soon after we landed and she is warm and easy going. She was also gracious to drive us in the motorcycle rental place as the location of her place is up in the mountains. Location is not far from Valencia but also not easy to get around by foot.
Mayette
2016-03-26T00:00:00Z
Leonor is just the perfect host! Very welcoming, helpful, a good cooker! Can drive you anywhere if you need! Just a wonderful staying ! Thank you again !
Virginie
2017-02-12T00:00:00Z
This place is perfect, everything is great! Super cool people around. Love everything especially the pool and bed. Ate Leonor is really a great host. Best one for me!
Kate
2016-10-31T00:00:00Z
Amazing place to stay! The room is very nice and clean, our first plan was to spend here only one night but we decide to stay longer, because of people around.Leonor is very friendly and she help us with everything! She also picked up us and help us with transfer down to the city! We can recommend her!!
Nikolušenka
2016-11-08T00:00:00Z
Nice, clean and relaxing place. The host is very accommodating, as well has her folks.
Irish
2017-03-26T00:00:00Z
Leonor's place is definitely worthy. Quite and comfortable if you do like the mountains and if you wanna spend several weeks. The small town is very friendly and welcoming. Leonor is an enthusiastic host, giving us lots of suggestions . Due to our itinerary, we need to go to dumaguete very early in the morning, Leonor got up and took us to the town.and her sons are very cute and handsome. Hope to come back again!
Yingying
2017-02-21T00:00:00Z
I have to say that Leonor is a super nice lady and the place where I lived is super nice! Quiet and special, it's my first to live with local people and makes me feel that I'm one members of them. I'm so lucky to spend 2 days here and had a really nice experience...such as cook the meal by myself, eat together in the local place and buy vegetables from the Sunday market. Nice experience for me and thanks for the help from this SUPER lady-- Leonor. :)
Amanda
2017-04-03T00:00:00Z
Room Type
Private room
---
Property Type
House
---
Accommodates
2
---
Bedrooms
PH, Philippines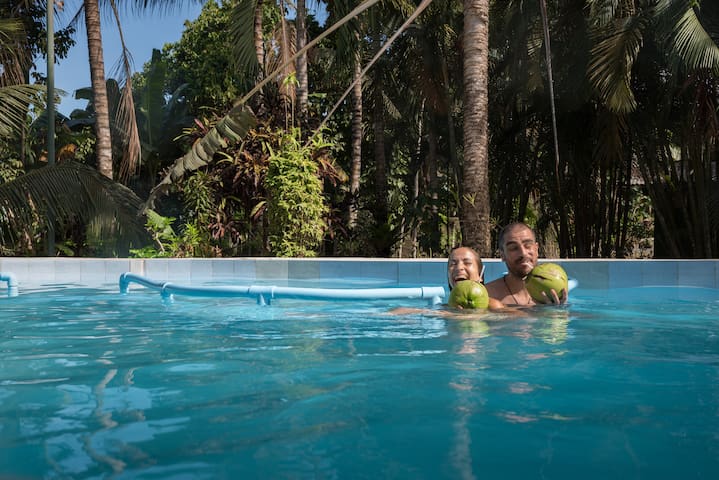 Luxury beach house with two large bedrooms and one smaller one. The property is ON the beach. The sunsets are spectacular. The beach is fantastic for walking. It is very quiet and peaceful but, you are within a very short walk to a selection of restaurants/bars. The house itself is beautiful....!!!!
Room Type
Entire home/apt
---
Property Type
House
---
Accommodates
6
---
Bedrooms
San Juan, Central Visayas, Philippines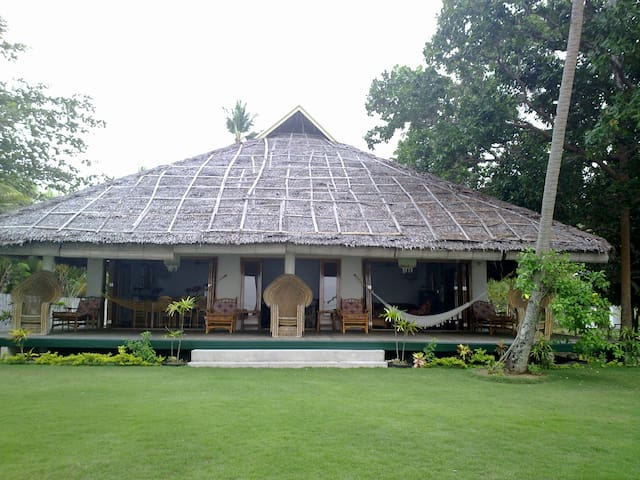 Panoramic View on top of the hill, Close to Nature and the Beach. The whole property is solely exclusive to guests, allows traditional cooking, being home and enjoy your own privacy at the touristic area whilst escaping the city life. Few minutes to Whale Shark Watching and Kawasan Falls.
We have five bedrooms. We are offering the full floor rental and or just a private room.
Friendly and close to nature a panoramic view across Negros Oriental. Rural area. Greenery and windy. Amazing view of colourful sunset every afternoon just by its balcony.
Yes we felt welcome. The family is friendly and helpful. Bring everything you need. The house is really rustic. If you are bringing a car make sure it is in good condition.. It is a good 10 minutes of uphill climb in bad roads, from the paved provincial road. Some inaccuracies are apparent such as the waterfalls is not 3 mins from the house. We timed it and it was a good 30 -40 minutes hike through the woods.
Eden & Jonathan
2015-12-28T00:00:00Z
Lai's place was very beautiful. It was up on the mountains, so the sunset was extremely beautiful and with a view over the ocean. After taking the bus from Cebu City, we took a motorcycle to Lai's place. As we wished to enjoy the nature a bit more, we hiked down the following morning. The stay coincided with the local festival (fiesta) so we got to enjoy true Filipino culture and we were treated to local and native foods. The room was located on the rooftop, with a private bathroom. Lai's place is great for people who wants to get away from all the hustle and bustle of the city. In the morning we got a good hike to and from the waterfall that was located about 10min from the house. Upon checking out, it was a mere 30min busride to Oslob where we had the pleasure of swimming with whalesharks.
Maria
2016-05-16T00:00:00Z
The place is very secluded. You will get the feel of being a local. It is not that accessible via transport but you can trek to the location for a good 30mins. The place is not for everybody unless you love being close to nature and doesn't mind the challenge of getting there.
Santiago
2017-01-07T00:00:00Z
这里是一个非常舒适的房子,不仅可以领略山上的风景,还可以看到美丽的大海。房子附近还有一个小瀑布,我们在那边跳水和游泳,非常的棒!Lai的家人非常的友好,他们也很有趣,我们每天晚上都会一起唱歌跳舞,还有这里的小孩,他们真的很快乐,看着他们在草地上玩耍我能坐着看一整天。从这里出发到oslob看鲸鲨也很方便,到山下就可以坐到bus,十分钟左右就能到,去看大瀑布也很近。可以找山上的人开摩托车载过去,给他们一点小费就可以,很方便。我喜欢住在这里,虽然很简单,但是非常的舒适,远离城市的烦嚣最好的选择
Arthur
2015-12-25T00:00:00Z
Room Type
Entire home/apt
---
Property Type
House
---
Accommodates
12
---
Bedrooms
Samboan, Central Visayas, Philippines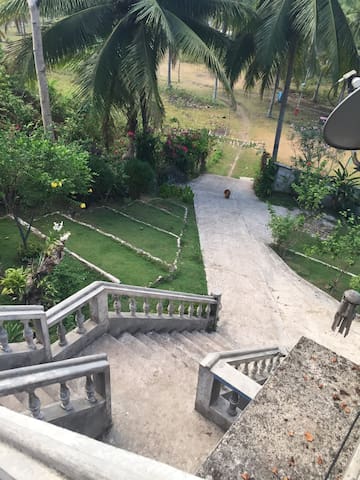 1

–

18

of

108 Home Rentals
Enter dates to see the total trip price including additional fees (but excluding any taxes).