Spotlessly clean and tastefully decorated. Enter from private entrance through pool area. Full bath, all new furniture. Tv, cable and Internet. Located 5 minutes from downtown and 8 minutes from the beach.
Queen size bed with all brand new furniture. Pillow protectors. Wifi, cable tv, pool
Curt was an excellent host:).
Sonya
2017-04-02T00:00:00Z
Great and affordable place in st Pete. Smooth check-in
Pablo
2017-03-31T00:00:00Z
I can't say enough great things about my stay. Curt was such a gracious and welcoming host. The accommodations were very clean, new, modern and comfortable. The private pool area was very relaxing and great to have right outside your door. The home is very close to the trendy downtown St. Pete strip with excellent bars, restaurants and shopping. I highly recommend Curt's home for your next stay!
Steven
2017-03-30T00:00:00Z
If you need a welcoming, comfy place to stay super close to downtown St. Pete, stay with Curt! The entrance is private so you can come in and out without trouble. The place was spotless and had a huge comfy bed that made resting so easy. I had difficulties getting up and ready for my day because of it. It was perfect!!!
Monica
2017-03-21T00:00:00Z
If your looking for a nice and clean place to stay and a warm and friendly host in the St Pete's area look no further than Curt's place. A lovely place to stay.
Joan
2017-03-19T00:00:00Z
My gf and I were pleasantly surprised to find that the room had been recently renovated. It is absolutely clean, beautifully decorated, and filled with necessities like shampoo, conditioner, and soft white towels for two. There is wifi and a TV. MOST importantly there is a heavenly bed. So comfy. Perhaps tempurpedic...made our stay! Curt was a great host!
Gustavo
2017-03-18T00:00:00Z
Curt was very welcoming. The room and entry way were beautiful . No complaints at all, would love to stay here again. The bed was super comfy. Do not hesitate to book with him.
Kiara
2017-03-24T00:00:00Z
Not a bad place.. Too bad couldn't enjoy the pool... The hot tub wasn't up yet either... But overall OK stay
Kelsey
2017-03-20T00:00:00Z
Room Type
Private room
---
Property Type
House
---
Accommodates
2
---
Bedrooms
Saint Petersburg, FL, United States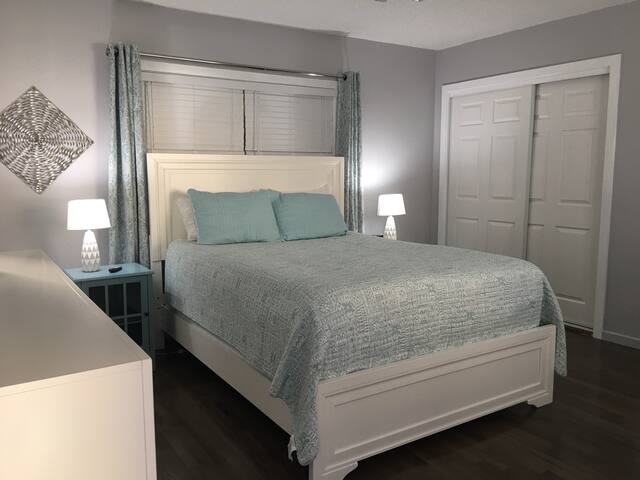 - READ ENTIRE PROFILE & GUIDE BOOK -- Parking, wi-fi, bed size, location ALL in PROFILE - Dogs LIVE on property - I only guarantee 2 dogs minimal YOURS ARE WELCOMED - but READ about it. - Use St. Anthony's Hospital as a landmark to gauge distance to all your destinations - Free Parking - Pergola w/ Bench Swing & high-top bar - Patio w/ Fire Pit - Two Bicycles - Security Cams outside - Shaded Outdoor Hammock - BBQ Grill - Outdoor Patio Furniture
ROOM Guests will be accommodated by occupying the master bedroom during their stay. That master suite is featured in the pictures attached. The room has a comfortable Queen bed. There is a mounted Wi-Fi flat-screen TV for entertainment (NO CABLE only Wi-Fi). You will have hangers and dresser drawers to unpack and place your clothing. Your Bath Towels are located in your closet in the room. PARKING There is room for multiple cars to park. This is city parking. There is street parking only. Street is narrow.
Neighborhood is up-and-coming. It is in Historic Uptown (downtown St. Pete) It is located in a medical district extremely close to St. Anthony's Hospital. There is a 12 room Assisted Living Facility directly across the alley with permanent amputee residents. There are always at least 2 nurses there 24/7. THIS IS A CITY FEEL, outside the yard, everyone will talk to you. You will pass all sorts of people from nurses, doctors, neighbors, friends and homeless. They will stop and talk to you. They WILL ASK for money. Have a backbone and say - "No". Don't be afraid to say "no" I LIVE this property. I WILL have neighbors and friends stopping by .... they too, might talk to you.
My stay at Henry's place was great. The house is clean and well located; Henry is a superb host, very flexible and accommodating. Would highly recommend for a short stay in the midst of St. Pete.
Robert
2016-02-26T00:00:00Z
Henry was very nice, we were skeptical about the area at first cause of the homeless shelter a couple blocks away. But our things were fine and Henry had security cameras that eased our minds. Henry dogs site and has a dog daycare during the day, so if you are going to complain about dogs it's best you stay somewhere else. If you're an animal love like myself and my husband then it's a great place for you. He's a very friendly guy and will help you in any way you need. Don't be taken aback by a man living alone. Rd perfectly safe.
Makenzie
2016-06-25T00:00:00Z
You should know that when he says there will be in minimum of two dogs, it is accurate. There were ten dogs when I stayed there. That wouldn't be so bad except that there were doggies gates at every door so I felt trapped. He also padlocks the front gate at night, so you are locked in. He pointed out that the windows don't work, so you'd have to break them in the event of a fire. I felt like I was in a fire trap within a dog pen. Otherwise, Henry was very nice and considerate. I think he is a good person; I just didn't like the dog situation.
Catherine
2017-01-06T00:00:00Z
If you want a cool AIRBNB experience while going downtown st Pete this is the place. The host was awesome.
Scott
2017-01-22T00:00:00Z
Our welcome was sort of ok he had hold of the dogs while we made our way onto his property through the first two gates through to the next gate upto his porch through the torn dog/fly screen though the next gate to our little room. I think it was his bed we slept in while he took the couch. He boiled us some water in a sauce pan as there is no kettle. We went to bed. In the morning e were up bright and early with Henry telling the dogs to be quiet.
Les
2016-10-24T00:00:00Z
Me and my girlfriend didn't spend much time at Henry's place (we went out exploring the city and left real early the next day), but I can say he was corteous and readily and precisely answered any questions we had. The house is charming and clean, and the dogs are quite friendly. Locationwise, seemed safe and really close to most of our points of interest (the Salvador Dali Museum and some breweries). I would recommend staying here.
Drusko
2017-01-18T00:00:00Z
Henry was such a sweetheart! The home was very cozy and the dogs were an added bonus. Definitely a place I would stay at again.
Jennifer
2016-08-05T00:00:00Z
cozy, and for dog lovers
SALOMON
2016-11-12T00:00:00Z
Room Type
Private room
---
Property Type
House
---
Accommodates
2
---
Bedrooms
Saint Petersburg, FL, United States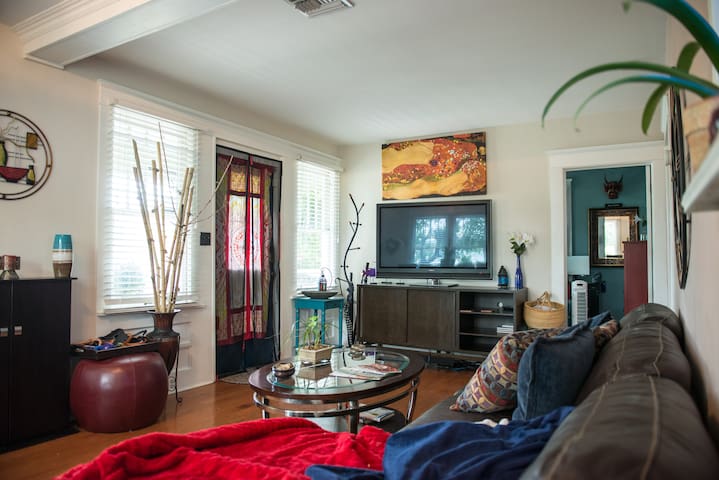 The house is close to nightlife, public transport Minutes from the Beach and Downtown St.Pete and fine dinining. You'll love my place because of the ambiance, the outdoors space, the comfy beds. My place is good for couples, solo adventurers, business travelers, families (with kids), and furry friends (pets). New Landscaped tropical backyard with Hot tub to relax in. Neighborhood is 5 minutes from downtown nightlife and 10 minutes to several beaches and parks minutes for runners/joggers.
This house is 1100 square feet with two bedrooms and two full baths. The main bedroom has its own private bath. There is a full kitchen and living room and a separate dinnig room. there is a full laundry room with washer and dryer and Ironing board and Iron. There is Wi fi and cable and a laptop workspace. Home is very comfy and inviting. Great get away. Enjoy the Beautiful garden and hot tub and the several beaches and many restaurant options. The host lives 5 minutes away and available for any questions and concerns. So come enjoy the Sun and the beaches in a beautiful bungalow house with all the Amenities.
Oak park neighborhood has wonderful charm with the old brick streets and park for kids to play or walk your pets. 3 short blocks from all the local shops and dining and easy drive to several beaches and downtown St. Pete.
Everything was just perfect about our stay. My wife and I absolutely loved everything about our visit to Casa Del Jardin. My only regret is that we didn't plan to stay in the area longer. Terry and John have thought of everything when it comes to making guests feel welcome in this beautiful vacation destination.
Johnathon
2016-10-24T00:00:00Z
My family and I took a trip to Florida and needed a home away from home. This house did not disappoint! Check in/out and communication were wonderful. The house was very nice and clean. It has everything you need to cook, relax, and enjoy vacation time! The garden in the backyard is beautiful, we enjoyed sitting out side in the evenings. This was out first time booking with AirBNB, so I was a little nervous. But, everything was wonderful and I would absolutely stay here again!
Katie
2016-09-19T00:00:00Z
Our stay here was great!! We didn't rent a car, but it's only about an $8 uber ride to the beach from this location!! Terry was extremely communicative in a very timely manner to ensure our stay was great! He and John had great suggestions for where to eat, and what to do around their location. We would definitely recommend this location to anyone looking to have a quiet time away, stay in a clean, well-stocked home, and feel comfortable there!
Sonia
2016-09-15T00:00:00Z
Everything about the house was absolutely perfect. From the decorations to the location to the cleanliness. It's completely updated with lovely wood floors and granite counter tops, updated and stylish appliances and fixtures. The back yard oasis was something else entirely. Between the magical light set up, beautiful plants and placement and the color changing hot tub placed under a pagoda with sheer canopy (URL HIDDEN) reminded me of a scene directly out of a fairy tale. Not to mention, most of the incredible art is actually handmade by John himself who is an amazing and creative artist. It was incredibly romantic and private and the plethora of butterflies and bird life made it that much more incredible. We were warmly welcomed by John and Terry who are hands down the nicest and most accommodating hosts we have ever had the pleasure of meeting. They are totally down to earth and went above and beyond to make our stay incredible. My boyfriend and I were in St. Pete for a wedding and unfortunately it was during hurricane Hermine. We did not have any power loss but the neighbors massive tree from the adjacent property did fall through the fence in the backyard, tearing down part of the fence and destroying a few plants. Terry and John literally left work to come out immediately with a saw and spent the entire day, just the two of them, cutting and removing the tree. By the very next day they had actually IMPROVED the backyard and rebuilt the fence by hand. All of this was done as quickly as humanly possible in the sweltering heat, just to make sure our weekend wasn't ruined and that we could enjoy the backyard. It was the sweetest gesture ever and I don't think better hosts exist on Airbnb. We highly recommend this property and will definitely be back to stay in the very near future.
Marissa
2016-09-06T00:00:00Z
This place was just amazing. There was not one thing that we ended up needing that was not there. The hosts were very personable and attentive. We definitely are going to come here as much as we possibly can. Maybe plan our anniversary every year. We loved it and could not ask for a better first experience with Airbnb and our wonderful hosts. Thanks again guys.
Stephanie
2016-09-09T00:00:00Z
Everything was great. The place was very clean, good location, and the house was very well decorated. I would stay here again in a heartbeat.
Adrian
2016-12-22T00:00:00Z
Top notch. The hot tub was a big plus. Sparklingly clean and comfortable. A great value, would love to stay again!
Joshua
2016-09-25T00:00:00Z
Awesome house and location. Terry and John were very communicative. I can't wait to return to St. Petersburg and stay here again. Highly recommended.
Ryan
2017-01-13T00:00:00Z
Room Type
Entire home/apt
---
Property Type
House
---
Accommodates
4
---
Bedrooms
Saint Petersburg, FL, United States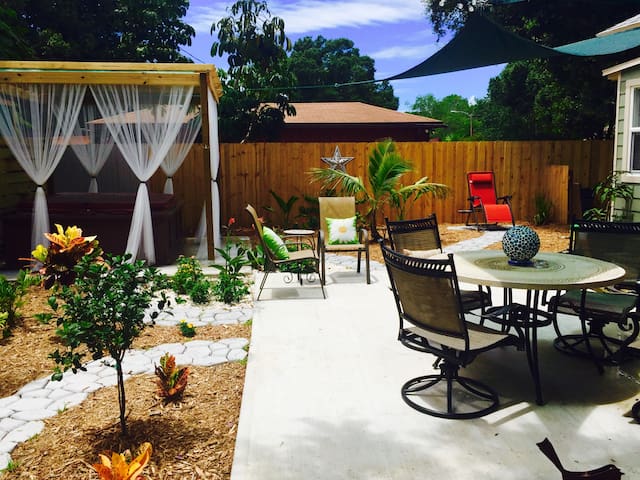 Cozy downstairs studio with full-size bed and full bath, small kitchenette with stove, microwave/convection oven and mini-fridge, private door to outside in the front of Historic Kenwood home in registered Arts Enclave. Patio with table and chairs for outdoor dining in front. Walk to dining and Art Walk, and public transport to Downtown one mile away, or beaches in ten minutes.
Alisa was a wonderful host - she was not in Florida during my stay but she had a temporary host fill in duties. Both Alisa and the temporary host were awesome at responding to any questions I may have had. Move in/check out was super easy and the room was great! The space was very big, clean, and everything you would need for an extended stay away from home! The Historic Kenwood area is beautiful and a short walk to Central Ave/very short drive into downtown St. Pete. The neighbors are very friendly and the area feels very safe. It is also close to the Pinellas Trail, Skyway Trail, and other paved trails in downtown St. Pete for running and biking - I highly recommend taking advantage of it if you can. I would definitely stay in this home again or recommend it to anyone looking for a place to stay in St. Petersburg!
Sarah
2017-02-25T00:00:00Z
This is a great place- like having your own small apartment in a nice, tree lined quiet neighborhood. Great location and a very good value for St Pete. Would definitely return.
"Sully"
2017-01-15T00:00:00Z
Great Location and Great Space. This studio had everything I needed for my week stay. It was also close to the beach and downtown. I would strongly recommend this Listing.
Christy
2016-08-01T00:00:00Z
Great location with everything I needed in this studio apartment. Close to arts district, close to downtown and only 15 minutes to Treasure Island beaches.
Dennis
2016-10-14T00:00:00Z
I had a great stay at Trilogy Gardens...Just perfect for what I needed. It's in a nice historic section of town and I felt safe there. The studio is equipped with a mini fridge, and all eating essentials. A very cozy place all in all near by everything Down town st.pete has to offer. I thoroughly enjoyed my stay. First time ever using Airbnb and it made for a great experience. Very glad I was able to find this place as it is a great value! Highly recommend.
Nikki
2016-11-20T00:00:00Z
Alisa was out of town for my stay so Jenna was my host. Both were very responsive and answered any questions I had right away. The house is very central and close to shops and restaurants. The neighborhood was quiet. There is laundry on site which helped me a ton considering my stay was for 3 weeks. The kitchenette had everything I needed. The studio was very clean. I would highly recommend this place to other guests!! Thanks Alisa!
Madison
2017-02-07T00:00:00Z
Very comfortable for 1-2 people. I stayed for almost two weeks for work. Trendy area with lots of restaurants nearby. I would recommend this listing.
Erika
2016-11-04T00:00:00Z
I had a great 1 month stay. I didn't have any problems getting in contact with Alisa. She's very nice and responsive. The place was very comfortable and had everything I needed- pots, pans, silverware, cups, plates, bowls, coffee maker, towels, soap, etc. I could tell she put a lot of thought into helping guests have a great stay. Having laundry machine access was an awesome perk. The internet connection was fast. It's a great location. Short walk or car ride to anywhere you'd want to go in St. Pete. I would definitely stay again and recommend it to my friends.
Ginger
2016-09-16T00:00:00Z
Room Type
Private room
---
Property Type
House
---
Accommodates
1
---
Bedrooms
Saint Petersburg, FL, United States
Luxurious comfort throughout this recently updated mid-century modern home makes this ideally located gem a have-it-all St. Petersburg experience. Walk to bayside beach, restaurants, Dali and Chihuly museums; Museum of Fine Art. Beach Dr. and Central Ave. restaurants and antique stores for dining and strolling. Saturday Market for music, food, and crafts. Movie theatre, theatre, and marina. Central to Sarasota, Disney and Gulf of Mexico. Close to soccer, baseball arenas. 2nd Rm:Hummingbird Rm.
The Mocha Room accommodates up to two guests in a queen sized bed, with TV and guest bathroom. It is located in the private quarters of this impeccable, spacious, and stylish home located in Saint Petersburg NE. The Old North East in Saint Petersburg is one of the most chic and conveniently located neighborhoods in the region. There is a second guest room also at this location, which we refer to as " Old NE St.Petersburg Bayside Chic-Hummingbird Room". It also accommodates two guests, has a queen-sized bed, TV and shared bathroom. The "Mocha Room" and "Hummingbird Room" are booked separately at this site. Situated in a quiet area just 4 blocks from the Vinoy Renaissance Hotel and 2 blocks from the Bay beach, near downtown business district. Breakfast, lunch, and dinner service available for an additional fee. Dinner parties can be arranged. Responsible adults welcomed.
Michelle & Andre were absolute wonderful hosts. The house was as advertised and they were warm and welcoming. For our first AirBnB experience, it was really great. The house is very conveniently located in a wonderful part of town. We walked everywhere and enjoyed the area. Great value....we would recommend to anyone. Jim & Ann
Jim
2017-03-26T00:00:00Z
If you would like to enjoy the St. Petersburg area, take wonderful bayside strolls with the most wonderful display of various species of birds, enjoy the many cultural events and museums available and just generally soak up a unique and varied geographical area central to Tampa, Clearwater and all the spectacular gulf side beaches do stay with Andre and Michelle. Their house is very comfortable and Andre and Michelle go out of their way to insure that you are comfortable and that your needs are met. They are readily available to answer questions and offer insights and tips as how to best enjoy your stay in the area. The kitchen is an open friendly area where we would often meet up and converse about everything under the sun. Great folks and great fun and highly recommended!
Diana
2017-02-14T00:00:00Z
If you are up for fascinating conversations in creative, art-filled space with gracious, kind and thoughtful hosts then you are in for a treat if you stay with Andre and Michelle. I couldn't recommend them and their accommodations more highly. It's right in the middle of a great neighborhood, old NE in St. Pete's, within walking distance of the harbor, main entertainment district and parks. Besides a nice room, Andre and Michelle, provided me with breakfast and rides at a very reasonable fee. But more importantly, they were welcoming, engaging and great company, for those moments when I was around. I now consider them friends and look forward to seeing them again and staying with them as well.
Joe
2017-03-28T00:00:00Z
Awesome stay and an ever better hospitality experience! Brand new to this and my husband and I were impressed by how welcoming and hospitable the host was. Impressive host couple with many gifts and talents!!
Alisha
2016-11-26T00:00:00Z
Best Airbnb host! We enjoyed everything part of our vacation in St. Petersburg. The house was close to a beautiful park right on the water and walking distance to all the restaurants and night life in town. We would 100% stay here again. Andre and Michelle had great recommendations and were very friendly. Thank you again!
Samantha
2017-02-04T00:00:00Z
Andre and Michelle are wonderful hosts. They are very welcoming, friendly and easy to talk to. Their lovely home is warm and comfortable. The location is perfect too. We have a wonderful time and hope to visit again soon.
Anne Marie
2017-03-15T00:00:00Z
I would recommend this great place and great hosts to everyone visiting Tampa to have a look at bay beach! The house is really clean and located in a beautiful place not far from the beach. The host couple are the most professional hosts I have ever seen. They are really considerate and welcoming! They thought everything for me and provided a lot of useful suggestions! I love them and their house :)
Fan
2017-01-10T00:00:00Z
Andre and Michelle have a lovely place in a quiet, historic neighborhood, quick walk to the bay or great bars and restaurants. Open communication and the house is well-appointed (for art fans!).
Paul
2017-03-17T00:00:00Z
Room Type
Private room
---
Property Type
House
---
Accommodates
2
---
Bedrooms
Saint Petersburg, FL, United States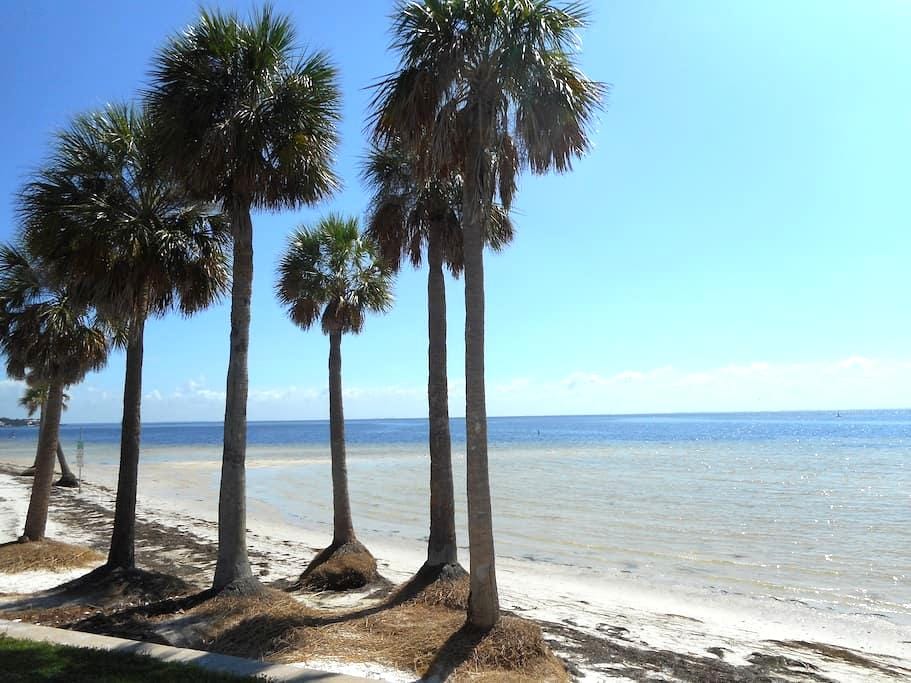 Simple, spacious and clean Bedroom in our 3 bedroom 2 bath home
Our home is simple, spacious, clean, and convenient to downtown St.Pete. Not much to do within walking distance but a 3 minute Uber drive to downtown.
Lively urban neighborhood just a few minutes from downtown, Tropicana Field, Janus Live, Dali Museum, Gulfport, natural health food stores, and beaches.
This was the right place at the right time for the adventure I was on. Kimberley and her family were awesome. I felt right at home from the first moment I arrived. Kimberley's hospitality and genuine good soul makes it an amazing experience.
Edith
2017-01-27T00:00:00Z
I stayed with Kim's human and 4-legged family for 2 nights. They are very easy going and welcoming. It's definitely a bargain, and was available last minute, so I couldn't be happier. The room was very simple, with a comfy bed and central AC. The neighbourhood is ok, and the parking is available inside the gate. It is about 8 min drive to the Old Town, Vinoy Park and the Dali Museum
Nadya
2017-03-13T00:00:00Z
The host is a really friendly interesting person who has that golden quality for a host in being equally happy in conversation or leaving you alone. The house is as described clean and everything works. :)
Julian
2017-03-11T00:00:00Z
I really felt like I'm in home very good people
Ammar
2017-01-23T00:00:00Z
No problems, but questionable and noisy 'hood
Lawton
2017-01-26T00:00:00Z
Room Type
Private room
---
Property Type
House
---
Accommodates
1
---
Bedrooms
Saint Petersburg, FL, United States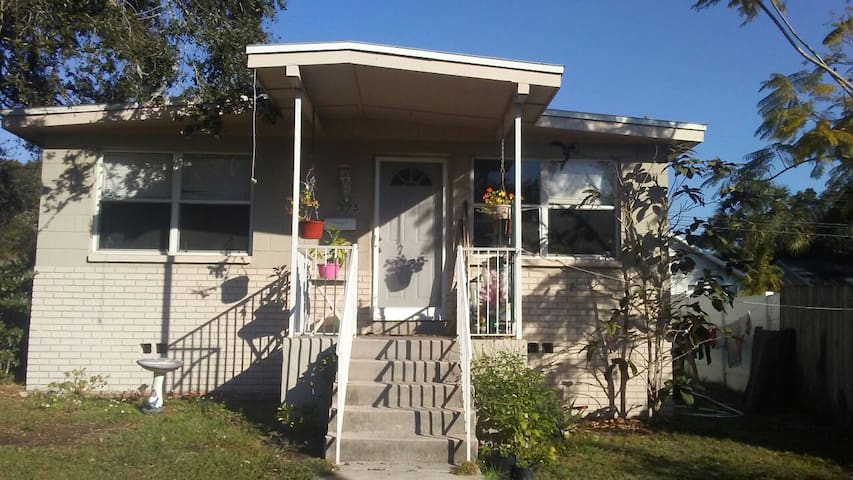 Our home has been described as welcoming, cozy and friendly. The room rental comes with a shared bath, the use of the kitchen and living areas as well as the pool in the warmer months. Our home is very private and well kept. We are just a short drive to town and the beaches. Please view the map.
The room is 10' by 12' with closet space, dresser and a double bed. Internet is available and TV is available in the den.
The neighborhood is well kept, very quiet and there is very little traffic or walking traffic passing the house.
Absolutely wonderful! Lee was very personable and accommodating. He was helpful with places to go out and have fun. He has a beautiful home that made me feel at home. Everything was perfect.
Brady
2016-12-01T00:00:00Z
The one week stay I had at Lee,s home was really nice. Comfortable,clean,quiet, and friendly. Only a 10-15 min ride to downtown st petes which is awsome. Lee was always very helpful, there is a very refreshing private swimming pool too. His home is very tastefully decorated and inviting. I hope when I return in September I can stay again. Thank you again Lee for making my trip really great.
Steve
2016-02-11T00:00:00Z
Lee is an excellent host. His Airbnb is in a great location to Downtown St Pete and beaches. Highly recommend staying here!
Julia
2016-04-23T00:00:00Z
Absolutely outstanding! Lee is truly the epitome of the term "Superhost" and accommodates your every need. I had a great time with them and Lee was as helpful as can be the whole way through. I would (and need be, I will) gladly return and recommend this property to all who may be looking. Thanks Lee!
Jason
2016-07-30T00:00:00Z
After reading all the reviews, we had very high expectations for Lee's place! He clearly exceeded them during our stay. Lee is not a superhost for anything, he has its own way to make you feel comfortable, as if you were at home. All the little attentions, the space provided in the fridge and of course his proximity for any questions we could have. The place is also very well located for beach fans. If you have a car, it's the perfect spot! Would definately book again eyes closed:)
Alexandre
2017-03-09T00:00:00Z
I had a great experience staying with Lee. His home is comfortable, clean, and welcoming.
Savannah
2017-04-02T00:00:00Z
Lee was an excellent host. Very friendly and the house was exactly as he said. Enjoyed the pool and the privacy we felt. We would definitely recommend this location. We will be going back in the future.
Keith
2016-06-19T00:00:00Z
Lee is a really nice host and we felt very welcome at his home! He and his housemate are open-minded and we had great conversations with them when drinking coffee together in the morning :-). The facilities were clean and cozy. The house is in a quiet neighborhood and it's easy to reach downtown Saint Petersburg by car. We really enjoyed our stay and would recommend this place!
Ferdinand
2016-12-10T00:00:00Z
Room Type
Private room
---
Property Type
House
---
Accommodates
2
---
Bedrooms
Saint Petersburg, FL, United States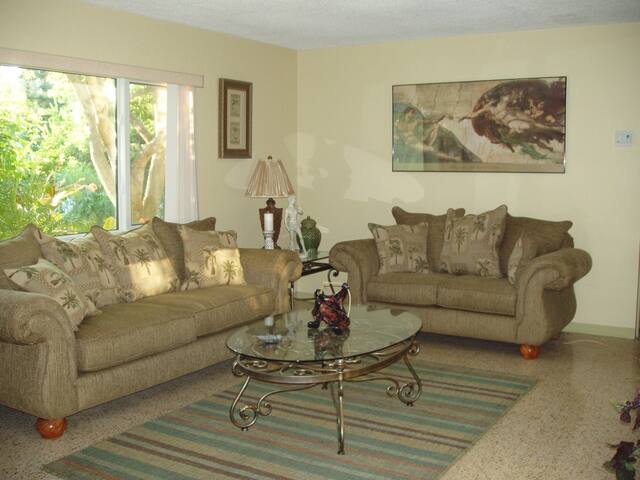 International Guest house has a wave of Hispanic colors with plans to keep making the house welcoming, inviting and sustainable... We have kayaks, bicycles and fishing poles for use.... Private Bedroom with Shared bathroom
We have a colorful space that I would say is Mexican themed. We also have plans to it more international and sustainable. My hope is each guest will help make the house more green and sustainable, so if you have any experience with that we would love the assistance. Also we open to you adding your creative talents to our house in whatever way possible; adding your personal touch. We have had previous guests draw, paint, murals, build shelves, raised beds, plant fruit trees, help build the compost and the list goes on......
Our house is 4 blocks away from Tampa Bay and Lassing Park which has a nice little beach. Plus when the tide goes out you can walk a fair distance into the water. Our neighborhood is very artsy and eccentric. It was just designated an artist enclave. A lot of our neighbors have chickens and gardens and each house is very unique. Close to Dali Museum, University of South Florida- St. Petersburg, Boyd Hill Nature Preserve, Downtown St. Petersburg
After a delayed flight I finally made it to the property 8 hours late lol. I texted them and it was all no problem at all. I arrived to a clean room and comfortable bed. Great location for me. I would stay again.
Jonathan
2016-10-24T00:00:00Z
We had a really great time celebrating New Years at Chris place! It was fascinating to meet all those different people who stayed at his place. We enjoyed hearing and sharing the different stories from all the people. All in all we would definitely recommend this Airbnb place!
Sonja
2016-01-02T00:00:00Z
The stay with Chris was great. He is kind and very helpful. We had had very happy communications with Chris and his other guests. If you are looking for a cheap but nice and interesting place to stay during your trip, I would definitely recommend this place!
Yufei
2015-01-10T00:00:00Z
I had a great time in St. Pete, thanks to Chris, Joni and his wonderful international guest house. The place was walking distance from my seminar at Poynter and a nearby beach and biking distance from downtown, and Chris/Joni explained the area well and some things to do nearby. My room was small but perfect, as I was only in town for a few days. It also had its own exit, so I could come and go as needed. The house was clean, comfortable and other guests were very welcoming. My first night there, I ate dinner and watched a movie with the others — I felt like I was in my own living room with friends! I'm already recommending Chris's international guest house to everyone and, if I visit St. Pete again, I will definitely stay here again! Also, def get a ride from Joni to/from the airport if you can. I had to take a taxi when I left because our schedules didn't match up and it cost 2x as much!
Sarah
2015-06-16T00:00:00Z
I loved the place! It was more like a small community and very peaceful
Arthur
2016-08-10T00:00:00Z
My stay at international guest house was great and I met interesting people there. I also got a chance to attend a small wedding celebration of a couple which was great to socialize with everyone living there. The place is neat, and clean in a quiet neighborhood for sleep. Would definitely recommend this place to everyone.
Sunny
2016-04-25T00:00:00Z
I arrived very late and was warmly welcomed with warmly welcomed by Joanie and a few of the guests, who intend me to join them for some wine and good conversation on the patio. It was an excellent kick off to the weekend and a good indicator of the warm and familial types of folk you can expect to find at the International House. Chris, Joanie, Jalessa, and all the guests I encountered were friendly and conversational, and the vibe of the place is chill and relaxed. The neighborhood is quiet and a short hop from all downtown St. Pete has to offer. I'd definitely stay again.
Christopher
2017-04-03T00:00:00Z
Chris, Lisette and Joni were welcoming, hospitable and knowledgeable. When we wanted to spend another night, they accommodated us. Also, while I was off doing bridesmaid stuff, Joni helped my boyfriend and son find activities and sights in the area.
Anita
2016-10-22T00:00:00Z
Room Type
Private room
---
Property Type
House
---
Accommodates
3
---
Bedrooms
Saint Petersburg, FL, United States
Bedroom with a queen-sized memory foam mattress with a comfortable topper, desk with study lamp, dresser, night stand, mirror and large closet.
Room Type
Private room
---
Property Type
House
---
Accommodates
2
---
Bedrooms
Saint Petersburg, FL, United States
Cozy and charming newly remodeled home in the historic Euclid/St. Paul neighborhood. Close to downtown (the waterfront walkway), St. Pete Beach, and the Pinellas Bike Trail. The place is perfect for solo travelers, couples, and business travelers, as well as someone who needs time away to write, meditate or do yoga.
This house is a peaceful, newly remodeled home, where the only sound you'll hear are the bells from the St. Paul Catholic School. Everything (furniture, etc.) is new, including two memory foam mattresses (queen, full, twin). It is close to downtown St. Pete, however, without the hassle and bustle.
The house is located in Old Euclid/St. Paul on a cobble-stone dead practically end street in close proximity to St. Paul Catholic School. It is near to downtown, however, in a small neighborhood type of location.
The home was exactly as pictures show. Peace and quiet are two words that come to mind when reminiscing about my stay. It's very close to the highway to get to the hustle and bustle of the city if you like but far enough away to give you true rest away from home. Truly enjoyed my stay!
Crystal
2017-03-20T00:00:00Z
Clean. Quiet. Great location. Well equipped.
Denise
2017-02-04T00:00:00Z
The host canceled this reservation 44 days before arrival. This is an automated posting.
Virginie
2017-01-29T00:00:00Z
Beautiful, peaceful home! Very homey and comfortable. Lovely outdoor spaces. Excellent location close to everything. Wonderful communication and super easy check-in. It was a wonderful experience!
Rachel
2017-04-03T00:00:00Z
Strategic location, clean, fresh, everything available even an extra bonus room to do yoga or reading. Pleasant, spacious. Amazing home to stay in St. Petersburg. Absolutely wonderful!
Stefano
2017-02-11T00:00:00Z
The house was comfortable, charming, and clean, with everything we needed for a pleasant weekend. It's in a quiet and safe neighborhood close to everything, and the house itself is beautiful.
Amy
2016-09-18T00:00:00Z
It was easy to access home and when we arrived everything was spotless. All the necessary amenities were available. No surprises. A good value for the price. We liked the neighborhood. It was quiet and seemed very safe. We will return when we are back in St. Pete.
Dave
2016-10-03T00:00:00Z
The house was amazing. Very spacious clean and I loved the old charm. It was very well located, close to just about anything you'd want to do but still very peaceful and quiet. I didn't meet with Migdalia but she was very helpful and gave clear instructions. This was my first air bnb trip and what a awesome experience. Can't wait for the next one.
Elizabeth
2016-08-21T00:00:00Z
Room Type
Entire home/apt
---
Property Type
House
---
Accommodates
3
---
Bedrooms
Saint Petersburg, FL, United States
Waterfront property located 2 miles (6 minutes) from the heart of downtown St. Pete. Parks, museums, galleries, sidewalk cafes and local breweries are a bike ride away. Located 15 minutes from pristine Gulf beaches. Take the trolley for .50 cents or rent bikes. Pool and Kayak usage included.
King size bed, private bathroom and shower. Private entrance so that you can come as you please. Café area set up with mini fridge, complimentary water and coffee. Waterfront, fishing, kayaks available and beautiful sunrises. * a blackout blind has been added to the sliding door. Thank you for your comments and suggestions.
Tropical Shores is a beautiful, secluded area just 2 miles from all the downtown fun. Lassing park is a great place to play, walk, picnic or hang your hammock and snooze. Great area for a leisurely bike ride. (Ask for a map)
Brenda's home is so perfect if you are looking for a temporary home base in St. Pete. A large bedroom with a huge bed, exceptionally modern feeling with a huge bathroom and oversized shower. It was exactly what we needed. There were private entrances, a fridge full of waters, and a coffee station available to us. Brenda and her family are incredibly kind, and offered to help in anyway they could for the duration of our stay. Dali museum and heart of St. Pete were a 6 minute drive away. Highly recommend
Vincent
2017-03-05T00:00:00Z
We came to visit St. Pete for my birthday weekend and decided to try airbnb for the first time. Brenda and her husband were great host and the place was absolutely beautiful. When I got there, there was a bottle of wine and a cute card wishing me a happy birthday. That was super sweet and made me feel special right upon arrival. Everything was super clean. The room is water front with its own access to the pool and private dock great for fishing or just to enjoy watching the dolphins swim by. They have kayaks available to use, which was my favorite part of the stay. We enjoyed a beautiful 2 hour kayak adventure and got the see schools of fish, stingrays, horseshoe crabs and dolphins swim within arms reach of us. The location of their place is about 5 minutes to downtown and about 15 minutes to st. Pete beach. There are plenty of restaurants and things to do close by. If we ever come back to St.Pete this is where I hope to stay again. I definitely recommend this place!
Jaclyn
2017-04-02T00:00:00Z
Loved Brenda's place. Very clean & comfortable. We had a private entrance & a fridge filled with waters which was a nice touch. 5 minute Uber ride to downtown st Pete. Would definitely stay there again! My only complaint (but really wasn't a big deal for us) was that there were no curtains on the sliding glass door in the room so it got pretty bright in there in the morning. But we are early risers so it didn't matter much.
Christina
2017-03-12T00:00:00Z
Wir hatten einen tollen Aufenthalt. Alles wie beschrieben, es war sehr sauber, tolles Badezimmer, sehr komfortabel. Wir konnten den Pool nutzen und auch die Kayaks, das war fantastisch. Man ist sehr flott im Stadtzentrum, also Lage top! Unsere hosts waren sehr bemüht unseren Aufenthalt so angenehm wie möglich zu machen. Der einzige kleine Kritikpunkt: es ist SEHR hellhörig. Sonst aber auf alle Fälle weiter zu empfehlen.
Nicole
2017-03-31T00:00:00Z
Room Type
Private room
---
Property Type
House
---
Accommodates
2
---
Bedrooms
St Petersburg, FL, United States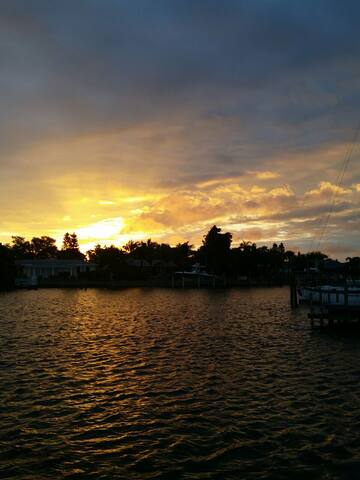 From very filled with the noise of birds to filled with the sounds of music being created it's here.
Enjoyable and relaxing space. Much to do in the area. Not the Hilton.
Room Type
Private room
---
Property Type
House
---
Accommodates
3
---
Bedrooms
Saint Petersburg, FL, United States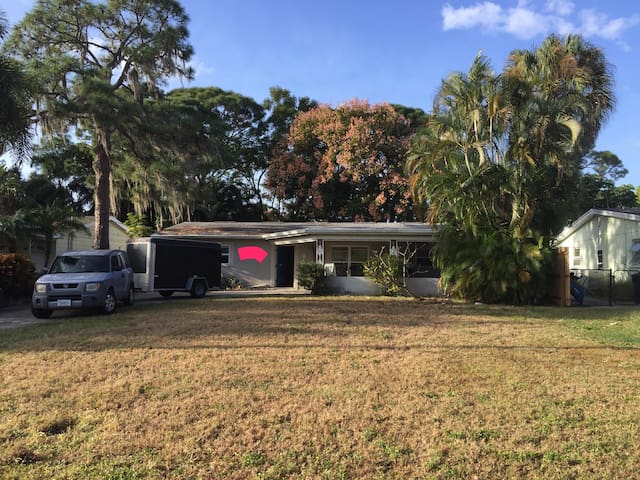 Enjoy your own suite in our beautiful home within walking distance of all the amenities that downtown St. Pete has to offer: gorgeous waterfront parks that run for miles, great restaurants, museums, entertainment and shopping. "Homemade everything" healthy breakfast provided!
Nestled in a beautiful neighborhood of St. Petersburg, this large guest room, in a private home with its own bath and seating area, is one block from the third largest waterfront park system in North America where bike and walking trails surround the Bay. There is no other neighborhood like this one, featured in "This Old House" as one of the top ten historic bungalow neighborhoods in the USA. We are a short walk to restaurants, museums, galleries, clubs and more. Saint Petersburg has been voted the #1 medium sized art town in the US three years in a row. It is home to the Dali Museum, the Chihuly Art Glass Museum, the Holocaust Museum and a Museum of Fine Arts. Don't miss the wonderful Saturday Morning Market in St. Pete with great food, local organic produce, art and craft vendors and live music. (Labor Day thru Memorial Day, 9:00-2:00) You can walk there right along the bay! Summer (URL HIDDEN) a shady park a few blocks away. Suitable for one person or a couple. Guests are welcome to share the whole house. This sweet bungalow has front and back porches for outdoor living and easy free parking. We have two kayaks and two bicycles available for your use. Traveling with a little one? We have a pack & play for your use and thick comfy sleeping bags if you need them. Juice boxes are in the fridge! A gourmet, full breakfast is available on Sunday, continental on Saturday and weekdays. Special occasion? Talk to me about catering and having guests. We are located 30 minutes from the Tampa Airport, and close to Busch Gardens, Ybor City and International Mall. Take a day trip to Disney World, Sea World or Universal Studios, just 90 minutes away. There is a large public pool and and a public "Bay" beach just three blocks away. Gulf Beaches are a short 15 minute drive or dedicated trolley ride away. These are some of the most beautiful beaches in the world. We have two, well behaved, senior cocker spaniels that love company. We recently got a new cocker puppy. She is seven months old and loves guests but is not well behaved yet. We would consider a medium to small dog as a guest. Note: The bed is a full size, not a queen. If you require one, we have a good quality queen air mattress but a queen is only 6 inches wider and 5 inches longer than a full size. Note: When you inquire, could you please help me get to know you by describing yourself and your trip? Thank you.
The New York Times says, "This quiet residential neighborhood stuffed with old houses is the opposite of the happening downtown scene, which might just be its appeal. Those discovering this area, largely through word of mouth, say they love its sense of community while relishing the easy access to downtown. With its eclectic architecture, brick streets, picket fences and lush foliage, the neighborhood offers an odd blend of New England style and tropical sensibility. Despite its residential nature, it is just north of St. Petersburg's downtown, making it convenient to the city's booming cultural and entertainment scene. It also offers easy access for out-of-towners, since it is just 20 minutes from Tampa International Airport."
Comfortable and clean facilities. Nice backyard with outdoor shower. Very helpful, hospitable and well-informed hosts. It was a pleasure staying with them. Charming dogs (small spaniels). Peaceful neighbourhood. Downtown and parks within easy reach. If you are into Coffee Shops, try the nearby Black Crow on 722 2nd St N.
Oystein
2017-01-13T00:00:00Z
Linda's place is just as the photographs showed, filled with beautiful art (stained glass, paintings, ceramics, fabric art, etc.) so the physical space is beautiful and comfortable! Linda and Warren are very gracious, welcoming us in to their home, and during breakfasts of the most delicious homemade granola, bread and fruit, Warren shared many interesting stories of his life. We were away from their home a lot, but one day I enjoyed reading out on the porch, with a spaniel by my legs on the chaise, feeling welcomed to use the space other than our spacious bedroom (although mostly we stayed in the bedroom, which was very comfortable). My husband and I loved St Petersburg area, and spent many days visiting local bird reserves (Sawgrass, Weedon, Boyd Hill) and beaches (eggmont island, and Passe Grill) and were thrilled with the nature and the birds. Ringling Museum is also not to be missed! On Linda's recommendation we really enjoyed our dinner at Yummy Home/Chinese restaurant near Ringling in Sarasota. I would return to Linda and Warren's and St Petersburg in a heartbeat!
Pattie
2017-02-19T00:00:00Z
We stayed at Linda's and Warren's house for 3 days. There have a really lovely cosy home. In the morning Warren provided us with Linda's homemade bread and granola. We had nice interesting talks with Warren. He can also recommend you sites in the area. We can definitely recommend this house! All the best for Linda, Warren and ther lovely dogs!
Janina
2017-03-23T00:00:00Z
We had a fantastic stay with Linda and Warren and would highly recommend their listing to anyone of any age or background. They have a beautiful home and are incredibly hospitable people. The room is large but still cosy with everything provided. We particularly enjoyed Linda's homemade bread (which was included with breakfast) and the fantastic location; downtown St Petersburg was easily walkable. There is so much to do in the area and we wish we could have stayed longer. Linda and Warren's local recommendations were invaluable!
Alison
2015-02-15T00:00:00Z
Linda and Warren are kind, interesting and professional in how they host their home. Also, Linda is a wonderful cook and prepared a delicious breakfast one morning during the weekend. Their cottage is well designed and spotless. The guestroom is comfortable including the bed and the big cozy chair where you can lounge and read a book. There is also a nice writing desk with chair. Their dogs Max and Kevin are delightful. The location is excellent near the bay and downtown allowing for a relaxing dip in the bay which is located right at the end of their street. During the day there are many galleries, museums and cafes to see downtown. The Beautiful Bungalow on the Bay is highly recommended.
Linda
2012-07-09T00:00:00Z
Our experience was kind and welcoming. Linda was attentive to our needs and made incredibly abundant and delicious breakfasts for us both mornings. We appreciated their hospitality and the artistic surroundings.
Roy
2015-03-31T00:00:00Z
Linda's home exceeded our expectations both in accommodations and in hospitality. We were within a beautiful scenic walk from restaurants, shopping, Bay access, and attractions. We were made to feel welcome as guests in the home with a beautiful breakfast spread each morning over delightful conversation. We were granted access to their kayaks, hot tub, and comfortable living spaces for fun and relaxation. The room was clean, spacious, and comfortable. If traveling to the area again, we would not hesitate to request booking Linda's place!
Maggie
2017-04-05T00:00:00Z
We had a great team staying with Linda and Warren. The house is a beautiful home filled with homemade art and comfortable furniture. It's a nice walk or a very quick 5 minute drive to the bars and restaurants of downtown St. Pete. Both hosts (and their pets) were lovely to talk to but not intrusive. Breakfasts were amazing with homemade breads and interesting egg dishes. An amazing value for the price. The only downside is it's an older house with floors and the guest bedroom is near the kitchen, so it can be a bit loud, especially if you sleep late in the morning.
Max
2016-09-05T00:00:00Z
Room Type
Private room
---
Property Type
House
---
Accommodates
2
---
Bedrooms
St Petersburg, FL, United States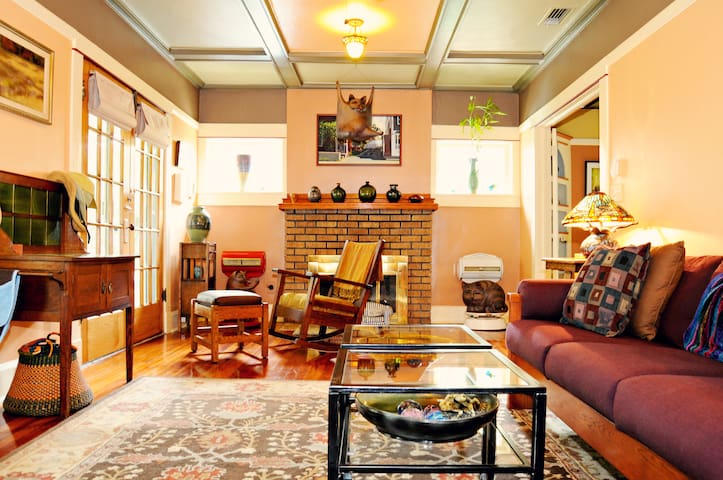 I am centrally located in St. Pete halfway between downtown and the beaches. The decor in my 1940's home is mid century modern. I welcome people from all backgrounds and LGBTQ. You are welcome to use the living room, kitchen, shared bath and outdoor spaces. This room has a queen bed and a frig. I have a second room also listed and may be able to have a larger group. I am happy to help you find things to do in the area. I look forward to your visit!
I live in a very friendly neighborhood of homes built mostly in the 1940's and 50's. We have an active neighborhood association that hosts monthly pot lucks.
Lori was very helpful. Great backyard. Vrery quiet and peaceful. I appreciate the value staying at Lori's home during college spring break.
Dan
2017-03-22T00:00:00Z
This was a lovely place to stay! Lori is a great host, very accessible and friendly. The bedroom is very comfortable, good sheets, has a small fridge and comfortable chair. No problem with sharing the bathroom. Clean house! Good location (St. Pete is small so you're close to everything). Great value. I'd stay with Lori again!
Carol
2017-02-17T00:00:00Z
Lori is a great host...very nice house that is centrally located. I had a great time and would definitely revisit.
Vicki
2017-04-06T00:00:00Z
Lori is wonderful and her place is beautiful and cozy!
David
2017-03-12T00:00:00Z
It was a great first experience, as Lori was a safe and informative host. She gave us our privacy, and spent time with us when we wanted interaction and information about the area. The room and house was very comfortable, tidy, and stylish. The shared bathroom was very clean and tidy and well supplied. She had cold water waiting for us in our private small refrigerator and breakfast foods and drink in her kitchen. The location allowed us to easily get to the downtown arts district one way and the beaches the other way.
Lindi
2017-02-28T00:00:00Z
Very comfortable. Cool furnishings. Friendly, accommodating host. Great location and value. Will revisit for sure.
Sheli
2017-02-26T00:00:00Z
My experience staying in Lori's home was wonderful! The house was beautiful and Lori kept everything very clean! The back yard was spacious and had big trees that were often filled with woodpeckers and song birds. The room not only had a very comfortable bed, it also had a mini fridge for my own personal use which was very convenient. Lori was a gracious and welcoming host from the moment I met her. She continued to be kind and helpful and was very knowledgable about the neighborhood and St. Petersburg in general. I am so happy with my decision to stay with Lori, and I will recommend her home to my friends and family whenever they are in town. This house is only a few miles from downtown St. Pete, and there are many different restaurants and stores as well as the main public library within walking distance.
Jean
2017-03-03T00:00:00Z
Comfortable room, in a quiet house in a residential neighborhood with friendly host and neighbors. A good value too.
Victoria
2017-03-05T00:00:00Z
Room Type
Private room
---
Property Type
House
---
Accommodates
2
---
Bedrooms
Saint Petersburg, FL, United States
Come stay at our beautiful home in Paradise. Conveniently located just south of downtown St Petersburg. Features spacious 5 bedrooms and 3 bathrooms floor plan with over 2,800 square feet, 10 foot ceilings on both floors, a beautiful gourmet kitchen. If you like to entertain outside the yard provides privacy with a fence and an outdoor kitchen. Less than 5 minutes from downtown St Pete and only 10 minutes from St Pete Beach and Pass-A-Grille and a block from intercostal waterways.
The neighborhood is located 1 block from the intercoastal waterways of St. Petersburg Florida. There are 4 public boat launches less than a mile from my home. By using Uber, Lyft, taxi or the bus you can be downtown or at the beaches in minutes.
Beautiful house! The pictures don't do it justice! I stayed there with my family (3 adults and 3 kids) and we had plenty of space. As far, as I can remember, it was the FIRST time that there were no arguments about who was getting which room! That's worth the price of admission alone! Suzanne was VERY responsive and helpful. The house looks brand new and has higher end everything. Not what you might expect for an Air BNB place. We were all very pleased with our choice!
Mario
2017-03-19T00:00:00Z
This was my first time using Airbnb as a Guest, and this property exceeded my expectations. DJ and Suzanne have set the bar extremely high, communication with them was effortless. The house is spacious and well appointed. The setting is magnificent. The outdoor living/entertaining space is under represented in the listing. It is as nice and spacious as the interior. If you like to cook you will love the kitchen. Although it was only my spouse and self that stayed here we wanted a larger home so that we could have our family over and we had more than enough room to entertain 10 people. There was plenty of room for the adults to socialize and for the kids to run and play. The house is so close to the bay it was nice to go down there and see boaters out enjoying the perfect weather. There are two parks and a bike/walking trail within walking distance. When I booked I thought the price was a little on the high side but the location was important to us because of the proximity to local family. I was mistaken. This property is a great value. We saved bundles of money because it was so nice we didn't want to go out in the evenings. We stayed in, grilled on the porch . I was also impressed with the effort DJ and Suzanne put into their property to make sure it is clean and ready for their guests to enjoy. If you are looking for great place for your family to get together and enjoy the Florida sunshine you won't go wrong with this property. And I can't forget to leave out how comfortable the bedding and sheets were.
Jon and Jerit
2017-03-11T00:00:00Z
Room Type
Entire home/apt
---
Property Type
House
---
Accommodates
10
---
Bedrooms
Saint Petersburg, FL, United States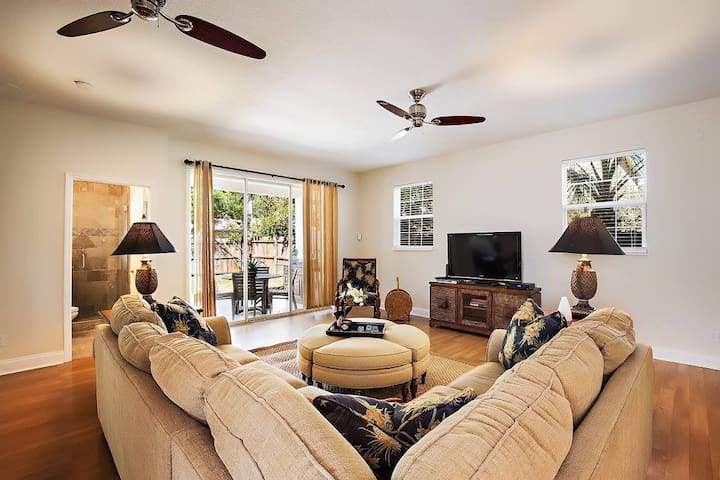 Convenient Downtown on a New Murphy Bed with a firm full mattress in our living room on the bottom floor w 50"TV, Desk, Dining Table, Great Fast WiFi, Kitchen, Bathroom with NO SHOWER. We have a super chill 10 year old Weimaraner and a bunny (potty trained of course) living in the kitchen. Central Ave and the Beach/Waterfront are 4 blocks (5 min) away. We are in the heart of DTSP - so you can hear noise.
Its a Murphy bed in a living room, Sheets, pillows, and towels will be on the piano bench or already on the Murphy bed..Your welcome to use fridge and all the cooking utensils as well as out extensive spice supply..We cook nightly as well..Your private bathroom is outside on the porch with a washer and dryer, sorry no shower included but Vinoy Resort Gym 4 blocks away has a shower. This location has no shower downstairs just a bathroom and laundry. O, have a hose outside in back yard lol.
DTSP is amazing, 4 blocks from Beach Drive and 4 blocks from Central - in my welcome note to you, you will also get recommendations of places to go. Downtown is very walkable! If you choose to leave your car here, there are tons of restaurants and coffee/tea places, museums, live entertainment, beach volleyball, free tennis courts, many yoga studios and gyms. Not to mention all the galleries and boutiques - this is a very artsy area, all walkable to us, of course. Many clubs and concert venues and theaters as well as seasonal festivals like rib or blues fest and events like movies in the park or Saturday Farmer's Market events, all walkable.
Fabulous location just walking distance from all the bars and restaurants downtown.
Sabrina
2017-04-02T00:00:00Z
This was a magical experience. This couple was very welcoming from the moment I walked into their home until my last night when Brent shared opening night at his new place of business for pop up artists downtown. MsRositsa is warm hostess sharing insights about this great walking city. They both gave their time, the geatest gift of all!
Kitty
2017-03-12T00:00:00Z
Very nice and accommodating hosts. My first AirBNB and felt very comfortable. Good location, and perfect if you are coming in for a night or two, would definitely stay again.
Tyler
2017-03-06T00:00:00Z
Convenient location.
Robert
2017-03-26T00:00:00Z
MsRositsa was very hospitable and provided great local information for restaurants. Place as described.
Trent
2017-02-26T00:00:00Z
Although you are traveling for work this is a nice place for staying. Located very close to downtown, even just walking, the neighborhood provides good places as restaurants and pubs. Bathroom located in the backyard porch has no shower, so make sure to arrange that in a gym or private place. Your comfortable bed is in the living room, quiet and calm. The couple host is very friendly and well willing at your necessary. They let me practice clarinet without any problems. Don't forget you're going to stay in Florida, so the only annoying thing is mosquitoes. Bring your good stuff and weapon against them, and sleepy time will be perfect.
Antonello
2017-03-21T00:00:00Z
Room Type
Shared room
---
Property Type
House
---
Accommodates
1
---
Bedrooms
Saint Petersburg, FL, United States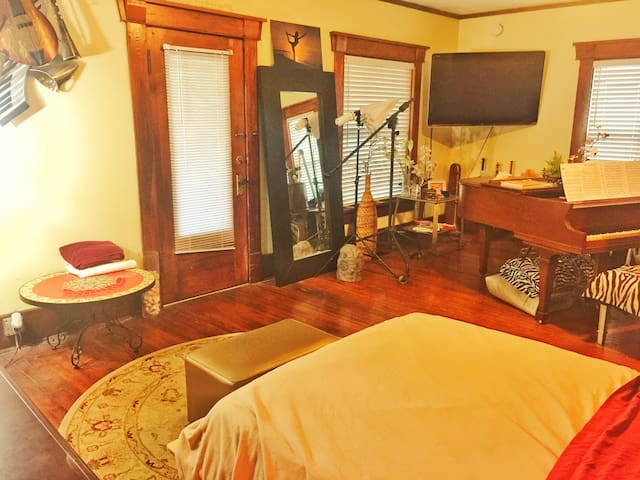 I don't have an option at this site to accurately specify when this room will be available so I show here that expected opening date should start at December 10th, 2016. Thank you for understanding! Beautiful 3/2/2 house in the heart of St Pete with private good size room and full bathroom beside your door has everything for comfortable life style and quality time!
The house is in quiet, mixed neighborhood, away from heavy traffic but close to all communications that downtown may to offer, including theatres, Dali Museum, Sundial movie, restaurants and shopping center. In fact it is in 4-5 min distance away from downtown and about 20 min from luxury, boundless St Pete beach.
Please keep in mind that house is located in between low income area and downtown, so your immediate neighborhood is rather poor. If nice neighborhood is your priority you might not like the area, but if you prefer to live nearby all downtown activities and close by to shopping and beaches that would be your right choice.
Luba was very nice and kind. Very clean house. Great hospitality.
Dan
2016-03-07T00:00:00Z
The host (Lubasha) was very welcoming and what is described on the listing is correct
John
2016-04-06T00:00:00Z
Luba was very welcoming.
Sarah
2016-07-21T00:00:00Z
You'll know immediately that this is a dog-lover's house. The two pomeranians, Chudy and Cherry, are cute and lovable. And Lubasha is a warm and thoughtful host.
Jock
2017-01-14T00:00:00Z
Staying with Lubasha was a stress-free experience. I felt as at home as if I was at my parents' home. Lubasha helped me with everything I needed help with to get to my events in St. Petersburg. While not in a walkable neighborhood, the location is very convenient to St. Pete and takes only a few minutes to get anywhere by car. Her little dogs are adorable, and she is a very considerate and kind hostess.
Jerri
2016-04-17T00:00:00Z
Все прекрасно!
Elena
2016-11-10T00:00:00Z
Room Type
Private room
---
Property Type
House
---
Accommodates
2
---
Bedrooms
Saint Petersburg, FL, United States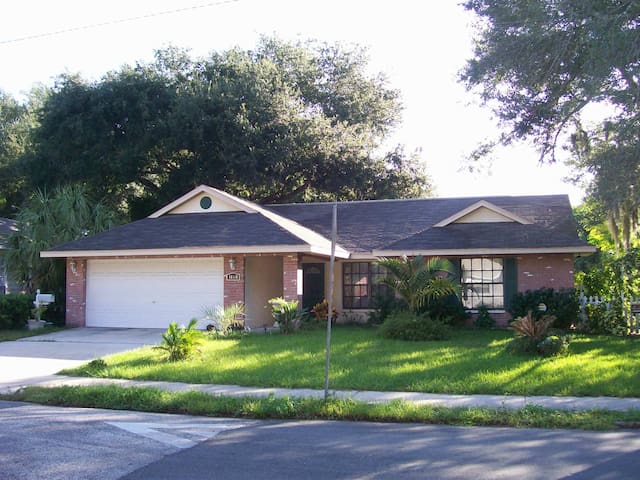 Enjoy your own private guest studio separate from the main house (no main house access). Located 1 mile from downtown and 1/2 mile from Tampa Bay. One bed, one bathroom with fridge, microwave, and coffeemaker. Great walk ability.
You will be separate from the main house and will enjoy privacy in your own cottage.
Wonderful neighborhood close to water and downtown. Great park and walking near the water. Downtown has many bars, restaurants, shops, and a movie theater all within a 1 mile walk.
The entire process including our arrival, check in, and the stay itself was smooth and painless. Dana was easy to communicate with and provided everything we needed to enjoy our stay this past weekend. Would definitely recommend!
Alex
2016-08-08T00:00:00Z
Dana's studio was a great little haven near dowtown St Pete for visiting all the city has to offer. Definitely recommended!
Robert
2016-08-14T00:00:00Z
This was a cute little studio with a fantastic location. The studio had everything I needed to feel at home. Dana was quick to respond to my questions and provided a useful lists of nearby restaurants and directions to other sites to visit.
Cathy
2016-06-06T00:00:00Z
Everything was exactly as described and the directions were extremely detailed. I showed up and there was a welcome letter on the bed explaining everything I needed to know for my stay. I was there for a week for work and as long at its available I won't be getting hotels in St. Pete any more! This is a perfect place for one or two people in a very nice neighborhood and a very quick walk to all the nightlife in downtown St Pete.
Drew
2016-07-02T00:00:00Z
Loved my stay at Dana's hidden treasure in St. Petes! She was super accommodating for my somewhat high maintenance needs. The place was everything I needed.
Susie
2016-04-25T00:00:00Z
Both of the hosts were incredibly helpful and friendly. The place is extremely comfortable and I felt at home in truly a beautiful neighborhood.
Daniel
2016-01-25T00:00:00Z
Nice place, comfortable bed, nice bathroom with shower, wifi, cable, coffee machine. Couldn't have asked for more.
John
2017-03-16T00:00:00Z
We thought it was great, perfect. Wonderful neighborhood and location.
Robert
2016-11-07T00:00:00Z
Room Type
Private room
---
Property Type
House
---
Accommodates
2
---
Bedrooms
Saint Petersburg, FL, United States
1

–

18

of

300+ Home Rentals
Enter dates to see the total trip price including additional fees (but excluding any taxes).