In a 2 rooms apartment where is always a single-bed free for guests. In this room I have my computer...but when guests arrive and check in, I leave the room as soon as possible.
My place is in a quiet area of the city of Sankt Gallen. Only about 20 minutes walking from the center, and the trainstation. Sankt Fiden trainstation is about 8 minutes walking. The busstop is only about 100 meters away, and by bus it´s about 10 minutes to the city center.
it´s a quiet neighborhood with good connections to the rest of the city. Trainstation St Fiden is 8 minutes walking... 2 minutes walking is Migros and Denner supermarket and a good Italian restaurant.
Good for money!! Being my first experience with AirBNB, I was not very confident, but it went pretty smooth. Koen is a great host and has his unique & interesting opinion about things happening in the world. The apartment was decently clean and Koen was very patient & helpful with my questions. He even offerred his bike that I could borrow once for some work. Overall, great value for money.
Manu
2016-04-06T00:00:00Z
Property is a 3 min walk from bus stop in a quiet neighborhood. I arrived in the middle of the night but Koen was still really nice and showed me around the house. Nice clean place with a comfortable bed. This is my first airbnb stay and I am happy to do more in the future.
Kay
2015-06-09T00:00:00Z
Koen is a very nice guy! Great Airbnb
Etienne
2016-11-28T00:00:00Z
The room was comfortable for an overnight stay, close to a public transport and at a quiet location. I did not have much opportunity to speak with the host, but overall everything was nice. Maybe the only drawback was that there were no curtains, which was kind of uncomfortable, but not a big deal.
Toma
2016-07-29T00:00:00Z
Koen is a very kind and moderate man. The flat is well-located just 8 mins walking distance from St.Gallen St.Fieden station and 10 mins by bus from St.Gallen Hbf. The rooms are very tidy and clean as well.
yucca
2015-04-01T00:00:00Z
Like the description says provides a place to sleep. The place is well situated, within walking distance of good grocery stores and quick bus ride to the city center. The host is welcoming, helpful and respectful. I think this place is most appropriate for someone that is really open minded, someone that appreciates the views of others and is not too judgmental. You will be sharing the apartment. Your sleeping quarters, where you have a bunk bed, is your hosts office. Your kitchen, dining and plug in Internet area is your hosts sleeping area. This may be a good economic choice for you to overnight and if you like it to stay longer.
Siggi
2014-04-16T00:00:00Z
Everything was fine!
Josef
2016-11-15T00:00:00Z
Koen is a very authentic and friendly host. The 2-room apartment is cozy and offers enough space if you stay there as a single person. I sometimes struggled with the bunk bed which is just a little too fragile for a 6-foot tall person. The location is a 5 Minute bus ride from the center.
Julian
2017-02-15T00:00:00Z
Room Type
Private room
---
Property Type
Apartment
---
Accommodates
1
---
Bedrooms
Saint Gallen, Sankt Gallen, Switzerland
The studio is centrally located and well connected to public transportation. On three levels, it offers a sunny living area, a sleeping gallery, private bath and kitchenette. It creates the atmosphere of a loft based on the tiny house movement. Please keep always in mind to use the different levels and the connecting ladders always with care and at your own risk.
The micro-loft offers an uncommon living space – fulfilling all the essentials needs on a condensed area, combining the atmosphere of a industrial loft with the qualities of the tiny house movement approach. With this it offers a cool place for guests, spending either just a quick visit to St. Gallen or staying longer on a business trip or for educational reasons. The studio's main window catches noon and afternoon sun and opens directly onto the 'Singenbergstrasse'.
The studio is in a historical, alive and ethnic mixed quarter, characterized by buildings from medieval times until the beginning of the 20th century. Grocery stores, bakery, restaurants, cafes and bars are just a few minutes away. The studio is in walking distance to all major points of interests, e.g. 1 minutes to the city park and the museum district; 5 minutes to the city center; 7 minutes to the world famous UNESCO listed abbey library; 12 to the railway station; 3 to the concert hall, theater and to the main hospital and 15 to the famous 3 ponds.
Great and unique place for staying at St. Gallen. Everything at hand in a unique architectural concept. Had a great time!
Eduardo
2016-11-18T00:00:00Z
Super cool, fun, industrial mini-house -- a converted garage with a sleeping loft and dug-out cellar containing a kitchen and bath. Very nice, modern finishes throughout. Surprisingly large and efficient kitchen, well stocked with pots, pans, herbs, and spices! Super clean and tidy. Great communication, easy access, flexible on arrival and departure times. In deciding whether this place is for you, be aware that there is a ladder up to the sleeping loft (which is not full height), and a ladder-like staircase to the kitchen and bath. The bathroom has a curtain, rather than a proper door, separating it from the rest of the cellar area. All of this is what makes the space unique and fun, but it may not be for everyone.
Louis
2016-07-26T00:00:00Z
Andreas waited for my at 10:30 PM, was very kind and patient to show me his cool converted apartment. It is a really cool place, with designed details hat make you smile :-). The place is located 10 minutes walk from train station and city center, or 4 bus stations away. I really enjoyed my stay and highly recommend it.
Tomer
2016-11-05T00:00:00Z
Amazing little space for a short trip. Did the job and Andrea was very helpfull
Rebecca
2017-03-06T00:00:00Z
Andreas' micro-loft is a nicely decorated, well situated and very clean place in which I've stayed for the third time. Andreas is an extremely nice and welcoming host, providing breakfast and making sure nothing is missing. Highly recommended and returning again in September!
Marcel
2016-06-12T00:00:00Z
Communication was good and it was the main reason why we felt really welcome to come in St.Gallen.
Santeri
2016-10-31T00:00:00Z
We spent one night in this special place. The Studio is very ergonomic and made for comfortable pastime. It is close to city centre and to supermarket. Andreas is extremely nice, thoughtful and punctual host.
Olena
2016-05-06T00:00:00Z
The apartment was absolutely clean and comfortable. The interior design was special. Perfect for two friends or a couple travelling to St Gallen.
Susanna W S
2016-08-22T00:00:00Z
Room Type
Entire home/apt
---
Property Type
Apartment
---
Accommodates
2
---
Bedrooms
Saint Gallen, Sankt Gallen, Switzerland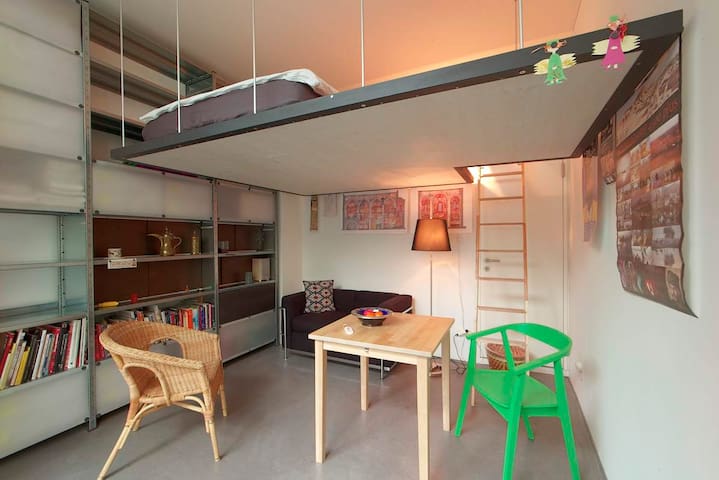 Das Zimmer befindet sich in einer neueren 4.5 Zimmerwohnung. Das Quartier ist sehr ruhig und trotzdem zentral; vieles ist zu Fuss erreichbar. Eigene Dusche mit WC.
The room makes part of a new apartment with 4.5 rooms. Living room, kitchen, veranda shared use - bath eclucsive use. One minute walking distance to bus station, 5 minutes walk to main train station, 2 minutes walk to park, quiet situation (no main road). Restaurants close, food market across the street, shopping center in walking distance. Washing machine / drying machine available during 2 days a week (with tax).
Die Wohnung befindet sich in einer wenig befahrenen Nebenstrasse ohne Durchgangsverkehr. Vieles hier ist in unmittelbarer Nähe - so unter anderem ein Lebensmittelmarkt gleich auf der anderen Strassenseite, ein schöner Park in zwei Minuten zu Fuss, Einkaufsmöglichkeiten, Restaurants, Bahnhof, etc. in Gehdistanz. Die wunderschöne Kathedrale und die Stiftsbibliothek (UNESCO-Weltkulturerbe) sind beeindruckend und immer einen Besuch wert.
Very good location in a very nice apartment. It's clean and it was just as perfect as I expected. The host is very nice and helpful as well.
Balázs
2014-03-09T00:00:00Z
Great place to stay right in the heart of St. Gallen and 3min by walk to the main train station. Very clean, cosy and new apartment. 100% recommendation.
Sarp
2015-11-21T00:00:00Z
Great location and very helpful host. Will strongly recommend for any future travellers
Nikhil
2016-12-02T00:00:00Z
Thank you Beni for welcoming in your place! Great flat, great host, fantastic communication!! He came to pick me up at the station...the room that he gave me was cosy, very clean and comfortable! I hope I will be welcome again next time I will be in St. Gallen! *****
Gianni Salvucci
2014-06-27T00:00:00Z
Beni was wonderful. He met me at the trqin station and took me to the apartment. Let me use his laptop! Spotlessly clean and modern.
Susan
2014-09-01T00:00:00Z
Really nice stay- Beni is great:)
Stéphanie & Yannick
2014-09-30T00:00:00Z
Beni was a very helpful and patient host! I was confused about direction to St Gallen and there was connection delay with the train. He answered all my questions promptly and came to the station to show me the way! The room is tidy and private and I had exclusive use to a bathroom. The location is close to the train station and walking to the central part of the town is also convenient. I would recommend staying with Beni. Thank you Beni for your kindness!
Wenqian (Wendy)
2016-07-15T00:00:00Z
Easy to find and super clean and comfy. Beni greeted me and helped me settle in. Exactly as shown and described. Beni even suggested a great place for pizza!
Charles
2016-05-05T00:00:00Z
Room Type
Private room
---
Property Type
Apartment
---
Accommodates
1
---
Bedrooms
Saint Gallen, Sankt Gallen, Switzerland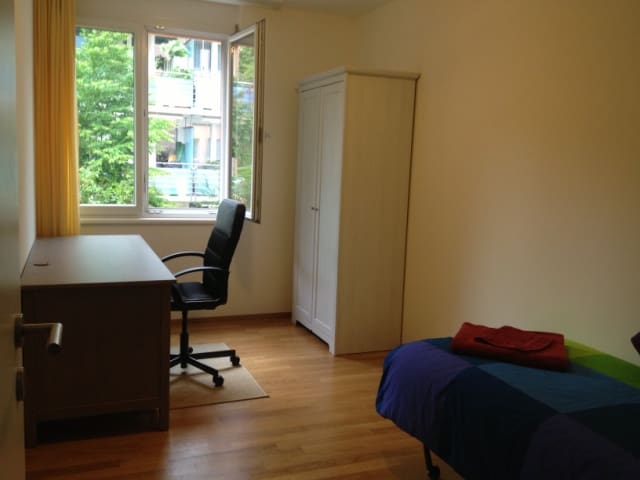 Sehr kleines (15m2) aber gemütliches Cityappartement in ruhiger Wohnlage nahe der City und Executive MBA Campus. Very small but cosy appartement - 10-20 Minutes to the city. 10 Minutes to the Executive MBA Campus.
Das Appartement ist für max. 2 Personen, ausgestattet mit Küchenzeile (2 Herdplatten, Kühlschrank, Spülbecken) und allen notwendigen Küchenutensilien. Im Badezimmer ist ein Waschbecken, die Dusche und die Toilette untergebracht. Das Appartement wird besonders gerne von Executive MBA Studenten gebucht, da es nur 10 Minuten (mit dem Bus) vom Executive Campus in der Holzstrasse 15b entfernt ist. Den Gästen steht eine Nespresso-Kaffeemaschine, WLAN und ein TV-Gerät zur Verfügung. Das Appartement ist zur alleinigen Nutzung.
Relativ ruhige Wohngegend an relativ belebter Strasse (tagsüber).
The host picked us up from our hotel and drove us to the apartment, giving us hints on public transport, shopping etc.
Claire
2015-10-12T00:00:00Z
Cara flat is really nice and charming. During this stay a feel confortably like at home. Cara was also nice to guide me and recommend me some area. This is a pleasure to recommend Cara place during your stay in St Gallen.
Soufian
2014-06-21T00:00:00Z
Alles wunderbar: Unkompliziert, sauber, gute Lage, what you see is what you get!
Peter
2014-06-28T00:00:00Z
Studio is exactly as seen on pictures. Cosy functional apartment with many small practical items provided by Mary. Conveniently situated close to the bus stop and Mary even proposed to pick me up at the train station. Nice place to stay if you are visiting SG or studying at the university.
Ken
2015-09-30T00:00:00Z
Mary is a great host, she is very responsive and also offered to pick me up at the railway station. The apartment is very small, but perfect for a few days' stay in town for one person or a couple. It's nicely furnished, clean and in a nice neighbourhood. Location as described, 15 minutes to railway station by bus.
Andre
2015-01-24T00:00:00Z
Mary and Walter were gracious hosts and even installed wifi right before arrival (which we were not expecting but was a pleasant and welcomed surprise). The cozy apartment is easily accessible on the first floor. We cooked there with food from the small but great farmer's market downtown. The area is great and Walter even pointed out a coffee shop that had by far and away the best coffee we drank on our entire trip including stops in Paris and Spain. Thank you again Mary and Walter!
david
2015-05-10T00:00:00Z
I stayed at Mary's apartment for almost a week. Mary met me at the train station and took me with her car to the house. It was very nice to see that Mary really took care about you and provided with different tissues almost in every corner, various fresh showels in the bathroom, umbrella, earplag, water, fruits and her recommendations, where you can have your lunch etc. Everything was very convenient. What is really important - you can take a shower any time during the day, even late in the evening. There is a pianist indeed. But the noise, some people mention, is exaggerated as you almost do not hear him and you do not pay attention to what he is playing in 2-3 min from the beginning. It is really exaggerated, there is no discomfort because of that at all. The way to WBZ is something about 25 min walk or 13-14 min by bus. Mary herself is very friendly and helpful.
Ekaterina & Kirill
2016-04-10T00:00:00Z
Have really enjoyed the stay. A tiny, but very cosy ground floor apartment in a lovely neighborhood. Just 5 min walking from the bus stop. The host, Mary, was super nice and welcoming.
Iakov
2016-10-02T00:00:00Z
Room Type
Entire home/apt
---
Property Type
Apartment
---
Accommodates
1
---
Bedrooms
Saint Gallen, St. Gallen, Switzerland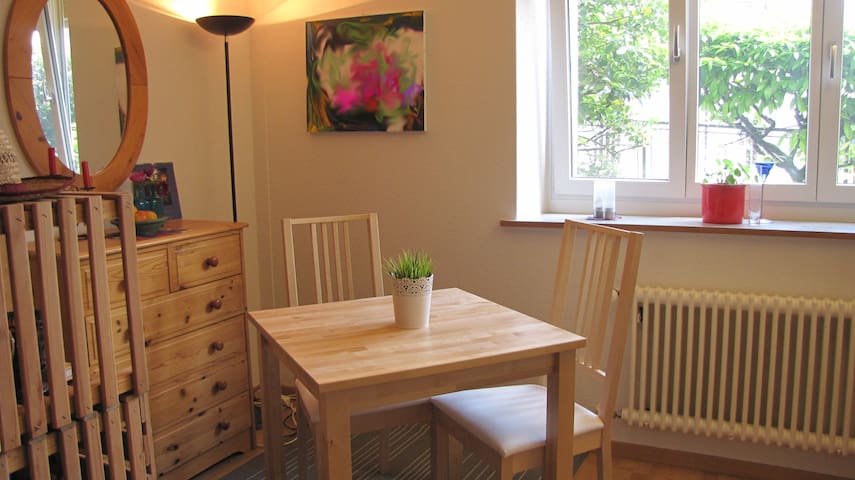 Großzügiges Zimmer in zentraler Lage mit eigenem Balkon, Abendsonne und traumhaften Blick über die Stadt bis zum Bodensee. Freizeit- und Erholungsmöglichk. in wenigen Gehminuten zu erreichen (Cafes, Bars, Shopping, Seen, etc.).
Einigartiger Blick über die Stadt mit eigenem Balkon. Ruhige und dennoch sehr zentrale Lage.
Blick über die ganze Stadt. Sehr ruhige Lage, wenig befahrene Strasse, sehr zentrale Lage. Cafês, Bars, Einkaufsmöglichkeiten, Fitness, Erholung in unmittelbarer Nähe. Freundliche Nachbarn.
Rebecca and Carsten are the very definition of kind, helpful and hospitable. Their home is awesome and I would recommend everyone to visit them. I'd certainly do it again :-)
Oliver
2016-11-05T00:00:00Z
Staying at Rebekka's was a great pleasure. It is a very nice flat with an amazing view and everything is provided and clean. Rebekka was always happy to help with any local inquiries. It is also not very far from the train station or the city center. I would definitely recommend to anyone coming to the area to stay at Rebekka's. I had a very pleasant stay.
Gero
2015-09-13T00:00:00Z
Great room, nice view, quiet, close to the center. Was there for a conference at Olma - it only takes 15 minutes from the apartment to Olma.
Lucas
2017-03-26T00:00:00Z
A wonderful apartment and lovely hosts, a great stay! Would highly recommend.
Hilda
2015-11-22T00:00:00Z
Spacious apartment with great views in the center of St Gallen. Rebecca and Carsten are very friendly hosts and I can recommend their place for you next stay in St Gallen!
Matthias
2016-06-04T00:00:00Z
As always it was great staying with Rebekka!
Hilda
2016-06-13T00:00:00Z
Another great stay! Was perfect as always and Rebekka made sure I had everything I needed.
Hilda
2016-02-21T00:00:00Z
Nice Room and a good location. Rebekka and her friend are friendly hosts. It was a short but pleasant visit.
Ralf
2015-12-19T00:00:00Z
Room Type
Private room
---
Property Type
Apartment
---
Accommodates
1
---
Bedrooms
Saint Gallen, Sankt Gallen, Switzerland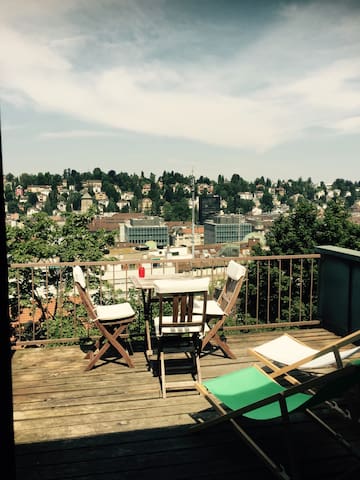 1 room apartement!no Attic room on top central location! | 9008 St. Gallen 1 room with a bed for 2, sofa bed, bistro table, desk, dresser, fridge and TV with shower and toilet Bus stop just in front of the door 10 minutes away from the center Filling station with Shop 5 min Shopping 10 min The accommodation is located at the smaller west part of lake Constance, which is called Untersee. Lake Constance in general has a very good water quality and during the summer period it is a nice place to go swimming. Thanks to the large size and winds it is also a hotspot for surfers, especially in spring and autumn. There is a connection with ferry boats between Konstanz and Radolfzell with their picturesque medieval old town areas. The ferry also stops at the island of Reichenau, UNESCO World heritage with a famous historic monastery.
Nice and comfortable. Quiet neighbourhood not far from the "innenstadt"
Danielle
2013-08-26T00:00:00Z
We had a nice stay in the room. We never met Felix or had human interaction with anyone for checking in our out, but the room was nice and much cheaper than a hotel.
Jordan
2014-01-01T00:00:00Z
Key collection instructions were clear and accurate. Felix also responded very quickly. Room was clean and location was convenient (close to bus stop and train station).
Yee Teng
2016-06-15T00:00:00Z
Good experience. Comfortable place; very clean. Nice view of the city. The host was always available to give us informations, via internet and phone.
Danilo
2013-12-23T00:00:00Z
I'm sorry to say that we were a little disappointed with the room. Although in a good location, there was only free parking between 7-8, and the bathroom is separate from the room, out in the hallway. So it is a shared bathroom. The refrigerator was also just a plugin cooler. For a night or two I'd recommend this place, but it was the most ideal. We also never met the host, so I don't know what I could say about him.
Søryn
2014-10-14T00:00:00Z
everything went well
Johannes
2014-05-04T00:00:00Z
The host canceled this reservation the day before arrival. This is an automated posting.
Barbara
2015-07-07T00:00:00Z
Just as described, it's was great for a 1 night stop over. Thank you.
Lynn
2014-05-29T00:00:00Z
Room Type
Entire home/apt
---
Property Type
Apartment
---
Accommodates
3
---
Bedrooms
Saint Gallen, Sankt Gallen, Switzerland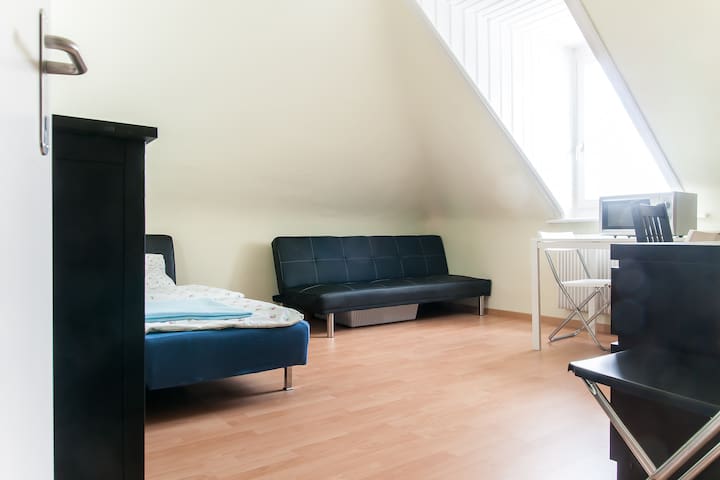 The perfect base for friends and families in the center of St. Gallen.
The apartment is divided into four separate rooms - 2 bedrooms , living and dining room and kitchen. To represent this better we have some photos posted and commented. We will gladly send you further information and look forward to your request. - 2 bedrooms ( 2 x 140cm bed) - Couch (Only with bedstuff for booking more then 4 guests) - Living and dining room - Kitchen > Microwave / kettle > oven > 4-way glass ceramic > Fridge / Freezer > Dish > Salt / Pepper - Separate shower / toilet - Garden - Bicycle storage
The historic center of St Gallen with cultural offerings and walk-in shopping.
Had a fantastic stay in St Gallen. Apartment was up the hill from the main station, about 5 minutes walk, and central enough - walked everywhere. Christoph was a great host, always quick to answer questions, and a nice guy. Thank you!
Phillip
2016-04-09T00:00:00Z
Awesome place, and a great host!
Siddharth
2017-03-26T00:00:00Z
Christoph was an excellent host during our stay. He responded promptly to my initial message and helped us easily find our way to the house. Everything was ready on arrival. The house was ideal for a family holiday and we felt quite at home. Apart from checking out the beautiful old town, we especially enjoyed rolling easter eggs down the garden hill and exploring the quirky neighbourhood! Highly recommended!
Caroline
2016-03-30T00:00:00Z
Everything Wenz smoothly. Thanks again!
Anna
2015-10-29T00:00:00Z
The place is a good walking distance to the train, about 10 minutes. The place is clean and warm. Christoph is a great host. I didn't meet him personally but he was always available through messaging. Highly recommended.
Ruvi
2016-10-26T00:00:00Z
Christoph's apartment is excellent. It is very cosy and very well situated. The only issue we had was that the parking spot was too tight for our car, but Christoph helped us find other places to park out car. Although Christoph wasn't there to welcome us, he was very responsive to messages so he helped us whenever we needed. His apartment was great overall, we highly recommend it.
Ali Hussein
2016-08-02T00:00:00Z
This department is very nearby the downtown,host is very nice and pro!
一帆
2015-11-27T00:00:00Z
A great experience! I rented this nicely located flat with friends of mine during a conference at the University of St. Gallen. Everything went pretty smoothly from the communication beforehand with Christoph to the checkout! Highly recommended!!
Axel
2016-11-09T00:00:00Z
Room Type
Entire home/apt
---
Property Type
Apartment
---
Accommodates
6
---
Bedrooms
Saint Gallen, Sankt Gallen, Switzerland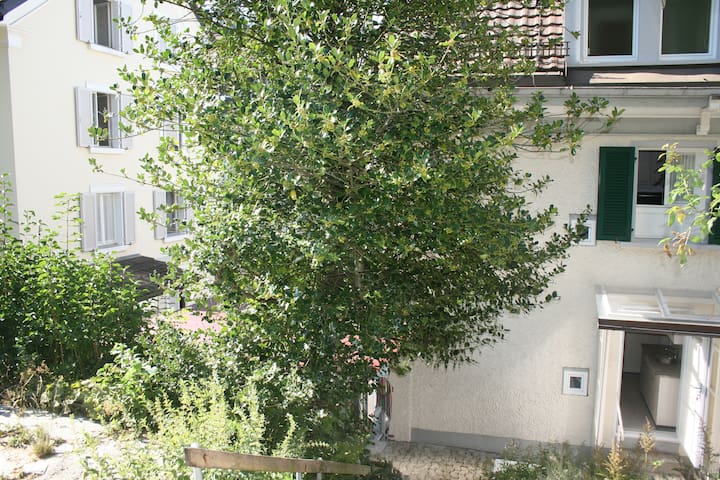 No14/ 2nd floor is in the center of St. Gallen, between station and market place. Completely renovated, 45 squaremeters, offers the standard of a hotel, the spacious atmosphere of a suite and the special touch of a studio.
Bed linen and towels will be changed every 3-4 days NON-smoking room minimum stay: 3 nights
Ursina gave us a nice welcome. She met us at the beginning of our staying, showed all the facilities and she has been in contact with us in case we needed assistance. The apartment is newly and nicely renovated with comfortable bedroom, with well equipped kitchen and warm bathroom. We liked very much the taste of the apartment's decoration. The location of this apartment cannot be more perfect: few meters from the central station, yet in a quite street, and few meters from the Medieval center of St. Gallen. We will definitely come back and stay in this apartment and we recommend it to singles, couples and also to families with 1 or 2 children.
René
2016-04-07T00:00:00Z
This is the perfect place to stay if you happen to visit Saint Gallen. It's like 5 minutes walking from the train station and close to anything you would want in Saint Gallen. Ursina's place is very nicely (contemporary) furnished and has all the amenities in the world that you could potentially wish for. Since I'm going back to Saint Gallen for business quite a bit, I'll stay there again for sure.
Johannes
2016-10-20T00:00:00Z
This apartment was perfect and I very much hope to return. It was beautifully furnished, comfortable, quiet (although in the centre of St Gallen), light (windows on both sides) and generally a home from home.
nicola
2015-11-14T00:00:00Z
A very welcome accommodation option in St Gallen! Really one minute from the railway station and walking distance from the university and old town. Spacious studio with windows front and back, bright, clean and comfortable. I didn't meet Ursina but she was always very responsive to messages, helping me with both the Internet connection and a plug adapter. Highly recommended!
Lyndon
2014-08-28T00:00:00Z
very nice central appartment, good facilities and clean
annette
2016-11-30T00:00:00Z
Pros:- 1) Very clean and spacious studio apartment 2) Well equipped kitchen with oven, refrigerator etc. 3) Very clean bathroom with basic amenities like bath towel, face towel etc. 4) Very good location which is less than 5 mins walk to the St gallen main railway station and a lot of restaurants and supermarkets nearby. 5) Located in a small alley where it is very calm and there is no noise from the main road. 6) Would definitely recommend others to stay here. Cons:- 1) No lift/Elevator. So if you have luggage , it is a problem. 2) No Air-conditioner, So during summer it gets quite hot in the room.
Shanthan
2016-08-26T00:00:00Z
We had a fantastic stay!! The apartment is beautiful, quiet and very well equipped. Ursina is a perfect host. She helped us with everything we needed. We look forward to coming back. Highest recommendation.
Adam
2015-06-01T00:00:00Z
Ursina and Matthias have created two charming light filled apartments in the heart of St Gallen and we enjoyed every minute of our stay. The studios are brand new with every conceivable amenity and they are a short walk from amazing restaurants, tons of shops and a picture perfect town that looks like a movie set. Ursina studied hotel management and her passion for guest satisfaction is incredible. She made sure every detail was perfect, even delivering ear plugs and a bottle of Appenzeller the night before the annual St Gallerfest, just in case the local celebration was a little noisy. When we asked where we might find a laundry, she had a washer and dryer installed. The brand new bed and couch were very comfortable and the weekly maid service added an impeccable Swiss touch (she cleaned for more than two hours each week!) We can't imagine better hosts or a nicer stay and we can't wait to return!
Heidi
2014-08-24T00:00:00Z
Room Type
Entire home/flat
---
Property Type
Apartment
---
Accommodates
2
---
Bedrooms
Saint Gallen, St. Gallen, Switzerland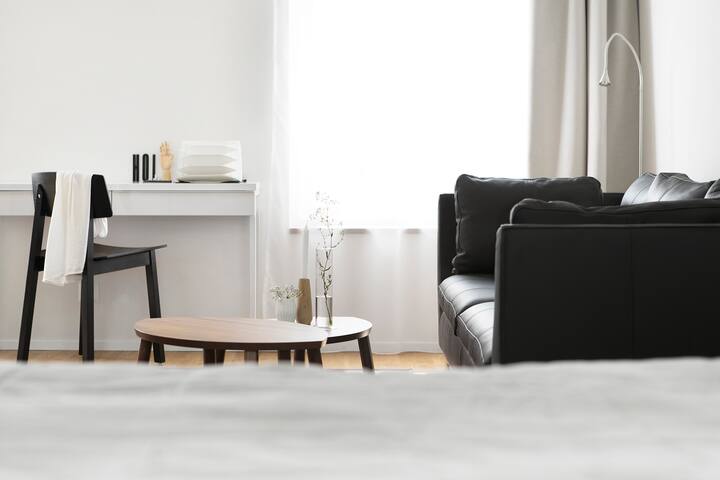 Sehr schönes und gemütliches Zimmer in zentraler Lage. Die Wohnung ist nur 100m vom Bahnhof St.Gallen entfernt und unmittelbar beim Kulturzentrum Lokremise. Zur Innenstadt sind es 5min. zu Fuss. Das Haus ist etwas in die Jahre gekommen, es hat aber seinen Charme. Du wirst meine Unterkunft lieben wegen komfortables Bett, Licht und Küche. Meine Unterkunft ist gut für paare, alleinreisende abenteurer und Geschäftsreisende.
Die Zimmer sind trotz der zentralen Lage sehr ruhig, was mir immer wieder von meinen Gästen bestätigt worden ist. Die Zimmer verfügen über einen Schreibtisch/Bürostuhl und eignen sich daher als Arbeitsplatz. Die Wohnung ist im 2ten Stock (kein Lift). Die Küche und das Bad stehen zur Verfügung und werden mit mir oder anderen Gästen geteilt.
Marco is very nice, friendly and helpful, giving us the feeling like staying at a friend's home. The room was clean, big and bright, and we love the location -- so central and convenient. I highly recommend staying here, and I certainly will if I find myself in St. Gallen again.
Thomas
2016-04-12T00:00:00Z
Marc was very friendly and helpful, and the place was clean and beautiful. Everything fine and recommendable!
Flavius
2016-02-24T00:00:00Z
It's really convenient.
Ching Yi
2016-12-03T00:00:00Z
Marco organized everything great, the location is very central, close to the train station. The apartment is very cosy and nice. I can only recommend Marco's place.
Martins
2017-02-16T00:00:00Z
Marco was able to accept our request within 1 hour of arrival. He's a true super host. The place was warm and clean upon arrival. Very easy to find. Very welcoming. I would definitely recommend this place to anyone visiting St. Gallen. Thanks Marco! One piece of info that was not listed in the ad is that his father lives in the space you will be staying in. It's a separate room and we only met his father (nice guy) once.
Luke
2016-02-14T00:00:00Z
Marco was a very helpful host - additionally room was very spacious, clean and comfortable.
Bozena
2016-03-22T00:00:00Z
The place is very tide and clean. The location is superb good which is just in back of St. Gallen train station.
Bryan
2016-06-13T00:00:00Z
Big and clean room. Marco is a very nice person.
sumsum0618
2016-04-06T00:00:00Z
Room Type
Private room
---
Property Type
Apartment
---
Accommodates
2
---
Bedrooms
Saint Gallen, Sankt Gallen, Switzerland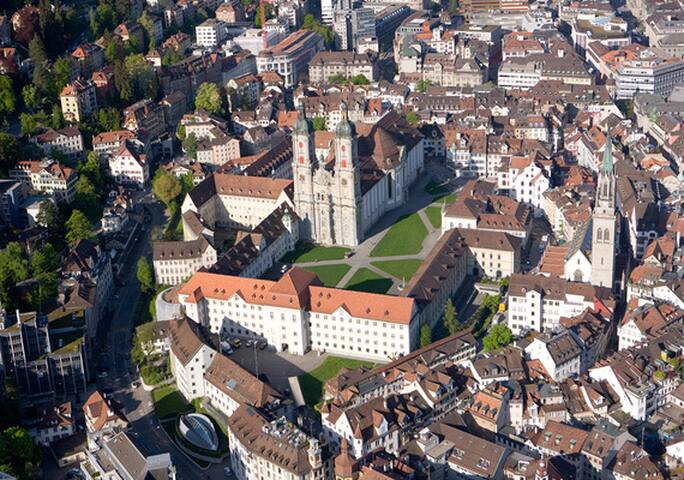 Very well located in a 1870s building in a historical part of St Gallen. A very quiet area with a park at the door. Central - 50 meters to the theatre; 200 meters to the town centre. Tastefully decorated room. Large bathroom with shower and bath.
Very quiet street with no traffic.
Ruhiges Wohnquartier.
This was our first Air B&B. Excellent experience. Michael is a first rate host. Clean ,quiet .large room, outstanding comfortable beds!! Very nice bath and kitchen facilities. 3 blocks from old town and the local trains. No car required. Best value in town!
Terry
2016-08-30T00:00:00Z
Michael has a ver tidy and clean flat with a big room that is exactly as he picture. The flat has a excellent location, quite near from city centre. He is also a friendly guy willing to help and make you feel confortable. Thanks!
Karina
2015-12-02T00:00:00Z
Really nice, historical building and appartment. Michael was easy to communicate with and flexible when it comes to check-in. Quiet area in the middle of a park and really close to old town and nightlife.
Markus
2016-10-30T00:00:00Z
Michael was very welcoming although we did not arrive till relatively late 2100 hrs. The room was large and the apartment scrupulously clean as were the bathroom and toilet. Bed was comfortable. Location is first class close to town centre only 10-15 min walk from train station. Michael was very amiable and helpful with regards to information and things to do in and around St Gallen. The only minor criticism is lack of hanging space for clothes.
Frank
2016-09-14T00:00:00Z
Warm welcome and amazing appartement !!! Thank you
Minh
2016-12-17T00:00:00Z
The host canceled this reservation the day before arrival. This is an automated posting.
Ralph
2016-07-22T00:00:00Z
Very friendly host, great location, clean and central. Anytime again
Michel
2016-03-21T00:00:00Z
This is a charming room/apt in a very well kept 19th century building. It was spotlessly clean and equipped with modern facilities. The location is perfect, just steps to the theater and other sights, yet absolutely quiet at night. Great bed. Last but not least, Michael is a very kind and friendly host. Highly recommend. Thank you Michael!
Judith
2015-11-15T00:00:00Z
Room Type
Private room
---
Property Type
Apartment
---
Accommodates
2
---
Bedrooms
Saint Gallen, Sankt Gallen, Switzerland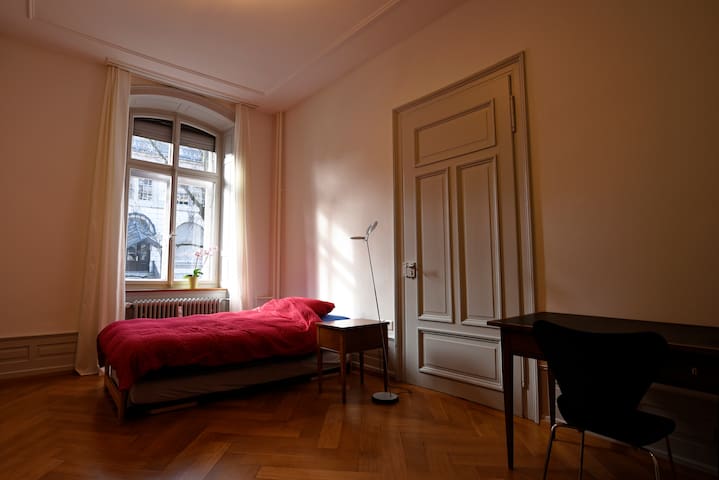 I am renting a room in my apartment, which is 5 minutes away from the university and 5 minutes away from the city center on foot. The room is very bright and cozy and the location makes it perfect for a short-term stay in St. Gallen.
Daliana was very nice and I always felt welcome. The apartment is very close to the university, but you're also in the city in a couple minutes. The bed was also very comfortable and a had a good night of sleep. All in all I'd defenitely reccomend Daliana as a host and would always come back!
Mareike
2016-09-17T00:00:00Z
Daliana was helpful with coordinating my later arrival. Good location.
Michael
2017-02-17T00:00:00Z
Perfect location if you need to go to the university. Simple, but all you need, very uncomplicated, easy and flexible check-in.
Karina
2017-01-12T00:00:00Z
They place is super close to the university, 5 minutes max, the city center isn't far either. Daliana is a great host and enjoyable person, the whole apartment was very clean and tidy - overall a very pleasant stay!
Nayeli
2017-02-15T00:00:00Z
Daliana was very helpful and nice. the room was clean and comfy. would stay again if in st gallen.
Ata
2016-08-16T00:00:00Z
The host canceled this reservation 16 days before arrival. This is an automated posting.
Daniela
2016-03-02T00:00:00Z
Daliana was very welcoming and even she was not at an apartment in the beginning, the key transfer was organized very well. The place is very close to St.Gallen University main building, it's calm and quiet, close to the city center.
Martins
2016-06-12T00:00:00Z
The room is nice and large with a comfortable bed. Kitchen use is possible which is convenient. The apartment is close to the University (15 minutes and down town (15 min). A good place to stay if you need to be close to the University or the Learning Center. Contact to the host was nice and Daliana is very helpful.
Andrea
2016-10-08T00:00:00Z
Room Type
Private room
---
Property Type
Apartment
---
Accommodates
2
---
Bedrooms
Saint Gallen, St. Gallen, Switzerland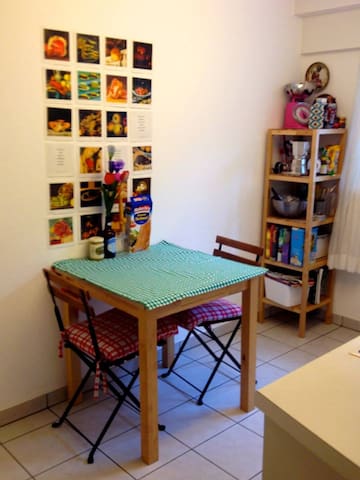 Our fully furnished Business – Apartments are in a charming restored old townhouse, directly by the marketplace, opposite the monastery St. Katharinen and situated in the middle of the old town. All apartments are furnished stylish and provides all your needs for a well town living. All costs are included: Highspeed Wlan/ WIFI , Billag / TV fees, power, hot water and heating, use of wash machine and tumbler.
The Entrance and bathroom are fitted with either granite or solid hardwood flooring. A new open modern kitchen is designed in standard property with induction field, oven, coffee machine, dishwasher, large refrigerator. A granite kitchen top enhances the ambience. Residents live in the middle of the city and at the same time in their own personal oasis. Antique wooden floors and new windows lend a special charm to the living room, dining room and bedrooms, giving a good quality of life. These open loft apartments are perfect for business people, singles or even couples. Sharing apartments is not permitted. (dining room, living room and bedroom) This townhouse is situated perfectly and guarantees privacy, as there is only one apartment on each floor. Bedroom 1.60 bed, Dining room and Living room
Das Haus liegt in der schönen Altstadt Nord von St. Gallen. Gleich neben dem neu renovierten Katharinenkloster. Es lohnt sich dies anzuschauen. Die Gasse hat im Sommer das Flair von "Saint Germain" in Paris. Geniessen Sie die Winkeln und schönen Ecken der Altstadt.
Susan was a wonderful host....very available and responsive when I had questions about the apartment. The apartment itself is in a wonderful location, and very beautifully and comfortably furnished. I highly recommend booking with Susan.
Mary Elizabeth
2015-10-18T00:00:00Z
Room Type
Entire home/apt
---
Property Type
Apartment
---
Accommodates
2
---
Bedrooms
Saint Gallen, St. Gallen, Switzerland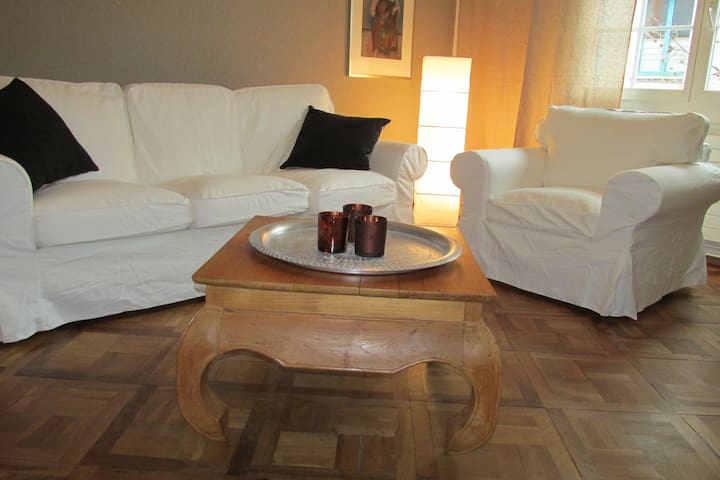 90qm Altbauwohnung zum wohlfühlen. Ein Zimmer mit Doppelbett und ein Kinderzimmer mit Babybett, einem Bad, Küche und Balkon stehen ihnen zur Verfügung. Die Wohnung liegt 10 Gehminuten vom HB. Direkte Bus Verbindung. 15 Minuten zu Fuss in die Innenstadt oder in das Naherholungsgebiet , drei Weihern.
Charmante 90 qm Altbauwohnung mit allem ausgestattet was das Herz begehrt.
Schnell in der Innenstadt und im Grünen .
The apartment was clean and tidy and very homely and as exactly described (and pictured) by Bianca and Lars. We had a thoroughly enjoyable time staying there. Both the apartment and the area it was in very quiet. The apartment is just a few steps away from a bus stop- the route runs from the station which makes it easy to get to the apartment. Though we walked the 10 or so minutes from the station. The bus route also takes you up to the first station/stop on the Appenzell railway so it is very convenient for getting out into the countryside. (also a 10 minute walk). We didn't find many local shops- though we didn't really look but there is a Migros next to the station so it was easy to get things on the way out of town. A great place to stop when visiting St Gallen/Appenzell
Alison
2015-03-11T00:00:00Z
The house was perfect! five minutes walking to centre city, quiet and friendly neighbourhood, comfortable, clean, fantastic style! Bianca was very very very friendly and she even put beautiful red roses and candles in the house for us! I will always recommend this wonderful house and Bianca&Lars! I'm really in love with this house!
Catalina
2014-08-25T00:00:00Z
The apartment is really nice, clean, with a very nice decoration. It is also great house if you travel with a baby. They had everything you need. The house is located in a hill, 10 minutes walk from the train station. The neigbourhood is quite and silence. Services are like 10 minutes walk from the house.
DAVID
2015-04-06T00:00:00Z
What a lovely flat and an absolutely wonderful stay. Bianca and Lars made us feel completely at home and I would definitely come again given the chance. Thank you.
Gaye
2015-02-08T00:00:00Z
The apartment was exactly as on the photos. It is a very warm and comfortable house, nicely decorated and with everything you need. I was there for a workshop and felt at home in the house. Close nearby are the 3 "Weier", meadows were you can walk nicely in nature. I can recommend the apartment warmly to others.
Yvonne
2015-10-09T00:00:00Z
Bianca und Lars sind tolle Gastgeber einer sehr schönen Wohnung. Unkomplizierte Kommunikation, sehr freundlicher Empfang und alles wie beschrieben haben mich den Aufenthalt sehr geniessen lassen.
Stephan
2016-08-26T00:00:00Z
Hallo Für meine Studienwoche in SG Habe ich mich für die wunderschöne Altbau-Whg entschieden bzw Bianca und Lars haben meine Anfrage angenommen. Sehr zentrale Lage. In 5 min ist man am roten Platz und in Farbe 10 min am Bhf. Parkplätze findet man eigentlich auch immer in nächster Umgebung. Alles in Allem eine sehr gute Alternative zu einem Hotel in SG. Würde sehr gerne nochmal eine Woche buchen.
Benjamin
2015-06-06T00:00:00Z
Ein Traum!!! ich komme gerne wieder in dieses herrliche "Home sweet Home" von Bianca & Lars. Tolle Lage - tolle Einrichtung - tolle Ausstattung. Mit viel Herz - Charme & Esprit. Bianca & Lars habe eine zauberhafte Atmosphäre geschaffen und an alles gedacht, um sich rundum wohlzufühlen. Vielen Dank
melanie
2016-06-11T00:00:00Z
Room Type
Entire home/apt
---
Property Type
Apartment
---
Accommodates
2
---
Bedrooms
Saint Gallen, St. Gallen, Switzerland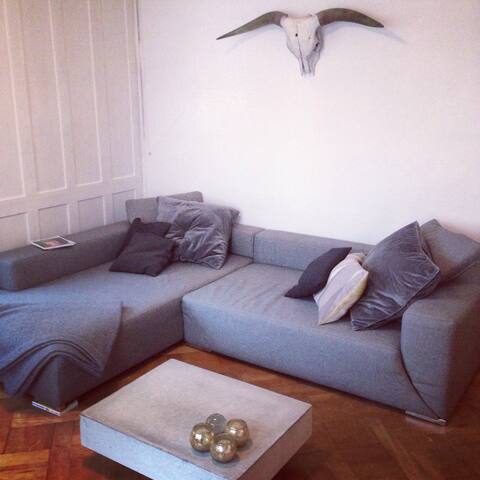 No14/ 1st floor is in the center of St. Gallen, between station and market place. Completely renovated, 45 squaremeters, offers the standard of a hotel, the spacious atmosphere of a suite and the special touch of a studio.
Bed linen and towels will be changed every 3-4 days NON-smoking room minimum stay 3 nights
This apartment is absolute prime in St. Gallen, right in the center in walking distance to any sights, restaurants, and bars you'd ever want to visit. The description of the listing and the pictures barely do the apartment justice; it is very nice, the shower is just stunning, I could have move in there instantly, just great! Communication and handover of the apartment with Ursina were very straight forward, timely, and simply worked just perfectly. Overall, I would recommend this apartment to anyone looking for accommodation in this price range, great value!
Pascal
2016-03-18T00:00:00Z
Ursina's place is a lovely new apartment. While the place corresponds accurately with the description provided, it will definitely exceed your expectations. Warm welcome, very clean y well furnished, great location, ...I could not ask for more!
Dèdè
2015-09-28T00:00:00Z
Amazing studio room. Everything you need is there. When i entered the house a plate full of fruits welcomed us. Host is very helpful and works just next door, thus the response time is amazingly quick for any question. Also the location is so close to train station and also the bus stations which made my life so easy. Denifitely stay here if you go to St. Gallen!!
Atakan
2016-02-13T00:00:00Z
Very nice apartment, exactly how you see on the pictures and fully functional.
giovanna
2015-11-21T00:00:00Z
It was a pleasure staying at Ursinas place. She is a very welcoming person and the studio was more beautiful than we expected. I would stay at her place anytime.
Adiam
2014-08-29T00:00:00Z
Osam place, great host and amazing location!!!
Nikola
2016-09-19T00:00:00Z
The appartment is very comfortable.good central place.inform about parking!you can buy a ticket for a whole day at the tourist info office so you can park in the blue zone in town.sometimes it was noisy because of the yought coming back from town.still a good place to be!!
Arianne
2014-08-10T00:00:00Z
The apartment was just what we were looking for, comfortable, clean and with all the facilities we needed. It's proximity to the railway station means that it is ideal for exploring the Appenzell and Bodensee areas.
Stephen
2015-04-14T00:00:00Z
Room Type
Entire home/apt
---
Property Type
Apartment
---
Accommodates
2
---
Bedrooms
Saint Gallen, St. Gall, Switzerland
My place is close to the city center, the old town, bus station, train station, shopping centre. You'll love my place because of the location, the people, the big living room, the proximity to everything you need. My place is good for solo adventurers and business travelers.
Room Type
Private room
---
Property Type
Apartment
---
Accommodates
1
---
Bedrooms
Saint Gallen, Sankt Gallen, Switzerland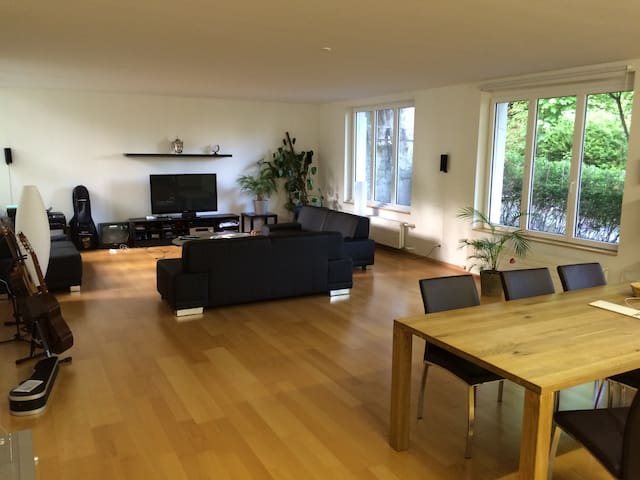 The apartment is cozy, we hope that you will feel home right from the beginning. A roof-top terrace offers an amazing view over St. Gallen. Easy to reach by a 5-min bus ride/15 min walk from the main station.
This is basically our living room, which is fully furnished and has a comfy sofa bed for up to 2 persons. However, during your stay you will usually have the whole apartment for yourself. Besides a city guide for St. Gallen (in German) and some other useful information you can find there an adapter which is quite nice if you don`t have a Swiss plug. Furthermore, there is a hairdryer, iron and ironing board which you can use if needed.
We really love the area around the house - in just 10-15 minutes you can be either in the city center or have a great walk in the nature with an overwhelming overview of St. Gallen and the Constance lake.
Very nice and cosy place . Situated in a very nice town. Sadly when we stayed it was raining all through out but would stay here again if ever visit Switzerland again. Thanks again
Faizan
2016-08-06T00:00:00Z
Apartment was just as described and everything was fixed and ready for a good stay. Vessi was easy to communicate with and very service-minded. A very good alternative to expensive hotels in St Gallen.
Jørgen
2015-11-22T00:00:00Z
Vessi´s apartment is cozy and lovely. The kitchen is spacious which is great because restaurants in St. Gallen are very expensive. Nothing was missing, it was was perfect!
Rebekka
2016-12-31T00:00:00Z
Clean and comfortable. Super communication and welcome
Jyotin
2014-09-11T00:00:00Z
Vessi is a very willing and lovely host. The apartment is exactly that you see on internet. It's a very confortable apt, it seems to be home, and St. Gallen complete a great swiss experience! Super!
Andrea
2016-02-21T00:00:00Z
Even though we arrived really really late, Vessi gave us a warm welcome. The couch was comfortable, and with the extra sheet Vessi gave us, it was pleasantly warm (it was really cold and wet outside, and we've been freezing a little). The flat is beautiful, clean and very cozy. Vessi is such a nice person and so uncomplicated and understanding! Also the communication and the (more or less spontaneous) planning of our stay at her place were uncomplicated and I really enjoyed it. If we come back to St. Gallen we now know where to go to. :) Thank you so much Vessi! :)
Kristin
2013-05-23T00:00:00Z
Our stay worked out perfectly! The apartment was exactly what we wanted!
Tanja
2016-03-24T00:00:00Z
Lovely apt, clean, attractive, easy to find, and Vessi is extremely helpful.
Pam
2015-01-29T00:00:00Z
Room Type
Entire home/apt
---
Property Type
Apartment
---
Accommodates
2
---
Bedrooms
Saint Gallen, Canton of St. Gallen, Switzerland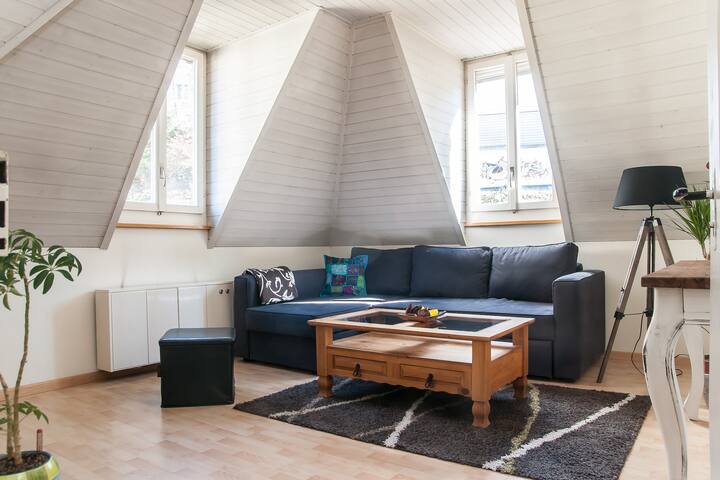 *The flat is currently not available* This is a simple, clean flat with everything you need for a comfortable stay. The location is ideal, quiet but only 15 walking minutes from the city centre.
There's a bakery close by. For grocery shopping you need to go into the city centre (15-20 walking minutes or 5 minutes bus drive). 5 walking minutes uphill you can find nice walks, the woods and lovely views over the city and lake constance.
Alles super! Angefangen bei dem sehr netten Willkommens-Paket über die tiptop saubere Wohnung mit allem, was man braucht bis hin zur tollen Lage mit einer wirklich schönen Aussicht und wenigen Minuten ins Zentrum per Bus (bei gutem Wetter auch gerne mal zu Fuss, lohnt sich). Alexandra, besten Dank, beim nächsten Mal in St. Gallen gerne wieder! Uneingeschränkt empfehlenswert!
Daniel
2016-04-11T00:00:00Z
Tolle Gastgeberin, hat alles bestens geklappt! Ich habe mich sehr wohlgefühlt, die Wohnung ist sehr sauber, ruhig, gemütlich und liebevoll eingerichtet. Gute Verkehrsverbindungen, einfach top! Komme sicher wieder
Nadine
2015-10-19T00:00:00Z
Room Type
Entire home/apt
---
Property Type
Apartment
---
Accommodates
2
---
Bedrooms
Saint Gallen, Sankt Gallen, Switzerland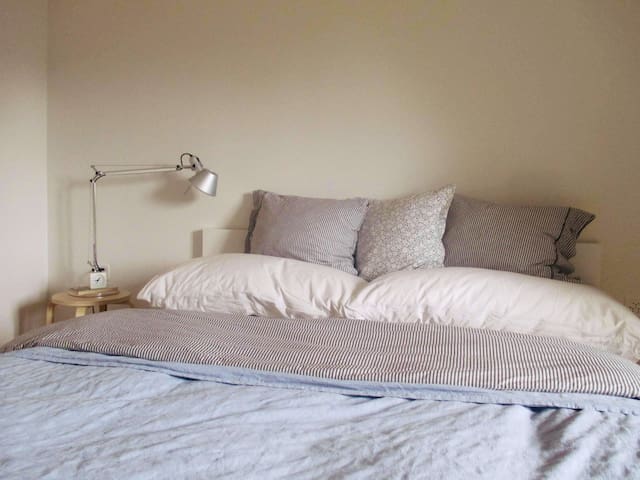 The appartment is very bright and spacious. In a great apartment in the heart of the old town. Also possible for longer stay.
Very big and bright apartment
Its the oldest part of town, and has a great atmosphere, the outside is from the 15th century, the inside totally renovated and new!
Martin and the other roommate were great hosts and very friendly. The apartment is quite spacious and beautifully furnished. I guess if I went to St. Gallen again Martin's apartment would be my first choice. I can only recommend it.
William
2014-07-11T00:00:00Z
Martin is the perfect host and his place is simply great. In the center of St. Gallen this place is modern and elegant while having a wonderful and guest-friendly atmosphere. It was my second stay and I can highly recommend Martin as a person who is a nice-to-have-around person and a guy who cares about his guests having a great stay!
Christoph
2016-02-26T00:00:00Z
I had a very pleasant stay at Martin's place in st Gallen.
Alexandre
2014-11-12T00:00:00Z
Thank you for the nice and pleasant stay. The room in the large and spacious apartment was nice and clean. Unfortunately I didn't have much time to talk to Martin, but he was a very pleasant person to be around. Thanks again and have a great time.
Bastian
2014-09-03T00:00:00Z
Martin was picked up us at the station. The location of appartement is perfect! He's appartement is close to the St.gallen station & tourist attractions
HaeNa
2014-09-11T00:00:00Z
Really amazing experience! The room was big and bright and the double bed was soft and comfortable just as I like it. The apartment is renovated and very large and has a fabulous terrace. Martin is a fantastic host. He waited for me at the train station, offered beers, introduced me to the other people living in the apartement and he even invited me to party togheter. Couldn't spend money in a better place. Seriously the best experience I've had with airbnb.
Guillaume
2014-08-25T00:00:00Z
Martin is a great host and his place is simply superb. The atmosphere was like I would have been in the place since ages - I am very thankful and happy about my stay at Martin's place and can highly recommend his place in the center of St. Gallen!
Christoph
2016-03-01T00:00:00Z
super freundlich, sehr entspannt, sehr schöne Wohnung, sehr zentral, unbedingt zu empfehlen
Markus
2016-02-15T00:00:00Z
Room Type
Habitación privada
---
Property Type
Apartment
---
Accommodates
2
---
Bedrooms
Saint Gallen, St. Gallen, Switzerland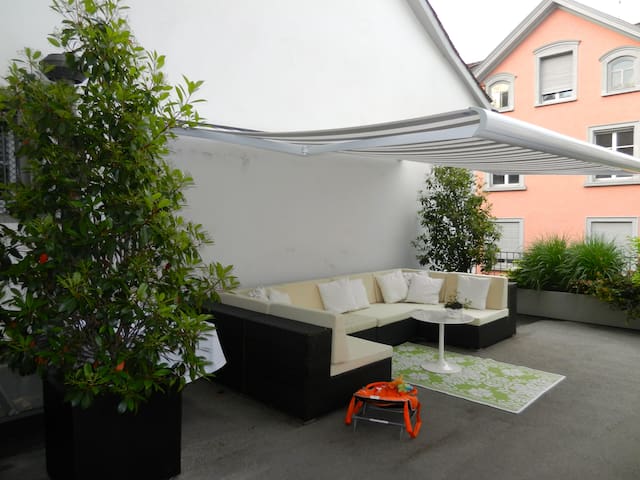 Saint Gallen - Airbnb
:
Average

4.59

out of

5

stars from

894

guest reviews
1

–

18

of

261 Apartment Rentals
Enter dates to see the total trip price including additional fees (but excluding any taxes).