A private room in our two story 4 bedroom 2 bath home. In a quiet neighborhood right in the center of town. Close to everything you need! Parks, shopping malls, grocery stores, coffee shops, bars, restaurants, movie theater and more! Right on public transportation route.
My husband and I live in a two story home in a quiet neighborhood in the center of Waite Park. Our home features a cute front porch with a swing and other furniture to enjoy any time of the day. Our guests will be sharing our home with us as they are enjoying their stay here. The private bedroom has a full size bed for our guests to stay in with a wall mounted TV with satellite channels. There is a full closet in the room and we also have an iron and ironing board if needed. There is another bedroom with space for an air mattress for additional guests if needed as well (guest would need to supply their own air mattress if needed). Our home has two full bathrooms. Guests have access to both bathrooms, but are able to claim the main floor bath as their own. There also is a large living room with a 60" TV and surround sound, a large dining room, a cute little kitchen and laundry in the unfinished basement. Feel free to use all areas along with us. Our home is located right on the public transportation route for the city buses. It is also within walking distance to many places. Less than one mile to gas stations, shopping mall, grocery store, coffee shops, restaurants, bars, library, parks, etc. We have pedal bikes also that could be used to get around town. Parking is free if our guests have a vehicle. We have a spot inside our garage for guests to park between November - April (as there is no street parking for possible snow plowing) and there is street parking in the spring, summer and fall, April - October.
Our neighborhood is very quiet but also so close to everything! We love it!
Brent & Melissa's place is the ideal Airbnb. They are very friendly and accommodating, and their place is cleaner than a hotel! It's a very cheery atmosphere with a very comfortable bed, super soft pillows, and a congenial cat. Although we didn't get to know then well, we could tell right away that they were "kindred spirits". :) Highly recommend!
Betsy
2016-10-16T00:00:00Z
We had a great stay! We were made to feel very welcome and comfortable.
Hannabah
2016-03-01T00:00:00Z
Wow, are these people nice! They made us feel at home right away. They have a nice booklet including nearby attractions, which made it very easy for us to set our schedule. They even made an last-minute adjustment to our itinerary--flexible and nice people. To top it all off, they left US with a thank you card. Nice!
Mike
2015-07-13T00:00:00Z
I made this booking for a young lady travelling to the US for the first time. Brent & Melissa were so helpful when taking the booking and so kind and helpful when the young lady was staying with them. Lovely, comfortable room. Can't express how grateful I am to Brent and Melissa. Really good people!!!
Hilary
2016-01-03T00:00:00Z
Brent and Melissa's home was perfect for our weekend. Very clean and comfortable with great proximity to St Bens. Much nicer feel than any expensive hotel option. The communication for check in quick and easy. We would definitely stay here again!
ELLEN
2016-04-11T00:00:00Z
Staying at Melissa and Brent's place was so rewarding that I don't even know where to start. I may say it has been my best AirBnB experience so far. She is very friendly and their house is beautiful and comfortable. It just perfectly organized and full of details that makes it feels like home in every single corner. I am really thankful of having find her place. She is the perfect host and will make you feel you are really at home. Brent is rather quiet but friendly at the same time, which was totally fine since my son who stayed with me at their home is the same :D If you have to choose within other places, chose this one, you won't regret it. Thank you Melissa, Brent, and of course Kitty, for making us feel very comfortable. We were very happy to meet you and stayed at your lovely home 3
Magdalena
2015-07-07T00:00:00Z
The hosts were amazing! We came into town for a 3 day competition. Melissa gave us a welcome tour at arrival. The house was clean and as pictured. Brent/Melissa made us feel like friends visiting from out of town. Super supportive and gracious! The neighborhood was quiet but close to some great restaurants, Target, gas, etc. We enjoyed breakfast one morning on the swing taking in the beautiful weather. We'll definitely stay here again if we are fortunate enough to be in the area next year.
Brittany
2016-09-12T00:00:00Z
Melissa and Brent were fantastic hosts and the bed and pillows were super comfy. I arrived after a very long drive so I was to tired to talk in the evening but had a lovely chat with Melissa in the morning. My favorite part of the stay was pinning their map that shows were all their AirBNB guests have been from.
Karen
2016-04-20T00:00:00Z
Room Type
Private room
---
Property Type
House
---
Accommodates
2
---
Bedrooms
Waite Park, MN, United States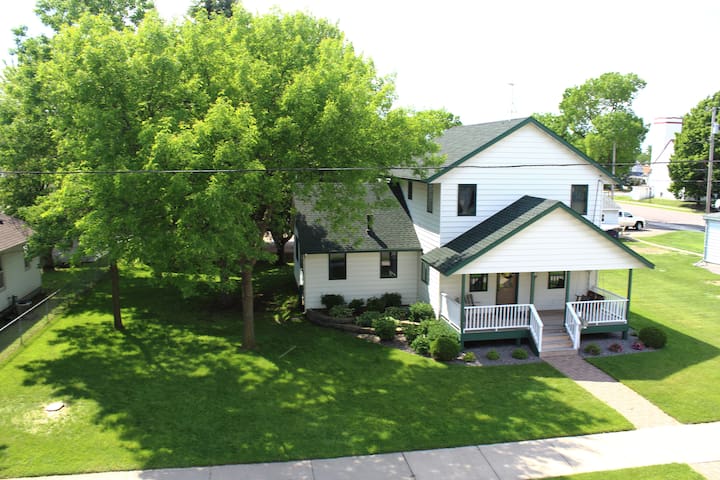 My place is close to family-friendly activities, public transport, restaurants and dining and the university and hospitals.. You'll love my place because of the outdoors space, the neighborhood, and the light. My place is good for couples, solo adventurers, business travelers, and furry friends (pets).
Extremely quite and safe near everything in St. Cloud. Great walking; jogging or biking tracks. Used to be a golf course 4 decades ago therefore great centenary trees along the road.
Awesome place. Bel is an expert in tourism and will take care of you by leaving unforgettable impression!
Tino
2017-01-11T00:00:00Z
Room Type
Private room
---
Property Type
House
---
Accommodates
2
---
Bedrooms
Saint Cloud, MN, United States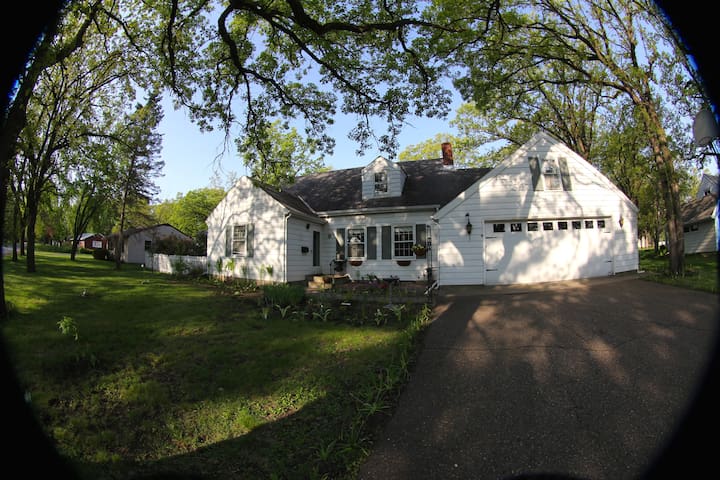 Warm and cozy private 2 bedroom one bathroom unit. Tons of space over 1000sq ft!
Quite area that's centeral to everything in town
Room Type
Private room
---
Property Type
House
---
Accommodates
6
---
Bedrooms
Saint Cloud, MN, United States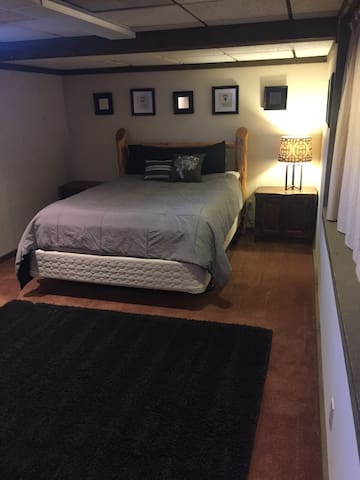 Quiet, relaxing lake retreat in neighborhood only 15 minutes from attractions in downtown St Cloud. Great place to spend the weekend or more away from the big city while having all the comforts of home. Beautiful scenery and water aspects
One bedroom with great queen bed and common areas to share in home! Additional sleeping accommodations possible as needed...please request. Lake access, deck, large yard, quiet walks, grilling and beautiful scenery as part of guest experiene
Quiet, secluded neighborhood 15 minutes from downtown St Cloud
Amy's place was exactly what I was hoping for. Quiet, relaxed on a lake and in a great neighborhood. She was kind enough to take me for a boat ride as the weather was perfect for it. I planned to leave to go out for dinner but was so comfortable I stayed there - and slept like a baby that night! Truly enjoyed her deck and walking the neighborhood. I will definitely go back~ !
Suzanne
2015-09-28T00:00:00Z
Amy is a super friendly and relaxed host. She truly opens her home to you and I felt very at ease from the beginning. It's a quiet rural location that was perfect for me and my dog. We will be back.
Louise
2015-10-29T00:00:00Z
She had to work during the time that we arrived, but no issue. She gave plenty of information to get set up and ready to go, and proper notification on where our bedroom/bathroom and where we would be staying was. It was a wonderful alternative to staying at a hotel, for sure! To be able to have a proper living space to be able to stay in was wonderful for my wife, who is recovering from a surgery and had to rest sitting upright. The neighborhood and the atmosphere, even if it was cold, was wonderful to look out at the lake. I would go back again, for sure. Thanks Amy!
Vylad
2015-11-12T00:00:00Z
Not a bad experience. It was a nice quiet location with a lake view. It was a fight to keep one of the cats out of the room, and there was some dander, which caused some allergy problems. But, it was pretty clean.
Daniel
2015-09-13T00:00:00Z
Amy was a great host. The room and neighborhood are very nice. I would definitely stay here again. Thanks for the snack and conversation we had together!
Brad
2015-07-21T00:00:00Z
I was blown away with the hospitality and her willingness to be flexible. People like Amy make the world a better place.
Macy
2015-11-24T00:00:00Z
Amy's home is quite relaxed and welcoming, as is Amy. I arrived when she was at work and made myself at home (per her note) by doing my laundry. I left for a reception dinner before she got home but later, when I returned, she was up and offered me a glass of wine. We talked for hours and I met her animals and her son. She is a really open and friendly person. Bonus: she made me breakfast in the morning and when I arrived she has scones and some yummy bean mixture that she had left for me. I also took a walk around the neighborhood before I left: it was beautiful.
Rhonda
2015-07-26T00:00:00Z
Amy was very welcoming even though we arrived an hour prior to check in. We loved the surroundings and seeing the local wildlife....wild turkey and chicks and loons. The view from the bedroom window of the lake was beautiful. Amy also allowed us space in the refrigerator which we did need AND she made sure coffee was available in the morning. We also loved our few interactions with her pets. After we checked in we never saw Amy again however she was available via text message--the internet also worked great and the bed was very comfortable, I needed an iron and ironing board and Amy allowed me to use hers. Last but not least the price was more than fair....we felt like we got much more than our money's worth...Thank YOU Amy!
Mary
2016-08-15T00:00:00Z
Room Type
Private room
---
Property Type
House
---
Accommodates
2
---
Bedrooms
Saint Cloud, MN, United States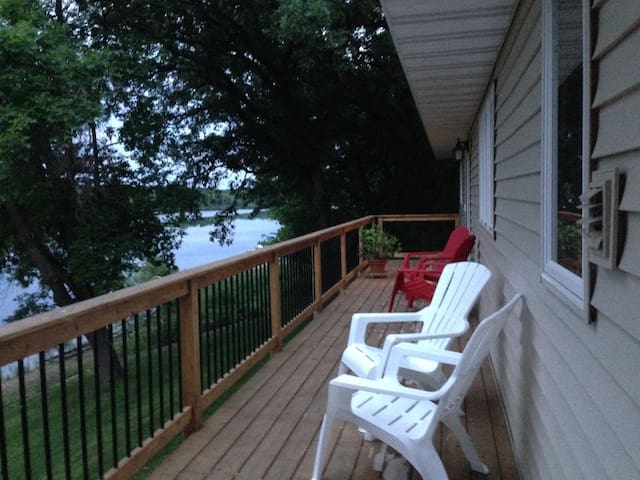 My place is close to Shopping - less than 2.5 miles. Downtown about 3 miles. Main drag of town less than 3 miles. You'll love my place because of the high ceilings, the people, and the location.
Room Type
Entire home/apt
---
Property Type
House
---
Accommodates
4
---
Bedrooms
Saint Cloud, MN, United States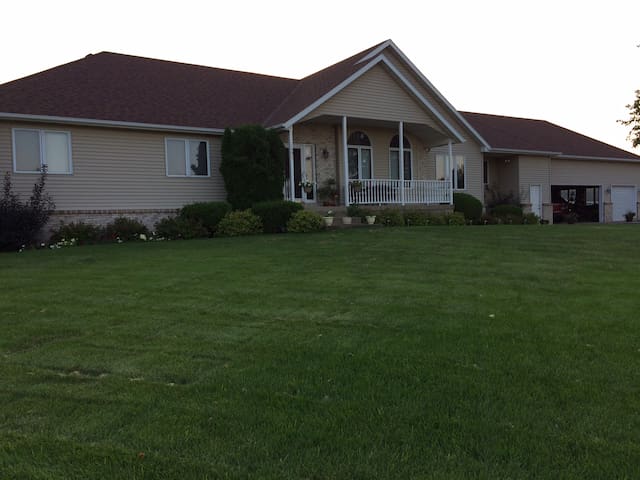 PET FRIENDLY. My pet friendly studio is available for relaxing, weekend-week long getaways--located just two miles from Saint Joseph MN, within walking distance of St. John's University and The Lake Wobegon trail. Very cozy and very private.
The house is wide open and has plenty of light. My photos tell the story. A fire pit with wood is available with outside seating and a Weber grill-I'll provide the charcoal. I will be posting new photos since quite a bit has changed since I started Air two years ago. The living room turns into a movie theatre with Netflix, HBO and VUDU available.
Rural area.
Julianne was hostess with the mostest! She responded quickly to our emails and texts and was completely flexible about our arrival and departure times. When we needed technical help with the DVD player, she was there in a flash. Her home is warm (can't beat radiant floor heat) and comfortable and full of great books to read. The galley kitchen had everything we needed to prepare our Thanksgiving dinner. The Wobegon Trail is just across the road from the house and perfect for long walks. We loved our time there, and we'll be back.
Georgina
2015-12-01T00:00:00Z
The host canceled this reservation 100 days before arrival. This is an automated posting.
Colin
2016-09-13T00:00:00Z
Julianne was a joy to work with. Everything was as described. She left great details about places to eat and things to do around the area.
Luther
2016-05-31T00:00:00Z
Great little getaway with all the ammenties. The bed was super comfy and I enjoyed her book on yoga. It was quiet woodsy and quaint and Clean.
Thomas
2015-10-13T00:00:00Z
This was such a cute place! I ran around giggling when we got there. Bed was super comfy and the upstairs stayed nice and cool for sleeping even when it was hot and muggy out. Tons of charm, very clean, lovely cooking space and a very cozy atmosphere. We loved it!
Jennifer
2016-07-25T00:00:00Z
The host canceled this reservation 3 days before arrival. This is an automated posting.
Matt
2016-01-19T00:00:00Z
This is a wonderful private space to retreat. Julianne was a great host; welcoming, available, and helpful. Love the character/personality of the space.... I'll b back!!
Jeff
2015-12-04T00:00:00Z
This was a wonderful spot and just as lovely as the photos on the site (actually better, photos don't really do it justice). We stayed here for our daughter's graduation from CSB, it was close to both CSB and St. Johns so very convenient. Also, lots of opportunities to get outdoors and hike on the Lake Wobegone Trial and the SJU arboretum. The house is cozy with VERY comfortable furniture and bed! Lovely backyard and views all around. It was quite warm during some of our stay but the ceiling fans were perfect and kept us very comfortable. Bathroom has good water pressure. This is a very quiet location. Lots of great artwork too. Can't imagine how it could be improved - stay here! Julianne was a terrific hostess!
Molly
2016-05-13T00:00:00Z
Room Type
Entire home/apt
---
Property Type
House
---
Accommodates
2
---
Bedrooms
St Joseph, MN, United States
Lovely bedroom and sitting room with private bathroom. Private, drive-up entrance on ground level in quiet home in country - located across the lake from St. John's University. Perfect for parents, alums, friends visiting either SJU or CSB campus.
We're empty-nesters with a large bedroom and sitting room (as well as a private bathroom with sink, commode and shower) that is no longer used, except for guests. We've made this room available for friends who are parents of college students at either St. John's University or the College of St. Benedict - and it's worked out well. So we thought we'd make it available to you, as well. We also have another bedroom available on the same level (sharing the same bathroom) if you need two rooms - up to 4 people total. Price for the additional room is the same - i.e., $65/night.
We are fortunate to live in a beautiful, quiet place surrounded by natural beauty. Plus, our home is so close to the St. John's University campus - with the Abbey church, Lake Sagatagan, the walk to the chapel, the Johnnie football field, the Hill Museum and Manuscript Library, St. John's Prep School, St. John's Outdoor University and Arboretum - all nearby.
Host was extremely helpful and accommodating for arrival and departure times. Location was great for rural area of Minnesota. Room was fantastic and even had a keurig for morning coffees.
Amanda
2016-09-18T00:00:00Z
The setting is beautiful in the woods and by the lake. The bedroom and bathroom were clean and well-kept. Nice quiet place to get a good night's rest. Michael was very hospitable and a great host. Conveniently located for us near St. John's University. Highly recommended.
Chris
2017-02-26T00:00:00Z
This home is very quiet and the surroundings are wonderful. The room is very comfortable with a very cozy bed. In the morning when you go outside you will be greeted with beautiful sounds.
Audrey
2017-04-09T00:00:00Z
Absolutely amazing experience!! Michael was the sweetest and most hospitable host ever! Everything was clean and cozy. They were they highlight of my trip! Will definitely be back!
Tylen
2016-11-17T00:00:00Z
Our room was warm and cozy and it had a little seating area for nice extra space. We love that it was a bit remote but still less than 15 minutes away from town. The place is charming and peaceful. Our hosts were very friendly, yet did not hover. We were gone much of the day so mostly there in the evening to sleep. There was a TV area also but we were not there long enough to think about using. We would highly recommend, and hope to stay there again if we are in the area.
Kris
2016-01-06T00:00:00Z
Everything about my stay here was perfect. The space was clean and quite. Michael and Patsy were very helpful with identifying local attractions\restaurants. The space was clean and I was able to control my own climate (thermostat). The bed and linens were super comfortable. The location was close to St. Johns ( my destination ) and also to St. Cloud and many attractions off of I94 ( shopping ). Thanks!!
Ava
2016-10-16T00:00:00Z
Wonderful quiet location, clean and cozy rooms, welcoming hosts, overall amazing experience!
Laura
2016-10-02T00:00:00Z
Comfortable bed, spacious and clean, updated bath, and Keurig coffee in the morning! The host was very welcoming and friendly. Enjoyed our stay.
Greg
2016-04-10T00:00:00Z
Room Type
Private room
---
Property Type
House
---
Accommodates
2
---
Bedrooms
Saint Joseph, MN, United States
3B home on Clearwater river with private backyard for camp fires or relaxing in the hammocks. Full workout gym in garage with kayaks and paddle boards for the lake nearby. Just an hour from the cities. Stovetop grill and breakfast bar, jacuzzi, poker table, bike trails, parks and more!
Leah has a great place here. It is perfect for a group to gather. From the layout of the home to the accessibility from the Twin Cities. Leah also is very kind and very helpful. If you have a chance to stay here, I would not pass it up.
Ian
2016-10-03T00:00:00Z
Room Type
Private room
---
Property Type
House
---
Accommodates
2
---
Bedrooms
Clearwater, MN, United States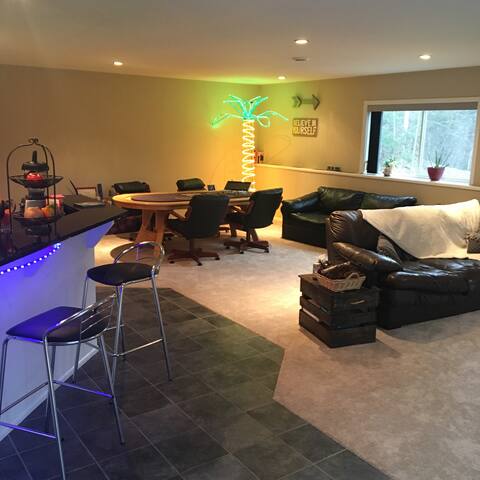 Tropical feel at this updated 2 bedroom rambler with marble floors and views of the lake. Enjoy sunsets by the campfire, swim in the clear, spring fed lake with sandy bottom, use the kayaks or fish off the dock. All just 10 min south of St Cloud.
Room Type
Entire home/apt
---
Property Type
House
---
Accommodates
6
---
Bedrooms
Kimball, MN, United States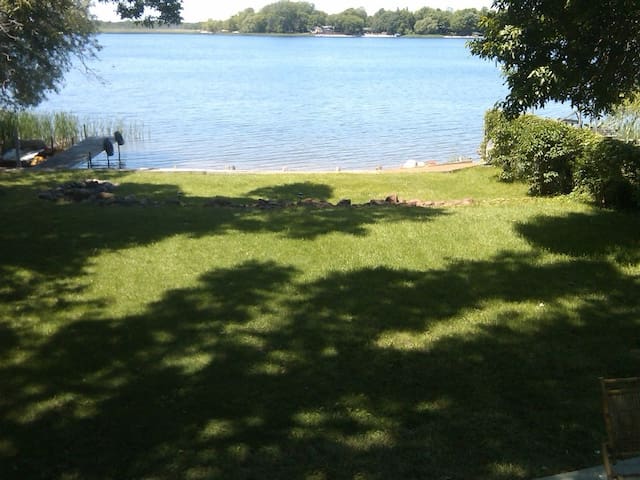 Open design features 2 bedrooms/baths, walk-in closets, loft, living/dining/kitchen, 4-season porch with sleeper, cathedral ceiling, gas fireplace, 3 decks, above-ground pool (not heated) open June 1 through Labor Day, outdoor fire pit, dock, 100' lakeshore, kayak and paddleboat available.
This home sits on a river-like portion of the lake, flanked by two round lakes. The lake is good for boating and fishing. Swimming off shore/dock is weedy and not advisable. Neighbors on both sides of the home. The house was built in 2001 and is in great working order. There are two bedrooms with a full-size bed in each, a loft with a twin bed and a 4-season porch with a full-size pull out bed. This is a NO SMOKING home.
Neighbors are friendly and will be helpful.
Great hostess! Rental was as advertised, and then some. Clean, neat and beautifully organized. A wonderful experience for a couple of "displaced Minnesotans". The home has a true "Up North" feel, with the convenience of the big cities not too far away. We hope to be able to return again next year.
BRUCE
2015-08-01T00:00:00Z
A lovely, tranquil, peaceful home to enjoy the Minnesota countryside. Everything about the rental experience was very easy and pleasant, from the booking, communication of setting up the rental details, and the actual home was simply magnificent. Thank you so much for a very memorable vacation!
Ben
2015-06-14T00:00:00Z
We had a wonderful time during our winter stay here. The house had everything we needed and more, and Susan was so welcoming and accommodating. The space is clean, well-maintained, and roomy while still being cozy. If we'd had more time, we would have loved to go snowshoeing out on the gorgeous lake. Thanks for your hospitality, Susan!
Matthew
2016-02-12T00:00:00Z
Great Home! Great Host! Everything as advertised, and then some. We love the north woods feel, but still fairly close to the Twin Cities. All the amenities of home, plus trees (we are from AZ now). Susan was there to greet us and introduce the new features (we stayed here last year). Best we can say is, "we plan to return".
BRUCE
2016-08-14T00:00:00Z
Susan, the hostess, is absolutely wonderful to talk with and she responds very quickly (which is important to me in case something goes wrong). The house is very spacious, with tons of room for a hefty amount of guests . The location is beautiful as well, and you can see the lake just right outside the windows super close. Neighbors are quiet, beds were (URL HIDDEN) was pretty perfect. If you are looking for a nice get-a-way, I'd recommend talking with Susan :). Thanks again!
Austin
2016-11-21T00:00:00Z
We had a wonderful stay. Absolutely perfect. Susan could not be nicer or more responsive. We hope to visit again.
Allison
2015-06-27T00:00:00Z
An incredibly beautiful home! Susan had all the basic amenities, plus a few I didn't even think about but greatly appreciated having. The house and the yard are very pretty and well taken care of and were fun to stay in. Definitely would recommend!
Mia
2015-06-29T00:00:00Z
The house was everything we needed and more. Susan was awesome and very easy to communicate with both before and during our stay. I wish she had houses all over the nation I would stay at any of them!
Tim
2015-09-15T00:00:00Z
Room Type
Entire home/apt
---
Property Type
House
---
Accommodates
9
---
Bedrooms
South Haven, MN, United States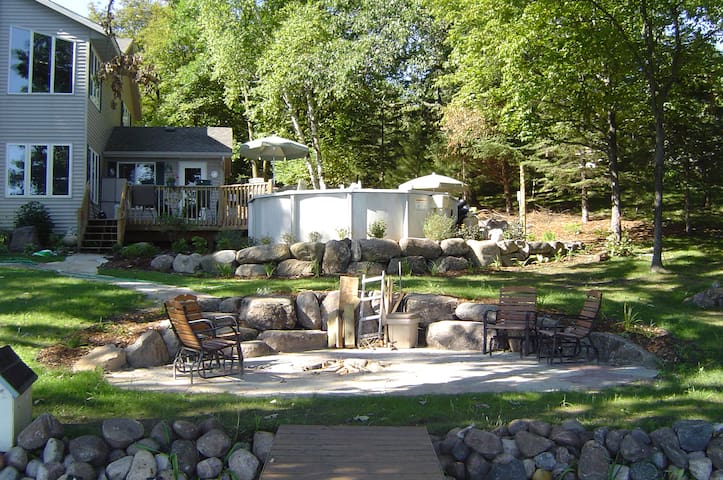 Newly built home in the country on a gravel road only two miles from town. Farmhouse style exterior with French / Industrial interior. Large yard with play set, room to run, many gathering spaces, including front porch, screen porch, and back deck.
Room Type
Entire home/apt
---
Property Type
House
---
Accommodates
4
---
Bedrooms
Foley, MN, United States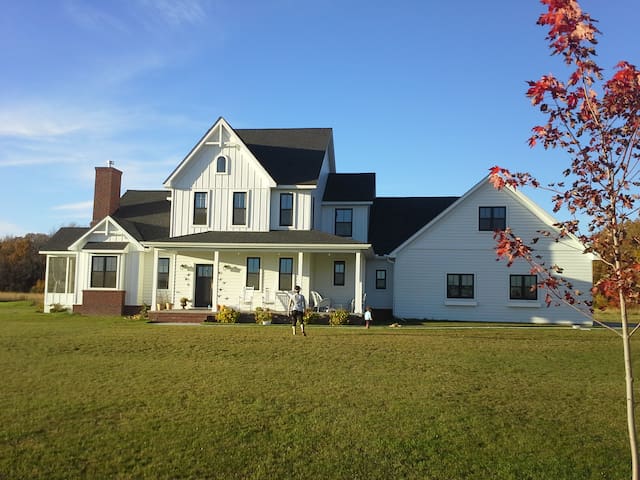 This wonderful Cottage is located on beautiful Sugar Lake between Annandale and Clearwater in Wright County. With two bedrooms, one bath and central air, it sits on a level lot. Sugar lake is a great summer swimming and fishing destination.
Room Type
Entire home/apt
---
Property Type
House
---
Accommodates
6
---
Bedrooms
Clearwater, MN, United States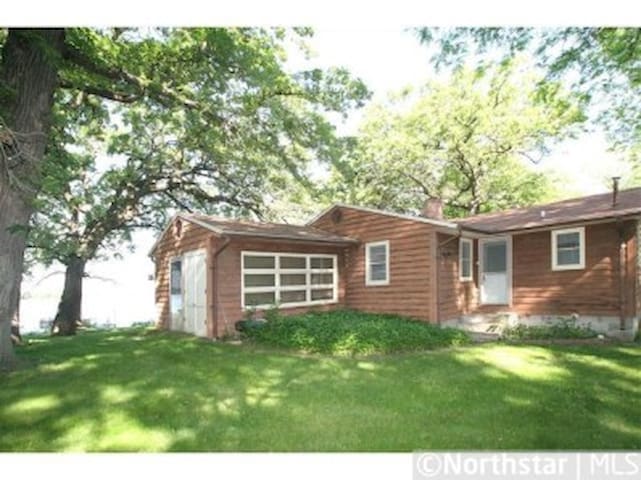 This amazing cabin on the horseshoe chain of lakes in Richmond was recently renovated with all new furnishings, decor and bedding. Home includes a huge wrap around deck, sun porch and screened in porch all perfect for enjoying the fabulous lake.Large open concept kitchen, dining, living areas are great for gathering with family and friends.
Room Type
Entire home/apt
---
Property Type
House
---
Accommodates
12
---
Bedrooms
Richmond, MN, United States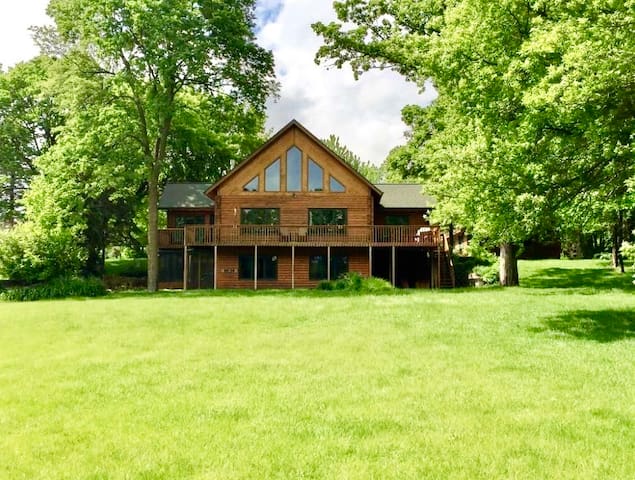 Year round lake home on 1 acre, private backyard, lake shore is owned across the street from the house. Easy walk down to beach. 2 bedrooms available to rent total. Owners live in lower level, rooms for rent are upstairs. Shared kitchen, upstairs bath, den and dining room.
New flooring installed in 2016 in upper level. Wood look floors in upstairs except bedrooms, which have carpet. Split entry home is located on beautiful lakeshore...cross the street to access lake. Outstanding lake views. Private backyard with deck.
Our home is located close to walking paths and parks. There is an off leash dog park located just up the road. We are about 1.5 mikes from downtown Annandale. Pleasant Lake is an excellent recreational lake, with very clear water. Our lake front enjoys completely sandy shoreline with minimal weeds or rocks. We have a small paddle boat for guest enjoyment (life jackets required to use paddle boat...check with owners first). Wear flip flops to cross the road and flip them off once you hit the sandy beach. We and our neighbors often enjoy bonfires at the beach. Although we cross a road to get to our beach we've never considered it a problem. We've listed "no children" on our rental only because we would want to be sure anyone with small children supervised them due to the road. Older children 8+ would likely be fine, but the renters parental supervision must be maintained at all times. Also the consideration that our family members live here and we need to have quiet time at night and early mornings. We will consider children on a case by case basis. There is a bike path that goes around most of the lake, so many people walk, bike or rollerblade the entire 5.5 miles around. Our back yard views a farm field and trees. We often have deer and other wildlife back there. We have cable TV but only the basic package. Wifi is in home. We've remodeled a bit but kitchen and baths are original to home, and are in good condition. Parking allowed driveway only. No garage parking available.
Room Type
Private room
---
Property Type
House
---
Accommodates
2
---
Bedrooms
Annandale, MN, United States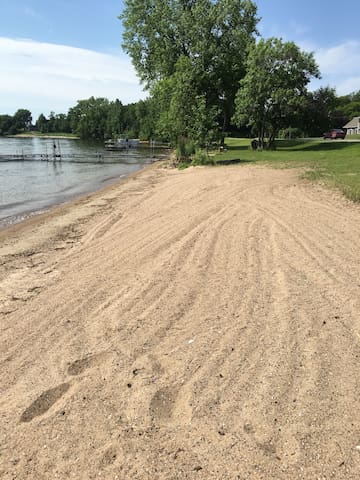 BEAUTIFUL LAKE HOME OVERLOOKING CLEARWATER LAKE, ENJOY THE Eve. Sunsets. FLL KITCHEN, 2 MASTER BEDROOMS, KING BED IN Mstr, SLEEP # Bd IN OTHER MASTER, 2 QUEEN SZ Bds IN LL Bdrms, 3 GAS Fireplaces, Guest HS W/BATH - (3 season)
COZY AND INVITING - GREAT PLACE TO FISH OFF OF THE DOCK AND 2 MASTERS WITH THEIR OWN FULL AND 3/4 BATH AND ANOTHER BEDROOM IN LOWER LEVEL WITH THEIR OWN 3/4 BATH AND BUNK HOUSE ABOVE OTHER GARAGE WITH A 3/4 BATH AND A 1/2 BATH IN MAIN HOME.
QUIET OASIS AND ONLY 1 HOUR FROM MINNEAPOLIS AND ST. PAUL AND A 1/2 HOUR FROM ST. CLOUD
Room Type
Entire home/apt
---
Property Type
House
---
Accommodates
8
---
Bedrooms
Annandale, MN, United States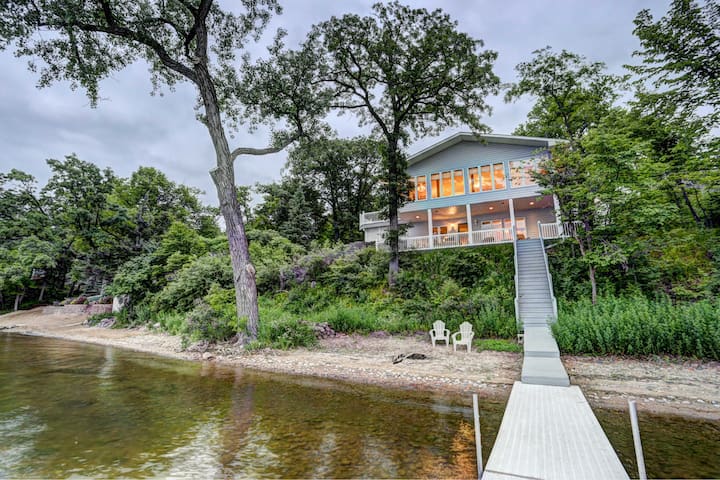 With a tree-house feel, enjoy extraordinary views of lake from home built in 2001. Just steps from welcoming tiki hut, dip toes into clear spring fed lake with sandy bottom. 1 hr from Mpls, 5 mins from large Sat flea market and many antique shops.
House has deck and screened in porch with comfy outdoor furniture. Open floor plan allows you to be with family/friends and see the lake from the kitchen. Upstairs has 2 bedrooms, one with California King and non-attached bath. Other room has attached bath and 2 twin beds. Downstairs basement is unfinished walk-out with windows. Basement has sleeping for 6, with 1 queen and 4 single beds all in open 1200 sq ft of space. Plus, 1 finished bathroom downstairs. Laundry room and ping pong table also provided. Very large dining table that fits 10 people for sit down meals. Slowly but surely we are transforming the furniture into mid-century modern style. We think you will enjoy this relaxed and quiet setting.
The home is part of a private neighborhood, with its' own outlot for trailers. It is a beautiful upscale neighborhood, with quiet streets (not thoroughfare). Perfect for relaxing walks. If you are respectful of neighbors, we will be able to continue to provide this welcoming home to AirBnB-ers. :-) 10 minutes away from powder Ridge ski area!
We loved our experience on Lake Sylvia. The long-anticipated girls' weekend was everything we hoped for. The lake is beautifully clear and the cabin sits on a small bay perfect for floating and paddle boarding (which we were excited to see the host provided!). The cabin fit all of us comfortably and we enjoyed sitting out on the screened in porch at night.
Lindsay
2016-08-08T00:00:00Z
Phoebe was great! She met us there and gave us a tour of the property, which was much appreciated. The property was excellent as well. We would definitely stay there again if we were in the area. Thanks!
Jens
2016-04-05T00:00:00Z
We had a great stay in this beautiful home on a fantastic lake. Our only regret is that we didn't have longer to stay. The owner of this property is extreme kind and helpful as well. If you are in the area and looking for a place to stay I highly recommend it!
Austin
2015-09-13T00:00:00Z
Room Type
Entire home/apt
---
Property Type
House
---
Accommodates
10
---
Bedrooms
South Haven, MN, United States
With original woodwork & stained glass windows, this home is a few blocks from bike trails and small-town main street. Hear the church bells ring while relaxing in white wicker chairs on the open front porch. Plenty of off street parking.
Historic home with six private bedrooms & five double bedrooms. Most bedrooms have their own sink and mirror. Two bedrooms are on main floor. All beds are twin size. 4.5 bathrooms = 2 walk-in showers and 2 with shower/tub combo. Comfortable living room, Wi-Fi, large area for doing crafts, business meetings, etc. See (EMAIL HIDDEN) Large off-street parking area. Picnic table. Gas grill. Large open front porch with wicker furniture and bistro set.
Small town living with main street bars and restaurants just a block away. Good grocery store with meat market. ATMs nearby. Three blocks from paved bike trails and access to 11 lakes. Public swimming beach with playground less than 10 minutes. Tennis court and playgrounds a few blocks away. Summer concerts and farmer's market in the park. Hear the church bells ring.
At the time that I booked, the listing was a bit sparse, so it was a leap of faith! Now it is much more filled out with photos and info. I stayed here with a group of girl friends from Minneapolis, and it basically knocked our socks off: Everything was at our above our expectations. We were surprised at the size of the facility. It was also neat as a pin. There was enough space for us and then some. Richmond is pretty fun, and we drove over to Cold Spring for a brewery that was celebrating it's birthday. Though I think the space is more designed for crafters, it suited us perfectly for our weekend away!
Vonny
2015-06-22T00:00:00Z
Room Type
Entire home/apt
---
Property Type
House
---
Accommodates
16
---
Bedrooms
Richmond, MN, United States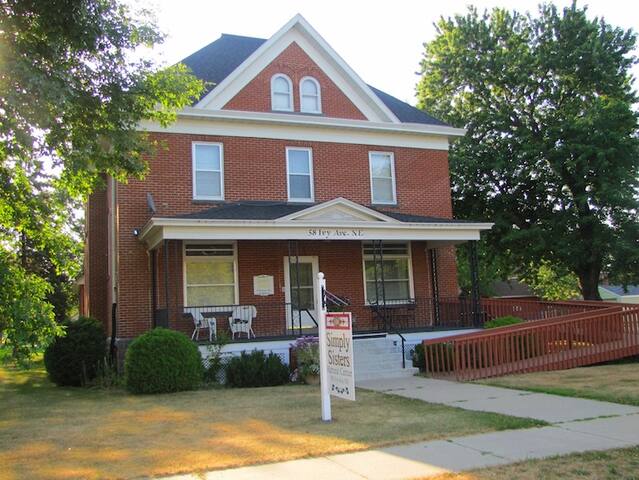 Our 3 bedroom cape cod style home on the beautiful waters edge of Lake John is one of a kind! Nestled in tall timber overlooking a panoramic view of the lake.
We purchased Edgewater in fall of 2013. We wanted certain things in a lake home and being right on the water was one of them. Our home is literally right on the waters edge giving way to spectacular views from every window or outside level. The creative architecture of edgewater lend way to a unique layout found no where else, from its circular staircases inside to its gigantic boulder foundation, give you the feeling of towering over the crystal clear water surrounding you.
Easy to find and only an hour from the Twin Cities!  Located just 5 minutes from downtown Annandale. Known as "the heart of the lakes" Annandale is a quaint, fun and very friendly town surrounded by 30+ lakes! It has numerous shops, coffee house, restaurants, spas, area attractions and even a bowling alley! There is also a lot to do in the surrounding area including one of the largest flea markets in the state, farmers markets, pioneer village, classic car museum, Powder Ridge ski area and snow tubing, Southbrooke golf course and more, all just 5 minutes from the house!...Annandale also boasts the biggest 4th of July celebration in the state, complete with a fair, music, street dances and of course fireworks. Our beautiful cove on the north side of the lake is peaceful and quiet, perfect get-away to relax.
This cabin, its location, and the lake view were absolutely gorgeous! We had 4 couples/families stay here over the weekend, and it worked out perfectly for us. The beach area was great for relaxing and playing in the sand (we had 3 little kids), the host had lots of fun lake toys for us to use (kayak, paddleboat, paddle board, floaties, etc.), lots of natural light in the living areas, and is located in a quiet neighborhood (cabin is at the end of a gravel road). There were plenty of sleeping spaces for us, 2 decks overlooking the lake, a dock, firepit area, and a ping pong table in the garage! The only downsides: the house is very vertical, meaning that there's lots of staircases (and the ones in the house are spiral staircases), so it's probably not suitable for little kids (which the host does mention in the listing). The bedrooms also got rather hot and stuffy. Although there were nice big fans in the bedrooms, air conditioning would have been great!
Anne
2015-06-22T00:00:00Z
The cabin is beautifulDaniel was great to work with. He communicated well and answered questions promptly. He made us feel very welcome in his cabin.
Elizabeth
2015-02-16T00:00:00Z
Daniel was great and communicated very well. He had information on everything I could possibly want to . Know. A great time we had and would love to go back!
April
2015-08-10T00:00:00Z
The host was great, his instructions were clear and the house was truly a beautiful!!! Loved the entire experience!
holly
2016-06-26T00:00:00Z
Daniel's place was an amazing experience! We slept 8 people in his house and it was extremely comfortable. All of the rooms were great and the amenities of the house were exactly what we were looking for. The view out of the house is great overlooking the lake. Daniel's communication was great and we had no problems checking in. I highly recommend you spend a night or an entire week at Daniel's place.
Kirk
2017-02-11T00:00:00Z
This lakefront home met all of our expectations. The setting was perfect for our annual girls weekend. The owners were great to work with in answering any questions that we had prior to our stay. The home was clean and modern which appealed to our tastes. We enjoyed much of our time on the deck overlooking the water, and out on the water itself. There was plenty of storage for food and beverages for our large group (as we tend to over pack) with an extra refrigerator in the garage and so nice to have a few of the extra amenities with floaties and kayaks available for use, and ping pong table in the garage. We made use of all of these items as we are an active group. We truly enjoyed a weekend getaway at this beautiful property!
christine
2015-08-17T00:00:00Z
Our family had a wonderful time at Dan's charming, well-appointed and beautifully located lake home on Lake John. Having a beach, two decks, a fire pit area, kayaks, SUP, a dock and swim platform kept us outside most of the time, which is where you want to be over the 4th of July! The lake views from the living area are perfect. The property is very well cared for with all the comforts of home. With 3 levels of living space, there is plenty of room for people to spread out and relax. Just a 5 minute drive to quaint downtown Annandale was very convenient for dining, drinks, bait and all you could need. We really enjoyed the friendly service and good drinks at Rich's on Main Street.
Joe
2016-07-06T00:00:00Z
Room Type
Entire home/apt
---
Property Type
House
---
Accommodates
8
---
Bedrooms
Annandale, MN, United States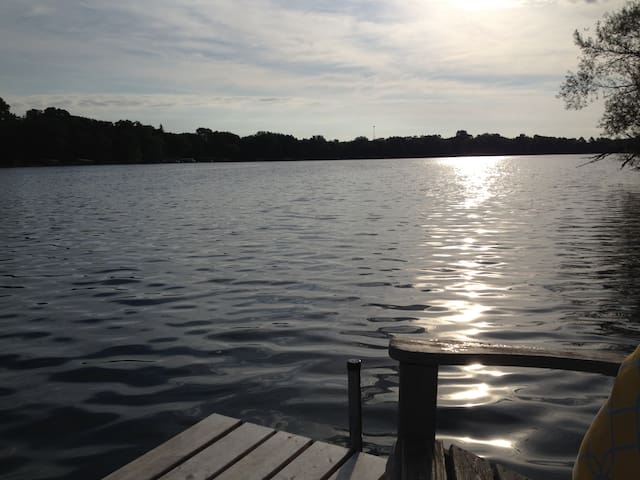 Saint Cloud - Airbnb
:
Average

4.81

out of

5

stars from

147

guest reviews
1

–

18

of

23 Home Rentals
Enter dates to see the total trip price including additional fees (but excluding any taxes).