Tervetuloa kodikkaaseen, hyvin varusteltuun lämpöhirsimökkiimme! Mökkimme majoittaa mukavasti kaksi aikuista ja kaksi lasta. Tupakeittiö on mökin ja yhdessäolon "keskus". Ulkoiluvaatteille on riittävästi säilytystilaa ja sauna & pesutilat ovat toimivat. Mökki sijaitsee rauhallisessa mökkikylässä metsän laidalla. Rukakeskuksen palvelut ovat lähellä, pärjäät myös ilman autoa.
Wellcome to our cozy, well-equipped wooden skiing lodge! Our lodge is suitable for two adults and two children 2-18 yrs old. The heart of the lodge is the kitchen-living room area. Plenty of room for your outdoor clothes, the sauna and the bathroom are very practical. The lodge is situated in a peaceful, small lodge area with nice forest views. Ruka Village with it's services is close (2km), the nearest ski bus stop is only 200m away from the front door. We wish you enjoyable holidays!
Rauhallinen naapurusto muodostuu yksityisistä mökeistä, joissa osassa asutaan ympäri vuoden. Olemme yhteisö, jossa jokainen arvostaa rauhaa ja järjestystä. Pienyhteisömme on turvallinen ja kotoisa.
We absolutely loved our stay at Tom's cottage. We spent 7 days with our family here and had a wonderful time. The place is great, quiet and it is very easy to find. It was love at the first sight. What an amazing house! Every piece of it is full of charming details. This super cute cozy cottage had everything we needed for a comfortable stay. We appreciated a drying device for ski boots. It was nice surprise that the cottage was warm when we arrived (according the instructions the house is getting warm in 2 hours after arriving). View from the window is amazing. Many times we saw squirrels running around. We didn't want to leave. I highly recommend this place. Thank you so much.
Tatiana
2017-04-01T00:00:00Z
The cabin was in a good location, less than 5 minutes from the nearest ski lifts by car and with a very easy access from the main highway. It was very cosy and nicely furnished. Me and my daughter had a great stay in Rukan Lumilinna.
Riku
2017-02-23T00:00:00Z
Le chalet est juste magnifique !!! Il est situé à 2kms du supermarché et à 3kms de la station de ski de Ruka. Les pistes de ski de fond se trouvent en bas du chalet. Les hôtes sont à l'écoute de vos demandes. À conseiller vivement!!
Laurence
2017-03-06T00:00:00Z
Отдыхали с 18 по 25 марта, возрастная пара. Были приятно удивлены всем: чистотой и комфортом, прекрасной кухней и гостиной зоной, всеми необходимыми удобствами. Отличное расположение домика, хорошая связь с хозяином для решения всех вопросов. Хотелось остаться ещё и ещё. Спасибо, Том. Ирина и Михаил.
Ирина
2017-03-25T00:00:00Z
Room Type
Entire home/apt
---
Property Type
House
---
Accommodates
4
---
Bedrooms
Kuusamo, Finland
Maalaistalo järven rannalla. 3 makuuhuonetta, hyvin varusteltu keittiö ja puulämmitteinen sauna. 20 km säteellä Rukan matkailukeskus sekä Oulangan ja Riisitunturin kansallispuistot.
Have you ever feel that the house is alive? You feel that it/he is full of histories, family relationships and care. This house is not empty like a hotel. This is the place for soul relax. In the middle of nature, not far from Ruka and Karhunkierros, it could be good both for silence seekers and nature lovers. Extraordinary sauna is included! But you have to operate your own vehicle to reach this place. Surely recommend to visit!
Sergiy
2017-03-05T00:00:00Z
Room Type
Entire home/apt
---
Property Type
House
---
Accommodates
6
---
Bedrooms
Kuusamo, Finland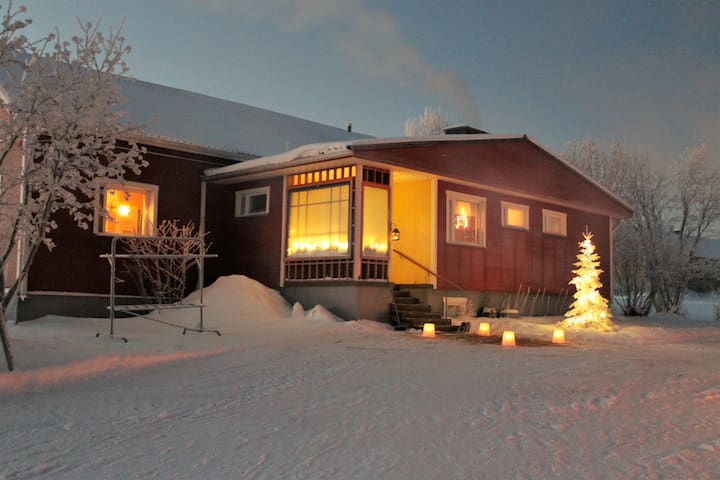 Rukan välittömässä läheisyydessä täysin varusteltu 2 makuuhuoneen paritaloasunto. Ladut 100m, rinteet 2,7 km, kauppa 1,5 km, rauhallinen sijainti. Makuupaikkoja 6+2, erillinen leikkitila lapsille parvella. 100+25m2. Käytettävissä pulkkia yms ulkoiluvälineitä. Peruskaudella 100e/yö, 600e/vko, sesonkiaikana 200e/vrk tai 1200e/vko.
The chalet is pristine and fitted with first-class equipment. The deco is lovely. We felt warm and cosy all the more important that the outside temperature was -30!! There is plenty of space in the house, a sauna, and even some toys, which is very nice for foreign travelers who don't get to bring things for the kids. Lastly, Ruka is a very nice place to go. We highly recommend staying at Henna's!
Agnès
2017-01-04T00:00:00Z
Thanks Henna for staying in your new and modern house! It is very comfortable, there are all necessary equipments. Henna responds very quickly and helps. Unfortunately there is not Internet access, but Henna even wanted to solve this problem for us! Henna's house is a very good place to stay: everything you need is located near the house - Ruka ski resort, lake, forest, S-market. One note: one of the rule of the house says that guests have to wash and dry all bed linen and towels before departure. It is hard to do if the departure is early in the morning, better to take all the linen from home.
Irina
2017-01-11T00:00:00Z
Mökki oli kuvauksia vastaava ja kokonaisuudessaan todella ihana! Vuokraemäntä erittäin avulias ja ystävällinen.
Heli
2016-10-17T00:00:00Z
Room Type
Entire home/apt
---
Property Type
House
---
Accommodates
8
---
Bedrooms
Kuusamo, Pohjois-Pohjanmaa, Finland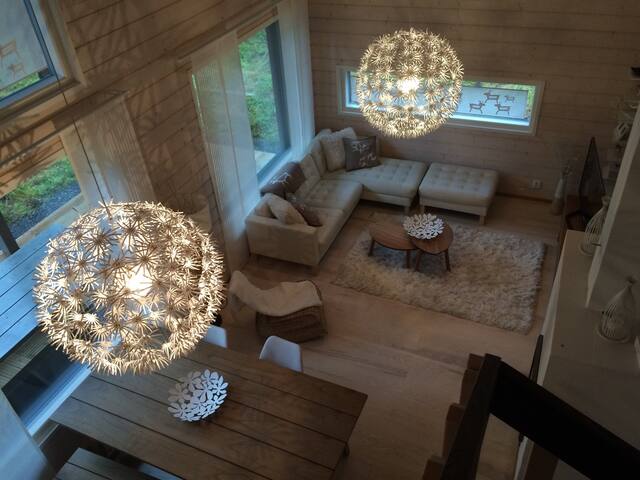 Hieno kelomökki kaikin mukavuuksin omassa rauhassa Rukan lähellä. Oma rauha tien päässä ja hyvät näkymät mäen päältä länteen sekä etelään. Hienot ulkoilumahdollisuudet heti mökiltä mm. Pyhävaaran poluille ja laduille sekä Pyhäjärvelle. Siivousmaksu vain. jos vuokralainen ei halua siivota itse.
Pentti was very welcoming. Instructions were clear. He provided information about the national parks and restaurants in the area. We enjoyed the sauna, made use of the well equipped kitchen, picked blueberries, watched reindeer browsing outside the door. Wonderful refreshing swim in the lake. The cabin was a good base for hikes at both Oulanka and Riisitunturi National Parks.
Meg
2016-08-09T00:00:00Z
Majoittaja vastasi nopeasti ja luotettavasti viesteihin. Perille oli helppo löytää hyvillä ohjeilla. Mökki sijaitsi luonnonkauniilla alueella, rauhallisella paikalla ja oli tilava, hyväkuntoinen ja siisti sekä hyvin varusteltu. Bonuksena saimme kokeilla lumikenkäilyä isännän tarjoamin välinein.
Päivi
2016-03-10T00:00:00Z
Mahtava paikka! Wonderful place!
Josefin
2016-12-06T00:00:00Z
Kaikki hoitui erittäin mallikkaasti ja siten kuten olin etukäteen toivonutkin. Majoittaja oli ystävällinen ja hänet tavoitti erittäin hyvin ja nopeasti. Majoituspaikka oli siisti ja juuri sellainen kuten oli luvattu. Varustelutaso oli hyvä. Sijainti on hyvä ja naapurustoltaan rauhallinen. Voin lämpimästi suositella!
Aino
2017-01-02T00:00:00Z
Room Type
Entire home/apt
---
Property Type
House
---
Accommodates
8
---
Bedrooms
Kuusamo, Finland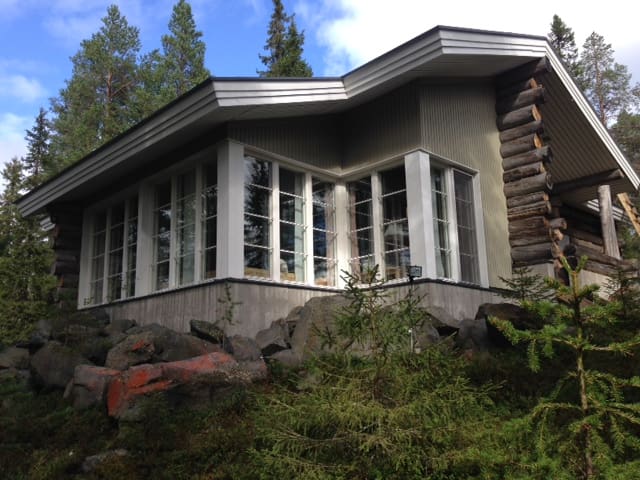 Lakeside cottage in the middle of forests, but it's still easily reached the Ruka ski resorts services. By car 20 min/29km. The villa has all modern facilities. Easy to go trekking to Oulanka National Park or Riisitunturi National Park. Slalom or cross country sking in Ruka. Snowmobils and ice fishing. Summer time Kuusamo is a great place for all fishermen! Fish from the clean waters of Northeast Finland.
Our holiday home is bran new. The villa has been completed for Christmas 2015.
You can be all by yourself. There is no one else. Air is clean and it's all quiet. In the villa you have all modern facilites and villa is warm and cosy all around the year. The Northern Lights and Polar Night The Northern Lights, Aurora Borealis, is a light phenomenon that occurs in the Arctic sky on clear, dark nights, caused by solar winds interacting with the Earth's magnetic field. A bit of advice on how to spot Northern Lights > Statistically, they are most likely to be spotted from mid-August to mid-April. Unfortunately, Northern Lights cannot be reliably predicted. Maybe that's why seeing them is believed to bring good luck! Midnight sun Experience the magic of the Midnight Sun! In Kuusamo, the nightless night lasts from around mid-June till the end of the June. During this period the sun does not set at all, but shines throughout the night. The nights of May and July are also very bright, even though the sun does drop below the horizon for just a short moment. Autumn Colours at Ruka-Kuusamo at september Plenty of things to see and do in addition to the magnificent sceneries of Ruka and Kuusamo on autumn colours! AUTUMN COLOURS Welcome to the traditional autumn hiking season. The nature will bring its very best in views and colors.
We were four adults and two small dogs. We were friendly received by the host couple. All necessary practical information was given. The location is charming for those who love the nature and peaceful stay. Everything went well and we have nothing to complain. There is a lot to see in the surroundings. We were mountain hiking several days in the Natural Parks around. We can recommend this accommodation without hesitation!
Mirja
2016-09-06T00:00:00Z
We had a great vacation at Tiina's house. Everything was as expected and even better. The house is very new and in a very good condition. The location is perfect, in the middle of nowhere rught at a lake, around 40 min with car from the Airport, ca. 25 min from the ski centre and many other activities (national park, snowmobiles, huskies etc). Tiina and her husband met us at the arrival and took the time to explain us everything. Many things were already available at the house such as coffee, rice, flour, noodles, etc. as well as lots of towels, linen, shampoo and sauna scents. Overall we had the perfect vacation in Lapland, also thanks to this great house.
Anna
2017-02-11T00:00:00Z
We were the first one to try out this awesome house in the north east of Finland and everything went good. Tiina is a perfect host. She was there to greet us and show us around the house all the useful things. The house is very cosy, with two bedrooms and lots of sleeping place on the first floor. The house is totally lost in the nature, without any noise. I would recommend this house any time
Pascale
2016-06-30T00:00:00Z
Nous avons apprécié notre séjour chez Tiina, l'endroit est tout simplement magnifique. Nous avons pu observer des aurores boréales à partir du salon grâce à la baie vitrée puis sortir sur la terrasse pour les contempler. Les installations de la maison sont au top, la cuisine est très bien équipée , le sauna, le salon, la wifi... La taille des chambres est satisfaisante, à 4 nous étions à l'aise et la maison peut facilement accueillir 6 à 8 personnes. Nous avons même pu utiliser la cheminée pour faire cuire un saumon :) L'accueil et les explications fournis par Tiina et son mari à notre arrivée était génial malgré notre retard. Le cadre est tout aussi génial, maison située au bord d'un lac (gelé ) où nous avons pu nous promener dans un calme absolu. Il est nécessaire d'être véhiculer pour s'y rendre. La station de ski de Ruka et ses commerces se trouvent à peu près à 20 min de route. Nous espérons pouvoir y revenir ;)
Amine
2016-12-23T00:00:00Z
Room Type
Entire home/apt
---
Property Type
House
---
Accommodates
8
---
Bedrooms
Kuusamo, Finland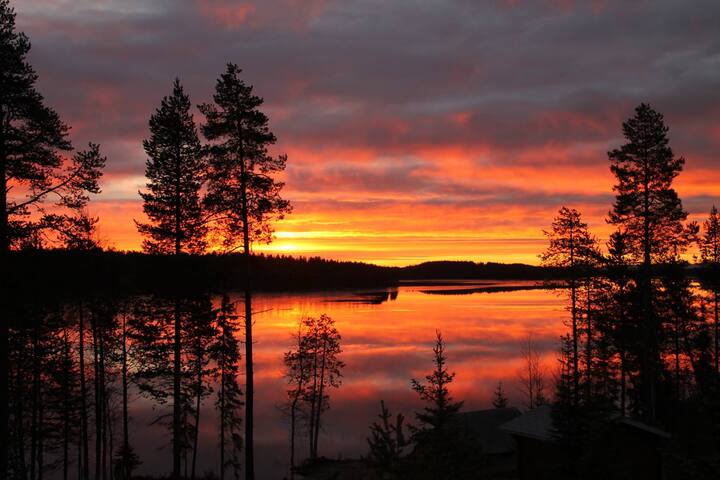 Paritalon puolikas Rukalla Kalliolammella. Rinteet 2,5 km, ladut 100m, kauppa 1,5 km. Skibussi 200m päästä. Täysi varustelu. 2 makuuhuonetta, parvella vuoteita 4 hlölle. Erillinen kodinhoitohuone. 100+25m2 tilaa. Loppusiivous erillistä maksua vastaan. Vuokra off-season 100e/vrk tai 600e/vko, sesonki 200e/vrk tai 1200/vko.
House where you feel like home.
Janne
2017-01-07T00:00:00Z
Room Type
Entire home/apt
---
Property Type
House
---
Accommodates
8
---
Bedrooms
Kuusamo, Pohjois-pohjanmaa, Finland