Situato ad Allai, in centro Sardegna, a metà strada tra mare e montagna, punto strategico per godere delle meravigliose spiagge dell'isola e allo stesso tempo ammirare i paesaggi dell' entroterra e viverne tradizioni e cultura popolare.
L'alloggio, situato in un vicolo pedonale del centro storico, comprende tre camere da letto di cui una matrimoniale standard, una doppia e una matrimoniale con letto alla francese; il servizio igienico comune, a cui si accede dalla cucina, è formato da un antibagno (con lavandino e lavatrice) e dal bagno ( con ampia doccia, water e bidet). La cucina è completa di tutto il necessario. Annesso all'abitazione è presente un cortile munito di barbecue, tavolo e sedie per poter mangiare all'esterno. Un ampio parcheggio privato è a disposizione degli ospiti.
Più che quartiere, il paese, appena 400 abitanti, è situato in una valle percorsa dal fiume. E' molto curato e gradevole ed è facile incontrare qualcuno del posto con cui conversare. Il centro storico è ricco di angoli caratteristici e graziose piazze. Durante i mesi estivi, principalmente a Luglio e Agosto, l'amministrazione comunale organizza "L'estate Allaese" nella quale vengono proposti spettacoli, mostre, film all'aperto, intrattenimenti per bambini e altro. Eseguiamo personalmente visite guidate presso il nostro apiario.
Allai is a sleepy little town in the heart of sardinia. we had a great time staying in the nicest house EVER! it's a quiet, clean and wonderful place to stay. provided with everything you need. if you want a vacation off the track, you want to stay in this beautiful village of Allai. A big city like Oristano is not far though. big thanks to our hosts, it's a very beautiful accommodation you have there! I'll hope we get back there some time soon. Love, Sarah&Tanja
Sarah
2016-09-27T00:00:00Z
This stay exemplified all that is brilliant about using Airbnb. We met not only two lovely, generous, stylish interesting hosts but soon got to meet half the village as well who were also incredibly friendly and helpful. The house had just been finished when we arrived and it's stunning. A real cool mix of antique, retro and modern, it had lovely beds, tons of towels, a full kitchen and a great shower, bidet & washroom. Parking is to the side of the building & is safe. The village is just 300 people with one shop and two bars but the main bar is busy and does superb pizza. We totally recommend this tranquil stay, we absolutely loved our time there, the house and especially the hosts.
Jess
2016-05-15T00:00:00Z
We booked this house last minute and they replied very quickly! When we arrived Giacomo welcomed us and showed us the place.He was very nice and he also offered to bring some veggies from his vegetables garden which were amazingly good! The house is newly refurbished with a retro style. The village is very small and very pretty.there is a very strong community feeling. We visited the house on the tree which chi is very nice, the museum nearby is interesting a well, the pizzeria is ok very cheap, and have gluten free pizzas. Really recommended.
federica
2016-07-09T00:00:00Z
We had a lovely three-day stay at Daniela's and Giacomo's house. Giacomo personally welcomed us to the house and provided us with informtion on things to do in the area and the delicious honey he makes himself! Daniela stopped by too with their new baby. :) Although we don't speak Italian, communication was no problem, and Giacomo was great to talk to. The house is beautiful, recently renovated by them, and the photos almost don't do it justice. Allai is a nice small village, very quiet, with a small shop and a bar/café/pizzeria (the latter on weekends) 2 min from the house. Oristano (35 min drive) is not necessarily worth a visit but good for groceries, the Sinis peninsula is interesting and Bosa (1h15 drive) is lovely. Via the highway, day trips to Cagliari, Sassari and Alghero are also possible. There are also a number of archeological sites in the area (Roman and nuraghe). Grazie 1000, Daniela e Giacomo!
Xenia
2016-10-08T00:00:00Z
Very sweet, hospitable hosts. Beyond what should be expected at a 5 star Airbnb. I would give 6 or 7 stars if possible. The hosts waited up for us to arrive after midnight. They gave excellent recommendations, and we very easy to talk to. The apartment itself is immaculate. Very charming, comfortable, and clean. Location made it possible to visit beaches on every side of the island. The experience was much greater than the Airbnb profile can show.
Sean
2016-07-17T00:00:00Z
We enjoyed our few days in Allai. The house is very well equipped, with good shower, washing machine, and most things you need to cook for yourselves. Allai is a pleasant quiet village, with friendly neighbours. There is a local shop, which caters for most supplies, at reasonable prices, but is closed from about 1pm to 5.30pm, and Sunday's. If you are staying a while, it might be worth doing a shop before arriving in Allai. The local Pizzeria is excellent, but unfortunately now only open weekends, which was a shame for us!! Daniela & Giacoma are very helpful and accommodating, and left some very good figs for us 1 day- very yummy!! They were at a wedding the day we arrived, but arranged for a friend to meet us and show us the cottage. The location is excellent, close enough to some beautiful beaches on the Sinis peninsula-Is Arrutas is beautiful, and is a most go. The local villages are also worth an explore. Roads are very good, and driving is easy. A car is a must here. Strongly recommended if you want a taste of local Sardinian life, but still be close to beaches, Nuraghe, and Oristano.
Jeanette
2016-09-14T00:00:00Z
La casa de Giacomo y Daniela es tal y como se ve en las fotos. Acogedora, agradable, limpia, amplia y, en definitiva, un lugar agradable para pasar unos días. Giacomo ha sido muy agradable, nos ha explicado diferentes lugares para visitar en los alrededores y la verdad es que han merecido la pena. Tienen aparcamiento en la casa, cosa que lo facilita todo mucho, sobretodo en un pueblo pequeño. La casa está un poco escondida pero Giacomo estuvo muy atento a nuestra llegada. La recomendamos totalmente, sobretodo para ver algo distinto de la isla.
Isaac
2016-09-10T00:00:00Z
Un super accueil de la part de Giacomo et Daniela! La maison est fraiche et elle a été renovée avec beaucoup de goût.Tout est neuf et très propre. Le village d'Allai est charmant et authentique, on peut aller manger de bonnes pizzas sur la place et faire des courses. Giacomo et Daniela nous ont bien renseigner sur les randonnées,et il y a une très belle documentation sur la Sardaigne mise à disposition dans la maison. Nous gardons de notre séjour le souvenir d,un lieu ou l'on se sent bien et des hôtes super gentils.
alain
2016-07-23T00:00:00Z
Room Type
Entire home/apt
---
Property Type
House
---
Accommodates
6
---
Bedrooms
Allai, Oristano, Italy
camera letto matrimoniale spaziosa e luminosa,con arredi nuovi e moderni,possibilità di incrementare un posto letto per (URL HIDDEN) casa offre una spaziosa cucina più caminetto ,ampio salone con tv grande schermo,, pc,auto disponibile previo accordi.
Il soggiorno a casa di Gaia e Silvano è stata un'esperienza unica, un tuffo nella vera Sardegna e nella vera vita in famiglia. Ci hanno accolto in maniera calorosa e sono stati cordiali e disponibili. Abbiamo trascorso del tempo conversando e ci hanno dato molti utili consigli su come trascorrere il nostro tempo nella zona. Spero di poter soggiornare nuovamente lì molto presto. Consigliato.
Elisa
2016-10-23T00:00:00Z
Room Type
Private room
---
Property Type
House
---
Accommodates
2
---
Bedrooms
Siamanna, Sardegna, Italy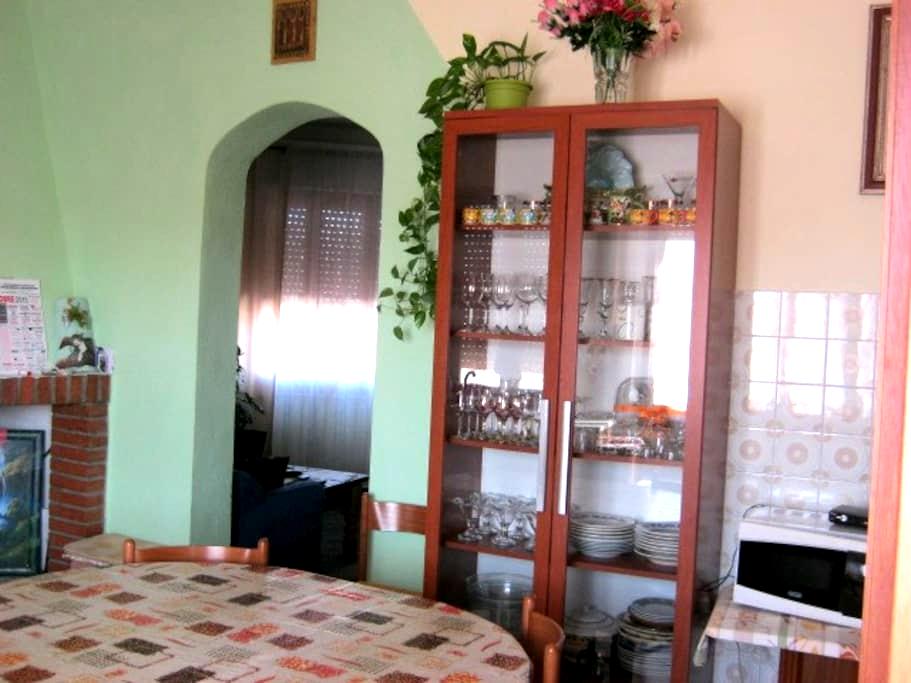 La casetta costruita prevalentemente con mattoni crudi, materiali biologici usati in Sardegna fino a 100 anni fa (ladiri), è nel centro storico di Siapiccia, piccolo centro a 10 minuti da Oristano situato ai piedi del Monte Grighine che offre la possibilità di piacevoli passeggiate. Per gli amanti del mare sarà facile raggiungerlo in breve tempo. Le coste del Sinis sono a meno di 30 kilometri!!
Piccola casa costruita prevalentemente con mattoni crudi, materiali biologici usati in Sardegna fino a 100 anni fa (ladiri). La casetta ha una superficie coperta di circa 50 metri quadrati: 2 camere da letto comunicanti al piano primo, ingresso, cucina e bagno al piano terra. La casa è dotata di un grazioso cortile interno dove affaccia il bagno. Il cortile ha anche un'area soppalcata semicoperta, attrezzata con tavolo e barbecue. Riposo e relax assicurati.
la casa è ubicata al centro di Siapiccia, un paesino ai piedi del monte Grighine di circa 350 abitanti. La vita è dunque tranquilla e placida. Di fronte alla casa un piccolo negozio di alimentari offre l'essenziale per il cibo e altri articoli per la casa.
Room Type
Entire home/apt
---
Property Type
House
---
Accommodates
4
---
Bedrooms
Siapiccia, Sardegna, Italy
Our rooms are located in Meana Sardo, the heart of Sardinia, in the central greater area originally named Barbagia, above the provinces of Nuoro and Oristano. Recommended for lovers of nature, amazing landscapes, art, history, hiking, and good food
We've got double and triple rooms. Every room has a private bathroom. Air conditioning included.
Meana Sardo is one of the most impressive villages of the green zone of Mandrolisai, due to its beautiful landscapes, its historical background, and its strategical position above the rest of villages in the greater area.
We spent a nice time in the hotel room Francesco is renting. The room is really quiet with a nice view on Meana Sardo village and it is perfect to discover the region, do some hiking in the Gennargentu and discover the villages around. Francesco was not there to welcome us as he was abroad but he was really reactive and answered quickly our questions; and his father called us when we arrived to make sure everything was alright and give us some advices on what to do in the region.
Claire
2016-08-13T00:00:00Z
Room Type
Private room
---
Property Type
House
---
Accommodates
3
---
Bedrooms
Meana Sardo, Sardegna, Italy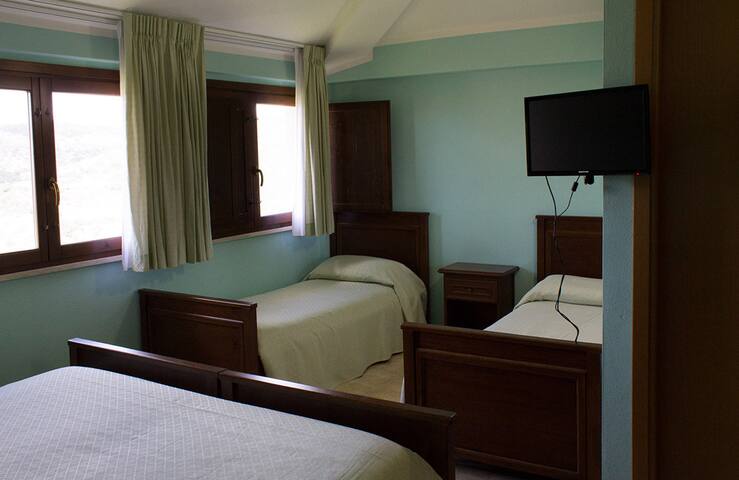 A double bedroom and kitchenette open on a garden, for those who love nature and the quiet atmosphere of a small village. 10 minutes drive from quartz beaches, rock arch, waterfall, ponds and Oristano town.
The well house comprises of a double bedroom en suite bathroom and an open dining room with small kitchen ideal for couples or nature loving people. The dining room is open on two side on the garden and enjoys the fresh air of an old well. Indipendent entrance, easy parking in the street. The house is sourrounded by the garden and is very quiet. Within close proximity there is a food shop, at walking distance pizzeria, bar, pasticceria,a bank and a chemist. Riola is just above an hour drive from Alghero and Cagliari aeroport. The wonderfull beaches of quartz and fine sand are 10 min. drive. Many water sports can be enjoyed : surf, kite surf, snorkelling, diving, fishing. Golf course 8 km from the village. Oristano's town offers evening walk couplled with aperitivo. Choose the well house if you like to relax in to a mediterranean village life away from mass tourism. (SENSITIVE CONTENTS HIDDEN) maps francescahouse riola
The area is popular for watersports, horse riding, golf, visiting archeological sites and least but not last trying out local food.
La sistemazione all'interno della casa di Francesca è perfettamente in armonia con il resto: si vive pacificamente negli spazi comuni all'aperto, tra gli edifici color pastello e alberi da frutto. Francesca è un'ospite discreta e gentile. L'Appartamento è essenziale, per noi è stato perfetto.
gabriele
2016-09-08T00:00:00Z
Très bon accueil de Francesca dans son havre de paix avec la facilité d'un Français impeccable pour tous ses bons conseils de découverte dans la région. Chambrette coquette et cuisine semi-plein air pour apprécier le jardin et la tranquillité. Projet original de 3 hébergements indépendants qui allient convivialité et discrétion. A recommander. Sophie
sophie
2015-08-20T00:00:00Z
La Casa del Pozzo, dai colori pastello, è una sistemazione ottima, tranquilla ed accogliente. E' situata nel centro del paese ed è costruita a corte come la maggior parte delle case storiche della Sardegna. Al centro racchiude un giardino con un grande albero a cui è legata una altalena. Il mare dall'acqua trasperente, la costa aspra e selvaggia battuta dal vento, mette in contatto con la forza della natura. La proprietaria della casa, Francesca, simpatica e cordiale ci ha indicato le più belle spiagge da vedere. Lo consigliamo vivamente a tutti coloro che desiderano immergersi nella Sardegna più autentica.
Giancarlo
2013-08-02T00:00:00Z
Room Type
Entire home/apt
---
Property Type
House
---
Accommodates
2
---
Bedrooms
Riola Sardo OR, Sardinia, Italy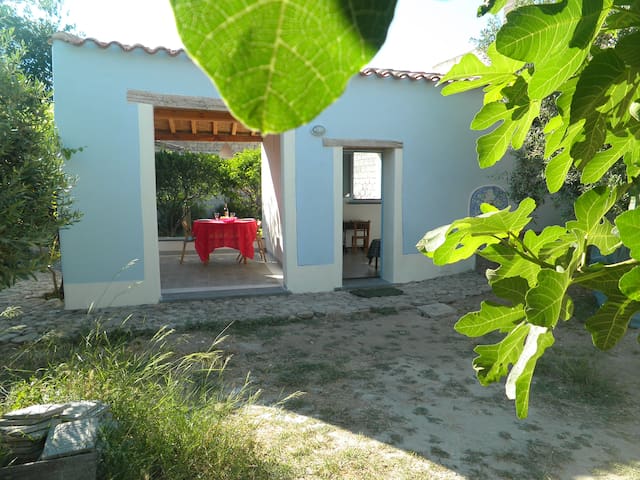 quiet and silent house, on the beach, cooled by the sea breeze, special to the spectacle of the sea and fishing boats ... Really comfortable with its spacious outdoor terrace with a large table and the little garden in front of the sea with palm trees !!
The accommodation is part of a duplex; The garden and courtyard are therefore attributable to the middle, but the outdoor spaces available are still large; both in the garden, by the sea side, which in the rear, near the entrances, outside, there are comfortable showers; Therefore, considering that of the suite, the house has three showers. In the courtyard is a laundry room with washing machine is opened and is also present, in addition to the table and two armchairs, also a barbecue. The kitchen has ample crockery, dishes, glasses, coffee cups, coffee pot, microwave, oven, stove and refrigerator. In front of the bedrooms there is a living room, from which you always see the sea, with two large, comfortable sofas, plus television. Wifi service.
The village of Sa Marigosa fishermen is only for peace and relaxation, for the charm of the towers overlooking the sea, the sandy wide beach, the clear water, free of stones and rocks, and the opposite island Mal di Ventre, for the surrounding salt marshes with flamingos, and the proximity of places like Tharros, Cabras (with the giants of Monti Prama and mullet roe), S'Archittu, Maimoni, Arutas, Sa Mesa Longa and other beaches still fascinating and pure nature.
Siamo stati nella casetta di Cinzia dal 24 giugno al 9 luglio. La casa ha due pregi: la veranda davanti casa utilizzabile mattino, mezzogiorno e sera che è molto più bella e fresca di quanto appare in foto; inoltre dal retro, soli 30 passi e si è in spiaggia. La spiaggia è di sabbia e il mare pulito e cristallino. La casa di Cinzia è la soluzione ideale per chi vuole posteggiare l'auto e godersi il mare da mattina presto fino a sera anche tardi, senza muoversi da casa. Ideale la location per bambini anche piccoli. Favoloso l'ombrellone a disposizione degli ospiti, che puoi lasciare in spiaggia durante la pausa pranzo. L'interno della casa è ben curato e arredato e aprendo i due ingressi si rinfrescano subito i locali. La cucina è però più piccola di quanto sembra in foto anche se funzionale e comunque abitabile. Il bagno risulta invece molto più bello rispetto alle foto. Ottime le due docce esterne! Decisamente una bella esperienza da ripetere!
Saskia
2016-07-10T00:00:00Z
Sono stata una settimana in vacanza e ho apprezzato molto la sistemazione. La casa è spaziosa e gli spazi all'aperto sono molto comodi. Bellissima la vista sul mare dalla veranda del giardinetto. La posizione è veramente fantastica, comodissima per raggiungere le bellissime spiagge della zona.
Gea
2016-09-17T00:00:00Z
Nella casa di Cinzia ci siamo trovati molto bene, è spaziosa, arieggiata e fresca, si apre direttamente sulla spiaggia ed ha una posizione ideale per visitare con comodità tutta la penisola del Sinis. Le fotografie sul sito sono corrispondenti alla realta, inoltre la casa è perfettamente equipaggiata. Ringraziamo molto Cinzia per la sua gentilezza!!!
Monica
2016-08-27T00:00:00Z
Room Type
Entire home/apt
---
Property Type
House
---
Accommodates
6
---
Bedrooms
San Vero Milis, Sardegna, Italy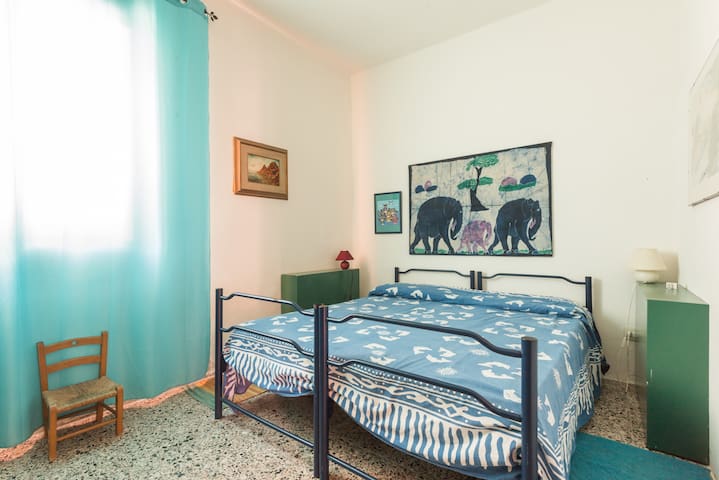 The house of Pia street is a small historic house of 1880, typically constructed of local stone: black basalt plateau of Abbasanta. "Casetta", because everything looks small form ... small windows, the bread oven, courtyard. A love nest comfortable and cozy, suitable for those who want to experience sensory experiences (especially culinary!) In this part of Sardinia less known, that toggles the sea, plains, hills and mountains and a living tradition, authentic
The district of S. Teodoro is the living heart of the small town of Paulilatino button, characterized by the typical low houses in black basalt and vine trellises in the doorways of the houses. Here, people still gather in the evening to take the chill out and chat in an atmosphere of genuine hospitality!
We can only recommend this place ! If you want to experience real local life and style, you should stay at this amazing place. We felt so welcome and had a typical breakfast. Paulilatino is a romantic little Sardinian village. It is really worth leaving the city, although you need a car to get there. So unique experience, that we can only recommend !!
Paola
2017-03-22T00:00:00Z
Chiara's place has everything you need to feel at home. What a great place. Telephone reception is not great and there is no wifi if that is important for you. Otherwise incredible place.
Jon
2017-04-01T00:00:00Z
It was an amazing experience to stay in a local house into the old village of Paulilatino, in the middle of Sardinia. We have had a lovely staying as the house was perfect and the host extremely kind and welcoming. The house is independent, stylishly renovated, clean, cosy and comfortable. The area is beautiful and there are so many places to visit near there such as the Santa Cristina archaeological site. Chiara and her parents were great with us! Her mother has also brought us a delicious home made cake. It was a magic unforgettable weekend. Absolutely recommended to anyone who wants to enjoy Sardinia coherently with the local lifestyle. Five stars! We really hope to come back and enjoy some tasting organized from Chiara and her family.
Chiara
2017-03-13T00:00:00Z
Cercavamo un alloggio nella zona che ci permettesse di raggiungere comodamente il Parco di Santa Cristina e le terme di Fordongianus. Chiara si è dimostrata una host eccezionale, disponibilissima, cortese e accogliente. La casetta, indipendente, è perfetta per due persone. Restaurata e rifinita da poco, mantiene un carattere rustico che permette di immergersi al meglio nella cultura del posto.
Joshua
2017-01-22T00:00:00Z
Room Type
Entire home/apt
---
Property Type
House
---
Accommodates
2
---
Bedrooms
Paulilatino, Sardegna, Italy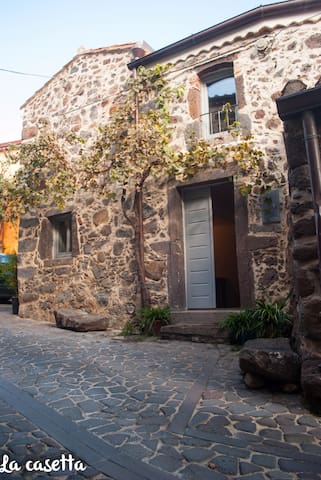 My place is a short drive to some of the best beaches in Sardinia. The views are great from the many windows and two balconies. You'll love my place for its spaciousness. There are wood parquet floors throughout. The large bathroom includes Spa/shower, two sinks, toilet and bidet. My place is good for couples, solo adventurers, and business travelers. This is a smoke free house, thank you for helping us to keep it that way.
House is centrally located on the island with easy access to Cagliari / Oristano / Sassari autostrada. Minutes away from the beaches of Sinis including San Giovanni, Maimoni, Is Arutas, Mari Ermi, Putzu Idu, S'Archittu, Santa Caterina, Su Riu and more. Also close to Monte Arci and Montiferru mountains for hiking and picnicking. Mountains and beaches together!
A grocery store is immediately downstairs. Many churches, restaurants and the town square are within walking distance. TripAdvisor recommends two pizzerias (Holiday and Quadrifoglio). Although I have not eaten there, others have recommended these.
The apartment is spacious and bright. It is in phase of furnishings but has the minimum necessary. Solarussa is a quiet village but is a great base for exploring Oristano and Sinis beaches. Mike is very kind and flexible.
Francesca
2016-08-18T00:00:00Z
Mike's house is very big and comfortable. The communication with his has been easy and even we didn't meet him he has been very nice and flexible. Recommended
Claudia
2016-07-27T00:00:00Z
The flat was very nice, the only thing is that we missed a table for leave the things in the room. Also a positive thing is that at the corner there is a supermarket.
Maria Rene
2016-08-21T00:00:00Z
Our stay with Mike went well and check in went smoothly even tho we didn't meet. The place is very big and spacious, good value !
Sophie
2016-08-06T00:00:00Z
Big, beautiful and minimalistic apartment (furnishings and utensils) without essentials. It's a nice spot to explore the surroundings of Oristano. Mike is kind and easily reachable.
Fabrizio
2016-09-08T00:00:00Z
The appartment is spacious and confortable. The communication with Mike was very good ! The description isn't correct because there is no air conditioner and it was really hot inside during the night (lot of mosquitos!).
Joseph
2016-07-28T00:00:00Z
We just stayed at Mike's place for one night, and it was very suitable for us. The little city is quite empty, but if you have a car, you can find beautiful beaches just a few miles away. Mike is a super friendly guy, and I definitely recommend his place!
Virginia
2016-10-25T00:00:00Z
We had a good time at Mikes place. It is very spacious and quiet. Very close to everything. You need a car to come there. Mike is very friendly.
Thieme
2016-09-15T00:00:00Z
Room Type
Entire home/apt
---
Property Type
House
---
Accommodates
4
---
Bedrooms
Solarussa, Sardegna, Italy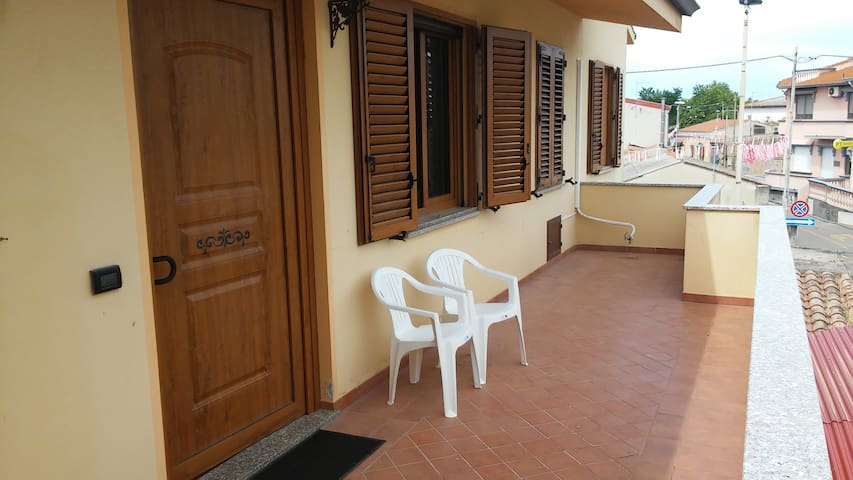 A nice, charachteristic Italian house situated in a beautiful green mountain village. (600 mamsl) the house is in the old part of the center of Meana Sardo. It is a beautiful location especially for walking and has an especially scenic route. In the nearby surrounding area called Aritzo, where you can go skiing and also in the other nearby village Austis you can avail of the swimming pool facilities, which are open in July and August.
The house description: Nice home with two bedrooms, a nice new kitchen, bathroom with a shower and a sink. A washing machine is also providen for your convienience. The interior of the house has been painted white and is air conditioned. In the living room there is also a sofa bed which accomodates two people. There is a garden and a balcony with seats provided . The house does provide wifi and in the town with the bars and restaurants and pizzerias there are plenty places who also provide wifi. There are also games for the children available in the house such as UNO and Yahtzee. Also available are some racketts and some things which you may use at the swimming pool or beach. On the chimney you will find an ashtray which contains the key to the Electricity press. Turn the boiler to maximum for warm water. Provided for your convienience are some reading books and also travel and walking guide books.
The neighborhood is free of mass tourism. It is special and authentic, real Italian; a place where you normally do not come just like that. It is a quiet area. For more commotion and entertainment you can visit the capital Cagliari by car in one hour. The nearest beach is at Oristano (Torre Grande, Is Arutas, Mari Ermi). These are beautiful sandy beaches. There are facilities on the beach, beach tents, beds and parasols, pedalos and canoes. For more culture visit San Giovanni di Sinis (oldest church in Sardinia), Penisola di Sinis and Tharros (Roman excavations). The nicest towns are Alghero and Bosa. In the Giara di Gesturi is a walking park where wild horses live. In Meana are several bars and pizzerias' s, a village square with terrace, a pharmacy, shops including a bakery, butcher, ice cream shop and greengrocer. In all bars and restaurants Internet is available. In Sorgono, the next village, larger supermarkets including Conad and EuroSpin. Barumini is a well known Nuraghe village.
If you are looking for a full immersion experience in an unspoiled traditional village in the heart of Sardinia, your have found the right house! Paola's lovely house is fully equipped and recently renovated. It is located in the heart of the old part of the charming village nested in the hills of Sardinia. The house is a few footsteps away from the main shops, bars and restaurants. The village is perfectly located to explore the many hikes in the hills of the Gennargentu. We did not have a chance to meet Paola, instead we met some of her family members, Paola stayed in contact with us during our stay and everything went very smoothly. We had a truly unforgettable experience in Meana Sardo.
Leekei
2016-08-17T00:00:00Z
we zijn heel gastvrij ontvangen en hebben het erg naar ons zin gehad. een gezellig huis midden in het centrum van een authentiek dorpje en een mooie omgeving waar nog veel te ontdekken valt.
Mirjam
2016-08-23T00:00:00Z
Room Type
Entire home/apt
---
Property Type
House
---
Accommodates
6
---
Bedrooms
Meana Sardo, Sardegna, Italy
A 15 min da Oristano, affittasi intera casa, a piano terra, composta da salotto con divano letto, cucina abitabile, ampia camera matrimoniale, bagno principale, camera con due letti singoli e accesso esclusivo al secondo bagno, giardino con barbecue.
Le séjour c'est très bien passé, l'accueil et la gentillesse des voisins etait très appréciable :) La maison est conforme au photos, nous recommandons vraiment cette location. Yann
Yann
2016-08-22T00:00:00Z
Room Type
Entire home/apt
---
Property Type
House
---
Accommodates
5
---
Bedrooms
Solarussa, Sardegna, Italy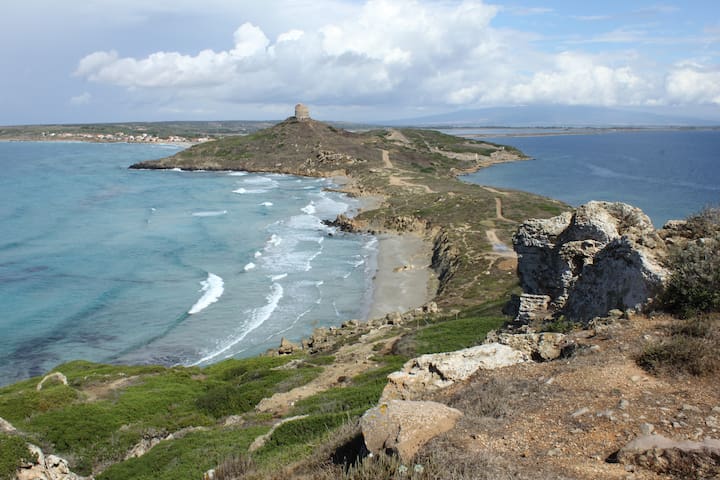 La casa di fine 800, 1 camera , soggiorno cucina, bagno, giardino. Per chi ama la pace e la natura. La casa è stata restaurata rispettando le caratteristiche originali. Gode di un piccolo giardino con pergolato. Arredata con mobili di design.
House at the end of 800 renovated, one bedroom, living room kitchen bathroom, small garden. For those who love peace and nature, history and archeology. he house has been restored respecting the original features. It enjoys a small garden with pergola.
Paulilatino è un paese di origine agro-pastorale caratterizzato dalla campagna circostante con i caratteristici campi chiusi da muretti a secco, e dalle case basse realizzate in basalto nero. E' molto noto per i numerosi siti archeologici risalenti all'età nuragica e prenuragica disseminati nel suo territorio e in particolare è noto per la sua bellezza e importanza storico - culturale, il Villaggio archeologico di Santa Cristina in cui si trova il famoso pozzo sacro risalente al IX-VIII secolo a.C., Il Villaggio è situato lungo la strada statale 131 a circa 5 km dal paese Paulilatino a small village characterized by agro-pastoral countryside with the characteristic fields enclosed by stone walls, and low houses in black basalt. It is well-known for a lot of archaeological sites -nuragica and prenuragic era In particular is known for its beauty and historical significance - cultural, archaeological Village of Santa Cristina is located in the famous Holy Well dating the IX-VIII century BC, the Village is located along highway 131 at about 5 km from the village
Antonio has been very careful for our comfort, and very available to answer all of our questions. The apartment was fully equiped and remained cool during days and nights. There is a supermarket nearby (in piazza) and the neighbourhood was very quiet and pleasant
Stéphane
2016-08-21T00:00:00Z
Antonio's house is super nice, even nicer than what you see in the pictures. The decoration is great and the location is superb. He took good care of our needs and the house was supplied with everything we needed.
Estefania
2015-08-07T00:00:00Z
We had a wonderful stay in Antonio's place which is exactly as described! Paulilatino is a small and typical town next to many attractive things ! The road to the many beaches around is easy, there are many things to visit around and the apartment is perfect for vacation ! On top of that Antonio was very easy to join if needed and very nice to us ! Thanks again for everything, we hope to cole again and enjoy another great vacation in your place Antonio! Grazie mile !! Aveline & Charles
Charles
2016-08-11T00:00:00Z
This house is just great and has everything you need. Everything was clean and we were very comfortable there. The kitchen is spacious and high quality, so it's a real pleasure to cook! There is a supermarket right in front of the house. There are also a lot of books in the house and a little stereo system to enjoy music. Paulilatino is a very charming village, perfect place to relax! Antonio was very nice and friendly and gave us a lot of information. We could also call him or send him a message if we had some questions, he was always available. We also got in contact with some of the locals who were very friendly. On our departure one of the locals Bona took us with her car to Abbasanta railway station to take the train back to Cagliari because on sundays there is no train to Cagliari from Paulilatino station. We can definitely recommend this place and Paulilatino is worth a visit! Thank you Antonio and thank you Bona and everybody else!
Jeremy
2014-08-24T00:00:00Z
What a beautiful house to stay in. A modern and artistic look. Perfect and very clean! Antonio is a very nice person who gives a lot of information about the area, restaurants.... We enjoyed full !
Bert
2016-07-20T00:00:00Z
We enjoyed our stay for one week in Paulilatino! The village is well located (close to the main motorway SS 131) and there are many places worth visiting nearby. Paulilatino is a nice little village with friendly inhabitants, but for communication it's helpful to speak a little italian. The apartment was very nice, spacious, comfortable and clean. The kitchen was well equipped and there was everything we needed to cook and prepare food. We did not meet Antonio, but he was always available via phone / text message and it was easy to communicate with him in english.
Valerie
2016-07-27T00:00:00Z
Nous avons été très bien accueillis par la famille d'Antonio qui habite le village. Très gentils , serviables , ils nous ont proposés un verre à boire à notre arrivée. Ils n'ont pas hésité à nous communiquer leur numéro de téléphone au cas où. Idem pour Antonio , qui a toujours été joignable. Communication facile en anglais et même en français. Village très accueillant et très charmant ! Nous sommes arrivés lors de la fête du village (cavalli) et avions pu profiter du banquet (très) copieux rendu en l'honneur de cette fête ! Parfait pour partager et s'immerger dans la culture Sarde. Appartement très bien équipé, calme et spacieux. Possibilité de se garer devant l'appartement. Mini market et boulangerie situé à 1 min à pied. Des vélos sont à disposition mais la région est assez vallonée. A 30 min d'Oristano, le l'appartement se situe à 1km de l'autoroute et à 4km de Santa Christana , le site nurhalgique.
Justinien
2015-08-30T00:00:00Z
L'arrivée chez Antonio s'est très bien passée. Nous avons été reçus par deux de ses amies. La visite a été très rapide et nous nous sommes tout de suite senti comme chez nous. Appartement avec beaucoup d'espace et de cachet. Stationnement facile sur la place juste devant. Le village est également magnifique. Nous sommes allés à la mer chaque jour, le fait de n'a pas être directement sur la côte ne nous a posé aucun problème. Le village de Paulilatino est magnifique, deux vélos sont à disposition. Si vous allez dans la région, vous pouvez foncer.
Grégory
2016-08-04T00:00:00Z
Room Type
Entire home/apt
---
Property Type
House
---
Accommodates
2
---
Bedrooms
Paulilatino, Sardinia, Italy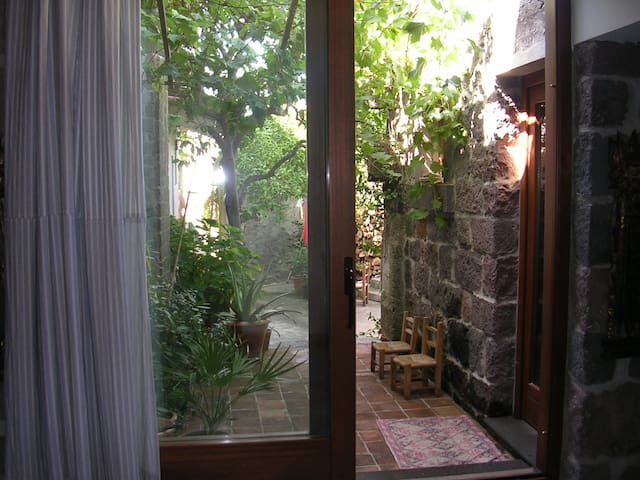 la depandance si trova a SIMAXIS 10 km da Oristano,15 km dal mare inserito da vanity travel tra le 11 spiagge più belle del mondo, e un oasi di tranquillità dove rifugiarsi dal rientro dal mare o dai tour , nei paesi vicini sagre e feste tipiche, il mare? questa è una delle molte spiagge (URL HIDDEN)
La depandance in stile campidanese, è immersa nel verde, nella tranquilla campagna del Campidano, in Sardegna, a SIMAXIS, che si trova a soli 15 minuti dalle più belle spiagge della Sardegna, posti incantevoli che si caratterizzano per il loro mare cristallino e che vi daranno l'idea di essere ai Caraibi. D'altronde, chi non ha mai sentito parlare del mare della Sardegna? Metà molto ambita soprattutto nei mesi estivi, anche per amanti del serf ,infatti a pochi kilometri ci sono molte spiagge per poter praticare questo bellissimo sport e possibilità di fare dei corsi con maestri del settore, ma anche perfetta per i vostri soggiorni invernali, davanti ad un caminetto per una vacanza all'insegna del relax. e conoscere le nostre tradizioni e le specialità della sardegna. La Depandance è composta da 1 camere da letto matrimoniale 1 camera doppia , una cucina abitabile con camino ,un bagno con doccia . La cucina è dotata di tutti gli utensili e strumenti necessari per organizzare le vostre cene in compagnia di amici, forno incluso. Nel bellissimo camino nelle serate autunnali (bellissimo periodo per fare e conoscere la vera sardegna coi colori e profumi senza l'affollamento dei grossi pienoni estivi) possibilità di accendere il fuoco per passare tranquilli e romantici giorni e nello stesso tempo fare gustose grigliate senza accendere ulteriori barbecù E' il luogo perfetto ed ideale per i vostri soggiorni estivi. possibilita usufruire lavaggi in lavatrice a 8 euro
la gente , la pulizia, i negozi,le feste e le sagre
Our stay at Giovanna's was great! She's a wonderful host who knows a lot about the island and its most interesting spots, she also cooks very well and maybe you'll have the chance to try some local specialties. The place is very nice too, well equipped and clean. If you are looking for a holiday in Sardinia's countryside you found the right place. Thanks Giovanna for your hospitality, it was a great pleasure staying at your place!
Daniel
2014-07-16T00:00:00Z
We have spent long lovely vacation in Giovanna's house. We felt like at home because of her hospitality. Sardenia is amazing place with the one of the best beaches in the world. The dependence was clean and comfortable for our family of 5 persons. It was great experience for children to live in italian countryside with dogs, cats, sheep, goat, chickens and sweet puppy Piccolino)) thanks a lot for everything!!! We love Giavonna!
Polina
2013-08-18T00:00:00Z
Giovanna è una persona dolcissima che mi ha fatto subito sentire a casa, come una brava mamma! Molto socievole e solare, mi ha regalato un piacevole soggiorno a Simaxis. Mi ha anche dato ottimi consigli per luoghi da visitare. GRAZIE Giovanna!
Jessica
2015-08-18T00:00:00Z
Room Type
Entire home/apt
---
Property Type
House
---
Accommodates
4
---
Bedrooms
Simaxis, Sardinia, Italy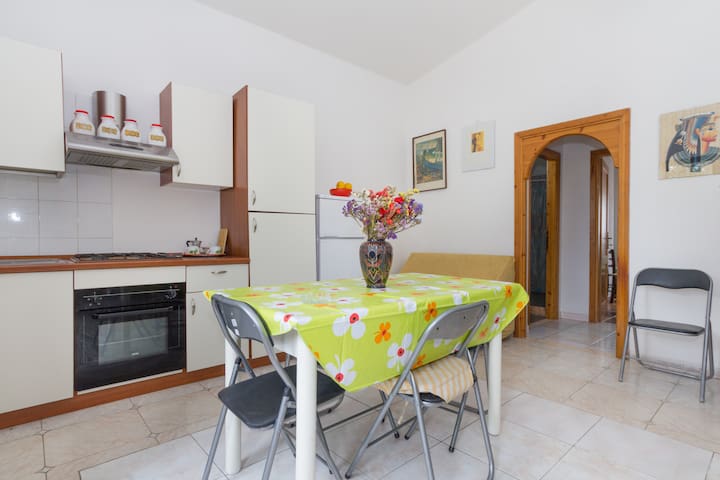 The Holm, a warm and cozy nest for your holidays in Sardinia: House mixed architecture, secret sign of ancient rulers. Independent rooms with private bath, TV, mini-bar, internet, climate: Breakfast room overlooking the mountains: full-featured, Parking. Hospitality and kindness Sardinia last relic of Tirrenide, between misunderstandings and misinterpretations of the world have conspired chronicles of adventure and risk, leaving the silence of the mountains, the truer picture of a people, that between the silence of the mountain has preserved an original cultural heritage. Ancient customs, are the reflections of the mysterious tribe of prehistoric Nuragic, myths and rules in more segregated areas of the interior have made grow a world of fanciful traditions, fueling thoughts and cadences charming and magical. The mountain, at times harsh and sharp melts with the green brush strokes that dominate on all corners. with the yellows and reds that play together and blend in shades of wine, and of ripe wheat down to the valley. An arrangement of light and harmony of colors that only Van Gogh could be measured. This agreement is Atzara contrasts, set among the green hills of Mandrolisai, china lush vineyards from which named the prestigious wine of the place. Backs to the east, gorges and Toneri (plateau) The author of the comic Tex Willer was inspired by local geography exporting the image in the world, history and popular imagination mingle The western part is instead immortalized in the paintings of the Spanish masters of the first 900, who likened the light of the light spot of the island of Ceylon, land of the Masters: Antonio Corriga, maximum and Savior Corriga Sardinian painter, poet sealed with national recognition, and heir to the triad Montale, Quasimodo, Ungaretti. The oldest steam locomotive still panting for the slopes and the delight of tourists. between mastic, mushrooms, broom myrtle and arbutus, myrtle is an excellent liqueur auctono, the strawberry tree is the shrub from which the bees produce honey eating bitterness, a world exclusive. Cicero availed it to compare the locals and to define its character. Welcome!
La stanza veramente bella, con letto comodo e bagno privato pulitissimo. La signora ci ha trattato molto bene. Se capiteró di nuovo in zona ritornerneró sicuramente in questo B&B
Giuseppe
2014-08-30T00:00:00Z
Room Type
Private room
---
Property Type
House
---
Accommodates
10
---
Bedrooms
Atzara, Sardinia, Italy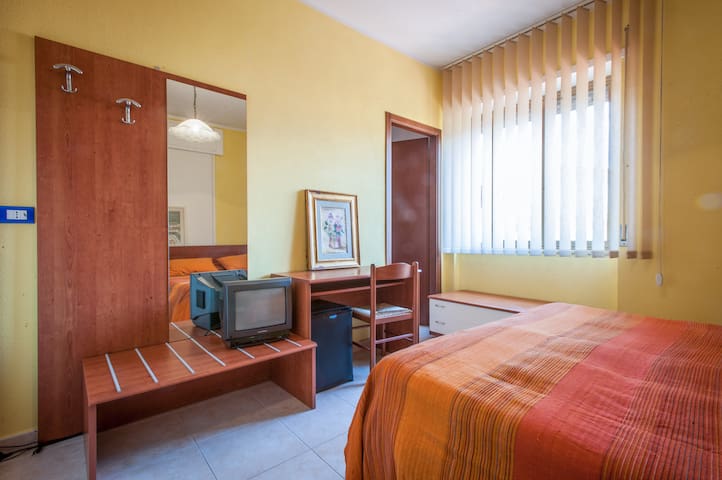 Charming house in the old village of San Serafino at Ghilarza, Omodeo lake. Ideal for spending a few days in peace in close contact with nature, a stone's throw from the village of Ghilarza (5 km) where you can find everything you need: markets, pizzerias, restaurants and entertainment, connections with the SS 131 to be able to visit various centers of Sardinia. The house is composed as follows: 3 bedrooms, large dining room, kitchen, bathroom and patio garden.
La casa è molto ben organizzata e dotata di tutto. il borgo di San Serafino è affascinante e sicuramente luogo di grande relax. Durante il nostro soggiorno eravamo gli unici ad abitarlo! Qui abbiamo trovato la pace il silenzio il cielo stellato e la natura che desideravamo. Grazie Antonella per questa scoperta.
gabriele
2016-08-27T00:00:00Z
Hemos estado super bien en la casa de Antonella en San Serafino. La casa tiene todo lo necesario y el pueblo tiene mucho encanto a pesar de que no vive nadie allí. Quizás eso es lo que hace la estancia especial. Ghilarza está a 10 min en coche. Nuestros hijos estaban encantados descubriendo el pueblo. La comunicación con Antonella muy bien y nos dejaron cosas para desayunar.
Adriana
2016-08-23T00:00:00Z
Room Type
Entire home/apt
---
Property Type
House
---
Accommodates
5
---
Bedrooms
San Serafino, Sardegna, Italy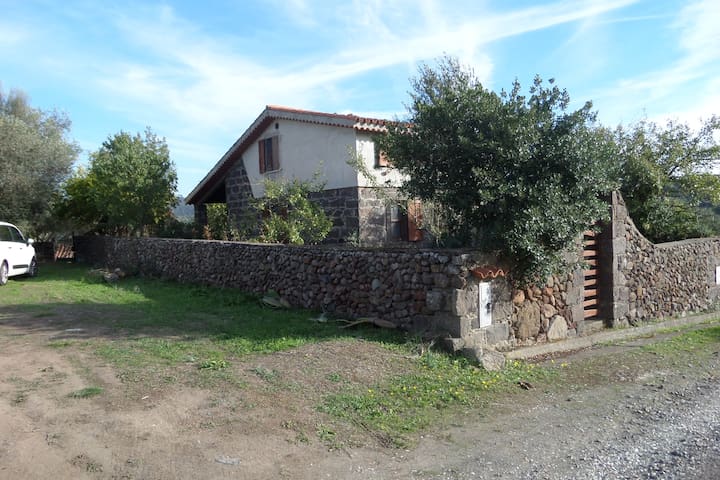 casa campidanese sobria e accogliente dotata di condizionamento in tutte le stanze e nel bagno, camino tradizionale utilizzabile, cortile con barbecue. possibilità posto macchina in cortile chiuso adiacente a vista (entrata max mt 2,30 x 1,90.
Ubicazione comoda per visitare le località costiere dell'oristanese e l'entroterra della Sardegna centrale. Sito nuragico di "Pidighi" situato nel territorio comunale.
piccolo paese dove ci sono tutti i servizi essenziali: banca con sportello bancomat, vari market, farmacia, biblioteca, pizzerie e ristoranti.
Andrea and Paola were awesome, they left cookies and homemade jam in the kitchen table, and wine in the fridge for us to eat at our arrival. My family was really impressed by the place, the cleanliness and the hospitality. They were available by phone every time we had a question and dropped by to check on us. Highly recommended.
Angelo
2016-12-31T00:00:00Z
First of all, the house is very large, very convenient and comfortable (3 bedrooms, air conditioning in every room, wifi, terrace). For those who are traveling with kids, you'll find all that is needed, from the baby chair to the baby bed. From a general point of view, all what is needed during an holiday stay is well arrange. Paula and Andrea are the most kind and thoughtful hosts you can imagine. We arrived very late and they were kind enough to wait for us until past midnight. Some pizzas and some beer were waiting for us as well! Then, they brought us wonderful vegetables from their garden every day. To summarize we had a very pleasant stay in that house that ally the modern comfort with the authenticity of a typical Sardinian village.
Nicolas
2016-08-09T00:00:00Z
Andrea et son épouse ont été ADORABLES ! Aux petits soins pour nous ! Nous nous sommes vus quasiment tous les jours ! La maison est spacieuse et très fonctionnelle pour une famille. Elle est située au calme, dans un petit village. De nombreuses activités (plages, visites...) se trouvent aux alentours. Excellents souvenirs pour toujours !
Xavière
2016-07-28T00:00:00Z
Andrea e Paola sono due persone deliziose che hanno sposato appieno la filosofia di una casa vacanze: accolgono gli ospiti come dei familiari attesi da tempo (al nostro arrivo erano disponibili tra l'altro frutta e verdura biologiche del loro orto, dei dolcetti tipici sardi e due bottiglie di ottimo vino (URL HIDDEN) da Andrea) e si rendono sempre disponibili e reperibili. La casa è esattamente come viene descritta nell'annuncio, se non migliore, pulita e curata e dotata di tutti gli accessori necessari (sapendo che viaggiavamo con un bambino si sono preoccupati di farci trovare alcuni giochi e libri per ragazzi). Solarussa è un paesino tranquillo, un ottimo punto di partenza comodo per raggiungere le più belle spiagge della zona da Cabras a S'Archittu o per escursioni nell'interno della Sardegna. Consiglio vivamente di scegliere questa casa per una vacanza breve o lunga in Sardegna, una terra magica e appassionante, che verrà resa ancora più suggestiva dall'amicizia di queste due splendide persone.
Checco
2016-07-06T00:00:00Z
Al nostro arrivo Paola e Andrea ci hanno accolto con grande affetto. La casa è esattamente come descritta nell'annuncio, ha pienamente soddisfatto, se non superato, le nostre aspettative. Molto pulita, ben organizzata, dotata di ogni confort (lavatrice, lavastoviglie, aria condizionata, elettrodomestici che in vacanza ritengo un lusso), molto spaziosa, sicuramente adatta ad una famiglia numerosa con bambini, con un cortile e barbecue, da noi spesso utilizzato. Il rapporto qualità prezzo è molto vantaggioso. Solarussa è un paese molto tranquillo, sicuro, in una posizione tale da consentire di raggiungere in pochi minuti le bellissime spiagge di Is Arutas, Is Arenas, S'Archittu, i siti Nuragici di Losa e Barumini, la città romana Tharros nella Pinisola del Sinis, le Terme di Fordongianus, siti che abbiamo potuto visitare grazie alle preziose indicazioni di Andrea. I nostri ospiti sono stati deliziosi, accoglienti, amorevoli, disponibili, ci hanno coccolato per tutto il nostro soggiorno con doni preziosi: ceste di ortaggi dal loro orto, vino fatto in casa, formaggi tipici, buonissimi dolci fatti da Paola (una vera pasticciera). Ma il regalo più grande è stato potere godere della loro compagnia, ci hanno regalato momenti unici, indimenticabili (un picnic tipico sardo all'imbrunire nel suggestivo sito nuragico del paese). Siamo andati via con il desiderio di ritornare presto, ritornare da cari amici. A presto.
patrizia
2016-08-28T00:00:00Z
Room Type
Entire home/apt
---
Property Type
House
---
Accommodates
6
---
Bedrooms
Solarussa, Sardegna, Italy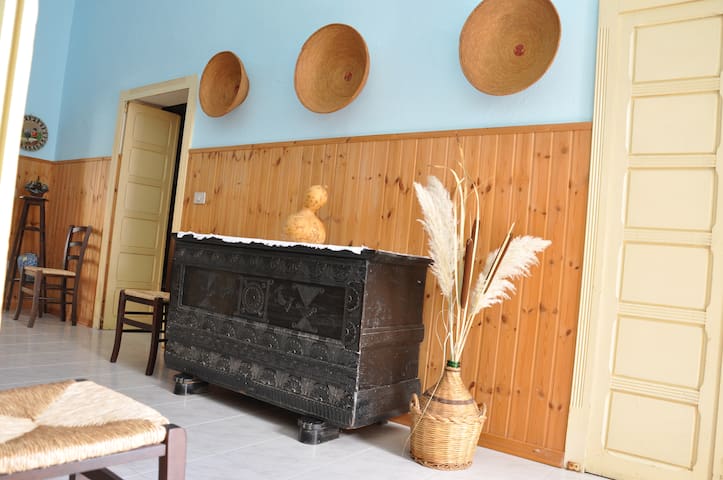 Our place is close to a bus stop, however you probably will want to rent a car. The village has a few little shops and the supermarket is 10 km further. Lots of nature, walking routes and interesting places to visit are around. There is a lake close by. You'll love our place because of the people, the view, the kitchen,the vegetable garden, the terrace and the coziness.Our place is good for couples (with one child), solo adventurers, and business travelers.
Our traditional blacksmith house is lokated on the main street of a sweet traditional Italian village right in the middle of Sardinia. You will find the local vegetable shop across the street and a little shop for about anything next door. The people have big smiles and friendly words (in Italian or Sardo) and a 'ciao!' for everyone. We are close to a beautiful lake and lush forests and hills. There are many walking routes around and interesting archeological sites as well as serene little churches to visit. As we are in the middle of Sardinia you will be able to explore the islands many treasures easily from our location. The closest beach is a forty minute drive. There is a town nearby that has a a big supermarket and more shops as well as a train station. As for public transport; our village, and the ones around, has a bus-stop. You will love Sardinia because of the wild nature she offers, her clear blue sea and white sandy beaches and friendly people. You will love our place because you can reconnect to nature while you take a walk, put your hands in the earth of our vegetable garden, swim in the lake or take a stroll with our donkeys. We have a big kitchen fit for making delicious food made with the tastiest local products and big tables for sharing meals with friends and loved ones.
Un alloggio delizioso, in una casa storica nel centro del paesino. Sandra è stata disponibile e cordiale, tutto è andato bene. Sicuramente un'ottima base per visitare il centro Sardegna!
Maurizio
2016-08-20T00:00:00Z
Sandra e Alessandro sono stati molto disponibile e comprensivi nonostante il nostro ritardo. La casa è fantastica, accogliente, in stile sardo antico e si percepisce un energia positiva. Forse il nonno fabbro era con noi... Sorradile , come iMMaginavamo era bella, addormentata davanti al suo lago riscaldata da un sole autunnale grazie ragazzi siamo stati poco ma torneremo
daniela
2016-10-30T00:00:00Z
Room Type
Private room
---
Property Type
House
---
Accommodates
3
---
Bedrooms
Sorradile, Sardegna, Italy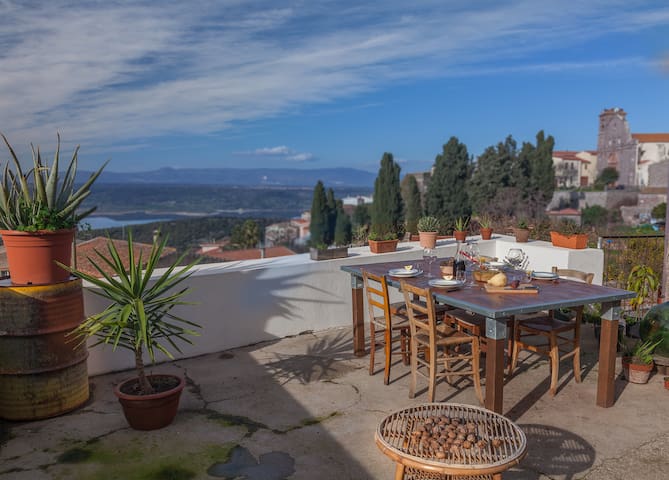 Nuova e confortevole abitazione destinata ad affittacamere Completamente arredata, ideale per singoli, coppie e famiglie. Situata in area piuttosto tranquilla con possibilità di parcheggio interno, strutturata per persone anziane e diversamente abile
Abitazione indipendente, possibilita parcheggio interno,
Sistemazione piuttosto tranquilla con vista sul verde del paese possibilita di escursioni per visite nelle localita piu suggestive che il paese offre quali nuraghi, chiese campestri, aziende vitivinicole (le vie del vino).
Room Type
Entire home/apt
---
Property Type
House
---
Accommodates
8
---
Bedrooms
Atzara, Sardegna, Italy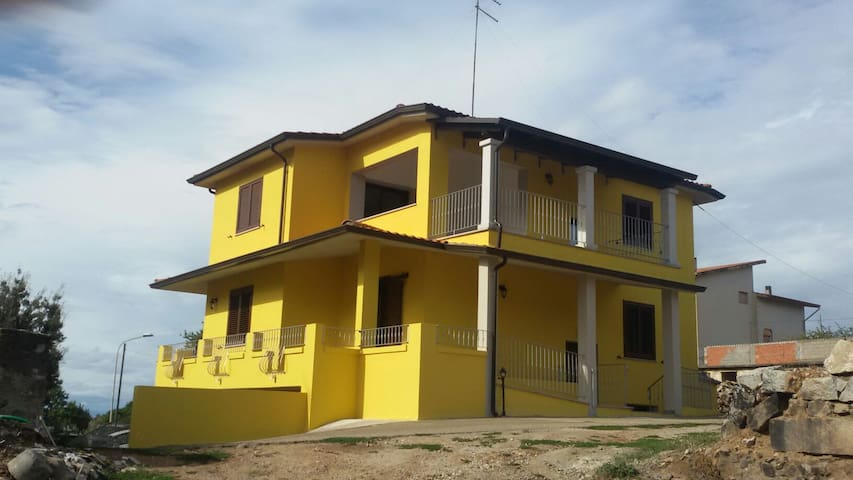 Grazioso ed accogliente nel centro storico di un piccolissimo borgo a pochi passi dal lago Omodeo.
Bellissimo appartamento curato e con ogni confort e situato in pieno centro storico del paese molto carino e tranquillo. I proprietari molto gentili e disponibili.
Danilo
2015-11-16T00:00:00Z
Room Type
Entire home/apt
---
Property Type
House
---
Accommodates
2
---
Bedrooms
Boroneddu, Sardegna, Italy