My place is in the middle of Chinle and Many Farms, AZ. You'll love my place because its a quite environment. My place is good for couples, business travelers, plus tourist coming through. We live on a farm, horses and sheep around.
This home as a lot of space, living room, large kitchen and dinning area.
Our nearby town Chinle and Many Farms has convenient stores/gas stations, laundrymat, grocery store Bashas Market, Ace Hardware, Denny's, Burger King, Churches Chicken, and 3 hotels/motels. The home is also on a personal property and family members lives within the area on our farmland.
Helena made me feel very welcome, she communicated well and often. It's in the country with horses nearby. The space is very roomy and has all the amenities I needed. I would recommend this especially if you have a family or larger group.
Veronica
2016-10-27T00:00:00Z
A wonderful adventure in a land with people everyone should visit. Great people , scenery, and peace.
Donna
2017-03-01T00:00:00Z
Nice clean mobile home. There was absolutely no smell when we walked in and you could tell it had been cleaned. It does have the wear and tear of a typical mobile home. Nice large kitchen with dishes, it would be perfect if you are staying in the area for a few days and would like to cook your own meals. Internet was slow and cut out a few times, but it was enough to do simple stuff. Helena was very nice and met us at the main road to show us where she lived, she even text us the first night to make sure we found our way back in the dark.
Travis
2017-04-09T00:00:00Z
Room Type
Private room
---
Property Type
Other
---
Accommodates
3
---
Bedrooms
Chinle, AZ, United States
Fully modern Hogan (8 sided traditional Navajo home) located on the Arizona/New Mexico border. Quiet, rural location with long distant vistas. 1 hour from Canyon De Chelly National Park. Full Kitchen, limited local shopping. WiFi. Sat. TV. Local guided hiking available to beautiful red rock areas.
Located on the Navajo Nation near the Lukachukai Mountains. A beautiful area within traditional lands. Close to the Four Corners, and Canyon De Chelly National Park. Stay in a Hogan with modern facilities.
One of the beautiful areas of Navajo Nation. Quiet, rural with great vistas and areas to explore.
We just left this morning but I have been missing Red Valley ever since. Do yourself a favor of booking this property as soon as you can and for as long as you can. The views are beautiful, there are many things to do within a few hours drive, and Jim and Zelma are fabulous hosts.
Lori
2016-06-25T00:00:00Z
A wonderful place to stay! Thank you, Jim and Zelma, for allowing me to stay in your Hogan. It truly is a wonderful place to stay! I love having windows everywhere so you can look out in almost every direction. The bed is great, and the kitchen has everything needed to prepare full meals. I especially loved being able to have a fire in the wood burning stove each evening. I was amazed to find out how HOT the hot water, which is heated only by the solar panels, is! I was warned that it would be very hot, but was still amazed that "just the sun" could get it that hot! Thank you for making arrangements with John for me to be taken on a hike. I really enjoyed seeing his "summer camp" and hearing the story about Mexican Cry Canyon, and the hike up to the base of Prayer Rock was spectacular! I also really enjoyed having Larry along with us, and being able to hear stories and find out about Navajo history from both of them. I learned a lot! I'm already looking forward to where John might decide to take me the next time I come, and to learning more about the Diné and Dinétah! Thank you, Jim and Zelma, for including me in your Sunday dinner! I felt like family! I usually look for places where I'm out somewhere all by myself, so I wasn't sure what it would be like to be staying right by the house, but I already felt like family soon after I arrived, and I loved it! As everyone else has already said, Jim and Zelma are perfect hosts, and will help you with anything you may need or may want to know. I very highly recommend a stay with them at their Hogan. I hope your own vacation went well, and that you enjoyed your time in the sun and water as much as I enjoyed my stay at the Hogan! Dee Martin Denver, Colorado
Skybird
2016-05-27T00:00:00Z
We had originally planned to stay in an AIrbnb close to this location but the hosts had to cancel due to a family emergency. A little panicked, we looked on-line and found this place and sent in a request and fortune was on our side. The location is remote...just what the doctor ordered after our first week of a 21-day trip through the southwest. The silence was welcome...our hosts, James and Zelma very gracious and the modern hogan complete with modern conveniences. Did I mention the quiet? And the view...oh my, the view with the Chuska Mountains to the west...and the dramatic views of the Red Valley with the mammoth Shiprock monolith rising up on the horizon to the east. If you wish for solitude, this is the place. My wife and I hiked on the property a few times...again soaking in the quiet and the views.
Brian
2015-10-18T00:00:00Z
My husband has to take me out of this hogan screaming and kicking. Actually neither of us wants to leave. We spent 4 days and nights here. We have been to many parts of this world from Tibet to Mongolia to Svalbard to Patagonia to Cape Verde. We travel 260 days a year. This is one of the top 5 most beautiful places we have ever visited. My husband and I consider this stay a privilege. A privilege to get to know beautiful Zelma and her fascinating stories, a privilege to be able to stay on her ancestral land, a privilege to get to know her husband Jim. With these two exceptional people we spent 4 days like good neighbors, talking over morning cup of coffee, talking over dinner and eating Zelma's Nabajo fried bread. The hogan has everything one can possibly need to live a contemporary life style. There is one more Airbnb near here that offers full breakfast and one night's dinner for the same price. However, this is the perfect place for us. Jim and Zelma give so much food for breakfast, lunch and dinner and they open up their orchard and bountiful garden for us to use that one has to bring almost nothing here except possibly if you eat meat, bring that. A spectacular place with view in every direction. Storm comes and the sacred Shiprock changes its color. No sunrise and sunset were the same. The "Light Show" of Mother Nature has been fabulous and so are the hikes in and around Red Rock. Canyon De Chelly is less than 70 minutes drive. Monument Valley, Chaco, Aztec, Durango, all are within a day trip distance. We are coming back next October. I will cry for Shadow the pet Mustang (I know Jim will protest that she is NOT a pet but she is) and for ZD (Zelma's Dog). If you are reading it and have no plan to come to this part of the world, stop thinking and plan to come here. You will not regret.
Purobi
2015-09-05T00:00:00Z
We loved staying at Zelma and Jim's home. It was very cozy and well appointed. We really appreciated Jim's kindness in providing a tour of their home-site- the home is comfortable and familiar feeling, the property is beautiful- provides great views and needed relaxation, and the gardens are nothing short of inspiring. Much thanks to our hosts for being friendly, kind and gracious. We look forward to staying with you again next time:)
Alena
2016-03-04T00:00:00Z
James was fantastic - even met us over the mountain 20 miles away to lead us to his property! Wonderful views of mountains, Shiprock & just beautiful rural scenery. Even if you didn't go to Canyon De Chelly - a very relaxing & inspiring place to spend a day or two or more.... Gave us a tour of their property which included gardens & a greenhouse & even offered us to pick fresh greens! TheHogan was very modern (most have dirt floors) with full kitchen, bathroom, bedroom & with windows on 6 of the 8 sides - views everywhere! :-)
kenn
2015-06-13T00:00:00Z
This is the most wonderful place for natural beauty, clean, refreshing air and peaceful quiet. Wildlife are plentiful and the location is five miles away from the paved road (N13). The hogan is cozy and comfortable and very modern. It is completely powered by solar collectors. Jim and Zelma are extraordinarily hospitable. They made us feel like family. Our only regret is that our stay was too short. We should have spent three or four days at least to take advantage of the opportunity to hike locally and leave the car alone for a couple of days (Jim can help with a guide if wanted). We recommend this stay unconditionally.
Mary Jean
2015-04-14T00:00:00Z
My experience staying in Jim and Zelma's hogan was absolutely fantastic. The space was, without doubt, wonderful . . . all conveniences, clean, comfortable. And, as a hogan, it was my favorite shape as a home -- round. The property was beautiful and served as an ideal base from which to venture forth to discover all kinds of adventures and sights. I had visited the Navajo Nation several times in the past, but this was the first time that I felt that I could move a bit beyond being "just" a tourist, as I had the chance to get to know actual residents who opened their home and hearts to me. How lovely! I spent 5 nights with Jim and Zelma and could easily have spent another month or so. I will definitely return, as soon as possible.
Jane
2016-05-12T00:00:00Z
Room Type
Entire home/apt
---
Property Type
Other
---
Accommodates
2
---
Bedrooms
Red Valley, AZ, United States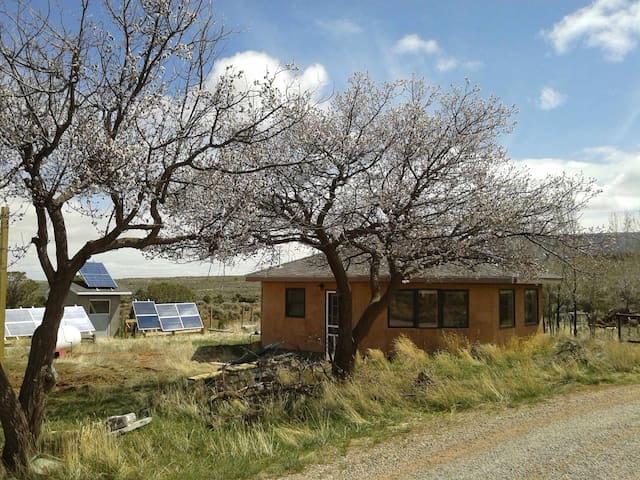 Our one-room hogan is a cozy place for up to four people and makes a nice base for travelers who are budget-conscious and interested in exploring the Four Corners region of the American Southwest. It has an efficient Irish wood stove at its center, so is comfortable year round. Although it does not have running water, bottled water is available on tap; guests have to the extra half-bath in our house for other needs. Pets OK with prior arrangement. Guests from all backgrounds are welcome.
Timothy built the hogan out of logs in 1965 as a home for he and his young family, and we converted the structure into a stucco covered office/studio/workroom in the 1990s, when we did the addition to our main house. When our children and grandchildren visit, they like using the hogan as their "home away from home." The hogan does have electricity and guests should be able to connect to WiFi as needed. A full-size refrigerator, coffee maker, microwave, toaster, and tableware allow you to prepare basic meals, and a gas grill is available for outdoor cooking, as is an outdoor fireplace in the adjacent chaha'oh (shade house). Beds (as needed) include a very comfortable twin bed, 2 high-quality inflatable mattresses (one twin and one queen), and a large couch. Towels and linens are provided.
This is a rural community and our nearest neighbors (Timothy's clan relatives) are at least 1/2 mile away. Our property is fenced, since the land is "open range," which means cattle, donkeys, horses, and so on visit quite regularly. Our dog, Jaazhin, often lets them visit, then pretends to be a fearsome guard dog when we go out to chase them outside the fence. You can take long walks, though paths are not always visible. The closest place to get basics like milk and bread is the Red Rock Trading Post, about 4 miles from us, but it's really just a convenience store and gas station. The closest place for real shopping is in Shiprock, 30 miles east of us. Cove, 9 miles to our west along Navajo Route 33, is quite lovely, as is the paved road over the mountains to Lukachukai and Canyon de Chelley. The Shiprock pinnacle (a volcanic monolith) is located about 20 miles east of us, and there is a "two-track" that will take you right up under its base, for great views. The Toadlena Trading Post and Weaving Museum is about 45 miles from us. Four Corners Monument is about 30 miles directly north as the crow flies, though it takes about 1.5 hours to actually get there by car. The entrance to Mesa Verde is also about 1.5 hours from us; Monument Valley is about 2 hours; the tribal capital in Window Rock is just over 90 minutes; Hovenweep is about 2 hours north; Chaco Canyon about 2.5 hours east. There are some beautiful roads in the mountains, in case you are looking for nice places for picnics or with views.
Room Type
Entire home/apt
---
Property Type
Other
---
Accommodates
4
---
Bedrooms
Red Valley, AZ, United States
Wake up to the sound of Mustangs and enjoy an eye-catching South-Western view in a traditional Navajo Hogan located in the heart of the Navajo Nation ! 30 minutes north of Canyon de Chelly and 60 minutes south of Monument Valley. The one-room, dirt floor Hogan sleeps two and has no running water.
This is an extremely rural setting where you can really get off the beaten path on the Navajo Nation. The hogan has a traditional sand/dirt floor, an east-facing door, and is extremely peaceful, private and quiet. Since I have no running water, this means there is no bathroom. There is, however, an outhouse adjacent to the hogan. There is a queensize bed for sleeping, and a twin-size air mattress for additional sleepers if you give me advance notification. Basically, you want to come equipped for car or lean-to camping, and you will be pleasantly surprised by how much more comfortable it is than camping!
I love that the nearest neighbor is 1 mile away! The night sky is *incredible* up here on Carson Mesa, as are the sunrises and sunsets. Experiencing Canyon de Chelly National Monument--the only national park on tribal trust land where tribal members live and farm in the canyon--is a must. Attending a local rodeo, country western dance or going to the flea market (swop meet) on Fridays in Chinle also highly recommended (best place for mutton stew, green chiles, tortillas, fry bread, navajo jewelry, traditional teas and medicines, etc.)! Finally, tune in to AM radio, especially KTNN AM 660! There are three amazing Navajo-language, country-format AM radio stations (AM 660, AM 930, AM 1330 on the dial), and you'll learn a lot about local events, dances, community issues and the Navajo language by listening to it. Enjoy your travels across Navajoland!
The reservation was canceled 17 days before arrival. This is an automated posting.
Beate
2014-07-22T00:00:00Z
What a lovely place this is! Arlondo has made a very comfortable space to spend the night. I loved arriving to the dogs greeting me! The view is spectacular! I arrived just before the full moon rose ~! The description is accurate, but it does not mention what a good night's sleep you will have! Arlondo was great about being in touch with accurate directions prior to my arrival, and he was gracious in giving me excellent advice to continue my travels with a more scenic route. I look forward to our paths crossing again ~~
Joanne and Kent
2016-11-14T00:00:00Z
Unique spot in the middle of nowhere with a marvelous view, a traditional Navajo (Diné) home with dirt floor. The host Arlondo is a very friendly native American who told us a lot about the traditions and ceremonies of the Diné people. We enjoyed his company.
Alice
2016-08-24T00:00:00Z
We spent two wonderful days in Arlando's Hogan! Arlondo is very nice, it was great to spend some time and chat with him around the campfire. We also had lots of fun with Lola and Miller, Arlando's dogs. Thank you Arlando!
Olivier
2016-08-11T00:00:00Z
Arlondo's property is stunning, his dogs are friendly, and the horses are adorable. The hogan we stayed in was so cool and Arlondo was so friendly. I would recommend this place to anyone.
James
2017-03-06T00:00:00Z
We really enjoyed our time here! Arlondo was very friendly and he had a delicious meal with him one-evening. The Hogan and the surroundings are beautiful and peaceful. We were there in January and with the wood-burner going it was warm and comfortable inside
Jake
2017-01-29T00:00:00Z
My mother and I planned a trip to attend an event in Chinle, Az. I made arrangements to stay at Arlondo's place knowing what to expect. We arrived at night which we were both glad we did. We were pleasantly surprised at the sunrise and to see the landscape all around. Arlondo is blessed to have the mesa's in his backyard. What a beautiful place!! I recommend this place for the scenery, peacefulness and hospitality.
Shawn
2016-10-10T00:00:00Z
Arlondo met us and showed us around the Hogan. It was just as described. It wasn't fancy, but was clean and comfortable. We were able to cook up some spaghetti for supper. If we were in the area again we wouldn't hesitate to stay again.
Gerald
2016-09-11T00:00:00Z
Room Type
Private room
---
Property Type
House
---
Accommodates
3
---
Bedrooms
Chinle, AZ, United States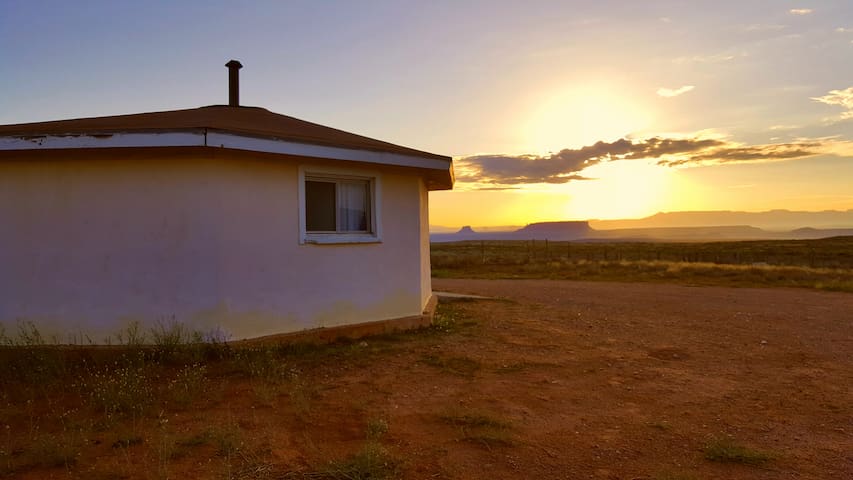 Our lovely two-room guest suite on the second floor of our home is a private and serene oasis, best suited for two. Situated on the high desert of the Navajo Nation, it is surrounded by mountains and faces east, towards the Shiprock pinnacle. NOTE: The guest suite is located on the second floor of our home and is therefore NOT handicapped accessible.
Our guest suite occupies the entire second floor of our home. It is nicely decorated, very private, and as will comfortably accommodate 2-3 guests. It consists of two adjoining rooms plus an in-suite bathroom, decorated with arts and crafts from the region. French doors on the south-facing wall of the bedroom open onto a private deck that overlooks our gardens and the Chuska/Lukachukai Mountains. The bedroom is a large, lovely, carpeted south-facing room with a very comfortable queen bed, nice linens, satellite TV and free WiFi, a small sitting area, and lots of built-in storage. The in-suite bath includes a sink, toilet, and shower (no tub), with excellent water pressure, pretty towels, full toiletries, and a hair dryer. The separate living room includes a relaxing conversation area with comfortable sofa and chairs, good lighting, a small private library, baskets of toys and games for both children and adults, and a spacious desk area. The sofa in the living room converts to a single bed that will comfortably accommodate a third guest. The entire house is non-smoking, though smoking is permitted outside. Please note that we have 3 cats and one dog, all of which spend part of the day/night inside and part out. If you have pet allergies, this B&B is not a good option.
This is an extraordinarily beautiful part of the Navajo Nation, rural and very quiet, with lovely views in all directions. We are about 1 hour and 15 minutes from Canyon de Chelley, and about 2 hours each from Monument Valley and Mesa Verde. Our closest neighbors are relatives, and the closest lives more than 1/2 mile away.
Karen made me feel right at home. I felt very comfortable at Karen and Timothy's home. I enjoyed snuggling with the cats and was greeted by the family dog. She took me to places that reflected my interests. Thoroughly enjoyed the Navajo Nation. I am looking forward to returning one day.
Diane
2016-07-03T00:00:00Z
Karen and her husband were wonderful all around. Easy to get in touch with, great directions to the house, made sure that my son and I were comfortable in every way. Fed us WELL!!! Ate some really good food (loved that paella) and relaxed. Karen's garden is gorgeous, her cats are delightful, and the surrounding country is beautiful. Thank you for a great stay!!!
Joann
2015-06-28T00:00:00Z
A little oasis in the middle of Arizona flatland dotted with amazing rock formations. Yes isolated which make it that much more inviting. Karen and Timmothy make us feel like family come to visit. We were pleased to hear stories of the area and share in Karen's wonderful culinary delights.
Wendy and Barry
2016-06-06T00:00:00Z
In October 2016, we spent 3 nights at Sage Hill B&B. Karen and Timothy Benally are extraordinary hosts. Their home is comfortable and unique. The location is ideal for exploring Four Corners. We arrived from Chaco Canyon, visited Canyon de Chelly and the Toadlena Trading Post, and departed via the Four Corners Monument and Mesa Verde. Shiprock casts a spell in all directions. Over decades, the Benally's have made important contributions to their home area. Their willingness to share deep knowledge of the Navajo world was a great pleasure of the visit.
Lora
2016-10-23T00:00:00Z
Our stay at Sage Hill B&B was unforgettable. Karen and Timothy are amazing hosts full of love and knowledge of the Navajo Nation. Their house is unique for the area; very clean, contemporary, and comfortable. Karen's cooking is satisfying and healthy, you can expect some great conversations over meals. They can help plan day trips or take you on a local journey. Hands down an unforgettable experience.
Russel
2016-03-07T00:00:00Z
We had two wonderful days at Sage Hill and Karen did everything to make us feel comfortable and welcome, starting with preparation on how to get there, delicious meals, a lot of recommendations on what to do around etc. We enjoyed the time wiht Karen & Timothy who gave us a lot of information on the region and people around.
Sylvia
2015-11-12T00:00:00Z
Staying with Karen & Timothy was one of the highlights of our time traveling. From the first moment on, when entering the house, we felt like being home at a friends' or family's place! The house is gorgeous & so cute, with a lot of very nice details. The room is beautiful with a gorgeous view! We were allowed to hang out in their living room as well which is incredible cosy & has an open fire place. Karen is a great chef & it's wonderful to share meals with them! We loved all the good & very interesting conversations we had. Timothy is a good story teller who takes his time which we really enjoyed with amusement. All in all Karen & Timothy are generous, very friendly & open-minded hosts. We are very thankful for the time there.
Jennifer
2016-12-09T00:00:00Z
The host canceled this reservation 4 days before arrival. This is an automated posting.
Brian
2015-10-12T00:00:00Z
Room Type
Entire home/apt
---
Property Type
Bed & Breakfast
---
Accommodates
3
---
Bedrooms
Red Valley, AZ, United States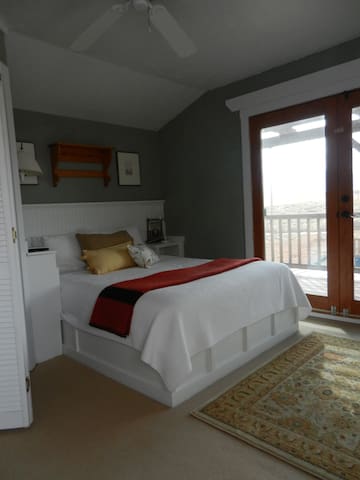 Round Rock - Airbnb
:
Average

4.99

out of

5

stars from

205

guest reviews
Enter dates to see the total trip price including additional fees (but excluding any taxes).