Enjoy a unique quiet environment within the city. With a private entrance, your space is on the first floor, overlooking a beautiful patio, lawn and garden for relaxing, dining and recreation. Pick organic vegetables and fruits from our garden in season and enjoy a 3.66m Intex pool in summer. Free easy parking on street in front of home at all times. Easy access to Tel Aviv, Jerusalem and TLV Airport. Car rental and public transportation within 3 min walk. Grocery store and supermarket close by.
The unit includes 2 bedrooms and a combined kitchen, dining and living area. The first bedroom sleeps two on a double bed, has a rocking chair, a wardrobe and a view to our garden. The second bedroom has one double bed and one single bed, a desk, chair and wardrobe. Our kitchen is fully equipped with a refrigerator, dishwasher, 4 burners gas stove, electric oven and an extractor hood. Also available are a microwave oven, toaster and electric hot water kettle. Plates, cups and all necessary kitchen utensils are ready for you in the cupboards and drawers. The kitchen is equipped with a drinking/cooking water filtration system providing purified water via reverse osmosis. The dining area includes a table with 4 seats. The living area includes a sofa, a coffee table, a 32" smart HDTV with Netflix service and Israel's channels 1,2 and 10 as well as a small sound/radio system. Each room is equipped with a separate air conditioning unit for on demand cooling and heating. The Bathroom includes a bath tub, shower, sink with a large mirror, toilet, heater and hair dryer. Hot water is provided 24/7. Washer and dryer are available for guests' use on the upper floor upon request. Iron and ironing board are available upon request. Our patio is great for outdoors dining and relaxing in both sunshine and shade (weather permitting). Easy chairs as well as a round table with 4 seats are ready for you. BBQ is possible upon request. A 3.66m Intex pool is available in the summer. Important notice for families with young children: The space is suited for a maximum of two children under 12 years old (one of them might be an infant). For families with an infant: we will be happy to provide you with a crib, baby's tub and high chair. Please send an inquiry before booking even if you're eligible for instant booking. It is best to have all questions answered at this point.
We are located on a small, quiet street with private houses (no high-rise buildings yet). Free parking is always available on our street. A grocery store is just around the corner and a supermarket/small shopping centre is within 5 min. drive (15 min. walk). Rehovot Ofer Mall is within 5 min. drive (15 min. walk) and the large Bilu shopping center is within 10 min. drive. Some specialty shops, accessible by foot, are just around the block: "Dahari Bakery", famous for its variety of traditional Yemenite breads, fresh hot Pita and accompanying sauces, is a few steps away (48 Ephraim Zaks St.). "Falafel Haschuna" offers fresh falafel all day long (on the corner of Herzl and Saadia Gaon streets). Right next to it is David's good fruits and vegetables store and the famous "Gedasi" condiments store which also carries traditional Yemenite spice mixes, special snacks and fresh ground coffee on demand. "Vered Hatsela", a high quality butcher shop, is on 63 Herzl Street. All these shops attract customers from all over the city. If you visit them on a Friday, you might have to stand in line:) The Weizmann Institute of Science, the Hebrew University Faculty of Agriculture and The Kaplan Medical Center are all just 5 min. drive away.
This is a duplex setting where the owners/hosts are upstairs and the rental unit is downstairs. Sharona and Gabi are amazingly gracious, happy to tend to any need and genuinely enjoy hosting. The place is spotless and extremely well appointed. This is a diamond in the rough for the neighborhood with a beautiful and quiet setting. I have stayed in other places in Israel and this was the best thus far regardless of cost. I would love to stay there again!
Shlomo
2017-04-09T00:00:00Z
We were lucky enough to be Sharona and Gabi's first guests. What a find. Not only was the stay great value but the place was ideal for our needs - 45 minutes from Jerusalem, and 25 minutes from both Tel Aviv and Ben Gurion Airport. Rehovot itself is not exactly tourist-y but it's got a great mix of shops, restaurants etc and has nice feel. But the highlight was Sharona and Gabi's downstairs unit, looking on to their delightful garden. The place was so clean it literally sparkled and was ideal for myself and my two older children. It's totally ideal for families and Sharona and Gabi are extremely warm hosts. I've stayed in AirBnBs across the world but this is easily among the nicest places of any of them. Do book - you won't be disappointed.
Gabriel
2017-02-18T00:00:00Z
The best hosts we had and could have. The pictures of this clean beautiful place does it no justice. This is everything you could need for a stay. Sharona and Gabi are the most gracious hosts possible. From the fresh squeezed grapefruit juice from their tree to the text reminding us of the time change this stay is eveything one could want. The apartment is super clean, organized and has every small necessity you could need. The backyard is beautiful as well. Garden of eden. We will be back here for sure! Thank you!!
jordana
2017-03-26T00:00:00Z
Volvi a alojarme en la casa y fue muy positiva la experiencia, como la vez anterior que deje el comentario. Se repitio la experiencia y fue igual de positiva.
gustavo
2017-03-06T00:00:00Z
Un lugar muy lindo tal como se ve en las foto. Muy bello a la vista, por su patio jardin grande y tambien por el interior del departamento. Esta muy bien equipado y con un diseño moderno. Los ambientes de la casa estan climatizados con aire acondicionados individuales. Los dueños de casa habitan en la planta alta. Su atencion fue excelente, se mostraron atentos para que nos encontremos bien. Esta situado en una calle tranquila, a 5 minutos caminando de calle Herzl donde esta el centro comercial de Rehovot. Tuvimos una excelente estancia
gustavo
2017-02-26T00:00:00Z
Room Type
Entire home/apt
---
Property Type
House
---
Accommodates
4
---
Bedrooms
Rehovot, Center District, Israel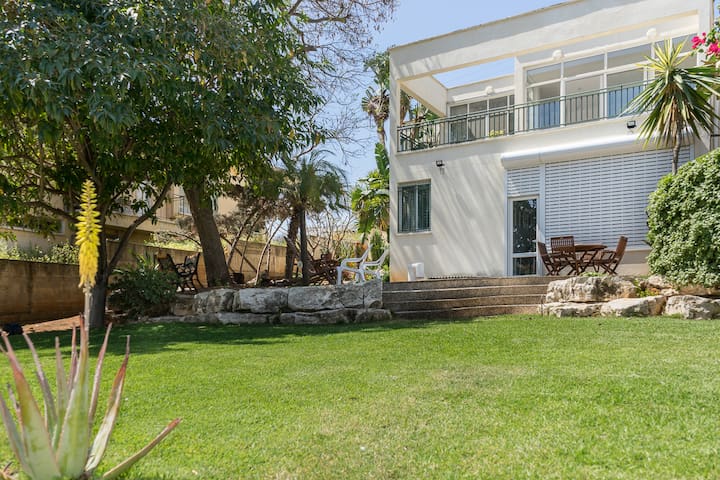 New Elegance in your own private historic home on the kibbutz. This beautiful fully restored house has a private garden and parking. Nestled near the Weizmann Institute and the High Tech companies, the location is ideal for leisure or business.
Great location in a quiet green community. It was a wonderful way to breath in the serenity of kibbutz life in Israel. Maya and Nadav were really helpful and they thought of everything. The house was clean, comfy, and inviting. We most enjoyed taking a walk through the kibbutz and to the fields, and it was really easy getting around. We wish we stayed longer :)
Raya
2016-03-19T00:00:00Z
We choose to spend our preparations for our wedding and the two days after at Maya's house, and I can say with all my heart that the decision 'was one of the best we had. The house is amazing!!!! I'm sure we are going to come back again! thank you very much :)
aline
2016-08-28T00:00:00Z
Thank you Maya and Nadav for a great summer vacation at your place! I can tell by your warm hospitality and care how much pride you take in your beautiful place. The space was perfect for us all - it was comfortable and cozy and we had everything we needed. The location is awesome- being super central and close to amazing shopping areas, restaurants, many attractions and great cities. We loved the kibbutz! It has such friendly atmosphere and wonderful vibe. We appreciate you guys being available and caring for any questions or requests we had! The kids and I felt very welcomed. Until next time, I'm sure you guys will have many lucky and happy guests :) We can't wait for our next visit!!! Best wishes Huppit
Huppit
2016-07-24T00:00:00Z
Maya's place is super cute, cozy and clean. it was a pleasure to stay there! Maya was a great host and done everything and more to make us feel comfortable. The area is great and offers a great escape from the city rush. We'll recommend! Thank you! :)
Rani
2016-10-15T00:00:00Z
we had a Wonderfull visit! the apartment is perfect, one of the best shower we had :) . the location is great, quiet with great privacy. the hosts, Maya and Nadav were extremely nice. we even had a meal in Nadav's restaurant in Rehovot with was absolutely delicious. we will visit again for sure.
moran
2016-04-11T00:00:00Z
Very recommended. Very very nice hostest, super nice and very helpful. Easy to find, nice Kibbutz to stay in.
Delight
2016-11-17T00:00:00Z
Excellent stay near Tel Aviv - note this is one bedroom and a sofabed in a lounge-kitchen (access to bathroom via bedroom). We spent four nights here, using the time to take trips to Tel Aviv, Jerusalem and the West Bank (we had a hire car). As a couple it was perfect for what we needed. Modern, clean house with good AC and bathroom/shower. Maya was an excellent host. Always in touch and helpful. (SENSITIVE CONTENTS HIDDEN) maps does not know where the house is (the Kibutz is like a gated community, although we never found the gates closed) Directions: From the 411 near Rehovot take the exit to Kvutsat Schiller. First left (lots of signposts in Hebrew) where you'll pass through the gate. Follow the road round for maybe 400-500m bearing right twice, (the second time there is a large farmtrack heading left). You'll pass a few farm buildings then come to a crossroads, the house is left at the crossroads then immediate right onto the drive.
Dan
2016-09-17T00:00:00Z
This is a great place BUT we found it not for more than a couple as the other 2 had to come in the bedroom and the thin wall meant we could hear their bobily functions in 5.1 stereo.
Patrick
2017-03-19T00:00:00Z
Room Type
Entire home/apt
---
Property Type
House
---
Accommodates
4
---
Bedrooms
Kvutzat Shiller, Central District, Israel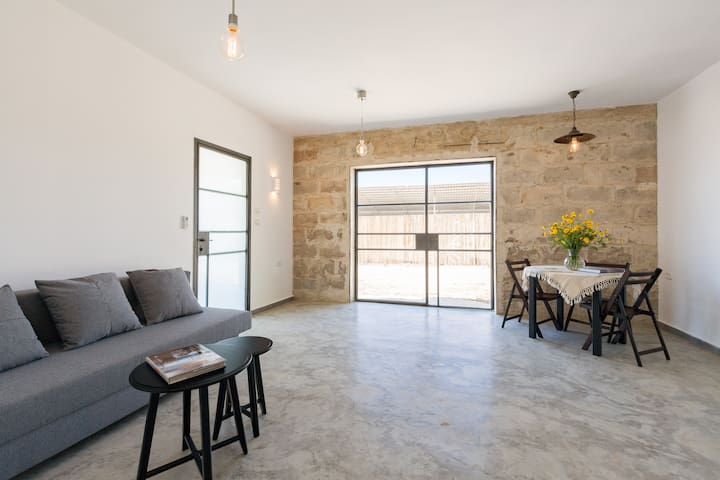 You will love my place because of the house, the neighborhood, the privacy.
Private parking lot
Quite, nice neighborhood. One flat houses, Village like in the city.
place is comfortable, good bed, homey and quiet. Everything was very convenient, private parking a bonus!
Ronit
2017-03-30T00:00:00Z
The house is very nice and spacious. It is located in a quite street in a walking distance from the main street with its own private parking. The only problem for us was that we were 2 couples and in its current state the house can accommodate only 3 people because it has only one double bed and a single bed.
Iris
2017-03-15T00:00:00Z
We stayed here with our 5 month old baby after an event at a venue in Rehovot, and it could not have been better! A beautiful, spacious house with gorgeous furniture and everything we needed. We brought a mattress for the baby to sleep and we were all comfortable. Naama was easy to reach and we would love to return on or next visit to this area.
Elite
2017-03-25T00:00:00Z
Fantastic place to stay while in Rehovot! The house has just what you need for a short or long stay in Israel, and ideal for couples and families. The house is in a very quiet side-street close to the city center. Herzl street with its many stores and cafes is just a short walking distance. Naama is a great host. The house was neat and tidy upon arrival. No need to worry about street parking as the house has its own covered parking space. I highly recommend this place for anyone visiting Rehovot, or as a home-base for making day-trips to Tel Aviv (30 min), Jerusalem (1 hour), Beersheva (1+ hour) and many other places.
Per
2016-12-30T00:00:00Z
eine sehr nette Wohnung, sauber und bequem. Die Gastgeber waren sehr freundlich, man konnte sich nett mit ihnen unterhalten. Die Terrasse haben wir sehr genossen. Nur zu empfehlen :))
Simona
2017-04-06T00:00:00Z
Room Type
Entire home/apt
---
Property Type
House
---
Accommodates
5
---
Bedrooms
Rehovot, Center District, Israel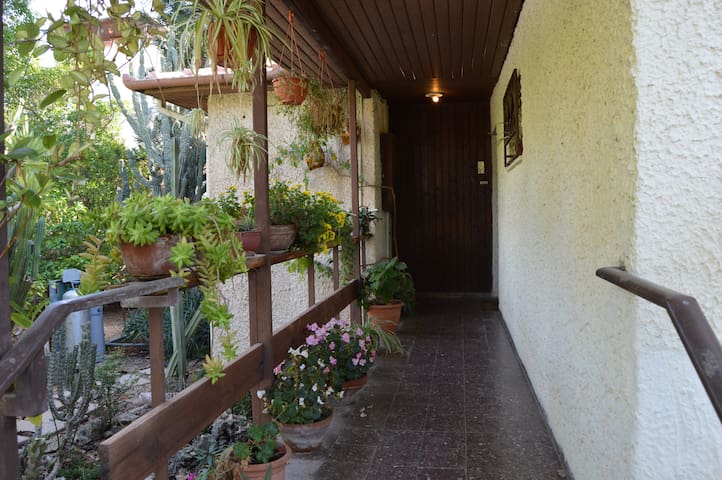 Nearby jym with swimming pool, library, a place for children lessons, big sport yards, the biggest park in rehovot is 5 minutes walk. Mack Donald's and shopping center is close by
I will do my best to get you the best vacation possible in Israel. I can meet you in the airport as well if needed
Room Type
Entire home/apt
---
Property Type
House
---
Accommodates
4
---
Bedrooms
Rehovot, Center District, Israel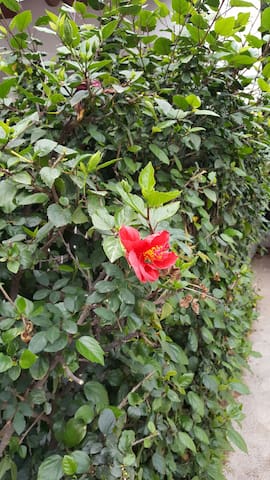 we have a beautiful and cozy house at the Kibbuts=it's like a special village, we have a nice swimming pool next to our house, a nice coffee shop, and a petting farm... it's a beautiful environment for a family vacation.
The apartment was lovely. Very nice place. Apartment neat and pleasant. The children loved the cat. Highly recommend
Asaf
2015-09-13T00:00:00Z
We thoroughly enjoyed our stay at Tali's. A sweet, clean, calm and beautifully decorated house. We had everything we needed and more. If you're urbanists looking for a calm getaway that is only 30 min from Tel Aviv and has great cafés and restaurans in adjacent Rehovot and Ness Ziona this is the place for you.
Shifra
2016-07-09T00:00:00Z
small and beautiful place. tali and israel have a great taste in decorating the house. they also made us fell very comfortable and welcome . we recommend staying in the kibbuts and in tali and israel house . thank you very much for everything!
חן
2016-08-28T00:00:00Z
Thank you for hosting us, and especially for the availability in the middle of the night... Sefy was very flexible with the hour. The sweet and cozy house was very pleasant to stay at.
efrat
2015-09-12T00:00:00Z
Very cosy and comfortable house, clean and welcoming, There is a poblic swimming poole 2 walks near by. We will come back for sure.
Yael
2015-09-20T00:00:00Z
Tali&Israel's place is a great escape from the city rush into the relaxed life of the Kibbutz. It was simple, cozy, quiet and fun. Suitable for family with kids as it has lots of things for kids there. Thank you. Well recommended.
Rani
2016-10-18T00:00:00Z
Room Type
Entire home/apt
---
Property Type
House
---
Accommodates
4
---
Bedrooms
Kvutzat Shiller, Center District, Israel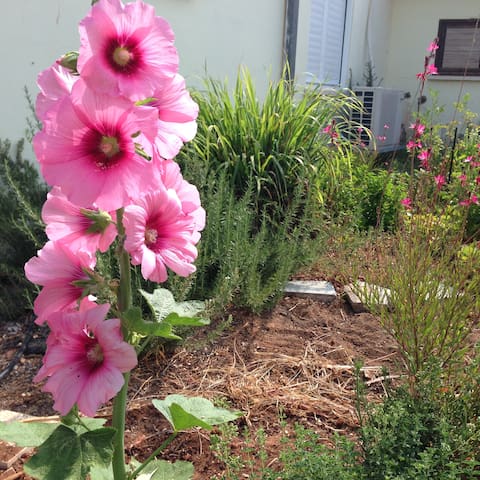 This spacy and bright one bedroom house is cosy and welcoming! It is centrally located on a quiet street, just 5 min. from the Mall and the Central Bus station of Rehovot. Enjoy a glass of wine in the winter garden with birds singing outside ...
Peaceful homy place in the center of Rehovot
It is quiet, green, charming - a bit nostalgic - with many nice neighbors.
Location is great. The house is exactly as described very comfortable and all I needed. Internet, clean and cozy. Easy and quick communication.
Irit
2015-12-08T00:00:00Z
The host canceled this reservation 25 days before arrival. This is an automated posting.
Sabine
2015-05-26T00:00:00Z
I had a wonderful time in Heidi's apartment! It was spacious, well equipped and felt a lot like home. Although Heidi was not in the country during my stay, her brother in law was always available to answer all questions I had. I would want stay there again any time!
Lisa
2015-07-02T00:00:00Z
We really enjoyed having a whole house to ourselves. The bed was very comfortable and there was plenty of room to spread out. It was indeed a "homy place."
Meryl
2016-02-01T00:00:00Z
The place is great for a very short stay.
Arthur
2016-11-20T00:00:00Z
We were very satisfied with our stay at Heidi's home.
Sarah
2017-03-27T00:00:00Z
The house was great for a cheap business trip to the HUoJ. It's an old house so you have to be careful with it, but comfortable overall. Close to the commercial center and restaurants.
Mathias
2017-01-26T00:00:00Z
Lovely home in a nice, quiet neighborhood. The house is very large, well-equipped and has all that we needed for our stay. We enjoyed it very much!
Sheer
2017-02-15T00:00:00Z
Room Type
Entire home/apt
---
Property Type
House
---
Accommodates
2
---
Bedrooms
Rehovot, Center District, Israel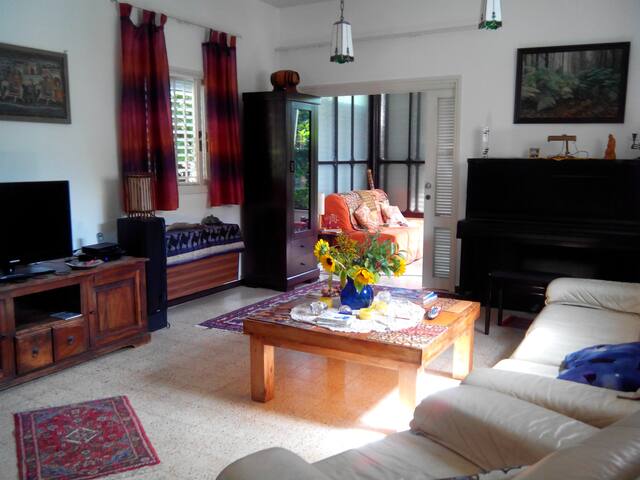 A small house, 40 sq' meters, half is old railway carriage, restored in art , connected to family room,with smart t.v. full privacy , garden. close to the sea, suitable for a couple with children, We have 2 units,High level design. Before Reservation, make sure with us the dates, by email
The farm is a fantastic location, on the main road Tel Aviv - Jerusalem (No. 431), 20 minutes from Tel Aviv, 10 minutes from the beach, 20 minutes from the airport and 5 minutes from Highway 6 north of Israel or South. The house is in a private garden, spacious and well-equipped, with all the needs, can easily accommodate a couple with 3 children. A unique opportunity to live in Israel, Mediterranean food, good weather, a beautiful garden, that allows relaxation after a day of activity, with a very low price.
Your home area is agricultural area between the cities of Rishon Lezion Ness Ziona. The neighborhood is a region of small farms. The place is usually quiet because he's out of town. However,We are on (SENSITIVE CONTENTS HIDDEN) maps and navigation software waze named "Lisa Place farm - Madar" connected to all main axes, and basically, that's what makes the perfect location for you. Do not lose time in traffic, everything is easy and accessible to come and go.
We felt welcomed even before we arrived to Israel! Upon our arrival, we were warmly welcomed by Uri and Lisa. They brought us to the grocery store and made sure we had we needed for our stay. They offered many times to bring us to the grocery store and to the bus stop since we did not rent a car. They also offered to pick us up at the bus stop. The location is even more beautiful than expected. They have very friendly and lovable dogs.
Claudine
2015-04-19T00:00:00Z
[Rented for my mother and guest] Warm welcome and very nice and friendly dogs. Unique airbnb in a secluded spot just moments from the main transportation routes of central Israel. The cabin is immaculately clean and cozy. Imaginative conversion of old railway carriages. Fruit trees, barbeque area right outside. Enjoyed it very much, would stay again.
Ben
2016-03-13T00:00:00Z
The host canceled this reservation 24 days before arrival. This is an automated posting.
Theresa
2016-05-21T00:00:00Z
A house in a garden -- what can be better than this? We really enjoyed this quiet and relaxing place and will definitely recommend it to anyone. (but you must have a car to reach it easily)
Volha
2016-11-22T00:00:00Z
My overall experience at Lisa Farm was amazing. The location of the apartment if off the main road,there is parking right out of the gate.Strong Wifi,and the best shower hear i have seen in years :).the apartment itself is fully furnished,and have all the necessities you need. The hosts are friendly and welcoming,and are ready to assist in any matter. For transportation it is advisable to have your own car. There are major intersection of high ways just next to the main road,which make traveling to any direction extremely easily. If you are looking for a quite peaceful,full of nature,and relaxation do not hesitate to make your place at Lisa Farm.
Reshef
2015-03-22T00:00:00Z
The host canceled this reservation the day before arrival. This is an automated posting.
Anatoli
2016-05-19T00:00:00Z
We had a very pleasant stay at Lisa's farm. The place is beautiful. Uri and Lisa are wonderful hosts.
a
2015-06-14T00:00:00Z
The host canceled this reservation 29 days before arrival. This is an automated posting.
Daniel
2017-03-06T00:00:00Z
Room Type
Entire home/apt
---
Property Type
House
---
Accommodates
4
---
Bedrooms
Rishon LeTsiyon, Center District, Israel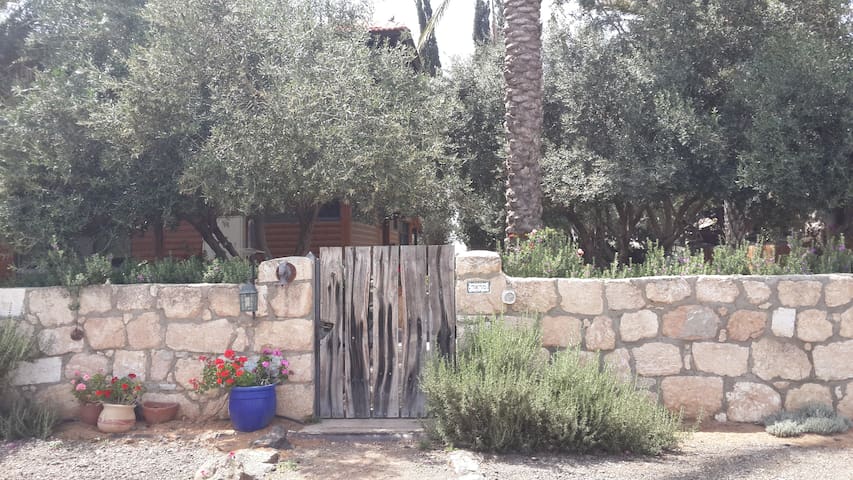 My place is close to public transport, the city center, parks, Weizmann institute. You'll love my place because of Its huge. My place is good for solo adventurers and business travelers.
Room Type
Private room
---
Property Type
House
---
Accommodates
1
---
Bedrooms
Rehovot, Center District, Israel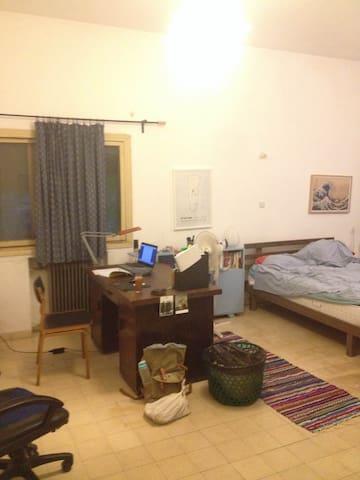 My place is close to public transport, restaurants and dining, and family-friendly activities. You'll love my place because of the comfy bed and the kitchen. My place is good for couples, families (with kids), and furry friends (pets).
-100m2, sunny, 3 sided house on one level with 400m2 back yard. -Wood deck -Quiet street yet close to everything. (Everything is accessible by walking distance) -Private covered parking entered by remote control. -3 bedrooms (4 rooms european) with 1 queen bed and one twin bed and oversized couch that open to a bed! -Big open Modern style kitchen (dishwasher, microwave, induction stove, oven, huge fridge, window, plates, glasses, etc.) opens to dining room and living room -Big Full bathroom & and another full bath room in the master bedroom unit. Shower is NOT on a boiler (which is typical in israel) so you will always have HOT WATER without having to wait. (hair dryer and necessities are provided) -Washing machine to wash your clothing (soap is provided), an iron and ironing board as well. -WIFI -Popcorn movies on a 49'' HD TV. (HDMI cable also provided) -AIR CONDITIONING and heating in EVERY room! -Water filtration system with hot and cold water, coffee, tea, sugar, snacks, spices. -Fresh TOWELS and BED SHEETS are provided
-Weizmann Institute and Faculty of Agriculture 20 minutes walking (beautiful walks full of surprises) - Train station 20 minute walk -Tel-aviv 20 minutes by car/train -Airport 20 minutes by car - Herzl Street 15 minutes walking (restaurants/bars, shopping, grocery stores, post office,busses, taxis, etc.) -Mall 10 Min away
This was the perfect place when visiting Rehovot and the central Israel area. It was close enough to my son and his family but let us have private space so we were not on top of them. Amit had a bottle of wine and a fresh bottle of milk waiting for us, so that we could relax and not have to rush out for supplies. The home and garden were delightful with a deck and fruit trees. The Internet was fast, so that I could easily VPN to my work in the states. The kitchen is modern and has a water purifier and a Nespresso machine. The bathrooms are also modern, with the master bath having a real shower. The second bathroom had a nice tub. The only issue we had was that WAYZ did not recognize the address and directed us to an address 1 small block up the street. However, Amit was easy to reach and directed us to the right house. I would highly recommend this house if you and your family are planning a trip to Israel and want to stay in a central location.
Cheryl
2016-12-26T00:00:00Z
Great house with garden and sunny terrace. We loved it
Sophie
2017-02-26T00:00:00Z
I was visiting Rehovot, Weizmann institute. I was looking for a house with few rooms and with a courtyard, such that my family and I could profit from a good whether outside and to be in comfort inside. This house is located in 20 min by foot form the main street Herzel and from the entrance to the institute. With a rented car I filled very comfortable (5min to/form work). It is also convenient to go to the sea side what we did frequently. There are many choices to chose a plage (BatYAm, Palmohim, Rishon, AshDod), all of them deserve to be visited. House inside is very good equipped with all necessary things, it is sort of clever house with all necessary things on their intuitively assumed places, coffee machine, toaster, microwave, washing machine, dryer machine, etc. The courtyard is really really great thing about this house, we've spent many evenings doing barbecue with my family, friends and colleagues... Everybody appreciated our choice of the house. Finally, the appropriators, Gili and Amit, are very pleasant people, It's a pity that everything was organized in such a perfect way that I hardly had a possibility to talk to them. By two short telephone calls we fixed all necessary things to know about this "clever" house. Still, I was able to notice the gentleness and complete comprehension of the owners. I would recommend this house for everybody(URL HIDDEN)
Vladimir
2017-01-20T00:00:00Z
Room Type
Entire home/apt
---
Property Type
House
---
Accommodates
6
---
Bedrooms
Rehovot, Center District, Israel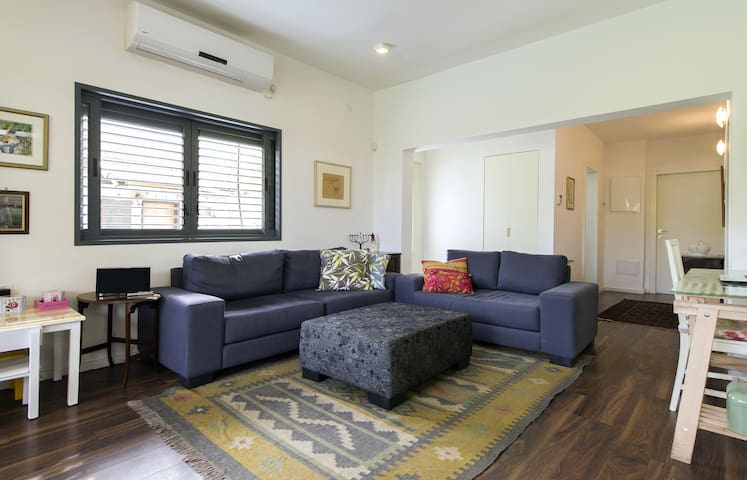 My place is new, has a very big room 30 m. with real antique and renewed furniture, a beautiful patio and is close to the city center of Nes Ziona. 5 km from Rehovot, 16 km from Tel Aviv and 40 km from Jerusalem. You'll love my place because of the quiet neighborhood, the comfy bed, the light, the patio, the real antique furniture, the large space and the coziness. My place is good for couples, solo adventurers, and business travelers.
Con muebles antiguos autenticos que fueron renovados ultimamente...
The house is in a very quiet street and very close to the central bus station ( 7 min by foot ),close to supermarket and mall. If you rent a car there is always free parking.
Luni is very accommodating and a lovely host. The bachelor cottage is cozy and have a lovely garden.
Terrin
2017-04-01T00:00:00Z
Room Type
Entire home/apt
---
Property Type
House
---
Accommodates
2
---
Bedrooms
Ness Ziona, Center District, Israel
Our place is located 5 min drive to The Wiezmann Institute of Science and HiTech Industrial Parks of Rehovot and Ness Ziona. 20 min drive to Tel Aviv (off peak). Comfortable bedroom in modern home on the boarder of Ness Ziona/Rehovot, quiet location at the end of a Cul-de-Sac with views to farm land.
Comfortable bedroom in modern home , with desk and hanging cupboard. Private shower and toilet, access to living room and garden. Use of kitchen, tea and coffee. Shelf space in the fridge. Street parking available. Local shops around the corner.
Had to be in Ness-ziona early in the morning and decided to stay at Lesley's place. Very welcoming, very friendly, we had a nice conversation. The room was cozy and warm, the bed was very comfortable. There was a separate bathroom for my use (clean, with fresh towels and soap). They offered cookies, fruits, tea, coffee, cold water and the kitchen was available for me if and whenever i needed. A very nice, quiet, safe neighbourhood. Not very central, great if you have a car.. Free parking in the street. Thank you very much :)
Hen
2017-02-23T00:00:00Z
Novemb(PHONE NUMBER HIDDEN)mb(PHONE NUMBER HIDDEN) The very best accommodation in perfectly situated location, based on what we wanted to do - we visited Tel Aviv, Jerusalem, Ashdod and every day we knew we were returning "home". The room was comfortable, clean and quiet. We had a possibility to use a separate bathroom and toilet, to cook in a well-furnished kitchen. We found Lesley and Gregory exceptionally helpful throughout our stay and they were always happy to answer any questions. Honestly, we had a great time here. Almost forgot, thank you for a bicycle! ;)
Elisa
2016-11-19T00:00:00Z
Room Type
Private room
---
Property Type
House
---
Accommodates
2
---
Bedrooms
Ness Ziona, Center District, Israel
Our place is located in a Kibbutz, at the center of Israel. It is close to Jerusalem (50 minutes), Tel-Aviv (30 minutes), Rehovot (the nearest town - 5 minutes) and 20 minutes away from the beautiful Palmachim Beach. It is a great place for couples and families (with kids).
Spacious, full of light, convenient and relaxing. Enjoyable for Adults and Kids
Our family of seven had a wonderful time at Asi's home. We arrived to a welcoming bowl of fruits together with 'welcome' signs drawn by Asi's children. The personal touch was a great way to start our holiday. The home was in immaculate condition with everything needed for a short stay. I highly recommend Asi's place for family's looking for a nice holiday home in the center of Israel.
Raf
2016-08-21T00:00:00Z
Room Type
Entire home/apt
---
Property Type
House
---
Accommodates
6
---
Bedrooms
Kvutzat Shiller, Center District, Israel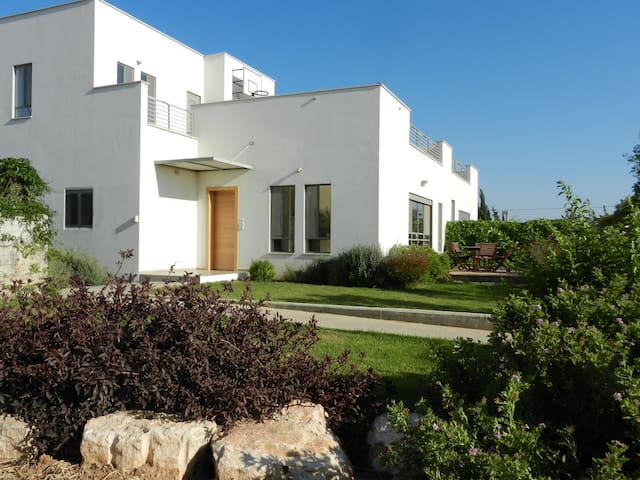 This is a beautiful and luxurious 4-room Deluxe Apartment in Be'er-Ya'akov, near the train statio. In the kitchen you will find: *Oven *Stove *Religius gusts who would like to have kosher meals would be able to use the pots & pans for cooking (if ask in advance) Apartment location: *10 minuts walk from the train station. *20 minutes from Tel-Aviv & Jerusalem *A fow minutes walk from shoping center where you can find supermarket, clothing, restarants, etc I will be happy to be available 24\7
Room Type
Entire home/apt
---
Property Type
House
---
Accommodates
6
---
Bedrooms
Be'er Ya'akov, Center District, Israel
Near train centeral of I srael very nice villa 5 rooms 2 floors
vey nice villa 5 room 2 seperated floors nice garden near train
Room Type
Private room
---
Property Type
House
---
Accommodates
1
---
Bedrooms
Be'er Ya'akov, Center District, Israel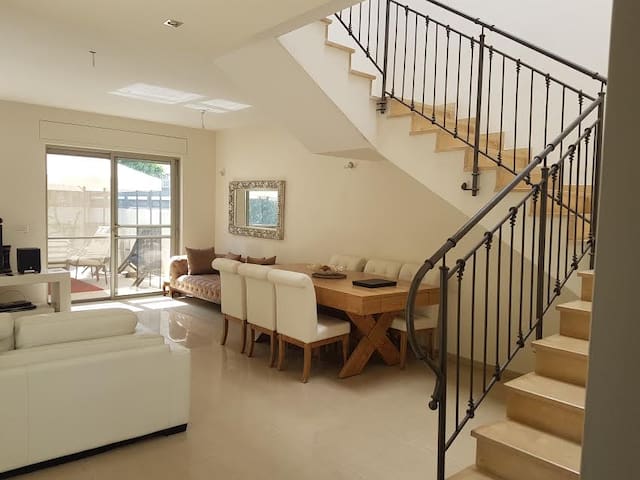 Great modern home in the greenest town in Israel. Over 2,500 sqf will give you lots of space, with a nice shaded yard and a BBQ for outside, lots of space inside, and inviting furniture.
Room Type
Entire home/apt
---
Property Type
House
---
Accommodates
8
---
Bedrooms
נס ציונה, מחוז המרכז, Israel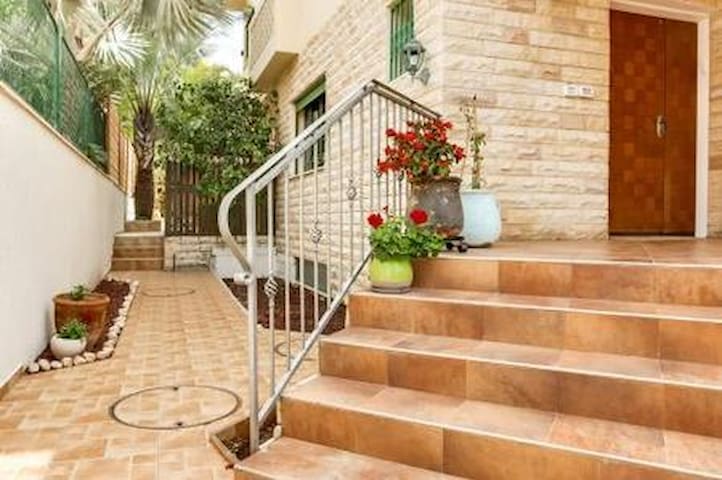 A brand new 3 storey spacious garden house with equipped kitchen (take a look at the Italian oven) , in a quiet neighborhood surrounded with orange orchards Centrally located 20min from Tel Aviv, 5 min from train station and and Weizmann Institute
Ideally located - Quite neighborhood easily access to nature walking in the surrounding hills.
Room Type
Entire home/apt
---
Property Type
House
---
Accommodates
8
---
Bedrooms
Ness Ziona, Center District, Israel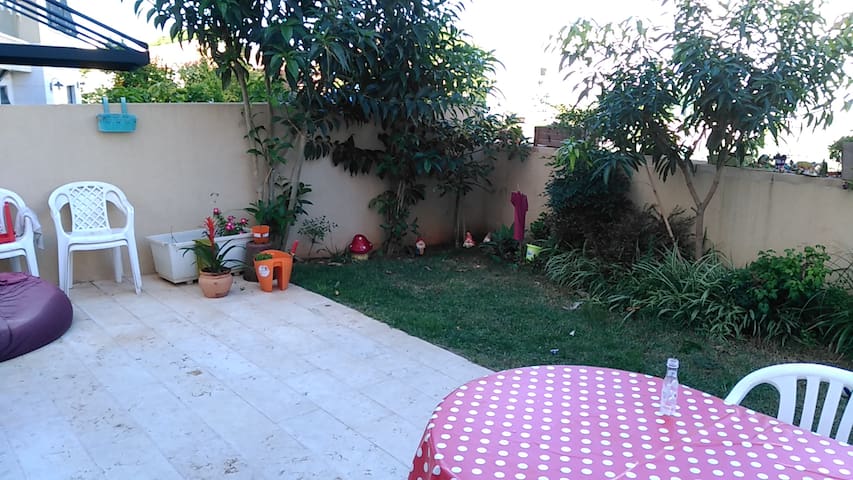 A modern villa located in a Kibutz - Givat Brenner - green and quite area and still 5 minutes away from a big shopping center and 25 minutes from Tel Aviv. Air condition in every room. Big garden and big two balconies.
The host was very welcoming and nice. The house was huge and accommodating. Perfect for a family, however, could do with a bit of cleaning. The air condition in the living room was weak.
Tami
2016-07-08T00:00:00Z
The house is beautiful, spacious and comfortable. We were a large group, with a two-year old who loved the playground across the street. The area is quiet, with plenty of parking, and convenient to Bilu Center, with shopping and restaurants (especially loved the Bilu Grill). The house has a fenced-in yard and barbecue. Eran was accommodating and welcoming.
Sophia
2017-03-26T00:00:00Z
We stayed at the Brenner Hill Home for 7 days. There were 7-8 of us and as the house is very spacious it didn't feel crowded at all. The house is newer and very nicely designed, everything worked as expected and Eran made us feel very well and was always available if we needed anything. In addition, Kibbutz Givat Brenner is very nice and the location was convenient for us needing to be closer to Rehovot. In sum, we definitely recommend this place and host and would stay with him again in the future.
Federico
2016-06-22T00:00:00Z
Brenner hill home is a beautiful spacious home. Located in a residential area of Kibbutz Giv'at Brenner feels safe and comfortable. A good central location to use as a starting place for many day trips in Israel. Definitely a place to come back!
Pauline
2016-07-31T00:00:00Z
Très agréablement accueillis, logement grand, climatisé, spacieux Contents de notre séjour passé dans cette maison
Hertzel
2016-07-18T00:00:00Z
Room Type
Entire home/apt
---
Property Type
House
---
Accommodates
7
---
Bedrooms
Rehovot, Center District, Israel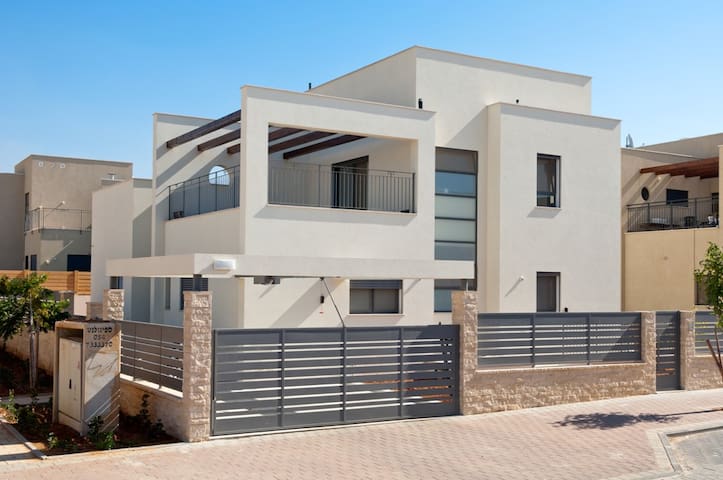 Apartment is part of a detached house . Ground floor . nice garden. Everything is in perfect conditions . Complete privacy . 5 minutes walk to shops/bus/taxi . A perfect base for touring Israel all around either by car or public transportation !
Located in one of the best places in mazkeret batya . Very quite , very safe , big garden . 10 minutes drive to near city : Rehovot . 40 minutes drive to center Jerusalem . 35 minutes drive to Tel-aviv. Fits comfortably a couple . a small porch overlooking the garden. Parking is no issue - there is plenty of it in our street.
nice people , quiet, safe .
Close proximity to town and shopping. Good access to all highways going nort, south east and west.
Ron
2017-02-06T00:00:00Z
The host canceled this reservation 16 days before arrival. This is an automated posting.
Daniel
2017-03-19T00:00:00Z
We had a great time staying at Tzvika and Dalia's studio. The apartment is exactly as its shown in the photos and was very clean. Not only that, we came with our 3 year old daughter and 1 year old son and Tzvika was kind enough to provide for us a crib for the baby and extra mattresses. Since we were visiting friends in Maskeret Batya and plan on visiting many times down the road, I'm more than sure we will be back for another visit. Tzvika, you were a great host and we cant wait to come back and visit. Thank you!
Adi
2016-01-04T00:00:00Z
We had a wonderful two-week stay at Zvika and Dalia's place in Mazkeret Batya. The apartment is exactly as described/pictured in the ad.....very clean, comfortable, and convenient. (The location is especially convenient as a "home base" for anyone wishing to be accessible to, but not in, any of the big cities. (Mazkeret Batya is a quaint and historical town in a semi-rural area, but just minutes from the highways and a shopping center. We enjoyed exploring the town and its surroundings by foot when we weren't off visiting friends and relatives in other parts of the country.) Zvika and Dalia could not have been better hosts. They are very warm, friendly and hospitable, and Zvika responded immediately (instantaneously!) to my every little question, either by text or in person. By the time we left, we felt we had made a new pair of friends. I highly recommend this listing, and would happily stay there again.
Lynne
2016-12-31T00:00:00Z
We are very happy that have chosen this apartment. The house is very beautiful and comfortable. It has everything you need. Home owners are very nice and friendly.When we arrived we were surprised by the presence of some food in the house because we were very tired after the flight. The vine(owner make it by himself) was very tasty. Towels in the bathroom has very nice smell. The bed is very comfortable. Garden is a small paradise full of flowers and greenery. Owners of this house helped us to create a plan of our trip and were always around to help. Location of this apartment is very good to travel by car. We have just good impressions from visiting Israel and this is thanks to wonderful owners of this house- Zvika and Dalia
Anna
2015-09-03T00:00:00Z
This studio apartment was exactly as shown in the photos and we found it very clean, comfortable and quiet. Zvika was very friendly and helpful and it was nice to find basic food such as milk, water, tea, coffee and cereal in the kitchen. We were visiting family in Mazkeret so it was exactly what we were looking for. It is also close to the shops and a good base for those wanting to do some touring. Would definitely recommend.
Leonie
2015-11-10T00:00:00Z
Very nice, comfortable one-room studio, with big bed and TV in front of it. Not big but very comfortable kitchen with all you need stuff. Home owner is very nice, he received us with pleasure.
Roman
2015-07-26T00:00:00Z
Lovely studio apartment with Zvika and Dalia. It has everything you need and is also incredibly quiet. Kitchenette is fine with small fridge, 2 electric rings and microwave. Air conditioning is very good. Comfortable double bed.
Louisette
2016-07-07T00:00:00Z
Room Type
Entire home/apt
---
Property Type
House
---
Accommodates
2
---
Bedrooms
Mazkeret Batya, Center District, Israel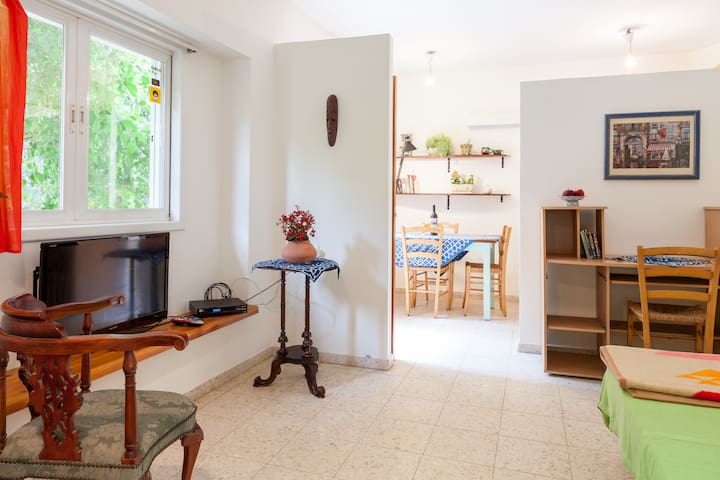 1

–

18

of

133 Home Rentals
Enter dates to see the total trip price including additional fees (but excluding any taxes).