The house, located in the mountains just 20 min from Sondrio, is an ideal place for families and couples who want to spend a few days in relax, walk in the woods and discover a real clean contact with nature without giving up comfort. The house is completely new and warm thanks to the indipendent heating and a wood stove. There will be a gift for you: organic products made by Azienda Agricola Agneda, the best way to experience Valtellina's flavors.
The Masun is located in Carnale (Montagna in Valtellina) easily reached from Sondrio in 20 minutes. This is an Ideal place for families and couples who want to walk in the green, relax and discover a real clean contact with nature in comfort. The place is the starting point for several hikes of varying difficulty and length, and offers a beautiful panorama: a wide view of the Valmalenco with the group of the Disgrazia, the Val di Togno and Valtellina. The house is completely new and well-finished in the details. The ground floor consists of a living area with kitchen and a storage room while upstairs there is a bathroom and two bedrooms: one double with balcony and panoramic view and one with two single beds. the ambiente is kept warm thanks to gas indipendent heating and a wood stove. It has an outside table with umbrella, chairs and loungers to relax in the sun. The services included are: water, electricity, gas, heating, initial and final cleaning, bed linen, firewood for the stove and basic foods (salt, sugar, oil, vinegar, coffee ...). House keys are delivered at the Farm Agneda in Sondrio in via Bormio 20. From there you will follow Elisa by car that lead you to the house. There she will explain you the tours and answer your questions. There will be a gift for you: organic products made by Azienda Agricola Agneda, the best way to experience Valtellina's flavors.
Very nice place, very kind host, nothing negative about the stay. All in all top class.
Lasse
2017-04-09T00:00:00Z
Wunderschönes, sauberes und gut ausgestattetes Haus, traumhafte Umgebung und sehr freundlicher Kontakt.
Gabriel
2017-02-27T00:00:00Z
Stare in questa casa è stata un'esperienza bellissima. È il luogo ideale per stare tranquilli, tutto è silenzio e natura e ci sono molti itinerari da fare. La casa è in una posizione ottima, facile da raggiungere, pulita e ben riscaldata. L' host è molto disponibile e simpatica, al nostro arrivo abbiamo ricevuto un regalo: formaggi biologici deliziosi e una bottiglia di vino rosso valtellinese, tutto (URL HIDDEN) dall'azienda agricola di Elisa! Spero di poterci tornare presto. Svegliarsi la mattina, aprire la finestra e trovarsi in mezzo alla natura è qualcosa di meraviglioso! Consigliatissimo!!
andreina
2017-01-17T00:00:00Z
"Andai nei boschi perché desideravo vivere con saggezza, per affrontare solo i fatti essenziali della vita, e per vedere se non fossi capace di imparare quanto essa aveva da insegnarmi, e per non scoprire, in punto di morte, che non ero vissuto"...attorno a noi solo boschi, vette innevate e silenzio. Un luogo per l'anima, dove abbiamo trascorso tre giorni splendidi con la nostra famiglia, in una casa calda e accogliente, arredata con cura e impreziosita da dettagli in legno realizzati a mano Che dire poi di Elisa? Gentile, accogliente e premurosa: ci ha accolti, insieme alla sua famiglia, con formaggi tipici e vino rosso valtellinese prodotti da lei e suo marito nella loro Azienda Agricola. Non potevamo non portare a casa un po' di quei sapori di Valtellina. Certamente non un addio, ma un arrivederci e a presto. RobertoSaraTommaso
Roberto
2017-02-19T00:00:00Z
Valtellina stupisce sempre... questa volta ci siamo goduto un'altro angolo meraviglioso... Carnale, con una vista senza fiato, vicino a tanti sentieri per camminare o andare in bicicletta... il posto da sé è delizioso... Elisa e suo Marito Andrea. hanno reso unico e ancora più speciale il nostro week-end pre San Valentino, ideale per una fuga in coppia... anche per famiglie con bambini... sono delle persone che inspira col suo lavoro. Sono affettuosi, aperti e molto ospitale. Ci hanno regalato formaggi vari e yogurt Bio buonissimi, della sua Azienda Agricola Agneda. La casa è stupenda curati tutti i dettagli, tutto di altissima qualità un lusso immerso nella natura... un posto incantato.. tutto perfetto!! a prestissimo! Grazie mille per tutto!!
Karla
2017-02-13T00:00:00Z
Room Type
Entire home/apt
---
Property Type
House
---
Accommodates
4
---
Bedrooms
Carnale, Lombardia, Italy
comfortable rustic mountain cabin living room with pellet stove, programmed to heat the house even in the absence of the guests or the night + fireplace heat with water-filled radiators on the ground floor, upstairs and in the bathroom, new kitchen with wood burning stove but also with gas hob, fitted with a flame failure flame safety systems, electric oven and wood, wood-burning boiler, easy to use, two bedrooms and bathroom upstairs, has a double bed, balcony
It is a rustic mountain house livable well all year, fully lined in wood, parlor style, and heated with wood, pellet stove and fireplace stove connected to radiators, wood-burning boiler, in the rear convenient and fast food is not dangerous, even cooking food wanting it with wood burning stove and oven, while not missing gas hob ... refrigerator, pantry - Baitello / cellar with natural water vein that keeps the temperature cool even in summer. very comfortable and quiet house, tv in the living room, is located about 1,500 meters altitude, just above Teglio in Valtellina, one km away from Prato Valentino ski area, very scenic and sunny locations. Excellent for hiking, horseback, bicycle, snowshoes and ski touring. The cabin is accessible by car all year round by paved road and kept open but the tires lamellar or snow chains are always recommended in the winter months
There are other lodges in the area but mainly frequented in summer, refreshment 1 km away (Baita del Sole) also restaurant.
We had a great stay at the baita. Very charming and all cozy wooden mountainy ambient. The perfect place to spend the days skiing and walking or just sit in front of the fire place reading. Amazing views and surroundings. Ivan was the best host, eager to help in any way. Grazie Ivan!
Maja
2016-01-06T00:00:00Z
Ivan was the best host ever! :-) I stayed here 10 days for studying and Ivan also supported me by bringing food, so I could focus on my books. The first evening Ivan also cooked Pizocerly the Teglio traditional food which was fabulous. I and my dog Chichi enjoyed the time here... The last days we also went to the mountain for a great walk in the snow area. I highly can recommend this plase to all who ate looking for freedom and relaxation. We had a wunderful time in the Rustici and also had the chance to visit Teglio. Ivan also makes his own honey as he take care of 8 honey bene family, so don't miss the chance to get this special honey! ;-) Finally, Ivan also showed us Teglio and the coffee shops. So, we really were happy to stayed here and also had a chance to meet Ivan, who is extraordinary and a multi talented personality. Und wir konnten uns sehr gut auf Deutsch verständigen. Da mein Italienisch nicht so gut ist. Ivan spricht ausgezeichnetes Deutsch und war immer sehr hilfsbereit. Es hat uns an nichts gefehlt. Ich habe sogar eine Tischlampe zum Lernen bekommen, super LED Licht, so konnte ich auch am Abend sehr gut lernen. Danke Ivan! :-) War wirklich grossartig hier! Und wir kommen sicher wieder hierher. ;-) Alles Liebe Anja und Chichi
Anja
2016-02-13T00:00:00Z
Ivan è una persona molto cordiale ed ha mantenuto contatti costanti nei giorni precedenti il soggiorno e ci ha atteso in paese per accompagnarci personalmente nella baita. Anche durante il soggiorno è stato sempre premuroso nei nostri confronti preoccupandosi di risolvere immediatamente alcuni inconvenienti verificatisi durante il soggiorno. La baita ha un panorama mozzafiato, risulta molto ben coibentata rispetto alla temperatura esterna ed è arredata in stile con il contesto ambientale. E' richiesto all'ospite una buona esperienza nella gestione del fuoco in quanto il riscaldamento della casa e la produzione di acqua calda sono basati esclusivamente sul termo camino che alimenta i termosifoni, su una stufa a legna e su un boiler a legna per cui è richiesta la continua gestione degli impianti per mantenere la temperatura, anche se devo dire che Ivan, dopo averci chiesto se lo autorizzavamo ad entrare in casa in nostra assenza, si è premurato di mantenere attivi gli impianti di riscaldamento e, nel contempo, di mantenere sempre ben fornita la riserva di legna.
Pierluigi
2016-03-30T00:00:00Z
Una baita molto graziosa e ben rifornita di tutto quel che può servire a un soggiorno completamente indipendente . Vista sulle montagne della Valtellina bellissima.
Tiziano
2016-07-10T00:00:00Z
c"était super. Ivan est toujours là pour nous écouter . très serviable. et gentil. le panorama du chalet en montagne et a couper le souffle. nous avons que de très bon souvenirs pour cet adroit . si dieu le veux! nous retourneront. encore un grand merci à Ivan.pour les bons plats que tu a préparé pour nous à notre arrivé. et a sa famille qui nous a bien reçue . merci. c'est inoubliable.
Christian
2016-09-18T00:00:00Z
Salut Yvan , merci pour ton tres bon accueil ,Ie coin est merveilleux , sublime,..un vrai paradis .nous avons passé un séjour unique! bonjour a tes parents et merci a toi pour toute ta gentillesse et generosité. s&f B
fabrice
2016-08-09T00:00:00Z
Un'esperienza fantastica, unica, da ripetere quanto prima. La baita è bellissima, tutta in pietra e legno, e la vista che offre è a dir poco emozionante! La fortuna di quattro giorni di bel tempo, e la gentilezza di Ivan, hanno reso il nostro soggiorno indimenticabile.
Maurizio
2016-08-04T00:00:00Z
La casa è molto rustica come descritto dal proprietario. Si trova nel mezzo della natura, vicino alla pista da sci e non molto lontano dal paesino. Ivan è stato molto disponibile e gentile.
Monica
2016-01-02T00:00:00Z
Room Type
Entire home/apt
---
Property Type
House
---
Accommodates
6
---
Bedrooms
Prato Valentino, Lombardia, Italy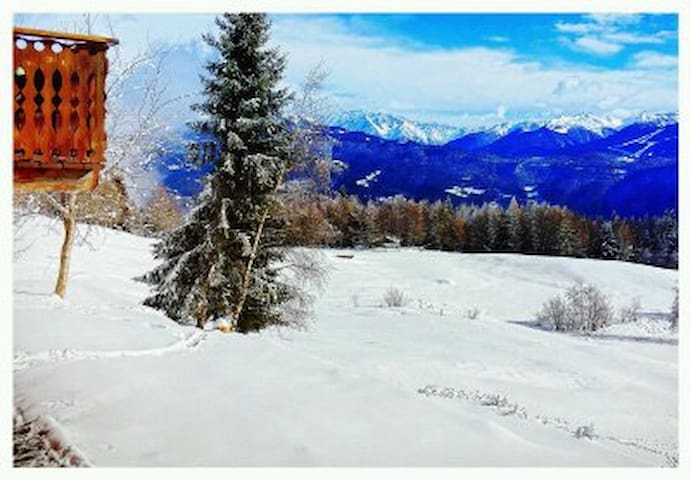 Independent cottage in a quiet area with garden and covered terrace, perfect for dinners and breakfasts with mountains'view. 5 min drive from Sondrio. Perfect to get some relax walking trough the vineyards and the wood. Excellent for escaping from the city and to eat typical food from Valtellina.
Room Type
Entire home/apt
---
Property Type
House
---
Accommodates
4
---
Bedrooms
Montagna In Valtellina, Lombardia, Italy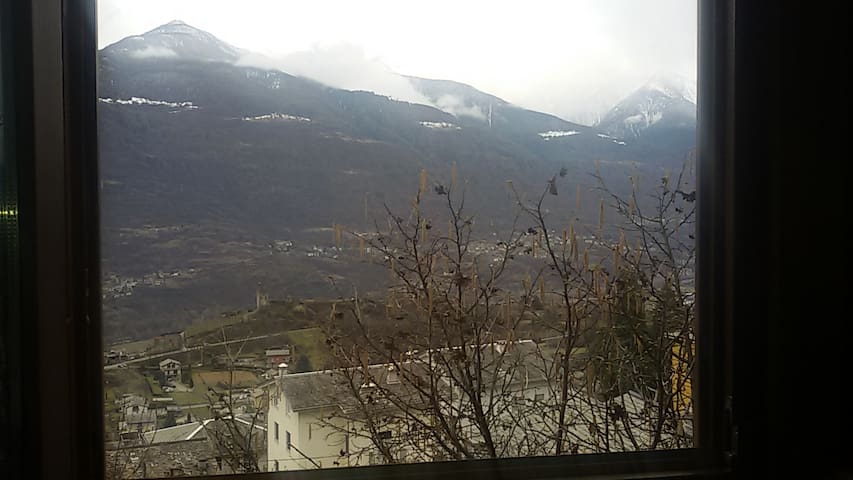 House, stone and wood, in the historic center of one of the oldest villages of the Valtellina. 1 level, large living / dining room, kitchen and bathroom. 2nd level, living, 3 bedrooms, bathroom, views of the Orobie
Comfortable, spacious, airy, quiet In the heart of the Alps, 20 minutes from the ski slopes of Aprica, Valmalenco and Teglio; less than an hour from 'Engadine and Lake Como and from Bormio and Livigno, surrounded by a dense area of cultural, gastronomic and sports, you can enjoy, even in the most crowded periods, lovingly restored it consists of a large room bedroom. A second bedroom with double or twin bed, a third with two bunk beds complete the sleeping area. Then relax in the living part with fireplace sharing meals with your friends and family and relax upstairs. Two bathrooms, one with bath and one with shower, complete the accommodation.
trattorias, wineries and restaurants in the village and in the immediate vicinity.
Lucia the caretaker was lovely and so welcoming. She helped me cook some pasta for the family on arrival and even baked us some delicious breads! Neighbourhood was quite and very peaceful, a beautiful old town to explore. Home was large and had everything needed, clean and comfortable.
Debra
2016-07-11T00:00:00Z
Accoglienza fantastica, la casa è un gioiellino, tanto accogliente da non farti venir voglia di uscire! Emanuela è stata molto disponibile dandoci tutte le info per raggiungere il luogo. Ci torneremo sicuramente! Grazie!!
Jasmin
2016-03-20T00:00:00Z
Lucia ed Emanuela sono state molto precise e disponibili per la nostra accoglienza e permanenza a Ponte. La casa, situata nel centro storico del paese, è molto grande, completamente accessoriata e dà un senso di familiarità e accoglienza (c'era anche un albero di Natale per ricreare l'atmosfera natalizia). La posizione del paese è una buona base sia per gite sulla neve sia per camminate nei paesi vicini.
Francesco
2017-01-02T00:00:00Z
Room Type
Entire home/apt
---
Property Type
House
---
Accommodates
6
---
Bedrooms
Ponte In Valtellina, Lombardy, Italy
Palazzo Guicciardi, una storica dimora rinascimentale nel cuore delle Alpi.
In the heart of the Alps, 20 minutes from the ski slopes of Aprica, valmalenco and Teglio; less than an hour from the Engadine and Lake Como and Bormio and Livigno, immersed in a dense area of interest cultural, gastronomic and sports , you will enjoy, even in busy periods, the chrme and cool tranquility of a building recently restored with care rinascimantale consists of a large double bedroom overlooking the courtyard of the press and on the balcony shaded by wisteria. A second bedroom with double or twin bed, a third with two bunk beds complete the sleeping area. Then, relax in the ancient stua or the green lounge with fireplace, sharing meals with friends in the large kitchen. Outside there is a private garden with umbrella, table and chairs where you can relax in the sun or under the arch of the old press, pass the time of a rainy day with a game of table tennis. Two bathrooms, one with bath and shower complete the accommodation. And if you are more than 6 you can enjoy the space together day by renting a comfortable annexe together with four other people. The price is from 800 to 1400 Euro (season and number of guests)
Palazzo Guicciardi e la dependance il Granaio, affacciata sulla corte d'ingresso ma con accesso indipendente, sono nel centro storico del villaggio, sotto la bellissima chiesa di San Maurizio, in una zona molto suggestiva, per o palazzi storici le chiese, le strade in selciato. Direttamente su un itinerario della via dei terrazzamenti, itinerario ciclo pedonale.
Room Type
Entire home/apt
---
Property Type
House
---
Accommodates
5
---
Bedrooms
Ponte In Valtellina, Lombardy, Italy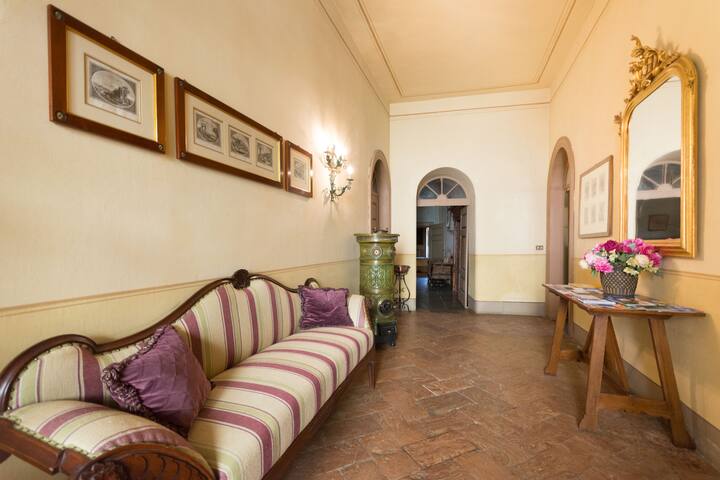 Perfectly nested in the very heart of Sondrio's historical centre, lovely maisonette just renewed and
Attention to details and passion infuse this maisonette with great character and charme.
Nested in the very historical centre of the city, it's a very quiet place in a typical charming northern italian town. No car needed to take stroll anywhere within Sondrio, virtually everythung is close at hand :)
Gloria's place is great -- clean, bright and conveniently located. She was extremely helpful and communicative at every step. I look forward to staying here the next time I visit the Valtellina.
Ryan
2017-03-17T00:00:00Z
We had an absolutely fantastic stay at the little authentic house! There is everything you need & even more... you can sit just in front of the house or on one of the many balconies enjoying the stunning views over Sondrio. Absolutely recommended & many thanks to Gloria & her father!!
Nuran
2016-07-21T00:00:00Z
Very charming house in the old part of Sondrio, very comfortable, with a wonderful view facing the mountains (we drank several glasses of wine on the balcony, contemplating the town and the mountains...). Gloria was abroad when we came at Sondrio, but was very present by mail and SMS, and her friends who were there to meet us were incredibly friendly and helpful. You can't enter with your car in the pedestrian part of the town where Gloria's house is located, but Gloria's car has a special authorization, so her friends used it to carry our luggage to the house from Gloria's parking lot where we left our own car (5 minutes by foot from Gloria's house). Sondrio is in the mountains and not very far from Como's lake, which we could visit conveniently on its eastern and western sides. To sum it up: Gloria's house is a very very good deal, and we loved staying there...
Frederic
2016-07-27T00:00:00Z
Gloria and her family are incredibly kind and welcoming. We had an amazing time in Sondrio and hope to come back for many years to come. The area is adorable and we especially loved the cold spring water that flows from the fountains around town. The photos can not show the amazing view from the balcony's from every level. Her home is clean and comfortable and carries her special touch. Thank you so much for the wonderful time spent in Sondrio!
Ian
2016-08-09T00:00:00Z
If I could give Gloria's place 10 stars for everything, I would. Such a stunning cottage in beautiful Sondrio. Great place to escape and take in the breathtaking views. I wouldn't stay anywhere else in Sondrio. Gloria's father was kind enough to pick me up at the train station and show me the town and flat. Superb experience.
Morgan
2016-11-22T00:00:00Z
Although we didn't meet Gloria she kept in touch all the way. Her father Giovanni was very accommodating, leading us to parking and shuttling us back to the apt. Speaking enough English to get us through. The apt was clean with a beautiful view of the mountains. We enjoyed having the space of separate rooms. Would recommend!
Kris
2016-08-14T00:00:00Z
Lovely stay at Gloria's cottage, what a positive surprise indeed : ) ! Clearly the house ( it's a house with a lovely pretty garden, not just a flat ) has been just refurbished. Walls were freshly painted, everything was really clean and very very tidy. The place is very quiet, nested in the old part of the city, the historical centre of Sondrio. View from the bedroom was also beautiful, a real treat ! Check In and Check out were perfectly coordinated, we arrived very late at night and left also quite late, and we thank once again Gloria and her father for being so helpful and understanding with our schedule. A big thank you dear Gloria, the experience of staying at your house went far beyond our expectations. Higly recommended Bravoooo ! Best Claire :) !
Claire
2016-06-09T00:00:00Z
Gloria e suo padre sono stati molto carini e accoglienti! La casa rispecchia esattamente l'annuncio: siamo stati 4 notti con un bimbo piccolo e non abbiamo avuto nessun tipo di difficoltà! Ottimo soggiorno, casa su 4 piani davvero carina, ben arredata e calda!
Francesca
2017-01-06T00:00:00Z
Room Type
Entire home/apt
---
Property Type
House
---
Accommodates
4
---
Bedrooms
Sondrio, Lombardia, Italy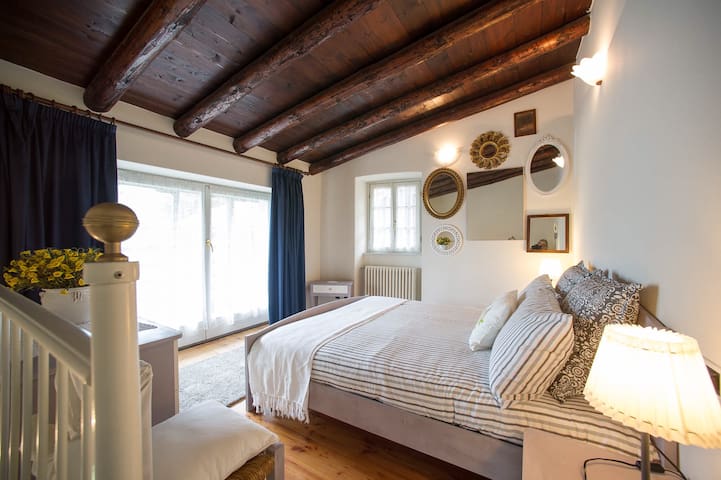 The villa is in a nice location among the vineyards of Valtellina production area of famous wines. Wake up to the panoramic view of the valley and surrounding vineyards. Spend your day visiting some of the local wineries of the area. Nearby is "La via dei terrazzamenti" , very charming pedestrian and bicycle path. Excellent location for a relaxing holiday. The starting station of the Bernina express is about twenty minute drive.
Una particolare villa immersa nel verde del comune di Montagna in Valtellina. Piano terra: cucina, soggiorno , bagno con vasca e una camera da letto con due letti singoli. Piano superiore: una camera matrimoniale con bagno interno.
Villa Genio si trova nel comune di Montagna in Valtellina, una zona davvero tranquilla e ideale per chi volesse un soggiorno in pieno relax. A pochi minuti d'auto dalla città di Sondrio.
Room Type
Entire home/apt
---
Property Type
House
---
Accommodates
4
---
Bedrooms
Montagna In Valtellina, Sondrio, Italy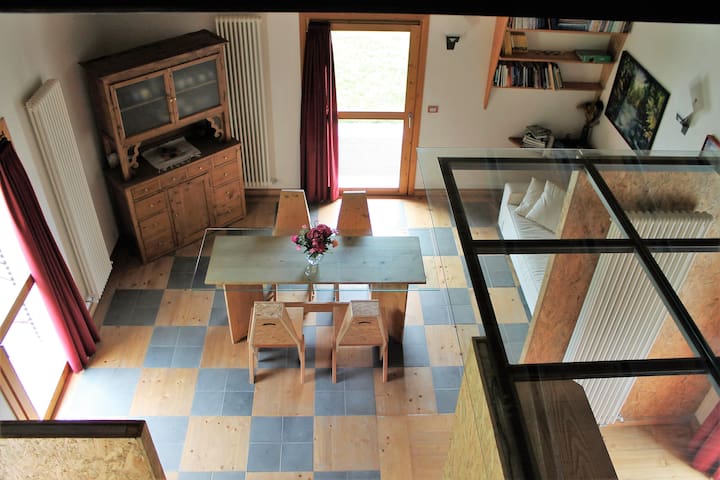 Nice and comfortable apartment with separate entrance located on the ground floor with kitchen, bedroom with double bed and 2 additional beds in bunk bed. full bathroom with shower and hair dryer, free parking at 50m from the house.
The apartment is independent, new, comfortable, cozy, very quiet with a very nice view to the castle Grumello and the Pre-Alps orobiche chain. The house is situated 1.8 km from the capital (Sondrio), a point from where you can reach the resorts as Valmalenco, Aprica, Bormio and Livigno.
It is very quiet and with lovely views towards the mountains and the castle opposite.
La casa è situata in posizione comoda a pochi minuti da Sondrio. La casa è ben arredata . La propetaria ci ha dato tutte le informazioni prima di prenotare. Siamo stati solo 1 notte ma sicuramente lo terremo in considerazione per altre gite in Valtellina.
Mirko
2016-10-23T00:00:00Z
Room Type
Entire home/apt
---
Property Type
House
---
Accommodates
4
---
Bedrooms
Montagna In Valtellina, Lombardia, Italy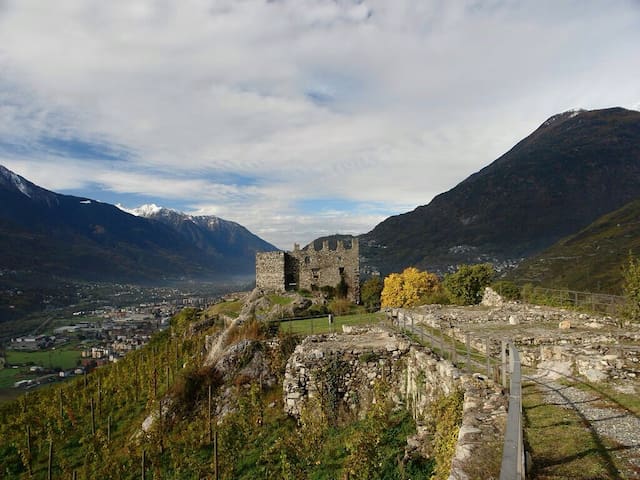 To rent independent apartment at 300 meters far from the center of Teglio, the only original village of the famous pizzocheri. Ideal solution for a relaxing weekend. The house is 55 square meters with living area equipped with kitchen, bathroom and bedroom with double bed and a bunk bed. Possibility of auto parking space outside. For short periods it is proposed the formula "bed and breakfast" with included breakfast with typical products such as biological kiwi, cake with homemade jam. Suitable solution for animal friends, we ask for a security deposit that we will return at the end of your stay. Thanks for the attention. Luigi
You have the opportunity to stay in Teglio, the historic village that gave its name to the all valley (Valtellina is valley of Teglio). It develops along the Rhaetian Alps at an altitude of 900 m s.l.m. and it is the most exposed to the sun so the clima is nice in every seasons.
Abbiamo soggiornato per tre notti da Luigi conoscendo i suoi simpaticissimi genitori, accoglienza ottima. Con Luigi c'è stato un contatto via email ed è sempre stato puntuale nelle risposte e preciso nelle descrizioni e nei consigli. L'alloggio si trova nel centro storico di Teglio, delizioso paese patria dei Pizzoccheri. Torneremo senza dubbio da Luigi ed i suoi genitori. Grazie ! Barbara e famiglia
Barbara
2016-08-16T00:00:00Z
Il soggiorno in apartamento era molto buona.Servizio eccellente e ospitalitá. Tutto perfetto. Arrivederci!
clotilde alicia
2014-04-10T00:00:00Z
Luigi è l'host perfetto!! Gentilissimo, attento ad ogni dettaglio, si è interessato del nostro soggiorno dalla partenza fino all'ultimo giorno. La casa è stupenda, accogliente, calda, come i suoi magnifici genitori che ci hanno mostrato le cose essenziali e ci hanno lasciato per colazione una crostata squisita e delle marmellate eccezionali. Vi consigliamo vivamente di passare qualche notte a Teglio da Luigi, non ve ne pentirete!
Marco
2015-09-07T00:00:00Z
ottima accoglienza, e lo sapevo-ero già stato da Luigi-per questo sono tornato
Luca
2015-03-08T00:00:00Z
Appartamento super centrale a teglio. Accogliente e molto curato con arredi molto e un camino che crea un'atmosfera che basterebbe da sola a farvi decidere di venirci. I genitori di Luigi sono stati estremamente gentili sia nell'accoglierci che durante il resto del soggiorno (abbiamo trovato il camino acceso, tutto il necessario per un'ottima colazione e una bottiglia del vino (URL HIDDEN) dal padre di Luigi). Spero di tornarci presto.
Alessandro
2017-01-29T00:00:00Z
Ho trascorso in questo appartamento una piacevole settimana con la mia famiglia. L'appartamento, pulito e arredato in modo semplice è risultato un buon punto di partenza per raggiungere le piste più vicine dove i ns. bimbi hanno potuto prendere lezioni di sci. Squisita la cortesia dei proprietari: al ns. arrivo la sig.ra Augusta ci ha fatto trovare una deliziosa crostata di marmellata fatta in casa. Un grazie anche a Luigi che con una dettagliata relazione ci ha fornito tutti i riferimenti per una perfetta vacanza.
sonia
2015-01-06T00:00:00Z
I genitori di Luigi sono stata gentilissimi. Anche se avremmo preferito incontrare lui.
Linda
2017-01-03T00:00:00Z
Room Type
Entire home/apt
---
Property Type
House
---
Accommodates
4
---
Bedrooms
Teglio, Lombardia, Italy
Il mio alloggio è nel centro a pochi metri da Piazza Garibaldi è adatto a coppie, a chi viaggia per lavoro ed a famiglie con bambini . A quindici minuti dalla Valmalenco meta d'estate per bellissime camminate e d'inverno per sciate indimenticabili.
Casa singola con un ampio terrazzo con vista sulla città e sulle montagne Valtellinesi; di circa 80 mc , disposta su due piani con due bagni ed ingresso indipendente.
La casa sorge nel pieno centro di Sondrio la zona è tranquilla ed accessibile a tutti i servizi ( teatro comunale, vie dello shopping, piscina con centro relax, ospedale).
A great, clean and modern apartment in a very central location. We really enjoyed our stay
James
2016-12-06T00:00:00Z
Un meraviglioso appartamento nel cuore di Sondrio!! Bello, moderno e pulito !! Consigliatissimo !!!!
Davide
2016-08-28T00:00:00Z
Casa bellissima, posizione ottima perfetta per ogni tipo ti soggiorno.
Paolo
2016-12-15T00:00:00Z
Ottima accoglienza! L'appartamento pulitissimo e in pieno centro. Angela è gentilissima e premurosa. Bellissima esperienza.
Ella
2016-10-18T00:00:00Z
Bellissima esperienza casa incantevole come la proprietaria!!!lo consiglio vivament(URL HIDDEN)
marzia
2016-11-07T00:00:00Z
Bellissima casa su due piani situata in centro a sondrio, a pochi passi dalla piazza principale. Angela è una proprietaria accogliente e attenta, suo marito ci attendeva al nostro arrivo e si è reso disponibile per qualsiasi necessità. Casa molto ben arredata. Consigliato
Simone
2017-01-01T00:00:00Z
Sistemazione impeccabile, come sempre! Grazie e a presto!
camilla
2017-02-21T00:00:00Z
L'appartamento di Angela è un luogo curato, accogliente, pulito e ottimamente gestito. I proprietari sono gentili, precisi e premurosi. Eravamo in città per lavoro e siamo stati benissimo.. sicuramente sarà la prima opzione per i prossimi soggiorni a Sondrio. Una chicca... la terrazza! Da provare nella bella stagione!
Alice
2017-02-15T00:00:00Z
Room Type
Entire home/apt
---
Property Type
House
---
Accommodates
4
---
Bedrooms
Sondrio, Lombardia, Italy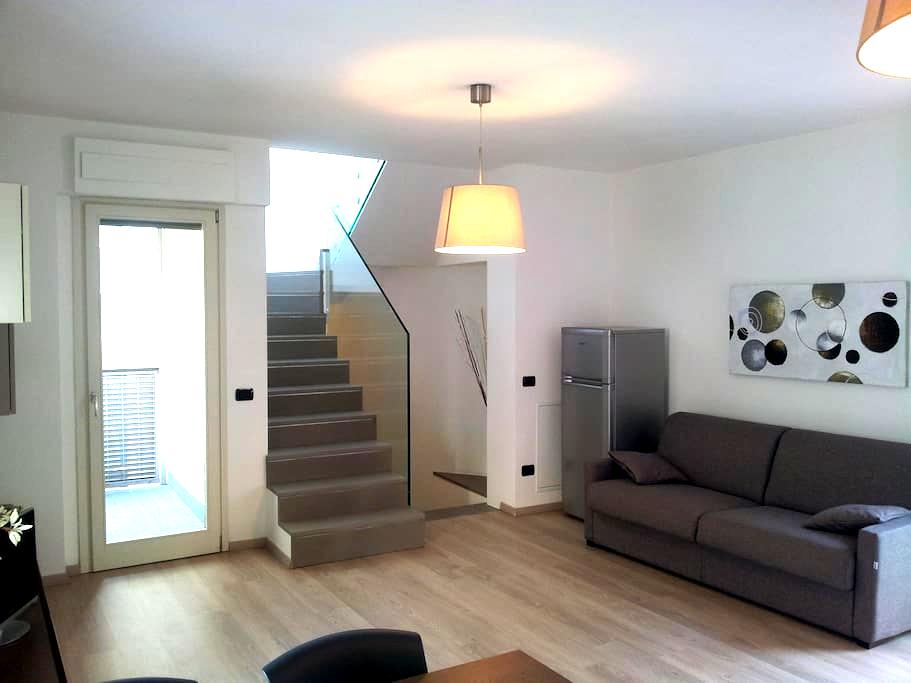 Costruita nel 2016, la casa è vicinissima ad Aprica, Teglio, Tirano e Sondrio, al sentiero Valtellina e al fiume Adda. Ti piacerà il mio alloggio per i soffitti alti, la cucina, lo spazio a disposizione e la zona tranquilla immersa nel verde. Il prezzo comprende consumi, utilizzo di lavatrice, cucina e barbecue, culla e seggiolone, cambio settimanale biancheria da cucina, cambio settimanale biancheria da letto e bagno, pulizia finale, WiFi, ampio parcheggio scoperto e deposito biciclette.
Nuova villetta terminata nel novembre 2016, arredo completamente nuovo, ampio soggiorno con cucina condivisi, camera con bagno annesso, giardino e porticato, ampio parcheggio scoperto (e possibilità di avere il box). Tutte le porte sono dotate di chiave univoca. Riscaldamento a pavimento per un maggiore comfort. Su Airbnb potete trovare anche l'annuncio per prenotare l'intera villetta (2 camere, 8 posti letto, 2 bagni).
Zona tranquillissima, la strada è poco frequentata dalle auto (dato che porta verso un bosco) e il limite di velocità è di 30 Km/h. A poche decine di metri c'è il sentiero Valtellina, ideale per passeggiate e gite in bici sulle rive dell'Adda, nei paraggi potrai fare gite a cavallo o in quad, rafting, sci, ecc.
Una calda accoglienza in una nuovissima casa molto confortevole! Oscar si è dimostrato molto disponibile ad effettuare il check-in in tarda serata. Soggiorno ideale per chi viaggia in macchina e vuole visitare la Valtellina.
Marica
2016-12-08T00:00:00Z
Room Type
Private room
---
Property Type
House
---
Accommodates
4
---
Bedrooms
Teglio, Lombardia, Italy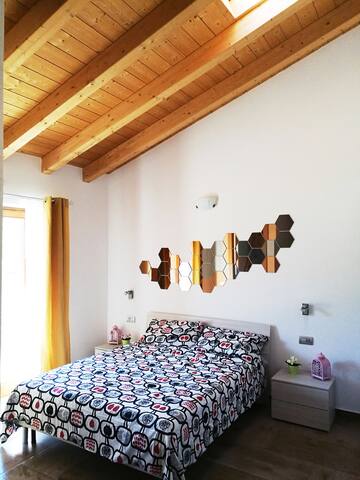 Teglio is a town in the province of Sondrio in middle Valtellina. The center lies along the Rhaetian Alps at an average altitude of 900 m above sea level in a sunny and panoramic area. The summer weather is mild thanks to the great exposure to the sun balanced by the coolness due to altitude. The winter weather is cold but sunny . During the winter season you can enjoy snow sports in Prato Valentino exactly 7 km above the town of Teglio at 1700m above sea level . Here, near the Baita del Sole lodge there is a Bob and sky track with moving walkway, ideal for for children and beginners . With chairlift and skilifts you can reach a maximum altitude of 2340 m asl . In addition to 5 skitracks of varying difficulty , there is a path for snowshoes in a great scenery. In the summer, the Teglio's Alpe completely changes and green meadows and woods are the perfect setting for MTB Free Ride and wonderful walks . Who comes to Teglio , in addition to hospitality, pure air of the mountains, beauty of nature and monuments , shouldn't miss its characteristic gourmet dishes made with buckwheat, such as the famous pizzocheri , sciatt, and the rich polenta taragna , accompanied by bresaola, cold cuts and mountain cheese, all to be enjoyed with the excellent wines produced by fine local farms. The very light apartment is on the first floor of a villa overlooking the town of Teglio and the entire valley with a small kitchen with fridge , freezer and microwave oven, lounge area with sofas in front of fireplace , TV, DVD player and hi-fi and dining corner with a table for 8 people . 3 double bedrooms (one with a double bed and two with two single beds) and a bathroom with bathtub. Private entrance, balcony overlooking the valley and the beautiful peaks of the Orobie Alps. Terrace with barbecue area. The garden is available to sunbathe or to play with kids . .
The reservation was canceled 8 days before arrival. This is an automated posting.
Stephan
2015-03-25T00:00:00Z
We had a really wonderful stay at Danielas apartment! Everything was clean and the small kitchen was well equipped, even for us - two families with kids. The view from the big balcony was spectacular. Our kids was playing a lot with Danielas son Mario in the garden, Daniela and her husband were living in the bottom of the house. The nature around is amazing and just behind the house start a few trekkingtrails. The cute little village you reach easily walking down. We spent the nights on the warm balcony, sometimes watching intense thunder and many many lightnings. Daniela and her husband were very helpful with ideas where to go and what to do. He speaks perfect english. I really recommend this stay!
Jon
2013-07-25T00:00:00Z
Room Type
Entire home/apt
---
Property Type
House
---
Accommodates
9
---
Bedrooms
Teglio, Lombardy, Italy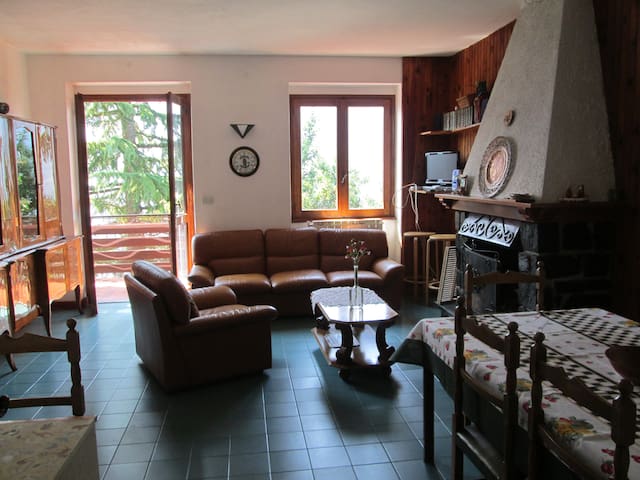 Appartamento indipendente in villa nuova con vistra mozzafiato a due passi dal centro !
A clean house. Private garage. The house is yet to be finished. Some of the lighting fixtures are still to be finished. The internet didn't work. Only had 2 pots and a few large spoons so unable to cook if needed. The house was clean, balcony had the most amazing view. Easily access local restaurants. Michele very friendly and accommodating. Freshly baked bread in the morning was very tasty.
Karun & Lizzi
2016-05-19T00:00:00Z
Ho fatto da tramite per questa prenotazione, quindi riporto una valutazione indiretta. È stato tutto positivo relativamente all'appartamento. unica critica l'assenza di prodotti per la colazione, solo del pane fesco consegnato al mattino.
Gaetano
2016-08-31T00:00:00Z
Bellissimo appartamento, peccato non averlo goduto di più. Bellissima vista su Sondrio e le montagne circostanti. Gentilissimo e disponibile Michele che ci ha accolti in tarda serata e ci ha offerto pane fresco e tutto il necessario per la colazione. Assolutamente consigliato!
Alessandra
2016-06-11T00:00:00Z
Niet te best, wij ( 4 personen op 2 motoren) arriveerden ca 18.00 uur geen gastheer/ vrouw, om 16.00 was een text gestuurd met vraag om aankomsttijd, welke wij om zagen toen wij arriveerden. Text gestuurd, mail gestuurd, 7 keer gebeld geen gehoor en op gegeven moment telefoon uit.... Buurvrouw vertelde dat familie weg was op familie bezoek en niet terugkwam. We besloten een hotel te boeken ( veel duurder!) Toen we hotel geboekt hadden belde Michelle eindelijk op met duizend excuses... Michelle beloofde de reservering te annuleren, dat is tot op heden niet gebeurd , betaling is wel verricht, heb mail gestuurd om te bevestigen dat geannuleerd zou worden en geld terug betaald zou worden , wij wachten af
Walter
2016-07-26T00:00:00Z
A parte le difficoltà a raggiungere l'alloggio, l'host è stato molto accogliente.
Roberto
2016-08-07T00:00:00Z
Room Type
Entire home/apt
---
Property Type
House
---
Accommodates
7
---
Bedrooms
Sondrio, Lombardia, Italy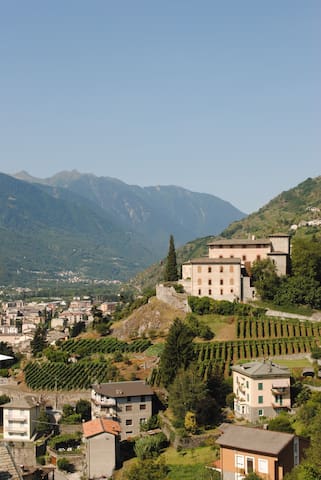 Beautiful and large house in Valtellina, at the beginning of Valmalenco, with magnificent views across the valley and convenient to reach all points of interest.
Great and comfortable house in Valtellina, at the beginning of the Valmalenco, placed in an old district at 600 mt. between the vineyards and woods, and with a magnificent view across the valley.
The house is located in an old district at 600 meters, on the Rhaetian, and then sunny in the Alps. Convenient with Sondrio (3 Km), with areas of Chiesa Valmalenco and Caspoggio, Bormio and Aprica. Then if you want to move not just behind the house there are beautiful chestnut forests, filled with trails where, if you do not make any noise, you can encounter deer and deer. Or stay in the garden or at home, and recreate the spirit looking at the view. The shops are situated 500 m. down, 2 minutes by car, 10 on foot. It has the option of paying for delivery of fresh bread and spending by the lady in the shop that rises every morning.
Sono stata ospite di questa casa nel periodo di capodanno. La casa è molto bella, accogliente e calda. Gli ambienti molto spaziosi. Comprende due camere da letto su due piani differenti, ognuna con comodo bagno di fronte. Due camini (uno in soggiorno e uno in cucina) completano l'ottima atmosfera. Dalle finestre e dal giardino si ha una vista su tutta la Valsassina che ci ha permesso durante la sera di capodanno, di ammirare i fuochi d'artificio dall'alto. La proprietaria Michela, si è rivelata gentilissima e super cortese! Non avremmo potuto chiedere di meglio! Attenta a rispondere a qualsiasi domanda ed esigenza. La casa è in un'ottima posizione anche per raggiungere le piste da sci, in 15 minuti si arriva al comprensorio sciistico di Chiesa Valmalenco. Da provare, ne restereste piacevolmente sopresi! Ci torneremo sicuramente! SARA
Sara
2016-01-03T00:00:00Z
Room Type
Entire home/apt
---
Property Type
House
---
Accommodates
5
---
Bedrooms
Mossini, Lombardia, Italy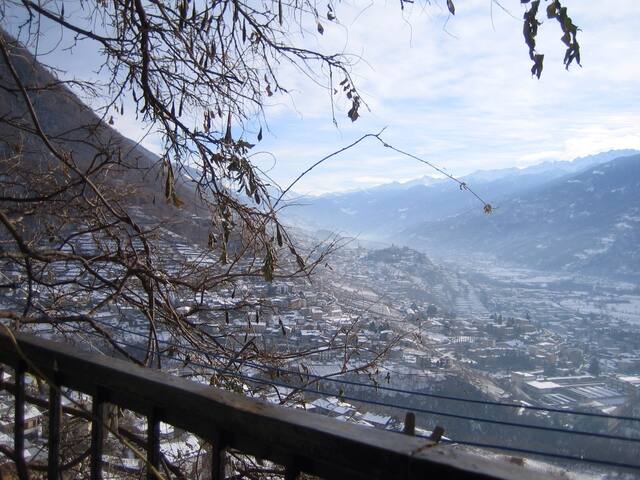 Cosy, modern stone built, semi-detached house, with stunning views. Located in a small, traditional hamlet of 12 houses in the village of Torre Santa Maria, situated in the Valtellina valley, Northern Italy, famed for its wine production and ski area
Room Type
Entire home/apt
---
Property Type
House
---
Accommodates
3
---
Bedrooms
Torre di Santa Maria, Lombardia, Italy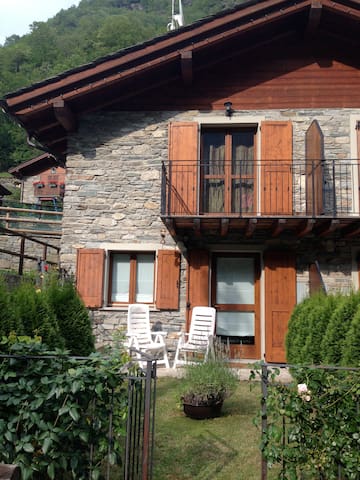 75 sqm detached house on two levels with internal stairs. Located in the charming village of Santa Maria Tower, a few kilometers from the famous ski resort of Chiesa Valmalenco. Nearby grocery stores, sports facilities and children's playground. Parking less than 50 m. Ideal for ski lovers, ski mountaineering, trekking and mountain biking for families (near Rusca path pedestrian path that runs along the Valmalenco Sondrio).
Elisabettas house is perfect. It is clean, cute, well furnished and equipped and beautifully cosy. The village is delightful! Cobbled streets, pedestrian access only in the old centre of the village where the house is located. The nearby church is very pretty and the church bell chimes the hours which is lovely. The locals we met where friendly and welcoming. We skied in Valmalenco which is five mins drive from the house. Good ski hire and very pretty resort with quiet pistes. There are plenty of places to eat if you wish, or, down in the bottom of the valley the town of Sandrio has all of the shops you could need to self cater. I could not recommend this charming house and location highly enough. We walked from Torre to Valmelenco along the river in the snow which was very pretty and took about an hour and a half, then we caught the bus home. Thank you Elisabetta we would love to return in the summer.
Tricia
2017-01-15T00:00:00Z
Casetta molto bella, pulita, panoramica ed in un borgo interessante. Elisabetta é sempre stata in contatto con noi e molto disponibile. Consigliatissimo!!
Riccardo
2016-11-14T00:00:00Z
tutto veramente perfetto. alloggio spazioso ed attrezzatissimo. ottimo il benvenuto con torta succo e anche le crocchette per il cane.
Gianmario
2016-08-29T00:00:00Z
La casa di Elisabetta e' semplicemente perfetta!!!C'e' tutto cio' di cui si possa aver bisogno!! Biancheria da letto e da bagno pulita e profumata, cosi' come l'intera casa. Le stufe al pellet sono in grado di scaldare in pochissimi minuti l'intero appartamento disposto su due (URL HIDDEN) camino poi crea un'atmosfera speciale! L'alloggio e' nel centro storico di un piccolo borgo antico di montagna, tutto in pietra locale (spettacolo...), chiaramente non e' raggiungibile in auto fino davanti all'ingresso, ma il parcheggio della piazza del municipio dove e' possibile lasciare l'auto, e' a 30 secondi dall'alloggio! Il borgo, poi, dispone di numerosi Market alimentari in cui e' possibile rifornirsi. Abbiamo potuto trascorrere una mini vacanza sulle splendide piste di Chiesa (che e' a soli 5 minuti di auto), e goderci il meritato relax nell'accogliente casetta di Elisabetta dopo l'intera giornata trascorsa sugli sci. La comunicazione con Elisabetta e' stata precisa e cordiale, cosi' come check in e check out! Speriamo di poter tornare presto a Torre di Santa Maria e soggiornare di nuovo in questa deliziosa casetta!! Grazie infinite Elisabetta! Roberta & Family Fare clic per aggiungere una firma
Roberta
2017-03-14T00:00:00Z
La casetta è molto carina, caratteristica e romantica. Si trova vicino a negozietti di prima necessità e non lontana dai paesi più importanti come Chiesa in Valmalenco. Sono stata accolta nel migliore dei modi e supportata per trovare la strada. All'interno della casetta ho trovato tutto ciò di cui si possa aver bisogno, indice di attenzione verso l'ospite. Sono rimasta molto contenta e spero di poterci tornare magari per un periodo più lungo.
Isabella
2016-08-21T00:00:00Z
Super moment, Elisabetta disponible pour la remise des clés, on a eu le droit à un bon cake, le frigo avec jus d orange, lait et eau
Frédéric
2016-07-25T00:00:00Z
Room Type
Entire home/apt
---
Property Type
House
---
Accommodates
4
---
Bedrooms
Torre di Santa Maria, Lombardia, Italy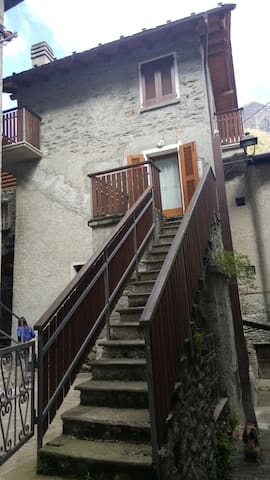 La mia baita si trova in posizione defilata rispetto al centro, e gode di un panorama stupendo sulla Valtellina! Arredata in stile alpino, accogliente, ha tutto il necessario per passare una settimana nel comfort.
La posizione è adatta ad una vacanza all'insegna della tranquillità , o al contrario una location ideale per trascorrere ore spensierate con gli amici
Ho un'abitazione nei pressi della baita, che rimane libera per gli ospiti
Carlo é stato molto gentile e disponibile. Ci ha ricevuto con panettone, biscotti, succo di frutta, cereali, mandarini, e il necessario per la cucina. La baita è molto graziosa, e ha tutto di cui si ha bisogno per le vacanze. Il bagno è moderno, con lavatrice e il riscaldamento funziona benissimo. Si trova in un posto ideale, soleggiato, con una stupenda vista sulla valle e sulle montagne. Situata fuori del paese, uno ha molta tranquillità ed allo stesso tempo Aprica è a due minuti con tutti i negozi, ristoranti, ecc. Lo consiglierei a chiunque.
Monica
2016-01-05T00:00:00Z
Tuvimos una mala experiencia; el acceso a la casa es por un camino de unos 200m. Que no está en buenas condiciones y casi no teníamos sitio para dar la vuelta con la furgoneta, la maniobra resultaba peligrosa. Nada más llegar tuvimos que limpiar la casa, estaba con polvo, telarañas , la nevera (pequeña) estaba sucia... fatal... el colmo fue que no funcionaba el agua caliente correctamente y no podíamos ducharnos. Después de pasar la primera noche decidimos abandonar la casa, el dueño nos devolvió el dinero de las noches restantes. Pero le dejamos la casa limpia gratuitamente. Muy descontento.
Jose
2016-06-28T00:00:00Z
Room Type
Entire home/apt
---
Property Type
House
---
Accommodates
4
---
Bedrooms
Aprica, SO, Italy
In Valmalenco, famosa per le sue montagne spettacolari, i pizzoccheri e formaggi locali, in un antico borgo recentemente ristrutturato in Torre Santa Maria, casetta a schiera di 70mq completamente arredata su due piani, tutta in sasso, legno e piode
The host canceled this reservation 42 days before arrival. This is an automated posting.
Julie
2016-06-13T00:00:00Z
Wir haben uns mit der Mutter von Deanne telefonisch in Verbindung gesetzt und ist dann mit uns zur Unterkunft gefahren. Sie war sehr freundlich und hat uns alles gezeigt und erklärt. Die Unterkunft ist sehr schön gelegen, sehr ruhig und ist sehr schön eingerichtet.Genügend Platz ist vorhanden und es ist alles da was man benötigt. Das kleine Dorf hat einen Bäcker, Metzger, kleiner Laden und eine kleine Weinbar. Der Nachbar, übrigens zu der Zeit der Einzigste, hat immer sehr freundlich gegrüßt und die Menschen im Dorf waren alle sehr freundlich und interessant.
Ursula
2016-05-09T00:00:00Z
Room Type
Entire home/apt
---
Property Type
House
---
Accommodates
3
---
Bedrooms
Torre di Santa Maria, Lombardia, Italy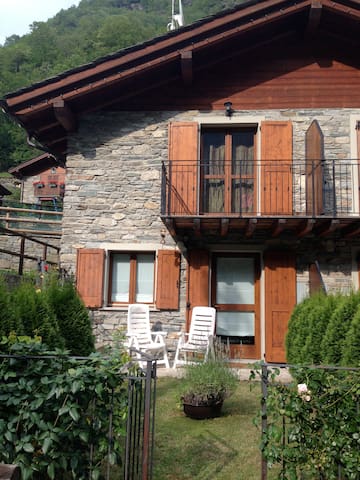 1

–

18

of

32 Home Rentals
Enter dates to see the total trip price including additional fees (but excluding any taxes).