This rental includes three bedrooms in the upstairs floor of our 1850's farmhouse, each one of which opens into the next. (No hallway!) Also enjoy access to the downstairs living room, kitchen with commercial range, and 23 acres of Vermont wilderness along the Winooski River. What a deal!
This is a large, clean room in a classic 1850's Vermont farmhouse with two full beds. We have a fiction library, turntable and album collection. Kick back, enjoy Vermont's attractions or just lounge around and hibernate. Guests have access to our large Kitchen, Living Room and downstairs bathroom with giant 80's style jacuzzi with jets. Also enjoy walking on our 23 acres, xcountry ski trails, river access and the old railroad bed that goes all the way to Canada.
Jaquelyn was very nice and hospitable. The beds were comfortable and the house is on a campground surrounded by nature, which is super pretty. She seemed down to earth, and I liked the vibe of the place.
Casey
2016-05-10T00:00:00Z
My two road-tripping partners and I had a wonderful stay with Jacquelyn and Rauli. Their place is incredibly cozy (those beds!) and made us feel like we were at home. They were very flexible with us when we arrived later than expected, which we appreciated tremendously. I highly recommend staying at this beautiful farmstead!
Caroline
2016-09-29T00:00:00Z
Great value for the adventuresome traveler.
Sue
2017-03-24T00:00:00Z
Jaquelyn was very welcoming and friendly hostess. The farmhouse was quiet and the beds were very comfy. I slept well. Easy to find and centrally located made our stay very convenient for our visit to Goddard College campus.
Kristeen
2015-09-21T00:00:00Z
Jacqueline is very kind and a great host !! The house is very quiet like describe on the web site ! A good experience Thanks a lot !!
Jean-Baptiste
2016-05-11T00:00:00Z
Fabulous old house with comfortable bedding for all and friendly host. There were 7 of us and all had a nice stay. Beautiful area of Vermont.
Rebecca
2016-05-07T00:00:00Z
Jaquelyn was very welcoming. Her place is very open and homey. She and her partner stay in one of the rooms and we all shared the house equally including the quite comfortable living area and the spacious kitchen with a commercial gas stove. The bathroom with shower and jacuzzi tub was also large. The property was as described. It is a large green area with trails that go up the hill to various destinations including an old railroad bed with a bridge that crosses the river. The bed appears to go for quite a distance for those looking for a walk through the woods. We definitely recommend this place and hope to stay there again.
Joey
2015-08-31T00:00:00Z
Jaquelyn was very accommodating, even though we only gave her a heads up a couple of hours before, she responded quickly and helped us out! The house was as described, a nice old farmhouse with comfortable beds and a friendly cat. It was pretty situated and we received great hospitality from Jaquelyn, even though we only stayed for one night.
Peter
2016-05-17T00:00:00Z
Room Type
Private room
---
Property Type
House
---
Accommodates
8
---
Bedrooms
Plainfield, VT, United States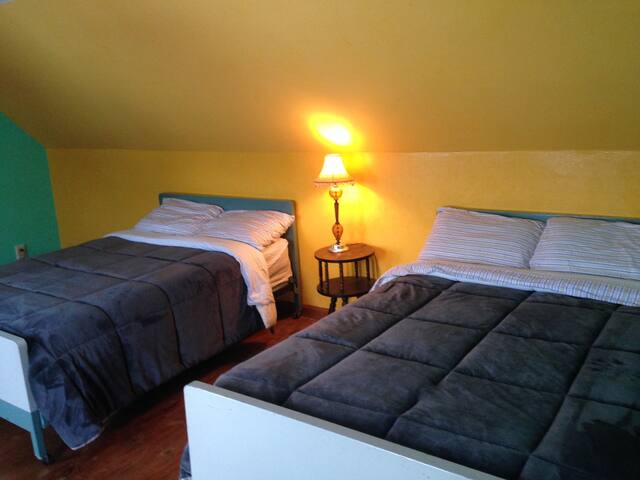 Summer in Vermont is beautiful, with blue skies, verdant fields, blooming flowers and full gardens. Our house in rural Plainfield is a quiet, relaxing place to enjoy Vermont's country roads, fields, mountains and night skies. We serve our guests a hearty breakfast. We welcome people of all races and nationalities. We work hard to accommodate people with disabilities. Our guest room has a crib, and we love to host families with babies and young children.
We have a light airy house in postcard-beautiful Plainfield, VT. Plainfield is a rural town in central Vermont within easy driving distance of skiing, hiking, swimming. A great location for seeing fall color on Vermont's back roads. Close to Montpelier, the state capital. Equidistant between Boston and Montreal (3 hours each). You can walk (or run) for hours on the quiet dirt roads in the vicinity. Room has a double bed with a brand new mattress, and is in a separate section of the house, that includes a roomy living room and a futon that folds out into a second double bed. Space has a separate thermostat you can adjust. Private bathroom includes a new tiled shower. At present we have a crib in the room, and the space is baby-friendly. We enjoy children and well-behaved pets. We do not permit pets to be left here alone. You may use our refrigerator. We enjoy providing breakfast. For single night reservations l add a $10 cleaning fee.
Always a pleasure.. home away from home. Gail and Stret couldn't be any nicer/more generous hosts. A glorious location high on the hill.. quintessential Plainfield and VERMONT.
Patty
2016-10-12T00:00:00Z
Gail was a lovely host -- very accommodating and eager to provide recommendations to local restaurants and information about nearby towns, but also very cognizant of our desire for relaxation and personal space in the evenings. I unhesitatingly recommend her home to anyone looking for a place to stay in Vermont.
Charlotte
2012-02-07T00:00:00Z
Gail was very welcoming and even when my plans changed at the last minute and I arrived a bit early and left a bit early she was very accomodating! I also had my son and two friends from college spend one night and she went out of her way to make sure they had blankets, pillows, etc. and came to greet them. The view from the front of the home is amazing...I was lucky enough to arrive while the foliage was in full color....and then snow and wind the next two days swept it away. Very peaceful, comfy bed and nice large bathroom and sitting room. I was not able to take advantage of breakfast but I am sure it would have been wonderful!!
Judy
2015-10-19T00:00:00Z
We had a lovely stay with Gail and were only sorry it was for just one night. We got there thinking we'd have to drive back to Barre for dinner, but Gail suggested a place in Plainfield that was perfect for us. The bedroom is small but the bed is very comfortable and the living room is spacious and perfect for spending time relaxing. Gail gave us a great breakfast in the morning and we enjoyed her company while we ate. We'd be happy to go back and stay with her again!
Ellen
2015-09-13T00:00:00Z
This is a quiet rural area, close to Plainfield town. We thoroughly enjoyed breakfast and our progressive breakfast conversations with Gail and Strat. They made our toddler grandson welcome, too.
Barbara
2016-09-17T00:00:00Z
Gail and Strat were very welcoming. The rural location was great for stargazing. We woke up to a delicious breakfast and Gail sent us on our way with several recommendations of local points of interest. My friend and I enjoyed our stay and wish we could have stayed longer than just one night.
Amy
2016-08-11T00:00:00Z
Gail provides her guests with an experience that easily exceeds what you would get at most hotels. She and Strat are both kind-hearted individuals who genuinely want to provide the best for guests not because they want the money, but because they are just nice people. Their home is comfortable and geographically well-situated. My partner and I stayed with them as part of a brief vacation in Vermont. All of the best sites are within an hour's drive of the home in Plainfield. Daily breakfast's were always filling and tasty. As an environmentalist, I found great pleasure in their commitment to simple, sustainable living. A truly great experience- past reviewers did not lie. A+
Richard
2014-05-24T00:00:00Z
This listing was accurate, but even so, we were surprised by the warmth of the hosts and the beautiful space they have created. Breakfast was delicious - including homemade apple butter! This is a beautiful spot on a dirt road, with folks who obviously care for and take care of their little slice of rural VT.
Ada
2015-09-26T00:00:00Z
Room Type
Private room
---
Property Type
House
---
Accommodates
3
---
Bedrooms
Plainfield, VT, United States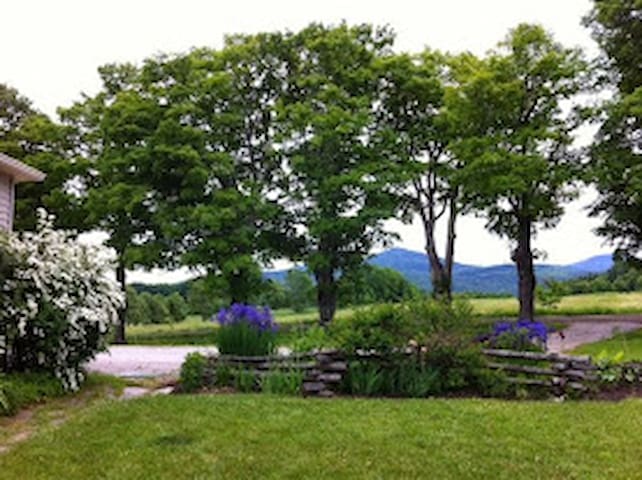 Our place is 20 minutes from Montpelier, yet an incredibly serene, secluded hideaway. You'll love it because it is a beautifully renovated 1830's farmhouse, overlooking a fresh, clean, swimming pond, with a wonderful view. We have great walking trails. It is peaceful and quiet, with a comfortable screen porch. We have DIRECTV and NetFlix. A great place for couples, solo adventurers, business travelers, and families, but please NO PETS.
There is a lot to do in Montpelier which is only 20 minutes away with great restaurants, many local events including music and theater, yoga studios and movie theaters. Central Vermont also has great mountain biking near by, paddling and hiking.
Our home is at the end of a dead-end road so it is very private and quiet.
Sue and John were wonderful hosts! As soon as we arrived, we felt welcome and comfortable in their home. The Airbnb space was larger than we expected, with our own tv room and bedroom. The whole property is beautiful! There were hiking trails, picnic tables, hammocks, beautiful scenery of the mountains....I could go on and on about the landscape. We especially loved the pond, which, surprisingly, was warm enough to swim in in early September. We were also allowed to use their kayak in the pond and spotted a few turtles! We loved playing with the cats and dog, too! As someone who isn't really a dog person, this dog is so sweet! Very well behaved, doesn't jump or slobber. Just likes to hang out and get tummy rubs. Each morning Sue had a delicious breakfast of homemade granola, fresh fruit, yogurt, blueberry muffins and offers to make more food than that! Sitting on the screened in porch chatting with her and taking in the view was an amazing way to start the day. Some tips for city dwellers like us: - if possible, arrive in the day light to get a lay of the land. The house is on a back road and might be hard to spot for the first time at night. - this may be obvious, but use the whole road! By staying on the right, you'll hit a lot more gravel and bumps. Don't let this deter you, using gps and Sue's instructions the house is easy to find! We had an amazing stay and can't wait to go back. The views must be incredible in the fall as well!
Megan
2016-09-06T00:00:00Z
I was traveling with a friend checking out north east and we had a fabulous time with Sue. We appreciated the fresh fruit at breakfast, the well marked roads and meeting two of the kindest people who met our every need and were knowledgeble about the area. Sue was flexible and great with communication. We wanted to relax in the county and had a great time swimming in the pond and loved that we saw a flicker woodpecker, porcupine, and wild turkey all near the property. The place was so relaxing and everything was ready when we arrived. I want to go back.
Fiona
2016-08-07T00:00:00Z
The house was secluded. We had a bedroom, living area with couch & television and nice bathroom. The view from the living area was beautiful. Sue was a gracious host. She made wonderful homemade raspberry & blueberry muffins for us. We enjoyed walks on the trails in the woods. Their dog and even the cat, Leo, joined us.
Ronda
2016-10-03T00:00:00Z
Our stay was just what I needed,beautiful,quiet and the space was great!We would love to return for a longer visit in the future.
Clara
2016-09-10T00:00:00Z
Beautiful getaway in the middle of no where. It's a magical, storybook place. Sue was so kind and friendly!
Rachel-Neelia
2017-02-19T00:00:00Z
This was an ideal air bnb experience for us. Sue and John were fantastic hosts. They were great company and we really enjoyed spending time with them, but they were also happy to give us our own space and made lots of excellent suggestions of things to do and places to see locally. They live in a beautiful peaceful setting. Comfortable room and delicious breakfast!
Karen
2016-09-30T00:00:00Z
What a great weekend! Sue and John went above and beyond to make us feel welcome. Sue's homemade breakfast treats were delightful and featured local and homegrown produce, which made our stay even better. She took us out on a great hike around their lovely property despite her injury and showed us one of Vermont's natural treasures. Even Chester (the dog) and Leo (the cat) were great to play with. All in all - a fantastic weekend right in the middle of the gorgeous Vermont nature! Thanks Sue and John!
Lidia
2016-10-10T00:00:00Z
Great location and great hosts! Set back in the hills, Sue and John's home is lovely and beautifully sited. Everything was as advertised and very comfortable. Sue and John were very friendly and welcoming, and gave us some great recommendations for restaurants for dinner. Breakfast was delicious as well. Highly recommended.
Philip
2017-01-16T00:00:00Z
Room Type
Private room
---
Property Type
House
---
Accommodates
2
---
Bedrooms
Plainfield, VT, United States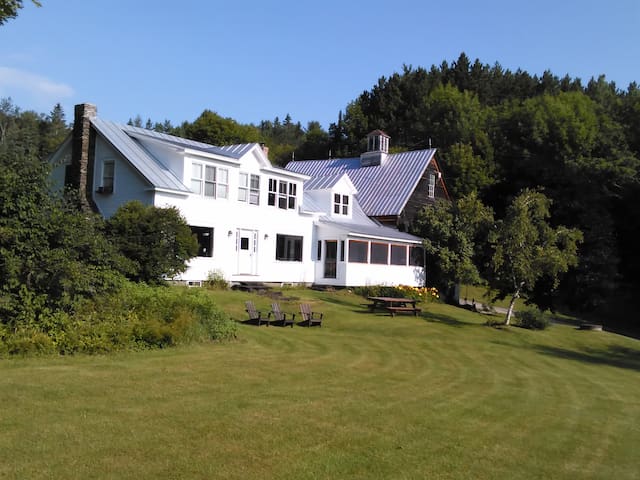 Most beautiful place to visit in Vermont. 150 year old farmhouse next to a brook and a waterfall. 20 minutes to Montpelier, nature in abundance, trails, ski, bike, water, relaxation in any season. Talk or silence, your choice. Full kitchen access
This beautiful setting next to a waterfall and numerous swimming holes. Twinfield School abuts property w/700 acres of woods, trails & old railroad bed (dirt now) with miles & miles of walking, jogging, biking, x-ctry skiing, VAST snowmobile trails. Also close to restaurants, pizza, Vt state capital, movies, yoga, farmer's markets, city or rural lifestyle - your choice. Only 6 minutes to Goddard College.
I have lived here for over 40 years, I have wonderful, generous and helpful neighbors. Great community populated with kindness.
We had a wonderful stay in Plainfield, it was a beautiful area and Kathie was an excellent host. Access to waterfalls and walking trails from Kathie's back yard but not too far from town and nice restaurants. Kathie was extremely friendly and flexible and made sure we were comfortable. Thank you!
Kayleigh
2015-06-07T00:00:00Z
Kathie is a very welcoming host and we enjoyed our stay at her beautiful home a lot. The surrounding area is just beautiful (we fell asleep to the sound of the brook), and Kathie provided us with coffee, scones and everything we needed. We can only recommend staying at her place.
Birdy (Birte)
2015-08-31T00:00:00Z
Kathie was an excellent host; she was friendly and helpful. We stayed in the cozy, first bedroom and slept really well against the natural background sound of an adjoining mini waterfall.
Karthik
2015-09-06T00:00:00Z
What a lovely place to stay. Kathie's a very gracious host.
Marcia
2016-09-04T00:00:00Z
If you are looking for a cozy welcoming place to stay in Vermont, Nana's House is the place. Charming home, comfortable bed, beautiful quilts, sweetest kindest ever host...and her dog is really cool too. I highly recommend and I will be staying there again in the future.
Kat
2016-02-06T00:00:00Z
Kathie was warm and welcoming, as was little snap, and her place by the brook is beautiful. It's on a great location close to everything but far enough away that you can just relax too. Definitely would love to come back.
Katie
2015-08-28T00:00:00Z
Staying with Kathie was really great. She was super helpful and accommodating. She happened to be in Montpelier when my friend and I got in off our bus (we didn't drive there) so she offered to pick us up in town so we didn't have to figure out the bus. When we wanted to explore the next day, she arranged a ride for us with one of her friends into Barre since more buses go between there and Montpelier, and she helped us figure out the bus system. She provided scones and English muffins for breakfast which was very nice. Her dog is a sweetheart too. Her home is beautiful, decorated with her own handmade quilts. The pictures are very accurate. The room we stayed in was very comfortable and we could hear the brook/waterfall outside our window. It was a very beautiful setting.
Julie
2015-07-02T00:00:00Z
Kathie was a fantastic host! My son and I are on a two month long journey around the borders of the US and this was a place we will never forget from the trip - a magical stop back in time among forests and rivers. Our schedule was such that we could not stay nearly long enough, but we look forward to a chance in the future to play with the butterflies and travel the miles of waterways :) There is nothing as soothing as falling asleep next to the sound of that magnificent waterfall....
Beth
2016-06-28T00:00:00Z
Room Type
Private room
---
Property Type
House
---
Accommodates
2
---
Bedrooms
Plainfield, VT, United States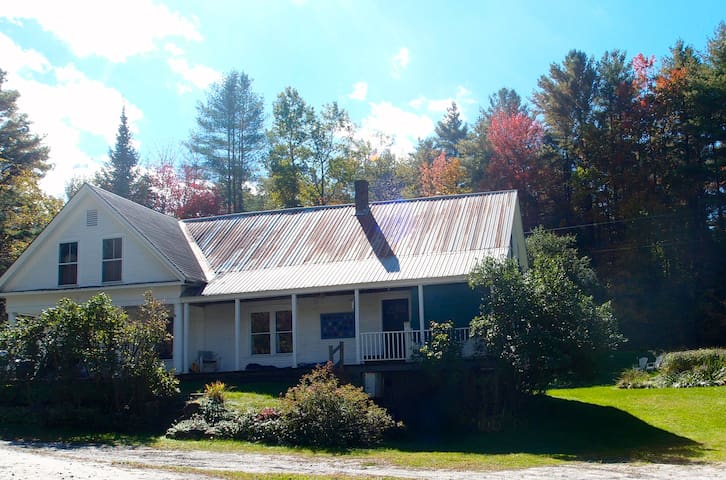 Beautiful, Natural Hand crafted Log home features an enclosed porch, balconies and special sun room adjoining an additional upstairs common space. There is an open kitchen/living/dining area with a cozy wood stove. Quiet location on 133 acres.
very good environment and surrounding views.
Xuekun
2016-10-10T00:00:00Z
Great stay! Cozy log cabin with a central fireplace. About 25 minutes to downtown Montpelier through several miles of dirt roads. One town road was completely unplowed so we had to revert back a different way.
Tanner
2017-02-26T00:00:00Z
We stayed over Christmas and had a lovely time. We loved how secluded the cabin was. Our hosts were very accommodating and easy to get ahold of. We were surprised to find 5 bedrooms, 2 downstairs, 3 upstairs instead of 4. They were all comfortable and spacious. Between the propane heater, wood stove and the heaters in every room, we were plenty warm. Everything was open and clean. The kitchen had the basics but not everything you would want/need for a long stay. We would definitely stay here in the future if we had the chance.
Jessica
2016-12-30T00:00:00Z
Scenic, cozy, and perfect for larger groups.
Veronica
2017-01-01T00:00:00Z
Nice big house in the woods. Within an hour drive to Bolton Valley. Good for a weekend ski trip
Young
2017-02-05T00:00:00Z
This is the place to star gaze! Not a light to be seen anywhere on the horizon; you really feel the privacy (home is at the end of a long dirt road). The trip into town (Plainfield) is a gorgeous, scenic drive down country roads lined with farms and cows. The location is also equidistant to Barre & Montpelier (about 20 min. drive) and therefore very nicely situated. The house is spacious, clean, and well set up for a large family. Thank you for a great stay!
Eric
2016-08-14T00:00:00Z
It was overall a great experience. Great communication in the build up to our trip, helped me plan accordingly. The small building next to it was also rented out (which was a surprise to me) but we made sure to let one another know to that if we were too loud or parked in their way to let us know. It was a great weekend.
Christopher
2016-09-25T00:00:00Z
I have never lived in a wooden log house and it was a surreal experience for me to live in Lori's place. The location is a couple of hours drive from the Killington skiing area but is a near perfect location if you want to wake up in the morning to snow covered trees and mountains. The house was well ventilated and had proper functioning heating system. The bedrooms were clean. Every guest had a blanket for himself and we were provided around 20 towels in total. I had couple of suggestions for Lori, The bathtub in the main bathroom was not clean. Hence, we had to restrict ourselves to just .5 bathroom and that was a big hassle. Also, the wifi in the house wasn't working. Even though we were connected to the wifi, but there was no internet service. I have asked her to look into these two items. If not for the above two listed items, I would have given Lori's place a full 5 star rating.
Ishank
2017-01-29T00:00:00Z
Room Type
Entire home/apt
---
Property Type
House
---
Accommodates
10
---
Bedrooms
Plainfield, VT, United States
At night the sky is full of stars, each morning the frost covers the trees like tiny diamonds and the sun rises over the mountains and creates a sky filled with colors. The sunlight filters in through the glass wall/doors all day warming the space.
A large kitchen with a breakfast bar and table, nice sized tub, washer and dryer and great sledding hills!
There is one house close by but otherwise the houses are spread out on a dirt road with a covered bridge on it less then a mile away from the house.
Room Type
Entire home/apt
---
Property Type
House
---
Accommodates
4
---
Bedrooms
Plainfield, VT, United States
Queen bed, & sitting area w/futon (does not fold-out) for children/young adult. Right next to full bath. A very warm, comfortable room for families with children. Not recommended for group travelers, contact me for reduced rate if you have kids!
This beautiful setting next to a waterfall and numerous swimming holes. Twinfield School abuts property w/700 acres of woods, trails & old railroad bed (dirt now) with miles & miles of walking, jogging, biking, x-ctry skiing, VAST snowmobile trails. Also close to restaurants, pizza, Vt state capital, movies, yoga, farmer's markets, city or rural lifestyle - your choice. Only 6 minutes to Goddard College.
Between the brook, the waterfall, my quilts, the woods and nature paths, there really is a lot to offer here. And to enjoy!
We enjoyed staying at Kathie's house. Beautiful waterfall and walk in the mountains. Our son had a great time playing with the toys Kathie let him use. It was a quiet and restful night after a long drive. Delicious food for breakfast. We would want to stay again.
Natalia
2015-07-01T00:00:00Z
Kathie was very welcoming. She gave us good information ans was very kind. The dog was welcoming too and it didn't go in our room during the night thanks to a gate in the door frame. It's was a lovely place.
Rémi
2015-07-06T00:00:00Z
It was great staying at Kathie's place! She was very easy to communicate with, flexible about arrival and departure time, and she took the time to tell us about the neighborhood and gave us travel tips. Coming from the city, it was really wonderful to stay at place that feels private and peacefully remote, and surrounded by nature. The view from the bedroom is wonderful and the location is great. We loved our morning walk along the stream!
Dee Dee
2016-10-09T00:00:00Z
We had a great weekend at Kathie's house. The setting is wonderful, very quiet, in the woods and by the river. Great place for families with children. Our boys loved playing by the river, swimming, playing with the sweetest dog ever, Little Splash and running in the woods. Kathie has been very helpful providing us with best places to eat nearby. Perfect place for a relaxing weekend !
Sarah
2015-09-07T00:00:00Z
I had a wonderful time at "Nana's House". My mother and I stayed for 2 nights, and the room was large and comfortable, and the ambiance of the darkness of such a rural area, and the burbling of the waterfalls outside led to a great night's sleep. Kathie is welcoming, and knowledgeable about the area, and, as I am a quilter, like her, we had a lot to talk about. She was also very accommodating of my elderly mother's needs, such as providing a flashlight for late night trips to the bathroom. i wish we had had more time to explore the outdoors while there, as the yard, brook, and woods were lovely.
Robin
2015-09-21T00:00:00Z
Our stay at Kathie's home was wonderful and all that we could've asked for on our journey from Maine to Vermont. Kathie was very warm and welcoming - she provided us with various brochures on local attractions, restaurant recommendations, etc. Her property is just as pictured and the calming & soothing sound of the waterfall made for a great sound machine at night! She provided coffee and breakfast goodies in the fridge. Would gladly stay again if we were in the area!
Lauren
2015-07-19T00:00:00Z
Wonderful location and a very welcoming atmosphere!
Ieke
2016-09-05T00:00:00Z
Lovely place to stay! We arrived, got situated then headed back out for dinner. Arrived later in the evening and chatted with Kathie for a bit. Great conversation, she's very friendly. Enjoyed having a dog to love on while visiting. The bed was a nice firm mattress with comfortable linens. Spacious bathroom, too. If you're tall, watch your head going up the stairs. Make time to visit with Kathie; she's quite interesting! In the morning, we strolled through an old RR track to take some pictures. Beautiful area just by her home!
Kara
2016-10-02T00:00:00Z
Room Type
Private room
---
Property Type
House
---
Accommodates
2
---
Bedrooms
Plainfield, VT, United States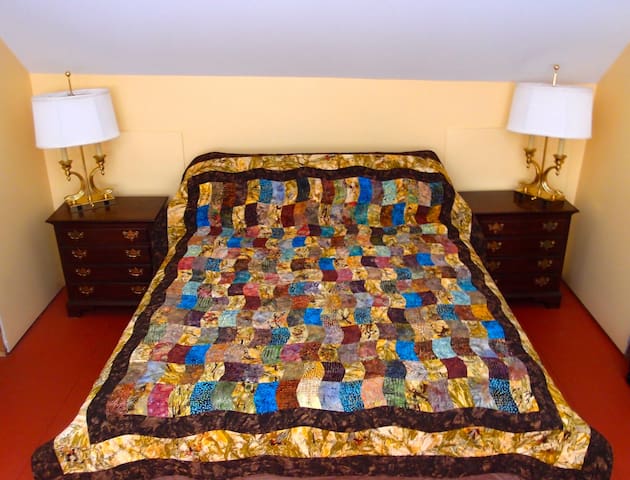 Rustic farmhouse with a big bright kitchen. Your group will have a wonderful time in this 1850's farmhouse, all to yourselves! Wilderness, wood stove, hiking trails, river tubing, cooking, bonfires, fiction library and more.
This farmhouse sleeps 10 on 5 full beds. Natural setting with trails, river, pond, woods on 23 acres. The bedrooms are connected to each other without a hallway, so you walk through each other's rooms to get to another room. The 1850's charm of this house is accented with bright colors and compelling artwork. The kitchen is a cook's kitchen: plenty of space, and stools around an island for onlooking eaters. Great spot for parties, reunions, respite and fun.
By foot, enjoy wonderful wilderness, alone or with friends, find seriously gigantic rocks tucked up in the forest, covered with ancient moss, and swim in the river, etc! Up Nazmuth Brook road, find the secret local swimming hole we call "Paradise Pond." By bike or car, head to Plainfield just 2 miles away - a classic Vermont hippie town with a community-owned grocery store, great big bookstore, "local ingredient focussed" pizza spot with craft beers, farmer's market on Sundays. Cars can also take you into Montpelier, Glover, Burlington an other magical corners of the world.
My friends and I stayed at Jaquelyns place for a birthday celebration and it was amazing! The place has great character and everything you could need for a stay. We especially loved the guitar, living room and large kitchen. We also enjoyed walking around the property and river during the day. Jaquelyn was easy to communicate with and very friendly.
Melissa
2016-04-24T00:00:00Z
Great, low key experience. Excellent communication, very clean (especially considering how old the home is). Would recommend for those interested in a rustic Vermont experience.
Stu
2017-01-01T00:00:00Z
Jaquelyn's place is just fabulous for those who love records, good books of all kinds, great chocolate,the outdoors, and lots of space for a crowd of people. It's Funky and fun just like she is! It has a great kitchen, comfortable beds and is dog friendly. We were here the week between Christmas and New Years and had a snow storm that made for a Winter wonderland! We will be back! Within her warm walls Lie books, and music, and dance That make for Haiku!
Elizabeth
2015-12-31T00:00:00Z
Jaquelyn was an amazing host and full of life and love. Her farmhouse was perfect for our group of 10 with lots of space to cook and hang out together as a big group and have big bonfires in the evenings. The grounds are beautiful with swimming and walking trails practically right outside the door, and the location was great as we drove to other swimming holes, wandered through small towns and checked out local bars. Would recommend this place and host to anybody, especially perfect for large groups.
Selena
2015-09-07T00:00:00Z
Jacquelyn was a great host. Very easy to reach. The farmhouse was perfect for our group of 7. The stove made it super easy to make breakfast. Nice farmhouse in a quiet location.
Elizabeth
2015-06-27T00:00:00Z
Rauli and Jaquelyn generously opened their home to me and my friends to celebrate my 31st birthday. It couldn't have been a better experience. The enormity of the kitchen, the coziness of the living room, the communal vibe of the bedrooms... they all lead to a really special night for those involved. Everyone commented on how much they adored the space. Also, the trails/rail trail facilitated an awesome group run before the gathering got going! I'm still floating on the good vibes provided by their space.
Brad
2016-11-13T00:00:00Z
The host is really nice and provided us with all necessary amentities. But the house was not as we expected. It is not really a 4-bed room house since one bed is by the stair case. Privacy of each room is limited since all bedrooms share one powder room upstairs with a curtain, no door and shower. One big bathroom is available downstairs with a huge tub, but not conveniently located close to bedrooms.
Deana
2016-12-27T00:00:00Z
Staying with Jackie and Rauli was like staying with well loved family! Our group of family and friends gathered to celebrate a Goddard College graduation and could not have picked a more wonderful spot! The guesthouse and campground were wonderful, clean and full of natural beauty! Surely a weekend we will always remember! Incredible hosts!!!
Suzanne
2016-08-08T00:00:00Z
Room Type
Entire home/apt
---
Property Type
House
---
Accommodates
10
---
Bedrooms
Plainfield, VT, United States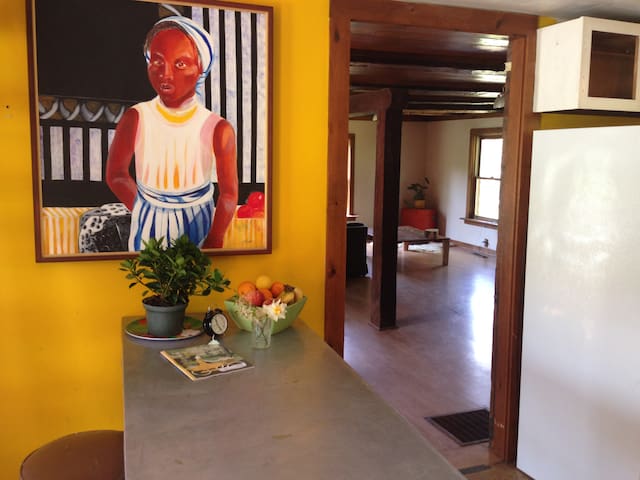 This one-of-a-kind hand built timber frame is the perfect location for your gorgeous Vermont wedding. A private setting with beautiful views in all directions. With plenty of space both indoors and out this space is private, expansive and cozy all at once.
Room Type
Entire home/apt
---
Property Type
House
---
Accommodates
16
---
Bedrooms
Plainfield, VT, United States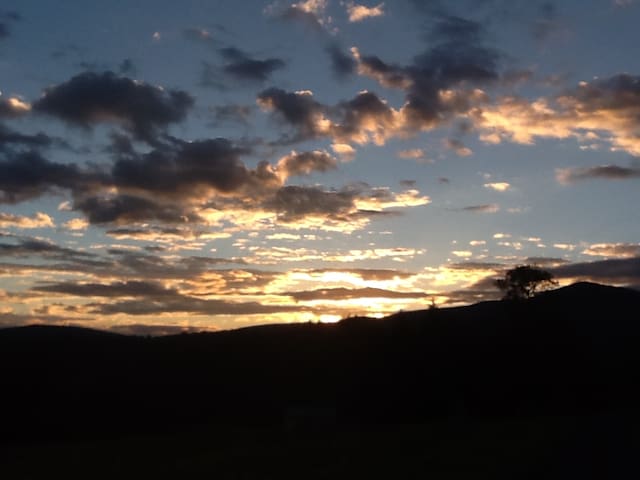 Lovely post and beam bedroom in unique custom built timber home privately located 2.5 miles from Plainfield Village. Enjoy access to expansive common space with kitchen amenities, loft, TV room, and a mowed walking path through 15 acre field.
Staying at this house was a blast. Rachel and Dan were so warm and welcoming! Their house was absolutely beautiful and unlike any place I've stayed before. It was honestly the best airbnb I've ever stayed in. My boyfriend and I went up for the weekend just to get out of the city. We went up there really not expecting anything and honestly when the we pulled up to the house I was blown away with how beautiful it. Rebecca was in contact with us throughout the weekend to make sure things were going well and was texting us with suggestions on things to do in Montpelier and Plainfield area. Thanks to them we had a really amazing weekend. Thank you Rebecca and Dan!
Michelle
2015-10-11T00:00:00Z
Room Type
Private room
---
Property Type
House
---
Accommodates
2
---
Bedrooms
Plainfield, VT, United States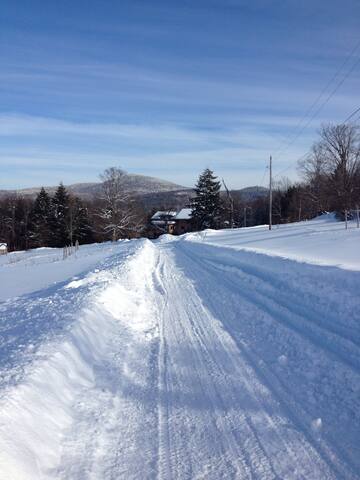 This one-of-a-kind hand built home is located at the end of a dead end road with mountain views all around. With expansive and cozy spaces both indoors and out Bartlett is the perfect location for your event, reunion or special occasion.
The host canceled this reservation 2 days before arrival. This is an automated posting.
Audrey
2016-09-29T00:00:00Z
I booked with Rebecca and Dan a bit last minute but they were incredibly accommodating. I was traveling with my mom for her birthday and they made extra efforts to make it a special experience for us and that was greatly appreciated. The property is absolutely stellar with some great views of the surrounding area, and although very isolated it's not too far of a drive (and it's a nice drive) to nearby towns and "cities" :-) I highly recommend this property!
Evan
2015-10-21T00:00:00Z
What an amazing house! Not only were Rebecca and Dan amazing hosts, but their house is absolutely perfect. Pictures do not do this home justice and the interior is out of this world. The natural lighting and high ceilings make the Bartlett House a thing if beauty. A picturesque Vermont style ski house. Extremely private area with breathtaking views of the surrounding mountains. We really enjoyed my stay and hopefully will be back in the near future.
Jon
2016-01-28T00:00:00Z
The house is super beautiful and very nice. We love it so much! Hosts are very nice and patiently answered all questions. The house is very clean and full of groceries. I highly recommend it to you.
Yuwen
2016-07-05T00:00:00Z
My friends and I had a wonderful experience staying at the Bartlett House! The house was absolutely beautiful. It was extremely spacious, very nicely furnished - equipped with everything we needed. The owners were very attentive and helpful, making sure we had everything we needed. I would stay here again in a heartbeat!
Lauren
2016-01-02T00:00:00Z
Rebecca and Dan were great; they contacted us quickly, and were very easy to make plans with. The house was absolutely gorgeous, and was comfortable enough to fit our party of 10 easily with sleeping arrangements, but the house has more than enough floor space (see photos) to host events for much more people.
Ted
2016-02-13T00:00:00Z
Rebecca and Dan were great the house was perfectly suited for our softball team. We will return next year they are great hosts
Michael
2016-03-06T00:00:00Z
Had an absolutely magical weekend staying at this lovely place! The setting is gorgeous and like other reviewers have commented the pictures don't do it justice. My boyfriend and I immediately fell in love with the home and so did our friends! We had my love's 30th bday celebration here and couldn't have picked a better spot to accommodate our needs. The owners are attentive and very genuine, kind hearted people. Will be back again later this year ! :)
Dayna
2016-02-28T00:00:00Z
Room Type
Entire home/apt
---
Property Type
House
---
Accommodates
16
---
Bedrooms
Plainfield, VT, United States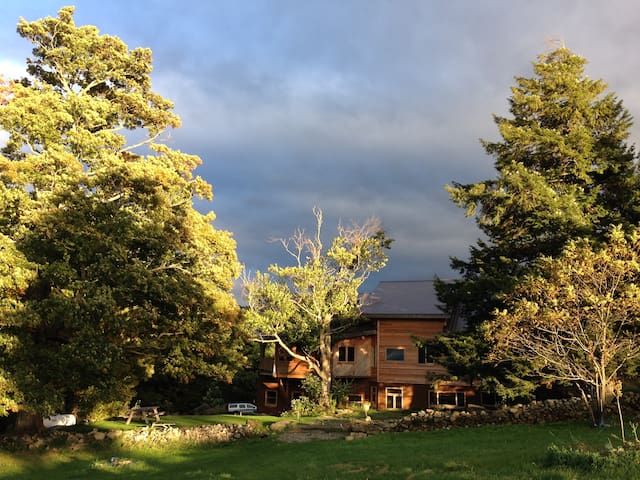 Beautiful 4000 sq ft post and beam home on mountainside with spectacular views of Green Mountains of Vt. This bedroom is the largest of the 3 guest rooms, and includes a twin as well as queen bed. Shared bath with Jacuzzi tub and double sinks. Large open first floor with stone fireplace, wood stove and gourmet kitchen. Large game room in basement with pool table, ping pong and darts for recreation. Outdoor hot tub to soak muscles after a day of skiing-riding. Located 20 mins from Sugarbush, 25 mins from Mad River Glenn and 40 mins from Stowe. 10 mins off I-89..
The home is extremely private up a long driveway from the dirt road. Primarily rural neighborhood with little traffic along the dead end road.
South Hill Lodge is a beautiful property with a truly spectacular view. Makes a great 'real Vermont' stay. Friendly hosts, comfortable accommodations.
J.B.
2016-08-12T00:00:00Z
Just as described. Loved the property. Alex, Doug and his family were very welcoming. Enjoyed our stay there, would definitely be back.
Raunaq
2016-10-01T00:00:00Z
A beautiful home in a lovely location and the vibrant foliage was spectacular. We enjoyed it tremendously and hope to return.
Ellen
2016-10-11T00:00:00Z
We had a great night at South Hill Lodge. Alex was a wonderful host. Got a great recommendation for a breakfast spot. Outside hot tub was the bomb after a long day of skiing. Room clean, bed comfortable. Gorgeous setting! Wish we could have stayed longer but had to head out for another great day of skiing!
Jeanne
2014-02-17T00:00:00Z
We were greated by a welcome note and music on front porch. Easy access to property and well maintained. Super views from front porch.
Ed
2016-09-30T00:00:00Z
Doug's place was great and I would go back in a flash. He had a beautiful home in a very private setting with great views. He had two dogs that were very fun/ny. Alex was there to help us check in and situate us and we really appreciated his help, he was really a genuinely nice guy and very welcoming. I would go back again and would recommend this for anyone visiting the Mad River Valley!
peter
2014-02-15T00:00:00Z
This is a wonderful getaway from the city. I stayed at this location for two nights and felt able to relax and explore Vermont from here. It's a remote area, so map it out in advance and expect that you may not have a cell signal going in. The views were INCREDIBLE, however less so from the specific room I stayed in. I was able to stick my head out of the window and see the mountains. I sat on the front porch for a bit one morning and enjoyed the full view. The very comfortable mattress is worth mentioning for anyone like me whose back is sensitive to mattress quality.
Claire
2016-10-07T00:00:00Z
Great location overlooking the green mountains, in full fall foliage. We were shown around by Alex, who made us feel at home very quickly. We enjoyed the home, use of the kitchen, hot tub, and good company. I would recommend to friends without hesitation.
Victor
2015-10-12T00:00:00Z
Room Type
Private room
---
Property Type
House
---
Accommodates
3
---
Bedrooms
Moretown, VT, United States
Beautiful home and view-filled 27 acre farm centrally located in the Mad River Valley. Private end of the road location yet 5 minutes to town and 15 minutes to Sugarbush and Mad River Glen ski areas. Perfect for family reunions or a gathering of friends, sleeps 12-14. This gorgeous 5 BR home features oak pegged timber frame architecture, cherry hardwood floors inlaid with ash and maple, and spectacular mountain views. Multi-level treehouse pavilion with entertainment deck and sleeping loft.
The home is sited on a private 27 acre farm, with no other house in sight, in the heart of the Valley's pastoral farm country. The home is tastefully decorated and boasts a layout ideally suited for groups traveling together: an upper bedroom level featuring two luxurious master bedrooms with cathedral ceilings and a glass and tile bath; a living level with an open floor plan comprised of two separate sitting/entertainment areas, dining area, fully equipped kitchen and marble-topped woodstove; and a lower family level with three bedrooms, mosaic-tiled bath, mini kitchen, and common room. There is wifi and internet TV provided.
Called 'the Aspen of the East' (The New York Times,) the Mad River Valley claims 'the most widely varied ski terrain east of the Rockies". Miles of legendary ski and ride terrain spill from its three interconnected mountain areas; over 150 trails, 2,600 feet of vertical and over 2,500 acres of wilderness terrain translate into adventure for all abilities. With a new 45,000 square-foot lodge bringing 'Western-style luxury' (The Boston Globe) to Sugarbush Resort, the area is at once luxurious and down-to-earth, offering every type of Vermont skiing experience. Mad River Glen ("Ski it if you can!"), with the last surviving diesel-powered single chair in North America, is famed for its outstanding back woods terrain, and is a mecca for telemark skiers. Cross country skiers and snowmobilers will enjoy the extensive VAST trails; try the Mad River Rocket for a truly unique sledding experience. For more information about the house and the Mad River Valley, see our website: (URL HIDDEN) (click on "Stony Hill Farm" for information about this property, or "Valley" for information about the area).
Great house - perfect spot for our family and friends to set up camp for a week of skiing at Sugarbush. Eve and Gene are great hosts; excellent communication and everything in the house was exactly as described. We comfortably slept 11 - 6 kids and 5 adults were a perfect mix for the house. Our dog loved the large property to run around and we used the well-equipped kitchen every day. The house is about 15 minutes from Sugarbush; Mt. Ellen is a tad closer so it's not too far from a great and underrated ski resort. The road off the main road is a long hill so just take it slow after a snowstorm and you'll be fine. The locals seemed to be much more comfortable than we were but had no issues. Really the house had everything you wanted - a nice kitchen, large eating area, a comfortable area to relax and watch TV, and plenty of beds/bathrooms. The only notable omissions were no hot tub and a wood burning stove instead of a fireplace. When we head back up to the Sugarbush area, we would definitely stay here again. Thanks Eve and Gene!
John
2016-12-31T00:00:00Z
Room Type
Entire home/apt
---
Property Type
House
---
Accommodates
14
---
Bedrooms
Moretown, VT, United States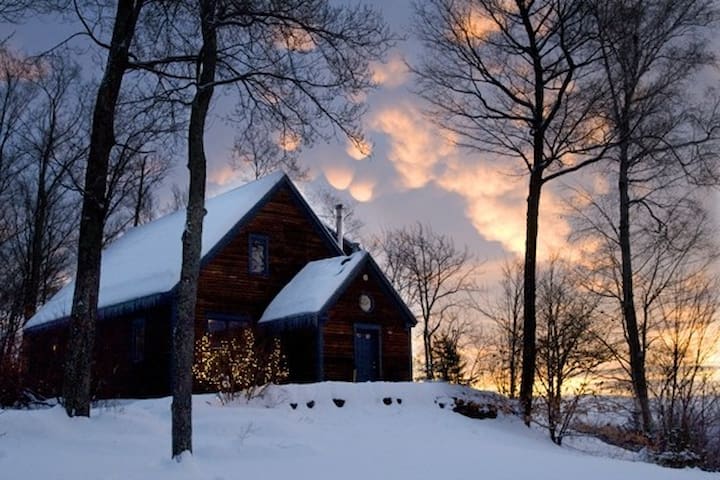 The Mad River Valley is a beautiful place to visit. Hiking, fishing, great food, attractions to numerous to list! Our state capital, Montpelier, is 20 minutes. Burlington 40 minutes. Sugarbush, Mad River and Stowe all nearby. You'll love my place because of the location, the coziness, the views and especially the Mad River. Guests may use our kayaks and tubes. Two bedrooms are available and use of entire house, I do use one downstairs bedroom as needed.
Amy's place was perfect! The house had everything we needed to enjoy our stay. We had a lovely time splashing in the stream, watching the sunset on the deck and shooting stars at night! Would definitely stay again.
david
2016-08-08T00:00:00Z
The place was great. Clean and tidy, exactly the setup my family of four needed. Amy was very helpful with restaurant recommendations and even left us a hiking guide to look at for some additional ideas to the ones she had already suggested. The setting was great with a ping pong table that the kids enjoyed along with the sound of the river for us to enjoy. Location also worked well for our jaunts to Waterbury and Stowe. Highly recommended!
Jay
2016-07-17T00:00:00Z
We had a great stay! The place was beautiful. Lots of room and very accommodating. The hot tub was very nice and relaxing! The view of the river was so pleasant as well. We would love to make another trip back here!
Dave
2016-11-16T00:00:00Z
Lovely home in beautiful setting, close to main road but felt secluded. Very clean, comfy bed, and friendly vibe to the house with nice tile bathroom, warm living space and perfect kitchen. Sorry we didn't have more time to spend sitting on the deck! Thank you Amy, would love to stay again sometime.
Kathleen
2016-07-10T00:00:00Z
This house is in a quiet and very close to nature environment with every amenity needed to have a great stay (including a ping pong table)!! To be honest, I can only say great things about the house and location. Give it a try.
Ross
2016-09-19T00:00:00Z
The host canceled this reservation 3 days before arrival. This is an automated posting.
Ashley
2016-10-12T00:00:00Z
We absolutely FELL IN LOVE with Amy's place! Very cozy, tastefully decorated and offers so much relaxation, whether it's enjoying your morning coffee on the deck overlooking the Mad River, to reading a good book in the hammock, to relaxing under the stars in the hot tub. We certainly plan to return again, this time for a longer stay. Thank you, Amy!
Erin
2016-09-24T00:00:00Z
A lovely spacious place, very clean... a great find in the Mad River area.
Mike
2016-10-12T00:00:00Z
Room Type
Entire home/apt
---
Property Type
House
---
Accommodates
4
---
Bedrooms
Moretown, VT, United States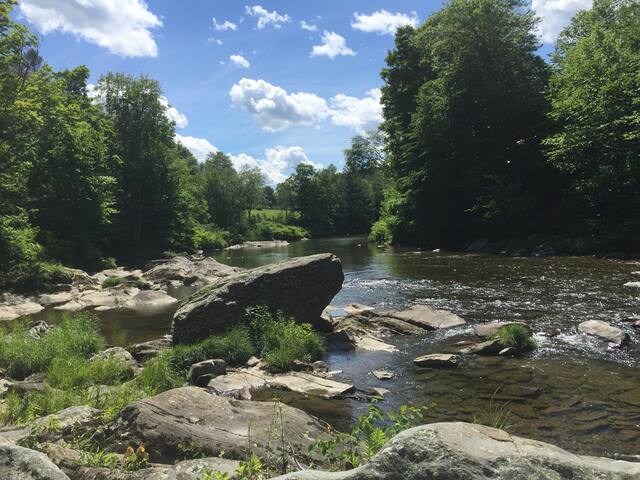 White Birch Cottage is nestled in a private setting with easy access. It offers a spacious floor plan which can welcome 2 to 6 guests. Perfect for a couple or family attending a local Mad River Valley Wedding, a ski vacation, family reunion or any special occasion. Well-appointed and impeccable are just two adjectives that would best describe our comfortable and cozy cottage! Newly constructed and fully furnished, including linens. Located in a beautiful white birch setting with a view, it has two bedrooms and a loft, fully equipped kitchen, dining room, living room, washer /dryer, front and back decks with tables/ chairs, BBQ grill and a comfy outdoor fireplace with picnic tables Floor plan total square footage: 1300 The main floor sleeps 4, the loft sleeps 2. 1 full bath. Maximum occupancy is 6 people (including children) If a larger party is required the loft has 2 single beds available - An additional charge of $100.00 per person per night for guests in addition to Six (6) will be assessed. There is the main house available on site if your party is larger than 8 -pricing for these accommodations can be provided upon request. The main house - Titled "The Highview" Main floor plan approximate square footage: 2000 (including common areas) Ground floor plan approximate square footage: 2500 (including common areas) The Highview features 4 comfortable bedrooms on on two separate floors. The main floor sleeps 4, 1 shared full bath /whirlpool, Bedrooms are private The ground floor sleeps 4, 1 shared full bath, Bedrooms are private. Rates for "The Highview " are upon request! Book the entire property for your family reunion, group retreat or friends getaway. Enjoy all the amenities of the property. Excellent trails for snowshoeing, hiking, mountain biking, fishing and the VAST trails are right outside your door. Sugarbush and Mad River Ski resorts only 15 Minute drive, Stowe only 30 minutes away! Please visit this link and you will understand why we love our home and community so much! Almost Home: a documentary about Vermonts Mad River Valley! (URL HIDDEN) Nearby: include canoeing/kayaking, golf, tennis, numerous quaint villages (Sugarbush, Warren and Stowe) antique shops, and restaurants within 15-30 minute drive. Nearby attractions include Stowe Mountain Resort, Sugarbush, Mad River Glen, Bolton Valley, Ben & Jerry's Ice Cream and Cold Hollow Cider Mill. Camel's Hump and Hunger Mountain are prime locations for hiking and viewing the fall foliage. The Waterbury Reservoir, Winooski and Lamoille Rivers are wonderful places to canoe, kayak, fish, camp, or swim. The town of Burlington on Lake Champlain, offers shopping, restaurants and any number of water activities. The State Capitol of Montpelier is also a short drive away. The cottage is central to many of Vermonts wonderful attractions. To learn more about all there is to do in the area, we encourage you to visit these partner sites: Ben & Jerry Ice Cream Factory, Cold Hollow Cider Mill Green Mountain Club, Shelburne Museum Mt. Mansfield Gondola,Alpine Slide or Skate Park, Points of Interest in Central Vermont Golf at : Country Club of Vermont / Blush Hill Country Club 18 holes / 9 holes Stowe Country Club Farm / Resort Golf Course 18 holes / 9 holes Sugarbush Country Club / Copley Country Club 18 holes / 9 holes Alpine Skiing at: Stowe Mountain Resort / Mad River Glen Sugarbush Resort / Bolton Valley Resort Cross Country Ski and Snowshoeing at: Trapp Family Lodge Nordic Ski Center/Stowe Mountain Resort Umiak Outdoor Outfitters / Bolton Valley Resort Hike nearby trails: Green Mountain Club Trail Guide Summer Concert Series: Stowe Summer Music Festival/ Stowe Performing Arts Vermont Mozart Festival The Waterbury Reservoir, Winooski and Lamoille Rivers are wonderful places to canoe, kayak, fish, camp, or swim. Directions: it is approximately :(10-20 min)from the cottage. Waterbury Community Outdoor Pool Directions: it is approximately :(10-20 min)from the cottage. Stowe Community Indoor Pool Directions: it is approximately :(20-25 min)from the cottage. Stowe Snowmobile Tours: The Two Hour Back Country Tour is an adventurous 25 mile journey through the Mount Mansfield State Forest for both the beginner and advanced rider. Go at your own pace, or challenge yourself on the varied terrain. This tour has it all: hills, woods, straightaways and speed (if you want it!). This is no "stroll through the woods." Book now for an experience you won't forget. Treat yourself to an adventure and experience back country Vermont in its prime winter season. Our staff is professionally trained and certified in safety and CPR. Back Country Tour: Two Hour Tour Weekends: 8am - 6pm, leaving every hour Weekdays: leaving 9, 11, 1, 3, 5 Single (1 person) $144 - Double (2 people) $189 Passenger with Guide $89 Directions: it is approximately :19 miles from the cottage ( 20-25 min) Ice Skating: Indoor rink is in Waterbury. It is only about 9 miles from the cottage (10min). They offer public skating and rentals Mountain Valley Farms: Specializing in horse-drawn rides––sleigh rides, hay rides, wagon rides and formal carriages––and formal and casual gatherings, nice way to experience Vermont!
Very pleasant stay in this beautiful cottage, and Karen was a very considerate host. We came to ski but the weather didn't play along. We had a wonderful stay anyway.
Michael
2015-12-30T00:00:00Z
The house is cozy, clean and comfortable, containing everything you might need, including a particularly well stocked kitchen for cooking even the biggest meals. The owners live on the property and are very kind, responsive and helpful. Great for groups of friends. About a 25min drive from Sugarbush. Not the best for couples needing privacy, as the bedrooms are exposed to the main living area.
Arseniy
2017-01-16T00:00:00Z
Karen and Robert's home was beautiful. It was in a perfect location to easily access nature, Waterbury, Stowe, and Burlington. They were both extremely friendly and stopped by a couple times to make sure we had everything we needed.
Jenileigh
2015-08-16T00:00:00Z
Karen & Robert were amazing hosts - very helpful, knowledgable, and gave us space. The house is whimsical and warm. There were 8 of us and we fit comfortably in all the nooks and crannies of the beautifully built cabin. OUr favorite part was the back patio where we sat for hours for breakfast, lunch, and dinner just talking and enjoying the view. I highly recommend this place as a getaway from city life and to enhance awareness of the outdoors.
Elana
2015-07-28T00:00:00Z
The cabin is picturesque and perfect for a weekend in the mountains! Spacious and open, it was a great place for friends to retreat from NYC and would be great for families too. Karen and her husband were extremely accommodating and great host. Highly recommended!
Lauren
2015-02-23T00:00:00Z
Karen and Robert made us feel very welcome and comfortable. We asked for and received great advice on restaurants, hiking trails and local swimming holes. Our cottage was immaculate - it was clean, contained all the amenities you could possibly need, and even came with an apple pie, cheddar cheeses and maple syrup in the fridge upon arrival. We had more than enough space for our party of six. And the setting was tremendous - a pond and brook on the property and overlooking a valley with a forested hillside. We will stay here again next rip to Vermont!
Al
2016-07-08T00:00:00Z
Karen was a great host--very welcoming with a tour of the cabin. Very excited to see a homemade pie and some goodies in the fridge. Karen was a good communicator prior to, and during, visit. Would definitely stay with her again!
Brian
2015-09-08T00:00:00Z
Karen's house is wonderful and accurately presented. We, a group of 8 adults, had a great stay over a weekend to attend a wedding nearby. Lots of nice touches: a homemade apple pie, some maple syrup produced locally, umbrellas provided for all us when it rained a torrent, and care taken to help keep the place cool in strong heat. Karen was a great host and communicated well. I would happily recommend her lovely house to anyone looking to stay in the area.
Daniel
2016-08-15T00:00:00Z
Room Type
Entire home/apt
---
Property Type
House
---
Accommodates
6
---
Bedrooms
Moretown, VT, United States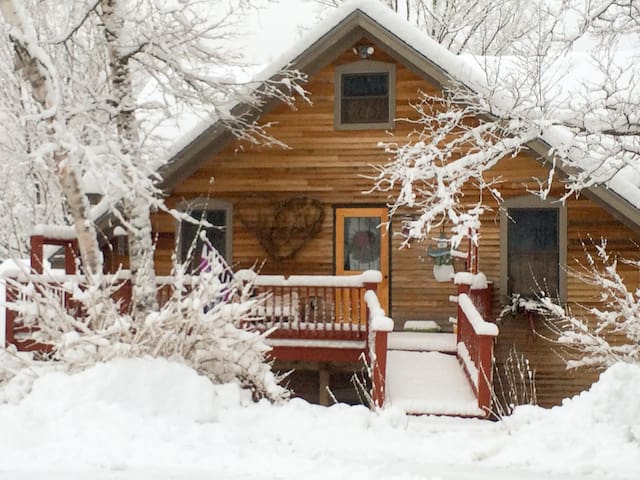 Close to restaurants and dining, skiing/snowboarding, hiking and road and mountain biking. Great for couples, families with kids, and pets. There are two rooms with double beds and once room with bunk beds (not pictured). About 20-25 minutes to Sugarbush and Montpelier and about 35-45 minutes to Burlington and Stowe.
The ultimate Vermont retreat. Remote, quiet, scenic, and cozy. The house is comfortable, especially when the wood stove is going, and the property has a lot of space to roam and explore. Our dogs loved exploring the property and coming across wild turkeys! Caroline was prompt with instructions and help, and very welcoming. Highly recommend this place!
Chris
2017-01-28T00:00:00Z
We had a great weekend stay in Caroline's beautiful home. The location is beautiful. Woke up to quintessential Vermont scene. My son loved the oreo cows next door. The location is close enough to ski Sugarbush or MRG but also near great restaurants of Waitsfield and Waterbury. Hip mid-century modern decor and original art work make this house unique and fun. Very well stocked kitchen. Thank you Caroline!
Julie
2017-01-16T00:00:00Z
Great location. Lovely home. Well stocked kitchen.
Therese
2017-03-19T00:00:00Z
Room Type
Entire home/apt
---
Property Type
House
---
Accommodates
6
---
Bedrooms
Moretown, VT, United States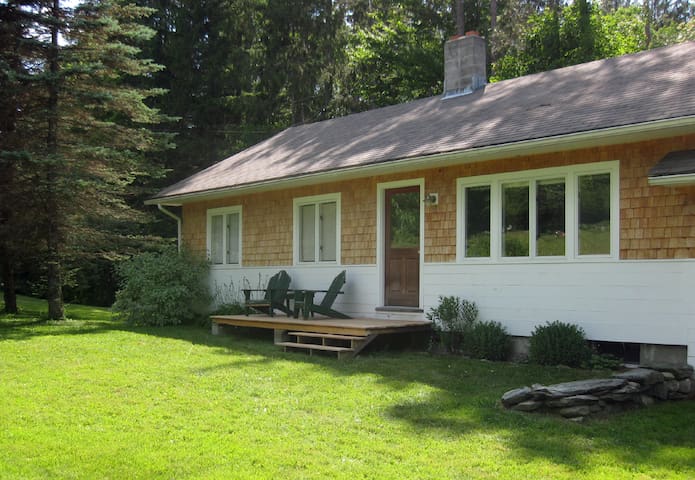 End of the road location provides total privacy and INCREDIBLE VIEWS with open meadows. This unique hand crafted house is in the heart of central Vermont and provides easy access to skiing, biking, hiking, and all that makes Vermont great. This is not a party house! It has been meticulously crafted over the last 25 years and I hope you will treat it as the masterpiece it is. Filled with antiques and fine art....stunning!
Incredible post and beam with a long list of unique features...antique furnishings throughout, handmade cherry doors with hand forged hardware, stone and copper bathtubs, marble and stone tile, two fireplaces, commercial stove and fridge, meadows, the best views in Vermont with hiking, biking and skiing out the front door. This listing is for the entire house, including the master bedroom (king bed sleeps 2), the blue bedroom (queen bed sleeps 2, twin futon sleeps 2), the middle bedroom (queen bed sleeps 2), and the office (queen bed sleeps 2 ). You will have the entire house minus the basement. No one will be staying here for entire house rentals. I have a no shoes policy inside the house. The house has radiant heated wood floors. We ask that you leave your shoes in the mudroom and enjoy your warm stocking feet. Feel free to bring slippers.
Conveniently located 20 minutes from Sugarbush, 30 minutes from Stowe village (40 to the ski area), 15 minutes from Montpelier, and 40 minutes from Burlington. End of the road location provides total privacy.
The house is one of the most beautiful houses I've rented in VT. The decor is exactly what you would want for a cabin get away. Very spacious and all the amenities were excellent and in working order. Nick was always responsive and was very accommodating when we wanted to check in early. The beds were soooo comfortable!!!! I would come back again and again.
MANDY
2017-01-29T00:00:00Z
Lovely house, well equipped, Spectacular views! Great place to stay, highly recommend.
Laura
2017-03-13T00:00:00Z
Nick's Home is the perfect secluded getaway for families and friends. We were 2 families and a total of 9. The house was plenty big enough for all of us. Building a fire every day was a pleasure and Nick's wood is the dryest I have ever come across! He is a great host as he showed us around upon arrival and kept in contact throughout our stay. A five star home and great place to stay for a ski vacation in the Mad River Valley.
Tom
2017-02-12T00:00:00Z
If I could give this listing more than 5 stars, I absolutely would! Nick met us at the house to give us the tour and quickly got us settled - he was so friendly and hospitable! The house was beyond beautiful and had a stunning view of the mountains. Each room was extremely cozy and yet had plenty of space for our group to spend time together. We did a lot of cooking and the kitchen was fully equipped to accommodate everything that we could have wanted to do and the dining area was basically perfect. The beds were comfortable and the unique shower fixtures weren't just interesting look at, they also resulted in strong water pressure. I give this listing all of the stars!
Cameron
2016-02-29T00:00:00Z
I've stayed at Nick's place twice, once in the winter and once this summer. We had a great experience each time. The house beautiful and the property has outstanding views. There's plenty to do in the nearby towns, just 15 min to Waterbury and within an hour to Burlington. Nick is a great host. He'll meet you for your arrival, walk you through the house and answer any questions. We'll come back again.
haven
2016-08-21T00:00:00Z
Absolutely beautiful, modern post and beam house. Clean, very well maintained, warm, and fully equipped house with two beautiful fireplaces.
Mike
2017-01-16T00:00:00Z
Nick was a wonderful host and the home he shared was spectacular! As a host he was very responsive to our questions and he was gracious to welcome us in person. His home is very clean, the beds are comfortable and his kitchen is well stocked with everything you need for a night in. We look forward to a return stay.
Sarah
2016-01-19T00:00:00Z
Our experience was spectacular! This is a beautiful house with an even more beautiful view of the Vermont mountains. It is close in proximity to many amazing restaurants, pubs, and outdoor activities. Nick was extremely accommodating; everything was prepared and he accommodated all of our needs. He was super responsive and helpful. We highly recommend this place!
Joshua
2016-02-16T00:00:00Z
Room Type
Entire home/apt
---
Property Type
House
---
Accommodates
10
---
Bedrooms
Moretown, VT, United States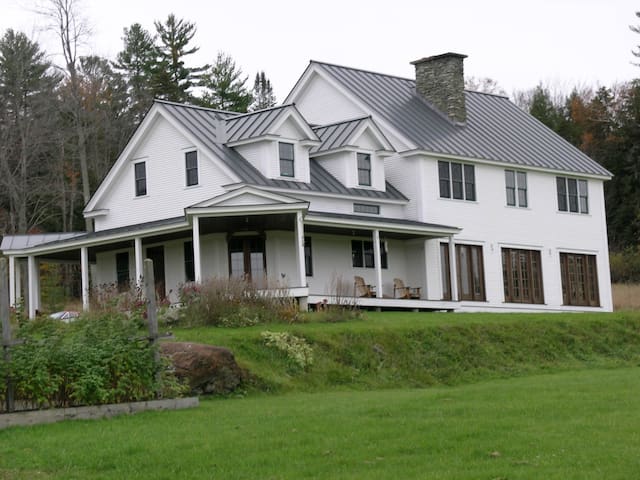 Beautiful log home modern and cozy. Very secluded, yet close to many local attractions. Three beds and one fold out couch. Two and 1/2 baths. VAST trail on property. Local ski areas. In the summer many local lakes, ponds and hiking trails. Vermont has five seasons. If you are there in the spring, you may encounter "Mud Season". The house is located on a dirt road. Four-wheel drive is best in mud season!
Two full bedrooms. Basement room has a fold out couch. Top floor has a bed in the loft area. Pellet stove in the basement room. Fireplace on main floor.
House is in the middle of the woods. Neighbors are scarce. Closest neighbor is 1/8 mile away.
My family and I had an amazing weekend up at Brett's house in Vermont. The communication was flawless and we would love to return again!
Lauren and Brett
2017-01-22T00:00:00Z
What a beautiful home! Over Valentine's Day/President's Day weekend, my wife and I, along with a few friends, stayed at Brett's place in Hardwick, Vermont. Although it was one of the coldest weekends in years (I'm talking EXTREME cold), Brett's house kept us warm and toasty. It was absolutely perfect. When we first walked up the stairs to the kitchen, we were welcomed with a couple bottles of wine and some chocolate. Brett left us plenty of wood for the fireplace (which we needed), and some detailed directions for how to open the flue and use the pellet stove downstairs. Less than an hour from Stowe, Brett's home is a perfect getaway. We greatly enjoyed our stay, and hope to stay there again in the future.
Matthew
2016-02-16T00:00:00Z
Great place, very quiet and relaxing.
Nicholas
2016-02-08T00:00:00Z
We had a great stay at Brett's! The house has an ideal open layout with a stunning view of the mountains. Brett was very responsive and helpful to be sure we had everything we needed. Already talking about when we can come back!
Sarah
2016-07-18T00:00:00Z
A wonderful and rustic location for an amazing and exquisite cabin. Brett has thought of everything anyone might need when staying away from home. We thoroughly enjoyed our stay and would definitely stay there again in the future.
Michael
2016-06-13T00:00:00Z
Brett's place was amazing from top to bottom. We were so comfortable and wanted for nothing the entire time. Slice of paradise.
Alyssa
2016-09-26T00:00:00Z
We did not meet Brett, but we texted several times before we arrived and after we left. He responded right away. We have probably stayed in 50-60 B&B's and rentals and this house was was exactly as pictured. The only surprise was that it was even better than we expected. We stayed there four nights of our ten night trip and truly wish I would have booked it for the entire trip. From there you can easily do day trips throughout Vermont, New Hampshire, and go into Maine or New York. We were there to see the leaves and sleeping in the loft I could see the colorful mountainside from my pillow. We loved sitting on the deck with our morning coffee and there was a fabulous hammock. You cannot see a single house only trees. Our daughters from Chicago, joined us for two nights and they loved it. They said you just feel comfortable and at home. The house was spotless and had every thing we needed. Having a washer and dryer was very nice. I hope if we ever visit Vermont again it will still be available.
Kathy
2016-10-11T00:00:00Z
I started off researching homes in the entire state of Vermont with the goal of escaping Boston, enjoying Vermont's finest food and beer, skiing and finally relaxing next to a large fireplace overlooking the mountains, mission accomplished. I actually cancelled an existing reservation after I came across Brett's listing in Hardwick VT and reached out to him. A phenomenal decision and well worth the few extra bucks to upgrade. This house is incredible inside and out, top of the line appliances very nicely decorated with the fresh smell of a cabin (very large cabin) Internet was important, flat screen TV's, fully loaded. Brett even left us a surprise bottle of wine to begin the weekend. It is located on a hill in the woods, very secluded and relaxing, massive porch and amazing views of the mountains each morning and night. Brett was very responsive and accommodating. I had a lot of questions and he recommended many places to go and things to do. We went to Hill Farmstead Brewery, skiing at Stowe and Jay Peak (which are each under an hour away). Prohibition Pig restaurant is not too far, and many local gems that Brett knows of as well. We hope to be back this summer!
Dan
2016-03-01T00:00:00Z
Room Type
Entire home/apt
---
Property Type
House
---
Accommodates
8
---
Bedrooms
Hardwick, VT, United States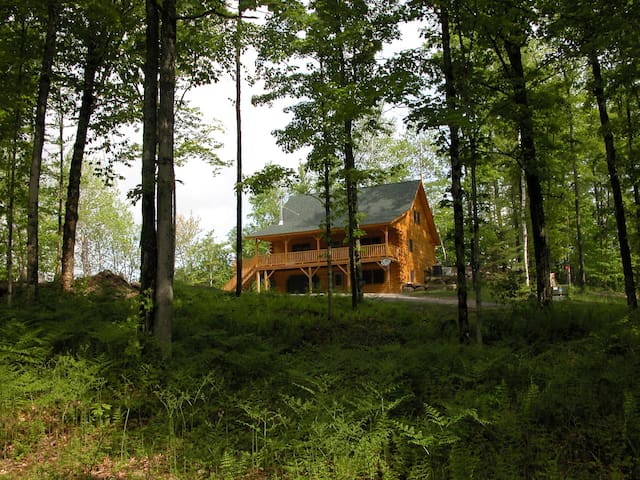 Plainfield - Airbnb
:
Average

4.85

out of

5

stars from

482

guest reviews
1

–

18

of

300+ Home Rentals
Enter dates to see the total trip price including additional fees (but excluding any taxes).