Enter dates to see the total trip price including additional fees (but excluding any taxes).
Gorgeous open floor plan with western facing views of rolling finger lakes hills. 40 acres of walking trails, waterfalls, pond and kayaking on Canadice lake. Wood fired outdoor hot tub with fire pit. Dine on the back-deck under a pergola as the setting sun blesses your incoming evening!
This enchanting space, once a barn built in the 1860's, has been lovingly converted into the perfect setting for a gathering of family and friends looking to reconnect, unwind and celebrate life. There are many place to sit, relax and socialize inside and out while taking in the breathtaking views. It sleeps 6 in beds (2 full and 1 queen) and has multiple couches and an air mattress for additional people to sleep on. There are 2 full bathrooms, a full finished basement with a ping pong table and entertainment center. There is a fully stocked kitchen for cooking and a gas grill on the back deck for grilling. In the summer months a huge organic vegetable garden is available for guests to pick from with fresh farm eggs on offer as well. Many hiking trails traverse the property including one which will take you down to Canadice lake through beautiful fields filled with native flower, fauna and a Hemlock forest. Guests have full access of the house. We do have a barn with horses on the property and we ask that guests not enter the barn or interact with the horses unless we are there as well. We will be on the property but in a private, separate apartment and will be happy to help our guests with anything they may need. Our house is heated with wood from a wood stove. We will be on hand to help out with that weather depending. We also have a wood fired hot tub which we will operate for guests.
We are in the country but a 10/15 minute drive to 2 very quaint towns for anything you would need. You will need a car to get here and get around. This house is on a farm. We ask that guests respect the animals here and do not enter the horse pasture which is protected by an electric fence (you will get shocked) or the the chicken coop. There are cats here that roam freely and a dog that is very friendly.
The home was beautiful and unique! A great place to go if you are looking to relax and spend some time outdoors, whether you plan to take advantage of the surrounding area or just keep to the property itself. Chris was very friendly and helpful throughout the process.
Christina
July 2015
We had an amazing time at Christopher's beautiful home! Their property is such a special place with so many unique features. Christopher was responsive, professional and accommodating. I highly recommend this home!
Ryder
August 2015
My friends and I had a great time at Chris' place! The outside was great - the view overlooks the woods, and it's so peaceful and relaxing. We hiked to the nearby lake, which was very scenic. The hike took us a little longer than expected, and you can't swim in the lake, but it was still really nice! We also enjoyed making a bonfire over the fire pit at night. There's a barbecue with a smoker as well. The kitchen is also well-equipped, and we were able to cook many full meals. Chris was very helpful and informative throughout the process, and though he was not there, he made himself available for any questions we had throughout the stay. He had someone come into the house around 9am each morning to take care of the animals (there are cats and a bird in the house), and she was able to help us as well. In terms of the actual place itself, we were a little surprised, as it seemed that someone had just left in a rush that day. In terms of sleeping space, there are only two usable beds, which meant that many of us were sleeping on couches - the basement had some sleeping space, but it was very uncomfortable to be down there. So, not a lot of privacy. Though there are two showers, only one worked. Overall, we all had a great weekend, and really enjoyed our stay - Chris' place had everything we could have asked for. We just wished that someone had made the place a little more guest-friendly before we came.
Chrissa
July 2015
Great house! Chris was in communication the whole time and gave great recommendations for the area. I was in a group of 10, and there was plenty of space for everyone. Everything was there, just needed to bring in food, drink and sleeping stuff.
Michael
June 2016
My family and I had a fantastic time at the Fingerlakes Villa! We were welcomed with a lovely fruit and cheese platter, a roaring fire, and a gorgeous view. The house was well stocked with everything we needed for a wonderful weekend including ample firewood, and cooking implements. The main living area of the house is in fact much larger than it appears to be in the photos, we were a group of 10, and we were VERY comfortable in the space. We also enjoyed the property tremendously. We made a large bonfire each night, and took full advantage of the massive BBQ for a cookout. One morning, we took the canoe through the trails to lake Canadice, and enjoyed some canoeing on pristine, glass-like water on what appeared to be a private lake - we didn't see a single other person the whole time we were there. As for the area, we loved the location - it was easy to find the house, and popular tourist destinations such as Watkin's Glen, and Geneva were a short, scenic drive away. The house is close to fine shops, so we had no trouble finding all of the food we needed for the weekend. We are already looking forward to our next visit to the finger lakes, and will definitely stay here again.
Christopher
October 2014
Chris was very helpful and patient. It was an amazing experience overall as we stopped by his place on our way to Niagara. The property is unique, homely and rustic.
Vish
April 2015
Awesome house
Jaewon (Teddy)
May 2016
4.5 stars! The house is just as beautiful as the pictures suggest! It's situated perfectly, overlooking absolutely gorgeous green vistas. We ended up changing our plans of wine-tasting and just hung out at the house instead! It was about a 20-25 minute stroll to the lake (there's waterfalls, though we couldn't find them). The kitchen and grill area were fantastic for preparing a feast, and the fire pit/hot tub were lovely. (It's a wood-fired hot tub, which means you're in a big wooden barrel and it takes more work to get hot than you may be used to, but is completely worth it!). It's a farm, so there are roosters and wildlife if you're a very light sleeper. Only complaint is that there were a lot of flies when we stayed, but it sounds like it was due to the previous guests being filthy and is not a normal problem with the house. Overall, a great place to host a big group!
Shannon
August 2015
Room type
Entire home/apt
---
Property Type
Villa
---
Accommodates
8
---
Bedrooms
3
Canadice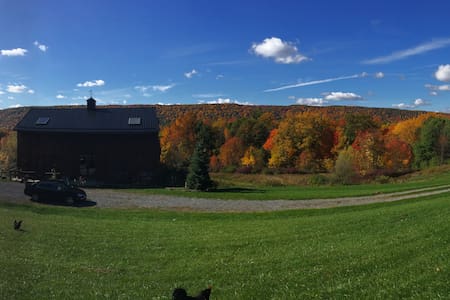 Privacy & Grandeur awaits you at this 4,000 sq. ft. Villa located on a 10 acre estate close to Ellicottville (12 min) & Holiday Valley (15 min). It sleeps 12: 1 king, 2 queen, 2 single & two bunk bed sets. Also, four full bathrooms ensures there is no wait! Finally, a 2 car garage. It is a great meeting place for big groups such as family gatherings, re-union of friends, etc. Make memories with the people you cherish most!
So many things to list that you will find on this estate: Exterior: Stocked 1 acre private lake, fire pit, large mowed area to play, trees/forest to frolick in, and 2 car garage to store your cars out of the weather. Interior: Many "wings" to the house so you can live with many people with time to "be apart." a wood fireplace, sauna, 4 full bathrooms, and a very large basement with Ping Pong table. We just installed a brand new washer and dryer as well. We have a digital front door for easy access. The house and the 10 acres! I will be remotely in Buffalo and will be available via phone to answer questions and ensure you have a great stay.
The peace and tranquility of nothingness (if that's a word). You can walk or use your car.
Nice
michael
February 2017
This house is fantastic for a large group planning to have a nice weekend in Holiday Valley area. We were very happy with the place and how awesome Keith was. We ended having to leave a bit later on the day of check-out and Keith was very easy going about that.
Abigail
January 2017
Beautiful house! Stayed here for a weekend with friends from all over. Definitely a lot of room for catching up, relaxing and big family dinners. Excellent acreage to enjoy the outdoors! Keith was very helpful and easy to get in touch with. Would love to stay again!
Gina
December 2016
The estate was amazing! My friend's and I absolutely loved our stay. The house is huge, open and welcoming. There are plenty of areas to hang out, from the game area where we spent the first night playing chess and cards, to the large kitchen and deck. We also hung out at the smaller fire pit in the back yard. We spent the first day exploring the large outside grounds. I couldn't believe how much land there is! We just kept walking and walking checking out everything the property had to offer. There is a really nice pond and blueberry bushes, which if it was the proper season, I'm sure would be delicious. If you are into stargazing, it is pitch black at night there. I spent a good hour in pure amazement at how many constellations I could make out. I also saw some satellites fly over the property. The main bedrooms were really large and the beds were extremely comfortable. The house was very clean and the everything looked like it was properly taken care of. I thoroughly enjoyed my stay and would highly recommend that if you are planning on visiting the area, to check this place out. Keith was a great host and let us know if there were any issues (which there weren't), that he was a phone call away. I am looking forward to spending more nights here!
Pete
November 2016
This spacious home welcomed our family of ten for a wonderful weekend. We enjoyed the comfort of the large dining room table and open spaces. Perfect for families with dogs and small children and included all the comforts of home. We can't wait to come back!
Jessica
February 2017
This house was great. The property is massive. We were able to explore through the acres of property and enjoy the beautiful wall weather. The house seemed to just keep going: it was huge! Great villa and am looking forward to my next stay
Brendan
October 2016
Very nice home! Enjoyed our stay. Has everything you need. Keith made the experience very pleasant and easy. Plenty of space for kids!
Katie
February 2017
We had a great stay and immensely enjoyed the house. It's huge and equipped with everything you need for a comfortable stay!
Maya
January 2017
Room type
Entire home/apt
---
Property Type
Villa
---
Accommodates
12
---
Bedrooms
5
Ellicottville