An apartment costructed in river stone with a lush green garden. The house is located in the land of befana (Urbania). A mere 800 mts walking will bring you to the village's ancient historical center. Urbino is a 20 kmts ride. We welcomes families
Lo stare immersi nel verde, tra tantissimi alberi, come in un parco botanico, la bellezza che solo le case di pietra hanno ma godendo di tutti i comfort dello stare dentro il paese.
Da una parte ci sono, vicinissima, pochi metri a piedi:il bellissimo barco ducale dei duchi di Urbino, un antico palazzo rinascimentale, riserva di caccia dei Montefeltro, assolutamente da vedere e le colline del Montefeltro ; dall'altra parte: il centro storico.
I stayed in "La Breccia" from 24/7 untill 4/9 on my own. I had a marvellous time during this period. The house is situated in a huge garden, with lots of sun and shadows. I also liked the chickens in the garden. Both Andrea and his mother are really nice people and they are doing everything just to please you. The house is large, and very cool. Don't expect a modern equipment, but therefore I really loved the house. The house is situated at the edge of the village, about 15 minutes walk from the centre. Next year I would be pleased to spend my holiday at this place again. Andrea, ci vediamo!!
Rita
2016-09-05T00:00:00Z
siamo stati benissimo!
Luca
2016-10-16T00:00:00Z
Bij aankomst werden we al opgewacht voor overhandiging van de sleutel, na een korte rondleiding konden we direct genieten van een mooi glas wijn en zitten bij de brandende kachel. Een warm welkomst-bad.
Brigitte
2016-10-28T00:00:00Z
L'appartement de "la breccia" se trouve au rez-de-chaussée d'une belle bâtisse d'époque au milieu d'un énorme et très beau parc. Le logement est spacieux, rustique, et authentique. Il est situé à la sortie d'Urbania (une très jolie petite ville à moins d'1/2h de la magnifique Urbino, proches de magnifiques petits villages et environ 1h de la mer, Gubbio, Saint Marin etc...), proche de toutes commodités mais sur la route principale donc il y a de la circulation. Les épais murs en pierres et la terrasse entièrement ombragée nous ont permis de profiter de la fraîcheur, bienvenue en été lors de grosses chaleurs. Nous avons eu affaire à la maman d'Andrea qui vit sur les lieux et qui est une femme absolument charmante. Cette location est un bon point de chute pour rayonner dans la superbe région des Marches et visiter la très agréable Urbania.
Patricia
2016-07-24T00:00:00Z
Room Type
Entire home/apt
---
Property Type
Villa
---
Accommodates
5
---
Bedrooms
Urbania, Marche, Italy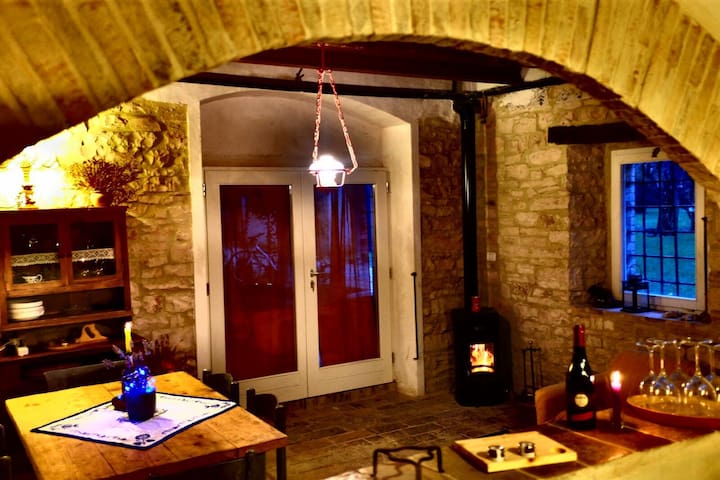 Villa Amata is a characteristic private villa with pool in Le Marche, located at a short distance to the centre of Urbania, a town known all over the world for its ancient pottery. The villa benefits of a good position and offers equipped outdoor living areas. It's the perfect solution for large families. Pets are welcome; wi-fi and air-conditioning available.
The property is set on two levels. On the ground floor there is a bright living room with fireplace and sofa bed (double), living area, kitchen, double bedroom, bedroom with three single beds, two bathrooms (one with shower, the second with tub). On the first floor, we can find a bright living room with sofa bed (double), kitchen, double bedroom, bedroom with three single beds, two bathrooms (one with shower, the second with tub).
Urbania, the old Casteldurante, is a lovely town in Le Marche and has changed its name for three times during its history. Among the most important buildings in Urbania there's the Palazzo Ducale, the old residence of the families Montefeltro and Della Rovere. Today this historic building houses the town library, the civic museum, the historic archives and the museum of the peasant culture. Other interesting buildings are the antique cathedral with the bishop's palace, the Diocesan museum and the town hall. You should visit the Chiesa dei Morti (church of death people), built in 1380, where you can find the cemetery of mummies, known for the unique phenomenon of the natural mummification and where 18 bodies found nearby the church are buried since more than four centuries. A must for kids is the Bosco dei Folletti (the Elf wood), a lovely walk in a fantasy world which will make both young and old dream again. HAND CRAFTED WORKS Well known all over the world is the ornamented ceramics of Casteldurante (ceramiche istoriate). Truly recommended the visit to the workshop of the majolica durantine, where you will see the local ceramists making decorations on their masterpieces.
Room Type
Entire home/apt
---
Property Type
Villa
---
Accommodates
14
---
Bedrooms
Urbania, Marche, Italy
Set in the countryside, Calterrazzano is built on an historical farm from the 1900. It is located a 10 minutes drive from Urbania and 45 minutes from the Adriatic Sea.
Set in the countryside, Calterrazzano is built on an historical farm from the 1900. It is located a 10 minutes drive from Urbania and 45 minutes from the Adriatic Sea. It offers self catering accomodation for a maximum of 15 people in a charming rural setting. Breakfast is served on request. Autentique cusine is available in the nice small neraby villages. With free WiFi access, it features a large garden, private swimming pool, tennis court, barbecue area in a peaceful natural setting . The swimming pool is surrounded by sun loungers and parasoles .All rooms come with private bathroom with shower . A spacious living area, fire placeand equipped kitchen make of this house a perfect place to chill out and enjoy the beautiful Montefeltro with its artistic treasures.Free private parking is available onsite.
Surrounded by the soft hills of the Metauro Valley
We were there on the second week Juni with our two children and friends, we were 9 people and we feel with enough place, the bedrooms are big and clean, each one with a bathroom with shower. Wi-Fi ok Pool was clean, water is a bit cold, but refreshing when the sun is shining and there isn't windy. 4 km away is Urbania town, where is a Supermarkt, restaurants and Gelato. We were also in the beautiful city Urbino, 30 min away driving. Beautiful property, we enjoy our time there!
Suyana
2016-06-19T00:00:00Z
Abbiamo soggiornato in compagnia di amici, 10 adulti e 5 bambini (tutti entro i 3 anni) in occasione degli ultimi giorni dell'anno. Siamo stati bene, completamente a nostro agio e abbiamo trovato disponibilità sia da parte del proprietario che dei guardiani della Villa (la Sig.ra Giovanna e il Sig. Guerrino). La casa nel complesso si presenta fedele alle foto di AirBnB. Le camere sono accoglienti e ampie, tutte con bagno personale. Il salone del convivio è la perla della casa: grandissimo, pieno di luce ed estramente confortevole (divani, tavoli e sedie per tutti gli ospiti e anche di più). Abbiamo trascorso le nostre serate gustandoci alcuni film (procurati da casa) con tanto di proiezione "mega-Schermo" utilizzando una delle grandi pareti bianche. Davvero indimenticabile! La cucina è grande, illuminata e abbastanza attrezzata: qualche pentola/padellona più grande, adatta ad una comitiva per 12 ospiti, sarebbe necessaria. Per chi, come noi, ama cucinare e trasccorere il tempo in mezzo ai fornelli, diciamo che un "upgrade" generale degli attrezzi più usati compreso qualche accessorio "elettrico" di ultima generazione, sarebbero un investimento da poco, ma molto significativo! Nel complesso tuttavia la cucina è ben funzionante: forno elettrico, piano cottura a 5 fuochi e, non da meno, caminetto a legna. Funziona perfettamente, ci siamo procurati la legna in paese e l'abbiamo mantenuto accesso per tutti i giorni del nostro soggiorno. E' stato il dettaglio speciale che ha fatto la differenza. Probabilmente nel periodo estivo la struttura raggiunge il suo apice di bellezza: l'esterno, curatissimo, offre ampi spazi verdi per poter giocare, passeggiare, svagarsi. E la piscina (con tanto di barbecue) e il campo da tennis la trasformano a tutti gli effetti in una specie di "resort" da cui non ha alcun senso allontanarsi ... In conclusione, ci auguriamo di poter organizzare una nuova gita presso Villa Calterrazzano nei giorni caldi dell'Estate.
CRISTIANO
2017-01-02T00:00:00Z
Splendidi il casale e la campagna circostante. Adeguata la struttura. Purtroppo, nonostante il forte caldo, non abbiamo potuto utilizzare la piscina, che diversamente da quanto specificato sull'annuncio era dismessa. Un piccolo neo in un soggiorno che per il resto è stato pienamente soddisfacente.
Andrea
2016-05-23T00:00:00Z
Room Type
Entire home/apt
---
Property Type
Villa
---
Accommodates
14
---
Bedrooms
Urbania, Marche, Italy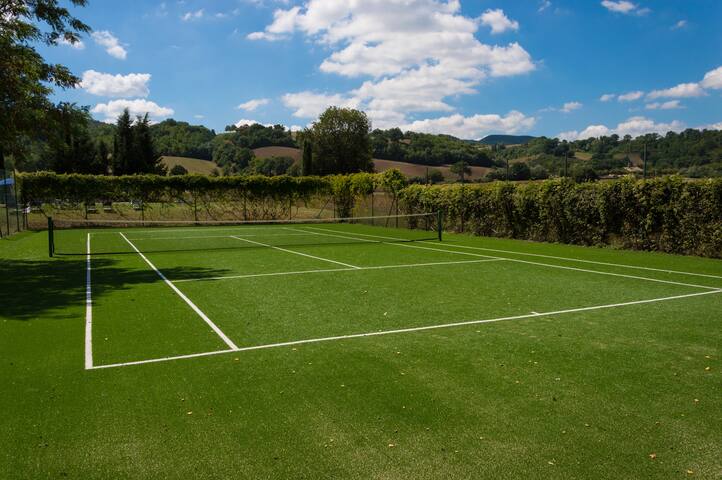 This beautiful monastery of the thirteenth century, with adjoining private church, located in Urbino, two hundred meters from the scientific campus of the famous university of Urbino, the convent has six double bedrooms all with bathroom
Room Type
Private room
---
Property Type
Villa
---
Accommodates
12
---
Bedrooms
Urbino, Marche, Italy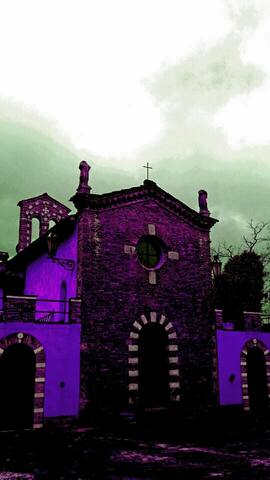 "Bartoccio House" is nestled in the green hills of the Marche, a few steps away from Urbino. It has four double bedrooms, two single bedrooms and five bathrooms. The interior is spacious (240mt), welcoming and modern. The house has a large terrace, a large garden and a private swimming pool with a fantastic view of the mountains of the Marches.
Room Type
Entire home/apt
---
Property Type
Villa
---
Accommodates
11
---
Bedrooms
Fermignano, Marche, Italy
Ca La Piera - a beautiful large Italian manor house in a spectacular and tranquil location on the Marche / Tuscany border. With spectacular views over the open countryside it is ideal for those wishing to simply relax, yet is a short distance from towns, restaurants and shops. The house is well equipped with TV / DVD / Wii / table tennis / basket ball, mountain bikes & a swimming pool. The house can be rented as 2 separate apartments or as a whole house - contact us for prices for apartments.
The house is divided into two "apartments". The first apartment is for the upper 2 floors of the house and is accessible with its own entrance as the house is built into the hill. This part of the house has a large living room, dining room and kitchen and a double bedroom and 2 bathrooms (one with a shower, one with a bath and a shower over the bath) on the ground floor. There are then 4 bedrooms in the upper part of the house, one with a double bed, one with 2 beds, one with 3 beds and one with 4 beds. The lower level of the house has its own entrance and overlooks the pool. This has a large living room, dining room and kitchen and 3 bedrooms with 3 bathrooms – 2 with showers but no baths. In both kitchens there are dish washers, large fridges, an extra fridge just for drinks and washing machines. All towels, including pool towels are provided. All beds have mosquito nets and there are electric fans in most of the rooms. There are also 3 logias outside, 1 large one for eating, overlooking the pool, a small one for reading and the other big one with table tennis and a basketball hoop, etc. For children, the house comes with a TV, DVD players, lots of DVDs (all in English I am afraid), a Wii and some board games. There are also 2 mountain bikes. If you wish to venture to the beach, we also have beach chairs and portable umbrellas that can be used.
Locally there are 3 towns within 10-20 minutes drive which provide you with all you needs - food shops, banks, post office, pharmacies etc. Key towns to visit are Frontino (10 minutes away), San Leo (30 minutes away) with its impressive castle, Urbino with the Duccal Palace (30 minutes away), San Marino (1 hour away) and then the beaches at Rimini, Pesaro and our favourite at Monte Conero (2 hours away). At Rimini there is a water park with many slides etc which is another local attraction. There are many local restaurants all with excellent food within 5-20 minutes of the house.
Room Type
Entire home/apt
---
Property Type
Villa
---
Accommodates
16
---
Bedrooms
Marche, Marche, Italy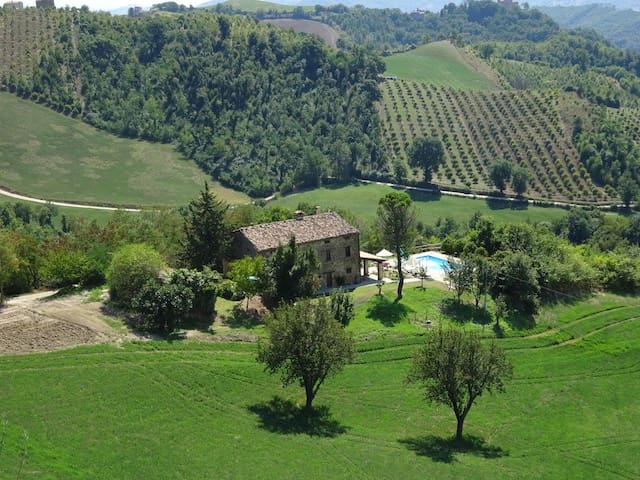 The villa is perfect for guests who desire to find inside a house quality and design. The house is characterised by a large portico equipped with table and chairs to eat outdoor and to relax in front of a beautiful landscape. Beautiful pool.
On the ground floor we find a living room -kitchen with a double sofabed, laundry area, double bedroom and a bathroom with shower. On the first floor: living room, a very well equipped kitchen, 2 double bedrooms, one of it with private bathroom, 1 bedroom with a bed (1.20m) and a bathroom with jacuzzi.
Room Type
Entire home/apt
---
Property Type
Villa
---
Accommodates
8
---
Bedrooms
Acqualagna, Marche, Italy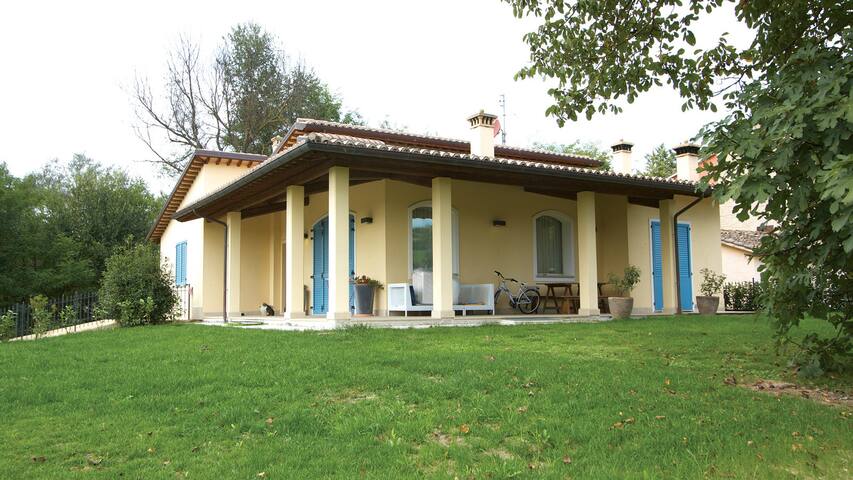 This villa, located in Frontino, is ideal for 14 vacationers. It offers 6 bedrooms, a private pool, an enclosed garden and WiFi.
This villa, located in Frontino, is ideal for 14 vacationers. It offers 6 bedrooms, a private pool, an enclosed garden and WiFi. The lounge is perfect for unwinding after a day of exploration. Curl up on the comfortable sofa and enjoy a good book in front of the fireplace or take advantage of the amenities on offer, including WiFi. The kitchen is well-equipped for cooking up your favorite meals. Enjoy your feast around the dining table which seats 15 or outside, on the terrace or in the garden enjoying views of the garden, the mountains and the swimming pool. The villa has 6 comfortable bedrooms, 2 including a single bed and a double bed and a private bathroom including a shower and toilet, 3 including a double bed and a private bathroom including a shower and toilet and 1 including 2 single beds and a private bathroom including a shower and toilet. The bathroom is fitted with a shower and toilets. The villa features a central heating, ironing equipment, a vacuum cleaner, cleaning products, a washing-machine, a fan, a desk and a jacuzzi. Notice that the cleaning, towels, bed linen and tourist tax are included in the rental fee. Parking is available nearby. Smoking is allowed. Pets are allowed. Parties are allowed.
This villa, enjoys a privileged location that will allow you to enjoy your stay in the area. Many activities await you in the surroundings such as Caving, Hiking, Scuba diving, Swimming, Windsurfing, Cycling, Horse riding, Mountain biking, Rock climbing, Tennis, Water skiing, Snorkelling, Roller skating, Hunting, Fishing, Water sports, Surfing, Sailing, Golfing and Mountaineering. The beach is 50 km away from the villa. You will also find great bars and restaurants at 2 km and a supermarket within 3 km. Riviera Golf Resort, is 48 km away from the villa.
Room Type
Entire home/apt
---
Property Type
Villa
---
Accommodates
16
---
Bedrooms
Frontino, Italy
La Colombaia is a rustic, shabby chic farmhouse in a remote, tiny mountain hamlet high in the beautiful Tuscan/Le Marche Apennines, a perfect spot for walking, exploring & enjoying the countryside. There are no shops or cafes in the hamlet & it's a 20 min drive down the mountain to the nearest shops. We're close to a working farm that raises the local Chianina cattle & a house next door. Come for peace, quiet and tranquility, there are lovely towns and places to visit but no malls & nightlife!
Tuscan stone built farmhouse in the Appenine mountains, 2 hours from either Ancona, Bologna or Rimini airports. Swimming pool and terrace and beautiful views. Situated in the deep countryside in the Sasso Simone nature reserve, home to many different species of wild flowers, birds and other wildlife, including deer, wild boar and porcupine. The working farm nearby is also home to the unusual local Chianina cattle. The beautiful medieval town of Urbino is 45 minutes away. Wonderful restaurants in the nearby town of Urbania. The house, which is built in the local stone, has origins stretching back several hundred years. It has been, at various times, a farmhouse, a convent school and latterly, the village priest's house. This part of the Apennine mountains, on the border between the regions of Tuscany and Le Marche, provides miles of unspoilt countryside for walking and cycling. Sit out on the terrace by day and watch the ever changing spectacular view of the wonderful Appenine mountains and at night watch fireflies and the stars as you sip a glass of prosecco. The house has 5/6 bedrooms one of which has a mezzanine bedroom with 2 twin beds, 3 of the bedrooms have double beds and 2 bedrooms have twin beds. The house sleeps up to 12 people. There are 2 bathrooms, one en suite and a shower room. The dining room has an antique wood burning stove and the sitting room has an open fireplace. The house is furnished tastefully with many antiques. There is a dishwasher and washing machine.
Take a well earned rest at La Colombaia situated in the rolling Tuscan hillside. Sit on the terrace with a glass of local Verdicchio, a bowl of olives in absolute peace, watch the swallows and fireflies and contemplate the magnificent mountain view. Visit Federico da Montefeltro's masterpiece the Palazzo Ducal in Urbino, a world heritage UNESCO site. Taste some of Italy's best seafood in Ancona then head south to beautiful pine beaches in Sirolo. Or drive to the stunning medieval hill town San Leo. Walk for miles in the stunning Sasso Di Simone nature reserve. In spring you'll discover meadows of wild orchids, in summer watch the beautiful, white Chianina cattle grazing and in autumn you might find the black or white truffles the area is famous for! Sample delicious porchetta (pork roasted in fennel and garlic) pecorino cheese and wildflower honey at local markets. Visit local festivals, including Sestino's beefsteak festival, Monterone's bruschetta festival and the medieval festival in Piandimeleto Make time to visit Urbania's Church of the Dead, Chiesa dei Morti, with its quirky, macabre display of 18 naturally mummified bodies. Then wander into the main square to Cafe del Teatro and buy a ice cream, pistachio and cherry highly recommended! Don't miss a meal at La Tintoria in Urbania, wonderful home cooking exquisitely decorated with fresh flowers. Equally good is Il Mulino della Ricavata in Peglio, Urbania. It's a wonderful old converted mill serving delicious food. Booking essential. Or go wild swimming at number 7 of the Guardian's top 10 best wild swimming spots in Italy, (URL HIDDEN)
Helena was a wonderful host and the communication from start to finish was excellent! She had a welcome basket for us when we arrived and made sure there were plenty of clean sheets, and towels. Her home is beautiful, and very peaceful and I would highly recommend a stay in it. From the neighbors to the woman who cleans the house, everyone was very friendly and helpful during our stay. Sestino was cute too and we enjoyed the wine on tap at the local market! I hope we can visit again!
Christine M
2016-09-22T00:00:00Z
What a beautiful place - we feel so luck to have been able to share it! Wonderful views. My husband thinks it is one of the prettiest swimming pool settings he has ever seen! Peaceful and relaxing and beautifully restored house. Excellent communication. Would love to return. Thank you Helena!
fiona
2016-08-05T00:00:00Z
We've had a great week in that very remote and lovely house. Great decoration, great swiming pool, great bbq, very nice weather (sunny but fresh in the evening) though a little rain. Helena has been very helpful to help us organize (we were 15 including 6 kids!). Everything was made to help us feel like home. The countryside is very beautiful, even though a bit more like the Alps than what we were expecting about Tuscany:) A very nice neighbour gave us some figues. Great souvenirs with our friends.
julie
2016-08-01T00:00:00Z
We can't say enough about this wonderful paradise up in the mountains!! Helena was the perfect host with great communication, many recommendations and a lovely welcome basket. We only wish that we could have stayed longer. Thank you again!
Matt
2014-08-29T00:00:00Z
What a truly magical place! Everything about our trip here was perfect, from the very clear directions from Helena of how to find it to the beautiful interiors and the breathtaking view. Our group were looking for a week of r&r after a busy week at a festival in Croatia and we definitely found it here. The owner gave us fantastic recommendations of places to visit and restaurants to try but in our week there we only ventured out twice and the house is so perfect we had no need to leave! The restaurant we did try (Casa Tintoria in Urbania) was wonderful though – the perfect spot for us to celebrate the first wedding anniversary of a couple in our group. By day the pool is the perfect place to relax, it is extremely clean and surrounded by lavender and rosemary. By night the only lights you see are of shooting stars and fireflies! We all highly recommend this host and house for a group of friend like us, or for families. It is extremely well equipped of cooking utensils, linens and towels which makes for an even easier holiday! Thank you for a wonderful stay Helena – we definitely hope to visit again! Sophie, Moses, Dan, Bonnie, Sal, Blair, Jake, Laura, Dickie & Ro(URL HIDDEN)
Sophie
2014-07-20T00:00:00Z
We've spent a wonderful time in Helena's house, which has an amazing view and lovely garden, a big kitchen where we've cooked several delicious dishes. Unfortunately we had really bad weather, but we've made the most of it and used the fireplace every evening :) Not to forget about our great day trips to Urbania and Urbino.
Wolfgang
2016-09-20T00:00:00Z
We had an amazing time at Helena's lovely La Colombaia. The house is exactly like Helena described and photographed it, which is absolutely fantastic and very charming. The view from the terrace of the Tuscan hills and fields amazed us every single day. The bedrooms and the living room have an amazing design and were very clean. Helena and her friends were very helpful with any of the questions we had and even though the dish washer was not working, Helena did her best to find somebody to fix it. The pool is very big, however, the water was incredibly cold, so only the brave ones of us got in. The rest enjoyed the sun and the beautiful nature around the pool area. We were a bit scared of possible encounters with scorpions but, fortunately, we only saw a very small one in the hallway and immediately got rid of it. The Internet was, as already explained by Helena, not working, however, we personally enjoyed the well-deserved 7 days of Internet detox :) . We totally recommend it! The road up to the house is indeed long (10-15 min) and very curvy and for those wanting to visit other towns in Tuscany please count with long distances and curvy roads. So, it was a pleasure to stay at Helena's place and we'll definitely book it again! WE TOTALLY RECOMMEND IT! Thank you so much, Helena, Alice & Garvin!
Alexandra
2016-08-17T00:00:00Z
From the moment we arrived to the time we left we had a special time. The house is quite unique - an exceptional old stone house with all its original features. Helena was an impressive host - available, reliable and honest. She generously provided us with all the essentials and gave us a basket of local delicacies on arrival!' The location of the house was perfect for all the exploring we wanted to do, from walks in the nature reserve to visits to other towns. The views from the house were spectacular. You need to see it to believe it. We found the local people welcoming and friendly and this part of Tuscany is far more affordable than other places we have visited. It was a difficult place to leave - we will be returning!!
Amanda
2016-08-31T00:00:00Z
Room Type
Entire home/apt
---
Property Type
Villa
---
Accommodates
12
---
Bedrooms
Sestino, Tuscany, Italy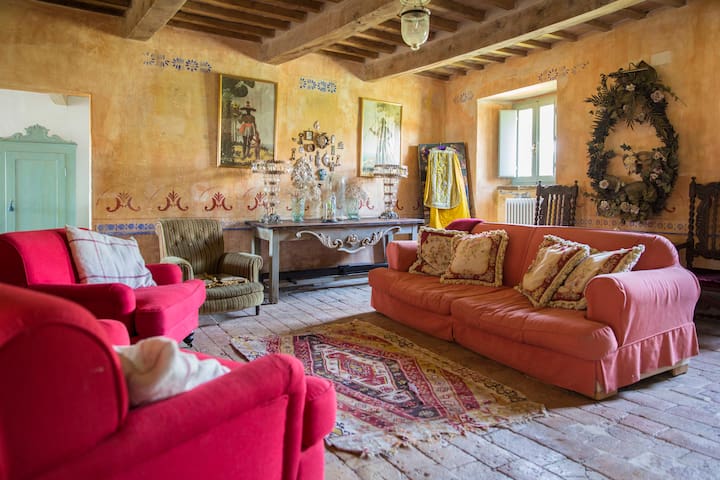 La casa vacanze Villa Metauro si trova sul fiume Metauro a pochi passi dal centro storico. I principali negozi e servizi sono nel raggio di 100 metri, ma nel giardino avrete la sensazione di essere immersi nella natura. Supermercato a 50 metri.
The holiday home Villa Metauro lies on the River Metauro a few steps from the historic center of Mercatello Metauro and thirty kilometers from Urbino. It is a detached villa of 120 square meters, furnished with taste and quality, has an extensive orchard and garden with a veranda for outdoor dining bakery, where you can spend relaxing moments. The interior consists of a kitchen with fireplace, three bedrooms and a bathroom. It can accommodate up to nine people. Parking is inside. The river is accessible by a path that goes down to the waterfall called the crags. The main shops, bank and post office are located within 100 meters. Away from the pollution, the property is ideal for food lovers, especially mushrooms, truffles, and sausages, then trekking bike, golf, amateurs to discover, explore and enjoy the countryside that still preserves the ancient characters of landscapes Piero della Francesca and find direct contact with nature.
Room Type
Entire home/apt
---
Property Type
Villa
---
Accommodates
6
---
Bedrooms
Mercatello Sul Metauro, Marche, Italy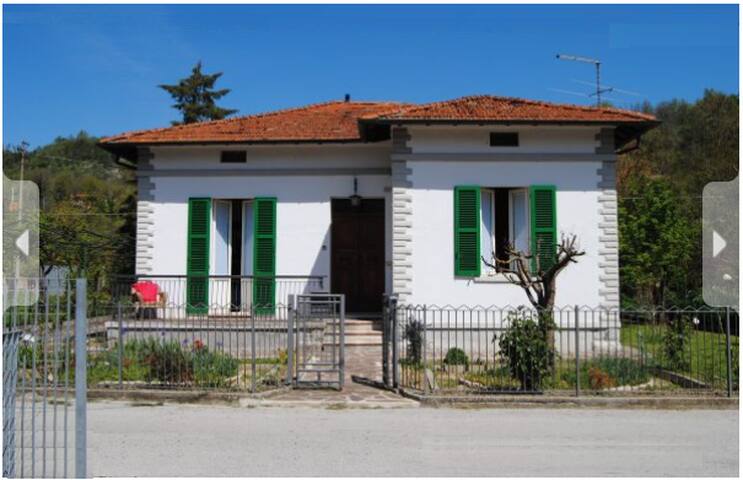 Il mio alloggio è vicino al centro città. Ti piacerà il mio alloggio per questi motivi: i panorami. Il mio alloggio è adatto a coppie, avventurieri solitari, famiglie (con bambini), grandi gruppi e amici pelosi (animali domestici).
Room Type
Entire home/apt
---
Property Type
Villa
---
Accommodates
9
---
Bedrooms
Sestino, Toscana, Italy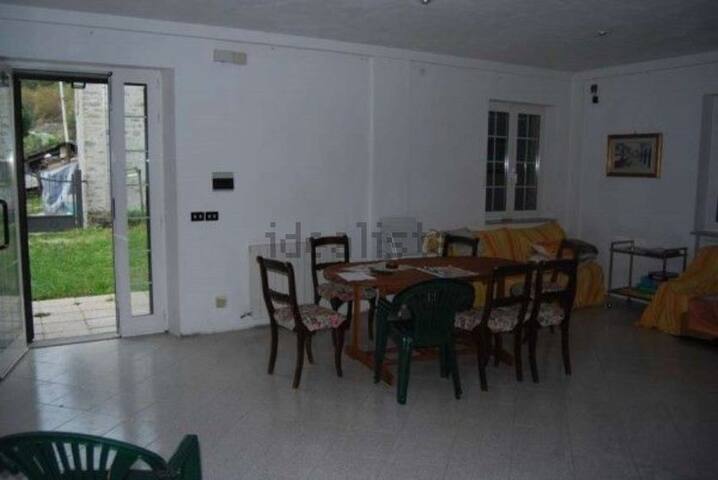 Comfortable holiday house with great outdoor space , in the Apennine mountains , in 600m.s.l.m. perfect for groups who want to spend holidays in contact with nature . kitchen with covered terrace in the ground floor , living room with
The villa is on 3 levels of living space and all furnished. The ground floor has a double bedroom, living room with sofa bed, living room with wood burning stove and fully equipped kitchenette, bathroom with shower. The first floor has a master bedroom, a second bedroom where there are very large 1 double bed and a double sofa bed, then the big bathroom with shower and bath, a living room with fireplace and kitchen accessories and is surrounded by a terrace. The second and last floor there are 2 bedrooms one double and one with 2 single beds, bathroom with shower and a large terrace. The whole house is surrounded by garden with table and chairs, barbecue in the back of the house there is a garage, shed and laundry. possibility to bring pets.
Cosy holiday home with great outdoor space, in the Apennine Mountains, 600 meters above sea level Ideal accommodations for groups who want to spend their holiday in contact with nature. Eat-in kitchen with covered terrace on the ground floor, living room with open fireplace and balcony on the first floor sun terrace. The floors are connected by a spiral staircase and exterior entrances. A place to relax, to hiking and biking on Monte Nerone (1,525 m), swimming in streams (500 m) trips to Urbino (30 km) and the sea at Fano (60 km). Apecchio 6 km away.
Room Type
Entire home/apt
---
Property Type
Villa
---
Accommodates
15
---
Bedrooms
Apecchio, Marche, Italy
A 5 km from Urbino, on a hill overlooking the surrounding Marche countryside is Cal'Duca, a farmhouse of the XVI century, it restored preserving the flavor of time. We will be very pleased to welcome you in this haven of peace.
Room Type
Private room
---
Property Type
Villa
---
Accommodates
3
---
Bedrooms
Urbino, Marche, Italy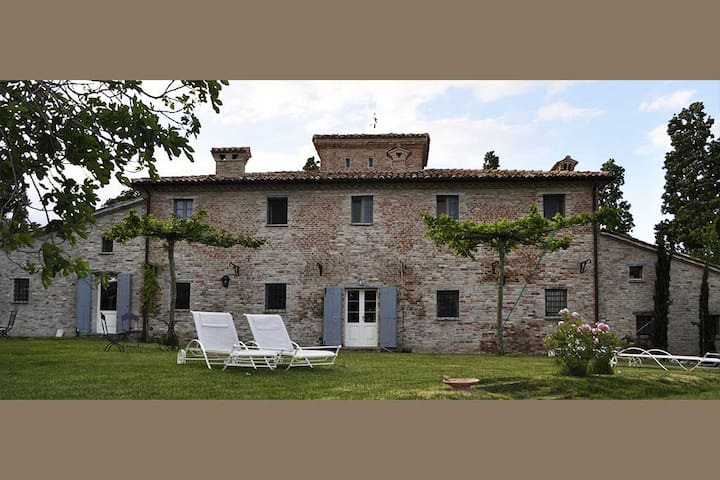 NUOVA ALA! Antico casolare recentemente ristrutturato. Situato su di un promontorio circondato da boschi e vallate verdeggianti. Ideale per trascorrere splendide giornate in totale relax. (Prezzo inteso per l'intero casolare). Prezzo dal 23-12-16 al 07-01-17: Fino 3 notti 255€ Da 3 a 6 notti 205€ Soggiorni settimanali riduzione del 30%. Per "l'ala Ubaldini" aggiungere 180€ giorno al prezzo standard del casolare. *Per soggiorni di 1-2 notti vanno aggiunte le spese di pulizia di 50€.
Rossara è un casolare restaurato da poco ed arredato con mobilia di pregio in gran parte antica e restaurata con perizia e cura, dotata di travi e pianelle a vista su ogni stanza e pavimentazione in cotto, il tutto reso organico da pareti intonacate che incastonano macchie di muro in pietra a vista. All'esterno è dotata di un patio dove poter fare un buon pasto a contatto con la natura e di un forno per poter cuocere una buona pizza o un'ottima grigliata in compagnia e totale relax. Al piano terra è dotata di una spaziosa e nuovissima cucina con camino per cuocere del buon cibo alla brace, un'ampia sala da pranzo, un grandioso soggiorno con nuovissimo camino in grado di riscaldare l'intera abitazione ed un ampio bagno dotato di tutti i confort. Al piano superiore si accede mediante una scala posta al centro dell'edificio, qui troviamo 8 belle camere arredate con gusto e divise in 2 grandi zone notte "l'ala Conti *Ubaldini" e "l'ala Conti Brancaleoni". Ala Conti Brancaleoni dotata di: 1 camera matrimoniale arredata con mobili antichi e di pregio ed uso esclusivo di bagno in camera dotato di doccia. 2 camere matrimoniali anch'esse arredate con mobili di pregio dotate di un ampio e confortevole bagno in comune dotato di box doccia. 1 camera singola con letto da una piazza e mezzo dotata di bagno in comune con le camere matrimoniali. *L'Ala Conti Ubaldini (Nuovissima ala romantica del casolare) dotata di: 2 ampie camere matrimoniali di cui 1 dotata di un romanticissimo letto a baldacchino ed esclusivo bagno in camera con box doccia. 1 camera matrimoniale e 2 camere singole dotate di bagno comune esterno alle camere dotate di ampio box doccia. *Quest'ala viene data solo su richiesta ed in aggiunta a soggiorno base, al prezzo di 180€ (alta stagione), 150€ (bassa stagione) al prezzo giornaliero del casolare. Da qualsiasi finestra decidiate di affacciarvi, godrete di spettacolari e rilassanti scorci di cielo e natura capaci di donare relax e ricaricarvi dalla vita frenetica di tutti i giorni. Ulteriori foto e dettagli sul nostro sito e su (SENSITIVE CONTENTS HIDDEN) "casa vacanza Ca Rossara".
Rossara si trova sulle verdi colline marchigiane a 3 minuti da Apecchio (PU), lontano quanto basta per essere immersi nel verde tipico della zona e vicinissimo ai centri cittadini, quali Apecchio, Piobbico e città d'arte come Urbino, Città di Castello Gubbio e Perugia dove è possibile visitare borghi antichi e musei di vario genere. Avrete la possibilità di fare degustazioni nei birrifici del luogo e nei tanti ristoranti assaporando i prodotti tipici del luogo.
Un posto bellissimo! dall'atmosfera unica, l'impressione che abbiamo avuto appena arrivati è stata di totale relax, di distacco totale dalla routine e dagli stress e di libertà. Il casolare è molto elegante e ben arredato. Insomma promosso assolutamente. Ci torneremo!!!
camilla
2017-03-26T00:00:00Z
Room Type
Entire home/apt
---
Property Type
Villa
---
Accommodates
16
---
Bedrooms
Apecchio, Marche, Italy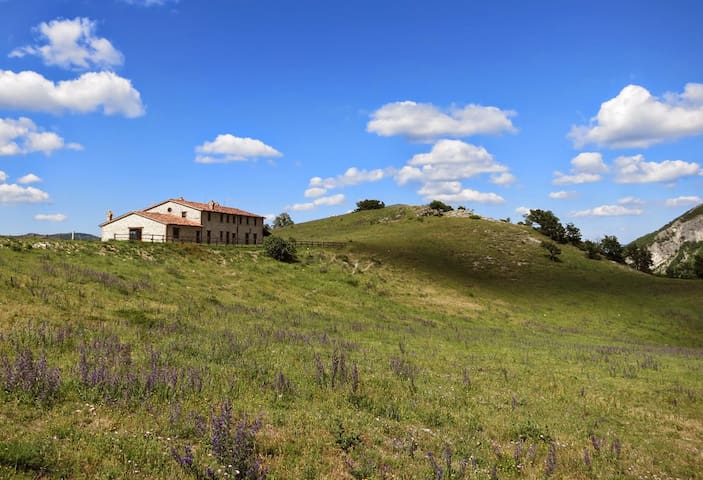 Restored country house, furnished with design furniture in a modern style. Eco-friendly building technique, it is located in a green hilly landscape. The porch is right in front of the oxygen pool with a nice small waterfall.
Room Type
Entire home/apt
---
Property Type
Villa
---
Accommodates
6
---
Bedrooms
Apecchio, Marche, Italy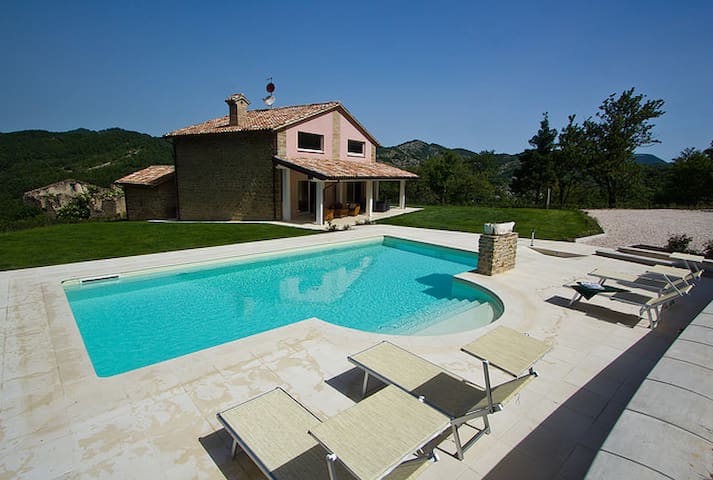 A real Italian experience in a Palazzo built in the 1700s, located in the main square of Mercatello sul Metauro. Luisa opens the doors to her family's Palazzo and invites you to enter the peace and authenticity of a by-gone time. You'll discover and experience a way of life which maintains the grace and culture of the Renaissance, in a small town largely undiscovered by tourists.
Palazzo Donati is the perfect retreat for a family holiday or reunion, suitable for small groups wanting to spend some time together, enjoying activities like cooking courses, yoga,hiking,singing,creative writing, water colours courses… The house can host from a minimum of 4 to a max of 10 people in 5 large double bedrooms with 4 bathrooms with shower and bathtubs, a kitchen well equipped with a large fireplace for cooking wonderful barbecue, living rooms where to relax in comfortable sofas and a large walled private garden with a small pool open only during the summer months.
It is a beautiful mediaval village full of local life surrounded by beautuful countryside and to rivers where to enjoy wild swimming
Room Type
Entire home/apt
---
Property Type
Villa
---
Accommodates
10
---
Bedrooms
Mercatello Sul Metauro, Marche, Italy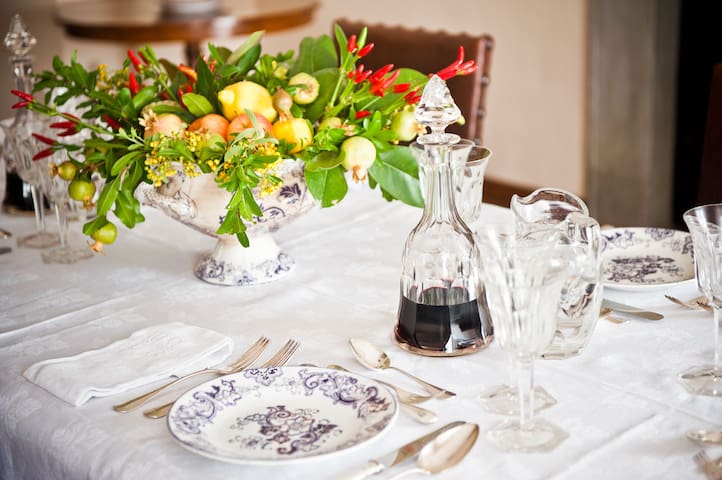 Torre colombara in pietra del (PHONE NUMBER HIDDEN) secolo di circa 120mq su tre piani. 1 camera con 3 letti singoli, 1 camera con letto matrimoniale e singolo, 2 bagni con doccia, soggiorno con camino, cucina abitabile, giardino di 3000mq con bbq e piscina.
Dietro l'ingresso principale si trova il soggiorno, un'antica sala con camino, dove sono presenti 2 divani (3 posti ognuno) di cui uno trasformabile in letto matrimoniale. Al piano superiore si trova una delle camere da letto con un letto matrimoniale e un letto singolo ed uno dei due bagni. L'altra camera da letto (con tre letti singoli) è al piano inferiore, assieme al secondo bagno, con ingresso privato. La cucina di 20 mq è al primo piano, di fianco al soggiorno ed è attrezzata per poter cucinare anche per una gran comitiva ed è dotata di un tavolo estendibile che può ospitare più di 8 persone. All'esterno, appena fuori dall'ingresso principale vi è un tavolo di analoghe dimensioni per i vostri pranzi all'aperto nella bella stagione. Più avanti si trovano il barbecue e la piscina (6.6m x 4m con altezza 1.2m) che ha uso esclusivo da maggio a settembre. A vostra disposizione sono anche alcuni lettini per prendere il sole e gonfiabili da portare in acqua!
La villa è posta sulla sommità di una collina (375m) che domina la valle del fiume Candigliano in Comune di Acqualagna (PU). Adiacente alla villa si trova un'altra villa che viene spesso affittata sempre nello stesso periodo.
Room Type
Entire home/apt
---
Property Type
Villa
---
Accommodates
8
---
Bedrooms
Acqualagna, Marche, Italy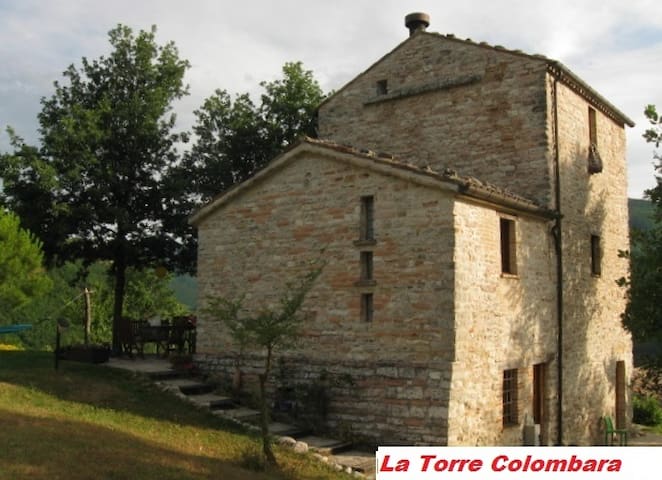 La grande villa padronale in pietra "Rosa del Furlo" è stata completamente ristrutturata nel completo rispetto dell'ambiente, con una speciale attenzione alla qualità dei materiali e agli arredi degli interni. Mobili in legno massello, pavimenti in
La grande villa padronale in pietra "Rosa del Furlo" è stata completamente ristrutturata nel completo rispetto dell'ambiente, con una speciale attenzione alla qualità dei materiali e agli arredi degli interni. Mobili in legno massello, pavimenti in cotto, letti in ferro battuto, ampie docce sono solo alcuni dei dettagli che rendono il soggiorno presso ca' Maggio Nuovo particolarmente gradevole. L'Agriturismo colpisce innanzi tutto per la posizione panoramica in cui si trova. Da qui, seduti su una panchina sotto una quercia secolare, potrete godere i tramonti più belli del Montefeltro. L'area è molto rinomata per le sue viste mozzafiato e le prelibatezze gastronomiche legate al famoso Tartufo Bianco di Acqualagna, celebrato ogni anno in una fiera internazionale che si svolge tra fine Ottobre e Novembre. Ca' Maggio Nuovo è la struttura ideale per chi cerca una vacanza a contatto con la natura, in un'atmosfera di genuinità e semplicità, ma desidera rimanere vicino alle principali mete turistiche: Urbino, città d'arte Patrimonio dell'Umanità; La Riviera Adriatica con le sue ampie spiagge bianche; Gradara, con il celebre castello di Paolo e Francesca; Urbania e le maioliche di Casteldurante; San Leo e la vicina Repubblica di San Marino, le Grotte di Frasassi e la Riserva Naturale Parco Gola del Furlo; ed infine la Toscana e l'Umbria a pochi chilometri di distanza. Potrete soggiornare in perfetta autonomia in uno dei 5 appartamenti ricavati nella struttura, dotati anche di uno spazio esterno privato per poter godere delle belle giornate di sole. A vostra disposizione anche la piscina esterna e l'ampio spazio prendisole. La locanda da Gabi, Il ristorante da poco realizzato, apre il porticato sulla vallata sottostante ed ristorazione a km 0 con i prodotti del nostro orto Biologico e piatti della cucina tradizionale. Vi suggeriamo anche di prendere parte alle numerose iniziative che Gabi e Silvio vi proporranno ad esempio la preparazione della pasta fatta in casa o della pizza cotta nel forno a legna.
Farmacia, benzinaio, edicola, tabacchi bar pizzeria, negozi, a soli 1 km, supermercato a 2 km
Room Type
Entire home/apt
---
Property Type
Villa
---
Accommodates
16
---
Bedrooms
Acqualagna, Marche, Italy