Il complesso è parte di una antica masseria ristrutturata, l'appartamento si trova nel cuore del centro storico di Patù, antistante la storica Piazza Indipendenza a pochi minuti dal mare e dai maggiori centri d'interesse storico e culturali.
You enter the apartment from the renaissance Piazza Indipendenza. From here you can enjoy in a private way Patù, with its historical atmosphere and its proximity to the most fascinating and well-known beaches of the southern Salento. From the apartment you can enter the solarium area- and the internal garden which is equipped with a BBQ, dining hall and external shower. You can enjoy a view of the typical rooftops of the village from the observation platform- top, while you experience the exclusive and complete intimacy in the garden. From the court, through an old door, you will find a large living room with a fireplace and a perfectly equipped kitchen. The apartment is furnished with a queen-size sofa bed. From this point you can access the main bedroom and the shower-equipped bathroom. On the other side, through a big door you will find the second large and comfortable living room. The place which was a stable in ancient times- is furnished with a fully-equipped kitchen and a queen-size sofa bed. From this area you can enter a small sitting room which is a passageway that allows you access to the bathroom or the bedroom where you will be awestruck by the typical star-shaped ceiling.
Just 29 kms from Patù you can enjoy and relax at Santa Cesarea Thermal baths. You can also practice: •Horse riding - 3.5km far from the house •Tennis - 5 km far from the house •Diving - 6 km far from the house •Rent a boat •Chemistry and market available in the village •Beaches: Marina di San Gregorio 2 kms away; Marina di Pescoluse (Maldives of Salento) 5 kms away; Torre Vado 4 kms away, Gallipoli 25 kms away. •We also recommend a visit to the cities of Otranto and Gallipoli, where you can enjoy the marvellous sea during the day, and you can lose yourself among the old walls of its villages full of history and warmth. A look around
My girlfriend and I recently stayed for 9 nights at Daniela's beautiful apartment in Patu. We stayed in the courtyard apartment. Everything was perfect for a lovely relaxing break. The property is stunning, original features everywhere with all the modern appliances/facilities you will need, we loved the tiled floor and bathroom, the roof terrace is a real treat too, I really can't think of anything we didn't like, everything was very new, it really is a perfect place to stay if you are considering a trip to Salento. Daniela was so helpful, even though she doesn't speak much English (better than my Italian though!). She provided us a really useful list of local restaurants, even made a booking for us at the restaurant next door on the day we arrived (you must try it, the food is fantastic and it is literally next door!) She also gave us a list of the best beaches and villages we should see. Both Daniela and Gianfranco were so helpful and lovely, we will be going back for sure. The location is great for exploring Salento, so great beaches only a short drive away as well as plenty of restaurants and picturesque villages, the local are very friendly. Remember to take some mosquito repellant though! I really can't recommend this apartment anymore, you really will love it.
Jayesh
2014-07-09T00:00:00Z
This was our second stay at the wonderful apartment of Daniela. We had a very warm welcome by the lovely Pina and were enjoying our time in Patu very much. We would highly recommand everyone to stay in this beautiful apartment.
Christian
2015-09-30T00:00:00Z
Staying at Daniela's place was a great decision! Daniela provided us with lots of information and left us a little present - traditional bred filled with vegetables - which was delicious! The garden apartment is tastefully furnished and a great place to relax. Situated in the very south of the Italian boot heel, the apartment is a great place to explore the Salento. We can really recommend spending some days at Daniela's place and we enjoyed our stay to the fullest!
Claire
2014-09-23T00:00:00Z
I spent 3 nights in Daniela's lovely flat in Patú. It was a great way to begin my first time in Salento. Daniela was a great host providing some of the best recommendations for the area and always available any advice. A short drive to the beach made this a perfect tranquil escape. I would recommend it for anyone coming to the area.
Paul
2014-08-03T00:00:00Z
Daniela was very friendly and helpful - communication was excellent From the start and she made us feel very welcome. The house was beautiful, clean and comfortable.- perfect parking outside, which was never a problem. Patu was delightful, tranquil and not at all touristy - a perfect base for exploring the region.
Michelle
2016-07-03T00:00:00Z
Daniela, Gianfranco and their son Oswaldo are very kind people and wonderful hosts. We enjoyed the garden apartment and the bells of Patu for a week in September. The garden is a fantastic spot to enjoy dinner made with Km 0 local ingredients while sipping wine from Salento. During the day we explored Leuca, Specchia, Salice, Gallipoli, Otranto, Lecce and some of both the Adriatic and Ionian coasts by car and boat. I definitely recommend a visit to both Salento and Il Corte a Patu
Jamison
2014-09-05T00:00:00Z
We stayed 9 days at Patù in Corte and it was very hard to leave this little paradise. Every Corner of the house and garden is made with love and we enjoyed every minute staying there. And Daniela is a wonderful and helpful host. Thanks a lot. We defiantly will be back soon!
Christian
2015-06-17T00:00:00Z
Our stay at Patú was beautiful even tough the weather was not as good as we hoped. The apartment was so cozy and with a stunning garden. Also we liked the idea of not staying directly in the touristic area but a village where the "real" Salento people live. Mrs Pina was absolutely lovely and even though she spoke no single word English I never had a warmer welcome. Plus, I absolutely recommend not only visiting the towns around like beautiful Gallipoli, but also towns like Ostuni (1 hour drive but DEFINITELY worth it).
Hannes
2016-05-25T00:00:00Z
Room Type
Entire home/apt
---
Property Type
House
---
Accommodates
4
---
Bedrooms
Patù, Apúlia, Italy
Villa Concetta is the perfect place to have a nice and relaxing holiday!! It is at too step from the sea and close from shops, bars and restaurants. You'll find yourself like at home :)
The house is situated in a quiet place close to everything. It is divided in two apartments, with a separated terrasse for each one. We can provide you towels and linen with a deposit of 30 euros that will be restituted to you directly at the end of your stay.
We know everyone in the neighbourhood, they are family or friends, so the area is completely secured.
Just perfect! I wish we stayed longer!
Emma
2016-04-05T00:00:00Z
We stayed for three nights and had a great experience. The kitchen is well equipped to cook meals and serve a good breakfast. The balcony is great to chill and relax. We were traveling by car and the beach spots are easily reachable. Marion and Marco gave us great tips about the neighborhood. They're great hosts and respect your privacy.
Thijs
2016-05-10T00:00:00Z
This place is fantastic, we only stayed for one night but I'd highly recommend it. It's small and perfectly formed for two and the terrace is so good! It's also in the perfect location for exploring Puglia's best stretch of coast. Thanks so much!
Jenni
2016-04-11T00:00:00Z
the holiday and Marco Marion was the most beautiful! all perfect! the place is lovely, quiet, surrounded by olive trees and vineyards, with a splendid terrace overlooking the sea! the house is clean and comfortable. Mark and Marion are people are very kind and friendly people !!It was a wonderful vacation that we will remember forever! the sea has the unique colors, it feels like being in the Maldives !! I guarantee it !! we will be back !!
diana
2015-06-22T00:00:00Z
Marco and Marion did everything to make me feel at home. They gave me their cell phone nummers beforehand in case of problems, picked me up at the bus stop and Marco's brother immediately gave me a short Vespa tour of the region. The accommodation is ideal for two people, with a double bed, a bathroom, small kitchen and a terrace with sea view. Wifi is provided as well. 300 metres down the hill and you're at the beach. Outside the main season it is extremely quiet here, which has huge advantages but an own car is convenient as the supermarket in the village usually isn't open anymore in October. Great place to stay and get some peace of mind :)
Bas
2015-10-11T00:00:00Z
Everything was perfect! Marco guided us to the house and gave us some tips on where to eat, the apartment is great and it has a really nice terrace with a nice view! We loved our stay here and for sure we recommend it to anyone going to this area!
Aida
2015-06-05T00:00:00Z
This is a wonderful place to stay when in this area. A lot of great day trips or the PERFECT place to hang out and do nothing too. We needed this time here, it was so nice to relax on the deck and look at the view straight out to the sea. 5 minute walk to put your feet in the water and not a tourist place so very peaceful. They both were so kind to us and produce a great olive oil right on site. The place had kitchen and living room and room, all you could need. Stay here. It's perfect and very comfortable. Call host when near so they can direct you to the home.
Nicholas
2015-04-26T00:00:00Z
Simple and very clean. Hosts very friendly. Nice view from balcony.
George
2015-06-10T00:00:00Z
Room Type
Entire home/apt
---
Property Type
Apartment
---
Accommodates
2
---
Bedrooms
Marina San Gregorio, Puglia, Italy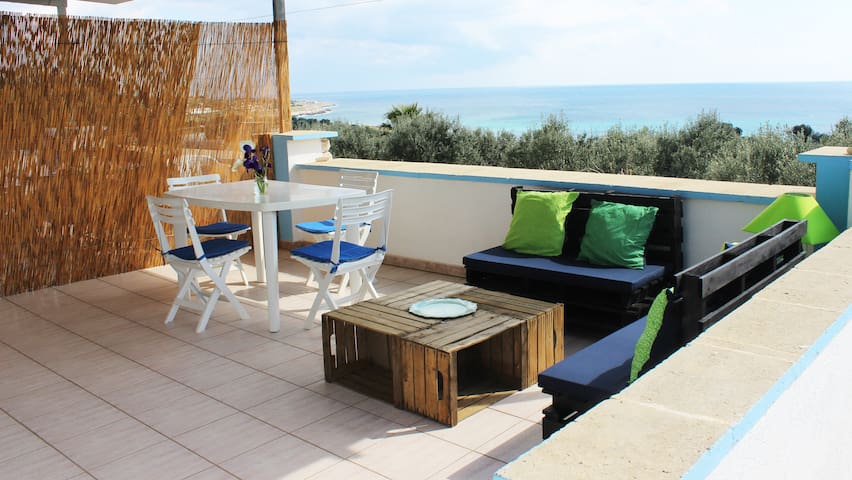 The "Old Houses" will capture the attention of lovers of the past, catapulting the visitor directly to a past experience, where man and nature co-existed in harmony.
Il Trullo "the old houses" in the heart of southern Salento, where, warmed by the sun the flavors of the earth mingle with the scents of the sea. Along an old country road , opening a door to be captivated by the beauty of the past and full of charm intact . I Trulli " the old houses " in the heart of Southern Salento , dating back to the nineteenth century , retain the original features, stone walls , minimalist décor , have been renovated recently, without affecting the ' old charm. Staying in the Trulli ` is a unique experience : a full immersion in nature , an oasis of comfort and relaxation to rejuvenate the body and mind , a place where , warmed by the sun of the earth flavors mingle with the scents of the sea .. Walking through the countryside and gather figs from consumae freedom in a cool place, at the foot of the large olive tree . The old houses are composed of two double bedrooms and two bathrooms, separate and independent, the rooms are not communicating, and a big cooking. The rooms offer romantic visions : a journey into the past by ricordare.Ideale for 2 couples or group of friends. Located just 2 km from Patu 1.5 km from Marina di San Gregorio and 4 km from Santa Maria di Leuca. Just 4 kms away from the Marine Pesculuse the Maldives of Salento which is a basis for a summer vacation to live close to a fabulous sea . Trulli the old houses : for lovers of rural tourism , sea and folklore . For those who enjoy nature without compromise! Pets are allowed....
The trulli are located in the countryside , in a hilly area characterized by thick vegetation of olive trees and Mediterranean bush . A 5 -minute drive and can reach great restaurants ( Moro and Mimi ) to St. Gregorio , the centopietre mini maket , an excellent pizzeria ( Tora ) . Restaurants , La Santa barbara del Mare to Leuca , La Rua and San'Elia trattoria in Patù , Retrò A castrignano del Capo.
Francesco was a very good host. Always available, kind and very knowledgeable about the surrounding area as it is where he has his roots. The trullo is nicely renovated and a perfect conciliation between old and new. Everything was according to the expectations and i would recommended if you'd like to experience some days of living in an old style 'masseria' deeply placed between olive trees.
Roberto
2014-06-28T00:00:00Z
It was a big pleasure to spent time in this typical trullo. Francesco is very friendly and staying in this house was one of the greatest experience I had. You only need to climb on the roof with the stairs outside and you have a wonderful view on the sea and the sunset. I highly recommand this guest.
Khalid
2013-08-31T00:00:00Z
Great place, to take a vacation by the wonderfull Ionio sea; far from the crowd, immersed in the olive grove, rustic but with all the necessities. It requires some adaptability but Francesco is always available, carefull and smiling, even when we needed some help with the spare wheel!
GIOVANNA
2013-07-06T00:00:00Z
Thanks so much Francesco, it had been a spendid holyday in your Trullo. If you love nature and silence it is the ultimative place to stay. We staid 3 weeks and felt completly relaxed afterwards. Francesco understood how to bring back a feeling for the essentials of life.
Wolfgang
2015-07-13T00:00:00Z
The trullo was a very special place to stay; away from the crowds, amidst olive & fig trees, a big garden, clean and very well equipped (even with masks for snorkelling), we had a wonderful stay! Francesco was very friendly and welcoming, and also gave us information about the surroundings. On a sidenote, you will need either a car, scooter or bike to get there, which is also easier to discover the beautiful coast of south Italy. We will definitely come back!
julie
2013-08-05T00:00:00Z
Tue place is spectacular: two old "pajare" with plenty of space, huge bathrooms, and a wonderful garden. Everything is stone build, full of charme, and so typically salentino. Francesco (Fers) has been a perfect host, immediately responding to any request, suggesting us the best restaurants, ... Perfect vacation, also for our little daughter Marta
Giuseppe
2016-08-11T00:00:00Z
Francesco is a very nice guy. He was very helpfull and friendly. He responds very quickly to your messages. The trullo was very well equiped and it was very peacefull to stay there for a couple of days. There are a lot of beautiful beaches around. If you want to escape the busy city life for a while, this is the place to be!
donald
2014-07-27T00:00:00Z
We had a really great time in the Trullo !! It's perfect if you're looking for some quiteness in the countryside amongs olivetrees. It has all the equipment you need for cooking. the shower outside is perfect to survive from the summer heat :-) The beach are a few minutes drive away (good spot near the small torre vado port). Good location away from mass tourism to discover the beautifule Salento area and the coast. Francesco was really friendly and available for any question. I would definetly recommend to stay in the trullo.
vanessa
2013-07-29T00:00:00Z
Room Type
Entire home/apt
---
Property Type
House
---
Accommodates
4
---
Bedrooms
Province of Lecce, Apúlia, Italy
Typical trullo situated in a beautiful pool complex.
Typical trullo situated in a beautiful pool complex. The accommodation has a comfortable equipped veranda overlooking the pool. Inside it provides a living room with sofa bed and kitchenette, bathroom and bedroom inside the trullo. The complex features a wonderful pool area, a big garden completely closed and private parking site. WI FI available on site. Close the property you can find all services like: banks, shops, pharmacy, post office, hairdresser, restaurants and pizzerias. Doctor and babysitting available at home. From the house it is easy to reach both the Adriatic and the Ionian Sea.
Room Type
Entire home/apt
---
Property Type
Other
---
Accommodates
4
---
Bedrooms
Castrignano del Capo, Puglia, Italy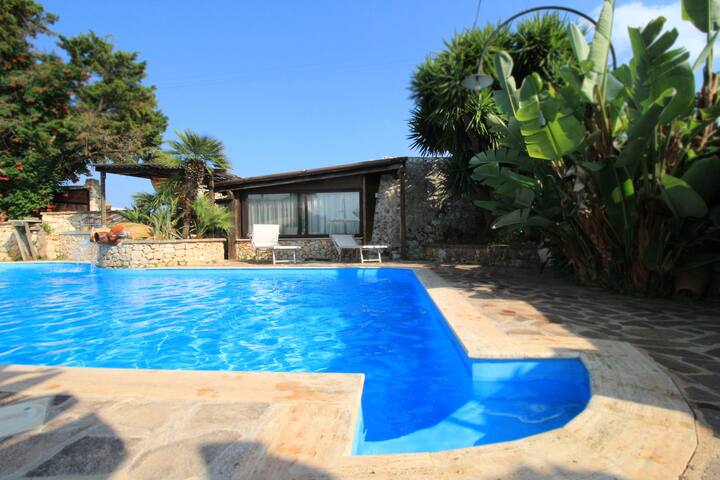 Historical trullo set in 4000 square meters of olive trees, an oasis of total relaxation a step away from Santa Maria di Leuca. The ideal choice for your holidays to discover the Salento tradition!
Just 3 minutes from Santa Maria di Leuca and its beautiful coasts , the millenniums of history is confused with the legend , there is a building typical of the Salento tradition : the Pajara version of the trulli of Alberobello, Lecce . Set in 4000 square meters of land , including olive trees, fruit trees and palm trees, this pajara completely renovated it still retains its typicality. A perfect combination between tradition and modernity : you can live a peaceful holiday , but with a snap of your fingers you'll find yourself in the beautiful Leuca with its many bars and restaurants. In pajara you will find a double sofa bed , TV, kitchenette, bathroom with shower. Outside : intercom, driveway illuminated , barbecue, usable space in front for outdoor dining. Guests can also enjoy the company of Toby and Moon, two beautiful puppies (they have a bed of their own ) . Restaurants and supermarkets nearby. Linens, water, electricity and gas included in the price. Final cleaning 30 € (the client must still wipe the services and the cooking area at the exit) . In August, the stay is one week, from Saturday to Saturday . Ability to organize diving courses, sailing, diving and fishing trips.
Staying at Pajara-Trullo was a unique experience. The surrounding is very quiet and beautiful. Everything was clean and charming. The company of two cute cats and two gently dogs is heartwarming. Paolo and his grandfather Cosimo are extremely frindly and helpful.
Laura
2013-09-13T00:00:00Z
This little house of dreams was the cosy holiday home I desired for my stay in Salento... Perfectly compact but set in glorious garden full of olives trees, vegetables and the night time stars :-). 10 minutes by car to the glorious white sandy beaches of Pescoluse, and to the charming town of Santa Maria di Leuca. We also took dinner in Gallipoli one night that I highly recommend, only 30 mins by car. Paolo couldn't be more helpful, and as previous guests have mentioned, his grandpa also made a subtle appearance to tend to the garden, two true Puglian gents! A truly delightful experience in a fabulous settings, thank you!
Ashleigh
2015-09-15T00:00:00Z
We really enjoyed our stay here. Paolo and his family were incredibly helpful and kind throughout the stay. They were quick to solve any issues that we had. The apartment itself is located in the sleepy little town in Castrignano del capo, but it is easy to drive down to Leuca for more atmosphere. The land surrounding the apartment is full of fruit and vegetables and we were allowed to eat as much as we wanted to! The room had all of the basic necessities and was comfortable. I'd definitely recommend staying here if you want some tranquility and respite from fast paced life in the city.
Imani
2016-07-09T00:00:00Z
Non abbiamo avuto il piacere di conoscere Paolo perché siamo stati accolti da suo nonno che é stato gentile ed ospitale. La pajara ha un buon posizionamento per chi, come noi, voleva visitare i dintorni.
federica
2016-09-08T00:00:00Z
Ottima accoglienza da parte di Paolo, che ci ha atteso al paese di Castrignano dove ci ha offerto un caffè e dandoci subito qualche dritta sulle spiagge migliori ed i locali dove mangiare in zona. Poi ci ha accompagnato alla famosa pajara, che ci ha lasciato a bocca aperta' in quanto più bella di quello che immaginavamo e si vedeva nelle foto; questo nido tranquillo e fuori dal caos (una libidine per chi arriva da una città come Milano), casetta in terreno con ulivi e piante varie da frutta; dove mangiavamo nel cortile attrezzato anche per i barbecue o ci rilassavamo sulle sdraio che io portavo all'ombra degli ulivi. Abbiamo avuto anche il piacere dell' accoglienza e della simpatia del nonno di Paolo che veniva con il suo cane Luna a curare l'orto. Comunque la pajara è in una posizione perfetta per visitare sia la costa ionica che adriatica ed a pochi minuti dal paese di Castrignano e da Santa Maria di Leuca. Con malincuore siamo partiti, lasciando tutto questo per tornare a Milano, ma con il ricordo dell'ospitalità calorosa dei salentini, orgogliosi dell'appartenza alla loro terra e veramente molto disponibili verso gli ospiti.
Andrea
2015-09-13T00:00:00Z
Io e il mio ragazzo abbiamo soggiornato per una settimana in questa splendida pajara, immersi nella tranquillità e nella bellezza della campagna salentina. Sia Paolo che suo nonno si sono dimostrati molto disponibili e cortesi, dandoci qualche consiglio su come sfruttare al.meglio la nostra vacanza. La pajara è molto curata e c'è tutto il necessario per soggiornare. Inoltre, la zona è ottima per visitare entrambi i versanti ed è a soli 10 min da Santa Maria di Leuca. Consiglio vivamente questo posto per trascorrere una piacevole vacanza nel salento. Per chi, come me, dovesse avere qualche problema con ragni e insetti vari, non si preoccupi, ci sono delle buone zanzariere.
Claudia
2015-08-02T00:00:00Z
Il piccolo trullo è esattamente come nelle foto dell'annuncio, piccolo ma molto molto grazioso. perfetto per due persone in fuga dallo stress della città come me ed Alfredo! è immerso in uno splendido uliveto, le foto non rendono bene lo spazio intorno...... bellissimo. siamo stati immersi nella pace e nella natura, la serata abbiamo potuto usufruire del barbecue per farci delle belle grigliate e poi rilassarci al fresco ed osservare uno splendido cielo pieno di stelle!!!! insomma un romantico ed accogliente punto di partenza per visitare il bellissimo mare intorno. in pochi minuti si arriva a Leuca ed in moltissime spiagge molto molto belle. Paolo e suo nonno sono stati molto accoglienti e disponibili, Paolo ci ha consigliato le spiagge più belle e dei deliziosi ristorantini. insomma una vacanza indimenticabile, vi consiglio di provare!!!
serena
2015-08-30T00:00:00Z
Abbiamo soggiornato io e la mia compagna in questo Trullo per 4 notti ad Agosto , esperienza bellissima , Paolo il proprietario è stato veramente gentile , è venuto a prenderci all arrivo e ci ha accompagnato alla casa ed è stato sempre disponibile per qualsiasi richiesta. Immersa nella campagna di Castrignano, ma vicina neanche 10 min da Santa Maria di leuca. È in un ottima posizione per chi come noi voleva visitare le spiagge di entrambe le coste. Pur essendo in aperta campagna, stranamente non erano presenti zanzare. La sera, dopo cena e tornati a casa, i lettini presenti sul portico erano il nostro rifugio per un po di fresco e di relax, la sera la temperatura era perfetta. Consiglio di provare questa esperienza, per chi come noi voleva staccare la spina dalla vita della grande città.
Tiziano
2016-08-11T00:00:00Z
Room Type
Entire home/apt
---
Property Type
Earth House
---
Accommodates
2
---
Bedrooms
Castrignano del Capo, Apúlia, Italy
Nel cuore del bellissimo centro storico di Patù, spaziosa casa d'epoca con volte a stella ed altre pregevoli caratteristiche architettoniche. A 4 km dal mare e a pochi km da Leuca. 2 posti letto. Permanenza minima: 10 giorni.
Sala d'ingresso, camera da letto, bagno, corridoio, cucina abitabile con camino, giardino. Il mare dista 4 km, ci si arriva in quattro minuti di macchina, percorrendo un tragitto praticamente rettilineo (la strada è anche in discesa). In pochissimi minuti potrete arrivare a Leuca oppure raggiungere le bellissime spiagge nei dintorni di Torre Vado. Sottolineiamo che occorrono davvero 4 minuti per arrivare alla costa, non è un modo di dire. L'offerta è valida esclusivamente per 2 persone. Permanenza minima 10 giorni. Disponibilità solo per il periodo estivo.
La casa si trova nel centro storico di Patù, a pochi metri da una nota trattoria, dalla piazza centrale del paese e da un'antica chiesa. Semplicemente camminando, in due minuti si può raggiungere la ''Centopietre'', dichiarato fin dal 1873 Monumento nazionale di seconda classe. Poco fuori dal paese è possibile visitare i resti dell'antica città messapica di Vereto.
We absolutely loved staying at Fernando's house. This is the southern Italy small town experience. While from Patu everything more "touristy" is very close, Patu itself offers very calm, easy going and cheap way of life. The nice feature is, that you can really chose between rocky and wilder coast on the east side, or sandy and calmer coast on the west side, it's just up to you what you prefer, as they're both very close. Of course, what has to be mentioned is hospitality of Fernando and his wife, who are both lovely persons and they literally thrive to make you feel welcome and cared about. It was huge pleasure to meet them and have chance to spend some little time with them.
Stepan
2015-09-26T00:00:00Z
Фернандо и его жена встретили нас и сделали все возможное для того, чтобы мы чувствовали себя как дома. Прекрасный старый дом с камином и сад с вкусной хурмой, любая точка побережья Саленто в 20-ти минутной доступности на машине, а на пляж я ходил пешком. Фернандо сразу выполнил пару наших просьб ( фен и одеяло). Прекрасный отдых и прекрасные хозяева. Grazie mille!
Alex
2016-09-21T00:00:00Z
Sono stato 15 giorni qui,con la mia compagna e credo questa vacanza rimarrà nel cuore e negli occhi per tanto tempo,non solo per l'incredibile bellezza del Salento,ma anche perché abbiamo potuto apprezzarlo appieno grazie a questa casa davvero a pochi minuti dal mare e dalla quale si raggiunge in fretta sia la costa adriatica sia quella ionica. L'arredamento della casa è essenziale, ma non manca nulla,perfetto per una vacanza di coppia;le stanze sono ampie,il giardino è utile e piacevole allo stesso tempo. Per quanto riguarda Fernando e la sua compagna sono stati fantastici,accogliendoci con calore e ospitalità, consigliandoci eventi e luoghi e trascorrendo con noi anche due piacevoli serate;direi un amico perché definirlo host sarebbe riduttivo!
Sante
2015-09-05T00:00:00Z
Ho soggiornato con il mio ragazzo a Patù nel periodo centrale di agosto e non abbiamo mai sofferto di difficoltà di parcheggio o di spazi. La casa è nel centro del paesino e gode di un'ottima posizione, strategica per poter girare e visitare entrambi i lati della costa, quello più movimentato di Gallipoli con i suoi aperitivi sulla spiaggia e quello roccioso di Marina di Novaglie. Fernando e la sua famiglia sono stati accoglienti e disponibili, la casa era fornita di tutti i confort e anche molto di più di quanto mi aspettassi, dalla frutta fresca di benvenuto al detersivo per i vestiti. Un soggiorno all'insegna del relax e del piacere di scoprire insenatura per insenatura la costa pugliese.
Alessandra
2016-08-20T00:00:00Z
Room Type
Entire home/apt
---
Property Type
House
---
Accommodates
3
---
Bedrooms
Patù, Puglia, Italy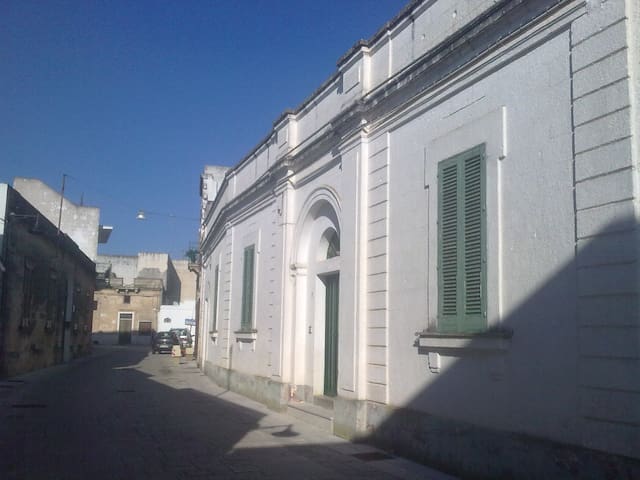 Mini appartamento composto da due camere e un bagno. Possibilità di aggiunta di un lettino nella camera Viola. Le camere sono dotate di ingresso indipendente, televisore LCD e climatizzatore. La sala colazione è ad uso esclusivo del gestore del B&B
La struttura si trova a Santa Maria di Leuca ed è immersa nel verde del meraviglioso Parco Naturale della Regione Puglia, dove regna la pace e la tranquillità, necessaria per un soggiorno in totale relax, a poche centinaia di metri dal mare. Le camere sono dotate di ingresso indipendente, di climatizzatore, televisore LCD, ed è inoltre possibile usufruire di parcheggio privato, piscina, barbecue, linea WI-FI. Saremo lieti di ospitare gli amici a quattro zampe poichè disponiamo di 10.000 metri di spazio circostante alla struttura.
Room Type
Entire home/apt
---
Property Type
Bed & Breakfast
---
Accommodates
5
---
Bedrooms
Leuca, Puglia, Italy
Two floor house in the centre of Morciano di Leuca, typical village in Salento, Apulia. House is fresh, full equipped and with a free parking in front of it. 2 km from the sea (beach and rocks). The house can accomodate up to 6 persons - after the 3rd some extra costs may apply. Sheet an towels upon request (see house rules).
Two-floor house located in the historical area of Morciano di Leuca, typical village at 2km from the Ionian coast in Salento, Apulia between Leuca and Gallipoli. Close to a bar and a supermarket. The kitchen is fully equipped - three bedrooms - bathroom and washing machine. The hosts will be delighted to give you some information on Salento region and nice places to visit or go out. They also make also organic olive and wine.
Had a wonderful time...Alessio is a great host!
Charles
2015-08-27T00:00:00Z
The reservation was canceled 18 days before arrival. This is an automated posting.
Antonella
2014-07-28T00:00:00Z
We have spend 5 days in La Monaca. The house is located in a small village with everything needed for cool and quiet holidays. The house is nice, with a little terrasse on the roof, just 10min of car from Torre Vado and 20min of car from Torre S Giovanni where you could find amazing beaches! I don't have the opportunity to meet Helen but we were welcomed by her boyfriend and his parents who are really nice and interesting persons. They gave us some good tips to visit the region!
Carole
2013-08-18T00:00:00Z
Very convenient location if you have a car, spacious home, well-stocked kitchen, nice little terrace. We were welcomed by Alessio's father who lives nearby.
Ylenia
2016-08-08T00:00:00Z
We had a great time in la casa della monaca! Everything was great and everybody very friendly and helpful! The family immediately let you feel at home and the figs were just amazing!
sarah
2014-08-15T00:00:00Z
In generale il soggiorno è stato positivo. La casa è come rappresentata nelle foto, al centro di un paesino a pochi km da spiagge meravigliose. Non cisono però condizionatori (e al momento neanche ventilatori) e se fuori ci sono temperature estreme chiaramente il caldo si fa sentire anche dentro. Qualche rumore notturno dalla strada. Proprietari simpatici e disponibili.
Paolo
2015-08-14T00:00:00Z
Alessio e la sua famiglia si sono dimostrati molto disponibili e gentili. L'appartamento è conforme alla descrizione di AirBnb. Posizione strategica che permette di raggiungere facilmente i più bei lidi della costa, così come la punta di Leuca. Niente da eccepire, ora siamo solo curiosi di provare l'olio di produzione propria del papà di Alessio! Matteo & Camilla
Matteo
2016-08-13T00:00:00Z
La casa è molto carina, in stile tipico salentino, e soprattutto molto fresca. Le due camere da letto matrimoniali (una con letti singoli che però si possono tranquillamente unire) sono comunicanti, quindi è più consigliato per famiglie o per amici con non troppi problemi di privacy. C'è una carinissima terrazza dove poter stendere gli asciugamani del mare o farsi una partita a carte sui tetti di Morciano. Morciano è un paesino molto tranquillo, vicino al mare: in 5 minuti si raggiunge la spiaggia più vicina, poco consigliata però ad agosto perchè piuttosto affollata, ma in 20 minuti ci si può avvicinare verso Torre S. Giovanni, dove il mare è splendido e le spiagge un pò meno frequentate. Ci sono negozi di alimentari raggiungibili a piedi in pochi minuti, ma per spese più consistenti conviene andare in qualche paesino vicino per spendere meno. I proprietari della casa sono molto gentili e disponibili.
stefania
2013-08-25T00:00:00Z
Room Type
Entire home/apt
---
Property Type
House
---
Accommodates
3
---
Bedrooms
Morciano di Leuca, Apúlia, Italy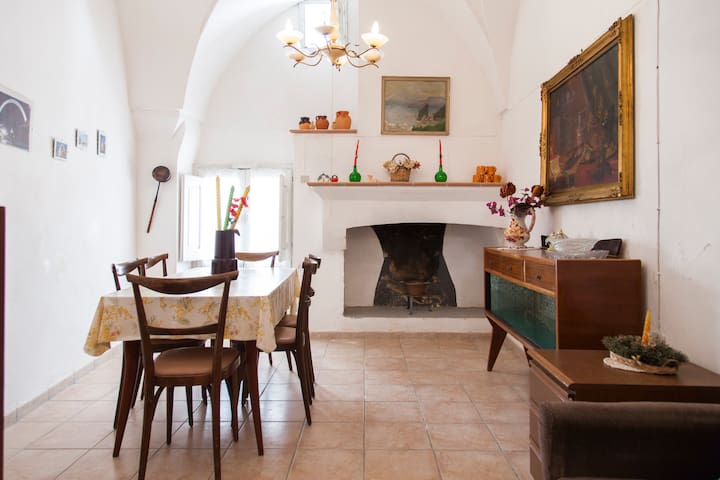 CAPPERI B&B offre soggiorni rilassanti vicino alle Spiagge di Pescoluse e alle Maldive del Salento, in un'atmosfera tranquilla immersa nel calore del tufo e delle volte a stella. Abbiamo Camere Doppie, Triple, Quadruple, Suite e Appartamenti. Tutti gli alloggi sono finemente arredati e curati nei particolari, dotati di ogni comfort. La colazione è ricca e genuina.
La Camera Tripla Economy SUTTA è caratterizzata dallo stile contemporaneo, unito alla storicità data dalla reinterpretazione degli arredi originali. Ricerca e cura dei particolari e della storia dei luoghi. Attenzione al design e alla funzionalità. Cordialità dei titolari, Valentina e Marco, che sapranno consigliarvi sui luoghi da visitare e renderanno il vostro soggiorno unico. La camera ha un letto matrimoniale e un letto singolo, per ospitare fino a 3 persone. Possibilità di aggiungere una culla inclusa nel prezzo. Colazione con dolci fatti in casa da 'Nonna Papera' (così Marco chiama Valentina) e prodotti locali. WiFi gratuita. Bagno in camera. Cassaforte, Set cortesia, Stendibiancheria, Frigorifero.
Morciano di Leuca è un borgo storico tipico del Salento, a 3 km dal mare. E 'un paese tranquillo, lontano dai rumori della costa, ma vicino a tutti i servizi: ristoranti, bar, panetterie, pasticcerie, supermercati, banche, uffici postali, edicole, stazioni di servizio, negozi. CAPPERI !! B&B si trova alle spalle del centro storico, in una strada poco trafficata. Anche a piedi è possibile raggiungere i principali servizi della città.
Room Type
Private room
---
Property Type
Bed & Breakfast
---
Accommodates
3
---
Bedrooms
Morciano di Leuca, Puglia, Italy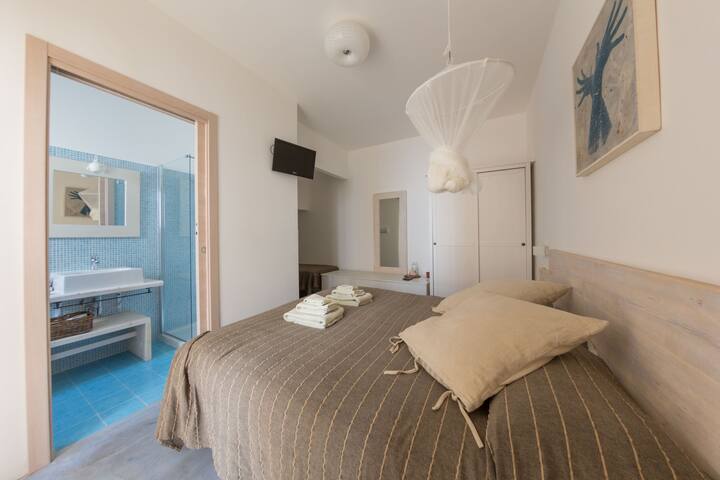 Dimoretta Maurichi was an old barn with a chicken coop and a room to dry tobacco and tomatoes ..... it has become my home Beautiful! And 'organized with 4 independent outdoor areas where you can easily live only 3 km from the sea, immersed in the quiet countryside of Salento. In the garden there is a vegetable garden with tomatoes, parsley, basil, chili and the usual Figs Salento! The decor is typical with the colors of our history,
All rooms are elegantly furnished and the master bedroom has a bathroom and an exclusive terrace where you can relax in complete privacy and tranquility. comfortable outdoor sofas or relaxing deck. Another bathroom is available on the ground and also an outdoor shower floor. The kitchen is comfortable and spacious, the house also has an outdoor cooking area. The outside of the house is nice, with a lot of green and a beautiful relaxation area. A large outdoor table and comfortable outdoor sofas make the wonderful eternal environment.
Room Type
Entire home/apt
---
Property Type
Holiday home
---
Accommodates
6
---
Bedrooms
Castrignano del Capo, Puglia, Italy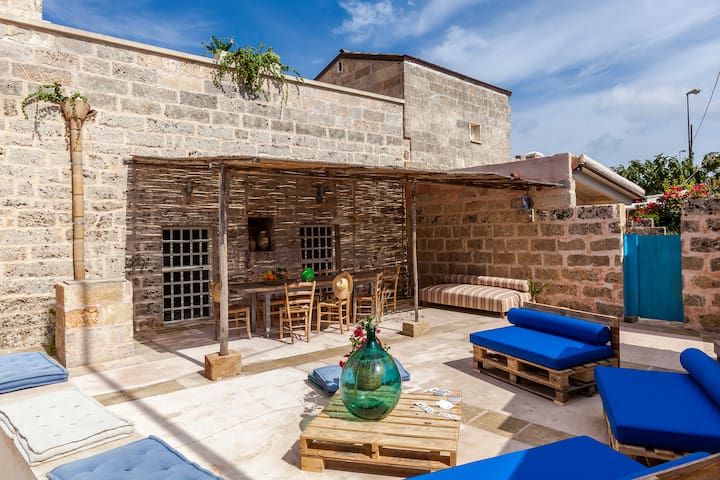 Casa Mandrea è situata in un paesino tipico salentino, Patù, a pochi minuti dalla baia incantata di San Gregorio e a 6 Km da Santa Maria di Leuca. La casa è composta da un'ampia stanza con volta a stella dove vi è un soppalco con letto matrimoniale, cucina, bagno e spazio esterno attrezzato. Possibilità di culla o lettino aggiunto.
Room Type
Entire home/apt
---
Property Type
House
---
Accommodates
3
---
Bedrooms
Patù, Puglia, Italy
La casa vacanze "Corte degli Allori" a pochi passi da S.M.Leuca, è un piccolo tesoro per una vacanza da vivere tra i profumi e i colori accesi della campagna. La Corte dispone di 4 case indipendenti e gode di una silenziosa posizione nell'entroterra.
L'alloggio si affaccia all'interno di una corte, tipica costruzione degli inizi del 1800, recentemente ristrutturata con arte. Fa da cornice un gradevole giardino mediterraneo con frutteto. La casa al piano terra con ingresso indipendente dispone di una zona giorno con volta a botte, cucina abitabile completamente accessoriata, tv e divano letto a 1 posto, camera matrimoniale con volta a botte, ampio bagno con doccia e vasca. Arredato con cura, in stile arte povera e artigianato locale tipico salentino.
Giuliano, frazione di Castrignano del Capo, un piccolo paese dell'estremo lembo della penisola salentina che conserva interessanti tracce storiche, a partire dalle testimonianze megalitiche (Menhir Mensi). All'interno del borgo non mancano i monumenti storico-artistici tipici del territorio tra i due mari: la porta che conduce al borgo, sulle cui abitazioni risaltano iscrizioni apotropaiche (Loggia degli Sberleffi), il Castello con fossato del XVI sec., la Cripta del Cristo Pantocrate, la Parrocchiale con affreschi cinquecenteschi, la Cappella di San Pietro del X sec.
Our stay at Corte degli Allori was amazing. Gioia and Giovanni's traditional style, rustic 'casa vacanza' is a newly renovated former oil mill. The facilities are simple and in shipshape, there's everything you need. You can really see that the hosts have paid deep attention to detail. There are four small apartments and a shared patio with a huge dinner table and a grill. You can have all the privacy you want or even share some nice moments in the common area with other travellers - as well as the lovely hosts! We were spoiled by Gioia's fantastic baking, and both of their kindness. They are ready to help you with every little request and finding your way around the area. Staying at Corte degli Allori made our holiday special and we would recommend anyone to go there to enjoy this beautiful corner of Salento. La nostra permanenza a Corte degli Allori è stata fantastica. La tenuta di Gioia e Giovanni è stata recentemente restrutturata sulle basi di un vecchio frantoio storico. Il complesso è in perfette condizioni e offre tutto i comfort necessari. Ci sono quattro appartamenti in totale e un'area comune con un grande tavolo ed un barbeque. Il posto è ideale per chi è alla ricerca di privacy. I proprietari non sono mai invadenti ed è possibile per i visitatori più socievoli incontrare gli altri ospiti durante i pasti. Siamo stati letteralmente viziati da Gioia e Giovanni con torte, cibarie locali e con la loro gentilezza. Sono sempre pronti ad aiutare per ogni esigenza e per esplorare le aree circostanti. Ci sentiamo di raccomandare caldamente di permanere con Gioia e Giovanni in questo incantevole angolo del Salento che ha reso la nostra vacanza indimenticabile.
Pilvi
2015-08-26T00:00:00Z
La struttura merita il giudizio più alto in ogni ambito: ricca di storia e di fascino, ristrutturata in modo meticoloso, bella oltre ogni aspettativa, comoda e perfettamente funzionale. La posizione consente di godersi la campagna interna con il tipico paesaggio salentino e al contempo avere a distanza di 15 minuti di auto la costa ionica, la costa adriatica e il capo di Leuca. Bellissimo esplorare in bicicletta Giuliano e gli altri piccoli centri vicini percorrendo piccole vie secondarie tra muretti a secco, campi di terra rossa, ulivi, pajare, antiche chiese, resti megalitici. Chi ama il cinema riconoscerà i luoghi dei film di Edoardo Winspeare che proprio a Giuliano ha girato "In grazia di dio". Chi ama la pizzica e il cibo genuino (preparato in casa o in strada, spesso molto buono) ha, in piena estate, ogni sera una festa di paese da raggiungere nelle vicinanze. Abbiamo visto con i nostri occhi Gioia, ottima e generosa cuoca, preparare ben 10 deliziose torte per la festa di Giuliano! Sui luoghi, i padroni di casa sanno dare tante informazioni, impossibili da reperire anche nella più dettagliata delle guide e soprattutto sanno evocare, attraverso le storie della loro famiglia, la vita che per secoli si è svolta in quei luoghi. Gioia e Giovanni sono sempre presenti in caso di necessità, mai invadenti, pieni di attenzioni e gentilezze. Gestiscono l'attività puntando sulla qualità non solo del servizio ma anche delle relazioni con i propri ospiti. A loro va tutta la nostra ammirazione e riconoscenza!
Stefano
2016-08-21T00:00:00Z
Gioia und ihre Familie haben im wunderschönen Salento ein Paradies für Urlauber erschaffen. Eine sehr geschmackvoll und liebevoll eingerichtete sowie saubere Wohnung, tolle Spielmöglichkeiten für kleine Kinder, viel Platz für gemütliche Abende (großer Grillbereich), die Ruhe und Nähe zu wunderschönen Stränden und diese wundervollen Gastgeber, die uns so oft mit Köstlichkeiten versorgten und immer für uns da waren - all das macht diese Unterkunft zur besten unser mittlerweile 13 Airbnb-Erfahrungen in Italien. Gioia e la Sua famiglia hanno creato un paradiso nel Salento per i vacancanzieri. Un appartemento arredato affettuosamente e di buon gusto, diverse possibilità di giocare per i bambini, molto spazio per mettersi a proprio agio ( e preparare qualche specialità alla griglia di Puglia), il silenzio, la vicinanza alle spiagge splendide e sopratutto gli ospiti stupendi, che ci hanno dato varie delizie e che sono stati premurosi sempre - tutte le cose sono cause per dire che è l'alloggio migliore degli 13 alloggi (airbnb) in cui abbiamo abitato in Italia .
Susann
2016-06-22T00:00:00Z
Room Type
Entire home/apt
---
Property Type
House
---
Accommodates
3
---
Bedrooms
Giuliano Di Lecce, Puglia, Italy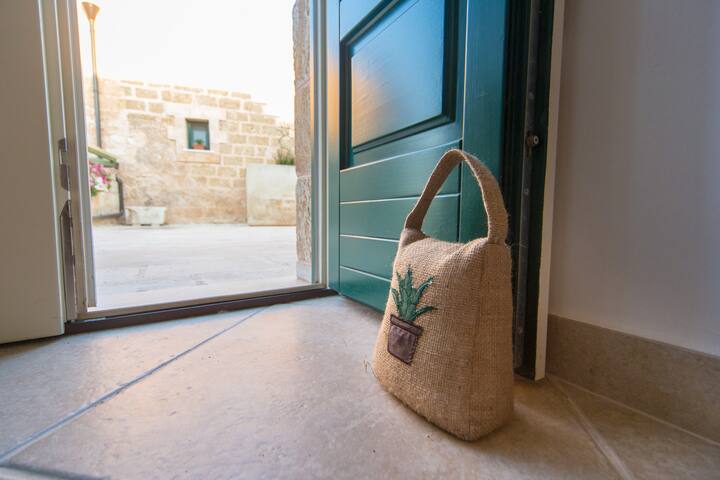 our sweet little house is situated in the historic village center and enjoys sea views from the terrace. also it has two courtyards one front and one inside that give light to the careful design furnishings and high comfort high ancient times give broader Mediterranean atmosphere
Mediterranean house offering large spaces and Mediterranean colors with two courtyards and a large terrace Typical sometimes called star guarantee fresh and open spaces throughout the house Close to a small hill, from the terrace and 'can see the sea The furnishings are very well kept and pleasant details make the stay very special
historical center equipped with parking just 10 meters away
Gianna sempre disponibile, alloggio molto bello, pulito, accesooriato di tutto cio' che serve, paese molto carino, non offre servizi particolari e non e' sul mare ma e' un' ottima base di partenza per ragiungere le spiagge di entrambi versanti.
Stefania
2016-08-21T00:00:00Z
Très bon accueil et personne très disponible . Logement bien typé et agréable.
CAROLINE
2016-08-31T00:00:00Z
Room Type
Entire home/apt
---
Property Type
House
---
Accommodates
6
---
Bedrooms
Castrignano del Capo, Apúlia, Italy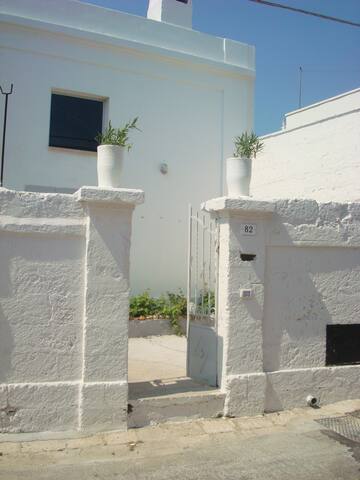 The house is composed from a spacious living area with arched stone ceilings, an equipped kitchen, in both there are ancient fireplaces, a small room with a double bed, an ample central room with a wood attic.
The house of 1700 restored in Moroccan style is situated in a typical village of Salento at Patù, in province of Lecce at 6 km from Santa Maria di Leuca, the souther point of Puglia " de Finibus Terrae" where the two seas Jonio and Adriatic meet. This area of Puglia remains relatively undiscovered by mass-tourism and this village very small is a magic place, absorbed in the nature and surrounded by the silence, where the dominant color is white.
The consistently hot ,sunny, summer weather further enhances the miriad of sandy beaches with their crystal clear waters, the closest is "Pescoluse" (10 minutes by car). Consider day trips to the Baroque city of Lecce -"The Venice of the South" and to Otranto with a romantic panoramic view of his harbour ( Greece seems very close), or to Gallipoli a well known tourist destination with many restaurants,shops and bars.
Room Type
Entire home/apt
---
Property Type
House
---
Accommodates
6
---
Bedrooms
Patù, Apúlia, Italy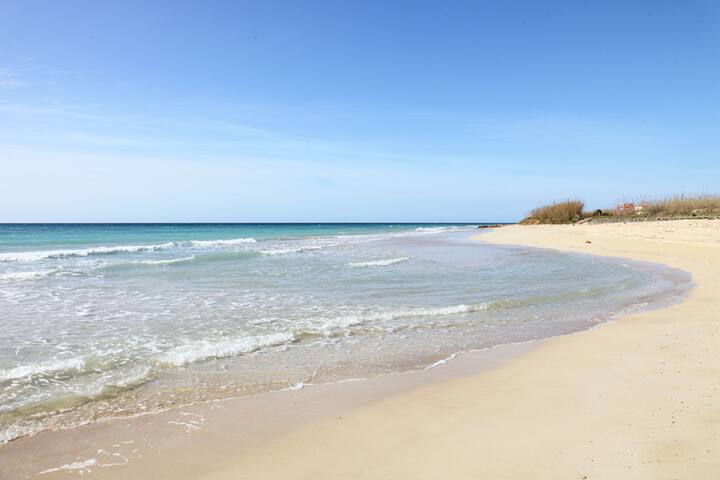 PATU' - Nella graziosa cittadina di Patù, a soli 3 km dalla Marina di San Gregorio, proponiamo confortevole e funzionale bilocale, ideale per una coppia, composto da cucina abitabile e camera da letto con bagno privato. Ampio giardino con doccia esterna!
Room Type
Entire home/apt
---
Property Type
House
---
Accommodates
2
---
Bedrooms
Patù, Puglia, Italy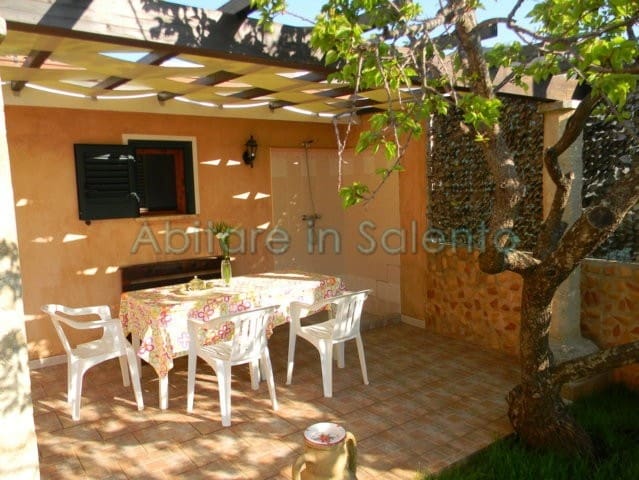 Splendida villetta con stupenda vista mare,piccola piscina,area barbecue,ampi spazi esterni e parcheggi riservati a 550 m dal mare.La casa domina la baia di felloniche che presenta soddisfacenti servizi (supermarket,ristoranti,bar,edicola,ecc.)
L`alloggio è immerso negli ulivi dove si puo` trovare la pace dei sensi e salendo sul terrazzo si puo' ammirare lo stupendo panorama che si coniuga tra mare cristallino e le distese del verde degli ulivi dove si possono effettuare splendide e lunghe passeggiate in bici o a piedi nei sentieri alle spalle della casa e usufruire dell'aria fresca che offre la vegetazione .Inoltre la posizione strategica della casa vi permetterà di raggiungere facilmente località come S.Maria di Leuca a 3km o le incantevoli Maldive del Salento a 5km;anche la vicinanza della ss vi permetterà di raggiungere località turistiche piu' lontane(Gallipoli)in appena 30 minuti di macchina
La tranquillità
We had an excellent time at Paolo's villa! Great host, quick respond to all our questions and very helpfull. The house is a gem, even better than described, lots of space and the best oceanfront view. Very private, also nice to rent out both villa's with friends. Thank you Paolo!!
Audrey
2016-07-31T00:00:00Z
We loved the house, the neighbourhood, the silence and peace all around the house. Simple, clean and aerated, the small villa is very cozy for a small familly. The landscape is lovely, you can literally see the sea from your bed, while sensing the smell of salento's herbs and trees. we and our small girls enjoyed walking to the beach of Felloniche, one of the nicest turquoise waters in the area. Paolo and Cynthia were wonderful hosts, very attentive, opened and generous. Our only regret was that we stayed in their house only for one week, next time we'll surely spend all our vacation there. Highly recommended for those who love to be in the nature.
adina
2015-06-21T00:00:00Z
Paolo met us upon arrival into the village and showed us the way to the Villa. It was extremely helpful and he was a great host. The location was brilliant and the price was also very good for the quality of the villa. We would recommend this villa to our friends. Thanks Paolo!
Lisa
2016-06-21T00:00:00Z
Paolo was a great host who made us feel very welcome. His communication was prompt and clear throughout, as well as providing some great recommendations for places to see and eat at. Villa Giada is an ideal base for people visiting the Salento region of Italy. Located in a beautiful costal location, only a short walk to the beach and some good restaurants. Others places of interest in the region such as Gallipoli and Otranto are easily accessible via car, making for great day trips. The villa was exactly as described. Highly recommended.
Adam
2016-09-17T00:00:00Z
It was a great time to be a Paolo guest. Paolo is very helpful and gentle host. Villa is located on the hill with a wonderful view on the sea, clean and well equipped.
Marta
2016-06-30T00:00:00Z
We had a wonderful stay at Paolo's place. Everything is as described and Paolo was a very friendly host and source of information for our stay. The place is quiet and is well located for visits to the sea. It is also a nice area to take walks.
Rachele
2016-06-17T00:00:00Z
At first of all I want to say a lot of thanks Paolo and his family for hospitality. It's a nice small villa with a fantastic view on the sea. Villa situated on the hill of the silent, private and safety area around olive trees. Only 5 min walking distance to the sea. Marina di Felloniche has a sand beach. If you have a car no problem to reach many beautiful and interesting places of Salento, if you don't have a car - no problem, nearest supermarket approx. 1 km from the villa, beautiful town Santa Maria di Leuca - 2,7 km. During touristic season you can use public transport, at the another period you have to rent a bike, scooter or use your legs))). Bars, pizzerias, restaurants are close villa. This is a great place for people who like quietness, nature and history. This villa is clean and comfortable. It's a very good place for family with children. So, if you go to Paolo's villa, don't worry, you will be very warmly received!
Anastasia
2015-10-03T00:00:00Z
We enjoyed our stay In the house that is well equipped. Paolo is very kind and helpful with many good tips. The pool is great for Cooling of on a hot day. It would be even better if the chairs and couch were more comfortable to lounge on.
Eduard
2016-08-14T00:00:00Z
Room Type
Entire home/apt
---
Property Type
Apartment
---
Accommodates
5
---
Bedrooms
Marina di Felloniche, Puglia, Lecce, Italy
Il mio alloggio è vicino a ristoranti, vita notturna e attività per la famiglia. Il mio alloggio è adatto a coppie e avventurieri solitari.
Grazioso monolocale per due persone. Il monolocale è ubicato nella cittadina di Patù (piccolo Comune di circa 2000 abitanti del Capo di Leuca) e fa parte di una villa indipendente all'interno del centro abitato. Si compone di un ambiente con angolo cottura tavolino e Tv ed un altro ambiente con letto matrimoniale* e bagno con doccia. All'esterno c'è un porticato ombreggiato attrezzato con tavolino e sedie per poter soggiornare e consumare i pasti all'aperto. L'alloggio dispone di uno spazio con giardino di uso esclusivo.
600 m piccolo supermercato, 3500 metri dal mare (spiaggetta libera e attrezzata).
The house is comfortable and really clean. The location is few km from many different (beautiful) beaches but still outside the crowd of summer sea places, which is very relaxing. The town of Patù is small but offers everything you might need including different good restaurants. Francesco and his family are perfect hosts: friendly and helpful. Francesco even drove us around for a tour of the historical and natural beauties of the surroundings. We (me and my girlfriend) really recommend the place and hope to be able to go back.
Gianluca
2016-08-22T00:00:00Z
Room Type
Entire home/apt
---
Property Type
Apartment
---
Accommodates
2
---
Bedrooms
Patù, Puglia, Italy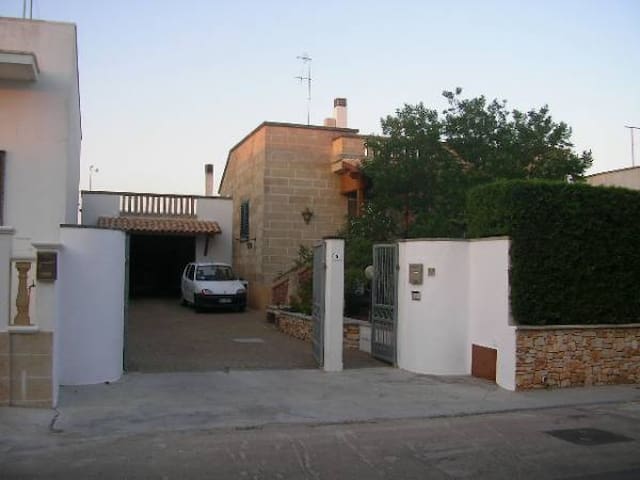 This is your unique chance to sleep in a train station. The last train station on the south east side of Italy. An artistic and cultural space, designed by the Master of Interior Design of the Academy of Milan, in collaboration with Ramdom.
Avete mai dormito in una stazione ferroviaria? E non nella sala d'attesa… ☺ Questa è la vostra occasione. Bellissimo monolocale di design con stanza da letto e ampio bagno adiacente, situato al primo piano della stazione ferroviaria di Gagliano del Capo, ultima a sud-est d'Italia. Stanza con soppalco, che divide una zona giorno da una zona notte con letto ad una piazza e mezza, cui si accede attraverso una scaletta incorporata alla struttura. Progettato e arredato grazie alla collaborazione tra l'associazione Ramdom e studenti e docenti del Master di Interior Design dell'Accademia NABA di Milano. L'intero appartamento è stato ristrutturato, mantenendo comunque integra la storia del luogo, antica dimora del capostazione. È ideale per due persone, ma c'è la possibilità di aggiungere un secondo letto nella zona giorno. Trattandosi di uno spazio pensato per residenza artistica, l'offerta è rivolta prevalentemente ad artisti, creativi o ricercatori in ambito culturale, senza precludersi, però a chiunque voglia trascorrere un soggiorno in un luogo alternativo, e fortemente evocativo. La struttura si compone, inoltre, di uno spazio con caffetteria e servizio bar a richiesta, di un open space nel quale si possono svolgere attività di vario tipo: mostre, incontri culturali, proiezioni audio-video, performance artistiche di vario tipo. Accesso alla terrazza con fantastica vista sull'intero capo di Leuca e tramonti mozzafiato. Posto non adatto a turismo di massa. Per maggiori informazioni consultare il nostro sito internet. (URL HIDDEN)
La stazione dista poco meno di due km dal centro di Gagliano del Capo.
The room is in an old station indeed, but I think the pictures are misleading. The room is nice, with that interesting yellow structure but everything is a bit messy: there was random stuff around, and all the other rooms are actually an office. Host was very responsive and accomodating
RAND
2016-08-29T00:00:00Z
The view from the rooftop is absolute heaven. Really cool place to stay !
Emilie
2016-09-04T00:00:00Z
This is a good place if you look for something unusual/original in the south of Puglia. A flat at the first floor of a train station. The host was very accomodating and flexible in order to organize our arrival. It's only 10 minutes from Leuca.
Florian
2016-08-29T00:00:00Z
Location is awesome. You are basically sleeping on a train station. hahahahahahaha Also the guys runing the place happen to have a cocktail party on the rooftop. Great experience
rafael
2016-08-21T00:00:00Z
Struttura all'interno di una stazione ferroviaria, originale per locazione e arredamento. Bagno in comune con i partecipanti dell'associazione culturale. Gestori simpatici e disponibili. Carente la colazione.
Gianni
2016-08-26T00:00:00Z
Abbiamo soggiornato in questa stazione ferroviaria con il mio ragazzo per tre notti. L'esperianza è stata molto positiva. Non si tratta del classico b&b turistico ma si è immersi all'interno di un vero e proprio spazio creativo a 360 gradi. Durante il nostro soggiorno era in corso una mostra dell'artista Carlos Casas e durante il weekend c'è anche stato un concerto nella piazza antistante la stazione. La camera è ben arredata e molto luminosa. La posizione è ottima: in pochi minuti di automobile si raggiungono le meravigliose scogliere del Ciolo, Santa Maria Di Leuca oppure le spiagge caraibiche di Pescoluse sullo Ionio. Paolo è stato sempre molto disponibile e cordiale. Posto consigliato a chi vuole provare l'esperienza di vivere una vera e propria residenza d'artista all'interno di uno spazio creativo. Sconsigliato al turista che non ama la vacanza alternativa.
Laura
2016-08-09T00:00:00Z
Paolo ci ha accolto con simpatia ed estrema disponibilità. Il posto è tale e quale quello descritto nell'annuncio, ed era quello che cercavamo: qualcosa di insolito, assolutamente fuori dal comune.
Riccardo
2016-09-11T00:00:00Z
Posto suggestivo, centrale rispetto al Salento. L'associazione che ospita è composta da persone aperte disponibili e in gamba. La terrazza del tetto è fantastica con panorama a 360°. Si vive l'esperienza della stazione (compreso la presenza dei treni in attività, talvolta anche alle sei del mattino) e del Lastation (si usufruisce della struttura e delle attività che si svolgono). La stanza su due livelli ideale per due persone, il bagno grande fa la differenza.
Rosario
2016-08-16T00:00:00Z
Room Type
Entire home/apt
---
Property Type
Other
---
Accommodates
3
---
Bedrooms
Gagliano del Capo, Puglia, Italy