Enter dates to see the total trip price including additional fees (but excluding any taxes).
2 Villa Rentals
· Parkdale
2 Villa Rentals
· Parkdale
The guest house has a view of Mt Adams and the orchards below. It includes a queen bed, table, and a basic kitchen (mini fridge, toaster oven, but no stove or microwave). You are in the middle of the fruit loop on a quiet country road. You can hear cows in the distance and crickets at night. There is no wifi or tv, but you do have cell service and you can see a million stars at night. The house is 250 feet from the main house where we are sometimes at home
Check out the Instagram feed for the house at: @HoodRiverGuestHouse Here's a list of what you'll find in the guest house: Electric fireplace Toaster oven Electric kettle Hot water kettle Coffee maker (both drip and pour over) Mini fridge Chef's knife, paring knife, bread knife Corkscrew, can opener, grater Colander large bowl Dishes, silverware and glassware first aid kit outdoor lounge chairs Hairdryer board games playing cards bincoculars There is a combination lock (a box) outside the house. We are not always at the main house. But you can contact us if you have issues.
You are right in the middle of the Hood River Fruit Loop. Here are some of our favorite spots: Draper Girls Country Farm- 3.5 miles south on Hwy 35 This farm stand has lots of fresh produce plus fresh lamb and jams. They have pygmy goats that you can feed. There is also a giant tree swing with Mt. Hood in the background. Many family portraits have been taken on this swing. Packers Orchards and Bakery - 1.5 miles north on Hwy 35 You can get fresh fruit, jams, ice cream, pies and cookies here. Gorge White House - 5.5 miles north on Hwy 35 This is a favorite stop for us. On weekends from April to November, there is a food truck open. It's run by a Cordon Blue chef and has some of the best local goods. There is a u-pick flower and fruit farm. They do wine tasting in the house and cider tasting in the shed out back. Pine Grove Pit Stop - 5 miles north on Hwy 35 They always have the cheapest gas in the area. And they have Juanita's famous tortilla chips (plus some specialty Juanita's flavors that you can get elsewhere) and Vernonica's fresh salsa. The Pine Grove boys are always friendly and are relatives of the locally famous Juanita. There is a well stocked Mexican Grocery store inside. Michoacan Grill - 3405 Odell Hwy (3.5 miles away) This doesn't look like much when you walk in, but you'll find the best carnitas in Hood River here. The staff is very friendly and you will leave happy and full. Mt. Hood Winery - 5 miles north on hwy 35 (2882 Van Horn Dr.) This gorgeous building has tastings inside and out with an amazing view and some good wines. You can get a 6 flight tasting for $10. McIsaccs General Store 4990 Baseline Dr. Parkdale, Or (6.5 miles south) Our favorite grocery store plus hardware and farm supplies. Apple Valley BBQ 4956 Baseline Dr, Parkdale (6.5 miles south) The best BBQ in the area. Celilo - 16 Oak St, Hood River (downtown Hood River) This is a modern high-end restaurant with an amazing chef and pastry chef. It's my favorite place for a special night out. 3 Rivers Grill 601 Oak St, Hood River (downtown Hood River) This is also a higher end restaurant. Get a window or patio table and enjoy sweeping views of the gorge. They also have a great happy hour. A note on staying during the winter - It snows at the guesthouse a few times a year. If light snow is forecast, a 4WD vehicle with snow traction tires is necessary. Check road reports as well as chains are often required on Highway 35 and Endow Dr. if conditions are bad. If it snows heavily, our dirt road isn't always plowed. You will be able to drive down to the house, but most vehicles, including 4WD vehicles won't make it back up the hill to the highway without chains and snow tires. If you are not positive that your vehicle is up to the challenge, we recommend parking your car at the mailbox pull-off area right at HWY 35. That's where we park when it snows. It's a 10-minute walk down to the house from the road. HWY 35 is plowed, sanded and well travelled.
It's aways a pleasure when photos don't do a getaway cottage justice. This privet, quiet, romantic, simply ... simple ..not fussy love nest is just the ticket for anyone to unplug. Our visit was a winter wonderland, and paradise. Walk-in is essential to the magic if you ask us, rounding that turn and seeing the house and cottage ... made our crazy Christmas melt away in an instant. If you want to unplug and enjoy the art of making your life ... art ... and sharing your art with a partner ... well how awesome would that be? Look no further, this is the place to do it. A&S
Stuart
January 2016
This place is exceptional. Minimally, yet beautifully decorated. Every detail of this house is well thought out with the guest (and their comfort) in mind. A house this lovely is a rare find, especially at it's price. The small dining table was set with flowers when we arrived, making our arrival sweet and welcoming. The little kitchen is perfect for making a light breakfast of toast or cereal with coffee or tea. If you were to bring your own little stovetop, then you would want for nothing as the kitchen is stocked with cooking necessities. The light streaming in from the windows in the morning makes it almost seem like you are in a cloud. And then at night it looks like it is glowing when seen from the outside (and inside it is so, so cozy). The view from the large window was stunning as you look across and see the mountains. The bed made it very difficult to want to get up and get going because of how soft and comfortable it is. The fireplace heater can really warm up the room, so there is no issue of being cold. The bathroom was well stocked and very clean. The location is great too, as it is close enough to go into Hood River and get dinner, or head up into the mountains for some time at Meadows. My boyfriend and I (with our sweet pup) look forward to staying in this house anytime we want to go to Hood River, as we both fell in love with the house (we even took some mental notes as inspiration for our future house!). It is a wonderful place and I highly recommend it for any couple looking to have some time away from the rest of the world.
Zoey
February 2016
This space was so peaceful and the photos don't do it justice. We would definitely consider staying here again.
jen
July 2016
The listing was great! So easy to get to and a great location. The room was so clean and there were even fresh flowers!
Nicole
October 2015
Loved the little house! It was a dream.
Liberty
August 2016
We loved our stay! A beautiful little cabin with gorgeous scenery. It was snowing while we stayed, and the driveway would have been challenging even with AWD and chains. So, if it's snowy, prepare to hike a bit in. However, we loved our little walk to and from the car. It made it feel all the more cozy! We had a lovely trip!
Katie
January 2016
Dawn's guest house was incredible and had everything my boyfriend, puppy and I needed for a relaxing weekend getaway in Hood River. The Guest House is absolutely gorgeous and we enjoyed the quiet neighborhood and tranquil aesthetics. Dawn was also very communicative and easy to coordinate with. We hope to be back soon!
Sydney
February 2016
We stayed two days in the guesthouse and it was awesome! The views are beautiful, and the inside of the cabin is clean and beautifully put together! Loads of cool stuff in the area, we hiked up to the waterfall mentioned in the guest suggestions - it's a short 10 minute drive up the road to the trail head (make sure you keep hiking over the rocks to get behind the falls as well). All in all, great stay - would recommend to anyone!
Fionn
April 2016
Room type
Entire home/apt
---
Property Type
Villa
---
Accommodates
3
---
Bedrooms
0
Hood River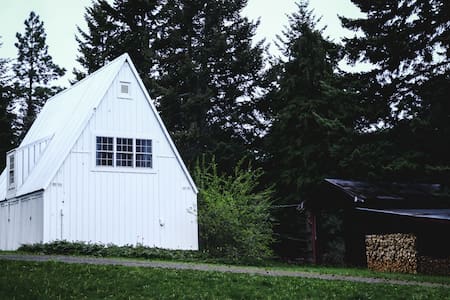 We are proud to offer visitors to the Columbia Gorge a spacious near the heart of downtown Hood River that blends adventure with luxury. When you stay at the Hood River Adventure Villa you will have access to all the gorge has to offer.
There are 4 bedrooms (3 queen) and another bunkbedroom, which makes a total of 5 beds (2 Twins and 3 Queens). There is space to park 2 cars in the driveway. All Jenn Air new appliances along with an equipped kitchen. Spacious living and dining room provides plenty of room to spread out and relax. There are 2 balconies you can lounge on in the summer.
There is a nice cider bar called crush 1 block away, Safeway is about 5 blocks, amazing mekong thai is 4 blocks away, and downtown is 10 blocks away. Please be respectful of our neighbors by trying to park your cars in the driveway and nearby the house. No more than 3 cars should be parked in driveway and on street there is a nearby street to park large or extra vehicles. We are now being taxed 8% in hood river on Short Term Rentals so our tax is included in our pricing and cleaning fee.
This house was gorgeous with plenty of space. The pictures don't do it justice and the view of Mt. Hood was perfect! Alli always quickly responded to any questions and was easy to coordinate with. We were a group of seven, and although it can be hard to please everyone, every single person raved about this house. It was also very conveniently located with in a short walking distance to downtown Hood River, Walmart, Safeway, McDonald's, Starbucks, TacoBell, some great local restaurants and coffee shops, and much more. This house set the tone for an amazing trip that we'll never forget. Thank you so much Alli!
Nicki
July 2016
Alli and James were excellent hosts. Super speedy responses to our handful of questions. Offered tons of fun ideas of things to do in Hood River. Hands down the best AirBnB experience I have had. I have 5 brothers and sisters and for big family events we try to get a place that can hold all of us. This was the best place we have ever stayed and will be back. The 3rd floor presidential suite was perfect for my wife, our 1.5 year old, and I.
Matthew
June 2016
The house was great and exactly what we needed. Eight of us stayed here as the bridal party of a wedding nearby. There was plenty of space for everyone and then some! The house stayed cool in the 90 degree heat and was in a great location- we walked into town several times.
Kiesha
August 2016
A clean and gorgeous place to stay!
Morgan
July 2016
this place was perfect! what a great location, and beautiful home killer views, and all the accommodations we could have asked for. the hosts were great! super friendly, very responsive, and helped us out with anything we needed! it is certainly a place we hope to stay in again, and would encourage anyone traveling to hood river to stay here!
Dave
June 2016
Room type
Entire home/apt
---
Property Type
Villa
---
Accommodates
8
---
Bedrooms
4
Hood River