The Conca d'Oro is an apartment located in the heart of Chianti, which overlooks the beautiful typical Tuscan landscape. It 's located on the ground floor includes a living room with kitchenette, double bedroom, bathroom, garden and terraces, parking
The Accommodation La Conca d'Oro overlooks a 180 ° view of the Chianti countryside: from the garden you can see churches, castles, farms, vineyards and groves as well as forests of oaks and holm oaks.
The Via Conca d'Oro is easily accessible from Route 222 which connects Florence to Siena through the Tuscan countryside. Coming from Florence, pass around the town of Panzano and, at the end of the village, with a roundabout junction on the right leads into Via della Conca D'Oro. After about 200 meters, turn left at a private road leads to housing nc 184, with a short descent that ends, right, garage floor. In the Way you will find a Coop store and pharmacy. Although it is in the country, we have the impression of being in the countryside.
Lorenzo's place was just perfect. Its a beautifully done up house with everything you will ever need. On special request he also arranged a BBQ for us. We had one of the best AirBnB experiences. The wine made by Lorenzo's father was excellent so were his recommendations on things to do in the region. Keep it up !
Arjun
2016-09-13T00:00:00Z
This place is simply amazing! Our GPS pointed us about 200 meters from the place but Lorenzo's mum and dad found us and took us to the place. They told us what's around, what can we do, and suggested few very cool places in the village. Lorenzo was so kind he even called us as well if all went fine. The place is beautiful, it's basically a two bedroom apartment, with fully fitted kitchen, and views to die for. There's also private garage although free parking is also available outside. You can sit on the balcony or or use the garden all with splendid views over the vineyards. We got to watch three beautiful sunsets there, and it was simply amazing. There's plenty to do in the village, good restaurants and wine tastings, big cities are close by (Florence is about 50 mins drive), so pretty good location too.
Fran
2016-06-23T00:00:00Z
We loved staying in Panzano and in Lorenzo's apartment, the place is spacious and the view is mind blowing, you can't beat sitting with a glass of wine and watching the sun set over Chianti. Lorenzo was so helpful and welcoming even after we arrived a few hours late because of some navigational issues, we were welcomed with a bottle of local Chianti wine and a selection of food for breakfast. Would recommend Lorenzo's apartment in a heartbeat.
James
2015-06-06T00:00:00Z
We had an incredible experience at Lorenzo's house. Lucia checked us in and was so sweet. She left us a bottle of wine along with food for breakfast. The house is clean and comfortable. Our favorite part was the amazing 180 degree views from the backyard of the vineyards. We would sit outside and watch the sun set every evening. So wonderful. Lorenzo even came the house to do an olive oil tasting with us. He is a host that goes above and beyond and makes the airbnb experience unforgettable. Thank you Lorenzo and Lucia!!!
Kristen
2015-08-07T00:00:00Z
It was a wonderful experience! Llorenzo is really kind and his house is clean. The scenery is very good.
宇阳
2016-11-13T00:00:00Z
On arrival, Lorenzo's parents were waiting for us and welcomed us kindly. They showed us the apartment and all the needed information. They also left us with a few nice gifts of wine and olive oil which was excellent as well as very nice. The apartment was well furnished and so very comfortable. It was honestly the best place I've stayed in so far. The bathroom (and shower) were amazing and all the electronics and kitchen equipment was up to date and in great condition. The bed was also very comfortable and the neighborhood was very friendly. My wife and I have a joke that if we had ended our trip while staying here, we wouldn't have left. Lorenzo was also very helpful and communicated right away when needed. Once again, the place was amazing and the view was stunning. I will definitely be recommending this apartment to any friends or family going to Tuscany.
joshua
2014-10-14T00:00:00Z
Lorenzo and his family were more than friendly and helpful helping with our check in and met us to settle into the apartment. He even prepared a lovely breakfast basket for us and a delicious bottle of wine :) The apartment is lovely and as described. The view from the backyard is by far the high point. Located just down hill from a grocer, pharmacy and a little town, there are plenty of restaurants and cafes to enjoy delicious Italian cuisine. For a very intimate wine/chocolate tasting, I highly recommend Stefano's Academia del Buon Gusto! It's in the little down just down the street from the church and across from the butcher. Overall, a lovely experience and I highly recommend!
Emily
2015-03-27T00:00:00Z
Such a nice place!!! What a view! The apartment is big, new and very comfortable. Greatly equipped. Felt like home. Lorenzo and his family are adorable people. Very warm and welcoming. This was a great stay in a small village in Chianti. Would extremely recommend Lorenzo's place both for couples and families with children.
Vadim
2014-04-18T00:00:00Z
Room Type
Entire home/apt
---
Property Type
House
---
Accommodates
3
---
Bedrooms
Panzano In Chianti, Tuscany, Italy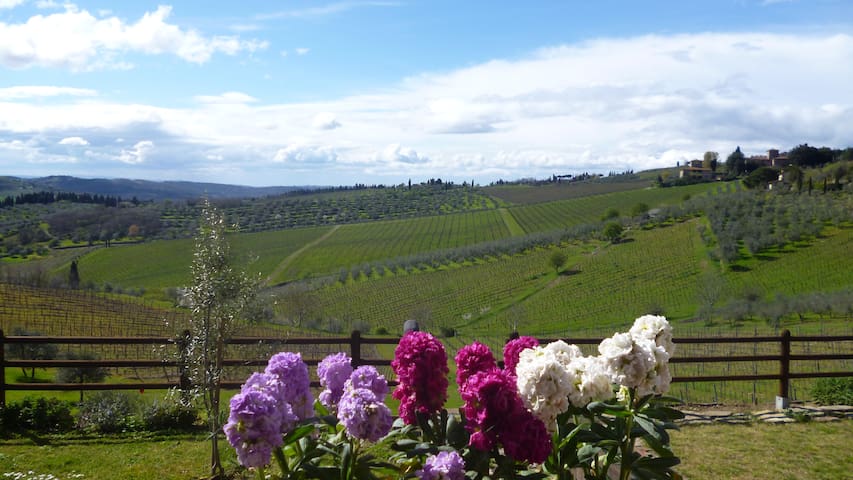 L'appartamento si trova all'interno della nostra azienda agricola ad 1 Km. da Panzano. E' di nuovissima ristrutturazione e ben curato nei dettagli, confortevole e luminoso, adatto per ogni tipo di soggiorno. Vista mozzafiato sulle colline toscane.
The apartment is newly refurbished and well cared for all detail . It is comfortable and lightful , suitable for any kind of stay
The apartment is 15 minutes walking and 5 minutes driving distance from Panzano. It is perfect to relax and enjoy a splendid view on the Chinati Hills.
The pictures don't do the view justice, it is gorgeous - quintessential Tuscan vineyard and Castello covered rolling hills. Excellent spot for viewing sunsets. Inside and outside its clean and peaceful and checkin/checkout were seamless. Cute local village (Panzano) with great food choices including the famous Dario Cecchini. Looking forward to staying here again on our next Tuscan holiday.
Meghan
2016-08-05T00:00:00Z
We loved our stay in this house! Beautiful little house newly refurnished, VERY clean and quiet in the middle of the Chianti region. The house is equipped with everything you need: towels, shampoo, hairdrier and coffee! The host is super responsive, nice and she will tell you what you need to know about the region. The location is perfect: 2 min of car from the beautiful and suggestive little town of Panzano full of restaurants and cafés (lots of wine of course). I highly reccomend this place and I will come back for sure!
Maria
2016-08-31T00:00:00Z
We had an amazing time at Carolina's beautiful apartment. It is exactly as it looks in the pictures. The views are breathtaking. Carolina was there to greet us and was responsive from the moment we booked until the moment we left. Our second day, there was a storm and the hot water wasn't working- within 30 minutes Carolina sent someone to fix it. She even gave us a tip about a wine festival that ended up being he highlight of our trip.
Sapan
2016-05-26T00:00:00Z
Daniella was the most charming, hospitable and welcoming lady! Her place is Everything one would expect Tuscany to be. Spectacular views, superior amenities and vast quantities of old world charm. Walking distance to Panzano and within 15 minutes of many wineries. 6 stars if one could rate it that high!
Robert
2016-09-20T00:00:00Z
Such a wonderful home in the hills of Panzano in Tuscany. If you are looking for great views and the family wine estate experience this is the place.
Trevor
2016-11-22T00:00:00Z
It is a beautiful spot, secluded with wonderful views over the hills and vineyards. You can walk to the very nice village of Panzano, but you can also follow one of the many walks through the vineyards. The hosts are lovely.
Michele
2016-11-27T00:00:00Z
Amazing Tuscan getaway! Giovanni & Daniela's property is an incredible place to enjoy all the Tuscany countryside has to offer. Carolina and Marco were most helpful ensuring we had everything we needed for our stay. The apartment is well equipped with amenities including a washer, iron, towel heater, comfortable bed, full kitchen, and excellent wine from their vineyard. I'd recommend having a car for exploring the wineries and little towns in the area but without a car there is still plenty to do. Panzano is a great small town only a pleasant 20 minute walk away and it has plenty of excellent restaurants. Also make sure you visit Accademia del Buon Gusto at the top of the hill in Panzano. Stephano will give you an expansive wine tasting with regional history, local art and lots of humor! Pictures do not do the view or experience at Giovanni & Daniela's justice. Perfect apartment, perfect location, perfect view, perfect hosts, and a perfect getaway!
Chris
2016-10-26T00:00:00Z
If you are planning a trip to the heart of the Tuscany area you will love staying here. Absolutely a highlight of our entire Italy trip.
Brent
2016-09-10T00:00:00Z
Room Type
Entire home/apt
---
Property Type
House
---
Accommodates
3
---
Bedrooms
Greve in Chianti, Toscana, Italy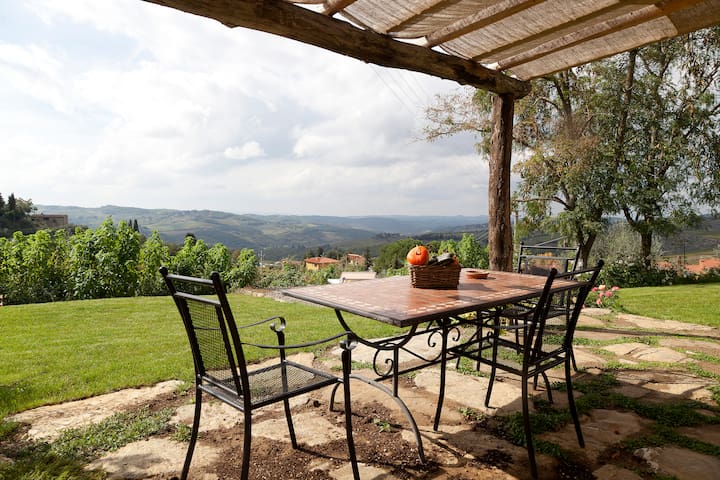 The Abbacìo apartment is part of an old farmhouse that has been restored respecting the original structure and style. Its location is just on the top of the hill, facing the all valley. Surronded by vineyard but also attached to the village. Very quiet spot!
The house was a farmhouse and has been divided into two apartments respecting the original style and structure. Ceiling roofs, brakes and rocks are part of the building.
The village is really quite and gives you the confort of having everything near you. No car is needed to reach the house.
This little farmhouse was the perfect place to stay in Chianti. Amazing views at your doorstep, Nico and her husband were the most lovely of hosts treating us with a bottle of wine, and a delicious cake the following day. I would not want to stay anywhere else in the region. Highly recommended!
Nathan
2015-09-15T00:00:00Z
Such a perfect place! Nico and her husband was kind. Nice people, Warm welcome, beautiful field and garden, it's not hard for me to love all of it.
sanghwa
2015-08-25T00:00:00Z
Great reception with coffee and introduction! Just a wonderful place with grewt views and great hosts. Would recommend to anyobe going to or through Tuscany.
dion
2016-08-29T00:00:00Z
Nico personally welcomed us. The house is as described, in fact better. It is close to grocery, pharmacy & waking distance to restaurants.
jesal
2015-09-22T00:00:00Z
Nicoletta and Stefano are very cute hosts. The house is very romantic, ideal for couples. The view from the terrace is spectacular. Many tourists stopped on the street next to the house because of the stunning scenery.
Andras
2016-08-17T00:00:00Z
What a beautiful location in Panzano! My partner and I arrived on a very hot July afternoon. We took the bus from Firenze (about 1 hour 15min) to the stop in the town square, only about a ten minute walk to the house. When we approached the house, we found Nico waiting for us in the courtyard. Although she spoke little English, she provided us with a very warm welcome, offering us refreshments, and showing us around the apartment. I instantly felt at home and comfortable. The view from the apartment is overwhelmingly beautiful and peaceful. We took one night to stay in and cook. The kitchen is very well equip, and clean! ( as is the entirety of the property). We took our meal out to the small, private porch at the entrance of our apartment and enjoyed the view with a couple bottles of Chianti Classico. The next day we took advantage of the many shops, cafes, restaurants and wineries within walking distance of the place. Our stay could not have been nicer. We hope to be back soon!
Kaitlin
2015-07-12T00:00:00Z
What a beautiful location. From the yard/sitting area, you have an incredible view of the valley. You can see vineyards and villas for miles. The apartment is quite large is very charming as well, and the bed was comfortable. We were welcomed as soon as we arrived and given a tour of the apartment, and Nico was very eager to offer any assistance. The listing is right next to the Panzano castle, and it takes just a couple minutes to walk to great little restaurants and a couple more to get to the main streets of the village. There wasn't any wifi in the apartment which wasn't a problem for us, but it was listed in the amenities so I thought it would be available. Aside from that, this listing was wonderful. If we return to Panzano we will certainly stay here again.
Ethan
2015-06-08T00:00:00Z
We had an absolutely amazing stay - the apartment was spotlessly clean and so peaceful, the views were beautiful, and you couldn't ask for a better host and hostess. Nicoletta went out of her way to make sure we had a wonderful experience! Such a warm and gracious hostess, she made sure we had everything we needed, including restaurant advice and help navigating the town. The amenities were above and beyond what we expected. Highly recommended!
Allegra
2016-09-11T00:00:00Z
Room Type
Entire home/apt
---
Property Type
House
---
Accommodates
4
---
Bedrooms
Panzano In Chianti, Toscana, Italy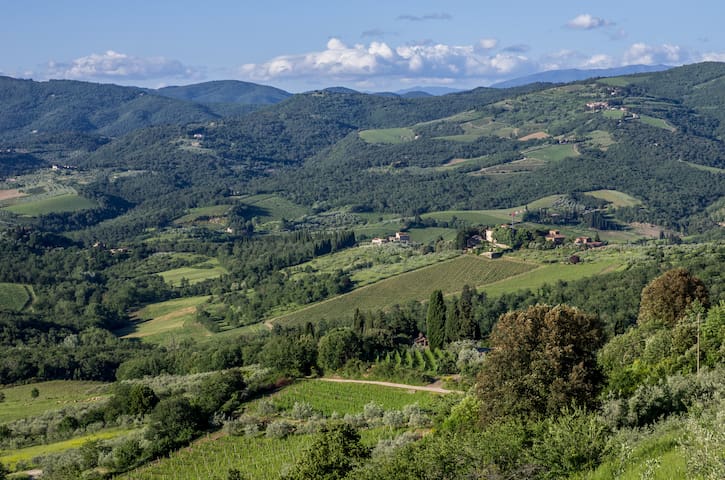 The " Chianti Terrace " is located in Panzano in Chianti , in less than one hour from Florence and Siena . With a breathtaking panoramic terrace, solarium and private parking.
Our apartment is all on the same floor . The kitchen - living room , spacious and bright is equipped with horn , fridge , freezer , dishwasher and everything needed for cooking . The apartment can host 4 people . The master bedroom is bright and friendly and one of its windows overlooking the garden . The second bedroom has two single beds . The terrace is provided with a large table with chairs and parasol , ideal to relax while enjoying the beautiful view over the hills of Chianti Classico . In the house there are free wi - fi, television and private parking . The property enjoys a breathtaking panoramic view .
The territory of Chianti Classico has always been one of the main tourist destinations , its appeal has always been very high for both its natural beauty and for its flavors
The home was spacious, the view was beautiful and Carolina was incredibly warm, friendly and helpful!
Jonathan
2016-09-18T00:00:00Z
Thank you Carolina and Francesco for allowing us to stay in your charming home which had ever facility we could ask for - with the added bonus of an amazing view of the hills. (We loved how the light changed and made the view 'different' every hour.) After travelling for 3 1/2 weeks it was great to be able to settle in for five nights - we just wished we had more time to spend in Panzano which is such a gorgeous town with lots of lovely little places to eat, friendly locals and everything you need if you want to be self sufficient. Very central for exploring the Chianti region and we loved discovering the surrounding towns. We would highly recommend your beautiful home to anyone wanting to visit the region. Thank you for making us feel so welcome and we hope to return some day for a longer stay. Best wishes Paul & Linda
Linda
2016-05-20T00:00:00Z
The Apartment is very nice, modern and clean. The view from the terass is fantastic and it is very nice to have breakfast in the morning and a glass of wine in the evening. The surroundings are very nice and it is easy to visit Siena and Florence and other interesting places. We did not meet Carolina but she was very helpful with some things on mail when we needed help. We can strongly rekommend this Apartment.
Eva
2015-07-21T00:00:00Z
This was the perfect place for me and my 3 girlfriends to rent for our time in Tuscany. Carolina was wonderful and recommended a great driver for our wine tour and wonderful restaurants and day trips. The wifi wasn't working when we arrived and she was over within 20 minutes to repair it. It was the best wifi we had during our whole trip! The view is unbelievable. You won't regret staying here!
Allison
2016-08-06T00:00:00Z
Everything about our stay was fabulous. Carolina and Francesco were close by and helped us with anything that we needed. Panzano is a wonderful place. We loved our stay!
Gianna
2016-10-26T00:00:00Z
Panzano is a lovely town in the Chianti region, very central to popular places like Florence, Siena and San Gimignano. It was a great spot for our 5 night stay especially coming back in the afternoons to enjoy the sunshine and sunset on the terrace. The apartment was warm and spacious and easy carparking with an allocated off street park. There are many delicious places to eat here. We had an entertaining night dining at Solociccia, the Italian butcher's restaurant, a definite must do if you are coming here! Carolina and Francesco were great hosts, waiting upon arrival and helpful and responsive throughout our stay. Thank you!!!
Stacey
2017-03-30T00:00:00Z
Francesco and Carolina are exceptional hosts. Francesco was there to show us around the house, giving us some good tips around the area. He was also kind enough to show us around La Massa and explain the process of wine making. A nice and cosy house which is well situated to explore Tuscany. The house was so tastefully decorated, and it just feels like a second home. We just wish we could stay longer. Thanks again for hosting us.
jld
2015-12-26T00:00:00Z
Terrazza del Chianti is a wonderful place to stay. Walking distance to all Panzano in Chianti has to offer. The home is comfortable, clean, quiet, and has all that you will need for your stay. Francesco was very friendly and helpful and greeted us upon arrival. The view from the deck was spectacular especially at sunset. Panzano is a small friendly town and we highly recommend a visit to Le Fonti Vinyard as well as lunch at Antica Macelleria Cecchini. We would definitely recommend this place for a stay in Panzano.
Kelly
2015-05-21T00:00:00Z
Room Type
Entire home/apt
---
Property Type
House
---
Accommodates
4
---
Bedrooms
Panzano In Chianti, Toscana, Italy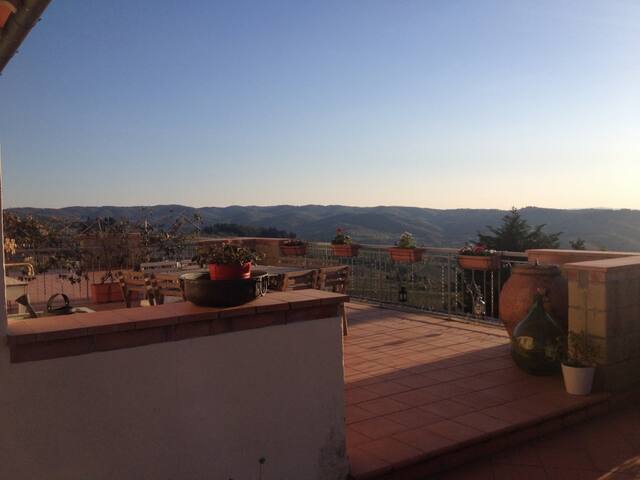 We are a true agriturismo (vacation accommodations on a working farm) producing organic fruit, vegetables and olive oil, located 10 minutes from Greve in Chianti, surrounded by vineyards and forest(URL HIDDEN)Apartment Azzurro is on a single floor, and is provided with an entry and bathroom suitable for wheelchairs. The large and well-lit kitchen-living room has a microwave oven, refrigerator and complete cooking utensils. There is a double sofa-bed and a large corner fireplace. The double room is bright and enjoys a view of (URL HIDDEN) additional single bed is avaiable for that room(URL HIDDEN) Azzurro apartment has his own terrace with umbrella, lunch table and chairs. All of our guests may make use of the wood-burning oven, to make pizza, and the grill. The apartment was constructed in part from the old wine cellars and hence are particularly cool during summer and yet warm in winter. They are provided with independent heating and a fireplace for use during the winter months. Our farm, situated in the valley between Greve and Panzano in Chianti below the famous Villa Vignamaggio, is surrounded by oak and chestnut forest, vines and orchards. From the farmhouse one may go on short and also more stenuous walks, passing through natural terrain reserved for hunting and the breeding of wild animals. It's easy to catch sight of wild animals and one hears the birds singing all day long. It's possible to follow the Greve stream as far as Lamole, passing along Roman roads or little paths that wind their way through the forest. It's easy to reach the town of Greve on foot or by bicycle, and equally easy to visit Panzano by following a path through the vineyards . When you stay with us, you will enjoy an ambience and an atmosphere that is truly rural..
Had a great stay at this quiet and comfortable Tuscan home. I would recommend staying here.
Dominic
2013-06-04T00:00:00Z
We had such a beautiful stay here. Between Francesca, the food at Dondoli, the curious cats, Bruma (her dog), and the cozy fireplace, we couldn't have asked for a better stay.
Carley
2016-09-20T00:00:00Z
We had a wonderful time at Francesca's house. It's so beautiful, just like the pictures. The town of Greve is beautiful and also very convenient with grocery stores, a place to do laundry, wonderful shops and restaurants. However, we ate most of our meals at the house, either picnicking on the private patio or enjoying a delicious meal at Dondoli, the restaurant right there on-site where Francesca's son is the chef. Wonderful food and such personal, warm service. Staying at Francesca's was the highlight of our time in Tuscany.
Marita
2016-05-18T00:00:00Z
Francesca's apartment was a beautiful haven in Tuscany. We felt very welcome and at home for our 7 night stay. Fruit and vegetables from the farm were amazing especially loved the zucchini flowers. The restaurant next door was delicious and an added bonus to our stay. Would highly recommend staying here as it is convenient for exploring Chianti/Tuscany and was also a lovely cool retreat to return to after exploring the region.
Leanne
2015-07-19T00:00:00Z
Francesca was a very welcoming host and the apartment was just as described... We arrived to find some groceries for the first breakfast which was really nice. Would strongly recommend dinner at the restaurant dondoli - just next to the property... Thanks for a relaxing and nice stay
David
2016-07-24T00:00:00Z
Our host, Francesca, was very welcoming and was extremely helpful with information about the area. We followed all her suggestions as to what to see and were very happy with her recommendations. The apartment was beautiful! Exactly what was shown on the Airbnb website. Loved the location of the farmhouse. Very central to all the areas we wanted to visit. Less than a 10 minute drive to the town of Greve where we could purchase all we needed. There is about a 2.5km drive up a gravel road to get there. It is in good condition but has a very steep, short narrow climb just before the house. You need to be in first gear. Our little rental car had no problem getting up there. You just need to make sure nobody is coming down as you are heading up.
Bob
2015-08-22T00:00:00Z
This accommodation is really nice ! It's in the middle of a beautiful country side. We were there in spring , with flowers blossoming everywhere. We have pleasure to sit outside. The flat is very nice too. Francesca is very friendly. She accepted us to come earlier ( the flat was empty the night before we came). She gave us good advices of visits, places to eat or markets. She offered us homemade bread, honey and jam for the first morning breakfast. We would love to go back !
Sylviane
2014-05-05T00:00:00Z
Very nice place and Francesca was really friendly. I recommend this place to everyone who wants to have a relaxing time at Toscana countryside in the middle of wide fields.
Jukka
2014-07-22T00:00:00Z
Room Type
Entire home/apt
---
Property Type
Apartment
---
Accommodates
4
---
Bedrooms
Greve in Chianti, Toscana, Italy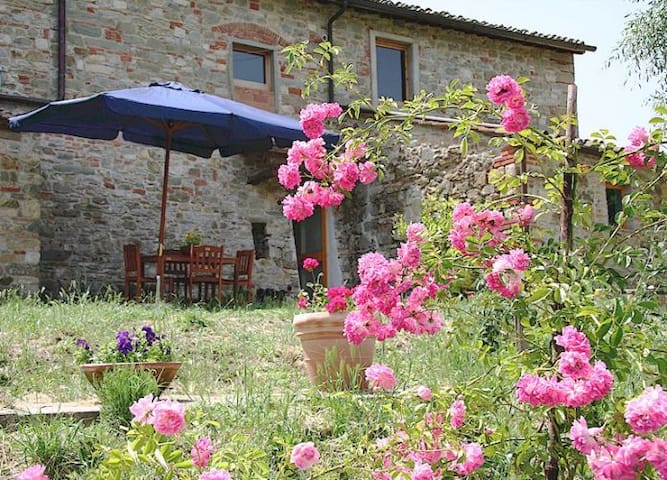 Selvabella is a farmhouse situated in the heart of Tuscany, half way between Greve and Panzano in Chianti. Just 35 km from Florence and Siena it is a perfect place to enjoy the beauty of Chianti. Il Riccio is an apartment of 45 square meters. It has a double bedroom, a living-room/bedroom with two sofas/ single beds, a large bathroom and an American kitchen. It is the perfect place for lovers of nature, cooking and pottery.
A B&B in the heart of Tuscany for lovers of nature, cooking and pottery.
It is a pity that we can't stay for long time in such a wonderful place! Beautiful house in peaceful woods in the heart of Chianti, plants are everywhere in the garden and every detail of the BNB are well done. My first choice the next time that I come back to Chianti!!!
Xiaoshen
2016-06-30T00:00:00Z
The B&B at Selvabella in Chianti was one of our favourite experiences in Italy. Our hosts Bernardo & Marta made every effort to make our stay extremely comfortable, they even recommended some great places for wine tasting. The best part of staying here was the breakfast- OMG this was THE BEST breakfast I had on my trip to Italy! I would totally recommend this place.
Parthiv
2016-10-18T00:00:00Z
Bernardo and Marta are fantastic hosts and we had a great stay in their wonderful home in Chianti. The apartment provided to us was consistent with the listing, and we loved the setting in the Tuscany countryside... ideally located for anyone wanting to relax and enjoy the lovely countryside with its views, the quiet & peaceful environment and day trips to the plentiful wineries and villages/towns around. Bernardo and Marta were always in touch before our stay, and flexible with our itinerary changes given we were traveling with a 2 year old... and very helpful during our stay giving us great guidance in terms of directions / suggestions on how to coordinate our time in Chianti. More than anything else, one of the advantage of AirBnB is the opportunity to meet people and learn about new cultures ... In that sense, we truly enjoyed our time with Bernardo & Marta, and our stay in their apartment was one of the highlights of our trip, and we felt like we made new friends during our short stay there.
Arvind
2016-05-26T00:00:00Z
It was a great experience, Chianti is a lovely place and we have many places to visit such as vineyards and castles, we hope to go back and stay longer and enjoy the enchanting of the Toscana. Bernardo and Martha were excepcional hosts.
Eduardo
2016-11-18T00:00:00Z
This B&B is one of the loveliest places in Tuscany. We arrived with our bikes late in the afternoon and were amazed by the landscape around the house and the very warm welcome. Marta and Bernardo give you the feeling to be part of their home and have your own little peace of Tuscany at the same time. In addition to their really nicely decorated home they show you around their pottery and offer an extremely nice breakfast. We also had a glass of wine with them at the afternoon and enjoyed great conversations. This was a very very cool start of our trip
Sebastian
2016-03-27T00:00:00Z
What a beautiful gem! My sister and I arrived later at night and were confused with exactly how to get to the B&B, so we called Bernardo and Marta and they quickly directed us with exactly how to arrive. They were waiting with their three beautiful dogs, a delicious snack and some local wine. We had so much fun chatting with them before dinner. Our apartment was beautiful, with a bathtub & shower, comfortable bed, kitchen and second room. The grounds were also stunning and it felt like a dream to be there! In the morning, Bernardo and Marta had a beautiful breakfast waiting for us, we didn't want to leave because it was homemade and so delicious. After departing, we even went back the next day to look at the pottery handmade by Marta, it was so beautiful we bought a few pieces to bring back home. I would highly recommend staying here and I hope to be back sometime in the future! Overall amazing!
Nicole
2016-04-02T00:00:00Z
Absolutely beautiful Tuscan Villa! Bernardo and Marta were so helpful! Even in foggy weather, the view was amazing! Bring a car that is good going up hills ;-) But the drive is worth it!
Alyssa
2017-02-01T00:00:00Z
This was our first experience using airbnb and we were both blown away with the hospitality and accommodations that Bernardo & Marta provided to us. The apt was perfect and you MUST take them up on their offer for breakfast, everything was home made and it was amazing!
Mike
2017-01-01T00:00:00Z
Room Type
Entire home/apt
---
Property Type
Bed & Breakfast
---
Accommodates
4
---
Bedrooms
Greve in Chianti, Toscana, Italy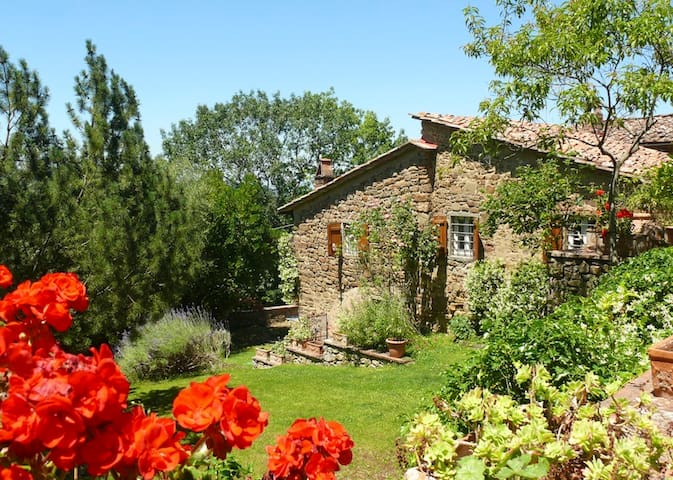 This portion of a country house has been recently restored. The house offers large rooms with stone and cotto floors and wooden beans. The house has been divided into two floors : downstairs a bathroom and a large open kitchen. Dining room with sofa and table. On the first floor you find 2 lovely comfortable bedrooms and bathroom. The gorgeous part of this house is the location which is immersed in the beautiful countryside of Panzano in chianti. Good for couples and families.
A beautifully arranged apartment decorated with care and attention to details. The place is even more beautiful than seen in the pictures. Very clean, conformable and with anything one can ask for. The host was very nice, welcoming and helpful and our stay was a tranquil joy in the heart of Chianti. The garden is beautiful and the view spectacular. A warm recommendation for staying there.
Emanuel
2016-09-26T00:00:00Z
We stayed for one night and we loved it! The house is clean and tidy and the garden is wonderful and very well kept. The host provided all the informations we needed. A very nice experience!
Sergio
2016-11-01T00:00:00Z
Very cosy house, well equiped and with nice garden. well licated to go to sienna and san gimignano in about 30mn with nice ride over the hills of Chianti.
fabrice
2017-01-01T00:00:00Z
Loved this place which is ideal for two couples, one bathroom with a shower on the first floor, the other one downstairs. Away from the road so no traffic noise. The church bells chime loudly, keep that in mind. The place is amazing, just what you'd expect in the area. Susanna welcomed us at 11 at night with a radiant smile and showed us the house which is very beautiful and ideal for holiday makers. Lots of things to see and do in the area, great for walking, too. Highly recommended!
Andrea
2017-04-02T00:00:00Z
House was absolutely beautiful and comfortable. Host was really nice! he took the time to show us all the House he was super helpful on information about the area, nice spots and what to do in the area.
Melissa
2016-09-25T00:00:00Z
La gentilezza va di pari passo col meraviglioso alloggio in stile rustico, curatissimo è pulitissimo. Per chi vuol godere dei paesaggi meravigliosi de Chianti, questa location è senz'altro la più bella e accogliente in zona. Complimenti di cuore ai proprietari!
Massimiliano
2016-10-23T00:00:00Z
siamo stati benissimo. la casa è molto bella e (URL HIDDEN) giardino di pertinenza delizioso.ritorneremo sicuramente in questa bella casa in mezzo al Chianti.
Giuseppe
2016-10-03T00:00:00Z
Room Type
Entire home/apt
---
Property Type
House
---
Accommodates
4
---
Bedrooms
Pieve di Panzano, Toscana, Italy
Felciano farm can accommodate up to 4 people in two rooms. The whole accommodation has been recently renovated. The terracotta floors, the ceiling beams and other typically Tuscan origin have been maintained.
It can accommodate 4 adults + 1 child under 12 years. Minimum stay 3 nights. Our house occupies the entire top floor of a building on 2 floors with a completely separate entrance. (The ground floor is occupied by the owner).
To walk to the village of Panzano there are about 9/10 minutes and 5 mimuti to get to the Supermarket and Pharmacy. You can 'walk to all the restaurants in Panzano and wine bars where you can' taste the wine.
This is truly a gem in the middle of Tuscany. We were looking for a fun girls weekend off the main path, and this place was perfect. The location is amazing, situated overlooking the rolling hills of vineyards and olive groves. Marinella was very accommodating, she was gracious and welcoming when we arrived later than anticipated. The cottage was very clean and comfortable. The little extras that Marinella supplied were much appreciated, we arrived to a bottle of the house red and home made olive oil. The house was stocked with all the basics and as well as some really nice extras, bread and butter, fruit and tea were much appreciated the next morning. We did tour around Tuscany for most of the weekend, but did spend one full day enjoying Panzano, the cottage and the outdoor entertaining space. Perfect for relaxing and not being right in the middle of busy, touristy Tuscany, but with easy access along the country roads to both Siena and Florence. We thoroughly enjoyed our time here.
Katherine
2015-07-05T00:00:00Z
We have wonderful stay in Marinella's premise. She welcomed us with home made wine and olive oil. Her place is a Toscany style farm with good position for the travel to other Toscan destination. We enjoyed every minute there and we definitivelly recommend it.
Igor
2015-08-12T00:00:00Z
We loved the place. I had looked for a place where we were the only guests there, not several other rental rooms, and this place was perfect. The location, the town, the restaurants, and the fact that we were near the main road in Chianti that makes it easy to visit other towns was important. We were not disappointed.
Robert
2016-09-25T00:00:00Z
Our stay at Agriturismo Felciano was fantastic....probably our favorite place! The setting is beautiful, the cottage very lovely, comfortable, clean...our home-away-from home! Marinella was a wonderful host, addressed our needs promptly. The wine and olive oil upon our arrival was a nice touch. Absolutely loved everything; would recommend this to friends and definitely stay here again if I ever had the chance! Thanks, Marinella.
Janice
2016-09-09T00:00:00Z
Marinella's place is lovely! It is perfectly situated on a slope of the vineyard, surrounded by Olive trees. It's 3 min by car to COOP (grocery store), 5 min by car to the Panzano square, less than 15 min by car to Greve. We stayed here for 7 days and did many day trips to Florence, Sienna, San Gimignano, Pisa. In our opinion it's the most convenient location. It's quiet with picturesque windows, very comfortable beds, clean linen, well equipped kitchen. The bedrooms and 2 baths are spacious. More than anything else, it's just a beautiful location. Marinella had placed a bottle of Red wine (from her own vineyard) and a bottle of extra virgin olive oil that they produce. Besides, there was bread and spaghetti, canned Tomato purée. She is very sweet, responds to messages promptly & very kind & helpful. She does not speak much English but it worked out fine with her translation app.
Anuradha
2016-06-07T00:00:00Z
We have spent a most wonderful time at Marinella's cottage. Marinella is a great host who makes you feel very welcome from the moment you arrive until the last minute of your stay. She puts a lot of heart and effort in making her place a little paradise. The cottage is situated on a small hill surrounded by vineyards and olive trees. You can enjoy your meals outdoors and sunbathe on the lounges. The house is furnished in Tuscan style with good taste and there's plenty of room for a family of 4. The kitchen is equipped very well, so you can prepare your own meals. A small Coop is about 7 min. walk away. You can find most of what you need to cook a nice Tuscan meal from fresh delicious pesto, mozzarella di buffala or ricotta to good quality meat for your bolognese sauce. Marinella produces her own Chianti and olive oil. You will be receiving a sample as a gift on your arrival:-) The prices are more than reasonable and the wine -- more than we needed to enjoy our evening meals. Panzano is a small town but you will find there an abundance of best restaurants with stunning views on Tuscan hills and valleys. The amateurs of bistecca alla Fiorentina will no doubt enjoy a famous Macelleria Cecchini. We highly recommend Agroturismo Felciano. Many thanks again, Marinella, for hosting us!
Andzelika
2016-08-06T00:00:00Z
Dear Marinella, we feel truly grateful for your warm hospitality. The house is magnificent, comfortable, clean and tidy and spacious. The minute you leave the house you find yourself in another fairy tale because the cottage is situated among the hills encircling Panzana with breathtaking, stunning views. We spent a lovely time here enjoying every precious moment. The place is a real jewel and worth visiting.
Nelia
2015-08-23T00:00:00Z
This property is idyllic! The quintessential Tuscany experience! We arrived earlier than expected but we're let in by a family member. We met Marinella later that evening. The house is fully renovated with 2 large bathrooms (1 completely handicapped assessable), 2 large bedrooms with king beds & plenty of storage space to unpack & settle in. The kitchen is fully equipped with everything you would need to never eat out- but with so many amazing eateries around we didn't want to cook at all! The entire rental apartment is on 1 level. Her family lives below. She left us a bottle of her wine- yum!!! & olive oil (which we assume will be equally as delicious but are waiting to open when we get home), both gifts were incredibly generous & unexpected. The weather turned colder durum our stay but the closets were filled with extra comforters & blankets. This house sits on a Tuscan hillside & could not be more picturesque. The only issue we had was driving our rental up the hill to the front door. We did use the laundry- washer only, then hung them to dry. We ate out 2 nights in town - a small osteria (bar/pub) the first night & the renown Dario Cecchini steak house/butcher. You will need reservations & a huge appetite!! We had no issues or problems & highly recommended this property to others. It was the perfect location to explore the entire chianti region. We stayed four days & explored all for directions! Grazie milli a Marinella !!
Rob
2015-09-28T00:00:00Z
Room Type
Entire home/apt
---
Property Type
House
---
Accommodates
4
---
Bedrooms
Panzano In Chianti, Firenze, Italy
Casa Volpini is equipped with two rooms INDEPENDENT apart BOOKED INDIVIDUALLY comfortable and bright located in the main square of Panzano in Chianti. Rooms with WI-FI, TV, espresso machine, refrigerator, hairdryer, air conditioning and everything else needed to make the stay more pleasant.
Perfect to look for a relaxing holiday, to disconnect from the hectic city life.
Very pleasant stay in Mauro's room. Clean and well located. The room contains everything you need. I recommend. Thank you.
Romain
2016-07-27T00:00:00Z
I had a really goodtime in here.location is very nice and room condition was great. And host is so kindly.
혜진
2016-09-07T00:00:00Z
Nice and clean room. Hosts are kind. Good location. I recommend this accommodation.
종윤
2016-04-22T00:00:00Z
A lovely private room with great facilities. Definitely recommended.
Brent
2016-07-27T00:00:00Z
Mauro meet us by the beautiful square in the mittle of the little village. The surroundings and the village are Beautiful like a dream. We loved the room. New modern bathroom, coffeemachine. Ten points!
Ulrika
2016-07-06T00:00:00Z
Supercosy nice room. Cool and comfortable. Communication was clear and easy. We were not the most social guest because we were only there to sleep but we enjoyed our stay
Wieteke
2016-07-25T00:00:00Z
Mauro's place is very convenient. A rustic flat renovated into a comfortable apartment in the middle of town. Our room was nice and clean with a coffee machine (!) and a comfy bed. The private bathroom is basically brand new and super nice. Located close to restaurants and cafes. We mostly used it as our base to half-day trips around the area.
Vilmos
2016-11-08T00:00:00Z
Altså værten så og hørte vi ikke, men kvinden han havde til hjælp med at passe hans far, og gøre rent, gjorde et flot arbejde. Ku bare ikke engelsk.
Elsebeth
2016-09-16T00:00:00Z
Room Type
Private room
---
Property Type
Bed & Breakfast
---
Accommodates
2
---
Bedrooms
Panzano In Chianti, Toscana, Italy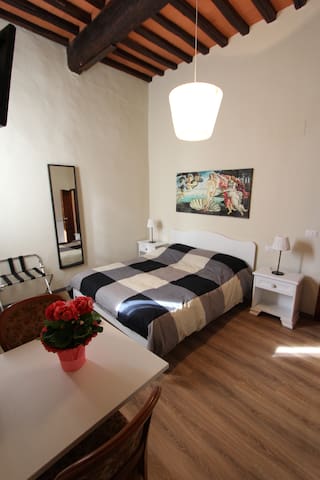 Our cozy three-room apartment, and 'situated in the center of Panzano 200 meters from the famous restaurants of Dario Cecchini and 20 mt from shopping center with a supermarket, pharmacy and tourist medical service. It has parking space, garden, Wi-Fi, TV 42 ', microwave, kettle, air conditioning, safe and armored fixtures
It is equipped with all comforts, it is cozy like a real love nest
It is located in the center and has all the services on foot
Very clean and cozy flat! Fully equipped! Fast WiFi! Good heating! Many thanks to Francesco! Very good location. Excellent views in 1 minute walk. Not more than 5 minutes walk to Dario Cecchini restaurant. I definitely want to get back here!
Dmitry
2016-04-29T00:00:00Z
I can really recommend this apartment, although I only stayed one night. It has everything you need, is clean, is spacious and very convenient with the supermarket next door. Francesco was very helpful, he even helped me with some pharmaceutical advice which was very kind :).
hanne
2016-05-09T00:00:00Z
This place was great! Wonderful location in a small town. The host was very flexible and friendly. The apartment was spacious and clean. We would recommend staying here.
Casey
2016-02-03T00:00:00Z
We had a one night stay in Panzano on our way through Tuscany. Francesco and his wife gave us a warm welcome. The apartment is lovely and spacious and a very short walk up the hill to the town itself. For foodies/steak lovers: if you stay here, we definitely recommend lunch at Dario Cecchini's 'Officina della Bistecca'. Also, close to notable wineries such as Castello Di Verazzano. We would definitely stay here again - perhaps for longer next time!
Ela
2016-09-05T00:00:00Z
Francesco's apartment in Panzano is perfectly situated with just a 5 minute walk in to town, 1 minute walk to a grocery store and panoramic view over the hills of Chianti. The apartment itself is well appointed, clean and we were very comfortable staying there.
Victoria
2016-09-02T00:00:00Z
It was a fantastic experience with house owner Francesco, also his wife and kids. Francesco is running a pharmacy in front of the house, so it is easy to figure out and do the check in process with the owner. The house is clean and have everything we need. The heating system is very good, so it was a warm stay in the house even in cold winter. The hot water for shower is also good. Strongly recommendation!
ECHO
2016-02-12T00:00:00Z
Second time back and it remains as good as the first. After 12 visits to the region over two years, and stays in 9 different apartments, I can honestly say that this is the best value that I have found, in the most convenient position for my travels. Without a doubt this will be my preferred home base for any future visits to the region.
gregory
2017-02-17T00:00:00Z
Great place to stay at during a visit to Panzano. Very central location and comfortable furnished apartment with everything you need for your stay.
Paolo
2016-12-27T00:00:00Z
Room Type
Entire home/apt
---
Property Type
Apartment
---
Accommodates
3
---
Bedrooms
Panzano In Chianti, Toscana, Italy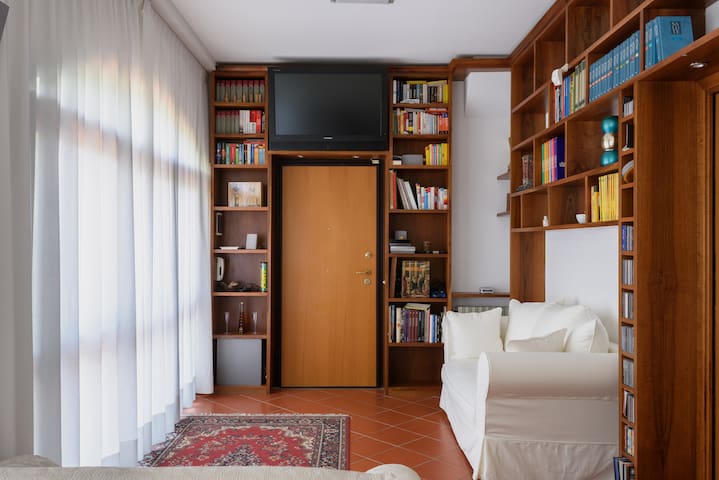 period house, in the center of the village of Panzano in Chianti, with a large private courtyard, garden and terrace with panoramic views. Private parking.
Big thanks to both Sonia and Carolina. We had an amazing stay in the villa. Everything worked perfectly, surroundings marvelous and a very nice home away from home. The only minus, was the lack of open restaurants and cafés. Both as we found out, start march is not season. We came to Tuscany for cycling traing and the Strade Bianche Race. I can only give my highest recommendations to others, who have the same plans. Great and hard area to train in.
Charles-René
2017-03-06T00:00:00Z
The apartment is absolutely beautiful. Sonia was very helpful and lovely and made us feel welcome. She was always available for tips and advice, but we had our own space too. A very nice stay!
Lizzy
2016-10-08T00:00:00Z
This is the most beautiful home we have ever rented... I never wanted to leave. Sonia welcomes you with open arms and the home is equipped with anything you could possible need. Sonia, we love you and we'll be back. Tell Jan hi!
David
2016-09-17T00:00:00Z
Sonia's apartment is right on the beautiful main square in Panzano with coffee shops, wine bars and restaurants all within seconds walk. The apartment is palatial and spaceous, full of original features with a stunning terrace overlooking the Chianti hills and a beautiful courtyard outside the living room. As a pervious reviewer mentioned you have the best of both worlds here - the square at the front and tranquility at the back. Sonia is a great host who met us on arrival with some welcome gifts and then come by on two more occasions with gifts of local wine and her own local new olive oil. I highly recommend this apartment and wouldn't hesitate to stay here again.
Kevin
2016-11-22T00:00:00Z
Sonia's home is simply lovely! The sitting area is large and bright with a wall of windows. The bedrooms are comfortable and everything was spotlessly clean. Sonia met us at the home and showed us around so we could see how everything worked. And she and Carolina were available if we needed anything during our stay. Plus we had the most beautiful patio that overlooked the valley - such a great place to relax after a busy day. We would highly recommend this home to future travelers.
Jean
2017-03-18T00:00:00Z
We loved absolutely our stay at Sonia's historical family home. Sonia was so kind and waited for us to arrive in the middle of the night (2am). The flat is spacious and comfortable with all the things we needed. It is located right in the town centre square. Very convenient. Sonia prepared a welcome package including a bottle of chilled wine, water and a bowl of fruits. We feel so lucky that we could live through 'history' - an experience we would never forget. Thank you so much, Sonia, for your lovely little Tuscan gifts - they will remind us of the beautiful Tuscany for many years to come.
Xiaolan
2016-07-07T00:00:00Z
Sonia welcomed me, and was the most wonderful hostess you would want. I was in Tuscany for a Destination Wedding, and my sister was to join me. First, the apartment was so incredible, and was stocked to greet a guest with fresh fruit, water, juice, etc. The outside terrace that allowed evening sunset viewings was fantastic, plus there was a table outside the apartment for morning coffee. My sister got delayed, and Sonia did everything to assist me in getting to a dinner reception, getting my rental car, and getting to the airport to meet my sister. Sonia is warm, helpful, and someone who loves to share Panzano and its surrounding area. Her suggestions and help were more than I had ever imagined. I certainly will be back in Panzano. As the apartment was on ground floor, and there was a bathroom with a handicapped toilet, I was very pleased. Plus the history of the apartment with its large layout. I highly recommend Antica Dimora. Anna Hacker Tucson, Az
Anna
2016-09-10T00:00:00Z
This rental is amazing. We spent 5 days here and were so sad to leave. Sonia is so so kind. She is so thoughtful and communicative as well. My husband has a prosthetic leg and Sonia got him a special chair for the shower. We always enjoyed getting to chat with her. Her rental is a dream...just as beautiful inside as the scenery (URL HIDDEN) was hard to leave and go explore the rest of Tuscany! We also loved how close it was to the local restaurants and cafes. Private parking a big plus. Honestly we can't say enough good things about Sonia and her home. It brought us so much peace and much needed relaxation. We are expecting our first child in June and couldn't imagine a more perfect getaway before his arrival. Sonia and Carolina thank you so very much for the best part of our vacation! We plan on returning in the close future with our baby boy!
Christa
2017-03-27T00:00:00Z
Room Type
Entire home/apt
---
Property Type
Apartment
---
Accommodates
6
---
Bedrooms
Panzano In Chianti, Toscana, Italy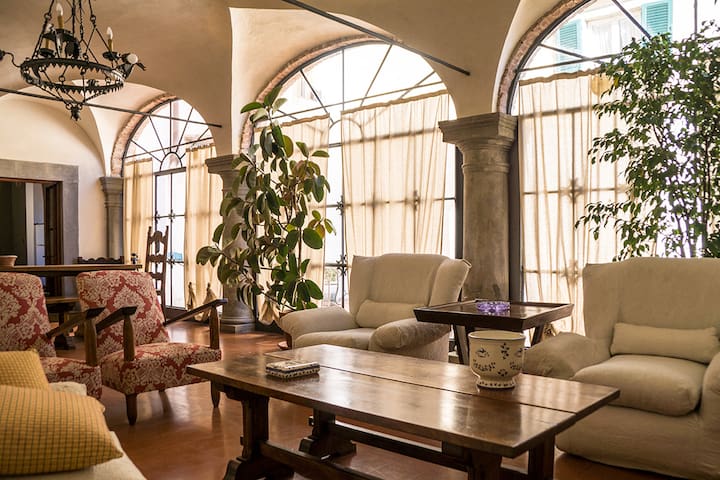 Panzano Castle is a 100 m2 apartment with the best view of Tuscany. A honeymooners paradise ! Fabulous living room, large bedroom, bathroom with tub and shower, and large gourmet kitchenThere are 2 romantic Romeo and Julia balconies where you can have lunch or wine !
Panzano Castle is the most panoramic position in Chianti, the most important and beautiful wine area of Tuscany, strategically positioned between Florence and Siena. Beauty and amazing views abound : restaurants, wine tastings, antiques, art, fashion, everything you want can be found in this lovely village. Panzano is quite charming and gas everything. In summer season there is a lovely pool available for you to use. I have rented Panzano Castle for the last 5 years, with great success ! And I think it is worth it for all airbnb people to join in and check out this amazing area ! Amazing views, lovely people, great food, excellent wine, in short : your perfect holiday destination. You can get to Panzano by bus from Florence Santa Maria Novella. From there it is a short walk up. Most guests rent a car at the airport to be able to explore Tuscany and make day trips from Panzano. That it what I advise ! But you CAN stay in Panzano without a car. Go see Montefioralle, Greves antique market, try the wine at enoteca Baldi, check out the amazing food in il vescovino, right under the castle, go to the opera near Siena, or a jazz concert in Florence ..... the list with things to do never stops !
Amazing views, lovely people, great food, excellent wine, in short : your perfect holiday destination.
My friend Francesco and I stayed in this wonderful historic castle for one night in late November 2015. We didn't get to meet Michiel in person but he communicated with us swiftly and warmly throughout the trip. We were very well looked after by Toscalinda, the friendly neighbour and care taker. She took the time to check us in thoroughly, explained much of the castle's fascinating history to us, and invited Francesco (an artist) round to show him some old artworks she keeps from her youth, while I took photos of the stunning Tuscan view from the balcony - it really is magnificent, and it wasn't even a clear day ! The castle itself gave us that immediate "wow" factor as soon as we entered - the living room is ample, there's a piano, good hi-fi system and is very well lit. It retains features from its past such as the flooring and the wooden beams. The space is best suited for a couple, as one of us slept on one of the two sofas, which was slightly leaning to one side but not too much of an issue. The immediate surroundings and the small town are very picturesque and quiet. I would certainly recommend Michiel and Tosca's castle and hospitality and would love to visit again.
Dustin
2015-11-24T00:00:00Z
We had a wonderful stay at Michiel's apartment! The historic building and village are amazing and the view from the balcony across the Chianti countryside is incredible. The apartment is tastefully furnished and has many authentic elements, in keeping with the buildings character. Michiel is an excellent host. Communication was very easy as was access to the apartment. His tips for great local eateries and places to visit we very helpful too. We had some great meals in the quaint little village and met some memorable local characters. We would love to stay again one day at this unique castle apartment in Panzano and highly recommend it to all.
Priscilla
2016-06-24T00:00:00Z
We enjoyed our stay at Michiel's historic home. Panzano is the quintessential Chianti village with sweeping views and long peaceful days. It was a memorable experience we look forward to repeating.
Adrian
2016-07-06T00:00:00Z
A wonderful experience at Panzano Castle. The Apartment is at the top of the castle and has a very rustic and romantic feel. It is clean and has all the facilities you need for cooking (if you so desire when on holiday!) it does feel like a home and the views from the balconies are the best that there is. We enjoyed the view with some fantastic wine and ham and cheese bought from the local area and witnessed some spectacular sunsets from there. The balconies allow just enough room for the small table and chairs. There are sunloungers but I think that you would struggle to use them in the balcony space having no room to maneuver and with the wall you would be able to sunbath only at midday sun. Michiel has an agreement with a lady who owns a b and b about 2km away to use her pool. This is a small b n b and hosts 3 rooms of its own and is situated towards the bottom of the valley as you look from the balcony. It is a beautiful / serene pool with views across the valley. You would need a car to get here as it it quite a trek on foot. Not reccomeded to take children to the pool and we were conscious that we did not want to disturb the guests there. There are some lovely restaurants and bars in the area and if course great vineyards and olive producers . Easy to get to other quaint Tuscan hamlets. We were lucky to be there during the Chianti wine festival and had a great time, taking the bus to Greve which was easy from the main sq at Panzano. A great stay. Wonderful apartment. Would highly reccomend this to couples even without the pool .
Christopher
2016-09-12T00:00:00Z
Words can not describe the magic of this place. The location was exceptional and the view to die for. This little slice of heaven will be forever in our memories. The helper/lady next door was very helpful and accomodating. Thank you for sharing this very special place.
Winterhome
2016-06-21T00:00:00Z
The host canceled this reservation 24 days before arrival. This is an automated posting.
Pam
2016-07-07T00:00:00Z
Michiel's place is hands down the best place I have ever been since I started using Airbnb. The house is just incredible, spacious, with ton of light and in the middle of the amazing Tuscan hills. This is not just a house it's like an incredible life experience, for enjoying Tuscany and the peaceful life of Panzano, which is also a perfect location then to easily move around and go visit other cities like Florence, Siena, Lucca and so on. The house is fully equipped with all you need, it's very clean I'll definitely recommend it to anyone who is willing to listen!
Pierluca
2017-01-02T00:00:00Z
Un super séjour dans la magnifique région de Toscane!! Michiel est très réactif et répond rapidement aux mails, il a été sympa et nous a laissé arrivé plus tôt que l'heure prévue! L'appartement est conforme aux photos, il est spacieux, très typique, bien équipé au niveau de la cuisine et quelle vue, Wah! Toscalinda, la personne chargée de la remise des clefs et qui vit la porte en face est super, chaleureuse, serviable et si vous lui demandez elle vous donnera quelques conseils pour les restos et commerces du village! Le seul petit bémol, c'est que contrairement à ce que laisse penser la description, la piscine ne se situe pas au même endroit que l'appartement, mais à 10 minutes en voiture. L'hôte nous en a informé dès la réservation, donc pas de mauvaise surprise à l'arrivée. Nous avons décidé de passer outre, et on a bien fait, car même si nous aurions apprécié avoir une piscine sur place, il y a tellement de chose a découvrir dans la région, nos journées ont été bien remplies que finalement nous avons même pas profité de cette piscine. La localisation de l'appartement est bien pour visiter la région, il se situe au calme dans la partie haute du village de Panzano, et permet de rayonner facilement dans la région! En résumé, un super séjour, et si je dois revenir dans cette région, je relogerai dans cet appartement avec grand plaisir!
Sandra
2015-08-16T00:00:00Z
Room Type
Entire home/apt
---
Property Type
Apartment
---
Accommodates
2
---
Bedrooms
Panzano In Chianti, Toscane, Italy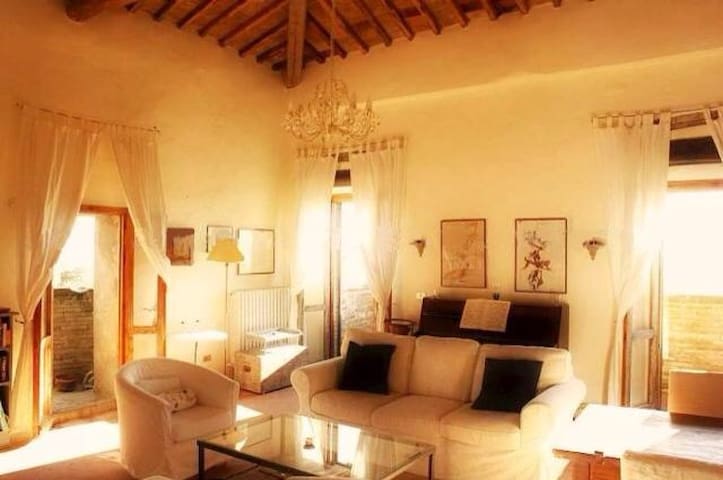 The smallest guestroom in the Chianti... ... you will be the only guests! Our place provides opportunities for a unique and tranquil stay in the countryside while still allowing visitors to stay within easy reach of the most art-filled cities and Chianti
You will be our only guests! The organic guestroom is located against a magical background of woods, streams and vineyards. It is between Panzano and Greve in Chianti within easy reach of art-filled cities such as Florence, Siena, San Gimignano, Volterra, Lucca and Pisa. Our guestroom is a Tuscan-style loggia with exposed beams and terracotta tiles in a rustic barn recently restored in an environmentally-friendly manner. The cosy double room stays cool in summer and warm in winter (central pellet heating. NEWS: you will have an independant electric radiator too). It has a private bathroom with showerbox, mosquito screens on windows and the door, a private entrance and garden with a table and umbrella. A small outdoor kitchenette with refrigerator, kettle and simple cooker makes it possible to prepare breakfast and simple meals. Organic products for breakfast on request and extra price: tea, coffee, milk, bread, homemade yogurts and fresh fruit jams from our trees, cheese or eggs The garden between the wood and vineyards is ideal for spending a restful day. With a bit of luck, you will see the wild animals that live nearby, including deer, squirrels, wild boar, rabbits, porcupines, hoopoes, cuckoo, foxes, birds of prey and many others. The atmosphere here is friendly and peaceful. Professional Shiatsu treatments are available in the house or under the sky. Private parking. We suggest you to come by car. You can rent bikes or a vespa in Greve. If you come by foot we can pick you up, consider that we are at 30 minutes walk from Greve. From May to October there is a restaurant in the neighbour farm. We offer high speed Wi-Fi access point in your room (turned off during storms). Minimum stay during high season: 4 - 5 days You can read about us on Tripadvisor: Greve in Chianti - Il Cielo Bio
I love our the countryside. Next to our house there are typical Chianti hills with vineyards and the wood on the other side. There is a little river next to our land and the sound of water and birds accompany us. Our place is very relaxing and has a good energy.
We had the most relaxing and wonderful stay at Michèle's rustic air bnb. She greeted us with kindness and made us feel very welcome and at home, giving lots of great recommendations of where to visit. With a car there is lots of things to do! Our highlights include dinner in Lucarelli, Florence, Siena, wine tasting in Greve, the cashmere goat farm and visiting castles and churches in all the surrounding little Tuscan towns! If you like the peaceful countryside this is a must stay, you get the best starry night sky and quiet sleep! There are also all the essential modern touches (great shower, heating,wifi). We also enjoyed the company of their pet dog Leone, and the neighbours' dog and cat! Only positive things to say :-)
Abbi
2016-10-08T00:00:00Z
We had a great time staying at Michele's place in Chianti. It is set in a peaceful and quiet area. Michele was really helpful and friendly, and provided us with some of her homemade treats such as cookies, cake and refreshing drinks. We really enjoyed our stay.
Christiaan
2015-06-23T00:00:00Z
Michelle was a great host and her place was relaxing and private. Would definitely recommend it!
Anna
2014-06-24T00:00:00Z
This is the perfect place for relaxing, getting energy and for just 'being'. The Bio Breakfast is great, the room very nice and authentic and surrounding wonderful. Michèle is a very friendly and helpful host. She picked me up and brought me to the bus stop when I departed. I was traveling on my own without a car. Without a car you need to like walking, because the next village is about 5 km away. But the road is easy, no big ups and downs and I really enjoyed my walks. I can highly recommend this place!
Jeannette
2015-06-20T00:00:00Z
Our host Michele was genuine, kind & very helpful. Her advice on walks, sights to visit & other general assistance was much appreciated by us. We found the description within the listing just what we expected. The B&B is in a quiet restful location but very central to for anyone wanting to discover & enjoy the Chianti region.
Jeanette
2015-07-25T00:00:00Z
The fabulous place among the Chianti hills! You definitely need to go here if you are tired of the crazy rhythm of the big city as we are. You will have an opportunity to deep into the quiet measured local life, to feel the unity with nature and be charged with a special energy of this incredible place. Also It's an excellent base for discovering Chianti region with its picturesque nature, breathtaking landscapes and medieval towns. Wonderful Michelle helped us to make our holiday unforgettable, telling about local sights and places to visit and helped us to organize our activities. We enjoyed our breakfast from the local organic products in the garden overlooking the vineyard. The room itself is tastefully furnished and everything in it made with soul. It stayed cool indoor even in boiling August weather. It' s well equipped and very comfortable, as well as the small outside kitchennete in the garden. And at night sitting in this garden we observed absolutely starry sky and listened to the crickets. My husband and I spent here the final part of our honeymoon within the grand trip to Tuscany and it was very romantic and happy!
Ekaterina
2014-08-21T00:00:00Z
We had such a wonderful 5 night stay at Michele's b&b! Michele was away, but we got very well looked after by Noemi during our entire stay! Noemi picked us up from the bus stop in Greve centre, waited for us to buy a few groceries from the supermarket and drove us back to the amazing b&b. We were then greeted with delicious local wine, cheese & tomatoes, thank you Noemi!! Beautiful location with a vineyard & olive groves in the front yard! We did not have a car, but the hosts were kind enough to lend us 2 bikes for our entire stay. We rode into town each day, rode to Panzano on one day (up hill, but very beautiful, especially on the way back down). The restaurants in Greve were great! We especially liked Pizzeria la Cantina (the seafood spaghetti was delicious!). The scenery around the b&b is just amazing!! We took lots of photographs! We also enjoyed spending time with the sweet family cat - Milou. The accommodation itself is a self contained unit attached to the main house (with a kitchenette outside with a fridge, microwave, toaster, kettle). The unit was immaculate! Very clean, comfortable and nicely decorated! We absolutely loved it! Michele was very responsive to emails and Noemi was a sweet, kind & generous host! Thank you Noemi for all your hospitality and all the treats & local produce you gave us & the ride back to the bus stop at the end of our stay! We feel very lucky to have been able to experience this hidden bit of paradise amongst nature in Greve in Chianti. Great value, we highly recommend this b&b!
David
2013-08-20T00:00:00Z
Well, where to start. My friend and I absolutely loved Michele's place. We couldn't have had a better time. Michele was so super friendly and helpful with anything we asked for. The breakfast was delicious, you shouldn't miss out on it. everything is home made from the bread to the jam to the yoghurt. You should also try the Shiatsu massage, its super relaxing. Her place is surrounded by wine yards and the forest. Coming from the City we loved the peace and quiet. However its just a stone throw away from the village which offers everything you really need. I can only highly recommend you to stay at Michele's place. we certainly cant wait to go back!
Rahel
2014-11-08T00:00:00Z
Room Type
Private room
---
Property Type
Bed & Breakfast
---
Accommodates
2
---
Bedrooms
Greve in Chianti, Florence, Italy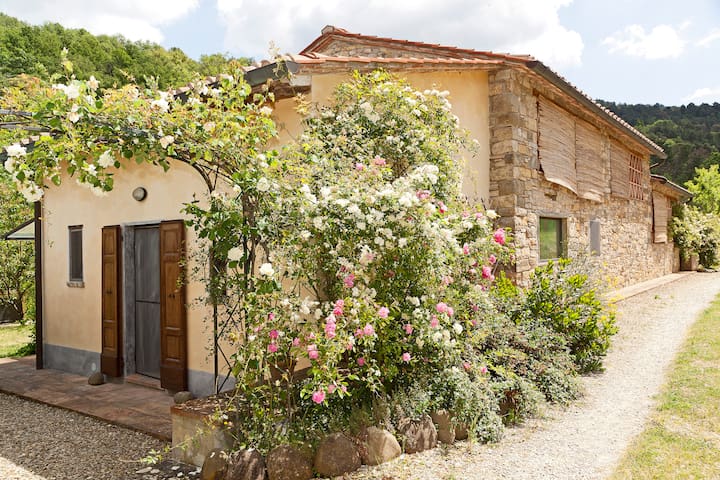 Il Casello Country House B&B is composed of farm buildings in a small village situated in the stunning Chianti countryside overlooking the Vignamaggio valley.
Il Casello is a historic country house with outdoor salt-water swimming pool situated in the Chianti countryside, between Greve and Panzano in Chianti. Accommodation comes in an elegant Tuscan style. Parking is free. The elegant rooms feature exposed wooden beams on the ceilings and rustic terracotta floors. Each room is equipped with LCD TV, air conditioning and electric kettle. The apartments have a private terrace or garden, and a fireplace. Il Casello Country House B&B is surrounded by panoramic terraces and beautiful gardens. There is an internet terminal with webcam, and free Wi-Fi is available throughout. Breakfast is a sweet and savoury buffet. During pleasant weather it can be enjoyed outdoors. The restaurant is open for dinner and specialises in local cuisine. The public bus to Florence stops 80 metres outside the property.
This beautiful and peaceful B&B was even better than I had imagined! The views of Tuscany were breathtaking, we loved sitting out on the patio sipping wine and taking it all in. The host was very accommodating and the complimentary breakfast was excellent. Would definitely stay here again!
Danny
2016-09-26T00:00:00Z
My wife and I stayed here 5 days of our honeymoon and we absolutely loved it. The place is more beautiful than the pictures and Paolo and Angelica were wonderful hosts. The breakfasts were delicious and the rooms are spacious and very clean. We would come back here in a heartbeat. Loved it.
John
2014-09-16T00:00:00Z
Angelica & Paolo have made my trip much more enjoyable! They are super friendly and helpful. We don't drive, but Paolo helped us to check the bus timetable and gave me very good suggestions on where to visit and what to eat in my short stay there. They also reminded us about the commencement of winter time, which was very important to us because we needed to catch not-so-frequently-operated buses on Sunday. Breakfast was a buffet with lots of different choices, warmly prepared by Angelica. She even baked tasty pastries for guests! Room, comfortable. Internet connection, great. It's even available in the terrace. The garden is beautiful and nicely decorated. With their friendly doggy, tranquility and the nature landscape, I really wish I could stay there for longer time. :) P.S. It's easy to get there by bus, which is a plus for us who don't drive!
Jasmine
2013-10-28T00:00:00Z
Our stay in Chianti was absolutely perfect!! The place is even better than the pictures. Everything was perfectly clean and Paolo and Angelica were extremely helpful with recommendations and even made reservations for us! Breakfast every morning was perfect, they even offer to make scrambled eggs and cappuccinos. The location was perfect, make sure to schedule a tour and tasting next door at Casaloste. Absolutely phenomenal wine! Thanks so much for everything Paolo and Angelica!
Mollie
2015-06-06T00:00:00Z
Angela and Paola were wonderful hosts. Very accommodating and helpful when we needed a hand in directions and suggestions in the area. Their B&B is beautiful inside and out. You can't image waking up to the beautiful Tuscan hills each morning
Jan
2016-10-08T00:00:00Z
We only have the BEST things to say about Paolo and his fantastic B&B!!! Paolo is extremely friendly, very welcoming, easy going and a nice person to be around. The B&B is in a perfect and spotless condition, and the attention to detail in terms of the finish of the rooms, the interior, the entire house including the gardens is absolutely incredible. The breakfast was delicious and made even more special by the sunny terrace outside. During the 3 days of our stay, we felt as if we stepped in to a perfect Italian life, surrounded by vineyards, beautiful views and sunsets, and lovely people. Would love to visit Chianti again, and Paolo and his B&B definitely set very high standards for any hotel or accommodation provider!
Rozalia
2014-06-05T00:00:00Z
Breakfast was wonderful! We thoroughly enjoyed being able to see outside, relax and enjoy the view over coffee.
Kasia
2016-04-05T00:00:00Z
Angelica, Paolo and their son went above and beyond making us feel welcome at their home. The place is incredible. Walk to a winery, incredible dinner options in neighboring Panzano (with spot on recommendations and reservations made by Paolo). The location is excellent, 30 minutes to Florence, 30 minutes to Siena, about an hour to other great hill towns. Again, ask Paolo on advise about where to park, etc. when visiting these others towns. He is a wealth of information. The rooms are comfortable, the pool was enjoyable, and the views cannot be beat. Be sure to take your breakfast up to the patio. A great experience, and highly recommended for folks visiting Tuscany by car.
Steven
2015-06-26T00:00:00Z
Room Type
Private room
---
Property Type
Bed & Breakfast
---
Accommodates
2
---
Bedrooms
Greve in Chianti, Tuscany, Italy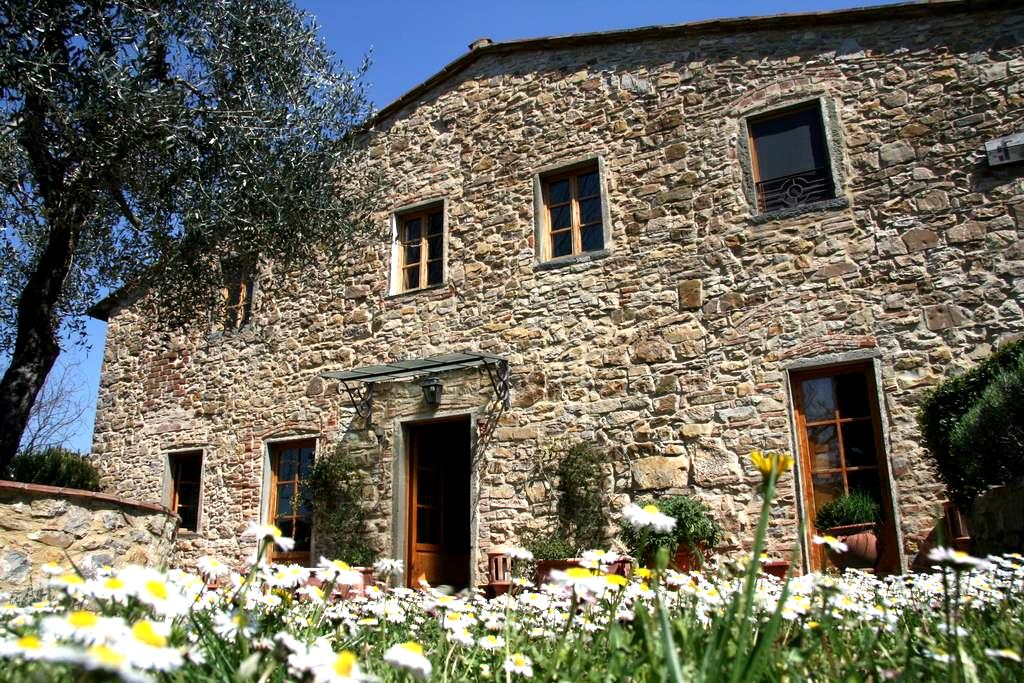 This apartment home has been renovated with great care. Vintage style and it is facing the sunny Golden Basin of Panzano. Beautiful views from the patio. Each of the two bedrooms access an outdoor deck furnished with table to dine out.
This charming village house is a perfect base for excursions ans can host families, couples and friends. Has a private open space (garden and balcony) to enjoy and relax the Chianti Classico atmosphere. Comprising: - large sitting/living room - kitchen, dishwasher, fridge, freezer, oven, kettle, toaster, American coffee maker - double bed room with access to terrace - double bed room with French size bed with access to terrace - bathroom with bathtub with hand- shower - large terrace with table to dine out + sun chairs and ombrella - public parking right in front of the apartment or close by. Are included in price: - electricity, gas for cooking, water - WiFi Internet Extra from the price : This is an apartment which is rented as "locazione turistica" and not as a B&B or Rent a room, so we can not offer our guests any service like breakfast, food, cleaning during your stay, linen and towels . However you can get these serivices nearby the apartment. Linen and towels for the apartment can be provided by the laundry ( you can get enough and we have a special deal - so no worries!!! ) - food can be delivered by a nearby store or you can enjoy our nearby restaurants - breakfast : there are plenty of bars just at a short walking distance. - In winter the heating is paid apart. A medium consume corresponds approximately to 10 euros per day. Check in : we can agree at the time of booking by email or phone SMS usually from 3pm to 7pm. Giulia who manages next door B&B ( only 200 meters from the apartment) helps us and assists our guests. She speaks Italian and English, is very friendly and helpfull. You will get keys by her reception. Check out : we can agree at the time of booking or arrival by email or phone SMS. Usually from 8.30 am to 10 am ( later check out should be arranged with us in advance).
The house is over the Golden Basin right in the village.
Very lovely appartement with everything you need. A perfect starting point for exploring the tuscany.
Michel
2016-07-04T00:00:00Z
We were welcomed by the front desk attendant of the B & B next door to the apartment. She showed us to the apartment and provided us with information of the area. The apartment was exactly as pictured and was very roomy for our family of four. The area surrounding Panzano is quaint and located in a quiet section of town. We were able to walk to town where there were several restaurants, stores and shops. We enjoyed our stay in this region of Italy and our Air BNB home was perfect!
Kris
2016-05-21T00:00:00Z
Monica was very responsive and friendly, even though this was the last minute booking. The apartment is attached to a local b&b and I was able to get help checking in and with other information. Giulia from the b&b even offered us breakfast! Overall, very cute and clean apartment. I was very happy with it!
Ji Hye
2016-03-17T00:00:00Z
Nice experience in the heart of Chianti area. Our host was very helpful and available for us to solve any doubt in a short moment. The house was perfect size and cozy for four persons. The only negative thing was the shower with low flow rate and difficult to step in. Perfect for visiting, tasting and enjoying the area. Also Monia left us a welcome wine and a complete compilation of local references (places, restaurants, timetables, addresses, recommendations, etc)
Jesus
2016-08-16T00:00:00Z
Monia and Gioia were very helpful, met us when we arrived even though it was late, and when there was a problem in the apartment they immediately offered us alternative accommodation! Also free fresh breakfast available from the partnered BnB next door was fantastic. Definitely recommend it, would stay here again!
Suhayl
2015-08-05T00:00:00Z
We spent 2 beautiful weeks in this location. Monia's house is prepared with high taste but also with comfort in mind. At our arrival, location was perfectly clean and fresh. Monia warmly welcomed us with bottle of excellent red wine from her wine factory. That was really warm - especially after 1600km car driving to Italy. We spent 2 weeks in Toscana traveling whole days by car - every evening return to this location was real pressure for us. Location of this house in Panzano is really good: You have just 2-3min walk to center of Panzano (which is BTW very nice small city). We also really enjoy nice views on lovely landscapes of Toscana from this location. From our perspective - choosing this location was lucky & perfect choice. We are really happy that we stayed exactly in this house.
Piotr
2016-08-28T00:00:00Z
This was our first place we stayed on arrival to Italy. It was furnished very tastefully, very comfortable beds, and modern kitchen. It was a perfect place to stay with a family of 4. It was well stocked with plenty of towels, natural shampoo and soaps and kitchen supplies. The view is amazing from the balcony and location is easily walkable to everything Panzano has to offer, especially Dario Cecchini's restaurants. Try the Solo Ciccia. Giulia was helpful with the check-in, and it was easy to communicate with Monia
Brad
2016-03-23T00:00:00Z
This was not my favourite airbnb stay. It was last minute, and we are very grateful that they could take our booking, and were communicated with well. The apartment is large and clean and furnished well. It is the road/parking lot facing unit in a large building. I was expecting the Tuscany hill view from the house as in the images. It was the most expensive place we booked. There were a number of things that made it awkward though. Eg the address was incorrect on Airbnb, no plug for the bath, no curtain for the shower (so the whole bathroom, toilet included, becomes a wet room) There was no salt &pepper (or anything) to season food with, no sugar/tea/coffee, no dishwashing liquid or sponges to wash dishes. We were supplied with a single tablet for the dishwasher. The house was full of mosquitoes. There were empty anti-mozzie plug in's, but the small shop in town didn't have replacements. There was nice soap and shampoo left for us. The beds were comfortable, and Panzano was a lovely village to sleep in. Julia, the neighbour next door, was amazing and helped me with some milk and supplies to make some tea on arrival. It must be noted that on check-in, we were told that the unit was only recently being used for rentals. Perhaps our experience was merely one of teething problems. As things stand now, I am choosing to not recommend it, but I am sure that it will improve vastly as they are professional, kind and eager hosts.
Candice
2015-10-05T00:00:00Z
Room Type
Entire home/apt
---
Property Type
Apartment
---
Accommodates
4
---
Bedrooms
Panzano In Chianti, Toscana, Italy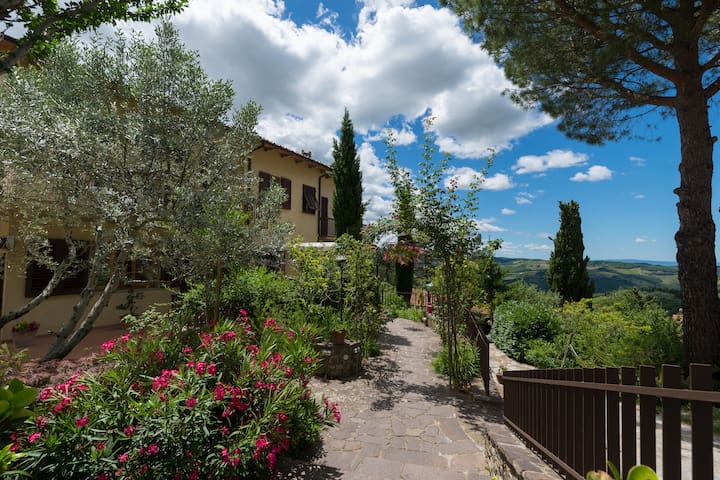 In an ancient farmhouse completely renovated recently an elegantly furnished apartment located in that was an ancient tower. The house is in the center of the village of Panzano, near Florence, Siena and San Gimignano. Large garden with pool. Parking on request not included in the price.
A charming house for a couple is really ideal. In a refined setting, relaxing, sun, swimming and around you the beauty of a unique land: il Chianti. Villas, castles. Unforgettable views.
Panzano is a small village in the heart of Chianti Classico. There are many typical restaurants and wine bars
Please do not be misled by the photos! There are no views at all from the windows. Also there is a €10 daily parking fee. Unit is tiny with minimal natural light. the only saving grace was that the unit was newly renovated.
Dawn
2016-11-04T00:00:00Z
We loved staying here, it was perfect from start to finish! Beautiful place and Panzano is a wonderful village filled with great restaurants. We enjoyed our time here immensely and it is the perfect spot to visit nearby towns in Chianti and try some delicious wine and olive oil. Thank you Luigi for making us feel welcome and showing us around the property. Everything was as described and we would definitely come back.
Leila
2016-06-15T00:00:00Z
We had a fantastic time at Luigi's apartment. It has everything we could ever need, and it is all done to a very high standard. It was great to be able to be in the centre of town, surrounded by several good bars and restaurants. We would recommend this apartment for anyone wanting to be at the heart of the Chianti region. The pool is lovely and private. Luigi and his son were so helpful too, particularly with printing our boarding passes so we wouldn't get charged and also helping us out of a misunderstanding when parking in the middle of the town's market!
Verity
2015-06-28T00:00:00Z
Casaloni was a truly beautiful place to stay! I would recommend this place and town to anyone. Luigi was extremely helpful answering any questions we had and he was kind to provide us a welcome gift of a bottle of wine. For the price and beauty of the space we were a bit surprised by the mediocre mattress. By the space was renovated beautifully and the pool was also lovely.
Jessie
2015-08-20T00:00:00Z
We loved staying in the apartment of Luigi and Giovanni. The apartment is really beautiful, with all the equipment you could use. The bed is just wonderful and the bathroom looks beautiful. Giovanni welcomed us with a lovely bottle of red wine. The pool is really nice, with good afternoon sun. The apartment is in the middle of the little village Panzano, with a lot of really good restaurants in walking distance. We would recommend staying here!!
Floor
2016-06-04T00:00:00Z
There could not have been a better choice for a Tuscany trip! Both Panzano and Luigi's home were absolutely marvelous! The village and the house was easy to spot. I was welcomed by Luigi's son Giovanni, who was very helpful both in introducing the house and about tips around the village. Both him and Luigi were just a call away in case of questions. The house is located next to two other houses and Luigi's own house at the back. There is a beautiful, tranquil garden over looking the pool and the landscape behind. Everything is within reach, the little cozy plaza, bakery, gelatti, florist, butcher and last but not the least the most amazing restaurant called Cantinetti Sassolini in Tuscany. The house includes all that you need, an efficient wifi, and house amenities. Thank you Luigi for the bottle of Chianti on the table at arrival and for the most friendly hosts that you were! A perfect travel location both for a quiet preference and vacation with children. Highly recommended.
Bengi
2015-04-12T00:00:00Z
We had a fantastic time in this beautiful appartment. Luigi and his wife were very accomodating and communication was great all throughout our stay. The appartment was spacious, clean and nicely decorated. The pool was our highlight. We highly recommend staying with Luigi and his wife, and we are already considering to return next year. Thank you for everything.
Danielle
2016-08-14T00:00:00Z
Giovani met us upon arrival, helped us with our suitcases and showed us around the apartment. We were left a delicious bottle of Chianti to enjoy as we settled in.
Robert
2016-08-04T00:00:00Z
Room Type
Entire home/apt
---
Property Type
Apartment
---
Accommodates
2
---
Bedrooms
Greve in Chianti, FI, Italy
The apartment dates back to 1400, has a wonderful view, is situated between Florence and Siena and is for five adults and two children. Ideal for those seeking the quiet of the countryside without losing the services and the comfort of the village. Private parking, terrace, garden and entrance.
A large paved stone leads to the large terrace followed by the garden; a lateral step leads to the terrace of access to the apartment. This little terrace is covered with a pergola to sit outside even when it rains. The accommodation is on two levels; on the ground floor there is a spacious bathroom with shower and three rooms: the kitchen, the dining and living room with a comfortable sofa bed always ready. The living room can be divided from the dining area by panel curtains for privacy of those who use it as a bedroom. A cypress staircase leads to the first floor where there are a bathroom with shower and two bedrooms. one with a single or bunk bed and the other with a double bed of 160x200 size. By the bedrooms you can see the country and also the native house of Monna Lisa, the famous Gioconda painted by Leonardo da Vinci. Wi-fi, satellite TV, washing machine, dishwasher, electric oven, fireplace and brickwork barbecue which can be used with wood or charcoal. Private car entry, parking, terrace and garden, all in exclusive use. In the apartment's private garden there are the ruins of the old medieval watchtower as seen from the opening picture.
Panzano in Chianti, borns in the Etruscian and Roman periods, is in the hearth of Tuscany; from here it's easy to reach any location and also the sea. From my property you can visit Florence and Siena by bus without car parking problems. The village of Panzano has the right size, is big enough to have all services and shops and, at the same, is quite little to preserve the old and slow life style. Do a wine tasting tour in the Panzano' farms Visit the Dario Cecchini poet butcher shop and restaurants Enjoy the shopping in the Sunday market and buy your food in the little Italian style shops. Taste my extra-virgin olive oil ( I have more than 300 plants), my vinegar and my low sugar percentage marmalades.
We had a fantastic experience with rosalba! The apartment is spacious, comfortable, fully stocked and beautifully decorated. There's even satellite tv. It is in the perfect location. It feels like in the middle of the countryside but it is in fact a five minute walk from the cute little town of Panzano. It's the perfect base to explore Chianti. Don't miss rosalbas cooking also. It was one of the best meals we've had on our trip as well as being brilliant value. Strongly recommend a stay with rosalba!! I only wish we could have stayed longer.
Alannah
2016-07-18T00:00:00Z
Rosalba made us feel very welcome, nothing was too much trouble for her and her family. The accomodation was very comfortable we lacked for nothing and the view was just beautiful, such a peaceful setting and yet only minutes from the lovely village and shops of Panzano. We will definately be back
Sally
2015-05-07T00:00:00Z
The cottage itself is exactly how you can see on photos. Or even better, because of stunning Chianti Hills view. Very good located, quite place but all commodities are near. Rosalba and Roberto are best hosts: very positive, open, helpful and perfectly met our needs. They provided us with all we needed for us and our baby and helped us to discover the Chianti region and its local food&wine traditions, especially with Rosalba's cooking! We spent really beautiful vacation here! And we hope to be back one day.
Kseniya
2015-07-01T00:00:00Z
This place was great. Great experience of the Tuscany region. The old feel from the stone house was nice and the view from the room is amazing. The bed was very hard and so were the pillows. We did have to pay for heating. I had to re-read her description. It says that there is heating but it is not mentionned anywhere that you have to pay extra. It was not very expensive but still. If you have the chance, you can ask Rosalba to make you diner and it will be delicious! Great stay.
Jessica
2016-11-28T00:00:00Z
Everything was as described in Rosalba's listing and the accommodation was perfect for our family of 5. Rosalba was very accommodating and my only regret was that we didn't have more time to spend with her since we did much traveling. My wife and daughter took a cooking lesson from Rosalba one morning which they really enjoyed and now we know the secret for making great pasta ! We even went out an bought a real Italian made pasta machine after her lesson. The town of Panzano was just the perfect size and not over commercialized with tourism. We bought a litre of olive oil from Rosalba and Roberto's production to bring back home with us. There is a very informative guide that Rosalba provided for us upon arrival and she assisted us in getting reserved tickets to the Uffizi Gallery. I would highly recommend Rosalba's apartment for anyone who wants a real "Chianti" experience. My wife really loved Panzano as did I. Thank you so much for hosting us Rosalba. Warmest Regards, Jeff. Sofia, Colin, Alexandra and Hayley.
Jeffrey
2016-07-31T00:00:00Z
We had a lovely stay in Panzano. Rosalba was very sensitive to our needs. While available to us and helpful, she was not intrusive. We had privacy. She made reservations for us to see the Uffizi and Academia in Florence. Without her help we would have spent hours in lines. Rosalba cooked a delicious meal for us one evening. She and her husband joined us and were extremely patient with our very limited Italian. Panzano is a small medieval walled town. It has several restaurants, cafes and wine tasting spots. We were fortunate to be in Panzano on April 25, Liberation Day. The entire town fills with performers, tourists and locals. Street food and wine abound. Parades and silly plays occur all day. The night is capped by fireworks! The cottage is adorable and we'll outfitted. The bed was comfortable. It is in the old town, but out of the fray. Because it is a stone building it was a bit damp and cold. We decided to splurge and pay for the heat for a few hours at night. The only problem is for people expecting WiFi. The service in the cottage was extremely in reliable. Often nonexistent. In all, though, a great place to stay!
Martha
2015-04-26T00:00:00Z
It`s a really wonderful place, the place of dream. Rosalba is a great host and great cook! Roberto is a wonderful painter. You will find everything you need in this home including views). Thank you very much! It was really wonderful!
Sofia
2017-01-08T00:00:00Z
A very charming place with incredibly hospitable people! Rosalba and her husband were welcoming and extremely nice people! The appartment is clean and ideally located with a superb view of the Toscana countryside! The only downside was that there was only wifi near the upstears window and it only worked sometimes but hey it is Italy! :) Would go again! Such a nice place and town!
Christa
2014-09-30T00:00:00Z
Room Type
Entire home/apt
---
Property Type
Apartment
---
Accommodates
5
---
Bedrooms
Panzano In Chianti, Tuscany, Italy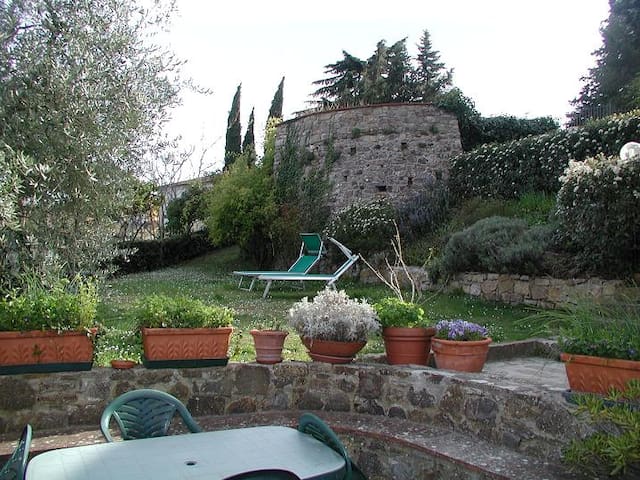 Mezzomonte farmhouse is located in one of the most beautiful areas in Chianti, only 33 Km from Firenze and 30 from Siena.We are on the top of the hill ,2km of unmade road from the main street SS222
The apartment is situated at the first floor get-at-able by a spiral staircase directly from the garden. From the terrace, with a splendid view you entreat in the living-kitchen with a sofabed.A small allway leading to the double bedroom and the bathroom with bath and shower. The bedroom has a queen size bed, a couch and two windows on the garden. The bathroom is furnished with shower bath, W.C, sink and a big window. Timo apartment is really bright and comfortable and it can host from two to three people.
Timo apartment is suitable for a family of 3, the large terrace on the hills makes it particularly comfortable
The unpaved road to the house is not easy to ride, but it´s worth it! You feel like home in this beautiful villa, with a gorgeous panorama on the Chianti hills. Flaminia, and her daughter, are very nice women, kind and helpful. The appartment itself is not big but cosy, we had a great time there.
christel
2015-07-25T00:00:00Z
Flaminia's place is beautiful, in the midst of the tuscan hills. Her hospitality was outstanding and made our stay at Mezzomonte a really nice one. Thank you!
Sophie
2015-10-15T00:00:00Z
Flaminia's place is gorgeous and serene. We got our surprised welcomed gift and tendency upon arrival, she even helped us make late dinner reservation at the local restaurant so we are garanteed to have food past 9pm! She makes us feel like staying with our own Mama the entire trip in Tuscany!! We couldn't have asked for a better place to stay, and we will definitely visit Flaminia and her lovely house again when in Italy. Come visit us too Flaminia when you visit the East Coast of the States, ciao & love!
Gary + Rita
2016-09-15T00:00:00Z
We received a warm welcome from Flamina with a nice cake. She was a relaxed hospitable host. The view was great. The apartment was really nice. Clean and everything was there. The surroundings were perfect as well.
sjoerd
2016-04-01T00:00:00Z
Wonderful experience friendly and generous. Beautiful location great for walking. Fantastic views. We warmly recommend and hope to visit again Thanks so much Flamina
Robert
2016-04-30T00:00:00Z
Amazing secluded place hidden away down a dirt path. Relaxing beautiful and exactly what we needed! Our host was incredible! Welcoming cake was a delicious bonus to enjoy from the roof terrace!
Nicola
2016-09-22T00:00:00Z
Probably the best moment of our stay in Tuscany ! Flaminia's house is lovely and even more charming than on the pictures. It was great to meet Flaminia who welcomed us with a good tasty cake. The house is in the middle of the countryside and at the same time very well located to visit the different places of Tuscany. Hope to stay there again in a future trip. The perfect house if you're looking for peaceful and relaxing atmosphere. Flaminia, ancora grazie per questi giorni !
Erwan
2016-04-16T00:00:00Z
We had the loveliest stay in Flaminias apartment. It is a true Tuscan experience. The apartment was great and decorated beautifully. She has a lovely dog we played with every day and she made us the best home made mojitos we've ever had! It was such a lovely stay. Thanks again
Elle
2016-07-12T00:00:00Z
Room Type
Entire home/apt
---
Property Type
Apartment
---
Accommodates
3
---
Bedrooms
Greve in Chianti, Toscana, Italy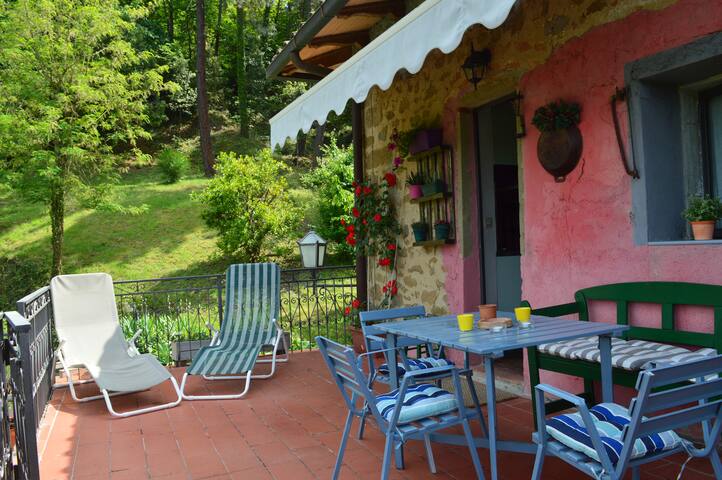 Enter dates to see the total trip price including additional fees (but excluding any taxes).