Private Master Suite (private bath) with queen size bed in a beautiful house in the best neighborhood of Palo Alto! Room check in time is 5pm, but you may use the common area before 5pm. *EASY automatic check in with an entry code at any time! *PROFESSIONALLY Cleaned! Fresh sheets & towels *FREE parking *5 min to downtown Palo Alto and Stanford *WIFI internet NOTE: price may vary by day / season.
This spacious, recently remodeled, ranch style house has refinished hardwood floors. Gourmet kitchen boasting high-end appliances, granite counter & a signature island. Abundance of windows overlooking the yard. The room includes a queen size bed, desk & chair, night-stand and large closet. It has hard-wood floors and built-in shelving. The bathroom has been beautifully designed and features a spa-style shower with music and steam functions.
Groceries, coffee and casual restaurants are within walking distance. Many nearby parks for jogging. Stanford and numerous tech companies are all quite close by.
Check in was smooth, the room with the ensuite was super lovely. The place was quite and the bed was comfy. Definitely helped my jetlag!
Kit
2016-10-24T00:00:00Z
Very convenient quiet neighborhood. Master suite is very nice. Easy coordination. Great value.
Mark
2016-12-07T00:00:00Z
As always real great place to stay.
Vikram
2017-02-24T00:00:00Z
Good house. Heard from a Uber driver that one house in this area could cost several million dollars so you can know how safe it is. Nice environment. Definitely recommend.
海洋
2017-03-24T00:00:00Z
nice place for family
Hongpeng
2017-01-14T00:00:00Z
I had a private bathroom and a big bedroom (c). With the bike I rented it took me 15 min to get to stanford and to university av (bars and stores)
Santiago
2017-04-02T00:00:00Z
Very convenient and lovely space!
Marilyn
2017-01-26T00:00:00Z
Perfectly clean and pleasant and my room was private but it's not a home. More of a hostel space with multiple individual rooms off a hallway.
Steve
2017-01-24T00:00:00Z
Room Type
Private room
---
Property Type
House
---
Accommodates
2
---
Bedrooms
Palo Alto, CA, United States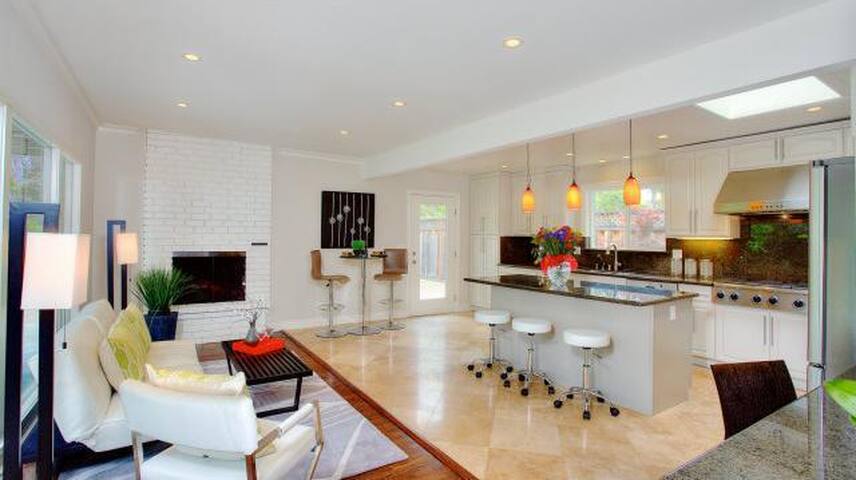 A newly renovated studio in a quiet courtyard, near Gamble Garden, 10-15 minute walk to Stanford University, Town & Country, downtown Palo Alto and Caltrain stations.
Private and quiet, yet safe and secure in a large garden-like yard.
Located in the prestigious Old Palo Alto, it is convenient, safe and friendly.
Great value, cosy, and cute.
January
2017-03-23T00:00:00Z
CK and Li are truly some of the best hosts I've ever had on Airbnb. Not only was their place idyllic, but they made sure I was comfortable without ever infringing on my privacy. I highly recommend them as hosts and would love to stay there any time I am back in Palo Alto!
Cristina
2017-04-04T00:00:00Z
CK & Li's cottage studio was comfortable, private, and even a bit elegant. They were friendly and helpful, and the adjoining garden is gorgeous.
Brian
2017-03-20T00:00:00Z
Room Type
Entire home/apt
---
Property Type
Cabin
---
Accommodates
2
---
Bedrooms
Palo Alto, CA, United States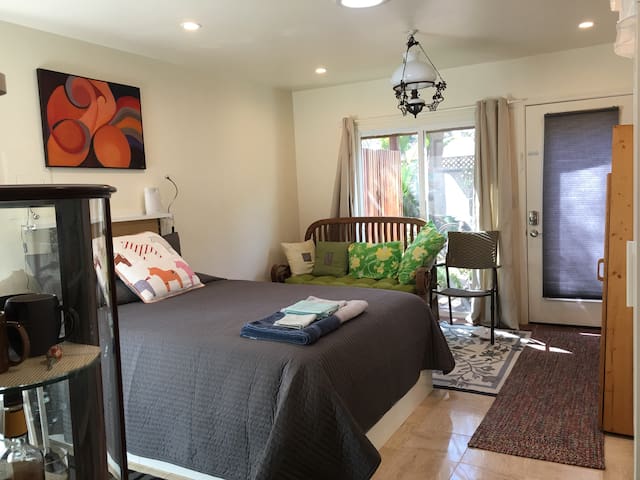 Large private suite; frig; microwave; small toaster oven; coffee machine; working area; dining table; airy; bright One block from University Ave, Palo Alto 1 mile to Stanford University; Walking distance to restaurants and shopping, Railway station to San Francisco and San Jose My place is good for couples, solo adventurers, and business travelers. Simple bikes available for your use
Large space, clean; bright;
The neighborhood is very quiet
Ingrid's place is lovely and so peaceful! Beautiful surroundings and not too far from shops and restaurants.
Brenda
2016-09-09T00:00:00Z
Lovely, clean studio with great artwork and bright windows. Very comfortable. Kitchenette has a toaster oven and small fridge for storing leftovers from dinner out :)
Julie
2016-11-13T00:00:00Z
Ingrid's place was beautiful, spacious, and impeccably clean. There was privacy afforded by the separate entrance. Great for business travel and those who don't need much guidance for their trip.
Da
2016-10-23T00:00:00Z
Ingrid was extremely kind and professional and very responsive. The place was spacious, super clean, and comfortable. The location was very convenient for my visit to Palo Alto.
Craig
2016-09-21T00:00:00Z
We loved the space and communication with Ingrid went very smoothly. The studio is very cosy, thoughtfully decorated and provides everything one needs while travelling. We found that it is even better than showed on the pictures! The neighborhood is very quiet, but at the same time it's a walking distance to the main street with all the restaurants and the train station. Recommended stay in Palo Alto!
Tanya
2016-10-24T00:00:00Z
Great location about 1 block from university ave and approx quarter mile from the main university ave action! Took a short 10 minute walk....place is located in a beautiful quiet neighborhood, plenty street parking. Comfortable stay, large and spacious little studio. Great hot water shower! Mini fridge, keurig coffee maker, toaster oven and microwave available to use and Wi-fi. Private entrance is great! I'll definitely be recommending and returning here!!
Kimberly
2017-02-19T00:00:00Z
Lovely place 5mn drive from University with a "feel at home" feel to it. Very comfortable bed.
Guillaume
2017-03-03T00:00:00Z
This is a charming spacious 1 bedroom suite(private entry) in a quiet residential neighborhood. The living room/dining area was large and included a desk, table and several chairs. The queen bed was comfortable. There were so many amenities - Keurig coffeemaker/K cups, microwave, refrigerator, toaster oven, dishes, utensils, numerous electrical outlets. The bathroom had a shower, towels, hair dryer, shampoo. There was nothing to be desired and the suite was immaculate.
Arlene
2017-02-22T00:00:00Z
Room Type
Private room
---
Property Type
House
---
Accommodates
2
---
Bedrooms
Palo Alto, CA, United States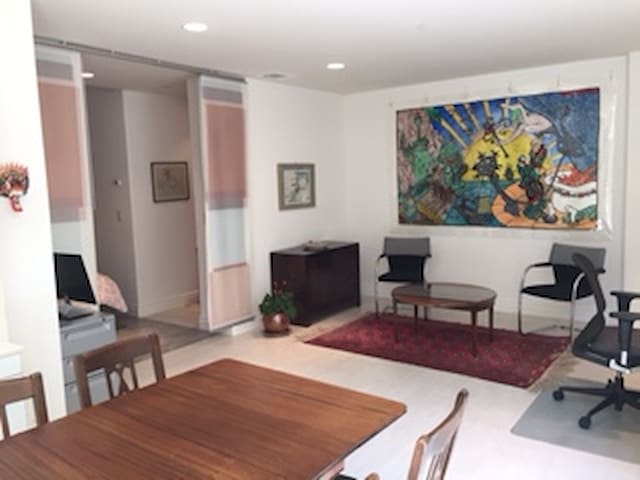 Beautiful room with new comfy twin beds and private bath. Silicon Valley home in Palo Alto in a neighborhood of very expensive homes ($4-7Million). Walking distance to Stanford University (20 min walk or shuttles available. Near CalTrain line to SF. Lots of free parking in front of house!
Very comfortable twin beds in light, airy room. New plush beds purchased Oct 2015 with very high quality 600 thread count sheets.
Wonderful walking/biking neighborhood. Area of very expensive homes that are beautiful. Quiet! (SENSITIVE CONTENTS HIDDEN), (SENSITIVE CONTENTS HIDDEN), HP and VMware are all nearby. Homes in our neighborhood cost $3-5+ million.
The home Alex hosts is lovely and very clean. Beautiful neighborhood close to the freeway.
Viv
2016-08-08T00:00:00Z
As a first time user of Airbnb, I though Alex was an excellent host! Very professional, prepared, and accommodating. Before we arrived, he answered all my questions promptly, as well as spent time answering questions we had once we arrived. The room and bathroom amenities were all laid out when we arrived and overall he has a very lovely house! Also, the bed was very comfortable and we had access to kitchen. I would highly recommend staying with Alex and would definitely stay there again if in the area.
Selena
2014-12-16T00:00:00Z
Alex was a gracious and accommodating host. The bedroom and private bath were beautiful. The house is on a quiet street with friendly neighbors. I would be happy stay again the next time I'm in Palo Alto.
Rachel
2015-11-18T00:00:00Z
The best host, best location, and best amenities! Should be on everyone's favorite list in Palo Alto!
John
2016-11-11T00:00:00Z
Awesome place to stay. Bed is more comfortable than my own. Nice garden $10 uber to Stanford.
Gregory
2015-11-21T00:00:00Z
Clean room in a private house in an upscale and quiet Palo Alto neighborhood. Friendly and helpful hosts, flawless communication, possibility to use the kitchen and the refrigerator.
Mirka
2016-10-28T00:00:00Z
Perfect as always.
Rajiv
2016-01-22T00:00:00Z
Very comfortable room in a beautiful home, bathroom just down the hall. Was visiting my son at Stanford, about a 20 minute drive. Alex was delightful!
susan
2016-05-01T00:00:00Z
Room Type
Private room
---
Property Type
House
---
Accommodates
2
---
Bedrooms
Palo Alto, CA, United States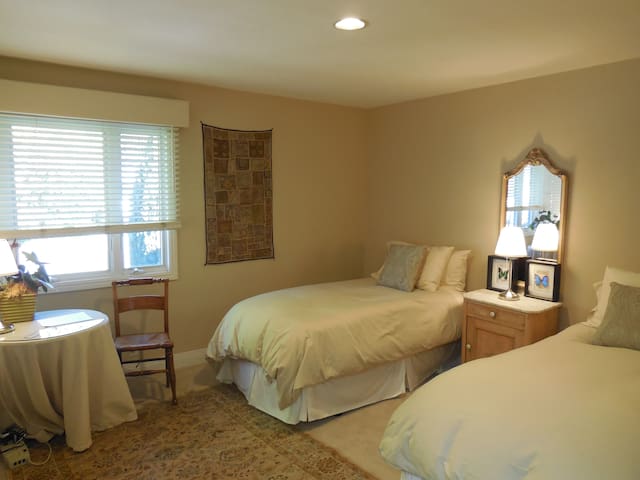 Private non-smoking upstairs room for an individual or a couple, with queen sized bed, fridge, and private bath in quiet Palo Alto residential neighborhood. Friendly, safe, supportive household. Pool available for swimming & sunbathing.
If you don't like staying in hotels and are wishing for a more private, supportive place to stay while in our area, our home would be an ideal place.
Quiet neighborhood with plenty of street parking. Close to Stanford University, Stanford Hospital, downtown Palo Alto and Mountain View . Many Silicon Valley companies and excellent restaurants nearby.
Beautiful and comfortable room, everything was very clean and Nina as a host is extremely nice and welcoming.
VALERIE
2016-11-30T00:00:00Z
Nina and her husband were wonderful hosts. I really liked staying at their place. It's like a home away from home.
Vikram
2016-11-02T00:00:00Z
Perfect place to stay on my business trip; clean, quiet, and accommodating. I will definitely stay again.
Luke
2017-01-20T00:00:00Z
Nina welcomed me like a family guest. she worked around my schedule to help me check in and provide everything I needed. the little details in this place are amazing. the room feels very cozy and comfortable. there are coffee, tea (great varietes), breakfast, snack items. bathroom is stocked with some incredible toiletries. all in all a very comfortable and restful stay
Prerna
2016-07-01T00:00:00Z
Thank you, Nina! Perfect, as advertised! Bob
Bob
2016-06-10T00:00:00Z
Great experience. Very warm people. Will stay again.
Rajiv
2016-03-25T00:00:00Z
Nina and her husband are both very nice. Although breakfast is not provided, they recommended a number of nearby good restaurants. They also provided me a lot of useful information about where to have fun during weekends as well as cheap and fast transportation methods like Caltrain and Bart. The room and house condition actually exceed my expectation, the bed is super comfortable and there are lots of books in the room for you to recreate. The house is located at a very quiet and clean neighborhood and it takes nearly half an hour to walk from her home to the nearby California Ave. Station of Caltrain.
铭霏
2016-08-15T00:00:00Z
I love Nina and her house very much, because the house is fantastic, so comfortable and Nina is so thoughtful. Nina is so kind and enthusiastic. For her patient advice and all kinds of help, we had a impressive holidays in this city. I love her house so much because I enjoyed birds' song each day. It is so quiet and we can not hear any noise from vehicle . And the location is so good that it is very convenious to every place. I miss the Cocoa and coffee, the soft pillows, quilt for they are go great. The pillow for reading was so cute. We love the coffee maker for we can get hot water, cocoa and coffee whenever we need.
zhang
2016-03-13T00:00:00Z
Room Type
Private room
---
Property Type
House
---
Accommodates
2
---
Bedrooms
Palo Alto, CA, United States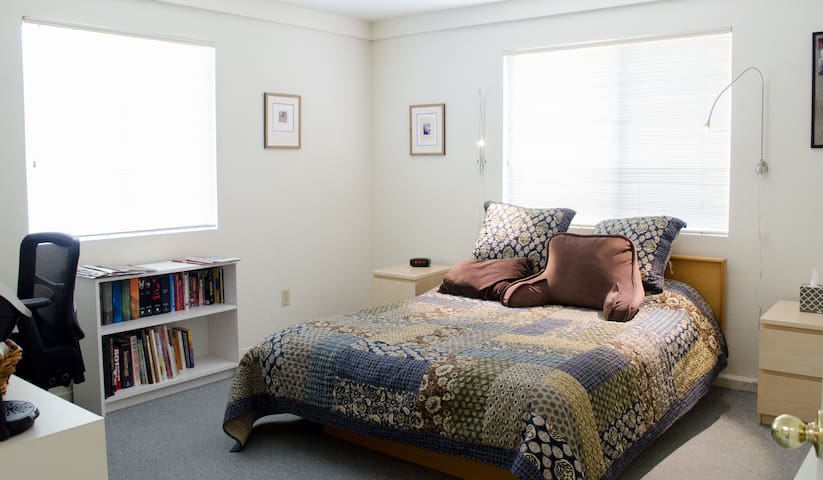 Cozy, retro, retreat, quiet with lively color scheme
close to Stanford, (SENSITIVE CONTENTS HIDDEN), (SENSITIVE CONTENTS HIDDEN)
Residential, quiet.
Room Type
Entire home/apt
---
Property Type
In-law
---
Accommodates
2
---
Bedrooms
Palo Alto, CA, United States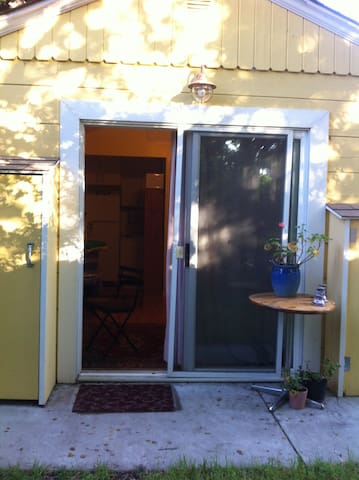 A compact yet adorable studio in the heart of downtown Palo Alto. 1 block from all the major shops and walking distance to Stanford campus and Caltrain. Features 1 full size bed (heavenly memory foam!) and a small kitchenette with fridge, microwave and small induction cooktop to prepare your home cooked meals. Whole Foods 3 blocks away. Very fast WiFi (150Mbps).
This little apartment is really clean, pleasant, simple, and comfortable. The location is incredibly convenient to everything on University Ave and to Stanford. There's a bit of noise from the street, if you're sensitive to that, but it wasn't a problem for me. Great spot!
Maggie
2016-12-14T00:00:00Z
This place is in a great location - practically in the middle of Palo Alto. Easy to get anywhere you need to go. The room was very clean and I had everything I needed.
Adam
2016-12-21T00:00:00Z
Had a terrific multi-week stay here. Terrific location and feels like a newly renovated space.
Adesh
2017-03-31T00:00:00Z
The host was very nice and helpful. I had a wonderful time and I really enjoyed the studio. The place is very cute, comfortable and new. Everything is very organized. There are all the kitchen stuff necessary to cook. There is Netflix available. The neighborhood is safe and close to everything, like pharmacies, restaurants, bars, shopping. I really recommend this place.
Rebeka
2016-11-27T00:00:00Z
Perfect location for everything you would need to access around University Ave. The apartment was generally quiet. All communications were responded to quickly. I would stay here again.
John
2017-02-24T00:00:00Z
Perfect and cozy spot next to downtown area.
Brenda
2017-01-01T00:00:00Z
Very impressed by the space - it's comfortable and well-equipped room in a very convenient location. It's a 3-10 min. walk to most places of interest in Palo Alto. As a heads-up: there was _very_ mild street and inter-apartment noise. I didn't find it bothersome at all, but worth noting if you're sensitive to it.
Steven
2017-02-03T00:00:00Z
Good place in central Palo Alto. Very clean and nicely furnished. Street and neighbours might be a little bit noisy but that's really the only negative thing I can think about.
Rogier
2017-01-30T00:00:00Z
Room Type
Entire home/apt
---
Property Type
Apartment
---
Accommodates
2
---
Bedrooms
Palo Alto, CA, United States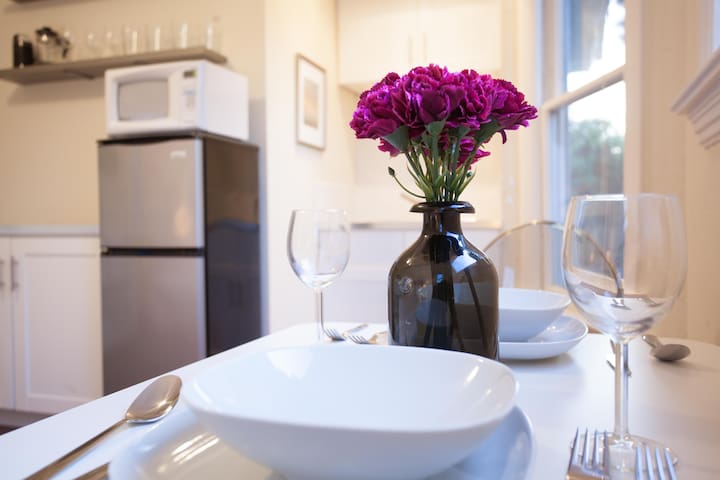 Amazing location! Walking distance to CalTrain, downtown Palo Alto, University Avenue, Stanford campus, Whole Foods, Trader Joe's, lots of restaurants, shops. Sunny and peaceful studio with bathroom and kitchenette, newly renovated with nice amenities and eco-friendly details. Nice back yard to hang out and relax. While we're on a busy street (Alma) and the train goes by, the back yard feels like a little oasis. My place is good for couples, solo adventurers, and business travelers. No rentals.
Newly renovated studio cottage with eco-friendly details like whitewashed bamboo hardwood floors, Watersense certified faucet, toilet, and showerhead. A new Dyson fan provides both heat and cooling. Enjoy a latte from the new Nespresso machine, or complimentary tea. Toiletries include Korean and organic skincare products. There's a hair dryer, curling iron, iron and ironing board. Borrow a Sedaris or a Chekhov from the eclectic book collection. For yogis and yoginis, there's a spare yoga mat under the bed for your downward dog. Enjoy the back yard space as you like. There's a bike for you to borrow should you enjoy a pedal around town or to campus. This standalone cottage is in the back yard of our main house, a few yards away from our house and the other cottage where the au pair stays. It's on the wee and cozy side, so best for a single person or couple. We love on a busy street, and the train goes by across the street, so you should be comfortable with a little bit of noise. Sorry, this place is not available for long term rentals.
The beautiful leafy green trees and foliage, the friendly neighbors, walking distance to downtown, University, Town and Country, Stanford, CalTrain.
Mariana is a fantastic host. She was highly responsive to my questions and worked to meet my needs before and during my stay. For example, I like to make smoothies for breakfast and she made sure that a hand blender and a shaker bottle was available for me to use -so nice! My flight was delayed, which in turn delayed my arrival. Mariana checked in on me to make sure everything was alright -so supportive! And, she was also willing and able to work with me to customize by check out time and I am beyond appreciative of her flexibility. I was in the area for an intensive, multi-day training for work on Stanford's campus. The location of the Sugarcube was perfect. The Caltrain Palo Alto stop, Wholefoods, and lots of great restaurants/shops (I highly recommend Vino Locale) is all within a a short walking distance. After a long day of training, I could easily get all that I needed in the area and then unwind at the Sugarcube. And, it's super easy to relax at the Sugarcube. It's a quiet, peaceful space. The pictures posted in Airbnb before I requested my booking let me know that Mariana's design aesthetic is similar to mine. But, it is even better in person. I thought of the design as, "Modern Charm." Clean lines, but a welcoming and calming space. I will most definitely recommend this space to my colleagues, friends, and family for their future stays in Silicone Valley. And, I doubt I have to say it, but... In the future, I would definitely want to stay here again.
Heather
2016-07-17T00:00:00Z
Mariana's place truly feels like home away from home! Beautiful, clean, excellent location! Mariana is awesome, accommodating and readily available when needed. Would recommend to anyone looking for somewhere to stay in Palo Alto !
Nikkie
2016-10-14T00:00:00Z
The sugar cube was a great place to stay in Palo Alto.
Shauna
2017-01-27T00:00:00Z
Truly enjoyed my stay. By far, the best Air Bnb I have stayed in the Bay Area. Mariana' quaint abode had so much character and was the perfect complement to my business travel. From the thoughtful touches such as providing snacks upon arrival, to the plentiful stock of household goods and items, Mariana was the perfect host. The Sugarcube is positioned to provide enough privacy and quiet. The Bluetooth speaker allows you to transform the space into your own; providing personality and entertainment! Thank you Mariana!!
Madison Haile
2017-03-07T00:00:00Z
The place is lovely and is a very nicely though out use of space. Enjoyed it and definitely recommend to others!
Stephen
2017-01-06T00:00:00Z
Wonderful location that is located within walking distance of anything you may need in Palo Alto. The space was cozy, quiet, and adds a great dimension to any vacation/stay.
Amadin
2017-03-17T00:00:00Z
Sad that I have to leave! Mariana is a wonderful host and now friend :) Highly recommend her bungalow to anyone visiting the area :)
Nikkie
2016-10-21T00:00:00Z
Mariana was great. She took care of my sister's stay. House looks just like in the photos.
Clara
2016-12-07T00:00:00Z
Room Type
Entire home/flat
---
Property Type
House
---
Accommodates
2
---
Bedrooms
Palo Alto, CA, United States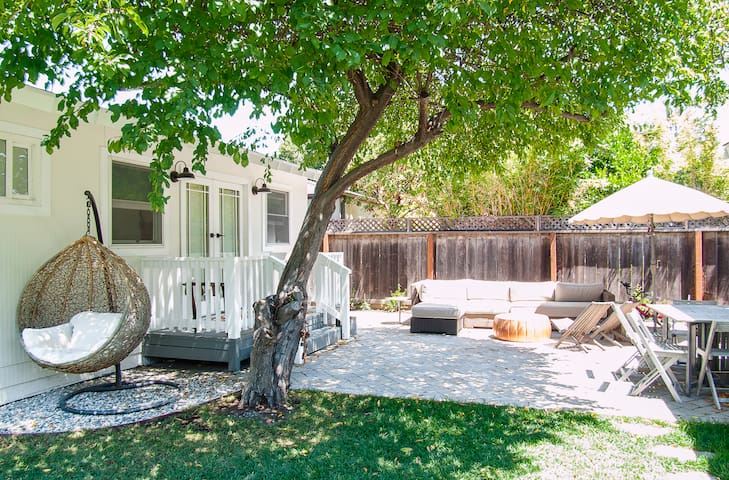 A clean, bright, space--perfect for short stays. This room overlooks a greenery filled atrium and has its own private entrance. Your hosts, Jackie & Sebastian, are happy to welcome you!
**This room is bright and airy despite its cozy size. It features a single bed, and floor to ceiling shaded windows overlooking a peaceful interior courtyard. A small desk and chair plus lounger complete the furniture package. **Super fast wireless internet will help you feel completely connected. You will have your own updated closet & modern shared bath (possibly shared with one other AirBnB guest) which is beautifully remodeled with stone and modern European fixtures. Linens are high thread count and towels are super soft and luxurious. You will have direct access from the courtyard to your room (private entrance). **Need a quick bite on the go? A tiny kitchenette (mini-fridge, microwave, and plates, cups & silverware) is available to you. Plus, you will have your own 1-cup coffeemaker in your room (we provide the coffee!). **Free, unlimited on-street parking. **This room is just minutes from downtown Palo Alto and Stanford (just 3 miles away). The Ross Family YMCA and Philz Coffee are within 5 minutes walk time. Pharmacies, groceries, and several great restaurants are also within walking distance. Easy access to Hwy 101 and 1.5 miles to the CALTrain station make the room convenient as well. Whether you come from near or far, you are welcome here! This room is only available for short term stays. To book for longer than 1 week, please see our listing "Savvy Silicon Valley - Restful Room."
Palo Verde is a quiet pleasant neighborhood with easy access to freeways. It is conveniently located a short drive from Palo Alto's University Ave and Mountain View's Castro Street. Grocery stores, restaurants, coffee shops, and drugstore amenities are a 10 minute walk away. There is plenty of on street parking on our tree-lined cul-de-sac.
I feel always welcomed over there. I really enjoy staying at their house.
Don
2014-07-25T00:00:00Z
I was here for business and this listing was perfect for me. It's in a very quiet area, and shops and restaurants are within a short drive. Jackie and Sebastian made me feel very welcome, and were very helpful with my requests such as an iron/ironing board. The room itself is very modern and exactly as described. There's a bathroom in back, and a small shared fridge behind too. I loved my stay here, as I could work at the desk (which has a coffee machine) and had a view onto the peaceful courtyard which had plants and shrubs. I definitely recommend this listing.
Peter
2016-03-18T00:00:00Z
Friendly hosts. Clean, quiet room in nice, tree-lined neighborhood. May visit again.
Jennifer
2015-09-16T00:00:00Z
This place was perfect . Jackie and Sebastian are very helpful and friendly. I hope to be able to stay with them again!
Jonathan
2014-06-20T00:00:00Z
The location was beautiful, quiet, and Jackie was a wonderful host. She greeted us upon arrival, and really thought of everything when it comes to comfort and convenience. There was a comfortable bed, ample storage space, microwave, cups, and all the bathroom essentials in case you forgot anything. I had a wonderful stay, and would love to stay here again in the future! Highly recommend
Shania
2015-11-03T00:00:00Z
Jackie and Sebastian were friendly, courteous, respectful, and helpful. Jackie has thought of everything you may need on your stay. This was a very refreshingly peaceful modern room! Also, clean and private. Thanks you two!
Vibay & TJ
2014-07-15T00:00:00Z
Great experience, no issues, thanks so much. Recommended.
Clinton
2015-10-09T00:00:00Z
I've stayed with Jackie several times and have had a great, stress-free experience every time. The room had everything that I needed: a bed, desk, chairs, closet space, its own entrance, and a private bathroom. The linens were clean, the room was quiet, and the wifi was fast. Jackie is very friendly and accommodating. I look forward to staying with her again!
Jimmy
2013-12-06T00:00:00Z
Room Type
Private room
---
Property Type
House
---
Accommodates
1
---
Bedrooms
Palo Alto, CA, United States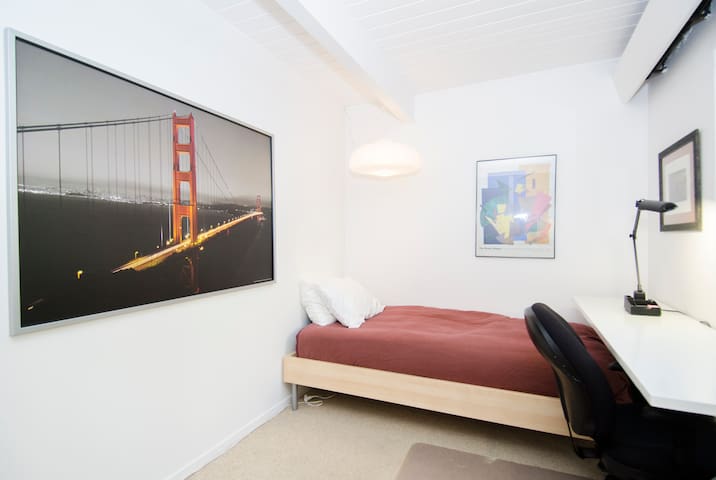 Downstairs Bedroom, TV, Internet and attached bathroom. 1 block from University Ave, 6 blocks from the train station in a lovely quite neighborhood less than a mile from Stanford campus.
You will have access to the kitchen for morning tea or coffee and the microwave to heat up food.
We are only 1 block from University Ave which is filled with wonderful restaurants and coffee shops. We are also a block away from a nice park which is great for children as well as quite places to read.
A clean, comfortable room. The bed was great. Diane was an attentive host.
Dan
2017-02-09T00:00:00Z
My stay was great! I was in the perfect location with a well organized, clean, and comfortable bedroom as well as spacious bathroom. The host were amazing and extremely helpful.
Malissa
2016-10-05T00:00:00Z
I love this house, not only because of its best location, btw the location is really convenient, just a few minutes walk to University ave where owns a lot of restaurants and pharmacies and my love Whole Foods!! This house is full of family atmosphere, the family are so kind and so friendly. I enjoyed talking with them! The house has wonderful sunlight in morning, so comfortable that everyday we woke up with delight. They even has a lemon tree!! I can't even take my eyes off the lemon tree OMG I love lemon!! They gave me some lemon as a gift when I left, I was so happy!! Anyway, I highly recommend here and I would definitely book here again when I go to Palo Alto in future!
陆
2016-10-10T00:00:00Z
This stay was even better than expected. Diane had provided off street parking, very welcome in this urban neighborhood only two blocks from University Avenue's cafés, bookstores, and shops. She welcomed me on arrival, and showed me around her well-designed house and charming garden before explaining how everything works in the bedroom/private bath I'd be staying in (and everything did work). This is a wonderful location for anyone visiting Silicon Valley or Stanford University; plenty of room for a couple. Quiet, friendly, well equipped.
Michaela
2016-06-08T00:00:00Z
Diane is a great host- very responsive and thoughtful. From helping me navigate public transit to her house (which is convenient) to making restaurant recommendations (which are plentiful and within easy walking distance), she really tried to make my stay great. She also has thought of all the amenities you might need, and the room is quiet, comfortable, and clean.
Alexandra
2016-11-18T00:00:00Z
Diane's place is in an excellent location. The place is very clean and efficient. Diane is a wonderful host. I wish we stay longer than just an overnight but next time we will stay here longer when we return to Stanford. Thank you Diane.
Nhu Quynh
2016-10-14T00:00:00Z
Diane and her family and very friendly and super helpful! She exceeded expectations - allowed me to check in earlier in the morning and even helped me with laundry! The location is superb for some fantastic eating out places too.. and not far from Palo Alto station... The room and ensuite is very comfortable and with beautiful little touches... Strongly recommended!
Chaitanya
2016-08-20T00:00:00Z
Diane was so nice and has a beautiful home that is a few blocks from univ Ave and from Stanfords campus. Great location, very accommodating and kind host, nice room with a beautiful bathroom. Overall a great place and would recommend to anyone!
Marc
2016-11-16T00:00:00Z
Room Type
Private room
---
Property Type
House
---
Accommodates
2
---
Bedrooms
Palo Alto, CA, United States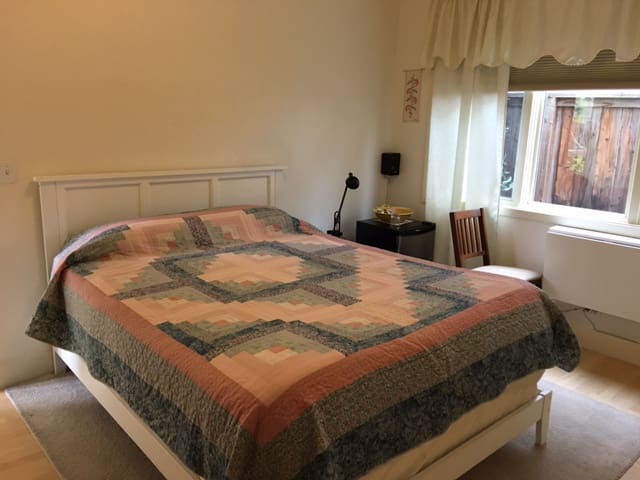 Our studio apartment is a short walk to University Circle (Four Seasons and office buildings). One mile walk to downtown Palo Alto, close to buses, 1.5 mile walk to Stanford / Cal Train! This "in-law" studio apartment has its own entrance and shares walls with our house where we live (in true AirBNB style!). Our home is on the edge of Palo Alto, Menlo Park and East Palo Alto. Centrally located between SF and San Jose, a beautiful oasis by the creek!
Fully furnished studio apartment. Full bath and kitchen. Full size bed and possible additional foam bed if needed. Originally built as an in-law unit. No TV. Wi-fi and Wired internet. Private entrance. Near Stanford and the Silicon Valley. No smoking. No pets. Bus to Stanford one block away. Cafe and grocery about 0.4mi away, an easy walk through suburban streets. Street parking. We need to guide you to the best parking ideas, depending on the day and time. No reserved parking spaces. This is an urban setting in our area, so parking can be competitive. Very close to Hwy. 101 if your destination involves driving. About half way between the San Jose airport and San Francisco International Airport. Many restaurants and stores about one mile away, on the stretch of University Ave. that is the commercial district for Stanford University. Easy bicycle ride to Stanford. Very bicycle friendly area. It's flat, and there are bicycle lanes everywhere. We live in the adjoining house and are more than happy to give you ideas for food, sights, entertainment. You can feel free to harvest and eat greens from the garden. Our chickens may have an egg or two to offer up, as well!
We love our neighborhood. It is on the edge of 3 cities - Palo Alto, Menlo Park and East Palo Alto. It is also on the county line between San Mateo and Santa Clara Counties. Our neighbors range from immigrant kids and grandmas in the apartment buildings around the corner to high powered lawyers in the office building down the street. It is "mixed" insofar as houses, apartments and office buildings plus the Four Seasons Hotel! Close to 101 Freeway, downtown Palo Alto and an easy, walk to Cal Train. We are across the street from San Francisquito Creek, so there are lots of gorgeous trees and nature. Having said this, it is an urban area, not the wilderness, though it feels that way to us each day we enter through the gate!
Morganne's place here was quite nice. It's great for a quick visit if you are in the area. It is on the other side of the house so it is nice for having a private stay. Morganne was a very pleasant host and definitely tried to give us a nice stay.
Robert
2015-02-16T00:00:00Z
Morganne's studio was a nice place for me to stay while I attended a training at Stanford. It was affordable, private and clean, with a stocked kitchen and some other very thoughtful touches, including robes and slippers! I was able to cook my own meals and really enjoy my little home away from home. The neighborhood was pretty noisy at night, but other than that my stay was great!
Meredith
2016-07-22T00:00:00Z
Exceptional experience! The host was very warm, generous, and kind. The location is ideal for those who plan to visit Stanford. The space rented was wonderful. I highly recommend it!
Benjamin
2015-10-08T00:00:00Z
Nice simple place, very friendly host.
Anton
2016-10-10T00:00:00Z
The location of the place really close to standford and good restaurants. We enjoy stay here. Ny the way, Morganna's home made honey really awesome.
Lifan
2016-08-30T00:00:00Z
Awesome location. Morganne was very hospitable. The basic amenities were in place. Most importantly, the house was very clean. I loved the stay.
Akshat
2016-07-05T00:00:00Z
Morganne's place was extremely convenient and in a great location. There was a fully equipped kitchen an even a box of Trader Joe's Instant Oatmeal. Good WiFi and quiet so I was able to get a lot of work done between meetings. CalTrain station is only 5 to 10 minutes away by car, and the house is right behind the Amazon offices, right of 101.
Ashwin and Sina
2015-02-20T00:00:00Z
Our stay at the Creekside Oasis was really nice. Our host greeted us upon arrival, even though it was around 8:30P.M.! This made our check-in very smooth. The studio was just like the photos. It's also close to University Ave which is a great place to find restaurants & shopping. I would recommend this rental. Cute, quaint, with really nice hosts! Thank you Morganne and Randy!!!
Linsey
2016-06-18T00:00:00Z
Room Type
Entire home/apt
---
Property Type
Apartment
---
Accommodates
2
---
Bedrooms
Palo Alto, CA, United States
Literally at the center of the Silicon Valley. Our place is close to restaurants, dining and nightlife. Ideally suited for couples and business travelers. Amazing location! Walking distance to CalTrain, downtown Palo Alto, University Avenue, Stanford campus, Whole Foods, Trader Joe's, lots of restaurants, shops
Private Suite/Apartment - bedroom, bathroom, partial kitchen, private patio including eating area and second lounge chair. Located within a large Victorian home that we live in.
One point of "very local" interest to folks in the tech sector is that our home is on the same block as the famous HP Garage.. arguably the "birth place" of the Silicon Valley.
Really great space which has recently been redone and is absolutely spotless, but with some really nice personal touches. Geoff was really responsive, friendly and welcoming. House is in a great neighborhood - quiet but centrally located and a short walk to shops and restaurants. Will definitely stay again when in the area. Highly recommended!
Alex
2016-12-09T00:00:00Z
Property was as advertised, private and close to everything, downtown, university and transportation. We would not hesitate to recommend to others.
Eric
2017-01-21T00:00:00Z
Great location!
Michela
2017-02-16T00:00:00Z
Cozy and quaint space within walking distance to downtown Palo Alto. Simple and clean with plenty of amenities to make your stay more comfortable and convenient. Great for work trips and quick weekends alike.
Matt
2016-11-18T00:00:00Z
Beautifully funished mini-apartment with all conveniences necessary for a short (or longer) stay and a short walk from downtown Palo Alto. Geoff was great to deal with and even gave us a lift to the station so we wouldn't miss our train!
James
2017-01-23T00:00:00Z
Geoff and Sharon are the most wonderful hosts. They've traveled a lot so they know exactly what is really appreciated - a warm dressing gown, lovely bath oil, a hot water bottle, good coffee... There is thought in every aspect of their guests' stay.
Venetia
2016-12-21T00:00:00Z
Geoff & Linda are incredibly nice & welcoming. They even moved their car so we could park our van in their driveway, as there is now 2hr limit parking in most of the neighborhood. They've made the space very nice with thoughtful amenities. And this is in a good location. This space, though, was really more of a partitioned part of their home and didn't offer much privacy or quiet. They have stairs along the wall right next to the bed and they're really loud, and you can pretty much hear everything that's going on. This was an attempted work and rest space, and it wasn't that. If you're just crashing for the night and don't mind having more of a sense of shared space, there are lots of upsides. If you want more privacy, I'd recommend somewhere else.
Karina & Jason
2016-12-16T00:00:00Z
Perfect stay at Geoff, every time again. Super friendly going way beyond standard and perfect location
Maximilian
2017-02-03T00:00:00Z
Room Type
Entire home/apt
---
Property Type
Apartment
---
Accommodates
2
---
Bedrooms
Palo Alto, CA, United States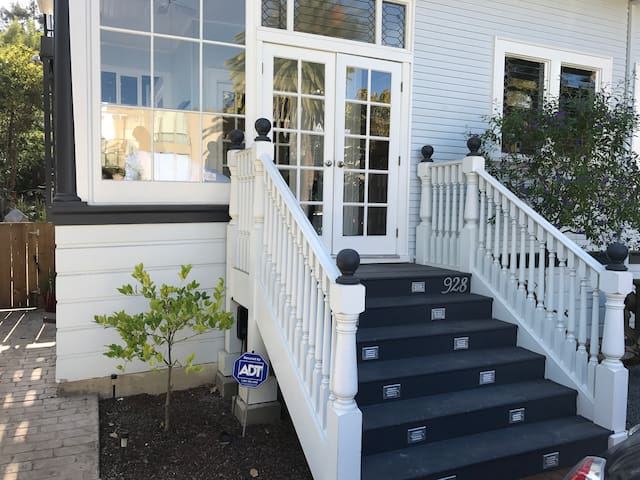 You'll love it for the Private Bath,Kitchen & Space, & close to parks. 5-minute to Hwy101. 10-minute walk to MidTown bus stop, grocery, coffee, restaurants &parks. 17-minute walk to California Ave Caltrain stop, connecting to both Palo Alto downtowns, to San Jose & San Francisco, & to buses running to Stanford. It's good for couples,solo adventurers,business travelers & visiting scholars. Great biking city & Lyft & Uber readily available. King size bed. New TVshows on DirecTV-Now,HBO-Go,NetFlix
Private Entrance and Spacious with Smart-Lock (new code provided for each guest), & Private Bathroom, Private In-Suite Kitchen.
Mid-Town (on Middlefield Rd.) bus stop, grocery, coffee shops, restaurants & parks. Another grocery outlet, and coffee shop on Alma St & East Meadow Road. Peet's Coffee, Starbucks, Piazza, Safeway, Walmart, Walgreens, Baskin Robbins, UPS, banks, and a myriad of other stores are in walking/biking distance. Library and Mitchell Park Community Center (very modernized) within walking/biking distance.
Clean, easy check in, and spacious. Great value - will return!
Jacqueline
2017-03-30T00:00:00Z
J.H. anticipated any need that we may have had. The kitchen was stocked with pots, pans, coffee, etc. We were able to cook for ourselves and save money. Thanks!
Aqil
2017-04-04T00:00:00Z
The guest suite description is very accurate - very well appointed, clean and modern. Very well suited for resting. The instructions for easy access are perfect. The host, J.H. is very communicative and available for any questions. The bed was extremely comfortable and The kitchen was very nice.
MARIUS
2017-03-11T00:00:00Z
The bed was large and comfortable. Their were two good chairs, one super comfortable, and easy to get fresh air and quiet neighborhood, little traffic.
Joan
2017-04-01T00:00:00Z
Good place to stay and explore Palo Alto.
Rajasekhar Reddy
2017-03-26T00:00:00Z
Everything that JH described was accurate. The guest studio is extremely clean, modern, well appointed, and perfect for a quiet, restful, stay in the midst of a hectic schedule. The instructions for easy access or perfect. I had no problems whatsoever finding this place or accessing the code and entrance. The bed was extremely comfortable and The kitchen was perfect to do my special-needs diet cooking.
Carolyn (Lyn)
2017-03-21T00:00:00Z
Very nice and communicative host. Very convenient area in PA. Separate entrance.
Richard
2017-03-16T00:00:00Z
A truly extraordinary value. Great location really close to downtown Palo Alto, quiet, plenty of parking, good wifi connection, towels, everything was provided. The private entrance studio is very spacious - I had room for Soothe to bring a table and not be crammed at all - it's a big studio. Kitchen and bathroom are modern, furniture is a bit dated but functional. Would surely repeat.
Tullio
2017-03-24T00:00:00Z
Room Type
Private room
---
Property Type
House
---
Accommodates
2
---
Bedrooms
Palo Alto, CA, United States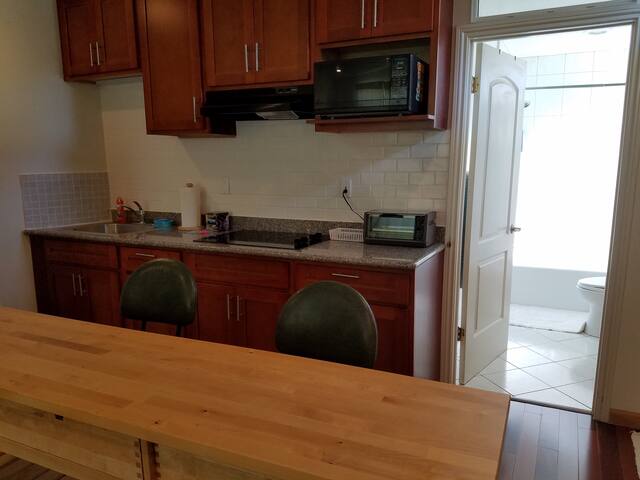 Our one bedroom guest house with its own private entrance is close to Stanford University & Hospital, Downtown Palo Alto, 101 Freeway, and Silicon Valley companies. You'll love our quiet, friendly neighborhood in midtown Palo Alto, where we are conveniently situated within walking distance from grocery, pharmacy, cafes and small eats. You may also loan our bikes to ride around our bike-friendly neighborhood.
You will enjoy a full sized comfortable bed, with quality linen. You have your own private bath and separate living area with a kitchenette (electrical appliances only). A private patio is also yours to relax in. Since we are located in the heart of silicon valley, this will be most choice for business travelers. Visitors coming to Stanford University and other nearby attractions will appreciate our convenient location.
How I wish my stay was not interrupted by bookings in between! Well suited for anyone needing a convenient and private retreat for days and even weeks. Easily much better option than any hotel. Host Julie is accommodating and responsive and at the same time respectful of tenant privacy when help is not required. Highly recommended for location yet so serene.
Jimi
2016-12-06T00:00:00Z
Feels like home to us! Thank you Julie.
Jimi
2016-12-14T00:00:00Z
My husband had a serious medical procedure at Stanford Medical Center. It was so convenient to stay at Julie's place the night before his surgery. I stayed on my own the remainder of the week. It was the prefect quite place to come home to every night to decompress. Julie was an amazing host. She was thoughtful, attentive, and accommodating. When we return to the area, I will check her AIRBNB availability first!
Monica
2017-03-17T00:00:00Z
Second visit in short time Clean convenient with very responsive hosts.
wayne
2017-03-11T00:00:00Z
Quiet apartment space, comfortable and welcoming environment. Well priced and owner very accommodating.
Nicholas
2016-12-08T00:00:00Z
A comfortable, cozy and quiet spot plus a gracious and highly responsive hot = would definitely come back
Alexander
2017-01-20T00:00:00Z
Great place, private and the host is super responsive and helpful
Alex
2017-01-06T00:00:00Z
Julie's accommodation at her guest house was very pleasant while I stayed in Palo Alto for a business trip. The place was quiet and clean. The only slight issue I had was with the wi-fi which Julie tried to address during my stay. Finally, Julie was very attentive and I had no problems getting into the place when I first arrived.
Rishi
2016-10-13T00:00:00Z
Room Type
Entire home/apt
---
Property Type
Guesthouse
---
Accommodates
2
---
Bedrooms
Palo Alto, CA, United States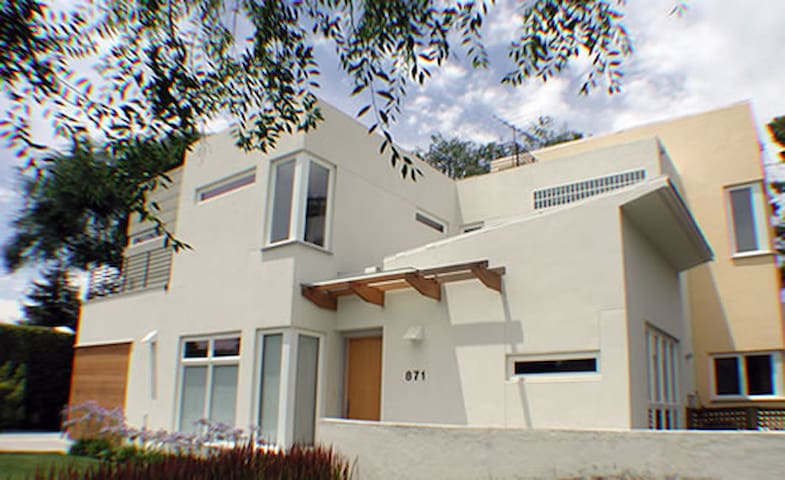 We are a few friends in tech who share this sunny Palo Alto house. Come stay with us if you'd like to experience Silicon Valley! If you're coming to town for an interview, for work, or to see the area, we are happy to share our knowledge and tips with you.
The room is a finished room off the garage. You do have to come into the house for the restroom. Our schedules are staggered enough that there is never an issue waiting for the bathroom.
The house is a 5 min drive to University Ave, and a quick bike ride. We have plenty of bikes and are happy to lend you one for your stay. We are a mile from the California Ave Caltrain station if you want to head into SF.
Room Type
Private room
---
Property Type
House
---
Accommodates
2
---
Bedrooms
Palo Alto, CA, United States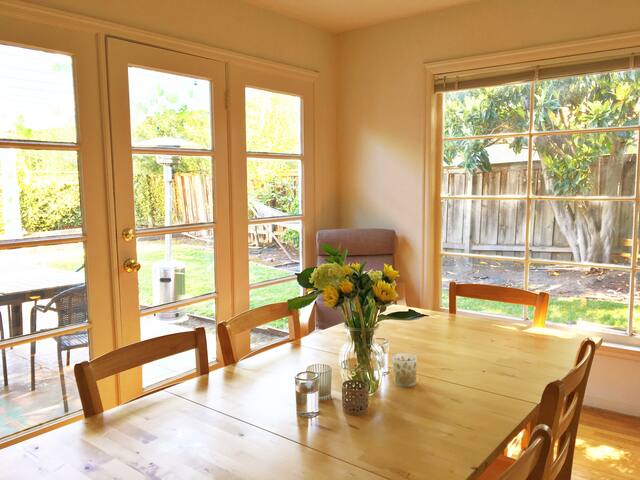 Private studio apartment located next to Downtown Palo Alto. Built in 1906, this historical rustic cottage is quietly tucked away within the neighborhood and includes all the amenities you need for any type, and any length of stay. The cottage is perfect for anyone seeking a quiet residential neighborhood to unwind while they visit Palo Alto for business or just to unwind and explore the area.
The complex itself is a separated two-unit apartment from the main residence of the property. You have private access to the studio apartment which includes a 1 Bed/1 Bath with shower, with kitchenette (Stove/Mini Fridge), Closet space, High Speed Wireless Internet, Private Parking, Iron/Ironing Board, Hair Dryer, Full Length Mirror, Towels, and many clothing racks. T.V. with local stations and Apple T.V available for entertainment. The space is small, however provides a nice ambiance that will keep you comfortable during your stay in Palo Alto from a quick retreat to a long term rental.
The cottage is located a block from the iconic HP House, and a couple of blocks from Whole Foods, Pete's Coffee, Downtown Palo Alto, Stanford campus, Town & Country Center, California Ave,
Quiet and close to everything. Michael was very helpful and accommodating, and had everything ready when I got there.
John
2016-07-22T00:00:00Z
Great place to stay! Very comfortable. Fantastic location. Great wifi. Michael was great in communication.
Andrew
2016-06-18T00:00:00Z
Very accurately described, accessible location and very clear arrival information provided by Michael.
John
2016-09-02T00:00:00Z
Michael was extremely responsive and friendly. He even left a few kitchen items (bags of tea, oatmeal, and some snacks) to make sure I had everything I needed to feel at home while visiting Palo Alto for a stressful work trip. The cottage is pretty tiny but has everything you need at a very reasonable price for such a great location on a very lovely quiet street walking distance from University Ave. And the bed was SO COMFORTABLE! I slept like a baby. I would definitely stay again and recommend the place to friends.
Andrea
2016-01-06T00:00:00Z
Mike's place is in a really cute, safe neighborhood that's a super short walk to tons of stores, restaurants, parks, and of course, Stanford. The studio was small but clean and perfect for my needs! Mike communicated all important information and made my visit incredibly easy!
Ellie
2016-07-09T00:00:00Z
I needed a place to stay last minute and found Michael's little studio. Super easy to get in touch with and got great directions. A cute cottage that was just what I needed for a night's rest.
Linda
2015-11-18T00:00:00Z
Lovely cottage ideally located close to both public transports and Stanford. One can easily walk to the campus. The neighborhood is quiet and very pretty.
Michael
2015-11-15T00:00:00Z
Michael's place was great for me - close to downtown Palo Alto and safe neighborhood.
Shane
2016-08-04T00:00:00Z
Room Type
Entire home/apt
---
Property Type
Apartment
---
Accommodates
1
---
Bedrooms
Palo Alto, CA, United States
Garage apt unit just 3 - 4 blocks from downtown Palo Alto's shops and restaurants, half block from a great playground, and 10min walk to the train. Great for business travelers, family with young kids (cool outdoor play space & extra toys to borrow!), Stanford families, and singles & couples.
An easy stay super close to downtown Palo Alto. We're 3 - 4 blocks from University Ave (the main street in Palo Alto, with lots of shops and restaurants), and very close to Stanford. One bedroom (450 sq ft) with queen bed in the bedroom, fold-out sofa bed in the living room, kitchen, and bathroom with shower/bath. Here with young kids? You're all set. We have an awesome playhouse outside and some bigger ride-on toys. We can even cover you with some toys and books if you don't want to bring your own. A great playground is just across the street. Need a pack-and-play or other things? We've got that. Here for business? We have good wifi. Check in whenever -- We have a keypad on the door, so you won't even need to see us. Need a computer monitor to code or prepare those slides? We can probably help you out there. Need recommendations? Cool, just ask.
Home to Stanford, Palantir and a number of big and small tech companies, this is a great neighborhood for business and family trips. The home is is downtown Palo Alto, so you're a quick walk from many restaurant and shops. If you're with your kids, there's a great playground half a block away. We picked this neighborhood to live because we wanted its perfect blend of quiet and suburban, with the convenience of living downtown. We know you'll love it too!
To the weary traveler this fine place is truly a home away from home. From its fantastic layout to its proximity to great dining and culture, a person could not ask for more. Gayle and John make every effort to ensure your comfort and do things above and beyond. The apartment is beautiful with every single amenity covered, but it is the small, almost invisible things that stand out. I even had their dog laying out on my porch in the morning, and that is a taste of home you don't get just anywhere. It is close to Stanford hospital (where I worked) and a Whole Foods market which is walking distance. The neighborhood is quiet and there is plenty to do. Take it from an experienced traveler who is quite soured on the hotel experience, this was an excellent adventure,and I will definitely be back!
Carlos
2016-12-09T00:00:00Z
I felt incredibly comfortable staying here. I would definitely stay here again!
Mathew
2017-01-06T00:00:00Z
It is just perfact. Clean and calm, excellent location.
Sunkyung
2016-12-23T00:00:00Z
It is my first time to use Airbnb. Innitially we hesitate between hotel and apartment. We are fortunate to make a right desicion. Gayle's apartment is a great place. The apartment is neat and comfortable. We can find everything we need inside. We feels like at home. The position is close to many shops and restaurant. Standford Univ is also within walking distance. We love walking, therefore we walked through Palo Alto and the entire campus of the Standford Univ. We enjoy staying here. Gayle and John are very nice. They responsed very quickly and gave us many suggestions. We really appreciate their advices. My daughter had a lot of fun with Shasta. She was very sad when we were about to leave. She said she wanted to come back as soon as possible. We enjoy our stay here. Strongly recommend to families. It is It is just like home. We all like the adorable Shasta.We love this place.
Breeze
2017-02-01T00:00:00Z
Perfect location, close to many restaurants and shops. The place is very cozy and clean, really good for couple loves privacy or small family group that loves to stay together. Highly recommend if you want to find a place in Palo Alto. One more "like", we love running, the location is easy to run thru Palo Alto and the campus.
Brenda
2017-01-27T00:00:00Z
Cosy apartment in a family friendly neighborhood in walking distance from down town Palo Alto.
Gísli
2017-01-10T00:00:00Z
Very sensible setting. House was seamless and cute. Got nice inspirations from staying there. The neighborhood is homey yet just a couple blocks down are shops and eateries with an ethnic twist which I loved. I have recommended the place to my friends. Hoped to have scheduled more nights there and already missing there.
Saewon
2017-01-14T00:00:00Z
Quiet, very nice space in a very convenient location.
Ethan
2017-01-12T00:00:00Z
Room Type
Entire home/apt
---
Property Type
Apartment
---
Accommodates
4
---
Bedrooms
Palo Alto, CA, United States
My place is close to Public Transport ( Cal train, Bus station), Parks, Grocery, Restaurants, Pharmacy, Stores and Boutiques, Salon. You'll love my place because of the location. My place is good for couples, solo adventurers, and business travelers.
Superb location. Great interiors. Spacious backyard with mature foliage.
Walk to : Whole Foods, Stanford Mall CVS & Walgreens Pharmacy Restaurants Parks Stanford University
Great location!
Matthew
2017-03-01T00:00:00Z
Great location. Privacy.
Lee
2017-03-31T00:00:00Z
Simple spot, close to downtown, Caltrain, & Stanford shuttles. Although there is a kitchen sink, toaster oven, & refrigerator there are no cups, plates or utensils. And the shower didn't seem to get hot. But Nice for a quick inexpemsive visit.
Max
2017-02-28T00:00:00Z
Perfect location and Arjun was a very attentive and responsive host. Lovely garden setting and private space.
sonya
2017-03-09T00:00:00Z
Great location. Beautiful neighborhood. Wonderful yard to relax in right outside your door.
Janet
2017-04-02T00:00:00Z
Perfect location. Decent size. Pretty lawn. Could have been cleaner. Wifi needs to be improved
Charu
2017-03-21T00:00:00Z
Walking distance to the downtown. It has a nice patio. Cozy, clean well-equipped.
Yujiro
2017-03-06T00:00:00Z
This is a great location, near downtown Palo Alto, but not a good place to rent. We found it ill-equipped (no corkscrew, bottle opener, or glass glasses), not particularly clean (dirty cups), and barely large enough for two as the double bed is small (with no bed tables or reading lights) and the shower even smaller (with a bare minimum of towels and only one wash cloth). The yard was great, but the lounges didn't have cushions so were unusable. Great location, lousy amenities.
Lee
2017-04-04T00:00:00Z
Room Type
Entire home/apt
---
Property Type
Guesthouse
---
Accommodates
2
---
Bedrooms
Palo Alto, CA, United States
Palo Alto - Airbnb
:
Average

4.84

out of

5

stars from

798

guest reviews
Enter dates to see the total trip price including additional fees (but excluding any taxes).