Beautiful private villa with wonderful view & pool. In the hills north of Porto - Portugal. Villa Vista is in the middle of the beautiful nature of North Portugal. Persons: 6 beds + 2 pers sofabed Pool, 160 m2 house, 1200 m2 garden
Beautiful private villa with wonderful view & pool In the hills north of Porto - Portugal HOUSE: Persons: 6 beds + 2 pers sofabed Pool, 160 m2 house, 1200 m2 garden AREA: Villa Vista is in the middle of the beautiful nature of North Portugal. It is green and very differnet from the south of Portugal. There are many fantastic cities close by like: Porto, Braga, Viana Do Costelo, Barcelos, Esposende, Ofir ect. You can go to Porto for Port Wine tasting or to Esposende to the amazing wide beaches. The are many things to do. SPORT & ACTIVITIES Villa Vista is located on a hillside and therefore there are many fun things to do around the house. There are hiking & trekking routes in the backyard of the house. And small chappels you can walk to. You can also play basketball in the courtyard or go surfing at the fantastic local surfspots. And for those who loves horseback riding there is a very nice place nearby where you can rent horses and get training. GOLF: There are several stunning golfcourses close to the house. you can play around a lake or go to the course close to the ocean and play golf till sunset. There are 4 golfcourses within 60 min from the house.The closest is 25 min. INCLUDED IN THE PRICE - Free Welcome Package - Free WIFI Internet - Bed linen - Bath towels - Kitchen linen - Electricity - Gas - Heating FACILITIES IN THE HOUSE - Playstation PS2 + games - Games, cards, poker - Computer PC with internet - DVD + movies - 32" flatscreen TV (No tv signal) - Music system for Apple or MP3 (minijack) - Surfboard - 2 mountain bikes & 2 helmets - Guitar - Basketball & Basketballnet. Football, Vollyball - Yoga & boxing equipment. Pilates ball - Full equipted kitchen - Washing machine - Dishwasher - Refrigerator & freezer - Barbecue - Sun umbrellas - Cooler box CHECK-IN & CHECK-OUT On arrival day you can check-in from 15:00 (3 PM) On departure day you have to checkout before 11:00 (11 AM) DISTANCE BY CAR 00 min - Nature & hills 00 min - Hiking & Trekking 00 min - MTB / Bike Routes 05 min - Small supermarket 05 min - Small local cafés 20 min - Golf 25 min - Surfing 25 min - Kitesurfing 25 min - Beach 25 min - Big Supermarket 25 min - Bar & restaurants 45 min - Oporto Airport 60 min - Porto Wine Houses 60 min - Porto City
The house is in a beautiful location in the hills. The house itself is really very nice- the photos don't quite do it justice. Everything is very modern and there is everything you would need. Tue was accomodating with the various questions I had before arriving and arranged for the keys to get to us no problem. I highly recommend this house.
Alix
2014-08-17T00:00:00Z
Tues place is in a secluded location with the most amazing views. I really enjoyed watching the sunset with only the sounds of nature around me (and the odd tractor !) The building itself is amazing. I believe a very old building renovated with a Scandanavian touch. The walls are a meter thick.. A car is a really a must to stay here. This is a place for sitting back, enjoying the house, the nature around, the swimming pool and simply chilling out.. We would certainly come back hopefully for a longer stay where we can take best advantage of the peace and quiet..
Colin
2013-07-23T00:00:00Z
Great place, great host!
Jens
2013-09-28T00:00:00Z
The house was just great. Spacious, modern, comfortable, well equiped and clean. The pool and outside area are fantastic and the view is amazing. The place is perfect to relax, walk a bit, enjoy nature and escape from the big city life. There's not a lot to do in the direct environment, for us that was exactly what we were looking for, but if you do feel like it there are some nice towns at a 30-45 minute drive and the beach is only half an hour away. I would definitely recommend staying here, it's well worth the money. One small thing you should be aware of; since you're in the middle of nature, there is the occasional insect or spider that slips into the house at night ;)
Emiel
2016-09-16T00:00:00Z
Tue's villa was our best experience in our trip in Portugal. The house is incredibly spacious, tastefully decorated and the location is breathtakingly wonderfully located. What a view (up to the sea), what a peace, what a nature. Our family of seven truly enjoyed the house, the swimming pool, the biking, etc... Tue and Tue's local contact were wonderful hosts, caring for all the needs. They provided fruits, breakfasts, beers, etc... Mountains bikes, surfing boards, etc... were put at our disposals. We highly highly recommend Tue's house.
Dimitri
2013-08-17T00:00:00Z
Well organized host, who does not oversell his fab place. Wonderful location, breathtaking views. Very well equipped. We felt right at home and would go back anytime!
Thorsten
2014-08-24T00:00:00Z
A wonderful house in a quiet place. We felt like locals. The area and the ambiance was typical. It was a real relaxing time by the pool enjoing the sunset. We enjoyed the fully equiped kitchen :)
Stephanie
2015-06-16T00:00:00Z
We had a great stay in this nice place. The view is marvellous and the house is bright and quite new (interior). It contained everything we needed for a great vacation. The house is near a small village with mainly farmers, no other tourists. A peaceful and quiet environment. Houseowner Tue and his local friend (who helped us out at the location) did everything they could to make us feel comfortable. There was fresh fruit on the table, there were drinks in the fridge, the house was clean and they made sure there was a high chair, bed, bathtub and toys for our little boy when we arrived. The house itself is close to Porto and Braga, which were great cities to visit during our stay. We found the beaches in the North beautiful, quiet and desolated, very nice. On the hot days we enjoyed the pool and sun deck. I would recommend this place to friends and family. The pictures don't lie!
Marleen
2013-06-17T00:00:00Z
Room Type
Entire home/apt
---
Property Type
Villa
---
Accommodates
8
---
Bedrooms
Fragoso - Barcelos, Porto District, Portugal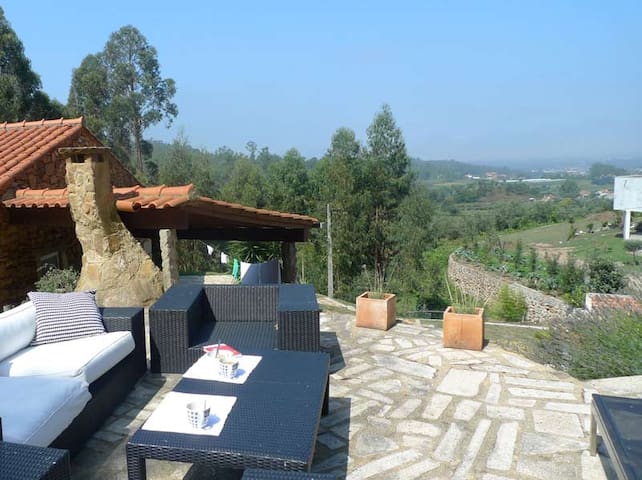 Villa with two bedrooms, with kitchen, living room with comfortable sofa and quiet and peaceful environment. In the garden, relaxing atmosphere of pure nature, with BBQ, porches and a very inviting indoor pool. Nearby, beach and mountain.
Local paradisíaco,ótimo para relaxar. Anfitriões super simpáticos e a casa é muito acolhedora.
Carina
2015-08-24T00:00:00Z
Le paradis est ici! Le jardin foisonnant de diverses fleurs et plantes est exquis. L'accueil est exceptionnel et très agréable. Merci à notre hôte pour sa gentillesse et sa patience. La maison est confortable et bien conçue. Bref tout ça me manque déjà!
Manuel
2016-07-12T00:00:00Z
Room Type
Entire home/apt
---
Property Type
Villa
---
Accommodates
4
---
Bedrooms
Chafé, Viana do Castelo, Portugal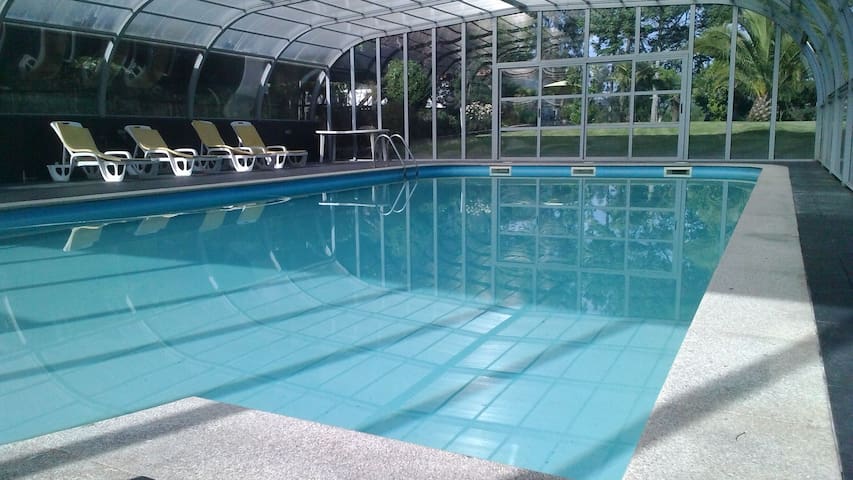 Casa Portuguesa centenária, reconstruída em 2000, com materiais de qualidade, totalmente equipada. Dotada de amplo espaço exterior, com jardim, horta e barbecue coberto e solário. Próxima dos aeroportos de Sá Carneiro e Vigo, com bons acessos às cidades de Viana do Castelo (7km), Braga (45km), Aveiro (120km),Porto (65km) e Vigo (85km). Próxima do mar, rio Lima e da montanha,é um espaço adequado para turismo de aventura, gastronómico, cultural, museológico. Ideal para praia e a vertente ecológica
Perto do mar, rio e montanha, no coração do Alto-Minho, em ambiente rural, com transportes públicos à porta, supermercados e padaria e café do outro lado da rua, a 7 km da praia, com recurso a rica gastronomia, turismo histórico e de natureza.
A "Quinta dos avós" fica situado no coração da aldeia. Existe um café e padaria, mesmo em frente e um grande supermercado nas proximidades. A simpatia e vontade de acolher Alto-minhota, é aqui uma realidade marcante. A possibilidade de festas e romarias, feiras, produtos genuínos saídos da nossa fértil terra, é uma constante em cada esquina.
Room Type
Entire home/apt
---
Property Type
Villa
---
Accommodates
12
---
Bedrooms
Anha, Viana do Castelo, Portugal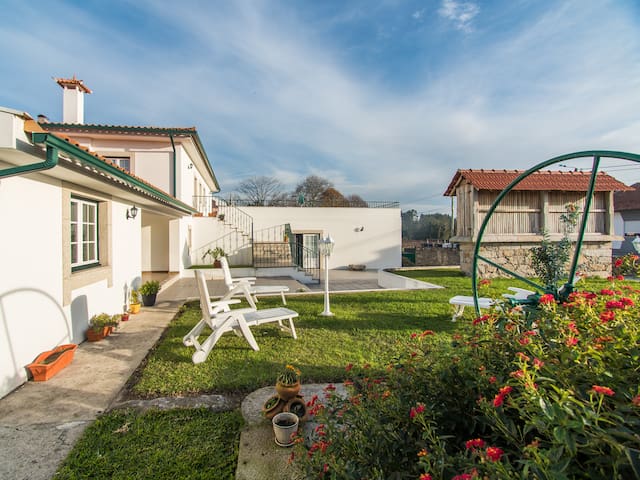 Casa do Souto is located in Aldreu, district of Braga, in the beautiful Minho region. It is a quiet place, close to important centers stunning beaches and views. In the area there is a wide range of activities. The garden is fitted with outdoor furniture, an area for children, dining and living areas and parasols. The place is close to hospitals, highways, an airport and local shops.
La maison est entièrement rénovée, tout en gardant son cachet. Elle est fonctionnelle et bien équipée. Située dans un village calme, avec plusieurs vieilles maisons, la maison a vue sur la montagne, la forêt et les toits du village. Le jardin est très agréable, avec plusieurs espaces et entièrement clos, ce qui est bien adapté pour des enfants. Elisa nous a très bien accueilli dans un français parfait. Très à l'écoute, elle nous a donné des conseils pour les visites et aidé dans nos demandes. Le village est bien placé: à proximité de la mer, de la forêt, de Viana do Castello et non loin de l'autoroute. Nous recommandons vivement la casa do souto!
Olivier
2016-08-20T00:00:00Z
Wir haben eine knappe Woche im Casa Do Souto verbracht und uns wohlgefühlt. Das Haus, ein altes Steinhaus mit schönem Innenhof und großem Garten, ist ganz frisch renoviert, dabei wurde an alles gedacht. Das Haus war sehr sauber und gepflegt. Elisa, eine reizende und kultivierte Dame, hat sich charmant und aufmerksam um wirklich alles gekümmert. Auch als wir (aus persönlichen Gründen) früher abreisen mussten, war sie sehr verständnisvoll und kulant. Fazit: ein guter Ausgangspunkt, um den Norden Portugals zu erkunden, nicht weit vom Meer und praktisch für Tagestrips nach Braga, Barcelos und andere schöne Orte.
Karin
2016-08-30T00:00:00Z
Room Type
Entire home/apt
---
Property Type
Villa
---
Accommodates
8
---
Bedrooms
Aldreu, Braga, Portugal
Quinta de Barcelos 10 minutes and 15 minutes of Esposende The cottage is a new place of Rural Tourism, located on the Green Coast of Portugal, near Viana do Castelo. It's a recently restored century home, architecture charac
We stayed three days in this very calm place, which is not very far away from Porto and other "must see" sites in the north of Portugal, like Braga, Guimaraes or the beaches around Esposende. The closest city, Barcelos, has some impressively good restaurants which also include choices for vegetarians (that's pretty hard to find in Portugal). Roberto's father made our stay really great, treating us with very tasty fruits from his garden, and making us feel as if we were at home. We really enjoyed our stay.
Anca
2016-08-15T00:00:00Z
Unsere Buchungsanfrage wurde prompt beantwortet, im Vorfeld erhielten wir alle relevanten Informationen, um das kleine Dorf problemlos zu finden, der Empfang war sehr herzlich, die Räumlichkeiten blitzsauber und geschmackvoll, der Blick über das Tal wunderschön. Zum Frühstück gab es frisch gepressten Orangensaft, Grapefruits und Feigen aus dem Garten und dazu viele gute Tips, um einen interessanten und angenehmen Tag zu verbringen. Die Unterkunft und Fürsorge der Gastgeber übertraf bei Weitem unseren Erwartungen, sodass wir ein unvergessliches Wochenende auf dem liebevoll restaurierten Anwesen verbrachten. Sehr, sehr empfehlenswert!
Kirstin
2015-09-22T00:00:00Z
Room Type
Private room
---
Property Type
Villa
---
Accommodates
2
---
Bedrooms
Barcelos, Braga, Portugal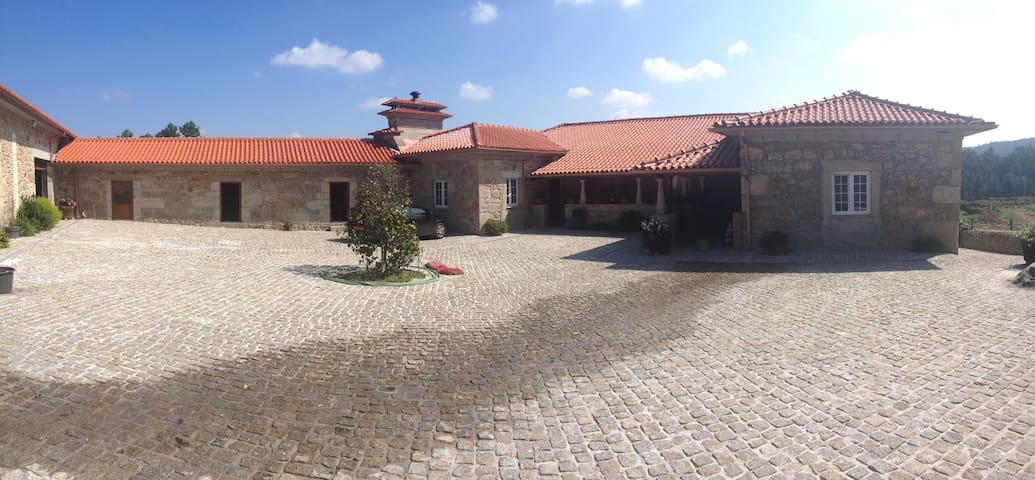 Casinha d'Avó offers a private fully equipped apartment about 16 km from Viana do Castelo City. This apartment integrated in a rural house has a total capacity for 4 people. We are 10min away from the sea, 5 min away from river. My house is 2 min away, in my house I have a swimming pool and all the guests from casinha d'avó are welcomed to join us.
The apartment is built in an old house, which is divided into three areas, with only 2 parts of the house open to guests(the apartement and a old tradicional kitchen). The Casinha d'Avó disposal a small apartment with a double bedroom, a living room / kitchen with a sofa bed and a bathroom. guests will find in the house everything they need from crockery, cutlery, cookware, coffee maker, stove, microwave, minibar, toaster, bed linen and bath towels. The houve has a fixed air conditioning and an air conditioner portable. In the outdoor area of the house you have a large garden with tables and chairs to relax. We have our one house 2min away, in our we have a swimming pool and you are more that welcomed to join us anytime.
The Casinha d'Avó is located in a small village linked mostly to agriculture. All guests will be welcomed by neighbors who will do anything to make them feel at home. A few km from the house can find traditional restaurants, supermarkets and mini markets, coffee shop, pastries and other traditional trade. 1km away from casinha d'Avó you have a bus and a train station. You can find great beaches at less than 8km and beautiful an unexplored rivers ate less than 4km.
Marlene ha sido una anfitriona estupenda, ha estado todo el tiempo pendiente de que tuviésemos todo lo que necesitábamos, respecto a nuestra estancia y a todo lo que le preguntaba sobre la zona, centro de salud, mercadillos, excursiones, nos hemos sentido muy bien atendidos. El único problema que hemos tenido ha sido con el aire acondicionado que no funcionaba bien y aunque nos facilito un aire acondicionado portátil en la casa hace demasiado calor y no era suficiente, la conexión de WiFi tampoco funcionaba correctamente, se caía la señal y si la había solo servía para hablar por wasap, nosotros no lo necesitábamos pero para alguien que necesite una buena conexión para trabajar desde allí quizás no sea suficiente. Por otro lado en la casita hay menaje para 4 personas, ropa de cama y baño más que suficiente, jabón, gel.... Productos que se agradecen, quizás notas que falta alguna cosa de la que si dispones en casa, un tendal, tostadora, pero que son cosas de las que puedes pasar sin ellas, pero que estoy segura de que marlene tomará buena nota....
Belen
2016-08-08T00:00:00Z
Très bon accueil. Parfait
Joël
2016-08-13T00:00:00Z
Hola, Marlene y su familia estuvieron en todo momento pendientes de nuestras necesidades y con la voluntad de ofrecernos todo lo necesario para disfrutar. Hemos disfrutado de unos días estupendos en tranquilidad y cerca de zonas genial para visitar y pasear. Gracias por todo y hasta pronto!
IRIA
2016-08-25T00:00:00Z
Marlene y su familia fueron muy buenos anfitriones y se preocuparon de que nuestra estancia fuera lo más agradable posible. Tuvimos problemas con el aire acondicionado que no funcionaba, problema que Marlene resolvió en cuanto fué posible-por disponibilidad del técnico-. La casa nos ha parecido un poco justa de tamaño para cuatro huéspedes, y también nosotros hemos echado de menos una tostadora. El espacio exterior es muy agradable y la posibilidad de utilizar la piscina ha estado genial.
pablo
2016-08-12T00:00:00Z
Room Type
Entire home/apt
---
Property Type
Villa
---
Accommodates
4
---
Bedrooms
Mujães, Viana do Castelo, Portugal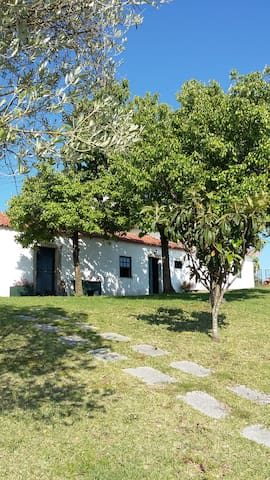 - Entrada Independente com vista para a piscina - Ar condicionado - Aquecimento Central - TV - Internet (WIFI Gratuita) - Casa de Banho - Toalhas e Amenities (gel duche, shampoo, sabonete e secador de cabelo) - Kitchenette
Casa da Pousada is located in Barcelos. Offering an outdoor heat pool, parking and Free Wi-Fi throughout the property. The unit has 3 rustic apartments with twin and double rooms, all inserted in a scenic countryside. All the apartments have their own private bathroom. The apartments and studio have LED-TV, private bathroom, kitchenette and dining area. Guest may use the outdoor kitchen and barbecue in order to prepare your own meals. Guests of the studio and apartments may also use their own kitchenette to cook up their meals. Other facilities offered at the property include a shared lounge and luggage storage. An array of activities can be enjoyed in the surroundings, including cycling and hiking. Through our partners, we have at your disposal some activities such as Wine and food tours in Barcelos and other cities, workshops, City tours, Health centers and many more. The center of Barcelos is 6 km away from the property and Porto Airport is 40 minutes. All major cities to visit in the North of Portugal are less than 45 minutes from the property.
Inserida no sopé do Monte do Facho, a Casa da Pousada tem uma situação privilegiada para quem gosta do contato com a natureza em estado puro. Apenas a 5 minutos a pé pode desfrutar de um roteiro traçado nos mesmos percursos dos nossos antepassados, com uma extensão de cerca de 15 kilómetros, conhecendo os vestígios ancestrais edificados, imaginando o modo de vida desses tempos. O exemplo disso são as citânias, balneário castrejo, eiras comunitárias, fontes de água pura, alojamento de pastores formados por penedos quebrados pelo tempo, capelas e igrejas, etc. Para além do gosto por caminhar, os praticantes podem escolher outros desportos como o Trail, BTT, Downhill . No cimo do monte pode-se apreciar uma paisagem, a perder de vista dos montes do Sameiro e Bom Jesus (Braga), o vale do rio Cávado e a famosa cidade de Barcelos.
We had an amazing time at Casa da Pousada! The place was exactly as described, so peaceful and beautiful! Isabel gave us the initial tour, she was sweet and kind. She even showed us the local market. Diogo was quick to respond to our requests, including helping us download a map for directions :) which saved us hours for the rest of our trip! We hope to comeback and really explore Barcelos/Braga. Thanks again for making our trip so memorable!
Juliane
2016-09-12T00:00:00Z
The host canceled this reservation 8 days before arrival. This is an automated posting.
Andrés
2016-07-07T00:00:00Z
It was a very peacefull experience! André (and his family) are the most kind and welcoming hosts. André gave us a tour of the house and had even a gift for us when we left. The apartment was perfectly clean and you had everything you could ask for. The garden, pool and the view are very beautifull! It is located very good, near by Barcelos and you can do easily trips to Braga, Ponte De Lima, Bom Jesus do Monte... We would recommend this place to everyone!!
Jonas
2016-06-30T00:00:00Z
Nous avons passé une semaine chez André. André nous a très bien accueilli, il est toujours très serviable, disponible et souriant. Malgré la barrière de la langue, nous avons pu échanger sur notre voyage et il nous a conseillé qq bonnes adresses à Barcelos. La maison est superbe, le jardin parfaitement entretenu, la piscine est magnifique et oh.. surprise.. chauffée ce qui était parfait pour nous, mais surtout pour notre bébé de 5 mois. André met également à disposition une table de ping pong, un salon de jardin... Bref il est parfait! Le studio est très bien équipé. André fait le ménage tous les jours. On est vraiment mieux qu'à l'hôtel!! La maison se trouve à Roriz, ce qui ne devait pas être facile à trouver, mais André a fait mettre des panneaux de signalisation jusqu'à la maison, parfait! On ne peut pas se perdre! La situation de Barcelos est idéale pour visiter la région du Minho. Tout est à 15, 30 minutes de la maison: Ponte de Lima, Viano do Castello, Esposende, Braga, Guimares, et on est à 45 minutes de l'Aéroport de Porto. Location vivement conseillée. Cadre idyllique, Hôte aux petits soins et situation idéale! Que de bons souvenirs!
Caroline
2015-09-11T00:00:00Z
Room Type
Private room
---
Property Type
Villa
---
Accommodates
2
---
Bedrooms
Barcelos, Braga, Portugal
Small, walled farm on 1 hectare of grounds with lots of trees. The house is fully equipped and has a large living room with a billiards table and cable TV with swimmg pool. Barbecue. Located near the a river and the beach. Near Barcelos, Viana, Braga
Small, walled farm on 1 hectare of grounds with lots of trees. The house is fully equipped and has a large living room with a billiards table and cable TV with swimmg pool. Barbecue. Located near the a river and the beach. Near Barcelos, Viana, Braga and Guimarães. Good access. 4 Bedroom + 1 Convertible sofa Soccer field and playground. Shops: Approx 440 yd Beach: Approx 4.4 mi River: Approx 3.1 mi Forest: Approx 60 yd Aspect: South facing Bed linen provided, Bath towels provided, House cleaning included. Pls email me for details: (EMAIL HIDDEN)
Peaceful and quiet.
We had an absolutely brilliant time in Antonio's villa. For a family of 4 this was a very spacious property (way more space than we needed). It was very clean, really well equipped and had lots of things for the kids to do (football goals, swings, badminton net, pool table and of course the lovely pool). It's in quite a rural location, but well located for exploring the north of Portugal; you do need a car if you stay here. Only 5 mins to a supermarket and tapas bar though. There are also lots of different beautiful towns and beaches within a half hour radius. Antonio gave us lots of advice on where to go and there was lots of information, maps etc in the villa which was very useful. Overall hard to fault. Would have loved to stay longer, but unfortunately had to get back for school and work!!!
Tom
2016-09-03T00:00:00Z
The host canceled this reservation 87 days before arrival. This is an automated posting.
Alexandre
2016-04-05T00:00:00Z
La Casa do Fiscal es todavía más bonita de lo que aparece en el anuncio. La piscina es fantástica, con hamacas y sombras, las camas cómodas, toda equipada y el anfitrión fue muy amable, facilitándonos la llegada y la entrega de las llaves. En cuanto a la situación, sin GPS si que es difícil encontrarla pero con GPS y la localización latitud, longitud, se encuentra sin problemas. Tiene cerca ciudades como Viana, Barcelos, Esposende... buen lugar para descansar, desconectar y también para visitar todos estos lugares. Repetiría sin dudarlo. Obrigada Antonio!
Iria
2016-07-26T00:00:00Z
La zona donde se encuentra la Casa do Fiscal es muy tranquila y goza de un contacto directo con la naturaleza. La casa ha superado las expectativas que las fotos nos habían transmitido. Todas las estancias cuentan con los servicios necesarios para estar perfectamente hospedados. El trato con Antonio ha sido fantástico, cercano, servicial y honesto. La piscina y la finca son fabulosos. Aconsejable al 100% si deseáis disfrutar con los amigos o con la familia.
Mauro
2016-06-20T00:00:00Z
Room Type
Entire home/apt
---
Property Type
Villa
---
Accommodates
10
---
Bedrooms
Barcelos, Braga, Portugal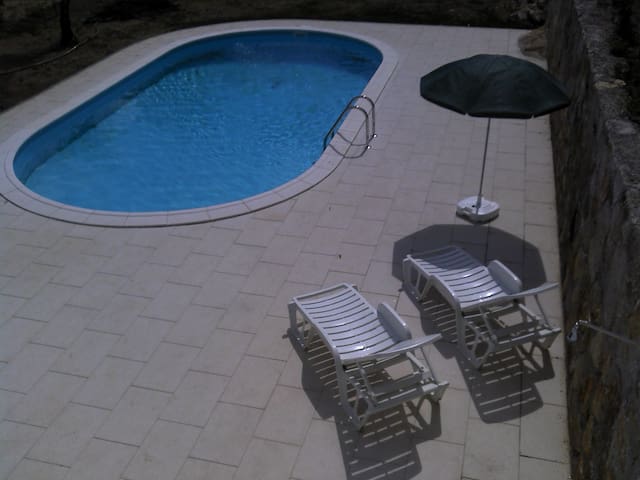 Balugães é uma aldeia situada na fronteira dos concelhos de Viana do Castelo, Barcelos e Ponte do Lima. A referência mais antiga à propriedade data do século XVII. Os actuais proprietários fizeram da recuperação deste espaço um exercício de memória, ao encontro dos vestígios do tempo: com calma, detalhe, gosto e paixão. Cada recanto, cada pedra, cada árvore, tem uma história para contar.
Room Type
Entire home/apt
---
Property Type
Villa
---
Accommodates
8
---
Bedrooms
Balugães, Braga, Portugal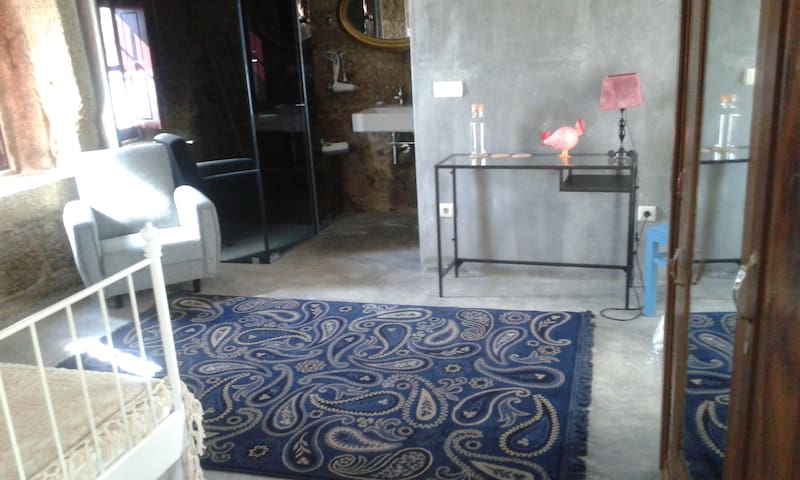 My space is close to beautiful landscapes and parks. My space is good for individual couples and adventures.
Room Type
Entire home/apt
---
Property Type
Villa
---
Accommodates
4
---
Bedrooms
Esposende, Braga, Portugal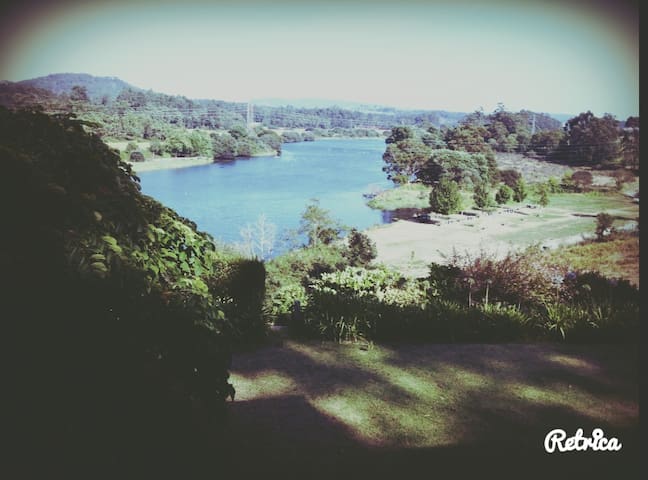 Country house by the river Neiva, near the sea and the beach. It has capacity for 5 people. kitchen utensils and clothes are included. It is in a quiet area, close to markets, cafes and restaurants. Viana do Castelo 15km, Port 55Km, 2km from the A28.
Space with tranquility by the river and near the beach.
green landscape, with the whisper of water and birdsong. Close to everything and far from the world.
We are a family of 5 and we had a great time during our stay here. Lots of activities for the kids. Our kids had a great time on the swing rope that hangs out over the river. Julio made us feel very welcome and even organised bikes for all of us. (lots of great biking trails near by). Thank you Julio. The house was clean and spacious, it was nice and cool in the evenings which meant we got a great nights sleep. Would highly recommend.
Damian
2016-07-11T00:00:00Z
Moment très agréable dans une maison traditionnel au bord de l'eau qui nous a permis de supporter la chaleur caniculaire. Baignade, bateau, et apéro au bord de l'eau nous ont ravi. Le littoral n'est pas exceptionnel, mais de belles balades dans les terres nous ont permis de découvrir des gens très chaleureux et des paysages somptueux. Julio est un hôte attentionné et serviable, très bel accueil, je recommande!
SERGE
2016-07-31T00:00:00Z
Casa estupenda, muy bien de precio, para parejas o hasta cinco personas, cerca de las playas de la zona de Esposende, muy tranquila. Julio muy atento para cualquier duda o consulta, permite incluso usar la balsa que hay en la casa o recomienda restaurantes de la zona. Muy bien
Trrme
2016-09-11T00:00:00Z
Todo genial. La casa está es un molino rehabilitado en plena naturaleza con todas las comodidades y al lado de un río. Julio fue un anfitrión muy amable porque nos contó que el pueblo de al lado estaba en fiestas y nos dijo como poder disfrutar de ellas y llegar al pueblo por un atajo. También nos dejó una barca y pudimos usarla en el río los cuatro (dos adultos y dos niños) de forma muy segura. Fue muy divertido. Pasamos unos días estupendos. Volveremos seguro pero mejor cuando haga más sol para disfrutar mas del jardín exterior de la casa.
Mª Jesús
2016-08-16T00:00:00Z
Room Type
Entire home/apt
---
Property Type
Villa
---
Accommodates
5
---
Bedrooms
Esposende, Braga, Portugal
Quinta of Cancela dates from the 17th century and is located in the heart of Alto Minho, near of some of its most representative and charismatic cities: Viana do Castelo, Braga, Barcelos, Ponte do Lima. The property's houses have preserved the traditional features of tradicional architecture, with the comfort and amenities required for quality stays. It is a privileged place to rest, and close to unique places and representative of the culture and traditions of the Portuguese people.
Balugães is a village located on the border of the districts of Viana do Castelo, Barcelos and Ponte do Lima. At its origin is an important citadel erected on Mount Caramona, dated to the Iron Age. The town went down to the fertile plain of the Valley of Neiva, starting around the parish church, built in the twelfth century, the urban development of the parish. Its toponym originates in Balugães or balugões, a kind of buskins, indicating that the land made many Balugas or high boots with laces. Balugães retained some traces of a distant rurality, which now emerges as a result of the recognition of some of the values that inspired our countryside for centuries, and are part of the foundational matrix Portugal. Quinta da Cancela was the residence of a notary, surnamed Ponce de Leon, of Spanish origin, descendant of the Count of Toulouse, having been the last representative of this house. He is buried in the chapel of St. Benedict, at the entrance of the main arc. The earliest reference to the property dates back from the seventeenth century. Also "Water Quingustos", which supplies the farm, find references to their use rights in documents dated the eighteenth century. Since the eighteenth century that the farm belongs to the same family. With the collaboration of architects Jorge Cavaleiro (Casa da Eira) and Paulo Costa (Casa do Caminho de Santiago), the current owners have made recovering this space a memory exercise, to meet the traces of time: calmly, detail, taste and passion. Every corner, every stone, every tree has a story to tell. The intervention emphasizes the predominance of traditional construction techniques – brought to perfection by the manufacturer – and respect for customs and traditions of the house Cancela, resulting in an integrated environment, discreet and welcoming environment.
Room Type
Private room
---
Property Type
Villa
---
Accommodates
2
---
Bedrooms
Balugães, Braga, Portugal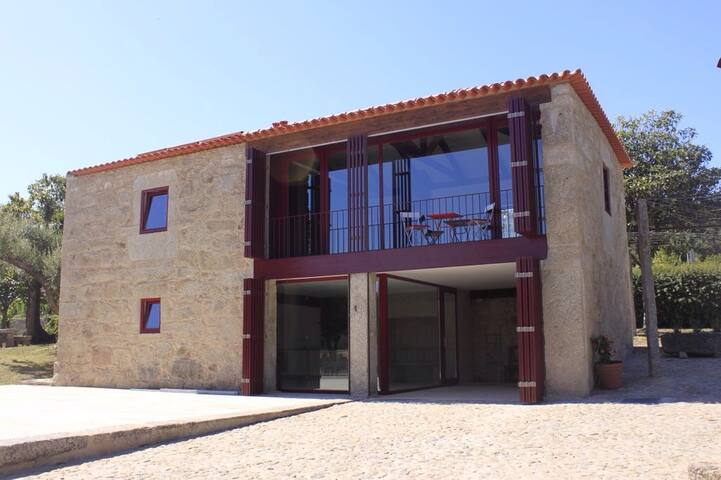 Charming Country House, Sta. Margarida, is located in the peaceful green country side of nothern Portugal. This old style granit country house is part of a manor house which is held by the same family since it was built in the 18th century. The house has an independent entry and parking place. And shares the gardens, swimmingpool and tennicourt with the main house and owners. It is a glamorous peaceful place, in the country side of Portugal, very appealing for families.
Room Type
Entire home/apt
---
Property Type
Villa
---
Accommodates
6
---
Bedrooms
Vila de Punhe, Viana do Castelo, Portugal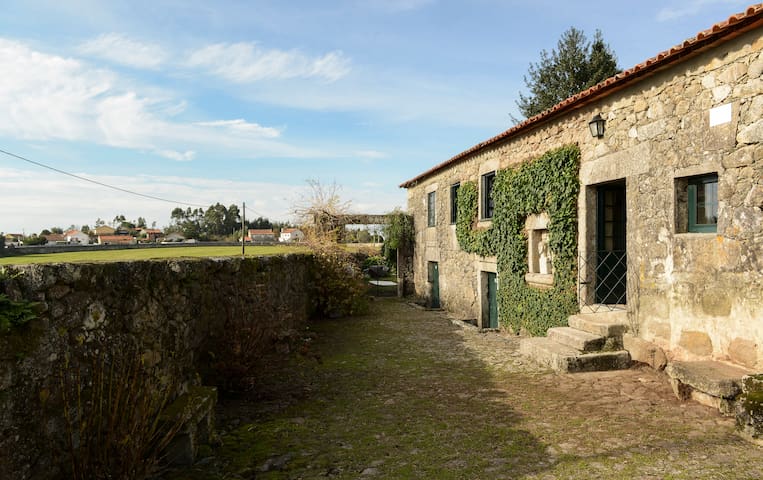 An ideal Cottage to relax and enjoy a small cosy garden overlooking a corn field. It is located 2 km from the town of Barcelos, 15 min. to the beach and golf field.
Points of Interests in Barcelos: - Market on Thursdays - 14th century bridge - 13th century church "Igreja Matriz" - 15th century tower "Torre de Menagem" - ruins of the Counts of Barcelos with archaeological museum - Pottery museum - Arts and Crafts center Restaurants: - Restaurante Chuva - Casa dos Arcos - Bagoeira
Barcelos is a great place to use a your base to discover the north of Portugal. It is a pleasant town in itself and is well connected to the major highways. All major sights are within half an hours drive. And Manel's house is very special. We found it to be quite a lot bigger than the description suggests. It sits on a private property and is surrounded by a very pretty garden, a vineyard and some corn fields. There is a even a beautiful real stone mini play-house in the garden for the kids. Inside, the house gives the feeling your visiting and old aunt. The house is full of (catholic) art and paraphernalia - some of them really pretty. The only down side is that especially the kitchen and the bedrooms are of roughly the same age. And as the house appears not to be used very often, they are rather damp and dusty. Manel is a very kind and communicative guy.
Tom
2015-08-07T00:00:00Z
Adoramos a estadia neste cantinho de Barcelos. A casa é enorme e fantástica, já para não falar do silêncio e da paisagem. Os acessos são muito bons e todo o processo foi muito simples e correu sem qualquer problema. Não deixem de passar no restaurante Maria de Medros, mesmo em frente ao portão da casa. A comida é caseira e muito saborosa, já para não falar dos doces que são maravilhosos.
Zara
2016-07-26T00:00:00Z
A casa é simplesmente fantástica. Apesar de ser do século XVIII, conforto e bem-estar não faltaram. Na verdade não há palavras para descrever... bons dias passados de frente para o milharal.
Ivan
2015-07-27T00:00:00Z
Room Type
Entire home/apt
---
Property Type
Villa
---
Accommodates
7
---
Bedrooms
Medros, Barcelos, Braga, Portugal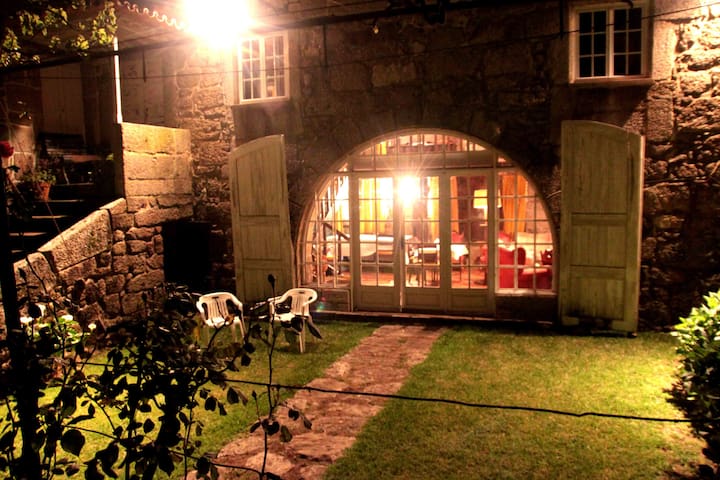 Uma vivenda de sonho, onde o conforto está aliado à qualidade de (URL HIDDEN) 4 quartos, 3 casas de banho, 2 salas, cozinha totalmente equipada, aquecimento central e aspiração central, uma grande piscina centrada num grande jardim e ginásio.
propriedade está localizada em região de extrema beleza natural, que convida para fazer longas caminhadas e as mais diversas actividades desportivas ou simplesmente para relaxar e desfrutar da beleza que esta região oferece. Existe ao arredor desta região uma grande variedade de actividades de lazer, tal como diversos restaurantes regionais, bares, discotecas (Pacha), cafés, localizados bem perto da praia, Quinta de Golfe em Gandra-Esposende, entre muitas mais actividades quais se localizam nesta região.
We stayed for one week in June in this house with our children of 1 and 2 years old. We really liked the house, plenty of space for our family. The pool is big enough to swim comfortably. The garden is very big with some fruit trees in there. There are no neighbours so you have a lot of privacy. The location is close to several beaches (about 10 min. drive), a large supermarket and some interesting cities. You do need a (rental) car! The kitchen is well equipped and there are lots towels available. Cristina is a great helpful host!
Josselin
2016-06-28T00:00:00Z
Room Type
Entire home/apt
---
Property Type
Villa
---
Accommodates
6
---
Bedrooms
Braga, Braga, Portugal
MAGNIFICENT VILLA BY THE SEA 200 M TO THE BEACH 5 MINUTES ON FOOT with a large garden with a water cascade with 2 barbecue turtles Barbeque, may have to eat in the sun or in the shade a 1500 bad arrier for d other leisure, foot, bicycle, voley ball, corrir. 30 m small businesses is even a bar in the beach, 2 discotheques Pacha, bib ofir
BEAUTIFUL VILLA FOR 5 PEOPLE FOR FAMILIES WITH CHILDREN OR WITHOUT CHILDREN, LARGE GARDEN AREA TO EAT THE SUN OR SHADE AL COMFORTABLE VILLA
beach, serf, river walks to the sea, walking a bike feet, municipal swimming pool with waves, gymnastics park for children and adults and games for children
Room Type
Entire home/apt
---
Property Type
Villa
---
Accommodates
5
---
Bedrooms
esposende, Braga, Portugal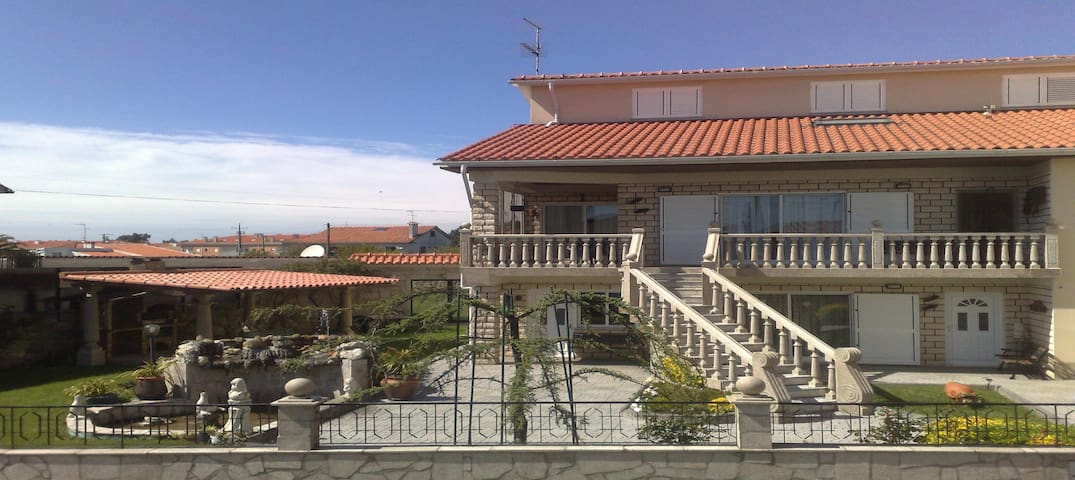 A Quinta da Silva é uma casa de família situada a 5 minutos da bela cidade de Barcelos, no Norte de Portugal. É composta pela casa principal, moinho, garagem, piscina e o terreno que a envolve. O terreno é amplo, com cerca de 20 000 m2, tendo também um pequeno espaço com animais (patos, galinhas, perus e gansos). A casa está totalmente equipada para receber um máximo de 6 pessoas e tem bastante luz natural em todas as suas divisões.
Quinta da Silva is a family home only 5 minutes drive from the well known and loved town of Barcelos in the North of Portugal. Barcelos is known by it's excellent restaurants to eat locally, open air markets, cafes and historical buildings. In addition, the beautiful beaches of Ofir and Apulia are only 15 min drive, where you can enjoy wonderful days. About the house: It consists in the main house , a mill, garage, swimming pool and the land that surrounds it. The land surrounding the house is large , with about 20 000 m2 , also with a small space with animals ( ducks, chickens , turkeys and geese). The house is fully equipped to accommodate a maximum of 6 people. It has plenty of natural light in all its divisions and all rooms overlook the pool and have private bathrooms . The dining room has parts of the ground in glass that provide a view of the mill and the stream that runs through the house.
Quinta da Silva is a family home only 5 minutes drive from the well known and loved town of Barcelos in the North of Portugal. Barcelos is known by it's excellent restaurants to eat locally, open air markets, cafes and historical buildings. In addition, the beautiful beaches of Ofir and Apulia are only 15 min drive, where you can enjoy wonderful days.
This was a great place to stay. We were welcomed warmly by the hosts, who attended to our every need whilst we were there (and even showed us the best beach to go to, only 20 mins away). There was plenty of space, the architecture was fascinating (windows in the floor revealing the mill stream below the house), and the views really impressive.
Andy
2016-08-12T00:00:00Z
Room Type
Entire home/apt
---
Property Type
Villa
---
Accommodates
8
---
Bedrooms
Braga, Braga, Portugal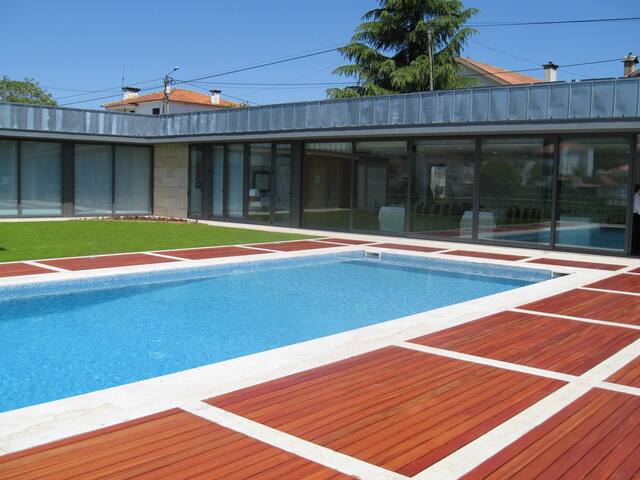 House in a hamlet, with uninterrupted views over the 7 hectares of agricultural land that is part of this small farm. Five hectares of this land are vineyards whose grapes go for the production of the famous wine Vinho Verde.
The house is in a group with other properties in the hamlet, it has uninterrupted views over the 7 hectares of agricultural land that is part of this small farm. Five hectares of this land are vineyards whose grapes go for the production of the famous wine of the region, Vinho Verde.
The beautiful green region of the Minho is located in the northwest of Portugal in an area between the rivers of The Douro (to the South) and The River Minho on the Spanish border (to the North) and locked in by the mountains (to the East). The region's climate is greatly influenced by mountains and Atlantic currents. The most significant feature is the yearly rain levels showing an annual average of 1500 mm concentrated mainly in winter and spring. With good reason, many Portuguese consider the Minho to be the most beautiful part of the country. A rolling province of lush river valleys, forested hillsides, trailing vines and long, sandy beaches, it is immensely pleasing on the eye, while much is made of the Minho's traditional aspect, especially in the mountainous east, where you can still see wooden-wheeled ox-carts creak down cobbled lanes. Here age-old customs are maintained at dozens of huge country markets, festas and romarias. Vinho Verde is an unique product, miss-understood by some but loved by many. With a blend of aromas and petillance that makes it a delicious natural beverage. Medium in alcohol, Vinho Verde has great digestive properties due to its freshness, slight fiz and special qualities. It is a highly regarded wine, especially when served chilled for Summer drinking. The malo-lactic fermentation gives it a distinctive taste and personality. The reds are full-bodied wines with an intense colour and a rosy or light red foam. The whites usually present a lemony or straw colour. The strong distinctive character and originality of these wines are the result of soil and climate characteristics, social-economic elements, grape varieties and the vinegrowing methods. The vines, distinguished by their great vegetative expansion in severe conditions, occupy an area of almost 35 thousand hectares, corresponding to 15% of the national viticultural area.
Fantastic, amazing, great stay, Carlos is a wonderful host helping us to make our stay cool and easy. The place is ideal for a family. Kids enjoyed a lot the swimming pool.
stephanie
2015-07-30T00:00:00Z
Alors que dire de ce sejour, très très bien,les photos ne rendent pas hommage a cette belle demeure. Salon et salle a manger très spacieuse ainsi que la terrasse qui est agreable. Notre hôte nous mets a l aise immédiatement et nous fait bien comprendre qu il faut faire comme chez soi ce que nous avons fait. Un petit bemol quand même "il faut mettre une lumière au dessus du barbecue" Encore merci un grand merci a Carlos
Benjamin
2015-08-30T00:00:00Z
Room Type
Entire home/apt
---
Property Type
Villa
---
Accommodates
8
---
Bedrooms
Viana do Castelo, Portugal