Beach side villa on Palm Jumeirah with access to private pool, garden with dining area and beach. This room also has a private balcony with seating. Dining room EXCLUSIVELY for guests use with all day access. Where tea/coffee is available 24 hrs, and take away food may be eaten. Complimentary fresh fruit salad, yoghurt, cereals, juices, breakfast pastries and preserves are provided every morning. Second luxury bedroom available on the same listing. Daily maid service included.
The room is part of a large villa (5500 sq ft), with beach, pool, and garden access. Free car parking space outside villa. The villa is within short walking distance of restaurants, bars and cafe. 5 minutes from the Atlantis Hotel and Aquaventure Waterpark and many other 5* hotels A shopping mall and gym (with daily rate access) are within 5 minutes driving distance from the house
Rosemary is a wonderful and gracious host. She really goes out of her way to provide you as much information as possible even before, during and after you book. We arrived quite early in the morning (4:30AM) and she was very kind to wake up early to welcome us and give us a basic tour of the villa. Everything is well planned and considered - from the pool/beach towel to soap, shampoo, conditioner, shower gel, body lotion. Breakfast was self-served though she's put everything out in the open including pain chocolate, croissant, muesli, milk, juice, variety of tea, biscuits, sweet snacks, etc. The backyard is my favorite with the calm water and beach steps from the villa. There are lounge chairs, outdoors dining set, kayak, dipping pool, etc. I have never stayed in an Airbnb where the host also live on the premise so was a little worried how the experience would work out. Rosemary was around but never once did we feel we were intrusive of her space nor did we feel she was disturbed by our presence. She was also smiling, cheerful and very laid back which made us feel like house guests. Overall, I highly recommend staying here and would do so again if the opportunity presents itself. Thank you, Rosemary.
Phuong
2016-11-20T00:00:00Z
It was the first time, that we used AirBnB and it far exceeded our expectations. Rosemary was waiting for us already, although we came very late from the airport. The room and the whole place is unbelievable cozy. Our room had a balcony, an en-suite bathroom and we got towels, shampoo…whatever you can imagine. If we got up, the breakfast was prepared and we did start every day by having our tea at some chairs close to the private swimming pools with a view to the beach and the river (or whatever it might be called in English). This place made it possible, that we could stay on "The Palm", an awesome construction project which I followed from public news from the beginning. We walked along the beach of our Frond and saw all the different houses created on this artificial island. It was just a dream! If we wanted, a maid cleaned up the room- better than some hotel services! We got water and fruits to the room. Although we don't have other AirBnB experience, I can't believe, this is standard. We felt like in a 5-star- accommodation! One remark- we love walking, so we thought we can reach the station of monorail operating on The Palm, but the main string of The Palm is not made for walking or public transport. So we needed to take taxi, independent if we just wanted to go to Atlantis or out of the The Palm. Also here the hosts were very helpful, the instruction how to all taxi was noted on the land line phone, which we could use for that purpose. Also other information were collected and provided for the guests. We loved to stay there and will keep those memories forever! Thank you so much Rosemary and Patrick!
Kathleen
2017-02-04T00:00:00Z
I stayed only for one night but that night was unforgettable, it was beyond what I expected the place was super Juicy. The Palm Jumeirah is one of the nicest areas in Dubai with a view over the Atlantis hotel. The host were very welcoming, very nice and friendly, and they respected our privacy. The breakfast was simple but nice, with coffee tea, orange juice ets. The Villa was super clean with towels, water, shampoo ets not to forget the delicious welcoming chocolate. I don't want to say everything I rather you get amazed like we did and I'm sure you won't regret it. Thanks Mrs. Rosemary & Mr. Patrick
Abdulaziz
2016-05-13T00:00:00Z
Amazing place, just loved it. We needed a calm and sunny place, away from all stress. So happy to have found this place. Everything was just wonderful. Patrick and Rosemary are really friendly and helpful. Our stay was everything we hoped for and more.
Lena
2016-11-28T00:00:00Z
Rosemary and Patrick are really nice hosts . They are friendly and kind . Their villa is amazing and located in Palm Jumeirah which is a beautiful place to stay at . Our room was very clean, luxurious, tasteful and lovely furnished and in the bed we felt like on a cloud . Everything exceeded our expectations and we had a great time there .
Muhannad
2016-11-12T00:00:00Z
OMG this place felt like paradise. Located in the Beverly Hills are of Dubai, I got a glimpse of the good life here. The only bad thing was that I didn't stay here long enough. Only for 24 hrs :( Anyways upon arrival, I was greeted by Rosemary, who was beyond friendly, patient and hospitable. You can tell she cares about you and that automatically makes you feel welcomed! I arrived after a long 24 hour flight from Los Angeles, California (USA) so she knew I needed my quiet time. I thought I was going to take a quick 2-3 hour nap but because that bed WAS THE BEST BED EVER, I ended up getting a full 8 hours of sleep. No lie, I've never slept in such a comfortable bed! I slept like a big baby! So you've been warned! I met Patrick for a very brief period, and he's just as nice as his wife. Other than that they were there for you when you needed anything. Communication was beyond excellent. From the moment you book them, to when your arrive, and when leaving! Again, highly recommend you book a minimum 2 days here! And check this out. I had left a few items behind but they were quick on spotting that and communicated with me in an expedite matter. We arranged a meeting and they were so reliable on that! I was coming back from my Abu Dhabi trip and they were ready with all my items I had left behind! Part of me felt like I was bothering them, but because they are so nice and helpful, you really didn't get that feeling. Best place I stayed during my Dubai trip. You should book it too!
Edgar
2016-05-28T00:00:00Z
The time at Rosemarys and Patricks Villa on the Palm was a unique and unforgetable experience! Its such a quite place in this loud and busy city. I did several exchanges already, but this one was the best ever! Rosemary is a fantastic host - she made our stay even more special! There is simply nothing to complain about! Unique place, very clean rooms, thoughtful and passionate host, calm Area and luxury private beach!! See you soon again! <3
Michael
2016-11-01T00:00:00Z
Me and my boyfriend stayed at Rosemary and Patrick's house for 4 nights, and it was a blessing! They were so open minded and helpful, and made us feel like we were home. Perfect location and nice surroundings - we used the pool area a lot, and with the beach right in front of us, it couldn't be a better place to relax and enjoy the more "tropical" side of Dubai. Not very far from everything with a taxi, which didn't cost a lot. Will definitely recommend, and we'll be coming back! ;-)
Nikoline Vibe
2016-10-26T00:00:00Z
Room Type
Private room
---
Property Type
Villa
---
Accommodates
2
---
Bedrooms
Dubai, Dubai, United Arab Emirates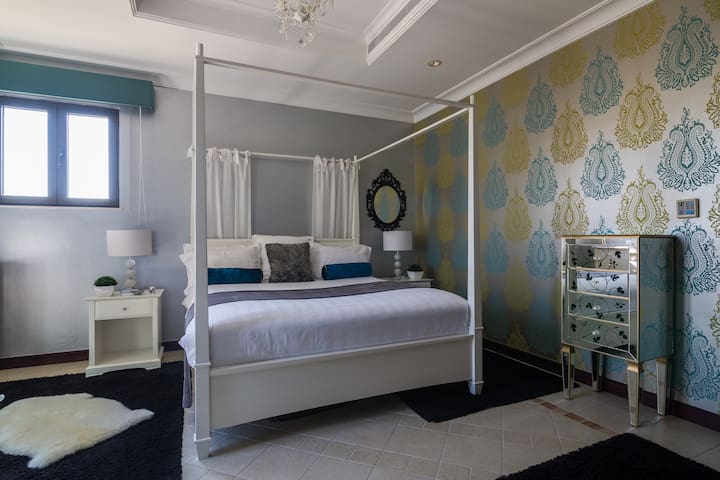 A Villa to truly remember! Amazing retreat in the most prestigious, exclusive and best beach property in Dubai. Combining the best of western design with a classic eastern design we have created a perfect blend of interior decor. With breathtaking views of Dubai and a private pristine beach, this makes for our flagship property. This Exclusive Villa offers 5 large bedrooms, six bathrooms, a private pool, and its very own private beach! along with great service from our amazing team!
If Luxury, exclusivity, comfort, elegance and refinement is what you're looking for then look no further. This Villa is located in the most exclusive gated community which is home to world-renowned celebrities, and VIP. There is really no place like the fronds on The Palm, and our team has ensured that this Villa lives up to the standards of The Palm. We intend to bring your accommodation dream to reality! Each of the five bedrooms comes with a different bed option, ranging from bunk beds for children to Super King Sized bed for adults. Bedrooms offer walk-in closets allowing you to bring all the outfits you desire for your vacation. A carefully appointed theme of modern and classic follows you from one space to the next as you move through the Villa. Beautifully appointed shades of black and gold furniture accents emphasize both the luxury and style for which Dubai is known. Each room is designed with luxury and comfort in mind. Ensuring you have a good night's sleep after a long day of exploring, preparing you well for another day of enjoying Dubai. But comfort never comes in the way of Luxury and style at this Villa, each room is stylishly designed continuing the theme of Luxury throughout the Villa. Each room is designed distinctively with diverse palette of colors, so that every room provides a different vibe, providing you with an array of choices and displaying the extent of detail and work our team applied while designing every room, always having your luxury and comfort as the utmost priority. Each bathroom provides variety for you as you prepare for the day. From double sinks in master suites to full sized showers and bathtubs, the options are limitless for getting ready in each of the five available bathrooms. Complete with amenities that will last for days, preparing for your vacation or business each morning and refreshing every evening away from home has never been so easy. The kitchen comes equipped with a stove, oven, dish washer, refrigerator, microwave, toaster, kettle, and a coffee machine. With a fully equipped kitchen the dining options are unlimited. Your kitchen is equipped with a complete set of chef knives, a blender and vareity of other tools you might need to cook the perfect meal. And to top it all off, the whole family can gather around to enjoy their dinner on a 10-seater dining table. After a long day of exploring Dubai, or taking a dip in your private pool or enjoying the waters of your very own private beach, families and friends can gather together to watch a movie in the TV Majlis where comfortable lounging options are available. With a large screen curved screen HD TV, and elegant yet comfortable couches including one with three electronically controlled fully reclining chairs, make watching movies a relaxing, theatre like affair. Or if you don't fancy watching TV you can lounge in the second living room with an extra-large L-shaped couch combined with modern lounge chairs, where you can enjoy each others' company in the highest of style. At this Villa there are a vareity of options to enjoy the warm temperatures of Dubai. Take one of the kayaks to open waters, or take a swim in the private beach, or a dip in your very own private pool, or simply lounge on any of the provided choice of outdoor furniture enjoying sights of the wildlife that visits the private beaches. Wakeup at sunrise and enjoy the beautiful sunrise of Dubai, one the of best places to view sunrise is at your doorstep, at your private beach, see the sun rising over the Dubai skyline or the ocean, both are within access of your beautiful Villa. You have never experienced vacation luxury in Dubai like this before, in an urban setting with everything right at your doorstep.
There is no location like the Palm! It is truly the most exclusive location in Dubai, no wonder celebrities and VVVIP from all around the world whether it be Hollywood, The Silicon Valley, Bollywood or many others, have residences here. - A neighborhood where you are in the heart of Dubai yet in an area where you enjoy tranquility and seclusion. - Shop at the world-famous Mall of the Emirates, which is also home to the world's only indoor black diamond ski slope, can be found in close proximity. Also check out the selection of stores and boutiques nearby. - For the children, visit Atlantis Water Park located at the Atlantis hotel and resort for a fun day in the sun, or even the Wild Wadi located right beside the world famous Burj Al Arab and Jumeirah Hotel. - The Palm is home to the world's best restaurants with many of them situated at hotels around the Palm such as the world famous Nobu and Bread Street Kitchen by none other than Gordon Ramsay himself. - The beauty of the Palm location is its perfectly placed to be in close proximity to all the major attractions and amenities, the perfect spot to experience life in Dubai. - Being right next to Dubai Internet City, Dubai Media City, Knowledge Village, The Palm is the perfect place to complete work and business meetings.
Room Type
Entire home/apt
---
Property Type
Villa
---
Accommodates
12
---
Bedrooms
Dubai, Dubai, United Arab Emirates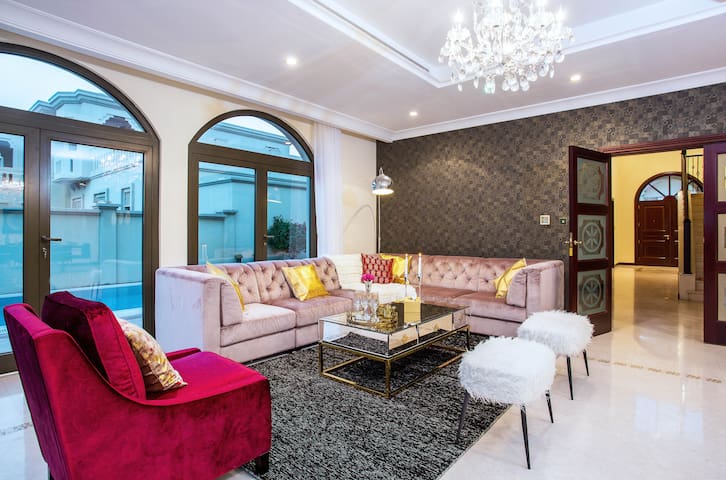 Amazing family retreat combines contemporary Western design with uniquely Eastern style. This is truly a villa to remember, offering breathtaking views of Dubai. Perfect for entertaining, relaxing, going to the airport, or topping up your tan. This exclusive apartment features a lounge area, kitchen, five large bedrooms, six bathroom, garden with a private pool, and even its own private beach!
This gorgeous, elegant residence is for those wishing to experience a luxurious lifestyle located on The Palm in Dubai. If atmosphere, ambiance, and relaxed refinement are what you are searching for, look no further. Each of the five individual bedrooms comes with a different bed option, from bunk beds for children to full-sized beds for adults. Additionally, a walk-in closet is available allowing you to bring each outfit you wish for your holiday. A theme of modern, chic design carries from each room to the next as you walk across the porcelain tile, through to the eight-person dining table in the living room. Shades of dark blue velvet are combined with golden furniture accents, emphasizing both the luxury and style Dubai is renowned for. Each bathroom provides variety for you as you prepare for the day. From double sinks in guest suites to full sized showers and French styled bathtubs, the options are limitless for getting ready in each of the five available bathrooms. Complete with L'Occitaine amenities, preparing for your holiday each morning has never been so elegant! The kitchen comes equipped with an oven, stove, dish washer, refrigerator, microwave, toaster, kettle, and a Nespresso machine. Family meals have more options than you could ever expect from traditional hotel offerings. Cook a delicious steak all from within your private villa. With the amount of privacy and welcoming environment, you will forget you ever left your home. Families can gather together after a relaxing afternoon in one of the two living rooms, which display comfortable lounging options. From an extra-large L-shaped couch to the modern lounge chairs, your family can enjoy each other's company in the highest of style available to you. Sit back and enjoy a classic film proudly displayed on a large high definition television or maybe read a thrilling novel as you enjoy the aromas and taste from a freshly brewed coffee, complements of your own Nespresso machine. A private pool is complemented with a private beach access route, providing you with options for how you want to enjoy the warm temperatures on your exclusive Palm villa. Cherish astonishing sunsets by looking out on the horizon from your balcony, conveniently connected to your bedroom suite. In Dubai, 'The Centre of Now', this is the ultimate in urban living, with everything you need just at your doorstep.
•Situated in a truly elite neighborhood on one of the most exclusive real estates in the UAE, the Palm Jumeriah. •A relaxing neighborhood, where you will relax and enjoy the tranquility of this secluded location •Shop at the world-famous Mall of the Emirates which can be found in close proximity. Also check out the selection of stores and boutiques nearby. •For the children, visit Atlantis Water Park for a fun day in the sun. •The Palm is the perfect place to complete work and business meetings as it is next door to Dubai Internet City. •The beauty of the Palm location is its close proximity to all the major attractions and amenities, the perfect spot to experience life in Dubai.
My family and I enjoying staying in this villa so much. We had an amazing weekend, in a great location with the assistance of Anna and Kevin. Thank you so much. We would definitely return again.
Claire
2016-10-08T00:00:00Z
Great experience with Kevin and Dreaminn Dubai. They really went the extra mile for us and made sure the check in and check out process was smooth. The villa was very well maintained and decorated. Couldn't have asked for anything more.
Kaersi
2016-10-17T00:00:00Z
Spacious villa with 5 bedrooms 4 in second floor and and one on 1 room on the first. Kitchen is fully prepared, plates, forks, knives, espresso machine, oven, pans ... Etc. Garage for two vehicles. Big TVs. Clean beach. A great place for a getaway holiday in a calm area , Have never ever I found something looks like this its really Awesome villa on great place on Dubai. I will be back soon- ;) . Well done, Kevin's Thanks at all Omar
Omar
2017-03-23T00:00:00Z
I enjoyed very much private beach!
Shinsuke
2017-01-08T00:00:00Z
Everything was GREAT! We had a wonderful time! Kevin and his TEAM were professional and helpful and friendly! Yula was excellent! The place was beautiful and relaxing! We had lots of fun there while working! WE WILL DEFINITELY RETURN! Highly recommended from all 11 of us who stayed there. Keep in mind that we travel a lot and are very picky in our accommodation services and this stay was 10 out of 10! Thank you Kevin and Yula!
Constantinos
2017-03-09T00:00:00Z
It was perfect. I will be back there :)
Vytaute
2016-11-23T00:00:00Z
Beautiful villa, amazing views, excellent service-very relaxing
Jill
2017-01-21T00:00:00Z
The house is very beautiful. And very well located. THE AGENCY Is very responsive. No problem at all with them I was a little bit disappointed by the pool. It was very cold (freezing)
Francois
2016-12-27T00:00:00Z
Room Type
Entire home/apt
---
Property Type
Villa
---
Accommodates
14
---
Bedrooms
Dubai, United Arab Emirates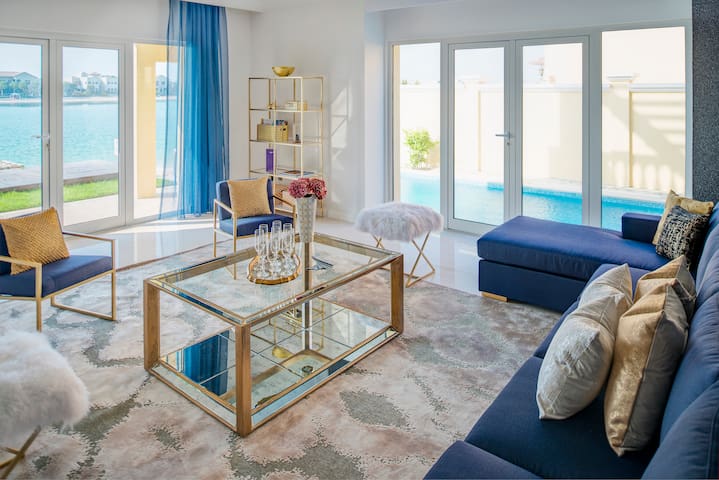 1.THE>>CALENDAR IS NOT>>UPDATED AND YOU NEED TO CHECK>>THE AVAILABILITY FIRST WITH ME. CONTACT>>ME TO MY>WORK>E>MAIL: event.villa1@ǵmᾶil.c̄όṁ 2.ABOUT SECURITY DEPOSIT WRITE AT MY C0NTACT FOR MORE PICTURES PLEASE >>CONTACT>>ME AT MY E?AIL event.villa1@ǵmᾶil.c̄όṁ
Room Type
Entire home/flat
---
Property Type
Villa
---
Accommodates
13
---
Bedrooms
Dubai, Dubai, United Arab Emirates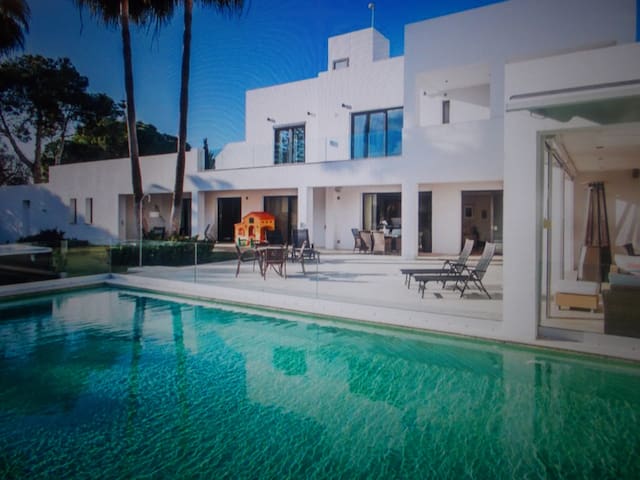 Luxury Villa with customized interior design in Dubai's most exclusive area in the heart of the city. Designer kitchen, private game room with pool table. 4 Bedrooms en-suite 1 Bunk Bed Bedroom Additional maid's room can accommodate 2. Can sleep 12 if required and approved by host.
In the heart of Dubai's business & entertainment district, Palm Jumeirah is the crown of Dubai's international achievements. Residing on the Palm is aspirational for all residents and tourists alike. You will have close proximity to the best that Dubai has to offer. From shopping to beaches to restaurants the Palm puts you right in the middle of it all. The Luxury Palm Villa includes a Living Room with a 55' LCD TV, DVD Player & Premium Cable. Premium Dining room to meet all of your socializing needs. High end Designer customized kitchen, includes all top of the line appliances and everything you need for entertaining. The master bedroom has an en-suite bathroom and walk-in shower, walk-in closet and his and hers vanity sinks and a dedicated balcony looking towards the Atlantis. Master also includes a 40' LCD TV, DVD Player & Premium Cable. Bedroom 2 is en-suite and includes a view of the sea. Bedroom 3 is en-suite Bedroom 4 is en-suite and has a large dedicated terrace looking towards Dubai skyline. Option 5th bedroom includes a bunk bed for 2 and a 32 LCD TV, DVD Player & Premier cable. Ground floor includes a dedicated room with Pool Table and LCD TV with cable. Outside includes a private pool and access to a dedicated resident's only beach. Outdoor seating area for Dubai's warm breezy evenings, sun loungers before a swim in the sea or private pool and a dedicated outdoor shower which is great for cooling off or washing off the salt water after beach activities.
The neighborhood is full of a mix of Dubai's business elite and a number of celebrities that use the Palm as a vacation home. Because of this security of the compound is very tight and provides guests with the comfort of knowing they are staying in a very safe area.
The villa was absolutely phenomenal and exceeded all our expectations. Michael was a great host. Super quick to respond to all enquiries, very welcoming. Went above and beyond our agreement and arranged maids to clean the villa. Absolutely stunning trip. Couldn't have ask for anything more from the Villa or from the host. 5 stars!!!
Nick
2016-11-20T00:00:00Z
This Place needs maintenance , all in all was ok.
Dan
2017-01-14T00:00:00Z
Great host Great location Great for the family
Majed
2016-12-27T00:00:00Z
Michael was a great host, really great at communicating with us prior to arrival and was always available to answer any questions quickly (despite the time difference in the UK). Check-in and Check-out was seamless and stress free. The property was clean and tidy on arrival with a little welcome hamper of food and drink which was a nice touch that we weren't expecting. The place itself is very well finished, generally speaking there is a lot of space, we had a full house and it didn't ever feel overcrowded. The 'private' beach came equipped with a couple of fishing rods and a small boat. The pool was well maintained and there is plenty of outside space for entertaining/ BBQ's. In terms of local amenities, there is a host of nice bars and restaurants on the palm, at the base you have Bidi Bondi which is great for sports and has a great atmosphere. Obviously you have Atlantis just a short cab ride away (taxis are very cheap and arrive in minutes) which has an amazing water park, shoping mall, aquarium and other amenities. For nightlife, and beach bars, Barasti and Zero Gravity are also 5-10min cab ride from the Villa. Having stayed in Dubai a few times now for business and pleasure, i'd say the Palm is my favorite place to stay. This was also my second trip staying in a villa on the palm and its safe to say i will definitely be heading back in the future. p.s. its worth noting that it is normal practice to issue copies of passports to the owner for him to forward on to security prior to arrival, you have to remember these are gated communities. Cheers Rob
Robert
2016-12-04T00:00:00Z
Our 3 weeks family holiday couldn't have been better thanks to Michael. Micael is a wonderful host who will make you feel safe, taken care of and comfortable. Strongly recommended.
Deniz
2017-02-08T00:00:00Z
Michael was a great host! The area of Palm Jumeirah was the epicenter of the great city of Dubai. Michael was always very fast and responsive to all of our teams needs. His Luxury Villa was every bit as beautiful as it was in the pictures you see. He provided all amenities necessary for our stay. I flew out with a team of media professionals and the Villa was excellent in space and comfort, not to mention so beautiful! I definitely recommend Michael's Villa to any guests wishing to have a proper Dubai experience. Thank you Michael!
Joaquin
2017-03-06T00:00:00Z
Nice place and quiet
Saleh
2016-10-18T00:00:00Z
Michael nagyon jo hazigazda volt,ha barmiben segitseget kertunk Tole O rogton segitett!a konyha rendkivul jol felszerelt,kisgyerekes csaladoknak is ajanlom!van mosogep,szaritogep!sok helyen voltunk mar a vilagban,de ilyen hazigazdaval meg sosem talalkoztunk!!5csillagos szolgaltatast nyujtott!!mindenkinek ajanlom jo szivvel!
márta
2016-11-05T00:00:00Z
Room Type
Entire home/flat
---
Property Type
Villa
---
Accommodates
10
---
Bedrooms
Dubai, Dubai, United Arab Emirates
This stunning villa in the luxury 5* Zabeel Saray Royal Residences, Palm Jumeirah, features 5 large bedrooms with en-suite bathrooms and offers spacious lounge, sun deck, and dining areas. The villa has access to the 5* Zabeel Saray hotel facilities, including pools, beach, award winning Talise Ottoman Spa, gym, numerous restaurants and shops. Zabeel Saray is widely accepted as one of the most luxury hotels in Dubai! This villa costs c.$/£ 5k per night when booked direct from the hotel!
The villa has had numerous luxury upgrades, including a jacuzzi bath fitted in the master en-suite. The property is furnished to the highest standard to provide you with a unique style of Dubai City living. Perfect for large families it is also an impressive venue for corporate and business travellers. The villa has 1 full time member of staff, a butler, with his own living quarters. *We are usually flexible on check in and check out times*
super5star,all things are prefect!
Jie
2017-04-03T00:00:00Z
The host canceled this reservation 2 days before arrival. This is an automated posting.
Mazen
2017-02-26T00:00:00Z
Room Type
Entire home/apt
---
Property Type
Villa
---
Accommodates
9
---
Bedrooms
Dubai, Dubai, United Arab Emirates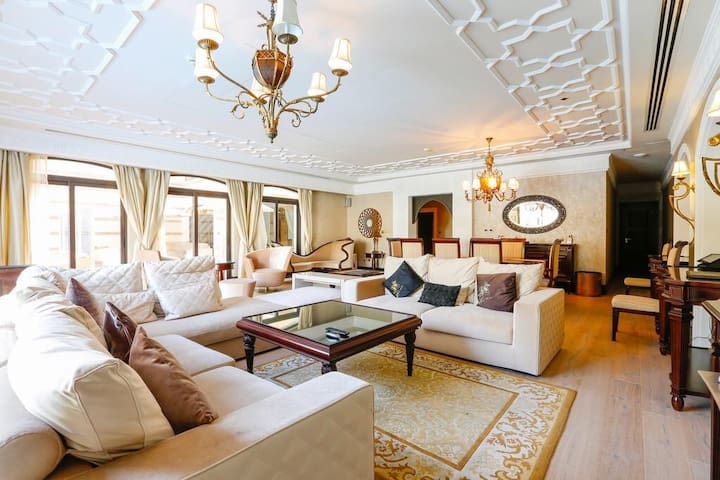 This chic luxury Canal Cove villa is ideally set for a family beach break. The villa is nestled between two fronds and is part of a quiet community of beachfront properties on the world famous Palm Jumeirah. Inside, the villa is spacious with an open plan living and dining area that overlooks the peaceful garden, temperature controlled pool and the beach. It has 3 large bedrooms and a fully equipped kitchen with high quality appliances and a separate games area.
Room Type
Entire home/apt
---
Property Type
Villa
---
Accommodates
6
---
Bedrooms
Dubai, Dubai, United Arab Emirates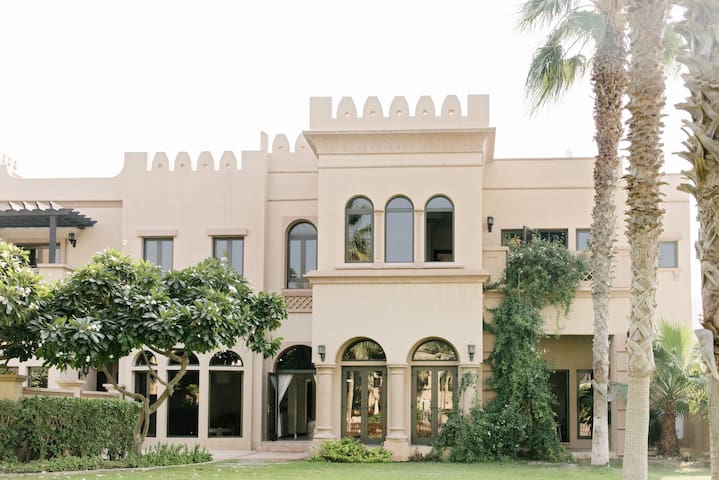 Fully equipped kitchen with high-end appliances microwave, refrigerator, cooking range, toaster, Espresso machine kettle, crockery cutlery etc. Allows you to prepare meals of your own choice. Bedrooms are beautifully furnished with king and queen size beds respectively, plus two single beds, side tables, with lamps and consoles with mirrors and LCD TV. A cozy balcony and terrace with Dubai Marina Tower and Canal view.Professional cleaning, fresh bed linens, bath towels, and toiletries
Room Type
Entire home/flat
---
Property Type
Villa
---
Accommodates
10
---
Bedrooms
Dubai, Dubai, United Arab Emirates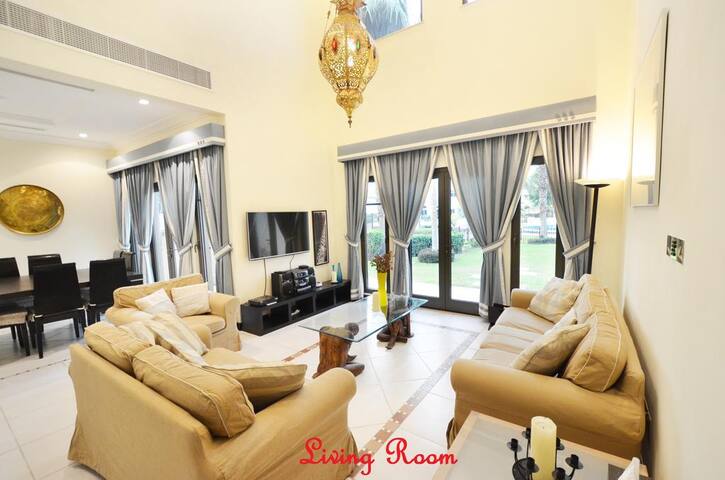 A Stunning Beach Mansion with private pool situated on the Palm Jumeirah which is home to some of the world's most sought after luxury villas. Guests can enjoy unique beachfront living in astonishing surroundings with stunning water views. This villa offers spacious living for all guests. The lower floor living has lounge and dining room with views over the marina.
Incredible property and location. The house comes fully staffed and they are incredible as well. A must do. It is the highlight of our trip. Thank you for the memories.
Ulrich
2016-12-26T00:00:00Z
Room Type
Entire home/apt
---
Property Type
Villa
---
Accommodates
8
---
Bedrooms
Dubai, Dubai, United Arab Emirates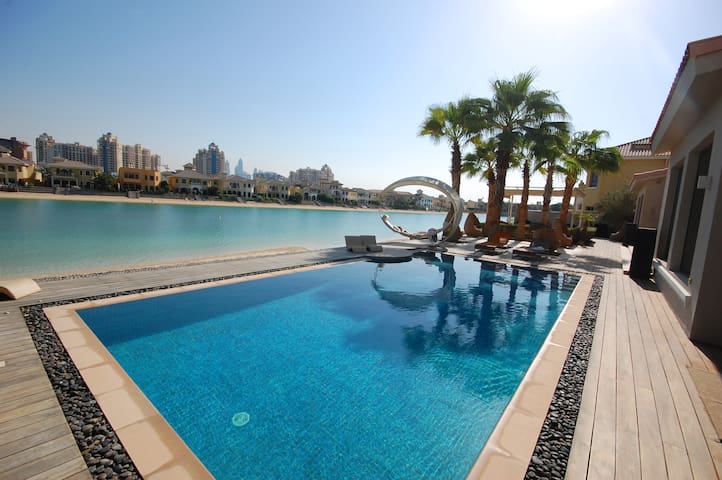 SPECIAL PRICE BETWEEN 27/03 and 8/04 Beautiful view in villa on the beach, located in the Palm Jumeirah Amazing view, the house is fully on the beach and the view for the spectacular fire works is unbelievable. Ideal for families, couples or small group of friends.
SPECIAL PRICE BETWEEN 27/03 and 8/04 Located on the exclusive Palm Jumeirah the villa is fully renovated with an amazing taste.
fully new
Cinzia (the host) was an absolute delight to communicate with throughout the process. It was my first time renting through Air BnB and she made it really easy for us. The villa was amazing and met all our expectations and beyond - being on the beach, what more could we ask for! Everything was perfect from the moment we arrived and Cinzia's maid Rita was just brilliant - she makes the best breakfast! The house was looked after when needed and we had a great trip. The development is new and secure. We had an awesome trip and this was aided by a great host who made sure the villa was all on point and that all expectations were exceeded. I would definitely recommend anyone else looking to rent a villa to contact Cinzia.
Hafeez
2016-01-05T00:00:00Z
The host canceled this reservation 27 days before arrival. This is an automated posting.
fahad
2017-03-02T00:00:00Z
Cinzia`s place is in a very quiet area at the beginning of the palm. It`s very stylish, family-friendly and cosy. We had a great view of the fireworks. The beach in front of the house is very tranquil and relaxing with a great view to Burj al Arab and Burj Khalifa. It`s worth a visit!
Lora
2017-01-03T00:00:00Z
Room Type
Entire home/apt
---
Property Type
Villa
---
Accommodates
8
---
Bedrooms
Dubai, DubAi, United Arab Emirates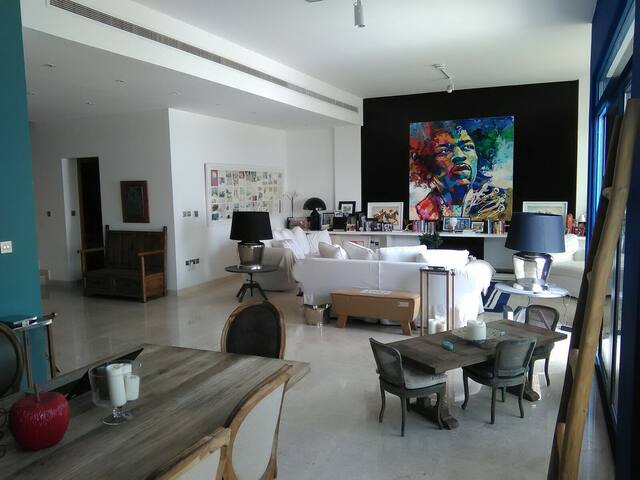 My place is good for couples, solo adventurers, business travelers, families (with kids), and big groups.
Kevin and his associate Mr. Aboud were great help. Upon arrival into Dubai, they initiated contact via phone, text, email, and Airbnb messaging to make sure we have arrived and had transportation to the villa. I appreciated the different method of communication as my cellphone did not work in Dubai. Both Kevin and Mr. Aboud met us at the villa and gave us a tour and provided some needed information about Dubai. Mr. Aboud was our main contact for the villa and general questions about Dubai and the various activities available to us. He also served as our personal concierge and booked activities such as Safari. Anything we needed or requested, Mr. Aboud made a valid effort to fulfill it. The villa was extremely gorgeous and surpassed my expectations. Besides some plumbing issues, I really enjoyed my stay and would definitely book the villa or another villa with Kevin. I want to thank Kevin and Mr. Aboud for a lovely stay.
Quemly
2017-03-26T00:00:00Z
Room Type
Entire home/apt
---
Property Type
Villa
---
Accommodates
12
---
Bedrooms
Dubai, Dubai, United Arab Emirates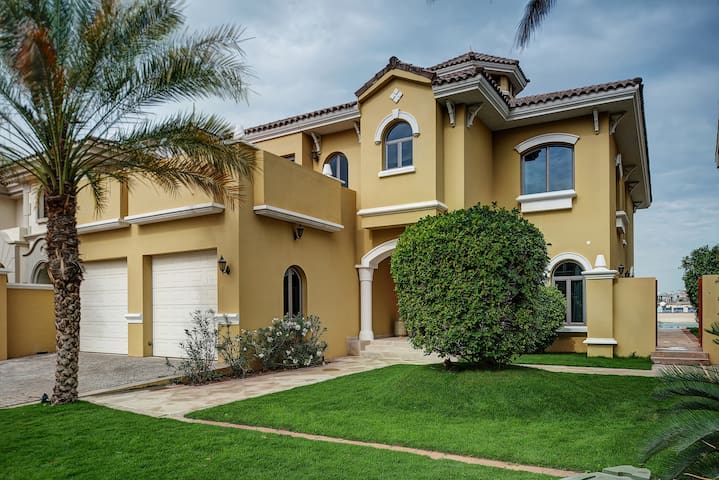 A gorgeous deluxe 6 bedroom Villa is the dream holiday destination all year round. Equipped with tasteful and modern furniture giving the guest the feeling of a cozy home with direct access to a long sandy private beach and plenty of water activities
The Property: A gorgeous deluxe 6 bedroom Villa is the dream holiday destination all year round Equipped with tasteful and modern furniture giving the guest the feeling of a cozy home by the beach The latest kitchen appliances were installed in this gorgeous unit to make sure the guest is absolutely comfortable and feels just at home The HUGE terrace with its beautiful comfortable furniture and an unforgettable relaxing full sea view and golden sand shore sets you free. This villa has direct private beach access making it a sought after property for those who seek distinction and a get away to remember in one of the world's new wonders, the Palm Jumeirah. Temperature control pool is there right at your door steps in case you felt like a quick dip for those that prefer pool water. Plenty of activities including water sports, paddling, kayaking, even scuba diving trips can be arranged through the club in the adjacent shoreline apartments. The Development: Palma Residences Dubai is Situated on the eastern side of Palm Jumeirah's main trunk, the 104 Palma Residences Townhouses have been designed in a contemporary architectural style that reflects their unique setting. Broad terraces, generous balconies and the extensive use of glass provide wonderful views of the Palm's shoreline and careful community planning ensures that the maximum number of properties enjoy a sea view, while generous plot sizes offer ideal spaces for outdoor living and entertaining. Offering ample space for leisure and social activities, the Palma Residences community is centred around six beautifully landscaped green areas, complete with tranquil seating areas, covering more than 3,200 square metres. In addition to the parks, the community has two expansive communal swimming pools, Jacuzzi and dedicated children's pools. The private, community beach is open to all Townhouse residences and provides striking views of Dubai and the waters of the Arabian Gulf. Streetscapes have been carefully designed to provide easy access to the community and balance the needs of pedestrian and vehicular traffic.
The Palm Jumeirah The World's most well-known and prestigious man-made island is a home for amazing residential and Hotel developments. Located off of the coast of Jumeirah, The Palm has become Dubai's most prestigious district and one of the best known, and most sought after, addresses in the world. Palm Jumeirah is a landmark in engineering, providing luxury residences, retail, and leisure facilities. The 16 fronds at the Head of Palm Jumeirah are home to large luxurious villas, each with its own beachfront. Beyond these is the Crescent that goes round the top of the fronds, acting as a breakwater for The Palm, and already home to three luxury hotels that are open and operated by renowned operators; such as Jumeirah, The One & Only Group, and Sol Kerzner's world famous Atlantis chain, with others, such as the Kempinski and Taj, due to open in the near future. On the trunk of the Palm we have the shoreline apartments and other residential options; with the most luxurious of all being the beach and resort-style living at The Tiara Residence, Palm Jumeirah, Dubai
Incredible villa in a great location. The villa was cleaned regularly and gifts on arrival were just what was needed after a long flight. Thank you for your hospitality Yanjoon Holidays
Robert
2017-03-02T00:00:00Z
Stunning views of the Dubai Marina, Burj al Arab and the skyline.
Kevin
2015-11-09T00:00:00Z
A lovely light & airy villa with fantastic sun deck in easy Palm location. Liaising with Yanjoon Homes was really easy and both Said and Hamid were incredibly helpful to me! Highly recommended!
Annabelle
2016-02-21T00:00:00Z
Yanjoon Holiday Homes's is a professional villa's and apartments airbnb rental service. I advise you book your airbnb with them, they make sure that your trip is going to be great, Specially thanks to Mr Saif he is a smart and well educated gentleman he will help you a lot in Dubai.
Emile
2017-03-12T00:00:00Z
Room Type
Entire home/flat
---
Property Type
Villa
---
Accommodates
12
---
Bedrooms
Dubai, Dubai, United Arab Emirates
Experience all that Dubai has to offer in this spacious 4 bedroom/5 bath villa equipped with its own private beach, private gardens, and swimming pool. Family BBQs can be a treat for the entire family in your own back yard, and the frond offers the perfect spot to enjoy a bit of fishing and kayaking. The villa itself offers 500 m² of luxurious space with high-quality furnishings, spacious, fully- equipped kitchen and a fully automated audio system for your listening pleasure.
Newly furnished luxury 4 bedroom villa with sandy private beach and private swimming pool.
The host canceled this reservation 104 days before arrival. This is an automated posting.
Tomas
2016-11-26T00:00:00Z
This home is in a beautiful place, however the furniture is a bit worn out and the company that manages the villa is incompetent. The villa was not clean and a number of minor issues with the villa took almost 16 hours to resolve(gas not working in oven and broken lighting outside). Most importantly, however, our family had invited some friends and family to the villa for dinner (7PM) and the security at the gate would not allow them to come to the house unless the building owner contacted them first. After about 2 hours of arguing with the host (after initially being unreachable for at least an hour) they obliged to bother themselves to write a short email allowing our guests to come into the home. Overall, while the location is amazing, I would suggest anyone looking for a house on the palm to look elsewhere as there are many many other options and companies which are operated much more professionally.
Eric
2016-11-26T00:00:00Z
Nice villa , and modern furniture Every thing was fine Thanks for the host Rwida Dr.omar
omar
2016-11-16T00:00:00Z
Nice home. Great host. Thank you for making our vacation more exciting.
Faisal
2016-12-02T00:00:00Z
Room Type
Entire home/apt
---
Property Type
Villa
---
Accommodates
11
---
Bedrooms
Dubai, United Arab Emirates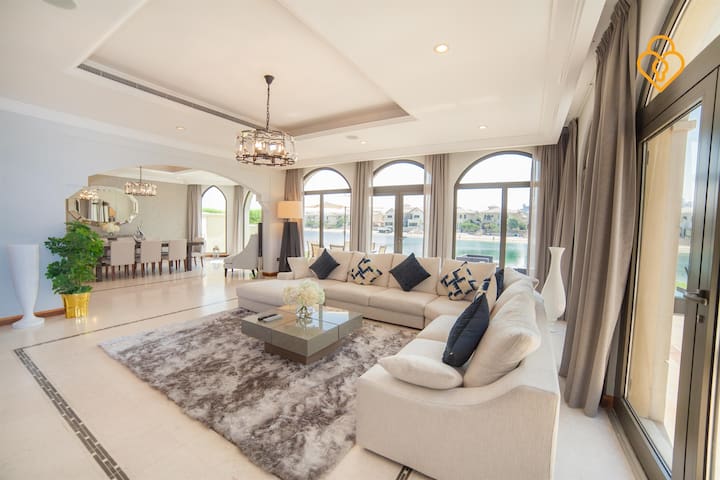 7 km from Mall of the Emirates 8 km from Ibn Battuta Mall 17 km from Burj Khalifa 17 km from The Dubai Fountain 26 km from Al Maktoum International Airport
Room Type
Entire home/apt
---
Property Type
Villa
---
Accommodates
8
---
Bedrooms
Dubai, Dubai, United Arab Emirates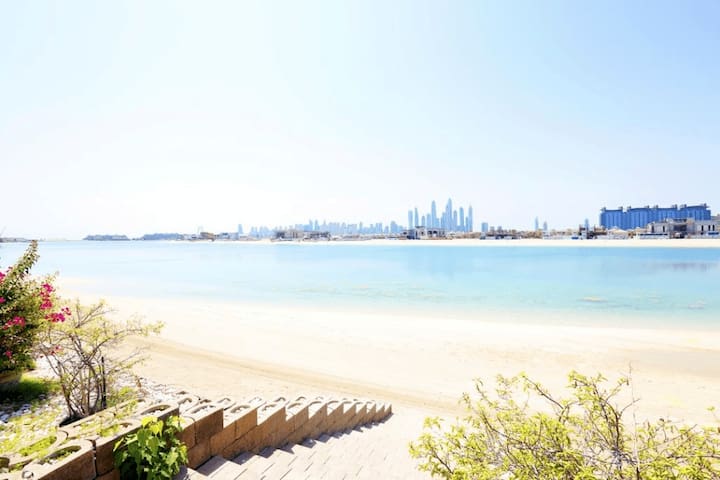 Newly refurbished beautiful 4 bed villa with private pool access and beach access, the perfect respite for any traveler visiting Dubai for either business or leisure.
Located right on the beachfront in sunny Dubai, this villa boasts fabulous views of the crystal clear waters, and is a great place to unwind and relax. Beyond its breath-taking views and stunning beach, the property offers a whole new level of luxury living and is complete with an Arabesque look and feel which is apparent through its wall art, chandeliers, vases and mirrored surfaces. Beautifully designed, the villa opens up to an al-fresco dining and barbeque area, and has its own private pool for guests to enjoy, making it a perfect choice for a special holiday. Each bedroom has a double bed (one room has a double guest day bed), and each room comes complete with luxurious ensuite facilities and built in wardrobes. You will receive complimentary spa products from The White Company to ensure that you feel right at home. Furthermore, you will have access to a 24/7 Nasma Luxury Stays customer care number and concierge service. Upon arrival you will be personally greeted by a Nasma Luxury Stays representative and shown to your villa and its amenities. Check-in: from 3 pm / Check-out: by 12 pm. Items included: White Company spa products, use of all amenities; private swimming pool and beach access, kitchen appliances and items within the villa, full WiFi access throughout the property, cable TV, 2 sets of white fluffy towels per guests per room, 2 sets of bed sheets, use of local calls and secure parking for 2 cars. Tourism Dirham Fee (AED 80 per night) and refundable deposit (AED 5,000) is not included in the rate. Finally kindly note that upon check-in to any of the Nasma Luxury Stays properties, you will be kindly requested to sign the Nasma terms and conditions. Should you want to check these terms and conditions prior to confirming a booking within this property, please contact the Nasma team who would be more than happy to assist. We look forward to welcoming you and wish you an enjoyable stay. PS. We are also available to book on a per day basis for, Networking Events, Product Launches, Business Lunches, Photo Shoots and Video Shoots. Please contact us for more information.
Loved every minute of our vacation! We will definately be back.
Therese
2016-11-06T00:00:00Z
Fantastic Villa clean and the beach is quiet and clean as well. Unfortunately we were only use 60% of its facilities because we are two adults with three children supportive host and easy to contact permanently Everything was comfortable
fayez
2016-08-29T00:00:00Z
Room Type
Entire home/apt
---
Property Type
Villa
---
Accommodates
8
---
Bedrooms
Dubai, Dubai, United Arab Emirates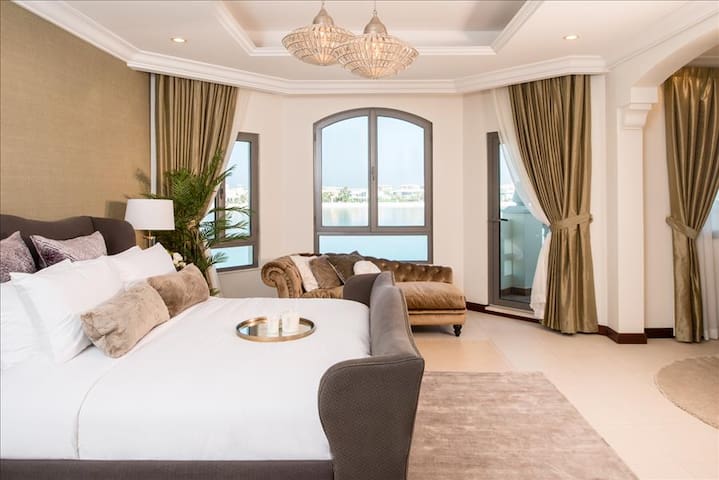 A magical Beach Villa with private pool on the Palm Jumeirah, which is a home to some of the world's most business families and celebrities. Guests can enjoy unique beachfront living, kayaking in a calm water, very near sport centers & beach activity
3 in-suite bedroom with king size beds, 1 extra room downstairs with sofa bed and separate bathroom plus the maids room with bunk bed. Tv has satellite connection and showtime service. Free wifi. PS 3 game for kids. In our villa you can enjoy kayaking, bicycles around the community, swimming pool and a bbq area with big seating and fire torch all around. your magical nights can be felt here in our beach villa
There are lots of sport centers around the area for jet skying on the other sides of the beach. many hotels around (Atlantic, four seasons, Anantra and more) JBR is a day and night area with lots of restaurants just 15 minutes away
Very nice place and Noora very generous in amenity
Mohamed
2017-02-02T00:00:00Z
Noora was extremely hospitable and ensured nothing less than a 5 star treatment. The villa we rented was spectacular with a great sea view and access to our very own private beach. The Villa was also extremely well stocked from basic to extreme household amenities. I would not hesitate for a second to re-book with Noora.
Karim
2016-04-09T00:00:00Z
Noora was great and looked after us. We booked on very short notice, and Noora helped us every step of the way. Fantastic villa in a great location
Adam
2017-02-22T00:00:00Z
Very nice house with perfect beach access. Note that house is within a gated area - getting guests to come over is challenging, but not a big problem. Overall great place - highly recommended!
Eyass
2017-03-26T00:00:00Z
The Vila was amazing and we had great time. Thanks to great host (Noora)
Hamoud
2016-08-21T00:00:00Z
Noora was the most responsive host I have ever stayed with. She's just fantastic
Travis
2016-07-04T00:00:00Z
Great host; she was always available to assist and made the experience very easy (my first airbnb). The villa was nice and spacious; great place for a chilled night sitting on the terrace with guests
Amer
2016-05-01T00:00:00Z
Clean and tidy. Gas stove does not work. There are 3 rooms upstairs with king sized bed while the other 2 rooms downstairs are sofa bed and bunkbed. Host is nice and patient.
MIKI
2016-10-06T00:00:00Z
Room Type
Entire home/flat
---
Property Type
Villa
---
Accommodates
10
---
Bedrooms
Dubai, Dubai, United Arab Emirates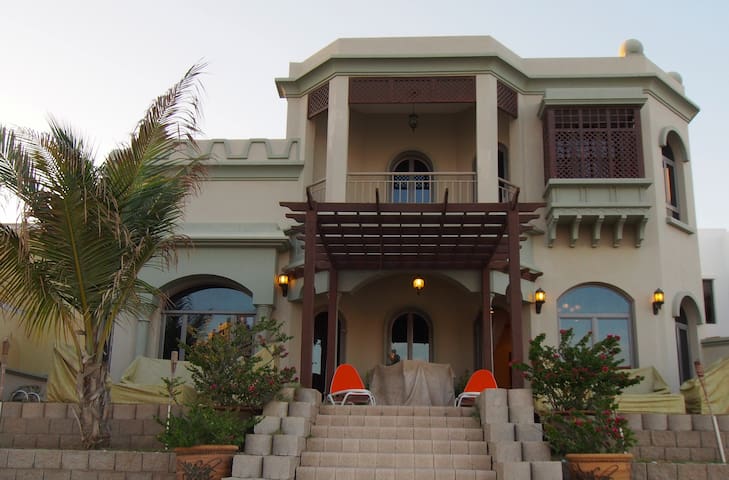 *Central Rotunda Garden Home *4 Ensuite Double Bedrooms + Ensuite Maids Room(sleeps 2) *One of the best positions on the Palm *High End - Owned by London interior designer *Tastefully decorated *Gorgeous living room with double height ceilings, designer furniture & separate formal Dining room *Private Pool and Terrace *End of Frond, Open Water Views, One of the best beaches to swim off on the Palm *Large upstairs terrace NOTE: 4 NIGHTS MINIMUM STAY unless by prior agreement
We believe that Sunset Point is the loveliest Garden home, available for private rental, on the Palm Jumeirah. It is owned by and is the home of, a renowned international interior designer. As such, it has played host to many esteemed guests, from world class international sportsmen to celebrities and even royalty! It has been used for numerous fashion shoots and videos. It is located in one of the best and most exclusive positions on the Palm, at the end of a Frond, offering greater privacy and beautiful far reaching open water views. It's the ideal place to chill out with friends and family, swim, kayak, have a BBQ or just put on a bit of Café del Mar, mix a cocktail and watch the sunset.
This is one of the most exclusive neighbourhoods in the world with neighbours such as Diego Maradonna and has fabulous restaurants, views and amenities at every turn.
Great place, great staff who were very helpful, specially Mamur. Top guy.
Ali
2016-08-27T00:00:00Z
The host canceled this reservation 152 days before arrival. This is an automated posting.
Ulrich
2016-11-17T00:00:00Z
The host canceled this reservation 16 days before arrival. This is an automated posting.
Ulrich
2016-10-23T00:00:00Z
Room Type
Entire home/flat
---
Property Type
Villa
---
Accommodates
8
---
Bedrooms
Dubai, Dubai, United Arab Emirates
My place is close to great views ,beach. You'll love my place because of the location, the people, the ambiance, the outdoors space, and the neighborhood. My place is good for couples, solo adventurers, business travelers, families (with kids), and big groups.
Room Type
Entire home/apt
---
Property Type
Villa
---
Accommodates
9
---
Bedrooms
Dubai, Dubai, United Arab Emirates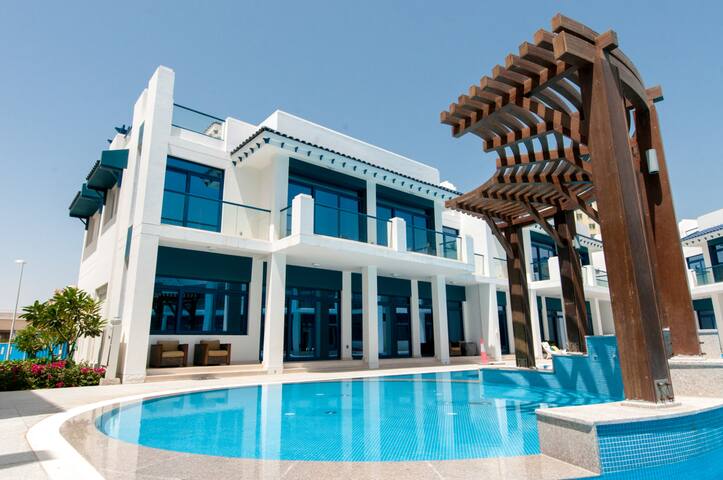 Palm Jumeirah - Airbnb
:
Average

4.47

out of

5

stars from

89

guest reviews
1

–

18

of

58 Villa Rentals
Enter dates to see the total trip price including additional fees (but excluding any taxes).