Enter your check in date in the format dd-mm-yyyy
Enter your check out date in the format dd-mm-yyyy
Listings you can book without waiting for host approval.
Enter dates to see the total trip price including additional fees (but excluding any taxes).
This July and August, you can try one of these 100 highly-rated homes, at all price points, and experience a local's view of Sonoma. 24-hour check-in, Instant Book, and local wine and snacks let you just sit back and enjoy your trip.
Gorgeous retreat on three acres of spires, boulders and stunning views. It's a magical place with artistic flare and utter serenity, close to Mt. Whitney. The house offers sprawling decks, Wi-Fi and cable TV, Wolf range, gas BBQ and gas fire pit.
Jurassic House is a prefab modern home on 3 secluded acres set amidst rock spires and huge boulders from the Jurassic, between 140-200 million years ago. The home is located at 4,600' elevation where spectacular desert meets the eastern escarpment of the Sierra Nevada. The elegance and comfort of the home is a welcome contrast to the rugged surroundings. It has a new heating and A/C system and electric fireplace. All glass is double-pane. The home is wrapped by a sprawling deck - every room has a sliding door leading outside, so indoor and outdoor living flow together. The floors are hardwood floors except the bedrooms, and the deck is made of a soft synthetic material that you can walk on in bare feet. Inside features three bedrooms – one king and two queens – along with two full baths, living room and dining area with stylish furniture, The kitchen has a Wolf range, dishwasher, microwave and coffeemaker There's a separate laundry room with washer and dryer. Outside features a gas fire pit and built-in gas BBQ. The home has free WI-FI and a large-screen TV/Bose sound system with cable access. As you look out from any room your gaze will be captivated by magnificent rocks and towering mountains - the Inyos to the east and Sierra to the west. Across the street is parkland. There's fishing withing a 5 minute drive. Whitney Portal is only 15 minutes away. Some of the most beautiful rock formations are those on and around the property. From the front deck you see Whale Rock, a spire that looks like a breaching whale. At the edge of the rear deck you're standing beneath Massive Rock, an 80-foot monolith. Stroll up the hill and you can sit on a boulder and look at Mt. Whitney, highest point in the 48 states. The entire house is open and accessible except a small 4th bedroom that's kept locked for storage. The spa is not in use. Please feel free to call, text or email me for tips on what to do and questions about the home.
Amazing location in the Alabama Hills above Lone Pine. Across the street from parkland. Great trout fishing within five minutes. Only 15 minutes from Whitney Portal - perfect base camp for a mountain trip. Close to Movie Flat, where hundreds of films were made. The spa is not in use. The water heater is new but smallish, so with multiple guests you need to be mindful of hot water use.
Amazing house in an amazing place! Very easy to communicate with Doug. Thank you
audrey
June 2016
Doug was a great host and provided great advice about things to do in the area. His place is simply amazing, with incredible views of boulders around, and in close proximity to all sorts of beautiful areas. Much recommended to anyone!
Mahesh
July 2016
I would like to start off by saying Thank you to Doug for being such a wonderful host. Email communications were quick, efficient and very helpful. I can't stop raving about this home to my friends and neighbors. Location, Location, Location! The property this house sits on has these amazing boulders to explore/climb on. My niece and nephew spent hours in 15 F weather playing in and around the boulders. We had to bribe them with hot chocolate to come in. The house is beautiful inside and out, and the kitchen was very well stocked with pots, pans and condiments. We already have plans to book this place for the summer to explore all the trails around lone pine.
Stan
December 2016
We loved our stay. The house is very, very nice and very comfortable. What we loved best was the setting. It has magnificent views of the mountains and is surrounded by the most unique rock formations. It feels remote, but close to the town of Lone Pine, a surprising pleasant small town. It is worth a trip to Manzanar, just north of town, and learn more about WWll interment camps. The visitor center on the edge of town is also worth a stop. Doug was very helpful and even texted us on our arrival day to make sure we found the place and to see if we had any questions. This is definitely a place you will enjoy.
Keith
March 2016
Highly recommend! Doug's Lone Pine house is wonderful. Very clean, comfortable, nicely decorated and functional with a great host. I would stay again and would recommend to friends. Doug was very professional, thorough and friendly host. Check in and check out were very easy. Particularly the checkout - a short list with reminders such as to lock windows and doors but not a long list of chores which is very nice when one is on vacation.
joan
November 2016
This place is truly unique and special! We were traveling with someone with very high standards and even he was Wowed! The house is clean, comfortable, artistic and inviting but the views from the deck are so incredible they will draw you out. Predawn morning coffee watching the jackrabbits and sunrise made us late for our activities everyday. (You just don't want to leave.) Drinks around the fire and stargazing will keep you up much later than you planned. Check in/out are a breeze, and Doug is so easy to communicate with. I just hope it doesn't get so popular that I can't get in next time! Clynn PS the WIFI here is really good too. Four of us anxious to share our adventures with friends and family at home had no trouble being on at the same time.
carol
August 2016
We had a great trip to Lone Pine. The house is amazing and in a great location for some fun scrambling around on the rocks. Fantastic view and close enough to town to be convenient for groceries and restaurants. Everything was great, hope to visit here again soon!
Galen
December 2016
This property is so amazing! We loved dining on the deck and looking at the mountains and boulders. We enjoyed exploring the landscape. The house was great!
Chelsey
July 2016
Room type
Entire home/apt
---
Property type
---
Accommodates
6
---
Bedrooms
3
Lone Pine
An entire home recessed on a quiet block in Lone Pine, CA! Within walking distance of the Lone Pine's Main Street, this quite cottage is the perfect outpost to begin your Mt. Whitney Hike, Death Valley Adventure, Fishing Trip, Ski Trip and more! Weekend (Friday and Saturday) accommodations currently require a 2 night stay minimum (Adding a Thursday or an adjacent Sunday will qualify). If you must book a single night on a Friday or Saturday, please contact me to see what we can work out. :)
You will have access to an entire house including front yard and back yard. The cottage is 515 square feet with 3/4 bathroom (Sink, Shower, Toilet), kitchen (Stove, Microwave, Sink, Pots/Pans, Utensils, standard Coffee Maker, Keurig machine - BYOP [Bring your own pod], Granite Counter), living room (POÄNG Chair for relaxing, table for eating with two chairs, evaporative-cooler aka swamp-cooler, hiker's cot (not a hammock!), and bedroom (Queen bed pillow top mattress, ceiling fan, closet space). The front yard features a beautiful Ash tree which changes colors with the season. Note: Lone Pine is currently under water restrictions. While our grass may have suffered, we want you to enjoy yourselves while remaining water wise and responsible. You will have full unrestricted access to the property. A Keypad on the front door allows for 24 hour check in. Your specific code is provided 24 hours prior to check in and is changed after each stay to enhance security. By rule: Check in is 3pm, Check out 12pm. Ask about early check in if you think you may arrive early. My wife and I live in Lone Pine and can be over to greet you upon your arrival but prefer to have you come and go as you please. We have set up the property to allow for 24 hour check in via keypad so if you plan to arrive late, just mind the neighbors. We seek to keep our interaction with you to a minimum as to preserve your privacy and keep the peaceful serenity that is the Eastern Sierras. We want you to feel as if this is your home away from home! We will be happy to provide you with maps of the local area, points of interest, suggest dining options, and assist you with your itinerary. We will be happy to assist you securing transportation to local camp sites such as Horseshoe Meadow, Mt. Whitney Portal, Onion Valley, Manzanar, and Death Valley Visitor Center, and beyond (typically only available during the Spring through Late Summer). Please keep in mind that there is typically a fee for transportation paid directly to the driver, usually between $5-20 per person depending on the destination and specifics requested by the party. We live in town and all issues regarding the function of the home can be addressed in person within 20-30 minutes. Please be accepting of our text messages during your stay. We will reach out to you prior to visiting the property, if there is any immediate information of importance such as road closures, hazardous weather, or imminent fire hazards.
There is no Uber in Lone Pine! There is some public transportation but not like you would expect in the city. If you need transportation to and from major events or trail heads and you have not rented a car, contact me so that I may secure a mode of transportation for you (one way/round trip transportation, not a rental car, 3rd party service use at your own risk, may charge cash). If it's stocked in the house, it is yours to use including the food, coffee, towels, and pans! We do not provide internet or TV. There is free internet on Main St. at every coffee shop, store, and bar. Laundry and car washing facilities are located near Main St. (Less than 1/4 mile away). We generally receive great cell phone and phone internet service from most major carriers. NOTE: Virgin mobile seems to be non-functional in the Eastern Sierras. Pet Policy: We love ALL pets! We welcome your cat or dogs to stay with you inside and out. Please do not wash your pet in the shower or sinks, use the garden hose outside (drains will clog with pet hair). Pet owners are asked to keep after their pet's waste and clean up messes in and out. There is a refundable security deposit (handled by Airbnb) of $100 should your pet create damages you can not/do not clean up or repair (scratching up the paint on the doors, chewing furniture, digging up plants). We will NOT claim any portion of the security deposit simply because you bring a pet! Rover will have to have been really really bad for us to claim... Just let us know you will have a pet with you so we can clean appropriately. Note: Airbnb will not charge or hold your credit card in this amount, you simply agree to cover any damages up to this amount using the method of payment charged at booking. Hired help in brought in to clean and launder after every reservation and requires a one time $30 cleaning fee regardless of the length of stay.
Yes cozy and comfortable. Perfect location for visiting the Eastern Sierras region. Shops and restaurants within walking distance. Whitney Portal less than 30 minutes away. House was well stocked and Robert was available for any questions.
Mark
June 2016
Robert was an outstanding host. The booking process was clear and concise. The Muir Cottage was impeccably clean in a lovely neighborhood at the foot of the Whitney Portal road. Robert was only a phone call away and provided a most wonderful stay. The weekend edibles were a most welcome addition too! Thank you! I would book the East Muir Cottage again as my first choice!!! Looking forward to staying again next summer. Thank you Robert!!!
Lisa
July 2016
Robert was great with communication and description. We enjoyed the little cottage and location. Lone Pine has a lot to offer someone visiting the area. Hiking, photography , hot springs and so much more. We will be back
DAwn
October 2016
We have been traveling the eastern Sierra's for 30 years. Wife and I needed some down time and at spur of the moment decided to book Robert's place. The house was exactly what we were looking for, it was small and clean. The neighborhood was very quiet. The next morning we woke up on our time schedule and went hiking for the day. We enjoyed dinner in Lone Pine, walked the street, and then went back to the house to just read and relax. Robert was very responsive and hospitable. If you are hiking the PCT, JMT, Whitney, or doing any photo shoots in the area, and want a simple kick back quiet location, this is the place. Again, Robert is an excellent host and we hope to return some day.
Russ
September 2016
As usual, Robert was the perfect host. We thought the Muir Cottage was everything and more as it was described on Airbnb. We will definitely stay again. Thank you Robert for a beautiful stay!!
Lisa
July 2016
This was such a cute and comfy,cozy little cottage - just as described! The bedding sheets were some of the softest I've laid in and they were wonderful after a tiring day of driving! Robert made sure to communicate with me and make sure everything went well and I appreciated that. The cottage looks smaller in pictures than it really is. I found it very spacious and enjoyed reading the books that were laying next to the lights and bookcase. I will definitely be staying here again when I come back to Mount Whitney!
Melissa
September 2016
Robert is a SuperHost! Thanks for everything. Looking forward to staying again, next time we are in the area :-)
Christopher
December 2016
I, unfortunately, never go to meet Robert, but did communicate with him several times during our stay. The house was exactly as described and just what I needed after spending 3 days in a tent in Death Valley. The kitchen was well stocked with everything you could want.
Linda Thomson
October 2016
Room type
Entire home/apt
---
Property type
---
Accommodates
4
---
Bedrooms
1
Lone Pine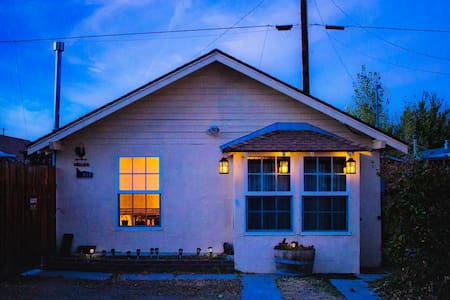 This is located at 6000' and 10 miles from town on 400 acres. The views are amazing and the Sierra are in the "back yard." It is nature at its best and visitors leave feeling refreshed and nurtured. Off the grid. Map available.
This house is located on 400 acres in the Eastern Sierra foothills outside of Lone Pine. It is close to Mt. Whitney, the tallest mountain in the contiguous 48 states and a destination for climbers. Other local attractions include Horseshoe Meadows, Cottonwood Lakes, Lake Diaz, Death Valley, and Onion Valley. There is access to the Pacific Crest Trail at several points in the Owens Valley. The house is large and comfortable. This is the perfect place to make a base camp for exploring the area, or to have a quiet retreat. The views are beyond compare. You are free to walk on the dirt roads that run throughout the property. Other nearby houses are off limits. We are typically working on the property but sometimes make trips to town for provisions. We will strive to be available for check-ins and any questions.
The house is at the end of a mile long road. There other full-time residents on the acreage but no neighborhood to speak of. There is no public transportation available. (SENSITIVE CONTENTS HIDDEN) Maps gives pretty good directions but please get specific directions from me as it can get confusing. It is powered by solar and propane, and includes wood heat in the winter. There is no Internet available and cell reception is sporadic; Verizon is best. Town (Lone Pine) is a 20-minute drive away; there are no stores close by, so make sure to pack thoroughly. The weather also tends to be a little cooler than what is forecast for Lone Pine.
Doroethy drove out and met us at the gate, to lead us to the house. She is very nice. Showed us around, the property is as described. There were 5 of us and we had plenty of room. We did MT. Whitney in a day as a group, we really appreciated how comfortable the are. I have recommended this place to other friends who will be in the area.
Victor
July 2016
Wonderfull place, beautifull house, great reception. An experience to repeat.
Discovery
July 2016
Doroethy welcomed us to stay at her beautiful house built at the foothill of eastern sierra. The house was maintained very well, super clean and very cozy. Both Doroethy and Ron welcomed us and gave us a tour of the house and they were extremely pleasant. The house had everything we needed and more. I would recommend the house for my friends and will also prefer to stay there whenever I travel to lone pine area. In summary its a beautiful house from even more beautiful people and will be a pleasure for anyone to stay there.
Karuna
July 2016
The experience was amazing and beyond what we expected just from seeing the pictures and reading the listing's description. I had expected a quiet, secluded space, but was so surprised by the history and richness of the surrounding area. The town of Lone Pine has great food and great character, and just behind the rental property is some very cool hiking. The property itself was incredibly dynamic and stimulating. Packed with books and movies. A lot of attention is being paid here towards fostering the best possible experience for any visitors.
Thomas
July 2016
What a great experience. Doroethy was an excellent host. The location was amazing. Located a few miles from town, the home was secluded with a magnificent view of the mountains. Such a gem. You won't be disappointed.
Aaron
October 2016
Ewwww!! There were mouse droppings in my bed - which I found after I slept on it. The "A-frame" part of the house had rodent feces in both the bathroom and on the bed we slept in. My parents came night 1 of 2 nights total to pick up my husband and I at Whitney Portal after 8 days on the High Sierra Trail. They stayed in a different part of the house, and didn't have any complaints. The house is cozy and secluded, but really in need of a cleaning (dust on table, old food in pantry and refrigerator) and rodent abatement. Doroethy declined compensating us in any way.
Sylvia
September 2016
Room type
Entire home/apt
---
Property type
---
Accommodates
6
---
Bedrooms
3
Lone Pine
This is a very cozy rustic one bedroom cabin. Giant fireplace with updated kitchen and bath. Just walking distance to the Mcintyr Giant Sequoia Grove and Tule river by the Belknap Campground and the famous mountain bike Nelson Trail! Walk to the Camp Nelson General Store and The Tavern and Nelson Trail.About Camp Nelson,CA http://www.redwoodhikes.com/SequoiaNM/CampNelson.html SEPTIC IS PUMPED FIXED NOW NO SMELLS :)
Nestled high in the trees just at the forests edge.. Walk right out the door turning right and hike the trails. The entire cabin. Please call me from the Tavern or Peirpoint Springs Cafe if you need me for any concerns. I am not on the property and there is no cell service so make sure you have printed both lists before you drive up the mountain. If you have an issues please call me ASAP instead of leaving me a bad review and not letting me fix what ever issue may arise please thank you. I work very hard to keep this cabin up and running at a great price so everyone can enjoy the forest lifestyle.
Walking distance to the Nelson General Store, and The Tavern Restaurant and Bar. Spectacular Mountain views from the picture window and very large deck with a large set of patio furniture. Forest adjacent, walking distance to town and the river stocked with Golden Trout among The Giant Sequoias. The Nelson Trail is just up the street for hiking, horse back riding and mountain biking. Famous for downhill runs going right through Giant Sequoias. The Pack Station provides horse back rides to the Kern River for Golden Trout Fishing. Or hike from the pack station for a day hike to the Kern river bridge in the Golden Trout Wilderness.. Visit The Stagg Tree in Sequoia Crest the third largest , Dome rock for meteor shows, The Needles climb to the lookout tower is Fantastic!!! Peppermint Falls in Lower Peppermint Campground SO AMAZING ..And the slides, a natural water slide. This cabin is available in the winter unlike other cabins in the area. Roads are snowplowed everyday after 9AM. but bring chains just in case. There are Cross country Ski Trails and rentals just 15 min up the mountain in Ponderosa and sledding in the meadow are popular in Camp Nelson during the winter months! Take advantage of the low rates and availability I have in the summer and winter! The door locks all work fine despite some travelers reviews. The back door lock is the kind where you turn the knob inwards right to lock and screw outwards left to unlock :) And despite some reviews the cabin does NOT have an odor. All cabins in the forest are on a septic system so when flushing the toilet it may have a small smell. But I am still not smelling anything! I am there every day. Electrical box must not be broken into to turn wall heater on or damages to appliances will occur leave you responsible.
Our stay at this cabin was a perfect place to get away for a few days. Everything was as expected and Leah was great and easy to communicate with. We will return to stay another time. While staying here we used all the cabins features and had no complaints. The fireplace was especially cozy at night while playing Scrabble, which is available on site. Instead of bringing our own fire wood or buying it we took a drive and found our own wood in the forest some miles up 190. We used the simple yet sufficient kitchen for evey meal. We brought all our own food ingredients to cook with and fully stocked the refrigerator, which was big enough for our three days of food. Our favorite thing is cooking so went went all out with our meals and the kitchen was enough for that. I know who goes on vacation to cook, right? I could get into our menu but I'll keep that to us. The bathroom was clean and all in working order. The claw foot bathtub was like a bonus and hot water was abutment in the bathroom and kitchen. The bedroom was mostly bed but the bed was really comfortable with clean and comfortable bedding. For us the cabin seem to stay at a very comfortable temperature but for those cold blooded there was an extra comfortable blanket on the bed. It was so relaxing to sit in the lounge chairs on the front porch listening to the forest and watching birds do their thing. This was a relaxing getaway for us and that was exactly what we wanted. Thank you again Leah for this stay.
Jeremy
October 2016
We stayed in Leah's cabin for one night after a day in Sequoia National Park and on our way to Death Valley the following day. That being said, we weren't there long and did not do any cooking or exploring of the surrounding area. This was unfortunate because once we were there, we thought it would be a great place to spend a few days! Leah was very easy to reach and responded quickly to our questions, the cabin was just as described and Camp Nelson seemed to be a safe and fun place for a getaway. The bed and bathroom were very clean, my friend and I opted to co-sleep in the bed instead of the hideaway couch just because hide a beds are never very comfortable, but it was clean. Like others said, there is no cell service or wi-fi whatsoever, I would recommend taking a screenshot or printing out the house rules and descriptions on how to lock the doors, etc. BEFORE you head up the mountain so you can reference them while you're there. We couldn't lock the back door because an old lock had been removed making it appear that it has no lock, after we left we could see in the description that there was actually a turn lock there that we overlooked. This is a rustic mountain cabin so, don't expect floors you can eat off, but it was certainly well-maintained, nice and comfortable. The bathroom is fully updated with a great tub and shower. We saw wild mule deer from the deck at sunset which was a wonderful treat. It was a little warm inside, so the fan provided was greatly appreciated. Also, another tip for non-locals like myself -this cabin is UP in the Mountains around the East side of Sequoia Natn'l Park, we were coming from the West and had to go around the mountain and back up to get to the cabin. I'm sure California folks would have expected this but being from Indiana we were surprised when we started climbing up the mountains to 4000+ feet for the second time that day. Unexpected but very beautiful! We enjoyed our stay.
Jaclyn
August 2016
My girlfriend and I had an amazingly romantic weekend staying in Leah's cabin. We were there in mid-November and had no trouble reaching her cabin in my Honda Civic. Upon arrival everything was super clean and cozy. We were there for two nights and brought plenty of fire wood (4 bundles) which was enough to keep us warm both nights. During the day the cabin was comfortably warm and there are a ton of easy access trails nearby. We took a quick drive up to Sequoia Crest and saw the Stagg tree, which was amazing! The kitchen had most of the essentials, but if you plan on doing complicated cooking, you may want to bring a few items.. Large mixing bowl, spatula, chef's knife, and paper towels. Depending on how messy you are, you may also want to bring some hand towels that you don't mind getting dirty. The bathtub was really nice and clean and had HOT water, but I will say water heater seems to only hold enough HOT water for one bath. So plan accordingly when getting clean. No TV or wifi or cell service was awesome, felt great to unplug. Leah has Scrabble, but we brought a bunch of games and cards which I recommend. The nearby town had a nice local tavern with AWESOME burgers, and the general store had an okay selection. If you are looking for a rustic cabin a couple steps above camping where you can unplug and get away from the hustle and bustle of the city then this is the perfect cabin for you! I HIGHLY RECOMMEND THIS CABIN FOR NATURE LOVERS!
Alex
November 2016
Cabin was a little difficult to find, the house numbers on the street do not go in a logical order; #2157 is the house before #2143 and is not past #2156. Otherwise the cabin was clean upon arrival and the smell complained by a prior visitor was absent. If planning to come anytime outside of the mid-summer months, bring warm clothing and either propane tanks (not provided) for the Mr Heater portable propane heater provided by the host or firewood can be purchased from local vendors for use in the fireplace. It got to ~34 deg F (~2 deg C) the nights we stayed mid-September. Bath tub is great for baths but is not ideal for showering as the shower head needs to be held by you or your significant other as there is nothing else to hold the shower head up. Location is great for hiking and there are several sequoia growths in the area. Stagg tree (the 5th largest tree in the world I believe), Dome Rock, and trail of the hundred giants are nearby places definitely worth driving to and checking out. The locals we met at the tavern were also very helpful and friendly.
Derek
September 2016
Leah was very welcoming and helpful when we needed her assistance. Her cabin is a lovely getaway from city life with many easily accessible trails to explore.
Alie
October 2016
Peaceful place in the woods! Very basic, and hard to find in the dark! WARNING it's not in springVille it is 40 mins drive up windy mountain roads. Don't follow the air bnb address follow Leah's personal instructions instead!!! Fortunately the friendly bar man at Nelsons Tavern was able to help and knew Leah. It's a quaint cabin with a small bedroom, but comfy bed after a very long drive. Make sure you take everything you need as it has no real stock in the fridge or cupboard. Back door doesn't lock but the village seems safe. It was mostly clean except for the cobwebs that were in every possible corner! Rustic and relaxing!
Roz
June 2016
The whole experience was lovely. The host very friendly and honest. Out of our way but reachable via phone in case we needed her. We had a great sense of privacy. The stay was rustic and simple, allowed us to reconnect with the nature. The place was tidy and clean. We had to make a fire to keep warm but that's a part of the charm in this remote location and we loved it. Just a walk from the sequoia trail, which was phenomenal! I'd recommend wholeheartedly.
Lucy
May 2016
We loved staying at Leah's place which is a nice quiet cabin in the woods in Camp Nelson. On our way we were dazzled by all the scenic views that Sequoia National forrest had to offer. Although we only stayed one night, we enjoyed staying in Leah's cabin.
Hannah
August 2016
Room type
Entire home/apt
---
Property type
---
Accommodates
2
---
Bedrooms
1
Springville
Located in Ponderosa, CA (7200 elev) heart of Sequoia National Forest. Huge 2600 sq ft rustic cabin with 4 large bedrooms (3 king, 2 queen, 1 full bed, sleeper sofas), 3 bathrooms, game room, mudroom, and all of the amenities of a mountain home. Parking for 6 vehicles.
Peaceful retreat at 7200 feet elevation. Large enough to host multiple families. Enjoy the snow in winter and cool summer weather. All of the supplies for S'mores are provided to enjoy the outdoor fire pit. Outdoor propane gas grill provided for barbecuing. Washing machine and dryer provided for use. Please bring your own detergent. Please bring your own paper products and firewood. A small supply of toilet paper, hand soap, dish soap, and paper towels will be provided. Large groups may want to bring extras. There is a large deck downstairs and a smaller deck upstairs to enjoy the views. Living areas and two bedrooms downstairs, then two more bedrooms upstairs. Master bedroom has a king bed and double bed. Second downstairs bedroom has a queen bed. Upstairs, third bedroom has a king bed and room for an air mattress. Fourth bedroom has a king bed and a pullout twin sized sleeper chair. Game room also has a pullout sofa bed. Guests are welcome to bring their own linens, however, a clean stack of sheets and bedding will be provided for each bed. Several sets of towels are available in each of the three bathrooms. Linen service included in cleaning fee beginning June 2016. Living room and game room downstairs have a living area with a television. Fourth bedroom upstairs also has a small living area with a sofa, chair, and television. Master bedroom and game room also have televisions. Four televisions total, all with DVD players. A large selection of movies are available to guests. Snow gear, three sleds, and two mountain bikes provided for use. Dozens of board games are available as well. Coffee, tea, spices, and kitchen staples are provided, along with an ample supply of sheets, towels, pillows, bedding, blankets, and air mattresses if needed. Full House with front deck and upstairs deck. Beautiful views! Walking distance (less than .25 miles) to the Ponderosa Lodge which features a bar, restaurant, and small grocery store. Ponderosa is a 1.25 hour drive from Porterville, CA. We live right down the mountain in Porterville and are available by phone at almost any time of day. We will call during your stay to check in and will stop by if we are available.
Lots of hiking, horseback riding, fishing, mountain biking (2 mountain bikes provided), and rock climbing, cross country skiing (rental skis available at the lodge), snow shoe and sledding equipment provided for use. Two mile hike to Dome Rock and 10 minute drive to the popular Trail of 100 Giants (giant sequoia exhibit). Kitchen includes all necessary dishes, utensils, and pot/pans as well as a variety of spices and staples. Large fridge, updated stove, Keurig Coffee Machine, regular coffee maker, toaster, griddle, outdoor grill, and other appliances are also available for use. Game Room features an air hockey table, and a WII game console. Please bring your own games and WII controllers. Stairway closet contains over 30 board games. Four televisions with DVD players and a collection of movies to watch. There is not trash service. Guests must take all trash with them to dispose. Arrangements can be made for trash disposal for a small fee.
Communication from Chastity and John was great. My family and friends had a great stay and enjoyed the peace and quiet. The cabin's proximity to the Trail of 100 Giants was convenient especially with 3 children under 4 years old. The guests before us had made a mess of the house and had broken a glass sliding door. Unfortunately, this had not been completely cleaned up before we arrived and we were left to do cleaning to remove the safety hazards for our children. The house is in need of a really good spring clean.
Nicole
July 2016
We had an awesome time. It was perfect timing, 2nd night it snowed. The house was cozy. Didnt like having to keep the fire place going all night to keep some of the house warm.
Anna
December 2016
Chastity was awesome! She always got back to me quickly when I had questions, she was very helpful! The cabin was big, it was perfect for my bridal party! The Quaking Aspen and Ponderosa area is so beautiful! Perfect place to get away from the crowds and relax!
Terra
September 2016
Everything about this home was perfect! Spent our first Christmas in the snow and I can say that the experience was amazing! We are from Santa Barbara we are not use to cold weather AT ALL! There was enough wood to keep the fire burning, Susie was so helpful with lending us extra heathers. The lodge up the street was perfect! We are HUGE Pittsburgh Steeler fans, they accommodated us by playing the football game. Not to mention they have vegan friend food!! My family defiantly feel in love with this cabin and area. We can't wait to go back!!
Cecilia
December 2016
We had the most amazing time at the cabin! Chastity and John were so nice and helpful. The cabin was clean, comfortable and we were very impressed with the stock of cabin games, books and sledding gear! It was the perfect get away for my family after the crazy holiday season. The surrounding area was beautiful as well. There is a lodge up the road and sledding areas within walking distance. We loved the convenience, cleanliness and comfort of this place. We can't wait to come back! Thank you John and Chastity for opening up your place to us and for your kind hospitality! I wish we could give a 10 star rating!
Nicole
January 2016
I and my friends spent a wonderful weekend in this area for some hikes in the snow. Nevertheless, we had many bad experiences for which I won't come back for sure: stuck more than 1 hour outside in the cold and the rain because of a wrong code for the key locker given by the host, impossible to be in touch with them as there is no signal at all, we have been charged for $100 supplemental cleaning fees ($80 already included in the price) for some bad reasons : we were accused having a dog inside (was only the neighbors one around the house), games in disarray but we didn't even play or touch them, items left in the fridge which were already here when we arrived, linen not washed for a weekend rental, Handprints on windows (we are not kids anymore).... We were stuck by the snow, no chains (not necessary according to the host) and hopefully the snowplow came to help us going out of here. Well, at least we will have a lot of stories to tell about this weekend!
Abbee
March 2016
Perfect location for exploring Sequoia National Park. Literally 10 mins from the giants and all the trails. The house everything you need. Very kind host and always available to answer your questions.
Gaurav
November 2016
My family and I had a lovely stay here. If you're looking to "unplug," this is the place to stay. We quickly got used to not having WIFI, cell reception and cable tv; Though there were plenty of DVDs to choose from for adults and kids. The cabin is well stocked with all necessities. Just make sure to bring extra toilet paper if you're a big party and staying for a long time. The kitchen had everything we needed. The host was easy to communicate with and when I called her because I needed to replace an electric kettle we accidentally broke, I was able to reach her no problem. (They provide a landline, thankfully) She was also kind and forgiving about the accident and I ordered a replacement as soon as I got back internet connection. Unlocking the home was no problem but be aware that in takes time to get the house set up I.e. Heat, water. It took the house a few hours to warm up, but once it did, we were cozy. When leaving, plan to spend time turning things off as well. In addition, though there is a cleaning fee, host asks that linen and towels used be washed, folded and put away, and a good cleaning must be done (per house manual, swipe, sweep, vacuum and mop). We wanted to make sure we followed all instructions but were surprised that for the first time in our Air BnB experience, we were ask to launder and clean thoroughly. The laundry took time since we did 2 loads (some sheets were colored). We wanted to get going early in the morning but had to coordinate showers so we could wash towels and linens right away. We would consider staying at this cabin again. There are local hikes that were nice. Minus having to do laundry, it was a fantastic stay.
Marygrace
May 2016
Room type
Entire home/apt
---
Property type
---
Accommodates
12
---
Bedrooms
4
Ponderosa/Springville
Very cute cabin in Camp Nelson. Sleeps six ,has 1 full bath w/shower, half bath on the deck, fully equipped kitchen, gas fireplace, flatscreen tv inside and outside. Gas BBQ and picnic table. Beautiful trees/wildlife on property. 6 people max. Room tax included in price.
Quiet area of Camp Nelson. Close to local tavern/store, trails, fishing, hiking, giant Sequoias. World-famous Trail of 100 Giants 25 min. away. Gas BBQ on the deck.
Quiet, shady, lots of wildlife. Walking, hiking, jogging, driving, biking but no public transit. Parking for a maximum of three vehicles.
Space was beautiful! Very private and had all the amenities listed. Patio was a relaxing place to hang out and neighbors were friendly.
Cristi
November 2016
We enjoyed our stay. The kids did not want to leave, and frankly, neither did we. I love how I was able to bring home clean clothes! Having the washer and dryer was a plus for me. My husband enjoyed the t.v outside as well. We would definitely do it again in the near future. Thanks again.
Mareli
October 2016
We loved this cabin. It was clean, cute and the bed was SO confortable. The ride up the mountain is winding and wild so you'll want to tackle it in daylight. The cabin is surrounded by beautiful pines and the area was peaceful. In the morning, the cool, pine scented air was exactly as I had imagined. Great place and great value but we'd have liked to have wifi inside the cabin as we had no cell service. We'd definitely stay here again.
Linn
December 2016
Absolutely amazing! Randy was so accommodating, even let us use his wi-fi so we could Facetime our son down the hill. The cabin was beautiful! so much space and the deck is awesome!
Jade
August 2016
We had such a great time staying here for our weekend getaway! Randy was super attentive and we couldn't thank him enough for letting us change our reservations (pushing it one day back) due to poor weather/road conditions a few days prior to arrival! The cabin was cute and very clean and the patio deck was nice and big. Although the other bathroom (half bath only) is outside on the patio, it was heated and we had no problem using it at night during 30 degrees weather. It was our first time in Sequoia and everyone had a blast! It was very easy to get to and there's a General Store just down the street if you need to pick up any condiments or snacks. I highly recommend this for any small family looking for a convenient and cozy cabin.
Alice
December 2016
This was our first visit to Camp Nelson and we love the area. We were lucky enough to bump into owner Randy when we first arrived and he gave us some fishing spot tips--we were able to go out and catch a fish within an hour of arriving! The cabin was a great size for our family of three. It was stocked with what we needed in terms of dishes, pans, etc. It was hot and we really appreciated that there was an air conditioner in the family room. No wifi or cell service, but it was good to get off the grid a bit and Randy and Lisa let us connect on their home wifi when needed. Thanks for a relaxing time :)
Carol
August 2016
This cabin was wonderful! We loved every moment of staying here. The only bummer was when we would have to use the extra half bathroom in the middle of the night, we would have to walk outside to use it and it was cold since the other bathroom is located in the private room. Other then that, it was wonderful! Beautiful deck, cable, dart board, and perfect for sitting out and eating the deck! Thank you for having us!
Alexis
September 2016
A Wonderful Stay, quiet, cozy, everything you could imagine. Very clean und tidy we loved the small house and the nice neighbours. The perfect place for vacation! Thank you!
Anna Karoline
September 2016
Room type
Entire home/apt
---
Property type
---
Accommodates
8
---
Bedrooms
2
Camp Nelson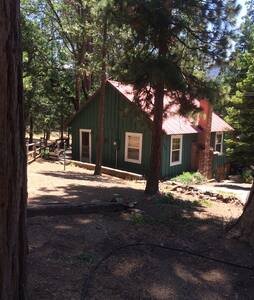 This is a guest room separate from the main house known here in Ponderosa as 'The Aspen Ark'. Since it faces a large meadow surrounded by Aspen Pines. This is an unusual architectural masterpiece built in the 70`s, then known as 'The Bear Cave'
Would definitely recommend staying with Leah! The pictures shown do not due enough justice for the great room she rents out. Room Was VERY private, cozy, and was spacious. We felt so at home and comfortable there. Leah gave great suggestions for things to do in the area. LOVED staying with Leah!
David
August 2016
We had absolutely fabulous time at Leah's place! The location is perfect for getting away from, well, everything besides pure nature. As secluded and private as they come... In the same time, it's cozy and convenient. We will definitely come back at first opportunity. There are tons of things to do, form just sitting in the back yard, watching stars, to some of the best rock climbing in the country. Thanks a lot for sharing, Leah!
Oleg
October 2016
The best pleace to be between the Sequoia tree's. Beautiful pleace and a nice room
Rob
May 2016
The room was great and very private on a beautiful meadow however there is not a view from room but walking outside beauty all around and room was very comfortable i look forward to going back
Don
July 2016
Leah has been very communicative before (and during) my stay and convinced me to make the decision to come in her top-of-mountain-in-the-forrest appartment for my 3-day holidays. Located in the south of Sequoia Park, it is an ideal situation for one who wants to spend his stay for hikking and being in a very quiet place. She also has been very helpful to help me solve my benzine issue when I arrived.
François
April 2016
We had one of the most amazing experience staying at Leah's home In a private room separate from the house, which was beyond and above our expectations, clean well equipped with the basics(microwave ,little fridge,coffee maker and few dishes)to make anyone's stay easy and wonderful. Leah was so welcoming and always making sure we were well taken care of and extremely helpful by giving us accurate directions to local hikes and sightseeings in the area! Leah is such an amazing lady And the best host
Jeanine
August 2016
Great place to stay!
John
July 2016
Leah was the perfect host! The room was cozy and perfect for us and our two dogs. The house is close to many great hikes; we recommend Trail of 100 giants and Dome rock. As well, we were minutes away from a general store and local diner. The views were incredible- it was the perfect retreat from the city. We're very grateful and would definitely love to come back!
Lily
November 2016
Room type
Private room
---
Property type
---
Accommodates
2
---
Bedrooms
1
Springville