Enter your check in date in the format dd-mm-yyyy
Enter your check out date in the format dd-mm-yyyy
Listings you can book without waiting for host approval.
Enter dates to see the total trip price including additional fees (but excluding any taxes).
This July and August, you can try one of these 100 highly-rated homes, at all price points, and experience a local's view of Sonoma. 24-hour check-in, Instant Book, and local wine and snacks let you just sit back and enjoy your trip.
This is a lovingly refinished 1910-era folk victorian rescued from demolition and relocated to the banks of the Cannonball River near Mott, N.D., near the Badlands, Black Hills and in grassland prairie country. The west view to sunsets is so restful and wildlife abounds on the river.
This is a "saved" property, circa 1920, that was scheduled for demolition and moved to the present location. Every attempt was made to renovate this wonderful property and maintain the existing character of the dwelling _ there are some signs of its age _ chips in the old enamel sink, for example _ but those are part of the charm. The entire property is available for guest use. I'm very available by cell phone, but do not live in the community where the property is located. Please feel free to reach out with any questions, or if you need localized information.
You'll find that you have plenty of privacy, but feel to walk around and stop in a say hello to whoever you meet. The downtown is small, but friendly. Mott is a sweet little North Dakota town and the cottage overlooks the Cannonball River that runs through it. Lovely and very pastoral. The local grocery closes at 5:30 p.m. and is not open on Sundays. The local Pheasant Cafe serves wonderful breakfasts and is open through supper. Nearby Regent (15 miles west) has a Cannonball Saloon with a good steak and burger.
Had a great experience at Cannonball Cottage. Will be back
Adam
November 2016
Very unique cottage, enjoyed our stay, would definitely look into staying again
david
November 2016
Lauren was very communicative and helpful as we prepared for arrival. The house is small but cute- it's obvious a lot of love has been put into the house.
Renata
August 2016
We had such a great stay! We made supper in the kitchen and then went into town and caught a movie. The wind throughout the night was awesome - felt like we were back in the 1920's era along with cottage! Thanks again.
Sue
September 2016
This cottage is adorable, a great getaway! The host was very helpful. Due to weather we did not get to experience the fire pit or much outdoors but the cottage was a great place to be for us. Thanks!
Danae
April 2016
Lauren sent great directions and responded quickly to our questions. We had a wonderful visit at the Cannonball Cottage. It was the perfect place to relax and enjoy solitude as well as being a good home base for exploring the Badlands and Teddy Roosevelt National Park. It was a little drive to the park, but very scenic and relaxing.
Betsy
July 2016
This cabin is an oasis of brilliance in the prairie-land. The river and grasslands behind the cabin look west and if you're lucky (as we were) you could watch lighting storms, hours away, as they march toward you. The cabin itself is even more delightful than the pictures suggest. Oh the mermaids!! Be prepared to feel your roots - you might be reminded of your grandmothers' ability to make just this type of space work to raise a family. And I was even able to catch a catfish for supper!!
Athena
August 2016
This cottage was adorable, and the view was amazing! We arrived on a 95 degree day, but although the cottage doesn't have air conditioning, we enjoyed sitting out on the porch in the shade and the breeze, and the night was really comfortable. Our dogs loved being able to run around outside and chase pheasants! Great side trip on our cross-country move.
CeCe
July 2016
Room type
Entire home/apt
---
Property type
---
Accommodates
4
---
Bedrooms
2
Mott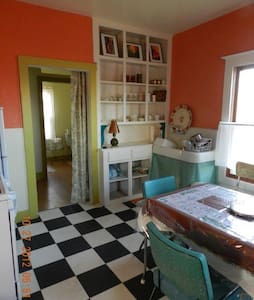 We have 2 Cabins in Medora, North Dakota's #1 Destination. Please refer to my listing on VRBO for available dates. Cabins are fully furnished. We are located 1.5 miles S of Medora, RV hookups available.
Vehicle recommended Cleaning Fee: Nonrefundable standard $50 cleaning fee. We ask you take all garbage to the bins outside, wash your dishes and put sheets and towels is the wash to be dried. If you have time please put linens in dryer and leave the rest to us. We have three properties on site, all booked through our busy season. Your help with the laundry is greatly appreciated! If left with a mess, an additional charge up to $125 will be kept from the refundable damage deposit. The full reservation fee is charged upon booking. Full Refunds are only accepted two weeks prior to checkin date, minus a one day rental charge to cover administration fees.
Brooke responded to all of our questions in a timely manner. The house rules we felt didn't really match what is on the listing description and should be modified. The setting was really nice. The view from the porch of the cabin is incredible in the evening even though it is part of a trailer camp ground, it was a very pleasant setting.
Gordon
July 2016
This place was exactly as you see it online but I think cleaner than you can believe. A great place to stay and what a great little town.
Nancy
October 2015
The space was quite nice. Several other units nearby but certainly far enough out of town to feel private. Description was accurate and Brooke communicated enough without being intrusive. Certainly would stay again if I was back in the area.
Andy
August 2016
Brooke was very welcoming and the pictures and description and prwblvious reviews were spot on.
Shelli
July 2016
Host used email and text to insure we were coming. She gave detailed directions and told us to call (even if it was late at night) if we were confused. The location is great - very convenient to Theodore Roosevelt National Park. Medora has a host of restaurants and shops.
Thomas J.
July 2016
Brooke was very quick to respond to my last minute inquiry, and very accommodating, she provided thorough directions, and the stay was pleasant. The house had everything some guys on a hunting trip needed, including the necessary kitchen utensils, and wine opener! Very clean! Thanks Brooke!
Savana
November 2015
The property was in a beautiful location and we couldn't have asked for a better weekend.
Nicci
September 2016
Room type
Entire home/apt
---
Property type
---
Accommodates
6
---
Bedrooms
2
Medora
Vacant land Close to boating at Musselshell River. The vacant land is in the middle of prime fishing and hunting in eastern Montana. Beautiful views of intact nature. Great starlit evenings. Close to mountains for nice drives or hikes. Outdoor recreation is synonymous with Montana—the state is an outdoor recreationist's paradise. Montana has extraordinary natural assets: including 320 fishing access sites, 50 state parks, 6 national parks and monuments, the Lewis & Clark and Nez Perce National Historic Trails, 9 national forests, 21 national wildlife refuges and 953,574 acres of lakes, reservoirs, rivers and streams. Additionally, many of Montana's private lands are open for public recreation—for hunting, fishing, hiking, 4-wheeling, skiing and snowmobiling. You can try such recreational activities as boating, floating, kayaking, snowmobiling, and trail riding.
Room type
Shared room
---
Property type
---
Accommodates
16
---
Bedrooms
1
10