The cottage is indipendent with a tarrace and garden in the back . The surround is peaceful and calm and part of an organic certified farm
The cottage is very lightened and is composed of one big room studio with a double bed and two single plus a bathroom with shower and kitchenette
Posto in contesto molto tranquillo e senza rumori , fresco di sera ai piedi della val trebbia e delle colline piacentine
Room Type
Entire home/apt
---
Property Type
Villa
---
Accommodates
4
---
Bedrooms
rivergaro, piacenza, Italy
Beautiful villa on the hills of Piacenza, it offers a magnificent view over the surrounding nature, the park and the private forest. The location is very quiet, the only sound you can hear is the birds chirping. Can comfortably accommodate 7 people
Guests can stroll in the park, picking the fruits directly from the trees of the orchard and take a refreshing swim in the large swimming pool. The more daring can also venture into the forest, finding wild blackberries and other fruits and, if lucky, see a deer or a hare. If desired, guests can use the wood oven to make pizza and homemade bread, spending a cheerful evening. Available bedrooms: -2 Double bedrooms (165x215 beds) on the first floor -1 Single bedroom (130x195 bed) on the first floor -1 Double bedroom (two single beds and a sofa bed) on the ground floor There are 3 bathrooms available (each with towels, shower gel and hair dryer) with shower / bath tube, and a laundry room (with toilet and shower if necessary).
In the nearby village of Borgonovo ( 4km away) you can taste the typical products of Piacenza and find everything you need: supermarkets, restaurants, hospital, home made ice cream boutiques etc ... In Borgonovo the following events are available: FIERA DELL'ANGELO - Easter Sunday and Monday FESTA DEL PERDONO - 2 august FESTA DELL'ASSUNTA - 15 august DICEMBRE CON NOI - Every Sunday of December FESTA D'LA CHISOLA - 1st sunday of september MARKETPLACE - Every Monday morning A few miles away from the villa is the restaurant "La palta" awarded 1 Michelin star.
This is a gorgeous villa. It's extremely spacious and well equipped. The situation is beautiful and the pool is fantastic. Perfect.
Fiona
2016-08-18T00:00:00Z
Fantastic holiday in an amazing place!!! We stayed in Federico's house with 6 persons one baby (1 year old) and a dog. We had really a perfect holiday! The villa and the garden were very clean and neat. Also the swimming pool, which is really as large as seen on the fotos! We didn't have such a well equipped kitchen in any other holiday home we have stayed before! We got much more than we expected! On the day we arrived Federico waited for us with some regional specialties (Thank you again!!!) and gave us a well structured introduction in all things concerning the house and the neighbourhood. He also gave us some recommendation for restaurants, wineries and markets. For questions Federico was always available via telephone. Federico is a very friendly and courteous host and we would like to spend another holiday in this charming place!!! Thank you for everything!
Marius
2016-09-09T00:00:00Z
The host canceled this reservation 88 days before arrival. This is an automated posting.
Mark
2017-03-10T00:00:00Z
Everything was how we expected it. Federico was a very nice host. We had a good time at the villa.
lou
2016-05-09T00:00:00Z
My Family and I stayed at Federicos beautiful villa for 2 Weeks in august. Federico already waited for us when we arrived and gave us a short summary about the house. Everything was as described here at air bnb. The Villa was very clean and everything was in a great condition. The estate was well-tended and the pool was clean. Also Federico was like the perfect host. He gave us great tips for our vacation and helped us immediately when we had problems. We had a very greate time at Ferderico's villa and hope to visit it again, soon.
Jan
2015-08-02T00:00:00Z
Federico is a very kind host and we loved to stay at the villa. He always answers to emails ore phonecalls. The villa has a very nice view and a very large garden with a nice pool, pizza ofen and bbq. We also enjoyed the generous kitchen and livingroom with the large open fireplace! The villa is in a great shape and very clean! We would love to stay at the villa any time again!
Julius
2016-03-06T00:00:00Z
Very nice welcome. Friendly, accurate and prompt communication. Beautiful views, clean and big swimmingpool. The villa exceeded expectations.. Recommended.
Geertjan
2016-07-24T00:00:00Z
We were the second guests of Federico, but we are sure many will follow after reading some reviews. The house is really superb! It is even better than the pictures. - It is big (comfortably accomodates 8 (1 double bed is a bit smaller, so maybe 7 if you prefer big beds)). - Nice kitchen with dishwasher - Large spaces (we didn't use all of them). - Nice terrace, with an outside BBQ. - It is a huge!!! domain. You can talk a walk around it. - There is AC in the bedrooms. - It is really quiet, located on top of a hill, with great views. Federico is a nice host, he welcomed us when we arrived and really tries to think of little things to improve your stay (like a house manual and advice of restaurants, places to visit, ...). On the environment: you should come by car, but in that case everything is really close (supermarket, restaurants). Milan is a worthy day trip and Piacenza is also a nice town (only 20 minutes). But with the swimming pool and the nice house, you should also stay a couple of days to relax. Definitely recommended!
Thomas
2015-06-28T00:00:00Z
Room Type
Entire home/apt
---
Property Type
Villa
---
Accommodates
7
---
Bedrooms
Borgonovo Val Tidone, Emilia-Romagna, Italy
Charming country house close to Piacenza and ideal start point for visiting the famous "Colli Piacentini" (Hills of Piacenza) with their castles and medieval villages. We have two suites and two double bed rooms, each with private bathroom.
sala biliardo e sala TV. Al primo piano ci sono 4 stanze matrimoniali, tutte con bagno privato, e due anche con anticamera con divano e guardaroba. Beautiful villa, surrounded by a large park. At the ground floor the is a large living room with a chimney, a lunchroom, a billiard room, a cable TV room and a reading room. The sleeping area is at the first floor.
Room Type
Entire home/apt
---
Property Type
Villa
---
Accommodates
8
---
Bedrooms
Piacenza, Emilia-Romagna, Italy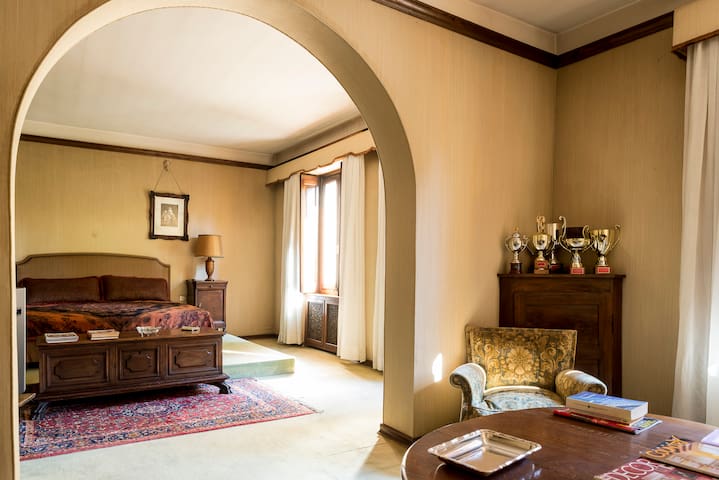 Esta casa de piedra finamente restaurada, totalmente independiente y ha añadido 35.000 metros cuadrados de terreno de propiedad. Gran jardín con porches panorámicas y completa horno de leña de mampostería. El alojamiento está indicado para copias y familias que quieren descubrir la tranquilidad y la libertad del campo. lugar ideal para tomar paseos en bicicleta y paseos por el bosque y las montañas circundantes. zona conocida por el gusto toda la excelencia de la cocina Piacenza.
La residencia se encuentra a 70 km de Milán y 35 km de Piacenza De fácil acceso por carretera a Castel San Giovanni (PC) y cerca de 25 kilómetros de conducción.
Room Type
Entire home/apt
---
Property Type
Villa
---
Accommodates
5
---
Bedrooms
Caminata, Emilia-Romagna, Italy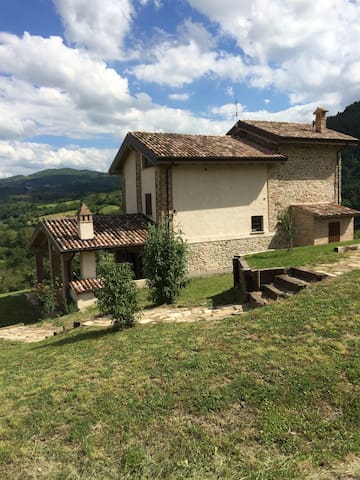 Nice and clean.
Octavian
2016-06-11T00:00:00Z
Room Type
Entire home/apt
---
Property Type
Villa
---
Accommodates
3
---
Bedrooms
Castell'Arquato, Emilia-Romagna, Italy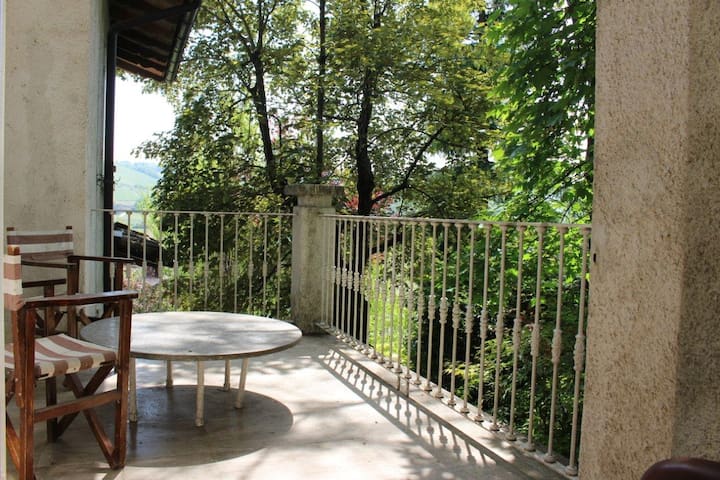 The villa, surrounded by 25 acres of private land, provides an amazing 360º view of Piacenza Hills and complete isolation. With its beautiful terrace and well kept lawn the Villa has plenty of space for outside activities as picnics or barbecues.
The spacious villa allows tranquility, isolation, and relaxing times, and its view is absolutely amazing. It's also surrounded by 25 acres of private land.
25 acres of private land around the villa,
Grande maison isolée au sommet d'une colline : tranquillité assurée ! Nous avons passée de très jolies vacances en famille, la région est magnifique et la maison est très agréable.
Virginie
2016-08-14T00:00:00Z
Casa immersa nel verde, tranquilla e fresca alla sera. Vacanze rilassanti e senza problemi. Grazie Maria!
Pierpaolo
2016-07-29T00:00:00Z
Villa molto spaziosa, location incantevole, mmersa nelle colline, silenziosa, perfetta anche per famiglie con bambini, ideale per gli amici a quattri zampe. Maria e' un ospite premuroso, attento e davvero disponibile. Ottimo rapporto qualita' prezzo. Bella vacanza, ci torneremo!
MoniBaci
2015-08-15T00:00:00Z
Nous avons passé un séjour exceptionnel dans un cadre magique. Le logement est très spacieux et tout confort. Parfait pour un couple avec enfants qui souhaitent des vacances en pleine nature.
Mathilde
2016-05-08T00:00:00Z
Ottima accoglienza, la casa molto comoda e ben attrezzata con un ampio spazio esterno tutto da godere. Un'oasi di pace e tranquillità a pochi chilometri dalla città e un'ottima base di partenza per gite sugli Appennini.
Chiara
2015-08-24T00:00:00Z
Très belle maison dans une belle propriété à 25 min. de Piacenza. La région est très belle et la maison bien confortable. Je recommande.
Stéphane
2016-04-24T00:00:00Z
Room Type
Entire home/apt
---
Property Type
Villa
---
Accommodates
6
---
Bedrooms
Carmiano, Emilia-Romagna, Italy
Villa Tre Cipressi is as elegant and spacious as it is welcoming and comfortable, offering complete privacy and magnificent 360° views that will make your stay a memorable one. Enjoy outdoor activities and alfresco dining in the large private garden. Surrounded by nature, tour the wineries offering tastings and sales of their fine wines, try traditional recipes at nearby restaurants, visit the many historic and artistic sites, all within easy reach of the Villa
The Accommodations and the Territory: Villa Tre Cipressi is located in Val Tidone, in the Province of Piacenza in Emilia Romagna, 65 km south of Milan and Linate Airport, 90 minutes from Milano Malpensa Airport and Orio al Serio international Airport (Il Caravaggio International Airport) in Bergamo. The Villa is approximately 8 km from the Castel S. Giovanni exit of the A21 Autostrada (Torino-Piacenza-Brescia). The closest train station is also in Castel S. Giovanni. The Villa is a gracious country home built in 1920 in the Stile Liberty, and modernized inside for today's comforts, while respecting it's authentic allure. It is nestled on a hilltop in a panoramic position, surrounded by vineyards, with magnificent views of the Pianura Padana and the Alps. The Villa is on a quiet cul-de-sac road surrounded by a large enclosed garden. A welcoming entryway on the ground floor leads to a large hall divided into dining area and both a sitting room furnished with sofas and armchairs, and a relaxation room with widescreen LDC TV and working fireplace; towards the back a large fully equipped kitchen with French doors opens directly onto the garden to facilitate outdoor dining. An internal stairway leads to the upper floor with the sleeping area: two bedrooms each having a double bed, a third bedroom with two single beds (that can be joined to form a double bed), and three bathrooms, one with a whirlpool bath. All the bedrooms have wooden flooring and are comfortable, large and airy with views of the surrounding countryside. The same internal stairway also leads to the lower level fitted as a laundry and ironing area, and a family game room. The Villa is within handy reach of several supermarkets, pharmacies, banks and ATM cash machines, post offices, bars, gelaterie, pastry shops, bread shops and pizzerias, both in Borgonovo (4 km) and Castel S. Giovanni (8 km). Several towns in the area have outdoor public pools, tennis courts, gyms and public libraries. The nearest hospital and medical emergency service is in Castel S. Giovanni. There are several open-air markets where you can purchase fruits and vegetables and artisan food products as well as clothing, shoes and household items: Castel S. Giovanni (Thursday and Sunday mornings), Borgonovo (Monday morning), Ziano (Saturday morning) and Pianello (Wednesday morning). These markets offer the possibility of shopping, and the experience of a relaxing morning mingling with the locals, who weekly visit these colourful markets to meet up to exchange gossip and the latest news! Val Tidone is well known for it's wine production, and the Villa is in the centre of it all, close to many wineries ranging from small family-run firms to large cooperatives, including quality producers who are included in the prestigious Gambero Rosso Guide. The area also boasts many restaurants, trattorie and agriturismi where you can enjoy the local dishes. Piacenza is the only province in Italy to have three D.O.P. products: salame, coppa, pancetta. Emilia is known for its gastronomical culture, and the traditional recipes for Piacentine tortelli and pisarei date back to medieval times. Why choose Villa Tre Cipressi? The Villa is a favourite choice of visitors for a variety of reasons: •It's a perfect place for those looking for a relaxing break away from frenetic city life, lazing in the garden contemplating the vineyards and soft rolling hills, perhaps with a good book in hand. •For outdoor fans, our guests need simply pass through the front gate to start off on a leisurely walk, do some jogging or bicycling along the safe roads or just take in the sweet fresh air. •For gourmets and wine enthusiasts, tastings and shopping in the small shops and the nearby wineries are a rewarding itinerary. •The Villa is a strategic base at affordable prices for visiting Milan, the fashion centre of Italy (65 km) and many other artistic and historic cities like Pavia (44 km), Piacenza (36 km), Cremona (65 km), Parma (94 km) and Mantova (128 km). In an hour and a half guests can easily reach Genoa on the sea (140 km), Lake Como (144 km), Bergamo (117 km), Brescia (114 km) and Sirmione on Lake Garda (144 km). •History buffs can satisfy their love of tradition by using Villa Tre Cipressi as a base for visits to castles and historic points of interest. Val Tidone is home to the oldest castle of the province, the majestic and panoramic Rocca d'Olgisio. Close by are also the medieval castles of Zavattarello, once home of the fiercest warlords, the fortress and elegant residence of Agazzano, and on the bank of the Trebbia River the castle of Rivalta is nestled inside a medieval burg. The territory is rich in history and more than 20 castles can be visited thanks to the Castelli del Ducato di Parma e Piacenza Association. The Duchy of Parma and Piacenza was the state formed in 1550 when the Kingdom of Italy was proclaimed. Many quaint villages and medieval towns in the area have traces of the past in the form of fortresses, castles and villas. Upon your arrival you will be met by the owner for a welcoming and orientation to show you the house and deliver the keys. During your stay, he can be reached for any queries, problems or requests
Une voiture ou une moto sont fortement conseillées. ll y a 2 bourgs à proximité, Borgonovo (3,5 km) et Castel S. Giovanni (7 km), où on peut trouver tous les commerces dont on a besoin et un hopîtal dôté d'un service d'urgence, des pharmacies, la poste et des banques avec distributeur. Vous pouvez profiter des nombreuses vignerons (certains joignables à pied de la villa) pour déguster les vins typiques. A proximité, il y a aussi des excellents 'trattorie' où découvrir les meilleures spécialités culinaires de la région. il y a aussi de bonnes pizzerias au feu de bois. Si vous voulez, mon mari et moi sommes heureux de vous donner des informations sur la région, sur la possibilité de restaurants/tavernes, sur les endroits à visiter, et le shopping ... et ainsi de suite.
We loved our stay at Paolo's house. It is a large house (perfect for a family of 4 adults and 2 children - with 3 bedrooms and 2.5 bathrooms on the second floor) located in a very picturesque rural area, yet sufficiently close to visit cities from Bergamo and Milan in the north to Parma and Bologna in the south. The house was spotlessly clean and had a well-equipped kitchen along with a very large family / dining room with beautiful views over the surrounding vineyards and a piano for children to practice. There is also plenty of land around the house for children to run around, some fruit trees (with plums, figs, pears, etc.), and a pergola for outdoor dinners. The house sits on a one-land rural road, behind a gate, and is surrounded on all sides by vineyards. It is only a few minutes by car to a nearby village and a couple of small towns, one of which has large supermarket (Famila in Borgonovo), which was convenient. Overall, a good base for staying in this part of Italy.
Alek
2016-07-20T00:00:00Z
We have really enjoyed our stay, the villa three cypresses is beautiful and perfectly located with spectacular views. Paolo and his wife have done a great job thinking on the last minute detail to have the villa totally equipped which made our stay so pleasant. We really look forward to coming back and staying in Villa three cypresses again.
Rogelio
2016-09-03T00:00:00Z
Perfect quiet place. Big house very confortable. Ideal for one family. Everything was as described, really clean and with everything prepared when we arrived.
Adolfo
2016-08-23T00:00:00Z
Amazing place! Paolo is wonderful and very helpful.
Albert
2016-10-21T00:00:00Z
Wonderfull stay at paolo's house. Paolo and ´his wife have been very kind friendly and helping, from our arrival to our departure. The house was such as descripted, very great, and well equipated near from beautiful places in the middle of vineyards All the family was very happy. Merci beaucoup pour ce merveilleux séjour à Pollo. Merci à Paolo et sa femme pour leur accueil et leurs conseils. Grazie mille a voi.
Edouard
2016-08-07T00:00:00Z
Abbiamo trascorso il capodanno a casa di Paolo, ci siamo trovati magnificamente. La casa è molto bella, pulita e curata perfetta per sei persone, con tre camere da letto molto ampie e tre bagni al piano superiore. Al piano terra è presente un comodo ingresso dal quale si può accedere alla cucina completa di tutto e molto funzionale, abbiamo cucinato un cenone per sei persone in tutta comodità. Nella sala da pranzo c'è un tavolo molto grande, è presente anche un salotto con due divani posti di fronte a un bellissimo caminetto e al televisore dotato di lettore DVD e di sky. Dalle numerose finestre si può apprezzare la bellezza dei colli piacentini, il che dà un senso di tranquillità, ma nonostante questo in meno di dieci minuti si può raggiungere il paese dove sono presenti supermercati e ospedale. Paolo è stato veramente molto disponibile e ci ha mostrato la casa dandoci tutte le informazioni e rispondendo a ogni nostra domanda, ci ha lasciato anche un pratico manuale con tutte le informazioni pratiche, tra cui la password del WiFi che funzionava perfettamente. Decisamente consigliatissima.
Nicola
2017-01-01T00:00:00Z
Room Type
Entire home/apt
---
Property Type
Villa
---
Accommodates
6
---
Bedrooms
Ziano Piacentino, Emilia-Romagna, Italy
Villa "Borse" è immersa tra i vigneti della prima collina dell'Oltrepò pavese. La villa, recentemente ristrutturata, è circondata da un grande giardino con alberi da frutto che gli ospiti potranno raccogliere direttamente dagli alberi, un grande prato, una piscina con una spettacolare vista sui vigneti, un porticato ed una legnaia recuperata a zona giorno con barbeque in muratura, divani e tavolo da pranzo.
Il posto è perfetto per famiglie con bambini, coppie in cerca di relax o gruppi di amici alla ricerca di un posto tranquillo dove scoprire e degustare i vini prodotti nella zona. La villa sarà ad esclusivo uso dell'ospite che ha effettuato la prenotazione a prescindere dal numero di persone che lo accompagneranno; non si condividerà pertanto la proprietà con ospiti di altre prenotazioni. La piscina, in uso esclusivo agli ospiti, il grande prato dove poter correre e giocare a calcio, baseball o rugby e il ping pong rendono uniche le giornate di piccoli e grandi. La zona giorno esterna con barbecue in muratura e la grande varietà delle cantine presenti nell' Oltrepò, inoltre, allieta il palato degli ospiti. Un'oasi di tranquillità! La casa è distribuita su tre livelli. Al piano terra si trova sulla sinistra la cucina attrezzata in muratura e a destra un soggiorno con camino. Entrambe le stanze hanno una porta finestra per un facile accesso al giardino, sono comunicanti tra di loro divise solo dalla scala che porta al piano superiore. Il piano terra è completato da un bagno con vasca ed una piccola zona lavanderia. Al primo piano c'è una stanza matrimoniale con terrazzo e una seconda stanza, entrambe con affaccio sul giardino, e un comodo bagno con doccia. La mansarda è ampia, affaccia sia sul giardino che sulla parte posteriore della proprietà e sono disposti comodamente un letto matrimoniale futon e tre letti singoli. La proprietà è munita di impianto di allarme e a tutte le finestre sono predisposte le zanzariere per evitare l'ingresso degli amici della natura... siamo sempre in piena collina immersi nel verde! La pavimentazione in tutte le stanze, compresi i bagni, è in cotto fiorentino non trattato e molti dei soffitti con travi a vista passati con una mano di bianco.
Versiggia è un piccolo borgo "sulla strada dei vini" appartenente al comune di Santa Maria della Versa. Ad un ora da Milano e due ore da Bologna si trova tra i vigneti che producono la Bonarda. Interessanti le visite alle cantine e agli agriturismi per degustare i prodotti tipici locali o semplicemente godersi la vista tra un bicchiere di vino e una chiacchiera con gli amici a Villa "Borse". Se può esservi utile troverete in casa una piccola cesta con i bigliettini degli agriturismi e delle cantine che noi abbiamo provato e che ci sono piaciuti.
Room Type
Entire home/apt
---
Property Type
Villa
---
Accommodates
8
---
Bedrooms
Versiggia, Lombardia, Italy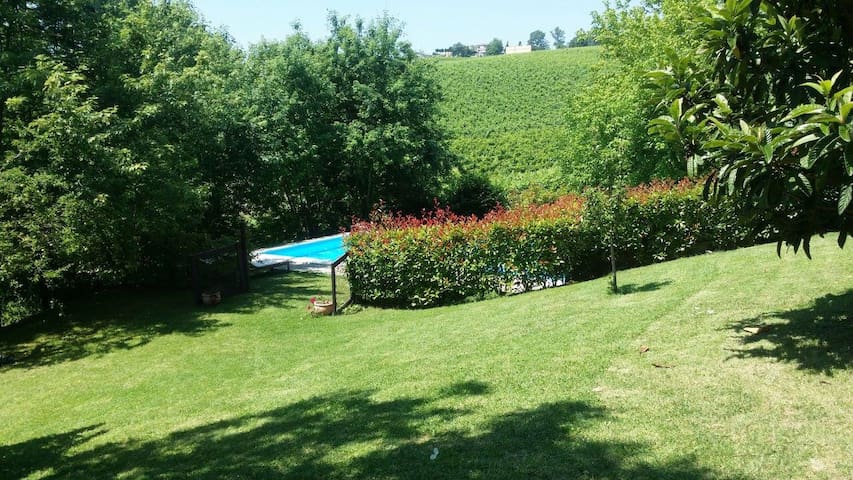 Charming house close to the river Luretta at his source. Quiet and beautiful environment and many cultural and gourmet attractions in the neighborhood
My house is made of stone, has a beautiful patio and garden to enjoy life outdoor. Inside it is cosy and warm with two beautiful fireplaces for cold weather. Up to 10 people may be hosted
Very nice countryside and attraction in the surrounding area
Persona molto seria e precisa. Per quanto riguarda la casa è tutto ideale
Andrea
2017-01-02T00:00:00Z
Room Type
Entire home/apt
---
Property Type
Villa
---
Accommodates
10
---
Bedrooms
Piozzano, Emilia-Romagna, Italy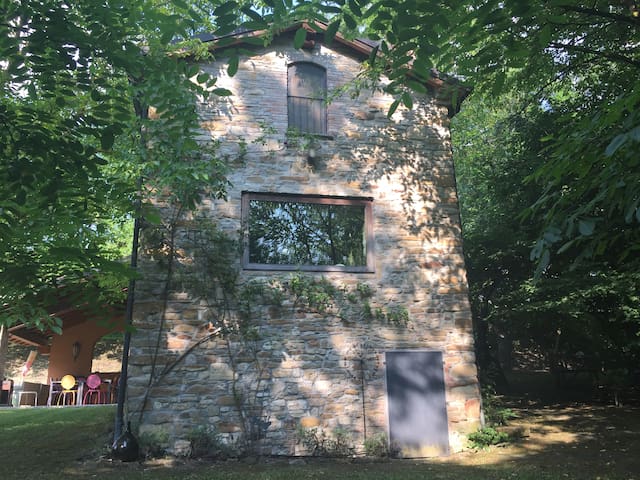 Villa bifamiliare sviluppata su due piani indipendente per ingresso ed accesso con ampio giardino di 1000 mq recintato e circondato da piante di acero . E' sita vicina alle colline e dista 48 km dalla fiera di Parma ( raggiungibile in 40 minuti con l'autostrada del sole ) mentre quella di Piacenza è a soli 25 km . E' una villa immersa nella campagna . E' adatta per ospitare fino a cinque persone . La casa è dotata di camino e veranda con stufa a legna . E' dotata di due bagni . Il giardino esterno di circa 1000 mq è completamente recintato . Gli ospiti sono autonomi nella gestione dell'alloggio.è necessario avere la disponibilità di un auto per gli spostamenti . La città di Fiorenzuola dista soli 5 km ,dove sono presenti i principali servizi Ospedale ,farmacie , banche officina autoriparazioni e supermercati. A 5 km è il sito di Castell'Arquato ed altri castelli sono facilmente raggiungibili visitate il sito ca(URL HIDDEN) Località San Protaso di Fiorenzuola d'arda ad un km dalla frazione ed a 5 km dalla città di Fiorenzuola . Comoda anche per chi vuole recarsi alle fiere di Piacenza e Parma . é a 5 km da Castell'Arquato e Vigoleno , famosi borghi medioevali . La fiera di Parma dista 48 km con uso dell'autostrada e quella di Piacenza a soli 25 Km . l'alloggio è attiguo ad altra abitazione frequentata dal proprietario ed il giardino è recitato
A wonderful house, and a great host. The house is very clean, beautiful and comfortable, staying in it was a great pleasure. It fully met and even exceeded our expectations! The owner of the house is very kind and helpful. We would recommend this house to everyone, especially if you are a city inhabitant and you are looking for fresh air and tranquility. At the same time, you will not get bored there. Many beautiful towns and interesting historical sites are in a short driving distance from the house.
Jelena
2016-10-23T00:00:00Z
Our host made us feel very welcome and was most helpful. The house we stayed in was perfect and lovely and clean with plenty of space and well equipped with everything we needed. The outside space was amazing too. Very rural with peace and quiet and no traffic noise around for miles. It was perfect for us as a family and for our purpose of going to Italy.
Susan
2016-02-25T00:00:00Z
We had a great time. Giuseppe was welcoming and friendly. The house is large and comfortable, is in a rural location. The house has everything you need. Near many supermarkets. Close to Speedway. Within hours, many cities, castles to view. Recommend this house for a visit. You want to return here!
Olga
2016-07-20T00:00:00Z
Nice country house. We really felt like being home. Giuseppe was a great host, always available, very kind & patient (since we had a late arrival) ready to help with details & instructions concerning our trip. The house is very spacious & very well equiped, nothing missing! The tap water is from their well & is drinkable (ther's a filter) so there is no need to cary water as everywhere in Italy. There are 3 bedrooms: a double and a single room on the 1st floor (and one bathroom there) and a double room on the ground floor next to the leaving room & the dinning room (there is also a bathroom on the ground floor). The outdoor area is splendid, sorrounded by green fields, it is really really quiet (it was nice to remember how it feels to sleep without trafficm nearby). There were plenty of supermarkets & shops of any kind in Fiorenzuola (5min by car). There are 2 houses next to the house to not feel alone but there were no dogs & it was really quiet. There is also a very nice closed barbecue area in the house sorrounded by windows, which we didn't use but, must be great in summer. The house is 10min driving from Castell'Arquato & very convenient to explore il castelli del ducato di Parma e Piacenza, even Modena. It is in the fields & not in the collins so it was nice not to climb mountains everytime we left to explore the area. I recommend the place & thank you for everything Giuseppe
Marilda
2016-05-02T00:00:00Z
Nice holiday house with all necessities, including a big garden. Ideal for families. Conveniently located for daytrips in the surroundings (don't miss out Castell'Arquato!). Guiseppe is very helpful!
Andreas
2016-07-31T00:00:00Z
Nos sorprendió para bien la casa ya que la vimos y nos pareció mucho más grande de lo que imaginábamos. Tiene todos los detalles necesarios para pasar una estancia cómoda y sin preocupaciones. Se duerme fenomenal rodeados de silencio en un lugar magnífico. Animo a todo aquel que quiera pasar unos días tranquilos o visitar Milán, Florencia,Venecia,... a que vaya a esta maravillosa casa. Giuseppe estuvo muy atento y nos preguntaba si estaba todo bien y si necesitábamos algo. En todo momento estuvo pendiente y contestaba enseguida a nuestras dudas. Nos lo puso verdaderamente fácil.
Carmen Lorena & Miguel
2016-08-27T00:00:00Z
Giuseppe a été très sympathique et accueillant, et son gîte est très beau et très agréable. Nous avons passé un excellent séjour.
Griot
2016-09-22T00:00:00Z
Una casa immersa nel verde, con tre camere da letto, due bagni, una cucina dotata di tutti i comfort. Giuseppe si è dimostrato molto disponibile e ci ha accolto nella sua casa non facendoci mancare nulla: compresa nel prezzo anche la colazione! Invito tutti a passare una vacanza in pieno relax immersi nella natura! Grazie Giuseppe!
rosa
2016-05-23T00:00:00Z
Room Type
Entire home/apt
---
Property Type
Villa
---
Accommodates
5
---
Bedrooms
Provincia di Piacenza, Emilia-Romagna, Italy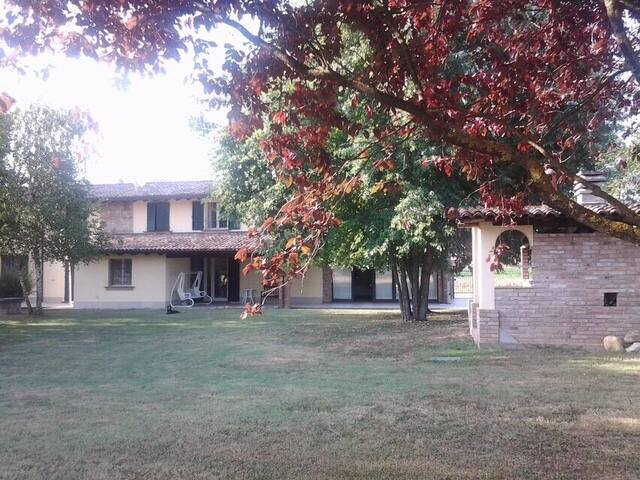 The property is in the middle of the hills surrounding Parma city,a magical place rich of natural parks,castles,and nice villages. You can manage in total freedom and enjoy the house just for sleeping or organizing good lunch and dinner with friends. Parma is famous for theatre,music,and of course food culture. You will discover culinary delights and you can also take your time to visit some of the Museum dedicated to the traditional kitchen,Ham ,Tomato,Parmigiano or Wine Museum.
The house is a typical rural house recently renovated. Three double rooms are on the first floor,with 2 bathrooms. On the mezzanine we have 2 single beds,and in the living room there is a sofa bed for two people. For this extra guests there is a bathroom on the ground floor. The main kitchen totally equipped,has direct access to the wonderful terrace on the garden. In a different part of the house with an indipendent entrance there is also a small house with a double room,bathroom,kitchen with fireplace.
The house is in the heart of a wonderful park,so you can start from here to explore the surronudings. Parma is very close,15 min driving. Within 1 hour you reach the wonderful italian sea CINQUE TERRE.
Un posto fantastico!! Veramente bello per fare una grigliata con amichi e famiglia e pasare la giornata nella natura. Tutta la casa è ristrutturata è molto accogliente e con tutto lo necessario. Niki è stata sempre molto veloce , precisa e amabile nelle risposte a le mille domande che ho fatto. Sicuramente torneremo. Olga
Olga
2016-10-16T00:00:00Z
Room Type
Entire home/apt
---
Property Type
Villa
---
Accommodates
10
---
Bedrooms
Cafragna, Emilia-Romagna, Italy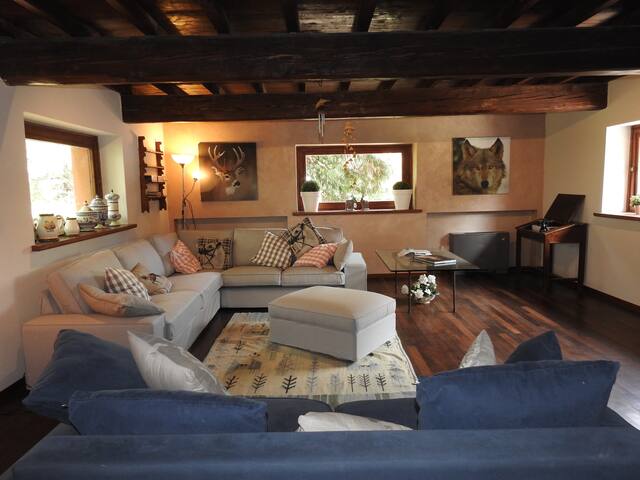 Villa fino a 10 posti letto con piscina e magnifica vista panoramica, 50 minuti da Milano, contattatemi per servizi accessori tra cui autista, cuoco e personale di servizio.
The host canceled this reservation 143 days before arrival. This is an automated posting.
BARBARA
2017-02-16T00:00:00Z
The house was everything that we could have expected; large, light, fully equipped. Stefano was incredibly welcoming, in contact several times so that he could cater to every possible need. We were truly delighted to have stayed in this house and we already to book again for next period. Thank you Stefano for such a wonderful, welcoming break.
Liga
2015-11-21T00:00:00Z
Une superbe maison parfaitement conforme aux descriptions et aux photos. Idéal pour les visites de l'Italie du nord.
Alexa
2016-06-19T00:00:00Z
Room Type
Entire home/apt
---
Property Type
Villa
---
Accommodates
10
---
Bedrooms
Santa Maria della Versa, Lombardia, Italy
For large families and groups of friends, for a special occasion or to make holiday together: all the house and services Pool, Spa, Jacuzzi, Turkish bath, beach volley, Restaurant, Bar, our service will be dedicated to you!
The cottage in 1600, is located on the pristine mountains of Parma. The views over the beautiful valley Stirone, all around the fields and forests are part of our farm. The interior style ranges from the classic and the '70s; all rooms have bathrooms, are spacious and have a view of the bucolic. The barn has become the living room of the house with large panoramic windows and a tiled stone with a large fireplace that warms the room, but also a little heart. The old stable now has a large fireplace and a large table, ping pong, foosball, darts, projector and hifi. We will dedicate a serene and welcoming hospitality in the pristine nature for total relaxation, it will be like being at home. In our restaurant with home cooking, are prepared and served only to our guests who want, wholesome dishes of Italian cuisine with the use of organic products from our farm. When you go out, you can find in front of the house, a large fig tree that you can eat while you take the walkway leading to the bio pool. It is a body of water of over 250 square meters with a natural setting, has degrading access and just as the sea, stroll lightly salted water. Further up the outdoor heated Jacuzzi arranged limit yourself to the forest and facing the sunset over the valley. We then, for the days cooler, a wellness area with turkish bath, jacuzzi and chromotherapy showers. Our energy pyramid and the club house with table football, darts and table tennis are always available for our guests. Our new beach volleyball court, will give you the opportunity to have fun and make healthy movement. Wifi and free parking. We have 7 rooms with bathroom 2 to 5 beds, two superior rooms with breakfast room and a bottle to receive you. The spaces are very large and very large swimming pool and dedicated only to guests of the house, you will have the opportunity to enjoy your privacy, with no obligation to share spaces, outside or inside, with other guests. Some rooms have private access and everyone has a private outdoor area (terrace or garden). The rooms can be selected and reserved according to specific needs. Italian breakfast of organic jams and cakes of our production, our family run restaurant, only for guests who wish, you can have lunch and dinner with wholesome food, grilled meats and vegetables and tasting of local products, the beer we produce and organic fruit of our fields. Private dinners and cocktails on the terrace, whirlpool, or under the pyramid in the middle of a meadow at sunset. NEWS : the roomsPadronale on the 2nd floor and Greca on the ground floor, consist of two rooms, one for parents and one for your children up to a maximum of 4. Or a double bed per room, per two couples. Shared bathroom, located in one of two rooms. The Padronale Room is located on the 2nd floor in a private and quiet area of the house, without passage of other guests, the two rooms each have a door facing the hallway, direct access to a private furnished terrace of the room. The bathroom is inside the room with double bed in the adjoining room up to 3 single beds (or one double). The Greca room, is located on the ground floor with private entrance, a bedroom with double bed and single bed, and the other connecting room separated by a stone wall and a door, a double sofa bed and a mobile single bed, large bathroom . Outside, private space is both rustic We organize group gatherings for anniversaries, birthdays and weddings, we are a perfect location for seminars, meetings and themed sports practices of the group is in the gym or outdoors. Nearby you can organize your holiday, with visits to the numerous castles of the Duchy of Parma, cities such as Bologna, Parma, Cremona, Pisa and Cinque Terre. We'll take you to visit and tasting at the dairy of Parmigiano Reggiano and winery Wine Piacentino, and of course to our workshop production of craft beer. We can arrange horseback riding and carriage rides, rent bikes and we will give you the necessary materials for your excursions.
The cottage is nestled in the quiet of nature that surrounds us. A view with unforgettable sunsets, crickets and fireflies make company, often the deer come out of curiosity. The climate is dry and windy, during the day the sun invites you to bathe in the shade and look out over the coolness of the evening and sleep well with no moisture and no mosquitoes. Our farm organic production of ancient fruits, small fruits (strawberries, raspberries, currants) surrounds the cottage and nature reigns.
What a lovely place! Everything was wonderful - the natural pool overlooking the hills and fields, the homemade delicious food made by Alessandra and family, the comfortable space at the house, and the top notch hospitality of Alessandra. I stayed here for 2 nights with my husband and two friends and it was perfect for what we wanted - a relaxing space in between venice and cinque terre. We were able to do some road biking, wine tasting, castle visting, and a lot of cheese and parma ham eating. Lovely!
Jessica
2013-05-31T00:00:00Z
Our stay with Alessandra was wonderful! Pros: gorgeous views, clean and cozy room, the converted barn house is beautiful, very nice swimming pool, tasty home-cooked meals on request, the bed in our room (the one with the low platform bed) was quite comfortable Cons: definitely a remote location on windy, narrow, switch-backed roads; not terribly close to any villages (~30 min drive), but once you arrive it's worth it!! Overall the stay was very nice. We were the only guests for several days and enjoyed meeting Alessandra and her family (and of course Francine the dog!!). The meals were delicious and we would recommend asking about the prices up front. There are other amenities - like a sauna - we did not get to use but looked amazing. Once you get about 30 min away in any direction there is quite a bit to do - prosciutto, parmegiano cheese, castles, wineries!! Just do your homework first.
Andrew
2013-05-13T00:00:00Z
The reservation was canceled 9 days before arrival. This is an automated posting.
Anna
2013-08-05T00:00:00Z
Charmant endroit, perdu au milieu des collines surplombant Parme. Mais vu le prix que l'on paye, on s'attend à un hôte et à une qualité d'accueil irréprochable, ce qui n'est pas le cas. 1/ J'avais réservé une chambre avec ma copine pour une nuit seulement. Nous étions arrivés très tard sur place, et comme il était indiqué "heure de check-out flexible" sur notre réservation, nous espérions pouvoir profiter de la piscine une bonne partie de la journée suivante. Surprise et désenchantement lorsque l'hôte nous réclame un supplément de 40 euros pour rester après 13h...(soit presque la moitié du prix de la chambre)! On s'est sentis un peu mis à la porte, vraiment dommage. 2/ Pour une chambre d'hôte faisant la promotion du bio et des bons produits de la campagne, le petit déjeuner était décevant. En lieu de jus de fruits et de pain frais, nous avons eu droit à des jus concentrés et des biscottes. Dommage. Je souhaite à cette chambre d'hôte tout le mieux du monde car il y a du gros potentiel. Mais cela demandera quelques petits efforts...
Nicolas
2013-07-07T00:00:00Z
Posto molto bello, struttura ben tenuta e grande ospitalità. Con un gruppo di amici abbiamo praticamente occupato l'intera struttura e abbiamo cenato e pranzato lì ... Forse senza piccoli al seguito avremmo potuto sfruttare di più i servizi offerti.
Michela
2014-09-22T00:00:00Z
Room Type
Entire home/apt
---
Property Type
Villa
---
Accommodates
16
---
Bedrooms
Grotta, Emilia-Romagna, Italy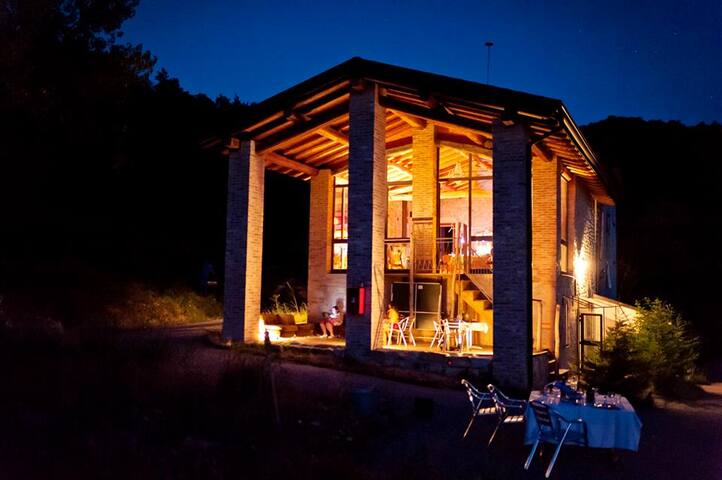 My house éperfetta for couples, families with children, large groups and furry friends (pets). It seems to have been built to be comfortable people with its spaciousness, yet welcoming all the sunlight that goes into many windows with spectacular views of the Ceno Valley. A magical place to enjoy clear skies, spring waters and forests of fir and beech trees. The plants in the herb garden listen donate intense aromatic sensations.
Built of local stone in 1928 is restored with attention to detail in 2006. The terracotta floors, stone stairs and Provencal pottery of bathrooms create an authentic continuity with the outside natural environment. In winter, every room has a radiator, tiled stove and the fire in the fireplace that make the house welcoming and relaxing. In summer the air conditioning is unnecessary here because the house with its thick stone walls is a fresh environment. When plain gasps from the heat in our house is fine The kitchen is functional and tradition, has the ceramic worktop, four burners, a convection oven, refrigerator, freezer, toaster, pots and naturally available crockery and tablecloths. In the living area is a large wooden table tavern, charming furniture sofas and sofas around the fireplace. Here it is available a comfortable sofa bed for two people and a single sofa bed. The bathroom in the living area has a shower with rushing water and is green ceramic like the meadows around. The sleeping area is on the second floor with two bedrooms and a second bathroom. In the forest the room here is the double end '900 inlaid wood, bunk beds, a decorated wardrobe and a desk. The view to the north is on the hill and the orchard of the rectory, real expert work performance and to the east of the garden of aromatic plants and valley views. In the manor room: double brass bed and a bunk bed in wood. The view from the windows of this room ranges to 180 degrees on the Ceno river valley to the fortress of Bardi giving a magic of times past. The bathroom of the rooms is light blue with a large tub for relaxing baths. Bed linen and towels are available to guests as a complete kit. The television is in the living room with satellite dish, music, library and reading corner. The garden is large with lots of sun but also shady nooks, is equipped with beds for sunbathing, table and chairs for summer lunches, it is taken care of, quiet and perfumed. it is not uncommon to see deer roam the meadows around there and elegant hawks primeggiane in the clear sky. A holiday here is a pure experience in unspoiled nature.
The village where is my house is a typical village of Parma hills, all around organic hay fields for the production of Parmigiano Reggiano. Here and there one can see farms and country houses. Bardi is a stone's throw away from us and there is everything that you want to buy .I also like to go to Bardi walk for the Thursday market and discover new hidden roads. The area is rich in biodiversity, populated by wild animals such as hares, deer, foxes, wild boars, buzzards and hawks.
Room Type
Entire home/apt
---
Property Type
Villa
---
Accommodates
10
---
Bedrooms
Bardi, Emilia-Romagna, Italy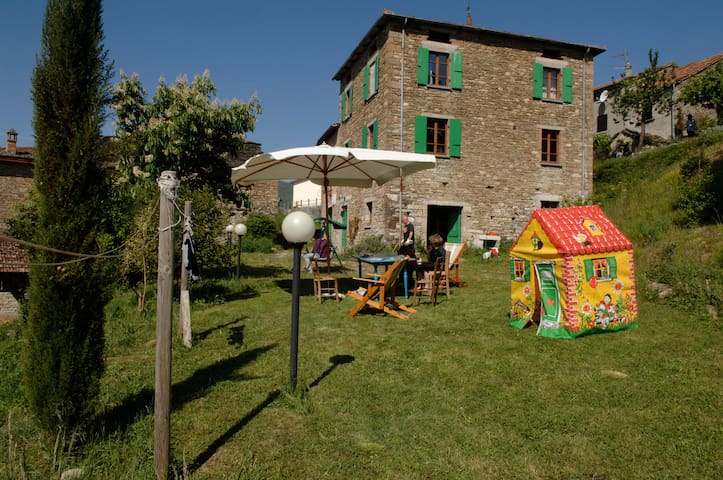 B&B sharing with owner near highway. Bus stop is a 5 minutes by walk and city centre is a 10minutes. Private parking and cover parking for motorbike. Room with private bathroom, kitchen with tv We speak english and french. Turist information
Bed and breakfast sharing with owner in a very quiet place near highway and university. Bus stop is a 5 minutes by walk and city centre is a 10 minute by car. Private parking for car and cover parking for motorbike and bicycle. Room with private bathroom, kitchen and tv room for guest. Beautifull breakfast with possibility to serve it on balcony. We speak english and french. Turist information about city and land in english too.
La casa sorge in un quartiere residenziale tranquillo facile da raggiungere e facile da posteggiare l'auto
Our plans changed a little bit during our trip and luckily for us Barbara and Marco give us a nice welcome and amazing hospitality. They have very nice beautiful house. The room was cosy and clean as the house itself. At the breakfast they prepared wonderful meal for us.
Roman
2015-08-17T00:00:00Z
Barbara and Marco were beyond kind. The room is very nice with a very comfortable bathroom. We had everything we needed. We definitely recommend this place!
Vanessa
2016-11-12T00:00:00Z
We stayed with Barbara and Marco for 1 night only on our way to Tuscany. The location was perfect for us, as close to the motorway and there is plenty of space to leave the car overnight. The hosts are wonderful and the house beautiful! Would absolutely stay again.
Maria
2016-09-03T00:00:00Z
Barbara and Marco are super friendly hosts, they were very helpful in finding their home. The apartment was very clean and comfortable, the bathroom was luxurious. They gave us a lovely breakfast. We would have loved to spend more time talking with them, unfortunately we did not have enough time. Both of them are very interesting and positive, it was nice to get to meet them.
Laszlo
2016-06-25T00:00:00Z
Barbara and Marco are wonderful hosts. We absolutely recommend them and their home if you are ever in Piacenza!
Vijay
2016-08-08T00:00:00Z
Barbara and Marco have welcomed us as almost a members of a family. Even thou we saw each other few minutes due to the busy travelling schedule and a fact that Barbara had to go to work, we were served after one night in Piazensa with a tasty breakfast. I would highly recommend them to everyone as these are the people who truly understand travellers needs. I hope that one day when we will be around we will be able to stay at theirs again!
Sylwia
2016-08-11T00:00:00Z
We had a great time at Barbara and Marco's home. They are both very hospitable and nice people, The room was nice and had a private bathroom, everything was very clean, and they prepared us a nice breakfast. Overall, I would definitely stay here again!
Nitzan
2016-10-14T00:00:00Z
The housing was great, the people were fantastic. Amazing hospitality from hosts Barbara, Luisa and Marco. They treated me like family and made me feel at home, even as they took on a busy pre-planned schedule of volunteering for Red Cross. Inspiring to meet these people and learn their story.
Ben
2015-10-03T00:00:00Z
Room Type
Private room
---
Property Type
Villa
---
Accommodates
3
---
Bedrooms
Piacenza, Emilia-Romagna, Italy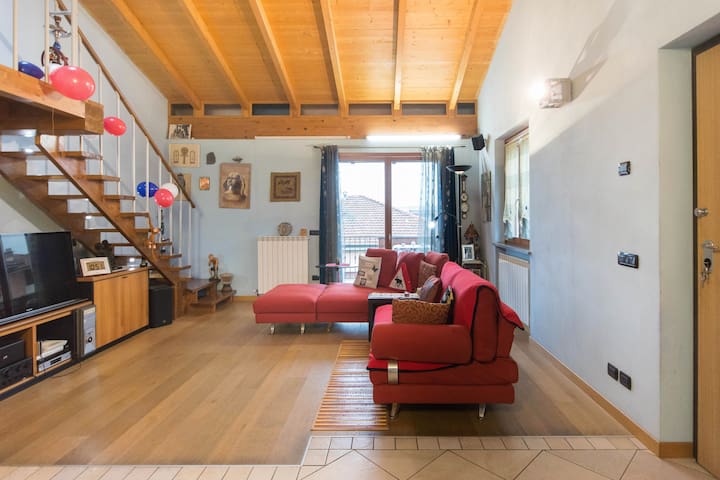 Bobbio is a medieval town founded by Irish Moncks in 614. It is famous for having one of the cleanest river in Italy, surrounded by wild and captivating landscapes. When we discovered a barn right in this innocent environment 20 years ago, we decided to restructure it and build a property. The property, surrounded by a green and peaceful environment, is 1 km far from Bobbio that is easily reachable through a fascinating walk among woods and along the river.
The property is ideal for families with many kids. The surrounding garden is very huge (ten thousands meters) and it is perfect for running, ball games and long walks.
Regardless the property is located in a hilly environment, there are other people living in this area throughout the year.
Room Type
Entire home/apt
---
Property Type
Villa
---
Accommodates
8
---
Bedrooms
Bobbio, Emilia-Romagna, Italy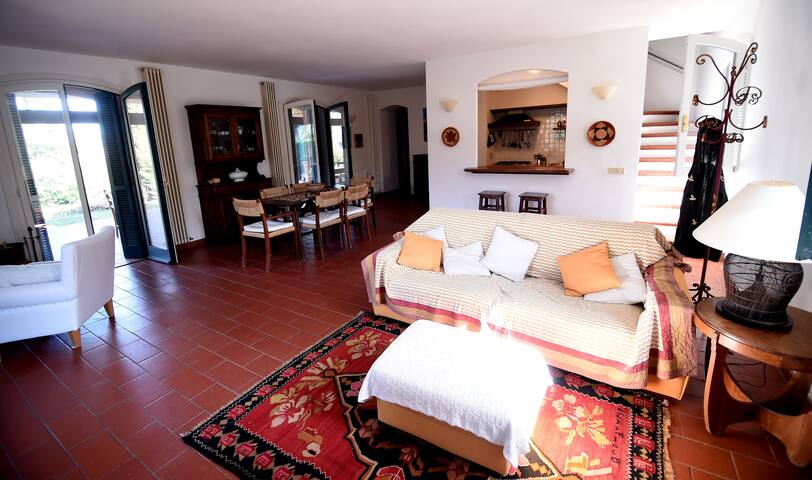 La Davana è il nostro paradiso.... Vogliamo condividerlo con chi ama la natura, grandi spazi , muri di pietra antica, lunghi momenti di relax; per vivere i figli o stare con i migliori amici, quelli veri, in un elegante, attrezzato giardino.
Il nostro cottage è baciato dal sole e dal silenzio. Al mattino le grandi vetrate illuminate ti coccolano durante la colazione. Al pomeriggio nel grande salone con camino è presente una grandissima vetrata per guardare tutto il giardino durante le stagioni e soprattutto i ragazzi mentre giocano.
The host canceled this reservation 163 days before arrival. This is an automated posting.
Anna
2017-02-16T00:00:00Z
Luca has an amazing mansion. The pictures on airbnb do it not enough justice. It seems much larger and even nicer in real life. Thanks Luca.
Christophe
2016-08-07T00:00:00Z
La Davana is nothing short of a piece of paradise. We had a wonderful week and there is nothing I can think of to critisize either the house or it's lovely hosts. The photos do not do justice to the sheer size and beauty of the place. It is so peaceful and relaxing we didn't travel around the area as much as we usually would. Luca and Monia are charming hosts and we had a very warm welcome and send off. There were no problems to deal with but Luca responded quickly and efficiently to a couple of minor questions. We are planning to book again next year, for longer than a week, which is the highest praise I can give anywhere. A beautiful weel eqiped clean spacious property hosted by kind polite charming hosts, not much more you could ask for !
Anna
2016-08-14T00:00:00Z
what a wonderful stay, we visit italy every year, have family there and been to many hotels and homes of family and friends. This home is BIG for the average italian home. 3 dining areas , lovely equipped kitchen, spacious lounge area. The main two bedrooms have air con - also rare for regional home properties. The home was well presented, very clean and comfortable bedding. We had our 15 month daughter and the cot set up was beautiful .The outside grounds was superb - small pool for the kids, flying fox, table tennis, gazebo. the home is spacious, warm and very comfortable. We were greeted by Luca and his mother and father in law. Beautiful warm, kind and friendly people. We were greeted with homemade biscuits and homemade wine typical of the region. You need a car to get around and there is great resturants in the region. we visited this area for business reasons and it sure beat staying in any hotel in the area.
John
2016-09-14T00:00:00Z
Hemos pasado la semana de fin de año en esta vivienda; creo que ha sido perfecto tanto por la casa por el anfitrión; Luca y Monia fueron a recogernos al cercano pueblo de Salsomaggiore porque no encontrábamos la casa; nos reservaron un restaurante para la cena de fin de año y nos aconsejaron en todo lo que pedimos; la casa estaba casi nueva y tiene todo lo necesario para que los ocho que viajamos. Es absolutamente recomendable ya que la zona lo merece, está al lado de la autoestrada para realizar excursiones. No aprovechamos todo lo que la propiedad ofrece debido al tiempo invernal en la que estuvimos; en primavera y verano será una delicia poder volver. Las llaves las recogieron sus padres D. Fernando y Dº. Graziella que fueron también muy amigables y educados. Solo tengo palabras para agradecer a Luca su atención; como digo, esperamos repetir. Un abrazo y hasta siempre.
victor
2016-01-05T00:00:00Z
Room Type
Entire home/apt
---
Property Type
Villa
---
Accommodates
8
---
Bedrooms
Salsomaggiore Terme, Emilia-Romagna, Italy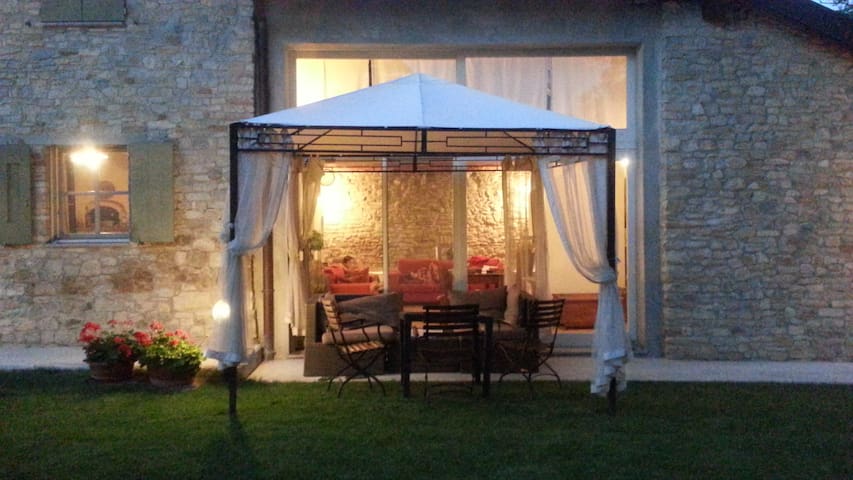 Magnifica cascina di campagna , immersa nel verde . Si possono prenotare le camere singolarmente secondo la disponibilitá o l'intera cascina per un totale di 13 posti letto. Fantastica location anche per wedding ,shooting fotografici o stage a tema. Piscina, equitazione, campo da calcetto,treeking, escursioni fanno di questo posto un paradiso.
-o-o--o-o--o-o- La Cenerara is a charming and elegant Country House hidden in the hills near Piacenza, in the region of Emilia Romagna. -o-o--o-o--o-o- La Cenerara is a two floors Country House: -o-o- On the ground floor... -o-o- ... a large living room of 60 square meters with a fireplace, a large and fully equipped kitchen and two very spacious double rooms (we call them the orange room and the blue room), each with its own private bathroom. There is the option to add one extra bed in each (max 3 people in each room), still having plenty of space. -o-o- On the first floor... -o-o- ... two suites (the purple and the green) that can host a total of maximum 4 people in each. The suite have their own private living room (one of them has also a kitchen), and a large bedroom with double bed and two single beds on a loft. Every room and suite has an elegant en suite bathroom with shower and bath. The rooms also have a safe, a TV and a telephone. Every room is accessible from a separate entrance/staircase. On the first floor there is a little extra bathroom. WIFI connection is included. The house is surrounded by a beautiful garden, cared for in every detail. In the greenery is immersed the swimming pool, that becomes a pleasure to stay at during spring and summer season. The pool is open from around mid-May until around mid-September. Football lovers can play on a grass mini five a side pitch, while children can enjoy our large trampoline. -o-o--o-o--o-o- Extra services, breakfast, maid cleaning, laundry service, food shopping, can be arranged on request. -o-o--o-o--o-o- The house beside La Cenerara belongs to the owners, us. We stay there and use the pool just occasionally. In our same house lives the caretakers of the property who remains always available for any emergency. -o-o--o-o--o-o- There is also an area totally dedicated to horseback riding: ten large stalls with private paddock and a large outdoor sand arena for training horse. We can host horses that need a rest or are at the end of their career in a field or in their own private stall. If you desire to have a short or long holiday with your horse this can be combined with the weekly rental of the country house. The structure is available for demonstrations or horse riding courses. La Cenerara is part of the Ippovia (horse trail) that connects Parma to Piacenza, passing through striking trails in the hills. There is also the possibility of organising splendid treks on horseback in the provincial park of Monte Moria. -o-o--o-o--o-o- NOTE In the past we have had guests complaining about spider webs and sometimes finding small insects in their room. We do our best to keep all the rooms exceptionally clean and tidy. La Cenerara, however, is completely surrounded by greenery, flowers, plants, and all these are part of the insects habitat. This makes it very hard to guarantee the same level of sterilisation that people are used to in urban areas. We believe in not poisoning/destroying the ecosystem and for the same reason we usually dislike spraying insect killer everywhere, as some guests have asked us to do in the past. Spring and summer are a joy for nature, and insects are part of that world as well. -o-o--o-o--o-o- PETS We generally allow guests with small/medium pets, however please always check with us before. -o-o--o-o--o-o- DISTANCES: Nearest restaurant: Carignone 1.5 km Nearest supermarket and village: Rustigazzo 3 km Nearest town with bank and post office: Lugagnano val D'Arda 14 km, Carpaneto 19 km Naerest Golf Club: Castell'arquato 18 km Main cities Northern Italy: Piacenza 38 km, Cremona 60 km, Parma km 70, Milan 100 km, Mantova 120 km, Modena 120 km Nearest airports: Parma airport km 70, Milan Linate km 100 DAY TRIPS FROM LA CENERARA: - Milan - Cremona - Mantova - "Cinque Terre". You can drive until the town of Lerici (2hours drive) and then rent a boat tour to visit le Cinque Terre We will be happy to help you out and give suggestions if you need. -o-o--o-o--o-o- The structure and hospitality of La Cenerara is at disposal for seminars or business retreats. It is an ideal location, equipped and adaptable, for almost any kind of event. -o-o--o-o--o-o-
Thanks to Isabella and Michele for their hospitality and kindness ! and for their help to organize such a great day in cinque terre ! The house is beautiful, even bigger than we thought ... Our children loved the place (swimming pool, huge trampoline and soccer field ...), and the cake and pastas !
eve
2015-08-14T00:00:00Z
We had a great stay from the moment we arrived late thursday to a set table and a prearranged delicious large italian dinner, to the moment we left. Great location and service, and very patient hosts!
Jens
2013-10-14T00:00:00Z
We had the most wonderful vacation with our family at La Cenerara! It is the perfect place for a relaxing group holiday. We especially enjoyed the great equipped kitchen and barbeque area as well as the spacies and very well kept pool. The soccer field wasgreat for the kids. If you are looking for a holiday in the italian country side we can most certainly recommend this house! Thank you Isabella for your warm welcomings and all of your efforts!
Iris
2016-09-02T00:00:00Z
The lovely La Cenerara was just as beautiful and stylish as in the pictures. We had such a lovely time here and we would love to come back one day. La Cenerara is in the countryside, with a beautiful view overlooking a small valley. From the bedrooms we could gaze out on the horses and the fishpond, and the livingroom and kitchen have huge windows with a view to the garden, a fairytale garden to fall in love with. The house, kitchen, bedrooms and bathrooms was very clean and neat, towels wrapped up with lavender and a bottle of wine waiting for us made us feel very welcome. Isabella was very sweet and helpful in every way, and had good tips for where to eat, markets and where to shop. We stayed here for 1 week, 2 families with 5 kids, and our kids fell completely in love with the two dogs on the property. And so did we. We loved staying at La Cenerara.
Caroline
2014-07-27T00:00:00Z
Beautiful house and surroundings! We loved staying at La Cenerara. The kitchen, while large and spacious, was not very well equipped on arrival, but Isabella was quick to provide us with the things we needed.
Jeppe
2014-07-20T00:00:00Z
The house is an absolute gem! Words can't describe the tranquility and beauty that surrounds this place. If you're looking for a place to scale down and relax you can't find a much better place!
Jesper
2015-07-17T00:00:00Z
Isabella and Michele made us feel incredibly welcome. They introduced us to the house and how the logistics worked - as well as including thoughtful touches like a box of beautiful vegetables from the garden for us. The house is even better than the pictures on the website suggest. Awe inspiring views, different areas of the house to explore, enough space for at least 3 full families. Our jaws dropped when we saw the place. It is great value and we will definitely recommend it to our friends and family. We had privacy all the time but felt safe knowing that the housekeepers were nearby if we needed anything. We were sad to leave and now are back in rainy Scotland. Plus, we miss Brando and Tilly very much too. Isabella even left us freshly homemade pasta on the last night. In summary - I couldn't recommend the house and the whole experience more!
Jon
2014-09-14T00:00:00Z
3 days of paradise, everything perfect and even much nicer than on the pictures. a place to relax and keep the soul calm ❤️.
Puje
2015-06-04T00:00:00Z
Room Type
Entire home/apt
---
Property Type
Villa
---
Accommodates
13
---
Bedrooms
Velleia Romana, Emilia-Romagna, Italy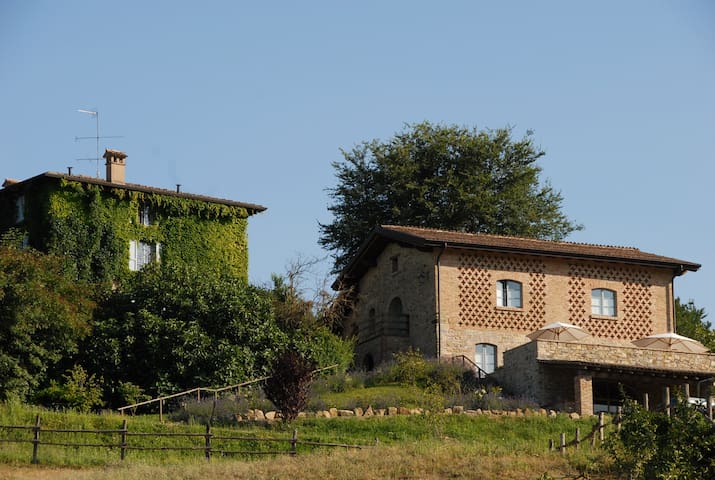 Morfasso - Airbnb
:
Average

4.69

out of

5

stars from

159

guest reviews
1

–

18

of

62 Villa Rentals
Enter dates to see the total trip price including additional fees (but excluding any taxes).