Enter your check in date in the format dd-mm-yyyy
Enter your check out date in the format dd-mm-yyyy
Listings you can book without waiting for host approval.
13 Villa Rentals
· Miskolc
13 Villa Rentals
· Miskolc
Enter dates to see the total trip price including additional fees (but excluding any taxes).
This July and August, you can try one of these 100 highly-rated homes, at all price points, and experience a local's view of Sonoma. 24-hour check-in, Instant Book, and local wine and snacks let you just sit back and enjoy your trip.
This house was amazing and our host was a lovely man. Thank you so much for a wonderful stay!
Madeleine
October 2016
Room type
Entire home/apt
---
Property type
---
Accommodates
9
---
Bedrooms
3
Miskolc
A 110 yrs old granary (renovated to the highest standards) serves as a 300m2 guesthouse. 40min drive from BP, in the Mátra wine-region. 2 spacious apartments host up to 21, with all amenities for a relaxing countryside holiday for families or groups.
Please note, that 2 separate apartments are available in the Granary, you can rent the full house here, and Apt. "Oak" resp. Apt. "Walnut" can be found and rented in separate advertisements on AirBnB.
Great place, very friendly hosts. Would go back anytime
Laszlo
November 2015
11-en 2 éjszakát töltöttünk a szálláson és nagyon jól éreztük magunkat. Megérkezésünkkor már vártak, minden elő volt készítve, és a gyerekek is lelkesedéssel vették birtokba a házat. Mindkét este bográcsoztunk, melyhez a házigazda mindent biztosított, sőt még egy vörös borral is megajándékozott bennünket. A ház tágas, kényelmes, a fürdőszobák rendben vannak. Az alsó részen jó lehetőség van a nagy közösségi együttlétekre. Nagy családosoknak, kisebb-nagyobb társaságoknak kimondottan ajánlom.
Reka
July 2016
3 éjszakát töltöttünk a Magtárban, az egész házat bèreltük mivel elég sokan voltunk, gyerekek, felnőttek vegyesen. Szuperül éreztük magunkat, minden volt, amire csak szükségünk lehetett. Tiszta, szép hely, a pingpong asztal külön öröm volt. Nagyon köszönjük a vendéglátást.
Zsófia
August 2016
Nagyon kedves fogadtatásban volt részünk. Az érkezéskor is nagyon rugalmas volt házigazdánk. A ház berendezése és kialakítása gyönyörű és egyben praktikus, minden igényünknek megfelelt, sőt olyan extrákat is kaptunk, mint a kapszulás kávé és külön nyílhegy a dartshoz. Mindenkinek csak ajánlani tudjuk.
Dani
December 2015
Szuper volt minden abszolut csak ajanlani tudom, mi az egesz hazat vettuk ki 14 fo reszere, a szallas nagyon szuper, jo hogy van klima, mi rendeltunk vacsorat illetve ebedet azok is teljesen megfeleltek az elvarasnak. Mindannyian jol ereztuk magunkat
Erdei
July 2016
A baráti társaságunkkal (6 felnőtt, 7 kisgyerek) szálltunk meg a Magtárban. A gyerekek borzasztóan élvezték az épület különlegességét, le-föl száguldoztak a csigalépcsőkön (amelyek egyébként "élőben" egyáltalán nem olyan vészesek, mint amilyeneknek a képeken tűnnek). Az egész társaság kényelmesen elfért a hatalmas közös helyiségben, közösen ettünk-ittunk-játszottunk. Ha pedig valaki egy kis magányra vágyott, a két lakószint közül mindig akadt legalább egy, ahova el lehetett vonulni egy kicsit. A hosszú hétvégénk alatt éppen nagyon hideg volt a Mátraalján, de még így is tudtunk sétálni egy nagyot a faluban (kb. 5 perc sétányira van egy szipi-szuper játszótér), beültünk forralt bort és teát inni a helyi pizzériába és elmentünk a gyöngyösi állatkertbe is. Felnőttek és gyerekek egyaránt remekül érezték magukat a Magtárban, jövőre újra jövünk! :-)
Réka
December 2016
Room type
Entire home/apt
---
Property type
---
Accommodates
16
---
Bedrooms
5
Nagyréde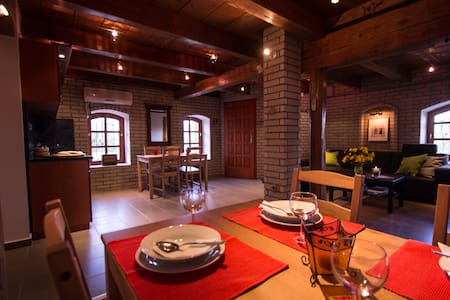 Az Erla Villa Eger történelmi belvárosában egy csendes, hangulatos kis mellékutcában található. 7 luxus apartmannal, saját beltéri medencével, szaunával, kültéri jakuzzival várja egész évben kedves Vendégeit.
Room type
Private room
---
Property type
---
Accommodates
2
---
Bedrooms
1
Eger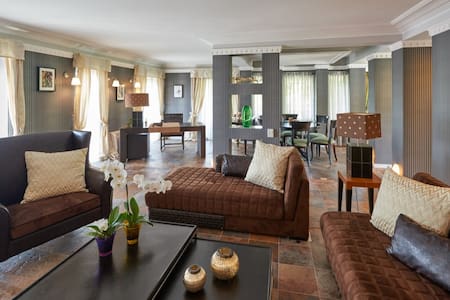 In the green zone of Eger, 10 minutes walk from the downtown. Two rooms, well-equipped kitchen, dining room, washing machine and closed parking are available for our guests. Bathroom with shower for both rooms.
There is comfortable space for four persons in the apartman. A garden for relax makes our apartman special. In the bathrooms one can find hair dryers, the sockets are child-friendly, TV and radio programs can be got in almost every world language by satellite TV sets. Besides the owner also the guests can use the garden and the grill set as well they find there. We talk a lot to the guests, and on claim we even help them to plan their programs.
It is quiet, of green zone atmosphere, in the street villas and almost 100-year old linden-trees are found, but the downtown and the Valley of the Beautiful Lady famous for its wines can be reached even by ten minutes walk. Numerous restaurants, wine cellars, coupons at reduced price for the spas. There is a local bus stop near the place. Our apartman has got a free closed parking.
Great location - close to the city-centre of Eger. Great appartment - much space, 2 bedrooms with individual bathrooms + fully equipped kitchen. Clean, sunny, better than pictures. Timi and Robert are REAL hosts. They give great suggestions concerning places-to-see besides routine tourist tracks. Definetely nice stay in Eger and full recommendation from us (party of 2+2+child).
Piotr
August 2014
We only met Timi and Robert for a few minutes ( they went for a journey on the day of our arrival) but they were very helpful with suggestions where to go, where to eat and they also gave us information about the local wineries. We had a very nice welcome, thank you Timi and Robert. The apartment is very nice, may be further from the city centre then we thought and you have to walk uphill but on the other hand it is quite close to the Szépasszony Valley where we went for dinner and we had a lovely evening. Taxi either form the city centre or Szépasszony valley was not expensive. The apartment is big, very clean and comfortable. We had a very nice stay in Eger.
Joanna
October 2015
The reservation was canceled 2 days before arrival. This is an automated posting.
Attila
It's a fantastic experience staying in Timi & Robert's flat! The flat itself is very cozy, with sunshine, comfortable, fully equipt kicthen. It's even better than the pics you can see from AibBnB. You will have an indepentant access to your apartment then it gives you more privacy. The location is a bit off the town center, but it only cost you 2 to 3 Euro taxi fee there. And you can also walk 5 minutes to Tesco. Timi and Robert are the excellent hosts! They live in the same flat, and can come to help you whenever you need. They gave us wonderful tips of the town about eating out, having fun etc... I'll definitely recomend this flat to anyone who wants to enjoy the leisure and warmth in Eger! Thank you Timi and Robert!
Jing
March 2015
Our stay with Robert and Timi was our best Airbnb stay ever!!. We were early and they met us within five minutes at their place. The apartment is the downstairs of their house with its own entrance. The two rooms are nicely laid out and well equipped. They have a lovely garden with many fruit trees, and they offered a taste of their tomatoes and cherries and blackberries. We could also park our car inside the gate and walk the short distance to the city center. Robert and Timi were enthusiastic about Eger and gave us great ideas about what to see and where to visit. They had maps and showed us how to get around. The night we arrived they invited us to join them to visit a friend who was a well known vinter with award winning wines. The place was located in an old stone quarry outside of the city that we could not have found ourselves. It was a very thoughtful gesture. Communication in English was very easy with Robert and Timi and we enjoyed learning more about that area of Hungary and the wines. They also accommodated our departure time and left us each with a local Eger chocolate. We only had two nights in Eger, but could have stayed longer to savor the wines, the charming town and country side.
Kay
August 2014
Although the site was a little bit far from the city center, Robert came to pick me up at the bus station, so that my arrival was very smooth. He also rented me his bicycle, which was very very helpful. The site was clean and bright as seen in the pictures. Thank you.
Kazunari
September 2015
We had a great stay in Eger with Timi and Robert. Communication was easy before and after our arrival. They are warm, welcoming and very helpful. We felt right at home. The accommodations were fantastic. Big, bright rooms, with everything we need. The location was perfect. It was an easy 15 minute walk to center and a 15 minute walk to the Valley of Sirens. It was a safe quiet neighborhood and perfect for our family. We wish we could have stayed longer. We all fell in love with Eger and Timi and Robert helped make that possible. Thank you both for sharing your lovely home and for all your recommendations. We hope to see you again someday.
Kristy
March 2016
Absolutely fantastic! Spent three nights/days in Eger and it was a treat to come "home" in this apartment. The apartment is sunny, fresh, spacious and clean and absolutely recommendable! Timi and Robert were very friendly and helpful, guiding us to the best places for coffee, dining, nice walks and horseback riding, and even arranged our next AirB&B in Szilvasvarad (but wished we stayed here, Eger is much nicer ... ). They booked a fantastic breakfast for us, we ate in the garden (and had enough for lunch as well). Thank you Timi and Robert for your hospitality!
Linda
September 2015
Room type
Entire home/apt
---
Property type
---
Accommodates
5
---
Bedrooms
2
Eger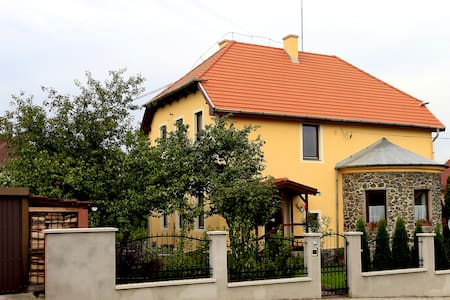 1

–

13

of

13 Villa Rentals