Newly set up cosy studio on the ground floor of a two –storey house located in Myrties close to the sea and rock – climbing sites. It is 17 s.m and accommodates 2 guests. It has a double bed , closet , television , internet access , air conditioner
The studio is new, fully equipped, self-catering accomodation. The veranda offers privacy and a sea view.
Staying at Katina's and Skevos' was over our expectations: We were looking for some place just to relax after our climbing days but we found ourselves like at home, being Skevos and Katina so nice and helpful with us. Furthermore, the studio is very well located in the island, with some nice beaches just a walk away and the climbing sectors can be seen from the entrance door! I can't imagine a better place to spend my days in Kalymnos and would definitely recommend it to my friends and will for sure come in the future.
Daniel
2015-08-28T00:00:00Z
Katina and Skevo are amazing!!! They were very discrete and paid attention to our privacy; but always in contact by the application or phone in case we needed something. Skevo came to pick us up at the airport and drove us back there at the end of our stay. They made the guest day and cooked "dolmades" for us. It is a traditional Kalymnian dish... must be tried! very good!! The location in perfect. The beach just down stairs, we had a private parking for the motorbikes we rented and the neighbour is really quite. Masouri's restaurants and bars are 10 mn away by foot, but we always went by motorbike xd They'll do anything they can to make your holiday as good as possible! I think me and my boyfriend will go back with more friends! ;)
Miriam
2016-09-28T00:00:00Z
Great hosts providing more than was described in the advert. Great location for climbing and evening dinners.
Neill
2014-10-04T00:00:00Z
Katina and Steve were extremely welcoming, offering local knowledge of the area and even home-cooked Greek food on occasion. The studio was clean and comfortable and also had a nice view. It is also in a great location, perfect to get out and explore the surrounding area. Highly recommended!
Tom
2015-06-03T00:00:00Z
Through their work Skevos & Katina redefine the standards of hosting. Enthusiastic and passionate, discreet yet present whenever needed, they founded our stay in Kalymnos on solid grounds. Skevos awaited for us in the port upon arrival, even though we urged them not to come due to arriving at 1 a.m. The studio was exceptionally clean and shiny to its last spot, full of supplies and located to a quiet spot. Despite being tired, Skevos spent 20 minutes in the night to explain us a number of details that we would need or could be optionally used (i.e. ethernet cable apart from WiFi, USB full of songs plugged to our TV, fresh bread, butter, tea, cooking oil and a number of other stuff). Long story short, we are having our vacations in Greece for more than 16 years and this represented by far the highest value for money accommodation we ever had, from Mykonos to Crete, from Ithaca to Samos. Thank you both! Evgenios - Eleni
Evgenios
2016-08-18T00:00:00Z
One of the best places we have stayed. A lovely studio with everything you could want or need. In a beautiful peaceful spot, over looking the sea, but close to the shops, restaurants, super markets, climbing, and beaches. Katina and Skaivo made our stay above average and were there to help with anything and everything we needed. They cooked homemade Greek dishes every Sunday for us, and thoroughly cleaned our studio a couple times a week with fresh sheets and towels. Picked us up and dropped us off from the ferry port. When we first arrived they had fresh bread, coffee, tea, beer, cereal etc. ready for us. We couldn't have asked for a better place to stay!!! Highly recommended! Would stay here again in a heartbeat.
murray
2017-03-16T00:00:00Z
Fantastic stay, wonderful people. A lovely, well appointed studio with the most fantastic hosts. Would definitely stay again!
Tiff
2014-05-11T00:00:00Z
Katina's place was great. It's situated on a hill above the town of Massouri. 5-10 min walk gets you in to town no problem, with plenty of restaurants to choose from. Good location for beaches, food, climbing (we were able to walk to 2 spots nearby), groceries, scooters, etc. Great little space for the price. It is small (it's a studio) but had all the necessities, and a veranda above to use, which was great! Katina and Steve were also incredibly friendly, were very attentive, and a joy to deal with. Steve even picked us up from the port in kalymnos, which was great. And they even cooked some homemade food for us one day! They also had a few things in the apartment to get us started for the week. All in all great hosts!
Ramzi
2015-06-15T00:00:00Z
Room Type
Entire home/apt
---
Property Type
Dorm
---
Accommodates
3
---
Bedrooms
Mirties, Egeo, Greece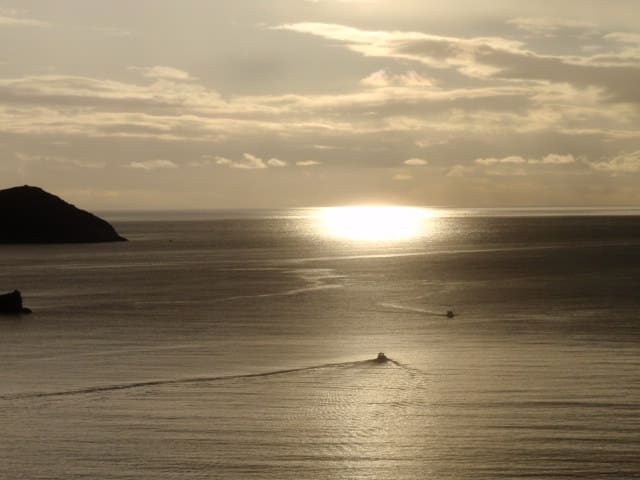 The best balcony on Kalymnos.Just10 meters "above" Masouri beach this one floor apartment offers everything! At the heart of climbers action ,on the beach for either relaxing or action holidays.Climbing,diving,snorkling,swimming,fishing,cayaking,,yoga are just some of the activities you can do in the area at walking distance,from the house.If chilling out is your choice then again you can enjoy your homecooked dinner ,wine,coffee or drink at the most beautiful veranda on the island Just.Perfect
Very comfortable 3 bedroom apartment. Fully equipped modern family kitchen, living room, dining area and direct access from the kitchen area to the balcony. .....Soon with great pictures from inside hence renovating activities take place at this very moment... . A laundry just 20 meters from the apartment makes washing machine unnessesary.
The aparment is located at the same building with Aegean Taverna,just 2 floors above! It is by far the best restaurant on the island and a practical milestone spot.More tavernas and cafes are also close by the neighborhood,as well as small supermarkets, a laundry,AVIS car rental Plaza Hotel etc..
okay!!! we just came back from the best vacation ever every thing was perfect yiannis and vasilis were so good to us . they thought about everything I really don't have words to describe it.... yiannis and vasilis show us every thing in the island took us to the best tavern ! explain everything thing that we want to know. I really can't think on something that they didn't though about in the house. every thing was so great about the house! and very safety for my little baby that didn't stop running all over the place. the house was very very clean and has everything you need !!! now i know for sure that my family will comeback to this beautiful place next year to visit our dear friends Yiannis and vasilis thank you so much wish you best of luck .!!!
Ilan
2016-08-08T00:00:00Z
We arrived late due to a flight delay, but Yannis (the host) waited for us at the port ant took us to home after one day travel and that has been a big help. The house was better than in photo and the veranda on the sea was larger than we expected. When we arrived at home we find son fruits, eggs, milk and a lot of greek food. We were 4 adults and a kid 18 months old: he gave us all the stuff for the baby and, when our kid had a problem due to the sun, we went to the hospital and we found there Yannis and his wife wating for us and also helped us. What really impress us was the view on the sea and on Telendos from the veranda. The last fantastic thing was the dinner organised by Yannis and Vasilia (his wife).
Elisabetta
2016-08-24T00:00:00Z
The house is absolutely beautiful, with really nice details and its terrace is the best place to stay for all the relax you need. Yiannis is a superb host, he gave us all his time necessary to be here like a home. We definitely recommend this place and we will come again to enjoy this house and to talk again with his host.
Giuseppe
2016-07-11T00:00:00Z
Our hosts were charming, friendly and very helpful. Vicky presented us with home made preserves, honey, eggs and olives on our arrival. They made us feel very welcome; they went out of their to help with a problem I had with my iPad and drove us to the port at the end of our stay. The apartment could not have been more delightful with a large arched patio overlooking the island of Telendos and Massouri beach below. The rooms were clean and comfortable and the kitchen facilities were excellent. We loved Massouri which has everything the traveler needs by way of mini- markets, shops, tavernas and car and scooter rentals. It was a good base from which to explore the rugged beauty of Kalymnos. As a bonus, the Aegean Taverna at the top of the Airbnb is the best restaurant on the island. We enjoyed two superb meals there watching the sun set behind Telendos.
David
2016-09-16T00:00:00Z
short description: simply amazing now the long one: originally we (2 adults and 1 baby) only booked two nights, however we haven fallen in love with this newly renovated and state of the art place so much that we added another 12 nights. yiannis was so easy to communicate with. he even offered up front to provide a baby bed and stroller for our little one, picked us up at the port and when we arrived at the apartment I realized that I forgot to ask for a baby chair... since he told us that the one of her daughter is broken we saw ourselve having our baby holding for each meal having at the appartmemt, but within not even an hour after Yiannis left us, he dropped a baby char - what a service. the place is not only ideal for a family ( huge terrace which has been made completely baby safe including two great couches for to chill, beach front only a few stairs away from the beach, totally clean everywhere which is important to us since our baby is spending quiet some time playing on the floor), three bedrooms, large bathroom, living room, fully equipmemt kitchen including an american style fridge, high speed internet, tv with weigh too many chanels and video on demand) but also for a larger group of friends. we have been in masouri before and altough this little village provides nice restaurants, shops and of course "nice climbing" etc., there is very often a noise pollution from the motorbikes. due to the fact that this place is literally directly on the beach ( the stairs lead up to the main road which is a few stories higher) the only "noise" we could hear were the sound of the waves! :-) yiannis and his wife (she has done such a fantastic job by adding all the little architectial and interior details in the appartment and provided us a welcome package ranging from home made jam, olive oil, vinegar, bread, eggs from her chicken, milk, etc) were available all the time, they are fery special people who made us feel welcome from the very beginning. summary: another awesome airbnb experience ( such unique places / hidden gems you don't find in any travel agency) and we'll be back soon. thank you Yianmis & family! cheers, your Austrian friends
Franz
2016-05-26T00:00:00Z
Our stay at John and Visalia's home in Myrties/Masouri was outstanding. From day one when we arrived in Kos, John was quick to respond via AirBnB messenger to our questions. He accurately directed us to the correct ferry in Mastichari to Kalymnos. Once we arrived in Kalymnos, he graciously offered to pick us up and transport us to the AirBnB. For our two week stay, we also needed a car, and personally helped us find the right car rental agent for our needs. Additionally, when we arrived at the apartment, we found it freshly cleaned with a full day's food in the fridge--what a treat for weary travelers. The weather during our stay was terribly cold and rainy, and on many stormy nights, John would personally contact us to ask if we needed help. He also graciously invited us to dinner and coffee with his family on his Name Day. He was highly service oriented and customer focused! Lastly, on our final day, he helped escort us to the ferry back to Kos, and offered to carry our bags to the ship. A true gentleman! We would highly recommend John and his apartment to any traveler wishing to visit Masouri and Kalymnos.
Nate
2017-01-14T00:00:00Z
What can we say, this apartment and this family were just exceptional! The apartment is directly on the shore and is completely modern, clean, and good for children. The balcony with the beautiful arches creates an amazing atmosphere. Beach is accessible by staircase and is good for swimming. This family is a wonderfully kind family providing us with some special treats, advice/information, and very interesting conversation. They seem to be very perceptive of the needs of the guests. We did a lot of climbing and it was a good location for this as well. Not only did we have an incredible vacation, but we also made some wonderful friends due to the fact that we arranged to have a potluck dinner with them on the last day of our trip. Another big bonus is also the most recommended and super delicious restaurant in the area is in the same building on the third floor! The only thing I would say is that make a reservation early because they are very busy. We want to come back soon!
Nune
2016-07-07T00:00:00Z
Oh my gosh! We are so lucky to have booked here! Perched right above a sandy beach, a cozy gorgeous balcony to watch the sunset and sit and read/chat/nap, and just below the #1 restaurant in Kalymnos: What else could we have asked for? Climbing was awesome on the island too. John and Vasilia bent over backwards to make our stay comfortable (meeting us at the airport, taking us to the ferry, taking us on a tour of the island and to get a coffee, friendly and fun to talk to).
Claire
2016-09-09T00:00:00Z
Room Type
Entire home/apt
---
Property Type
Apartment
---
Accommodates
8
---
Bedrooms
Mirties, Egeo, Greece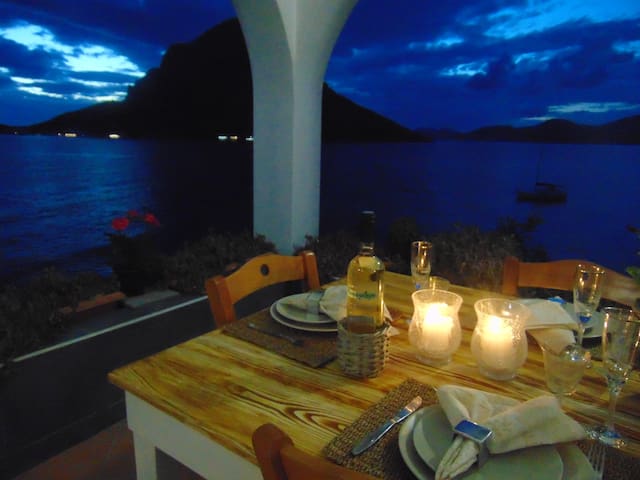 Independent house, traditional local island architecture and decoration, offers a fully equipped kitchen. It is only 10 meters from the sea and has excellent views of the small island of Telendos. Ανεξάρτητη μονοκατοικία, παραδοσιακής τοπικής νησιωτικής αρχιτεκτονικής και διακόσμησης, παρέχει πλήρως εξοπλισμένη κουζίνα. Απέχει μόνο 10 μέτρα από την θάλασσα και έχει εξαιρετική θέα στο μικρό νησί της Τελένδου.
Room Type
Entire home/apt
---
Property Type
House
---
Accommodates
3
---
Bedrooms
Mirties, Egeo, Greece
Our rooms are located in the centre of Massouri, 2 min away from the beach,restaurants and shops and is close to the most famous climbing sectors. The apartment provides a/c, a cosy living room,kitchennete,bedroom with 2 single beds and cleaning every second day.The sofa sleeps a 3rd person. We also dispose a private parking. The apartment is 30 square meters with a balcony that will amaze you! The vast blue sea with the picturesque island of Telendos will be your companion during your stay...
Room Type
Private room
---
Property Type
Apartment
---
Accommodates
3
---
Bedrooms
Mirties, Egeo, Greece
Όμορφο και άνετο διαμέρισμα ενός υπνοδωματίου που χαρίζει μια πραγματικά θερινή ατμόσφαιρα. Σε κεντρική τοποθεσία αλλά ταυτόγχρονα και ήσυχη. Σε απόσταση 100 μέτρων από την παραλία. Μπορεί να φιλοξενήσει 6 άτομα με άνεση. Διαθέτει πλήρη κουζίνα.
Newly built house with all the comforts for an unforgetable holiday close to the sea and rock climbing sites. The house is 70 sq.m. with independant entrance a huge bedroom (1 double, 2 single beds, wardrobes, T.V, wireless internet, A/C, a fully equipped kitchen (stove,cooking utensils, jaffle maker,coffee machine,kettle,fridge), a spacious, cosy living room with a 5 seater couch, TV, dvd/cd player, and a large bathroom with a washing machine.The house has a large veranda with a bbq, and a breath-taking view of the sea, the ideal place to enjoy your meals! The house is surrounded by greenery and with a magnificent view with all the amenities within walking distance. 50m only from the bus stop, mini market, cafeterias, restaurants, shops, ATMS and 5 minutes walk from the most popular sandy beach- Massouri, and the wonderful beach of Myrties.(with a jetty from which you can go to the picturesque island of Telendos in 10 minutes). There is a maritime and an archaeological museum as well as two Castles of the Knights and the ruins of an ancient temple dedicated to the god Apollo in the areas of Hora - Pothia which are only 5-7 km away. Our space offers peace and quiet in the morning, afternoon and evening which combined with the amazing view make it a unique experience.
Perfect!
Jacob Stærk
2016-10-23T00:00:00Z
This was such an amazing apartment with a perfect location. We came for the rock climbing and were able to walk to at least three different areas within 45 minutes as well as being a short walk away from the ferry boat to climb in Telendos. The closest climbing wall, 3 Ilots, was 30 minutes away. The kitchen stocked with tea and basic things like cooking oil was very useful and helped us save money. Katina was super sweet, helpful, and accommodating and helped us get back and forth from the main ferry port as well as helped us plan what time to leave to catch the ferry. We would definitely stay here again and highly recommend it.
Sam
2016-07-11T00:00:00Z
Katinas and Skevos are very nice hosts, they picked us up in the port and showed us the area around the house on the first day and were attentive during all the holidays and supplied us with good tips and information. They also invited us for dinner one night when we could taste their delicious dolmades, very very nice. The house is well equipped, spacious and has an amazing terrace with incredible views and it is well located very close to some restaurants and supermarkets and very nice climbing crags. We couldn't have had a better stay!
Ignacio J
2016-11-29T00:00:00Z
The property is beautiful, perfectly placed on the hill with a nice view of the Mirties harbor. Katina and her husband are so kind and accommodating, they gave us a brief tour around town after picking us up from the airport and were there to answer questions whenever needed. One night they cooked a traditional Greek meal and shared it with us -- delicious! I am grateful to them for providing wonderful accommodations on this fun trip.
Lauren
2015-11-27T00:00:00Z
Beautiful views, very quiet part of Mirties, only a few minutes walk downhill to the beach and local shops. Katina and Steve are very welcoming, charming and generous hosts! We had a wonderful stay. Very well equipped (URL HIDDEN) for climbers: the apartment is walking distance to Geriakos which is a great crag for beginners/warm-up day. Grande Grotte area is about a 40 minute walk (from door to route)
Caroline
2015-04-19T00:00:00Z
We stayed in Kalymnos for a little over a week and our stay couldn't have been more enjoyable! Katina and Stevos were amazing! They picked us up from our port and even made us a traditional greek dish while we were there. The flat has everything you might need and has plenty of space for 4 people. Kalymnos is a beautiful island with the amazing ability to combine hard work (ie. climbing) with relaxing and the people are so warm and inviting! We will definitely be back and will be so excited to stay with Katina and Stevos again! Thank you guys for everything! Efharisto poli!
Sarah
2014-07-04T00:00:00Z
One of my best Airbnb experiences so far! Exceptional hosts combined with outstanding accommodations. Katina and Skevos made sure we felt right at home. The house is great, no complaints. Do not hesitate to book this place, you will no be disappointed!
Kyle
2015-10-24T00:00:00Z
We really enjoyed our time in Katina's and Skevo's house. They are great hosts and very nice people. Skevo waited for us on the airport, arranged taxis and showed us around Mirties. They shared traditional Greek food with us a few times -- yummy! We stayed for two weeks for rock-climbing. Many sectors are within 30-45 mins walking distance from the house, including Grande Grotta, Panorama, Afternoon, Odyssey and Spartacus. A couple of sectors with easier routes is a bit closer. You can also rent a scooter to get there faster or get to the further away sectors.
Tomas
2016-09-30T00:00:00Z
Room Type
Entire home/apt
---
Property Type
House
---
Accommodates
6
---
Bedrooms
Mirties, Egeo, Greece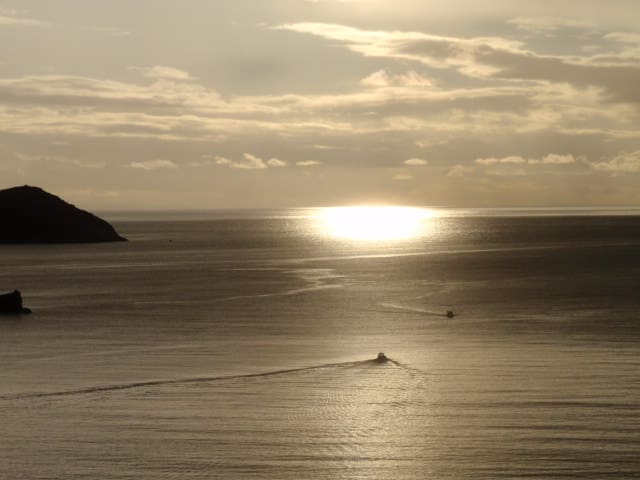 • Full air conditioning • Free Wireless Internet • Fully fitted kitchen with fridge • Furnished living room with fireplace • Master double bedroom • Fully equipped bathroom (with washing machine) • Secondary bedroom • TV with 400 + sattellite channels from all countries • Print your vouchers or boarding passes for free
Located at the heart of Kalymnos, Massouri (premiere location for the climbing community), you will relax and enjoy the breathtaking views that mother nature has to offer. If your are a climber or just looking to enjoy what the island has to offer, you will relax in comfort at Sdregas Flats. The apartment provides access to disabled persons.
Excellent apartment in a perfect location. You can easily climb for days without needing to rent a scooter. There was some breakfast food in the fridge left for us which was great as we arrived late. And a bottle of wine!
Joe
2017-03-26T00:00:00Z
Couldn't have found a better spot for our climbing mission in Kalymnos over Easter. The house is a new perfect clean nest overlooking the sea, a very short distance from the crags in Massouri and a minute away from the shops and restaurants. Popi and Niko spoiled us to bits, they are awesome! I'm definetely going back and stay in their lovely paradise again
Emanuela
2015-04-07T00:00:00Z
This is everything a climber would want in an apartment! Perfect location and amenities for a visiting climber. Thank you Popi for welcoming us!
Tim
2017-04-04T00:00:00Z
Popi's apartment is situated in the middel of Mirties with fantastic undisturbed views over the bay and to the climbing crags on the hill behind the town. The apartment is spacious, modern, and clean. We were only the two of us but I should think that four people also find enough space for themselves including climbing gear. Popi was responsive, and flexible with our arrival hours. We felt very welcome and we appreciated all the sweet and surprising details of Popi's hospitality.
Dorte
2016-03-29T00:00:00Z
An incredible experience in an incredible apartment. 4 of us stayed there for 11 nights and it was absolutely fantastic. Popi and Nikos were very good hosts and made us feel extremely welcome, and were on hand to help with anything we needed. We particularly enjoyed the live music and raki one night! The apartment itself was beautiful, and the views of Telendos every morning were breathtaking. We had a very comfortable stay, and it was great to come back to such a nice apartment after a long day of climbing! The apartment is very well situated, particularly for climbers. The main street of Masouri is only a minute away, and all of the stunning climbing crags are just up the road. I'd 100% recommend staying here, and I hope to stay again at some point in the future. Thank you Popi and Nikos for a wonderful time!
Kieran
2015-06-06T00:00:00Z
We absolutely loved our stay with Popi, the apartment is beautiful, stunning view,perfect location for climbers and everything we could ask for. Popi even left food supplies for us on our first day. Thank you Popi!
Laura
2016-10-03T00:00:00Z
Popi was very responsive during booking and also made our stay very enjoyable by being flexible on checkin/checkout times, being available anytime for questions and providing a great place to enjoy Kalymnos. Thanks will come back.
Tolga
2016-09-14T00:00:00Z
Popi's apartment was a birthday gift to my partner. She was there with 4 frends of her - all climbers. Here is what she wrote about the place: A wonderful apartment with kind and obliging hosts! We have been there end of September and we really loved this place. The apartment is really comfortable – we were 4 persons and we had a lot of space. The view from the huge terrace was spectacular. The apartment is also very well situated. It's only a 2 minutes walk from the first minimarket and the centre of Massouri. The climbing crags Poets, Kalydna, Iannis are just above the apartment. Also the climbing crags Grande Grotta, Panorama, Afternoon ect. are within the walking distance. Popi and her husband Nichos have been very kind. They even organised (a regular!) Kalymnos - Kos ferryboat extra for us on Sunday morning at 5.00 a.m. (not captain Arvithis)! They have also arranged taxi transport for us at night from Masouri to Pothia and from Mastichari to the Kos airport. So we didn't need to leave Kalymnos already on Saturday night despite our early Sunday flight. Thank you, Popi and Nichos, for this! We will for sure come back to Popi's place on our next trip to Kalymnos!
Matej
2016-09-26T00:00:00Z
Room Type
Entire home/apt
---
Property Type
Apartment
---
Accommodates
5
---
Bedrooms
Mirties, Egeo, Greece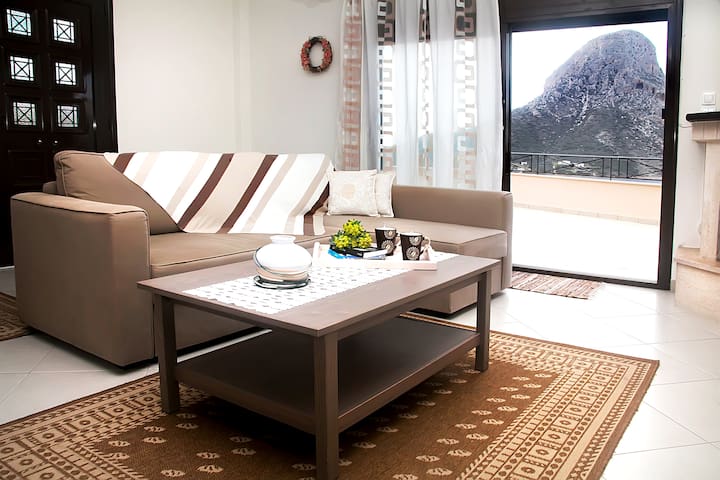 (URL HIDDEN)Enjoy your holiday at Ibiscus in a relaxing, friendly family environment, in traditional style built, fully equipped studios and apartments, in full proximity to the area's main beaches, as well as all of its shops and services.
Studios consist of a large bedroom with one double and one single bed, ceiling-fan, fully equipped kitchenette (refrigerator, electric or gas hobs, boiler, cutlery/dishes etc), and WC/shower.
Location: Ibiscus Residence is located at the lovely tourist area of Massouri, at less than a 50 metres distance from the beach of Massouri, just a few minutes walking distance from all public transport connections to the rest of the island and smack in the middle of the western coast where all climbing routes of the island are.
Our stay in Kalymnos was great. We had some issues getting out on our original flight and then weather had us coming in late on the ferry but they were very accommodating and easy going with the changes. The studio apartment was perfect for two. We were able to cook most of our meals. The room was cleaned every day and I'll definitely be reserving Ibiscus next year.
Grace
2016-04-30T00:00:00Z
Great experience in Kalymnos. Very nice apartment with everything you need. I spent two amazing weeks climbing in all crags near Masouri, from here you can also go everywhere in the island. The host welcomed me very kindly. Very suggested!
Stefano
2015-09-21T00:00:00Z
We had a great stay at Ibiscus! It was my second time to book actually, as my previous experience was very positive as well. George made sure, we'd arrive without complications by sending us a detailed travel itinerary since we travelled via ferry to Kos and onwards to Kaly and timetables vary each month, so even with our tight schedule between arriving at the airport in Athens and having to go to Piraeus port was no problem! The apartment itself has everything you need, it's basic but more than proficient and we had absolutely no complaints. The only thing that one might miss in the colder months is a heating device but we were happy with our blankets in the night!:) Still, make sure to bring something warm to wear!! A huge plus is Maria, who tidied up after us every day while we were out at the climbing crags and is the most kind lady you could meet! Please send her our thanks and regards!! Misouri itself is a bustling little town packed mostly with climbers and other tourists so naturally you will find whatever you need within a few minutes walk around the apartment. Also, some great crags are just above town, you can pick anything from 4c to 8c. If you want to check out the other spots, it is advisable to rent a scooter, just below the apartment is a rental, which we found very nice and professional and not very costly (10€/day if rented for 5 days). If you have time, do the round-trip of the island, there are some beautiful spots to see (a little bay on the way to Vathy with a little tavern right by the sea, it's easily seen from and also indicated on the road, and of course Vathy valley itself!). So to sum up, it was a great pleasure to stay at Ibiscus again, we hope to return as soon as possible!
Paul
2016-03-30T00:00:00Z
I Had a wonderful stay at Ibiscus. The place is located in the heart of Masouri, very close to climbing resorts, and a minute walk to the sea. I had everything I needed in the room, it was quiet, clean and comfortable. I will surely come back and recommend it to friends.
Dana
2016-09-15T00:00:00Z
Thank you mikos for everything!
LiiLiiana
2016-06-30T00:00:00Z
Room Type
Entire home/apt
---
Property Type
Apartment
---
Accommodates
3
---
Bedrooms
Mirties, Egeo, Greece
Our rooms are located in the centre of Massouri, 2 min away from the beach,restaurants and shops and is close to the most famous climbing sectors. The apartment provides a/c, a cosy living room,kitchennete,bedroom with 2 single beds and cleaning every second day.The sofa sleeps a 3rd person. We also dispose a private parking. The apartment is 30 square meters with a balcony that will amaze you! The vast blue sea with the picturesque island of Telendos will be your companion during your stay...
Room Type
Private room
---
Property Type
Serviced apartment
---
Accommodates
3
---
Bedrooms
Mirties, Egeo, Greece
Kalymnos has the finest ingredients for a holiday far removed from the hustle and bustle of daily life. Here, you will find the modest complex of Aphrodite Studios in the heart of the island in the village of Myrties. Overlooking lush gardens, our spacious studios are freshly decorated and equipped with either a double or twin beds, air conditioning, kitchenette and breakfast bar, private bathroom with shower and toilet. The large balconies overlook the Aegean sea and the island of Telendos.
Room Type
Private room
---
Property Type
Boutique hotel
---
Accommodates
2
---
Bedrooms
Mirties, Egeo, Greece
80sqm house located in the heart of Massouri. Near to shops, beach, climbing sectors, bus&taxi sq. 3 bedrooms with double bed, 2 hollywood beds & a single room. Sofa bed at living room. Babycot available. Spacious kitchen fully equipped & balcony
Firstly the amazing view from the balcony, makes this house totally irresistable. Secondly the house is really spacious and this factor makes it ideal for families. The beach is only 5 min away and the whole area is surrounded by shops, minimarkets and restaurants. The taxi and bus sq. is only 150m away so the access to town center is easy. The nearest climbing sectors (grande grotta f.e is 10min by foot). This house has lovely family memories since it was a home for a 9member family. So figure!!!
No words can elaborate enough the beauty of Massouri. Massouri is located amphitheatrically so almost every house positioned lower or higher has seaview and view of the islet of Telendos. Massouri is shop-sufficient so you will probably find everything you need without having to go to town.There is a beautiful nostalgia shop just down the road with beautiful things to buy whether it is clothes, sandals or souvenirs. Just next door there is Anna's Supermarket which disposes a quite decent selection of wines & spirits. Just opposite there is Plaza Hotel with free access to the pool and wi-fi. Just below lies Massouri Beach. A few minutes down the road you will find several restaurants. Prego ristorante is "must-go" since it has italian & greek plates, homemade fresh pasta and pizza out of a traditional oven. Ambiance bar provides you with a beautiful ambiance of the sea especially if you sit at there balcony during sunset, with a coctail. Our neighborhood is fantastic!!!
The host canceled this reservation the day before arrival. This is an automated posting.
Sam
2016-10-25T00:00:00Z
Themis was very accommodating and went the extra mile to pick up myself and six friends from the airport. We were on the island for rock climbing and the house was in a perfect location in Masouri.
Nic
2015-05-28T00:00:00Z
There was a small set of cakes as welcome gift. However, Themis Vourou refused to give me her phone number. The fact that she works in a restaurant is a kind of excuse, but I would have called her only in case of emergency. About the flat (not a house), it was indeed spacious and with a beautiful seaview. However, it was pretty overpriced: a single bathroom with toilets inside is very insufficient for 6 persons. I think that a grand total of 750 Euros (including taxes) would be more adequate.
Pierre
2015-10-25T00:00:00Z
Everything was perfect, it was easy to communicate with Themis and the location is just amazing, really central but yet a bit away from the main street and quiet at night. Really amazing view from the nice balcony!
Katrin
2016-10-02T00:00:00Z
Room Type
Entire home/apt
---
Property Type
House
---
Accommodates
6
---
Bedrooms
Mirties, Egeo, Greece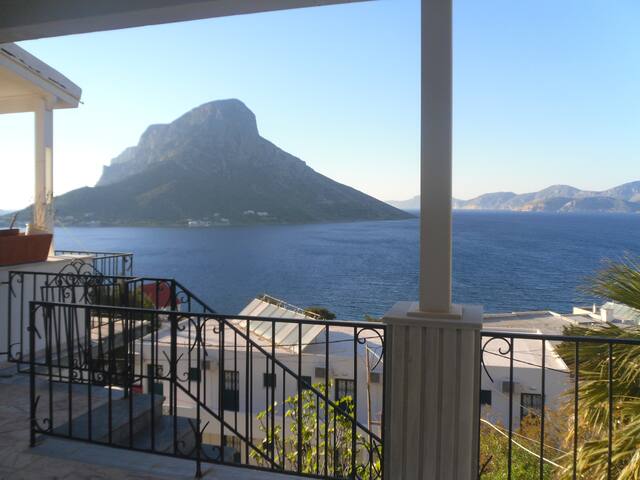 luxury two bedrooms apartment with fantastic seaview and romantic sunset from two private terraces/covered just 150 meters from beautiful beach of the Myrties,jetty ferry to Telendos island,restaurants,cafes,rent car super market,bus stop and 400 metres from Massouri beach,ATM bank,washing store with coin,climbing store,night club,it's fully equipped:two separate rooms,two bath,two fully set kitchenette,Nova-sat.plasmaT.V,fast internet(Wi-Fi)in each room,space for BBQ,beach-bed for sun-bathe.
Luxury,comfort,the fantastic seaview and the most romantic sunsets over the island of the Kalymnos.
All our neighbour are friendly anf hospitable with our guests
George was a great host. He met us at the ferry and bought us to his place. The ferry came in quite late so George had stocked a few essentials in the fridge to get us started the next day. He was so completely welcoming that our whole family felt right at home right away. He also provided directions to everything we would need.
Michael
2015-07-29T00:00:00Z
George and Irene were fantastic hosts. Nothing was too much trouble. The apartment was clean, light and airy and well located. Perfect for climbers and all holiday makers, and great value for money. We will definitely be back!
Kerrie
2016-06-10T00:00:00Z
George and Irene were such fantastic hosts ,George came to get us at the ferry (eventhough our ferry was late ) and did everything he could to find us a vehicule during our holidays .The appartment is very nice ,good location and beautiful view of the sea .But most of all the real bonus of this place are the hosts they are so nice that you feel at home right away and never want to leave .
alice
2016-08-13T00:00:00Z
Fantastica terrazza sul mare con vista tramonto. Ottima posizione per spiaggia, bar e ristoranti. Sistemazione semplice ma piacevolissima e completa di tutto il necessario (cucinotto attrezzato, barbecue, aria condizionata...). Proprietari gentilissimi, super disponibili ed impeccabili nelle comunicazioni. Consigliato.
Marcello
2016-08-05T00:00:00Z
Πολύ καλή φιλοξενία, μας έκαναν να νοιώσουμε σαν στο σπίτι μας. Τα δωμάτια είναι πολύ καθαρά και ήσυχα.
Panagiotis
2016-08-25T00:00:00Z
Room Type
Entire home/apt
---
Property Type
Apartment
---
Accommodates
4
---
Bedrooms
Mirties, Egeo, Greece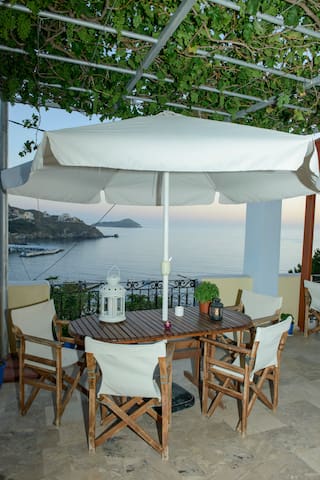 With panoramic view of sea,airy and shiny with the view of Telendos House Rental complex houses fully furnished , bright with 2 bedrooms ,a/c , store , close type garage, stone bbq. The owners of the house are very kind and hospitable. call [+(PHONE NUMBER HIDDEN) Mr.George Vasilakos The region is very (URL HIDDEN) the complex all the residents are only owns of the houses.
Σε ενα ησυχο συγκροτημα κατοικιων με εξαιρετικη θεα θα απολαυσετε τις διακοπες σας.Θα εχετε την δυνατοτητα να ειστε κοντα στο Μασουρι ,το πιο τουριστικο σημειο του νησιου,αλλα και στην Ποθια ,την Χωρα.Θα εχετε ευκολη προσβσση με αυτοκινητο στις παραλιες του νησιου.Θα εχετε την δυνατοτητα να ασχολειθειτε με καταδυση,ορειβασια.σκι καi σπορτ θαλασsια και μη. Ιδιαιτερως θα απολαυσετε το καλο παραδοσιακο φαγητο του νησιου. Η χρηση αυτοκινητου-μοτοποδηλατου κρινεται αναγκαια .
Ησυχη γειτονια στις Μυρτιες που κατοικουν ντοπιοι με τις οικογενειες τους .
Room Type
Entire home/apt
---
Property Type
House
---
Accommodates
4
---
Bedrooms
Mirties, Egeo, Greece
Stone-built maisonette, fully equipped. Wooden floors, antiquated furniture. Ground floor: kitchen (with refrigerator and oven), living room. Bedroom facilities:Double forged iron- made bed, TV, hairdryer,2 a/c Extra attic bedroom. WC outdoors.
Old architectural style, cosy attic, serene and relaxing atmosphere. Incredible view from the balcony, comfortable stay for every guest.
Very nice with beautiful few :)))
Christina
2014-07-15T00:00:00Z
We stayed 3 days in this cosy house and we loved this place. The house is located on the top of the hill of Mirties, which means it has the most incredible view over the bay and the island of Telendos but it is a quiet long walk to reach it if you have transportation. The communications with Katerina were quick and accurate. The toilet is located outside of the house but it is not a big deal since the house is quiet isolated and you have all the privacy that you need.
Riccardo
2016-08-02T00:00:00Z
We had a great experience! The house is quaint but tiny. We stayed for over a week and had all the equipment necessary to cook our own meals. Wonderful view from the balcony! Katerina was very helpful along with her friend Popi who helped to settle us. great stay!
Katie
2014-10-23T00:00:00Z
Great trip - thanks for organising the ferry transfer to the house and everything else! Loved the views from the terrace - perfect for a drink at the end of a hot day.
Angus
2014-10-12T00:00:00Z
The reservation was canceled 126 days before arrival. This is an automated posting.
Eily
2014-01-24T00:00:00Z
Location fantastica, un panorama splendido che basterebbe per dare 5 stelle di valutazione e proprietaria gentilissima e disponibile. Qualche miglioria possibile nell'arredamento, soprattutto per quanto riguarda la funzionalità del piano terra, in cui ci sono un po' troppi oggetti e mobiletti in giro che creano confusione.
christian
2016-07-03T00:00:00Z
Room Type
Entire home/apt
---
Property Type
House
---
Accommodates
4
---
Bedrooms
Mirties, Egeo, Greece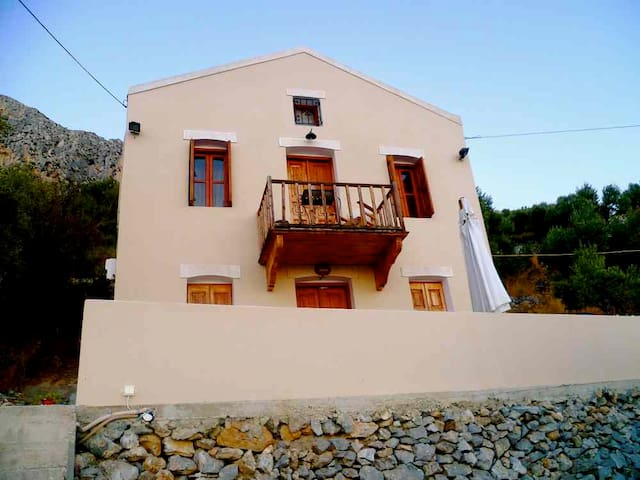 Enjoy the magnificent view and sunset of Kalymnos!! Whether it concerns a family or a group of friend, the house location (100 m from the sea and 800 m from Massouri) allows to the visitors to built beautiful memories!!
Room Type
Entire home/apt
---
Property Type
House
---
Accommodates
5
---
Bedrooms
Mirties, Egeo, Greece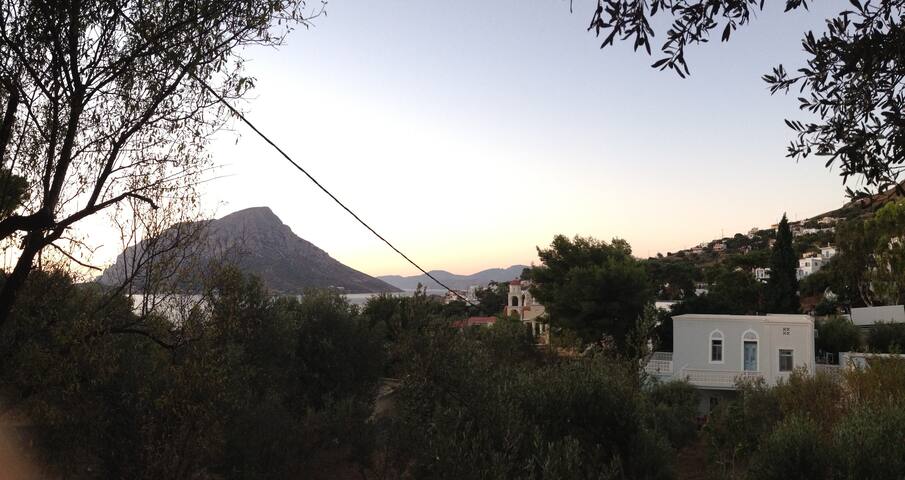 Our one bedroom luxury maisonette has an amazing sea view and it's very close to the beach and climbing areas. It's ideal for a couple. Two plasma TV in bedroom and living room, two balconies, kitchen, bathroom, air conditioning.
The sea view
Eleni was always available for questions on email and text. She provided directions to the text driver and had a lady wait in front of the house so she could let us in. Everything worked very smoothly. The lady that showed us around the place was pleasant, but everything is self-evident. The house is perfectly clean, fresh towels were waiting. We did not need more. The house is comfortably furnished. It is clear the owner uses the place for their holiday time and rent when they are not using it themselves. So, be confident that the home and furnishings are in good condition. The bed is comfortable. We learned how to play local radio stations on the TV after closely studying the buttons on the remote controls. There was a little hot plate to make a warm breakfast, but otherwise we did not spend time there. We returned only in the evening to shower and sleep. The house is located on the '1 way road' above Myrties. So you will need a scooter to get around easily (otherwise it's about 15 min walk down to the village you see from the balcony). The only downside is there is no internet available. Since Eleni is a local she has no need for a router in the house. But lack of internet makes it hard to keep caught up with work emails (we went down to village where every business shares or is willing to share their internet access).
robert
2016-10-21T00:00:00Z
Eleni's listing is lovely! It is nestled into the hillside of quiet Mirties. The house was clean, quiet, and the view was phenomenal. The only thing to note is that there was no Internet while we stayed. It is an easy walk down to Masouri, but I would recommend a scooter to travel around the island and up the hill. We visited to climb and access to the crags across the island with a scooter (€10/day) was a dream. For the major ones nearby, it could be done on foot. Eleni was responsive on text, phone, and AirBnB messages. She welcomed us with grapes in the fridge and checked in often to see how we were doing.
Lily
2016-09-20T00:00:00Z
Room Type
Entire home/apt
---
Property Type
House
---
Accommodates
3
---
Bedrooms
Mirties, Egeo, Greece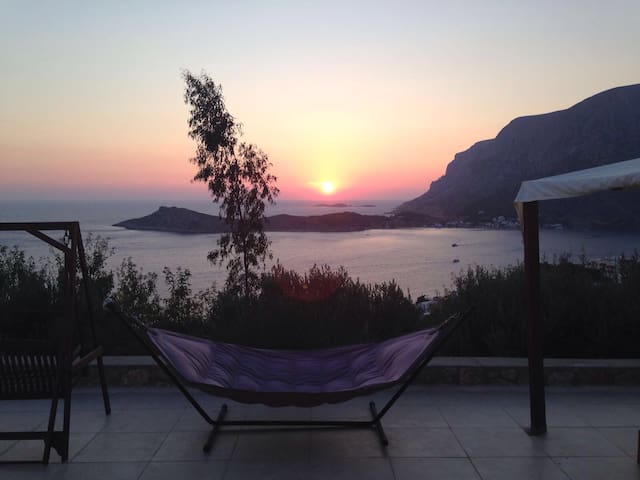 Triple sofa, double sofa, closet.
Its possible to accommodate one more person at the triple sofa. Very quiet location, very close to sea (10 minutes by foot, 2 minutes by car or moto to the best beaches of the island. And most important 10 minutes away from the best climbing destinations!!!!
Room Type
Entire home/apt
---
Property Type
House
---
Accommodates
2
---
Bedrooms
Mirties, Egeo, Greece
Beautiful luxury villa, set ontop of a cliff with the most beautiful view of the bay. Just 10 mins to the sea and close to everything else
Beautiful, quaint, quintessentially, Greek Island neighbourhood set in the mountains
Room Type
Entire home/apt
---
Property Type
Villa
---
Accommodates
5
---
Bedrooms
Mirties, Egeo, Greece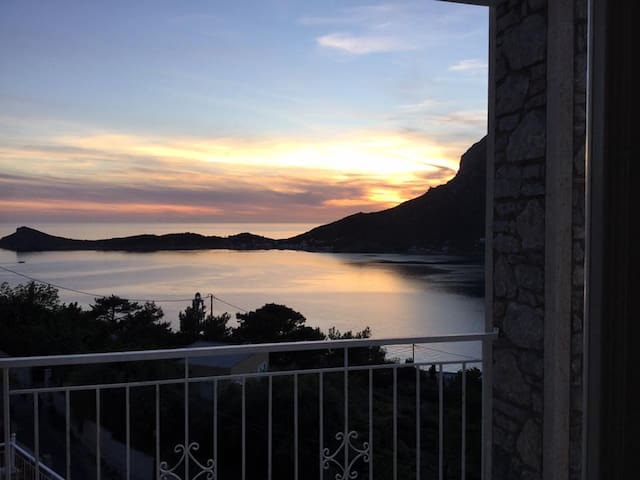 Currently Villa Christina is under construction. It is suitable for couples, professional travelers, families (with children), larger groups and pets. Villa Christina is located right in front of the sea, with a stair leading to the seashore and a private shower. Villa ChristAll of the rooms have a a clear view to the sea and the sunset. In a radius of 50 meters, there is a Mini Market, bus stop, traditional restaurants and a beach bar.
Room Type
Private room
---
Property Type
Villa
---
Accommodates
2
---
Bedrooms
Mirties, Egeo, Greece