Enter your check in date in the format dd-mm-yyyy
Enter your check out date in the format dd-mm-yyyy
Listings you can book without waiting for host approval.
3 Villa Rentals
· Mendocino County
3 Villa Rentals
· Mendocino County
Enter dates to see the total trip price including additional fees (but excluding any taxes).
This July and August, you can try one of these 100 highly-rated homes, at all price points, and experience a local's view of Sonoma. 24-hour check-in, Instant Book, and local wine and snacks let you just sit back and enjoy your trip.
Comptche Cabin is close to Mendocino village - 20 minutes away, Anderson Valley wineries - 20 minutes, Montgomery Woods old growth redwood preserve - 30 minutes. This is an out-of-the way getaway in Mendocino County near the coast, yet sunny and warm. Enjoy wine tasting, hiking, and all the pleasures Mendocino village has to offer. Or just stay put for an incredibly relaxing stay. Gourmet kitchen, 3 bedrooms with queen beds, more. Good for couples, families (with kids), and furry friends (pets).
Comptche Cabin is a 3 acre homestead. The main home has 2 bedrooms, 2 full baths (including an outdoor shower!), great room, gourmet kitchen, screened porch, and patio with grill. Guest cottage with queen bed. Fenced, landscaped courtyard with roses a fire ring, and is great for letting dogs run free. Forest with a hiking trail. Meadow with a badminton court that's also great as a dog run. Our tenant who lives in a private, separate cottage will open the home for you and close it after you leave. He's generally available if you have any questions about the home. In addition to our friendly tenant, we're generally reachable by phone.
Comptche is a quiet village tucked away from the tourist-laden coast. It features a grocery store-gas station combo, post office, Baptist church, school, and one stop sign! Comptche is a 3 hour drive from downtown San Francisco. Comptche is 20 minutes north of Anderson Valley and its many wineries (pinot noir is the most popular) and 20 minutes away from historic Mendocino village. Montgomery Woods old growth redwood preserve is 30 minutes away. This majestic grove has some of the tallest trees alive on the planet.
We had a very comfortable stay at the Comptche cabin. It is hard not to speak in endless superlatives when describing how pleased we were with everything. This is a very well built and appointed home. We appreciated so many things, such as the beautiful landscaping, dog friendliness, comfortable beds, great kitchen, reliable internet, great location, and so much more.
Mike
December 2016
Such a tranquil and private place. It was so nice to get out of the city and be in nature for awhile. The place is FANTASTIC for kids and pets. The property is all fenced in and felt very safe for our toddler and infant. On clear nights, the stars are amazing! We will be back, I think!
Janine
September 2016
Best airbnb experience I've had to date. The pictures don't do it justice. Amazing cabin, equipped with everything you could want. The great room was perfect for dinner with my family. Heated beds were great in December! Just one point of clarification: one of the showers is an outdoor shower, but we had no problem with the single indoor shower with our large group.
Rachel
December 2016
Room type
Entire home/apt
---
Property type
---
Accommodates
6
---
Bedrooms
3
Comptche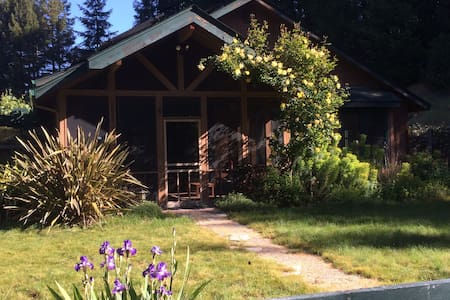 Lake View Villa on private 3 acre compound. The black bottom saltwater pool overlooks the best views of Clearlake anywhere! The 3700 sf Lake Tahoe type chalet with 3bd and 3 bath with gourmet kitchen spoils you. Want a BBQ, then turn up the outdoor speakers, open the tiki hut, turn up the spa and jump in the pool. You'll love my place because of the views, the high ceilings, the location, the privacy, and the luxury. Good for big groups, families or just couples.
VIEWS...views...views. Light and airy. Lots of windows over looking the lake and pool. High ceilings and sky lights make the massive 3700 square feet seem inviting. Very comfortable, two king sized beds, one queen size bed, open floor plan, lovely pool deck to enjoy the pool, BBQ or dine outside under the wisteria covered trellises. Guarantee you will love this private home. Very clean, luxurious and fully equipped. Guests will have access to black bottom salt water swimming pool, hot tub, BBQ, washer and dryer. Can park 4-6 cars on sight. Full Direct TV with all premium channels with three TV's. Outdoor speakers wired in and out of house. Misters outside on the wisteria covered trellises if it gets too hot! A full tiki hut with sink for a pool party. Hot tub for 6 people with views to die for. We will be happy to greet you to provide any instructions you may need as well as to pick up the keys upon your departure.
Shopping and restaurants are conveniently close. Safeway/CVS one exit down the highway. TNT's Mexican restaurant just down the road.
We loved staying here! The house was spacious and very comfortable. The hosts/owners even had robes in each bedroom for guests - so thoughtful. Location was awesome - perched on a hill with a terrific view of the lake and mountains. We mostly spent our time outdoors hanging out under the shady trellis of Wisteria, grilling, playing in the pool or soaking in the hot tub. The speaker system indoors and outdoors with volume controls throughout made our weekend extra fun. Can't wait to return!!!
Melissa
September 2016
We were looking for a peaceful retreat for our adult family and Michael and Anastacia's place was perfect. They are very responsive hosts who obviously care about offering a special experience for their guests. Their home is beautiful, well maintained, clean and we had a spectacular time. We would absolutely stay here again.
Judy
December 2016
Michael and Anastacia, Thank you so much for sharing your beautiful home. This was my first time using Air BnB instead of VRBO and I am so glad I managed to find your beautiful property, it was the perfect setting for our extended family retreat. Private, extraordinary views, surround sound stereo (inside and out). The kitchen was well equipped with excellent cookware, and the garden full of delicious tomatoes we used at meals during our family gathering. We felt right at home and had such stunning views the entire time. I love all the humming birds that surrounded the property daily. We all have so many beautiful sunrise pictures I wish I could post some but I do not know how. The hot tub and swimming pool area was where we spent half the time listening to music and enjoying the views. There are several wineries,tasting rooms, and great restaurants nearby as well if you must leave. Thank you again for your wonderful hospitality. Best Wishes from our family to yours.
Lori
November 2016
Michael and Staci were very welcoming and made sure that we had all the information we needed to ensure that we had a great time. Michael met with us to show us around the house and give us the run down on the neighborhood and Lakeport. The photos and description of the Villa are nicely done, although everything was as described, the beauty of the property was so much more than expected. The views of the lake are spectacular, and the property was gorgeous inside and out. It's beautifully landscaped with wisteria vines and great trees around the pool. One our favorite things to do was to hang out on the patio under the wisteria drinking coffee and watch the hummingbirds buzz by. Although there were other houses in the area and the property was close to town, it was very private and quiet due to the surrounding acreage. My family and I found the place to be a wonderful retreat and we plan to return again and again. Michael and Staci, The Lake View Villa is a very special place with great Karma. Thank you for sharing your home.
Edith
August 2016
Gorgeous property with an amazing view of the of Clear Lake. When I arrived to the house I was blown away by how big it was. Huge master bedroom could easily fit another king bed! Beautiful master bath with vanity, double sinks, and an enormous shower with 2 heads. We planned on spending a day on the lake but never ended up leaving the property because it was so nice relaxing by the pool. Speaker system running through the whole house inside and out. Favortie thing to do was watch the sun set against the mountains surrounding the lake while relaxing in the jacuzzi.
Jessica
August 2016
In short, an awesome place. Pictures are pretty good, but the place is even better in person. We loved the salt-water pool, beautiful views of the lake, frequent visits by hummingbirds and the starry night sky. We didn't spend much time inside because their outdoor set-up is so cool, but when we did, much appreciated the spacious living room and kitchen. Bedrooms are all comfortable and the master is huge. This is really a destination place -- go there and chill. We didn't go into town, other than to resupply, so can't say much about what's to do in the surrounding area. We were too busy being happy and lazy. Thanks Michael and Anastacia!
Mike
August 2016
Room type
Entire home/apt
---
Property type
---
Accommodates
6
---
Bedrooms
3
Lakeport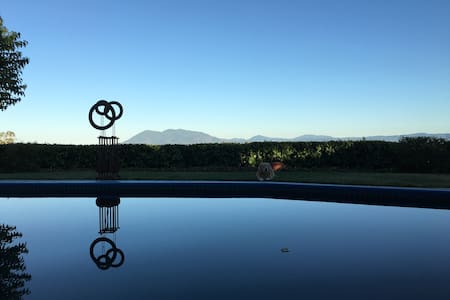 The resort requires a valid ID and credit card for check in. There is a $100 refundable deposit required. Please provide the full name you would like to use for the reservation when booking.
CURRENTLY ONLY ACCEPTING RESERVATIONS IF THE CHECK-IN DATE IS WITHIN 60 DAYS FROM NOW. Two-night minimum for Friday or Saturday night unless within 48 hours of booking. This unit has one King bed in the master and a Queen Murphy bed located in living area. Full kitchen equipped with everything you will need to cook breakfast, lunch and dinner! Flat screen TV with cable, telephone and stereo with CD player. Private outside patio or balcony with grill. Full bathroom, dining area, breakfast bar, couch with coffee table. Washer and dryer (detergent included) in unit comes in handy for longer stays! Resort boasts outdoor pool, outdoor hot tub, fitness center, game room, activities center, pool table, gift shop, boat deck and launch, grocery service, and movie rental. Free private WiFi works in unit but not throughout resort.
Among the tules, willows, cottonwoods and oaks, you're likely to find a paradise you thought had long since vanished. With the Bartlett Mountains as a backdrop, the resort recalls the rural California that Mark Twain found so endearing. You will receive WiFi login information upon reservation confirmation.
Freddy was quick to respond. I appreciated that. The free internet was much faster than my hotspot. And the free movie was the cherry on top. The view from this room is awesome.
Jill
January 2016
Wow, where do I begin with this amazing property??? First off the photos don't do it justice at all - it makes the apartment and the property seem very small if you ask me, because the grounds and the actual space were magnificent! We booked this as an escape from SF for the weekend and it totally delivered! The apartment was super clean, spacious, had everything you need to cook (we cooked almost all of our meals), the patio opens out onto this grassy area over looking the lake (SO picturesque), and the bed was like sleeping on clouds -- pure heaven!!!!!!!!!!!!! I am annoyed I didn't find this place sooner, we will for sure be coming back, its un-freakin-believable how awesome this place is. The front desk staff was super friendly, the pool is crystal clean and heated (same with the jacuzzi), and the property was just breathtaking. 10 STARS!!!
Jason
September 2015
Loved the place!!!
mike
October 2016
We liked the accommodations and Freddy was good at communicating. Couldn't get the Internet to work but we still got charged for it. We had a nice stay though and enjoyed cooking dinner and hanging out. I wish we had taken advantage of the pool/ hot tub!
Madison
February 2016
The apartment was very clean and HUGE! Set right on the lake. We took a walk around the lake which was gorgeous. The surrounding hills are picturesque. With access to a swimming pool, pool table, game room, playground this is the perfect affordable spot for a family get-away. We would highly recommend. Although there is not much to do in town, it's a great launching pad to surrounding hiking and hot springs.
Geza
May 2016
Great place to stay right by the lake and easy to arrange
Nathan
January 2016
Super easy to arrange our stay. Everything was as I had hoped/expected--plenty of space for us and the kids, all the amenities we could use. There was even a 1 ft wading pool for the baby! (Though it did have quite a few dead insects floating around.) Had little interaction with Freddy beyond booking but he did answer all my questions in a courteous and timely manner. Staff at the resort seemed to know what they were doing. Only stayed one night as we were just passing through on a little road trip and it was perfect for our needs. Thanks, Freddy!
Traci
April 2016
This place was beautiful! Convenient location to a bunch of spots. We only spent one night here so we couldn't make full use out of the amenities but our stay was enjoyable. The only thing was the wi-fi had poor connection. Other than that I definitely recommend.
Jordan
June 2016
Room type
Entire home/apt
---
Property type
---
Accommodates
4
---
Bedrooms
1
Nice