Located In a stunning South Facing 2 Acre Private Garden Setting within easy walking distance of the picturesque town of Melrose with its historic abbey and range of restaurants. The cottage is not overlooked has private parking, patio, BBQ and garden furniture. Furnished and equipped to a very high standard and offers guests every modern comfort. Pets are welcome arrangement. The cottage is less the cottage is less than a mile from Tweedbank station with direct trains to Edinburgh.
Claire and Donald's home is so amazing and lovely! The pictures really don't do it justice! The cottage is located right next to Claire's beautiful home on their amazing property. The cottage is so lovely, perfect for a couple looking to detach and relax. Claire and Donald were so accommodating- they picked my boyfriend and I up at the train station and brought us straight to the cottage. The pictures really don't do it justice. It's such a lovely space, so homey and nice! We had the absolute best time! The night before we left we went over to Claire and Donald's home and shared a bottle of wine over laughs and storie! It was simply amazing. Would highly recommend and we would definitely come again.
Alana
2017-03-25T00:00:00Z
Lovely spot for peaceful relaxation. Lots of beautiful walking and good places to eat and shop in Melrose.
Jane
2017-03-07T00:00:00Z
Room Type
Entire home/apt
---
Property Type
House
---
Accommodates
3
---
Bedrooms
Melrose, Scotland, United Kingdom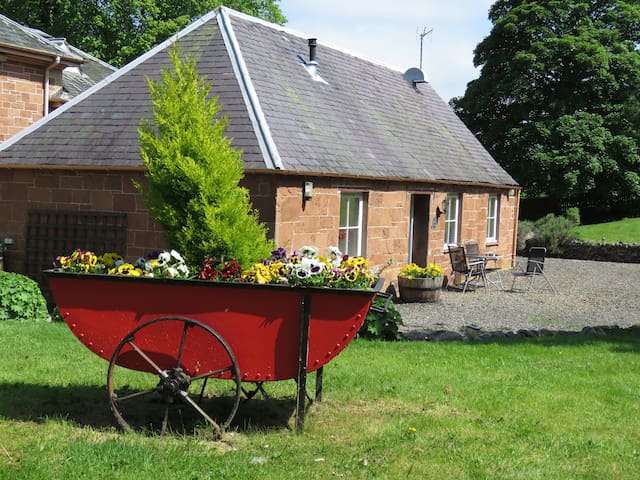 *** PLEASE CONTACT US FOR UP TO DATE PRICES *** Air B&B does not support the same pricing structure as ourselves (they are working to fix it asap) Typically the price shown 'Per Night' is the weekly price. For best prices please contact us! Elegant and light filled, this fantastic two bedroom barn conversion sits in a peaceful spot which is just perfect for relaxing your inner self. Beautifully presented with all mod cons and underfloor heating to the main living space, a stay at the Byre offers style, sophistication and plenty of comfort. Set high on the hillside above the picturesque villages of Gattonside and Melrose, guests here can simply relax and enjoy the changing light across the rolling Borders landscape, or head outdoors for wonderful sightseeing and outdoor pursuits. Set out over one floor, the open plan configuration is a sociable space for couples or families to relax and enjoy those special together moments, perhaps savouring a freshly brewed coffee planning the day ahead, or a candlelit supper into the wee small hours. The sitting room is enhanced by high quality furnishings with ample seating space, including a dash of contemporary art which gives a very endearing nod to the barns past life. Large bi-folding doors open out to the fully enclosed garden for lazy summer days and that wonderful al fresco feeling. The sleek, contemporary lines of the kitchen will be a cooks delight, and the two luxurious bedrooms (one en-suite) are the perfect finishing touch. The property can also be let in conjunction with three nearby properties, the Stables (sleeps 4), the Smiddy (sleeps 4), the Granary (sleeps 8) for larger parties wishing to holiday together.
Room Type
Entire home/apt
---
Property Type
House
---
Accommodates
4
---
Bedrooms
Melrose, Scottish Borders, United Kingdom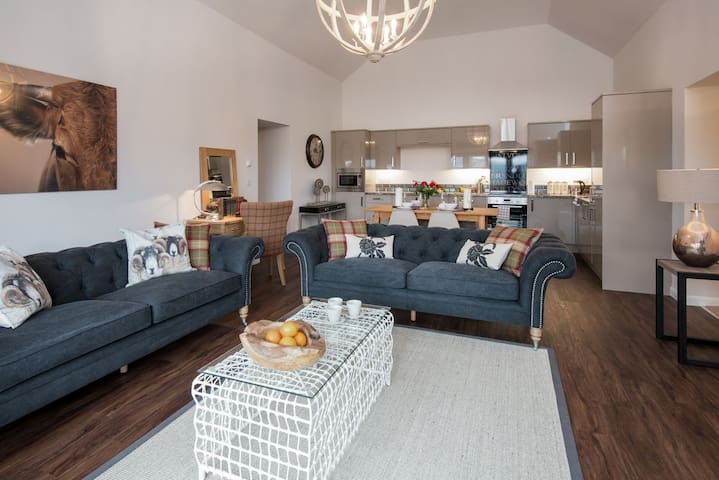 Come and stay in our 1930s semi, 5 minutes walk from Melrose town centre. You'll have your own bedroom and access to shared family bathroom (showerroom). The town is lovely and picturesque, with Melrose Abbey and great restaurants right on the doorstep. No72 bus straight from door to tweedbank station.
A good size double bedroom to the back of the property.
Walking distance to the Greenyards for Melrose 7s (10 mins). Lovely scenery, picturesque town with abbey, great restaurants and local people. Regular buses to tweedbank station and other local towns from doorstep or town centre.
What a fantastic stay. Sam & Paul were so accommodating. So friendly. They made me as comfortable as one the family from the booking and throughout the the short stay. The house was beautiful. The bed like a cloud, and everything you could need was there. From a TV and dvd's, to the fridge down stairs for your food. Sam laid on a lovely wee breakfast in the morning which was a perfect start to the day and that completed a wonderful stay. Thank you...
Adam
2016-06-20T00:00:00Z
Sam was very welcoming, flexible with us really running a little late and even dropped us off down in town before the wedding. As my partner was in high heels, this was a great help! Room was clean, modern and fully serviced. Thank you sam, thoroughly recommended!
Alex
2016-07-18T00:00:00Z
Fantastic hosts, beautiful room and house. Cosy and welcoming with a gorgeous modern shower/bathroom. Lovely people :-)
Christine
2016-11-13T00:00:00Z
We had great stay in Sam´s house, which was very nice, tidy and comfortable. Our room was lovely and very cosy. We really appreciate Sam's willingness to provide us everything we needed on our journey accross the Scottish borders. We would like to thank for a great breakfast, a lot of good advice and very friendly and welcoming attitude. We can definitely recommend this accommodation. Moreover, Melrose is a beautiful place which worths to visit.
Veronika
2016-08-08T00:00:00Z
Sam was the perfect host. The house was clean and spacious. Sam left us breakfast out the next morning which was much appreciated. Would definitely recommend. Thanks, Ed.
Ed
2016-08-21T00:00:00Z
Well, what can we say but this was one of the best stays on our three month hike from Land's End to John'o'Groats! Thank you ever so much Sam for looking after our tired and almost broken bodies, we left feeling like we had stayed with a good friend, not just a property owner. Great location in wonderful Melrose, lovely renovation, very friendly hosts (and let us not forget Molly the gorgeous Scots Terrier). All of the stay was better than described and predicted. Cheers Ant and Melissa
Ant
2016-08-07T00:00:00Z
Sam Was very welcoming and helpful. She Was available to reply to all questions and Was of very good advice. Her home is very well located near the center. Melrose is a lovely town and the Abbey a must see. Good restaurants in town and don't miss the sunday rost.
Benedicta
2016-08-21T00:00:00Z
Room Type
Private room
---
Property Type
House
---
Accommodates
2
---
Bedrooms
Melrose, Scottish Borders, United Kingdom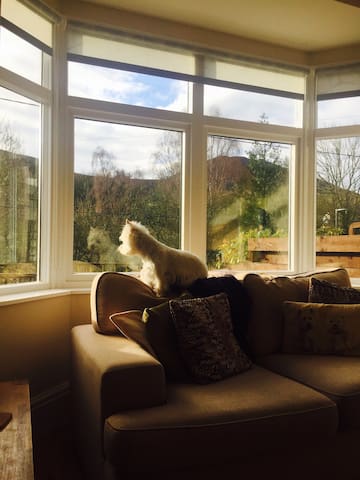 This lovely little cottage is situated in a quiet side street 2 minutes walk from the centre of the beautiful town of Melrose. Melrose is famous for its magnificent Abbey where the heart of Robert the Bruce is buried.
We had a lovely time at Bow Cottage. Would highly recommend staying here and Melrose is an gorgeous little town as well. Louise went to that extra effort with fresh hot cross buns, sweets, eggs, bread and the heater going when we walked in the door. We had our dog Monty with us and the cottage was very dog friendly. The only downside would be there is no backyard so you have to go down the road to a patch of grass for toilet stops.
Jo
2016-03-29T00:00:00Z
Louise made us feel very welcome.we hsd everything we needed and the food that was left waa a nice touch too.
Cheryl
2016-03-28T00:00:00Z
Bow cottage was a wonderful sight following a long bike ride against the wind. It was so cosy and welcoming the lights and fire on to make it feel immediately like home and lemon drizzle cake my favourite. We had a lovely meal in Burts hotel, recommended by Louise, thank you. The coffee and croissants were perfect in the morning. A comfy roomy cottage comes recommended. Louise responded quickly to emails.
sharon
2014-08-31T00:00:00Z
Beautiful chocolate cake and supplies waiting for us on arrival made us feel very welcome. We had a small problem with the shower drain and Louise dealt with it immediately. Location to the town is perfect. Bed in the master bedroom is really comfortable. Although parking has to be offsite, we had no problem finding a space close by. Very nice cottage.
Carolyn
2016-06-30T00:00:00Z
Excellent location, easy parking, great place to stay
Charles
2016-11-11T00:00:00Z
What a gorgeous cottage, with a warm welcome & a deliciously scrummy cake - a great Scottish welcome. Nice & local for outside activities.
Hayley
2015-05-31T00:00:00Z
We had a lovely stay at Bow Cottage. It was immaculately clean, well equipped and Louise left us lots of treats - pastries, toffee, free range eggs and some breakfast things. We didn't meet Louise but she was really quick at responding to questions and very clear with the directions to the cottage and the check-in procedure. We were travelling to a wedding and we were a group of two couples, so the two double bedrooms were ideal. The town of Melrose is beautiful and has lots of lovely shops, selling all sorts of products. The location was ideal for us.
Tim
2015-05-17T00:00:00Z
What a beautiful cottage! What joy coming back 'home' to home made cake, having spent the day exploring the wonderful countryside! Thank you SO much Louise. Simply perfect!
Sarah
2015-08-20T00:00:00Z
Room Type
Entire home/apt
---
Property Type
House
---
Accommodates
4
---
Bedrooms
Melrose, United Kingdom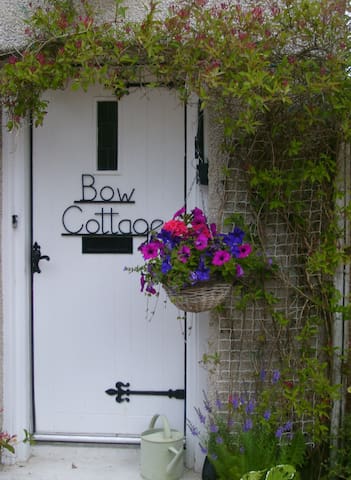 Abbey side sits in a lovely spot a short stroll from the delightful Borders town of Melrose. Views to the magnificent Abbey and minutes from Harmony House where the Borders Book Festival is held.A great place to base yourself for the famous Melrose 7's. Delightful views across playing fields and beyond to the rear. Lots of super walks right from the door & the most recognisable landmark in the Borders,The Eildon Hills. 3 miles to Tweedbank station with a direct link to Edinburgh in under an hour
We also look after Abbey Mill which is a few doors along if you need extra space. The two properties can be booked together where available.
Room Type
Entire home/apt
---
Property Type
House
---
Accommodates
5
---
Bedrooms
Melrose, Scotland, United Kingdom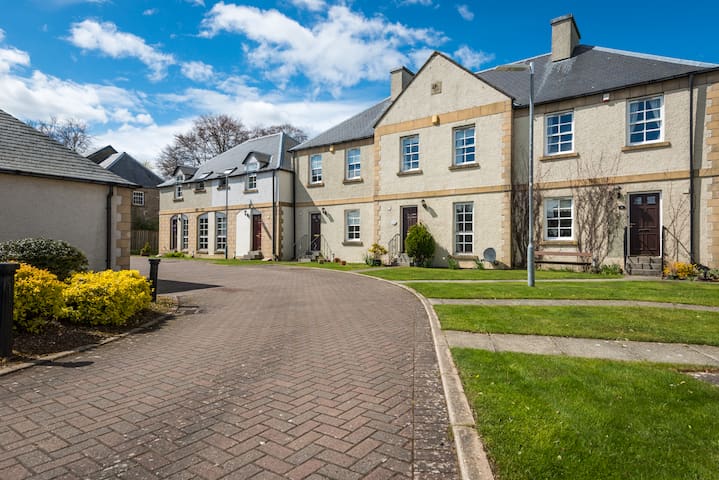 A cosy detached cottage with parking and enclosed garden. Ideally situated in the centre of Melrose, a busy country town. Walking distance to all shops and restaurants.
Great location in the centre of Melrose with parking, which is rare! Lovely entire cottage for rent. Maximum 4. 1x Double bedroom 1x Double/Twin Bedroom
One of the most popular villages in the borders. Very quaint with amazing small village feel. Classic Scottish town with lovely deli's and restaurants.
The reservation was canceled 5 days before arrival. This is an automated posting.
Barry
2014-10-22T00:00:00Z
A gorgeous weekend away with our little pooch. The cottage is a perfect getaway. Lovely little touches to make us feel at home. Our dog loved it. A perfect location to visit the beautiful town of Melrose and the surrounding areas. Laura is a wonderful host. I would highly recommend this lovely, homely cottage.
Emma
2015-11-16T00:00:00Z
This is perhaps the best Air B&B experience I have ever had! The house was perfect for myself and my three friends who were in the area for a lovely holiday of wedding venue shopping. Upon arrival we were surprised to see a homemade cake as well as breakfast food — eggs, orange juice, milk, and croissants — all available for us! The cottage is adorable and was plenty of space for the four of us. It was also easy walking distance into Melrose and right down the street from the Melrose Abbey ruins. I would highly recommend Laura and Lavender Blue Cottage. At the end of our stay I didn't want to leave!
Sarah
2015-03-16T00:00:00Z
CLEANLINESS - 10/10 WARMNESS - 10/10 COSY - 10/10 LOCATION - 10/10 SMELL - 10/10 LOVELINESS - 10/10 When I thought about going to Scotland I started to look up for interesting things to do and historical places to see with my family: my 18 year old daughter, my 11 year old son and my husband. I knew that I wanted to be near Edinburgh but I wanted more, I wanted to know as many little scottish corners as I could.Then, while looking in AIRBNB, I found Laura´s Detached cottage and decided immediately I just had to stay there! The cottage's name is Lavender Blue, a beautiful name which is almost as cosy and tender has the cottage itself! It couldn't be better! Lavender Blue is simply AMAZING and Laura, its owner, the best possible: When we arrived, in the middle of the night, we just had to collect the key from the safe, come in and feel the marvellous fragrance inside the house! The house is beautiful, very well decorated, warm, big and with everything you might possibly need!!! Since one hairdrier in each bedroom, wonderful sofas, a perfect equipped kitchen and even a sunnyroom with everything, to all the extra towels and blankets! Besides all this, Laura left us a welcome basket and a freshly baked cake at the side of some tea, fresh milk, eggs, butter, sweets and everything we might need like coffeee, suger, sweetener, etc! Every little detail inside the cotage reveals Laura's personality and kindness and we liked so much Laura and her house that we felt like if we were in our own home. Besides this, the cottage is located in Melrose, a town in the Borders which is the location of Melrose Abbey, the most ancient and important of all the Abbeys in Scotland! Melrose itself is beautiful and pitoresque and has got lots of historically important places around: Dryborough; Jedborough, Kelso, etc. In the end, because of all I have described, we decided to change our plans completely and stay longer in Lavender Blue, to have the opportunity to get to know the surrounding area : We bought a five day pass in Edinburgh Castle and visited all the monuments in the area with the same money as the tickets for the castle would have costed, which was great. Everything because of Lavender Blue and how it was cosy! Thank you so much Laura because we are counting our days to come back to your( a bit our ) house! It's simply adorable and the pictures can't show how cosy, wonderful and warm it really is! Lavender Blue is AMAZING! There are no words to describe how it really is, you have to try it and you will write just the same as I am writing now. ( We forgot a backpack with our plane tickets and asked Laura' s help: she went to the house and we came back at 2 in the morning to get the key! Just excellent!...
Sofia
2014-03-07T00:00:00Z
Laura's cottage is a dream! It is an absolutely wonderful place to stay. The home is cozy and smells lovely of lavender. We were so excited to find this cottage just steps away from Melrose Abbey where we were attending a wedding. Laura is very warm, polite, and easy to communicate with. We highly recommend staying here!
Leah
2015-01-22T00:00:00Z
Fantastic place. It's like home away from find. Little things like complimentary bread, eggs, carrot cake, milk and a goody basket made the experience wholly enjoyable while I was there on business. Thanks Laura you're a star!!
Jamal
2016-10-07T00:00:00Z
Laura has a lovely cottage and we felt warmly welcomed. Met with a basket with treats, eggs and bread was very welcome. The cottage was very clean and homely with a beautiful garden- perfect for our 2 year old to run around in. Melrose is a charming place and this was the perfect place to stay. Looking forward to a return visit.
Louise
2015-10-10T00:00:00Z
Laura made us feel very welcome, greeted by a hamper of northern goodies and doggie treats! The cottage was so lovely we wanted to stay longer, very cosy and peaceful but also a short walk to the local store and a couple of country style pubs. It was great value for money and would definitely stay again! Andrea, Nicky and Kato.
Andrea
2016-03-15T00:00:00Z
Room Type
Entire home/apt
---
Property Type
House
---
Accommodates
4
---
Bedrooms
Melrose, United Kingdom
*** PLEASE CONTACT US FOR UP TO DATE PRICES *** Air B&B does not support the same pricing structure as ourselves (they are working to fix it asap) Typically the price shown 'Per Night' is the weekly price. For best prices please contact us! A stylish two bedroom barn conversion in an idyllic location ideally placed for relaxation, sightseeing and outdoor pursuits. Set high on the hillside above the very picturesque villages of Gattonside and Melrose, the Stables is a beautifully presented property where you can enjoy the tranquil beauty of the countryside but with plenty of local amenities on the doorstep. The property sits on one floor and has been carefully redeveloped to create a bright contemporary living space which takes advantage of the views over open countryside to the Eildon Hills beyond. Professionally designed by interiors expert Michael Vee, the attention to detail is evident throughout with high quality furnishings and sumptuous throws set against a light-filled backdrop. The open plan living area features a comfortable chaise sofa and vintage leather armchair with a modern bioethanol fire. The fully equipped kitchen includes a dining space for four guests, and large bi-folding doors open out to a small garden with decking area which is fully enclosed for the safety of children and dogs. The two sophisticated bedrooms (one ensuite) are finished with high quality linens and luxury finishes for a perfect night's sleep. The property can also be let in conjunction with two adjoining properties, the Smiddy (sleeps 4), the Byre (sleeps 4) and the Granary (sleeps 8) which is ideal for extended families, groups or sporting parties looking to holiday together.
Room Type
Entire home/apt
---
Property Type
House
---
Accommodates
4
---
Bedrooms
Melrose, Scottish Borders, United Kingdom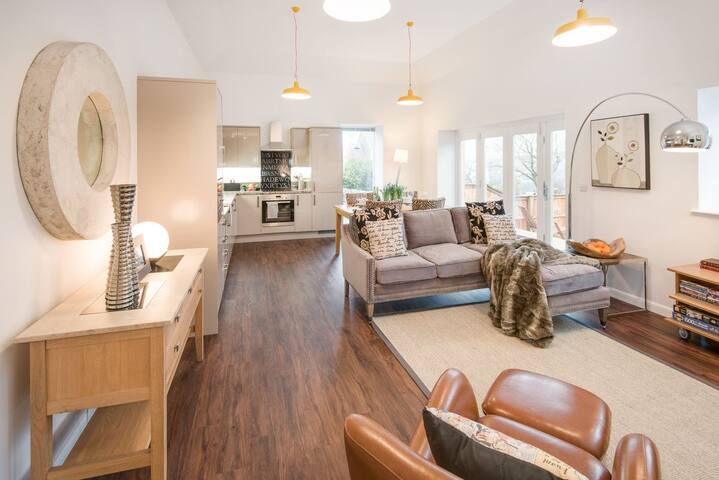 Broomfields offers an alternative to traditional bed & breakfast accommodation. We are a small Country House with stunning views nestling in the beautiful Scottish Borders near Melrose on the River Tweed. We can offer a warm friendly environment to you whilst exploring the many opportunities the area has to offer. Salmon fishing, shooting, walking, bird watching, golf and historical places of interest. Your hosts will strive to exceed your expectations.
We have only two double rooms with a private bathroom on the ground floor. The Garden Room enjoys stunning views of the Cheviot Hills. The Log Store is a pretty and comfortable budget room. Guests can relax in the family lounge. Continental Breakfast is served in a grand dining hall with a cosy log burner. There is an additional charge of £10 per person for a full Scottish Breakfast. Evening dinners for £25 can be arranged with prior notice and menus can be provided on request.
We are lucky to be in one of the prettiest parts of Scotland with easy access to Edinburgh, Northumberland and Dumfries and Galloway. Our rural location is very peaceful and healthy and steeped in Scottish history.
Room Type
Private room
---
Property Type
House
---
Accommodates
2
---
Bedrooms
Melrose, Scotland, United Kingdom
A three bedroom house in the center of the beautiful Scottish borders town of Melrose. River walks on the Tweed, rugby at the famous Greenyards ,shopping and eating on Melrose high street its all two minutes walk from Parkview. Also why not visit the biggest Hogmanay party in the Scottish Borders on the High street in Melrose we are two minutes walk away and our WI-FI is free
Parkview is a three bedroomed house over looking the delightful Gibson Park in the heart of the historic town of Melrose. It has a spacious layout downstairs comprising of a modern kitchen, W.C and a lounge/dining room, which can be used by six people with ease. Upstairs there are three well proportioned ,comfortable and stylish bedrooms, with open views across Melrose and the majestic Eildon hills, serviced by a family (URL HIDDEN) house has private parking and the location means a very easy stroll home from the town and everything it has to (URL HIDDEN) to the house there are great facilities for families which include two very well equipped play parks and for the more athletic why not have a game of tennis on one of the three all weather floodlit courts only 40 meters away.Unlike a lot of the properties on this page who claim to be in Melrose We are with the the town centre 2 minutes walk from the house .Outside the decked courtyard lets you and your friends and family enjoy the relaxing atmosphere of the park but still with your own privacy.Parkview is semi -detached and 40 years old and was fully refurbished in 2011. We offer visitors to Parkview clean and comfortable accommodation which makes a great base for visiting this part of Scotland.Hogmany in Melrose is the biggest street party in the borders. You could sit and watch the grand firework display from the house or join the many spectators in the town square to bring in the New Year. Visit the Ancient Melrose Abbey or the many independent shops and restaurants on (URL HIDDEN) are many lovely walks by the river or around the town .The tourist information centre in the town will keep you right on all the places to visit.FISHINGMinutes walk take to the river tweed for its great trout and salmon fishing.There are many lovely walks along the tweed and through some of the small villages near Melrose. GOLFWith 21 courses in the region from little 9 hole gems to tour event standard there is something for all standards. We offer discounts at some of the local course and in some case free golf when booking a week as advertised at Parkview.Edinburgh is a easy one hours drive where you can view the many attractions and shop in one of the worlds best known capitals cities.
Kevin was a great host. It's a great house for a family, homely stay in the Borders and everything was neatly organised, easy to use, easy to find, and good to feel at home. We left a bag of washing in the house when we left and Kevin was a fantastic help and sent it on to our home address almost immediately. Thanks a lot!
James
2015-08-30T00:00:00Z
Lovely place. Simple and comfortable. Spacious. Great location near village. Nice view of the Eildons.
Helen
2016-12-29T00:00:00Z
Good accomodation - spaceous, well furnished. Great location. Host helpful and friendly. Would recommend
Hywel
2015-05-04T00:00:00Z
The host canceled this reservation 38 days before arrival. This is an automated posting.
Adam
2015-07-06T00:00:00Z
Thank you for a lovely stay in Melrose! The house is a HOME, very clean and a lovely place to relax. The place is even nicer than photos give it credit, and Melrose centre is a minutes walk away if that. Kevin left us a lovely bottle of wine for when we got there on the first night, which was very appreciated after our drive :) The icing on the cake was the Scatagories board game on the book shelf :P
Stephen
2015-09-01T00:00:00Z
Kevin fue fantástico. Gracias de verdad por todo. El lugar es mejor de lo que esperábamos y nos encantó la ciudad y sus alrededores. Todos quedamos encantados. Gracias, gracias, gracias!!
Gaston
2017-02-11T00:00:00Z
Room Type
Entire home/apt
---
Property Type
House
---
Accommodates
6
---
Bedrooms
Melrose, United Kingdom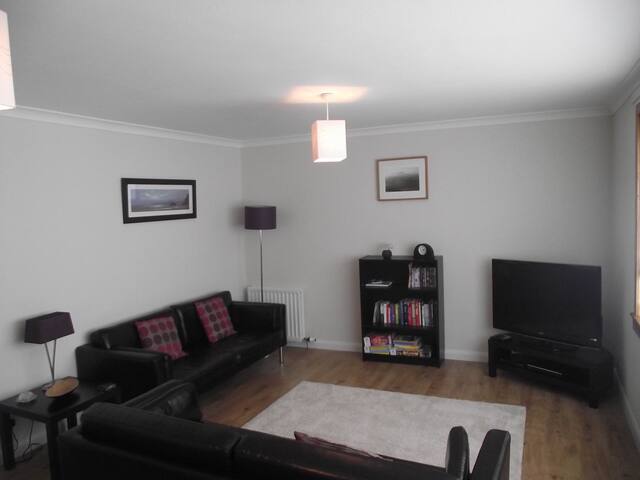 Holiday Home in Gattonside, Melrose, Scottish Borders - Private Location Yet Within Walking Distance To Restaurants, Shops Etc. Ideal for family and friends gatherings as well as Bachelors and Hens.
Situated in the village of Gattonside, Melrose, this property offers luxury accommodation. Tweed Rig is a unique large 5-bedroomed south facing villa in a one acre garden set in a secluded location, yet within walking distance of restaurant/shops/river. Excellent location for exploring more of the region. Fantastic views of Melrose and the Eildon Hills. Tweed Rig is furnished to a high standard and is well-equipped to make your stay more enjoyable. Ideal for large groups and equally suitable for couples seeking spacious private accommodation. Ground Floor: Large garage, family room, utility room. Large patio area with BBQ and garden furniture. First Floor:1 double bedroom with en-suite shower. 1 twin room with en-suite shower, 1double room with en-suite bathroom with small sauna. Large living/dining/kitchen area. South-facing spacious balcony for outdoor living with sun-loungers, table and seating for 10. Top Floor: Gallery bedroom with two bunk-beds and chair bed if required. Spacious master bedroom with large picture window facing the magnificent Eildon Hills. En-suite bathroom with bath and shower facilities. Dressing room also suitable for travel cot or chair bed.
Fantastic place to go with a family or even friends, lovely setup. I would definitely recommend this place to any who seek a good deal and a great time.
Ricky
2013-03-01T00:00:00Z
Room Type
Entire home/apt
---
Property Type
House
---
Accommodates
14
---
Bedrooms
Melrose, Scottish Borders, United Kingdom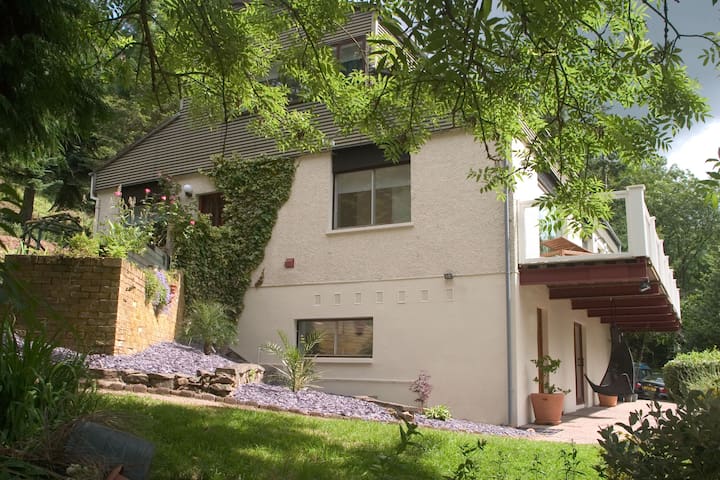 Our place is good for anyone who likes to relax or being active Earlston is a little village with pubs, shops and a post office. Good travel connection to all Border towns and Edinburgh, Newcastle and Glasgow international airport The Scottish Borders is such a fantastic place to visit with lots of great, open outdoors space, stunning views & walking opportunities for all grades. Brilliant cycling, fishing & shooting opportunities Melrose Book festivals and the famous Rugby Sevens. See you soon
Our cottage is a lovely little family home surrounded by hills. It's very unique inside and lots of people says it reminds them of a Hobbit house. In the garden you are welcome to bring out your breakfast or dinner if weather allows. Welcome to use the BBQ if you can get it to start and of course the garden furniture.
Close to Earlston you have many lovely day trip Scott's View, Sir Walter Scott's Abbotsford House, Dryburgh Abbey, Wallace Monument to mention some of the few. We have many events like: The rugby sevens ( April through to May) Melrose Yearly book festival (15th-18th July 17) Earlston 7s (first week in July) Common ridings throughout the summer Walking: You have the Black Hill (can be accessed easily from house) Eildon Hills. The Cheviots, the Lammermuirs and many lower grades walking paths round and about Earlston Biking/Mountains biking: Glentress world famous cycling tracks is 40mins away by car. The the national cycle route 1 is coming through the Borders making brilliant biking opportunities. All our delightful hills around us makes a great day out too on the bikes Fishing and shooting: Contact me directly about this
Dorthe is such a nice, caring, lovely host, we really felt at home in the amazing hobbit's house and we would have loved to stay longer. Milo the dog is a cutie as well!
Claire
2017-03-25T00:00:00Z
Dora is a wonderful host, very welcoming and kind, and gave us lots of good advice about the country. We would definitely recommend staying with her ! The area is lovely and full of things to visit.
Alice
2017-03-09T00:00:00Z
The essence of B&B.....and some. A really helpful, friendly host in the cosiest home, nestled in the hills . Dora baked us a cake made sandwiches and even taxied us a 10 mile round trip to Melrose so we could enjoy the rugby sevens in comfort ! Just a wonderful relaxed stay that made our visit to the Borders truly memorable. Thanks
Rufus
2017-04-09T00:00:00Z
We really enjoyed our stay here, the house is amazing and Dorthe's description is very accurate. It was great having the choice of having our own space, but we enjoyed chatting with Dorthe and enjoyed her company, she made us feel very welcome. Our room was very comfortable and we both slept well, we did like having the toilet next to us for those late night visits so again that was a plus point. Breakfast was good and the rolls were lovely. The location was great for us, we could walk up to the pub for dinner although you were welcome to use the kitchen at the house if you wanted to make your own. There are 3 pubs within walking distance and a few takeaways so you won't starve. The location is great for exploring the area and Dorthe can give you advice on where to go walking. It was our first experience with Airbnb and would definitely do it again, good to have your privacy but enjoy the company of a friendly host. Thank you Dorthe, I would recommend your accommodation to anyone who is staying in the area, we loved it.
Coonan
2017-02-06T00:00:00Z
Mi piace visitare la Scozia. Sono un appassionato di bicicletta e spesso soggiorno nei Borders dove faccio lunghe escursioni tra le piacevoli colline a sud di Edinburgo. La casa di Dora si trova in uno di questi piacevoli paesaggi dove la vita è tranquilla e serena. L'ospitalità di Dora è stata per me come la Scozia, serena e piacevole. La sua casa è un tipico cottage scozzese bene arredato e la stanza era pulita e curata in ogni particolare. Avevo a disposizione anche un piccolo bagno tutto per me. Dora è una persona molto friendly e allo stesso tempo discreta, mi sono sentito a mio agio nella sua casa. La colazione è stata abbondante e ho potuto anche fare il caffè. Sono rimasto molto contento della casa e della stanza e anche della accoglienza e della ospitalità. Credo che tornerò ancora a Earlston nella casa di Dora.
GIACOMINO
2017-02-11T00:00:00Z
Room Type
Private room
---
Property Type
House
---
Accommodates
3
---
Bedrooms
Scottish Borders, Scotland, United Kingdom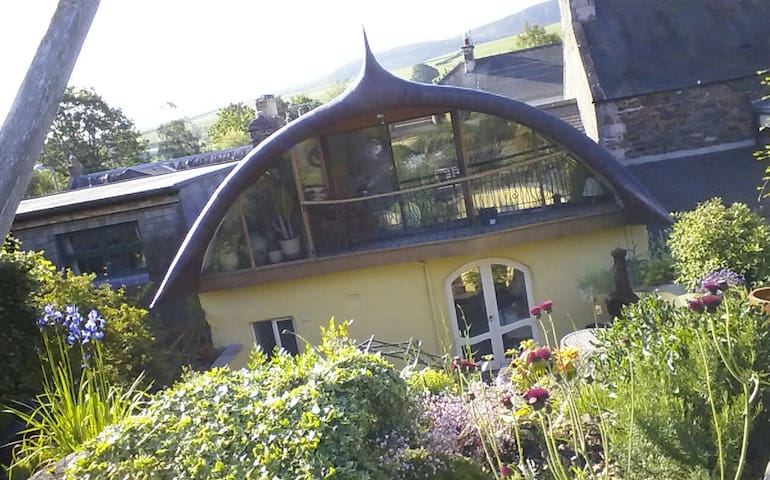 Heron Cottage is a delightful detached cottage dating back to the early 1800's, situated in the attractive village of Newstead providing the perfect base to explore the Scottish Borders. The historic town of Melrose is just a short walk away with many bars and restaurants. Recently renovated with everything needed to make it your perfect holiday home. Perfect for families or couples, the tranquil setting is a perfect base for exploring everything the Scottish Borders has to offer.
Heron Cottage is an beautiful detached period cottage that has recently undergone a complete renovation inside to offer stylish, contemporary self catering accommodation. Although the exterior of the cottage is traditional in appearance, it is in complete contrast to the modern accommodation that lies within. Immaculately presented throughout, Heron Cottage oozes good taste and boasts a beautiful sleek high gloss kitchen and the luxurious contemporary bathroom even has 'his and hers' wash basins! A fabulous wood burning stove in the lounge ensures a warm welcome awaits guests whatever the season. Heron Cottage has 2 upstairs bedrooms (limited head room in parts - see photos), and downstairs is a modern and spacious kitchen/dining room, bathroom and contemporary lounge. The windows to the front of the cottage have been kitted out with made to measure plantation shutters for added privacy. The kitchen has a sleek and modern look and is fully equipped, including a washer/dryer and dedicated wine fridge! The dining area features a dining table that seats 4 people. The lounge is the perfect place to relax, including a 32' LCD TV with Freeview, DVD player, hi-fi quality iPod speakers in lounge and a traditional wood burning stove, with a basket of logs provided. A selection of DVDs, books and magazines are available for your enjoyment. Luxury modern bathroom features twin sinks, a large heated towel rail, and bath with large rain fall shower head over the bath. Bath towels and bath robes are provided. A range of books, leaflets, local tourist information and maps are also available so you can make the very most of your stay. The recently opened rail link to Edinburgh is easily accessible - there is ample free parking at Tweedbank Station just 5 minute drive from Heron Cottage. From here Edinburgh City Centre is just 40 minutes train ride away making it perfect for a day exploring Edinburgh. Whether you are looking for a peaceful, relaxing break or a more energetic outdoors holiday, Heron Cottage is located at the centre of the idyllic rural setting of the Scottish Borders that has got everything covered.
Heron Cottage is situated in the heart of Scottish Border country, an ideal base to explore the many nearby abbeys, castles and stately homes including the historic Melrose Abbey. Most countryside pursuits are available here or close by, including walking, cycling, mountain biking, fishing, golf, pony trekking, tennis, canoeing, shooting, exploring and much more. If you want to visit Scotland's capital city, Edinburgh is less than an hour drive away. The village of Newstead lays claim to be the oldest inhabited village in Scotland, and has no shortage of history. There are plenty of walks you can take from the front door of the cottage, visit the ancient Roman Trimontium walk and the Roman viaduct, or take the short walk to the banks River Tweed, which offers some of the best salmon fishing in the world! The historic town of Melrose is a 15-minute walk away, with plenty of places to explore including Melrose Abbey (Robert The Bruce's heart is said to be buried there), Harmony Gardens and Melrose Rugby Club. There is no shortage of restaurants and pubs - something to suit everone's taste!
Wonderful cosy, comfortable little cottage in a gorgeous part of Scotland. We were there for a long weekend in February and had lots of snow, which was quite magical, and meant that we really appreciated the wood-burning stove! The beds were comfy, duvet was fab, and towels extra fluffy. The kitchen was well kitted out (it even has a dedicated wine fridge!), and the ipod docker in the sitting room was a plus too. Keith responded quickly to the queries we had and kindly provided a booster seat-type high chair for our wee toddler. All in all a great stay!
Clare
2016-02-15T00:00:00Z
This lovely little cottage is clearly well cared for and well loved by Keith and his family. Warm, clean and bright the cottage was a great base to explore the border region, we even got a bit of snow. Keith was very responsive to my messages an the cottage was exactly as described.
Ed
2016-11-10T00:00:00Z
We had a lovely stay at Keith's cottage. It was actually better in person than in the photos. Very comfy beds and nice homely feel with everything you need. Newstead is a pretty village and perfect for Melrose and Galashiels
Laura
2016-08-23T00:00:00Z
We were delighted with the whole experience of staying at Heron Cottage. Questions and requests before our stay were dealt with promptly by Keith, and information about how to get there, how to access cottage, contracts etc. were all very clear. We would recommend it to friends and would stay there again ourselves.
Mary
2016-11-14T00:00:00Z
We had a 2 night stay at Heron Cottage and had a lovely time! A great base for exploring the area, immaculately clean and stocked with everything you could possibly need. Would strongly recommend.
Jon
2016-10-09T00:00:00Z
Lovely cottage, the recent updates added to the experience had a relaxing few days, the area is outstanding so lovely to walk to melrose which has good restaurants, easy to get a taxi back. quick response with an issue we had.
Clare
2017-03-26T00:00:00Z
The host canceled this reservation 61 days before arrival. This is an automated posting.
Michael
2016-02-07T00:00:00Z
We loved staying at Heron Cottage. Keith was very helpful throughout with planning and communication, and everything went smoothly when we arrived. The housekeeper was there (we were early!) but she was really friendly and let us drop our bags off and we then cycled into Melrose which is very close by, and did some shopping. The butchers and greengrocers in Melrose are great! The cottage had everything we needed for cooking meals and making packed lunches. We loved being able to use the wood-burning stove, which makes the living room really cosy very quickly. The beds were comfortable and we all agreed the shower is great! Thanks very much - I would definitely stay again.
Anna
2016-09-05T00:00:00Z
Room Type
Entire home/apt
---
Property Type
House
---
Accommodates
4
---
Bedrooms
Newstead, Scotland, United Kingdom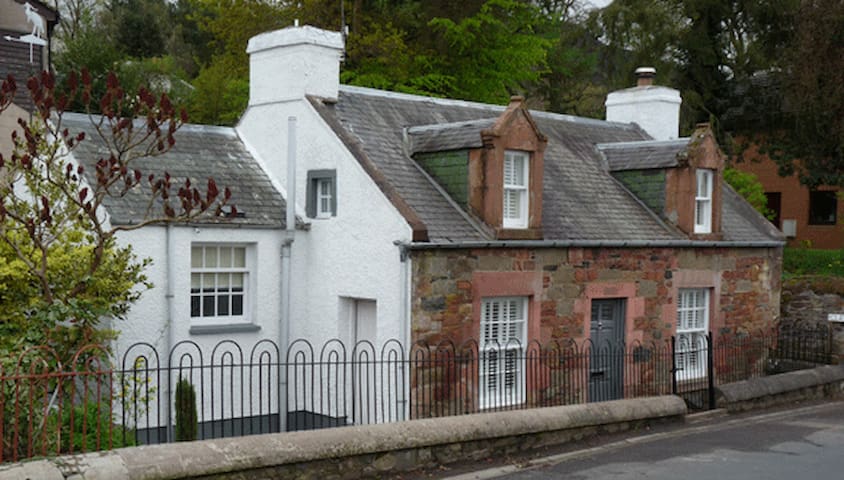 Enjoy a two centre stay in Horseshoe Cottage and escape to Ruby Bowtop our 95 year old Gypsy Caravan in the woodland garden - a romantic magical retreat! Centrally situated in the heart of the Scottish Borders and only an hour away from Edinburgh. Explore the Eildon Hills, St Cuthbert's Way and River Tweed, Melrose for restaurants and shopping, beautiful beaches less than an hour away. Our place is good for couples, families, and up to two well behaved dogs are welcome in Horseshoe Cottage.
The best of both worlds - enjoy the comforts of Horseshoe Cottage and the romance of Ruby. Delight in the magic and tranquillity of this special combination to offer space and timelessness where you can enjoy sleeping under the stars and travel without travelling .... Horseshoe Cottage - originally stables for the horses which used to plough the surrounding farmland, the cottage is now converted into a colourful, light-filled hideaway. Decorated in beautiful jewel like shades in eco friendly paint reflecting the authentic colours of Ruby and brings a healthy glow to the cottage. There is a spacious bright sitting room with a view of the woodland garden with Ruby who sits beneath the pine trees, and the Eildon Hills beyond. The accommodation also comprises galley kitchen, bedroom with double bed and another with twin beds and bathroom with shower. The cottage is warm and cosy with oil fired central heating as well as the ambience of a wood burning stove. Well equipped with dishwasher, washing machine, small tv and dvd combo cd and radio, games, books and toys are there for your pleasure. The kitchen has all you will need for cooking up a storm with standard oven, microwave, fridge, freezer, etc. Ruby Bowtop - in the woodland garden in front of the cottage is a secret hideaway ... beneath the trees, as if time stood still, rests an authentic 1930's Romany Caravan, living wagon. Experience sleeping under the stars in a lovingly restored bowtop, now with electric light and heater as well as full sized double bed. Step up into bed and immerse yourselves in the maroon and deep pink lace which cascades around you and enter another world (sssh a little secret, actually 'lingerie lace' which seems just perfect! With room for two, escape into the magic of the nomadic life and recapture the essence of being free and living amongst nature. Suitable for couples to enjoy lots of space together or bring friends. Families are welcome and the children can enjoy meandering through the woods, playing in the streams and waterfalls - just remember the wellies! And of course doggies welcome too into our cottage.
We live near the foot of the legendary Eildon Hills which are right in the centre of the Scottish Borders. The River Tweed weaves its way around the Border towns and villages and is great to explore its banks. Melrose just over the hill and 10 minutes by car is an absolute delight with boutique and quirky shops, delicious cafes, bistros and restaurants and home to the famous Rugby Sevens and Borders Book Festival. Other towns - Kelso, Peebles, Jedburgh, Selkirk, Lauder are a short drive away and if you come in the summer months you will be amazed to see the spectacular Common Ridings where hundreds of riders participate. If you fancy going horse riding when you are here there are several excellent riding centres which we can recommend. Walking and wildlife is spectacular with St Cuthbert's Way running almost right by the end of our drive, the Borders Abbeys Way, Southern Upland Way as well as strolls along the many rivers. Woodlands and tracks provide excellent mountain biking too, with 7 Stanes and Glentress amongst others nearby. If you'd rather just a tootle around the B roads with a stop at a cafe or two then we can help you arrange bicycle hire to explore on two wheels. On wheels .... there's the most amazingly quirky event in May in Denholm where the famous 'Bogie Race' takes place - think Monte Carlo, though better! Arts and Crafts are in abundance in the Borders with Arts Festivals, studios to visit, activities to take part in - let us know your interests and we will point you in the right direction. Vintage .... just don't get me started - I love a good rummage and can suggest several places for a bargain in the vicinity - remember to bring a trailer for all your goodies! Some great independent shops selling all sorts in the Borders villages and towns and the most amazing second hand bookshops for browsing. Supermarkets and cinemas at local towns Galashiels and Hawick and skating rink at Kelso. Swimming pools at many of the local towns. Some amazing gardens to visit and enjoy the colours of nature - organic, woodland, riverside and water gardens. The seaside - ahh the beaches are spectacular and only an hour away to many glorious and sometimes sun-kissed sandy and wild beaches. And for the city hit - Edinburgh is an hour away by car or you can now travel by train! Or of course you could just relax in the Cottage look out at the Eildons and escape to Ruby for some quiet magical time ...... up to you! Eeks I almost forgot to mention the cakes .... I'll keep that a secret until you get here.
Fab little retreat for a long weekend, with lovely hosts to boot!
James
2017-01-02T00:00:00Z
Room Type
Entire home/apt
---
Property Type
House
---
Accommodates
4
---
Bedrooms
Bowden, Scotland, United Kingdom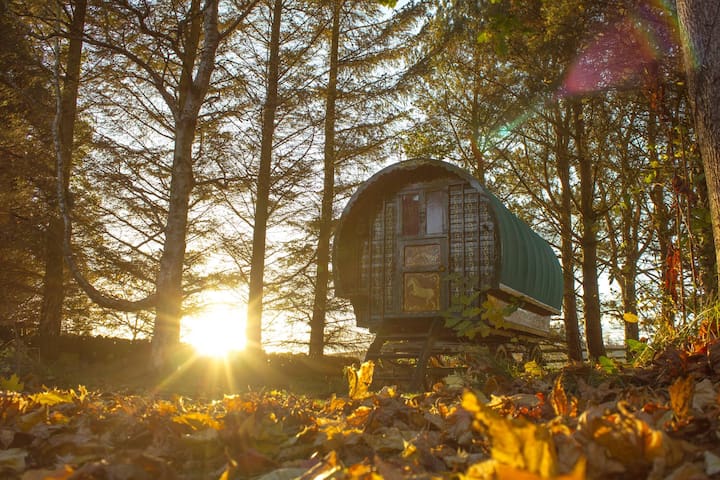 Delightful detached cottage situated in reputedly Scotland oldest continuously inhabited village. 1 mile from the bustling Abbey town of Melrose and a mere 4 miles to Tweed bank train station where you can hop aboard and be in the magnificent festival city of Edinburgh in less than an hour. Fabulous walks right from the door including the Borders landmark Eildon Hills.
The owners Neil & Ann have lovingly restored this property as it was the first house they had when they got together. They hope one day to retire back here as it holds such wonderful memories for them and they hope they can help you create some wonderful holiday memories too.
A great stay for us. Lovely wee cottage
Laura
2017-03-18T00:00:00Z
Room Type
Entire home/apt
---
Property Type
House
---
Accommodates
4
---
Bedrooms
Scottish Borders, Scotland, United Kingdom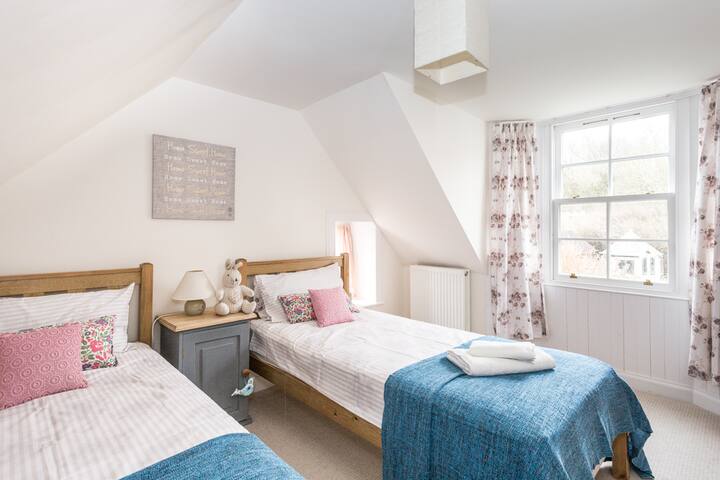 My house is close to St Boswells Melrose and Galashiels. Its centrally located with easy access to many tourist destinations, there are buses directly outside which take you to kelso/Jedburgh. It has been recently renovated is bright and spacious.
I have a wonderful large double room with a handmade superking bed that is extremly comfortable. It comes with its own beautiful bathroom.
It is a quiet neighbourhood, especially at night. The road outside is busy in the morning with people getting to the local council headquarters. There's a local pub and another beautiful bar/restaurant nearby. There's also a very popular garden centre/cafe and a donkey santuary nearby
Room Type
Private room
---
Property Type
House
---
Accommodates
2
---
Bedrooms
Newtown Saint Boswells, Scotland, United Kingdom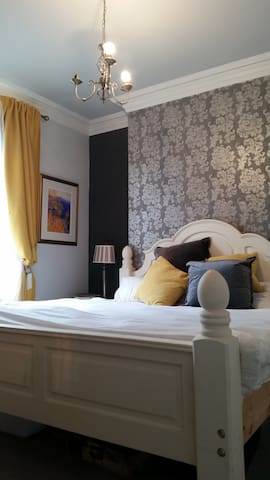 Plumtree Cottage is a lovely home near the historic town of Melrose, the Borders Abbeys and Abbotsford once the home of writer Sir Walter Scott. This area is excellent for cycling, motor cycling, walking and simply touring.
The twin room is suitable for walkers and cyclists or children.
This is a picture post card village with a variety of interesting characters! It's beside The Eildon Hills so great for walking and cycling. The views from the house are to die for ..
Maggie is exceptionally welcoming and hospitable : lots of chat; tea on; lovely breakfast; suggestions re cycling route. Lift to pub! Thoroughly recommended!
Jim
2017-04-05T00:00:00Z
Maggie was very helpful from the beginning, and although we were slightly late for the promised arriving time she was so welcoming on the day. The room was so lovely and cute, and it was perfect size for me and my partner. She provided us with everything we need - when we woke up in the morning, a breakfast was already arranged so we were able to start a day without worrying about food. Her living room was so cozy too, with a cute fireplace and she left a little note how to use Netflix on her TV - what a hospitality!! We absolutely loved staying at her place, she is genuinely so friendly and fun to talk to. Oh and a pub/restaurant place she recommended was a great place which we would never discover if she didn't tell us. Cannot wait to come back to this place. We recommend to anybody who is visiting Scottish Borders, it's very close and handy to drive around many attractions in the area!
Saki
2017-01-29T00:00:00Z
This was our first time using airbandb. Maggie was a perfect host. Highly recommended.
Tracey
2017-01-03T00:00:00Z
Maggie was a great host, giving great communication pre-arrival and a warm welcome when we turned up quite late in the evening. We were given a tour of the house, a cup of tea and she even went out of her way to get us a loaf of bread for the morning. The house itself is lovely and cosy, and is set in a wonderful scenic location with beautiful views across the countryside. The only downside about our stay was that we couldn't stay any longer! Thank you Maggie for being a fantastic host.
Carl
2017-03-18T00:00:00Z
Maggie's place is in a glorious situation just below the Eildon hills and with fabulous views of the surrounding countryside. It is impeccably clean and Maggie made us feel at home as soon as we arrived with tea and coffee. We had our own sitting room with log burning stove which Maggie calls the 'snug' in which we were cosy and warm when the rain lashed down on our first morning. Comfortable bed and a tasty breakfast of fresh bread, cereals, fruit, etc. Our stay was all too short and we can't wait to return. This truly is a hidden gem.
Charles
2017-02-26T00:00:00Z
Room Type
Private room
---
Property Type
House
---
Accommodates
2
---
Bedrooms
Bowden, Scotland, United Kingdom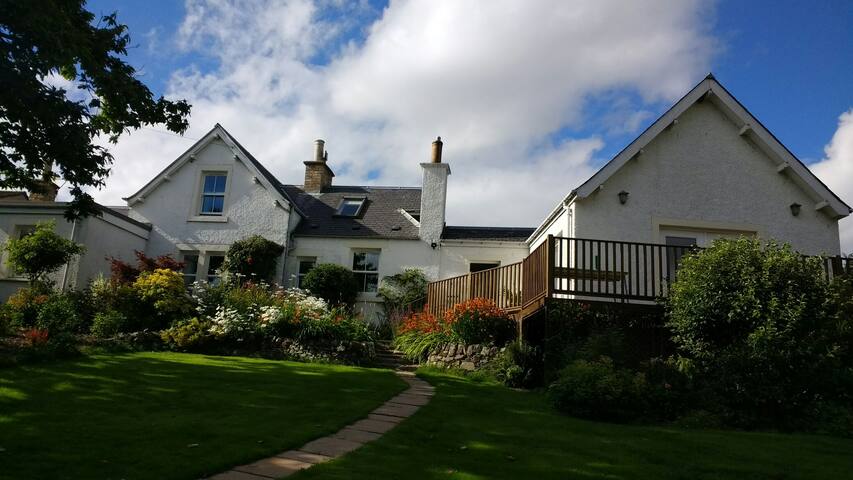 A Victorian stone cottage with spacious private garden. Located in Gattonside in the Scottish Borders, just 10 minutes walk from Melrose. Enjoying stunning views across the River Tweed to the Eildon Hills. TOWELS & LINEN ON REQUEST.
The Cottage sleeps 6 people in two bedrooms TOWELS & LINEN ON REQUEST (one double room and one twin bed room), both with ample storage. The sofa bed sleeps 2 people and is located in the snug on the ground floor. There is a welcoming entrance hallway and the cosy living room has two large sofas and armchairs. It has a beautiful period open log fire and south facing bay window. It has plenty of board games, books, free unlimited WIFI and Freeview TV to keep you entertained. The kitchen and dining/breakfast area is spacious and well equipped. This is an ideal area for family dinners or entertaining. Leading off from the kitchen you will find the snug (with sofa bed) and conservatory. The family bathroom is bright with a constant supply of hot water and has a bath with shower overhead, hand basin and toilet. In addition, there is a cloakroom on the ground floor. The garden is open and spacious interspersed with various fruit trees. To one side the barbeque area overlooks the garden and enjoys stunning views across to Melrose and the Eildon Hills.
Marr Cottage is near to 2 national walking trails the Southern Upland Way and St Cuthberts Way as well as numerous local trails. There is fishing available at the Lower Pavilion just two minutes drive. The Melrose Golf course has beautiful views across the valley and on to the Eildon Hills.
Peter made us very welcome to this excellently refurbished and equipped cottage. After meeting us with the keys, giving us a comprehensive explanation of the cottage facilities and a summary of where to go locally, Peter left us to it. The views from the cottage to the Eildon hills are magnificent. The cottage is well situated for local walks (including the Eildon hills, Melrose and the surrounding area), local restaurants (particularly the highly recommended Chapters restaurant a few hundred yards away), and for easy access to Abbotsford (Sir Walter Scott's house) and the Park-and-Ride station at Tweedbank. The train ride on the newly-opened line from Tweedbank to Edinburgh is very picturesque, convenient and reasonably priced. Note that the cottage is on the main road in Gattonside, not up the narrow side street the SatNav directs you up!
Geoff
2015-10-07T00:00:00Z
We had a good stay at Peter and Ana's cottage. The cottage is a pleasant comfortable and spacious place to stay. With stunning views and an easy stroll into Melrose, Also only ten minute drive to the park and ride at tweedbank for the train to Edinburgh. A great base to explore from. Communication was good throughout and looking forward to coming back in the summertime to make full use of the lovely garden.
Andrew
2015-10-31T00:00:00Z
A comfortable cottage in a quiet, scenic area. Nice garden for sitting out - even in March! Two excellent restaurants in the village and only a short walk over a well lit bridge to Melrose for a good variety of shops, pubs and hotels. A great base to explore the Borders.
Margaret
2017-03-10T00:00:00Z
The cottage was very well presented and perfectly positioned for a walk down to the River Tweed and over the suspension bridge into Melrose. Lovely big kitchen and wonderful big back garden.
James
2016-04-01T00:00:00Z
Lovely cosy cottage with big garden, short walk into Melrose where there are plenty of pubs, shops etc. Also couple of decent restaurants in Gattonside itself. Definitely recommend.
Peter
2015-10-16T00:00:00Z
Room Type
Entire home/apt
---
Property Type
House
---
Accommodates
6
---
Bedrooms
Gattonside, Scottish Borders, United Kingdom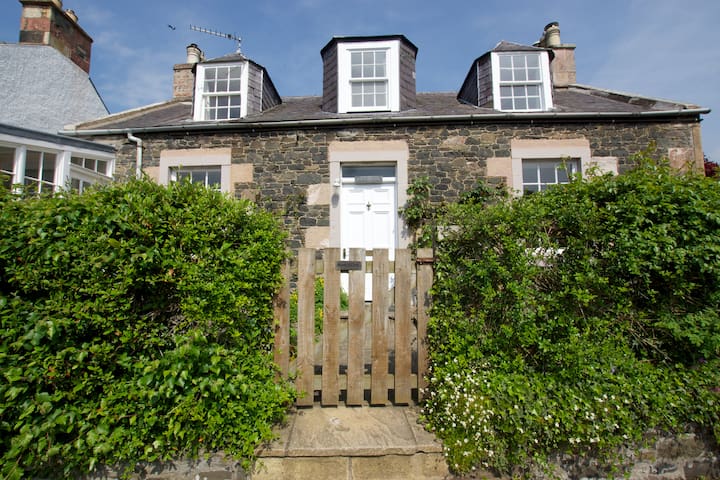 The Potting Shed is a pretty, cosy yet quirky hideaway resting at the foot of the landscaped gardens of Garden Cottage. Once a humble garden outbuilding, it has been lovingly and tastefully restored, and transformed into a well equipped, eco friendly cottage with its own partially enclosed garden. It enjoys tree-framed riverside views over the Leader Water which meanders through the nearby market town of Earlston, in the wonderfully unspoilt Scottish Borders. Earlston provides doorstep amenities for The Potting Shed guests with butchery, pharmacy, banking and post office facilities; there is also a co-operative supermarket on the edge of town for general groceries, and a bakery selling freshly baked bread, pastries, pies and butter croissants which can be enjoyed with a pot of steaming hot coffee outside on the cottage's patio. A floor to ceiling window and glass front entrance gives The Potting Shed access to the maximum of daylight, and the clean, unfussy decor adds to the airy and bright feel of the partially open plan interior. A wonderful state of the art Everhot heat storage range cooker is a modern energy efficient feature which marries effortlessly with the more traditional log burning stove and cosy soft furnishings of the sofa, throws, and cushions. The brightly accessorised bedroom is ultra comfortable with crisp Egyptian cotton linen and the cottage is excellently finished with special touches such as fresh flowers, organic Sedbergh toiletries, and a delicious 'home produce' welcome pack on arrival, which can include such delights as free range eggs, freshly baked bread, granola and preserves. The effortless and relaxed simplicity of the cottage's interior is echoed in its leafy surroundings; the elevated south facing decked area is ideal for barbecues, early evening al fresco dining whilst listening to bird song and the pacifying trickle of the river nearby, or is equally perfect for an end of day glass of wine whilst planning tomorrow's adventure. Bedroom one with 5' king size bed and chest of drawers. Shower room with walk-in shower, whb and WC. Organic Sedbergh Soap Company toiletries are provided. Open plan kitchen, dining area and seating area:- Small kitchen area with microwave, fridge with freezer box and a state of the art Everhot; an electric range cooker with two ovens, a grill and two hot plates which also provides constant heat for the living area. Please note that a washing machine is not provided but the owners are happy to wash clothes for guests in emergencies! There is a chest freezer in an outhouse next to The Potting Shed. Dining area with kitchen table and bench seats. Cosy seating area with log burner (logs are provided). There is plenty of indoor entertainment provided including HD television with Freeview, DVD player, MP3 dock, and a selection of book, magazines and DVDs. Small second bedroom / storage room providing excellent storage space and hanging space for clothes or ideal as a second bedroom for a travel cot. A temporary bed is available for use in this bedroom for an additional £25 fee to cover the cost of the laundry. Heating Heating is provided by the Everhot electric heat storage unit, electric radiators in the bedroom and box room and the wood burner. These heating facilities are more than ample for the compact size of the cottage. The rates include heating, electricity and logs and the winter rates are priced accordingly. Wi-Fi Wi-Fi is available using the signal from the main house, but it is important to note that this can be very slow and intermittent due to its rural location. Garden and grounds There is a partially fenced patio garden at the front of The Potting Shed with outside seating as well as a small decked seating area overlooking woodland and the Leader Water. Reclining loungers are available and are stored in the garden shed. Guests are welcome to walk around the wider grounds. A charcoal barbecue is provided (NB charcoal is not provided). Guests should be aware that the owner's garden adjoins that of The Potting Shed. Parking There is private parking to the side of the house. Important - Access to the cottage Access to the cottage is via a wooded track which can get muddy and slippery in wet conditions and may be unsuitable for some vehicles when the weather is poor. Guests may park in a designated area at the top of the track and walk through the owner's garden to access The Potting Shed. Please contact us if you have any concerns. Delicious delivered meals Perfect for the first night or if you fancy a night off cooking; all you need to do is turn the oven on! Meals can be selected from the COOK web site ((URL HIDDEN) and ordered from the Edinburgh branch using email (EMAIL HIDDEN) Facilities for babies and children A travel cot, high chair and temporary bed are available on request. Please note there is a £25 charge for use of the temporary bed to cover the cost of the laundry. Dogs Two small dogs or one large dog are welcome at The Potting Shed. Please note that the garden of The Potting Shed is only partially enclosed and the owners have free range hens. We would ask that owners adhere to the guidelines in the pre-arrival information with regard to dogs. Fishing Fishing can be arranged through Mike Allan who is an experienced Borders River Guide with excellent knowledge of the local area. He offers a range of services to suit individual needs and experience. Please call him on (PHONE NUMBER HIDDEN) to discuss your requirements or visit (URL HIDDEN) A chest freezer is available to fishing parties.
Time at The Potting Shed can be as busy or as benign as one chooses with a plethora of recognised walks, cycle trails and horse treks available in the vicinity. The Potting Shed sits right on the Earlston footpath network, offering a wide range of walks without the need to use the car. A booklet of 9 local routes is available to guests. A particular favourite is the lovely walk into Melrose along the Leader Valley which takes about three hours and guests can then catch the bus back to Earlston which is a 20 minute walk back to The Potting Shed. Stages of both the Southern Upland Way: Britain's first coast to coast long distance footpath, and St Cuthbert's Way, which reaches from Melrose to Holy Island, run close by this area; both have sections suitable for less serious walkers as well as far more challenging stretches and climbs. Holy Island can be reached by less energetic means: boat trips run daily from Seahouses on the coast; the beautiful coastline and sandy beaches are definitely worth a day trip. Bamburgh and Scremerston are particularly scenic. An hour's drive will take you to Edinburgh complete with its castle, museums, galleries, shopping, restaurants and theatres. Closer to home again, and Earlston is only a few miles from the beautiful abbey town of Melrose with its many individually owned boutiques, tea rooms – such as the delicious Russell's – as well as galleries, craft and gift shops, and the delightful eating experiences of Marmions Brasserie, and Monte Casino. Sir William Wallace's imposing statue and the breathtaking panoramic vista from Sir Walter Scott's namesake, Scott's View, are not to be missed, followed perhaps by afternoon tea at the Dryburgh Abbey or a tasty informal home-cooked lunch at the award winning Main Street Trading Company: a bookworm's paradise combined with hearty, wholesome food, thus satisfying both mind and body! Fishing fanatics can embrace the River Tweed's popular salmon beats of Gledswood and Ravenswood, virtually on The Potting Shed's doorstep, before trying their luck further afield. A local fishing guide is available - please see below for details. Riding enthusiasts have the diverse facilities provided by the Cowdenknowes Equi Centre Riding School, literally at the end of the road! Continuing on a sporting theme, the Borders boasts some 21 golf courses, all offering varying levels of competition and challenge, but all vying closely for most spectacular scenery and dramatic view. Whatever the pastime, the plan, or the passion, The Potting Shed can be the perfect base to set off from, and the ideal retreat to come home to.
Room Type
Entire home/apt
---
Property Type
House
---
Accommodates
2
---
Bedrooms
Earlston, Scottish Borders, United Kingdom
1

–

18

of

30 Home Rentals
Enter dates to see the total trip price including additional fees (but excluding any taxes).