Private studio (12m2) located in annex building of the villa. All amenities at your disposal: induction, fridge, sink, toilet, shower, 2 double beds, wifi, smarttv, built in closets, eatcorner. You can use the outdoor jacuzzi of the villa. Walkingdistance of stop Melle Leeuw, from where you can take the tram to the centre of Ghent. Highly recommended for people who love to have private space but also want the comfort.
The room is very cosy and has all the comfort you need. Because the room is rather small, it is recommended for 2 persons. If you want to stay with 4, it is no problem because there are 2 double beds above each other.
Our place is recommended for base to go to Gent, Antwerp, Brussels, Bruges.
Sandy and Geert were great hosts. They informed us about everything important, were very friendly but at the same time gave us privacy. The studio is small but very warm and cosy and fully equipped with a little kitchen and bathroom. The decoration is just beautiful, everything is neat and very clean. We could use their jacuzzi which is part of the bigger house in a beautiful garden. Highly recommendable.
Felix
2017-03-28T00:00:00Z
Een kort, maar zeer hartelijk verblijf!
Paul
2017-03-24T00:00:00Z
Room Type
Entire home/apt
---
Property Type
House
---
Accommodates
2
---
Bedrooms
Melle, Vlaanderen, Belgium
Nice cosy newly built house located in a quiet new suburb 8km from the center of Ghent. Sunny side garden with spacious terrace and lounge seats. Living room with sofa, flatscreen, Apple TV, Netflix, WiFi. Modern equipped kitchen with all facility's: refrigerator, electric stove, dishwasher, oven, microwave.
1 bedroom with 1 big bed for 2 persons + 1 bedroom with a large wardrobe. Bathroom with two sinks, toilet, shower and bath. Walking distance from a supermarket, train station and bus stops. Also nearby the most important highways E40, R4, E17. Parking possibilities in front of the house and in the garage.
Its a very peaceful neighborhood, the new district was built amid the greenery. Perfect location for walking or cycling and enjoying the beautiful nature. On walking distance there is a large lake where you can go for fishing, there is also a big playground for children..
Another great stay at Emre's place, comfortable, pleasant, spacious, well furnished modern house and a great host to match!
Chetan
2017-03-03T00:00:00Z
An absolutely fantastic place, couldn't ask for much more. Good location, very well furnished, spacious and overall a very very comfortable place to stay. Emre has been a superb host and very helpful to make sure I had a great stay. Looking forward to staying again... highly highly recommended!!
Chetan
2017-02-10T00:00:00Z
My colleague very much enjoyed staying at Emre's place. Very good facilities in a very good location for us. I had excellent correspondence with Emre. I highly recommend his place!
Adam
2017-04-06T00:00:00Z
The place is located in a wonderful environment. It's a quiet neighbourhood with nature close by. Still you can get easily to the center of Melle and Merelbeke and also Gent isn't far away. Emre instantly makes you feel welcome. He showed us around the house. It was very clean and spacious. There's a back yard too. Whenever we had a question, we could ask Emre and he was quick to respond and very helpful. We had a great stay! Thank you!
Klaar
2017-01-02T00:00:00Z
My colleague very much enjoyed staying at Emre's place. Very good facilities in a very good location for us. I had excellent correspondence with Emre. I highly recommend his place!
Adam
2017-04-10T00:00:00Z
Great house !
Ionuţ Adrian
2016-11-23T00:00:00Z
Superb place with a great host!! Very comfortable and spacious place in a nice quiet and safe neighbourhood. Highly recommend!!
Chetan
2017-02-16T00:00:00Z
De woning staat in een nieuwbouwwijk en is ruim en van alle gemakken voorzien. Met de auto prima te bereiken, parkeren op eigen oprit. Met de trein is het 10 minuten naar Gent, 2x per uur. Naar het station is het 15 min lopen of 5 minuten met de auto en je kunt er gratis parkeren.
Marion
2017-01-30T00:00:00Z
Room Type
Entire home/apt
---
Property Type
House
---
Accommodates
2
---
Bedrooms
Melle, Vlaanderen, Belgium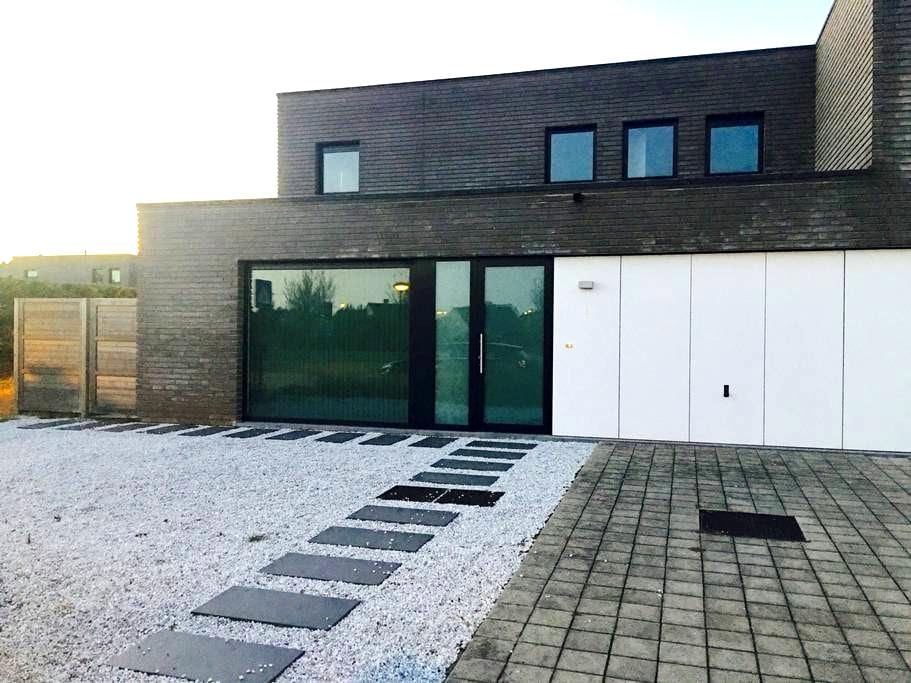 Close to the inspiring city of Ghent (accessible by train only a 5 min walk away from the room), in a small village surrounded by green meadows and nice slopes that act as the ideal starting point for bike rides. Large garden for cosy evenings.
Cozy house with spacious garden
Very quiet location, beautiful garden
This house is located in a quiet area close to Ghent. Good parking opportunity just outside the house. The garden is very nice. When we were there the furniture was a little different from the photos but with the same basic functionality. Ellen was a very friendly and helpful host.
Kirsten Schelde
2016-08-01T00:00:00Z
When we arrived, Ellen welcomed us with a cup of tea which was really nice! She's a really caring and easy going person. Also she has a cat! :) The house is quiet, clean and a little bit outside of Genth. Thanks for having us!
Fabian
2016-03-10T00:00:00Z
Great place located in a quiet village. Beautiful house and nice garden. Hospitality
Andrea
2017-04-03T00:00:00Z
Ellen made us feel welcome as soon as we arrived and communicated with us easily before and during our trip to Ghent. The neighborhood is quiet and an easy drive to a couple of pubs/cafés and stores. And just 10 minutes into Ghent itself.
Andy
2016-07-25T00:00:00Z
Ellen was very kind at all moment... and her cat too!. Her house is really lovely. She really took care that I was feeling home and it was really like having a weekend in the house of a friend. The neighborhood is very calm. I really recommend!
Nieves
2016-05-02T00:00:00Z
For a business trip I was looking for a place to stay. Arrangements were only made 1 day in advance, but everything went smooth. Ellen is a nice person, who made me feel directly at ease. I had a great night's sleep and a enjoyed a good breakfast.
Tom
2016-03-18T00:00:00Z
Ellen is a very kind and hospitable host, in a homely setting Spacious clean room, quiet neighbourhood close to Gent. In addition i had a delicious breakfast in early morning. Recommended place to stay.
Andre
2016-02-22T00:00:00Z
Smooth communication, nice staying & calm environment: in brief: very nice
Kurt
2016-08-08T00:00:00Z
Room Type
Private room
---
Property Type
House
---
Accommodates
3
---
Bedrooms
Melle, Vlaanderen, Belgium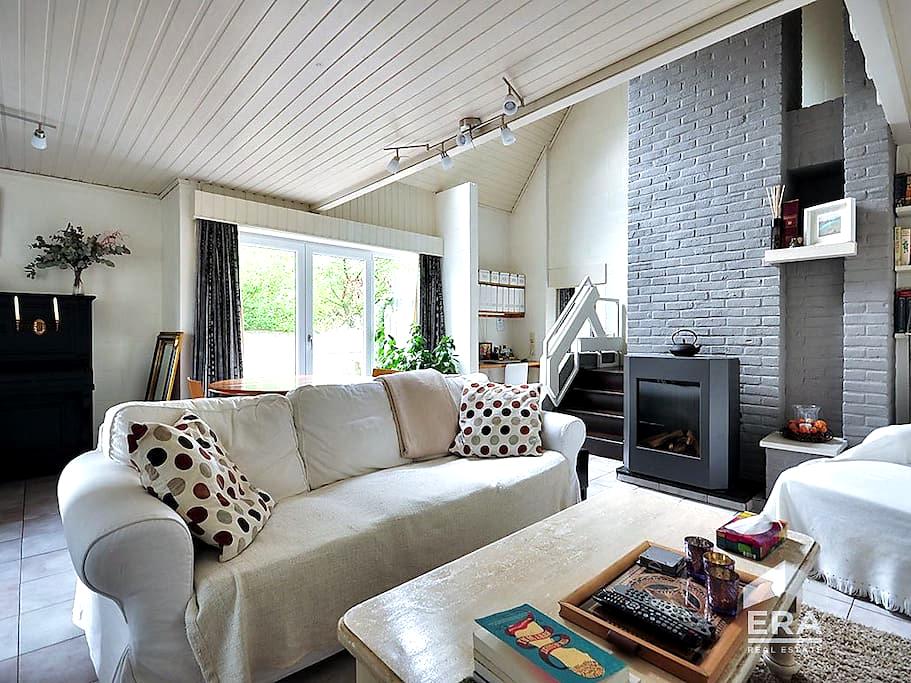 Our house is next to the railway station (1 minute walk) and just 10 minutes away from Ghent Sint-Pieters by train. We are also located near the highway to Bruges (40 mins), Brussels (45 mins) and Antwerp (45 mins). It's a very child friendly house near a kids playzone. We have a 1,5 year old daughter and her room is available if needed. In March/February we are travelling for 6 weeks and it would be really great to find somebody who can live in our house for this period!
Living room - kitchen - garden - bedroom - bathroom - optional: babyroom.
Room Type
Entire home/apt
---
Property Type
House
---
Accommodates
3
---
Bedrooms
Melle, Vlaanderen, Belgium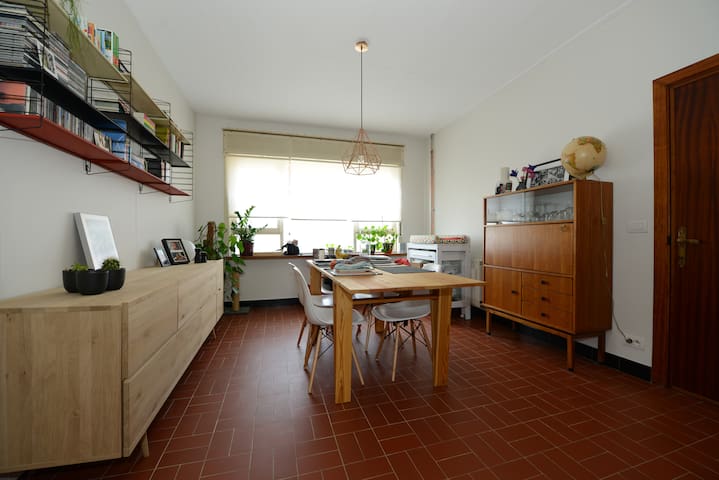 We would like to welcome you in our home. A nice house with all luxury you need. The house has 2 livingrooms. 1 with fireplace and tv, 1 livingroom with big tv, playstation, wii, sofa, also lots of toys for boys and girls. Our kitchen has an oven, steamoven, dishwasher, induction, microwave, 2 big fridges (with fresh icecubes). Our garden is cosy with 3 terraces where we have sun all day long. Relax in jacuzzi (37°c) 1 nice bathroom, 4 bedrooms. 6km to the centre and the station. 500m to shop
For business people or small groups you can choose to rent the house partial. If you don't need the entire house to yourself you can ask for a reduction.
You can find our house at the entrance of e new, quiet district, just outside the centre of Melle, 6km of the centre of Ghent. Within a distance of 500 to 2km you have diffirent supermarkets (Lidl, Colruyt, Delhaize, GB) Gent is perfect to explore Belgium (40min drive to Antwerp, Brussels or Bruges)
Very nice house owners were very nice hosting us and helping us if needed. owners kindly offered us a nice bottle of wine at our arrival. i truly recommend this house especially having in mind that Gand is a lovely city and location of is perfect if you want to go to Antwerpen / Brugge & Brussels.
hubert
2016-10-24T00:00:00Z
Excellent host and the team the stay at the house was great. It is located in a quite and posh neighborhood in the outskirts of Gent. Supermarkets are nearby. About the house there is only one word to describe it and that's "marvelous". The garden and the jacuzzi was also great. In all it was a nice and a pleasant stay.
Arnab
2016-08-07T00:00:00Z
We had a super nice stay of two nights with a group of 8 in this beautiful house and everything was just great! Sandy and Geert are very, very friendly, they were flexible, showed us around the house and made us feel like home immediately at our arrival. The interior makes you feel like home, too, with a fireplace, a big couch, large table, open kitchen and beautiful decoration. The house is definitely big enough for a group of 8. The weather was great at our arrival, so we could use the area outside and the jacuzzi. We really had a great time and already talked about coming back!
Anika
2017-04-11T00:00:00Z
This villa is located on a very nice area. 10 min drive to Gent city centre. Supermarkets are on walking distance.
Ray
2016-12-28T00:00:00Z
Truly wonderful hosts opened up their home for us while company of four got to take over their amazing and luxurious home. They were open for a flexible arrangement and Sandy even cooked for us two nights in a row. Whenever we would stay in Gent again, we would definitely try to book here!
Jasper
2016-10-02T00:00:00Z
Beautiful house with comfortable and clean rooms, well equipped kitchen. It was a Perfect apartment for us. The highway is very close. The stay was excellent, highly recommended
Balazs
2016-08-27T00:00:00Z
Sandy and her family are by far the most attentive and hospitable hosts I've ever had the pleasure of staying with; the house is beautiful, it's amenities comprehensive, and I couldn't recommend her property enough.
Tom
2016-11-04T00:00:00Z
The conversation with Sandy was very good. Everything was Fine. It was a good Choice to spend some time there.
David
2017-01-03T00:00:00Z
Room Type
Entire home/apt
---
Property Type
Villa
---
Accommodates
12
---
Bedrooms
Melle, Vlaanderen, Belgium
Officially licencenced holidayhome for 32 people. Recently renovated villa with lovely garden at 5km of the historical centre of Ghent. The accomodation has 7 rooms with 32 real beds with down quilts ;-)
Beautiful spacious rooms in authentic villa. Ideal for large groups. Quiet and very well connected with Ghent Centrum and motorways. The villa was built in 1946 in the good old times and you notice that. Everywhere you can find beautiful original features such as the parquet and marble floors, wall paintings, ... It is a very charming location. The villa has just been completely renovated. There are a total of 7 rooms and 5 showers. Up to 32 people can sleep in a good bed with fresh sheets. You can use our authentic porch that communicates with the garden. Here you can sit back and relax in the lounge and dining room overlooking the garden. You can also use our kitchen with traditional Aga cooker. Here is all the kitchen equipment is available and there is also a coffee machine and dishwasher. If the weather permits you can sit in the beautiful garden or relax. It is great for reading a book, enjoy a breakfast, making a BBQ or simply to relax. There is room to park and Ghent is situated about 10 minutes by car. There is also opportunity for public transport to this fantastic city. You can also use two bikes if you let me know in advance. The hallway, the kitchen and the porch with living room and dining room are expected to keep it clean yourself.
Our neigberhood is very green and there are a lot of biketrails going trough the schelde region. I can hand you out some bike plans so you can easly find your way back.
This is a lovely house which is being renovated. There are plenty of rooms to enable large parties to stay and the garden is massive with great possibilities for catering for large numbers. The bedrooms are very comfortable and there is everything in the house to enable a good stay. Once the renovations are complete this accommodation will be stunning.
John
2013-08-09T00:00:00Z
We were enjoying a family reunion of 12 people in Edward and Daphne's villa and had a wonderful time. The villa is big and the bedrooms are beautiful and so nicely decorated, the kids just loved it. The kitchen is well equipped and the garden is lovely. The villa's location is great, only a few minutes drive from Ghent which is a beautiful city and about 40 minutes from the charming city of Bruges. We were warmly welcomed by Edward and Daphne who were so helpful and friendly. We only wished we could stay longer. We will surely recommend our friends to stay in this fantastic villa.
Anat
2014-08-18T00:00:00Z
Impressive garden! Nice house with newly renovated bathrooms. Great and funny host. Gave us all information about the festival in Gent :)
Christian
2015-07-27T00:00:00Z
Congratulations with this fabulous and cosy house that made our day. I would recommend to close or hide the shop window giving on the living room and add extra hoven to avoid having issues when more than 20 people inhouse. I am confident this will be done. Everything you need is there and the bed quality is very good related to the number available. I will book again with pleasure and recommend it. Thanks again
Sophie
2016-12-12T00:00:00Z
Edward n Daphne's Villa is Amazingly beautiful and equally well located. Just off the Highway and close enough to be in the centre of Gent within minutes. Infact perfect for exploring even Bruges or even Atwerp by car. Its pretty old but Edward is working on it very hard to make it even better !! Would love to stay again next time too!
Nik
2014-04-18T00:00:00Z
House was spectacular, and Edward and his wife were absolutely wonderful and accommodating.
Jenny
2016-03-24T00:00:00Z
We were warmly welcomed by Daphne and Edward at our arrival. The place is really beautiful, the house seems to be out of time. We had a cold beer in the garden. All went well. We were very very happy to stay there and would stongly recommend it to anyone.
Alexia
2013-07-01T00:00:00Z
This house is amazing. We rented the whole house with a large group of 14 people and this was perfect. I would say it can accomodate up to 25 people easily !
Benoit
2015-05-10T00:00:00Z
Room Type
Entire home/apt
---
Property Type
Villa
---
Accommodates
16
---
Bedrooms
Melle, Flemish Region, Belgium
The room is approx. 20sqm, located on the second floor of the charming house; toilet and bathroom located at groundfloor and basementlevel. At a 12 minute walk distance to Gent-Dampoort trainstation, nearby bus stations. Less than 20 minutes walking and you are in the hart of the city Also ideal for businesstrip or as a base to make a daytrip to Bruges. The room & house is very clean, safe and peaceful. An outdoor parking space is available for (motor)bikes. Looking forward to host you :)
We were welcomed by Firat who politely explained where to find our room, bathroom and kitchen. The room is very stylish, tidy and clean (as is the rest of the house). Firat also gave us a lot of information on Ghent, where to go and the best way to get there. Another plus is that the neighbourhood is quite calm, so we were able to get a good night's sleep. Also parking in the area is free.
Martien
2016-04-10T00:00:00Z
Very nice comfortable place to stay. Very cosy and clean. Wish i could have stayed longer. Next time!
Ellie
2016-06-01T00:00:00Z
My feeling is : we ware 't welcome at Firat home !
Guy
2016-01-24T00:00:00Z
My girlfriend and I stayed two days in this room. We arrived on friday, but we were two hours delayed. So we arrived at the room at 10:30pm. That was no problem for Firat! He welcomed us and showed us the room, that is on the 2nd floor of the house. It is indeed a small & cosy room, with a nice bed. Although the walls and floors are quite thin, we didn't experience it as a bad thing. The bathroom is okay, and the city center is just a 20 minutes walk. The little things that Firat prepared (city map of Gent, tea, bathroom amenities & slippers), made us feel very welcome.
Jurrien
2016-01-17T00:00:00Z
Firat is an amazing host! Super sweet-mannered and welcoming, I turned up earlier than expected but he was really nice about it. He gave me some good tips on travelling around Gent and even recommended me a really good restuarant for dinner. The house is super clean and cute, with little fairy lights leading up the stairs which is really adorable. The room is spacious and smells really good. Heater and other amenities were all great. Overall, I had a great stay at Firat's and will highly recommend it to everyone visiting Gent!
Qixuan
2016-10-21T00:00:00Z
First of all, I have to say the room is really nice. Other than that, this has been the worst experience that I have had abroad. Firat is a very rude guy who had a bad attitude even before we arrived to Ghent. He was very upset cause I didn't reply his messages right away, ignoring the fact that we are in a trip. Two days prior to our arrival we answered him but surprisingly he was very upset. The room is half an hour by foot, and around 20 minutes to downtown, so I would not recommend it if you're not into walking. But the worst thing about our experience with Firat was this: the day of our check out, our train to the next city was at 6 pm, so we kindly asked him to leave our luggage in his place so we didn't have to carry it around. To our big surprise, he didn't let us do that, even when the lady that lives in the same house said she could do it. So he pretty much kicked us out with the worst of the attitudes, and ruined our last day in Ghent. Do not go there, ever!
Ezequiel
2016-11-08T00:00:00Z
The room was very spacious and cosy. The bed was super comfortable too! We had everything we needed too. Although the toilet was downstairs, this was not an issue. The location is 20 minutes from the centre of Ghent and 10 minutes from the train station. It is ideal for day trips to Bruges as well ( which we did ). All in all, an excellent place to stay and great value for money!
Kevin
2017-01-12T00:00:00Z
Everything was perfect with the room, the description is very accurate. Firat is a very nice person and he answered very quickly to all of my messages, the check in was at the established hour and he gave us some tips where to go for dinner and how to get discounts on the trains. The room is very cozy and clean as well as the bathroom, all the amenities are provided including tea, coffee, wine glasses. The location is nice, but be ready to walk from 15 to 20 mins to get to the city center, train station is also 15 mins away by foot but there are bus stops close to the house. I would definitely recommend this place!
Osmar
2016-12-04T00:00:00Z
Room Type
Private room
---
Property Type
House
---
Accommodates
2
---
Bedrooms
Gent, Vlaanderen, Belgium
Renovated luxury apartment in the heart of the old center. Located at 'Vrijdagsmarkt', Ghents oldest (since 1199) and most important market. Public parking just in front . Spacious living room with single bed, separate bedroom (double bed) and bathroom. Separate toilet. Washing machine, dryer and iron are available. Fully equiped kitchen. Fast internet. Flat screen tv. Perfect for a couple + 1 person, also for business/longerstays. More then 3 persons: https://www.airbnb.co.uk/rooms/10797443
totally renovated in may 2016, the apartment is designed for a couple/single person, with extra single bed in the living room. So 2-3 persons. The kitchen is fully equiped, the lights are exclusive, the view to the marked and the towers of Ghent unique. This apartment is also perfect for longer stays or business. If you are travelling with 4 persons, you are welcome to stay in the 'historic duplex in city center' on the 4th floor of the house: https://www.airbnb.co.uk/rooms/10797443.
You will stay in the old center, so all highlights like the castle of the counts (Gravensteen) Graslei and Korenlei (the medeaval port of Ghent), the famous three towers, city hall.. are allready in sight of the house.
Bert and Willheim were very nice, and we had a very nice time in the apartment.
Jack
2016-09-09T00:00:00Z
Bert's place is perfect in many ways! The location is close to sights, public transportation, dining, and shopping. The kitchen is perfect if you want to cook, and Bert left clear directions for everything. Having a washer and dryer was a treat. Pack less and buy more! Gent is a fun little city, and Bert's apartment allowed us to settle in and feel local for a bit.
Greg
2017-02-24T00:00:00Z
Phenomenal location right on the town square, centrally located within 5-10min walking distance of some of Gent's best bars and restaurants. The apartment is absolutely stunning and extremely cozy, would be perfect for a couple! The owners provide LOTS of information about the city, places to go and eat, things to see, and information on public transit. Overall one of the most seamless and easy Airbnb experiences I have ever had, and such a wonderfully cute place to stay in an equally beautiful city. Definitely recommend!
Alex
2017-03-02T00:00:00Z
This apartment is ideal for folks who want to enjoy the sights, restaurants and shopping in the historic center of Ghent. The location is extremely convenient, just a few steps from the historic and bustling Friday Market Square. So everything from many restaurants, bistros and pubs, grocery stores and department stores, are within a 5-minute walk. We had a car, and there is a secure public parking garage under the square, about 20 yards from the apartment. The apartment itself is brand new, in a stately old building undergoing renovation. That means that for a few weeks at least, you may encounter some workers and construction sounds, but these are not a problem - the workers respect the privacy and noise sensitivity of residents. The interior is exactly as shown in the photos, and all common appliances (except for an oven, though there is a microwave) and utensils are provided. There is even a convenient laundry washer and dryer in the hallway for exclusive use by the apartment occupants. Since the unit is on the 2nd floor, you have to climb up a couple of flights of somewhat narrow stairs (common in Europe), but the hosts were really helpful when we arrived, even helping us get our bags up to the apartment. The hosts are very nice people. When we arrived, a complimentary bottle of local elderberry wine was waiting for us, which was a nice gesture. They made sure we had everything we needed, and even helped us find a pharmacist (conveniently nearby) when we needed one. Since we could always access them via phone or text, we always felt we had support. Ghent is a beautiful historic city and this apartment makes a visit there a real pleasure and extremely convenient. We would recommend it without any reservations, and would definitely consider staying there again.
Amit
2016-07-15T00:00:00Z
The perfect stay
Filip
2016-12-23T00:00:00Z
Excellent location, great apartment, great host, clear directions and easy check-in. I love Ghent and will definitely return. I would love to stay in the same place again.
Monica
2017-02-06T00:00:00Z
Loved it!
Louis
2017-01-30T00:00:00Z
Very nice and clean, in a central location. Host very responsive to any enquiries you have.
heikki
2016-06-18T00:00:00Z
Room Type
Entire home/apt
---
Property Type
Apartment
---
Accommodates
3
---
Bedrooms
Gent, Vlaanderen, Belgium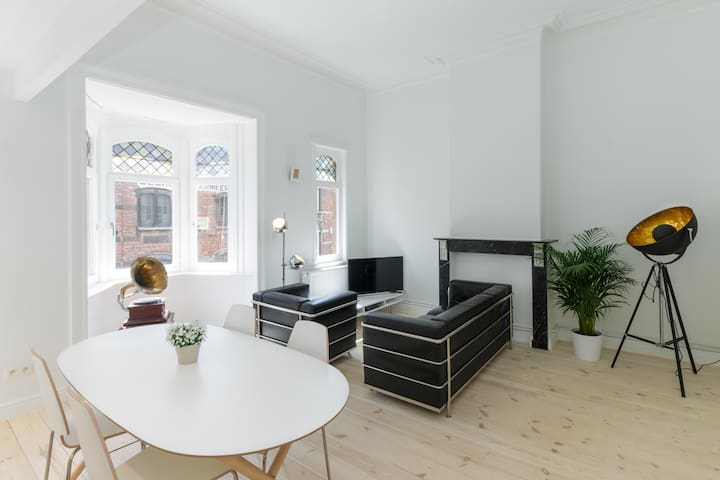 Be welcome in our cool and spacious AirBnB room. We are located in walking distance from the center of Ghent. Public transport options such as local bus and train station are within 5 minutes walk. You will find several restaurants, supermarkets, bakery and parks just around the corner. The room is equipped with a double bed, desk & chair, book exchange, one person couch and space for storing your clothes. We share our bathroom and kitchen area with you as well as our super cosy terras.
Pieter and Ziggy are the most charming hosts. We arrived very late at night (1.30 am), but one of them stayed up for us and gave us a very warm welcome! The room is clean, nicely decorated and has a coasy atmosphere. We immediately felt at home after our long trip to Ghent! The bathroom is right next to the room. Towels, shower gel and information about Ghent are provided by them. There were also some small pastries & homemade marmelade for breakfast in the room. Pieter and Ziggy's lovely dog Bruce is super sweet and playful:) The location of the apartment is in the residential area outside of the city centre. The main attractions are about 40 min by foot. There is also a bus connection, but we prefered walking through beautiful Ghent! We can only recommend staying with the two!
Nils
2016-10-05T00:00:00Z
Awesome place to stay! We only saw ziggy and he was really welcoming. The place met all our expectation. I recommend. Thank you for all.
Julien
2016-12-28T00:00:00Z
Had a super comfortable stay in this luxurious private room. We felt very welcomed but also had our privacy. If I were to come to Ghent I would book again!
Emily
2017-02-22T00:00:00Z
Ziggy was a great host, really nice and easy going! The room is great and decorated with good taste, as it is the rest of the house. Our stay was perfect, comfortable and relaxed, we recommend this host! Ps. Bruce is the warmest company for breakfast, we are in love with him!
Catarina
2017-02-10T00:00:00Z
We had a lovely stay in Ghent with Pieter and Ziggy, their house was a fantastic base to explore the city from. The house and room were clean and well appointed. We'd happy stay again if we return to Ghent.
Elizabeth
2017-01-07T00:00:00Z
Pieter and Ziggy were very friendly and had a wonderful home. We enjoyed our stay.
Kristin
2017-04-11T00:00:00Z
highly recommend to pieter and ziggy's place, very nice and full of trip pictures, the space is very huge, especially the bathroom.
Di
2016-10-02T00:00:00Z
Our room was big and beautiful. Pieter and Ziggy pay attention to the details and have a very good design eye. They were accommodating and friendly, and I recommend staying here. Ghent is a fantastic city. They live a 10 min walk from the train station for when you arrive in Ghent and you can access the city by bus or a 20-25min walk.
Alexandra
2016-09-18T00:00:00Z
Room Type
Private room
---
Property Type
House
---
Accommodates
2
---
Bedrooms
Gent, Vlaanderen, Belgium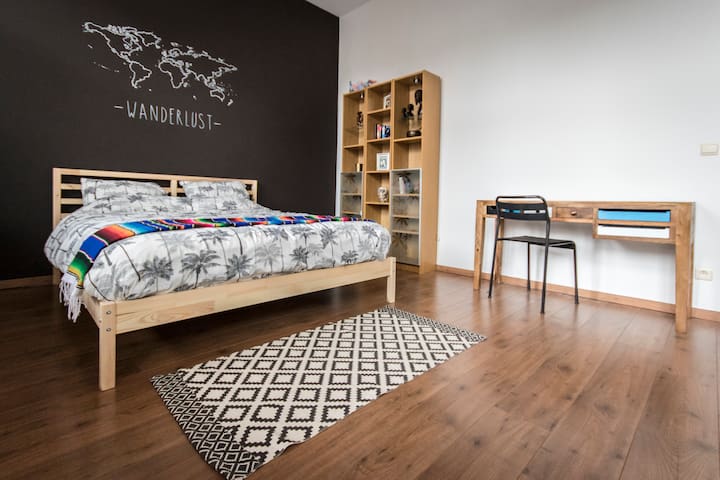 Nearby train, tram and bus, the city is on foot 10min, set in a park, all museums within walking distance. the location is very central, easily accessible by public transport and by car. The neighborhood is in full expansion, the street has been completely renovated in 2016, the people are friendly and in the immediate vicinity you have shops, bars and supermarkets, the house has a garden and is situated in a park with soccer field and playground.
Very nice cosy studio, small but clean. The neighborhood is quiet and only a little walk from the center. Perfect for short and long stays in Gent
Marie
2017-01-22T00:00:00Z
Comfortable, clean and well furnished studio. Very well located. I had a really good stay there.
Clara
2016-11-30T00:00:00Z
very good experience in ghent very nice and clean apartment 100% recommended ...
Thiago
2016-10-22T00:00:00Z
The place is clean and comfortable even in spite of the small size. It has everything you might need for a few days of staying, and combines the privacy and silence of a hotel with the extra comfort of a home kitchen. It is located right at the border of the central area and it's well served by both busses and trains, thanks to the very close train station (Gent Dampoort). I did not meet Dries in person, but he has always been very quick in replying my email and sms. Very good value for money!
andrea
2016-10-28T00:00:00Z
Very clean and cosy place! Dries is very helpful and he was responding to our messages almost immediately! The apartment is small but good enough for a couple. The location is satisfying and the centre of Ghent is only 10 minutes on foot. The best thing of all is that the apartment is extremely close to the train station.
Ioannis
2016-12-10T00:00:00Z
I didn't have chance to meet Dries, but his place is very nice. The kitchen in particular surprised me since it is well equipped. The house was warm and clean, the neighbours were quiet and lovely. You also have a nice bike spot. I will definitely consider it for a second time in Gent. PS: there is a nearby laundry shop, like 5 minutes walking (just in case).
Riccardo
2017-02-12T00:00:00Z
I spent four lovely days at the place. It is small but very comfortable and clean place. I enjoyed my stay very much and I strongly recommend the place to anyone who visits Ghent.
Sevda
2016-12-16T00:00:00Z
Room Type
Entire home/apt
---
Property Type
Apartment
---
Accommodates
2
---
Bedrooms
Gent, Vlaanderen, Belgium
I myself bought the house 22 years ago and renovated. I have tried to keep the typical Art Deco elements, which gives a charming character to the house. My guests have a private room but I would be very happy if they even poke in my library, piano or cooking on my Aga cooker. Or enjoy the garden ... True Ghent I'll tell you the hidden edges of our city ... but be sure it is not in the books!
Room Type
Private room
---
Property Type
Townhouse
---
Accommodates
2
---
Bedrooms
Gent, Vlaanderen, Belgium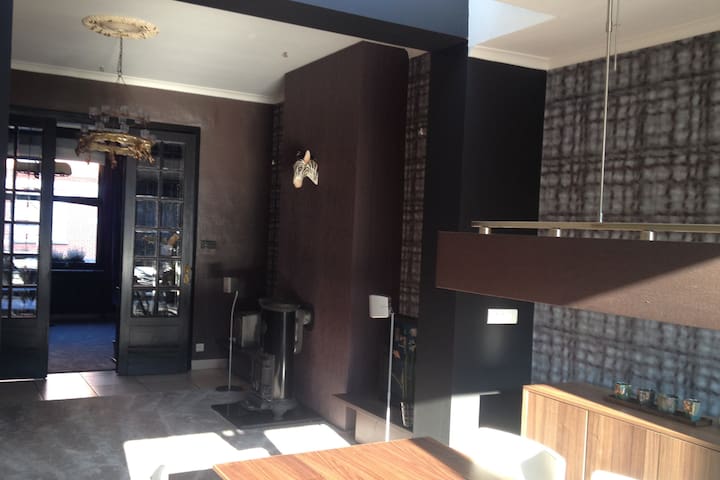 My room is right in the center , parks, arts and culture , restaurants and eateries. You 'll love my place because of the high ceilings, the conviviality , the kitchen, accessible to everyone. My room is suitable for couples , solo adventurers , families ( with children) , large groups and furry friends ( pets).
From wherever you are, here you are welcome no matter, we welcome you with a smile. What sets us apart is that we do it to give you the opportunity to travel cheaply and learn corpse. in our house you are at home, you feel at ease and every question you have will beat word. we take the time to give you an explanation of the most beautiful city in belgium gent course One great advantage is that I know myself town and can send you where you want, my friends, are you friends
The Prinsenhof is a historic neighborhood in Ghent, created by buildings around the former Court at Walle, the residence of the Viscount of Ghent. The Court at Walle was the birthplace of the Emperor Charles V (February 24, 1500) and was named from then Princes. Near Princes now (2012), mainly residential. The neighborhood extends from the Rabot to the Counts, the Virgin as natural eastern border and the Burg- and Rabotstraat as southern and western border. In Zilverhof connects the bridge of the Imperial Pleasures or Charles Bridge (designed by folk singer-sculptor Walter De Buck) near the center with the St. Anthony Kaai. Of this remarkable bridge over the Virgin Channel has a magnificent view on the Rabot and the Augustinian monastery. In Abrahamstraat is the 17th-century building 'Mountain of Mercy' (Mons Pietatis), which was housed until recently the Ghent Municipal Archives but moved last year to the 'Black Box' in Gentbrugge. Every year, in the first weekend of September, the Prinsenhof Festivities are taking place, a great event with the largest flea market in all of Ghent.
This is my second night stay at this place and can definitely recommend!
Vin
2017-02-25T00:00:00Z
I booked this room for one night. It is a nice place and Clementine is very friendly. She helped me a lot to orientate I. the city. The room is central in the old part of the city.
Dennj
2016-09-20T00:00:00Z
The best air b&b expierence I've ever had. Great place, great location, and most importantly great hosts!
Alexandra
2017-04-10T00:00:00Z
Clementine was really helpful and active in communication, her place is perfectly located in the city centre, so you are in core of Ghent. Everything went great.
Eva
2017-01-23T00:00:00Z
We had a great stay with Clementine! The house was in a great location and you can easily walk into the heart of the city. It was a fun environment and was great to meet the locals!! Would definitely reccomend!
Sophie
2016-09-06T00:00:00Z
I stayed here for one night on a business trip. It was alright - the room itself was perfectly comfortable, and the location was convenient. However, the host was not as helpful as I would have like when arranging check-in times and giving directions. This is probably a place to stay if you are visiting for a more relaxed reason than I was.
Fraser
2016-11-25T00:00:00Z
Clémentine is a friendly person. she gave us quick tour of the city.Next to her there's a chess club take a visit to it when you stay there. Nice place to stay foe your visit to ghent.
Gowtham
2017-03-27T00:00:00Z
Very good location! We stay only one night, Clementine was very relax and she recommend us what to do and the better things in Ghent.
Catalina
2017-03-26T00:00:00Z
Room Type
Private room
---
Property Type
House
---
Accommodates
3
---
Bedrooms
Gent, Vlaanderen, Belgium
My house is located in a quiet neighbourhood, close to every major highway and near to public transport. The Gentbrugse Meersen are in walking distance from the house, it's a really great nature park in town. You are renting a studio in my house, located on the top floors. It's a nice quiet place, with ensuite bathroom and a mezzanine which makes it light and spacious.
The studio is located under the roof, has wooden floors and is spacious and light with a mezzanine and private bathroom (shower & toilet - the sink is located in the private hallway). Downstairs there is a comfortable double bed (140cm) and the bathroom, upstairs is equiped with a single bed (90cm), and television.
The house is located in a nice and quiet neighbourhood close to the nature park Gentbrugse Meersen (walking distance) which is very nice to walk or cycle. The city center is not far away (3km) and can easily be reached by bike or public transport (10 min). I have 2 bicycles you can use.
Nice big apartment, good bed . Value for money! The location was very convenient for us as we needed to be in Ghentbrugge, which was a short walk only.
Sigrid
2017-03-26T00:00:00Z
Caroline's studio is located in a quiet living area with shops and the tram station is very close. You need less then ten minutes to the center. The studio is spacious and we liked the private bathroom plus the nice atmosphere of the architecture.
Lukas
2017-03-16T00:00:00Z
Is one of the best experiences in airbnb, we have the honor of to be the first guests in her house and all was perfect. She is so kind and helpfull and have a beautiful family. The location of the house is great, u can find trams and buses nearly.
Jorge
2016-12-30T00:00:00Z
Room is great with the sun both in the evening and in the morning. From the house you can easily reach the city center with the tram. Caroline gave us several helpful tips before and upon our arrival. Everything was good.
Sergey
2017-04-13T00:00:00Z
Caroline was very friendly and tolerant with our late check out. And Lucas, the cat, the best host. We recommend this place
Diana
2017-02-25T00:00:00Z
Very comfortable room, in a beautiful home. Caroline was very nice, also the cat and the coffe at morning :) It's only 12 minutes away by bus to central station.
Ivan
2017-01-25T00:00:00Z
Great host, Caroline is the sweetest person ever. The studio contains a double bed and a single bed, and is very atmospheric and clean and great. We had a great time with Caroline!
Bram
2017-01-05T00:00:00Z
A good host with a lovely cat! :) Good ubication and a really beautiful house!
Laura
2017-04-11T00:00:00Z
Room Type
Private room
---
Property Type
House
---
Accommodates
3
---
Bedrooms
Gent, Vlaanderen, Belgium
Lascars' Guesthouse is situated in Ghent, close to Municipal Museum of Contemporary- and Fine Art and Botanical Garden. (15 min. walk) Bus stop in front of the door, tram at 500m walking distance. Both lead to the centre of historical Ghent. Bakery is our nice neighbour and several supermarkets available in walking distance. One parking available on site.
Lascars' Guesthouse is a little independant house of 60m² with a lot of character. A little terrace in front of the house.
We have a bakery next our door, different little supermarkets in our street where you can find all you need ! There is a very good little restaurant called 'Petit Grill', French and Thai kitchen (a french man married to a Thai :))
Claire and Kris were perfect hosts. Claire welcomed us with eggs from their own chickens and many little nice things in the kitchen and the fridge. She showed us the house and explained everything. We also had a free private parking spot and the house looks even better than in the pictures. If you want to discover Gent and the area surrounding it, this is the place to be. Thank you very much. Georg
Georg
2017-03-06T00:00:00Z
The house was amazing and the hosts were really nice with us, I only wish we had more time there
Konstantina
2017-03-19T00:00:00Z
House design and location are perfect for a Belgium city break. Close to Brugge, Brussel and even a 3 and a half hours drive to Paris. Thank you Kris for having us in your little piece of heaven!
Alex
2017-04-01T00:00:00Z
Absolutely perfect place to stay in beautiful Gent. 5 stars hotel comfort level and super friendly host.
Alexander
2017-02-27T00:00:00Z
The place was fantastic. It is very spacious with a modern bathroom and a very very comfy bedroom! Claire and Chris were perfect hosts and very forthcoming regarding our check-in and check-out. The place has a good connection to the city center. There is a bus station close to the accomondation but you can also walk to the city center (20-30 min). We can definetly recommend to stay there for visiting Gent.
Nele
2017-01-01T00:00:00Z
My partner and I and our new baby recently stayed in this lovely, newly refurbished house for one night over the weekend. The house is very comfortable, clean and looks exactly like in the pictures. The kitchen is well equipped for self catering and bedroom is very spacious with the most comfortable bed you could ask for! The hosts were great, very responsive and also extremely accommodating about check in and check out times. Would definitely choose to stay there in the future.
Oksana
2016-12-04T00:00:00Z
We had a great stay at this house in Ghent. It's a cute little house with a nice kitchen. Kris and Claire were very nice and helpful throughout our trip. They even picked us up at the train station when we arrived! The house is a little far from the city center to walk, but there's a great bus right across the street that takes you into the center. You can't tell in the pictures, but there's no door on the bathroom. Overall great stay!!
Madelyn
2017-01-16T00:00:00Z
This is a great place. I had a great time
joe
2017-04-13T00:00:00Z
Room Type
Entire home/apt
---
Property Type
House
---
Accommodates
2
---
Bedrooms
Gent, Vlaanderen, Belgium
Big, charming room in an authentic townhouse near to the city centre.
Té una habitació gran, un vestidor i un bany. A la gran sala que té una taula i un petit nevera.
Té tot tipus de botigues (fleques, carnisseries, supermercats, ...) i de restaurants al barri (local, turc, vegetarians, ...) La compra de menjar a prop de @Marieke - Delhaize, Colruyt i Aldi estan molt a prop - Al mercat s'ha BAKKERIJ Aktief i molt prop al Eggermontstraat Hi fleca Delphine on també es pot prendre l'esmorzar per 5 euros. - Al mercat hi ha una botiga de queviures de Turquia Ramazan Nali per a les verdures Frech. - Bioshop Pimpinela Charles de Kerchovelaan (PHONE NUMBER HIDDEN) Gent - Bioshop (fabricació del formatge) Hinkelspel Lousbergskaai 33-9000 Gent - Tots els diumenges hi ha un gran mercat - Tots els dimecres hi ha un mercat d'agricultors al Standaertsite de 13.00 h fins a les 17.00 h (ara temporalment a la Centrumplein causa de les obres) pizza - Est La Bella Vita Menys cars restaurants - Gouden Hoofd - Multatuli - El Mezziogorno - De Buffel (bon ambient, la població local, petita tasy va repartir de la temporada + terrassa!) - Carrers amb una gran quantitat de restaurants a Gant: Vlaanderenstraat, Brabantdam, Korenmarkt, Patershol i Oudburg, Sleepstraat (restaurants turcs) restaurants vegetarians / vegans - Avalon (vegetariana) a Geldmunt (al Gravensteen, també oculta terrassa) - Lokaal en Brabantdam - Foodstorms (pop-up) - Komkommertijd en Reep - Lekker Gec a Gant-Sint Pieters - De la morsa en Coupure - Kask cafeteria a l'escola Kask (Bijloke lloc) - Zuidkant (Gentbrugge)
Marieke is a very kind host and the accommodation was so nice as well. Discretion, tact and kindness. I really suggest you! :-)
Marco
2017-03-26T00:00:00Z
This is a great, comfortable place and the owner is really nice!
Chris
2017-03-22T00:00:00Z
Je recommande !
Guillaume
2017-03-13T00:00:00Z
Marieke nous a très bien accueillis dans sa chaleuruse maison flamande qu'elle venait d'ouvrir aux hôtes airbnb. Et elle a bien fait! Car la chambre et la salle de bains sont très spacieuses et agréables. L'endroit est très calme. La maison est à quelques minutes du centre en tramway. Nous avons passé une nuit chez Marieke et nous recommandons cette adresse!
Francois
2017-03-02T00:00:00Z
Room Type
Private room
---
Property Type
House
---
Accommodates
3
---
Bedrooms
Gent, Vlaanderen, Belgium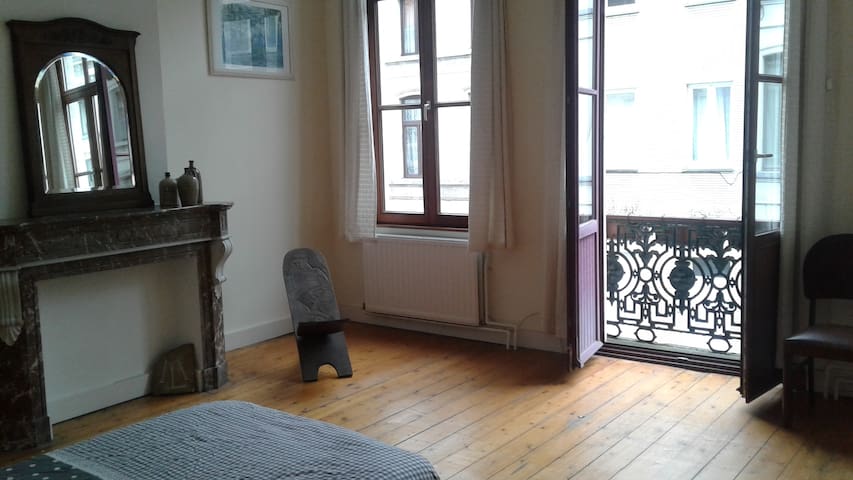 New modern studio near city center Double bed, desk with screen and printer and a digital piano
Room Type
Entire home/apt
---
Property Type
Apartment
---
Accommodates
2
---
Bedrooms
Gent, Vlaanderen, Belgium
Our flat is a 5 min walk from Dampoort Station. At the station there is a bike rental service. You will find a great coffeeshop/breakfast place just around the corner. The centre is only a 10 min walk. Our flat has 2 bedrooms but also a big sofabed in the livingroom. If you like to go dancing you should go to Beestenmarkt or Vlasmarkt, also walking distance!
We enjoyed our stay in this well appointed apartment. Thanks Ian.
Kate
2017-02-19T00:00:00Z
Great place to stay and the host is very welcoming and helpful.
Christopher
2016-10-28T00:00:00Z
Great apartment, friendly host, perfect location!
Dan
2016-10-25T00:00:00Z
Ian was a great host. Helped orient us to Gent and gave us a bunch of suggestions on where to go. The apartment is incredible - very clean and a short walk from the town center.
Ram
2017-01-26T00:00:00Z
Ian was great. He gave great suggestions, was really polite and his house is amazing!
Debora
2016-09-02T00:00:00Z
Great stay for our trip in Gent! We have received a warm welcome and a lot of tips for visits, shopping, restaurants. The appartement was very clean, cosy and 2 bedrooms with comfortable beds. We will surely stay here again!
Cindy
2016-12-04T00:00:00Z
Nice rooms with a lot of space. Modern bathroom and kitchen. Bottle of bubbles included!
Yolan
2016-09-05T00:00:00Z
We had a great time in Ghent. It is a beautiful city and we highly recommend it. Ian was a great host that provided us with an amazing apartment. The only gripes we have are the internet was not working the entire time we were there, but Ian did try his best to accommodate us by giving us his Ipad (still had trouble connecting), but we were not in Ghent for the Internet. It did not bother me. Lastly, the parking situation was a bit of an annoyance, I wish there was free parking available on site, but for the price of the apartment I can understand. The apartment is in a great location outside of all the major city center, but within walking distance to everything. There is a small store down the street that we were able to purchase some needed supplies. When we return to Ghent we will probably visit Ian again.
Brandon
2016-07-05T00:00:00Z
Room Type
Entire home/apt
---
Property Type
Apartment
---
Accommodates
6
---
Bedrooms
Gent, Vlaanderen, Belgium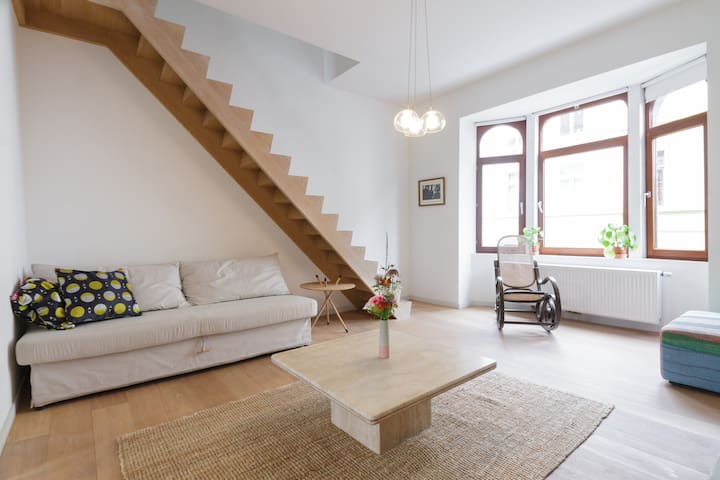 Charming separate studio in our house within walking distance of the Sint-Pieters railway station. The studio has a large bedroom/living room, a separate bathroom, kitchenette and toilet. We live upstairs, a couple born and raised in Ghent with our two boys. Great neighbourhood.
The studio is located in a house built in 1956 close to the central railway station (500m). The studio consists of 3 different spaces. A large living/bed room, a separate room divided in a small bathroom (shower and sink) and a small kitchenette (fridge, microwave, 2 electric cooking plates and a sink) and a separate toilet. The complete space would be +/- 35 square metres.
We live in a beautiful, green residential neighbourhood and everything you need is within walking distance. The railway station neighbourhood has great shops. There is a beautiful park in the street and the Blaarmeersen (recreational domain) is really close. Ghent is not that big of a city, getting around is easy and the city and our neighbourhood are safe. We live close to the railway. The historical city center is easy to reach with trams, a bike. You could do it by foot (we do it every now and then, but at the end of the day you won't feel your legs anymore).
Regular guest; always content with staying here
Johan
2016-09-30T00:00:00Z
Good as usual; regular guest
Johan
2016-06-24T00:00:00Z
We stayed at Stefan's for the weekend and it was great ! We were well taken care of and the place filled all our needs. Its location makes it easy to access Ghent town center. Stefan was really welcoming and helped us out during our stay. I clearly recommend Stefan's place as it was perfect.
Valentin
2016-04-17T00:00:00Z
We stayed at stefan's house for one night only,it's just 5 mins away from the main station of Ghent so really convenient if you come from Bruxelles or Bruges like us. The room is independent and quite large. Stefan has been really friendly and he even took us to the centre by car! So I definitely recommend it.
valentina
2016-04-03T00:00:00Z
Stefan was very friendly. I enjoyed my time in Ghent very much. The studio was ten minutes' walk from the train station and the tram stop for the town centre opposite the station - ideal for sight-seeing.
Gordon
2016-09-12T00:00:00Z
Very nice place exactly as described, would highly recommend staying here. Perfect location with a short tram ride to the city and five minuets walk from the train station.
Will
2016-02-20T00:00:00Z
Very good communication, a nice & comfortable place and a warm welcome with a lot of helpful information. It was very cosy, clean and absolutely suitable for 2 persons. We haven´t noticed any noise of the station near by. Thanks, Joke and Stefan, for being great hosts
Tom
2016-02-25T00:00:00Z
Stefan was a great host and made us feel really welcome! The house is situated conveniently near Gent Sint Pieters station, but the trains don't bother during the night. The bed was comfortable and it's nice that there's a kitchenette available.
Iris
2016-02-21T00:00:00Z
Room Type
Private room
---
Property Type
House
---
Accommodates
2
---
Bedrooms
Gent, Vlaanderen, Belgium