A modern house with 2 floors newly built in 2010 at Mellbystrand. It has 3 bedroom for 6 guests and two big tarrace with sunshine during the whole day. 200m close to the beach, 15m to the Strandhotel.Close to restaurants and supermarkets.
Modern house newly built in (PHONE NUMBER HIDDEN) meter to the Swedish longest beach in Mellbystrand, 3 bedrooms. Children friendly. Downstairs: living room and kitchen in one. One double bedroom, fully tiled bathroom with shower and underfloor heating. Refrigerator, dishwasher, stove, microwave, TV, wireless internet, washing machine. Terrace of 16 sqm with the possibility of grilling. External staircase to the second floor. Upstairs: 2 bedrooms, one with double bed, one with bunk beds. A big balcony with 20 sqm, nice view and sunshine the whole day. Bed linen and cleaning not included. Smoke and pet free. Baby Cot (spjälsäng ) and baby chair available if needed (free of charge). High season, week 27-32: it cost 8000kr/week. Mid season, week 25-26 and 33-34: it cost 6000kr/week. Other weeks: 4000kr/week. 8000kr/month Check in: 13.00 Saturday. Check out: 11:00 Saturday.
200m to the Swedish longest sandy beach - Mellbystrand. Restaurant and supermarket are nearby. 10 minutes by car to Halmstad. 10 minutes by car to salmon fishing in Laholm. 20 minutes by car to Vallåsen Ski resort.
We had a great time in Tony's apartment , it was clean and bright you can feel like being at home right away .I recomand this place if you visit Mellbystrand .
George
2015-05-31T00:00:00Z
The host canceled this reservation 2 days before arrival. This is an automated posting.
Lars
2016-01-29T00:00:00Z
The host canceled this reservation 11 days before arrival. This is an automated posting.
Tobias
2016-10-19T00:00:00Z
We had a great stay in Tony's house. The house is close to the beach, restaurants, groceries, and local sights. Plan on renting a car while you're there if you want to do any sightseeing or at least rent bikes to get to the village. The only reason I gave the house a 4 star rating rather than 5 is that there were a few things we didn't expect. 1) the upstairs is accessible through an outdoor staircase, so anyone staying upstairs has to go outside to get to the bathroom. 2) the main floor bedroom does not have doors, it's separated from the living area by two thick curtains. And 3) the living room, dining area, and kitchen are all one fairly small room. Those things should be known up front.
Disa
2016-07-10T00:00:00Z
Tony was not present at the time we rented his house. We received all necessary information via mail and had no trouble finding everything we needed. He was very helpful. Mellbystrand is a small village with a lot of vacation homes. The wireless internet did not work inside the house. We had to go outside to use it. All in all a very good stay in a very nice house.
Björn
2015-07-18T00:00:00Z
We spent 3 weeks in Tony's house. And enjoyed every minute. A great place to relax and spend some days at the beach. Tony was very friendly and responded to every question before the stay within hours. He also provided tips about things to do and where to go to if you need something. The house itself is modern and friendly and has enough space for at least a party of 4. You will have everything needed nearby (max. just a few minutes by car). You have to be aware that the 2 bedrooms upstairs are only reachable by a separate external staircase.
Marc
2016-09-03T00:00:00Z
Another great week in this summer house. It is the second time we have used it and we like it very much.
Rob
2016-07-17T00:00:00Z
Lovely house, very clean and tidy, just as described. Very near the beach and all amenities. I would recommend.
Rachel
2015-08-08T00:00:00Z
Room Type
Entire home/apt
---
Property Type
Villa
---
Accommodates
6
---
Bedrooms
Laholm, Halland, Sweden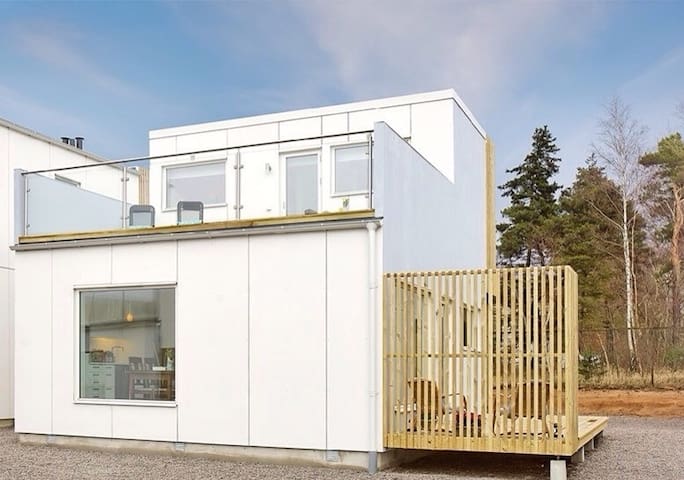 Our lovely Swedish Country House is newly renovated. It's located at the top of Hallandsås plateau between Skåne and Halland near Vallåsen, Båstad, Torekov, Arild etc. The farm is surrounded by rolling hills including our own 30 hectares of forest.
Our Swedish Country House is newly renovated and derives from the 1860's. The farm includes about 30 hectars of forest. It's located at the top of Hallandsås plateau between Skåne and Halland, only 45min from Helsingborg. There are both nice trails, proximity to spellbinding streams and several magnificent lakes as Rössjön and Västersjön. The diverse and beautiful landscape on the plateau contains many natural and cultural environments with very high and in many ways unique values. The thing that gives character to the area is still the big beech forests that contribute to the diversity of habitat types. During your stay at Kronoparkens Gård, you will be the only guests, whether you rent the main house and the west wing separately or together with the former stable. On our farm there are 12 beds including the new loft. The west wing gives access to the sauna (small fee) and in our new recreation room, you can play a game of pool, darts or just relax to some music. Kronoparkens Gård is located strategically at the top of Hallandsås close to Vallåsen, Bjärehalvön and Kullen. Torekov, Båstad, Arild, Hovs Hallar etc. are other interesting sights in the area.
The place is very nice in the middle of a forest. Care has been taken to provide all facilities. A bit smaller than imagined however the games room is big and a good place to relax. Carry your own cd or auxiliary cable for playing your choice of music. Overall we are very happy with the place.
Amar
2016-06-04T00:00:00Z
We had a great stay. I Will highly recommend staying at jeanette's house. Close to vallåsen skiing and quite enough to have a relaxing time. We left with a smile.
Theis
2017-01-23T00:00:00Z
Super house with plenty of room for a big family in nice surroundings. The house was very clean and had all the amenities needed for a short getaway or vacation. Will definitely consider going back there.
Jeanette
2015-11-29T00:00:00Z
The property was as described, located in a beautiful part of Southern Sweden. My only advice would be to use Latitude and Longitude in your GPS rather than the street address. Also, travel to Halmstad and other places can take a while, but that is to be expected.
Spencer
2016-07-25T00:00:00Z
This is a lovely place close to nature and with lots of space
Morten Eskild
2017-03-26T00:00:00Z
We stayed 12 people in the house from 18th of May till 22nd of May. Everything was perfect. Fantastic house, nice rooms, new and nice toilets. The surroundings is fantastic. I really hope we will come back
Claus
2016-05-23T00:00:00Z
We spend the first week with 10 people and the second with 5. It was an amazing holiday! We had a great time. The house is just wonderful!
Frederik
2016-08-21T00:00:00Z
Clean and updated farmhouse. We really enjoyed our stay. We felt very much at home and comfortable. For us with grown kids we were able to have the main house for us and as a common meeting and eating area with the separate housing being perfect for the kids.
Joakim
2016-07-17T00:00:00Z
Room Type
Entire home/apt
---
Property Type
Villa
---
Accommodates
12
---
Bedrooms
Laholm, Hallands län, Sweden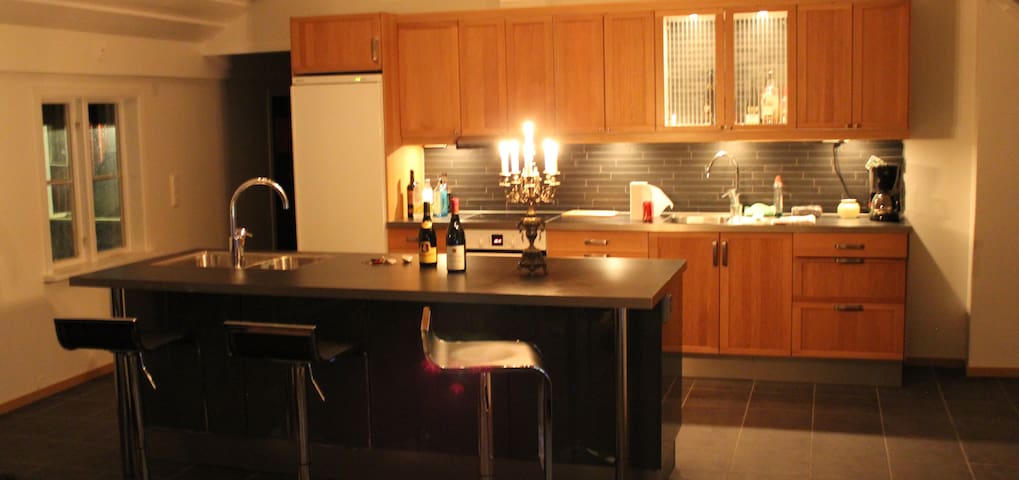 The house is close to several bus-stops and a supermarket if you need something. Barnes skog (park) is just around the corner where you can go for a round (1-2,5 km). The room is light with a French balcony, view to the park, on the first floor. The house is quietly situated with a garden where you could have your breakfast or enjoy the evening sun. The house is suitable for everyone, but the room is upstairs.
The room has a closet available to put your clothes in. In the room is a 40'' TV with Netflix installed, so you can watch your own movies and series. Under the TV is a drawer with information about cycle paths, busses, things to do in the neighborhood as well as my contact information akodnd WiFi .
Nice restaurants in town are Olsons Skafferi, Sillen & Makrillen, Palsjö skog, Via 95.
Brigitte is a very welcoming & hospitable host, i enjoyed her place a lot. She also picked me up from the bus station & lend me her bike - perfect! I can definitely recommend her!
Maja
2016-09-10T00:00:00Z
My stay at Brigitte's was absolute lovely. She welcomed me with a big smile and a happy greeting from her friendly dog and cats. Very clean and cosy home. A lovely surprise was that I was allowed to help myself to breakfast in the morning. Can recommend to anyone.
Christine
2016-09-17T00:00:00Z
Brigette was very attentive and kind hostess, even when we surprised her a bit earlier during dinner. Her house is beautiful and clean and so was the room - very homely. The view was also very nice.
Veronika
2016-08-27T00:00:00Z
Brigitte is a really kind and helpful person. Her home has a calm and friendly vibe, placed in a beautiful scenery. We enjoyed staying there, we slept well. Her cats and dogs are friendly:)
Anett
2017-04-02T00:00:00Z
Lovely overnight stay. Perfect to get some rest to hit the road again the next day!
Ans
2016-09-23T00:00:00Z
Brigitte is an amazing host! She is very kind and friendly. You are provided with so much space and privacy that makes you wonder if she is hosting you or if it is the opposite! The house includes 3 lovely cats and a beautiful dog that will make you to desire a pet! Of the most cozy bedrooms I ever slept, including a really incredible view of nature! Thank you so much Brigitte!
George
2016-08-14T00:00:00Z
Brigitte's house is quiet and comfortable. Brigitte helped us a lot with our travel arrangements. Her home is spacious and clean and have everything you could need to prepare a meal if you wanted to. She was welcoming and very friendly!
Hazel
2017-04-09T00:00:00Z
I made an internship in Helsingborg and the House from Brigitte was really close to my office. For that reason I decided to stay for about 2,5 month in that accomodation. Brigitte is a really nice host and she made much effort that I feel welcome! She was always reachable and supported me in different situations. I had a good time in that room during my period in Sweden. The disadvantage of that room is the location of the room within the house. The room is next to the family-bathroom and the walls are really thin. Sometimes it was difficult to go to bed early or to sleep long at the weekend. Overall, it was an interesting experience with ups and downs.
Christopher
2017-03-31T00:00:00Z
Room Type
Private room
---
Property Type
Villa
---
Accommodates
2
---
Bedrooms
Helsingborg, Skåne län, Sweden
I en charmig by strax utanför Kinnared ligger denna mysiga 1800-tals stuga. Här bor man bekvämt och kan samtidigt njuta av den gammaldags atmosfären i en stuga som renoverats varsamt med naturmaterial. Trädgård med stora gräsytor, bäck och en liten damm. Nära till skog för promenader 1 km till järnvägsstation och affär.
Klassisk småländsk stuga med kök , toalett/dusch, hall och två vardagsrum i nedervåningen. Altan med eftermiddags- och kvälls-sol i anslutning till köket. Ett sovrum med dubbelsäng på övervåningen. I hallen bredvid finns ytterligare två sängar. Hela huset är nyrenoverat sedan 2015.
Room Type
Entire home/apt
---
Property Type
Villa
---
Accommodates
4
---
Bedrooms
Hylte V, Hallands län, Sweden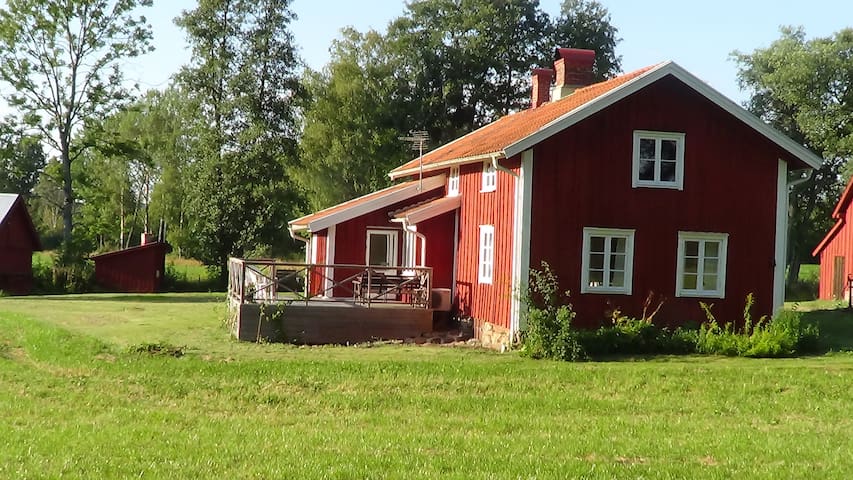 Our renovated villa is close to the national parks of Herrevadskloster and Söderåsen between roads 13 and 108 (which is convenient when you arrive by car). The villa is situated close to various activities such as: Hiking, Golf, Horseback riding, Dining, Fishing, Flying, Swimming, Canoeing and much more.
The house is compact but still spacious. It is close to nature and newly renovated.
Charming nature is just around the corner with Herrevads kloster nature reserv. Only 500meters from the house you will find the cosy inn of Kalle på Spången (known from the classic swedish movie with the same title). Situated only 7km away is the famous nature reserv of Söderåsen. Surrounding forrests invite to explore their beauty by walking, cycling and riding. The river of Rönneå enables canoing and nearby lakes attract with fishing possibilities.
Nice and quiet area near an amazing national park that's well worth a visit. Just be prepared to have quick showers!
David
2016-11-26T00:00:00Z
Very nice house and very welcoming and helpful hosts!
Petter
2016-10-16T00:00:00Z
It's such a cute and cosy house! We spent an entire week biking around in the idyllic Swedish countryside and also went on a hike in Söderåsen national park which is only a 10 minute bicycle ride away and offers great nature. Niklas and Aga were always very helpful and supportive and really tried to make our stay as pleasant as possible. I can only recommend this well equipped and newly renovated country house if you are looking for some calm and recreational days on the countryside and are into horse riding, canoeing or hiking.
Marc
2016-05-23T00:00:00Z
We enjoyed our stay in Niklas' and Aga's beautiful house. We recreated well in the fantastic landsape and also our children had a lot of fun. Thank you!
Frank
2015-08-05T00:00:00Z
Niklas & Agas place was truly great! Me and a friend stayed for an entire week during studies and our expectations we're more than met. The house is modern, lovely decorated and well equipped. Check-in was very easy and the house is also located within walking distance from the bus station. Worth mentioning is that the house feels larger than it appears on the photos and from the outside which was great. Also Niklas & Aga were great with communications and made sure we had everything we needed. I would highly recommend their place for both leisure and work trips!
Odd
2016-09-04T00:00:00Z
My boyfriend and I spent two nights in Niklas' and Aga's lovely house and had a very relaxing time. The house was easy to find and offered everything we needed; Check-In was easy, communication with Niklas and Aga great and WIFI (via 4G) was working perfectly. All essentials are provided, every room was well equipped, very clean and we found everything we needed. Spången and the surrounding area is a great place to visit, even in January when we were there, the surrounding nature was great to see. Niklas and Aga provided us with a long list of recommendations that we couldn't try completely (Maybe on a later visit). We went for a walk in Söderåsen national park which is definitely worth a visit! It has a really impressive nature with astonishing views of the forest, hills and valleys. Niklas and Aga are great hosts; supporting and open for questions at any time. If you're looking for a place to relax and recharge after a busy time, we would definitely recommend this place.
Cordula
2017-01-28T00:00:00Z
We throughly enjoyed our stay at this quaint little red house. It has everything one requires and is quite spacious and very comfortable. Mr. Niklas and Mrs. Aga was very accommodating and helpful providing us with a long list of things to see and do in the area, which proved to be very useful. I would highly recommend anyone to stay at this amazing house I'm sure you will enjoy it as much as we did. Mr. and Mrs. Seoud
Imad
2015-08-01T00:00:00Z
From the beginning Niklas and Aga were very helpful with questions and fast to respond. Once we decided that this was the place for us to stay they provided us with great directions and ideas of places to go and places to see. The home was exactly how they described in the review section and the location worked out perfect for our trip. All of the accommodations were as expected, bed was comfortable and it was great having Wifi capability while we were at the house. A huge thank you to Niklas and Ago for this opportunity we will be requesting to stay there again when we travel from the USA to Sweden again in the future.
Kirk
2016-02-22T00:00:00Z
Room Type
Entire home/apt
---
Property Type
Villa
---
Accommodates
4
---
Bedrooms
Ljungbyhed, Skane County, Sweden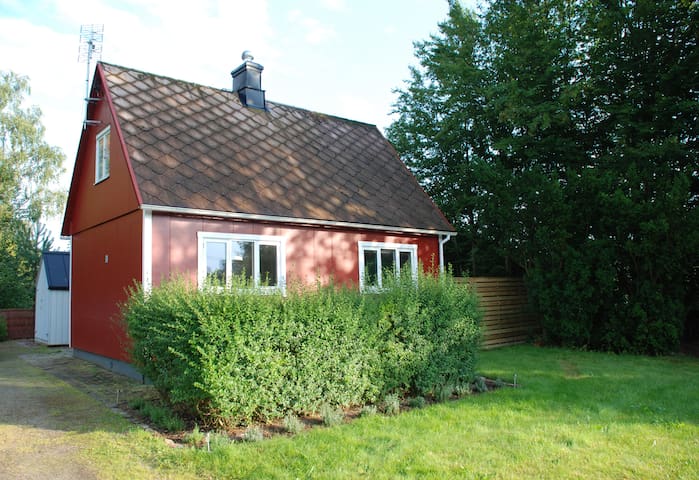 Du har nära till allt, 350 m till havet, 700 m till affär och 1,5 km till hamnen, Pepes och centercourten. Bo i ett unikt hus, ett ombyggt missionshus. Rummen har två sängar. Maken, dottern och jag bor i huset.
Maria has been a very kind & friendly host who took great care of us. Would return anytime :)
Christian
2016-07-17T00:00:00Z
I would 100% recommend Maria's home for a visit to Bastad. The house is far more beautiful than pictured with a modern design interior. Super clean, too. The location is perfect for walking to the harbour and Main Street, and beach is only a few steps away. Maria and her family are extremely warm and welcoming. We even were able to eat breakfast with them and Maria insisted on showing us around the peninsula because she had time. It was so nice to experience Bastad like a local, definitely stay at Maria's home!
Danielle
2016-08-01T00:00:00Z
She made me feel "at home" her hospitality is world class. Thanks a lot Maria
Conrad
2016-07-30T00:00:00Z
We had a lovely stay at Maria's house. Maria and her family are very welcoming hosts. The breakfast was a wonderful surprise. I strongly recommend a stay with Maria in Båstad.
Susanne
2016-08-06T00:00:00Z
Maria and her family are the perfect hosts! I really enjoyed my time in Båstad. Tack så mycket, Maria :)
Priska
2016-07-25T00:00:00Z
We did a last minute booking but Maria was very fast to respond and made us feel very welcome, including giving us valuable information about Båstad. The breakfast she prepared for us was delicious and we thoroughly enjoyed it.
Peter
2016-07-28T00:00:00Z
Maria var super trevlig och välkomnande. Fick mycket bra information om Båstad och tips på restauranger. Riktigt stort plus med frukost dagen vi åkte. Lätt anpassad till när vi kunde komma och åka. Absolut 5 plus från oss.
maja
2016-07-30T00:00:00Z
Maria är en trevlig och tillmötesgående värdinna, rummet på övervåningen i deras bostadshus var enkelt men trevligt. frukosten var riktigt bra med nybakat bröd omelett och svampstuvning. Enda minus var att wc/dusch låg på entreplan.
Fredrik
2016-08-05T00:00:00Z
Room Type
Private room
---
Property Type
Villa
---
Accommodates
2
---
Bedrooms
Båstad, Skåne län, Sweden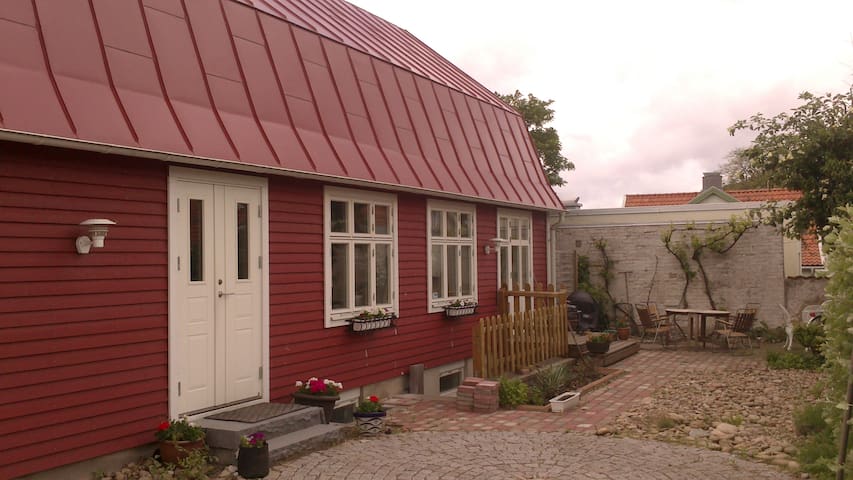 Vårt hus ligger nära stranden, restauranger och mat och fantastisk utsikt med solnedgång. Du kommer att älska vårt hus. Läget är perfekt, nära till allt. Gångavstånd till strand, bageri, mataffär, restauranger och härliga bad. Golf. och tennisbanor inom gångavstånd. Vårt hus passar er som vilja ha en aktiv semester och fungerar bra för både familjer och vänner som vill njuta av härliga Torekov. Hundar är välkommen men inga andra husdjur.
Katarina made us feel very welcome, even phoning to ensure we had arrived safely and had everything we needed. It was like going to stay at a friends house. Katarina had sent an email with all sorts of information about the area which was very useful. It was an easy casual holiday, we really enjoyed
Sheila
2016-08-21T00:00:00Z
Room Type
Entire home/apt
---
Property Type
Villa
---
Accommodates
6
---
Bedrooms
Båstad V, Skåne län, Sweden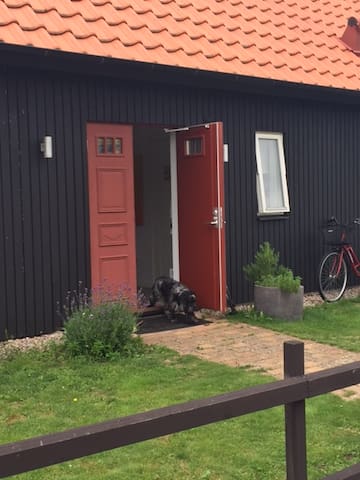 Mitt hus är centralt beläget, nära strand, affärer och bageri med gångavstånd till krogar & hamnområde. Den mysiga 20-talsvillan har stor hörntomt och ligger ca 500 m från havet, på Malen, i ett lugnt villaområde på en parallellgata till Köpmansgatan, huvudgatan genom Båstad. Villan är modernt utrustad med 42-tums platt-tv, varmluftsugn och kyl/frys med ismaskin, men har behållit mycket av den gamla charmen med trägolv & djupa fönsternischer som smälter samman med mycket färg och ombonad.
Perfect cozy house for a New Year's weekend celebration. We were 6 friends celebrating there: cooking together, playing board games and chatting by the fireplace. The house is perfectly located. Walking distance to shops and to the beach and famous "kallbadhuset". I highly recommend this place for family or friends weekends at the beach.
Aymeric
2017-01-01T00:00:00Z
Room Type
Entire home/apt
---
Property Type
Villa
---
Accommodates
7
---
Bedrooms
Båstad, Skåne län, Sweden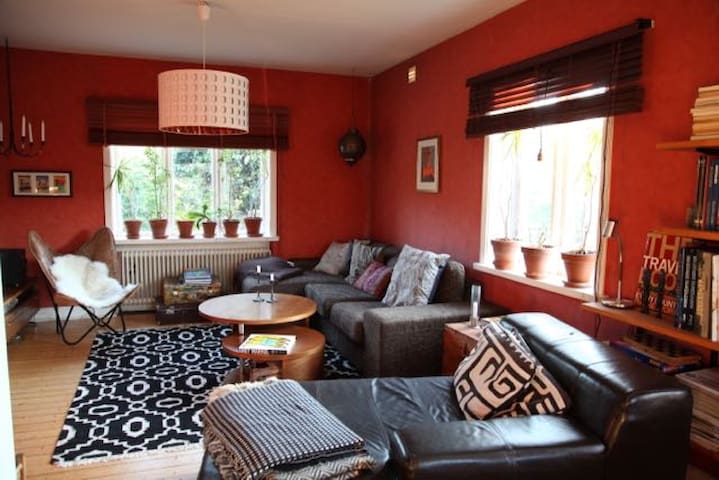 Modern and cosy summerhouse only 5 min from the beach with own SPA, sauna and outside shower. Market with fresh fish/seafood only 10min by car
There are 2 sleeping rooms with double beds, 1 kitchen, 1 living room with sofa, 1 toilet, washing/dry machine, iron, hairdryer, TV, WiFi, printer.
Cosy area, 5 min to the beach with morning and evening sun on terrace
Only one word: WOW! We were still so impressed and excited of this wonderful location and our stay in the summerhouse during new year's eve with four people in total. The house of Elena and Morten is wonderful and has everything you would wish for. And to be honest: I don't want to tell this official feedback, because I want to keep this beautiful little place on earth to myself :) Elena and Morten were so kind and always reachable, but it wasn't necessary - because we had everything we needed. The house is near by the sea, a supermarket (3 Min. by car), is equipped with a whirlpool, sauna, fireplace (in- and outside) and is great and lovely decorated. So you feel directly very comfortable and like home. We would highly recommend this luxury summerhouse and definitely want to come back, if Elena and Morten agree :) Thank you so much for everything! It was a fabulous start for us in 2016 at your house!
Judith
2016-01-05T00:00:00Z
disappointed
Michael
2016-10-11T00:00:00Z
The host canceled this reservation 3 days before arrival. This is an automated posting.
Stine
2015-10-07T00:00:00Z
We have booked 2 weeks and even extended at the end of a night. What a beautiful place, a wonderful home / garden and very nice and helpful hosts! Apart from the functionality, the house is on all sides indescribably beautiful especially through its incident light and an unobstructed view to the outside. The decor is luxurious and has especially created a yet wonderfully relaxed time us due to the weather with the fireplace and the sauna. Overall, a place to which we love to return!
Melanie
2015-08-02T00:00:00Z
Absolutely cozy, warm, and a great time spent there. Any questions were answered and great advice about the place from Morten, who was an incredible host.
Jamie
2017-04-02T00:00:00Z
Really enjoyed our stay at Morten's house .. Gilleleje and surroundings are beautiful ! We enjoyed all extras: the outside hot shower, jacuzzi, sauna, took the ATB bikes we could use to the bakery every morning (4km), bbq, we did it all ! House well organized, equipped kitchen, toys for the kids, quiet and close to the beach, Morten's list of suggestions was very welcome (good restaurants, shops, the butcher ! .. Would very much recommend going here :-)
Robbert
2016-08-18T00:00:00Z
This place is amazing, even in off season, the fireplace, spa, sauna and nice decoration and big windows to the beautiful garden. And really nice beach where we walked down along the beach to the village of Gilleleje. Thanks for a short stay and we will be back soon ))
Elena
2017-02-26T00:00:00Z
Awesome house close to a very beautiful beach. Really nice and service minded owner. We can highly recommend this house.
Åsa
2016-07-31T00:00:00Z
Room Type
Entire home/apt
---
Property Type
Villa
---
Accommodates
5
---
Bedrooms
Gilleleje, Denmark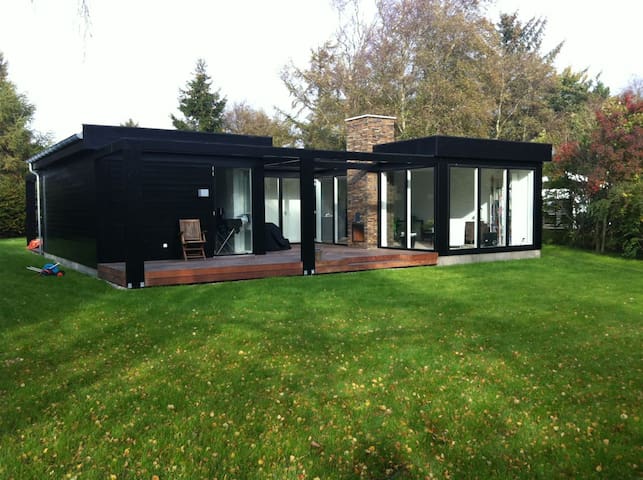 Fin strandnära villa i Skummeslövsstrand. Ligger i ett lugnt område och passar utmärkt för barnfamiljer. Kommer att hyras ut per vecka 26-29 lördag-lördag
Trädgård med bra lekmöjligheter för barn, gungor samt hemmabyggd borg i två våningar med rutschkana.
Trevliga grannar, hälften barnfamiljer och hälften äldre par som njuter av Skummeslövs lugna miljö.
Room Type
Entire home/apt
---
Property Type
Villa
---
Accommodates
6
---
Bedrooms
Laholm V, Hallands län, Sweden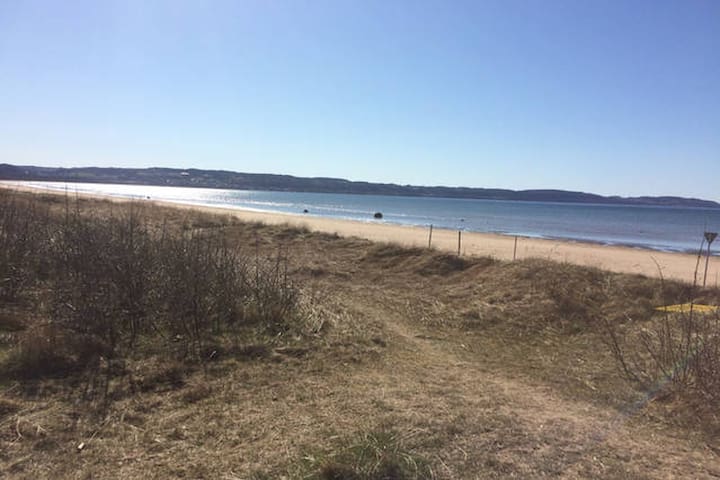 Welcome to a homely and colourful place, where you can put your feet up!
Room Type
Private room
---
Property Type
Villa
---
Accommodates
3
---
Bedrooms
Åstorp, Skåne län, Sweden
Mysigt hus nära havet med stor härlig trädgård med mycket fågelliv.
Jag bor i ett stort mysigt hus på fantastiska Bjärehalvön med en underbar stor trädgård som jag älskar.Trädgården har två uteplatser. Den ena , som ansluter till köket, med morgonsol där ni kan sitta och äta frukost en solig dag. Den andra, med tak och en bit utan tak, ligger i söderläge. Där kan ni beundra växtligheten med uppvuxna träd och slingrande hängande vildkaprifol och lyssna på alla småfåglarna. Huset är på 180 kvm. På ovanvåningen finns två sovrum och ett stort vardagsrum plus liten toalett med dusch. På nedervåningen finns ett sovrum, vardagsrums, TV, appleTV, två matplatser, kök och badrum med badkar, toalett och två handfat. Rummen som ni ej disponerar är undantagna. Ni städar huset innan ni åker. Om ni inte vill städa betalar ni städavgift 400 kr som betalas vid ankomst
Jag bor i ett mycket lugnt villakvarter med uppvuxna trädgårdar. Det är under 10 minuters promenad till strand, affär och busshållplats. Vid hamnen/stranden finns två restauranger, en kiosk och en glassbar öppna på sommaren. Där nere brukar barnen fiska krabbor. Två till restauranger finns i byn. Det finns också ett friluftsbad med en 25-metersbassäng och två barnbassänger. Vid havet kommer man direkt in på Skåneleden med underbara promenadstråk. Det finns fantastiska cykelstråk på Bjärehalvön och många fina utflyktsmål. Från Torekov kan man ta båten till Hallands Väderö där man kan vandra eller bada i det kristallklara vattnet. Om man kör över Hallandsåsen kommer man till Båstad. På vägen dit har man en fantastisk utsikt över Laholmsbukten. Närmaste stad är Ängelholm. Där kan man njuta av småstadsatmosfären. Om man vill vara mer aktiv kan man hyra kanot eller kajak och paddla i Rönneå som flyter genom staden. Det tar ca en timme med bil till Kullahalvön, där man kan besöka Mölle, en känd gammal badort och Lars Wilks träskulpturer Nimis.
Vi (2 voksne og 4 børn) boede 4 dage i Anneli' s dejlige, charmerende hus. Tæt på strand, natur og gode spisesteder. Allerede fra starten følte vi os særdeles velkommen, idet Anneli havde lavet rabarberkage til os ligesom hun havde sørget for diverse brochure med oplysninger og guides til byen og områdets seværdigheder. Ligeledes var Anneli en yderst hjælpsom vært med hurtige og meget grundige svar, når vi henvendte os på mail eller SMS. Der er masser af plads i huset. Haven er skøn med mulighed for diverse spil, grill og bål. Vi anbefaler Anneli' s hus og værtskab på det varmeste!
Martin
2016-07-25T00:00:00Z
Room Type
Entire home/apt
---
Property Type
Villa
---
Accommodates
6
---
Bedrooms
Ängelholm V, Skåne län, Sweden
En modern och nyrenoverad enplansvilla med källare, öppen planlösning och stora generösa utrymmen. 3 sovrum (ett med en härlig dubbelsäng och två enkelsängar i barnrum) på entreplan och två dubbelsängar i källarvåning. En liten trivsam trädgård på framsidan med uteplats (markis) och webergrill för härliga sommarkvällar. Studsmatta med skyddsnät till barnen och utomhuspingisbord för alla. Endast 800 meter till stadsparken och mysig shoppinggata med restauranger. Nära till strand och aktiviteter.
En charmig ljus villa som är i fint skick med alla bekvämligheter. Mysig trädgård för grillkväll och lek. Grönområde och promenadstigar i skog precis utanför.
Lugnt och barnvänligt bostadsområde. Gångavstånd till centrum, hembygdspark, lekplatser, shopping mm.
Mattias gave very thorough instructions on accessing his home and using different things. He was always quick to respond to my questions. We loved the layout of the home. It is in a great neighbourhood, close to a large playground with animals, supermarket for food etc. It was the perfect kid-friendly place for our family (2 year old and 5 month old kids) to stay at.
Melissa
2016-08-05T00:00:00Z
Vi kom trötta och slitna till Ängelholm. Fast klockan var över nio på kvällen fick vi ordnat boende. Det var en lättelse. Huset var rent, praktiskt, lite originellt och finare än på bilderna. Det är stort och luftigt. Alla sju fick en sovplats som dom var förnöjda med. Från huset hann vi med en intensivsemester på tre dagar med strandliv, Kullen och København. För oss sju blev det billigt bra. Kan bara rekommendera detta boende.
Tomas
2016-07-30T00:00:00Z
Vi hyrde huset under en innebandycup i Ängelholm. Allt fungerade jättebra vid incheckning likväl under vistelsen. Huset är jättefint, mycket bättre än på bilderna. Finns inget att klaga på!
Rasmus
2016-08-06T00:00:00Z
Room Type
Entire home/apt
---
Property Type
Villa
---
Accommodates
8
---
Bedrooms
Ängelholm, Skåne län, Sweden
My house is close to the beach, with good swimming and water activities for the whole family; - public transport, good restaurants and coffee shops; shopping in the medevial town; and night life. You will love my house because of its sea view, the surroundings, the light, the outdoor possibilities and the quiet neighborhood. My house is convenient for both pairs, sun seekers, business people, families (with children), and small groups.
Room Type
Entire home/apt
---
Property Type
Villa
---
Accommodates
6
---
Bedrooms
Helsingør, Denmark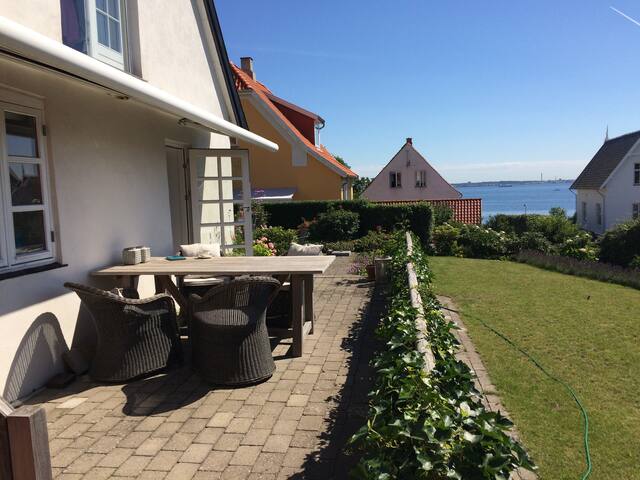 Newly built villa with very high standard. Rural setting in beautiful countryside. Located adjacent to the farm with grazing Highland cattle. Close to Bjäre Coast Nature Reserve and the Rammsjöstrand with harbor and swimming.
The host canceled this reservation 20 days before arrival. This is an automated posting.
Carl-Johan
2016-07-17T00:00:00Z
The host canceled this reservation 84 days before arrival. This is an automated posting.
Patrick
2016-05-01T00:00:00Z
The host canceled this reservation 26 days before arrival. This is an automated posting.
Kent
2016-06-17T00:00:00Z
Room Type
Entire home/apt
---
Property Type
Villa
---
Accommodates
4
---
Bedrooms
Båstad V, Skåne län, Sweden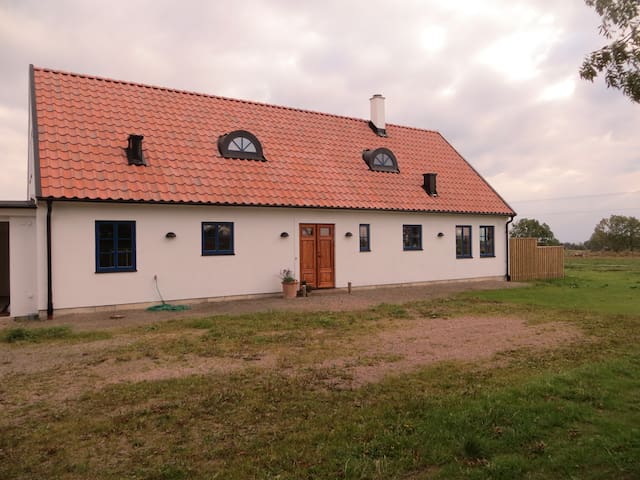 1 1/2 storey villa in good location with proximity to the beach, adventure land, marina and city center. The house is newly renovated with large rooms, conservatories and patio in a sunny position. Is playhouse and trampoline in the garden.
3 bedrooms, 2 bathrooms and a large modern kitchen. Laundry room with washer and dryer. Available 1 cot and 1 cot Access to three child seats 2 double beds 1 bed / daybed 2 extra beds and a large sofa upstairs.
Proximity to nature reserves, beaches "White Ribbon" and "Tylösand", promenades, including "Prince Bertil's path" which extends about 2 mil along Halmstads coast. The residential area is quiet and child friendly
Vi hade en jättebra vistelse!
Ella
2016-07-11T00:00:00Z
Trevligt hus som var mycket barnvänligt. Kan varmt rekommenderas. Härligt bakgård som vi fick användning för när vädret inte var på vår sida.
Josefine
2016-07-17T00:00:00Z
Vi hade kontakt med värden Veronica via mail, sms och telefon. Funkade utmärkt. Träffades aldrig i verkliga livet, vilket inte heller behövdes. Trevligt hus i lugnt villaområde. Allt funkade till belåtenhet den enda natt vi hyrde.
Eva
2016-07-04T00:00:00Z
Room Type
Entire home/apt
---
Property Type
Villa
---
Accommodates
8
---
Bedrooms
Halmstad, Hallands län, Sweden
Welcome to cosy Jonstorp. 150m from the sea and close to harbour, shop restaurant and library. Good connections with bus and nice seaside footpaths.
Room Type
Private room
---
Property Type
Villa
---
Accommodates
2
---
Bedrooms
Jonstorp, Skåne län, Sweden
Mitt ställe ligger nära stranden, fantastisk utsikt och familjevänliga aktiviteter. Du kommer att älska mitt ställe på grund av köket och utrymmet utomhus. Mitt boende passar par, ensamäventyrare, affärsresenärer och familjer (med barn). Huset ser inte så mycket ut på utsidan men inne känner man sig välkommen och kan njuta av bekvämligheterna.
2 min promenad till den längsta stranden i Sverige! Nära till restauranger, shopping och äventyr. 7 min med bil till Laholm, en pittoresk stad med fin shopping och restauranger. Också nära till både Halmstad och Båstad, med bil, buss eller tåg. Perfekt område för cyklister. 2 min walk to the longest beach in Sweden! Close to restaurants, shopping and adventures. 7 min by car to Laholm, a picturesque town with nice shopping and dining. Also close to both Halmstad and Båstad, by car, bus or train. Perfect area for cyclists.
Room Type
Entire home/apt
---
Property Type
Villa
---
Accommodates
6
---
Bedrooms
Laholm V, Hallands län, Sweden
1

–

18

of

65 Villa Rentals
Enter dates to see the total trip price including additional fees (but excluding any taxes).