Characteristic family house with stunning mountain views. Spacious house with big kitchen with balcony where you can enjoy the sunrise. Grand livingroom with games, books, couch and fireplace. Cool bedrooms downstairs. Great for families or a group of friends. Enjoy our Quinta with gardens, swimming pool and acess to the river Alva.
This house is situated on a farm and is ideal for nature lovers who are in for some adventure or a rekaxing holiday at the pool.
Wij hebben genoten van een fantastische vakantie bij Peter en Mona. De rust en vooral de stilte, de natuur, weg van de dagelijkse rush en drukte! Het heeft onze batterijen meer dan opgeladen. Mona en Peter zijn zeer gastvrij en we zijn dankbaar dat ze deze prachtige locatie willen delen. De kinderen hebben er ook enorm van genoten om iedere dag in het zwembad of het riviertje te vertoeven. Met de honden te spelen en gezelschapspelletjes te spelen op het terras met schitterend uitzicht en met het gezelschap van een jong nestje zwaluwen. De regio heeft ons hart betoverd en Casa do Sul al helemaal! Het doet dromen, inspireren, relaxen, herbronnen ...
Ellis
2016-07-11T00:00:00Z
Room Type
Entire home/apt
---
Property Type
House
---
Accommodates
7
---
Bedrooms
Meda de Mouros, Coimbra, Portugal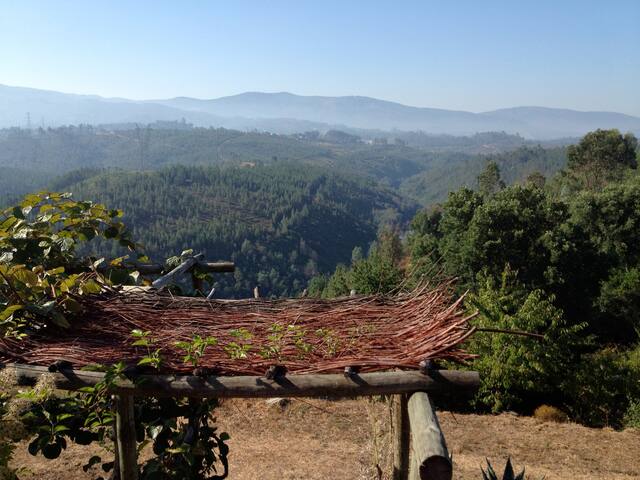 Uma casinha pequena parcialmente remodelada mesmo no centro da vila e perto de todo o comercio. Tem uma vista previligiada para o Rio Alva
Room Type
Entire home/apt
---
Property Type
House
---
Accommodates
4
---
Bedrooms
Coja, Coimbra, Portugal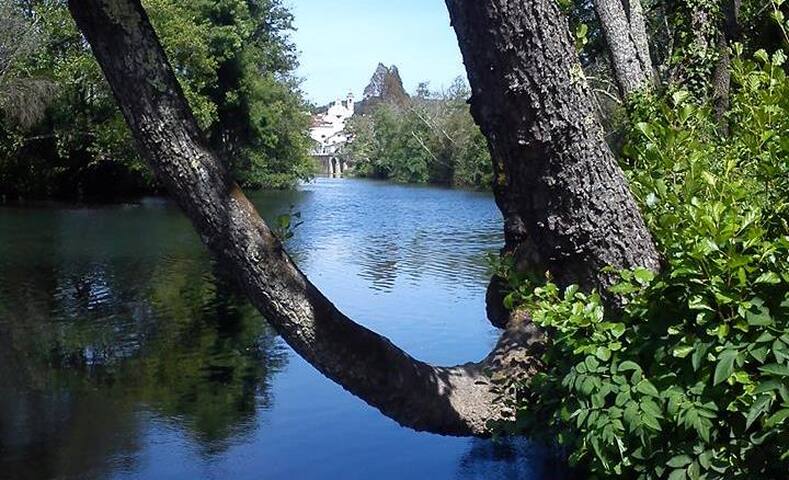 Cottage with cozy patio and garden in a quiet Portuguese village on the edge of a forest. On the ground floor a kitchen with dining area and a sofa bed for two people. On the first floor a double bed and a bathroom with shower. Near refreshing rivers, picturesque mountain villages of slate, stunning coastlines and culturally interesting cities. Piodao, Aveiro, Coimbra, Viseu, ... an hour's drive.
Petra and Bert's house is very charmant and sweet. They were great hosts, very nice and friendly. The place is very quiet and perfect for some peaceful days in nature. We've travelled with our 3-year old grandaughter and considered the house a bit unsafe for small children, specially upstairs. Nevertheless, we've loved it.
Margarida
2016-06-12T00:00:00Z
In general, we loved our stay in Petra and Bert's Country House! The negative point (if there is any) is the access to the house, it was made by country roads (but Bert told us it was going to be tarred soon!)! So...soon it will not be a problem anymore! The house is located in a small village surrounded by nature and a few miles away from Arganil (supermarket, pharmacies, etc), so it is isolated but has everything nearby. Ideal to spend some quality time in the woods or relaxing by the fireplace! The house is even more beautiful than it seems in the photos! It is perfect for a couple stay. The bedroom and bathroom are in a beautiful loft upstairs. Below it there is an open space with the kitchen, dinner table and a small bed to relax. The house has everything it is needed to spend a great time! I would like to thank Petra and Bert for the hospitality, joy and all the help provided! Hope to see them in a near future!
Guilherme
2017-01-01T00:00:00Z
Petra and Bert are very nice host, very welcoming and very friendly, available to help or to answer any question about what to do in the area. The Country house is cute with its wood-burning stove and interior decoration. If you like nature, rustic farm house and very cosy, this place is for you. If you prefer, a bit more modern accomodation but arranged with taste, the new guesthouse they are busy finishing should fulfill your wishes. The shower water was sometimes a bit cold for a few seconds from time to time, but generally that was not an issue. The place is still a bit unsafe for small children but all is okay if you watch them and if you don't let them alone upstairs. The kitchen was well equiped. The countryside surroundings are great. We enjoyed a lot our short stay by them.
Frederic
2017-03-25T00:00:00Z
Os 4 dias que passamos foram fantásticos, Petra e Bert são um casal extremamente acolhedor, puseram-nos a vontade logo que chegamos e ajudaram-nos sempre que precisamos. A casa é lindíssima, decorada com muito gosto, melhor ainda do que na fotografia e equipada para todas as eventualidades. O sitio é isolado o suficiente para desligar e descomprimir e ao mesmo tempo está perto de vários sítios de interesse. Um sitio a voltar.
Lucy
2016-06-08T00:00:00Z
Tivemos uma estadia perfeita no local ideal. Muita privacidade e tranquilidade, a casa tem tudo o que é necessário e é muito bonita e bem decorada. A Petra e o marido são muito simpáticos e disponiveis. Sempre que possível hei-de voltar. :)
Nuno Gonçalo
2016-07-31T00:00:00Z
Room Type
Entire home/apt
---
Property Type
House
---
Accommodates
4
---
Bedrooms
Arganil, Coimbra District, Portugal
Casa remodelada localizada no centro da vila de Côja.
Casa espaçosa e acolhedora, reabilitada no centro da vila de Côja. Tem à disposição uma cozinha equipada, sala de jantar, sala de estar e um jardim onde poderá desfrutar dos dias quentes, das noites estreladas e da chuva no inverno.
A menos de 1min da Praça Dr. Alberto do Vale, o centro de Côja, com animação noturna no verão, bares, cafés, pastelarias, restaurantes, mini-mercados, entre outras lojas tradicionais. A 700m encontra a praia fluvial de Côja para se refrescar ou admirar a beleza da natureza. Existem ainda enumeras praias fluviais na zona, é só partir à aventura e eleger a sua preferida. Se preferir um roteiro mais cultural, "perca-se" pelas ruas da vila e visite a Igreja Matriz, as capelas e os monumentos cheios de beleza e de história. Côja tem uma localização central que permite conhecer a Serra do Açor, o concelho de Arganil e o centro de Portugal. A poucos minutos da paisagem protegida da Serra do Açor, facilmente poderá contemplar a beleza da Fraga da Pena ou da Mata da Margaraça. Aproveitando a viagem, ainda no concelho de Arganil, a aldeia histórica do Piódão está ordenadamente ao longo da encosta a aguardar uma visita.
This is the second time we have stayed in this lovely house which is just off the square and cafes. Well maintained and very clean. Sufficiently equipped, however there is no oven, just a hob. Sadly though had problems with hot water this time.
Helen
2017-04-09T00:00:00Z
Filipa was very friendly and helpful. She speaks very good English and we communicated well throughout the whole booking right up to the day we left. The villa is situated just 2 minutes from Coja square. Couldn't be in a better position to access this lovely little town with bars and supermarkets.
Margaret
2016-06-04T00:00:00Z
Wonderful location, rooms are spacious and clean, the house has a fantastic kitchen and a cute little back yard. Even though the house is in the centre of the village there plenty of place to park near the house. Restaurants, coffee shops, shops, ATM and the river are all within a short walk... I strongly recommend Boutique da Tuxa for morning coffee and pastries and bread... and for dinner, the steakhouse was good, tasty, simple food. The nearby town of Piodão is amazing, as is Foz d'Egua. I strongly recommend Filipa's house to anyone.
Dylan
2016-10-16T00:00:00Z
The house is comfortable and big enough. Kitchen has everything to cook. The only thing to consider is that as it is pretty big if you go in a cold season (we went in november) it may be hard to warm. Filipa left us some wood so we used it for the fire. Location was perfect, in the center.
Karla
2016-11-08T00:00:00Z
It was an ideal base to visit my family living outside Coja. Lovely town with shops and bars to relax in
Helen
2016-07-12T00:00:00Z
Filipa's place is incredible. Large two level 3 bedroom with a beautiful garden. Perfectly located just behind the center market of Coja and a 200m walk to a beautiful river swimming area. A perfect get away for my wife and I.
Raymond
2016-10-12T00:00:00Z
Lovely location in the heart of Coja, with a well-modernized property and reasonable facilities. A good base for a stay in this area.
Roderick
2016-08-12T00:00:00Z
Great location, very clean, communication efficient!
Homero
2016-06-13T00:00:00Z
Room Type
Entire home/apt
---
Property Type
House
---
Accommodates
6
---
Bedrooms
Coja, Coimbra, Portugal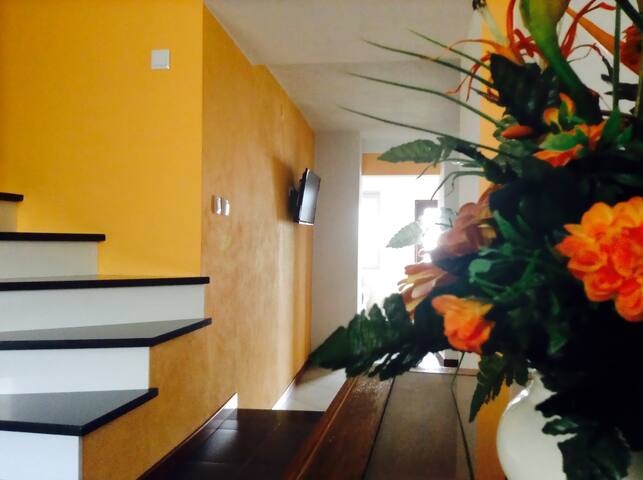 Casa Boa Vista is an elegant house minutes from the centre of Coja, down a pretty, quiet street with a beautiful southfacing cobbled courtyard, a garden and outside lounge and kitchen. Prices based on 6 people please ask for a quote for more guests.
The house has a large living room has views of the mountains, satellite TV, DVD/radio, pay as you go Wi-fi and there are two top of the range wood burning stoves for the winter months one in the lounge and one in the dining area. There is a well equipped kitchen with a seperate dining area. There are 5 bedrooms and will sleep up to 9 people. There is one double en suite bedroom with stunning views, two double bedrooms, one twin bedroom and one single bedroom. There is also a second bathroom. Outside there is a chill out lounge over looking the mountains with an outdoor kitchen and dining area where there is a bread/pizza oven and barbeque with a beautiful, south facing, cobbled walled garden which overlooks the fields down to the river and to the mountains beyond. A fourth double bedroom is available for an extra 2 people which is in the garden area next to the outdoor kitchen and has a seperate entrance to the house by the outside stairs to the kitchen. There is no bathroom with this bedroom. There is a utility room with an extra fridge/freezer and washing machine and solar panels provide the heating for the hot water.
Elegant town house with stunning views in sunny Central Portugal sleeps up to 9 people. Boa Vista is a comfortable holiday home in the pretty market town of Coja with all amenitie within a 5 minute walk and a popular river beach approx. 500ms away.
Our party of 6 loved this property. The house is in a pretty village with a lovely outlook over rural farmland. The house is perfect in every way, beautifully renovated and appointed, spotlessly clean, outdoor area for outside cooking and dining. I would certainly recommend this terrific listing.
Jenny
2016-06-05T00:00:00Z
Large property , clean and with a nice sun trap garden and terrace at the rear, owner very helpful
shaun
2017-04-09T00:00:00Z
Ficamos agradevelmente surpreendidos com a casa. A casa estava muito limpa, muito functional, perto do centro de Coja. Recomendamos
Fernando
2015-08-23T00:00:00Z
A casa está localizada num lugar muito calmo e com todo o comércio que necessita à sua volta.
Margarida
2015-07-28T00:00:00Z
A casa é fantástica, o local ideal para umas férias. O extremo bom gosto na decoração, o cuidado com os pormenores, fazem-nos sentir em casa. Nada falta verdadeiramente. O espaço exterior é muito agradável, com uma vista tão bonita... Parabéns ao anfitrião. Esperamos voltar :)
Ana & Diogo
2016-07-11T00:00:00Z
Room Type
Entire home/apt
---
Property Type
House
---
Accommodates
9
---
Bedrooms
Coja, Coimbra, Portugal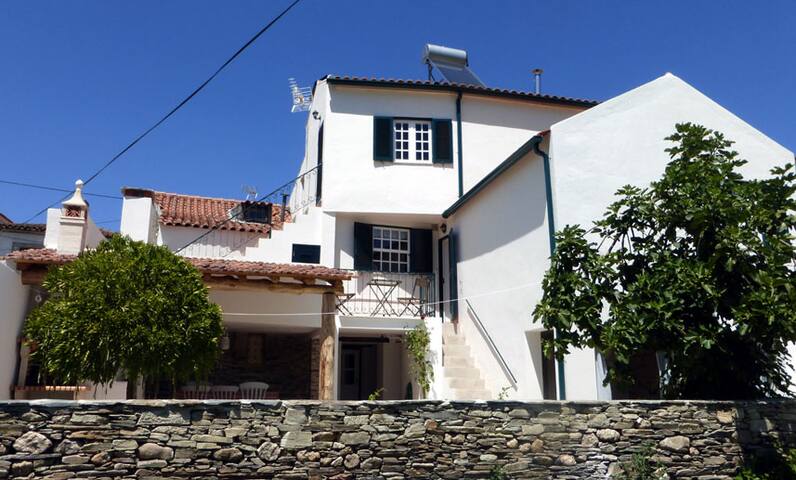 This old farmhouse is the last house at the end of the road before you walk down to the river Alva. If you are looking for peace and quit & being close to nature. Swimming in summer and sitting by the woodfire in winter this is the place to stay!
Please note: there is a minimum stay of a week. You need to want to relax if you come to this place so no quick visits :-) Come, feel at home and enjoy nature and the surroundings. If you had enough of swimming, reading etc There are enough nice daytrips to make from our location.
The farm is located at the bottom of the Serra da Estrella, with the highest mountains of Portugal. The river Alva is a 5 min walk down hill. There are secluded riverbeaches and a waterfall to jump of from. Coja is a nice village to go shopping or drink a coffee. There are several cafe's and restaurants.
The house is beautifully situated, very private. The natural swimming pool was unfortunately not available during our stay, but the river was a short walk. This is an excellent place to swim, especially for young children. Our two boys (4 & 6) loved it! The house is very spacious, bedrooms are built on bedrock so nice and cool, even when >30 degrees outside. The host Mona was very kind and helpful, she kindly had some fresh bread and other necessities for us when we arrived late on a Saturday.
Gerben
2015-07-25T00:00:00Z
We had a wonderful time at Fontanheira Velha. It's such a special place, surrounded by nature with the smell of pine and lavender and all sorts of creatures; lizards, frogs, butterflies, bees. Mona and Peter (Laura's parents who live just up the road) were really welcoming and friendly as were their dogs! The swimming pool would have been great but wasn't in use but the river, 5 minutes walk down the hill was amazing, such a beautiful, unspoilt place with a little waterfall, we had it completely to ourselves (bring rubber shoes for the slippery rocks and you can go for a fantastic walk up the shallow river). We hope to come back sometime.
Angela
2015-08-29T00:00:00Z
Mona und Peter waren super Gastgeber. Mona hat uns bei der Anreise per Telefon zum - gut versteckten - Ferienhaus gelotst. Wir hatten eine tolle Zeit. Besonders schön ist der Fluß mit kleinem Wasserfall zum schwimmen und plantschen , ca. 5 Minuten vom Haus. Das Haus selbst ist einfach, aber eine eine total schöne split-level Kombination aus alten Natursteinmauern und Anbauten, mit offener Küche. Komplett off-grid und es ruhig. War eine tolle Zeit. Danke!
Wolfgang
2016-09-03T00:00:00Z
Mona en Peter hebben verschillende gastenverblijven net buiten het dorp Meda de Mouros. Ons huis lag tussen de geurige bossen en bloemenweiden en op loopafstand van een bergriviertje. Van alle gemakken voorzien, geen tv (niet nodig op een plek als deze ;-), zelfvoorzienend met eigen water en zonne-energie met een heerlijk zwembad boven op de berg. Peter en Mona zijn geweldige gastheer en dame! We hebben een heerlijke week in mei gehad met ons gezin. Als je op zoek bent naar natuur en ongerept leven en een liefdevolle ontvangst dan vindt je 't in Fontheneira Velha!
Jeroen
2016-05-05T00:00:00Z
Room Type
Entire home/apt
---
Property Type
House
---
Accommodates
6
---
Bedrooms
Meda de Mouros, Coimbra District, Portugal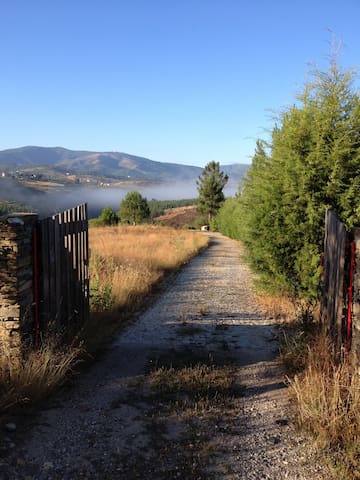 Our quinta is situated in central Portugal, near the river Alva, between the cities of Coimbra and Viseu, at the foot of the mountain Serra da Estrela. The house has a special atmosphere because of its history and all the old details. It is in a lovely secluded garden Our B & B can be reached by car in 2 hours from Porto and 3 hours from Lisbon. From Salamanca, it is only 3 hours away. My room is suitable for couples, solo adventurers, business travelers and families (with children).
Anfitriões 5 estrelas. Correu tudo bem. Aconselho vivamente. Local bastante pacato. Casa foi renovada à pouco tempo e cheira a nova!!! Decoração de muito bom gosto. Muito bem equipada!!! So faltava um microondas e uma televisão.
Nuno
2016-08-20T00:00:00Z
Room Type
Entire home/apt
---
Property Type
House
---
Accommodates
5
---
Bedrooms
Arganil, Arganil, Portugal
Newly renovated slate stone cottage with stunning views and sunsets. Located in the mountain village of Alqueve. Relax by the pool or enjoy local river beaches and restaurants. Other local activities inc horse riding, wine tasting, canoeing and more!
The cottage has only one bedroom but is well equipped and was renovated in 2012. It has a sofa bed in the living area so please contact me if there are extra guests. It has it's own private pool with loungers, bbq, etc and plenty of outdoor space. Upstairs in the cottage is the living/ kitchen area with a sofa bed for extra guests. The kitchen is fully equipped with fridge/freezer, cooker, etc and the living area has a TV which has Portuguese channels, you can play DVDs, CDs on and also has a USB port. The cottage also has wifi internet access. A spiral staircase leads down to one double bedroom with an en-suite bathroom/wet room. The en-suite is the only bathroom in the house and is accessed through the main bedroom so any extra guests must take this into consideration when booking.
Located in the village of Alqueve approx 7km from Arganil and 6km from Coja. Alqueve has a local bar/cafe. Alqueve is located in the mountain range between Lisbon and Porto an hour from the University town of Coimbra. Lisbon is a 2 and a half hour drive and Porto is 2 hours. Follow the A1 North from Lisbon and the A1 South from Porto. Exit at junction 13 for Coimbra then follow the IP3 heading to Viseu then Arganil and finally Alqueve.
This is a beautiful place to stay. The views are fantastic and you have all you need within a close enough distance. The cottage is very easy to find and there are lots of things to see in the surrounding area. Hazel and Adam were on hand to help if we needed them and supplied everything you could need on arrival - thanks lots!
Lara
2015-07-30T00:00:00Z
Bela Vista is a stunning cottage with incredible views. Easy access and Hazel direction are spot on. We were made welcome with a warm house as Hazel made sure to fire the wood burner prior to our arrival. We will definitely be back, thank you so much Hazel and Adam.
A Junior
2015-12-06T00:00:00Z
Bela Vista house is stunning. We went there for a few days of relax and we really enjoyed it. The location of the house is very good and the countryside landscapes are beautiful. The house and even the pavement around the pool are built in schist, the interior is very cozy and warm (with his salamander) and in the summer it should be wonderful to try the pool! :) It has everything you need to enjoy unique holidays in the countryside, with the chance to visit the surrounding typical villages and taste the excellent local cuisine and beverages. We highly recommend Bela Vista house.
Gonçalo
2015-12-22T00:00:00Z
If you are looking for a quiet place in the far countryside of Portugal where you can relax and enjoy the incredible vieuw, this is your place. The house is not so big but very cosy and well equipped! There was enought firewood and the place heats up very quick. I have had a great time!
Birgit
2016-12-28T00:00:00Z
Lovely guest house on the side of a typical village. Amazing views, beautifull decorations and warm welcoming, thank you Hazel!
Lise
2017-02-01T00:00:00Z
This cottage is the perfect retreat. It's in a perfect location with stunning views accross the valley. We've never experienced such a perfect vantage point to view daily sunsets. The pool is the perfect addition to aid the relaxation. It was sufficiently secluded and not too far from some amazing points of interest including the university town of Coimbra, the beautiful waterfalls in Fraga da Pena, the church on top of Mont'Alto and the gorgeous Bussaco Palace. The cottage is very well equipped and was exceptionally clean when we got there. The directions given by the host helped find the property easily.
Marlon
2016-08-28T00:00:00Z
This place is absolutely magical. If you are worried you might want to leave your normal life behind and move to Portugal, then don't stay here. We didn't want to leave. Hazel provided a cot and in addition left some toys for our two year old which he loved. We had a wonderful few days. Would absolutely recommend.
Claire
2015-07-08T00:00:00Z
Lovely "cottage" on the edge of a mountain village., out in the sticks but not too remote good position for exploring the area. Really well appointed & finished , both good indoor & outdoor spaces. Great views & lovely sunsets.
Malcolm
2017-02-21T00:00:00Z
Room Type
Entire home/apt
---
Property Type
House
---
Accommodates
2
---
Bedrooms
Arganil, Coimbra, Portugal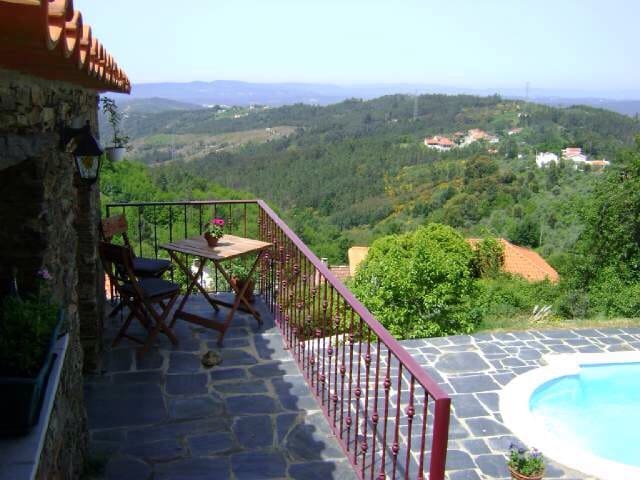 Vila Emília é uma linda casa de campo no coração de (URL HIDDEN) vistas magníficas para a Serra da Estrela, Serra do Açor e Serra da Lousã, com piscina, sala multimídia, horta, sala de banquetes, cozinha equipada e lounge.
A casa é solarenga, recém restaurada e muito confortável.
A aldeia da Pereira é muito pequena e (URL HIDDEN) uma praia fluvial à 5 kms de distância
The house is amazing and Fatima is super welcoming.
Dominique
2016-05-14T00:00:00Z
A Fátima foi 5* no dia da nossa chegada. Resolveu-nos um problema no dia da nossa chegada, com uma imensa disponibilidade e simpatia. Ela e o marido são muito «boa onda». Gostamos imenso de os conhecer :-) Único senão: a casa não tem ar condicionado nem inclui pequeno almoço (como anunciavam no anúncio), o que foi um bocadinho complicado, devido às altas temperaturas que se fizeram sentir.
Marina & Zé Maria
2016-09-05T00:00:00Z
Room Type
Entire home/apt
---
Property Type
House
---
Accommodates
11
---
Bedrooms
Coimbra, Coimbra, Portugal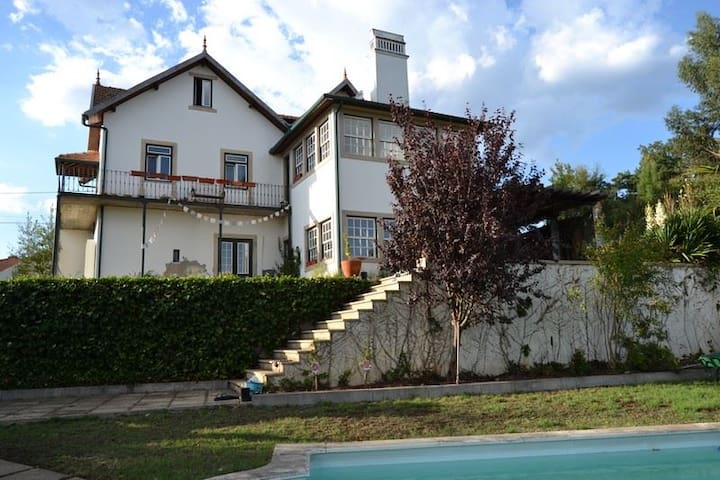 A casa encontra-se na margem direita do Rio Alva em frente à ponte antiga. A casa dispõe de 2 quartos, um deles com casa de banho privativa, uma cozinha espaçosa e totalmente equipada, uma casa de banho com banheira, uma sala de jantar e uma sala com televisão e wifi à disposição.
Vila com praia fluvial, próxima de locais turísticos como o Piodao, Fraga da Pena, Mata da Margaraça e Serra da Estrela. A vila encontra-se a 70kms de Coimbra.
A casa encontra-se em frente à ponte antiga com uma bela vista sobre o rio Alva. A casa esta no centro da vila.
Room Type
Entire home/apt
---
Property Type
House
---
Accommodates
6
---
Bedrooms
Coimbra, Coimbra, Portugal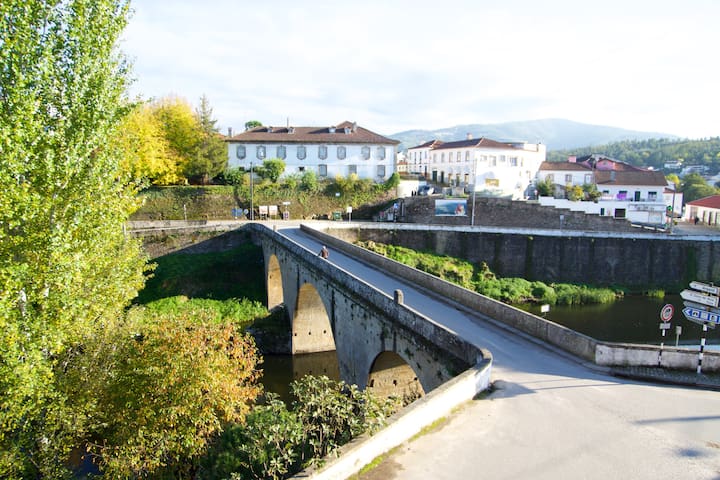 Casa Portuguesa is part of Vivenda a nossa coroa, a small complex of 3 beautiful and fully equipped holiday cottages on the outskirts of the village of Coja, about 60 km east of Coimbra, in the green heart of Portugal. Come relax in beautiful surroundings, cozy cottage by Dutch owners. No mass tourism and enjoy the pure Portugal with the majesty of the mountains and the tranquility of the meandering rivers.
Luxury furnished holiday bungalows with views of the Serra da Estrela and Serra do Acor and picturesque mountain villages. Casa Portuguesa has 2 bedrooms, bathroom with bathtub and separate shower, fully equipped kitchen, nice living room, terrace and garden with garden furniture, parasol and free WiFi. Because we rent out 3 bungalows, the complex can also be used as a group accommodation for 12 persons.
The vivenda is centrally located and a good starting point for beautiful walks, beautiful sightseeing and fun trips. The pleasant village of Coja is just 2 km away. Here you will find all facilities such as supermarkets, restaurants, banks, cafes, etc. The surroundings are perfect for a wide range of activities such as: -bathing in the River, canoeing, horse or pony ride, mountain biking etc.. -There is a hiking GPS with geocaching. -Visit to picturesque mountain villages in the Serra da Estrela, Serra da Acor or Serra Lousa. -Visit the ancient cities of Coimbra or Viseu-shopping in super modern shopping malls-Old ruins of Conimbriga, in the whole area there are several remains from Roman times. -For the children is Dos pequenitos in Coimbra. -Beautiful beaches on 5 15 minutes Or just relax in your well-equipped bungalow, near the pool with a book from the library and organize your vacation the way you want.
Room Type
Entire home/apt
---
Property Type
House
---
Accommodates
4
---
Bedrooms
Coja, Coimbra District, Portugal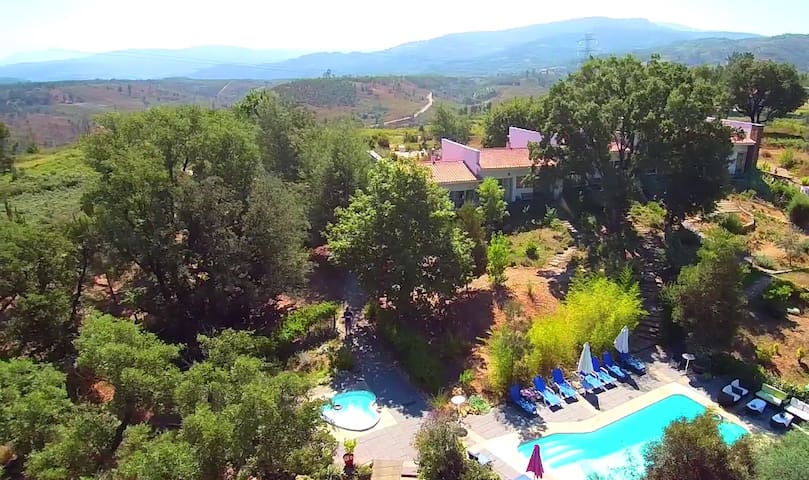 A casa da Fonte Nova tem uma localização de excelência, à beira do Rio Alva, em pleno centro da vila Coja, com vistas privilegiadas para a Ribeira da Mata e Serra do Açor. Sendo uma casa antiga, tem todo o conforto moderno. licença -203/AL
Espaço muito agradável, as fotos correspondiam às publicadas, bem localizada, perto de tudo: cafés, super-mercados, farmácia, talho. Praia fluvial fantástica. Bom para descanso em família.
Lucilia
2016-08-13T00:00:00Z
Room Type
Entire home/apt
---
Property Type
House
---
Accommodates
6
---
Bedrooms
Coimbra, Coimbra, Portugal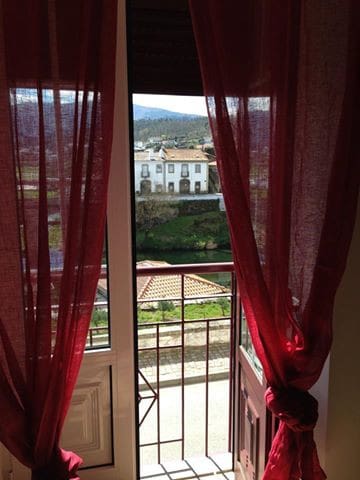 The house is on the banks of the Rio Alva with lovely views across the river and only a short walk to the centre with all the amenities. An ideal place to use as a base for exploring the area or for just relaxing next to the river!
This pretty house has been renovated to be a comfortable home from home keeping some of the original features such as the stone walls and wood beams in the kitchen. There are lovely views across the river to the mountains beyond from the garden and the terrace. The house is South facing and gets the sun all day. There is free wifi internet access. The large living room has comfortable seating for 6, Portuguese satellite TV (some English channels)/DVD/CD/radio and wood burner for the winter months, a door opens on to a sun terrace. There are 3 bedrooms and 2 bathrooms and a well equipped kitchen that opens to the private garden and patio with BBQ and furniture. A great place to come and explore or just unwind in the sun! An extra bed can be available on request.
The centre of Coja is an easy 5 min stroll with cafes, shops, bakers, butchers etc, and the local river beach is 200ms away where you can swim in the crystal clear waters. If you want to explore further the Serra de Estrela is approx. 50kms away, this is the highest mountain in Portugal with snow and skiing in the winter months. Coimbra is a 45min drive from Coja, an ancient university city that spent some time as Portugal`s capital city with narrow, winding , cobbled streets and a beautiful library open to visit for the public.
The house is really nice, we enjoyed our stay. I loved the river view and sitting at the back of the house. Luckily we came with a small car because the parking place is not that big, but still right in front of the house.
liesbeth
2015-05-14T00:00:00Z
Lovely location in a quiet town in Portugal's country side. The house is big with plenty of character, there is a wood stove for the cold nights. Only point of concern: the bed is small and the mattress is not very comfy.
Mathias
2012-05-11T00:00:00Z
Beautiful house in a great location, a stones throw from a great swimming spot and lovely town center with shops, bars, cafes etc. We really enjoyed our stay at Jane's house which is very homely and well equipped for our stay. Thanks very much!
Hester Sorel
2016-07-18T00:00:00Z
Greats thanks!
Hila
2016-10-06T00:00:00Z
Nice view from terrace. Enjoyed many meals on the terrace including a bbq! Within walking distance to a lovely river beach. Very refreshing on a hot afternoon. Lovely town centre only a few minutes walk, with all the amenities. Picturesque Piodão within easy days drive. Enjoyed some wonderful hikes in that area. Wifi in the house was excellent.
Geoff
2016-06-15T00:00:00Z
Havia muita informação na casa de coisas para fazer nas redondezas. A vila de Coja é muito agradável e bonita. Tem uma pequena praça com varios cafés com esplanada onde podemos tomar um bom pequeno almoço. Há uma praia fluvial deliciosa perto da casa com restaurantes mesmo ao pé.
Pedro
2015-06-26T00:00:00Z
A Jane é uma excelente anfitriã. Fez-nos sentir completamente à vontade e esteve sempre disponível na troca de mensagens à chegada e à partida. O espaço exterior é muito agradável e, como estava bom tempo, foi possível que aí permanecêssemos até tarde, desfrutando da vista para o rio que corre a poucos metros. A casa é muito acolhedora e nada lhe falta, estando muito bem equipada. Teremos de voltar, certamente!
Ana
2015-05-31T00:00:00Z
Super! Tout ce qu'il faut dans un village tranquille juste à côté de la rivière. La maison est spatieuse, propre et autenthique.
Thierry
2014-07-20T00:00:00Z
Room Type
Entire home/apt
---
Property Type
House
---
Accommodates
6
---
Bedrooms
Arganil Municipality, Coimbra, Portugal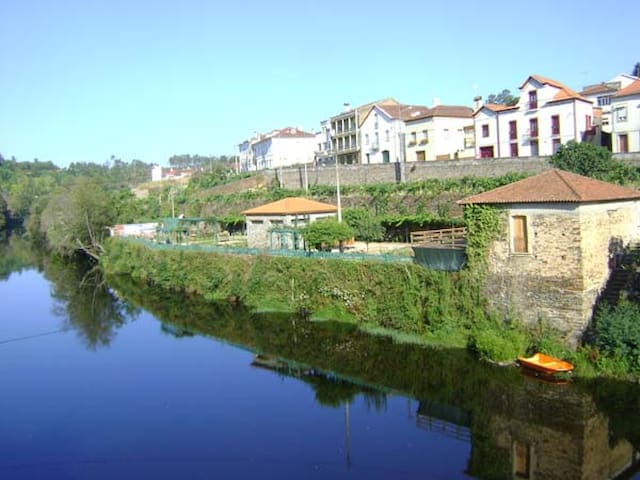 Comfortable holiday home, enjoy nature & mountain views. Ideal for couple or family with small child. Relax & swim! See (SENSITIVE CONTENTS HIDDEN) page for more pictures of the surroundings: (URL HIDDEN)
Tres Tulipas is part of organic farm Vale das Botas. It is located outside the tiny village of Meda de Mouros. We produce olive oil, wine and grape juice. We have a vegetable and herb garden for our own use.
The farm is located at the bottom of the Serra da Estrella, with the highest mountains of Portugal. The river Alva is a 10 min walk down hill. There are secluded riverbeaches and a waterfall to jump of from. If you don't feel like climbing up hill after swimming you can also swim and relax at the swimmingpool.
Laura schon es encantadora, amable y te ayuda a estar como en tu casa. Su casa es atractiva, sencilla, con mucho encanto. Es una casa con alma y quet transmite la personalidad de la dueña
alberto
2015-08-22T00:00:00Z
Room Type
Entire home/apt
---
Property Type
House
---
Accommodates
2
---
Bedrooms
Meda de Mouros, Coimbra District, Portugal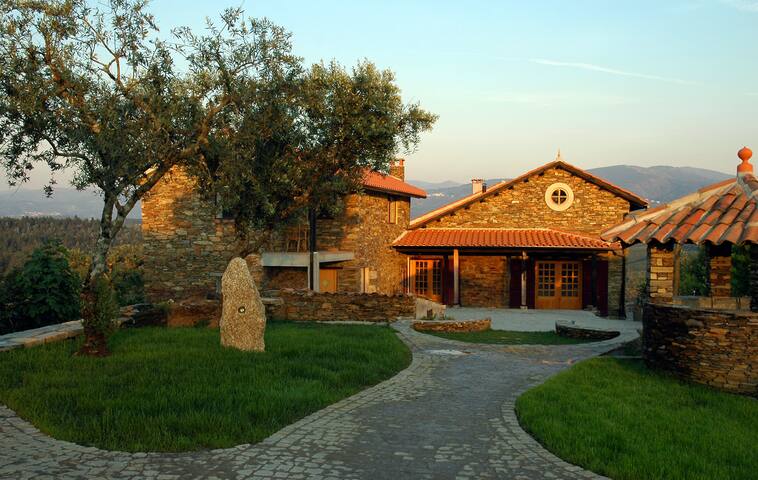 A farmhouse in Sao Pedro, quiet location near Arganil. It can be a relaxing holiday or as energetic as you wish to be. Essential amenities, a 5 minute drive away.
The host canceled this reservation 127 days before arrival. This is an automated posting.
Michiel
2017-04-02T00:00:00Z
The host canceled this reservation 13 days before arrival. This is an automated posting.
Antonio
2017-03-30T00:00:00Z
Room Type
Entire home/apt
---
Property Type
House
---
Accommodates
4
---
Bedrooms
Arganil, Coimbra, Portugal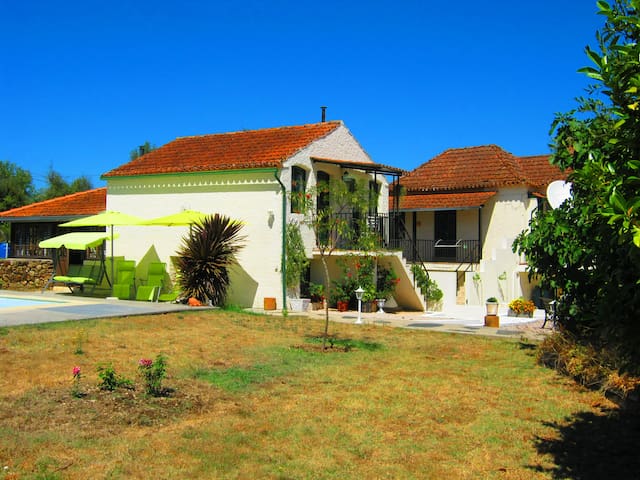 Fruto de uma paixão tão antiga como os sonhos de infância e fiel ao que a nossa tradição guarda de melhor e mais verdadeiro, esta casa mantém as suas características rústicas originais, acrescentando-lhe conforto do nosso tempo e bons momentos na natureza.
A decoração interior e exterior da casa esteve a cargo da proprietária, artista plástica e ceramista, que utilizou muitas das suas obras, tais como painéis de azulejo, quadros e peças de cerâmica. A Xisto House tem capacidade para 5 adultos ou 2 casais com 2 crianças.
A 2 minutos de distância a pé, da casa, encontra-se o pequeno centro da vila, oferendo todo o tipo de pequenas lojas e serviços, desde cafés, padaria, supermercados, farmácia , bancos, etc. Apesar da sua localização praticamente central, a rua onde se encontra a Xisto House, oferece um sossego absoluto. Algumas das principais atracções locais, muito famosas e procuradas também pelos próprios locais, são: - "Aldeia do Piodão": uma das mais famosas aldeias de xisto do país; - "Mata da Margaraça": reserva biogenética (atenção aos veados e corços que podem surgir na estrada) - "Fraga da pena": queda de água com cerca de 20 metros e onde pode fazer um pic-nic - Diversas vilas típicas, com boas praias fluviais, como as vilas de Avô, Vila Cova, Barril de Alva, entre outras, situadas ao longo do rio Alva. - Serra da Estrela a 40km, constituindo o seu cume, o ponto mais elevado de Portugal continental, procurado no inverno por causa da neve e possibilidade de ski nas suas pequenas pistas, mas também durante todo o ano, pela sua beleza natural, pelos seus muito famosos queijos de cabara e de ovelha, ou pelo artesanato. - Cidade de Coimbra a 67km (cuja universidade está classificada como património mundial pela UNESCO). DESPORTOS E OUTRAS ACTIVIDADES Para além do contacto único com as belezas naturais desta região, muito próximo da Xisto House, encontra-se uma das melhores piscinas naturais da localidade, em dias de calor, simplesmente impossível de resistir! Para os amantes do vinho, esta região é uma das mais importantes regiões vinícolas do país, famosa pelo seu vinho "Dão", dispondo assim de diversas adegas e locais de venda e fabrico, alguns dos quais abertos ao público disponibilizando diversos tipos de actividades, como: - A Quinta do Cabriz, em Carregal do Sal (GPS 40º25´28´´ N 8º01'07''W); Paço de Santar, Nelas, Viseu (GPS 40º34'20''N 7º53'30' W) e vinhos da Bairrada como os da Quinta do Encontro, Mealhada, com uma adega design em pleno coração da Bairrada. De entre todas as actividades proporcionadas pelo contacto priviligiado com a natureza desta região, algumas das mais procuradas, são: - Passeios pedestres - Montanhismo - Slide - Kayaking - Rapel - Canyoning - Canoeing - Escalada - BTT
Xisto house, Coja was a lovely property, with a cool sitting room below, and bedrooms plus kitchen and bathroom above. The small outside sitting area was great for the evenings, and the closeness to Coja centre for shops and other amenities was ideal. The kitchen was well appointed, and plenty of pans, etc. for general use. The help of Isabel's friend Alice and her daughter Christina (fluent in English) was very useful, and we had a very enjoyable time. We love Coja anyway, and have family with a Casa nearby, but can recommend the area to anyone wanting a quiet getaway with some good restaurants with authentic Portuguese food. The only small problem was the door handle to the bathroom, which requires re-fixing, otherwise a great little property, and thank you very much to Isabel. We hope to be back.
Roderick
2015-08-22T00:00:00Z
Isabel's house is ideally located, right in the centre of the village, although in a very quiet and peaceful street. The house is very beautiful, keeping the rustic style, very clean and fully equipped. Isabel is a very careful hostess, and once she couldn't be present when we arrived, another lady was waiting for us with the keys and for any needed information. Certainly a place I would recommend!
Gabriela
2015-08-27T00:00:00Z
Coup de coeur pour cette magnifique maison traditionnelle, décorée avec goût et passion. Très beau séjour dans l'arrière-pays. Découverte d'une région (xisto) de schiste. Quelques villages et paysages impressionnants. Village de Coja très sympathique.
Francine
2015-08-14T00:00:00Z
Tudo perfeito. A Habitação não nos defraudou em nada, as condições encontradas superaram largamente as expectativas. A localização da Casa é perfeita, bem no centro e simultaneamente de um sossego absoluto. Experiência a repetir, já que desta vez por razões Familiares tivemos que partir antes do tempo. A Anfitriã está de Parabéns. Recomendamos Vivamente.
Francisco
2016-08-11T00:00:00Z
A casa é muito agradável e muito bem localizada. Os anfitriões muito prestáveis. Excelente estadia!!
Graca
2015-08-09T00:00:00Z
Que bem nos recebeu esta casinha de xisto! O aconchego da vila, da pedra e dos detalhes de muito bom gosto fizeram-nos sentir em casa. Obrigada, Isabel. Bom ano! Joana
joana
2014-12-31T00:00:00Z
Uma bonita casa, super equipada e uma anfitriã muito simpática e muito disponivel para tudo! Uma experiencia a repetir!
Liliana
2015-07-28T00:00:00Z
Room Type
Entire home/apt
---
Property Type
House
---
Accommodates
5
---
Bedrooms
Coja, Coimbra District, Portugal
My space is close to river beaches with activities for families such as visits to shale villages such as the village of Piódão and other interesting villages .... You will love my space because of the location is very good with access roads , The environment is green, natural ... My space is good for couples, individual adventures, families (with children) and large groups.
Very quiet place with good air in the middle of nature
num ambiente natural , com boas vistas e soalheiro.
The host canceled this reservation the day before arrival. This is an automated posting.
Melinda
2016-11-19T00:00:00Z
Room Type
Shared room
---
Property Type
House
---
Accommodates
8
---
Bedrooms
Mouronho, Coimbra, Portugal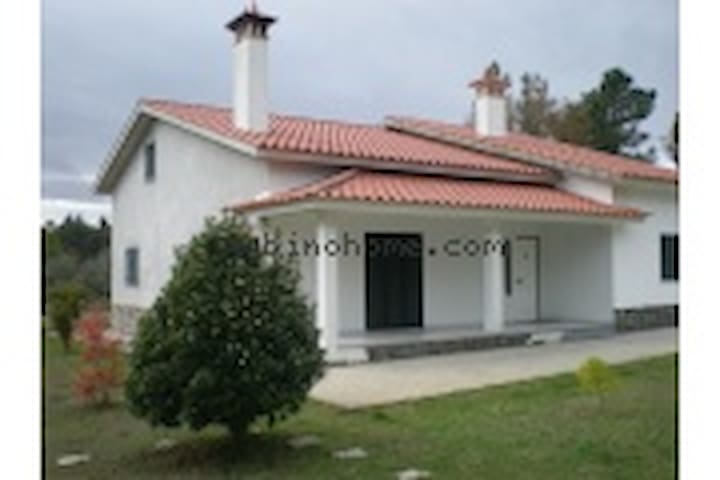 Espaço atípico. Antigo bar com uma gruta escavada na rocha. Ideal para casal ou família com filhos. Dispõe de 2 sofas cama, casa de banho com chuveiro e cozinha. Dispõe igualmente de televisão e Wi-Fi. A gruta pode ser utilizada como espaço de aniversario ou outro tipo de evento. A temperatura é constante em todas as estações do ano. Condições acústicas para musica ao vivo.
Room Type
Entire home/apt
---
Property Type
House
---
Accommodates
4
---
Bedrooms
Coimbra, Coimbra, Portugal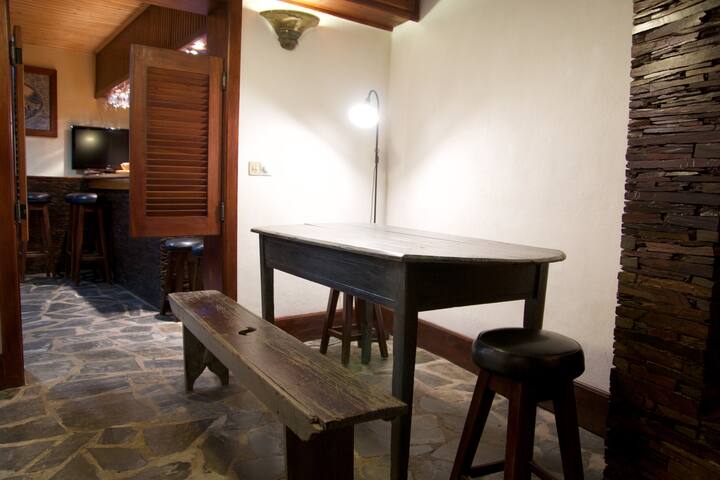 1

–

18

of

21 Home Rentals
Enter dates to see the total trip price including additional fees (but excluding any taxes).