Beautiful architect house on 7000 m² of land, the lagoon, near the coral reef, Neighborhood, no promiscuity; ideal for rest, fishing and plngée. It has three bedrooms, two loft, three bathrooms, guest toilet, kitchen, large living room, patio, beach bungalow.
Tikehau Atoll is a magnificent turquoise blue lagoon, pink sand beaches and rich reef fish and shellfish. Bicycles are available. Tikehau Atoll is a magnificent turquoise blue lagoon, pink sand beaches and rich reef fish and shellfish Transfers from the airport are included in the rent
Tikehau Atoll is a magnificent turquoise blue lagoon, pink sand beaches and rich reef fish and shellfish
Alexandrine and Pierre's house is, if anything, even more appealing than it appears in the beautiful photos that attracted us to it. Pierre is a gifted architect and it shows in every detail, from the supremely comfortable indoor and outdoor living spaces to the west-facing gourmet kitchen (not depicted in the photos) where I prepared our evening meals while sipping a rum drink and watching the sun set over the ocean horizon. For those not inclined to cook, there is Manini, the delightful and very helpful local woman who looks after the house. Alexandrine went out of her way to make us feel comfortable and welcome, answering our questions promptly, and sending us fresh fish and excellent produce from Papeete to supplement the limited items available from the local market. We spent three weeks in Tikehau, which, at least for scuba divers, is far worthier of a long-term stay than the few days most visitors allot. (Recommend Vincent & Antoinette's Raie Manta Diving Club at Tikehau Village resort, a short bike ride away.) When we weren't diving, we kayaked and paddle boarded -- using equipment available at the house -- or simply beachcombed. Can't wait to go back!
Laura
2015-10-14T00:00:00Z
Me gustaría decir que mi experiencia fue terrible para guardar este lugar como un secreto para pocos, pero sería un crimen no compartirlo por que además es una buena enseñanza. La casa es fantástica con un ambiente espectacular, se nota que es un arquitecto su dueño, sencilla, sofisticada, una muestra que se puede vivir increíble con sólo lo esencial, que es en realidad lo que se necesita para tener una experiencia sublime. Seria bueno que muchos se dieran una vuelta para que se den cuenta que nos rodeamos de puras cosas innecesarias. Su integración con las terrazas a través de unas puertas correderas, donde no sabes bien si estas dentro o fuera y luego la playa es total, la cocina integrada equipada con todo lo que uno quisiera en su casa. Sumado a esto Tikehau es un pueblito que se puede recorrer fácilmente en bicicleta con playas preciosas llenas de vida y muy poco explotado por el turismo, quizás eso es lo único que se extraña.... un poquito.... muy poquito de turismo, sólo hay una empresa que te lleva a los arrecifes y no hablan inglés....... no es tan fácil conseguir pescados o pan por que haya que encargarlos..... Los locales les faltan verduras o frutas.... pero bueno, si eso estuviera solucionado y no hubieran mosquitos sería el paraíso.
Martín
2016-05-24T00:00:00Z
La description correspond parfaitement à le réalité. Notre hôte a répondu rapidement à toutes nos questions et même à nos demandes supplémentaires. La maison est splendide, bien équipée, la beauté du site est éblouissante, les habitants de l'île sont charmants et accueillants, la cuisine locale de Manini est digne d'un restaurant étoilé; nous avons passé un moment inoubliable. Un grand merci à Alexandrine!
Charles
2015-09-03T00:00:00Z
Room Type
Entire home/apt
---
Property Type
House
---
Accommodates
6
---
Bedrooms
Tikehau, French Polynesia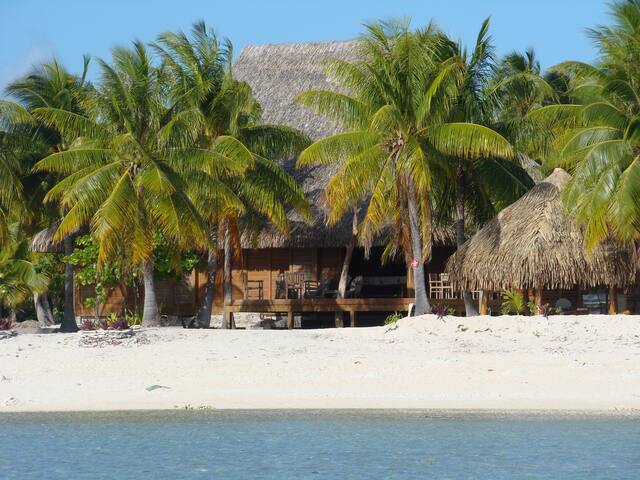 On the atoll of TIKEHAU, near TAHITI, in a tropical postcard landscape, unique and secluded, a whole island is reserved only for you. Enjoy your private beach, your boat, delicious cooking and the wonderful surroundings for our all inclusive rates
At least once In your life , you have to experience the exclusive use of a tropical Dream Island. FAFARUA Lodge Is a private island and when you rent it, it is reserved exclusively for you. It Is an Isolated place where you can enjoy unspoiled natural beauty In private. The 'motu' is accessible only by boat, a 30 minute ride from the village. It is an over 6 hectares area, planted with a vast coconut grove with places of untouched native vegetation. It Is bounded by the sea on all four sides, with sandy beaches on the lagoon side, a large wild reef on the outer side. Although far from any civilization, the house will offer you the comfort of a villa : nice furnitures, comfortable bedding, fully equipped kitchen, electricity and running water (hot and cold), fans, mobile telephone network and the internet (on a « tropical speed »….). The house is built in the typical style of the TUAMOTU. It has three bedrooms, one upstairs with a double bed and two with a double bed and a single one. The rooms are simple and colorful, airy and well-ventilated through natural ventilation, equipped with mosquito nets, fans and cupboards. The lounge on the ground floor is open and spacious,iIncluding a U-shaped seat, that can provide six extra sleeping places. The dining area will set for ten persons. The kitchen is open and fully-equipped. This is a comfortable family home, very open and friendly. As usual in Polynesian Islands, near the main house, are a 'fare Potee' (covered outdoor seating and dining area), and a 'fare Pape' (outhouse) with bathroom, toilet and laundry. Away from the beach and the house, In the interior of the 'motu', there Is a small residential home for the staff which Ensures a constant presence. As the Island is rented "all Inclusive" transfers from and to the airport are Included. Full catering is provided by the staff of the 'motu'. Meal times, and to the extent possible, the menus, are organized by the hostess according to the guests' wishes. We will take pride in preparing as well as the French Cuisine, the typical dishes of the Archipelago and of Polynesia giving a large place to fresh fishes of the lagoon and local products. Throughout the day, tea, coffee, drinking water, juices and homemade lemonade are available to Guests. Other drinks, sodas, beers, wines and spirits are available and will be charged at the displayed prices. Our wine cave is stocked well with white and red French wines, as well as Champagne. Don't hesitate to let us know if you have preferred selection of wine , beer or any alcohol, we will do our best to get it for you. There are many ways to explore the beautiful TUAMOTU : whether swimming at your exclusive private beach, exploring the surroundings by kayaks or stand up paddle boards, taking long walks on the reef to explor the wonders of coral reefs, stretching as far as the eye can see, or snorkeling In The 'hoa' (or channels) nature's real-life aquariums. On the island you can enjoy the coolness of the shade from the coconut palms; the typical vegetation of the TUAMOTU as It Is used by the locals for the coconut milk and to make copra (coconut oil). Located 20 Kilometers from the village, the 'motu' offers serene isolation in a picture-postcard landscape. Due to the round shape of the Atoll, the 'motu' is equidistant from the village, the Channel or the beaches of the long 'motu'. Only a few small boats pass each other from time-to-time going to a fishing spot or a family coconut grove, and do not break the tranquility of the place. In addition of the many activities you can have on and around the 'motu', exploring the environment, snorkeling, kayaking, stand up paddling, the boat driver will take you to many sights of interest all around the lagoon for « à la carte » and personalized trips like the pink sand beaches, visit of the birds island, swim with the Manta rays and many other places usually accessible only for the inhabitants of the atoll. For a very unique and personal honeymoon, as well as for a romantic getaway with the one you chose to share this special moment, just the two of you on an isolated Private Island or for a group vacation, sharing with your family or chosen friends the experience of authentic Tuamotu in total privacy, TIKEHAU FAFARUA LODGE Private Island will provide you the ultimate experience of being immersed and secluded in one of the nicest and untouched landscape of the world. Certainly one of the best ways to discover the unforgettable charms of The TUAMOTU Archipelago.
Fafarualodge is a very special place, located at 30 minutes by boat from the village. The neighborhood is composed of uninhabited islets giving you the feeling of being alone in the world. Two or there times a day the silent is broken by the distant noise of a boat passing far off to join another motu for coconut culture. You will be free to explore the "motu" and the surroundings, with wild sand beaches, marvelous snorkeling spots or the huge wild reef which extends continuous on kilometers. With the boat of the motu, reserved for you, the staff will also bring you all around the atoll the discover many different places, like the birds island, the Manta Rays spot, the pink sand beaches and also many other places that only local people know and are not accessible for usual tourists.
From the first moments of our arrival until the last moments before our departure, our stay with Evaline and Patrick was perfect. We got a chance to really experience life in paradise as people from Tikehau experience it. Life on the private island is as relaxing and beautiful as you could hope for. Every day, Eva and company made us three delicious meals, which we ate outside under a beautiful covered deck with refreshing cool breezes. They took us on wonderful adventures all over the archipelago, and showed us the finest and friendliest hospitality. Of the many places in the world we have been, Fafarua Lodge was our favorite spot. It was not only the beautiful scenery, the crystal clear waters, the plethora of beautiful marine life, and the incredible food that made our week on the island so special, it was the company. Being around Eva and her friends and family was such a joy, and their energy and generosity was contagious. The trip was worth every dollar and every minute of travel. It was the best honeymoon spot we could have asked for. They made us feel like part of the Fafarua family, and showed us all the glorious elements of life in Tikehau. We cannot recommend this beautiful getaway more highly. If you're looking for a combination of comfort and adventure, in a place that one can only define as an an unspoiled paradise, then go see Eva on Fafarua Lodge. You'll remember it the rest of your lives. Specific Highlights: 1. Snorkeling and Picnic lunch across the archipelago 2. Fresh fish dinners on the covered patio 3. Boat excursions to neighboring motus 4. Fresh coconuts daily!
Daniel + Meredith
2016-07-17T00:00:00Z
Room Type
Entire home/apt
---
Property Type
Island
---
Accommodates
8
---
Bedrooms
TIKEHAU, TUAMOTU ARCHIPELAGO, French Polynesia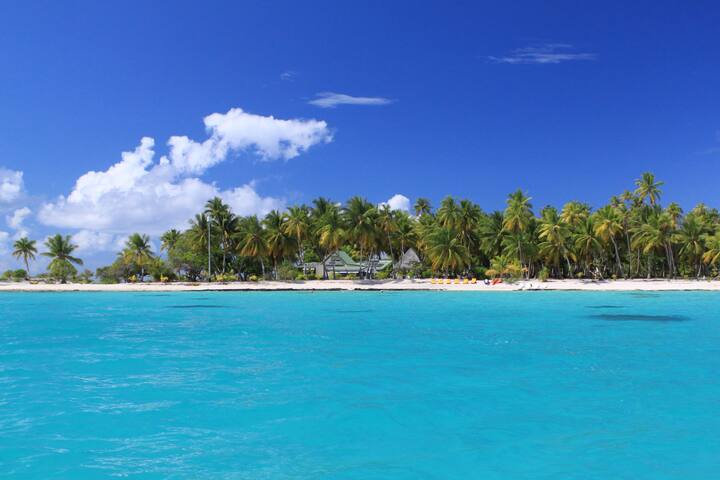 A large room with 2 queen mattresses, all with 4 small screens 2 hammocks and 2 lounges on the terrace A bathroom A kitchen A fare range for 3 meals bicycles Kayak Boat on demand to fish or visit the lagoon Beautiful sunsets
Its location bicycles kayaks Sometimes if it is necessary to accommodate and install The beauty and simplicity of the people By car.
The beauty and simplicity of the people
Room Type
Shared room
---
Property Type
House
---
Accommodates
6
---
Bedrooms
Tikehau , Tahiti, French Polynesia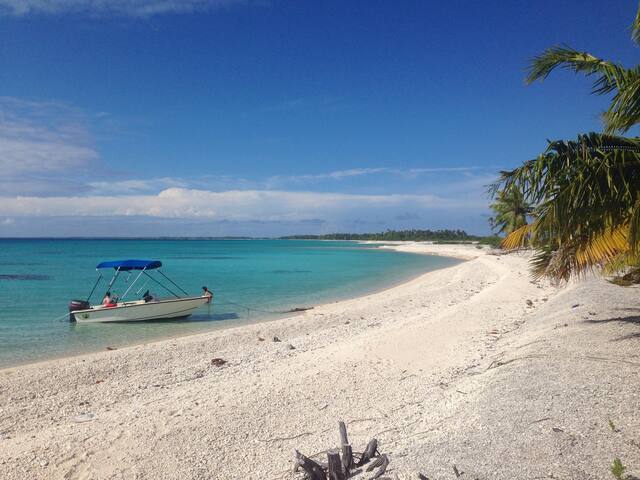 Enter dates to see the total trip price including additional fees (but excluding any taxes).