***Exclusividad***Pequeña eco-casa para 2 personas en extensa finca volcánica privada. Cercana a los lugares más emblemáticos de la isla. Ofertas en Alquiler de Vehículo gracias a convenio con Rent a Car, con precios reducidos
- Alojamiento recomendado especialmente para amantes del Turismo Rural/Trekking/Arquitectura Tradicional lejos de Núcleos Turísticos masificados - La Eco-casa El Rincón (1 dormitorio, baño y cocina privados) es una casa sencilla y de pequeñas dimensiones que puede alojar hasta 2 personas. Incluye también terrazas y amplio jardín. Disponemos de TV, equipo de música, etc… El Parking con entrada privada tiene capacidad para varios vehículos. Todo, en su conjunto, conserva el ambiente rústico y típico de la arquitectura popular canaria, con una bonita vista al singular paisaje volcánico de la zona. Situada en el pueblo de Masdache, en el centro geográfico de la isla de Lanzarote, "El Rincón" está formada por una construcción del siglo IXX, rodeada de un amplio enarenado de ceniza volcánica. Agradable y tranquilo, el pueblo se encuentra inmerso en cultivos de viña en los que la intervención del agricultor en el terreno ha dado lugar a un peculiar paisaje. El ambiente relajado de "El Rincón" incita al contacto con la naturaleza. Aquí tendrá la oportunidad de disfrutar de una caminata por los alrededores, escuchando a los pájaros cantar durante el día o ver las estrellas durante la noche... - Localización- Lo más interesante acerca de la ubicación de "El Rincón" es que se encuentra en un entorno rural agradable pero, al mismo tiempo, está cercana a cualquier localización de la isla. Las mejores playas de la isla están a tan sólo quince minutos de trayecto en coche.El singular Parque Nacional de Timanfaya está a veinte minutos y La Geria, el paisaje único creado por la mano del agricultor lanzaroteño, se encuentra a unos cinco minutos. Si usted quiere degustar la comida popular, tendrá buenos restaurantes en las localidades cercanas, en un trayecto en coche de diez minutos. Si quiere ir de compras a la ciudad, en diez minutos estará también ahí... Por tanto, la situación de "El Rincón" es simplemente perfecta!
Agradable y tranquilo, el pueblo se encuentra inmerso en cultivos de viña en los que la intervención del agricultor en el terreno ha dado lugar a un peculiar paisaje. El ambiente relajado de "Eco-Casa El Rincón" incita al contacto con la naturaleza. Aquí tendrá la oportunidad de disfrutar de una caminata por los alrededores, escuchando a los pájaros cantar durante el día o ver las estrellas durante la noche... - Localización- Lo más interesante acerca de la ubicación de "Eco Casa-El Rincón" es que se encuentra en un entorno rural agradable pero, al mismo tiempo, está cercana a cualquier localización de la isla. Las mejores playas de la isla están a tan sólo quince minutos de trayecto en coche.El singular Parque Nacional de Timanfaya está a veinte minutos y La Geria, el paisaje único creado por la mano del agricultor lanzaroteño, se encuentra a unos cinco minutos. Si usted quiere degustar la comida popular, tendrá buenos restaurantes en las localidades cercanas, en un trayecto en coche de diez minutos. Si quiere ir de compras a la ciudad, en diez minutos estará también ahí... Por tanto, la situación de "Eco-Casa El Rincón" es simplemente perfecta!
Everything about the place is fabulous... it's super private, the view is awesome, everything on the island is nearby. And that pool, wow!
Pieter & Karolien
2016-07-31T00:00:00Z
Dear Julio, Thanks again for your hospitality; it´s a magic place which you have created. The finca "El Rincon" makes it easy to feel instantly at home. It´s exactly the right venue for a calm and cozy holiday. The house is lovely decorated with a lot of rustic elements and everything you need is available. It is situated almost in the middle of the island; this makes it an excellent hub to reach all the interesting spots of Lanzarote in not more than 30 mins. The adjacent fields offer some fruits like guave and grapes. As a welcome gift Julio had organized a bottle of tasty local wine. Yummy ! We very much recommend to visit Lanzarote and the Finca "El Rincon" Daniela & Alex
Alex
2015-11-20T00:00:00Z
We had a wonderful week at "El Rincón". The pictures might not even do it justice how beautiful the surrounding is. The house is situated in the middle of the island is perfect for discover Lanzarote. We would recommend this house to everyone how like's tranquility, it's perfect to relaxe, so peaceful.... The house itself is cozy and comfortable furnished like the pictures shown. Everything was clean and well prepared for us, even a bottle of local wine :) The kitchen is equipped with everything you might possibly need. There is a nice Bodega "El Chupadero" in La Geria to eat tapas and drink local wine don't missed! Julio is a very nice host and easy to communicate with, always quick to answer before and during our stay - highly recommended! Thank you again Patricia & Kevin
Patricia
2016-09-18T00:00:00Z
Julio welcomed us perfectly and took care of us to fulfill any requests we could have. The house is absolutly fabulous, unique and full of charm for people who enjoy staying out of mass tourism. Thank you again for this so special week.
gaelle
2015-11-29T00:00:00Z
One of a few places were you can feel at one with the landscape of Lanzarote. The house, probably a converted agricultural building, is secluded amongst the vineyard and the lava fields with extraordinary views of volcanoes. Inside the house is basic but comfortable. The outdoor spaces are beautifully designed both for shade and sun and good protection from wind.
Christophe
2017-02-12T00:00:00Z
Ideal location for a couple to relax and to explore Lanzarote by car. The surrounding and view is amazing. We had a great week and would love to come back!
Yvonne Maria
2016-11-20T00:00:00Z
I spent an amazing week at one of the most wonderful places I've ever seen!! Julio was a perfect host - always help- and thoughtful - thanks again!!
Simone
2016-07-20T00:00:00Z
The location is ideal for anyone who wants to explore the centre of the island on foot or by bike. The scenery is beautiful, very unique. It's also perfect for visiting any part of the island by car. It was quite difficult to find, but use the direction button on the Airbnb app as it takes you direct to the property. Communication with Julio was perfect prior to the holiday as well as during. The property is perfect for couples who spend most of the time outside as the house is smaller than the outside space. Unfortunately the TV only shows German programmes if anyone prefers nights in. Also there is no oven for cooking in the kitchen, however, there is a BBQ outside for those warm summer nights. Due to our booking being in February, we had limited use of the BBQ, but managed to cook good enough meals using the 2 rings in the kitchen. Due to the location for cycling and the private location, a return trip will definitely be on the cards.
Stephen
2017-02-20T00:00:00Z
Room Type
Entire home/apt
---
Property Type
House
---
Accommodates
2
---
Bedrooms
Masdache, Canarias, Spain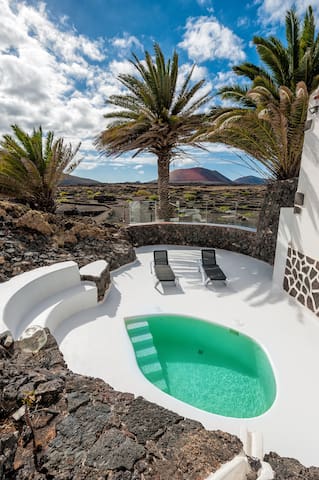 Eco Finca Alcairón is a house in the volcano supplied with solar and wind energy (with limited power consumption) Its located in Masdache, the heart of La Geria, on a 10.000 m2 eco vine farm field near Timanfaya, the National Park. The volcano views from anywhere in the house will surprise you.
Eco Finca Alcairón is a house in the volcano supplied with solar and wind energy (with limited power consumption) Its located in Masdache, the heart of La Geria, on a 10.000 m2 eco vine farm field near Timanfaya, the National Park. The volcano views from anywhere in the house will surprise you. The house has two bedrooms, one with double bed and the other with two single beds, a bathroom with shower and kitchen with bar and lounge with fireplace. You will love the terrace, barbecue, wood oven and a porch to enjoy the views and volcanoes, not to forget the vinewards of La Geria. Masdache is located in the heart of a volcanic landscape in the center of the island. The area is known for its tranquility, fine wine and agriculture. Being in the center of the island is perfect for getting around the island.
During our week stay, water weren't running 24/7 as expected. When there was running water it wasn't hot enough, and during the few stormy days – no hot water at all. Andres, Country villas owner, quickly tried to fix it. But it took several times and several cold showers till it was fixed (we hope, we had to catch a flight). Country villas didn't apologize for that, and didn't offer compensation. I guess it seems normal to them to charge more than 100 Euro per night and not having hot running water for the paying guests (with 2 children). The listing wasn't accurate - In the photo it looks like the house has a complete privacy , but the house is located very very close to a very busy road junction. So instead of privacy – the lights of each car highlight the living room, the people in the car can see everything inside the house and you can hear every car. The property proudly advertise the outer kitchen, but it wasn't suitable to use. We cleaned it, perhaps now it is. We were received by a Country villas' employee which didn't seem to know the house , didn't have much patient to us / her job and looked like she'll prefer to be somewhere else. When we asked about kettle, she said there isn't any, you'll have to boil water in 1 of the dishes. It took us a day to find the kettle as a decoration on a high shelf. Except for that - Andres is friendly. The house was clean. The beds are OK. There's no microwave. After we explained we're expecting a compensation for not having running water and hot water, they refund 50 Euro out of 923 Euro (not even a night cost) We highly recommend visit Lanzarote and staying at Masdache area, just NOT in Eco Finca Alcairón.
Michal
2016-10-27T00:00:00Z
Das entzückende weiße Haus liegt (trotz naher Straße) sehr ruhig und beschaulich inmitten der schwarzen Weingärten La Gerias. Der Ausblick ist überwältigend, Vulkankegel, wohin man sieht. Das Haus ist liebevoll eingerichtet und passend ausgestattet und verfügt über angenehme Raumgrößen. Für kalte Abende ist auch eine mobile Gasheizung vorhanden. Die Lage in der Mitte der Insel ermöglicht rasche Ausflüge zu allen Sehenswürdigkeiten, Stränden und Städtchen. Nach anfänglichen Kommunikationsproblemen (Tipp: immer sicher gehen, dass der Gastgeber die Nachrichten erhalten hat und rückbestätigt!) war der Empfang herzlich und informativ, wir können diese Unterkunft absolut weiterempfehlen, und würden sie jederzeit wieder buchen.
Johanna
2017-02-04T00:00:00Z
Room Type
Entire home/apt
---
Property Type
House
---
Accommodates
4
---
Bedrooms
Masdache, Canarias, Spain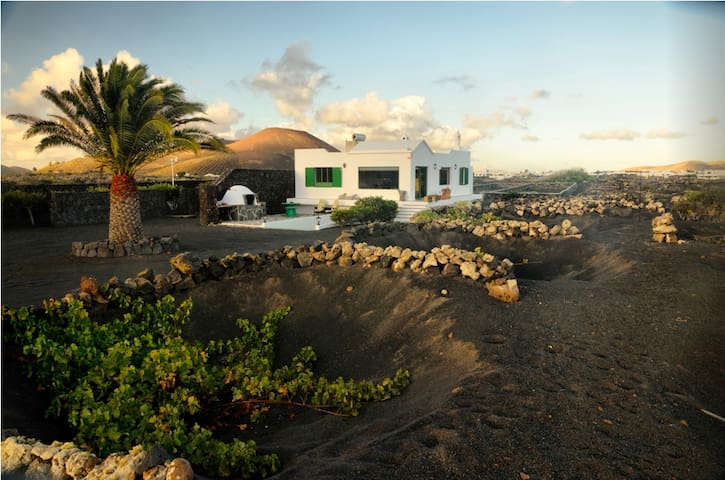 Attractions: Located in the middle of the island, ideal starting point for hiking, biking, hiking. You'll love my space protected by the volcanic landscape views, high ceilings, spaciousness, light, peace and location. My accommodation is good for couples, adventurers and families.
This house is located in an estate of about 2,000 m2 fully enclosed by a stone wall, thus giving total privacy. It has two floors. The ground floor of approximately 120 m2, has 2 bedrooms (with two single beds each), a bathroom (with sink, toilet and shower), a fully equipped kitchen (with oven, dishwasher, refrigerator-freezer, hob 4 burner stove, microwave, coffee maker, electric kettle, all utensils), bathroom sink and pantry. The spacious living room, and high ceilings with a large fireplace, integrates two environments. On the one hand the dining area and on the other the sitting area with a comfortable sofa, flat-screen TV, DVD, games and music. The upper level, about 40 m2 of floor space, has a double room with bed 2 * 2 m, a small lounge with another TV and a bathroom with 2 sinks, toilet and bathtub. There is also an ideal place to relax with a tea or reading a book sunroom. The garden is quite large and has many endemic species of Canary and fruit trees. There is also a barbecue area which is situated on volcanic badlands, lava mantle created by the last eruptions occurred in the island during the years (PHONE NUMBER HIDDEN).
It is located in Masdache, a quiet village located right in the center of the island, therefore ideal starting point to visit the different attractions of Lanzarote. Being in the La Geria, it offers wonderful views of the unique volcanic landscape of Lanzarote. There are many wineries in the area (El Grifo: 1 km; Bermejo: 3 km; La Geria: 4 km)
This house is a hidden oasis. I can highly recommend anyone to stay here. Before our trip Pilar was very easy to reach and very quick and thorough on here responses. The navigation to the house based on the location details provided was simple. When we got to the house the gate was open and Pilar and Enrique were waiting for us. They made us feel very very welcome from the beginning. Pilar showed us the entire house and gave us a basked with food supplies she had gotten. The lemons from here garden made for excellent cooking with the great fish you can buy at the supermarkets. The foto's don't do just what an amazing and spacious place this is. The house stays nice and cool all the time. It has a great fire place for romantic evenings. We travelled with a one year old and the house was also child proof and has all the things you need for your kid. The kitchen is very well equipped. Better then I have experienced in many of the airbnb's I stayed at, I have stayed at many, also for work. The master bedroom is in one word 'amazing'. The bed is the most comfortable bed I ever had in hotel or Airbnb. The garden is large and fenced so children can play around the house. It has a nice bbq to make lunch or dinner. The house is located in the centre of the Island. Driving to the beach takes around 15 minutes and going to any place on the island is quick. We enjoyed the quiet of the place a lot. Pilar was available and easy to contact throughout our entire stay and gave us nice tips where to go on a regular basis. We would definitely go to this house again and rate it top of the bill!!!!
Piet
2017-03-11T00:00:00Z
Room Type
Entire home/apt
---
Property Type
House
---
Accommodates
6
---
Bedrooms
Las Palmas, Canarias, Spain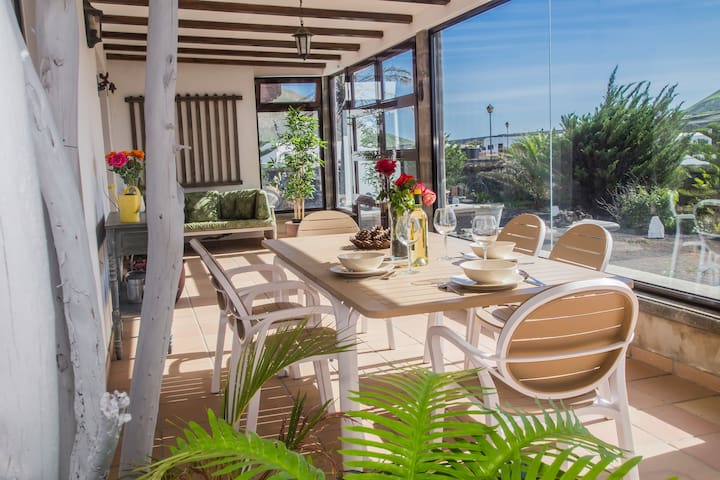 This beautiful retreat in the perfect location for all areas of the island great for walking or cycling
Room Type
Entire home/apt
---
Property Type
House
---
Accommodates
2
---
Bedrooms
Masdache, CN, Spain
For rent a cozy house in the village of Tias, on the island of Lanzarote in the Canary Islands. The house is simply furnished but has everything you need to make your stay as pleasant as possible. It has 2 bedrooms (capacity for up to 4 people), a bathroom, a fully equipped kitchen and a living room. It also has satellite TV, washing machine, etc. It has a great ocean view and is in a very quiet area. The location is very good because it is a only 5 minutes from the airport and 5 minutes from the beach. It has a nice pool to enjoy the good weather of the island. It also has parking. It is an ideal place for families.
Very nice and cosy place. A lot nicer than the actual photos show. Quiet, lovely view for the garden and the swimming pool. Good location to visit the rest of the island. A car is need.
Hermine
2014-04-15T00:00:00Z
Great place, great location, amazing view from the living room and big kitchen ,plenty of space with private swimming pool, on the top edge of Tias village! The house has a really nice character , its an old summer house with touches of Manrique César. Arrival and communication with Bert was smooth.
George
2016-07-11T00:00:00Z
We stayed here for 1 night, booked very quickly and last minute as we had missed the last ferry to Fuerteventura! Bert was very helpful, quick and easy communication and the house was exactly what weary travellers needed. Thankyou!
Sally
2016-07-29T00:00:00Z
The villa is on the edge of a pleasant town within walking distance to a bus stop with regular buses to Puerto Del Carmen. The villa is spacious, clean and well equipped. The garden and pool are well kept and private. Bert was very helpful and communicated easily and was keen to help us relax and enjoy the property. You will need a car to explore the island but this property is well located to access all parts of the island. A very enjoyable stay and we would recommend it. There a few bars and restaurants in Tias which is about a 30 minute walk.
Andy
2016-12-01T00:00:00Z
The host canceled this reservation 2 days before arrival. This is an automated posting.
Fernando
2016-09-11T00:00:00Z
Everything was as described. The house itself is really nice, the garden and pool area relaxing and view stunning. Its also very well located (15min to the airport etc). The only comment we would have is regarding cleanliness. Everything seems to be quite dated and not really looked after (old food in the cupboards, no toilet paper, very old towels etc)
Jakub
2015-10-11T00:00:00Z
House is absolutely beautiful inside, pictures don't do it justice, it's extremely spacious and incredibly peaceful, amazing amount of private outside space, pool is private and not overlooked, as a world traveller I can safely say this has one of the best views and is one of the most private villas you will find. Bert is a pleasure to deal with, highly accommodating and welcoming and we will definitely be back in the future. Tias is a lovely town there are some restaurants, a supermarket and pharmacy. Puerto del Carmel is minutes by car.
Susan
2016-02-29T00:00:00Z
A beautiful house in a location with spectacular views, pity that the pool is a bit abandoned ... but it's a good place!
romain
2014-09-21T00:00:00Z
Room Type
Entire home/apt
---
Property Type
House
---
Accommodates
4
---
Bedrooms
Tías, Canarias, Spain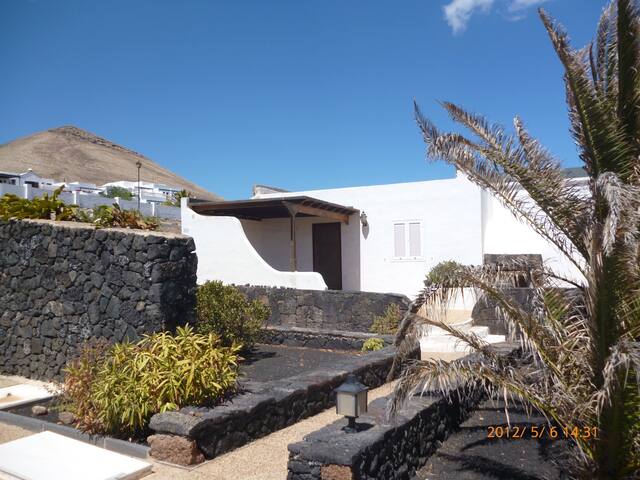 Casa Las Claras has three double bedrooms, two with double beds and the third with two single beds, each room has its own bathroom, also a lounge, kitchen and a canary patio inside. In the outdoor area have private parking, gardens, leisure and reading nooks and a large terrace where there is located a swimming pool. Although it may seem large, the house can accommodate very warmly for two people and feel at home. It is ideal for children, with around where to run, play and a corner with beach sand. The house has satellite TV, DVD, change of towels on the third day washing service for stays longer than a week, ..... Far from the madding crowd of mass tourism is situated in the village of Tias, the place is very quiet and easy access to the town center, walking can be there in ten minutes and you can find supermarkets, restaurants, cafes, pharmacies, center health, and of course, La Ermita de San Antonio where there are usually beautiful exhibitions of painting, sculpture, ..... To enjoy the countryside around us, just behind the house there are a number of trails, including within the network of trails island, and they can enjoy wonderful views and a nice walk. You can also find public transport stop within five minutes. From this place the visit to the island is easy, almost in the center the longest journey is done in 30 minutes. The nearest beaches, Pto. Del Carmen which can be reached in 10 minutes and the beaches of Papagayo, 30 minutes, ideal golden beaches. Finally, we invite you to know us, enjoy a cozy place where birdsong be part of your company during your stay.
Jaime and Estella were wonderfully welcoming, and their house is beautiful. We hope to return someday when the weather allows us to fully enjoy their place when it is less wet and cold!
Leo
2015-01-23T00:00:00Z
We were welcomed by our host on arrival and found the apartment to be as described in the listing. Although the host's family shares the large house we were welcome to use the pool and deck and did so the first evening. A bowl of fruit was on the kitchen table to greet us. Our host was very willing to help us if we had any difficulties such as understanding the TV set up. The location is very central in Lanzarote and good for excursions in all directions. However a rental car is a necessity for getting about. Overall we had a excellent stay there.
jennifer
2016-04-30T00:00:00Z
We were made to feel incredibly welcome, Jaime left us some homemade wine and fruits and even brought some breakfast in the week. The house was fully equipped with beach gear and kitchen wear. We hired a car and used it throughout our stay and so were able to easily visit the whole island which I thoroughly recommend, its very small. This made getting amenities very easy. Tías is a nice small town away from the tourists.
Indi
2016-06-12T00:00:00Z
I had a great stay here with my friends. One more friends ended up staying with us so we just needed to added another person to the reservation and it all worked out. I had a wonderful stay here with my friends and the pool was great. It is somewhat hard to find though so make sure to call. Also, there is no oven but there is a microwave. Overall, great stay. They were very kind and accommodating. They brought us pastries one of the days. Great place!
Lauren
2017-02-06T00:00:00Z
Jamie and Estalla were great hosts. Their place is even better than the photos, very comfortable, spacious, clean and it had everything we needed. The location of the house was also perfect for us. Puerto del carmen was very close-by, and everywhere we wanted to visit on the island was a maximum of 30 mins. distance with a car. We definitely recommend their place and looking forward to stay there again.
Bahar
2016-05-05T00:00:00Z
The apartment is above Tias in a nice rural location, about a 15 minute walk or 5 minutes in the car from Tias centre. The hosts are lovely generous people and made us very welcome. The pool and sun bathing area is on the opposite side (on the owners side) from the rented accommodation, although the owners did vacate the area if we wanted to use the pool and/or the sun bathing area. The kitchen has sufficient pots and pans etc, however there is only a 2 burner hot plate and a microwave. There is no oven which we found slightly limiting, the kitchen work space was limited, especially considering the size of the kitchen. Unfortunately there was a problem over the first few days with a water leak so the water pressure was intermittent, once this was fixed though the pressure and temperature of the water was great. The shower room was clean and functional but the cubicle and the shower head would benefit from a refurbishment. Overall we had a good week in the apartment, the hosts were very friendly and very generous towards us. A big thank you to them for looking after us.
David
2017-03-10T00:00:00Z
Beautiful, quite location! Estella and Jaime are perfect hosts – so friendly, so carrying! … Best place on the island to stay!
Helen
2017-02-26T00:00:00Z
We had a wonderful stay in Tias. The accommodation is spacious, comfortable and brilliantly located as a base to explore the island. La Ermita and SL Iguaden are excellent tapas restaurants within walking distance and supermarkets are also close if you want to self cater. Jaime is a fantastic host and we were made to feel really welcome.
Will
2017-01-19T00:00:00Z
Room Type
Entire home/apt
---
Property Type
House
---
Accommodates
6
---
Bedrooms
Tías, Canary Islands, Spain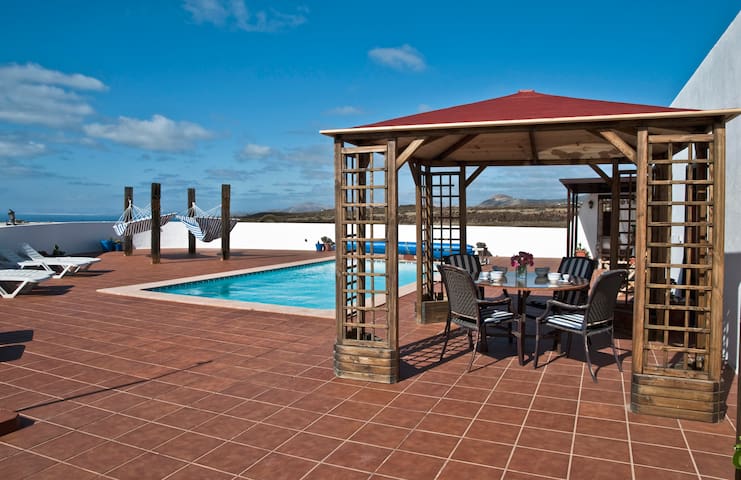 Elegant two bedrooms holiday house all furnished. With great views, beautiful and high quality furniture with private Jacuzzi and Wi-Fi included.
An elegant property, tastefully furnished, with private Jacuzzi and stunning views. Nestled in a quiet location but only 5 minutes from shops and restaurants. Wi-Fi. Beautiful 2 bedroom house with all the comforts you could wish for while on holiday. Lanzarote Essence is a superb and spacious house, sleekly decorated and furnished to a very high standard quality. The property has a private wind-sheltered terrace with a Jacuzzi, from which one can enjoy spectacular views across the descending landscape to the coast and Fuerteventura. The well equipped kitchen with attention to detail facilitates a pleasureable culinary experience. A small utility room with washing machine is located directly next door. In the bathroom one will find the best towels money can buy. Everything has been carefully chosen to make your stay as pleasant and comfortable as possible. Likewise, care was taken to equip the beds with only the best linens. This beautiful house has its own private entrance and driveway, and is completely independent of the owner, who is always willing to help in any way she can, and will provide insider tips of where to eat etc. should you require them. Lanzarote Essence is a wonderful place to enjoy the tranquility of the island and is only a short distance from the town of Tias, which has an abundance of local shops and places to dine. From Lanzarote Essence the whole of the island is easily accessible, to the coast 10 minutes.
Room Type
Entire home/apt
---
Property Type
House
---
Accommodates
4
---
Bedrooms
Tías, Las Palmas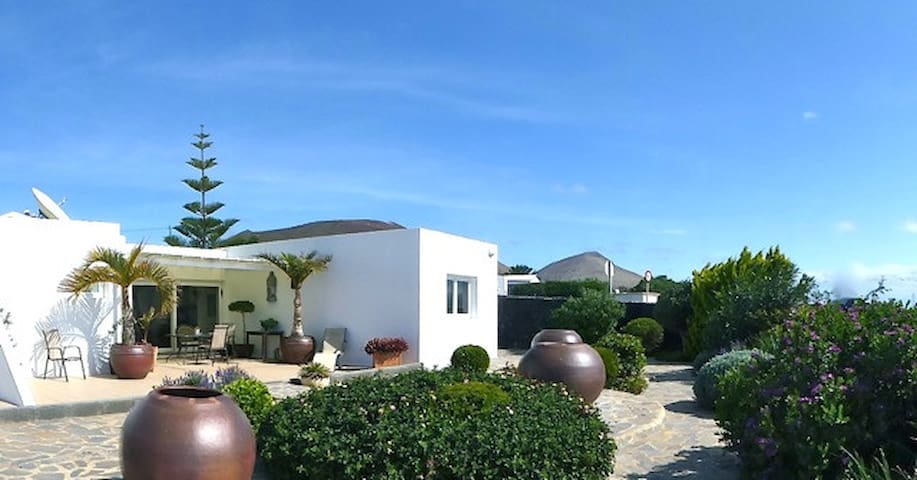 I propose a bedroom with a double bed, private bathroom and vew to the Protected Lanscape of La Geria, in El Islote, a small village in the center of the island. The famous Cesar Manrique's Monument to the Farmer is at 20 min walking between the lava fields, the beautiful beach of Famara at 15 min by car. Ideal for nature and tranquility lovers….
The accommodation is a room with double bed, luminous, with prívate bathroom and access to a big terrace (called "La Era") with a beautiful vew. If you travel with children, you will be able to use a connected room with one single bed. The bedroom has its own entrance by the terrace, without entering to the main house.
El Islote is a very small village in the center of the island, there aren't any shops, just a bar-restaurant, the local "tele-club" (tv-club, where was the only tv of the village in the past), open from Wednesday to Sunday for dinner and from Friday to Sunday also for lunch. We are in a Protected Landscape of great beauty, and interesting geological elements such as caves, lava fields, lava tubes, jameos….The surroundings are rural, peacefull, and located at the beginning of the Wine Route with a few winerys very close to the house. As we are really in the center of the island, you arrive quickly everywhere. In 15 min by car you are at Famara Beach, Teguise the old capital, Cesar Manrique's Foundation, José Saramago's House or National Park of Timanfaya…
A wonderful stay.
sophie
2016-12-31T00:00:00Z
An outstanding place for an outstanding host! I just can highly recommend her place, it's a quiet and relax place where you feel like the time just stopped for you while you staying there. She was very helpful with tips and showing me around I have enjoyed a lot our early morning talks and the breakfast with 'happy eggs' :) The bed it's super comfy and it's just a pleasure to sleep there. And the place couldn't be in a better place at the heart of the island it's just so easy to visit it all with a central base. 100% recommend
Israel
2016-12-19T00:00:00Z
A great bed (and I am difficult when it comes to that), a great room (and bathroom) lovely dogs and a great host! Although I had rented a car at the airport, Lidia picked me up to show me the way to her house. I have learned a lot from her about Lanzarote and more. Thanks for the tasty breakfasts (with perfect coffee!) and above all...for the great companion ship in our talks about life and music!
Linda
2017-01-09T00:00:00Z
Perfect choice. Lidia is such a great host, helpful and easy going. Her place is cozy, located right in the middle of Lanzarote, which makes easy to get around the island. Lidia recommended us places to visit and local food to try. She also drew our attention to César Manrique's influence on the art and architecture. Without her help we would have missed a lot of Lanzarote. Thanks for the hint to go the live concert at Jameos del Agua!
Katalin
2017-04-05T00:00:00Z
Lidia is very friendly and a genuine nice person. Great clean place with in a picturesque setting
Chris
2016-12-11T00:00:00Z
A beautiful mini apartment, private,with a really comfortable bed! Also a second room with a single bed, couch and a fridge. Bathroom was spotless, powerful shower. Also use of the kitchen and washing machine. A beautiful sun terrace.The whole place was recently refurbished. Perfectly Located in the centre of the island. Peaceful with stunning views. Lidia is a lady, so helpful with everything! Being local, she has a vast knowledge of the island and will show you places off the usual "tourist trail". I can highly recommend this place. 5 star Host and 5 star accommodation. Also two beautiful friendly dogs! Thank you Lidia.
Dan
2017-01-22T00:00:00Z
Everything was simply perfect, the place is fantastic and Lydia a magnifiient hostess. I really recommend this place.
Carlos
2016-10-10T00:00:00Z
One of the best accommodation we´ve ever been and we are such a travelers... Mostly it´s because Lydia herself, she is very nice person. The place is very quiet in the middle of the Lanzarote which is advance if you want travel all around. And also the breakfast which is inclued was just a perfect!!! Definitely we´ll come back to Lydia´s house when we´ll go to Lanzarote again.
Hana
2017-03-18T00:00:00Z
Room Type
Private room
---
Property Type
House
---
Accommodates
3
---
Bedrooms
La Florida, Canarias, Spain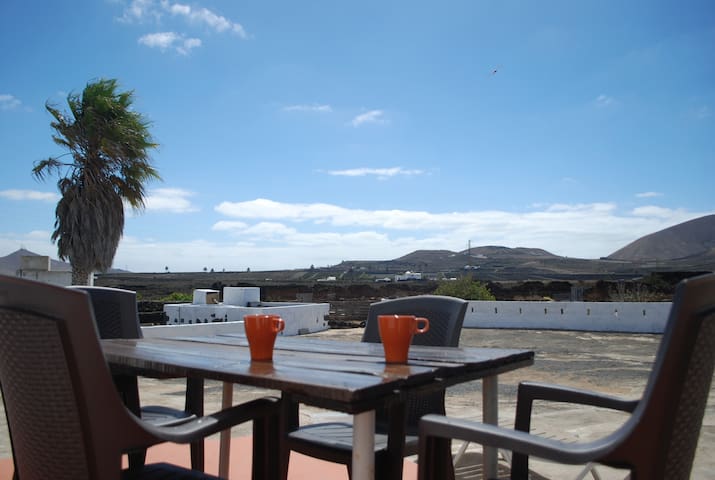 Habitacion privada el arbol de la vida, luminosa y muy acojedora tiene una cama de matrimnio comoda,y un amplio armario. la casa dista a 15 minutos en coche de la playa de famara y de la costa este. La casa es una de las mas antiguas de la zona y tiene un encanto especial
Good price for good room. Beatrice is very friendly and peacefull person I really like she's live style. House is clean with big kitchen to use. That location is quiet so you can sleep well. I recommend this place for travelers, because it's located on the center of island so is close everywhere. I will visit that house again for shore.
Adam
2017-01-16T00:00:00Z
Jacques and Charlie felt very much at ease with Beatrice and her homeplace. She was very helpful, pleasant and accomodating. Our conversations helped us to understand better Lanzarote and its way of life. We needed flat pillows and, together with her, we found a simple substitute for flat pillows. We had even a simple aperitivo and cena with other guests, a young couple and their baby. During our flight back home, we were toying about the idea of partially retiring in this beautiful island (if possible, with a little less wind) 8 years from now. Thanks to Beatrice, Alberto and Maya (the bee).
Charles
2017-02-25T00:00:00Z
a wonderful place at the center of the island, a wonderful host who helped us in everything from places to visit not provided by internet, to wake up the last day to not lose the airplane. Beatrice really thanks for this amazing holiday.
Christian
2017-04-03T00:00:00Z
the residence with beatrice was excellent in every regard. beatrice is such a kind and relaxed host, i felt at home immediately. She fulfilled every wish promptly (e.g. a fan heater AND an duvet). also, we had some pleasant conversation. the beautiful, spacious, well cleaned old house with high ceilings has a great atmosphere. there is a large garden for relaxing. wifi was switched on only when needed. so, while sleeping there is no electromagnetic radiation! the location in the center of the island is ideal.
Christoph
2017-01-04T00:00:00Z
We loved Beatrice's house. It was in a nice and quite neighborhood and the house was lovely.
Sam
2017-02-18T00:00:00Z
A beautiful house, Beatrice is a very nice and helpful person. We really enjoyed our stay there. You can easily reach each part of the island.
Elise
2017-03-18T00:00:00Z
tres bel endroit, le village le paysage, les gens votre hote, je recommande vivement l endroit dans une vieille maison typique et tranquille, beatrice est multilingue et m a indique quelques endroits incontournables de lanzarote. une petit bijou cache...
gilles
2017-01-19T00:00:00Z
La estancia ha sido muy agradable. Beatrice tiene un lugar muy acogedor en el cual te sientes des del minuto uno conectado con la naturaleza y con el estilo de vida ecológico. La casa transmite mucha paz y tranquilidad. Si buscas un lugar para desconectar totalmente de los sitios turísticos éste es tu sitio. La casa está situada en una zona tranquila pero a la vez cerca de las grandes ciudades y supermercados. Además se encuentra en un punto clave para visitar todos los rincones de la isla. La habitación es muy grande y las zonas comunes muy limpias y el decorado inspira mucha paz y harmonía. Pd: en la casa hay una gatita muy simpática que siempre está dispuesta a darte los buenos días y dejarse hacer mimos.
Maria
2017-03-04T00:00:00Z
Room Type
Private room
---
Property Type
House
---
Accommodates
2
---
Bedrooms
San Bartolomé, Canarias, Spain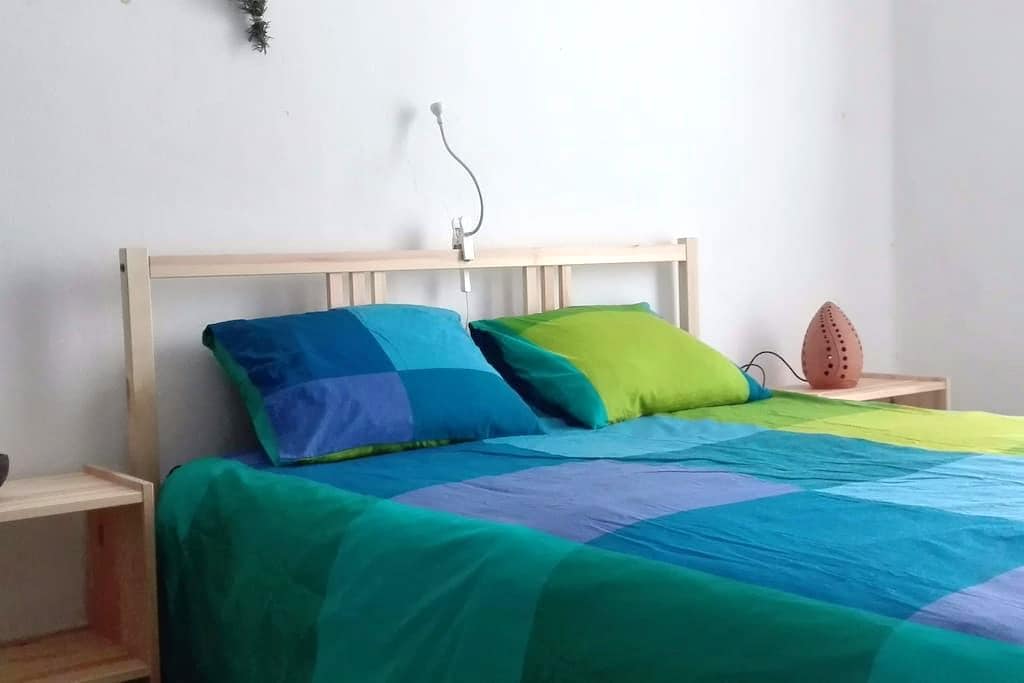 Enjoy the best of the Lanzarote countryside. Recently renovated bodega, very private totally detached house. Long drive, sea views, sunken garden with bbq and al fresco eating. Three sheltered and totally private sun bathing areas. Wooden deck with pergola and wicker sofas looking out over the sea view. Very secluded but only minutes to all amenities and beaches. A unique and lovingly created place to holiday, relax and enjoy.
Fully renovated bodega in the Tias / Conil area. Very private and safe. 100 meter driveway leads to the beautiful two bedroom cottage in the Conil country side. Located 400 meters from nearest road. Still less than 10 minutes from airport, Puerto del Carmen, Playa Quemada, Yaiza and many other beautiful locations. Set in unspoilt countryside. This lovely detached house has private parking at the end of the drive for several cars. The sheltered wooden deck runs along the entire front side of the house. In front of the deck is the sunken garden with sun beds, bbq, large glass dining table, numerous established plants and fruit trees. The perfect place to sunbath, eat and relax. More sunbathing areas exist along the path to the sunken garden, on the wooden deck and further terrace along side of house.... all totally private. Entry to this bright house is via double sized full length glass patio doors. Inside is granite surfaced fitted kitchen with breakfast bar. Dining table. Lounge area with comfortable sofa and chairs, tv with many many UK channels. Wifi throughout the house. Air conditioning both for heat and cooling. Bathroom with wet room style shower and high pressure hot water. Two bedrooms. Both a good size. Bedroom one with double bed and door leading onto large side terrace. Second bedroom with two single beds. This is a truly beautiful and unique property set amongst well established gardens. Perfect for families and couples this is a great getaway but still very close to everywhere. Travel times: Tias - 3 minutes Airport - 7 minutes Puerto del Carmen - 10 minutes Yaiza - 5 minutes Puerto Calero - 10 minutes Playa Quemada - 15 minutes Find out more here (URL HIDDEN)
Set in the middle of the Lanzarote country side is this secluded country house. Entry via private gated drive. Very secluded but only minutes from beaches, shops and airport.
What a lovely place! It is very quiet with beautiful view and nice garden. You need a car. The communication and everything was just perfect! Thanks a lot, Paul! We'll come back one day..
Melanie
2017-02-26T00:00:00Z
The house is just amazing- we have been around quite a bit and Pauls house ranks in the top three rental places we have ever been to. Perfectly clean, quiet, more than everything you need in the kitchen, super nice porch to sit on, smooth communication with a really helpful host. We felt completely at home. Big recommodation to everyone!
Julia
2017-04-04T00:00:00Z
ideal para desconectar. Todo nuevo
enBiciad@s
2017-02-18T00:00:00Z
Wir können diese Unterkunft nur empfehlen,das Haus ist wunderschön mit toller Terrasse und Ausblick!!! Wir haben uns sehr wohl gefühlt und konnten bei 20-23Grad(Februar) die Insel mit all Ihren Sehenswürdigkeiten erkunden. In 1Woche kann man die ganze Insel bestaunen,tolle Landschaft und Farben. Paul war ein klasse Gastgeber!!!
Ulrike
2017-02-10T00:00:00Z
Es una casa estupenda con todo lo necesario y su propietario accesible ante cualquier problema
Julia
2017-03-27T00:00:00Z
Nous avons passé 5 jours sur l'île dans le logement de Paul avec une location de voiture et de vélos. Le logement est très bien, propre, grand (nous étions deux) et silencieux. Il y a des voisins, mais nous ne les avons jamais vraiment vus ou entendus. Attention, en vélo de course, prévoir de faire 200m sur un chemin en terre à chaque sortie pour rejoindre la route. Pour nous, que du positif. Denis
DENIS
2017-03-04T00:00:00Z
Wir haben im März zwei Wochen in Paul´s schönem, neuen Haus sehr genossen. das Haus hat eine tolle Lage und hat sehr viel Privatsphäre. Auf verschiedenen Terrassen und im Garten kann man herrlich faulenzen, sonnen oder grillen. Die Lage ist ideal für Ausflüge in alle Ecken der Insel. Das Haus ist gut ausgestattet, ruhig und hat ein schnelles WLAN. Paul ist sehr hilfsbereit und unkompliziert. Nochmal vielen Dank für den Sekt und das Essen im Kühlschrank bei unserer Ankunft. Anja und Michael
Michael
2017-03-23T00:00:00Z
Room Type
Entire home/apt
---
Property Type
House
---
Accommodates
4
---
Bedrooms
Tías, Canarias, Spain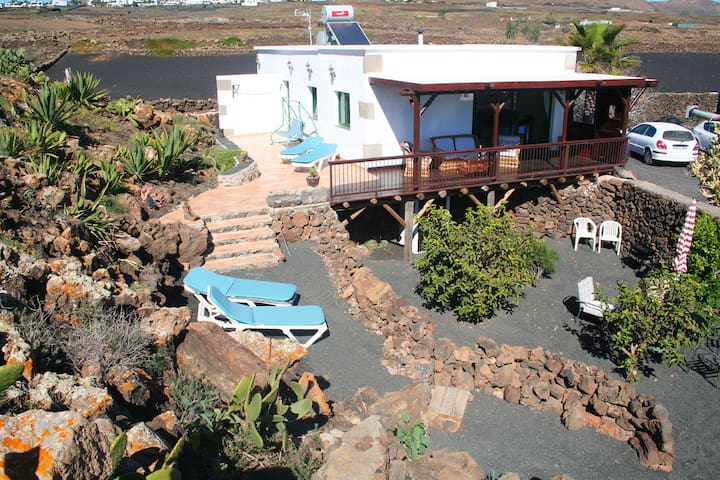 Casa Volcania está situada en El Islote, justo en el corazón de la isla, un pueblito encantador y tranquilo en zona de volcanes. Lugar idóneo para pasear, practicar ciclismo, senderismo, disfrutar de la naturaleza y del buen vino... Y por supuesto visitar los inigualables centros turísticos e increíbles paisajes volcánicos de la isla. Estamos a 2 minutos (literalmente!) del Monumento del Campesino en San Bartolomé y el Parque Nacional Timanfaya.
"La Casita Cactus" se encuentra dentro de la extensa propiedad "Volcania" (donde también se encuentra la casa principal y donde vivimos nosotros, los anfitriones). Este es el lugar idóneo para amantes de la naturazela, el sol, el ciclismo y el buen vino. Tenemos cuna con todo lo necesario para tu bebé.
Nos encontramos en una localización privilegidada, ¡justo en el centro de la isla! Solo a quince minutos desde el aeropuerto, menos de veinte de la Playa de Famara, y quince a Playa Honda y Puerto del Carmen. Perfecto si quieres conocer la isla de norte a sur.
Yanyra's place was lovely, very cosy and clean in a really convenient neighbourhood. The warm atmosphere allowed to have a good time in Lanzarote, I' d recommend this spot for sure.
Cristina
2017-03-20T00:00:00Z
Hemos tenido una fantástica estadía en lo que bien los anfitriones has llamado "el paraíso". Han sido muy hospitalarios y atentos. El sitio estaba impecable y muy bien mantenido. Muy recomendado!
Stefanía
2017-03-19T00:00:00Z
Room Type
Entire home/apt
---
Property Type
House
---
Accommodates
2
---
Bedrooms
San Bartolomé, Canarias, Spain
Ancient country house (historical heritage of the island). 170 years of antiquity in constant it reforms and extension. Placed in La Geria, to few min. in car of Timanfaya's National Park. Is in protected area of the biosphere. On having been in the center of the island it allows to accede to any site rapidly. The house is to 300 mts of the nearest road, total silence for your rest. Offer him the possibility of disconnecting completely and of enjoying the present moment!
" Bodega Tisalaya " is a south facing apartment with a courtyard inhabited by an ancient araucaria, a solarium and a terrace surrounding that part of the dwelling house. It has a spacious bedroom with double bed, bathroom with shower, spacious and well equipped kitchen, living room with two single beds and beautiful windows view. It is a magical place to enjoy the silence, light, smells, tastes, the company and the volcanic nature around the house, with its vineyards and mountains lava cut on the horizon instead. It is a large, bright home that welcomes visitors and gives peace, beauty and wellness. You will have a great sleep. We work with alternative energy. It is ideal for couples with children and for people who love being at home and enjoy the tranquility. It has an area of 65 m2. (2-4 people).
Le paysage, la lumière changeante, la culture des vignes, le silence et les odeurs des volcans, la végétation microscopique, les grotes volcaniques, les caves, le marché agricole, les balades à pied pour sentir la terre et le coeur qui bat
The place and our host were just perfect. Thanks for two wonderful weeks in paradise. The flat is beautiful, clean and has two big windows that let you enjoy the incredible landscape of Lanzarote. Siona and Joan are wonderful hosts. If you want to disconnect and discover on Lanzarote, this is the place. Tisalaya, one day we will come back.
Frank
2013-12-04T00:00:00Z
The welcome was very nice and we appreciated the wine bottle and the delicacies which were in the refrigerator The girls liked a lot playing with cats Thank you for everything Spitz Family
Vincent
2015-08-17T00:00:00Z
The reservation was canceled 41 days before arrival. This is an automated posting.
Edin
2015-02-18T00:00:00Z
We had a very enjoyable stay in Tisalaya!! The house is perfectly situated in absolute tranquility - just as we like it. It is easy to reach other nice places on the island, too. Distances don't play a big role anyway because the island is quite small :) Ascensión and her son and his partner are very friendly, relaxed and helpful hosts. We thank you very much and best regards to the cat family!
Johannes
2014-10-29T00:00:00Z
Amazing place to stay. We fell in love with the surroundings (you're in the middle of nature, surrounded by a lot of volcanos) and the little house itself. The silence was so wonderful. We had everything we needed. As a welcome gift we got a bottle of nice local wine and delicious cheese (produced by a local family business). Joan was very kind, willing to show us around, telling stories about the island, and also very respectful to our privacy. And when we had a question or one little thing that didn't function, he helped us straight away to get this question answered or thing fixed :) Overall a very positive experience in a unique place on the island. Recommended! Will come back! Thank you beautiful people!
Irene
2016-08-28T00:00:00Z
The apartment is exactly as described. It is spacious and well equipped with all the things you may need. Everything was spotless clean and nicely decorated and especially the bathroom is spacious. You can sit outside on the terrace and enjoy beautiful views. The hosts are nice and very helpful, always ready for a chat but also respecting our privacy. The place is located very near to the volcano national park and you can start to wonderful walks through impressive lava fields right from home. It is very quiet and ideal for those who are looking for an authentic experience in a rural area. With a car you can reach every spot very easy and we explored the whole island during our stay. The hosts provide information about supermarkets, restaurants and where to go, if you want. We enjoyed our stay very much and recommend this place to people who are looking for a quiet, rural place.
Olga
2016-09-14T00:00:00Z
Wonderful location in the center of Lanzarote, nicely surrounded by garden and vineyards. From there we could reach all places on the island very easily, for surfing, hiking, shopping...very relaxing place, from the couch you can watch sunrise and sunset. very well equipped kitchen, library in the living room, tv-set - more than we needed. and a wonderful, gentle, generous and sympathetic hostess. I spent a week together with my 22 year old daughter, and we both enjoyed our stay very much, we came home very relaxed and are sure that we will come back next year.
cornelia
2012-12-24T00:00:00Z
Nous rentrons ravis de notre séjour dans la maison de Siona. Au départ, nous pensions prendre une maison au bord de la mer, mais nous avions l'impression que la majorité des appartements proposés étaient exclusivement dédiés à la location touristique. Nous avons donc opté pour un lieu plus "personnel", et nous nous sommes effectivement bien sentis dans ce lieu charmant. La maison est agréable à habiter. Notre hôte était soucieuse que notre séjour se passe bien. Nous avions tout à notre disposition, y compris les transats pour profiter du soleil. La maison est propre et bien équipée, le lit est confortable et il y a de la place pour garer sa voiture... Bref, nous n'avons manqué de rien! Au delà du confort matériel, c'est surtout le charme et la beauté du lieu que nous avons apprécié. Le paysage est magnifique, surtout avec les superbes lever et coucher de soleil! La maison, isolée au milieu de l'île, est un point de départ idéal pour explorer l'île et admirer les étoiles la nuit tombée. Nous recommandons vivement cette maison pour son calme, son confort et son hôte.
Alexandra
2013-02-04T00:00:00Z
Room Type
Entire home/apt
---
Property Type
House
---
Accommodates
4
---
Bedrooms
Tinajo, Canarias, Spain

Casa Amaia is the perfect place to enjoy Lanzarote. It is in La Geria, area known for the uniqueness of its volcanic landscape. This protected natural area offers places like the Cave of the Naturalists, a large natural volcanic tube. As a small island you'll be just few minutes from anywhere and the island has much to offer.
Casa Amaia is the perfect place to enjoy Lanzarote. It is in La Geria, area known for the uniqueness of its volcanic landscape. This protected natural area offers places like the Cave of the Naturalists, a large natural volcanic tube. As a small island you'll be just few minutes from anywhere and the island has much to offer. You'll feel like home, large windows, wooden ceilings and plenty natural light provide a comfortable and relaxed ambience. The house is nicely furnished and fully equipped. The house is near a group of houses but is completely independent. Very large living room with comfortable sofas, dining area and direct access to the terrace. Large well equipped kitchen, gallery with large windows that lead to the spacious master bedroom with double bed and ensuite bathroom with double shower. Additionally two more bedrooms, one with double bed and the other with two single beds.
Room Type
Entire home/apt
---
Property Type
House
---
Accommodates
6
---
Bedrooms
Masdache, Canarias, Spain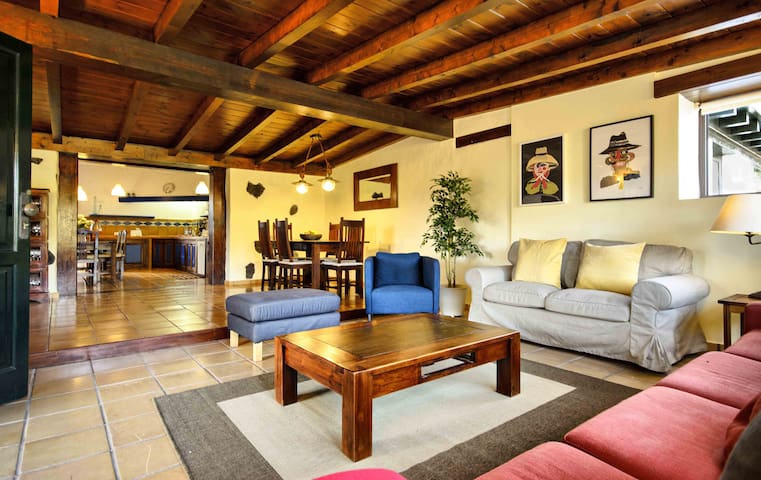 Small and cozy studio with bathroom and private terrace, located in the center of the island, near the beach and a few meters of nature. (No kitchen)
This is a separate room within the plot of our own home. Decorated with taste and charm will please any guest who come to enjoy the island of volcanoes
Located in the central town of Tias a few meters from the Museo Casa Jose Saramago Nobel Prize and near the golf course of Puerto del Carmen. You can enjoy long walks in the countryside or swim in the crystal clear waters of the beaches located 5 minutes from the house.
This place is amazing! Charo and is family are very kind ,the room is lovely and has everything you need! There is a beautiful view and it is near supermarkets, bus stops , chemist's: very well connected to everything. I'll recommend this to all of you!!!!!
Diletta
2016-06-14T00:00:00Z
enjoyed my stay at charo (and her husband's) place a lot. very friendly hosts. gave me a lot of information concerning restaurants & where to find things. nice small studio with everything you need (towels, fridge, wifi..). definitively worth the price :-)
Michael
2016-01-25T00:00:00Z
The view is amazing
Lisa
2017-03-25T00:00:00Z
The stay at Charo`s appartment was just amazing. You have a great view over the ocean & the terrace is really nice to enjoy the calmness of Tias. The appartment itself was very clean & you have a nice, comfortable bed with a well furnished bathroom. I will definitely recommend Charo & her place.
Lisa
2016-05-17T00:00:00Z
Charo is been a fantastic host! The studio was nice, clean and tidy, in a perfect location for those willing to see different places in Lanzarote! I definetely recommend this place!
mirtilla
2016-03-26T00:00:00Z
Charo and Jubal were very hospitable. They are very good and nice persons. The room is nice, cosy, well designed and well equipped with everything. The attached bathroom is small but well equipped and well furnished too. The location is central in Lanzarote island, good for reaching in a short time all places, in the northern and in southern part of the island. The view on the sea from the house is wonderful.
dario
2016-02-02T00:00:00Z
A warm and friendly welcome was given and I was shown round the studio. It is tastefully styled and comfortable to sleep in. I enjoyed having breakfast at the table in the courtyard in front. One fact that couples sharing the accommodation should know is that the shower & toilet is not really separated from the bedroom and because of the compact size of the accommodation this may be an issue for some. I was staying on my own. Parking on the street outside was convenient and to drive to Puerto del Carmen took less than 5 minutes. I enjoyed my stay here and would recommend it for travellers staying on their own.
Tony
2016-10-25T00:00:00Z
Great location to discover the island,in 30 minutes,at most,you can reach every coast and all the more important turistic places. Super kind hosts!
Graziella
2017-04-02T00:00:00Z
Room Type
Private room
---
Property Type
House
---
Accommodates
2
---
Bedrooms
Tias, Lanzarote, Spain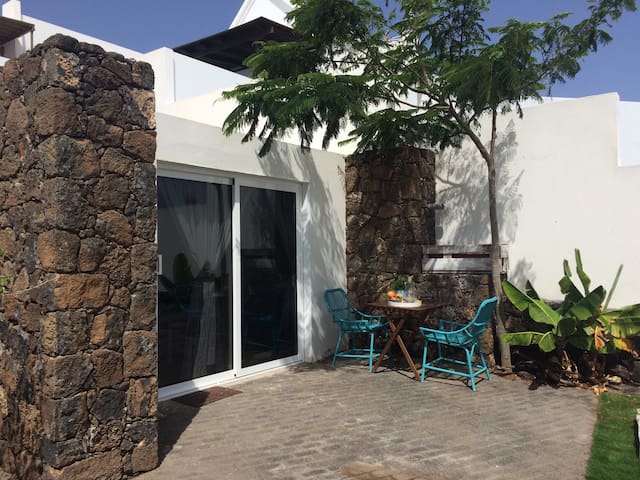 Hi,my name is Sabine, I come from Berlin but i've been living in Lanzarote for nearly 30 years. I have a typical oldstyle countryhouse in Conil, a tiny little town thats belongs to Tias. Conil and so my house are in the mittle of the island, but it's
My house are in the middle of the island, it's only 10 min from airport, and easy to drive to the most important touristic points.I have 7 rooms, but i only rent one of them with own entrance, for your privacy, 1 bed ( 1.35x 1.90) and another bed ( 90x1.90) if you need it, but bathroom and kitchen will be shared with me, because i also living in the house with my pets.I have horses and if you can ride and want it, you can do it.I work at home as german and spanish teacher, so if you're interested in some learning,it is also (URL HIDDEN) is highly recomended to rent a car.I would love to welcome you in my Finca Pegaso.
It's very quiet because I almost have no neighbour.
very helpfull en friendly !
Erwin
2016-10-12T00:00:00Z
The house is located in the middle of the island in a very private location. It's peaceful, close to all the sites you might want to visit. I spent a wonderful week in the house, it's clean, animal friendly and has great energy. It was one of the happiest weeks I have had for a long time. The room is big and has it's own entry. It is on a hill and when you come out of the room you can see the ocean and beautiful landscape. Sabine is wonderful, full of spirit, and great to chat with and have a laugh. Highly recommended if you want to spend time away from tourists in an authentic Lanzarote household.
anna
2016-03-30T00:00:00Z
Amazing situation in the center of the island, close from the Volcano's area and from the eastern side beach. the countryside around is beautifull and the Host Sabine, kindest person ever. i could not recomment more !
Frederic
2016-03-10T00:00:00Z
Sabine is a great host! We've spent a week at her house, a beautiful & peaceful place. The house is in a special beautiful area, away from the tourist-crowd. There is a cute dog and a nice cat plus even some horses. She was very helpful and we've had interesting conversations. We will come back!
Steffen
2017-01-05T00:00:00Z
Sabine was very warm, friendly and engaging. Easy to talk to, with good local knowledge and speaks German, Spanish and English. Location is perfect if you want a relaxing break. Good views and central location on the island. Thank you very much,
Allan
2016-09-30T00:00:00Z
Sabine is very nice and it is fun talking politics with her! Her house is spacious and nice. The only downside is the bathroom outside and the water usage. I would definitely recommend staying here! Location is great as well!
Elise
2017-02-02T00:00:00Z
Amazing traditional canarian house with a few warmblood horses.
Piotr
2017-03-14T00:00:00Z
as arrived in lanzarote my first place to stay was at finca pegaso and i couldn't ask for any better: The geria is amazing, the house is full of personality but above of all sabine is a straordinary person that i was so lucky to meet... she shared all her house and her love for the island, the nature and her beatiful pets. .. I definitely wish to come back again!
FlaviaNaia
2016-05-23T00:00:00Z
Room Type
Private room
---
Property Type
House
---
Accommodates
2
---
Bedrooms
Conil, Canarias, Spain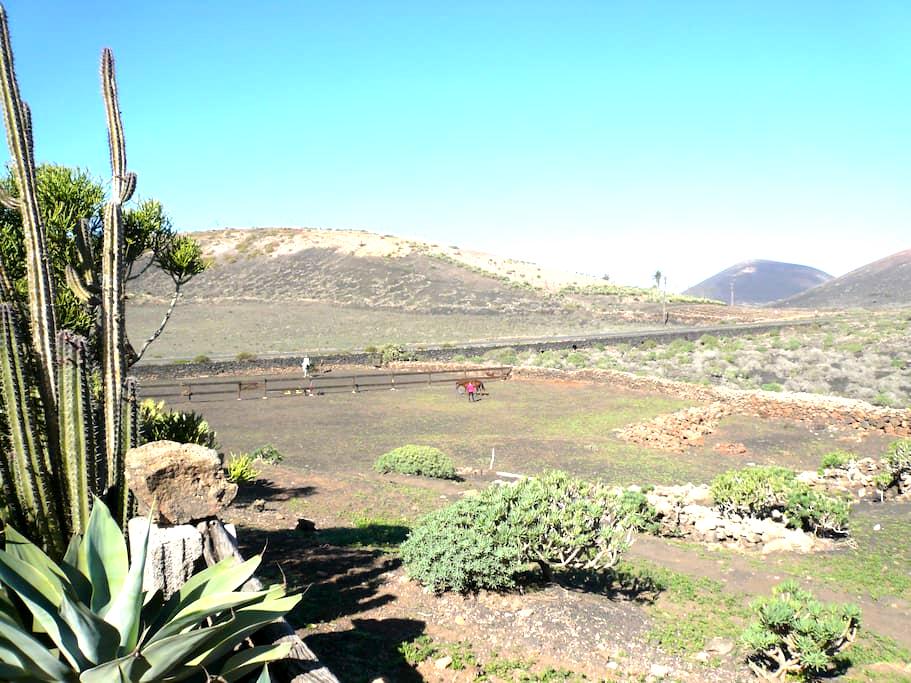 Our house has great views of the sea, and overlooks most of Tías, Puerto del Carmen, Arrecife (and even Fuerteventura!). It's only 10 minutes away (by car) from the main promenade in Pto. del Carmen, one of the most touristic places on the island, where you can find anything from shops and great beaches, to restaurants, bars, and nightclubs. You'll love the privacy and calm, the private bathroom, kitchen, pool and gym, the gardens and the abundant space.
We have just renovated the room with brand new furniture, lamps, wall paintings, bed covers, duvets, pillows, etc!
The town of Tías has some restaurants, tapas bars, bakeries, some shops, two pharmacies, a supermarket, amongst other things.
Thanks to this warm, friendly and welcoming family we really had a great time in Lanzarote. Everything was exactly as described and as it could be seen on the pictures. The villa is superb, comfortable and in the perfect location for sightseeing, just 10 min from Puerto del Carmen and well connected with all the other interesting places of the island. The room is very nice, with a big and beautiful bathrooom and a cleaning service included. The kitchen is private and located near the pool, so you can have breakfast or dine in the amazing garden near the pool (the table is covered and protected, so no problems with the wind). All in all everything was perfect and we definitely recomend it!!
Ilaria
2016-08-17T00:00:00Z
This place is close to Puerto Del Carmen (only 10 minutes by car) in a quiet residential area. The view from the garden is amazing and all you can see is the sea after your wake up. This airbnb was a great place outside the busy city. Maia's family was a wonderful host. This family is warm, friendly, and very respectful! If you are dog lover, you'll meet a handsome and funy little dog who is always welcoming. It's very sociable and cute. The home has everything you could need and more, is very clean and cosy. The swiming pool is very nice too! It's very easy to park your car and it's a good central place to visite the island, you are close from all the site. Very glad I made the choice to stay at her place and hope to visit again! One of my best airbnb!!!
Solene
2016-12-03T00:00:00Z
Rosa, Juan Carlos, Maia and their lovely dog are wonderful (URL HIDDEN) warm, friendly and welcoming! We felt really at home and even more: We received truly ROYAL treatment! The beautiful house was very clean and comfortable (we loved the big bathroom:)!) and in a strategic location to visit the island (only 10 minutes by car from Puerto del Carmen and half an hour from la Cueva de los Verdes). Everything was magic...highly recommended!!!
Alba
2016-12-20T00:00:00Z
I had a lovely time at Maia, Rosa and J. Carlos' house. I would very much recommend it for you visit. The house is great and you will have total privacy, separate access to your room and en-suite shower room. On a separate level there is an area with kitchen, gym, swimming pool and another shower room for you to use. There is also a big table outside - covered- perfect for al fresco breakfasts or dinners. Everything was very clean and they will give you perfect advice on what spots to visit or where to eat in the island. Very much recommended.
Mikel
2017-02-27T00:00:00Z
My stay at Casa Maia was just excellent, the house is beautiful and everything was just beyond expectations! Maia and her family were very warm and welcoming. My friend and I were provided with everything we could have wished for and more, the fitness area, the swimming pool, there was fruit and plenty of water waiting for us, rented us a car and they even picked us up and brought us to the airport when we had to leave :)
Beth
2017-02-14T00:00:00Z
Ci siamo sentiti in un hotel a 5 stelle. La casa è stupenda e la famiglia che ci ha ospitato lo è altrettanto. Avevamo un ingresso separato per accedere alla camera con bagno privato, la piscina, la palestra e la cucina esterna erano a nostra completa disposizione. Rosa, Carlos e Maia ci hanno trattato con il calore e la discrezione che si riserva agli amici. Le nostre lenzuola durante una settimana di permanenza ci sono state cambiate due volte, i vestiti che sporcavamo durante il giorno la mattina venivano messi a lavare e la sera erano puliti e stirati sul nostro letto. Un trattamento da re. Noi avevamo anche portato i teli da mare, ma in ogni caso ce n'erano molti a disposizione. Inoltre, avendo esplorato tutta l'isola, posso con tranquillità affermare che la posizione è a dir poco strategica, tranquilla ma non completamente isolata con negozi a pochi minuti di auto e le principali mete turistiche raggiungibili in 15-20 minuti. Insomma non si può chiedere di meglio.
Francesca
2016-08-26T00:00:00Z
Maia, Rosa e Juan Carlos sono stati dei padroni di casa perfetti, accoglienti e sempre disponibili, oltre allo spagnolo parlano benissimo anche l'italiano e l'inglese. La camera da letto è spaziosa ed il bagno nuovissimo ed elegante, pulizia impeccabile ed un veloce servizio lavanderia, ma quello che ha reso unico il nostro soggiorno é stata la disponibilità all'esterno della camera di una zona stupenda e molto ampia nel giardino, con piscina, lettini, poltrone, una attrezzatissima sala fitness, una cucina, un barbecue, un grande tavolo sotto la tettoia ed un secondo bagno, il tutto a nostro uso esclusivo! La villa é bellissima, oltre le aspettative, costruita con i materiali e lo stile tipico dell'isola per non parlare del giardino, curato nei dettagli. La zona è tranquilla e silenziosa, ed è vicinissima al centro di Tias e Porto del Carmen. All'interno della casa gli spazi sono disposti in modo che l'ospite ed i padroni di casa abbiano la loro privacy e Puki il cagnolino di casa è dolcissimo e non invadente. Lo raccomando assolutamente.
Marta
2017-01-16T00:00:00Z
nette slaapkamer en ruime badkamer. keuken en fitnessruimte zijn gelokaliseerd buiten bij het lager gelegen zeer ruime en sfeervolle terras met zwembad.
Herman
2017-03-12T00:00:00Z
Room Type
Private room
---
Property Type
House
---
Accommodates
2
---
Bedrooms
Tías, Canarias, Spain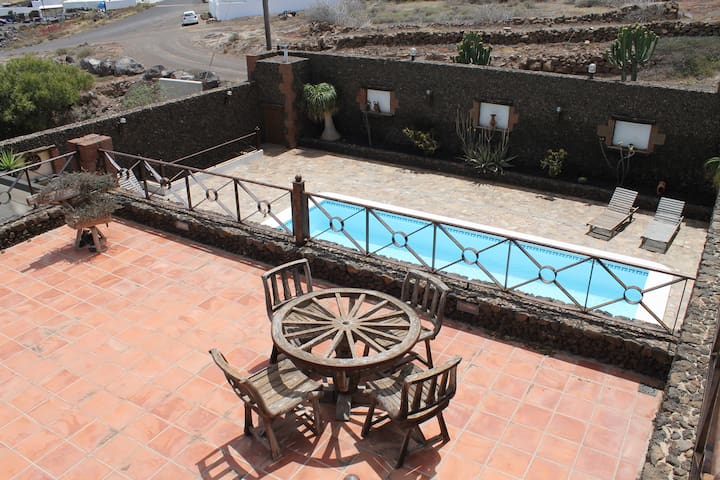 Attractions: beach, family activities, and public transportation. You'll love my place because of the view, the location, the cozy space, and people. My accommodation is good for couples, business travelers, families (with children), and large groups.
Beautiful family home overlooking Puerto Del Carmen and across to Fuerte Ventura. Lilliana and her family were lovely hosts.
Vince
2017-02-25T00:00:00Z
Nice place to stay with a family, corresponding exactly to the description. Very convenient location.
Catherine
2016-12-31T00:00:00Z
Very welcoming family, location is convenient if you have a bike/car/scooter, nice room and bathroom, beautiful views
Bas
2017-02-19T00:00:00Z
It was clean and comfortable, although there was a little bit of an odor, it wasn't bothersome. 15 minute drive from Puerto del Carmen and overall a nice stay. The wifi was on/off but overall functional.
Tae (Woody)
2017-03-12T00:00:00Z
Great family based house with everything you need and beyond. Supermarket is right across the street. Balcony has amazing view.
Marko
2017-02-05T00:00:00Z
Nice host,clean place to stay. Thank you
Szombati
2017-01-13T00:00:00Z
Liliana e Carlos sono davvero molto disponibili e gentili. Ci hanno messo a disposizione la loro cucina e tutti gli spazi di cui avevamo bisogno! Lanzarote era gelida in quei giorni ma la vostra ospitalità è stata devvero bella!li
Zoe
2017-01-06T00:00:00Z
Behulpzame mensen.
Christien
2016-12-10T00:00:00Z
Room Type
Private room
---
Property Type
House
---
Accommodates
6
---
Bedrooms
Tías, Canarias, Spain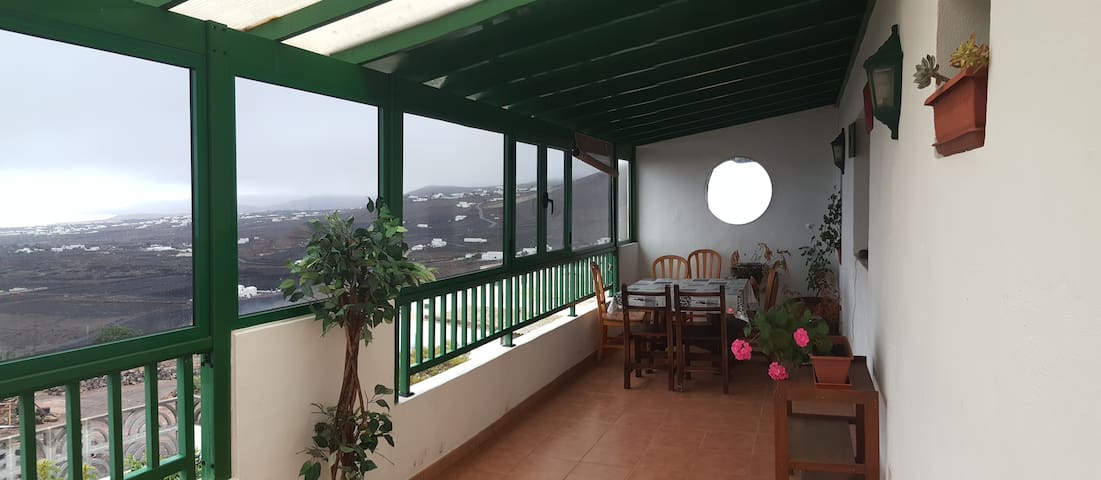 This is a large 4 bedroom house, newly refurbished at the end of 2016 and ready to welcome guests! It is 15 min from the airport and close to local ammenities such as food shops, bars, and restaurants. The terrace has amazing views of the ocean and this sleepy town is tranquil and away from mass tourism. You will live like a local staying here! Car is a must, and you can discover a range of wonderful spots, all easily accessible from home.
This is a newly refurbished house in the heart of a sleepy town called San Bartolome, in the heart of the island. The house has 4 bedrooms and 3 bathrooms, with a brand new kitchen and brand new bathrooms. The terrace upstairs has a gorgeous view of the ocean and nearby mountains and it is the perfect place to chill on sunny days, which we have many!
Being in the heart of the island, we have easy access to the many wonderful natural and manmade attractions that it has to offer, such as the Cactus Garden, Cesar Manrique's House, El Mirador del Rio, Monumento al Campesino, Caleta de Famara, Playa Papagayo and Timanfaya. San Bartolome is a tranquil town with rarely any tourists, so you will get a fulfilling local experience staying here.
Mariel was a fantastic host! She was very helpful in the run up to my stay, answering any questions I had promptly and was there to welcome me on the day. The house is beautiful, clean and tidy and very spacious (I even had my own bathroom) and the roof terrace is wonderful, with glorious sea views. It's easy to get to anywhere on the island from this central location and Mariel helped me arrange some of my onward travel as she speaks Spanish (and I do not!). Thank you Mariel :-)
Judith
2017-01-05T00:00:00Z
Mariel has been a really kind and open minded host. I had a very good stay and appreciate 100%
Eufemiano
2017-01-06T00:00:00Z
Room Type
Entire home/apt
---
Property Type
House
---
Accommodates
8
---
Bedrooms
San Bartolomé, Canarias, Spain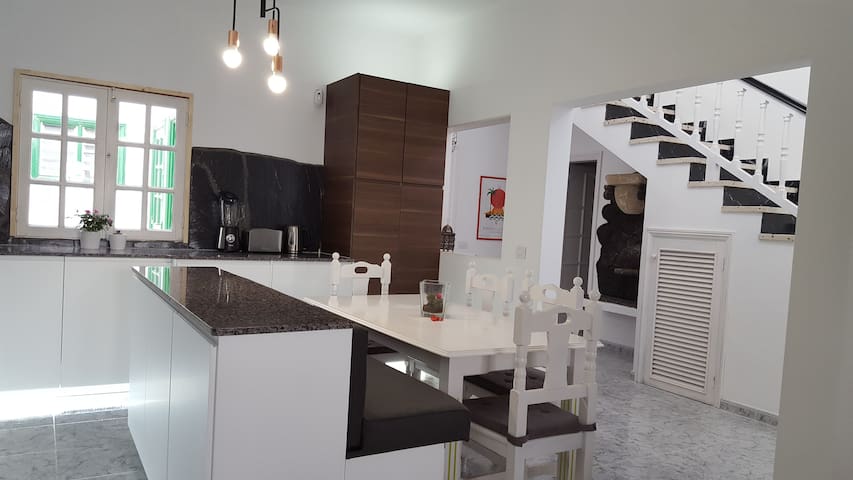 Masdache - Airbnb
:
Average

4.67

out of

5

stars from

287

guest reviews