Beautiful Villa with private pool and garden with 5 Bedrooms, 2,5 bathrooms, big terrace, and parking place for 4 cars. The Villa is 5 minutes to walk to the lake and to the shops. The pool is heated. Perfect holiday for 2 family, friends or for a big family! Children friendly! Small dogs are welcome! *you have to pay on the spot tourist tax 430ft/person/night ( only for Adults)
Die Villa ist fünf Minuten vom See und vom Einkaufszentrum entfernt.
Very nice house. Lots of room, clean and the maid is very kind. Not all the beds are perfectly comfortable, but good enough.
Geert
2016-07-30T00:00:00Z
Well we booked up a house with a HEATED POOL, this was the only reason we booked this place. As it turns out the the owner lied about the pool. They sent a pool man round to get the boiler working. They then told us it was absolutely fine and that it would take 24hrs to warm fully. Well the next day I called them to say the pool was still cold and they said they would send the pool man round again. They didn't so I investigated the problem only to find that the boiler was turned off, unplugged from the electricity and the gas was turned off. So they lied and continued to lie, I reported this to Airbnb who, so far, have offered me a 20% refund. This doesn't scratch the surface as far as I am concerned. The listing is still up offering a heated pool. Anyone wishing a heated pool are urged to look elsewhere as these people lie through their back teath. Andy PS the place was filthy dirty and needed a total refurb. I could go on but I don't this Airbnb will post this review. x
Andy
2016-07-11T00:00:00Z
Room Type
Entire home/apt
---
Property Type
Villa
---
Accommodates
10
---
Bedrooms
Velence, Fejér, Hungary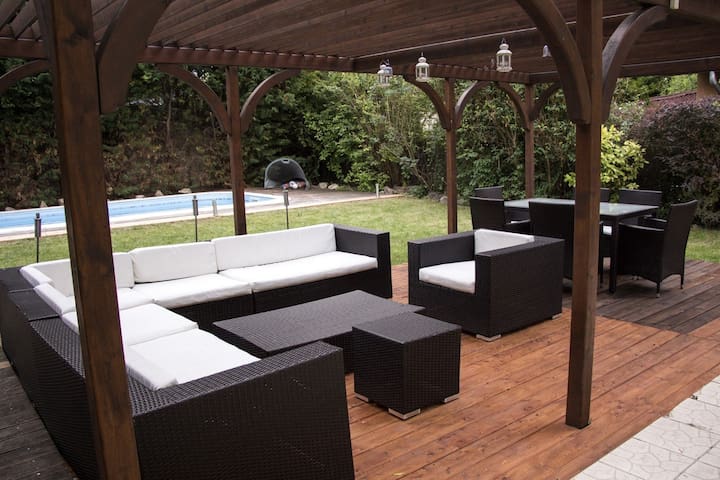 Рядом с моим жильем общественный транспорт, рестораны и кафе. Вам понравится, ведь в моем жилье есть атмосферность, пространство у дома, район, свет и удобная кровать. Мое жилье подходит для этого: пары, деловые путешественники, семьи (с детьми), большие группы и мохнатые друзья (животные).
Room Type
Entire home/apt
---
Property Type
Villa
---
Accommodates
16
---
Bedrooms
Szigetszentmiklós, Budapest, Hungary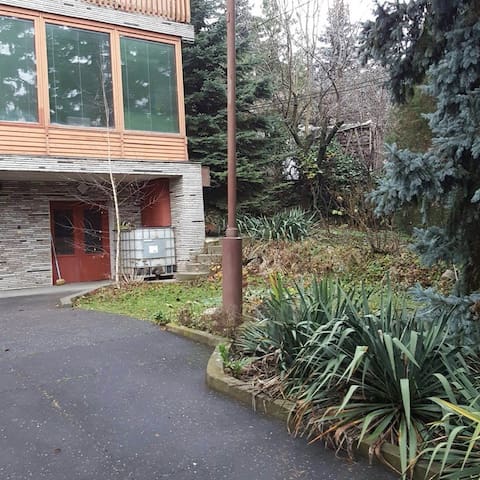 Beautiful family home situated 30min. west from Budapest city center. Large Living room and generous space. Large garden including terrace ideal for summerstays. Easy to reach by car + Train/metro connections are very comfortable.
We spent 4 nights at the house that I could describe much like a "royal mansion". The villa provides plenty of space and 7 (!) bedrooms to comfortably fit a large group of people, so that everyone can have their private quite time if they so wish. On the other hand, a spacious living room and enormous dining table gives an opportunity to have quality time and great meals together. Unfortunately we could not take advantage of the massive garden at the back of the house since we were there over New Year's Eve and the weather didn't permit. I was thoroughly enjoying the book and music collection in the library, furthermore the overall furnishing and decoration really helped us feel at home and cosy. The host Georgie is really friendly and has been really helpful with any queries in and outside the house as well. I can wholeheartedly recommend for any large groups who wish to explore the Budapest area but also want a place which they can really feel their own.
Tamas
2016-01-05T00:00:00Z
Una experiencia estupenda la casa es muy amplia grande y bonita , si quieres descansar tiene un jardín y una biblioteca estupenda pero si vienes de turismo a Budapest tienes q saber q la casa está a 30 minutos del centro pero merece la pena ya es muy agradable
Carmen
2016-09-25T00:00:00Z
Room Type
Entire home/apt
---
Property Type
Villa
---
Accommodates
8
---
Bedrooms
Érd, Pest County, Hungary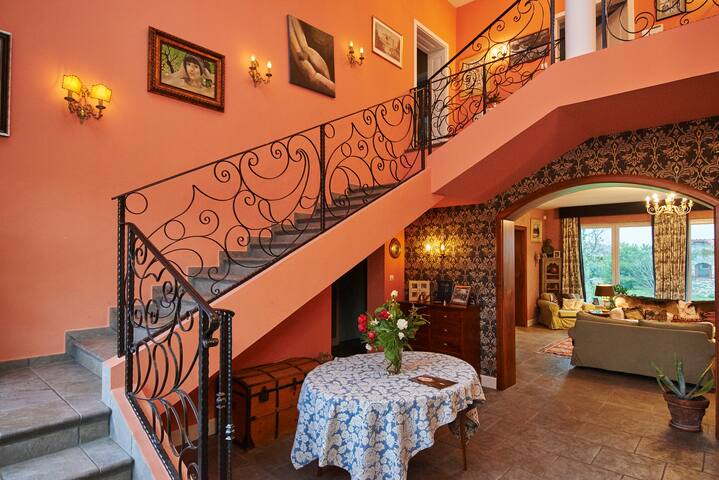 Ez nem tömegszállás,a vendégek száma korlátozva van(max.15fő)ezért kizárólag előzetes bejelentkezéssel fogadunk!A lakosztályok egyenként is kiadók! Úgy az ár:Eur 25/fő.
Suites (5) luxury villa on the west gate of Budapest, M1-M7-M0 motorways, only a few hundred meters, just 16 km from the city center highway (15 minutes) Large garden,, 6x20 m indoor swimming pool,(open:07-20 h) outdoor pool, jacuzzi, sauna, bar , tennis courts, a pool bar, sun terrace, billiard.A suite has one bedroom, one living room, one bathroom with bath, toilet, sink, one gardrob.This is the "oasis" If you really want to relax, do it here but if you rent all five suite, and you can without causing damage consolidated party, I'm also in it(+EUR 200)! Breakfast can be ordered the day before (EUR 5 / person) Accommodation max. 15 persons Event: max 40 people dinner, disco, etc. all can be, of course, they require separate consultation!
Hello! I'm Andras the "island of tranquility" I'll wait! If you really want to relax, do it here but if you rent all suites, and a consolidated know how to party without causing damage, I'm also in it! :-)))
The accommodation is exactly as shown on pictures, beautiful house with a great infield yard and swimming pool. Everything was clean when we arrived. Our host, Andras Cseh, was superb, he was always around when we needed something but never in the way (for example when we were barbecuing or swimming in the pool). Also, the last day we were supposed to depart at 10 a.m. but we fell asleep till 12 a.m. but Andras was great about it, never saying a word. Thumbs up for Andras! :)
Hrvoje
2015-05-10T00:00:00Z
the suit is perfect for family with children. we, four families, 12 persons (including 4 children) have a very good time here!
apple (xinying)
2015-10-04T00:00:00Z
A ház kitűnő, minden szép, és tiszta, pont mint a képeken. Az összes medence, Jacuzzi, szauna tisztán és üzemképesen várt minket. Mikor valamivel gond volt, András, a házigazda egyből ott termett és megoldotta a problémákat. Mi mindennel tökéletesen elégedettek voltunk. The place is very nice and clean, everything was working, and looking just as it does on the photos. The host, Andras was very helpful, being there when needed, but otherwise out of sight. I can only recommend this house for all kinds of group programs!
Zoltan
2015-09-01T00:00:00Z
András remek házigazda volt, mindenben a rendelkezésünkre állt a maximális kényelem érdekében. A szállás kiemelkedően tiszta és gondozott, akárcsak a képeken. Ezúton is köszönjük Andrásnak, hogy a villában fogadhattunk örök hűséget egymásnak:-)
Eva
2016-07-31T00:00:00Z
Csodálatos helyszínen elhelyezkedő villa, ami tökéletes volt számunkra, Etyeki esküvőnk utáni pihenés- szórakozásra Kivettük az összes lakosztályt, ami mindegyik tágas, saját fürdővel , terasszal. Először furcsa volt , hogy a házigazda is ott lakik, de András nagyon segítőkész volt.
Henrietta
2016-07-19T00:00:00Z
Sziasztok! Nemrég 2 estét töltöttünk Andrásnál ami nagyon jól sikerült. A szállás tiszta volt. Mindent tudtunk használni a megérkezés pillanatától. András minden problémánkat azonnal orvoslta,kedves és barátságos volt egész idő alatt. A helyszin tökéletes rendezvényekre. Mindenkinek csak ajánlani tudom!
Ferenc
2016-03-25T00:00:00Z
Room Type
Entire home/apt
---
Property Type
Villa
---
Accommodates
15
---
Bedrooms
Törökbálint, Pest County, Hungary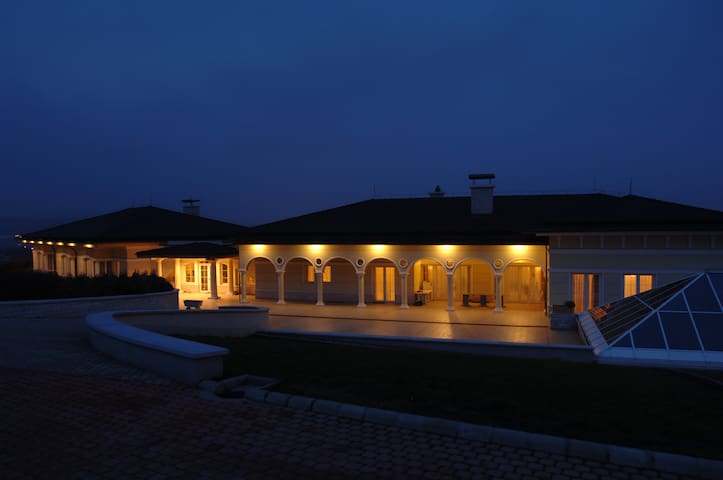 Special accommodation, special program options. Big renovation in March 2017.
Would you like to drink champaigne in a jacuzzi at your own baclony, or maybe you would like to swim and take a sauna right after you woke up? The rest is guaranteed in our regeneration. Just 5km far away from Budapest, right by the foot fo the Budai-mountain in Budaörs we are offering a 500 square meter exclusive minimal design villa with south-asian elements. On the ground floor you can find an 80 square meter wellnes area connected directly to the garden. Here we have an inside swimming-pool, jacuzzi for 8 peaople, sauna, weight becnh, bar, shower and a toilette. Also on this floor we have a garage for 2 vehicles. On the first floor there is a huge teracce connected to the living-room, diner, kitchen with modern machines, 2 bedrooms with double bed ((PHONE NUMBER HIDDEN)) and a bathroom with shower. The top floor is separated into two living parts. Here you can find the best part of the house, the fully separated 80 square meter apartment which we are offering for families. On the king size bed (300x200) even four people can fit with own tub, bathroom, and a gardrobe. This apartment has its own balcony with furniture from where you can have a fantastic view to the garden and the city lights by night. Here on this floor you can find a living area with an openable couch (140x200) where the kids can have fun and also we are offering for the adults some options too like: air hockey, billiad, darts, game machine etc. From this living area opens a double bed (140x200) guest room with bathroom and gardrobe. On the gallery there is also 2 double bed (140x200). On the roof we have a jacuzzi for four people with furnitures with a brilliant view. ( this jacuzzi can used between may-october ). In the garden we are offering a small pool (summer), a resting house, sand box with the taste like beach and a grilling area. We are offering a real luxury villa for you and for your family and friends or even for company events. The price is for 10 people but the maximum capacity is 16-18 people. For little children we are not charging any fee (0-6 year old – sleeping bed, sheets, hihg chair-) As required we can offer breakfast, daily cleaning, party service, airport transfer and limusin rented. Organizing different programs : paintball , shooting , tank driving ,bar/club/restaurant visiting, sightseeing tour by bus or boat, beerbike. We have masseur, dj, mixer,chef they can come to the house. We can help organise all things to the party in the house etc . If you have any questions please don't hesitate to contact us.
In the area you can also find gokart court, bob court, tennis court, paintball and bowling. The villa is 3 minutes far away from the motorway which leads into the city under 10 minutes. Velence (swimming area) is 30 minutes far away and the Balaton is 45 minutes.
Our stay was incredibly disappointing. I was hoping for what was described on Airbnb but what we found was very different. Most of the major appliances did not work. There were only 2 fridges plugged in for 16 people to start with, the main fridge in the kitchen was broken this issue was not resolved during our stay and resulted in us throwing away spoiled food. The coffee machine was not working and instead we were given a plastic percolator despite me emailing before we arrived to make sure there was a high quality coffee machine. After complaining we were given an espresso machine to use which also did not work. The blinds in the master bedroom wouldn't close. The hot tub by the pool was Luke warm and the jets did not work. We were told we were not allowed to use the rooftop hot tub even tho I had requested it upon booking and followed it up several times. The dishwasher doesn't drain so couldn't be used. All the garden furniture had been packed away despite me still paying summer rates. Again this was something I had emailed about previously. The garden was a mess with things stored everywhere. There was a neglected seating area at the bottom of the garden with a couple of dirty cushions left on it. The couch in the living room is covered in cigarette burns. There are several smashed doors, glass floors that need repair. I had booked a private chef through Susie to cook for my 30th birthday meal and had to cancel it as there was no where to seat 16 people, there was no table, no chairs, not enough cutlery and no wine glasses of any kind as apparently people had broken them previously and they had not been replaced. When we arrived the house was set for 12 people not the 16 I had booked for. There was not enough towels for even one each and no more for the swimming pool. We were given 1 tea towel for a 5 day stay and were not allowed to use the washing machine. I was told I could go and make more beds up myself if I needed to. This house is ok as somewhere to sleep but it is definitely not luxury and I should never have been charged summer rates to arrive at a house that had been completely packed away. I told Susie about all of these issues but she showed very little interest and just kept telling me that it was not her house. I felt with all the things wrong I should have been previously warned what bad condition the house was in and that I wouldn't be able to use half the things I paid for.
Robyn
2016-11-01T00:00:00Z
I booked this villa as part of my hen party plans for y best friend, we went early May bank holiday 2016 for 3 nights. All I can say is WOW. Villa is FANTASTIC. Clean throughout, with everything you could need. Ivett even went out of her way to get a list of shopping we needed so it was all there on our arrival. When we had difficulties booking a taxi she booked them for us and all it took was a quick text to her and she did it straight away. The villa is 25 minutes from the city centre and costs on average 5000HUF for a single journey for a car of 4-6, which is about £11 so really great. It is also only 30 minutes away from the airport. The villa has 3 hot tubs (one in the garden wasn't with water as we weren't in the summer season), and there is a pool inside also. Kitchen has everything! Rooms are: 4 X double rooms 1 X 4 person bed (was amazing and slept 5 of us easy!) 3 X guest beds which can be easy moved on wheels around the house 1 X sofa bed which could easily sleep 3 I can't recommend this villa enough/ absolutely fantastic value!! And a great host! Thank you for letting us stay- it made our weekend!!
Habiba
2016-05-03T00:00:00Z
Our 4 days at Ivetts villa was amazing!! The pictures really don't do it enough justice. Suzie was on hand to welcome us and even sorted out our dinner and taxis on the first day/night to help whilst we settled in. We then spend the next few days either at the villa enjoying the pool and hot tub or out and about in the city. We can't thank Ivett and Suzie enough for all there help and looking after us. We would certainly recommend it to anyone who is looking for a luxury villa which is easily accessible from the city.
Jade
2016-02-13T00:00:00Z
The villa is a beautiful place, in a beautiful village. Perfect for large groups who want to spend time in Budapest. Ivett and her team have been very kind and helpful.
Séverine
2016-09-27T00:00:00Z
We had an excellent time at the Villa! Incredible furnishings and no expense spared. We were very well looked after and the hosts sorted our transfers and gave us guides to the city and taxi numbers. A truly brilliant house with unbeatable views. 5 stars!
Ed
2015-10-07T00:00:00Z
Where to begin first of all we had the best Stag Do that was because of this house and Zsuzsa ( Ivett friend who helps manage the property)! They organised everything from airport transfer, food & beers delivered to the house, private chef, massages in the house just to start! The house is even better than pictures they don't even show the outside pool, great Sony speaker, poker table!! The views are amazing and rooms are massive balcony for everyone. The service is. Amazing we had one issue with jacuzzi and it was fixed in a day, any issues dealt with so quickly! This is an essay but they deserve it because it's my bet AIRBNB, actually Holiday for a while! If you see his house availed book immediately!!!
Tunde
2016-06-21T00:00:00Z
The house is fantastic and it is exactly like the pictures. Indeed live it is even better! We lived four days and four nights in 14 people comfortably and without space problems. very nice rooms and wonderful the two jacuzzi, sauna and indoor pool. A true well-being. Get to the center is easy: you can call the city-taxi at any hour and you'll reach Budapest in 10 minutes at the reasonable price of (PHONE NUMBER HIDDEN) HUF - about € 12. Ivette was very kind and helpful throughout the duration of the stay, provided us with all the necessary information and she also greeted us with a welcome gift. Definitely a villa in which we all would like to come back as soon as possible! De livello!!!
Lorenzo
2015-08-24T00:00:00Z
Overall it was a really good stay at the villa. Picked up via transfers and dropped at the villa with shopping we had ordered online already waiting for us. The pictures dont do the villa justice for its views and size. There are a few issues with wear and tear of fixtures and fittings but nothing that wouldnt be expected of a villa that is getting rented out. The jacuzzi and pool couldnt maintain temperature, but the sauna worked fine. Transfers into the city centre were easy to arrange and no hassle. Would definetly stay again.
mark
2017-01-04T00:00:00Z
Room Type
Entire home/apt
---
Property Type
Villa
---
Accommodates
16
---
Bedrooms
Budapest, Budapest, Hungary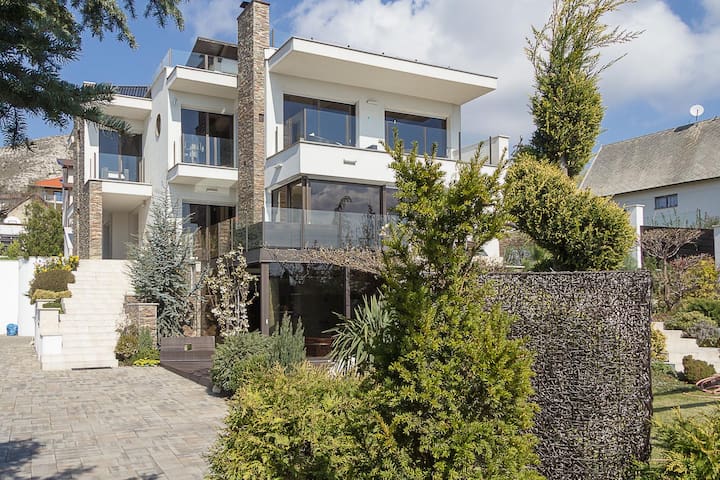 House at a peaceful place with fresh air, unrestricted WIFI, BARBEQUE possibility, in the nature nevertheless near to the city centre. Rent time at least 1day!!
The house is in the nature .Parking is just a short walk to the house.
Nice view , birds singing
Szabolcs greeted us with a warm welcome after a long drive and after arriving late. The house was clean and there was plenty of food in the fridge. There is wifi in this house which is always useful. The drive up the hill to the accommodation was a little scary as there is a very steep hill, you also need to be quite physically fit as there are a few steps to get to the property. Nevertheless I would stay here again.
Eva-Maria
2016-08-15T00:00:00Z
The host was very welcoming! The house was clean, organized, and had a beautiful view. It was very spacious and just a short drive to downtown Budapest. It does not have wireless internet like advertised, but a small thing.. That we overlooked because everything else was nice. The host went above and beyond what we expected. He had food available for us after our long drive to Hungary, and brought wood for the furnace daily to keep the house warm. We had an amazing time and definitely recommend this house to others as well as Budapest. If we visit again, we will definitely try and stay here! Thank you!
Erik
2016-01-03T00:00:00Z
The host canceled this reservation 23 days before arrival. This is an automated posting.
Adam
2016-08-10T00:00:00Z
Our holiday in Budapest was great thanks to Szabolcs and his apartment. The house is big, comfortable and very beautiful. The area is quiet and located in a beautiful hill. A bit far from the city but with busses you can easily move during the day! Totally recommended. Thanks again!
Andrea
2017-01-01T00:00:00Z
在布达山上的这间屋子有点奇特,穿过蜿蜒的山路才能到达,随后还要走一段静谧隐蔽的阶梯和林中小路才能找到。屋内热水供应不是太稳定。屋内的阶梯小巧简易,不太适合带孩子的家庭。我觉得更适合具有探险精神的情侣或者背包客。房东很热情很有耐心,为我们准备了必须的食物,由于当天到得有点晚,房东也一直为我们服务到很晚。由于我们是家庭旅行团,到来时,一个孩子生病了,住在山上不太方便,所以虽然订了两晚,但最后只住了一天便离开了。到现在依然不知道该如何拿回部分房租。
anna
2016-08-10T00:00:00Z
Room Type
Entire home/apt
---
Property Type
Villa
---
Accommodates
5
---
Bedrooms
Budapest, Budapest, Hungary
Enter dates to see the total trip price including additional fees (but excluding any taxes).