This house is located 10km south of Oporto in the pristine sand beach village of " Praia da Aguda" and is the perfect place for you and your friends and family to enjoy authentic portuguese culture the seaside and the city at the same time!
Room Type
Entire home/apt
---
Property Type
House
---
Accommodates
6
---
Bedrooms
Arcozelo, Porto, Portugal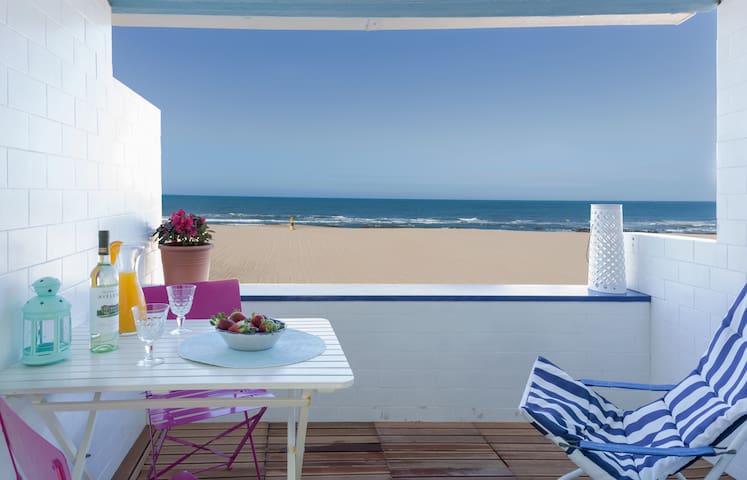 A house located in the Arouca Geopark, 2 Km from the centre of Arouca and 50 Km from the city of Porto (about 50 minutes). The space has 2 double rooms, a kitchen, a small living room, a large pool, a small warm pool (heated by solar panels) with hydro massage, a gymnasium, a game room, a barbecue and a football field.
The house has two different entrances; the space being rented is part of the main building and has 2 double rooms, a kitchen and a small living room. The pools, football field, game room and gymnasium are shared areas.
José and his family made us feel very welcome in their house, being really friendly. The place is great and the facilities exceeded our expectations (really clean, tidy and quite spacious). This is a perfect place to spend some days relaxing while visiting the surrounding areas (e.g. Passadiços do Paiva).
Raquel
2016-07-06T00:00:00Z
My stay at the Arouca Passadiços Alojamento has been one of my top experiences on airBnB so far! Dulce, José, and their incredible sons welcomed me as one of their own, made sure I was safe and comfortable, and made my experience in Arouca an absolute joy. The place itself is beautiful, spacious, private, comfortable, and clean. It is suitable for anyone traveling alone (like me) or as a group. The kitchen has all necessary amenities, and the Justo family provided me with clean sheets and towels for use during my stay. Not to mention the beautiful outdoor pools and grassy area, where one can relax and be in the joyful company of "Cookie" (not sure if that's the correct spelling... ;), the family dog - I LOVE dogs, so I was happy to be around him. Oh, there's also wifi for guest's use - a must for those traveling outside their country, and dependent on it to communicate with family back home. :) But honestly, the experience with the Justo's to me was more like visiting my own family. They made me comfortable from the start! I am eternally grateful for their openness, kindness, and willingness to make a lady traveling alone fit right in. Thank you so much, Dulce and José! You have made my Portuguese visit richer and happier!
Aline
2016-08-03T00:00:00Z
José and his wife were amazing hosts! Also a big thank you for the coolest dog of Arouca- Cookie - a cocker spaniel that is always smiling and happy to see you...makes you feel at home and very welcome! We enjoyed very much the amazing litle house! the place is quiet and peacefull...the perfect spot to stay for a relaxing wekend escape (as ours) or bigger holidays. The game's room is fantastic for the late afternoon with pool, darts and even a private gym! The swiming pool looked amazing even if the weather was too cold for us to try it ...but we are sure to come back on the summer to give it a try. The house is only a few minutes drive from Arouca where there are great restaurants and all you need as supermarkets, cafes etc... All kinds of activities in the area are amazing and is worth the travel there! Thank you for everyhting
Salvador e Ana
2017-02-19T00:00:00Z
Tofo ok
Juan
2016-12-29T00:00:00Z
Our stay at Jose's was perfect! They are a very nice and friendly family with their wonderful dog named Cookie! We were able to go hiking very near the house which is what we were looking for. The house has everything you need and the village of Arouca is nearby and has lots of lovely cafés and restaurants. Thanks for everything! :)
David
2016-11-25T00:00:00Z
This place is amazing! Thanks José, Diogo and cookie, we felt like home :) Very thoughtful family! The region is also beautiful, perfect calm weekend in the beautiful Arouca region!
Christopher
2017-04-09T00:00:00Z
We had an amazing weekend in Arouca! José, Dulce and their children are very nice and made us feel at home. Their property is amazing. Very well built and maintained. The guest house is very spacious and confortable. And, as if that's not enough, they have a gym, game room, pools, trampolin, etc. Lots of stuff to do indoors and outdoors. The house is very close to the center of Arouca. It's easy to get around the area and explore the Paiva Walkways, Serra da Freita and the whole Geopark. We had a blast! An experience to repeat for sure.
João
2016-05-23T00:00:00Z
wonderful experience! much beyond my expectation. the beautiful house is exactly (or maybe even better) than the pictures as it shows. my husband and i were warmly welcomed by the host and his 3 lovely sons, including a 5-year-old cute little boy :) they toured us around the house to every inch and made sure we find all we need. AMAZING AND RECOMMEND TO ALL who are going to visit mid Portugal - one hour drive to Porto, great value for money!
Shirley
2016-10-02T00:00:00Z
Room Type
Entire home/apt
---
Property Type
House
---
Accommodates
7
---
Bedrooms
Arouca, Aveiro, Portugal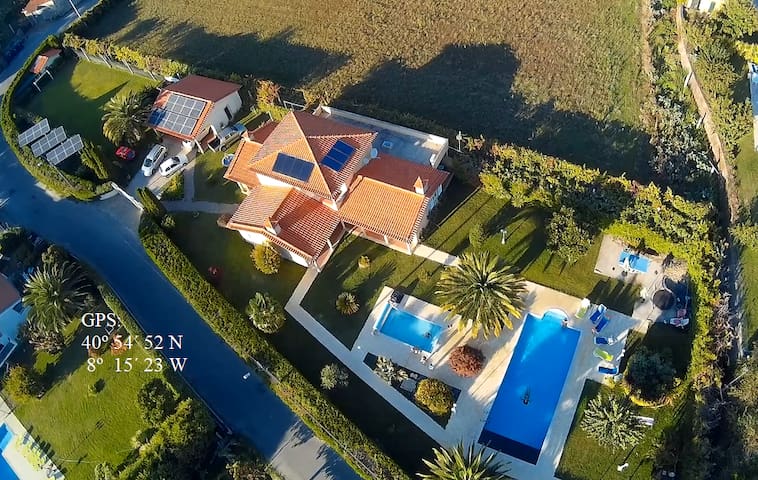 House consists of two independent apartments. One on the ground floor which is also rented, and this on the 1st floor. Both spaces are independent and with complete privacy. The only common area is the barbecue and of the garden. Our space is right in front of Praia da Granja, ideal for couples with or without children and groups of friends. Near the train Granja and near trade station. Public swimming pool at 50m from the house and 15 minutes by train to Porto.
House consists of two independent apartments. One on the ground floor which is also rented, and this on the 1st floor. Both spaces are independent and with complete privacy. The only common area is the barbecue and of the garden. Our house is located on the sea line of the beautiful Praia da Granja. It has a double bedroom and one with two single beds (in the loft). There are two full bathrooms with shower. Dining room and living room, kitchen. Outside is a garden, BBQ and laundry. Wi-fi and free parking in front of house
To go to the beach is just across the street. The house has balconies where you can enjoy the sea view, read or to make meals. 5 minutes are the Granja train station and in the same area of the station have bakery, restaurants, small supermarket, pharmacy and a gym. On the same street the house is the pool of the Farm. A 10-minute walk are the Aguda beach, very picturesque with artisanal fishing, where are a lot of trade, restaurants and you can buy fresh fish every morning. By train to Porto takes about 15 minutes.
The apartment is almost directly on the beach, we found it very pleasant and restful to sit on the balcony and watch the waves. The road between the house and the beach is quiet and hidden by the balcony wall, so doesn't intrude. The only noise we noticed during our stay was the relaxing sound of the waves. Elisa met us at the house, made sure we knew where everything was, both inside the house and in the local area and gave us some tips for local events. The house was fully equipped, cool in hot weather and quite large. Exactly as pictured. The location is very convenient for the train station (20 minutes to historic Porto), an easy walk to a number of lovely restaurants and useful shops in Aguda. One thing to be aware of - the beach is excellent for sand, sunbathing, paddling and rockpools but for swimming you might have to walk along the boardwalk a little way or use the pools at the end of the street (indoor or outdoor). During our stay there were other guests in the other half of the building, but again, we heard nothing from them.
Neil
2016-09-08T00:00:00Z
We had four wonderful days in this appartment. It's a good place to visit Porto with public transport or by car. In the evening we enjoyed being so nearby the sea and listening to the sound of the surf. It's an appartment with all comfort you want during holidays.
Arie
2016-11-25T00:00:00Z
I had a great time in granja at Elisa's house. The place is perfect location for a beach holidays.
Alma
2016-09-14T00:00:00Z
Amazing place in great location - would recommend unreservedly
Steven
2017-03-24T00:00:00Z
This appartment is very nice, it has a large balcony so you can watch the ocean all day and night. From the house its only a few steps to the beach. The small road in front of the house is quiet. When we arrived at Granja, Elisa en her husband were waiting for us at the station. The house was clean en complete and Elisa very helpfull. We recommend this house highly.
Rene
2016-08-21T00:00:00Z
The apartment is absolutely amazing! Elisa was very kind to us, met us at the train station and made our stay comfortable and delightful. We felt more than welcome. The place is large and has everything that one needs on vacation! The fireplace, the ocean view and wave sound makes it very special :) Location is the best! Very cozy, peaceful and charming suburb. 3-5min to the train station. Porto city center is easy accessible, as well as other touristic city Aveiro. Elisa, thank you so much for an unforgettable Portugal vacation!!
Renata
2016-11-06T00:00:00Z
Very nice place and neighborhood. Large and comfortable appartement with a fireplace and rich opportunity to enjoy the view of the sea. Close to the train station which will bring you directly to old Porto.
Liv
2016-10-20T00:00:00Z
Elisas house is great! Very big, clean, modern and has everything you need. The terrace is a dream! The beach is also very nice and right in front of the house, the neighbourhood is really calm and friendly with some restaurants and supermarkets. And it is also easy to travel to porto by train. Elisa was so lovely she was waiting for us till late night and gave great advices about everything we needed to know. We loved it and would stay again! Thanks elisa
Joel
2016-07-24T00:00:00Z
Room Type
Entire home/apt
---
Property Type
House
---
Accommodates
4
---
Bedrooms
Praia da Granja, Porto, Portugal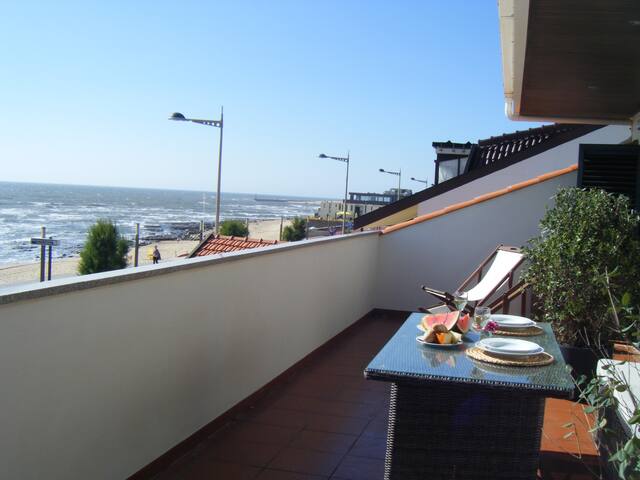 Fantastic space with garden and a lot of sun :)
Wooden house with balcony, set in a garden of a villa of the nineteenth century, rehabilitated. Has an excellent transport network, with Trindade Metro Station only at 5 minutes walk away; bus right next door and Train Station nearby. It's close to some of the city landmarks, such as the Porto City Council, "Trindade", "Avenida dos Aliados" and "Casa da Música". It has all the conditions needed to have a great stay: internet and TV, bed linen and towels provided. A wide variety of restaurants/snack bars and bars around the house. It has a 2 Supermarkets no more than 100m away and there are many traditional stores near. You can smoke in the garden, but never inside the house.
Near the house there are supermarkets, restaurants, stationers and traditional stores. And we can´t forget that it is in the center and very near the city council, Avenida dos Aliados, Igreja da Lapa or Igreja da Trindade. The night life in Oporto is near and you can walk there.
If I visit Porto again , it is very likely that I will stay here. The description was accurate, the location was perfect, the place was very lovely and exactly what I needed! Both hosts were super kind, thoughtful and gave me really good recommendations during my visit. Everything was above my expectations. I'm very grateful for that! (:
Marimer
2015-04-02T00:00:00Z
when I visit there, there is a problem. but Lurdes is very helpful about the thing.
Yeji
2015-12-12T00:00:00Z
Perfect. calm, clean, helpful - everything I wanted. thank you very much
Martin
2016-03-26T00:00:00Z
I loved staying at Lurdes and Aderdito's. They made me feel very welcome. My room was very clean and well provided for in linen, cutlery and everything I might want or need including wifi or television. The house was very central (and very nicely restored) and perfect located for everywhere I needed to go.
Kerry
2014-09-06T00:00:00Z
The studio in Lurdes and Aderito's house is exactly as what is displayed on page. The host are both very welcoming and warm-hearted. I spent three nights as a relaxing vacation and it was super because it is quite, although the dogs might wake you up every morning. Very nice for solo vacation and am likely to go back again.
Haitong
2015-02-05T00:00:00Z
Lurdes and her partner could not have been more helpful right from the detailed briefing with a map of Porto to guide my first afternoon's walking exploration. The accommodation was very comfortable and well looked after as well as being quiet (at the end of a garden in the middle of the city block. Convenient walking distance from Trindade metro station, the nerve centre of Porto's transport network.
Niall
2015-05-18T00:00:00Z
Wonderful place - small room, as shown, but with enough space to get some work done (nice big desk) and a comfortable bed. I didn't really use the kitchen to cook just to prepare some light snacks but it was very functional and I could see how amazing this would be for longer stays! Also, the bathroom was very functional. The room was very clean. Aderito met me when I arrived. Before I left off to explore the city, he sat down with me and showed me the map of the city, highlighting where I should go and the best route - very helpful, kind and generous! Thank you Lurdes & Aderito! I will be back to Porto one day soon!
Erica
2015-10-27T00:00:00Z
I had an amazing experience that i will never forget at this house ;), everyone i met in there was so nice and only very interesting and amaizing people!. I was so confortable in the kitchenette, it is beautiful and has everything you would need!, i was very amazed that every little space in the whole house is well used. Lurdes house is very beautiful and full of light :D.
maximiliano
2013-11-10T00:00:00Z
Room Type
Entire home/apt
---
Property Type
House
---
Accommodates
1
---
Bedrooms
Porto, Porto, Portugal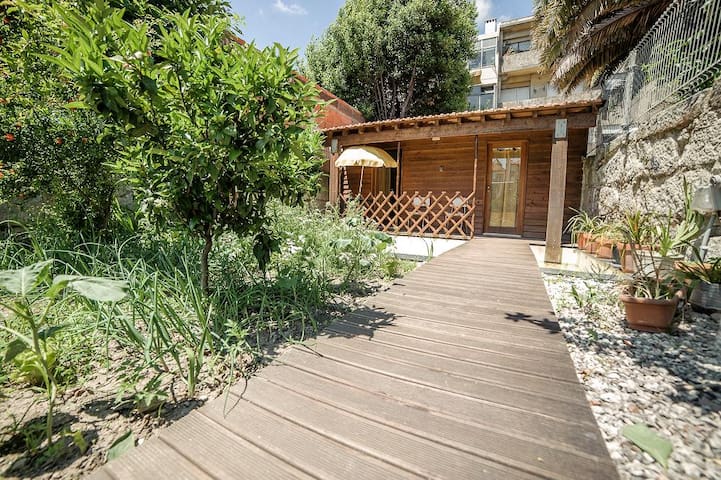 In the heart of the historic area, neighbor of the cellars and at a distance of 5 minutes walk, you can reach several interesting points such as Ribeira de Gaia and Porto. Also enjoy quiet and beautiful sun, not to mention the view.
Located in the heart of the historic area, where are the cellars of Oporto Wine, the Rabelo Boats, the Cais de Gaia or the Ribeira do Porto and many other place with touristic interest. You don`t need car to move and meet the city, the location of the house allows move on foot. However if you want or need the metro is just about five minutes walk. Although the house stay in center is very quiet and allows to guests relax, enjoy the sun, eat in the terrace or simply taste a wine with a wonderful view. The beach isn`t far and is possible to go always beside the river, in a nice trip. The house receive 6 people comfortably and offers a cradle and a baby chair.
Portuguese people are known for their sympathy, naturally you are going to appreciate this fact.
The apartment where we stayed was truly beautiful the pictures do not do it justice. The whole place was very clean and comfortable. If you are going top Porto book this apartment it is simply stunning
scott
2015-10-06T00:00:00Z
What an amazing place! The apartment is in the perfect location, with a stunning view of the city from the enormous sunny deck. Ricardo was a great host: he arranged a driver for us, gave us a lot of great tips for things to do in Porto and was available and responsive whenever we needed something. We hope to make it back to Porto some day, and if we do we'd love to stay in this great apartment
Dan
2016-07-10T00:00:00Z
The flat is beautiful! Ricardo made us feel immediately at home, and was even able to suggest a couple of vegi restaurants to go to. Porto is so relaxed, and the flat is brilliantly placed to take in the view of the city, the view really is stunning! 5 minutes from the tram stop, but we also walked into the center over the iron bridge one day, and took a taxi from central Porto another day for only 6 euros. So close to the Port cellars! Ricardo also arranged for Nelson to collect us from the airport and take us back, which made an already relaxing trip even smoother. So easy. We had a great weekend, and hope to go back next year.Thank you Ricardo!
Jennifer
2015-10-12T00:00:00Z
We really enjoyed our stay at Duoro Sunset House. Ricardo welcomed us on arrival, which was lovely, and he gave us excellent recommendations of what to do and see in Porto. The apartment was superb and the views spectacular. Thank you, Ricardo, for letting us stay. We enjoyed it very much.
Caroline
2016-04-21T00:00:00Z
Ricardo is very kind and welcomed us with a gift an excellent bottle of Porto wine! The flat is great very spacious with a stuning view on the Douro. Everything was set for our arrival, and Porto is an excellent destination.
rachel
2015-10-29T00:00:00Z
Very nice apartment, quiet, large and comfortable, with a beautiful view of the old Porto. Good heating (Porto was cold in February), within walking distance of the old city and the metro. Everything was perfect. Would love to come back, especially to sit on the big terrace in Summer!
Dominique
2016-02-28T00:00:00Z
Ricardo is an amazing host. He welcomed us with his wonderful apartment, Port wine, maps, tips and suggestions what to see in Porto. Apartment is exectly how it looks on the photos and balcony with its stunning view made our stay even better. The apartment is close to the metro and 5 mins walking distance to the city and the bridge. Highly recommend host and place to stay.
Omar
2015-05-12T00:00:00Z
We had a lovely stay at Ricados flat. There is loads of space, a fantastic balcony with view of the Douro river and big living room/kitchen. Would definitely stay again if and when we return to Porto. Ricardo was also very helpful arranging taxi from the airport and advice for where to go in the city.
Justin
2016-04-25T00:00:00Z
Room Type
Entire home/apt
---
Property Type
House
---
Accommodates
6
---
Bedrooms
Vila Nova de Gaia, Porto, Portugal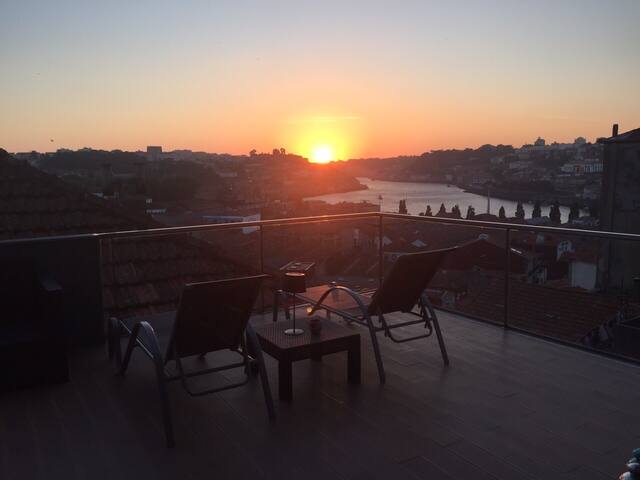 Private room for couples . plenty of room - 45m2 , with sofa, table 3 windows . Excellent for young couples , enough light , 5 min. walk from the area of bars, restaurants , galleries
Quarto em casa secular
Proximidade do centro da cidade e centro histórico.
Excellent place + nice host! Unfortunately we only could only stay here for one night before flying home. Loved the creative bathroom construction! Pedro provided us with thick warm blankets and an electric heater, we had told him before our stay that we were afraid to freeze (Beginning of April, colder weather than we had anticipated in Portugal). We were able to check in in the late evening, even later than announced due to a missed train, glad that wasn't an issue! :)
Martin
2016-04-06T00:00:00Z
During my whole trip through Portugal I found this place the most creative and interesting of all! The room I stayed in was wonderful! Coolest bathroom I have seen so far! Pedro was very friendly! A relaxed and kind person. I defenitly recommand this place!!
Daniel
2015-07-08T00:00:00Z
We had a great time in Porto thanks to Pedro. The house is awesome, good breakfast, good company, and great location. Definitely would stay there again.
gwendoline
2015-08-26T00:00:00Z
This was a very nice area to stay in. Porto is not a big city, so it´s short to walk to the historical center. Pedro´s neighborhood is on the border of the touristic old town, but around his place there are nice bars and cheap restaurants popular by the locals. Pedro was an excellent host, very welcoming and always willing to help out and answer any questions. The room is very big, very clean and we both (me and a friend that both stayed in the room) thought the decoration was nice. I recommend booking at Pedro´s.
Snaebjorn
2015-07-17T00:00:00Z
good experience
fan
2016-05-04T00:00:00Z
I can only agree with the good rating this apartment has!! A welcoming family living in a very interesting and big house, also in walking distance from the city centre. You can have your privacy or join the family and other guests for a nice conversation in the living room. I felt very good during my stay in Pedro´s house and would return at any time!
Raluca
2015-09-02T00:00:00Z
The house is really interesting. Old stuff, very artistic. Pros : It is a good place to stay due to its position on the porto attraction map. Not more than 15-20 min to the farthest touristic point. The bathroom is clean. The kitchen is well equipped. The room is really big. Advices : The front door key locker can be more adjusted to be accessed by enlarging the digging in the wall. A device that make the flies bugs go away or imobilize them can be mounted. It is not a big issue, but it improves the view in the room. Good luck and take care of you! Best regards,
Razvan-Viorel
2016-07-11T00:00:00Z
The room is huuuge and the location is very central (around 10 min from Sao Bento station, some nice bars like Candelabro are just around the corner).. The affordable price makes it excellent value for money! And Pedro is a sympathetic and uncomplicated host. Thanks for everything!
Johannes
2016-04-14T00:00:00Z
Room Type
Private room
---
Property Type
House
---
Accommodates
2
---
Bedrooms
Porto, Porto District, Portugal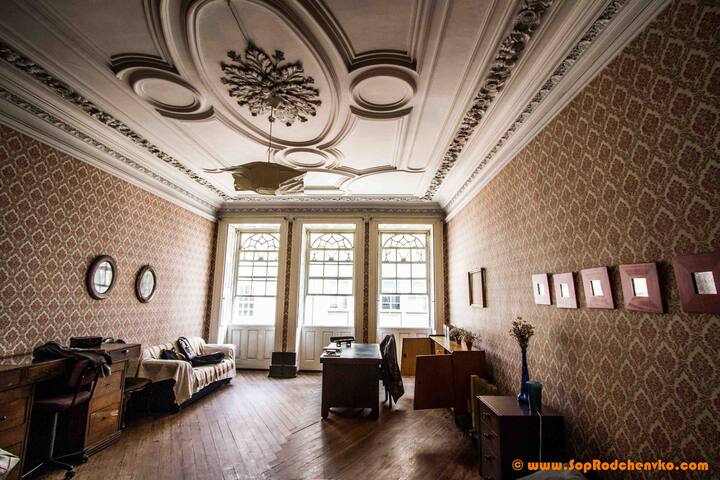 We have one room to rent or witha big bed or with double bed and one extra bed if necessary. We have a baby bed if necessary.
The house has 2 rooms to rent for choose, one with a queen size bed and the other with twin beds and an extra bed, and we have a baby bed if necessary. We host a room for 1 person or couple and another room if necessary for 2 people, in a traditional portugueese and renovated house with garden, Our house is 15 minute walk from the historic city center of Port and 10 minutes from the main train and metro station.We are conveniently located to all major destinations. We have a beautiful garden with fruit trees and lovely flowers. It is situated in a quiet area and yet close to everything including reasonably priced local restaurants. Free WiFi is included. We have free parking nearby. From the airport, you can take the metro (E line) going in the direction of Estádio do Dragão to Campanhâ station, which takes approximately 35 minutes. For that, you need to buy a metro card called andante (price of the card- 0.50 €) and need to charge the trip (1.80€). When you reach Campanhâ station, look for Rua Justino Teixeira. Walk straight up that street till Rua Lopo de Almeida and turn left. Our house is the pink one on your left. We can help plan all your public transportation arrangements on arrival. When you arrive we will give you maps and tips for hikes, restaurants and places to visit. The most important thing of our house is its localisation, because we very near the center of the city and at the same time in a very quiet street as if we were in the country. In our neigbourhoods there is several restaurants at good price with traditional food. Interests: We are near the Porto's historic center / heritage of humanity / UNESCO) City Park, Museum of Contemporary Art Serralves, Ancient Art Museum Soares dos Reis, Crystal Palace, Caves do Vinho do Porto and the Douro River and Ocean. Typical gastronomy. Modern Architecture (House of Music, School of Architecture, Serralves Museum). Neighborhood arts and design. Trade traditional quality. Travel by boat to Rio Douro wine region / world heritage / UNESCO. You can use our kitchen. If you want, you can practice yoga in our place (Free for our hosts). You can also have an ayurvedic massage (see our price list). My husband is a very good guide to show and tell you the best and interesting places of our city if you need help.
Our neighborhood is very calm and have everything near, groceries and other commercial things with traditional houses, cheap and local restaurants, away from the confusion of the city center and at the same time it near the center, 15 minutes walking or for those that does not like or can not walking a lot of bus is available.
Wow! As you can see from the many other reviews, this place is amazing. We arrived and checked in with such ease as Aurora was waiting for us. What a beautiful home, so spacious, clean and modernly decorated it was so relaxing staying here we wished we had longer! What a fantastic host (and couple) Aurora and her husband are. He sat down with us and explained the entire map pointing out places to see/eat/do. Beautiful breakfast spread in there backyard with an explanation on all the plants and trees of fruit they have. Truly an amazing experience with airbnb we had here. It was such a pleasure staying with them and it made our experience in Porto much better. I would highly recommend staying here and would stay again if I ever came to porto again! Thank you!
Kaitlin
2013-07-28T00:00:00Z
Our short trip to Portugal lead us to Porto where stayed at Aurora and Alberto's yoga place. Thank you for your great hospitality and the personalised sight seeing itinerary :). We had a great time.
Christian
2014-07-12T00:00:00Z
I really enjoyed my stay in Yoga Garden's Place. The house is beautiful! Aurora is an amazing hostess. She can help you with everything.
Lisanne
2014-11-28T00:00:00Z
I regret that I couldn't stay longer. The rooms and bathroom were furnished with highest style. It's truly beautiful house. I felt there like home since first seconds. It's very close to main train station and just 15 minutes walk from centre of Porto.
Sabina
2014-11-13T00:00:00Z
what Kind of lovely People, Aurora and her Husband! And what a lovely Place ! Two real yogis! thank you so much.
georg
2014-10-31T00:00:00Z
Occasionally one stays with an Airbnb host that makes you want to open an Airbnb yourself just so that you can host them back: they are that friendly and helpful. Alberto and Aurora are such a couple. Their home is an early 19th century classic remodeled and furnished in a very peaceful, tasteful, and aesthetic way with a Buddhist influence in their art and sculpture.Their garden is beautiful, and their downstairs yoga room is very comfortable. It is a treat to take advantage of their yoga classes. Alberto was absolutely enthusiastic about making sure that we saw the Porto that he knows and loves. In addition to the many beautiful sights he recommended, he also told us where to find an authentic bar for fado, where we think we were probably the only tourists and the locals would come to sing to one another: a true taste of Oporto and the people and culture.
Ethan
2016-11-23T00:00:00Z
We had a wonderful stay. The house is beautiful, warm and light and has many lovely artworks and curiosities. We were sad to only stay one night as it was a really comfortable place. Aurora and Alberto were extremely generous and caring hosts and gave us great tips on places to visit while we were in Porto. We had a lovely breakfast and even a tour through their magical garden. A very special place.
Lucy & Adam
2015-01-06T00:00:00Z
Aurora and Alberta are excellent hosts! They took great care of us. They are extremely helpful in telling us where to go, where to eat etc. so they made us really easy and enjoy Porto! The house matched exactly with what we were expecting from the pictures. The house is always calm, quite and clean. It has an amazing garden with lemon and orange trees and lots of flowers. We would like to be there in spring or summer. You can easily access to the house with public transportation. It's just a few minutes away from Campanhã railway station and 20 minutes from city center by walking.The home is located in a local neighborhood. So you can find a lot of local restaurants and patisseries which are really cheap and yummy! Dear Aurora and Alberta, we appreciated for your wonderful hospitality! Hope to meet you again!
Cem and Ozlem
2016-01-17T00:00:00Z
Room Type
Private room
---
Property Type
House
---
Accommodates
2
---
Bedrooms
Porto, Porto, Portugal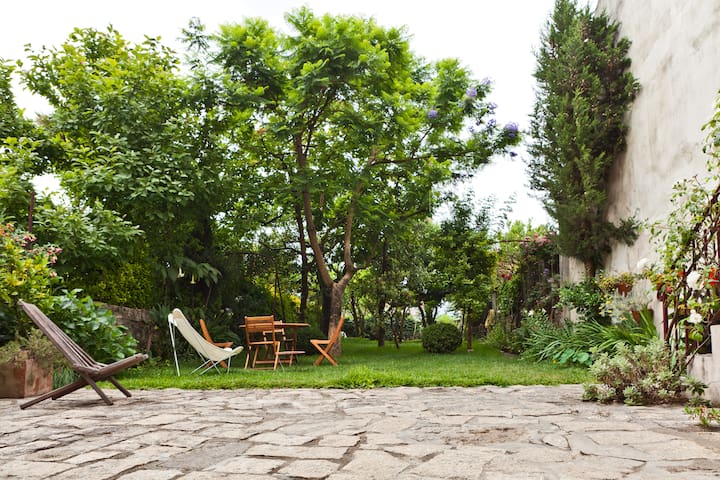 The suite we rent is located in a fantastic apartment in the historical city center, as defined by UNESCO. The apartment draws the perfect balance between the original Porto houses and new design, with a wonderful garden and an amazing view.
The building in which the suite is inserted is a XVII century building, newly renovated for full contemporary standards, located in one of the most historical streets of the "old city", with to major landmarks in the street (now converted to a theatre and a museum). Its also one of the streets which maintains a neighborhood life, being at the same time a very centrical location. Staying here you'll experience local life from a close distance and you'll be a very short (less than 5m) distance from most major centre landmarks and tourist attractions, as well as nightlife and restaurants. Its in the heart of the city, please enjoy it as much as we locals do!
The Vitória neighborhood was developed in the late XV century as the 4th and last jewish quarter, and in its time it was an advanced urbanistic development. This very obscure period in history was the background for its edification. With many different backgrounds, the people that inhabited this area, inside the city wall limits and right beside the "olive field door", gave an heterogeneous look and feel to the neighborhood. Nowadays, you can still feel all these elements of history while walking through the cobblestone streets and hidden staircases, as well as through the great mixture of people inhabiting the area. Its in vitoria that you'll still find this living mixture inside Porto in its rawest form. You'll still find a lady selling fish in the streets, old and young people hanging and talking in the streets, kids jumping inside fountains and playing football, open doors and a peep inside peoples lives, and the occasional interaction, specially if asked for. People around here like to help and feel useful, don't count on it, but expect it! ;) You'll find many excellent restaurant choices within a 5/10 min walking range and the heart of Porto's nightlife is within that same range (bars and clubs). In the centre you'll also find, as expected, theatres, concerts, cinema, parks, events and regular fairs and markets.
great place to be if you are in Porto
Karl
2016-11-09T00:00:00Z
Christiano was an amazing host and the house (and veggie patch) were absolutely stunning. The location was perfect and we were given very good recommendations. Our time wasn't long enough, so we'll definitely have to go back and stay again.
Sally
2016-09-03T00:00:00Z
Great place for this price range, very clean inside, private bathroom and separate lockable door. Small windows but a very good view. Excellent location about 5 minutes walk from the river. There is also a brilliant viewpoint at the end of the road which is a great way to end the walk back at night. Host is very helpful and had some good suggestions. Would recommend.
Shane
2016-08-28T00:00:00Z
Cristiano was a very welcoming host and provided useful tips during my stay. The loft room was spacious and had a large bathroom, both of which were very clean. The apartment is located a few minutes walk from the Clerigos Tower, local restaurants and cafes and a short 10-15 minute walk down to the river.
Bruce
2015-06-30T00:00:00Z
We had wonderful stay with Cristiano. Increadible view and beautiful apartment, we didn´t want to leave. Surely, I will come back Porto and book this place again. The location is perfect. Critiano invited us for dinner and we had nice conversation with him and his friend. We enjoyed our time in Porto pretty much. Thank you Cristiano and hope to see you again in Barcelona or Vietnam. All the best!
Quyen & Sergio
2015-11-15T00:00:00Z
What a beautiful room! Lots of light coming in and the entire set up is just really good. Central location - close to "downtown" but also close to the water. Stunning view from the balcony. Christiano also very hospitable. I'd recommend this place to anyone.
Penny
2016-05-20T00:00:00Z
We had a great time staying at Antonio's. It was the perfect location to explore Porto. The room was perfect, very clean and comfortable. Antonio was very helpful and relaxed, giving us tips for our time in Porto.
Christy
2016-09-23T00:00:00Z
We loved Cristiano's apartment. Great views and all the furniture are so cute!! They arranged the room nicely so that have their own bathroom and room. We feel great privacy and comfortable in our attic. Cristiano is also very welcoming. He gives us a quick guide of the city through the view out from his terrace. He also let us leave our luggage in their place as we arrive early in the morning and leave late at the evening. The location is awesome. Near by the tower and many other attractions but also not too tourists alike. We really enjoy our stay here and hope can stay longer!!
Shuangshuang
2016-01-02T00:00:00Z
Room Type
Private room
---
Property Type
House
---
Accommodates
2
---
Bedrooms
Porto, Porto, Portugal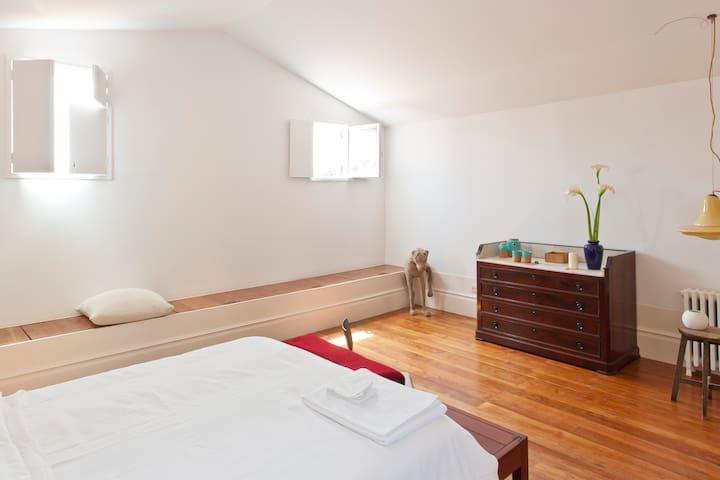 Villa type T4 along the beach with living room, pool table, mini bar and terrace. The perfect area for beach lovers and nature. The villa has 1 double room (suite), 2 double bedrooms and 1 bedroom with 3 beds. A bathroom with bath and one with shower, equipped with heating and two service bathrooms. Living room and dining room with fireplace, TV and WIFI. I46
Room Type
Entire home/apt
---
Property Type
House
---
Accommodates
10
---
Bedrooms
Vila Nova de Gaia, Porto, Portugal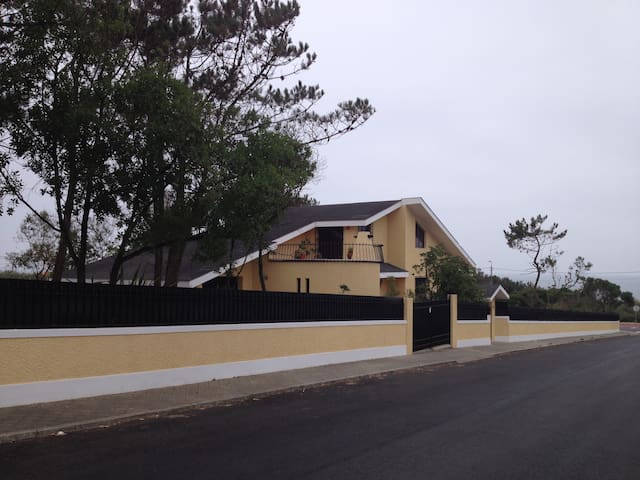 T2 housing, completely renovated in 2015, with private garage and outdoor space with 70m2. The 400m from Francemar Beach. 1km from Senhor da Pedra. The 1.7km of Miramar Golf Course. 1km of Francelos Coimboio Station 1 km from Miramar Train Station The 13kms, both the marginal and the motorway, the historic center of Porto. There are two citybikes with helmet, basket and padlock for rent.
5 Stars House! Perfect location, very clean, 5minuts walking distance to the beach and 10minuts by car to the Oporto's historic center. It's amazing to ride a bike on the track by the beach. Thank you very much, Francisco!
Rui
2017-03-30T00:00:00Z
We had a very pleasant stay with our dog at Francisco's place. His mother was there to greet us. She was very nice, showed us around and explained how everything worked. There was cookies and milk left for our enjoyment. The place is beautifully decorated and comfortable. The house is well situated within walking distance to francemar beach. It is also convient to the city, only about a 15-20 minute drive. I would highly recommend it. It was the perfect place for us.
Patricia
2016-10-21T00:00:00Z
The apartment is really nice, everything is really new and there is a lot of space. There is a really nice beach at a 5 min walk away and you can be in the Porto in 20 minutes with the train. We had a really nice time here.
Sven
2016-09-18T00:00:00Z
First of all I would like to congratulate Francisco because he was extremely friendly and made sure to point out everything in the neighborhood, suggesting restaurants, points of interest! Although we stayed only one night, this house deserve to spend a great time here, as it is super cozy, beautiful, well equipped, comfortable, extremely clean and you will see that it has been decorated to make the guest feel as if it were on their own home! The location is great because you can relax near the beach and in 10min you can go to visit Porto's center. We will definitely return to this house, we highly recommend it to everyone. Once again, congratulations to Francisco anda thank you for your kindness. Best regards, L & C
Luis
2017-03-29T00:00:00Z
The room was amazing .. The kitchen is large and has everything. Thanks and I'm sure we'll be back
Tzach
2017-03-18T00:00:00Z
Very nice house, very nicely put together and close to beach. A train line runs just beside the house, which means the occasional noise of the trains passing by, but nothing too disconcerting. I which that this were more clearly advertised. Other than that it was a great experience.
Miguel
2017-02-26T00:00:00Z
We were hosted by Francisco's, Leonor, which is a nice, kind and gentle lady. Everything went quite well.
Pedro
2017-01-22T00:00:00Z
Great house. Definitely one to return to.
Hugo
2016-12-25T00:00:00Z
Room Type
Entire home/apt
---
Property Type
House
---
Accommodates
6
---
Bedrooms
Vila Nova de Gaia, Porto, Portugal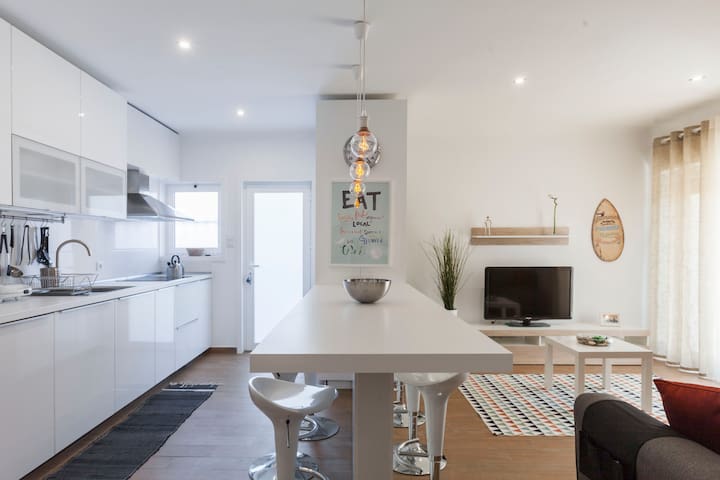 Room with 2 individual beds in a relaxed style within a countryside city . Access to the living room, terrace , garden.
You'll enjoy a cosy space a rural environment within a city with history.
Santa Maria da Feira is a city with a great tradition in cultural events like the Festival of Fogaceiras, street theater "Imaginarius" and the Medieval Journey. We are very close to the "Medieval Journey" event that this year will start on July 29. There will be 12 days of animation and inspired historical recreations in the reign of D. Afonso III, the fifth king of Portugal.
Celia, her family, her house in St. Maria de Faira is a hidden treasure in central Portugal. If you want to enjoy small rural city of Portugal with access to almost most central and northern cities of Portugal through public transportation, perhaps this is the place that you need to stay. But that just half of the story. Aside from Celia's clean, beautiful and comfortable house which will make you feel like being at home, it is her Portages traditional hospitality that is a rare to find any where else. I stayed at Celia's house for one month and it was too difficult to move out. Apart from the fact that she is now my dear friend and I will looking forward to come back here on my next visit, I strongly recommend everyone to do not lose this opportunity. Thanks Celia for everything.
nahid
2016-06-01T00:00:00Z
Great confort, great hospitality, great food. Kind and nice family. I will definitely return if I have the opportunity.
Christel
2016-04-16T00:00:00Z
It was a perfect stay at this place. Celia and Julio are very helpful and did all the needs what we required. We were welcomed by delicious cake and Jasmine tea. The home was super clean and everything was arranged in lovely manner. The breakfast was awesome with healthy food. They dropped us in their car and my child got a gift from Celia and Julio. We felt like we were in our family. Thank you very much Celia and Julio for everything and hope to meet you again.
Kumaresavanji
2016-08-01T00:00:00Z
I got to know Celia and her husband as such kind and generous people! Picking me Up, Sourdough bread, oranges straight from the tree, Kefir, kombucha - i received so many generous gifts that i feel still overwhelmed :) Thank you for the inspiring conversations! I felt like we understood each other really well :) Celias Home was wonderful for me. So homy, bright, cozy, quiet... Exactly what i was looking for and needed in These days.
Hanna
2017-02-19T00:00:00Z
Celia was there to greet me, invite me in and show me around. What a great house. Well laid out and designed and beautifully kept. Celia was very helpful in accommodating me at late notice and very helpful recommending attractions for my continued trip. Highly recommended!
Thomas
2017-02-28T00:00:00Z
Celia and Julio are so kind and warmful. We spent great days with them. Celia is such a good cooker and a really kind person. Always ready to help and show some cook tips. Julio was really helpful and generous since he spent some time to advice us about our trip and help us finding the best places to go. We felt like home in their family. We loved our stay in Celia and Julio's home (really clean). Definitely recommend them!
Chloé
2016-08-20T00:00:00Z
Célia is a lovely host and her home is very cosy. She really makes you feel at home. The house is beautiful and not far from the center of the little town.
Riikka
2017-02-03T00:00:00Z
Celia and her husband were really Kind, generous and helpful. The house was beautiful and very clean They helped us with all our questions and showed us were we could go to eat and sightseeing. we felt extremeley comfortable at their place and we would like to come again !
Luca
2016-06-12T00:00:00Z
Room Type
Private room
---
Property Type
House
---
Accommodates
2
---
Bedrooms
Santa Maria da Feira, Aveiro, Portugal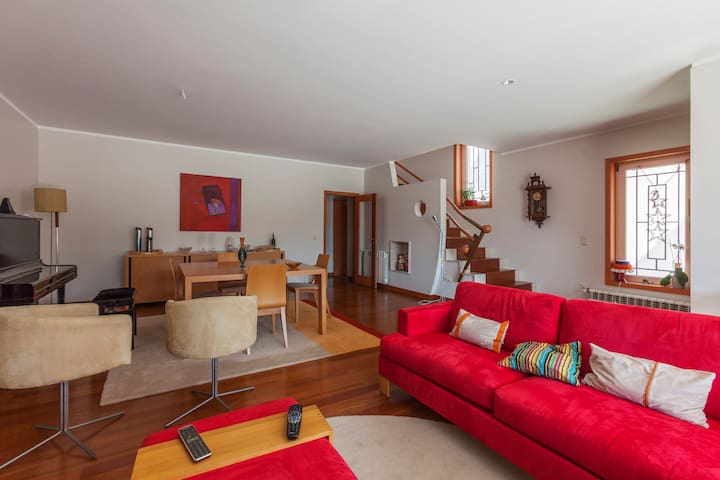 The house was rebuild in 2013 with total respect for the original architecture. The living room is oriented around a big fire place and has a beautiful natural light. Amazing surrounding area with fields, forest and a river.
The house was rebuild in 2013 with total respect for the original architecture. The living room is oriented around a big fire place and has a beautiful natural light.
The farm with with an amazing surrounding area with fields, forest and a river is crossed by a ancient roman path and is fully encircled by a rich nature.
Guilherme and his mother are pefect hosts and wonderful people. They are loveable and extremly helpful. The house and the farm are just beautiful. We enjoyed the fire place, the tastefully furnished house and the surroundings. Close to the house is a spot with a beautiful caterpillar. We will definitely come back!
Judith
2015-05-10T00:00:00Z
The host canceled this reservation 34 days before arrival. This is an automated posting.
JESÚS
2015-06-02T00:00:00Z
Guilherme and his mother are so welcoming and caring, that it would be hard to top them. The farmhouse is really the ideal base for exploring nature and even towns like Coimbra. We loved it very much and will come back for sure. You are on your own in a well equipped and clean farm house with a nice view from the balcony. Thanks Guilherme, thanks Dulcinea!
Alfred
2016-07-11T00:00:00Z
Encore merci Dulcinea pour ce séjour inoubliable. Ce lieu est très calme et verdoyant ; tout pour nous faire décompresser. L'accueil et l'attention que nous a portés Dulcinea étaient très agréables. Nous avons déjà hâte d'y retourner !!
Benjamin
2016-10-27T00:00:00Z
Un lugar tranquilo y muy bonito. La casita acogedora. No conocimos a Guilherme porque estaba de viaje, pero su madre Dulcinea suplió su ausencia estupendamente. Una mujer encantadora siempre con su sonrisa. Nos facilito mucha información y nos obsequió con productos de su Huerta. Nuestra mascota disfruto de su jardín. Muy recomendable . Gracias Dulcinea! Trasladaremos a nuestras amistades los encantos de la granja!
Maria
2016-08-16T00:00:00Z
estupendo sitio para combinar descanso y excursiones, la casa genial, mejor que en las fotos y los detalles de dulcinea muy lindos totalmente recomendable
soraya
2016-07-24T00:00:00Z
La casa es muy bonita y el entorno es fantástico para desconectar. Tiene un gran jardín donde nuestros perros disfrutaron. Está dividida en dos plantas, en la baja la cocina y el resto en la planta alta. Dulcineia es una gran anfitriona, es muy atenta y cariñosa.
Roberto
2016-12-09T00:00:00Z
Un sitio maravilloso donde poder disfrutar de la tranquilidad de la naturaleza. Enclave perfecto para una casita reformada encantadora cuyas vistas (desde cualquier ventana o terraza) son impresionantes. La realidad supera lo que se ve en las fotos. Además Guilherme estuvo super atento y Dulcinea es un encanto de mujer que algunas mañanas nos sorprendía con cestitas de su huerto... Nos hemos sentido como en casa y sin duda repetiríamos si volviesemos por esa zona, ya que no es facil encontrar gente tan buena en sitios tan bonitos.
Jaime
2016-08-29T00:00:00Z
Room Type
Entire home/apt
---
Property Type
House
---
Accommodates
2
---
Bedrooms
Ul, Aveiro, Portugal
The house is conveniently located in the city's heart just in the middle of the most picturesque and prettiest neighborhoods of the city, Ribeira, Miragaia and Virtudes. It is just above the most interesting places in the centre of the city.
There are two fully updated bathrooms and you will be provided with clean sheets and towels. The room, bathrooms, kitchen and living room are for your free use.
Great location, close to river and city and able to walk to the beach. Clean and well equipped kitchen. Could only use one hob at a time or fuse would blow. Door was difficult to open and had to struggle before realising needed to pull towards you. No internet, could not communicate with Ana during our stay.
Shawna
2015-04-12T00:00:00Z
Ana met us on arrival and gave us all the information she could about things to see close by. We thoroughly enjoyed our stay in Porto at Ana's Sunny River view even though my damaged foot did not enjoy all the steep hills and stairs!
Lynne
2016-07-25T00:00:00Z
Ana is a lovely person! She is such a good host, took care of everything and gave us loads of useful advices getting through this beautiful city, where to eat out and things we should not miss ;) We felt like home. The flat is really cute and our room was super comfortable. The View out of the window is amazing! If we come back to Porto we would definitely stay there again :)
Mirjana
2015-08-20T00:00:00Z
Nice, cozy apartament next to the city centre. Very kind and helpful hosts. Nice place to stay in Porto!
Kamil
2016-10-10T00:00:00Z
I had an amazing experience staying with Ana. She was so helpful and quick in responding to communication. Her place is beautiful and indeed has a great view. Ana was just so incredibly nice to me and shared her dinner with me before showing me Porto. Thank you Ana ♡
Ebba and Kristina
2016-09-03T00:00:00Z
Ana was a very cute and kind host. Everything went well, contact, arrival etc. I highly recommend her for a stay in Porto.
Evelin
2016-11-21T00:00:00Z
Ana was very sweet and helpful. And not just that, she's a gem of a lady with a huge heart. I got a bit emotional hearing her stories in helping out people. Very nice place, spacious and clean. Thoroughly enjoyed it and totally recommend it. Must stay
Jaffrey
2015-10-14T00:00:00Z
Ana is very friendly and welcome. But we really do hope that this place could have heating system and better insulation. It's really damn cold and I'm sorry...very bad to get a sleep. But the location is very nice and secret. We live so near the river bank that it takes less than 5 mins to get there. In general, I'll recommend people to live here during warmer period but still a good place for choices.
Chu
2014-12-19T00:00:00Z
Room Type
Private room
---
Property Type
House
---
Accommodates
2
---
Bedrooms
Porto, Porto District, Portugal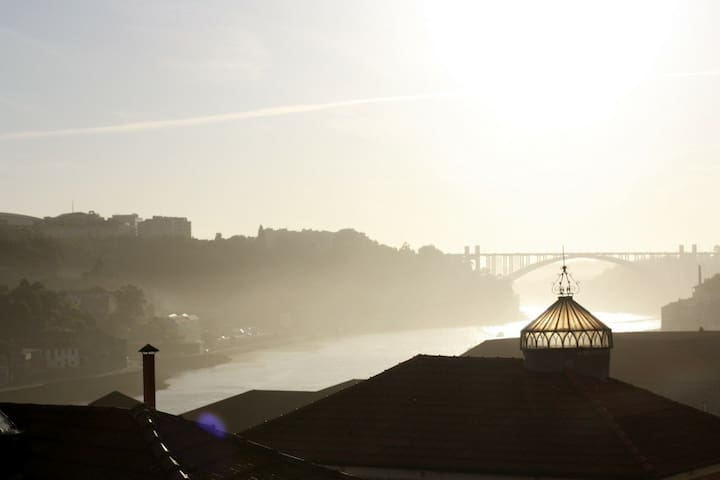 The warmth of being in a detached house, with the particularity of having access to the garden and can feel close to nature with the amenities of a ... In close proximity to supermarkets, restaurants, bakeries, metro [Marquis / Combatants] ...
It is an independent house, functional, and allows guests to enter and exit the hours they see fit [except check-in and check-out]. In this type of "separate bedroom", the kitchen and the toilet can be shared with the room next door. Our cozy home: have the comfort expected from a single surroundings: on one hand you can enjoy the garden with grass to see the fish, on the other hand, when you open the door of the entrance, has the transport surroundings, bakery and catering services , medical clinics, schools, pharmacies, banks ... and a world to discover.
The housing has the surrounding area network services (restaurants, supermarkets, pharmacies, health clinics, gyms, shopping center, schools, Dragon FC Porto Stadium, among others), also has public gardens and recreational spaces.
I agree with other guests that José and Susana are lovely people and wonderful hosts. They do everything to make sure their guests have a pleasant stay- offering porto, fruit and snacks when you enter is welcoming but upon meeting them I quickly sensed their genuine warmth. Communication was great before and during my stay. The hosts put together a helpful guide for guests with suggestions of places to eat locally and in other areas, supermarkets, emergency numbers, etc. The kitchen was well equipped and well organized and the terrace next to the yard was great for eating meals and you see their fish pond and maybe meet their children or dog "Thor." They live in a separate flat above so you feel like you are in your own apt. I used ear plugs for sleeping since there is an adjacient room and sounds carry. The other guests were considerate so I had no problems with noise. I wish that I had more time to interact with José and Susana but I was out and about for most of my 3 day stay. The next time I come to Porto I hope to stay here again and recommend their room without hesitation. Obrigado, José and Susana!
Walter
2016-08-19T00:00:00Z
I stayed with Susana and Jose for over a month. I'm not even sure how to describe their hospitality to fully give how welcoming and warm people they are. First of all, the house is as it's described, everything is nicely equipped and everything you need is there, but if there is anything extra you need, whether it's something in the house or helping you with the doctor appointment, you can always ask, and they will do their best to help. They took me to dancing classes that they also attend, and it was an amazing experience to be learning how to dance in Porto, even though I haven't used my full month course till the end. When it comes to Susana, Jose and their children, they are one of the warmest and kindest people I've ever met in my life, and I wish them all the best! World would definitely be a better place if everyone was like that. I totally recommend staying with them! Thank you Susana and Jose, it was a fabulous month and knowing you was a great pleasure!
Anna
2016-11-23T00:00:00Z
I absolutely loved staying with Jose and Susana. They were so warm, welcoming, and kind. Also, they provided me with suggestions for restaurants, tourist sites, and maps to navigate around Porto. The amenities were excellent, the treatment was perfect, and my experience was all the better for it. I totally recommend staying with them!
Peter
2016-04-05T00:00:00Z
I really enjoyed staying here and want to go again. Perfect place to know the city Porto and the flat itself was awesome. Sincerely recommed it.
Hyewon
2017-03-09T00:00:00Z
Very nice and kind people provides good accommodation along with a lot of useful info! Highly recommended.
Michaela
2017-02-08T00:00:00Z
Susana and José are very nice host. As it was my second time there, I knew already many things about house and area around. The room is perfect. Location is really close to the city center. Porto is an amazing city. House is very well organize. I spend a great time.
Kasia
2016-02-29T00:00:00Z
My flight was delayed so I went there so late. But they were so kind. They have a special guide book that includes recommendation of restaurant, park and so on It was great!
진영
2017-01-02T00:00:00Z
Jose and Susana are very wonderful hosts. They are very good with communication and are always willing to help. Their location is about 30mins walk from the city centre. The nearest metro is about 8mins walk from their place. I will recommend it for anyone travelling alone.
Elizabeth
2017-01-07T00:00:00Z
Room Type
Private room
---
Property Type
House
---
Accommodates
1
---
Bedrooms
Porto, Porto, Portugal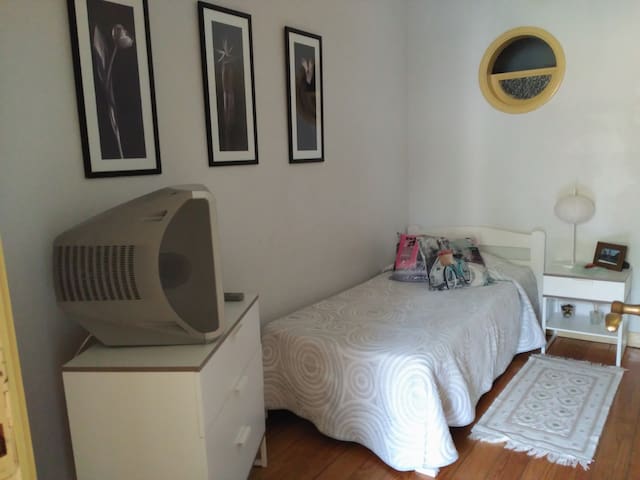 I am sure you will love staying with us as we are completely in the city centre and yet we seem to escape the rowdy noise. We are in the centre of art and culture, parks et al. We are next to Sao Bento station on one of the oldest streets in Porto, it even has its own Wikipedia page! . My place is good for couples, solo adventurers, and business travelers.
Sharon was a great host. The room was lovely and clean. Centrally based apartment minutes walk to best locations. Friendly welcome and good suggestions of local places to visit/eat/drink. Would definitely recommend Sharon's place to stay for a city break in Porto!
Laura
2016-08-16T00:00:00Z
Despite our delayed arrival, Sharon received us with great hospitality. They did a great job renovating the house. It's beautifully decorated and very clean. The house is very centrally located, right next to Sao Bento Station. Therefore all of the city centre can be conveniently explored by foot but naturally the train station is quite noisy. In addition there were construction works going on next door, but Sharon was so nice to offer us earplugs, which wasn't even necessary because we came prepared. The bed is comfortable. All in all we had a great stay in Porto and felt at home at Sharon's place.
Venice
2016-07-22T00:00:00Z
It was very very nice. Thanks Sharon and Crew. I will come back! Sarah
Sarah
2016-09-19T00:00:00Z
We had an absolutely wonderful time staying with Sharon & Howard. They are so lovely and friendly! It is completely central to everything that you would want to do in Porto. The place is super cool as well, definitely recommend staying here!
Jenna
2016-09-25T00:00:00Z
Thanks to sharon and her family we had a wonderful stay in porto!!! The house is really (really really!!!) well located in the city center and looks even better than on the fotos :) She welcomed us in her home and gave as tips for restaurants which was super nice. Porto is a great city and worth for a trip. The communication with sharon and her family was really good, she also helped us with information for the train from porto to lisboa, thank you again!!! We can really recommend staying at her place!
Philip
2016-09-09T00:00:00Z
Sharon is so nice and helpful. The place is nice and confortable, as well. It is a very cosy place in a very good location, near of a lot of interesting places. This is a highly recommended place to stay.
Violeta
2016-09-21T00:00:00Z
A lovely place, which is perfectly located in the center of Porto. Sharon and her cats make you instantly feel welcome. She provides you with recommendations for bars or restaurants and so helps you to enjoy your stay at this charming apartment.
Max
2016-06-19T00:00:00Z
To stay at Sharon's place was the BEST decision I made while looking for accommodation on Porto city! The flat is in a GREAT LOCATION! the house beautiful and so comfortable and inviting! AND SHARON IS A SWEETHEART AND ULTRA-COOL AND FRIENDLY GIRL! My stay in Porto became even more magical thanks for the choose I made in staying at Sharon's place! So I can highly recomend to everyone on Airbnb to not hesitate or think twice and stay with Sharon at her beautiful home!
Marcelo
2016-06-22T00:00:00Z
Room Type
Private room
---
Property Type
House
---
Accommodates
2
---
Bedrooms
Porto, Porto District, Portugal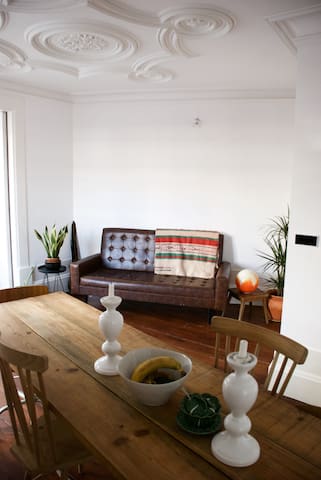 Ideal for 1 person. This room is located in a private home and is composed with one single beds. Minimum stay of 2 days to 1 month. Free WIFI internet throughout the house. Includes towels and bedding. The house has three floors. -The guest room is in the middle floor, with two other room to rent guests. Share a fully equipped kitchen to prepare your meals. This room share a bathroom with another room in first floor. -I live on the ground floor which has a garden and our guest can enjoy a barbecue. We have a dog that loves to play. The house is located 300 meters from the metro stations of the Trindade. and Bolhão (this is the easiest to get to the house). The house is located next to Rua Santa Catarina, is located 300 meters from the metro stations of the Trindade and Bolhão (this is the easiest to get to the house). Given its exceptional location allows you to move on foot beginning to explore the surrounding area: from sights, shops / shopping, the traditional business, Ferreira Borges market, Avenue of the Aliados,, emblematic monuments, art galleries river Douro, Porto Wine Cellars and area nightlife. Fast access and wide range of public transport. - Subway: Line (E) directly to the airport. 27 minutes travel - Train: Both train stations have direct lines underground. Campanhã 10 'and St. Bento 5' - Bus 50 meters
I stayed at Paula and Sergio for 2 nights. The apartment located near the city center. . The room is clean and very well decorated. Paula and Sergio are very nice hosts. I recommend their place.
Bertha
2014-05-15T00:00:00Z
When arriving, Sergio (Paula's husband) received me on the street giving me a helping hand with the luggage. Together, they showed me everything I needed to know about the apartment, about the neighborhood and about the city of Porto. The apartment is very unique in the most positive way: Paula's artwork is decorating every room and the different floor levels make it a very original place to stay. The apartment itself has everything you need: A kitchen, a living room and the gardenl. I loved Sergio's map with specific tips for walks starting from the apartment and restaurant recommendations. This is something I hope to find more often when visiting an accomodation!
Frank
2016-05-10T00:00:00Z
Paula and her husband were very sweet, welcoming and helpful. Their home is immaculately clean, artistic and lovely. My room was such a great deal: it had a comfy bed, a basket full of snacks, hair dryer, computer desk, etc. I was there the day Portugal won the European futbol championship, so the city was quite loud the last night, but the bed was so cozy that I slept comfortably well into the morning.I highly recommend her place!
Ruth
2016-07-12T00:00:00Z
Paula and her husband were wonderful hosts. They provided me with a map of Porto and suggested routes to see major attractions. They also gave me suggested restaurants to eat at that are in close proximity to the home. The room I stayed in was quite comfortable and I was provided with everything that I needed.
Melissa
2014-01-22T00:00:00Z
Very nice cozy place... Felt like home.. Super nice ppl that helped with any thing i needed
michal
2016-11-02T00:00:00Z
Paula and husband Sergio made me feel very welcome from the moment of my arrival ( late and tired from the long haul from Australia ) to my departure five days later. Long before my arrival on August 14th, we had good communication via email. This was very reassuring. As this was my first stay as an Airbnb guest I was a little unsure of what to expect but Paula has set a high standard for all my next Airbnb experiences. The room, facilities and house were exactly as described. All was clean and comfortable. The kitchen works well and is very functional. The atmosphere was excellent and I really felt very at home. In fact it was just like being at home. There is an added bonus of a lovely green and shady walled garden at the back of the house and Paula and Sergio were very happy to share it with guests. The house is conveniently located in relation to all of Porto's major attractions which are easily visited by walking. Sergio has constructed a map with useful information plus three suggested walking routes which proved very useful. There is a great covered market for all foods, souvenirs etc close by plus a good little mini supermarket. I have no hesitation in recommending Paula as an Airbnb host.
Robyn
2014-08-20T00:00:00Z
It's really nice house! While there were happy. The position of the house is good and the service was great and all circumstances. I want to visit again!
Sang Sook
2014-08-24T00:00:00Z
Paula and Serge are very helpfull. Beautiful room, great location in Oporto, so silent. Thank you.
Karin
2016-04-22T00:00:00Z
Room Type
Private room
---
Property Type
House
---
Accommodates
1
---
Bedrooms
Porto, Porto District, Portugal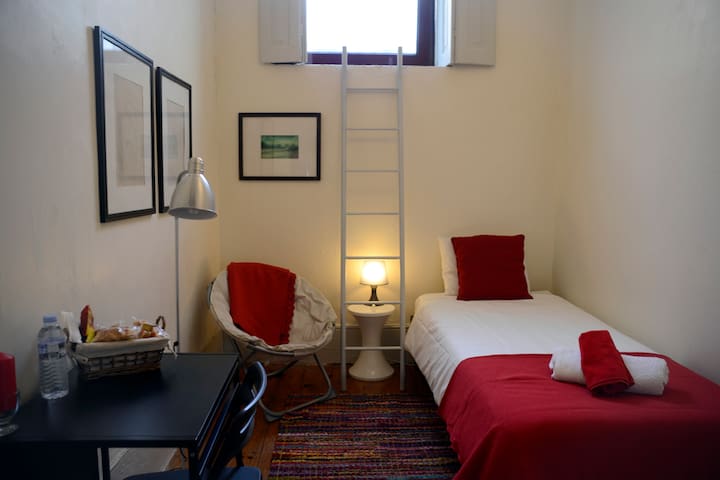 It is a house located 500m from one of the best Porto beaches and it's very good to surf .. It has transport very close, and if you have car there is always parking space. It is a beach house with "surfer" spirit. The room can have twin beds or a dou
It is a house located 300m from one of the best Porto beaches and it's very good to surf .. It has transport very close, and if you have car there is always parking space. It is a beach house with "surfer" spirit. The room can have twin beds or a double bed, has wireless Internet and cable TV. The kitchen is equipped with stove and oven ... It is ideal for a vacation with beach sun and fun.
It is a quiet neighborhood with no problems and no fuss.
We had a very wonderfull time in the house. We felt very welcome by Suzanne. The place and surroundings are beautifull. We enjoyed it very much.
Yvonne
2016-05-27T00:00:00Z
We really loved the little villa. It is close to the beach and the center of Porto is easily accessible. We haven't seen Bernardo but he responded great to all our questions before our stay. Again thank you Suzanne, for being a wonderful host!!
Benthe
2016-07-28T00:00:00Z
The house was very nice and cozy. It has good style and is very functional and clean. Bernardo was very welcoming and even provided some fruits and veggies that I so desperately needed as stores were closed January 1. I highly recommend and will be back if I am in the area!
Galina
2016-01-06T00:00:00Z
Very welcoming, the host meet us in the night in the pouring rain and made sure we were at home - the fridge had cold beer and everything was clean and comfy.
Ray
2016-02-28T00:00:00Z
Me and my little daughter stayed at Bernardos house for five nights. It was like in the description and the beautiful beach is very close. Bernardo and his family were very kind and helpful. I think it is a ideal place for surfers especially but also for everyone else who just wants to enjoy a nice time in a cosy and good equipped appartement!
Nina
2015-10-16T00:00:00Z
Bernardo has a very fine place and the loveliest mother in all the world. We fell in love with Porto because we fell in love with Suzana. If you have the opportunity to stay with them do not pass it up. You would lose the best experience ever. Susana treated us like family and showed us the best of Porto in every way. There is nothing like a visit to her place. Because Bernardo was working we did not get to spend time with him. You will love Suzana and her family. Her daughter Ana is also lovely. I may have to move to Porto. Suzana Johnny says hello and misses you already!! Also want to mention the accommodation were beautiful, clean, comfortable with everything you need to live well. Quite neighborhood with a short walk to the beach. Lovely evening walks on the beach or Boardwalk . Just the best!!!❤️
Regina
2016-06-17T00:00:00Z
Both Bernardo and his mother Suzanka made us feel extremely welcome. Such warm-hearted people. Everything was lovely and they were exceptionally supportive. The villa is very close to the beach and feels very safe in the enclosed courtyard. We are looking forward to another stay someday, because we loved Porto and especially our hosts. Thank you for everything. Bambi
Bambi
2016-02-04T00:00:00Z
Great experience! Bernardo and his mom were very kind and gave us some tips a our arrival. We tasted Bernardo's Porto Wine and we felt un live, you have to go back with a bottle! The house was really cute and well equiped ! It'´s really close to Porto (10-15min by car) and close the beach. Definitly a place to suggest ! Thank you for everything !
Charlotte
2015-09-15T00:00:00Z
Room Type
Entire home/apt
---
Property Type
House
---
Accommodates
2
---
Bedrooms
Vila Nova de Gaia, Porto, Portugal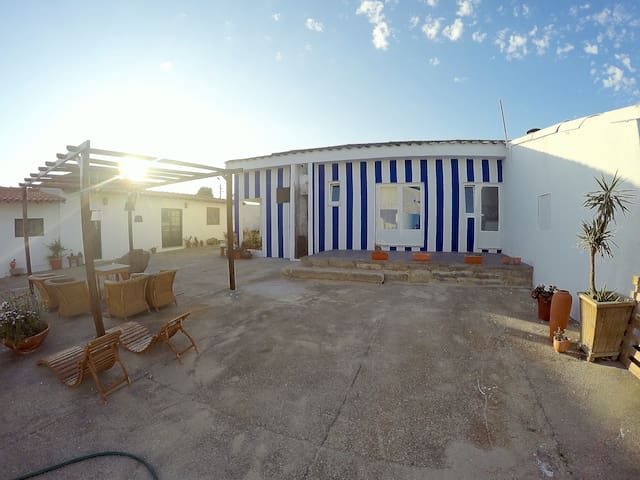 O meu espaço fica perto de parques, arte e cultura, erestaurantes e refeições. Vai adorar o meu espaço por causa de a iluminação, a cama confortável, a cozinha, o aconchego, eo pé-direito alto. O meu espaço é bom para casais, aventuras individuais, eviajantes de negócios.
Room Type
Private room
---
Property Type
House
---
Accommodates
2
---
Bedrooms
Senhora da Hora, Porto, Portugal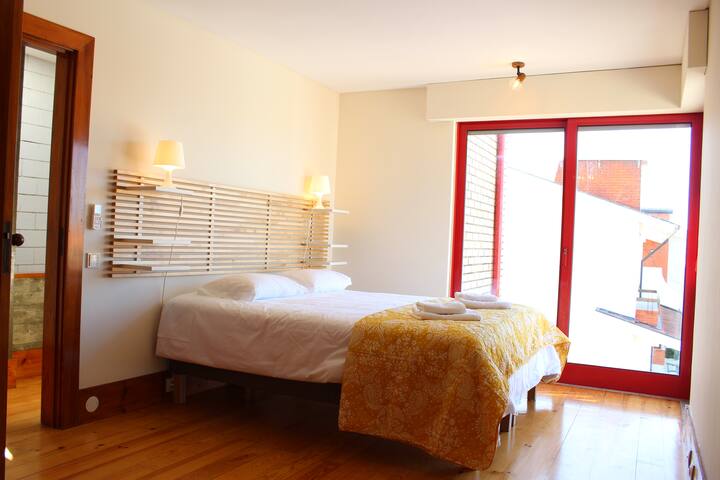 1

–

18

of

300+ Home Rentals
Enter dates to see the total trip price including additional fees (but excluding any taxes).