My accommodation is good for couples, lone adventurers, families (with children), large groups and furry friends (pets). Back to the roots! A unique environment to relax hiking or just enjoying nature. The Perfect place to let loose from Altag, with fresh air and spring water. Visit this has hardly changed since the 17th Jarhundret an environment.
The House is very simple, most is maintained the way it once was built. there is a Wood stove in the living Room to heat up the house in the Cold Day's , that can even be used to make a dinner. Visitors will be Personally Instructed on how it works. The Kitchen is fully equipped. On the first Floor you will find the Bathroom and the Shower, for a Longer stay there is also a Washing Machine available. The Bedroom on the first Floor has a Comfortable Double bed. On the top Floor right under the Roof you will find two mattress enough space for 4 People to sleep, Kidd's just love this room. You get a stunning View over the North Vally on the upper floors looking out the window. You will not need to bring your Water to drink as the water is as Clear as Cristal and has its full natural Flavor.
The People in this little Town are very kind and helpful Selma has about a population of 37 People. For Families with Kidd's there is a nice playground about 100m away. There is the River Near by were you can easily find a Place all private to go cool down a little or swim Note: Mountain Water is Fresh.
Wonderful house, wonderful owners, wonderful holidays. We'll be back and we'll recommend it!
Daniel
2016-08-15T00:00:00Z
We really enjoyed our stay. The house Is like the description and Sandro & Petra had everything ready for us when we arrived. We have spent quite some time hiking and climbing in the alps, the Calanca valley is something special, decently one of the most beautiful valleys we have seen. The hiking routs are extremely well marked and easy to navigate, also if you have limited experience. We needed to get away for the daily stress, live simple and enjoy each other's company. That was exactly what we got.
Lars
2017-01-01T00:00:00Z
Sandro and Petra were great hosts. The home is small, but very cozy, clean, and quaint. There is no wifi and is located on the hillside in a small village--perfect to truly get away from it all. Great for kids... they were very accommodating hosts and extra friendly and helpful. We would love to come back and highly recommend!
Steve
2016-07-27T00:00:00Z
It's beautiful area , Sandro and Petra met us and we're very nice showing us the horse giving us tips about the area. As a family with 3 kids it was a bit hard for us for many reasons supermarket is not that close or hospital or pharmacy therefore we had to leave earlier than expected. The area is incredibly beautiful walking distance from the river. The house had everything we needed.
dania
2016-08-24T00:00:00Z
We had a lovely stay at this authentic Ticino house! It is rustic and beautifully located. Sandro and Petra are great hosts, they're super welcoming, friendly, open, and are willing to help with anything you need. Definitely recommend this place! :)
Apple & Pep
2016-07-10T00:00:00Z
We had a wonderful stay in this beautiful and very quiet mountain valley. Thank you Sandro&Petra for making us feel really welcome. Be prepared that the house is very special: Centuries old, wooden heating, low ceilings, no car parking right at the house... Which was all what we expected and what we were looking for. The kitchen in deed is fully equipped and the house was super clean, the garden is great for kids to play and to make a fire and there's plenty of wood in the shed. The valley is great for hiking and walking and it seems great for boulder climbing as we passed a group of visitors doing that.
Placidus
2016-08-07T00:00:00Z
Ein perfektes Wochenende im Calancatal!!! Unsere Gastgeber waren sehr unkompliziert und entgegenkommend. Der Kontakt zu ihnen war genial und wir hatten sehr gute Gespräche. Die Unterkunft ist für jedes Wetterverhältniss eingerichtet. Der Zugang ist etwas Versteckt, so dass man seine Ruhe hat. Das Calancatal ist wunderschön und perfekt geeignet um zu Wandern. Die Anwohner simd extrem freundlich. Wir würden jeder Zeit wider kommen.
Valerie
2016-08-01T00:00:00Z
Le séjour a été super, notamment grâce à l'accueil de Sandro et Petra! Ils ont pris tout le temps nécessaire pour tout nous expliquer, et même nous donner des conseils de balade dans les environs! Nous recommandons ce lieu sans hésiter.
david
2016-10-10T00:00:00Z
Room Type
Entire home/apt
---
Property Type
House
---
Accommodates
6
---
Bedrooms
Calanca, Graubünden, Switzerland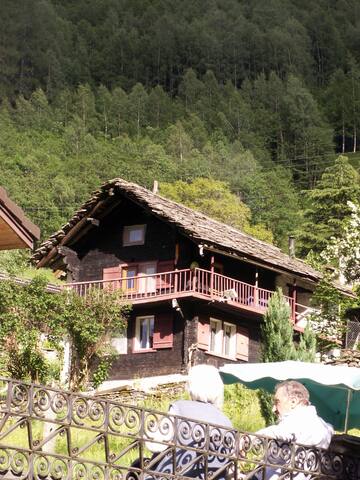 Welcome to Arvigo! Fancy a break away from the daily hustle and bustle? Then you are exactly right here. Our small Bijou whether Arvigo offers families and small groups the ideal setting for a relaxing time in the wild, romantic Calancatal.
The house has 3 floors. Under the roof there are the 2 bedrooms, a toilet and a common room with a single bed and two-Futon beds. The middle floor consists of kitchen, living room, cozy tiled stove, bathroom and balcony. On the ground floor a reading corner found next to the wood stove and outside seating overlooking the wild valley.
The house stands at the very top of the village. The only sound you can hear is the sound of the village stream ...
We had a very pleasant stay in July 2016. Unfortunately it was a short stay for only 3 nights. We hope to come back for a longer period in another year. It's a lovely and very complete accomodation with a lovely view in the beautiful and quiet Calancatal.
Elisabeth
2016-08-01T00:00:00Z
The whole process was incredibly easy, the people looking after the keys beforehand were very friendly and the house was lovely. Lots of space, clean bedding and cosy beds. The neighbourhood is calm and the view is awesome, much recommended!
Douglas
2016-06-13T00:00:00Z
We had a great family weekend in the Calancatal. The house is great. Just as described. Thanks Daniel!
Almudena
2016-10-09T00:00:00Z
Perfekt für ein Wochenende mit Freunden. Man kann wunderbar wandern, die Sonne geniessen oder im Winter einfach den ganzen Tag drinnen Brettspiele spielen. Im Haushalt findet man alles, was man braucht und wenn das Haus dann mal aufgeheizt ist, ist es nur noch gemütlich - inkl. der Betten. Das Dorf ist hübsch und typisch für die Gegend mit einem Laden und einem Restaurant. Uns fehlte es wirklich an nichts. An- und Abreise waren zudem höchst unkompliziert und die Verwalter Petra und Sandro sehr nett und sympathisch. Jederzeit wieder!
Roger
2017-02-19T00:00:00Z
Das Haus von Daniel ist super schön, gemütlich und sehr sauber. Sitzplatz mit toller Aussicht. Wir haben den Aufenthalt sehr genossen. Sehr empfehlenswert, wir kommen gerne wieder!
Andrea
2016-04-20T00:00:00Z
Das Haus und die Umgebung sind schlicht und einfach einzigartig. Eine ruhige Lage, perfekt für ein paar entspannte Tage. Die Bilder entsprechen voll und ganz dem Haus. Es wirkte meiner Meinung nach sogar noch ein bisschen grösser. Ich kann dieses Ferienhaus voll und ganz weiterempfehlen und würde es wieder buchen!
Nathalie
2016-08-03T00:00:00Z
Sehr netter Kontakt, genaue Wegbeschreibung und nützliche Anleitung zu Heizung, Ofen ect. Das Haus ist sehr schön gelegen, mit allem Nötigen eingerichtet und sehr gemütlich. Die Kontaktpersonen vor Ort waren sehr hilfsbereit und herzlich. Wir können dieses Ferienhaus im Calancatal nur weiterempfehlen!
Ursula
2016-04-12T00:00:00Z
Ein sehr idyllisches Ferienhäuschen. Alles hat perfekt geklappt. Schade hatten wir nicht mehr Zeit zur Verfügung.
Maja
2016-07-11T00:00:00Z
Room Type
Entire home/apt
---
Property Type
House
---
Accommodates
7
---
Bedrooms
Calanca, Graubünden, Switzerland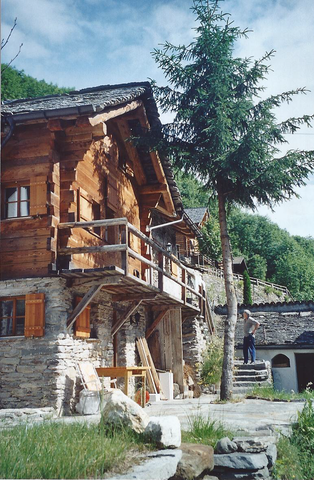 Mooi huis in de bergen van San Bernardino, met een weids uitzicht in Misoxertal en in de bergen. Bovendien, de site nodigt u uit om barbecue en genieten van een van de natuur en wijds uitzicht. In de winter sneeuwkettingen worden aanbevolen in een veel sneeuw kan het zijn dat de toegangsweg niet altijd gewist en je moet ongeveer 300 meter van het huis van de auto te parkeren.
Room Type
Entire home/apt
---
Property Type
House
---
Accommodates
6
---
Bedrooms
Mesocco, Graubünden, Switzerland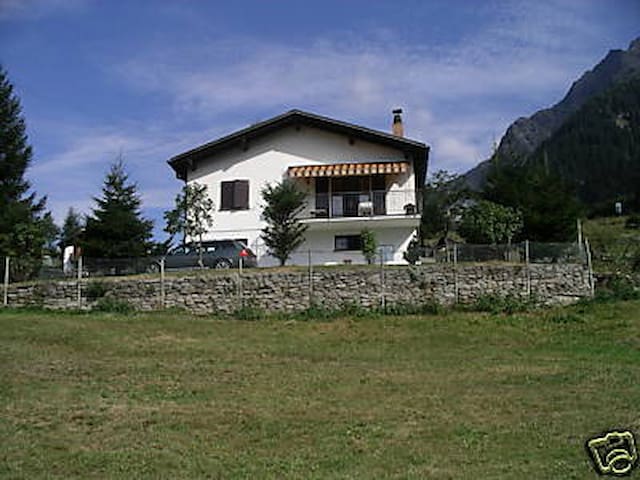 Traditional Ticinese cottage in the twilly village of Claro. A stones throw away from picturesque alpine forest, while being 10 minutes away from the castle laden city of Bellinzona. A setting perfect for relaxation, social or sporting enthusiasts.
The cottage is set in the traditional Ticinese village of Claro, seated below the idealistic "Monastery of Claro" only a few metres away from lower apline forests and undisturbed nature trails. The house is a typically alpine Ticinese terraced style cottage with beautiful stone work and vistas of the surronding valley and mountains. Occasionally the night sky offers celestiale scenes, unhampered by the presence of the nearest urban area, the mediaval town of Bellinzona,
The nearby world renowned bouldering and Canyoning region of Crescano is literally a 7 minute drive. A three minutes walk from the house and your in old woodland with access to hiking and nature trails that not just pass the unknown mountain vista of the monastery but for those adventurers, leads to the alpine mountains and valleys above. Theres an endless amount of hiking trails with beautiful rivers, waterfalls and granite carved canyons for those with the need to stretch their legs. Diverse local sporting groups offer mountain biking, canyoning, and canoeing,not to mention, skiing, snowbording and ither more "intense" winter sports. Nightlife, though not a urban centre, is not hard to find after a wee drive/commute. The winter/spring offers Carnival and mainly Wintersport orientated activitis and festivals, with hockey matches being a great way to relax and take in something new. With the hot summer months however, Ticino really gets going, with great outdoor film festivals (Locarno film festival), music festivals (including world famous "Estival Jazz" of Lugano and the "Blues-to-bop") to more local waterside and alpine feasts and parties that you can never tire of. Apart from organised fun, most people like just chilling and having afternoon drinks or "apertivos" in truly exotic Italian style lakeside settings or more rustic alpine bars.
Cute room in a beautiful mountain view area. A bit steep to get there, but the really nice and friendly hosts make it all the more worthwile. Highly recommended!
Martin
2017-03-23T00:00:00Z
Clio & Maurice were awesome! They made us feel right at home as soon as we arrived. Maurice is a doctor, and we both were feeling a little under the weather that day. They had medicine and professional advice to help us through our little rough spot in our journey. The room is very clean and perfect for a couple. The shower is hot, pressure is fantastic, and they even had laundry in our bathroom! The location was easily found via (SENSITIVE CONTENTS HIDDEN) maps...and..well...we couldn't ask for more. Fantastic hosts, fantastic stay...and fantastic kitties around the home! We would recommend this stay to anyone!
Joshua (aka Trip)
2016-08-22T00:00:00Z
Clio is such a lovely host, Everything was great organized and prepared. Many thanks for another amazing airbnb Adventure!
Hans
2016-11-28T00:00:00Z
We loved the house and its location. The garden part was perfect place to eat breakfast. Pity that we stayed there just one night.
Mario
2016-07-12T00:00:00Z
Clio is a fantastic host! She made us feel very welcome in her home and could not have done more for us. She had great recommendations of where to eat, where to go and food to buy. The location was fantastic with beautiful views looking at the mountains. Anyone who stays here will not be disappointed.
Ashley
2016-06-29T00:00:00Z
Great place to stay. Small but very cozy and clean. Clio and Maurice are very open and friendly. The house is just a few meters from great hiking trails and it has an amazing view.
Federico
2016-10-17T00:00:00Z
This was my second stay at Clio's and Maurice's house, I enjoyed the last one I came two weeks ago and I booked again for this weekend. The room was as the last time, very nice and clean and the bathroom as well. It is appreciated that the hosts leave you a coffee machine, a water boiler and some snacks to eat in the room. I had time during this stay to visit the village of Claro, and I went to eat at Groto Ostini, where they have typical meals of the region of Ticino. If you stay here, I would also recommend you the place and the service there is very friendly. I will be staying a couple of times more in this room, as I am staying in Ticino for my military service and this is by far the best room you can find in the area, so if you are planning to visit Bellinzone or Biasco you should definitely consider staying here. It is very well communicated by bus with the cities of Ticino and there are some hiking ways near the place.
Ignacio
2016-12-04T00:00:00Z
Clio and Maurice home is place beautiful surroundings with lovely hiking trails and a 10min bus ride from Bellinzona. Clio and Maurice are lovely, welcoming guests, with Clio who went the extra mile by picking us up when we became lost in Claro and becoming our taxi for one night. Clios recommendations for restaurants is great, and had plenty of information for places to visit. The room is small but perfect size, with double bed, Tv and kettle. The shower and toilet room is accessible out side, with gives a camping feel to the holiday. We had one of our favourite holidays here and will be back there soon. I will be recommending this room to everyone. Thank you :)
Kirsty
2016-09-22T00:00:00Z
Room Type
Private room
---
Property Type
House
---
Accommodates
2
---
Bedrooms
Claro, Ticino, Switzerland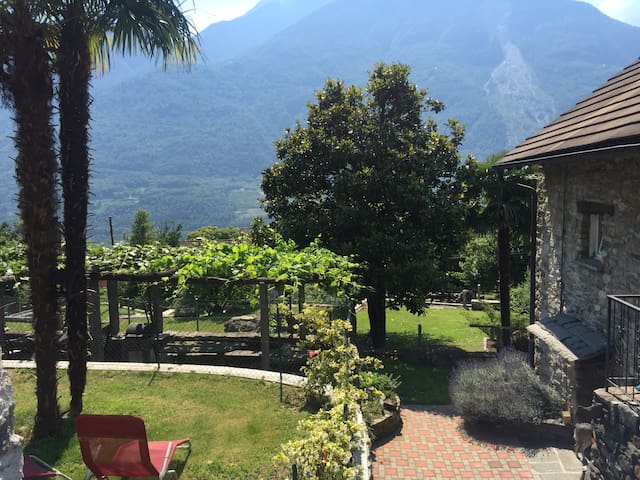 Charmantes Tessiner Haus mit 3 Schlaffzimmern, grosses Wohnzimmer, e bad mit Badewanne und eine grosse Küche. vor dem Haus hat eine Terasse und ein Pergola wo man es sich an warmen Sommerabenden gemütlich machen kann.
EG: Küche und Wohnzimmer 1. Stock: 2 Schlafzimmer mit je 2 Betten und 1 Badezimmer mit Badewanne, 1 Balkon 2. Stock: 1 grosses Zimmer unter dem Dach Vor dem Haus gibt es eine Terasse und eine Pergola
The host canceled this reservation 14 days before arrival. This is an automated posting.
Mark
2015-06-23T00:00:00Z
Room Type
Entire home/apt
---
Property Type
House
---
Accommodates
7
---
Bedrooms
Castaneda, Grigioni, Switzerland
Una piccola e accogliente casa indipendente su 2 livelli a Gordona. Siamo a 40 km da St Moritz, a 30 minuti dai campi di sci di Madesimo, vicino al Lago di Como e a pochi minuti da Chiavenna.
La casa può ospitare fino a 4 persone ha una camera matrimoniale, il bagno e un divano letto. Angolo cottura e tavolo da pranzo.
Coloredo è una frazione di Gordona molto tranquilla e gode di una bella vista sul Pizzo di Prata e del sole tutto il giorno.
The host canceled this reservation 175 days before arrival. This is an automated posting.
John
2016-08-20T00:00:00Z
Annalisa and eugenio were the perfect hosts, they were waiting for us when we arrived and greeted us with the most warm and friendly welcome. Their house was lovely, cosy and cute and a real home away from home. It had all the essentials and was very well equipped. Everthing was so easy and i was very impressed with the effeciency and friendliness of our hosts responses. I would highly recomend this property for your stay in the region.
Sheila
2016-07-28T00:00:00Z
Abbiamo trascorso una vacanza immersi nella tranquillità e nella natura. La casa ha soddisfatto le esigenze della nostra famiglia, un piccolo e confortevole appartamento munito di tutto il necessario per garantire un piacevole soggiorno. Ottimo punto di appoggio per escursioni e molto vicino a tutti i punti di attrazione della zona. I proprietari dell'appartamento sono stati gentili e premurosi fornendoci tutte le informazioni relative alla casa. Si sono dimostrati ottimi host chiamandoci durante il corso della vacanza e preoccupandosi del nostro benessere.
Lula
2015-08-21T00:00:00Z
Room Type
Entire home/apt
---
Property Type
House
---
Accommodates
4
---
Bedrooms
Coloredo, Lombardia, Italy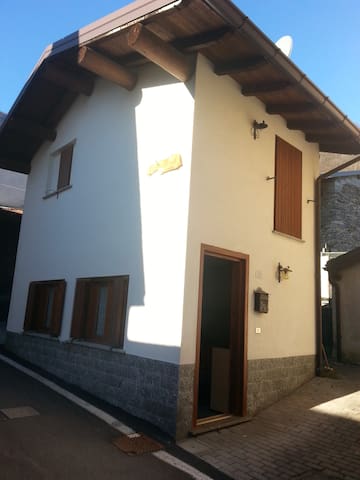 Along the historic path of the Spluga a few kilometers from the ski resort of Madesimo (SO), a delicious "hole" where you can rest and relax, surrounded by nature and tranquility ... a hospitable smile are at home; an exclusive atmosphere to tell
My B & B is small, but comfortable and (URL HIDDEN) bathroom is made from a small winery and it seems a cave. In the summer the room remains pleasantly fresca.L'uso single of the master bedroom has a cost of 65 euro per night.
The "Pertugio is located in a small village in the mountains, bordered by a river, it is a relaxing place in which are located a very old churches and a sanctuary. You can also find a grocery store, the post office. Chiavenna, a delicious town full of restaurants, etc., is very close
Chiara was friendly and welcoming. The room is amazing and unique. Well designed and well equipped! We enjoyed our stay! Thank you Chiara!
Gal
2016-01-27T00:00:00Z
Was an short but nice stay at Chiara's place. Her room has everything you will need to relax and recovery your battery in the mountains. Special bathroom, but equiped with all you need. With Chiara's Breakfast. You will have a perfect start in the new day. Thanks for all.
Eliezer
2016-08-03T00:00:00Z
Very nice place, great host. Very friendly and helping. Offering a lovely breakfast. The region and Chiavenna are breathtakingly beautiful. Definitely worth a visit. From Chiaras place (parking for free about 100m away) to Chiavenna its about 10min to drive.
Vivien
2016-07-05T00:00:00Z
Chiara was very friendly and the room was perfect with tasteful style. It is very comfortable for two people and a tremendous value to have a private flat and great breakfast just up the steps in Chiara's lovely home. This is an easy location to get to all the best alpine hiking and Italian food. Grazie!
Katherine
2015-09-10T00:00:00Z
Howesome little cocoon! Very nice decorated space. Chiara is a very good host, friendly, helpful and available. Enjoy this little paradise!!!
Christian
2016-03-23T00:00:00Z
We had a great stay at Chiara's place. She was very accommodating of our time to let us in early and super helpful with suggesting nearby hiking trails and restaurants. The place was very nicely decorated, spotless and looked very new. In the morning she prepared the best breakfast - cereal, yogurt, cold meats, cheese, pastry, fruit, juice, and a variety of hot drinks. Highly recommend!
Ekaterina
2015-07-12T00:00:00Z
Alloggio curato, pulito e confortevole. Ottima colazione. Chiara è disponibile e accogliente.
Francesca
2016-12-29T00:00:00Z
Il Pertugio è una coccola immersa tra le montagne. L'arredamento è scelto con cura e denota il buongusto di Chiara. Tutti i confort sono presenti. Il bagno è stupendo ed il letto comodissimo. Chiara è stata un host perfetto, piena di attenzioni, che ci ha preparato una colazione ricchissima. Spero di avere occasione di ritornarci presto
Giulia
2016-03-07T00:00:00Z
Room Type
Private room
---
Property Type
House
---
Accommodates
2
---
Bedrooms
San Giacomo Filippo, Lombardia, Italy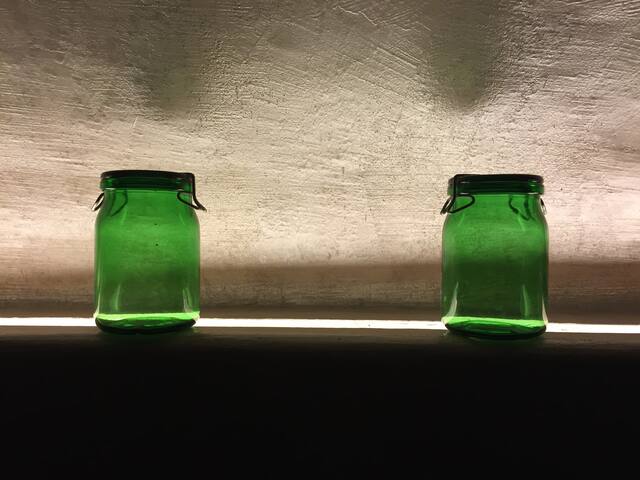 Immerse yourself in the deep of Ticino nature. 5 minutes away from one of the many mountain trials of our gorgeous mountains. 3 minutes from bus stop and 10 foot minutes away from bar and shops.
Room on the lower floor of Enrico's home so he was flexible about arrival time. Arrived an hour early due to issues with international texting. Because I was early he hadn't fully made up the room, but all it took was 2 minutes to put freshly cleaned covers on the couch cushions...was nice to see that he washed them actually. Bed and bathroom were comfy and clean and overall a nice relaxing stay.
Tom
2016-10-09T00:00:00Z
Very friendly and warm welcome. Nice play to stay!
Margot
2016-07-30T00:00:00Z
Welcoming and friendly
Joseph
2016-08-04T00:00:00Z
Enrico was very friendly and welcoming. He's a programmer for video games and we would have loved to speak with him more about his work. Alas, we were quite busy with the film festival, and didn't get a chance. The listing is around 30 minutes from Locarno (where we were) by car. It's a quiet neighbourhood, safe. The listing is better for younger people (only a pull-out or bunk beds). Enrico was very accommodating, enabling us to wash all of our laundry after our long hiking trip!
anjali
2016-08-08T00:00:00Z
Room Type
Private room
---
Property Type
House
---
Accommodates
2
---
Bedrooms
Gorduno, Ticino, Switzerland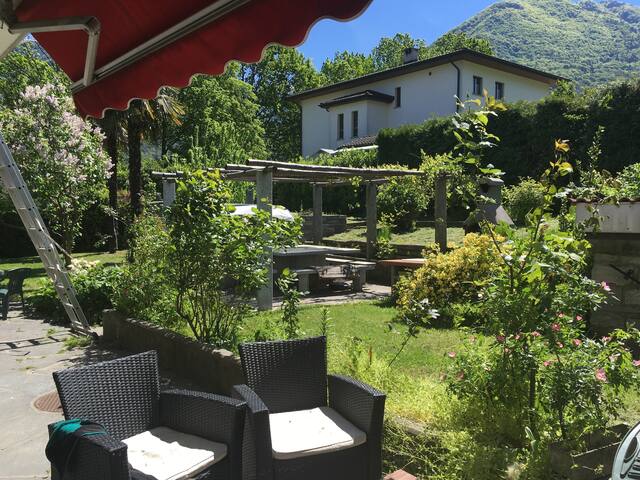 Vicinissimo al centro, situato in una privata corte signorile, la nostra struttura è arredata ed accessoriata in modo da rendere confortevole e rilassante la vostra permanenza a Chiavenna. Riservatezza, cordialità, gentilezza, tranquillità, rispetto del silenzio sono i valori su cui puntiamo per rendere il vostro soggiorno il più piacevole possibile.
La nostra Struttura, della metratura complessiva di 70 mq è suddivisa in cucina abitabile, camera da letto matrimoniale, camera chalet con camino con letto matrimoniale e letto a castello; bagno e ampio ingresso porticato. L'arredamento dallo stile sobrio ma allo stesso tempo ricercato è accompagnato da accessori estremamente funzionali, pratici ed indispensabili per creare il confort che cercate. Accessori: il posto auto o moto privato vi lascerà liberi di passeggiare per il centro città senza perdere tempo alla ricerca di parcheggio. A richiesta, saranno inoltre a vostra disposizione 2 Mountain Bike che potranno accompagnarvi lungo i sentieri e le piste ciclabili delle nostre valli. Servizi / Accessori -forno microonde -TV -macchina caffè -Stereo -frigobar -Lettore DVD -lavatrice -Internet WiFi Gratuita -Campo Pallavolo -Mountain Bike
Marco's sister, Sara, helped us get settled. They had 2 apartments and we ended up taking the smaller one as there were only 2 of us and it was more updated. It was very clean and nice. As another reviewer mentioned, you had to watch out for the neighborhood cats getting in, though they were friendly. We initially had problems with the internet, which I needed for work while I was there, but Sara and her father worked on it and made sure it was working for us. It worked great after that. The location was really nice - a quite neighborhood but only a short walk into the city center to restaurants and shops. The kitchen was well supplied - one of the better ones we've had with Airbnb. The bathroom was clean and modern which was nice.
Ed
2014-09-25T00:00:00Z
I think I should start from the owners. They were just perfect!!! Marco and his family did everything to make our vacations as good as they could. I asked million (I guess sometimes stupid) questions and Marco replied to all of them without delay, when he was busy his sisters helped. Regarding the apartment (ground floor of the house) I am still in doubts what to say: was it good or perfect. There were few things that made me raise this question in my mind. It was slightly smaller than I expected and as we were with a kid there was not enough space for a kid to play. However, we had enough space to sleep, so it is not a problem if you are travelling without kids. Another minor thing was inability to ventilate all rooms without getting cats inside the apartment through the open windows :) but they were clean and nice:) So, if the question is did I like our stay here and would I recommend it to a friend, the answer would be "Yes!". Especially if you are travelling without kids, then it's triple "yes" :) Concerning the location. We were by cars (and there was enough space to park them), it was taking around 20-25 minutes to reach Campodolchino. The city center with nice restaurants was within walking distance (10-12 minutes), so we didn't use cars it was close enough. If you have some specific questions, ask Marco he will tell you all the truth :)
Oleksii
2014-01-05T00:00:00Z
Good place
Bruce
2016-09-17T00:00:00Z
Marco hat auf die Buchungsanfrage sehr schnell geantwortet und seine Eltern waren sehr nett. Das Appartement war für die eine Übernachtung in Ordnung. Der Weg in die Ortschaft hat sich am Abend wirklich gelohnt. Wir waren nur auf der Durchreise, aber die Innenstadt am Fluss hat uns gut gefallen!
Kathrin
2016-05-27T00:00:00Z
Room Type
Entire home/apt
---
Property Type
House
---
Accommodates
8
---
Bedrooms
Chiavenna, Lombardy, Italy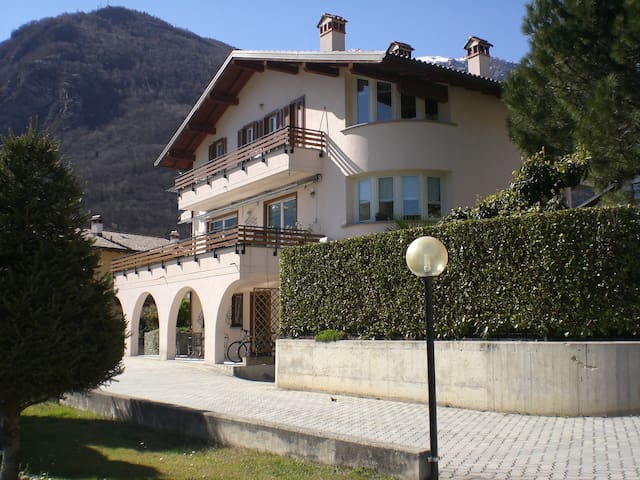 Casa indipendente con giardino 4 posti letto + 2 aggiungibili, 2 camere e soggiorno. Posizione centrale ma lontano da traffico e rumori.
Le foto rispecchiano esattamente l'ambiente e la casa è davvero accogliente molto pulita e fornita di tutto il necessario, e in più, è a pochi passi dal centro sportivo. Questa è una sistemazione ideale per un soggiorno di qualsiasi durata. Vivamente consigliato!
Giovanni
2016-08-27T00:00:00Z
La mia esperienza presso la casa della Sig. Egle e suo marito è stata ottima. Io ho soggiornato solo e gran parte del tempo ero fuori per gite con altri amici, ma l'impressione è che anche per una famiglia e\o un tipo di vacanza più tranquilla e meno "sedentaria" si tratti di un'eccelente opportunità. La casa si trova in una zona vicinissima al centro e ai principali negozi ma è allo stesso tempo defilata in una posizione molto tranquilla e silenziosa; è spaziosa ed essendo disposta su 2 piani permette anche una buona separazione fra zona giorno e zona notte. E' annesso pure un piccolo giardino che offre un ulteriore possibilità di relax. La Sig.ra Egle e suo marito sono stati gentilissimi, disponibili e allo stesso tempo molto discreti ed io mi sono trovato benissimo presso di loro. Spero di poter usufruire ancora della loro ospitalità in futuro.
PAOLO
2016-08-10T00:00:00Z
Bellissima vacanza !!! Grazie ad Egle e Giacomo che ci hanno fatto sentire come a casa
lara
2015-07-31T00:00:00Z
La Signora Egle si è dimostrata molto accogliente, premurosa e simpatica. La casa è in linea con la descrizione dell'annunccio, anch'essa calda e accogliente. Ottima posizione
Fabrizio
2015-08-13T00:00:00Z
Room Type
Entire home/apt
---
Property Type
House
---
Accommodates
4
---
Bedrooms
Campodolcino, Lombardia, Italy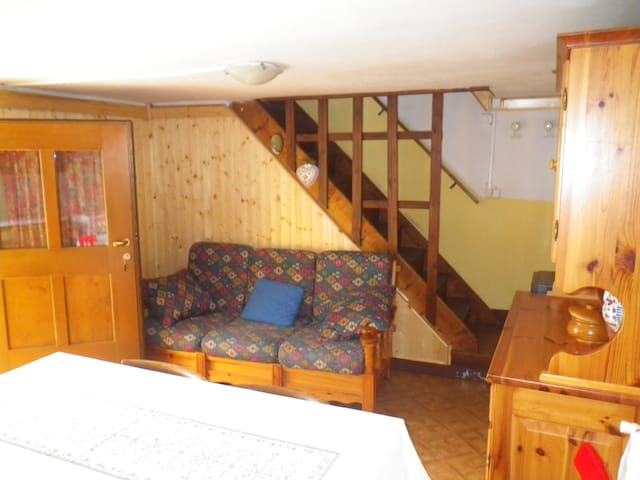 Secluded in a large garden is our house: an old renovated house, a stone's throw from the center. A large bedroom with balcony and independent exit to feel at home and self at the same time.
Ruhige Wohngegend, abseits vom Verkehr, aber nur einen kurzen Spaziergang von der Altstadt und dem bycicle Spur, die entlang der Wiesen verläuft und der Fluss Liro
Room Type
Private room
---
Property Type
House
---
Accommodates
3
---
Bedrooms
Chiavenna, Lombardia, Italy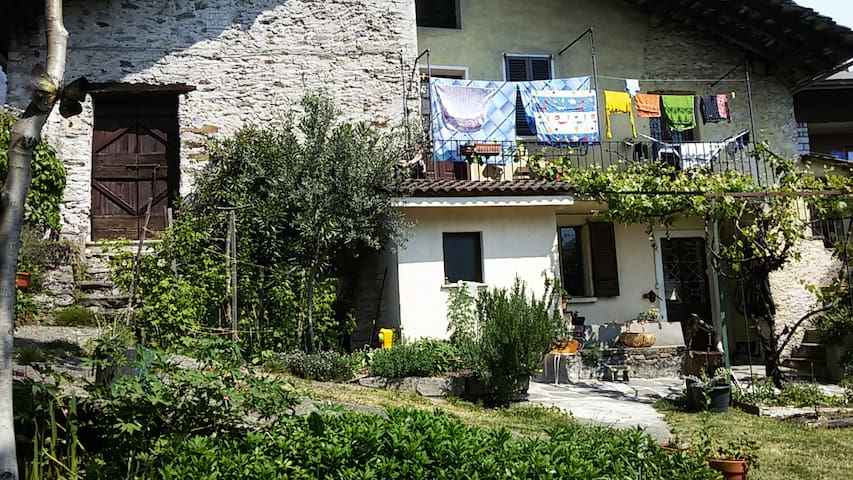 Casa dell'Ava a lovely three-bedroom holiday home on the Swiss-Italian border, halfway between Lake Como and St. Moritz. The house itself is about 300 years old and is perched on a sunny hillside with a splendid view over the mountains and offers an unbeatable location for mountain holidays, whether you want to walk, ski or just relax. Sunday Times - Top 100 villas in Europe 2010 "Sublime... dazzling peaks, fresh air, woodsmoke..." Alastair Sawday "Alpine Dolce Vita" - The Daily Mail
Room Type
Entire home/apt
---
Property Type
House
---
Accommodates
1
---
Bedrooms
Chiavenna, Lombardia, Italy
Il mio alloggio è vicino a splendide viste panoramiche, ristoranti e attività per la famiglia. Ti piacerà il mio alloggio per questi motivi: l'atmosfera, gli spazi esterni e la luce. Il mio alloggio è adatto a coppie, avventurieri solitari e famiglie (con massimo due bambini).
Room Type
Entire home/apt
---
Property Type
House
---
Accommodates
4
---
Bedrooms
Campodolcino, Lombardia, Italy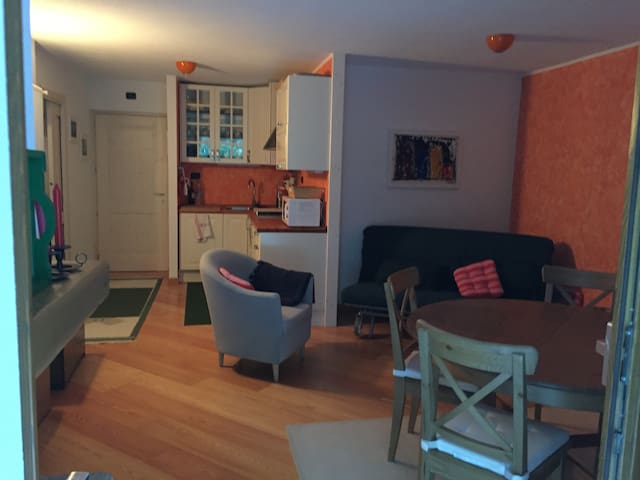 In a green little village 10km from Bellinzona. Look YouTube: relaxing week-end in Bellinzona !
7.12.2015 house will appears not available .... If you like the house hurry to book Luxury modern villa on 2 livel GROUND FLOOR leaving room (50mq) with open firespace, 3 sofà, tv, table, wc, bathroom with shower, modern kitchen with a table 4 persons Large glassdoor to a covered patio. Access to the garden. Small leaving room with tv and sofà-bed. Laundry, WC. 1FLOOR 3 double bed , Bath with shower and bad. One of the bed room has a terrace. All rooms with tv Big garden (1000mq) with swimming pool Garage for 2 cars, alarm system I live in the house all year and I need a minimum notice of 15 days to prepare In case I not have reservations till 7.12.2015 house will appears not available .... If you like the house hurry to book
Location in Preonzo. Surroundet by green and silence.Big garden.Very quiet neighborhood and total privacy. you are soon to Bellinzona, Locarno or Lugano by car (20 min) or train. Bus stop in 3 min
La casa está perfectamente equipada. Es muy confortable. Patrizia está siempre dispuesta a ayudar en todo lo que necesites. Nos dio información sobre excursiones y lugares donde poder comprar las cosas que íbamos a no cesitar. Es muy simpática y atenta. La casa responde a las fotos del perfil, es muy luminosa, con muy buenas vistas. Está muy bien situada para hacer visitas a los alrededores. Nos hemos sentido como en nuestra casa.
Angeles
2015-01-04T00:00:00Z
Room Type
Entire home/apt
---
Property Type
House
---
Accommodates
7
---
Bedrooms
Preonzo, Ticino, Switzerland
Double bedroom and adjoining room with bunk beds and additional pull-out bed, total for 4-5 people, has mini kitchen for breakfast, private bathroom, bathroom towels - large balcony with mountain views .WIFI -
New Double room very cozy with details chalet style, ideal for family with children, communicating in a bedroom bunk bed with extra pull-out bed, has a kitchenette for breakfast only, with fridge, included in the price, all products of first need for breakfast (milk, coffee, tea, honey, yogurt .. etc..). round table with chairs, a wonderful view towards the mountain, with large wooden balcony in the summer to use as a solarium, equipped with bathroom with large shower, toilets, bidets, bath sponge, bath robe, hair-dryer available for guests. We are located in a quiet area, near the lake of Prestone, in summer ideal for walking, hiking, fishing, winter 500.m In the nordic ski trails and 2 km from the modern funicular "skyespess ValChiavenna" for the ski in Campodolcino Madesimo. Shuttle Bus Service to 10 m.
Prestone a Campodolcino è un Piccolo villaggio di montagna lungo la statale 36 vicinissimi al Passo dello Spluga e ad altri 39 km dal Passo del Maloja ; l'attrazione primaria è la natura circostante,il fiume, il piccolo lago; Prestone è ai piedi di una montagna chiamata Sponda bella, nella catena montana delle Lepontine ,numerosi gli itinerari (URL HIDDEN) neve spesso passa da qui permettendo belle sciate nella pista di sci nordico ,la moderna funicolare invece porta all'Alpe Motta e da li giù per le discese verso Madesimo o verso L'Alpe Groppera ....
Beautiful spacious appartment in an excellent condition + very friendly host + delicious breakfast. Fully recommendable!!
Max
2014-04-21T00:00:00Z
Un très bon accueil. La maison sent "le bois". Les pièces sont propres et accueillantes. Le petit déjeuner est copieux. Marina est très disponible. Merci !
Marie
2013-07-15T00:00:00Z
Room Type
Private room
---
Property Type
House
---
Accommodates
5
---
Bedrooms
Prestone, Lombardia, Italy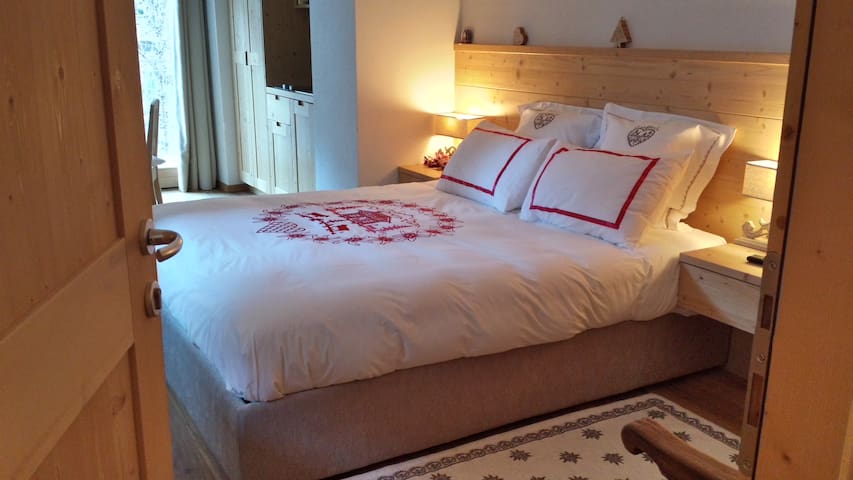 Rustico with new kitchen and bathroom close to a wonderful waterfall. it is close to Chiavenna, lake of Como, St Moritz and Madesimo. Restaurants, Bars, Groceries are all close by and offers fantastic Italian food. you can go hiking in the woods the mountains or just close the river. the house has 2 bethrooms a living room with a kitchen where you can prepare food. there is a new kitchen and bathroom with a shower. outside you have a garden.
Room Type
Entire home/apt
---
Property Type
House
---
Accommodates
4
---
Bedrooms
Borgonuovo, Lombardia, Italy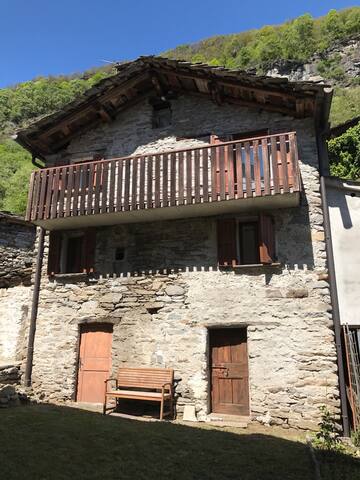 Beautiful home, wooden furniture of top quality Three bed rooms - two double bed rooms, one room with 4beds Two bathrooms with tub Washing machine, drying machine, wireless, cable TV Complete kitchen with oven and fully equipment Wide living room with stone fireplace, wide bed sofa for two, wooden dinner table
The house is very confortable, everything you need is there you will have wooden outside furniture to have lunch in the terrace
Campodolcino is a small city at 1071 m. above sea level. It is in the middle of the Val Chiavenna, on the way to go to the Splugen Pass to get to Swiss. In the city you can find every shop, bank, and service you need
Room Type
Entire home/apt
---
Property Type
House
---
Accommodates
10
---
Bedrooms
Campodolcino, Lombardia, Italy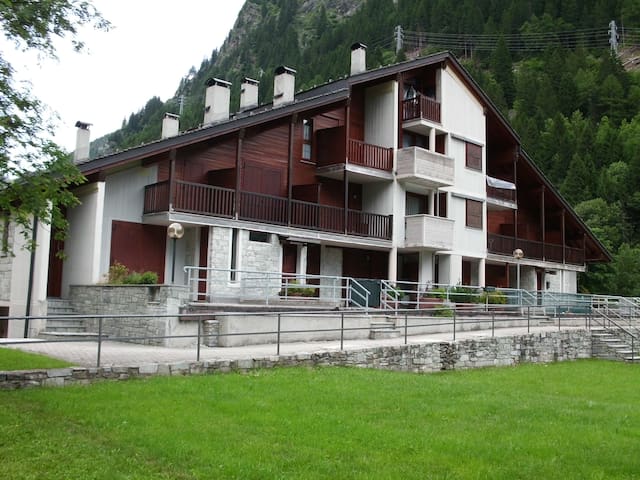 Attractive apartment with views of the typical Fraciscio village surrounded by the Alps. Ideal for those who want to relax and feel surrounded by nature. Cozy house on two floors, furnished with rustic wooden furniture and large living room with kitchen, two bathrooms, two bedrooms with dormer. Parking outside and inside including boxes.
well maintained apartment with spacious kitchen and large dining table with stove and terrace. Kitchen with appliances and dishwasher. On the first floor entrance of the room is a small bathroom. A wooden staircase leads to the lower level with the top where there are two large rooms with wooden dormer window and wardrobe, a large bathroom (with washing machine).
Fraciscio ist eine kleine Sammlung auf 1300 Meter über dem Meeresspiegel im Gebiet von Campodolcino. Auf dem rechten Ufer, hat dieses alpine Kern viele Möglichkeiten, diese Elemente erhalten, die sie in den Augen derer, speziell zu machen für eine intime und authentische Orte des Berges suchen. Für diejenigen, die gerne Ski fahren Sie mit dem Auto ein paar Kilometer fahren kann, die es von Campodolcino wo ein Teil der unterirdischen Standseilbahn in wenigen Minuten wirft Sport im Herzen der Skiarea Bereich trennen. (Hidden URL)
Its a beautiful natural flat. All high quality wood furniture. Natural high graded wooden and stone floor. Awesome view towards the mountains. Isottas cousin was even very helpful, when we got a problem with our car, thank you. Nice conversation with Isotta. Highly recommandable place.
Jörg
2017-02-15T00:00:00Z
Bellissima la posizione che domina il paese. Casa grande, pulita e accogliente. Cortesi e disponibili i proprietari.
Livia
2017-03-04T00:00:00Z
Room Type
Entire home/apt
---
Property Type
House
---
Accommodates
4
---
Bedrooms
Fraciscio, Lombardia, Italy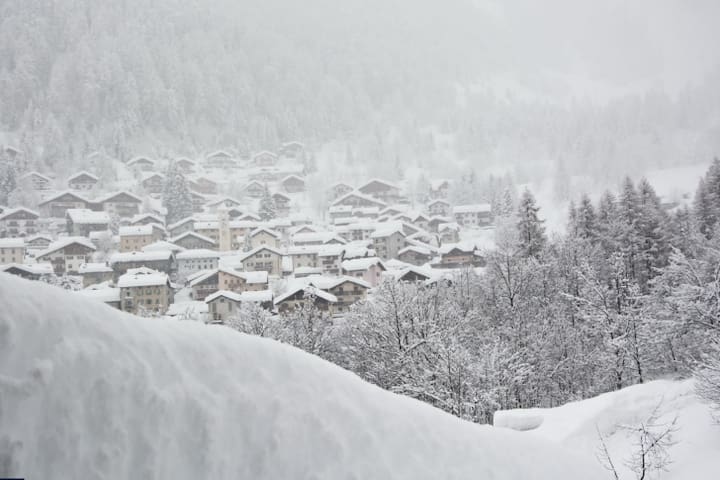 1

–

18

of

166 Home Rentals
Enter dates to see the total trip price including additional fees (but excluding any taxes).