Casa Margarita located in El Salto offers holidaymakers a peaceful and private self catering holiday, it includes a private heated pool, Gardens and wonderful Views of El Medano coastline and the Mountains, the Villa also boasts games room with BBQ and an internal Kitchen for night time enertainment.
Casa Margarita in a local Canarian village offers all the Charm of Canarian village life whilst being only 10 minutes from Beaches, restaurants and the wonderful inner Canarian countryside
We had a great time in Villa Margarita. The house is amazing and full equipped, towels for all of us (10), climatized swimming pool. Very near the south airport. We really enjoy it. Thank you!!!
Maite Puig
2016-05-18T00:00:00Z
Micheal was very fast answering when we had questions. He gave us all we needed, from maps to cribs. A very calm and nice place to stay, with a lot of space (indoor and outdoor) for 6 adults and two kids! A boring and quiet nabourhood, but with a car isn`t this a problem.
Guro
2016-11-20T00:00:00Z
We had an amazing week in Casa Margarita! Michael, the host, was really nice. And the location of the house is really good to discover the island. We will definitely come back!
Mona
2016-03-13T00:00:00Z
The villa is very spacious and nice, the hosts very friendly and the island marvelous. We spent 2 weeks of high quality training with the villa as our homebase and everything worked out fine
Simon
2017-01-21T00:00:00Z
De villa van Michael is erg mooi en compleet. We werden goed ontvangen. De bedden zijn iets hard maar na een nacht slapen ze toch prima! Keuken met alles er op en er aan.
Yolanda
2017-02-28T00:00:00Z
Michael war genau der Gastgeber, wie er bisher beschrieben worden ist: top. Wenn nötig, verfügbar, ansonsten schnelle Antworten per Airbnb. Die Unterkunft selbst war (fast) wie erwartet. Eine schöne spanische Villa, mit beheiztem Pool und sehr kinderfreundlich (trotz Pool) - der ist so gelegen, dass selbt Kleinkinder sich kaum dorthin verirren... ...eine Sache sollte erwähnt werden. Heizungen im deutschen Stil sind auf Teneriffa normalerweise nicht notwendig. Kühlung steht im Vordergrund - entsprechend standen uns 3 elektr. Heizer zur Verfügung. Man musste nicht zwingend frieren, wer aber schnell friert, sollte einen Pulli extra für den Winter mit bringen. Von dem "Makel" mal abgesehen, können wir die Casa problemfrei weiter empfehlen.
Alexander
2016-03-05T00:00:00Z
Très belle villa située au calme. Très bon accueil. Tout à été fait pour passer un agréable séjour.
Eric
2015-10-29T00:00:00Z
Room Type
Entire home/apt
---
Property Type
Villa
---
Accommodates
10
---
Bedrooms
El Salto, Canarias, Spain
Attractions: The airport is 5 km away, Playa del médano and Christians about 22km .. You'll love my place because of the cozy space. My accommodation is good for couples, families (with children), and large groups.
We had a fantastic time at the villa, very close to the airport and not far from main attractions by bus or hire car. Thank you
Helen
2017-03-31T00:00:00Z
We had an amazing vacation, and mostly because of the house. With the 3 terrasses, nice pool, view at the ocean and the mountains,.. nothing could go wrong. But also the house itself was perfect. A totally equiped kitchen, a badroom for each bedroom and a nice salon. A perfect accomodation for a nice holiday with some friends.
Lotte
2016-11-25T00:00:00Z
Es war ein wunderschöner Aufenthalt. Gerne besuchen wir das schöne Haus mit Pool noch mal.
Sarah
2017-03-21T00:00:00Z
Room Type
Entire home/apt
---
Property Type
Villa
---
Accommodates
9
---
Bedrooms
Granadilla, Canarias, Spain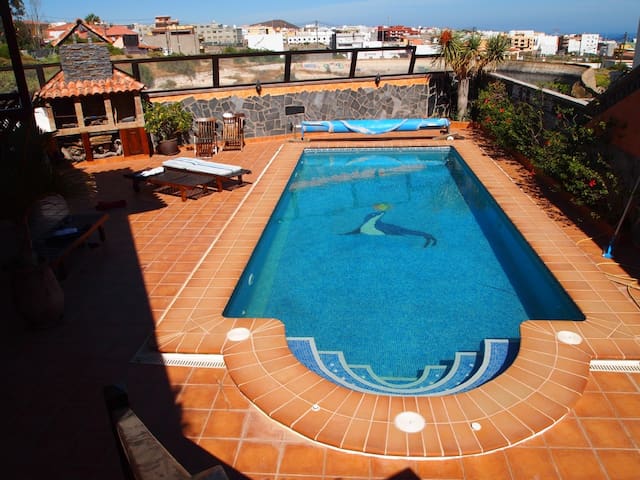 3 bedrooms, 2 bathrooms, 5 min. from the famous Medano beach and 5 min. from the South Airport, small garden, BBQ
It is an excellent place to closely discover Tenerife away from the mass tourism experience. The house has 3 bedrooms, 2 bathrooms, a small garden and BBQ. The best two words to describe it are: genuine and cosy.
The house is in a typical Canarian small town, lively during the day, quiet during the night. In walking distance you will find bus stops, taxis, local coffee shops, bars and restaurants, supermarkets, various local shops (bigger and smaller) and a local market with fresh fruits, vegetables and dairy products from small producers in the area.
Room Type
Entire home/apt
---
Property Type
Villa
---
Accommodates
10
---
Bedrooms
San Isidro, Canarias, Spain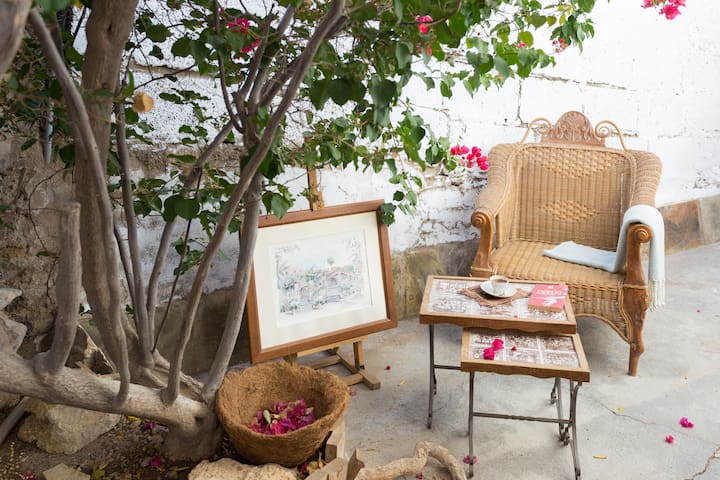 Casa Esmeralda has four bedrooms, one with two separate beds , two bathrooms with toilet, baby bed, total equipped kitchen, washing machine and dryer. Wifi. Satellite tv. Roof terrace. Near el Medano, with the largest natural sand beach.
Casa Esmeralda is een ruime villa met een geweldig uitzicht, met veel privacy, ligt in een buitenwijk van San Isidro, een klein stadje in het Zuid-Tenerife. Dicht bij het vliegveld, maar zonder de hinder daarvan! We hebben 4 slaapkamers, 2 badkamers, woonkamer, keuken, zitruimte, eetruimte, gratis wifi, patio tuin en een dakterras.
Rustige buitenwijk, maar evengoed dichtbij alle gemakken zoals supermarkten, winkels, bars en lokale restaurants.
Briefly said i can strongly recommend staying in la Casa Esmeralda. It is located on the outskirts of San Isidro, a bustling town, that has shops and restaurants of every kind but is not a touristic place. The house itself is remotely set overlooking the town and the coastal line around Montana Roja. A simply splendid view from the dining place and the giant rooftop terrace i just could not get enough of. The house is fully equipped with everything you could want (2 baby beds and 2 baby seats, wifi, tv, small sound system, gas cooker, microwave, oven, 2 coffee-machines, blender, laundry and clothes-dryer, hair-dryer, beach towels, tools, maps, books...) It has four similar sized bed rooms, two of them with a loggia/balcony, all neat and clean. Not to forget two bathrooms, which came handy for us beeing 8 adults... The house with its small garden, rooftop terrace, 2 balconies and different inside sitting options was perfect for us. Enough space to all be together if we wanted and enough options for everyone to retreat. The communication with Edith was very kind and reliable. The local staff was nice and responsive to our needs. We would definitely stay there again if we would come to Tenerife as a group from 4-8 adults. Muchas gracias!!!
Sebastian
2017-04-01T00:00:00Z
Room Type
Entire home/apt
---
Property Type
Villa
---
Accommodates
8
---
Bedrooms
San Isidro, Canarias, Spain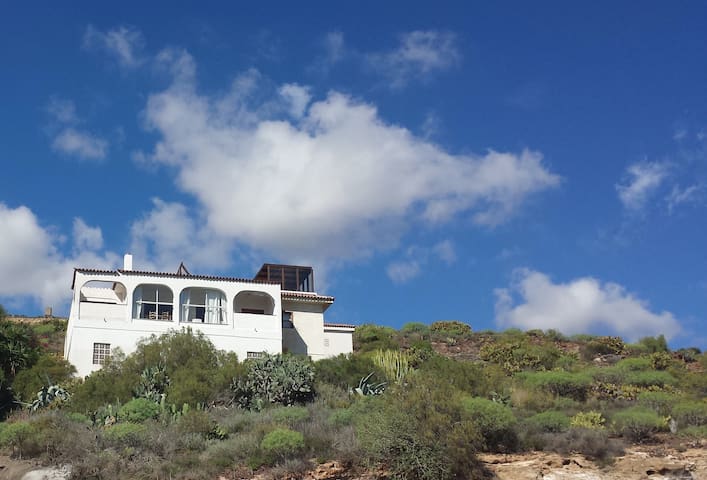 Mi alojamiento es bueno para parejas, aventureros, familias (con hijos), y grupos de 6 personas en exclusiva. En el municipio de Granadilla de Abona,al Sur de la isla de Tenerife,a 30 minutos del aeropuerto Reina Sofía, se encuentra "ALTOS CRUZ DE TEA" Es una finca rústica con una extensión de 60.000 metros cuadrados, situada en medio de pinares a 1.200 m. de altitud. ALTOS CRUZ DE TEA, está compuesta por Tres casitas de arquitectura tradicional canaria, con más de 150 años de antigüedad.
ALTOS CRUZ DE TEA consta de tres alojamientos independientes totalmente equipados y con amplias zonas comunes. Se alquila la finca al completo y en exclusiva. Con vistas al Mar y a la montaña, y totalmente independiente de vecinos. Cada casita consta de dos plantas, con sus suelos y techos de madera. Arriba un dormitorio doble abuhardillado con zona de escritorio y lectura, abajo cocina, baño, salón con chimenea, calefacción y sofá . Las construcciones de las casas son de unos 300 metros cuadrados. Dos casas dan a un porche amueblado con mobiliario de madera, para disfrutar de las espectaculares vistas al mar y a la montaña, rodeados de barrancos de gran belleza paisajística. Y por la noche, dejarnos embriagar por la inmensidad del cielo estrellado. Como estamos a 1200m. de altitud la visión de La Luna y Estrellas es limpia y maravillosa. Granadilla de Abona es pionera en España como destino turístico astronómico y es el Primer municipio del mundo en obtener la certificación Starlight. Nuestro municipio alberga uno de los mejores enclaves del mundo para la observación de los cielos nocturnos, unido a una relevante historia sobre los inicios de la astronomía de alta montaña. Los destinos Starlight, que están apadrinados por organizaciones tan relevantes como la UNESCO, se definen como lugares de gran interés para la contemplación del cielo diurno y nocturno, como parte esencial de la naturaleza. La certificación Starlight pretende aunar y dar a conocer valores científicos, culturales, naturales y paisajísticos asociados al mismo. En los alrededores se pueden dar bellos paseos y practicar distintas actividades en la naturaleza, así como visitar numerosos parajes entre los que destaca el Parque Nacional del Teide. A tan sólo 30 minutos de la finca se encuentra El Médano y Los Abrigos, antiguos pueblos marineros que cuentan con las mejores playas naturales de la isla y ofrecen la posibilidad de practicar deportes náuticos así como degustar una variada oferta gastronómica. Las casas tienen chimenea y calefacción central. ALTOS CRUZ DE TEA es un lugar mágico, rozando la corona forestal. A 1200m de altitud, desde donde se vé el mar. Estás a 15 minutos del pueblo, a 30 del Medano (con bastantes comercios) y a 80 de Santa Cruz capital, vives aislado de la contaminación pero cerca de los lugares que desees visitar en tus vacaciones en Tenerife. También comentar, que el agua de consumo proviene de una galería y es de buena calidad, así mismo la electricidad es generada por paneles solares. Es un lujo pasar tus vacaciones en ALTOS CRUZ DE TEA .
Cruz de Tea es una de las entidades de población que conforman el municipio de Granadilla de Abona, en la isla de Tenerife —Canarias, España—. El núcleo surge en torno al camino real de Chasna, que pasa por la zona y comunicaba Granadilla con Vilaflor y la cumbre, apareciendo ya con cierta entidad a mediados del siglo XIX. A 30 minutos de ALTOS CRUZ DE TEA , se encuentra Granadilla , dónde podrás realizar diferentes Actividades Acuáticas: - Kayaks, - Pesca, - Vela, - Rafting, - Windsurf, -Buceo, -Submarinismo, Actividades terrestres en los alrededores de ALTOS CRUZ DE TEA: -Senderismo - Trekking, - Rutas a Caballo, - Multiaventura, - Bicicleta de montaña - BTT. - Vistas panorámicas de la isla. - Largos paseos y visitas por el Parque Natural de la Corona Forestal y la Reserva Natural Especial de la Montaña Roja. - Descensos de Barrancos. Lugares de interés Además, hay muchos lugares de interés que entroncan con la historia y la naturaleza de la zona: • Monumento Natural de Los Derriscaderos • Monumento Natural de las Montañas de Ifara y Los Riscos • Monumento Natural de Montaña Pelada • Monumento Natural de Montaña Colorada. • Visita al parque temático Frontos. Dedicado a la cultura del vino y una bodega con denominación de origen. • Casco Histórico de Granadilla de Abona. Donde destacan la plaza González Mena, el antiguo Convento Franciscano de San Luis y Ayuntamiento y la calle Arquitecto Marrero. • Museo de la Historia de Granadilla de Abona. • Cueva del Santo Hermano Pedro. • Numerosas ermitas. Destacan por su antigüedad. Construidas en el siglo XVII: la antigua de Chiñama y la del Pino en Charco del Pino, la de Santa Lucía, la de Las Vegas, y la de San Isidro Labrador (Bien de Interés Cultural). Y las construidas en el siglo XIX: la de El Calvario y la de El Médano.
Room Type
Entire home/apt
---
Property Type
Villa
---
Accommodates
6
---
Bedrooms
Granadilla de Abona, Tenerife. Islas Canarias, Spain
SPECIAL PRICE FOR MAY 2017!!! Modern cosy villa on the coast of Medano a few min walk to the nearest beach, comprising one double bedroom with king size double bed, one with 3 single beds (one set of bunk beds and an extra single bed), the master with a large terrace facing the ocean, shower room, lounge/dining area, wifi, satellite tv, second large terrace with eating area, chill out area, private heated pool and fully equipped kitchen. There is a 3rd bedroom at garage level with a double bed.
1
Thanks for a wonderful stay at your house in El Medano. We loved every minute and would definitely come again. Fantastic terraces, pool and furniture. Great area, lovely restaurants and fantastic water sports.
Juliet
2017-02-12T00:00:00Z
Secluded villa well stocked with great secluded pool. El Meadano can be extremely windy and the windows and furniture outside can whistle and rattle but still a geat place to stay. Tania is great, speedy communication and was there at the agreed time. A GREAT HOLIDAY HOME IN A QUIET LOCATION ! We will be back !
douglas
2017-04-01T00:00:00Z
Tanias place is even better than the photos suggest. Very peaceful although there are many places to eat and drink nearby. I would highly recommend this property and would love to stay again.
matt
2017-03-29T00:00:00Z
Tania was an incredibly responsive and helpful host. The property was wonderful! One of the things the we really enjoyed was the privacy and residential location however I recommend hiring a car or getting taxi phone numbers from Tania. Thanks again to Tania!
Chanelle
2016-12-19T00:00:00Z
We loved our stay at Tania's villa in the cute little city El Medano south in Tenerife. Tania was a great host! The villa was clean and fully equiped both inside and out with all we needed for a great stay. The pool was the icing on the cake:) There's two things which can come as a surprise: The aircrafts is a little noisy while flying over the house, but that also means that the trip to/from the airport only takes 10 min. Great for early/late departure/arrivals. It's also quite windy, which is great for surfing, keeping bugs away and not overheating in the sun. We recommend Tania's villa and would gladly come back another time to enjoy everything yet again.
Peder Flesjø
2016-09-25T00:00:00Z
We had a great time at Tanjas. The house especially the kitchen has everything we could have wished for. We loved the pool and the jacuzzi. Tania was always there for us if we had questions. The vicinity to the airport was great and we the werent bothered by the airplanes.
Stephanie
2016-12-13T00:00:00Z
Accoglienza positiva ,casa tenuta bene ed esattamente come le foto.Zona isolata e molto ventosa che Nn permette di usufruire a pieno della terrazza
Domenico
2016-09-13T00:00:00Z
La casa es espaciosa, la piscina climatizada es una gozada. Nos han coincidido unos días algo ventosos pero hemos aprovechado lo que hemos podido también el jacuzzi. Para los niños es genial, tiene muchos juguetes y unos chalecos para la piscina que les han encantado. A Tania no la hemos podido conocer pero la comunicación con ella ha sido excelente. Las terrazas preciosas. Ha sido una pasada
Micael
2017-02-06T00:00:00Z
Room Type
Entire home/apt
---
Property Type
Villa
---
Accommodates
7
---
Bedrooms
Arenas del Mar, Canarias, Spain
Up to:5 persons. Private house with garden, pool and barbaque Casa Sofía is a rural accomodation very well located with all the services you will need only a few kilometers away. Casa rural Sofia has 98m2 built in a estate of 370 m2. Equipment : * 2 double bedrooms, one with double bed and other with two single beds. * Sofa-bed in salon * Kitchen/diner, fully-equipped with vitrocermaic, fridge, microwave, lounge with sat-TV, bathroom with shower, and washing machine. * Patio with garden furniture, BBQ and swimming pool 5 m long and 3 m wide and 1.50 m deep Location : The rural house Casa Sofia is fully equipped to offer the best comfort to you. It is located in a romantic and tranquil small village called Las Vegas in the south of Tenerife (Granadilla de Abona). It is surrounded by ravines and plenty of greenery and it is far from the busy touristic resorts of the south of Tenerife.
Very nice small rural house with tangerine trees in the tiny and remote village Las Vegas. If you're not keen on being disturbed in your holidays, this is a great spot. No wi-fi, no mobile reception (at least not Vodafone ES) and very calm. We stayed there for 10 days as a family of 5 and did not miss a thing. But it can't be stressed enough: you need a car! Without it, there is nothing, not even a shop or a bus(URL HIDDEN)minutes drive takes you to Chimiche, which has a very small Mini Mercado - which we only used for buying bread rolls for breakfast. A 15 minute drive takes you to San Isidro, which has everything you'd expect from a town: pharmacies, super markets,bars, restaurants, etc. The way to the southern beaches (El Medano, Playa Las Americas, Costa Adeje) varies from 20 - 25 minutes, but since there's hardly much traffic, this is no problem. We never spoke to Maria personally, but were let into the house by Mr. Jose Ramon, a very kind old man, who unfortunately didn't speak a single word German or English, but nonetheless didn't stop explaining everything over and over again until we finally got it ;) On mondays there's someone cleaning the house (whom we did not meet). Something that needs mentioning: Las Vegas is 650m above sea level, which means it is usually about 4-5 degrees colder than at sea level. That's why we usually opted to drive to the beach instead of using the pool much (which was freezing cold at 18 degrees centigrade tops). But since we stayed there in early march, this will most probably be different in summer. All in all we enjoyed our stay very much and will likely to be back some day.
Thomas
2014-03-17T00:00:00Z
Room Type
Entire home/apt
---
Property Type
Villa
---
Accommodates
5
---
Bedrooms
Granadilla, Santa Cruz de Tenerife, Spain
Our house is near the beach, family-friendly activities, airport and public transport. You'll love my place because of the outdoor space, the light, the people, the atmosphere and the neighborhood. My room is suitable for couples and families (with children).
Our house is 15 minutes from the airport, you can use public transportation or a taxi quickly and easily reach the house. You can rent a car at the airport. Autoreissen, Cicars are the best options here
Room Type
Entire home/apt
---
Property Type
Villa
---
Accommodates
6
---
Bedrooms
El Médano, Canarias, Spain
Villa Isabel is a wonderful country house canary. Eighteenth century. All built of stone and wood. Located in the historic center of one of the towns most peaceful and beautiful medium elevation, Arico. It will be very difficult for some noise interrupts your rest. It was restored by its current owner, a descendant of its original owner. It has all the modern conveniences without losing the charm of yesteryear. It has two large bedrooms. Two yards and three bathrooms. It has a terrace garden with fruit trees and wonderful views of the ravine. In the next street is a small grocery store where you can buy what is needed, and at the end of the street where Villa Isabel is a pretty little church with its tree-lined square and a great Tasca "La Pimienta", run by a lovely German couple where you can enjoy a beer and a great home cooked meal. There are different routes through the area for hiking and if you want to take a bath in the sea just take the car or bus to reach the village of Poris which is 10 minutes driving. In short ... the best place to forget the world and enjoy the silence ...
Villa Isabel is a wonderful country house canary. Eighteenth century. All built of stone and wood. Located in the historic center of one of the towns most peaceful and beautiful medium elevation, Arico. It will be very difficult for some noise interrupts your rest. It was restored by its current owner, a descendant of its original owner. It has all the modern conveniences without losing the charm of yesteryear. It has two large bedrooms. Two yards and three bathrooms. It has a terrace garden with fruit trees and wonderful views of the ravine. In the next street is a small grocery store where you can buy what is needed, and at the end of the street where Villa Isabel is a pretty little church with its tree-lined square and a great Tasca "La Pimienta", run by a lovely German couple where you can enjoy a beer and a great home cooked meal. There are different routes through the area for hiking and if you want to take a bath in the sea just take the car or bus to reach the village of Poris which is 10 minutes driving. In short ... the best place to forget the world and enjoy the silence ...
María's house was absolutely perfect for us. It is simply beautiful in it's old charming way. The neighborhood is very quiet, the only thing you hear is roosters and dogs barking in the morning and the people in this small beautiful village are very friendly. María made us feel very welcome and was extremely patient when our flight got delayed and she had to wait for us. She even had made us an omelete and some salad which was very much appreciated! The location was perfect and we enjoyed very much to drive around the island and visited many mountain villages. We found a perfect little beach in El Poris which was only ten minutes drive away. Our vacation was such a beautiful experience and in many ways thanks to Marías wonderful house and her hospitality! Very much recommended!
Hilda
2014-10-17T00:00:00Z
Maria and her husband were waiting for us to welcome us. Fruit and cava were ready so our holiday could start! The house is easy to find and very authentic and ful of charm. The view from the garden is superb, although for us is was a bit of a disappointment that there is no morning sun in the garden or on the terrace. In summer probably fine, but being there in January it would have been very nice.
Jos And Nancy
2016-01-16T00:00:00Z
Maria and Gilber were most wonderful. They cared so much about making us feel comfortable and have a good time. The house is really lovely. It has a very old, classical feel but it has most modern conveniences. It naturally keeps cool if you find yourself in the heat of summer. There is a lemon tree and a grapefruit tree and their fruit is delicious. The town is very small and quiet and would suit someone who wants to relax and avoid places like Los Cristianos. I would definitely recommend hiring a car if you stayed here. Just up the road is a very good bar and restaurant where we ate a number of memorable meals. They also do very good gin and tonics! I highly recommend staying at Villa Isobel and would happily return. Muy Bien.
Frank
2013-11-27T00:00:00Z
Nice house, in calm no tourist small village with a view on the ravine.House is heavily decorated but perfectly clean. Hosts are nice people.
nataliya
2016-11-08T00:00:00Z
We had a wonderful time at Villa Isabel. It's like living in a museum but with all the modern amenities. The house and village is beautiful. And the small tasca in the town square - now run by a carnation - is a great please to eat, drink and enjoy. Maria and her husband is great hostess with lots of smiles and generosity. Tenerife were great for many experiences with a baby. Eg. Anaga mountains and sailing in Los Gigantes. And the people loves small children!
Niels C.
2016-03-08T00:00:00Z
Very nice and beautiful house + view. Like you're entering a museum; the house is quite old (but still in a very good condition).
Bert
2016-10-25T00:00:00Z
We spent just over 2 weeks @ Villa Isabel. We were warmly greeted by Maria & Gilberto and shown round their delightful house. The description was wholly accurate though the photos do not really do the place justice. The village is very calm and tranquil - ideal for our requirement of peace and quiet. Maria was very helpful in trying to track down a friend on the island. Some excellent spots to visit in the hills and on the coast all within 15 mins drive. A car is essential though a very good café in the square and a small corner shop in the village are supplemented by good supermarket in Arico Viejo. A really lovely house in an idyllic setting - the perfect retreat!
Anthony
2016-02-19T00:00:00Z
This is was an absolutely amazing experience. The house is an old (18th century) lovingly restored building in a pretty little village. There is a wonderful backyard with lemon and grapefruit trees overlooking the mountains. Together with the perfectly equipped BBQ this made for some wonderful evenings grilling fish and enjoying a glass of wine. Our two young girls loved exploring the different rooms and the yard. When booking I was afraid that around Christmas it might get cold in the evenings. I shouldn't have feared. There are radiators all over the house which make the whole place very cosy at night. Maria and her partner waited for us on the evening of our arrival with a perfectly executed Spanish tortilla (potatoe-egg-omlette) and a bottle of Cava (spanish champagne), a great start to a relaxing week... Thank you Georg
Georg
2015-01-04T00:00:00Z
Room Type
Entire home/apt
---
Property Type
Villa
---
Accommodates
4
---
Bedrooms
Arico el Nuevo, Canary Islands, Spain
Villa María, casa típica del sur de Tenerife que  data de finales de XIX, situada en plena naturaleza rural, donde la tranquilidad y la paz emanan por cada rincón. La distribución de sus habitaciones y demás dependencias rodean a
It is a lovely place, perfect for family holidays, hikers and bike riders. You are living there like a local.
Ina
2017-01-15T00:00:00Z
Room Type
Entire home/apt
---
Property Type
Villa
---
Accommodates
8
---
Bedrooms
abona, Canarias, Spain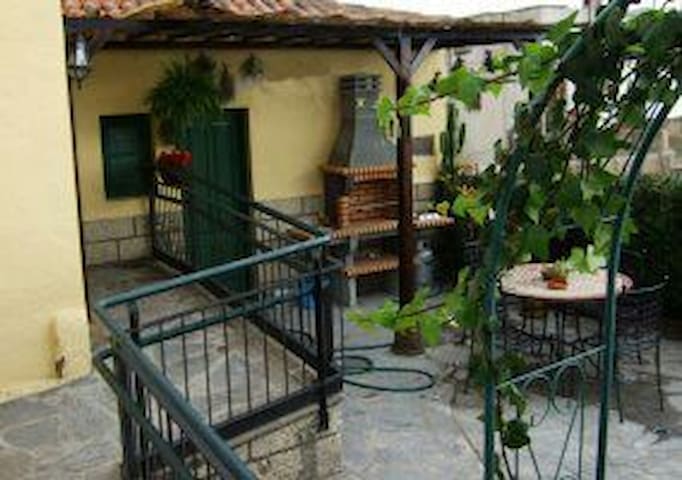 Beautiful 2 storey villa located 200 meters from the beach and 15 minutes walk from the fishing village of El Medano. They offer free Wi-Fi, a garden and a terrace with sea views and private pool.
Room Type
Entire home/apt
---
Property Type
Villa
---
Accommodates
6
---
Bedrooms
Arenas del Mar, Canarias, Spain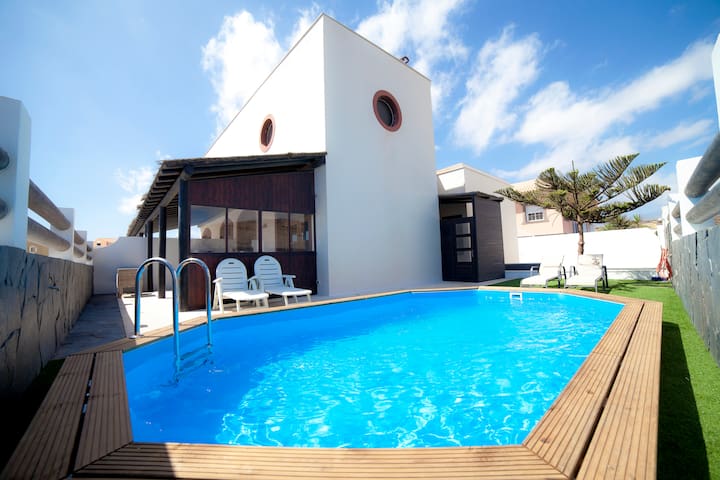 Beautiful Villa with a covered pool surrounded by spectacular views of mountains,forests and the sea. The house is extremely private/tranquil sitting on a promontory within 8000 square meters of its own forest. With easy access to the whole island, north and south, there are several beaches within 15 to 25 minutes comfortable driving on local roads with some spectacular views around the island of Tenerife. There also happens to be some interesting walking routes through the village and forests.
There are three comfortable bedrooms, two with double beds on the ground floor and a separate twin bedded room on the first floor which has a shower/ toilet en suite. There is a large bright lounge equipped with log fire, central heating and air conditioning, the ground floor benefits from underfloor heating throughout each room. Television and disc players in the lounge, there is also free internet throughout the house so bring a laptop with you. The ground floor has two bathrooms, a Jacuzzi equipped Bathroom with toilet and bidet and another independent bathroom with power jet shower and toilet. The accommodation is for six guests but we can accommodate more people by special arrangement.T
Vilaflor, is a very pretty little village famous for its Papas Negras ( black potatoes ) Beautiful wine and its altitude. Some of the best scenery on the island is on our doorstep, amazing volcanic peaks (Mt Teide) and lava flows,Thousands of hectares of protected forests and national parks nearby, there are hundreds of Kilometers of impressive mapped walks around the mountains and forests. The many beach's in the south of the island are only 15 to 20 minutes away depending on which road you prefer, (there are several options) I will explain them all to you.
We spent a very nice week at the villa with our babygirl. Frank prepared everything needed and even more! We loved the villa surrounded by a peaceful pine forest. Bruce was always on hand to answer any questions or any request. We greatly recommend. Thank you Bruce!
Wei
2017-03-25T00:00:00Z
We had a very pleasent stay at the villa which was really too big for just 4 of us! Bruce and Irina are really good host always available to answer questions or to give advices about the place and Tenerife. The villa is very confortable, calm and well equipped. Vilaflor is a nice mountain village at 1500m of altitude and a good base if you want like us a mix between mountain and sea, you are half way from the beautiful Teide Volcano and not so far from the closest beaches and aqua parks. A place to recommend.
HERLE
2016-12-25T00:00:00Z
With 3 friends, we spent the celebration of the New Year Eve during one week at Bruce's Villa. The villa was incredible. Located in the middle of the forest, in a very quiet place in Vilaflor, the villa can easily accomoted 6 guests, even more. Very spacious, very well furnished, everything was perfect. The jacuzzi and the swimming pool are a "plus". From the villa, you can easily reached all the places to see / to do in Tenerife. Regarding our hosts, Bruce and Irina were very kind and very helpfull. They did all their maximum to help us to enjoy our stay and actually without them, we wouldn't enjoy Tenerife as we enjoyed it. I totally recommend this villa. Thank you again Bruce and Irina.
Erwann
2014-01-06T00:00:00Z
The house is large and well-equipped set in a secluded location among pine trees . It is situated just outside the village of Villaflor at an altitude of around 1400 meters. This means it is roughly midway between the sea and Mount Teide. It is a good place to acclimatise for anyone intending to try some of the high altitude routes. There are some good walks in the immediate vicinity of the village but it is only half an hour by car to the centre of the national park with its incomparable volcanic landscapes. The village of Villaflor has a quiet charm and there are shops and restaurants close at hand. But if you want more variety it is only a half hour drive down to the beaches and resorts on the coast. Your hosts, Bruce and Irina, are very helpful and hospitable and are very knowledgeable about what to do and see on the island. We had a thoroughly good time and would unreservedly recommend it to anyone who wants something more than the conventional beach experience. Owen
Maz
2016-02-07T00:00:00Z
The host was there to greet us. He took the time to go through how things worked in the house, had a load of local information about the area and clearly wanted us to have a good holiday. The house was probably the cleanest holiday property I've ever stayed at and came with a few kitchen basics (herbs, oil, salt etc) to get us started. The appliances are all great spec - Miele, Siemens and the like, personally I hate it when you rent somewhere and the gadgets are all budget things that you wouldn't have at home so this was great. The kitchen knives were sharp, again, not always the case! Quite often it's the little things in life that make the difference, and this felt just like we were staying in a home from home rather than a bland, holiday rental.
Ollie
2015-10-24T00:00:00Z
Our stay in the forrest vila of Irina and Bruce was great! The house was nice and clean and offered enough room for all five of us. If you love nature, this is the place to be! We definetely recommend staying here and would love to come back. :)
Markus
2015-11-17T00:00:00Z
Had an amazing time in the house! Location is fantastic, amazing view to the ocean and the mountain. So nice to sit outside having your breakfast. To see the stars om the terrace is a must!! Bruce is amazing as a host! Helps out a LOT if you have any questions. Will def be back! // Thomas & Paul
Thomas
2016-03-16T00:00:00Z
The villa was really nice. It was very well equipped as also mentioned in the description of the villa. We had everything we needed to relax, cook, etc. The villa is very private so you can just relax and enjoy your holiday. Your host (Bruce) is very helpful and friendly. He showed us around the house and gave us some nice tips what to do in Tenerife. The villa is nicely located since it is not too hot in Vilaflor. So you are able to sleep well. But driving to the beach will not take too long, and at the beach the temperature is such that swimming is very good possible. We stayed at the villa December/January.
Otto
2016-01-03T00:00:00Z
Room Type
Entire home/apt
---
Property Type
Villa
---
Accommodates
6
---
Bedrooms
Vilaflor, Canary Islands, Spain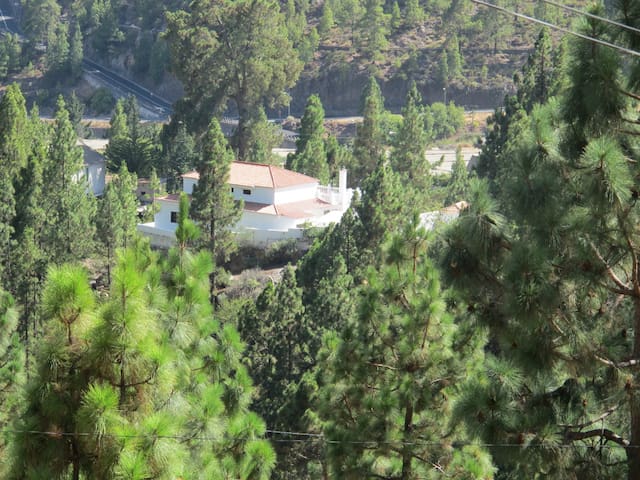 Villa Independiente de 260 m2, OPEN SPACE, techos altos, un lugar silencioso y tranquilo con una vista panorámica. Edificada en un solar de cinco mil m2, dispone de 4 habitaciones, 3 baños, salón con vista panorámica. La terraza de 300 m2, incluye una cancha, jardín y el área piscina (no climatizada), zona barbacoa y garaje. A 10 minutos del aeropuerto del sur (Reina Sofía), 5 minutos autopista (salida San Miguel) y 15 de las playas de Los Cristianos y Las Americas.
Villa Independiente de 260 m2, en una estructura OPEN SPACE, con techos a los 7 metros de altura, un lugar silencioso y tranquilo donde podrás disfrutar de una paz completa a lo largo de tu estancia. Su ubicación estratégica, con una vista panorámica impresionante, a solo 10 minutos de aeropuerto del sur (Reina Sofía), 5 minutos desde la autopista (salida Las Chafiras, San Miguel) a 10 minutos de las playas, 15 minutos de Los Cristianos y Playa de las Américas donde encontrara' miles de ofertas de ocio para pasar tu tiempo libre, restaurantes y locales nocturnos. La vivienda, edificada en solar rustico de cinco mil m2 y a 350 metros de altura, dispone de cuatros habitaciones, tres baños, salón de 120 m2 con vista panorámica. La terraza que rodea la vivienda, con una superficie de 300m2, incluye una cancha en cemento para juegos, jardín, área piscina (no climatizada), zona barbacoa y garaje.
Justo a 5 minutos, a Las Chafiras (salida autopista) disponéis de todas las grandes superficies como Lidl, Mercadona, Restaurantes, Pizzerias, Mc Donald y Burger King, gasolineras, parques infantiles, bancos, etc.
Room Type
Entire home/apt
---
Property Type
Villa
---
Accommodates
8
---
Bedrooms
Santa Cruz de Tenerife, Canarias, Spain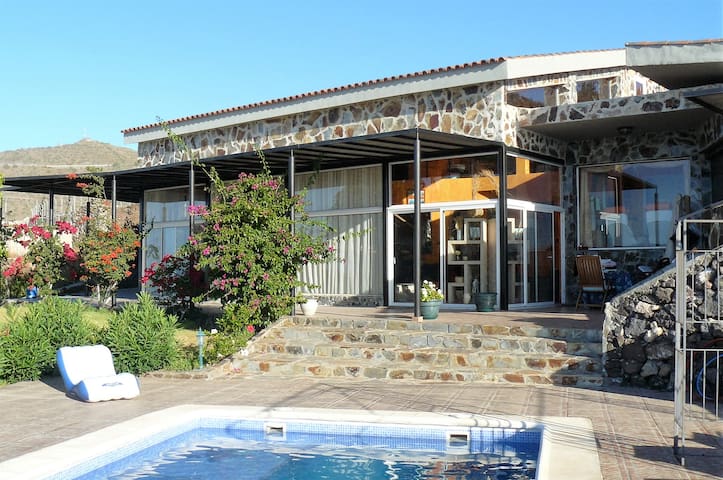 Las Villas, 2 floors and its accommodation capacity up to 6 persons per Villa and services, is ideal for families with children and groups of families and friends. Just 200 meters from the beach and 15 minutes walk from the center
Waterfront home and a different design
ideal for sea sports and outdoor sports, with summer temperatures all year site
The villa was a great base for an active family holiday on Tenerife. It is in an area a mile away from the centre of the town so it was useful that we had a car although we did walk in and out several times. The villa was very spacious and provided good accommodation. The very strong winds blew lots of black sand into the pool and villa from the dunes outside. Thank you Jose for arranging for the pool to be cleaned x2 during our visit. We used Trip advisor for recommendations for bike hire, kitesurfing lessons, whale watching and restaurants and found these all very helpful. El Medano sees some incredible kite and wind surfing as s result of the very strong winds and these were amazing to watch. A drive/bike ride up El Tiedie is recommended +++ and booking the cable car too in advance if you want to get to the top of the volcano. A great experience Jose and thank you for being such an attentive host.
Ali
2016-07-24T00:00:00Z
Everything okay
Demian
2016-01-06T00:00:00Z
Disposition des pièces très surprenante et bien peu pratique. Cuisine au SS/sol sans fenêtre et salle de séjour au RDC. 2 chambres quasi aveugles. Piscine non chauffée, mobilier de piscine insuffisant. Vaisselle insuffisante et usée, eau chaude insuffisante. Ménage très approximatif, nuisibles morts dans SDB. Vue de la terrasse gâchée par les rondins de bois . Décollage des avions 300m à la verticale de la maison : pas de sieste possible ni grasse matinée. Aucune denrée de première nécessité à l'arrivée, rien du tout !! Plage sable noir sympa à proximité. Hauteur sous plafond salon à 7m rendant impossible le nettoyage des hublots et le changement des ampoules grillées. En général, une maison mal disposée ne permettant pas de profiter pleinement de l'exposition face à la mer Pas de parking privé obligeant à vider la voiture tous les soirs.
Jacques
2017-01-01T00:00:00Z
Room Type
Entire home/apt
---
Property Type
Villa
---
Accommodates
6
---
Bedrooms
Arenas del Mar, Canarias, Spain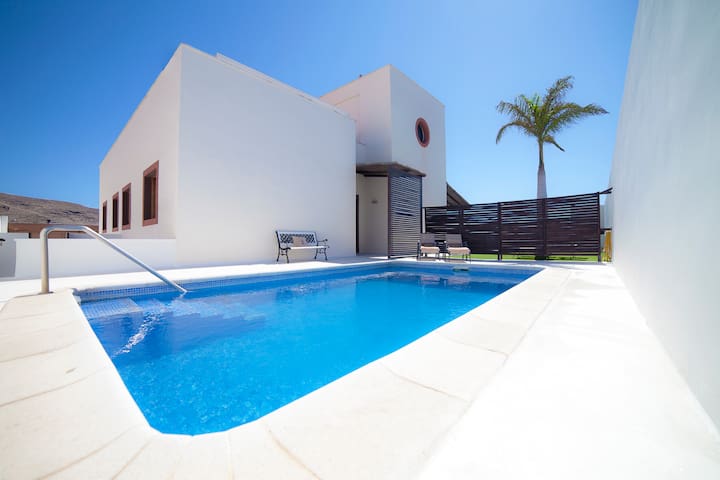 Very important! We have some problems updating the calendar. Before you make a booking, please contact us at the address from the second picture for availability confirmation. We will not respond to any booking request before you contact us at the address from the second picture.
A one-of-a-kind contemporary house, with floor-to-ceiling windows, double-height ceiling in the living room, high-end finishes, Art pieces. 4 bedrooms + 1 family room, 5 marble bathrooms, designer kitchen, terrace, mirror pool, pool house, parking. Air conditioning, alarm, sound system, intercom. Nearest beach 150m away on the way to La Pelada mountain( protected area with some nice routes). On the way to town, 200m away from the house the nearest mini market and La Jaquita beach with its beach bar "chiringuito", right after there is El Cabezo beach a windsurfing and kitesurfing area and downtown right in front of El Médano's square, El Médano beach, the longuest and fullest beach. El Médano also has a skatepark, a football field, many surf/windsurf/kitesurf schools, shops, supermarkets, restaurants, bars and also 3 night clubs and an information desk. The transport The house is 1km away from the town where there is two bus stops and a taxi station. The neighbourhood La Pelada is a calm neighbourhood and neighbours are friendly and respectful.
El Médano also has a skatepark, a football field, many surf/windsurf/kitesurf schools, shops, supermarkets, restaurants, bars and also 3 night clubs and an information desk.
Everything was exactly like in the offer. Lovely House, well equipped. Located in the peaceful area. For us distance to the center of Medano was not a problem. It can be windy sometimes but most of the time sunny and warm. We ware warmly welcomed by the owner and his family, lovely people. During the whole stay we had very good contact with the owner. Highly recommended.
Rafal
2016-04-06T00:00:00Z
Nice and clean house in a living neighborhood with enough space for children. There is a large patio where the kids can play outside but cannot escape due to the fence. The next beach is only a 5 min walk. It is one of the rare natural beaches that do not have hotels or any other form of cement but it is fully exposed to the wind that can be strong in El Medano. The only downside (not the owners fault but worth mentioning) was a road construction work with heavy noise that will go on for some weeks.
Jons
2017-03-02T00:00:00Z
wir hatten eine gute und angenehme zeit in einem geräumigen haus. gut gelegen für einen ruhigen urlaub. alles war wie beschrieben und wir sind herzlich willkommengeheißen worden, auch mit einem gefüllten kühlschrank. vielen dank!
Bärbel
2017-01-06T00:00:00Z
Cómoda casa al lado de pueblo El Médano, paraíso de olas, surf, restaurantes frente al mar. Bien equipada con terraza para comer al aire libre.
Valeria
2017-01-10T00:00:00Z
Room Type
Entire home/apt
---
Property Type
Villa
---
Accommodates
10
---
Bedrooms
El Médano, Canarias, Spain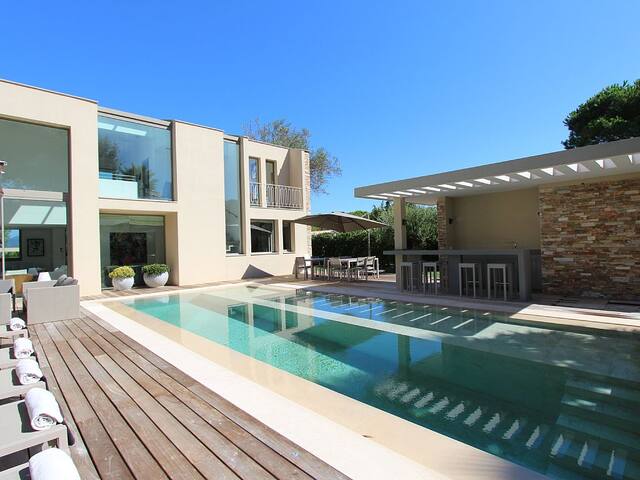 Points of interest nearby: New commercial center La Tejita is 5 minutes away, where you will find a supermarket, various restaurants and a beauty salon, plus a few shops. Open 7 days a week. Large children playground is in front of the center. Bar La Pirata (Chiringuito Pirata in (SENSITIVE CONTENTS HIDDEN)) overlooking La Tejita beach is a perfect romantic getaway for morning coffee or evening sunset drinks. Nearby town El Medano (5,8 km) is a famous surfer hangout, in the summer time there is plenty of action, k
A new 2 bedroom house built in 2014, in the village of La Mareta, 300m from the beach and 1km from famous El Medano beach. This property was designed as a "Mediterranean style beach house", carefully built into rocky surroundings to make nature work in its favor and enhance the exterior lineage of the villa and the pool. If you are looking for something less crowded, quiet and rural rather than "over the top tourist" destination, this place would be your NO1 choice! Downstairs floors are made of beautiful stone, to outline the no-walls interior, large salon is conjoined with spacious open American Contemporary style kitchen. The kitchen windows lead to a terrace with a large heated swimming pool (12m by 3,5m) with underwater jet for training. The pool is beautifully illuminated for extra luxury feel at nighttime. Upstairs is done with wooden floors & furniture to give a warm atmosphere, the main bathroom is also made of top quality wood and has double extra spacious shower cabin. 2 bedrooms and 2 bathrooms would be comfortable for 4 persons. Both bedrooms have stunning views of the ocean and the mountains.
Playa a 200 metros, Los Abrigos, La Tejita
We stayed at the villa for 10 days, we enjoyed our stay here a lot. It was very clean and tidy, we were met by Maria's friend Eugenio who showed us around the property. The location is quiet, other than the occasional noise from the airport, however there are lots of choices for bars and restaurants in Los Abrigos, San Blas and La Tejita. Would recommend renting a car but all the local taxis had no problem in finding the address and we never waited more than 5 minutes after ordering a taxi. We had some issues with the heating of the pool over the first couple of days but Maria arranged a technician the next morning and had it all sorted for us straight away. She always replies straight away! Places nearby to eat that we liked were; Bombay Babu in La Tejita, great indian food. Gullivers Grillhouse in San Blas, great service and food. If you like seafood, Los Abrigos has plenty of places to eat along the harbour. We found that this location is close enough for all the main attractions in the South as it only takes 5 minutes to get to the TF-1. We would stay here again.
Will
2017-04-07T00:00:00Z
We would thoroughly recommend this villa. It was the perfect getaway. Lovely serene area of Tenerife but very near to local towns for amenities, restaurants etc. Maria was a truly is a super host! We were provided with lovely wine and chocolates on our arrival. Toiletries were also provided. The villa was immaculate and has been finished to a high standard. The pool was also lovely and beautifully kept. All and all we had a wonderful holiday and would stay here again anytime.
Amy
2017-02-13T00:00:00Z
We loved the 10 days we spent here, the villa is wonderful with no expense spared, the pool was fabulous and the outside space perfect, it is a little out on a limb but its only a 15 minute walk either way to get to the supermarket, bars etc, a taxi back is less than €4, there is a bus stop at the end of the road which we took to Los Christianos which only took and hour to get there and cost €3.60 per person, all in all it was just the job !!
Darren
2017-03-04T00:00:00Z
Maria was fantastic, helpful and a pleasure to deal with. The villa is exactly as it is in the pictures, great kitchen and plenty of space. It is close to some fantastic restaurants of which we would definitely recommend Bombay Babu in La Tejita and Shan Oriental in Las Chafiras. There is not much I could say about the villa that is not already in the description, a lovely place to stay and a great time was had by both myself and my husband.
Melanie
2016-12-31T00:00:00Z
Had a very nice stay.
Martin
2017-03-23T00:00:00Z
Room Type
Entire home/apt
---
Property Type
Villa
---
Accommodates
6
---
Bedrooms
La Mareta, Canarias, Spain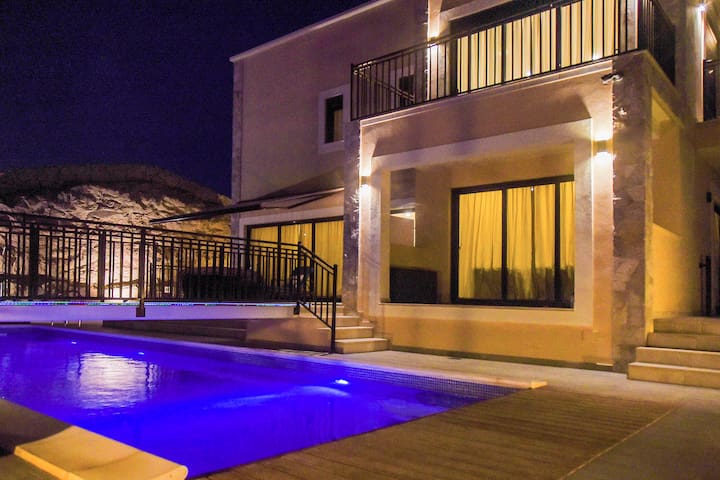 Villa Albe, has a house of 80 m2 and 500 meters of terrace and garden with sea view, located in San Lorenzo`s Valley and reformed in Dec of 2015. It has one bedroom, bathroom with shower, living room-kitchen of 50 m2. Fully equipped kitchen, living room with a large window and views of the valley and the sea, dining table with chairs, 2 sofas, desk, TV with satellite channel, and wifii. Terrace of 75 m2 with barbecue, outdoor table, garden of 225 m2 of natural lawn with outdoor jacuzzi
In Villa Albe, you will enjoy the tranquility and the good weather, in a cozy house located close to all services: Beaches, supermarkets, bars, mountains, restaurants, pharmacy, etc.
The villa is located just 5 minutes from the center of San Lorenzo Valley where you can find: Supermarkets, shops, pharmacy, health center, bus stop, taxis, bars, restaurants, etc. Only 15 minutes away is the beach of Los Cristianos and Las Américas and 20 minutes away from the South Tenerife Reina Sofia Airport and 45 minutes of the famous volcano Teide.
Room Type
Entire home/apt
---
Property Type
Villa
---
Accommodates
5
---
Bedrooms
Arona, Canarias, Spain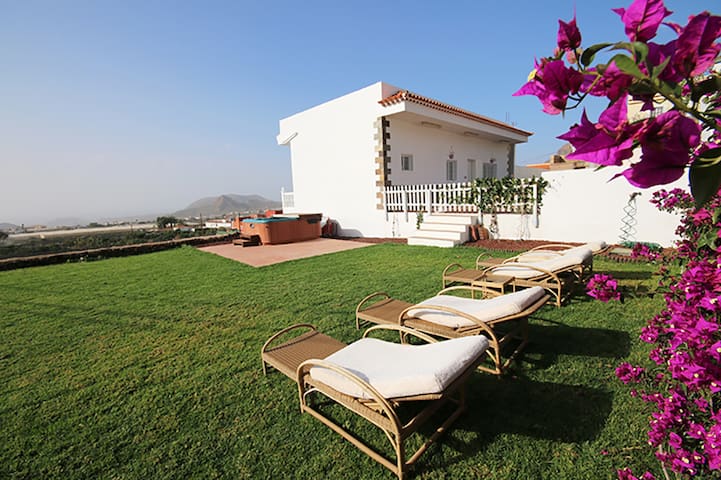 El ático está en la 3ª planta de la vivienda familiar, es muy cómodo e íntimo, las estancias son amplias, limpias y luminosas. Pueden disfrutar de una terraza exterior privada de unos 70 (mts.) es nuevo y su decoración es campestre;tiene vitrocerámica ,lavadora,nevera-congelador, horno microondas, plancha, secador de pelo, ventilador, tendedero, wifi, paraguas y parasol para la playa, etc...Dispone de mucha luz natural además de buena ventilación en todas las estancias. Plazas de parkin gratis.
Ubicación: Está a 10 minutos en coche de las principales playas del sur de Tenerife, así como de rutas para practicar trekking , además podrán disfrutar de un paseo por el pueblo para descubrir las casas típicas y comer en los restaurantes típicos de la zona, que son buenos y económicos. El alojamiento se encuentra a poco más de 10 minutos del aeropuerto Sur Reina Sofía .
La zona para residir es muy tranquila, no tiene urbanizaciones o barriadas, todas son casas particulares de una a tres plantas. No hay excesivo tráfico, por ello los niños pueden jugar en la calle y en los parques tranquilamente. Se respira el aire muy limpio, se pueden ver las estrellas por la noche.
Maria and her family were very welcoming and friendly. They made me feel at home straight away and it is a relaxing, quiet place to stay. Maria had left a lovely fruit basket and welcoming goodies. All was beautifully presented, tidy and well organised. The area is outside the main tourist region, so has a very traditional and authentic feel, but still has good access to the main motorway. The apartment is super clean, well equipped and comfortable with a delightful outside terrace area with super views. I would love to stay here again
Judith
2016-11-14T00:00:00Z
If you prefer to stay in a quiet place with locals only this is the perfect place! The big tourists area Playa de las Americas is near, but feels far far away when you enjoy the sunshine and view from the huge terrace. Buzanada is a lovely, small village and the house gives you the perfect conditions to join the Spanish life. The house is located near the main roads and for that reason a good base for all the activities you may want to do (discover the island, going to different beaches, hiking, cycling, shopping) and daytrips you may want to make. Maria Rosario is a very kind and flexible host. She takes care of everything to make your stay comfortable and due to her warm welcome you will feel home immediately. Breakfast, snack, fruit, water, cookies, everything was there when we arrived, which was a really nice surprise! The house is clean, it is axactly like the pictures show you and the view from the terrace at the mountains is unbelievably beautiful. I can recommend this house to everyone that is looking for the perfect place to stay at Tenerife!
Martje
2016-10-03T00:00:00Z
Gorgeous place! I had fabulous views of the hills and an uninterrupted view across the countryside to the sea. Great big roof terrace, which, although shared by the family and the other apt in the house, I had all to myself. It's lovely to have the best of both worlds, the mountains, countryside and sea, without the noise of the tourist areas. The local restaurants are traditional and cheap. Rosario and her husband are very sweet and friendly. There is no TV which was fine, but it would be good to have Wi-Fi. The bus connection to the coast is not very frequent, better to have a car. The flat is small but very traditional. And quiet. I would recommend it.
Wordwonder
2016-07-17T00:00:00Z
the best ever, nice and clean app , It's like staying in a ***** hotel
Patrick
2017-03-14T00:00:00Z
Nice change from tourist mayhem on the coast
thomas
2017-03-26T00:00:00Z
Wonderful quiet place, very clean, well equipped. Anything you need in the kitchen and bathroom. We even had some basic groceries in the fridge and fruit when we arrived which was very sweet. Maria Rosario is very welcoming, helpful host. The apartment is close to the main TF-1 highway (only 5 mins drive), walking distance to local restaurants and shops. Great place to stay if you want to be away from busy nightlife but close enough to go and enjoy it. Good strong wifi. Beautiful views from the terrace. We had a wonderful time and definitely would stay again! Great price for such a nice place.
Barbora
2017-01-20T00:00:00Z
Thank you Maria for a wonderful and relaxing holiday! we lived 11 days in fully furnished small apartment with a large open terrace. Easy and fast connection to the main motorway (5 minutes), easy access to any beach/city/village on the island at any choice. Very good local restaurants within walking distance. Very quiet place, close to the airport, but there is no noise from the planes. Good internet connection.
Irina
2016-12-24T00:00:00Z
El alojamiento es tal como se muestra en las fotos. A destacar su limpieza y la comomidad para pasar unos días en Tenerife. El apartamento está a solo 5 min de la autopista con lo que es muy facil llegar a todos los sitios pero en una calle con total tranquilidad para descansar fuera de la típica zona turística. María nos recibió con total amabilidad y la estancia fue genial. Lugar muy recomendable.
cesar
2016-12-12T00:00:00Z
Room Type
Entire home/apt
---
Property Type
Villa
---
Accommodates
2
---
Bedrooms
Buzanada, Canarias, Spain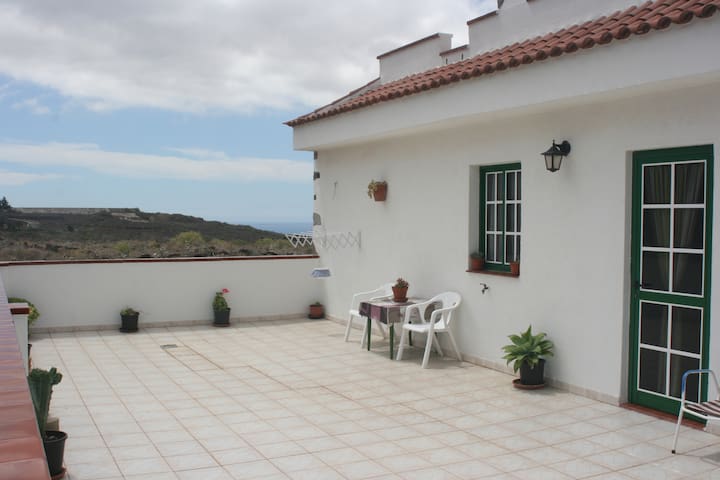 1

–

18

of

47 Villa Rentals
Enter dates to see the total trip price including additional fees (but excluding any taxes).