Η εξοχική αυτή κατοικία είναι σε υψόμετρο 1250μτ μεσα σε ένα καταπράσινο χωριό που φημίζεται για το τσίπουρο του και τους ανοιχτούς κατοίκους του. Δροσιά το καλοκαίρι και ξηρό κρύο τον χειμώνα,για καθαρό αέρα και χαλάρωση, με θέα τον θρόνο του Δία στον Όλυμπο. Το σπίτι είναι άνετο,ήσυχο,ηλιόλουστο, ζεστό με απεριόριστη θέα . Μπορείται να ψήνεται στην κλειστή ψησταριά και να απολαύσετε τα βράδια σας μπροστά στο τζάκι. Ο χώρος είναι κατάλληλος για ζευγάρια,οικογένειες (με παιδιά) και κατοικίδια.
Room Type
Entire home/apt
---
Property Type
House
---
Accommodates
4
---
Bedrooms
Livadi, Thessalia Sterea Ellada, Greece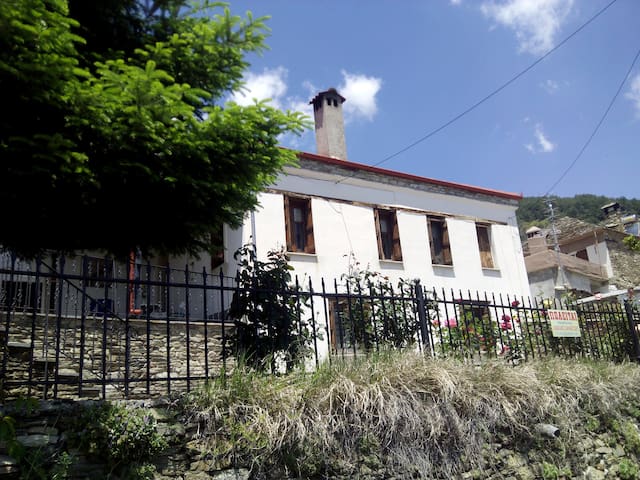 Ο χώρος μου είναι κοντά σε εστιατόρια και χώροι εστίασης και δραστηριότητες για οικογένειες. Ο χώρος μου είναι κατάλληλος για ζευγάρια και οικογένειες (με παιδιά).
Room Type
Entire home/apt
---
Property Type
Apartment
---
Accommodates
4
---
Bedrooms
Livadi, Thessalia Sterea Ellada, Greece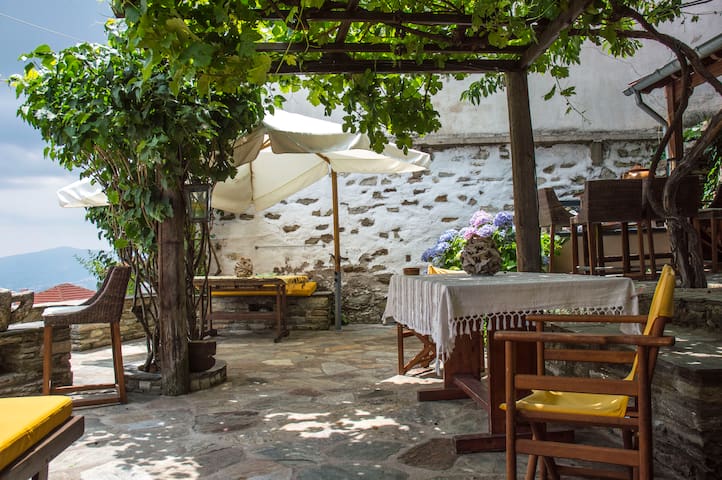 This is our studio with the balcony with a view to our garden. Some reviews we have received so far (and which made us a superhost) are related to this studio. In summer it is quite cozy and cool, and guests can enjoy the garden, too.
Great place to stay. Hosts are very friendly and welcoming and full of helpful recommendations. The flat was perfect for us and our dog. Great location, clean and cosy. Easy to walk to bars and restaurants and to the mountains beyond the village. Would highly recommend to anyone looking to stay nearby.
Paula
2017-03-30T00:00:00Z
Manolis and Arzu are a smilie, warm couple who are welcoming you like a friend. Make you feel comfortable. The studio is cozy, in a good distance from the center of Litochoro and close to the path for the canyon of Enipeas. Everything was very nice! Thank you Manolis and Arzu!
MARIANNA
2017-03-26T00:00:00Z
We had an amazing time at Litochoro. Arzu, Manolis and their wonderful daughter Elif were friendly, gracious and flexible hosts that took care of our every need, from coming to pick us up at the train station (without us even asking!) to providing snacks after the long journey from Athens. The flat is situated in a charming, quiet area of town a few minutes walk from the lively centre and is spacious and very comfortable. Would recommend it to anyone.
Yoav
2016-08-26T00:00:00Z
Itochoro is perfect for hiking lovers - Mt. Olympus park is magical. The town is adorable, clean, and charming. I've stayed in a lot of Airbnbs, and this was hands-down my best experience. Arzu and her husband were incredibly friendly and sweet, and we had a lovely time hanging out with them as well as hiking in the park. I like the unique touches in the apartment, like the antique wood stoves. Highly highly highly recommended.
Ada
2016-11-20T00:00:00Z
Arzu and her family are very good host. They welcome us with traditionnal geek pies and Arzu made us a typical dessert. The studio is cozy, convenient and clean. They let us use the garden so our daughter can play outside. The studio is not easy to locate but her husband kindly help us to find the place. We recommande this location.
marie
2016-04-14T00:00:00Z
Litochoro was the friendliest place we visited in Greece. The apartment was clean and very pleasant beside having a great location. Arzu and Manolis were extremely nice hosts and did everything to make us feel welcome. This is definitely the place to stay if you visit the region!
Orsolya
2017-03-20T00:00:00Z
The most beautiful place in litochoro ! Why ? 1. Really near of all ! (Sea, mountain, center, bank, bar.....) 2. A family really "welcoming" (small cake wait you in your place,you can ear all the times "everything is okay ?" For now if...all is okay !, arzu and manolis do a lot of effort for talk and understand you....ect) 3. Very calm, no stress (yes is important) 4. For the climber: this place is a good point of view for see the mountain from the balcony and eventually climb ! 5. This apartment is clean and functional (Sorry for bad English is my first review)
antoine
2016-06-09T00:00:00Z
ACCUEIL TRES SYMPATHIQUE ET UN HOTE TRES SERVIABLE ET DISPONIBLE. DE BONNE HUMEUR ET PLEIN D'HUMOUR.
nicolas
2016-10-26T00:00:00Z
Room Type
Entire home/apt
---
Property Type
Apartment
---
Accommodates
2
---
Bedrooms
Litochoro, Makedonia Thraki, Greece
Big private room for three persons on second floor appartment where me and my family are living Big table with six chairs. One bathroom shared with us and a private toilet for you. Balcony with great view to Olympus and to the sea Wifi, parking and shared kitchen
At least three persons can sleep in this room. If you need an extra room there is a second private room for two persons on the same flat
A few meters from the center and a few minutes from the E4 path
It was my first experience of sharing space with host. I am happy about this decision. She is a very kind attentive person. The room was clean, WiFi is ok, also I used the wash machine and the kitchen all was perfect.
Sergey
2017-03-25T00:00:00Z
Room Type
Private room
---
Property Type
House
---
Accommodates
3
---
Bedrooms
Λιτόχωρο, pieria, Greece
Floor area: 70 sq.m. with 1 balcony Room capacity: 5 adults, pets not allowed. Kitchen: Electric kitchen oven, Fridge, Freezer, table with four chairs, electric kettle Bathroom: Toilet, shower Bedroom: 1 double bed, 3 beds, 1 couch
Its a spacious apartment at the foot the mountain Olympus, a good starting point for hiking to the mountain ,10 minutes from the center of the town and 5 kms from the sea. It can accommodate easily 5 people, perfect for a family or couples with kids.
Its a quite neighbour not far from the center
Very nice stay. We were well welcomed and they gave us a map and good info to enjoy the place as we wish (olympus, town center and beaches). Appartment is cool.
Matthieu
2015-09-03T00:00:00Z
We stayed at Elena's house for two days, during the Olympus Marathon trail Race. House was super clean and quiet plus really comfy and cool. 5-10min walk to the center with a beautiful backyard for your breakfast. Strongly recommended for couples or families.
Kostas
2016-06-27T00:00:00Z
We felt like visiting friends :)
Anatoli
2016-10-07T00:00:00Z
Our stay at Elena was wonderful. Unfortunately we did not plan for more days, but the place is amazing. Using the location from (SENSITIVE CONTENTS HIDDEN) Maps we located the apartment just fine. Elena was very welcoming and offered us all the support we needed. If we'll get the chance to go to Litochoro again, we'll definitely stay at Elena again!
Daniel
2016-09-16T00:00:00Z
Elena and her beautifull family are amazing host. They fulfilled each and every single request we had (we travel with a toddler) and even anticipated some of them. They know very well the area, they live there, so they recommended us restaurants and locations which are not mentioned in tourist guides, but are totaly worth a visit. The house was tidy and clean and it matches the description; the location is perfect if you are looking for a quite and friendly place not far from the Lithocoro centre. Absolutely recommended.
Luca
2016-07-18T00:00:00Z
At first, Elena and her husband are super awesome host and hostess. Other reviewers have already said much about this, and they are quite right. Whatsmore, I think they are actually beyond that. They helped, treated, and even tolerated us as well as my best friend. Thanks to them for giving me best Airbnb experience ever.
Ge
2015-07-23T00:00:00Z
Very friendly host that explained us everything in and around the listing. Esp. on how to make it to the Olympus as he went there plenty of times. Spacious listing where host grew up. The host offered us fruits from local farmer and juice. Would definitely go there again. Thanks very much Elena and George.
Alexander
2016-10-22T00:00:00Z
This is a perfect BnB, the hosts are very helpfull and kind people ! the appartment is really nice and clean ! i really recommend this place if you want to go hiking ! best regards max
maxime
2016-09-17T00:00:00Z
Room Type
Entire home/apt
---
Property Type
Apartment
---
Accommodates
5
---
Bedrooms
Litochoro, Greece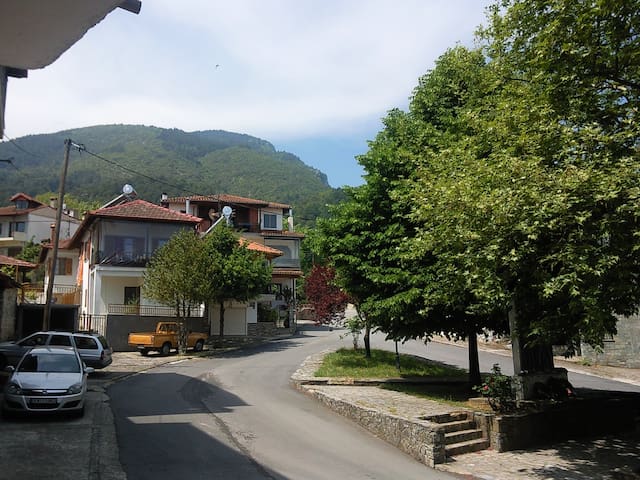 At the foot of Olympus, in Kokkinopilos Elassonas in Larissa, lies Chateau Leno, a stone cottage can accommodate 8 people. It has been built according to the architecture of the region, on the outside and the roof dominates the stone while the interior is dominated by wood. It has living room with fireplace and a separate bedroom with its own fireplace. There is a kitchen that provides catering as a bathroom with bathtub.
Guests can gaze from Olympus until Pindos ridges of the large terraces and the balcony of the house.
Room Type
Entire home/apt
---
Property Type
Chalet
---
Accommodates
8
---
Bedrooms
Kokkinopilos, Greece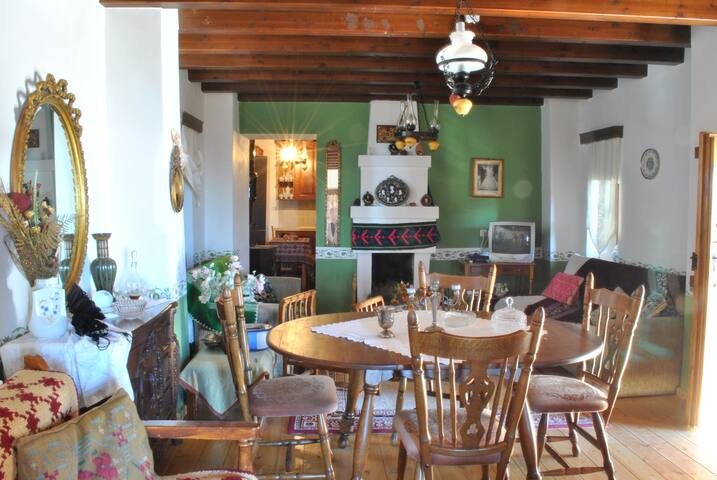 The apartment is next to the mountain (100 M.) and near the center of the town (about 5 min by foot) where are the bus station, many shops ,cafe, taverns etc.. You will have plenty of space for you and your family , its very comfortable, it have balcony to enjoy your coffee,it have a full equipped kitchen.. This apartment is suitable for families , for couples and for small (URL HIDDEN) is a good starting point for long walks at the mountain and to enjoy the sea(10 minutes by car)
Its a quite neighbour between the center of the town and the mountain.
We stayed at Katerina's cottage with a small 2-years kid. There are 2 bedrooms, two dining-rooms (one with a fireplace, another is with a balcony). We rented a car, climbed Olympus, had some time at the beach, and everything was very easy accessible by car. Katerina and her family lived very close, were very friendly and responsive. Everything was arranged quickly, if we required anything. Though there are more than enough in the cottage! Thanks a lot for this perfect vacation!
Elena
2016-08-09T00:00:00Z
Katerina with her brother Jergos are great hosts. Offered warm welcome and did all thy could to have a great stay. Appartment is very nice, big and comfortable. Really recommended place to stay for everyone
Jaroslav
2016-09-03T00:00:00Z
We only booked one night but the description of the flat was absolutely correct and the neighbourhood was nice. Katerina's brother was extremely helpful. And it's only a short 10 minute walk down into the village centre ... or the start of the E4 trail into the Mount Olympus National Park in the other direction. All in all a great base for a break in this part of Greece.
Peter
2016-08-25T00:00:00Z
It is a very nice and big appartment next to the city center. It was very easy to find it and park nearby using (SENSITIVE CONTENTS HIDDEN) maps. We didn't meet Katerina, but her kind brother was very eager to meet us and show us the house. He also gave us useful information about climbing Olympus, and even offered to lend us his map because we didn't have one(!). I highly recommend this appartment.
Giannis
2016-07-28T00:00:00Z
Relaxing stay, Katherina and her brother were excellent hosts.
Jolanda
2016-08-04T00:00:00Z
Very kind and helpful. The house was big and had everything we needed, and close to the centre of the city.
Vanessa
2016-07-26T00:00:00Z
The host canceled this reservation 154 days before arrival. This is an automated posting.
Ashton
2017-02-18T00:00:00Z
Room Type
Entire home/apt
---
Property Type
Apartment
---
Accommodates
4
---
Bedrooms
Litochoro, Greece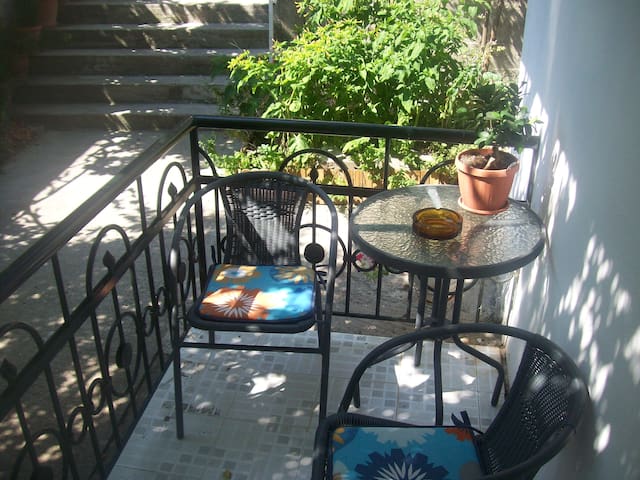 A cosy, bright countryhouse located just 7 km away from the city of Kozani. Ideal for relaxing, or serving as a base for discovering the hidden beauties of western Macedonia!
Full of light, quiet, 50m2 countryhouse can accomodate up to 3 guests 1 bedroom with a double bed and a small but cozy living room with a sofa makes you feel like home. Kitchen with all the amenities included. Fully equipped bathroom with boiler and a washing machine. Sheets, blankets, towels and pillows are provided for you if you don't want to bring your own.
A typical, friendly countryside neighbourhood!
Έμεινα στο σπίτι σε ένα επαγγελματικό ταξίδι στην Κοζάνη για μία εβδομάδα. Το σπίτι με βόλεψε πάρα πολύ γιατί ήταν πλήρης από πράγματα, καθαρό και ήταν σε μία γραφική τοποθεσία. Τα δωμάτια ήταν άνετα με όλα τα έπιπλα που μπορεί να χρειαστεί κάποιος για να χρησιμοποιήσει. Ο Σωτήρης άψογος αν και δεν τον χρειάστηκα πολύ γιατί το σπίτι με κάλυψε πλήρως από μόνο του. Σίγουρα θα τον προτιμήσω σε μελλοντικά ταξίδια στην περιοχή και για περισσότερες ημέρες.
Dimitris
2017-03-24T00:00:00Z
Dimitris
2017-03-30T00:00:00Z
Άψογη η φιλοξενία του Σωτήρη. Αν και ήταν για μικρό διάστημα, μ'έκανε να αισθανθώ σαν στο σπίτι μου! Το συστήνω ανεπιφύλακτα σε όλους!
Γιώργος
2017-04-07T00:00:00Z
Το σπίτι έχει ακριβώς ότι χρειάζεται κάποιος, για κάνει μια σύντομη απόδραση στην ευρύτερη περιοχή της Κοζάνης. Είναι πολύ άνετο και ζεστό, σε μία ήσυχη γειτονιά. Ο Σωτήρης πολύ εξυπηρετικός και πρόθυμος να φροντίσει τους φιλοξενούμενους του.
Marios
2017-02-27T00:00:00Z
Όμορφο σπίτι, ζεστό και φωτεινό, σε ήσυχο χωριό και ήρεμη γειτονιά, ακριβώς έξω από την Κοζάνη. Έμεινα μόνος για 1 βράδυ και θεωρώ πως είναι ιδανική επιλογή για κάποιον που ζητάει τα βασικά και θέλει να αποφύγει τα ξενοδοχεία και να έχει την αυτονομία του. Άριστη σχέση ποιότητας και τιμής. Ο Σωτήρης εξαιρετικός οικοδεσπότης. Άμεσος στην επικοινωνία και φιλικός από κοντά, ανταποκρίθηκε κατευθείαν στην επιθυμία μου να μαγειρέψω και με κάλυψε και με το παραπάνω. Επίσης, μου επέτρεψε από την πρώτη στιγμή να κάνω late check out την επόμενη μέρα. Τον ευχαριστώ δημόσια για τη φιλοξενία και φυσικά συστήνω το κατάλυμά του στα μέλη της κοινότητας!
Costas
2017-03-14T00:00:00Z
Το σπίτι είναι ένας ζεστός και φιλόξενος χώρος, ο Σωτήρης εξυπηρετικός και άμεσος και σίγουρα θα το επέλεγα ξανά για την διαμονή μου στην περιοχή.
Panos
2016-10-27T00:00:00Z
Room Type
Entire home/apt
---
Property Type
House
---
Accommodates
3
---
Bedrooms
Πετρανά, Ήπειρος Δυτική Μακεδονία, Greece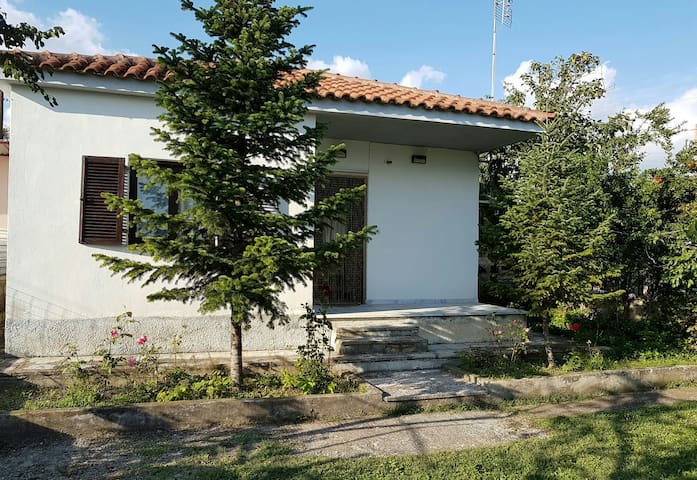 The house is situated at the foothills of Mt Olympus and offers a great view , restaurants and dining ( three kilometres from the city centre), the beach and nightlife (15 minutes drive), and family-friendly activities.Ideal for people who like to relax. Visitors can either book a room or the whole appartment according to their needs.We offer a homely Greek atmosphere. The premises are also pet friendly for our four legged friends.
Exceptional! Natasa was wonderfully accommodating and very generous. Her family are all lovely and make for very kind hosts. The place itself is amazing: tucked away in the perfectly tranquil countryside, complete with a garden full of fruit, veg and herbs, surrounded on all sides by truly awesome scenery. Would certainly love to go back! Thanks!
Jay
2016-08-03T00:00:00Z
Our stay at Natasa's house exceeded our expectations!the house is in a peaceful location with amazing views and the hospitality of Natasa and her lovely parents left the best impressions.we had an unforgettable holiday and thank you a lot for all your help and good care!
Anastasia
2017-02-20T00:00:00Z
Natasa is a really nice and caring host that took great care of us! She did everything to make her guests feel welcomed and kindly helped us with all our questions concerning our tour to Mount Olympos. The house is a unique and quiet place in the hills, with clean and lovely rooms. We also really loved the big garden and the great view and would definitely recommend to spend some time there.
Hella
2016-09-14T00:00:00Z
התקשורת עם נטסה לפני ההגעה היתה לשביעות רצונינו הרגשנו שאנחנו חשובים לה. כאשר הגענו נפגשנו עם נטסה וההרגשה היתה נכונה היא ארחה אותנו באהבה. שני הלילות והימים שבילינו במקום היו קסומים. הילדים נהנו מכל רגע. כשהגענו האח דלקה אספנו ערמונים (זה היה באוקטובר) ובישלנו אותם באח. החוויה היתה מדהימה.
Noa
2016-10-22T00:00:00Z
Το σπίτι ήταν πάρα πολύ καλό η τοποθεσία απίστεύτη. Είχαμε όλα όσα χρειαζόμασταν και με το παραπάνω. Ευχαριστούμε την Νατάσα και τον κ. Τριαντάφυλλο για την καταπληκτική φιλοξενία.
Xenokratis
2017-01-04T00:00:00Z
Πολυ καλη η διαμονη μας στο σπιτι της Νατασας!!Και οι γονεις της πολυ ευγενικοι και εξυπηρετικοι!Το σπιτι πολυ ομορφο και η φυση γυρω!Σ'ευχαριστουμε Νατασα περασαμε πολυ ομορφα!
Eleni
2016-12-29T00:00:00Z
Διακοπές …διακόπτεις τα συνηθισμένα και ζεις τουλάχιστον για λίγο με διαφορετικό τρόπο. Πραγματικά δεν μπορούμε να σκεφτούμε κάτι καλύτερο να προτείνουμε από το σπίτι της Νατάσσας στους πρόποδες του Ολύμπου. Ιδιαίτερο σπίτι και ζεστοί άνθρωποι που σε κάνουν να νιώθεις σα το σπίτι σου. Ο γιος μας ξετρελάθηκε με το δεντρόσπιτο, φύτεψε κρεμμύδια και έκοβε τα ζαρζαβατικά για την καθημερινή μας σαλάτα, τάιζε τα κουνέλια και τις χήνες. Εμείς απολαμβάναμε το πρωινό μας στον τεράστιο κήπο και ανάλογα με τη διάθεσή μας επιλέγαμε τη θέα του βουνού ή της θάλασσας. Δοκιμάσαμε τα πολίτικα γεμιστά της κας Άννας ήπιαμε τσιπουράκια με τον κο Τριαντάφυλλο, γευτήκαμε φρούτα από τον κήπο. Πήραμε μαζί μας ξεχωριστές αναμνήσεις και έναν πλατύφυλλο βασιλικό δώρο από την κα Άννα. Σας ευχαριστούμε πολύ για όλα. Σίγουρα θα ξανάρθουμε γιατί στο σπίτι σας βλέπεις τις εποχές να αλλάζουν, τα χρώματα να εναλλάσσονται και εξηγείς στο παιδί σου το φθινόπωρο, τον χειμώνα, την άνοιξη και το καλοκαίρι όχι από φωτογραφίες των βιβλίων αλλά ανοίγοντας το παράθυρο μυρίζοντας τον αέρα και κοιτώντας απλά ….έξω.
Frank
2016-08-31T00:00:00Z
Natasa ainsi que son compagnon ont été très accueillants et chaleureux avec moi dès mon arrivée. Le logement est situé à tout juste 5 min du centre de Litochoro au pied du Mont Olympe, il faut emprunter une route en graviers. Idéal pour partir randonner. Natasa a été aux petits soins avec moi en me proposant même à manger. Le logement est très spacieux, tout est très propre. Le grand balcon dans la chambre est très appréciable ! Sheldon le chat m'a bien fait rire. Vous pouvez y aller les yeux fermés, vous ne serez vraiment pas déçus. Mon seul regret c'est de ne pas y être resté plus longtemps ! Mais j'y retournerai. Logement +++ Thanks for all ! Yannick.
Yannick
2016-08-06T00:00:00Z
Room Type
Entire home/apt
---
Property Type
Apartment
---
Accommodates
8
---
Bedrooms
Pieria, Makedonia Thraki, Greece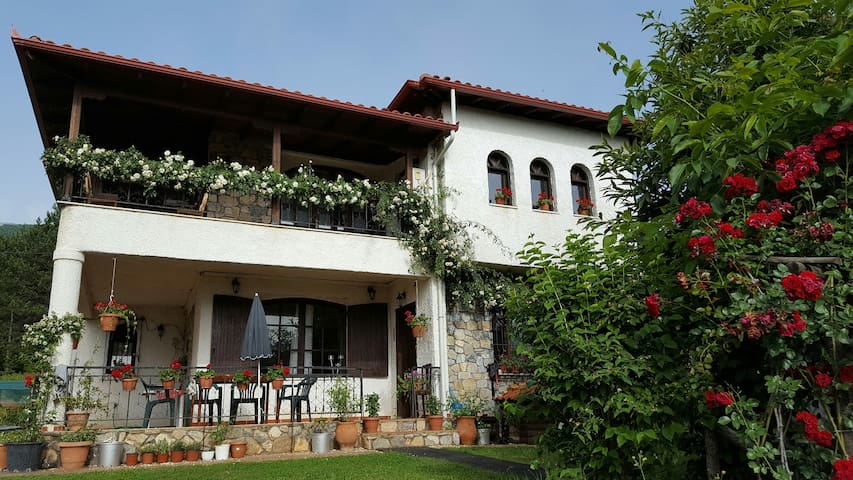 A modern, full equippted apartment at Litochoro next to the mountain Olympus with sea view. The house is just 10 minuites drive from wonderful and sunny beaches. It provides direct access to the paths of mountain Olympus.The perfect choice for relaxation with 2 nice and cool bedrooms, 1 living room, 1 kitchen, 1 WC and a small yard.
We stayed one week in Sissy house, everything was great. Communication with Sissy was very efficient, she welcome us with good traditional cake and drink and she made us in last day a sweet surprise also. House was very clean and it looks like in pictures, you will find there everything you need, very well equipped. We will contact again Sissy to accommodate anytime when we will be again in Greece around Olympus mountain. Thanks for everything, Sissy. All the best.
cornel alin
2016-09-19T00:00:00Z
Sissy is like the perfect host ever - very kind and helpful. My wife asked for a better pillow, and the next day we had it. Then my wife wished a washing machine and Sissy delivered it the day after :) The apartment is brand new, comfortable and with everything that you may need - TV, Internet, dish washer, fridge, etc. Don't be fooled by the lack of AC - it is the first floor in a very cool building so we never felt the need of any air conditioning. Hint: the city of Litochoro is like a maze with tiny little streets so a car with GPS is highly recommended. You will also need the car to go to the beach or to the Olympus mountain (which is the real gem of the location and a must-see).
Tsvetomir
2016-08-01T00:00:00Z
We were very impressed about Sissy place. We have been the first guests in that place. Evrerything was new and it looked like the pictures posted on the site. Sisi welcomed us with a Greek cake and her husband sent us, as a welcome sign, a traditional drink. Everything was perfect. Everything was brand new there. Very comfortable place! Thank you Sissy
Gina
2016-07-20T00:00:00Z
Our hostess is the definition or greek hospitality.Upon our arrival we found the house already nicely warmed. A special touch was the Xmas decoration. Furthermore our hostess had filled the house with traditional treats. The house is even nicer than the pictures show. We defently recommend this place and its surroundings for every season of the year.
Komninos
2016-12-30T00:00:00Z
Everything with the place was perfect - clean and nice - just like the pictures. Very nice yard, rooms, we had everything we needed. Sissy was very kind and a really great host. I definetely recommend her place if you stay in Litochoro!
Dilyana
2016-09-28T00:00:00Z
A five star experience! The flat was perfect and in a stunning area, with easy access to Mount Olympus and the local town. Sissy really made us welcome with some delicious nibbles and drinks in the fridge. I'd recommend a visit.
Hilary
2016-10-02T00:00:00Z
Sissy was awesome! Everything was great - the apartment was huge, clean and spacious; the location was excellent. Sissy was left some goods for us for free and made for us a cake! This was incredible! And she suggested to us if we want to stay for a couple of nights more for free! This is the best host ever! Thank you for everything, Sissy!
Vladimir
2016-09-08T00:00:00Z
Sissy is very committed host and her apartment is the right base for exploration of advantages of wonderful surroundings of Litochoro. She provides strong personal touch and cares for every detail. I wish her success. The apartment is new and equipped with everything one could consider necessary. Location is at the end of the town which is actually an advantage: -There is no problem with parking, which is a big issue on steep narrow streets of the old town. -The place is quiet and one can sleep well. -The town is small and you could go everywhere by foot in 10 minutes.
Dimitar
2016-09-24T00:00:00Z
Room Type
Entire home/apt
---
Property Type
Condominium
---
Accommodates
4
---
Bedrooms
Litochoro, Makedonia Thraki, Greece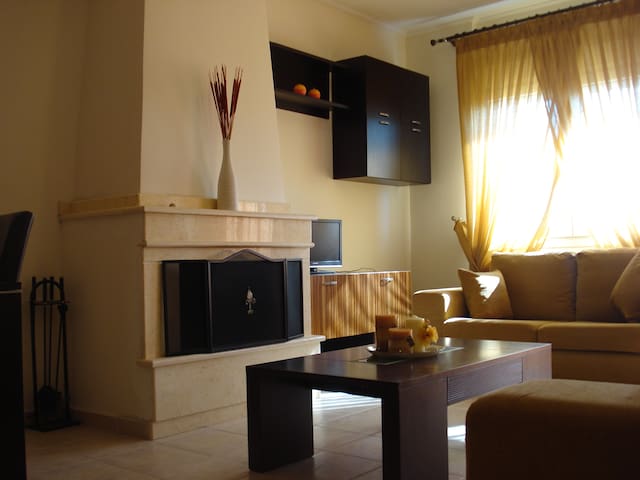 Ο χώρος μου είναι κατάλληλος για ζευγάρια, δραστηριότητες για ένα άτομο, επαγγελματίες ταξιδιώτες, οικογένειες (με παιδιά) και κατοικίδια.
Room Type
Entire home/apt
---
Property Type
House
---
Accommodates
7
---
Bedrooms
Sarantaporo, Thessalia Sterea Ellada, Greece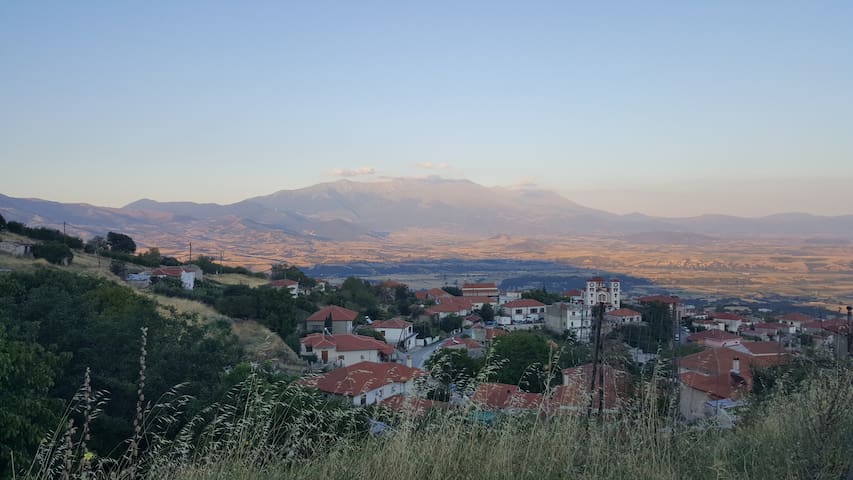 Our prestigious Mount Olympus at an altitude of 1250 meters, is perched the (URL HIDDEN) small but cozy house with attic has panoramic views of the mountain until the Thessaly kampo.O combination of wood and stone create a sense of warmth and relaxation loves every visitor.
Our warm house has 45sqm of loft with a window on the roof where you can see the sky when you lie down on the double krevati.Sto first level of the house there is a living room with two double sofa beds, where visitors can enjoy a hot cup tea with the warmth that puts the fire combined with the panoramic view from the mountain to the plain.
The fresh air that comes from the mountain smells of pine, spruce and (URL HIDDEN) morning is likely to wake you up the cock of geitonias.Tis afternoon, in the silence of the mountain sometimes hear the bells from the herds crossing the mountain. The villagers are smiling and talking among themselves Vlach dialect (latinoroumanika).
Room Type
Entire home/apt
---
Property Type
Loft
---
Accommodates
4
---
Bedrooms
Κοκκινοπηλός, Θεσσαλία Στερεά Ελλάδα, Greece
Mein Zimmer ist nahe am See, tolle Aussicht, Restaurants und Speiseräume für Familienaktivitäten. Mein Platz ist geeignet für Paare und Familien (mit Kindern).
Room Type
Entire home/apt
---
Property Type
House
---
Accommodates
4
---
Bedrooms
Kozani, Greece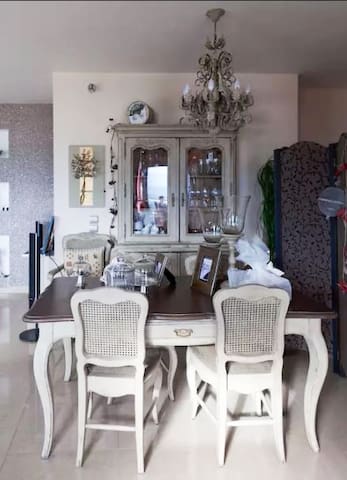 My place is near my place is at the foot of Olympus and specifically to 1250 m. Altitude. Also from the village begins the national artiria E4 which leads to the top of Olympus (Mitikas). Reasons that my room will like: the view, the location and the environment. My space is suitable for couples, activities for an individual, business travelers, families (with children), large groups and pets.
Room Type
Entire home/apt
---
Property Type
Townhouse
---
Accommodates
10
---
Bedrooms
Kokkinopilos, Greece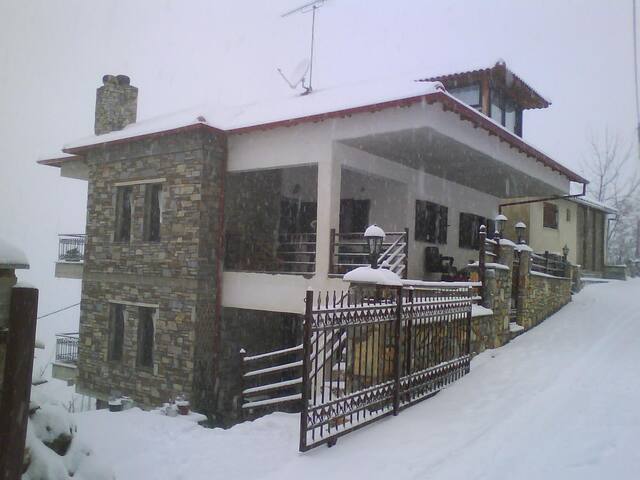 The perfect place to rest while discovering the magestic Olympus.Climb the local trail to Mitikas-Peak(45min drive till the cost-free Refuge ''Christakis'' &1,5hour climb till the top).Visit archaeological sites,old Churches,villages,try parapente.
Πρόκειται για μια δυόροφη μονοκατοικία με καταπράσινη αυλή και θέα στον Όλυμπο εντός του χωριού Καλύβια.Αποφασίσαμε να διαμορφώσουμε τον 2ο όροφο προκειμένου να φιλοξενήσουμε ορειβάτες και επισκέπτες που θέλουν να γνωρίσουν τον Όλυμπο από την πλευρά της Ελασσόνας. Διαθέτει δύο υπνοδωμάτια: στο πρώτο δυο διπλά κρεβάτια και στο δεύτερο ένα ημίδιπλο και ένας καναπές κρεβάτι έτοιμα με σεντόνια και κουβέρτες.Τα χωρίζει ένας μεγάλος διάδρομος όπου καταλήγει στην κουζίνα(βρύση,μάτια κουζίνας,σκεύη,ψυγείο) και στο μπάνιο(διαθέτει ντουζιέρα).Ανεβαίνετε στον 2ο από εξωτερική πέτρινη σκάλα.Ο όροφος διαθέτει μεγάλη βεράντα στην οποία μπορείτε να καθήσετε μετά απο μια κουραστική μέρα ορειβασίας ή να απολαύσετε τον καφέ σας πριν ξεκινήσετε.Το σπίτι διαθέτει θέρμανση με καλοριφέρ για τους χειμερινούς μήνες.Θα βρισκόμαστε σε επικοινωνία για να συναντηθούμε κατά την άφιξη προκειμένου να σας καλωσορίσουμε στο χωριό και στο σπιτικό μας,να μιλήσουμε για μονοπάτια και μέρη που θα μπορούσατε να επισκεφτείτε και να βοηθήσουμε να έχετε μια καλή διαμονή. Η πιο κοντινή διαδρομή με μεταφορικό μέσο προς την κορυφή του Ολύμπου, είναι μέσω του δημοτικού διαμερίσματος Καλυβίων. Από τα Καλύβια η πρόσβαση προς την κορυφή διαρκεί περίπου 2 ώρες.Η διαδρομή από το χωριό Καλύβια μέχρι τη θέση "Χριστάκης" έχει συνολικό μήκος 20 χλμ. και η διάρκειά της είναι περίπου 45 λεπτά.Ο δρόμος είναι αγροτικός (χωματόδρομος) και εύκολα προσβάσιμος όταν γίνεται με τζιπ αντί συμβατικού οχήματος.Από το καταφύγιο Χριστάκης ο επισκέπτης φτάνει πεζός στην κορυφή Σκολιό σε 1 ώρα και από εκεί στον Μύτικα σε 30 λεπτά.Ο Ορειβατικός σύλλογος Καλυβίων έκτισε το καταφύγιο ανάγκης στη θέση "Χριστάκης" σε υψόμετρο 2.430 μ. με σκοπό να προσφέρει στέγη σε κάθε ορειβάτη που θα βρεθεί στη περιοχή.. Το καταφύγιο είναι δυναμικότητας οκτώ θέσεων και δεν διαθέτει θέρμανση (υπάρχει τζάκι) πράγμα που το κάνει ιδανικό για τους καλοκαιρινούς κυρίως μήνες. Αν βρεθεί κανείς σε αυτή την περιοχή του επιβλητικού Ολύμπου θα καταλάβει γιατί επιλέχθηκε για κατοικία των θεών,γιατί ήρθαν στην επιφάνεια ευρήματα από την Αρχαία ακόμα Ελλάδα.Πρόκειται για ένα βουνό που όταν αντικρίσεις τις ομορφιές του θέλεις ξανά και ξανά να βρεθείς εκεί ψηλά για να αποθανατίσεις όσο περισσότερες εικόνες η φύση σου δίνει:το άγριο τοπίο οι ψηλές κορυφές και οι απότομες χαράδρες ο κάμπος της Θεσσαλίας να απλώνετε στα πόδια σας. Όμως η ιστορία του τόπου δεν περιορίζεται στην φυσική ομορφιά αλλά αντιθέτως μόλις σε λίγα χιλιόμετρα μπορείτε να επισκεφτείτε τον αρχαιολογικό χώρο του Πυθίου.Είναι γνωστό ότι το Πύθιο μαζί με την Άζωρο και την Δολίχη αποτελούσαν την αρχαία Περραιβική Τρίπολη. Το Πύθιο θεωρείται σημαντικότατη πόλη της Περραιβικής Τρίπολης, καθώς πιστεύεται ότι αποτελούσε την πρωτεύουσα της. Η αρχαιολογική σκαπάνη έφερε στο φως ναό αφιερωμένο στο Θεό Πύθιο Απόλλωνα, καθώς και πλήθος επιγραφών και γλυπτών που προέρχονται από το αρχαιότερο αυτό ιερό. Μπορείτε να βρείτε και άλλους αρχαιολογικούς χώρους,θρησκευτικά και ιστορικά μνημεία,μονοπάτια-διαδρομές στο site του Δήμου : (URL HIDDEN)
Kalivia is on the friendly side of Mount Olympus. No touringcars, crowds or an enormous touristic infrastructure but a tranquil and friendly village, in which you might just be the only visitor. This is the perfect place to enjoy Mount Olympus which is more gradually rising on this side. Kalivia has shops and fine restaurants. Konstantinos' grandparents, who live on the ground floor apartment, are enormously friendly people who make you feel welcome. You have a great view on mount Olympus from the huge veranda. Forget Litochoro, this is the place to really enjoy the mount Olympus area. We are now on the island Skopelos and still enjoying the fig jam we were given when leaving. Great place. Rene & Elrike
rene
2016-08-28T00:00:00Z
This place is a good experience if you are trying to stay away from the traditional tourist routes. If you are looking for an authentic village experience that runs on its own time and it's own terms, this is something for you. The hosts were very gracious and made us feel welcome. Because we arrived outside the usual eating hours when the local tavernas serve food, they provided us with delicious cheese pies, tomatoes and pastitio. Our kids who are picky eaters loved it. They also helped us with getting food from the local taverna in the evening and choose routes for exploration around Mt. Olympus. The view of the mountain is everything the description states.
Christian
2016-08-01T00:00:00Z
Room Type
Entire home/apt
---
Property Type
House
---
Accommodates
6
---
Bedrooms
Kalivia, Thessalia Sterea Ellada, Greece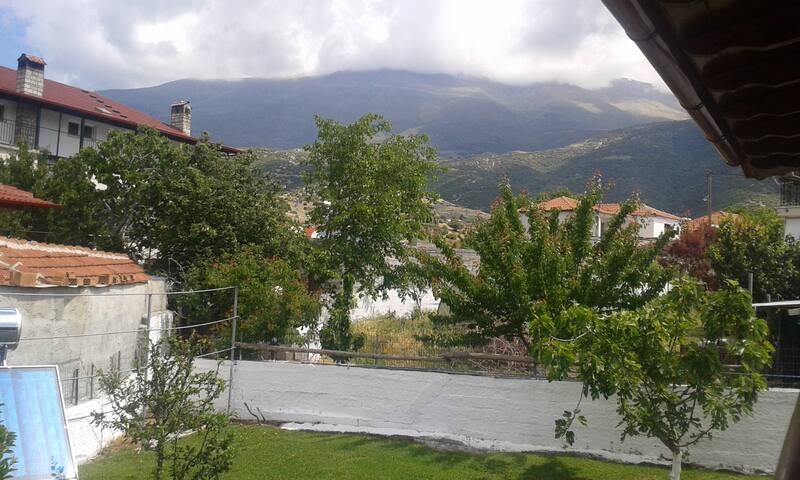 Γραφικό πέτρινο σπίτι στο κεντρο παραδοσιακου χωριου.Με τα ποδια μπορεις να επισκευτης την πλακοστρωτη κ. Πλατεια, το Λαογραφικο Μουσειο, την εκκλησια της Παναγιας. υπαρχουν ουζερι , ταβερνες, καφε, μπαρακια super market κ στο σκεπασμενο καταραχτες.
Υπαρχει parkink απεναντι απο το σπιτι. Εχει ομορφο μπαλκονι με θεα. Το σπιτι ειναι ανετο με μποντερνα κουζινα, μπανιο, τζακι, ομορφα διακοσμημενο κ μπορει να φιλοξενησει κ 5 επισκεπτες.
Τη τεχνιτή λίμνη Πολυφύτου με το φράγμα με τα πλατάνια και τους καταράκτες.
Περάσαμε πολύ ωραία! Η κυρία joylia και η οικογένεια της είναι πολύ ευγενικοί και φιλόξενοι! Το σπίτι ήταν πολύ άνετο και πεντακάθαρο!
Anna
2016-10-20T00:00:00Z
ΣΑΣ ΕΥΧΑΡΙΣΤΟΥΜΕ ΠΟΛΥ ΓΙΑ ΤΗΝ ΦΙΛΟΞΕΝΙΑ. ΠΕΡΑΣΑΜΕ ΥΠΕΡΟΧΑ. Η ΟΙΚΟΔΕΣΠΟΙΝΑ ΗΤΑΝ ΠΟΛΥ ΕΥΓΕΝΙΚΗ Κ ΕΥΧΑΡΙΣΤΗ. ΤΟ ΣΠΙΤΙ ΕΙΝΑΙ ΠΟΛΥ ΟΜΟΡΦΟ ΚΑΙ ΣΕ ΠΑΡΑΔΟΣΙΑΚΟ ΣΤΥΛ Κ ΑΝΕΤΟ. ΣΙΓΟΥΡΑ ΘΑ ΣΑΣ ΞΑΝΑΠΡΟΤΙΜΗΣΟΥΜΕ.
Greg
2016-06-04T00:00:00Z
Room Type
Entire home/apt
---
Property Type
House
---
Accommodates
4
---
Bedrooms
Κοζάνη, Ditiki Makedonia, Greece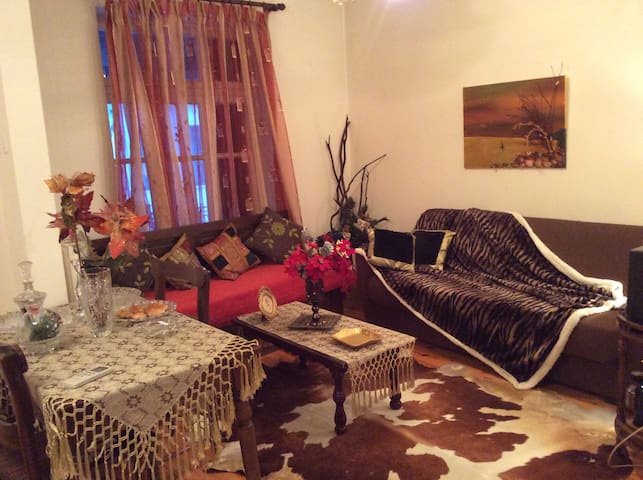 A studio with an open kitchen, 1 bedroom, 1 living room, and bath. It can comfortably fit 4 people (2 couples, a family with 2 children) in two separate beds. With dishwasher and washing machine, parking space in front of house. Walking distance to the centre, with a green garden. Transfer to/from train/bus station is provided. Guests who are looking for a slightly cheaper experience can check out our other studio in the same building, A Cozy Studio at Olympus 2.
We are located in the upper part of Litochoro, closer to Enipea Canyon. Therefore in summer it is a bit cooler thanks to its altitude.
We have a grocery store right up our street and a middleğ-sized supermarket some 100 m. away. The location is also walking distance to the village square and centre, where there are pattiserie shops, restaurants and the park.
A wonderful stay in Litochoro was made even more enjoyable by our stay with Arzu and Manolis! The apartment is clean, bright and airy with good wifi and a very comfortable bed. We came as guests and felt as though we left as friends. Highly recommended.
Rebecca
2015-07-12T00:00:00Z
Arzu and Manolis are wonderful hosts! They are always available to provide any kind of help and useful information about Litohoro. Their appartment was spacious, clean and its facilities were more than adequate to cover any traveller's needs. Highly recommended for anyone who looks for a stay at Litohoro! P.S. Thanks for the gifts! Tea from mount Olympus is highly appreciated!
Aggelos
2016-06-28T00:00:00Z
Arzu and Manolis are very communicative. I enjoyed talking to them. Manolis came and peaked me up from the bus station and also took me to Enippeas in Olympus so that I could find my way to the mountain. I was impressed that they had their cell always open so that if had any problem I could call them. If I visit Kitochoro again I know where to stay!
Apollo
2014-12-05T00:00:00Z
My husband had a really great time at Arzu's studio and in Litochoro. She helped him with information how to get there from Thessaloniki Airport and she picked him up from the station. She was a great host all the time over his stay and we can absolutely recommend her accommodation to anyone. Thank you ever so much!
Iwona
2015-03-07T00:00:00Z
Arzu and Manolis were the best hosts you can imagine! The apartment was clean and well fitted. Environment was also beautifull. Litochoro is very charming with small steep streets, the Olymp in background and a beach down the street. Thank your!
Laurentius
2017-04-01T00:00:00Z
I highly recommend this location, especially for families - mid to long term stay Large rooms, very clean, all new, well equipped. Very open & communicative host, late hour arrival, clear meeting point & driving direction to reach the spot. To reach city center I recommend car/moto/bike - walking may be a pleasure on narrow streets but takes 15-20mins We had only 1 night but was excellent.
Alex
2016-08-22T00:00:00Z
We loved our stay at Arzu's place! The hosts were great, they gave us a lift from the trainstation to Litochoro, showed us around town, gave us a Greek welcome present... Small and cosy house with all facilities present. Also great location for hiking in the mountains, even in winter. Litochoro is a lively town with great restautants and cafes + fresh market every monday. Special thanks to Manolis for the jungle cd! Jungle is massive! ;-)
Cas
2017-02-09T00:00:00Z
Excellent stay. Arzu and Manolis are really friendly, easy to talk to, quick in their responses and very helpful. The flat is as in the pictures, clean and comfortable. The location is great - within 10 minutes walk you walk walk along the river in beautiful mountain scenery or it is a perfect base to climb Mount Olympus/explore the area. Arzu and Manolis are one of the best hosts we have had on Airbnb. Highly Recommended.
Peter
2016-06-12T00:00:00Z
Room Type
Entire home/apt
---
Property Type
Apartment
---
Accommodates
4
---
Bedrooms
Litochoro, Makedonia Thraki, Greece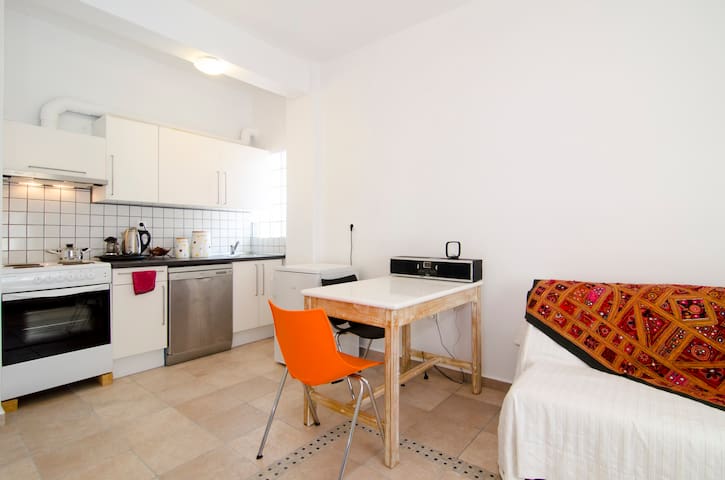 house in typical village with museum
Room Type
Entire home/apt
---
Property Type
House
---
Accommodates
4
---
Bedrooms
Aiani, Ipiros Ditiki Makedonia, Greece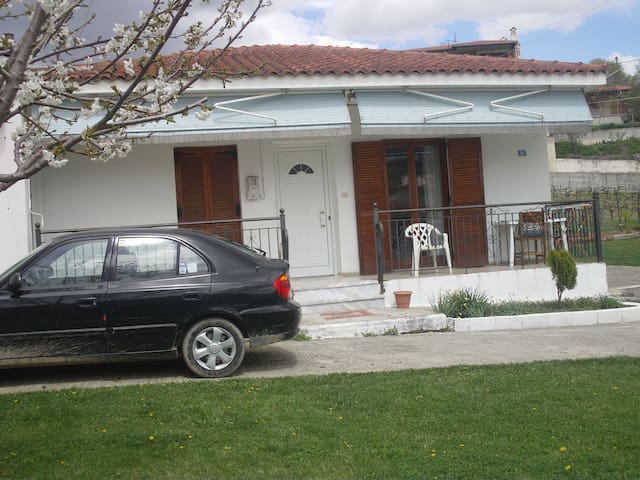 Enter dates to see the total trip price including additional fees (but excluding any taxes).