Centrally located in the picturesque mountain village of Field, BC. Great base for exploring the Canadian Rockies and Yoho National Park. We are about a 25 min drive from Lake Louise. The apartment has 1 bedroom with a queen bed. There is a spacious living area with a pull out couch for extra guests. It is SELF CATERING. The apartment has fully equipped kitchen, shower and bathroom. It is recommended to pick up supplies in Golden, Lake Louise, Banff. It has its own private entrance.
The host canceled this reservation 79 days before arrival. This is an automated posting.
Wally
2016-07-04T00:00:00Z
The couple of Darren are nice and helpful . The Rooms are neat and clean. And the location is perfect, which 10 minutes drive way from Emerald lake and the falls. Everything is wonderful. Highly recommend to other guests.
Yaogong Liu
2016-08-01T00:00:00Z
The hosts were amazing! We got in a little later than expected but they still took the time to greet us and show us around the house. They were very friendly and made us feel very welcomed.
Tim
2016-09-17T00:00:00Z
The hummingbird sweet was the perfect place to stay if you want to ski and explore the Rockies. The sweet was warm, clean and spacious! Thank you Paulina and Darren! We had a really great time :)
Winnie
2016-12-12T00:00:00Z
We had a great time in Field. Darren and Paulina were friendly and made checking-in easy. The kitchen was well-equipped, with salt and pepper, olive oil, and a good stove. There's even a pie-plate! Coffee was also provided. We have a very pleasant stay!
Malcolm
2016-12-04T00:00:00Z
Paulina and Darren were wonderful hosts. They are very friendly and as we arrived we felt very welcomed there. The communication with them was easy before and during the stay. The place was amazing. A lot of space and everything was clean. Almost 100 meters away, there is a wonderful local restaurant and a cafe. We had dinner and breakfast at the restaurant and enjoyed the mountain view from there. We definitely recommend the Hummingbird Suite!
Shima & Mathias
2016-07-09T00:00:00Z
We had a great stay at the hummingbird suit in field. Field was a great location for exploring the rockies. Paulina and Darren were lovely and the apartment was great. My one tip would be bring food and essentials because field is very small with only to cafes and food is quite expensive. I highly recommend a stay here.
Ben
2016-08-21T00:00:00Z
This is a beautiful place to stay in a really small town not too far from Lake Louise, assuming you are trying to unplug that is. The bed is very nice and the kitchen has access to many of the things that you don't normally get in a hotel, like a full size fridge and a good variety of dishes. The bed is also large and quite comfortable, though the shades over the window don't block out the sun, which makes it easy to get up for an early morning hike with the sunrise. This worked out well for us because this was our place to stay after driving from Calgary to Lake Louise through Banff. The host was prompt and responsive, keeping us updated on when the room would be available and they have a good list of nearby places to eat, at least the two options you have in their small town. You have a nice view from the bedroom window of the mountains. Two things to consider, you have to go downstairs to enter the room, which didn't bother us but might be a deal breaker for some people. Also the wi-fi, while it worked, was quite slow and we were not able to get any netflix streaming working reasonably despite the host pointing out that netflix is available once we checked in. Perhaps our experience was due to issues caused by the rain, so hopefully it is not always this slow.
Rommel
2016-06-20T00:00:00Z
Room Type
Entire home/apt
---
Property Type
Apartment
---
Accommodates
4
---
Bedrooms
Field, BC, Canada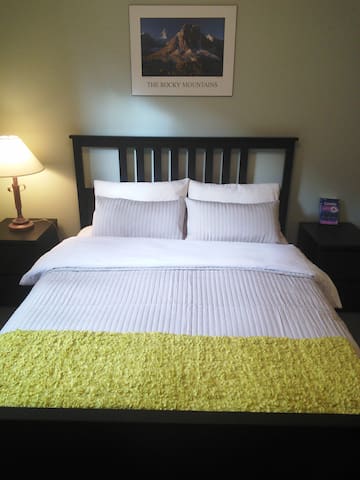 The Old Church Guesthouse is a lovely 2 bedroom lower level apartment. It is fully furnished with cozy down duvets on the beds, a complete kitchen with full size electric stove and refrigerator, comfortable living area, small library and many extras.
In the heart of the Canadian Rockies. One hour drive from Banff. Fifteen minutes from Lake Louise. Great base for sightseeing, hiking, downhill and cross-country skiing. A 2 bedroom roomy and comfortable fully-furnished apartment with private entrance- 6 steps down from garden level. Full kitchen has regular sized refrigerator with freezer, and full-sized electric stove, as well as plenty of dishware,glassware, cutlery and pots and pans for guests to do their own cooking. I provide delicious locally roasted coffee, a variety of teas, and some basic seasonings but guests are responsible for all their own meals. It is recommended that guests stock up on groceries before arriving in Field because our village has a wonderful restaurant and a great cafe, but very limited grocery shopping. For more detailed information about the guesthouse and the area, you can look at my website titled Old Church Guesthouse. I live upstairs and am usually available to greet guests and introduce you to the area. The Guesthouse is available at these rates from Nov. 1 until April 30. Different pricing applies for May through October and can be seen on the website.
Field is a tiny remote mountain village, removed from the hustle and bustle of this popular tourist destination
We loved our stay, there is plenty to do in the area with amazing scenery. The town (unknown to us) also has historical significance. The place was stocked with a small library of books including trails and guide books on the area, which we used to plan our excursions. We had a great visit.
Ripley
2016-08-20T00:00:00Z
This was a great place to stay for the four of us. It's a lovely apartment, well equipped and in a great location, just a few minutes walk to all the amenities in Field and at the heart of the wonderful Yoho national park which we all loved. Helen was so helpful not only in terms of the apartment but also through her knowledge of the locality and being part of Friends of Yoho. We would recommend this as one of our best ever Airbnb stays. Thanks Helen!
Dave
2015-07-25T00:00:00Z
Accommodation perfect for our stay,Helen gave great advice re local facilities and trips. Field is almost like a folk village and a welcome relief to the bustle of Banff could have stayed for another week.
Malcolm
2016-09-07T00:00:00Z
Helen was welcoming and helpful before and throughout our stay. We thoroughly enjoyed the Old Church Guesthouse, looking around Field and the easy drives to so much amazing hiking. The only thing stopping us booking reglarly is the flight from London! Thank you Helen:)
Chris
2016-07-20T00:00:00Z
The cottage is clean and very comfortable. Field is a perfect location to discover Yoho and Banff national Parks with good restaurant near to the guesthouse. Helen, the hostess is very accomodating and responds quickly to any question you have. Do not hesitate to reserve here!
liora
2016-09-26T00:00:00Z
Cozy apartment. Very clean and comfy. Helen was very welcoming. The apartment is convenient to Lake Louise and Yoho hikes. The Truffle Pigs down the road was nice for a drink and bite to eat.
Brittany
2016-10-06T00:00:00Z
We really loved the basement apartment! It felt very homely and the kitchen was very good! We had a lovely routine there, hiking during the days and cosy evenings in, eating, drinking and jigsaw making! The internet is not great and the heating system a bit confusing but otherwise couldn't fault it
Catriona
2016-05-27T00:00:00Z
So you love the outdoors and getting out into the wilderness but wish to retain the creature comforts you have become accustomed to. Helen has the place for you. Her spacious 2 bdrm apartment has pretty much everything you could need and more. An umbrella is adjacent the front door, night lights are in the entry and washroom, their are magnets on the fridge and coffee within, a wine rack nearby, hiking books on the book shelves and light duvets on the beds. If you are looking for accommodation in the Yoho national park area, with Lake Louise within 30mins easy drive, you should give serious consideration to staying here. I forgot to mention the pub and fantastic restaurant located 100m from her place at the end of her street (laundromat included), the Yoho NP information centre at the entry to Field, the serenity of this place and those seriously big mountains. Want to know more? Book Helen's place.
Glenn
2015-10-04T00:00:00Z
Room Type
Entire home/apt
---
Property Type
Apartment
---
Accommodates
5
---
Bedrooms
Field, BC, Canada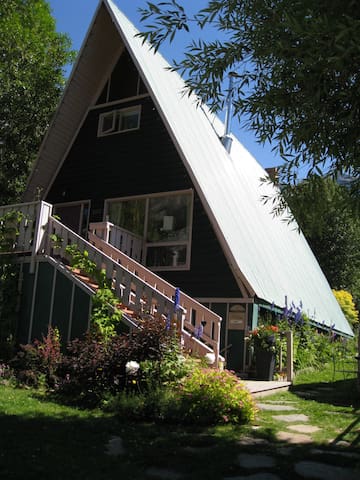 This exquisitely appointed cabin is located in the picturesque village of Field, BC and the perfect "home away from home" from which to explore Yoho and Banff National Parks in the heart of the Canadian Rockies.
This is a private (stand alone) cabin exquisitely decorated and offers a full kitchen, bathroom with laundry, dining and living room areas.
This cabin is up at the edge of the village away from the busier streets of the village and has lovely mountain views from the front deck. You don't want to miss dining out at the famous "Truffle Pigs Bistro & Lounge", 10 minute walk from the cabin.
Room Type
Entire home/apt
---
Property Type
Chalet
---
Accommodates
2
---
Bedrooms
Field, BC, Canada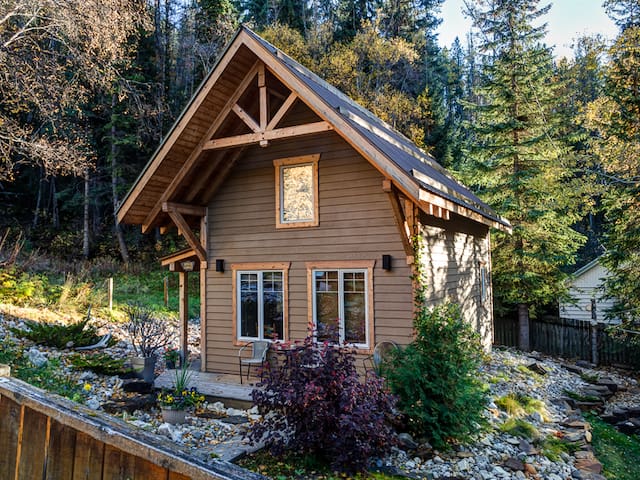 Our rustic log cabin in the middle of the majestic British Columbia Rocky Mountains will make you feel right at home. You'll love your stay here with our stone fireplace, beautiful mountain views, and authentic log cabin feel. My place is good for couples, solo adventurers, families with kids and big groups. Keep in mind, we are in the Rockies and our wifi is spotty. It is most reliable near the head office.
The loft is on the top floor and has a queen, two twin beds and a washroom. The bottom floor has a kitchen, bedroom (with a queen), bathroom, and a living room with a pull out sofa.
We're located 20 minutes from Golden, BC and out in the majestic wildnerness. All the cabins are surrounded by beautiful mountains and a creek flows to the side. Distance to Ski Hills Log House -> Kicking Horse Ski Resort: 37 mins Log House -> Lake Louise Ski Resort: 43 mins Log House -> Sunshine Ski Resort: 1 hour 20 minutes Log House -> Revelstoke Ski Resort: 2 hours 8 minutes Distance to Landmarks Log House -> Golden, BC: 24 minutes Log House -> Field, BC: 26 minutes Log House -> Emerald Lake: 34 minutes Log House -> Lake Louise: 44 minutes Log House -> Banff, AB: 1 hour 18 minutes Log House -> Jasper, AB: 3 hours 41 minutes Log House -> Yoho National Park: 4 minutes (We're right at the edge of it)
Great place to stay. Scenic and very quiet. Only 25min away from golden. The cabin was very clean. The outdoor bbq was great.
David
2017-01-08T00:00:00Z
My wife and I stayed at Tina's cabin for a few nights. Was bigger than the two of us needed, however truly enjoyed our stay. Beautiful cabin and very peaceful.
Torrey
2016-12-22T00:00:00Z
Nice place, perfect if you are flying into calgary and headed to golden for some skiing. We did a quick in and out and things worked out great
James
2017-03-06T00:00:00Z
The chalets are gorgeous and located in a beautiful valley. It was the perfect getaway for a little peace and quiet. Tina was very friendly, helpful, and quick at answering any questions we had. Would definitely recomment staying here!
Simona
2017-03-30T00:00:00Z
Tina was so quick and helpful for us. She was very accommodating and helped us out with different date requests. The property was really quiet and home like. Recommend staying for sure as long as you don't mind a quick drive to Golden!
Aleasha
2017-02-13T00:00:00Z
Perfect gate away cabin , we enjoyed a lot! Everything was amazing
EVELYN
2017-01-02T00:00:00Z
The chalet was spacious, comfortable and cozy. We had 7 guys, and there was plenty of space. Tina was extremely responsive and helpful!
Nigel
2016-12-18T00:00:00Z
This is an amazing cabin, spacious but cosy. We had a fantastic time and highly recommend . Thank you !
Kirsten
2017-04-11T00:00:00Z
Room Type
Entire home/apt
---
Property Type
Chalet
---
Accommodates
8
---
Bedrooms
Golden, BC, Canada
Looking for an adventure in the Great Canadian Rockies? Come explore our backyard in our authentic, timber log cabin complete with a stone fireplace, majestic views and tranquility. My place is good for families, groups, and wandering souls. We are in the Rockies, so our Wifi is spotty.
Room Type
Entire home/apt
---
Property Type
Chalet
---
Accommodates
8
---
Bedrooms
Golden, BC, Canada
Enter dates to see the total trip price including additional fees (but excluding any taxes).