Enter dates to see the total trip price including additional fees (but excluding any taxes).
2 Villa Rentals
· Santa Cruz de Tenerife
2 Villa Rentals
· Santa Cruz de Tenerife
This self-enclosed and detached villa has amazing views over the rural town of Puntagorda and the blue Atlantic ocean. Enjoy sunsets here in the garden and swim in a private swimming pool. There is also a mini-farm with turtles, rabbits, ducks, cats and free-range chickens (plus all the freshly laid eggs you can eat).
This villa was built by local artisans. The wooden roof is an amazing feat of traditional engineering. All the materials were locally sourced. There is a fireplace, floor heating, air conditioning. Guests will have the use of two bedrooms, two bathrooms, a kitchen and living room. The living room opens onto a patio area with a swimming pool and lawn/garden. There is also an enclosed mini-farm on a lower terrace. It is fully equipped for wheelchair use. Even the swimming pool is equipped with a small elevator to facilitate entering the water. I live in Puntagorda and will always be available to help in any situation. There's a sign in the house with all emergency numbers including my mobile number. I can advise guests on where to eat out or to buy their groceries (I can connect guests with local producers of organic vegetables and medicinal plants, there is also a weekend farmers market in Puntagorda), how to get to tourist attractions and suggest hiking trails. I will try to accommodate special requests if guests message me details in advance.
My villa is located in a quiet residential area surrounded by terraces of almond trees and other native plants. The town centre is a 5-10 minute drive away. Puntagorda is a small town (population around 2,000 inhabitants), 600m above sea level, located in the mountains and pine forests of northwest La Palma. Puntagorda is an agricultural town where we grow many things like potatoes, grapes, oranges and avocados, so you will see small fields and fruit trees, even in residential areas. There are also lots of animals so you can see chickens/cockerels, goats, cats and dogs around town. People are friendly and there is a good sense of community. Puntagorda is also a popular tourist destination so there is a cosmopolitan feel with visitors and inhabitants from around the world but it never feels crowded or too busy. We are close to the mountains, making Puntagorda a good place for hiking. But the coast is also only around 30-45minutes away so you can go to the beach easily. Sunsets are only seen on this side of the island (the mountain range, El Roque de los Muchachos is 2400m tall and blocks out the evening sun on the eastern side) so Puntagorda is a great place to watch the sun set. There is a bus stop at the bottom of the road for buses towards the city, Los Llanos, and towards the north, Garafia. There's a general store, a paper shop, a hardware store, clothes shops, art and furniture shop, a health food shop, a pharmacy, supermarkets, banks with ATM machines, bars and restaurants and a weekend farmers market about a 30 minutes walk away or 10-15minutes by car. But I must warn you: the way is steep. Walking down to the center of Puntagorda may not be a problem for most people, but walking back up can be tiring without a car or electric bike, unless you are reasonably fit. I can also organise hiking trips/provide transportation to anywhere in the island, like the Caldera de Taburiente, Marcos y Cordero, La Ruta de los Volcanes, El Roque de los Muchachos, Los Tilos, Cubo de la Galga, Buracas, Garafia and etc. Please, just ask and more information will be provided.
I've been to a lot of places through airbnb but Carlos was by far the best! Check-in was smooth-time was arranged, clear directions, and punctual. Upon my arrival, I found a welcome fruit basket (from Carlos' organic farm of bananas, avocados, oranges...) and some wine! There was a perfect balance between my privacy being respected and Carlos being available to be contacted throughout my stay. I even got suggestions on how to go to the best places in town. The house was clean, the kitchen and bathroom had modern appliances and the heated swimming pool was heaven! I could even gaze at the stars at night through a telescope! The villa is in a quiet location and it's easy to drive to the town center. I highly recommend it, 5 stars!
Stephanie
February 2016
The villa has everything you need for a perfect stay at La Palma!! Nice and quiet location, easy to find and a good view to the sea (and the sunset). All rooms in the house were very clear and nice. The two bedrooms and bathrooms were very beautiful and with love decorated and there are enough blankets and towels available for the whole stay. The kitchen has all the equipment you need for cooking at home. Carlos has decorated the house with beautiful flowers. As a welcome present, a bottle of very delicious wine from La Palma and a fruit basket were waiting for me... Thank you, Carlos, for the nice stay and thx for prompt answering my questions (especially concerning the alarm system ;-) ) Thanks for a perfect stay!! 5 stars, for you and your house!
Karin
April 2016
Very happy and will definitely book again! Carlos was a thoughtful and friendly host. He was quick to respond to my messages and called me to confirm our meeting time. Carlos' holiday villa was perfect for our stay. The detached house is on one-level and spacious, a modern construction in traditional Canarian style and lovely wooden ceiling beams. The property is surrounded by a fence with a private entrance and parking space so we had all the privacy we wanted. The location is residential and peaceful (we only heard the sound of crickets at night and the occasional cockerel) while being a convenient 5-10 minutes drive away from the centre of Puntagorda (weekend farmers' market, cafés/bars/restaurants, supermarkets, health food shop). The bedrooms were well furnished and comfortable (firm mattresses, plenty of wardrobe space, super clean). The bathrooms were also extremely clean, the showers had good water pressure, and we had more than enough towels at our disposal. The kitchen was fully equipped with everything we needed for cooking meals. Carlos even had a fruit basket and a bottle of local wine waiting for us! The fruits were all local and so flavourful. We even gathered a few freshly laid eggs from the hens for breakfast one morning. We especially enjoyed having a private swimming pool with a view of the sunset and the western coast of La Palma. Thanks so much Carlos and we hope to see you again soon! Betty & Peter (Kent, U.K.)
Betty
February 2016
Extremely clean and well equipped villa. The view from the patio/pool area was fantastic - looking downhill toward Puntagorda with the Atlantic in the background. Carlos has thought about supplying everything you would need for a self catering relaxing time in La Palma. A joy to be there and we didn't want to leave.
Graham
February 2017
Carlos is the perfect host, with brilliant communication every step of the way. The villa is maintained to an exceptional standard, equipped with everything you need in a self catering facility. Definitely a home away from home. The fact that Carlos goes the extra mile, with fresh fruit and wine on arrival, as well as daily eggs from the chickens on site, makes this place stand out from any other we have stayed in, and in our opinion worth every penny. Though we didn't take young children, our teenagers loved the animals, as I am sure most younger children would. The pool and extra family games on site make it ideal as a rural retreat for the whole family, away from the hustle and bustle of the usual tourist places! Excellent is the only way to describe it!
Caroline
February 2017
We stayed three nights and wish we could have stayed there the entire time. The house is close enough to the village to drive down within five minutes but secluded enough to really feel like you are on your own. There is an electric gate that can be closed which adds a nice touch. The grounds are immaculate and the adjacent 'farm' is a nice bonus. In addition to the pool there is croquet and a lawn boules court for la petaque. Inside the kitchen is first rate, we made breakfast daily and cooked using both the stove and oven without issue. There is a BBQ in back stocked with wood and a beautiful viewpoint to enjoy lunch or a drink. The bathrooms are appointed and decor is tastefully done. I would definitely return and recommend the villa to anyone. One of the best experiences I've had with Airbnb.
James
December 2016
Fantastic house in a wonderful location, very luxurious and a pleasure to stay there, the villa is superbly equipped with great attention to detail. Carlos was a generous and excellent host and very helpful to us, we arrived to a bottle of wine, delicious fruits and cheese. On arrival we felt instantly at home and it was difficult to leave as it was so lovely.
Lawrence
January 2017
Fantastic place, lovely host
Mike
January 2017
Room type
Entire home/apt
---
Property Type
Villa
---
Accommodates
4
---
Bedrooms
2
Puntagorda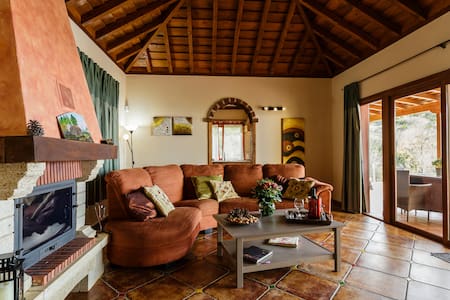 Erleben Sie individuellen Urlaub, der Ihnen Ruhe und Entspannung bringt. Wenn Sie landestypisches Ambiente schätzen und in ursprünglicher Umgebung Erholung erfahren möchten, finden Sie in unserer Finca La Paz das richtige Plätzchen dafür. Inmitten der Natur können Sie neue Kraft schöpfen, und zudem begegnen Sie einheimischen Menschen sowie deren Kultur und Lebensart. Im sonnigen Westen der Insel, oberhalb des Städtchens Puntagorda, liegt unser historisches Landhaus, die traumhafte Finca La Paz
Im sonnigen Westen der Insel, oberhalb des Städtchens Puntagorda, liegt unsere Finca La Paz. Um 1910 auf ca. 850 m Höhe erbaut, haben wir das Haus behutsam und mit Liebe zum Detail renoviert und um ein Bad und ein Schlafzimmer erweitert. Von Terrasse und Wohnzimmer aus bietet sich Ihnen ein grandioser Blick auf das Meer, die Gemeinde Puntagorda und die faszinierenden Sonnenuntergänge. Liebevoll eingerichtet, erwartet Sie auf mehr als 95 qm Wohnfläche gepflegtes Wohnambiente. Ein großzügig bemessener Wohnbereich mit Bettcouch und einem schönen Essbereich mit der typisch offenen kanarischen Dachkonstruktion verleihen dem Haus einen besonderen Charme. Zwei Schlafzimmer, eines mit Doppelbett, das andere mit zwei Einzelbetten erlauben bis zu 4 Personen bequemes Urlauben. Zusätzlich ist eines der Schlafzimmer mit einer kleinen Sitzecke ausgestattet, so das die Möglichkeit zum Entspannen und Lesen gegeben ist. Das Haus ist mit deutschem SAT TV ausgestattet. Zum Musik hören steht Ihnen eine Hifi Stereoanlage mit fünffach CD/DVD/MP3 Spieler und Radio zur Verfügung. Zudem ist in einem der Schlafzimmer ein kleiner CD Spieler vorhanden. Das Haus ist mit einer Gaszentralheizung ausgestattet. Das Brauchwasser wird von einer Solaranlage erwärmt . Im Wohnbereich steht außerdem ein Kaminofen, der für gemütliche Wärme sorgt. Die Küche mit ihrem traditionellen gebogenen Holzbalken und der ausgesucht schönen Arbeitsplatte verführt zum Kochen. Ausgestattet mit einem Ceranfeld und elektrischen Umluftbackofen lässt sich alles kochen oder backen was das Herz begehrt. Des weiteren ist ein Kühlschrank, eine Mikrowelle, eine Spülmaschine, ein Toaster, eine Kaffeemaschine und ein Mixer vorhanden. Das mit erlesenen Fliesen ausgestatte geräumige Badezimmer ist eine richtige Wellness Oase. Mit Badewanne und separater Dusche eingerichtet, bietet es Ihnen echten Genuss. Eine Waschmaschine und ein Wäschetrockner steht Ihnen hier ebenfalls zur Verfügung. Zwei schöne Terrassen und ein windgeschützter Innenhof laden ein, die Sonne zu genießen. Sonnenschirm und Gartenmöbel gehören ebenfalls zur Ausstattung des Hauses dazu. Preise Die Wochenmietpreise und der Mietpreis pro Tag für das komplette Haus richtet sich nach der Anzahl der Personen. Der Preis pro Woche bei einer Belegung von 1 Person beträgt ab 355,- Euro inkl. aller Nebenkosten Der Mietpreis für 1 Person pro Tag beträgt 40,- Euro. Zuzüglich einmaliger Endreinigung von 75,- Euro zahlbar vor Ort in Bar. Der Preis pro Woche bei einer Belegung von 2 Personen beträgt ab 495,- Euro inkl. aller Nebenkosten Der Mietpreis für 2 Personen pro Tag beträgt 60,- Euro. Zuzüglich einmaliger Endreinigung von 75,- Euro zahlbar vor Ort in Bar. Der Preis pro Woche bei einer Belegung von 3 Personen beträgt ab 565,- Euro inkl. aller Nebenkosten Der Mietpreis für 3 Personen pro Tag beträgt 70,- Euro. Zuzüglich einmaliger Endreinigung von 75,- Euro zahlbar vor Ort in Bar. Der Preis pro Woche bei einer Belegung von 4 Personen beträgt ab 635,- Euro inkl. aller Nebenkosten Der Mietpreis für 4 Personen pro Tag beträgt 80,- Euro. Zuzüglich einmaliger Endreinigung von 75,- Euro zahlbar vor Ort in Bar. Die Mindestmietdauer der Finca ist 7 Tage. Leistungen Der Mietpreis beinhaltet folgende Leistungen: Strom-, Wasser- und Gasverbrauch Bettwäsche und Handtücher Gartenmöbel (Tisch, Stühle, Liegen) für 4 Personen Empfang und Einweisung durch unsere deutsche Hausverwalterin vor Ort Am Anreisetag ist das Haus ab 14:00 Uhr verfügbar und am Abreisetag sollte die Finca wieder bis 10:00 Uhr frei sein. Andere An- und Abreisezeiten können individuell vereinbart werden. Die Fahrzeit zum Flughafen mit dem Mietwagen beträgt ca. 1,5 Stunden. Der Mietwagen ist im Mietpreis nicht enthalten. Wir sind Ihnen gerne bei der Buchung von einem deutschen Autovermieter vor Ort behilflich. Bezahlung Bei Vertragsabschluss wird eine Anzahlung in Höhe von 20% des Gesamtpreises fällig, zahlbar innerhalb von 10 Tagen nach Erhalt der Rechnung. Die Restzahlung ist bis spätestens 14 Tage vor Mietbeginn zu leisten. Bei kurzfristigen Buchungen kann die Zahlung auch direkt vor Ort an unsere Hausverwalterin erfolgen. Stornierung Bei Rücktritt vom Mietvertrag werden folgende Ausfallzahlungen vereinbart: bis 46 Tage vor Mietbeginn 20% vom Gesamtpreis ab 45 Tage vor Mietbeginn 50% vom Gesamtpreis ab 30 Tage vor Mietbeginn 80% vom Gesamtpreis Eine Reiserücktritt-, Reisekranken-, Haft- und Gepäckversicherung sind im Mietpreis nicht inbegriffen. Alle Einrichtungen im Haus und auf unserem Grundstück können von Ihnen uneingeschränkt genutzt werden. Unsere Ansprechpartnerinnen vor Ort sind: Frau Swenja Klippstein Telefon +34 690 645087 und Frau Christine Ortner Telefon +34 636 254399
Gastronomie Eines der besten Restaurants im Norden La Palmas Restaurante El Bernegal in Garafia Kanarische, Vegetarische und internationale Küche Spezialität Solomillo Bernaisa Tolle Salate Calle Diaz y Suarez 5 38787 Santo Domingo de Garafia Telefon 922 400480 Öffnungszeiten: 12.00 Uhr bis 17.00 Uhr Freitags und Samstags auch von 19.00 bis 22.00 Uhr Montags Ruhetag Unser Lieblingsrestaurant Restaurante Azul in El Castillo Kleines Höhenrestaurant mit spektakulärer Aussicht und sehr guter Küche. Man spricht Österreichisch, Speisekarte wechselt alle 14 Tage, Tischreservierung unbedingt nötig Plaza el Castillo 13 38788 El Castillo Telefon 922 400660 Öffnungszeiten Fr, Sa und So 14.00 Uhr bis 22.00 Uhr Montag bis Donnerstag Ruhetag Auch empfehlendswert Restaurante Jardin de los Naranjos in Puntagorda Kanarische, Vegetarische und Internationale Gerichte teilweise aus eigenem ökologischen Anbau Carretera el Fayal 33 38789 Puntagorda Telefon 922 493382 Öffnungszeiten Mi bis Fr 13.00 Uhr bis 16.00 Uhr und 18.00 Uhr bis 23.00 Uhr Sa, So und Feiertage 12.00 Uhr bis 23.00 Uhr Montag und Dienstag Ruhetag Essen am Meer Restaurante Playa Mont in Tazacorte Fisch, Meerestiere, Kanarische und Internationale Gerichte Spezialität Chocos, gegrillter junger Tintenfisch, viele tolle Fischgerichte Avenida Emigrante am Hafen von Tazacorte 38779 Puerto de Tazacorte Telefon 922 480443 Öffnungszeiten 12.00 Uhr bis 16.00 Uhr und 18.00 Uhr bis 23.00 Uhr Donnerstag Ruhetag Latino Restaurante Los Braseros in Santa Cruz Kanarische und Südamerikanische Gerichte Spezialität Puchero Canario und Chuleton de Cerdo. Kanarischer Eintopf und Schweinekoteletts, Fleisch wird auf kleinen tönernen Tischgrills serviert Candelaria Mirca Straße von St. Cruz de La Palma zum Roque de los Muchachos 38700 Santa Cruz de La Palma Telefon 922 414360 Öffnungszeiten Mo, Mi, Do und So 10.00 Uhr bis 18.00 Uhr Fr und Sa 10.00 Uhr bis 18.00 Uhr und 20.30 Uhr bis 23.00 Uhr Dienstag Ruhetag Wir empfehlen für die Erkundung der Isla Bonita einen Mietwagen zu nehmen. Aber auch mit öffentlichen Verkehrsmitteln kann man die schöne Grüne erkunden. Den aktuellen Fahrplan der Busgesellschaft finden Sie unter: http://www.transporteslapalma.com/horarios/
Room type
Entire home/apt
---
Property Type
Villa
---
Accommodates
4
---
Bedrooms
2
Puntagorda