APPARTAMENTO ARREDATO COMPOSTO DA SOGGIORNO CUCINA CAMERA DA LETTO E BAGNO. IL TUTTO IN VILLA SOLEGGIATA A 3km. DALLA CITTÀ.
Lino is a friendly and thoughtful host. The house was well equipped, clean and convient. The views of Corno Grande were great. You can see Campo Imperiatore as well. Definitely recommended.
Steve
2016-07-26T00:00:00Z
You never know what you will get, bit Lino's place was great for us. It was a little tricky to find. Apparently there is a (SENSITIVE CONTENTS HIDDEN) maps glitch that sends you to the wrong block, but Lino will come after you with a flashlight to lead you in. Lino is a craftsman and you can see that great care has been made to ensure his apartments are all in working order and well appointed. Although the apartment was a little small, it was the most well-equipped and well-supplied airbnb property I have stayed at. The beds have those firm but soft foamy mattresses and the wifi worked well. Ventilation was ok and the kitchen was great.
Thomas
2016-10-16T00:00:00Z
Great welcome, very nice host, cosy apartment.
Raz
2015-09-24T00:00:00Z
We were very impressed with our stay at lino's. He was very kind and the cost of the rental was reasonable. He ensured that we were content and provided directions to visit L'Aquila and several restaurants. We will return.
Steve
2015-07-01T00:00:00Z
Lino è un persona speciale e dolcissima, premurosa e attenta alle esigenze dei suoi ospiti. Siamo stai benissimo in una location favolosa con il Gran Sasso che ci deliziava con la sue sommità, pulizia e comodità eccellevano e cullati dal profumo dei fiori giardino. The Best - contiamo di ritornare ancora.
Franco
2015-06-01T00:00:00Z
Appartamento nuovo e pulitissimo, il signor Lino è una persona squisita. Ci ha riservato una accoglienza perfetta ed è stato disponibile per ogni evenienza.
Rossella
2015-12-18T00:00:00Z
Molto contento!! La casa è accoglievole e pulita! Il proprietario gentile e disponibile!!
pasquale
2015-05-08T00:00:00Z
Lino è una persona umile ed eccezionale che ci ha fatto trovare l'appartamento pulitissimo e ben fornito per il nostro soggiorno. La casa è piccola ma al tempo stesso ampia e comoda e sopratutto molto moderna e accogliente, dotata perfino di parcheggio all'interno del cancello. La zona è silenziosa e vi si può ammirare la magnificenza del Gran Sasso aquilano ed è al tempo stesso molto vicina al centro della città. L'host e la sua famiglia sono persone cordiali e discrete tanto che quasi non si nota la loro presenza seppur sia stata molto gradita. In conclusione, noi consigliamo vivamente di contattare Lino se si vuole trascorrere un piacevole soggiorno nell'aquilano e siamo certi che non ne rimarrete delusi. Rapporto qualità/prezzo: ottimo
Riccardo
2015-08-30T00:00:00Z
Room Type
Entire home/apt
---
Property Type
Apartment
---
Accommodates
5
---
Bedrooms
L'Aquila, Abruzzo, Italy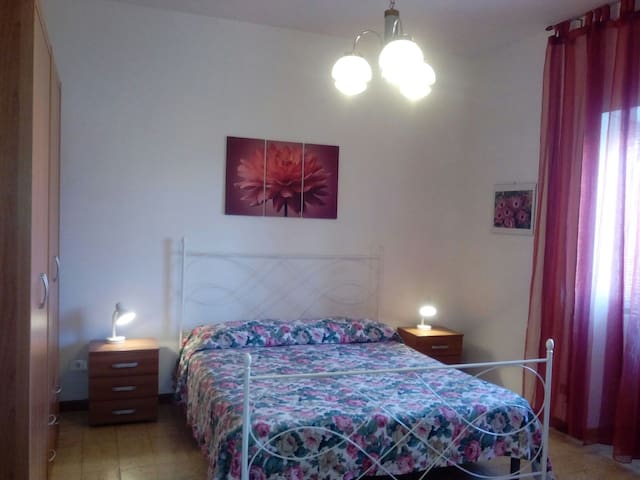 appartamento in villa in zona naturale tranquilla e soleggiata
Lino was kind and accommodating and despite us not speaking any Italian, he was able to communicate everything we needed to know through a variety of means, including a great app (which instantly translated spoken language:)! Great coffee machine, which we appreciated in the early morning.
Josefina
2016-06-10T00:00:00Z
Lino was a very nice and friendly host. In the end, we decided to extend our stay from one to three days. The place itself is the ground floor of Lino's house, which is unfortunately quite dark and cold. The garden, the view and the neighbourhood make up for it though. You can have magnificent views of the Gran Sasso mountains, and lovely walks through the surrounding fields and villages. The centre is about 45 minutes walk (which we did a couple of times) with quite a bit of a slope, so you have to /will get fit if you decide to walk. Since Lino does not speak English, most communication went with (SENSITIVE CONTENTS HIDDEN) Translate, which proved quite convenient. Thank you Lino for your hospitality!
Alexander
2015-10-05T00:00:00Z
Lino was an excellent host. He was very kind and detailed in showing us the place and all of the accessories. The place was very clean, tidy, and organized. We had everything we needed for a comfortable stay. We highly recommend this listing.
Jennie
2016-08-30T00:00:00Z
Siamo stati una notte e ci ha piacevolmente sorpreso l'attenzione, la cura e la disponibolità di chi gestisce la struttura: il Sig. Lino!!! Spazi ampi, pulizia impeccabile e tranquillità fanno di questo posto un' ottima scelta anche per i più esigenti. La colazione decisamente varia e abbondante! Il centro de L'Aquila a pochi minuti e la vista del Gran Sasso completano una permanenza che consigliamo a chiunque...anche con bambini piccoli o neonati: parola di mamma !!!
Paola
2015-09-06T00:00:00Z
Soggiorno piacevolissimo!il Sig.Lino e la moglie ci hanno accolto e coccolato come figli! Appartamento spazioso e riservato! Grazie alla disponibilità di Lino a ricevere e custodire le nostre bici, siamo riusciti a partire da lì per il nostro (URL HIDDEN) riusciremo, torneremo!!
Francesco
2016-08-07T00:00:00Z
tutto come nella descrizione grazie mille!host consigliatissimo
Daniela
2016-04-17T00:00:00Z
Lino è stato gentile e accogliente. La sistemazione è ampia e comoda e nonostante ci sia stato un guasto al WiFi ha predisposto una soluzione alternativa.
Marco
2015-08-20T00:00:00Z
Tutto perfetto, Lino poi é una persona disponibilissima e gentile.. alla prossima
Luigi
2016-06-03T00:00:00Z
Room Type
Entire home/apt
---
Property Type
Apartment
---
Accommodates
5
---
Bedrooms
L'Aquila, Abruzzo, Italy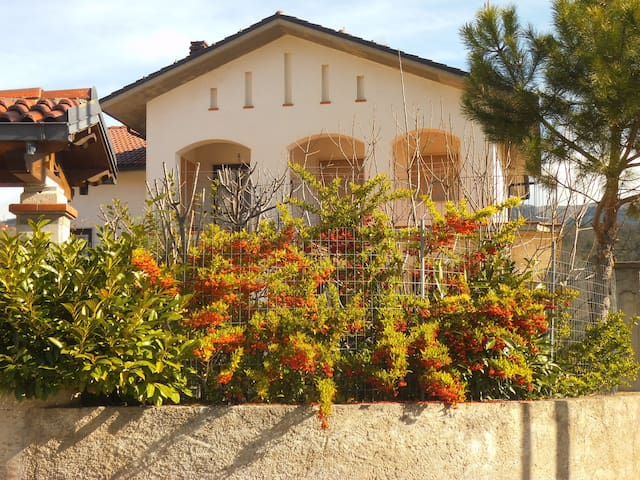 New Renewed Modern Large Apartment to spend some days at the mountain of Abruzzo, if you like snow, sun, fresh air for your lungs, trekking, biking, horseback riding … if you love mountain nature.
New modern large apartment 100mq, 4 bedroom, 2 bathroom, kitchen, dining room and large living room 30mq. Washer in unit, 2 balconies and nice yard. Plenty of free parking space
7 minuti dal centro dell'Aquila 5 minuti a piedi Supermercato ed Edicola
Maria Rita waited for us at the entrance of the village and took us to the house. The house was really clean and spatious and there were many utilities to cook good Italian food. The apartment is entirely refurbished and very comfortable with two terraces, one on each side of the house. Maria Rita even gave us some eggs from the garden for us to cook for breakfast. Onna is a peaceful village close to Gran Sasso national park and the town of L'Aquila. You're really in between both places which is really comfortable. Thank you Maria Rita for everything, next time we're in the region we'll pass by to say hi.
W.H.E.
2016-05-27T00:00:00Z
Siamo stati molto bene nella casa di Maria Rita. L'appartamento è molto grande, pulito e ben fornito e qualora mancasse qualcosa, Maria Rita e i suoi genitori che abitano di fronte sono sempre molto disponibili a fornirla. Il posto è abbastanza isolato e quindi molto tranquillo ma allo stesso tempo per arrivare in centro città all'Aquila ci vogliono solo 10minuti in macchina. L'ospitalità della casa è sicuramente molto avvalorata dalla gentilezza e simpatia di Maria Rita. Grazie e a presto!
Martina
2016-02-19T00:00:00Z
Abbiamo trascorso una settimana ed il soggiorno è stato ottimo. L'appartamento corrisponde perfettamente alla descrizione e ci si trova tutto il necessario per trascorrere una vacanza senza intoppi. E' spazioso e ben pulito ed il quartiere è sicuramente tranquillo. Anche la posizione è ottima, ad un paio di minuti dalla statale su cui si trovano diversi supermercati e che soprattutto permette di raggiungere L'Aquila e le altre interessanti località abruzzesi con comodità. Anche per quanto riguarda l'accoglienza non abbiamo nulla da ridire, le indicazioni per arrivare sono state precise ed all'occorrenza avremmo potuto tranquillamente chiamare ma appunto non è servito. Ad accoglierci c'erano i genitori di Maria Rita che ci hanno fatto subito sentire a casa e nei giorni del nostro alloggio ci hanno letteralmente coccolati fornendoci indicazioni ma anche (e soprattutto) prelibatezze preparate dalla madre e primizie raccolte dall'orto dal padre. In sostanza se cercate un alloggio come base per visitare la regione questo appartamento è consigliatissimo.
Giuseppe
2016-08-17T00:00:00Z
Room Type
Entire home/apt
---
Property Type
Apartment
---
Accommodates
5
---
Bedrooms
Nucleo Industriale, Abruzzo, Italy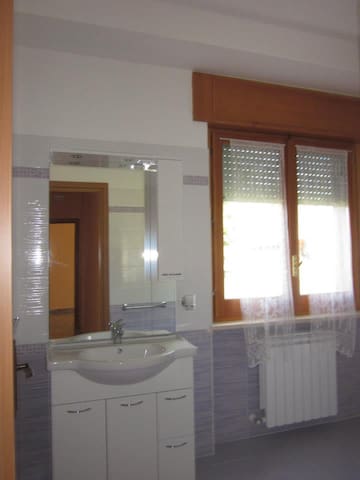 Monolocale situato al terzo piano di una palazzina di recente costruzione (con ascensore ed isolatori sismici). È presente un letto matrimoniale e un divano letto. A disposizione c'è un'ampia terrazza con vista panoramica unica.
Terrazza con vista sul Gran Sasso e montagna di Campo Felice
Room Type
Entire home/apt
---
Property Type
Apartment
---
Accommodates
2
---
Bedrooms
L'Aquila, Abruzzo, Italy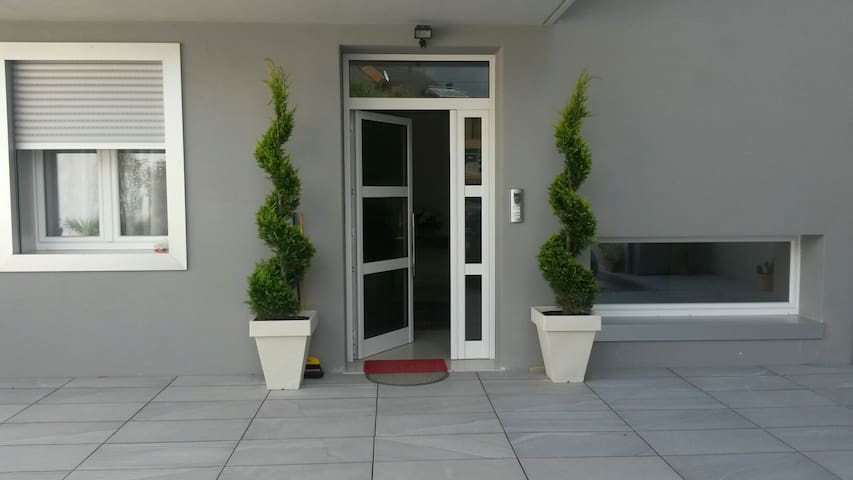 Stanza confortevole, con letto matrimoniale, TV e Wireless, bagno riservato con cabina doccia, in un appartamento moderno, pavimenti e soffitto in legno, silenzioso, caldo e accogliente. Adatto a coppie, solitari, chi viaggia per lavoro e amici pelosi (animali domestici).
Sito al secondo piano, si accede con l'ascensore. Parcheggio coperto. Fermate autobus urbani frequenti, sottocasa; con un biglietto giornaliero di appena 2,30euro si gira per tutta la città e frazioni vicine. Per ogni evenienza e sempre, all'arrivo, ci sono io ad aiutarvi con la mia auto.
Immerso nella natura, consente anche passeggiate distensive godendo di un bel panorama tra valle e montagna. Per i più golosi, è possibile raggiungere a piedi un'azienda apistica locale.
The host canceled this reservation 20 days before arrival. This is an automated posting.
Alex
2017-03-11T00:00:00Z
Ospiti di Anna Rita è come stare a casa propria,, come ritrovare un 'amica che non vedi da tempo. Accogliente, calorosa è disponibile. La casa non e vicinissima al centro, è consigliabile disporre di un mezzo.
Carla e Michele
2016-09-28T00:00:00Z
Room Type
Private room
---
Property Type
Apartment
---
Accommodates
2
---
Bedrooms
L'Aquila, Abruzzo, Italy