Welcome to the newly opened Casper Suite which is located on the outskirts of the Spanish opened in February 2017 roku.Jest a very modern housing estate located at a distance of 100m from the shops, shopping center Dom Sea and the most popular in the whole Trojmiescje Outlet Fashion House.Apartament is decorated very modern Scandinavian style, with two bedrooms exit to a sunny terrace overlooking the playground and in the countr, private underground parking with elevator silent
The apartment is unique because it is nice, modernly furnished in a quiet area close to shops
Room Type
Entire home/apt
---
Property Type
Apartment
---
Accommodates
4
---
Bedrooms
Gdańsk, pomorskie, Poland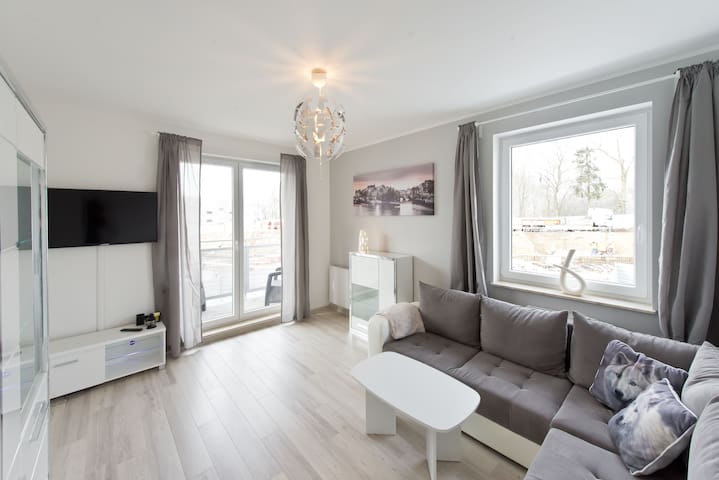 Wyposażenie: - tv - łazienka - balkon - wyposażona kuchnia - ok 15 km do morza - ok 4,5 km do jeziora Otomin - ok 8 km do centrum - ok 700 m do przystanku autobusowego - parking zewnętrzny - wi-fi/ płatne dodatkowo 20 zł/tydzień Mieszkanie położone jest na zamkniętym osiedlu na obrzeżach Gdańska. Equipment: - tv - bathroom - balcony - kitchen - +/- 15 km to the beach - +/- 4,5 km to Otomin lake - +/- 8 km to the Old City - +/- 700 m to bus stop - parking
Cicha, spokojna okolica, niewielkie zaludnienie osiedla. Calm and quiet, not much people living there.
The apartment is like in the photos. Very clean, very good location. Communication with the host was great. I would recommend!
Irene
2016-06-08T00:00:00Z
Our family had a great time in Mateusz's apartment. It's lovely spacious and well equipped apt in modern style. Mateusz was very welcoming and helpful owner. We really recommend it!
Роман
2016-08-05T00:00:00Z
Bardzo dobry kontakt z właścicielem, przekazanie kluczy odbyło się bezproblemowo. Mieszkanie bardzo ładne i przytulne :)) Polecam!
Elwira
2016-06-06T00:00:00Z
Mieszkanie jest bardzo ładne. Położone jest w cichej i spokojnej okolicy. Kontakt z Mateuszem przebiegł bez żadnych problemów. Niestety oferta przeznaczona jest raczej dla osób posiadających samochód, dojazd z walizkami może być nieco uciążliwy.
Jakub
2016-07-10T00:00:00Z
Mieszkanie na żywo prezentuje się jeszcze lepiej niż na zdjęciach - fajnie urządzone i w pełni wyposażone. Znajduje się w cichej okolicy, a dojazd samochodem do centrum czy nad morze zajmuje tylko kilkanaście minut. Świetny kontakt z gospodarzem. Polecam!
Dominik
2016-08-01T00:00:00Z
Miejsce godne polecenia, bardzo czysto. Dobry kontakt z gospodarzem. Polecam wszystkim szczególnie osobom zmotoryzowanym. Wylot na obwodnicę jest bardzo blisko dzieki czemu wszędzie łatwo dojechać. Duży pozytyw :)
Agnieszka
2016-08-18T00:00:00Z
Gospodarz bardzo miły. Cały czas doskonały kontakt oraz chętny do pomocy. Mieszkanie czyste, komfortowe, wszystko zgodnie z opisem oferty. Okolica spokojna i cicha. Zdecydowanie polecam!
Michał
2016-05-12T00:00:00Z
Swietne mieszkanie. Bede wracala!
Magdalena
2016-07-16T00:00:00Z
Room Type
Entire home/apt
---
Property Type
Apartment
---
Accommodates
4
---
Bedrooms
Gdansk, pomorskie, Poland
Comfortable apartment in a quiet neighborhood. Great place to rest after a day of activities. Easy access to the center and the Tri-City ring road. Near the bus terminal, two shopping centers and in their restaurants and bars. On the outskirts of small shops and Ladybug. Before the block playground. In three minutes you get to the lake surrounded by alley - a perfect place for walking, the way another playground and mini gym. My place is good for a couple, the adventure solo, families, business travelers.
2 min. walking to the store Biedronka
Good host, very communicative and responsive to issues. There was an issue with the internet, but Zbyszek was quick to react to help out. Much appreciated. As for location, it is ideal to have a car, especially if you stay out later hours at night (or you can use uber). Great value, because the place itself is great and comfortable. Note that there are no laundry facilities. That said, I was very satisfied with my stay. Recommended.
Philippe
2016-08-07T00:00:00Z
Très bon logement, dans un quartier calme et tranquille. L'accès au centre ville est facile malgré la distance (il faut bien compter une demi-heure). Le cadre de l'appartement est très sympathique et une balade autour du lac est toujours profitable. :)
Olivier
2016-09-16T00:00:00Z
Mieszkanko wspaniałe, czyste, pachnące, pościele, ręczniki.. W pełni wyposażone, czułem sie jak w domku. Polecam
Artiom
2016-08-22T00:00:00Z
Прекрасная квартира - после ремонта, уютная и чистая. Очень заботливый хозяин, всегда был на связи. Встретили, все показали и рассказали. Чувствовали себя как дома. Район приятный, тихий, рядом магазин и остановка транспорта. Ездили на машине, рядом окружная дорога, удобная транспортная развязка. Очень рекомендую!
Nataliia
2016-08-27T00:00:00Z
Począwszy od momentu kontaktu po rezerwacji aż do oddania kluczy mieliśmy świetny kontakt. Miejsce schludne i czyste, przestronne. Oferta godna polecenia a sam Zbyszek to bardzo komunikatywny człowiek :)
Marek
2016-09-01T00:00:00Z
Gospodarz bardzo pomocny, gdy zapytaliśmy o miejsca, które jego zdaniem warto odwiedzić w Gdańsku, przygotował nam obszerną listę (szczególnie polecamy lodziarnię Altana Smaków ;)). Nowoczesne, czyste, zadbane mieszkanie w nowym budynku z windą - w pełni zgodne z zamieszczonymi zdjęciami. Dostępne wszelkie niezbędne sprzęty, na ogromny plus zasługuje świetne wyposażenie kuchni. Bardzo przyjemna, cicha okolica, w sam raz na odpoczynek. Dużo miejsc na spacery. Daleko od centrum, jednak pętla autobusowa praktycznie pod blokiem, tak samo jak Biedronka, niedaleko także 2 niewielkie centra handlowe. Bez problemu dostępne miejsce parkingowe. Polecamy :)
Michał
2016-09-25T00:00:00Z
Nowoczesne i funkcjonalne mieszkanie w nowym budynku. Czyste i zadbane. Idealne dla gości z samochodem. Zbyszek był świetnym i pomocnym gospodarzem z którym łatwo było się komunikować.
Maciej
2016-09-04T00:00:00Z
Gospodarz bardzo pomocny, mieszkanie zgodne z opisem - czyste, komfortowe, świeże i z dobrze wyposażoną kuchnią. Wysoki standard.
Anna
2016-08-14T00:00:00Z
Room Type
Entire home/apt
---
Property Type
Apartment
---
Accommodates
4
---
Bedrooms
Gdańsk, pomorskie, Poland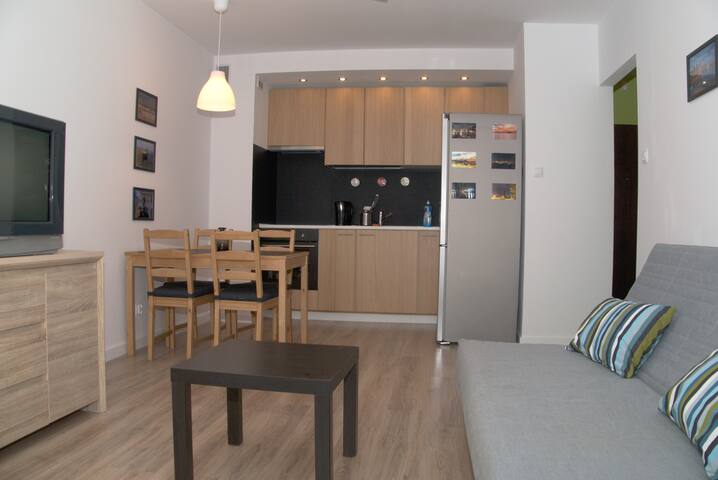 Hello, I have to offer 55 m2 apartment on the street. Porębskiego, just above the pond (from the terrace you can see a pond, can be reached on foot in 1 minute), 15 minutes by car to the city center (20/25 bus). Studio is spacious and comfortable, located on the ground floor overlooking the pond. Ideal for people who appreciate quiet surroundings with the proximity of nature with easy communication with the city center.
Great little apartment. We stayed for 11nights and it was great. Good connections with city centre and all tricity. Some shops around. Due to our early flight we could check in earlier. Jarema welcomed us and gave all needed info. Just great. Apartment itself needs couple minor fixes but it was pointed out. Hope it'll be done for other visitors.
Maciej
2016-08-15T00:00:00Z
We stayed 5 nights in Jarema's appartment and it was great. Jarema is really nice and understanding : we were late the first night but a friend of him waited for us. There is a little supermarket near the building where we parked for free our car for the night. By car, the city is close to the appartment. The lake and neighborhood are quiet, we even saw a wild boar. We were 5 friends , there is two beds and one couch. For sleeping it was tight but not uncomfortable. The only little disappointment was that there was only 3 blankets for 5 but we had our sleeping bags so it was not a big deal. We enjoyed our stay !
Leo
2016-02-21T00:00:00Z
Oferta zgodna z opisem. Mieszkanie czyste i przytulne. Lepsze dla 4 osób. Dla pięciu mogłoby okazać się ciasne.Okolica cicha i przyjemna. Około 10-15 minut samochodem od centrum. Nie miałam okazji poznać osobiście gospodarza (niemniej jednak kontakt mailowy bardzo sprawny), a jedynie jego kolegę Bartka (bardzo sympatyczny i niezwykle pomocny). Polecam wszystkim!
Paulina
2016-02-29T00:00:00Z
Останавливались на 2 ночи, 2 взрослых, 3 детей. Положительные моменты - 1 этаж, удобно если вещи носить;бесплатная парковка возле дома, дают от шлагбаума ключ; бесплатный вайфай; на машине достаточно удобно выбираться, шоссе рядом; в квартире было тепло; есть необходимая посуда, какие то мелочи, вроде чай, кофе и т.п. Из минусов - работала только одна из электрический конфорок, вообщем ничего критичного для нас не было. Вполне адекватная цена / качество проживания.
Andrey
2016-05-03T00:00:00Z
Świetne, czyste i ładne mieszkanie. Gospodarz mega sympatyczny i pomocny. Okolica bardzo dobrze z komunikowana z centrum, ale też bardzo blisko wylotu na A1 , dzięki czemu nie staliśmy w korkach i dojechaliśmy szybko z powrotem do Warszawy. Okolica mieszkania jest po prostu przepiękna , bardzo duży staw który pozwala zapomnieć że jest się w mieście.
Krzysztof
2015-11-20T00:00:00Z
Super okolica i przede wszystkim bardzo mily gospodarz. polecam
Pepe
2015-10-16T00:00:00Z
Жильё вполне соответствовало ожиданиям, парковка,wi-fi, необходимые мелочи. Никаких проблем не возникало. Квартира стоит своих денег.
Igor
2016-08-16T00:00:00Z
Bardzo miły kontakt z wynajmującym. Drobne problemy przy zakwaterowaniu, ale wynikając z przysłowiowej "złośliwości rzeczy martwych". Wynajmujący zaproponował nawet upominek, z którego jednak zrezygnowaliśmy. Mieszkanie względnie dobrze skomunikowane z resztą miasta i położone w cichej i ładnej okolicy. Brak jednak sklepu otwartego do późnego wieczora (a przynajmniej go nie znaleźliśmy). Wnętrze mieszkania dość nowoczesne i zadbane. Idealne na krótki pobyt.
Hubert
2016-07-31T00:00:00Z
Room Type
Entire home/apt
---
Property Type
Apartment
---
Accommodates
5
---
Bedrooms
Gdańsk, pomorskie, Poland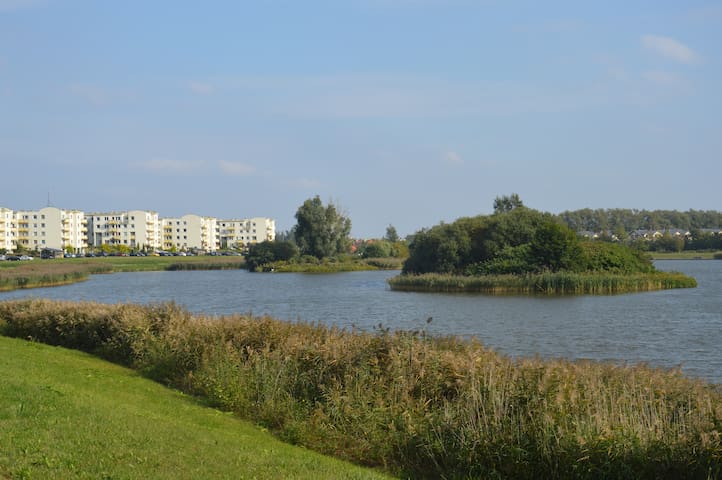 Moja oferta jest w pobliżu: lotnisko, komunikacja publiczna oraz centrum miasta. Pokochasz moją ofertę z uwagi na: okolica i klimat. Moje miejsce jest dobre dla: pary, przygody solo, podróżujący w interesach oraz rodziny (z dziećmi).
Jesteśmy bardzo zadowoleni! Apartament idealnie przygotowany, zadbany, ładny, czysty. Świetna lokalizacja - blisko Gdańska, spokojna okolica. Bardzo dobry kontakt z gospodarzami.
Karolina
2016-07-24T00:00:00Z
Room Type
Entire home/apt
---
Property Type
Apartment
---
Accommodates
4
---
Bedrooms
Kowale, pomorskie, Poland
Welcome to the cozy yet modern apartment which is fully equipped for daily life in the apartment is free Wi-Fi and kablówka.Dużą advantage is the proximity to all the shops, shopping center, dentist, doctor, etc ..
Living room is connected with the kitchen and the outside terrace, which gives a large space in the living room is a very large comfortable sofa bed with linens czysciutka in the second bedroom has two single beds which can be split mattress for 5 osoby.Posiadamy also travel cot for the baby. From the living room and the terrace is a direct view of the playground dzieci.Kuchnia has a refrigerator, countertop induction, dishwasher, large bathroom has a bath with a shower immediately and a modern washing machine and dryer
Quiet neighborhood about 4 km to a large beautiful lake with a beach, horse riding, gym, shopping mall, outlet fashion hause largest in the Tri-City, hiking and biking, restaurants in the center of hadlowym
The host canceled this reservation 49 days before arrival. This is an automated posting.
Angelina
2016-06-24T00:00:00Z
Very nice and modern apartment, close to big outlet mall, but not close to city centre (but we drove so that didn't matter) Private parking and play ground is a plus. We enjoyed our stay and would come back.
Hans Jørgen
2016-08-09T00:00:00Z
The host canceled this reservation 3 days before arrival. This is an automated posting.
Irina
2016-12-06T00:00:00Z
Szczerze polecam! Duży, jasny apartament; świetny kontakt z p. Krzysztofem, który okazał się pomocnym i bardzo elastycznym gospodarzem.
Aleksandra
2017-02-05T00:00:00Z
Szczerze polecam! Nowoczesne mieszkanie z dwuosobowa sypialnia dziecieca i przestrzenia wspolna: z wielka kanapa rozkładana na trzyosobowe łóżko, aneksem kuchennym, ekspresem Nesspresso, garderoba, telewizorem i balkonem z przyjemnym widokiem. Mieszkanie czyste i wygodne, dodatkowo nie ma problemu z kluczem, bo jest kodowana klamka. Spokojna okolica, zadbane osiedle z zamknietym parkingiem, w pobliżu sklepy i markety. Kontakt z właścicielem bezproblemowy, dodatkowo bardzo wygodne, elastyczne godziny zameldowania/wymeldowania. Świetne miejsce na pobyt dla max 5osób, polecam!
Kinga
2016-05-19T00:00:00Z
Room Type
Entire home/apt
---
Property Type
Apartment
---
Accommodates
5
---
Bedrooms
Gdańsk, pomorskie, Poland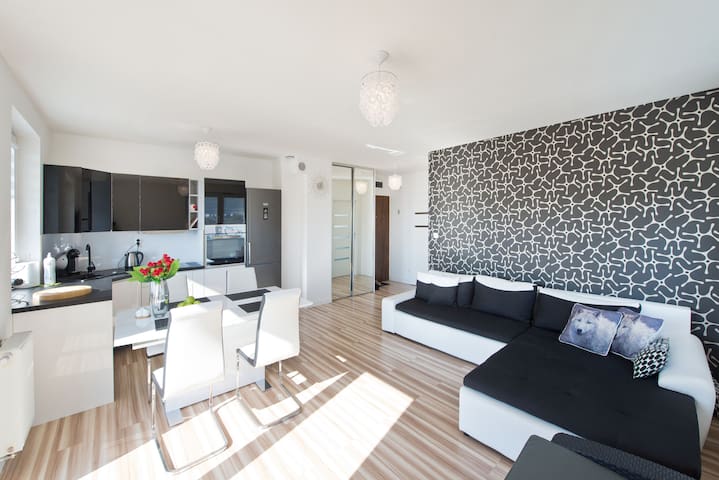 Service "suiteGDA" was created on the individuals and companies. "Apartments" - we offer short-term rental apartment well placed in communication with the ring road (airports, shopping centers), guaranteeing trouble-free access to the center. The place is good for a couple, business travelers and families (with children). We provide the service "concierge" - a comprehensive organization of your stay in the Tri-providing activities and relaxation for the guest and his family. We are at your disposal.
Marcin has been a great host and the very definition of Airbnb. He kept close contact to make sure we check in smoothly, showed us around and gave us all the tips to fully enjoy Gdansk. He organized us a table at a great restaurant in the city and has been more than helpful in any endeavour to accommodate our needs and make the stay enjoyable. Upon arrival, some cold beer awaited us as well as chocolate santas for all of us, suiting the time of of the year :) Needless to say, the apartment was spotless and even more beautiful than seen on the pictures. Fully recommend and will come back when in Gdansk again!
Maikel
2016-12-12T00:00:00Z
Wspaniały wynajmujący! Pełen profesjonalizm i zaangażowanie. Razem z rodzina czuliśmy ogromną pasje i chęć pomocy na każdym kroku. Bardzo polecam i każdemu życzę podobnego miłego zaskoczenia.
Sandra
2017-04-09T00:00:00Z
Marcin est un hôte très sympathique et professionnel. Dans son appartement (très propre, bien équipé et assez bien localisé-15 min en bus du centre ville) il nous a parfaitement reçu. Grâce à son excellent sens du service, nous avons passé un très bon séjour à Gdansk.
Adrien
2016-12-30T00:00:00Z
Apartament czysty, zadbany, dobrze wyposażony, zlokalizowany w bezpiecznej, zielonej dzielnicy miasta. Załączone zdjęcia wiarygodnie przedstawiają wnętrze. Gospodarz bardzo komunikatywny i punktualny, gotowy pomóc w każdej potrzebie, dbający o swoich Gości w sympatyczny, jednocześnie profesjonalny sposób. Polecam serdecznie chcącym odpocząć w miłej atmosferze.
Agnieszka
2016-08-18T00:00:00Z
Bardzo się cieszę, że wraz ze znajomymi mieliśmy okazję spędzić czas w tym apartamencie. Oferta przedstawiona na stronie w stu procentach pokrywa się z tym, co zastaliśmy na miejscu. Wszystko było przygotowane na nasz przyjazd i niczym nie musieliśmy się martwić. Pan Marcin jest świetnym gospodarzem: otwarty, z poczuciem humoru; czuliśmy, że w razie jakichkolwiek pytań, problemów możemy na Niego liczyć. Gorąco polecam wszystkim, którzy planują pobyt w Gdańsku :) Świetne miejsce na odpoczynek! :)
Joanna
2017-01-01T00:00:00Z
Pan Marcin zadbał o to, żeby spotkało nas ciepłe miłe przyjęcie i mieszkanie było doskonale przygotowane na nasz pobyt. Drobiazgi, które świadczą o tym, że gospodarz dba o swoich gości, sprawiły, że poczuliśmy się jak w domu.
Katarzyna
2016-11-13T00:00:00Z
Отличная квартира, уютная, очень чистая. Все соответствует описанию. Очень приветливый и отзывчивый хозяин. Приезжаем не первый раз. Спасибо.
Tatiana
2016-10-13T00:00:00Z
Dziękujemy bardzo jeszcze raz. Wszystko było dokładnie tak jak w opisie, a nawet lepiej. Najlepsze miejsce do zatrzymania się w Trójmieście. Pan Marcin pomagał nam od początku do końca i wszystko było perfekcyjne. Mieszkanie zupełnie nowe, bardzo czyste i zadbane.
Wiktor
2016-09-15T00:00:00Z
Room Type
Entire home/apt
---
Property Type
Apartment
---
Accommodates
4
---
Bedrooms
Gdańsk, Pomeranian Voivodeship, Poland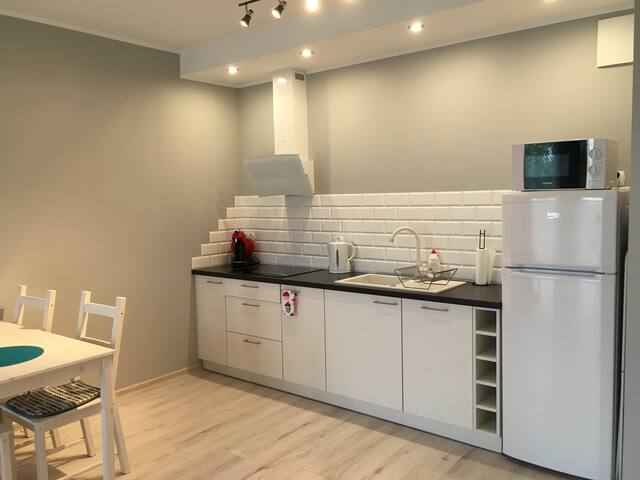 A room for 2 (+ second room for another 2 guests) in a spacious 3-room apartment on the 1st floor with access to a cozy green patio. Quiet location, close to the ring road (convenient for car travellers). Reserved parking lot (please send a note if you need it). A public transport stop within a 3-minute walk distance. A 25-minute ride to the historic part of the city.
The apartment has 2 permanent tenants: 2 marvelous ginger cats. Fast internet.
2 well equipped playgrounds in the vicinity. A small grocery store 50 m from the house.
Room Type
Private room
---
Property Type
Apartment
---
Accommodates
4
---
Bedrooms
Gdańsk, pomorskie, Poland
My offer is near restaurants and food and public transport. You'll love my job because of: the location and surroundings. My place is good for a couple, the adventure solo business travelers, families (with children), and furry friends (animals). I am able to provide bedding, and I'd asked to prepare własmych pillowcases on the quilt and pillows.
Flat is great and perfectly situated. Nice and careful people. I recommend !
Eddy
2016-08-20T00:00:00Z
Maciek was very friendly and helpful. Even, he took us by car from the tram stop. The apartment is really spacious and comfortable, suitable for longer stays. It is located in the new district farther from the sea, but the tram or bus is great connections throughout the day. it's nice that the apartment has a small balcony.
Otto
2016-08-07T00:00:00Z
Mieszkanie dosyć duże, w pełni wyposażone. Dobry stosunek jakości do ceny, przyjazna komunikacja z właścicielem.
Łukasz
2017-04-09T00:00:00Z
bardzo szybki kontakt:)
Tomasz & Ewa
2016-07-22T00:00:00Z
Super! super! super! ;)
sandra
2016-10-10T00:00:00Z
Mieszkanie lepsze niż na zdjęciach:) jest przestronne i zadbane. Osiedle bardzo spokojne i zielone (byliśmy z psem więc to dla nas ważne) z dobrym dojazdem (bezpośredni tramwaj do centrum). Właściciel bardzo sympatyczny i pomocny, polecamy:)
NG
2016-08-28T00:00:00Z
Wszystko było jak najbardziej okej ! :) Bardzo dziękujemy za mile spędzony czas i mamy nadzieję,że do następnego razu !
Mateusz
2016-08-03T00:00:00Z
Квартирой довольны. Поблизости есть магазины, автобусные и трамвайные остановки.
Vitalii
2017-01-05T00:00:00Z
Room Type
Entire home/apt
---
Property Type
Apartment
---
Accommodates
4
---
Bedrooms
Gdańsk, pomorskie, Poland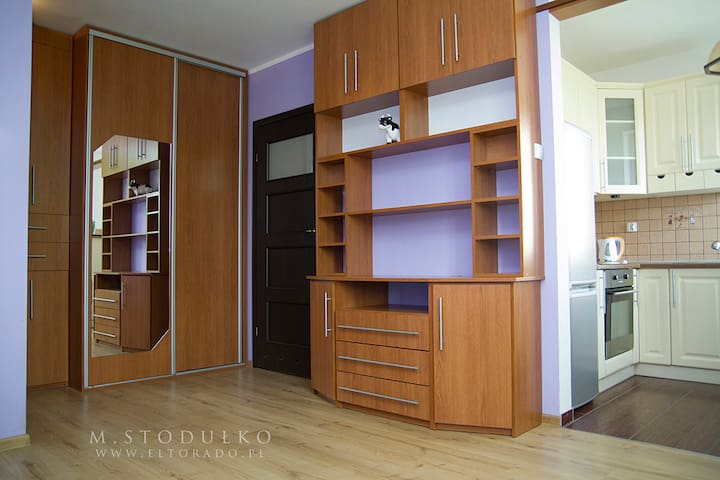 Apartment located at the address Kołodzieja 47 is located in Gdańsk's Ujeścisko. It is one of the southern districts of the city of Gdansk, is located near the ring road which provides a free trip for the whole Tri-City and continue on the Hel peninsula, while access to public transport to the city center. The peace and quiet, while the proximity of all the attractions of Tricity.
Apartment on the street Kołodzieja 47 is a new and very cozy. The apartment consists of living room, bedroom, bathroom, kitchen and hallway. The apartment is very funkccjonalne, equipped with all necessary equipment, including iron, hair dryer, drying rack. The living room has a large dining table, TV, big corner, a wardrobe and a dresser. The bedroom has a wardrobe, chest of drawers and a sofa. The bathroom has a toilet and shower. The kitchen has a table, chairs, refrigerator, dishwasher, electric kettle, coffee maker. On the balcony in the summer season are available chairs. The apartment is located on the 3rd floor of the building with elevator. There is a place in the garage.
Room Type
Entire home/apt
---
Property Type
Apartment
---
Accommodates
4
---
Bedrooms
Gdańsk, pomorskie, Poland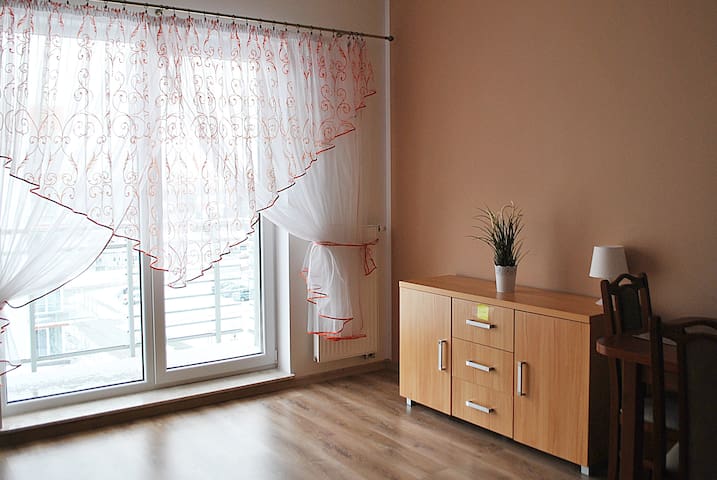 Dear Guests, I live in a quiet and nice area called Jasien, Gdansk. It is located 20 mins from the old town ( Main Train Station). The bus stop is within 5 mins by walking. It is only 7 mins by car from the airport. There are also grocery stores, ATM, taxi, bus stop within 5 mins. Possible parking slot.
good neighbourhood , peace and quiet , close to the old town.
okolica Jasień jest bardzo spokojną dzielnicą.
Room Type
Private room
---
Property Type
Apartment
---
Accommodates
1
---
Bedrooms
Gdańsk, pomorskie, Poland
Cozy, bright, sunny apartment located on the second floor of a block on a well-communicated residential area. Safe, quiet, well-maintained neighborhood. Nearby shopping complexes, supermarkets, bus stops and tram terminal.
Wszystko bardzo super. Przyjazna, kontaktowa i pomocna właścicielka. Dobra komunikacja publiczna nawet w nocy. Szczerze polecam.
Łukasz
2017-04-09T00:00:00Z
Wspaniałe miejsce, bezpieczna i przepiękna lokalizacja, apartament przerósł wszelkie nasze oczekiwania, prezentuje się lepiej niż na zdjęciach! Szczególnie spodobał się mojej dziewczynie :) Mieszkanie nowocześnie urządzone, w pełni wyposażone i bardzo komfortowe! Z chęcią zatrzymamy się tu na dłużej przy kolejnej okazji! :) Polecamy wszystkim to miejsce :)
Łukasz
2017-04-11T00:00:00Z
Room Type
Entire home/apt
---
Property Type
Apartment
---
Accommodates
2
---
Bedrooms
Gdańsk, pomorskie, Poland
★ Gdansk attractions - Old Town - 16 min by tram&bus ★ Shopping malls (Fashion House, Madison) - 12 min by car ★ Free parking spot at the premises of the building ★ Modern & spacious apartment for 5 guests, kids & pets are welcomed ★ Start your day with breakfast enjoying beautiful view from terrace ★ Great place for your business trips, provided WiFi and a desk to work ★ We can provide concierge services for additional fees ★ Hosts speak English fluently ★ 24/7 check-in and check-out
★ Big, bright and easily accessible apartment ★ A comfy, fully equipped place for business travelers or a small family. ★ Can accommodate ideally 3 people, up to 5 people ★ Additional infant crib could be arranged, just ask us in advance. ★ A lot of storage available for you as we have moved out
NEIGHBOURHOOD Gdańsk - Old Town Gdańsk Westerplatte Gdańsk - Twierdza Wisłoujście Gdańsk Park Oliwski Sopot Gdynia Malbork I marked all adjacent services in the guide section. You will love our place because it is cosy, near to the city centre. Our place is suitable for couples, singles, LGBTQ friendly, business trips, family trips, groups and people with pets.
The flat is not in the center, but there is a bus stop just in front of the flat. The apartment is really beautiful and well equiped, we were welcomed with a polish drink and some cakes. We stent a really good week end!
camille
2017-02-05T00:00:00Z
Fantastic stay!!! We had such an incredibly warm welcome and Aleksandra even left us with a bottle of wine and some groceries to start out our stay! I have stayed in many Airbnb's and this was definitely at the top of our list for an incredible experience!!! The apartment is wonderful and Aleksandra is the perfect hostess! Would highly recommend!!!!
Julie
2017-01-25T00:00:00Z
Polecam to miejsce. Miła spokojna okolica z dobrą komunikacją miejską. Dobry dojazd do centrum. Mieszkanie przestronne i wygodne. Właściciel dbający o mieszkańców.
Krzysiek
2017-04-01T00:00:00Z
Room Type
Entire home/apt
---
Property Type
Apartment
---
Accommodates
5
---
Bedrooms
Gdańsk, pomorskie, Poland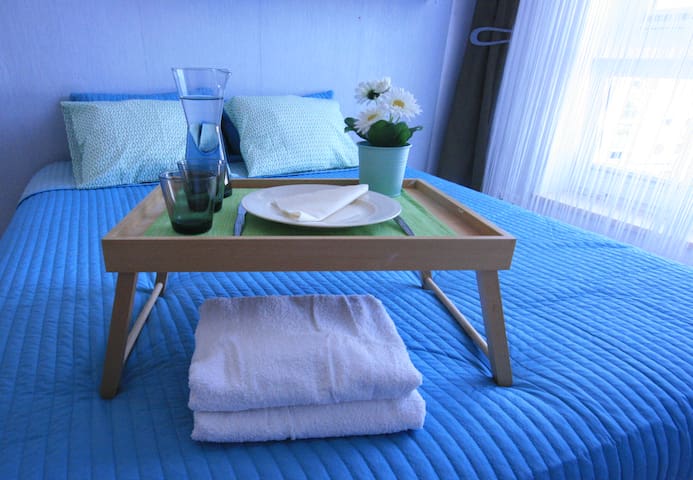 My offer is near the river Radunia, active hydro power plant in 1905, walking along the river of life opportunity to see beavers, woods, fields. It is 20 minutes away by car to the Bay of Gdansk, beach in Gdańsk-Brzeźno. The estate has a tennis court. My good place for couples and families (with children). About 15 minutes drive to the beach or on the Westerplatte in Gdansk Stogi. About 20 minutes by car to the center of Gdansk. Apartment comfortable.
Silence, contact with nature, on the estate tennis court. The apartment has a Jacuzzi tub. Balcony where you can smoke. Excursions to the sea by car this time about 20 minutes. Visiting Gdansk is also 20 minutes by car.
Osiedle zlokalizowane wśród pól, ładnie zagospodarowane. Niedaleko znajduje się jezioro. Na styku jeziora z rzeką Radunią czynna elektrownia wodna z 1905 roku. W rzece można obserwować działalność bobra. W okolicy zamieszkuje stadko sarenek, żurawie krążą po niebie. Na terenie osiedla jest kort tenisowy.
We stayed couple of nights at Isabela's apartment in August and there where no troubles at all. I have to point out that apartment is in new home district, and neighborhood is silent. Surroundings are green(URL HIDDEN)Very recommended.
Vytautas
2016-08-22T00:00:00Z
Przyjemni gospodarze, oferta w 100% zgodna z opisem, bardzo dobre usytuowanie dla osób chcących zwiedzać Trójmiasto, Kaszuby czy Żuławy, spokój i cisza wokół domu, brak problemu z parkowaniem. Polecam !
Piotr
2016-08-11T00:00:00Z
Piękne mieszkanie i bardzo mili właściciele. Dziękujemy :)
Marta
2016-08-16T00:00:00Z
Polecam, dla rodziny odpowiednie miejsce.
edyta
2016-08-31T00:00:00Z
Lokalizacja bardzo dobra, szybki dojazd do Brzezin nad plażę. Izabela i Krzysztof pokazali nam najciekawsze miejsca w okolicy. Miło spędziliśmy weekend w Gdańsku. Dzięki położeniu poza Gdańskiem można zaoszczędzić czas na staniu w korkach na bramkach.
Wiktor
2016-08-08T00:00:00Z
Room Type
Entire home/apt
---
Property Type
Apartment
---
Accommodates
5
---
Bedrooms
Borkowo Łostowickie, Pomeranian Voivodeship, Poland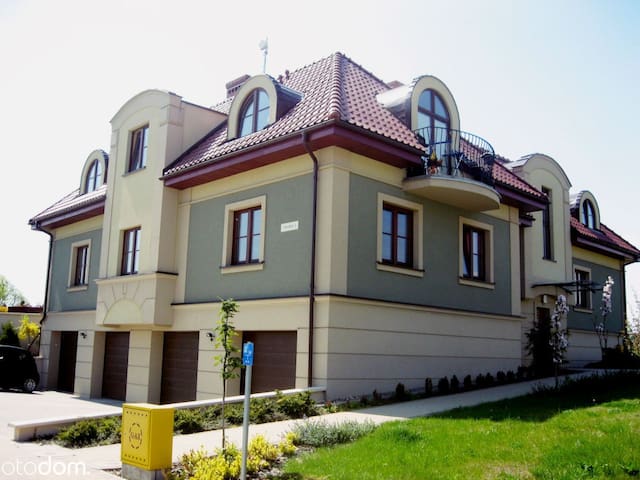 Please Use link www.airbnb.pl/c/asobieska1 to get 85zl(20euro)discount for your first journey! ;-)This is my daughters' room so there are books and other staff and its very colorful. For breakfast we serve toasts with cheese, salami or ham, rolls with champinions , cheese and onion, scrambled eggs or fried eggs and fruit, coffee/tea or juice, At weekends I usually bake the cake,
It is quiet district, at night there are night buses ;-)
It was really very nice stay at Aneta's place! Cosy like at home and Aneta is a very friendly host
Viktoria
2016-07-10T00:00:00Z
Aneta is a very friendly host. We just felt like at home, she showed us a lot of things to do near and in Gdansk. We had very nice discussions. The breakfast was really great and good !! She knows how well receive her guests so : thank you ! Also thank you for your daughters who were so adrable and cute. We recommend this airbnb to all persons who wish to visit Gdansk !
Isabelle
2016-07-26T00:00:00Z
Its very nice that i have spent 3 days in Aneta's home during the new year time. She is a very helpful and kind person. The breakfest is very delicious and heartwarming. I like the fried dumplings best,it is so tasty and i already miss it now just by writing. She has 2 very adorable children, which makes the atmosphere relaxed and happy. And she can also offer you a lift to the airport, which is so convenient,you just need pay a small amount money for that. The place is a little far away from city center but for a student like me its so worthy and economical. Best recommendation for students to experience local life and explore the city!
Xiang
2017-01-02T00:00:00Z
Aneta was a great host. She is helpfull, very kindly and selfless. I can Aneta and her flat only recommend! She is great!
Jakub
2016-08-02T00:00:00Z
Aneta, thanks for everything during our short stay! We are glad that decided to stay at your home. The breakfast was great and delicious (thanks your lovely daughter for helping with it)! We would definitly recommend staying at you home!
Ирина
2016-07-18T00:00:00Z
Aneta is such a lovely person! She's the kindest person ever. We arrived late but it wasn't a problem at all. She offered us a late night snack and breakfast. We just loved staying at Aneta's place. Flat is really comfortable, nicely furnished and in good location. You have shops and bus stop just few steps away from the exit of the building. We definitely highly recommend staying at Aneta's place - you won't be disappointed!!!!!
Katarzyna
2016-06-01T00:00:00Z
Aneta is a very welcoming and very friendly person. She did everything to make our journey as comfortable as possible. We slept in her living room. For this short stay it was a good. For a longer stay it would be a little small I guess. Thank you Aneta :)
Mareike
2016-09-26T00:00:00Z
Aneta is very sincere and friendly person! If you encounter with any issues as a tourist like losing luggage or anything else, be sure Aneta will be helpful and your problem will be resolved. I recommend this place to every guest, the district is calm and safe, not far from city centre. the apartment is just near the bus stop. If I happen to be at Gdansk again, I will stay at Aneta's place for sure.
Maryna
2016-05-16T00:00:00Z
Room Type
Private room
---
Property Type
Apartment
---
Accommodates
3
---
Bedrooms
Gdańsk, pomorskie, Poland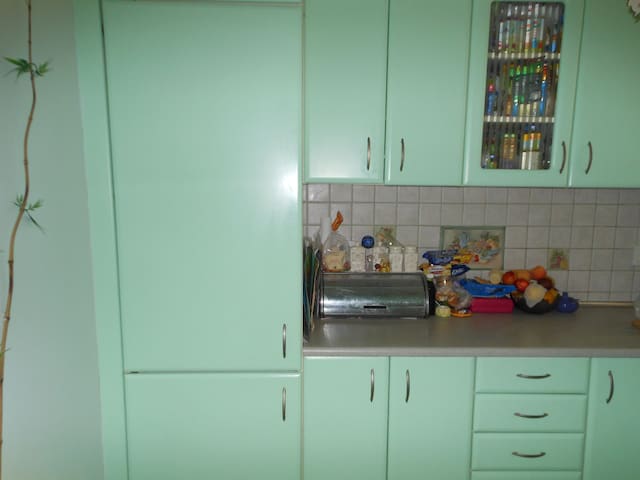 Room Type
Entire home/apt
---
Property Type
Apartment
---
Accommodates
4
---
Bedrooms
Gdańsk, Pomeranian Voivodeship, Poland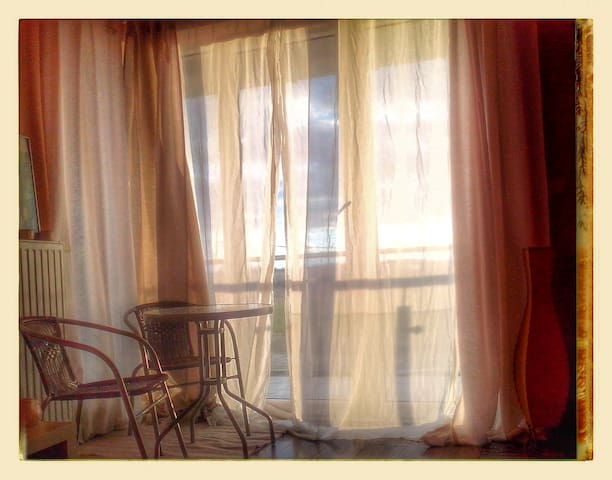 One-room apartment in Gdansk, Rogalińska street, a 15 minutes by a tram to the center of town and the old town . The car can be parked on-site parking behind the Gate , closed playground for children , with a large balcony a nice view. Near to shops. It has 4 places for sleeping ( 2 single beds and a double sofa bed ) TV 32 - inch with cable and internet Wi- Fi . Privat car park place.
Lovlely little flat for 4 persons, 15 minutes by tram to old-town.
My family and I had a wonderful time staying at this apartment. It was cozy, very comfortable and full of light. We had everything we needed. My family was very touched by the hospitality of Piotr. Despite the long delay in transit and lack of communication Piotr waited for us. He also provided us with all necessary information. I recommend this apartment for a comfortable stay in Gdansk.
Ольга
2016-08-10T00:00:00Z
Piotr was great host> including caring our bags to the apartment, in time to welcome us and give all the important information about the city and the another things which we were interested in. Like a professional host with big smile...
Svetlana
2016-07-26T00:00:00Z
Piotr is very good host. No problem with comunication and get keys. An apartment is located in calm district, but with good tram connection to the city center. There is also playground for children just in it's own backyard. The flat is spacious and comfortable. Full equipped and perfectly clean. I strongly recommend it.
Marta
2016-06-19T00:00:00Z
Der Gastgeber war sehr nett und ist sehr pünktlich zu der Unterkunft gekommen, hat uns alles gezeigt und erklärt. Die Unterkunft ist gut geeignet für einen vorübergehenden Aufenthalt in Danzig. Schade war nur, dass keine Handtücher in dem Appartment waren. Ansonsten war es gut geeignet zum übernachten.
Kathrin
2016-08-16T00:00:00Z
Gospodarz w porządku, bez problemu dogadaliśmy godzinę przyjazdu i wyjazdu. Mieszkanie bez zarzutów, zadbane, w spokojnej okolicy, z super połączeniem tramwajami do centrum :) Polecam!
Kasia
2016-07-04T00:00:00Z
Room Type
Entire home/apt
---
Property Type
Apartment
---
Accommodates
4
---
Bedrooms
Gdańsk, pomorskie, Poland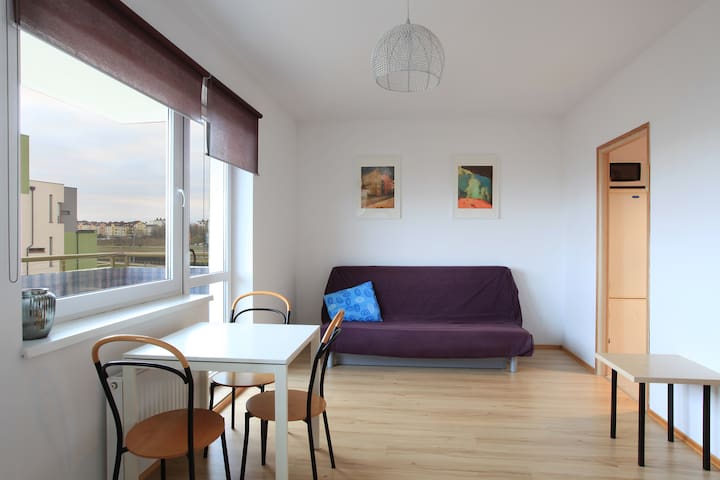 Spacious, sunny & freshly renovated. Fully equipped with kitchen & bathroom, it has everything you need. It comfortably fits 1-3 people. Located in a quiet district, very close to the city center (10-20min). Enjoy the balcony and its lovely view.
Very sunny quiet apartment at 3,5rd floor (last floor & no lift) with a lovely view from the balcony on a forest. All you need is there and within 1-5 min.
Buses and trams (direct access to the centre) are only 5 min away. A grocery shop in front of the building (couldn't be closer), a pub/ restaurant and dentists (just in case:-), 24/7 petrol station (shop/food), medical clinic, church and even a Mc Donald all within 5 min walking distance. Also, all kinds of shops from discount ( Biedronka, Dyskont) to top quality one (Piotr I Paweł) only 5-10 min away. Also there is some grass space and a forest just in front of the building - ideal for a walk or jogging.
We had some great days in Gdansk and Anna's flat was a perfect base for that. We didn't meet Anna in person, but communication via messages was very fast and easy. Thank you Anna for giving us a home in Gdansk on last minute!
Katharina
2016-08-09T00:00:00Z
Anna helped us a lot. It was a last minute reservation, as my parents were left out in the cold by another host. Even though she wasn't in Gdańsk, she responded very quickly. Her mother picked up my parents when they couldn't find the way, which was really nice of her. The flat itself, was very clean and nice. They felt immadiately like at home. Thank you Anna once again :)
Kasia
2015-07-20T00:00:00Z
I have stayed here before so i knew what to expect, great host great flat! Will stay here again no doubt it!
Richard
2016-05-18T00:00:00Z
all good - including the apt. and the (safe, fairly quiet) location. anna is good with communicating too.
jon
2016-06-09T00:00:00Z
A spacious apartment with huge TV and everything you need for a few days stay. Had some problems but nothing out of the ordinary. Anna was helpful and I am sure if I needed something, she would help me out. Anna also speaks good English. Flat is good if you're traveling by car (as I was) because you have free parking and city center is reachable in 5-10 minutes. McDonalds is very near if you want a quick and easy meal.
Janeks
2015-11-19T00:00:00Z
Great place to stay.
Olga
2016-08-06T00:00:00Z
Nice apartement, clean, quiet, and just a short trip from city center. Anna was very helpful, and a good hostess. My best recommendations.
Kåre Thom
2016-07-14T00:00:00Z
What a Fantastic place to stay in Gdansk, First of all thank you to Anna for all your help, what a host! Helped me with transportation to and from Airport and Railway Station and when i wasn't even staying at the Flat! The Flat was perfect, wifi, central heating etc, easy access to shops and Trams and Buses and only 15 min from old town and 20 mins from the Airport, when i return to Gdansk this place will be top of my list! Great place for a sunset as well ;)
Richard
2016-02-07T00:00:00Z
Room Type
Entire home/apt
---
Property Type
Apartment
---
Accommodates
3
---
Bedrooms
Gdańsk, pomorskie, Poland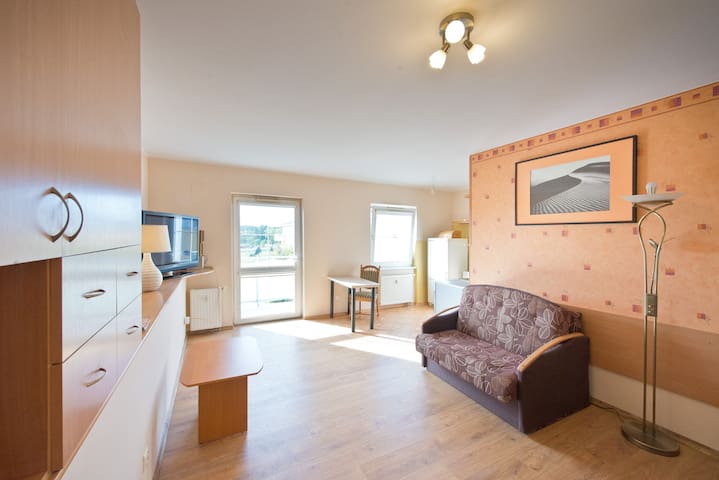 1

–

18

of

300+ Apartment Rentals
Enter dates to see the total trip price including additional fees (but excluding any taxes).