My place is close to main North must visit places like Nazareth, Haifa and Sea of Galilee. You'll love my place because of the neighborhood, the ambiance, view and the outdoors space. My place is good for couples, solo adventurers, families (with kids), and also group of friends.
We really enjoyed our stay at Tanya's house. It is new ,comfortable, well equipped villa. Very cozy ,has a great sound system we were happy to use for listening a music all around :). The house is highly recommended for families with children as it has lots and lots of great games and also because of the garden and the surrounding village. We had a lot of fun with children playing with water outside and walking around in the green and quite kibbutz. Tanya was always available to our questions and made us feel at home. We will definitely come back there.
Ilya
2016-10-11T00:00:00Z
Perfect home for family vacation. Our kids (4 and 2) loved the home and toys. Great places to see in the area and stunning view from home. Fun to walk around the Kibbutz. Tanya is a great host and very helpful. Simba is a nice and easy cat, but might be a downer if you are allergic to cats.
Omri
2016-12-31T00:00:00Z
Tanya's place was incredibly welcoming. Everything was just superb, and just as advertised. The place was spotless, and we had a great time, both the adults and the children. I would definitely recommend staying here in the future. The location is great for tours around in the valley and beyond. Value for money is excellent. נהנינו מאוד לשהות בבית של טניה. הדירה נפלאה, מעוצבת, נקייה ומזמינה. הילדים נהנו מאוד מהערסל ומהצעצועים, הכינו תה מעשבי התיבול בגינה ושיחקו עם החתולה. הסביבה מצויינת, נוחה מאוד גם לטיולים וגם למי שמחפש פעילויות אחרות עם הילדים ובלעדיהם, מסעדות בכל מיני רמות מחירים וכל אטרקציה אחרת. אני מאוד מקווה שנחזור לכאן שוב.
Alon
2016-10-16T00:00:00Z
בית מסודר נקי מאובזר ומעוצב בטוב טעם באיזור שקט מקסים ובאוירה קיבוצית. טניה נתנה לנו את ההרגשה שלמרות שזה בית שבד"כ מתגוררת בו משפחה אנו יכולים להרגיש חופשי להשתמש בכל מה שנירצה והיתה זמינה בטלפון לכל שאלה.היה לנו מדהים וכיף לטייל לאיזור ובהחלט נירצה לחזור שוב.
haim
2016-11-05T00:00:00Z
Room Type
Entire home/apt
---
Property Type
Villa
---
Accommodates
6
---
Bedrooms
Gvat, North District, Israel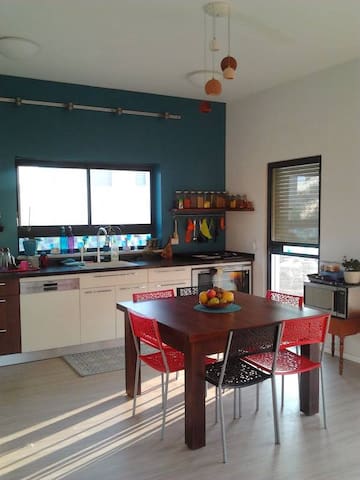 peaceful villa at a quite village between Haifa and Nazaret. the forest is just out side the door. you can take great walks by foot or ride a bicycle at the single trails that pass next by. just s few minutes walk and you will get to zipory stream,and the fig and mulberry trees that surround it. at the summer time you can enjoy an amazing and very quite community pool. a short drive away from the city or from hiking trails and the kineret sea. come and enjoy a vacaition- home away from home.
private roofed parking space for 2 cars. this 2 level villa have a living room with flat screen cable t.v. big spacious kitchen with big oven and stove, microwave, electric mixer, nespreso coffee machine and a huge fridge with ice and water bar. from thd living room you can get out side to a pergola with a seating area, a big table, gas grill and lots of out door space. there is campfire with tabun. playgraund with swings, slide and a big trampoline. lots of fruit trees outside. in second level there is a family corner with sofa, lots of toys and cable t.v. two kids room with a single bed. one more room with a single bed that can open into a double one. a double bedroom with own suite bathroom. and a main bathroom with bath and a laundry room.
15 minutes drive to Nazaret and her holy sites. 30 minutes to the kineret sea. 10 minutes to Rancho menis ranch where you can go to horse back riding trips. 20 minutes drive from yodfat monkey forest. 15 minutes to gecko climbing in ramat yishay. and much much more...
Room Type
Entire home/apt
---
Property Type
Villa
---
Accommodates
7
---
Bedrooms
אלון הגליל, מחוז הצפון, Israel
The house is located a few minutes walk from the center of Tivon and it is about 25 minutes drive from Haifa and the sea. it is sorrounded by nature, with beautiful views from every window. The building has high ceilings and delightful ambiance. It is particularly suitable for families with kids or couples that want a place of calm and relaxation at the center of a city.
very specious
the house is located in a delightful street, clean and green, with very nice neighbours
בית ענק ומרוח. מתאים לאווירת החורף
מוטי
2017-01-28T00:00:00Z
Room Type
Entire home/apt
---
Property Type
Villa
---
Accommodates
5
---
Bedrooms
Kiryat Tiv'on, Haifa District, Israel
lovely home in the Carmel mountains, very close to great beaches and nature reserves, in the unique artists village Ein Hod. With pool and trampoline in the garden and the forest right in front of the house. great escape! The pool is available only during the day until 14.
special long term prices for July and August summer 2017
the house is beauiful, witha a great yard and patio. We had everythinh we needed, with a fully equiped kitchen and all the rest. we didnt have a chance to meet ayali, but she was very kind in out telephone/sms communication. we surely recommend the place!
chen
2016-09-04T00:00:00Z
We had a great time. The only suggestion. to have all beds set up before. we were 8 guest. And we had 4 beds set up for us. So we had to find and set up ourself. We had help on the phone on were to find everything. Besides that the house is great.
Efrat
2015-07-31T00:00:00Z
I booked 5 weeks early for the independence weekend, May 12-14, a hot time of year. It looked perfect, with pictures of a big pool, (a real luxury in Israel) and a pool and hot tub listed in the amenities section. I read a bunch of positive reviews, and had no indication that anything would go wrong. I had planned a barbecue/pool day with my family from far away, including 8 kids who were so excited. This is a pricey place and I expected to get what I paid for. In truth, it's someones house, fridge was mostly full with almost 2 shelves cleared for us and no freezer space. Not a vacation rental (fine, just wish we had known). Knaan was out of the country on business, he gave us Ayalis number but didn't say who she was. We arrived 15 minutes early and began calling Ayali who never answered (bad service in house). This was challenging as the house is in a gated community (we weren't told this), and we had a car full of food and a baby on a very hot day. Someone behind us eventually opened the gate and we went looking for the house, which doesn't have a number, but we had a (SENSITIVE CONTENTS HIDDEN) location pin from AirBnB. We were going from house to house asking where Knaans was, until we found a car outside with his son who said It wasn't ready yet. We were allowed in at 1:30 at which point I asked if the pool was all ready to go and Ayali said "no, that it wasn't the season for it" and she had told her husband to write that on the listing, (which he hadn't), but that she didn't deal with AirBnB and to talk to him. I contacted Knaan through AirBnB complaints within 24 hours and asked for half the original listing as a refund, and he accepted my request. The "hot tub" turned out to be a jaccuzzi bathtub in the bathroom, so my guests couldn't even use that. The kids were so disappointed and I was so embarrassed and upset, it was also my 5th anniversary and I'm pregnant and I was so looking forward to hanging out in the pool all weekend with my daughter and husband. The kids loved the trampoline, and the location was lovely, but the master bed where we slept was uncomfortable (personal opinion) and there were tons of ants in the kitchen and very large spiders inside. It is a house in a wild place, perfect for a nature getaway, gorgeous view, but we couldn't enjoy it as it was missing a key element of the listing. We left the place as spotless as possible, and left early. Nice, but not luxury, and not very comfortable, pictures make it look nicer than it is. Its a great place for enjoying nature, exploring local beaches, artists, and hikes, but be aware of the details. Better than a hotel in some ways, not...
Leah
2016-05-15T00:00:00Z
Lovely stay at Ayali's beautiful home. We are grateful to be able to stay here every time we come to Israel, the sweet art village, slow pace and pastoral setting is just what we desire. Great experience all around!!!!
Nicky
2016-09-30T00:00:00Z
The place was lovely, super clean, well maintained.
Gary
2015-03-31T00:00:00Z
The neighborhood was very nice and homely. The house was wonderful. However, it would have been nice if Knaan was there to shoe is around the house. The dryer did not work. He could be difficult to communicate in person. However a wonderful home and artist community.
Marcia
2016-03-24T00:00:00Z
The house is beautiful and very welcoming. The yard has beautiful scenery. Ayali was helpful and pleasant (we never met her personally, but she gave us instructions and some touring tips on the phone). We got there everything needed for an enjoyable stay. The one thing that needs improvement is the beds and sleeping arrangements: none of the beds was too comfortable, in the separate unit the double bed is an old sofa bed not comfortable at all, the single room lacks AC and the bed is not suitable (too small) for young adult (16 years old kid…). These haven't changed our good feeling and great fun we had there, and we warmly recommend it for a familiar getaway!
michal
2016-07-10T00:00:00Z
The house is very beautiful, welcoming and comfortable. The view is breathtaking, and we enjoyed this lovely corner very much. I highly recommend it. Ayali was online and helpful when we needed her.
nohar
2016-07-20T00:00:00Z
Room Type
Entire home/apt
---
Property Type
Villa
---
Accommodates
7
---
Bedrooms
Ein Hod, Haifa District, Israel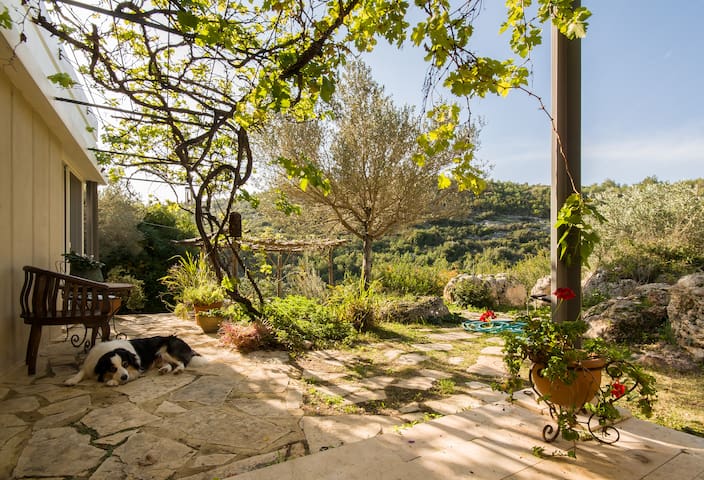 A perfect place to stay! large private house in a futuristic artist colony with mountains dreamy view. Fully equipped kitchen. Large space bathroom, free WI-FI ,TV. Private parking. The beach is 5 minutes by car, and Haifa is 10 minutes away.
large private house in a futuristic artist colony with mountains dreamy view. Fully equipped kitchen. LARGE balcony,
The futuristic artist colony of Ein Hod. there are 2 restaurants, 2 cafes and a bar, museum, galleries. The beach is 5 minutes by car, and Haifa is 10 minutes away.
We arrived to a dream house, which can't even be represented by the pictures on the site. The hosts, working in photography and design, have placed much creativity in the organization of the space, and there was one not one day that we were not discovering a little secret of the house, improving our comfort. It much reminds of the architecture in the Greek islands of the Cyclades - though in Galilee. It is beautiful, it is elegant, it is cozy, it is comfortable –a warm and positive energy was floating over the premises during all our stay. The environment is awesome. Located near the wadi, the horizon is a panoramic green hill and its fauna. A few verandas located at various spots of the house allow to spend different moments of the day either in the shade or in the sun, as you prefer. Being on the main bridge gives the feeling of being on a yacht, while the blue of the sea is replaced by the green nature of the Galilee. The village by itself provides as much as social interaction that one may need sometimes - in a creative and artistic atmosphere. The sea is a few minutes' drive by car, and the location is perfect to discover the north of the country. Friends visited us from Tel-Aviv – in slightly more than one hour. The facilities of the house were as described – and even more. We got all the assistance that we could ask for. It has been an unforgettable stay, in a 5-star original house, located in a colorful and peaceful bubble of the country. We felt at home. We want back! Great place, great people, great family – thank you!
Dan (Jerome)
2015-07-27T00:00:00Z
Everything was good nice and comfortable
Shirly
2016-08-16T00:00:00Z
Room Type
Entire home/apt
---
Property Type
Villa
---
Accommodates
6
---
Bedrooms
Ein Hod, Israel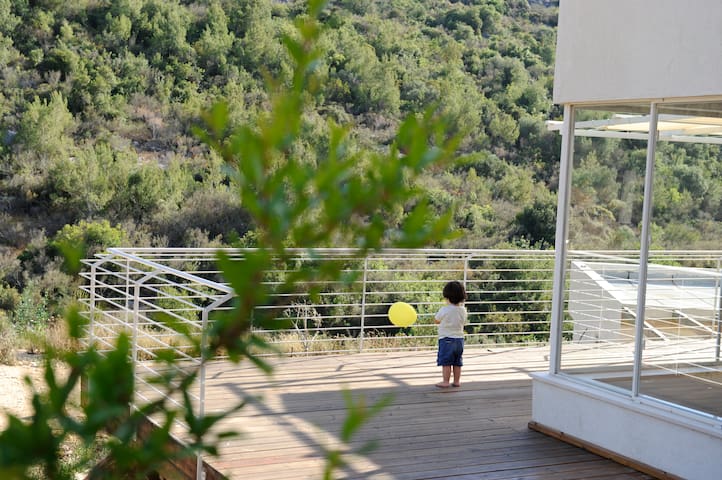 you are most welcome to enjoy our house and its uniqe architecture in the centre of Haifa. It is a large house, full of light and great atmosphere. there is an amazing seni wild garden with plenty of sun and wonderful trees. A fully equipped kitchen available 24 hours.
A beautiful garden with fruit trees is where we love to have breakfast, a green island in the middle of town. We offer vegetarian food, fresh and delicious, that Dorit prepares every day. Maoz is an architect and has an office inside the Villa.
close to the city center, the beach and the beautiful gardens.
Peaceful stay in Haifa.
Roee
2017-03-30T00:00:00Z
We had the most pleasant stay at Maoz and Dorit place! They were both so helpful, welcoming and worm. They gave us some great tips about nice places to eat and visit in Haifa. We also had the pleasure to enjoy the most delicious breakfast, made by Dorit. We slept in a very unique lovely and cozy wooden hut, which they designed by them selves. With the wild beautiful garden, the chickens and the calmness we felt like in a Mediterranean village in the middle of the city. We strongly recommend !! Do not hesitate :)
Raphael
2016-05-01T00:00:00Z
Maoz and Dort are very warm-hearted and inviting hosts, I hsd nice and relaxed stay.
Beate
2017-03-12T00:00:00Z
Maoz and Dorit and their wonderful children who helped hosting us were really welcoming people. We were happy to get to meet them! Their house is beautiful and has special character – you see that an artist and and architect live in this house. The location is literally top – the top of Carmel mountain is the best area of Haifa. The rooms are quite basic, but there's everything one might need – there's a full access to the house, proper kitchen, bathroom etc. The room for the third person was a little too basic for our taste – so I'd definitely recommend this place to a couple. Overall we were happy with our stay, thank you Maoz and Dorit!
Misha
2015-05-07T00:00:00Z
Moaz and Dorit had their kids visiting for the holidays but still said yes to host us, and it was like coming home for holidays. Warm, welcoming and really cosy. They invited us for meals and did all possible to make us feel welcome. It is very very nice people with warm souls. A stay is very recommended!
Peter
2016-10-22T00:00:00Z
Maoz and Dorit are kind and nice persons,.and their son and daughters are easy to talk too. they also invited me to join their family havest day dinners, thank you so much, my friends. i feel very happy and its my pleasure to stay in your home.
YILIANG
2016-06-14T00:00:00Z
Just like in your own family. Warm and friendly.
Frank
2016-12-05T00:00:00Z
This AirBnB felt like a true home-away from home. I only stayed for one night but the host was very gracious, would stay there again when visiting Haifa.
Leon
2016-05-13T00:00:00Z
Room Type
Private room
---
Property Type
Villa
---
Accommodates
3
---
Bedrooms
Haifa, Israel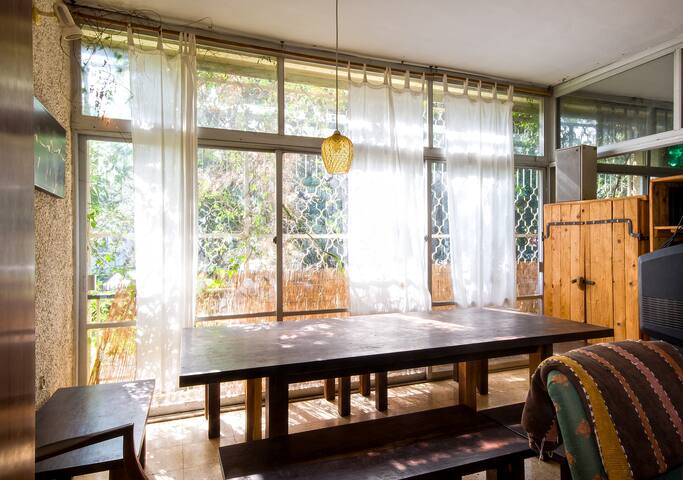 Newly built oriental style villa with beautiful Swimming pool and gardens. Features 5 bedrooms, 3 bathrooms , fully furnished and fully equipped kitchen,washing mashine, dryer,tv, dvd, wifi, two car pots ext. The villa is located in the beautifull village of Bat Shlomo with its charming cafes in the heart of the beatifull area of carmel mountain, just 10 minutes drive to the most beatifull beaches of Israell and 5 minutes drive to the historical and picturesque town of Zihron Yakov wirh its famous galeries ans cafes. The village of Bat Shlomo is located just 2 km from the main highway (no 6) to the cities of Tel- Aviv (40 min) , Haifa (20 min) and Jerusalem (60 min). It is a perfect spot for a day trips to all the main atractions of Israel and on the same time a perfect spot for a relaxing vacation. Ideal for family with children, the house is fully equipeed and there is everything that a family needs!
We had the best time. The house is amazing warm and comfy. The presence of 3 cats inside the house should be considered.
Lea
2016-10-03T00:00:00Z
Everything was great about this place, we would definitely come again We really felt at home, and had plenty of place for everybody. Several mosquitos at night, must make sure you close the meshes at all times, and bring some mosquito repellent (preferably a VAPE electric anti mosquito) with you. The children loved the cats. Great place a home away from home.
Yuval
2016-10-18T00:00:00Z
Room Type
Entire home/apt
---
Property Type
Villa
---
Accommodates
12
---
Bedrooms
Bat Shlomo, Israel
AMAZING renovated four-room, four-bedroom, 2 bath single family home in the Haifa District. 5 min drive from haifa high tech center. The property includes a private parking and a large Garden with trampolin and pond. We rent our home for turist
We have large garden. Trampoline , fish pond ,hens.
The Neighborhood is quite
This house was perfect for us! Light and bright with a sweet terrace and garden area that even has a trampoline and ideal sunsets. Three bedrooms with double beds and a pull-out couch in the living room comfortably fit our group - 2 adults and 3 children. The house has everything we needed, plenty of cooking utensils, pots and pans and has a cozy feel to it like it's your home :) Instructions for arrival were very clear, and Amir gave us great recommendations for the area, which is just 5 minutes from Haifa and the beach. The house is in a peaceful area which felt very friendly and safe - lots of beautiful hills and banana trees! Perfect for exploring Israel. Although it was very hot when we were there, the house is nice and cool inside, and of course parking was a big plus. I'd definitely recommend this place!
Clive
2016-10-22T00:00:00Z
Room Type
Entire home/apt
---
Property Type
Villa
---
Accommodates
8
---
Bedrooms
Haifa, Israel
The apartment is in a quiet, green and calm area. Equipped, comfortable and beautifully decorated. Excellent location for relaxation & traveling. Very suitable for a couple. We are a couple aged pension, love to host. Know well the Galilee and all of Israel, and we will, willingly, to help with trip planning. We are 40 minutes from Lake of Galilee, Nazareth 30 minutes, Mediterranean Sea 30 minutes, Haifa 40 minutes, Jerusalem & Tel Aviv for 2 hours.
A wonderful area for walks. You can even go to a track-walk from our house. Every spring all around is with flowers blooming. During winter there are days that clouds are under our house and the vision is beautiful. We are a 10 minute drive from Tel Jotapata, which is a very interesting, beautiful and exciting. Half an hour bathing in the Mediterranean and 40 minutes from the Kinneret. Traveling distances: To Haifa – 28km Tel Aviv – 135km Jerusalem – 142km Carmiel – 14 km Tiberia – 34 Naharia – 33 Ben Gurion airport – 121 All roads are wide, new and good. The road to Jerusalem and to the airport is a high-way.
Debby and Shay were great hosts. The room was cozy and comfortable, beautiful view from the balcony. And they had great recommendations for places to eat and tour. We had a lovely time, highly recommended for a short stay.
Michael
2017-04-01T00:00:00Z
Room Type
Entire home/apt
---
Property Type
Villa
---
Accommodates
2
---
Bedrooms
Shekhanya, North District, Israel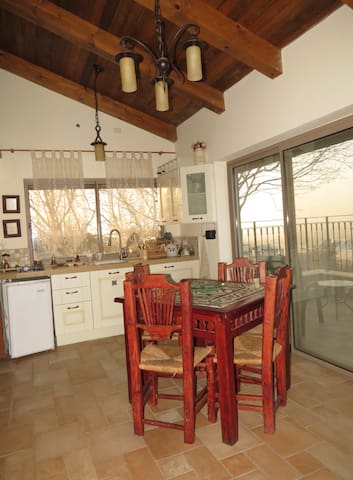 You'll love my place because of the views and the kitchen. My place is good for 2-3 couples.
Room Type
Entire home/apt
---
Property Type
Villa
---
Accommodates
3
---
Bedrooms
Rakefet, North District, Israel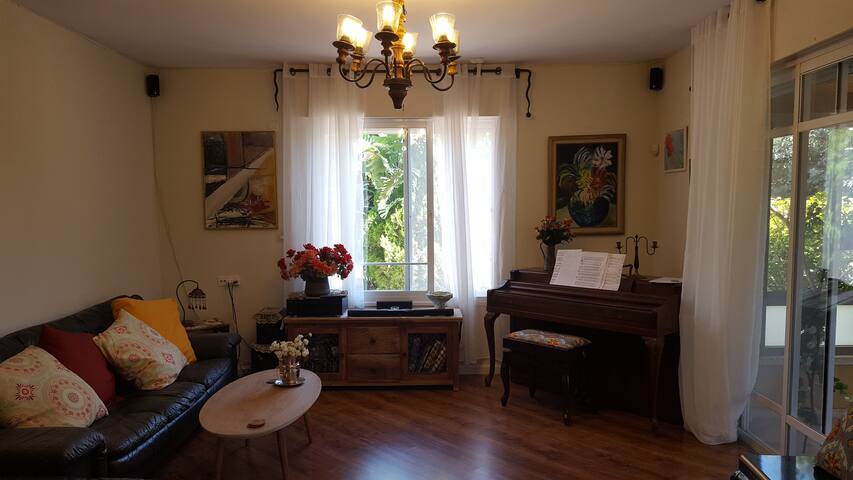 A newly built 7 room country family villa, very pleasant and inviting. The kitchen is and fully-equipped. Spacious living room + 4 bedrooms, each including a doublebed + 3 bathrooms + additional restroom. All bedrooms with doublebeds and full furniture. 2 dining tables accomodating 14-16 persons. All rooms have large windows looking to beautiful scenery and nice garden, in the middle of the Galilee.
Room Type
Entire home/apt
---
Property Type
Villa
---
Accommodates
8
---
Bedrooms
Yuvalim, North District, Israel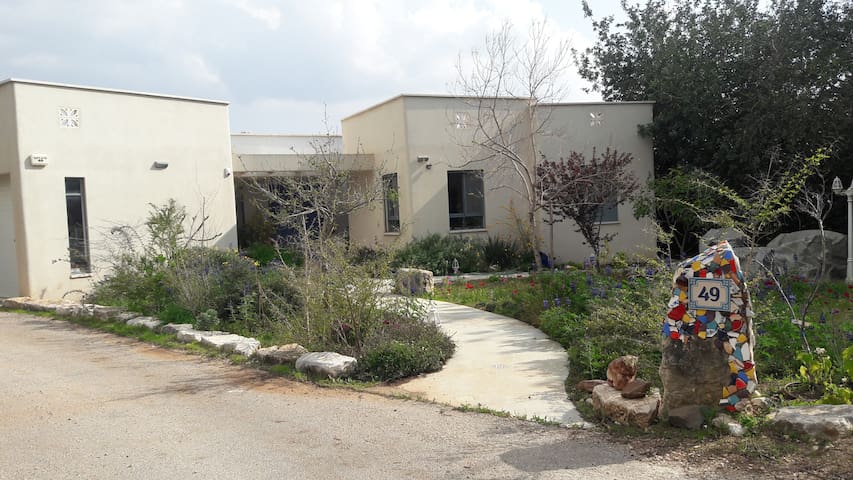 My place is good for couples.
Room Type
Entire home/apt
---
Property Type
Villa
---
Accommodates
4
---
Bedrooms
Ya'ad, North District, Israel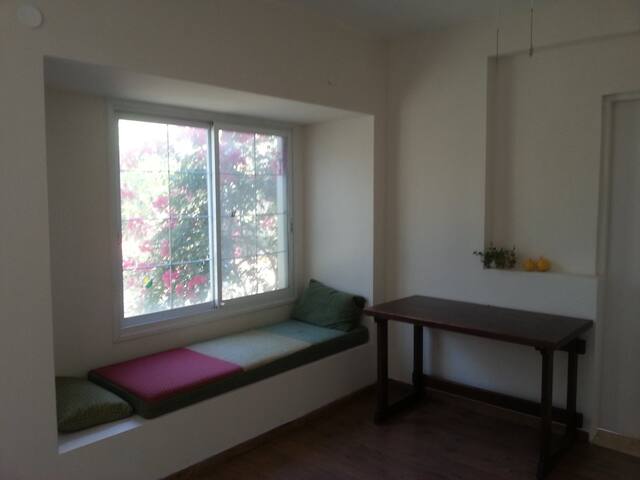 Strictly Kosher. Independent Villa, not overlooked, located in one of the most beautiful street in Zikhron Yaacov. The house is located 6 mn walk from Zichron center. Swimming Pool 7.6 * 3.5. The villa has 6 bedrooms: 2 double bed, 8 single beds, 1 sofa bed for 1 adult or 2 children. 4 bedrooms/6 with AC. Punching bag, weights, abdominal bench, bicycles, BBQ Grill, Garden Lounge.
Strictly Kosher Modern villa, independent, not overlooked, located in a very quiet street. Swimming pool 7.6 * 3.5, sports equipment, bicycles. 6 bedrooms including 2 suites for parents. 2 rooms with "Jewish Bed". 2 rooms with Terrace, 3 bathrooms, 4 toilets. The dining room can accommodate 14 to 16 people. Strictly kosher kitchen. Dairy and Meat dishes. 2 ovens, Shabbat timer for the lights and AC. For at least 1 week rservations, we offer the intervention of a cleaning woman, 2 times per week.
Located in a quiet street, 6 minutes walk from the pedestrian street of Zichron Yaacov and 3 minutes walk from the new luxury hotel Alma. This hotel offers 2 times a week concerts of classical music and Jazz. The house is 2 minutes from a synagogue Mizhahi, 6 minutes from a synagogue Sephardi and 7 minutes from 2 synagogues Ashkenazi.
The house is very large and comfortable. The pool is lovely and we enjoyed to simply sit by the pool or play inside. We were 2 families (10 people) and there was enough room for everyone. The hosts were very welcoming and quickly responded to any request we had. The house is a walking distance from the main street, very quite neighborhood. Even though we stayed there during the midst of the Israeli summer, there was a good breeze that allowed us to sit outside. The kitchen is well equipped and very spacious, but keep in mind that it is Kosher.
Shira
2016-08-25T00:00:00Z
Yehuda's home is a great retreat from a busy Israeli vacation. Zichron is a quiet town, not known for its tourism, yet still with many restaurants and places to visit. The home sits on a quiet street, and the pool and patio, along with the stylish kitchen and living room, make this a great place to relax and recover. We had a great welcome by Yehuda's family and were made to feel totally at home. One thing to note: there isn't AC in every bedroom so be prepared for the heat.
Richard
2016-08-15T00:00:00Z
We arrived at the house and instantly felt at home. The outdoor space and pool area was large enough for our family of 14 to sit by and not feel cramped. The owners were wonderful, warm and extremely helpful with any issues that arose. The house is in a quiet neighborhood which is only a short walk away from the center. It was a fabulous 9 days and we hope to stay there again next year.
Ilana
2016-05-02T00:00:00Z
Room Type
Entire home/apt
---
Property Type
Villa
---
Accommodates
12
---
Bedrooms
Zikhron Ya'akov, Haifa District, Israel
Our house is combination of a New-York industrial style & nature. A walking distance from Zichron Yaakov Vineyard, Parks cafe & restaurants. The double height ceiling gives a special atmosphere at the house.The kitchen has the best appliances. Ground floor - double bed suite & full bathroom area. Upper floor-masters area is fully open with an extra big bed & bathtub, 3 more rooms with 2 double beds, 2 single and a pull-out bed, the t.v area is suitable for 4 adults, next there is bathtub area.
We had a very pleasant stay at Lilach's wonderful place. We were in the area for a wedding of family of ours. We were with 7 adults and 5 kids, which was a tight fit, but fits neatly if you're with family that you're comfortable with. Great view, and enough room for the kids to play. Everything you need is available. Good kitchen and of course, great pool. The house can be a bit noisy and echo-ey with kids, but not a big deal. All in all, would recommend.
Titia
2017-04-07T00:00:00Z
Beautiful house with a very nice pool. Our children loved it! We felt very welcome. Thank you!
I.A.
2016-10-20T00:00:00Z
this villa is really unbelievable. amazing. crazy. filled with budha statues that i loved, beautiful design with a lot of wood and concrete and iron. it's great to book a place that people actually live there, so you could really enjoy a fully equipped kitchen etc. the pool & view from the house is really something i'll remember. i wish to come back there at the summer, but for the winter we had a great time with the fireplace :) another important thing for us is the comfort of the mattresses which was great here.
Nathan
2016-12-18T00:00:00Z
We had a great time, the house is beautiful, quite, and the views are great.
Maya
2016-11-26T00:00:00Z
Awsome place to stay. A++++
Jonathan
2016-08-07T00:00:00Z
The house is located in a quiet residential neighborhood. The home was comfortable with a big open floor plan. We loved the pool and hanging out outside. The goggles and balls left for our use were much appreciated. The hosts also left us a tray with teas and coffee.We also loved watching a family movie in the tv area. Our family of 8 felt very comfortable. Thank you for sharing your home with us. We had a wonderful vacation!
Fannie
2016-08-24T00:00:00Z
הוילה מהממת,מאודד נהנינו,בילינו את רוב זמנינו בבריכה,שירות מצויין,בהחלט נחזור!
Shani
2016-10-19T00:00:00Z
הבית מרווח ומלא פינות חן. קיימת הפרדה בין החלק המשותף לחדרי השינה כך שזה מאפשר למספר משפחות, כמו שהיינו, לפרטיות. הבריכה נהדרת והנוף פתוח כמו בתמונות.
Ronit
2016-10-05T00:00:00Z
Room Type
Entire home/apt
---
Property Type
Villa
---
Accommodates
13
---
Bedrooms
Zihron Ya'akov, Haifa District, Israel
My place is good for couples, solo adventurers, business travelers, families (with kids), and big groups.
Room Type
Entire home/apt
---
Property Type
Villa
---
Accommodates
8
---
Bedrooms
Dor, Haifa District, Israel
Private 2 story villa in quiet neighborhood , 5 minute walk to Zichron's city center. Villa includes open space large living room,dining & kitchen area. Upper level, 2 master bedroom including full bathroom with shower and tub. 1 additional bed room inc shower. Lovely garden with BBq amenities. partial seaview from upper level 10 minute drive to an amazing beach ,shopping,cafes & great restaurants and nightlife. Surrounding neighborhood wineries. Villa connected to natural reserve park.
All bedrooms include closet space , tvs, wifi , toilet and shower.
The host canceled this reservation 86 days before arrival. This is an automated posting.
Bionic
2017-04-07T00:00:00Z
Room Type
Entire home/apt
---
Property Type
Villa
---
Accommodates
6
---
Bedrooms
Zikhron Ya'akov, Haifa District, Israel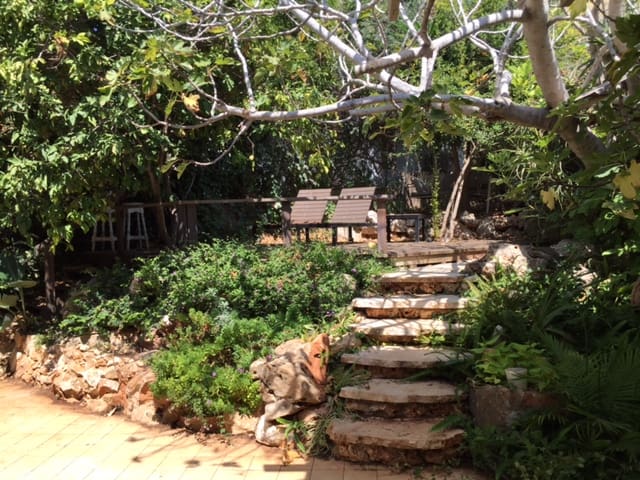 A quiet and beautiful view point home accomodates 10 people located on Gilon mountain, in the Western Galilee,10 minutes from Carmiel, 20 minutes from Acre old town and the beach, 35 minutes from Haifa and 40 minutes from the Kineret Sea of Galilee. All amenities needed for a comfortable stay of a family or individuals are available.We have a splendid view to the Haifa bay, Naharia and Rosh Anikra.
4 rooms very comfortable, 1 of them suite room with king size bed and toilets and shower. tv in every room, a unique view to sea and sunset the living room with smart tv and kitchen with all needed for your stay and next to the garden.suitable for BBQ.We have a Jacuzi suitable for 4-6 people with hot water in the garden.
A very quiet village between the Accre beach and Carmiel with a great view to the Haifa bay
Great location; beautiful view on Akko and Haifa! Quiet, clean and cool house in the summer, was excellent for 4 people. Ran was very helpful and the welcome etc was arranged properly. I would definitely recommend this accommodation.
Michelle
2016-06-06T00:00:00Z
We had a great time at Ran's place. The house is very big, full of light, and has great views from every room! we were 6 adults and a teen and the 4 bedrooms made sure everyone had comfortable sleeping place. There is a nice hiking trail "sovev gilon" - you can start (or finish) very close to the house. Eli the maintenance guy welcomed us warmly and made sure we had everything we needed. Thank you for a great stay, we hope we will come again!
Nitzan
2016-09-04T00:00:00Z
Great place for our weekend stay. Ran was very kind and flexible for the check-in/check-out hours. The place was as described and more than that. Classic place ! i would recommend for everyone.
ophir
2016-09-24T00:00:00Z
The place was great, very cozy and comfortable, alot of light and a good feeling. The kitchen had everything we needed, The area is beautiful and there is a great view. Ran helped us with what he could and the communication was great.
Galit
2016-09-17T00:00:00Z
The house is large comfortable and highly equipped with anything you require, from spices in the garden to prepare your tea, to anti-muskitos electrical lamp in each room. The view is outstanding, overlooking the sea, with a large panoramic view, especially from the bedroom. We did not meet Ran or talk to him, but Eli, his partner was helpful when we talked or met. If you are looking for a spacious alternative to the Galilee small Zimmers, this is the answer, as you get much more space and amenities, for less. The down sides: The very loud Mouazine praying from the (probably neighboring village) Mosque woke us up at 5AM every morning during the weekend. The location is what it is, with some attractions that need 25-40 minute drive, e.g Maalot area. All in all a great stay and highly recommended.
Amir
2016-10-18T00:00:00Z
Ran's place is spacious, clean and well equipped. To top that, the view is amazing and the area is very quiet and nice. We had a great experience and hoping to come back in the future.
Arik
2016-08-26T00:00:00Z
The house is amazing. We were 3 couples with a total of 5 kids and there was enough room for another couple if we wanted. The house was clean and comfortable. The kitchen had everything we needed for cooking and eating. They provided soft clean towels and really we could of come with nothing but our clothes. There was a very nice gas grill outside and even a jacuzzi which we didnt use because of the weather. We are not sure how this house came at such a low price but we will definitely be going again.
Coby
2016-10-24T00:00:00Z
We came in a large group (3 familys) and found a beautifull spaecius place , well equiped for all the needs (grownups and kids) - full cable tv in all rooms very well equipped kitchen sheets blanket towels ext.. . very enjoyble and a perfect place for a vacation.
Gary
2016-10-22T00:00:00Z
Room Type
Entire home/apt
---
Property Type
Villa
---
Accommodates
10
---
Bedrooms
Gilon, North District, Israel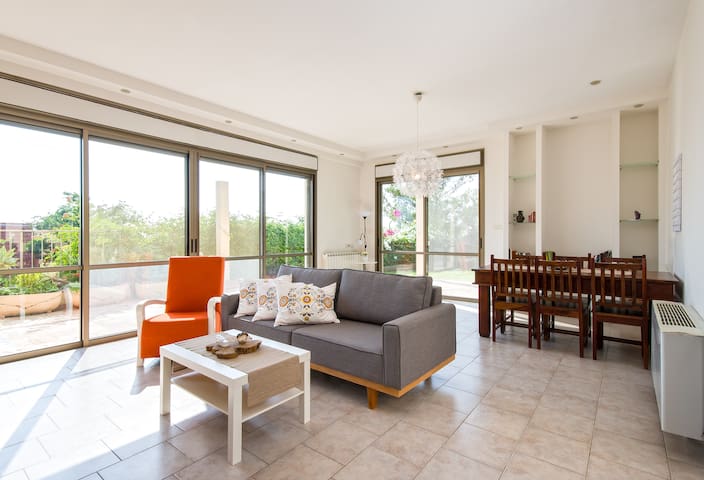 Villa Gilead overlooks the Mediterranean and the numerous fish farming ponds. The sunsets are a daily art show and enhance the tranquil quality of the special site. The Villa is surrounded by a large garden with many citrus trees in the back yard.
Beautifully located 2,200-square-foot home has two large bedrooms, 1.5 baths and spacious living areas on the first and second floors. Ground-level living room opens to a broad stone patio with a colorful mature cactus, succulent, and flower garden and a breathtaking view of the Mediterranean. The second-floor den is a perfect space for family and TV room. Master bath is decorated with French tiles and has tub and shower. Fully-equipped kitchen opens to a dining area with a view of the garden. The house sits on one dunam of land and includes a citrus garden in the back yard and the entire area is watered by an electronic irrigation system. The house is centrally air conditioned and heated and features an indoor lift. Just a few minutes walk to the village center you'll find the popular pedestrian mall with park, cafes, excellent restaurants, and local shops. Villa Gilead as a very large garden which is available to our guests. The sunsets are simply spectacular from the front porch as Villa Gilead has an open sea-view. The Guests of Villa Gilead will be able to ask the host for recommendations on restaurants and activities in the surrounding area and in the local village. There is a Welcome Book in the Villa with information to help make your stay complete. Villa Gilead is situated in Zichron Yaakov's finest neighborhood. The homes surrounding the Villa face sea view with outstanding visibility to the beaches below which are not more than a ten min drive. There are parks and mountains nearby for those who love hiking in a forest also at ten min car ride from the Villla. There is a local bus near the villa, however, the walk to the center of town is an easy flat ten minute walk. In the center of the village our guess can dine and drink coffee in many lovely restaurants. Zichron Yaakov is home to the famous Carmel Wine Company which also has daily tours. There is an electric two person golf-cart that can be rented from Villa Gilead at additional cost. The use of the golf cart is easy and makes getting around the village a pleasure.
Villa Gilead is situated in Zichron Yaakov's finest neighborhood. The homes surrounding the Villa face sea view with outstanding visibility to the beaches below which are not more than a ten min drive.
Room Type
Entire home/apt
---
Property Type
Villa
---
Accommodates
7
---
Bedrooms
Zikhron Ya'akov, Haifa District, Israel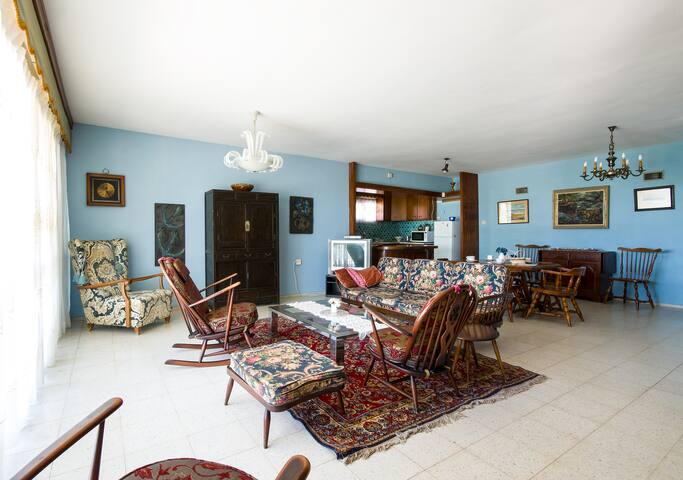 Kiryat Tiv'on - Airbnb
:
Average

4.41

out of

5

stars from

113

guest reviews
1

–

18

of

42 Villa Rentals
Enter dates to see the total trip price including additional fees (but excluding any taxes).