A provincial inspired, idyllic property of just under 1/2 an acre - our cottage features a king size bed, gas kitchen, bath, shower, gas wood fire, AC, TV, DVD, WIFI, lush lawns, alfresco dining, bbq and bicycles!
Our recent renovations included the complete removal of the dividing wall between the bedroom and living room - we in effect created a spacious studio.
The Rectory Cottage is truly beautiful - cosy and luxurious in feel. Even better than the photos. We loved the bath, the bed and the fireplace. Bige was so attentive prior to our arrival - ensuring we arrived to warmth, candles and fairy lights - a great welcome to our home for the weekend. The breakfast supplies were delicious and welcome. Definitely a 5 out of 5 experience.
Sarah
2016-05-24T00:00:00Z
Bige is definately an amazing host and person. The cottage was perfect, clean,very provincial,comfortable warm and charming. From the minute we arrived we feel at home. we found cookies in the jar, fresh eggs in the fridge, butter on the counter, and so many other surprise.Thank you Bige for all your attention and love! we definitely come back..
Debora
2016-09-20T00:00:00Z
The cottage was absolutely stunning. From the moment we walked in there was wine, fresh bread and the fireplace was already turned on. I would highly recommend to anyone and both me and my partner are already planning our second trip to stay at their second cottage. Thank for an amazing experience bige.
Sharan
2016-06-14T00:00:00Z
Bige is devine, Bige's cottage is devine. It is the only one word I can find that describes this magical cottage. It is filled with so much soul, glorious sunshine and beauty and it's amongst a glorious whimsical garden. Bidge made me feel more than welcome, it was as though Id known her all my life! Her personality shines through in this most peaceful abode. The description of this delightful cottage was perfect although I could go on all day about how absolutely wonderous it all is. I could not have asked for anything more. It felt like it was my own little perfect home in a perfect garden, amongst magestic trees, a view of the magnificent bluff and birds song throughout the day.... and it was so so quiet. I thank you with all my heart dear Bige.
Kerrie
2016-08-23T00:00:00Z
The Rectory Park Cottage in Kangaroo Valley is truly a memorable experience. We stayed for two nights and thoroughly enjoyed our time there... it was very hard to leave! The property is exactly as described however what you don't see in the pictures is the attention to detail that has gone into the cottage that makes it that much more special. I would definitely recommend this cottage.
Megan
2016-09-26T00:00:00Z
This was our second stay at Bige's cottage and once again a fantastic stay. The little touches and amenities plus the luxurious bed and aspect of the cottage make it a five star stay. We brought our 4 month old and she loved it too!
Anne -Marie
2016-10-22T00:00:00Z
Wow! My husband and I just had the most incredible long weekend. We arrived late on Friday night to a gorgeous cottage with the fire burning and kitchen stocked with wine, cheese, fresh bread, milk, eggs, orange juice and more. Bige has created a beautiful retreat, only walking distance to the Kangaroo Valley shops. A highlight was sitting by the pond at sunset, with a fire burning, watching a family of ducks close by and huge kangaroos boxing on the other side. Amazing birds too! We were visited by huge king parrots, rosellas and rainbow lorikeets. Thank you Bige for being a wonderful host.
Amelia
2016-10-04T00:00:00Z
Wonderful experience! Beautiful place, location and set up.
Julia
2016-07-05T00:00:00Z
Room Type
Entire home/apt
---
Property Type
House
---
Accommodates
2
---
Bedrooms
Kangaroo Valley, NSW, Australia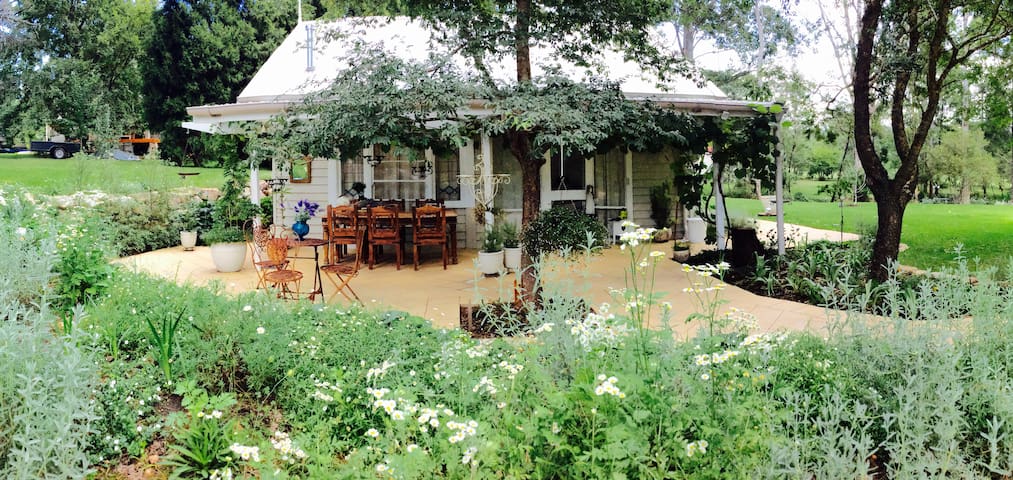 The River House is a charming & loved home with a unique outlook over the stunning Kangaroo River. At the front of the property you will find a contained garden (perfect for children), wrap around verandah & alfresco dining area. Inside, the house offers timber floors, a wood combustion fireplace and an abundance of natural light. The rear of the property spills out over the river, with large windows, a generous deck and BBQ facilities. Our home is conveniently located a 10 min walk from town.
Light-filled open plan home with stunning views over the Kangaroo River.
Kangaroo Valley is often described as the most beautiful valley in Australia. Our community is a lovely mixture of locals and Sydney dwellers visiting their 'weekenders'. Generally speaking we are a friendly, artistic, educated and environmentally conscious community. The Valley village contains a country pub, multiple cafes, a post office and a general store (with delicious locally made organic milk, bread and cheese!). Please note that Kangaroo Valley DOES NOT have a supermarket. We advise all visitors to do a big shop up on their way in at either Bowral, Kiama, Berry or Nowra. There is an abundance of things to do in the area, which makes our home an ideal base to explore the region. A few highlights include: - Sydney - our property is an easy 2hr drive to the heart of Sydney - Jervis Bay - only 45 minutes from our doorstep, Jervis Bay offers incredible surfing, diving, kayaking, hiking and camping. - The beach - we're a very pretty 30 minute drive from the stunning golden sand beaches of east coast Australia - Morton Park - a 20 minutes drive will take you to the incredible Fitzroy Falls, and the charming towns of the Southern Highlands. - Lazy days at home enjoying long swims, canoeing, reading, resting, lazy lunches, and evening BBQ's.
Best accommodation in Kangaroo Valley. Can't wait to go back!!!
Natalie
2017-04-01T00:00:00Z
Marieka's place is breath taking. From the herb garden out front, to the river views out back the house is full of surprises. Inside is a beautifully curated house, equipped with everything you'll need for a perfect break from the hustle and bustle of the city. Location is great, what with the views, and easy stroll to the village. A short drive away and you'll see hundreds of Roo's and if you're lucky, a Wombat or two! Book for a break you'll never forget :)
Ian
2017-03-22T00:00:00Z
The River House is all the photos show plus more. The setting is magical - you almost feel like you're a part of the life of the river below - the tranquil waterhole the house overlooks, and beacon for native birds and animals it provides. The house itself is gorgeous, and perfectly appointed down to every last detail. It is a lovely comfortable home and the garden out the front is a delight, with another gorgeous outdoor dining area if you can drag yourself away from that river view on the balcony at the back of the house. There's also a quiet, cool central room to read and watch TV on a hot day. The River House makes for a super relaxing mini-break or longer booking. Highly recommended!!!!
Patricia
2017-01-13T00:00:00Z
This property is simply beautiful, a real piece of paradise. Marieka is a wonderful host and we couldn't have asked for more. Pure heaven
Kirstyn
2017-01-03T00:00:00Z
An amazingly beautiful house, perched right on a scenic and tranquil bend in the river. We were there over a rainy weekend, but we didn't really mind as it was so nice to just hang out in the house and watch the river go by.
Stephen
2017-03-25T00:00:00Z
A really beautiful home - pictures don't fully do it justice. This is one of our best Airbnb finds. Marieka was a great host. We hope to return and will be recommending to friends.
Astrid
2017-04-08T00:00:00Z
House lives up to its name, The River House. Fabulous view from living/kitchen area and deck over Kangaroo River. Close to historic Hampton Bridge and River Park with footpath into Kangaroo Village.
Stephen
2016-11-14T00:00:00Z
Room Type
Entire home/apt
---
Property Type
House
---
Accommodates
4
---
Bedrooms
Kangaroo Valley, NSW, Australia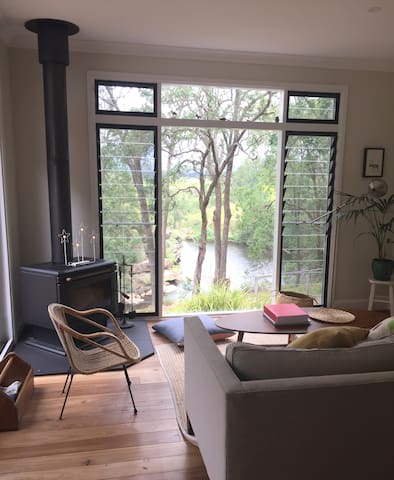 Comprising four lovely spaces: the verandah, main room, a kitchen and bathroom. Right in the village - close to everything:
Words cannot do this cottage and Bige's hospitality justice. The attention to detail and beautiful old building in a central location really ensure a stay to remember. If I could give seven stars I would.
Luke
2017-03-13T00:00:00Z
My partner and I escaped to Kangaroo Valley to celebrate my 30th Birthday last weekend to which we decided to stay at The Old Bakery! This little place is amazing and has a nostalgic charm about it, we absolutely loved it! Danielle and I would like to say thank you to Bige and Kevin for being great hosts, we hope to see you guys soon :) PS best Airbnb so far!!!
James
2016-07-19T00:00:00Z
Beautiful accommodation within walking distance of shops and restaurants. Bige makes it a personal experience with her special touches.
Karen
2017-01-01T00:00:00Z
We loved out stay at the Old Bakery. Bige's attention to detail and hospitality were exceptional and the room was well presented, in our view even better in reality than in photos. Communication was excellent and Bige really went out of our way to make our stay there as enjoyable and easy as possible. Perfect for a peaceful getaway or romantic trip. Without a doubt would stay again.
Julian
2017-01-14T00:00:00Z
We can't fault this beautiful and superbly appointed cottage. Spacious, clean, comfortable and full of lovely things to make it feel homely. We were also made to feel very welcome by Bige and can't recommend this place highly enough!
Paul
2017-01-22T00:00:00Z
So happy to have stayed at the Old Bakery. Bige was so warm and kind, the house was superb and looked better than the photos. The highlight of my trip was sitting in the front porch during dusk and admiring the beautiful horizon of the Kangaroo Valley. Definitely coming back!
Faith
2016-02-25T00:00:00Z
I had doubt abt wt people say "pictures don't do the justices". But it's true for The Old Bakery House. I must say it's the best place I ever found on airbnb. Bige is a very generous and affectionate host. The house provides everything you could think of. The bed is extra comfy. Enjoy having a cup of tea on the deck with candles burning. (The neighbour's cute kitties might visit you sometimes). Highly recommended for couples who wanna have unforgettable romantic getaway!
Emma
2016-12-09T00:00:00Z
We had a wonderful 2 nights at the Old Bakery. It was such a delightful cottage full of charming details and the generous extras such as wine, chocolate, eggs and jam really elevated the experience. The place was also impeccably clean and Bige was so friendly and helpful. Doesn't get much better than this!
Jen
2016-12-26T00:00:00Z
Room Type
Entire home/apt
---
Property Type
House
---
Accommodates
2
---
Bedrooms
Kangaroo Valley, NSW, Australia
A secluded uniquely designed Eco home, surrounded by 4 acres of rain forest where clean crisp air and escarpment views await you - welcome to Barrengarry Hideaway!!! Your Eco Luxury Getaway.
This beautiful and quite unique home has stunning views of the escarpment
Set high on the Barrengarry Escarpment yet only 10 minutes from the village
We loved our stay at Barrengarry Hideaway. The place itself was perfect for what we needed, a lovely secluded home with great surrounds - perfect for a break from city life. The place itself is clean and modern, the kitchen well equipped (though could have done with a frying pan) and the bed nice and comfy. The outdoors is spectacular and we spent far too long taking turns on the hammock. We didn't do much in the surrounding area (maximising relaxing time!) but we headed to Jervis Bay one day which was fantastic and we did the Grand Pacific Drive home to Sydney which was nice. The only downside for us (apart from we couldn't stay longer!) was that it got very warm quickly, especially when you'd been cooking in the morning when the sun is still coming through the windows. But that definitely did not put a downer on the trip for us, it was a perfect break for us two and would love to return again.
Marie
2016-12-26T00:00:00Z
Barrengarry Hideaway is one of the most welcoming places I have stayed in. The house itself is unique, clean, and beautiful. A few friends and I stayed there over a long weekend and enjoyed sitting by the fireplace, playing games , eating good food and drinking wine from one of the local wineries. Wonderful little getaway from the big city smoke.
Zahabiya
2016-04-26T00:00:00Z
Jane was an exceptional host from the moment I reached out enquiring about coming for the weekend. My girlfriend and I drove down from Sydney for the weekend and it was the perfect getaway. The photos of this property don't do it justice. It's truly amerced in the Kangaroo Valley bush with only the sound of nature. With the cute town just a 10 minute drive and unlimited hiking paths in every direction, Jane and her Barrengarry Hideaway were the perfect escape! We'll be back soon.
Matthew
2015-08-23T00:00:00Z
Beautiful location. It was a very peaceful stay and the house was beautiful with lots of lovely Christmas touches.
Kirsty
2016-12-23T00:00:00Z
Great peaceful location, not another house in sight! The place itself was just perfect, a credit to the owners ver well maintained and there is not a single thing more we could have wanted.
Simon
2015-10-25T00:00:00Z
What an absolutely beautiful property! We had a great weekend here. The host is lovely and very informative. The property is hidden away but easily accessible to local attractions. We loved it! The view has to be seen to be believed. Highly recommended!
Shannon
2016-03-29T00:00:00Z
Brilliant weekend away! Jane was absolutely fantastic, as was the accommodation, scenery and location. Wouldn't hesitate for a second to recommend Barrengarry Hideaway.
Kevin
2016-08-15T00:00:00Z
What a stunning property! Absolutely breathtaking views and a fantastic house. The standard of cleanliness was exceptional, we felt as though we were in our own home. Family-friendly and well equipped, we had the most amazing stay. Thank you!
Amy
2016-12-12T00:00:00Z
Room Type
Entire home/apt
---
Property Type
House
---
Accommodates
6
---
Bedrooms
Kangaroo Valley, NSW, Australia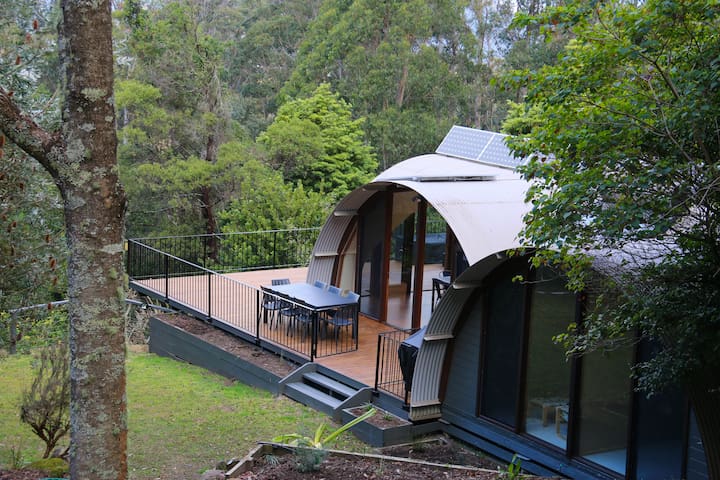 The Tailors Cottage is a self-contained fully renovated heritage cottage located in the heart of the Kangaroo Valley village. Experience all the village has to offer with just a very short walk (100m) to the village cafes, restaurants, hotel and more
The Tailors Cottage is a fully self contained one bedroom spacious heritage cottage that has a large front veranda and quiet back veranda. The cottage is surrounded by beautiful, well maintained garden beds. There is a large open plan lounge, dinning and kitchen with a separate bedroom.
Our cottage is located in the heritage precinct. The Kangaroo Valley Hall, Swimming pool, showground and playground are located directly across the road. Local restaurants, the pub & bottle shop, pharmacy, general store etc are all located within a very short walk. The cottage is located in middle of the village.
Excellent location to stay to explore the area. Lovely area with restaurants and pub. Very welcoming area. Cottage beautiful and very clean. Thank you the Dalys
Tammy
2016-11-16T00:00:00Z
Absolutely loved our stay at The Tailors Cottage! Everything was perfect and Dalys and Tony were extremely friendly and helpful. Easily the best place to stay in Kangaroo Valley - highly recommended and can't wait to go back!
Nick
2016-08-01T00:00:00Z
We really enjoyed our stay at the Tailor's Cottage. The cottage was just as it appeared in the photos, and Dalys had left the heater on for us when we arrived which was a nice touch given how cold it was. The cottage definitely had all that we needed during our stay and the location is very convenient and peaceful. We can't wait to come back!
David
2016-07-12T00:00:00Z
Beautiful, just beautiful!
Madeleine
2016-06-20T00:00:00Z
The place was extremely welcoming, very clean and kitchen was so well stocked. Its a beautiful cottage and location to spend a weekend. My mum and I had a fantastic stay and couldn't have asked for more. Thanks Dalys!
Lyn
2016-09-29T00:00:00Z
My boyfriend and I spent a weekend at The Tailors Cottage and it was incredible! When we arrived we were greeted by Dalys and shown around the cottage - it looked exactly as it does in the pictures (if not better!). The cottage had everything we could possibly need and was beautifully furnished - and the log fireplace was the perfect touch given the cold weather. Dalys was an amazing host and went to every effort to make our stay perfect, including by leaving an array of fresh supplies for us (including bread, bacon, eggs, milk, mineral water and orange juice) and providing us with information on all the local restaurants and things to do. We will definitely be back again soon!
Emma
2016-05-30T00:00:00Z
The Tailors Cottage was extremely comfortable and its proximity to the township of Kangaroo Valley and other towns (eg Berry) in the Shoalhaven district could not be faulted. You can be assured that we will be recommending The Tailors Cottage to our friends and others. Our overall rating of the acommadation is Excellent. Many thanks Pat and Carmel
Patrick
2016-07-25T00:00:00Z
The cottage is perfect for a weekend in the Kangaroo valley. Fully equipped and beautifully decorated. Location is superb, right in town and walking distance to shops and restaurants. Dalys is a wonderfully welcoming host and even had a number of lovely breakfast items waiting. Would definitely recommend it!
Vanita
2016-11-13T00:00:00Z
Room Type
Entire home/apt
---
Property Type
House
---
Accommodates
2
---
Bedrooms
Kangaroo Valley, NSW, Australia
The cottage is close to the village centre. You'll love the cottage because of the location, the ambiance, and the outdoors space. Our home is good for couples and friends wanting to spend a few days away from the city.
The cottage has been lovingly restored however offering all home comforts including a fully equipped kitchen including a washing machine and a stunning luxury bathroom with underfloor heating. Spacious bedrooms with a King bed in the main room and 2 king singles in the second bedroom. Stunning outlook yet only 10 minute walk to the centre of the village.
We had a lovely stay at Justine's place at Kangaroo Valley. It's a really cosy cottage surrounded by beautiful green paddocks. Unfortunately the gas tanks ran out so we were without hot water and couldn't use the stove or oven on our last day. We contacted the agents, who acted on it promptly however we had to leave just as it was fixed. The wifi was also down, which was fine for myself and my partner but our friend also staying needed to do some work and couldn't connect online.
Pippa
2017-03-26T00:00:00Z
Everything about this home screams 5-star, but our stay was tragically uncomfortable. I work US time, and had to make a number of calls and video meetings, but couldn't since there was no wifi. On the first evening I drove to a local restaurant to use their wifi to make a call. Afterwards I mentioned the issue to the owners who only suggested using the wifi in their house, which is just up the road; a nice gesture, but uncomfortable (especially to be waking up someone else's house on the phone at 5am)... At 5am I got dressed and drove back to the restaurant to sit outside in my car for my next call. Then again at 7am. Then again later that day. Then again the following day. The exercise took hours out of every day. There was no offer to rectify the issue, which made it most displeasing. A call to iiNet could have helped.
Lincoln
2017-03-15T00:00:00Z
Yes we felt welcome - neighbourhood was great and only a short walk into town - house was actually better than listing as had lots of special touches such as a coffee machine and lovely toiletries in the bathroom.
Angie
2017-01-06T00:00:00Z
We stayed at Justine's for four nights and had an absolutely amazing time there. The location was perfect as it was secluded but still within walking distance to the centre of town. It was also a good distance to nearby towns such as Berry and Jervis Bay. The house is lovely and rustic, with a very well equipped kitchen and modern bathroom. The beds were very comfortable. We had friends over for a BBQ lunch and everyone loved the place. There were farmhouse pets (Sven the calf and Brock the pony) who were absolutely adorable and friendly. I would highly recommend this place for anyone looking for a country getaway. Lastly, we were welcomed with a lovely bottle of wine and chocolates.
Amy
2016-12-29T00:00:00Z
Justine's cottage in Kangaroo Valley was perfect for our weekend get away. Everything was so nearly organised and we were never uncomfortable. Outside of having only one bathroom, the cottage is a great way to spend time in KV as it is only a short walk from the main strip of the town. Will come back again!
Jessica
2016-10-03T00:00:00Z
Justine and her family were very welcoming and friendly and the stay was just what we were after, very cosy and fun. Special thanks to zinzan for his help and great suggestion for a local scenic drive
Nathan
2016-11-05T00:00:00Z
Room Type
Entire home/apt
---
Property Type
House
---
Accommodates
4
---
Bedrooms
Kangaroo Valley, NSW, Australia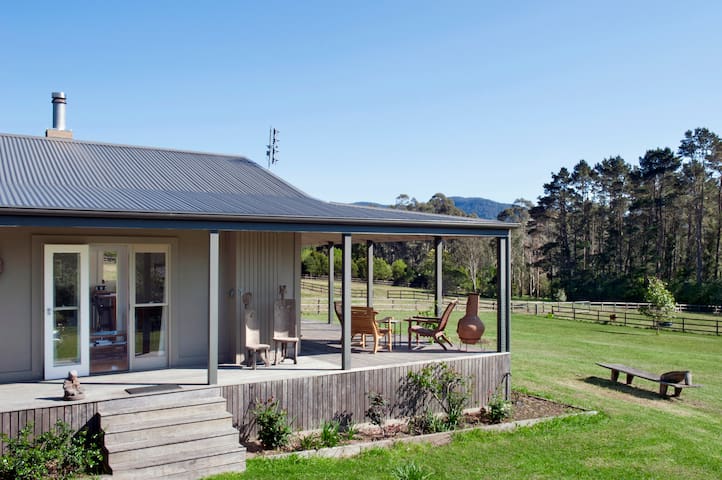 Our cosy self contained flat is located 10km from Kangaroo Valley village. Come and enjoy a farm stay at our beautiful and peaceful haven. See the chooks, ducks, collect eggs, enjoy our farmyard animals. Easy access to great bushwalking and mountain biking. Close by to the Kangaroo Valley river.
Outside fire. Unobstructed views of the stars.
Quiet and peaceful. Incredible views! Listen to the lyre birds sing their songs or the roosters crowing. No traffic. Be a part of a self sustainable home. Visit the farm animals, chooks or vegetable gardens. Collect your own eggs for breakfast. Air conditioned, queen bed , bunks and trundle. Large TV, DVDs books. Full kitchen and laundry. Outside wood fire. BBQ. 5acres to explore. Close by to bush walks and mountain biking and the Kangaroo Valley river. No public transport. 10km from Kangaroo Valley town. Bring your bikes and explore.
The house is very clean and tidy. Kids enjoy this journey. The house holder is very kind. Kids love to feed the sheep and chock and playing ball with dogs.
Sian
2016-09-22T00:00:00Z
Lovely stay in a gorgeous part of the world! So fun for the kids feeding the animals and Kerry was a lovely host. Fresh bread, milk and eggs on arrival was an appreciated extra touch!
Ainslie
2016-07-25T00:00:00Z
we had a good and relax time at the warren recommendate to young child family for a get away trip excellent host
George
2016-10-01T00:00:00Z
Loved our stay. Very relaxing and great hospitality from Kerry, Greg and the kids. Highly recommend it.
Brigid
2016-04-11T00:00:00Z
Kerry's place is amazing. Beautifully situated, clean, and the wildlife around including wombats, wallabies, birdlife, was a real highlight for our french guest (as well as us). Well worth the drive up the escarpment! Fresh eggs and bread a highlight. We wish we could have stayed longer. Great to meet you Kerry in the morning too. Thanks!
Rowan
2016-01-18T00:00:00Z
Kerry and Greg's spot is absolutely brilliant, pictures do NOT do it justice! An absolutely tranquil spot with great views and vibes, and a wonderful warm welcome from the hosts and animals alike! Awesome to see how the family has created there own off-grid hub, with all their animals and bees - wait till you see their edible goods collection (including honey and all sorts of pickled concoctions)! We got a real treat on our trip spotting 2 baby wombats (make sure you drive steady!). Being adjacent to the family home was great, only a call away from assistance, whilst the flat itself still felt very private. Great for a small fam holiday or couples getaway! Thanks guys!
Risa
2016-04-16T00:00:00Z
Perfect stay for a family with young kids. Easy communication before arriving, great spot and a lovely welcome by Kerry and her family. Accommodation was absolutely perfect, clean and especially important in Winter- lovely and warm. The kids had a ball with the chickens and sheep, and running around the land. Such a great area to explore as well, we would definitely return!
sally
2016-07-16T00:00:00Z
What a lovely peaceful location and we liked the fact that it was out of the township. Our hosts were very nice and friendly, leaving us with homemade bread and fresh eggs was a lovely touch. Overall our experience was great although short, a couple more days would have been very nice.
Leanne
2016-10-22T00:00:00Z
Room Type
Entire home/apt
---
Property Type
House
---
Accommodates
5
---
Bedrooms
Kangaroo Valley, NSW, Australia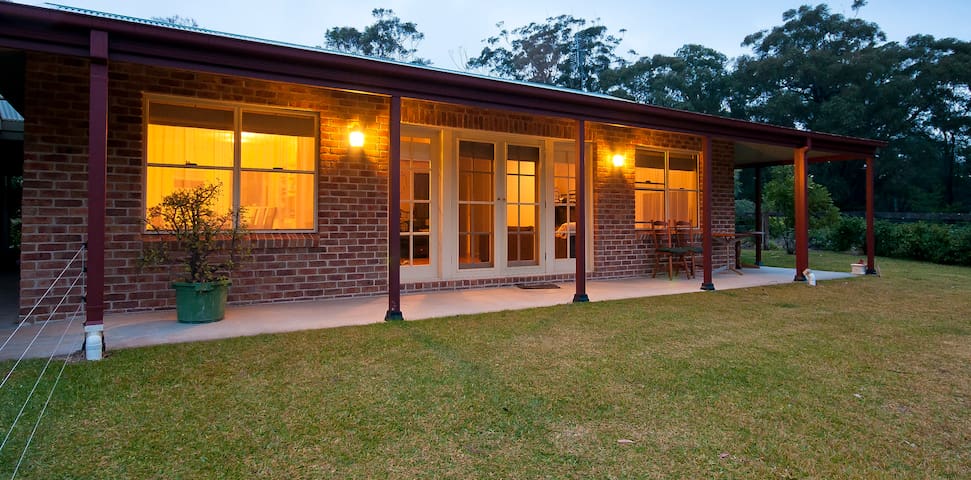 Circa 1880's THE COTTAGE kangaroo valley is owned & curated by Australian Artist & Stylist LISA MADIGAN. An oasis of charm, calm & textural delight. Settle into the crisp white & cosiness, rejuvenate the senses & embrace the local environment.
Originally housing The Kangaroo Valley Times, a local newspaper from the late 1800's, THE COTTAGE has beautiful original featured mixed with the new. An industrial style kitchen sits side by side with an old brick fireplace, soft white linens & fine art pieces. Finishes of raw woods, concrete, luxurious oil paintings & textural details throughout, evoke a beautiful sense of warmth & curation beyond an ordinary stay. (URL HIDDEN)THE COTTAGE kangaroo valley sits nestled behind two beautiful crepe myrtles & an old federation palm tree. The property is sizeable with plenty of space outdoors within the garden for an al fresco lunch or some late night star gazing. Gardenias sprout in summer & the trees loose their leaves in winter with an autumnal hue & spring zing between.
We had a wonderful stay at THE COTTAGE, Kangaroo Valley to celebrate my wife's birthday over the October long weekend. The place was the ultimate rustic chic escape from our busy little city lives. Lisa's place was everything we could have hoped for and expected. It was exactly as pictured and provided the perfect opportunity to rest, relax, unwind and breathe. We probably spent half our time out and about doing many of the activities the locale had to offer, including kayaking, horse riding, massages and day trips out to nearby places of interest, but the other half of the time was spent just appreciating the charm of THE COTTAGE. The decor is impeccably selected and every piece looks bespoke, as if it were made for the sole purpose of furnishing this residence. Whether it was snuggling up on the couch to watch a movie (or five), sitting by the fireplace or soaking in the bathtub, the place truly felt like home for the long weekend. THE COTTAGE is well positioned just a short distance away from the main part of town, close enough to walk over for lunch/dinner/drinks/dessert, yet far enough that any activity in the town (particularly busy over the long weekend) didn't disturb the peace and serenity the place has to offer. Lisa was a great host who maintained excellent communication through the booking process leading up to our stay and made sure we were well informed and had everything we needed before arrival. One minor issue we had was that we couldn't get hot water running upon arrival, but after a quick message to Lisa, she responded virtually instantly and sorted it out immediately. We cannot recommend this place highly enough and my wife and I would gladly stay here again if (when) we choose to come back to Kangaroo Valley. Thanks Lisa!!
Carl
2016-10-05T00:00:00Z
My husband and I had the best time ever at The Cottage in Kangaroo Valley! The host had literally thought of everything and the place is beautiful, only wish we could have stayed longer, thoroughly recommend !
jesse
2016-07-25T00:00:00Z
Just spent the June long weekend at this wonderful little place. From the fabulous white on white interiors, cosy linen and bed, towels, abundant supplies of crockery, utensils, and glasses to the sunny dining table (perfect for breakfast, coffee and reading the paper) and the many special touches, surprises and treats spread throughout the house. The house was surprisingly warm, with the fireplace, ac and thermostat in the bathroom. I also loved the breakfast hamper which was large enough for two of us for two breakfasts. Lisa you've made The Cottage such a welcoming and relaxing retreat. Thanks for sharing it with us; we will certainly be back!
Megan
2016-06-14T00:00:00Z
My wife and I had a great weekend at The Cottage. It's right near KV town and conveniently located not too far from Berry and the Southern Highlands. We loved the place so much that we didn't venture far at all. A relaxing bathtub and awesome kitchen - felt like we were back in France. We had a basket full of treats in the fridge and some tasty sourdough. My wife loved how beautiful the house was styled. The fireplace was also great. The house had plenty of room for the two of us. We would love to visit again soon! We were so glad we chose to stay at The Cottage.
Steve
2016-09-05T00:00:00Z
Lisa was a great host and easy to communicate with. Everything was as she explained. It was very relaxing location we wish we had more time.
Aaron
2016-09-13T00:00:00Z
Had the most wonderful time at Lisa's cottage! From the moment we walked through the doors we felt the warmth and gorgeousness of the space. Lisa was generous and kind - more than anyone could hope for. Her little social touches - from perfect communication to local suggestions - just added to making it the perfect week! We can't not wait to get back there.
Georgia
2016-07-08T00:00:00Z
Thank you Lisa. My husband and I had the most amazing stay at The Cottage over the weekend. Thank you so much for creating such a special space for people to share. We loved all your little attention to details that made our stay just absolutely perfect.
Rodney
2016-10-30T00:00:00Z
We had the most amazing stay at THE COTTAGE in kangaroo valley. This was our first family holiday to celebrate Mother's Day and bit was it special. Lisa was so helpful, such an amazing host answering any questions we had right away and making sure we had everything we needed plus more! The home was literally like walking into a magazine. My absolute dream abode, so charming, cosy and full of character. I couldn't stop taking pictures. The kitchen had everything we needed to cook up a storm, the bath tub was a dream to soak in and the bed was super comfy amongst the linen sheets. We spent time in the beautiful backyard during the day amongst the trees and warmed up by the fire place in the evenings. So close to the shops we would walk in for supplies and to look around or if we felt like more action, would head to Berry only a short drive away. By the end of our stay we really didn't want to leave and it just felt like home. Thanks Lisa for putting so much love into THE COTTAGE and allowing us to stay in your special space, we will never forget it and be sure to return soon.
Madeleine
2016-05-10T00:00:00Z
Room Type
Entire home/apt
---
Property Type
House
---
Accommodates
2
---
Bedrooms
Kangaroo Valley, NSW, Australia
Enjoy this stunning cottage located off the main road and walking distance to cafe's & shops in the heart of Kangaroo Valley, sleeps upto 6 people in 3 bedrooms. Fully equipped & furnished. Spend time relaxing in this sort after location.
This large 3 bedroom country house is in the perfect location in Kangaroo Valley. Enjoy the wood burning stove & country setting. Reverse cycle air-conditiong & deep bath. Main bedroom with King size bed, 2nd room with Double bed & trundle bed, 3rd bedroom with Queen Bed + Library has single day bed which is great for young children. Candles through-out Kitchen is fully equipped with all amenities including dishwasher etc. Pets allowed. Portacot, portable high chair & baby bath seat.
We had a fantastic stay in a group of four adults and three small kids. The kitchen was well appointed as was the whole house. Heating and cooling was great and there was more than enough bed linen and towels. A great cottage in a great location.
Tim
2016-08-15T00:00:00Z
Lovely place with lots of room and great playroom for the kids. The house has loads of charm and really near the village which has s great cafe and lots of shops and pub.
Eithne
2017-02-11T00:00:00Z
Great place to stay for a quiet break!
Jun
2016-12-28T00:00:00Z
In the centre of Kangaroo Valley, yet quiet. Distance to the restaurants and other little shops easy 2 mins walking distance. Easy check-in/out. Too bad it wasn't cold, would've loved the fireplace I'm sure. Thanks Heather.
Laurens
2017-03-19T00:00:00Z
Perfect little spot in Kangaroo Valley Village .. Walking distance to the village. Thanks Heather.
David
2017-03-11T00:00:00Z
Stella Ann was a great place to stay for a long weekend of relaxation. We were 4 adults and 1 dog and there was plenty of room for everyone, the kitchen is brilliantly stocked for cooking, beds are comfy, the house is very welcoming and right by Kangaroo Valley town which is lovely. Beaches of Jervis Bay area and Berry are close by for day trips. We loved it!
Becc
2017-01-28T00:00:00Z
Kangaroo Valley is lovely and Heather's house - Stella Ann - is a great base. Stella Ann is an easy walk to the township, was a clean and comfortable house and was well equipt. Heather was great to deal with promptly responded to our questions.
Sarah (and Simon)
2015-12-30T00:00:00Z
Great location and had everything we needed.
Sophie
2016-06-21T00:00:00Z
Room Type
Entire home/apt
---
Property Type
House
---
Accommodates
6
---
Bedrooms
Kangaroo Valley, NSW, Australia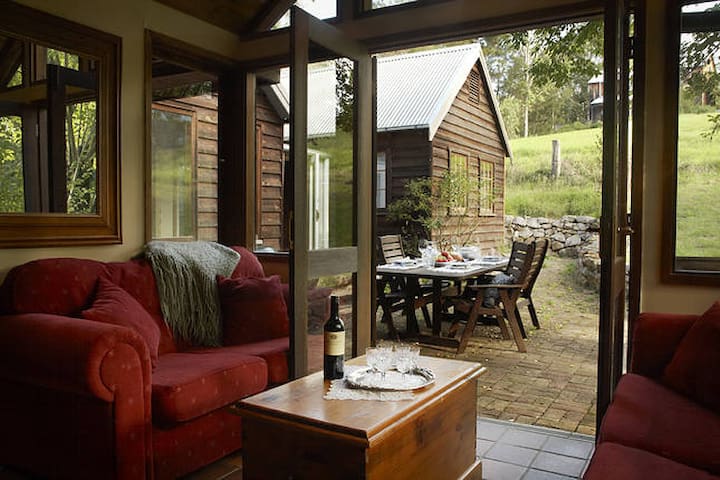 This converted Dairy is close to the village of Kangaroo Valley. You'll love the cottage because It is beautifully renovated both cozy in the Winter and offering gorgeous gardens to enjoy in the Summer. The Dairy is ideal for couples or 4 friends looking for that special place for the weekend.
The Dairy was an absolute perfect getaway for my family. It was lovely and clean, comfortable beds, everything was just right! Waking to the rain on the roof this morning was so cosy, we didn't want to leave, one more day would of been perfect to explore the grounds, and sit outside and read. The selection of books and dvds was an added bonus, especially as the web site didn't say a tv was available. Even the board games were very thoughtful. Thank you Jane, so much. ps, so nice to have such nice lighting too.
Gill
2017-01-03T00:00:00Z
Such a magic spot! Was beautiful to wake up to the sounds of the birds and enjoy the outlook from the veranda. Sensational!!!
Drew
2017-01-01T00:00:00Z
A clean, well kept house in an idyllic setting. A great location for peace and relaxation. The host is very helpful. The location is very near Kangaroo Valley which has lots of interesting shops and places to eat. Plenty of outdoor activities nearby too. Highly recommended.
Gill
2017-01-07T00:00:00Z
We really enjoyed our stay here. It's located in the most idyllic spot. Far away from any hustle and bustle. I would recommend eating out as the kitchen is really narrow and wouldn't be much fun to cook in. Would stay again though.
Marlowe
2017-04-01T00:00:00Z
The Dairy is beautifully decorated and in an idealic rural setting. Absolutely spotless and a great place for a bit of wombat spotting from the verandah of an evening. We thoroughly enjoyed our stay!
Daniel
2016-12-30T00:00:00Z
Room Type
Entire home/apt
---
Property Type
House
---
Accommodates
4
---
Bedrooms
Kangaroo Valley, NSW, Australia
Relax in the heart of Kangaroo Valley, in 100 acres rainforest & bush, 2 hours from Sydney & Canberra. Bush walks, bike rides, swimming, canoe & kayaking, fishing & golf club. Horse riding & horsemanship next door. Charming village w/pub & markets.
Moosewood, Kangaroo Valley a beautiful 4 bedroom holiday home set in 100 acres of secluded nature. Moosewood is an architect designed renovation within an old barn designed to both suit its rustic origins and provide all the comforts of modern living. It features a Tesla charging station. Whether you want to relax in a hammock and watch kangaroos play as the sun sets, have a special al fresco dinner against a mangificient countryside setting, or prefer to watch a movie or listen to music as you play foosball, table tennis or a board game, then there is something for you here. The house sleeps up to 9 people (3 x queen beds, 2 x singles, 1 x trundle). Each of the four large bedrooms is individually heated or fan cooled. Cotton bed linen and towels are supplied. In addition to the main bathroom, there is a second wc/laundry with washer and dryer. The fully equipped kitchen has a European electric oven and gas cooktop, microwave, fridge freezer, dishwasher, juicer, nespresso and much more. Our cast iron woodburner is designed to take large logs for longer burning. There is a complimentary box of firewood supplied. Home entertainment includes books, magazines, board games, playing cards. There X-Box 360 with G, PG and M rated games. There is a DVD selection, flat screen TV and indoor/outdoor music system with adaptors for PC or Apple. (You can also bring your music on a USB.) Other fun includes table tennis, boules, volleyball and the piano that is there for you to enjoy. (All together now ...)
It's amazing countryside. It has beautiful swimming pots. Kangaroo Valley town has a great pub for dinner and three (!) pie shops. It's a beautiful area to be in and just 2 hours or so from Sydney and Canberra.
We had a great stay at Lisa's house. The house is gorgeous, warm and well equipped. Great place to escape the city and switch off for the weekend. The kids LOVED all the kangaroos and wombats around the house!
Sarah
2016-06-20T00:00:00Z
We had a wonderful stay at Moosewood. There were 6 adults and 4 kids (3 of which are under 2 years old) and the space was great. The property was well equipped and the boys made great use of the ping pong table and chess set! The kids loved seeing the kangaroos and wombats. We'd love to return!
Corinna
2016-04-26T00:00:00Z
Moosewood has all the creature comforts and perfect for a relaxing holiday. There is no internet which might present a problem for some but for us it was a great opportunity for a technology-detox. We had a wonderful time, spotted loads of wildlife and wound down in true, distinctly Australian style. I recommend the winery Mt Ashby nearby too! #offthegrid #qualitytime
Helen
2016-01-30T00:00:00Z
We really enjoyed our stay at Moosewood. The place is well equipped and as described. It is a perfect place for a group of friends. Hosts were helpful, responsive and communicated well through the whole process.
Annie
2016-09-27T00:00:00Z
Jane was warm and friendly upon arrival. Moosewwod was a magical place, the house was perfect for groups and I have already recommended it to a few friends. Waking up with 60 Kangaroos on your front lawn was pretty special - the kids loved it.
Christopher
2016-11-19T00:00:00Z
Great communications right from the start. Lisa has been most accommodating. We thoroughly enjoyed our stay at this unique and well renovated property. The decor was very cool and the kids got good use out of the table tennis , fooseball table and the chess set. The house was well equipped and lots of creature comforts. Thank you for having us. The kids also loved their discovery of 'the haunted house'!
Christine
2016-07-11T00:00:00Z
Moosewood was the perfect getaway. The house was immaculate, very functional (including for our two young children) and the host and local agent made us feel very welcome. The property is simply stunning, with great walks, beautiful sunsets and an interior which was both functional and beautiful. I would highly recommend Moosewood.
Geoff
2015-10-19T00:00:00Z
If you are heading to Kangaroo Valley then the Moosewood is a must to stay at. The pictures don't give that place justice as it is a perfect house, in a perfect destination with perfect surroundings. The place is very relaxing and extremely well equipped. Both Jane and Lisa are great hosts and the support and communication received by them were both top notch. My family and I thoroughly enjoyed staying there, and if we were to go to Kangaroo Valley again the Moosewood would definitely be our destination of choice. Beds are extremely comfortable (even my 3 year old slept well from the first night there), the place was very very clean , appliances in the kitchen and laundry are excellent and the house really has everything you need to enjoy your time there. Highly Recommended!
Alfred
2015-10-11T00:00:00Z
Room Type
Entire home/apt
---
Property Type
House
---
Accommodates
9
---
Bedrooms
Kangaroo Valley, NSW, Australia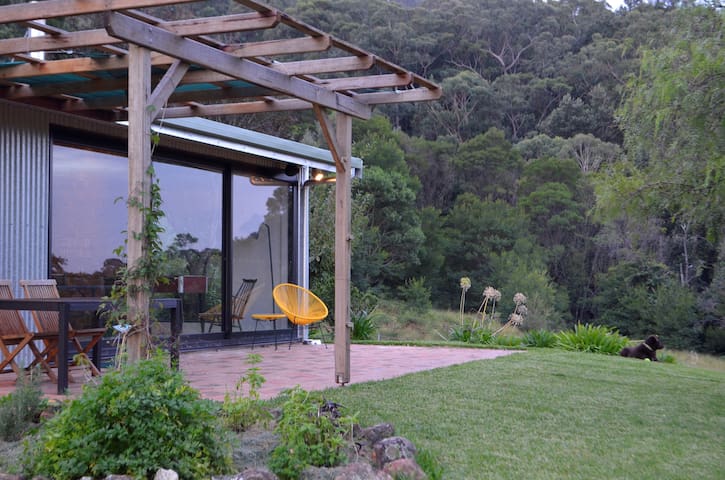 The Secret Garden Cottage is new family and pet friendly accommodation now available for your holiday in the Kangaroo Valley.
The Secret Garden Cottage is perfect for a romantic break for one or two couples and easily accommodates families. The Cottage has three bedrooms: a double bedroom downstairs and a queen bedroom and single bedroom upstairs with a trundle bed for either 1 adult or 2 children. There are 2 bathrooms, including a master bathroom with a separate shower and divine corner bath built for two. There are full laundry facilities in the outdoor laundry, including a separate shower and toilet. The laundry is made available for stays of 4 nights or more. The beds are made up with luxury linens, pillow top mattresses and fluffy quilts to keep you toasty on cold Winter nights. There is a wooden fire place with fire wood supplied to keep you warm during Winter and plenty of fans to cool you down in Summer. The Cottage is two storeys, with a living room on each floor, so there is plenty of space for everyone to spread out. Read a book in the rocking chair in front of the fire downstairs, while the kids watch a DVD or BluRay from our extensive movie collection upstairs on the brand new Sony flat screened TV. The kitchen is a delight for those Master Chefs, with a gas cook top, oven, grill and microwave for you to whip up some tasty treats. Alternatively, you could cook outside under the stars, with a BBQ and Pizza Oven out under the pergola. There is even a fire pit for you to build a fire and toast some marshmallows for dessert. We supply linen, candles, luxury bath products, fire wood, iPod and CD Player, board games, books, DVDs, outdoor games, a fully stocked kitchen complete with a Nespresso Coffee machine, coffee capsules and a selection of quality teas to ensure your stay is the perfect blend of romance, fun and relaxation. The namesake of the Secret Garden Cottage is the beautiful gardens, which beckon you to discover the surprises hidden around every corner, the musical sound of the fountain in the pond, the garden seats dotted throughout the gardens set in sub-dappled light under the leafy trees and the gorgeous flowers spilling over the pathways. You have the cottage and the property for your exclusive use. You can even bring your pet! Your dog will love exploring the property and frolicking on our huge lawns. There is even a bushwalk on the property! The kids will love all the native wildlife that lives on the property, including wombats and a local family of echidnas who have made their home in the rock garden on the hill behind the house. We are family and child friendly and offer the following features to make sure both children and Mums and Dads have a fun and restful break: * Portacot and high chair supplied free of charge upon request * 5 acres of lawns, ponds and gardens to explore * Two separate living areas * Brand new widescreen Sony TV, with DVD and BluRay player and DVD collection * Children's books and toy box * Board games and outdoor games set * Rocking horse * Dolphin Torches for wombat spotting at night * Trundle bed for two children * Outdoor bath tub for bath time with a difference * 3 outdoor fireplaces and a pizza oven For more photos and information, please visit our website. (website hidden)
If you can drag yourself away from the Cottage, all this is only a short 500 metre stroll into the Kangaroo Valley Village, with its many restaurants, shops and cafes and the famous Kangaroo Valley Friendly Inn for you to choose from. Leave the car at home and stroll back to the Cottage under the millions of stars, before enjoying a nightcap in front of the fire, perhaps a candle lit bath with someone special or just sink into the comfortable beds with luxury linens for a restful sleep. The Cottage is 100 metres from the local pool, playing fields and playground. Alternatively you could take a trip to the local "beach" under the Hampden Bridge and enjoy a refreshing dip in the Kangaroo River. Kangaroo Valley is half way between the South Coast and the Southern Highlands of NSW, Australia. Kangaroo Valley is close to several national parks and beaches, with great bush walking, canoeing, mountain biking, golf and horse riding on your door step. To find out more please visit our Kangaroo Valley Attractions and Kangaroo Valley Surrounds pages on our website. Historic Berry and Bowral and beautiful beaches are only a scenic 25 minute drive away, including the dog friendly Seven Mile Beach. The marine park of Jervis Bay / Booderee National Park is 45 minutes away via Nowra, or just stay in the Valley and enjoy the multitude of activities it has to offer.
We had a great experience at The Secret Garden Cottage. Will was very generous with his communication and helped me to sort out some last minutes changes in our plans. Gaining access to the house was easy and there was a great visitors book with info about the local area and the cottage gardens. The garden is as delightful as it looks in the pictures and the deck with mountain views is particularly wonderful. The house has all the necessary comforts but is homely enough to create a relaxed atmosphere. There are plenty of toys for kids and the two separate living spaces are fantastic. Not to mention the choice of open lawn, a wander through the garden or hanging out in a little patch of bush. The beds at The Secret Garden Cottage are notably comfortable as are the lovely fresh sheets and cozy quilts.
Amy
2016-05-01T00:00:00Z
The Secret Garden Cottage is such a beautiful place to stay. Sophie and Will have created a gorgeous home that has been furnished, decorated and stocked beyond expectation. A lot of work has gone in to creating a comfortable and wonderful place to stay, we will definitely be back.
Lucy
2015-09-28T00:00:00Z
The host canceled this reservation 79 days before arrival. This is an automated posting.
David
2017-01-24T00:00:00Z
The cottage was in beautiful condition and we thoroughly enjoyed our stay. Lots of warm blankets, heaters and firewood for the fireplace if it gets chilly! Thank you to our wonderful hosts who made our honeymoon so enjoyable- they even left a bottle of bubbles in the fridge for us! Will and Sophie were also kind enough to let our kitten stay who loved napping on the rug upstairs. Highly recommended!
Georgia
2016-04-27T00:00:00Z
Will was a fantastic host, with excellent communication and flexibility. We were able to have an early check-in and late check-out to get the most out of our stay. The house and garden is just as described, if not better. A wonderful place to visit and we'd love to return.
Charlotte
2015-05-07T00:00:00Z
The Secret Cottage was beautiful with ample space for our girls weekend getaway. The lookout at the top of the hill was perfect for reading a book and even a bit of meditation. There's also a good info booklet with places to eat and things to see and do!
Joanne
2015-12-07T00:00:00Z
Loved the house and the garden!! My two children and dog had the most amazing time exploring and we will definitely be recommending the property to other families. The beds were seriously comfortable and the house well equiped.
Nicky
2016-04-06T00:00:00Z
What a great place, we enjoyed staying there very much! The house is really nice, spacious, spotlessly clean and we felt at home quickly. The huge and beautiful garden with its own lookout is the absolute highlight! It's nice that the house is close to the village (walking distance). The hosts thought of almost everything and communication was easy. The only regret is that we couldn't stay longer, but we would like to come back - Kangaroo Valley is a magic place!
Ingo
2015-10-25T00:00:00Z
Room Type
Entire home/apt
---
Property Type
House
---
Accommodates
6
---
Bedrooms
Kangaroo Valley, NSW, Australia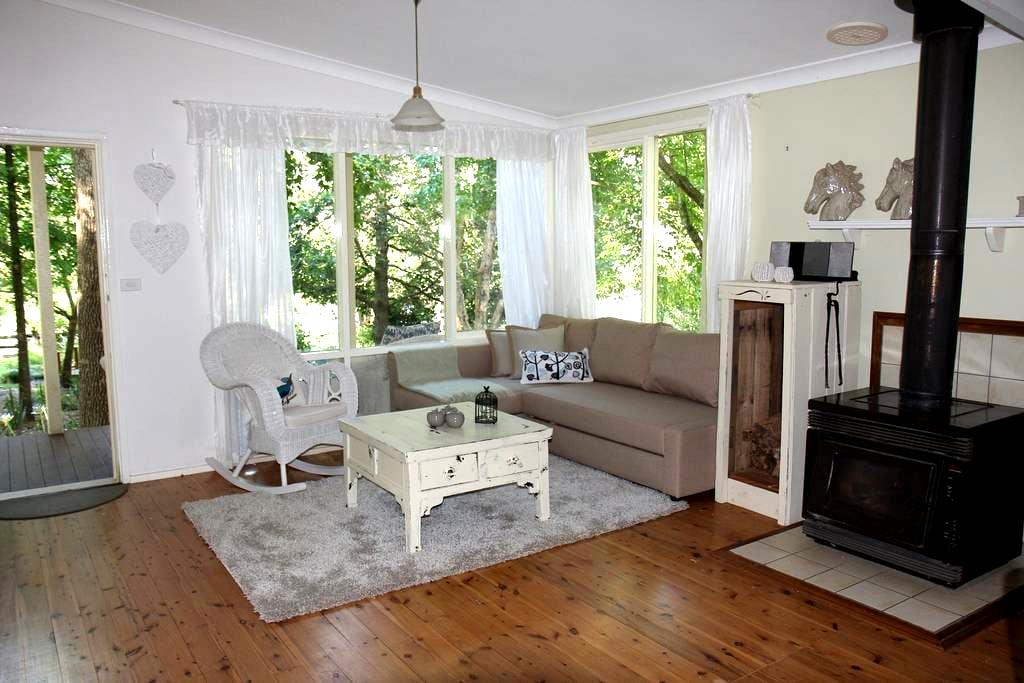 Views views and views, 10 minutes walk from bridge, river, town, tennis courts and local pub, position plus.
Room Type
Entire home/apt
---
Property Type
House
---
Accommodates
7
---
Bedrooms
Kangaroo Valley, NSW, Australia
Ideal as a couples romantic getaway in a private, luxurious, self catering eco-friendly superior cottage. Enjoy the dramatic views of bush and rugged escarpments from your own private plunge pool and heated spa, just the thing to enrich the spirit.
Here you can expect to have a memorable nature experience. For those keen to spot the local wildlife, dusk and dawn are optimum viewing times and it is common to come across wallabies, Kangaroos, wombats, echidnas, goannas and an amazing array of birdlife
The Australian bush is at your doorstep here in Kangaroo Valley, NSW. We encourage you to begin your day with an invigorating bushwalk to the Kangaroo Valley River, which flows beneath our property. If you are very quiet you may see a platypus, or water dragons, but certainly a canoeing enthusiast. After breakfast in your self catering eco friendly luxury cottage children will escape to the many playgrounds on the property, enjoying the swimming pool, spa, trampolines and bike riding. Couples are then free to relax, read a book, stroll through our Olive grove and taste extra virgin olive oil grown right here at Banksia Park.
A fantastic getaway. Peaceful, great bush walks, lovely pool to relax around and in. Alison was very helpful, friendly and a great host.
Jamie
2016-03-24T00:00:00Z
We had a great 2 night stay at the spa cottage. The view was spectacular and the spa a great place to enjoy that view from. The cottage was clean and well maintained, surrounded by a plethora of amazing wildlife. Alison and Paul are terrific hosts and facilitated a wonderful stay.
Gemma
2016-07-08T00:00:00Z
Spa cottage at banksia was amazing. View was great. Loved the spa on the deck and the fire we had each night over looking the valley. There was alot of wildlife around the property. It was only a 15min drive from town but felt like you were somewhere else. Alison was very friendly and made our stay very enjoyable.
Skye
2015-08-09T00:00:00Z
We stayed in the spa cottage for four nights and it was exactly as we expected from the description and more. The well-equipped cottage is homely and the outdoor area is very practical and extremely spacious. Our daily ritual was breakfast on the verandah taking in the stunning view, which seemed to be ours alone, the serenity and the lovely birdlife (fairywrens and Eastern spinebills) that visited shrubs just in front of us. Wombats and roos were plentiful. The bbq was great. Though hot weather, the fans are adequate and the breezeways cooling. Our lasting memory will definitely be standing on the expansive deck at night gazing up at the thousands of stars we can't normally see, living in a big city. Breathtaking. Ideal for couples or family for a real bush retreat with the comforts of home. It could be a bit difficult to find the entrance and reception but we got there using gps, and there is a short stretch of unsealed road into the property. A lovely restful holiday.
Yvonne
2016-12-22T00:00:00Z
Excellent accommodation, with wonderful views. We stayed for two nights and had a very relaxing and secluded time with our own spa and plunge pool. The accommodation is comfortable and well equipped. Thanks for a great stay!
Tim
2016-04-07T00:00:00Z
The cottage is lovely and cozy with an amazing view. Alison was very friendly and welcoming. The surrounding wildlife was a lovely treat.
Yen Mong
2016-07-05T00:00:00Z
We had an absolutely fabulous time at Banksia Park spa cottage. An amazing view and a great self contained one bedroom cottage with spa and plunge pool. Highly recommend it, especially with a canine friend!
Jocelin
2015-12-24T00:00:00Z
Alison made us feel welcome and nothing was a problem.
leanne
2015-11-17T00:00:00Z
Room Type
Entire home/apt
---
Property Type
House
---
Accommodates
3
---
Bedrooms
Kangaroo Valley, NSW, Australia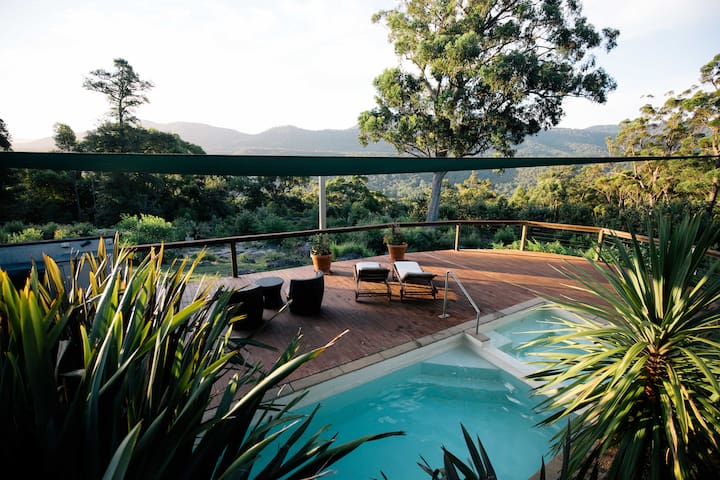 My place is close to Kangaroo Valley Village, so you can easily walk to restaurants, shops and parks. We have expansive gardens, a saltwater pool and beautiful views of the surrounding mountains and farmland. You'll love my place because of the comfortable beds, newly renovated kitchen and bathroom, wood burning fire, spacious dining and living areas. There are gorgeous views from every room in the house and it is peaceful and quiet. We also have amenities like WIFI .
Beautiful! I highly recommend staying here.
Alisha
2017-04-01T00:00:00Z
Such a wonderful, beautiful property!! We thoroughly enjoyed the serenity and our daughter absolutely loved the pool and running around in the yard. They even provided toy and books for the kids. The decor, kitchen equipment, linen etc was stunning and great quality, not to mention the well maintained lawns and gardens, they really take care of this property. We could not fault a thing. Would highly recommend to families or groups of friends wanting a relaxing, tranquil getaway.
Hannah
2016-12-22T00:00:00Z
WOW! What a beautiful place. Kookaburra Hill has everything you could possibly want, and to find such a beautiful place that truly is both child and pet friendly is amazing. A fantastic weekend escape from city life. Thank you Tiffany.
Clare
2016-09-25T00:00:00Z
Our stay at Kookaburra Hill was awesome. The house and surrounding grounds were absolutely beautiful! It's a beautiful drive from Sydney and conveniently close to the Kangaroo Valley township. We didn't need to leave though as we had everything we needed there! There's even an outdoor kitchen which was great because it meant we could enjoy a swim in the heated pool and cook and lounge around. A beautiful property that felt like home. Can't wait to come back!
Kylie
2016-10-23T00:00:00Z
The house was great and comfortable. The amenities in excellent condition, just like in the photos. The place was close to shops and cafes if you want to get some food, we decided to cook our meals and found the kitchen well equipped. I will definitely recommend this place and will come back
Martin
2017-01-02T00:00:00Z
This is a great property in a great location.
Brenton
2016-10-29T00:00:00Z
What a breathtaking property. Beautiful, expansive, 1 min drive from the town (or a short walk if you're so inclined!), and great amenities. My family's favourites were the saltwater pool, the fireplace, and the backyard. Tiffany and her husband wrote up this pretty comprehensive guide to the town and her property that we enjoyed as it allowed us to get the most out of our stay. I would highly recommend staying at this property. I will definitely be back again.
Sam
2016-11-01T00:00:00Z
We have stayed in Kangaroo Valley numerous times and this is by far and away the best property so far. Kookaburra Hill looks every bit as good (and more!) as the photos suggest. We cannot wait to return!
Damian
2017-01-06T00:00:00Z
Room Type
Entire home/apt
---
Property Type
House
---
Accommodates
8
---
Bedrooms
Kangaroo Valley, NSW, Australia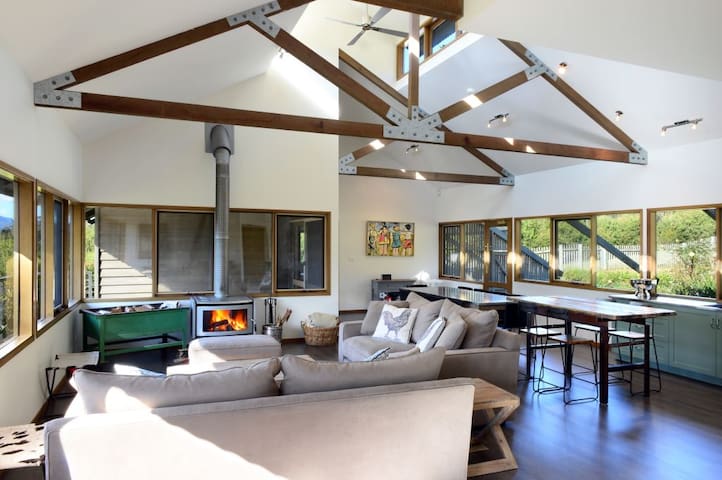 Go a bit WILD is a casual, relaxed country cottage in acres of bushland, rainforest and paddocks with kangaroos usually lounging near the dam. You'll find a warm welcome, all the comforts of home, guaranteed wildlife spotting and extensive wildlife & visitor information.
Your retreat is a peaceful, relaxed country cottage surrounded by hundreds of acres of natural environment with no sight or sound of neighbours. You have a Queen bedroom, a sitting room and a bathroom reserved for your use. The perfect place to de-stress, restore your sanity and recharge your batteries. You'll be warmly welcomed with a cuppa and, most likely, by some resident kangaroos and wallabies. Overseas visitors are especially welcome. I would so much enjoy showing you some 'real' Australia and introducing you to the feathered and four-footed locals. You will find all the comforts of home inside and you can freely wander around the 25 acre property of paddock and bush, spotting and photographing grey kangaroos, kookaburras, lyrebirds, bowerbirds, parrots, magpies, wood ducks, ravens (all seen daily), listening out for cockatoos flying overhead and maybe catching sight of a passing goanna (lace monitor) or echidna. Later in the day I can show you wallabies (red-necks) and, in the evening, wombats. Or if you wish to range further afield I can tell you where the best and least known spots are for wildlife, stunning rainforest, bushwalking, canoeing and waterfalls after heavy rain. I have extensive in-depth knowledge of our native wildlife and birds and several reference books for your use. I can also give guidance as to where the most stunning views and drives are, both in Kangaroo Valley (KV) and the surrounding region. Or you can just lounge in the shade with a good book!
Kangaroo Valley has been described as the country's most beautiful valley. It has a harmonious mix of farmland, bush, rainforest, escarpments, rivers and creeks with very special wildlife. The village has many great cafes, restaurants and shops which I will happily recommend on request. The Friendly Inn has a lovely beer garden leading down to the river flats. The Showground has to have the most amazing escarpment views in Australia and the nearby swimming pool is refreshing on a hot day. As is the river and little beach under the Hampden Bridge. Up and downstream from the bridge there is the chance of seeing a platypus at the right time of day. The pictureseque village has historic interest with the stone-work, castellated Hampden coming up to its 120th birthday and several buildings by the acclaimed architect Horbury Hunt, such as the old Court House. Lake Yarrunga can be reached along a beautiful quiet bush track (2 hours return) but good to take your lunch! Tallowa Dam is just 30 mins away and has a pleasant picnic spot down on the water. Kangaroo Valley has a wonderful collection of wildlife due to its varied and rugged terrain and many different habitat types. Several threatened species are found here. I can provide details on request. Further afield, I can point you to magnificent waterfalls, surf beaches, quiet beaches and river activities.
Located in such a secluded place surrounded by peace and tranquillity, yet a short 10 min drive into town for all other amenities. Having a herd of roos in the backyard and occassional wombat scurrying across the front lawn at night gives this a real Aussie backyard naturescapes feel. Entertaining host who is respectful of your privacy despite living on the property. Very warm hospitality and no tables left unturned with assistance provided from the check-in to guidance around the valley. Special mention to Chris as well who is quite the historian about Kangaroo Valley and is very good with children. Definitely recommended it to animal and nature lovers.
Shan
2017-03-25T00:00:00Z
Wonderful location off the beaten path. Chris is a wonderful host who will take good care of you. Definitely recommended for nature lovers.
Prerana
2016-12-28T00:00:00Z
We stayed with Chris for one night towards the end of April. She was a delightful host with a beautiful property and we cannot recommend her enough. The home and room were tidy and clean, and she made us feel welcome from the very beginning. She has an excellent balance of engaging in a nice conversation while being respectful of her guests' privacy. She was always willing to answer our questions about the surrounding area and wildlife, and if she didn't know the answer she helped to find it. If you like the peace of the outdoors, seeing wildlife, and a pleasant conversation, this is the place for you.
Keiko
2016-04-25T00:00:00Z
We drove for 6 hours to Chris' place - which doesn't sound like much until you realize how much stuff there is to do along the way - Chris was there to welcome us and show us her property and even had a kangaroo welcoming committee - we had a great (but short) stay with Chris and highly recommend her hospitality.
linda
2016-03-30T00:00:00Z
We had such an amazing stay at Go a bit Wild at Kangaroo Valley. Our room was neat and cozy, and Chris even gave us hand made fudge as welcome treats! There were plenty of kangaroos roaming at her farm/propert and we even had a chance to feed a wallaby :) We also saw the wombat walking around and it was awesome! Chris is a very gracious host and has a good knowledge of the best things to do at the area. At night she made the fire place ready, waiting for us to snuggle down. Such a wonderful experience and we are looking forward to coming back :)
Adriane
2016-10-02T00:00:00Z
Chris was lovely and welcoming. She has a wealth of knowledge about local bushwalks and the native wildlife that might be encountered. Jac the friendly cat was also a highlight! We enjoyed our stay in this beautiful area.
Tania
2016-04-18T00:00:00Z
Chris is a great host and we felt well looked after. We were hoping for wildlife, and were not disappointed; Kangaroos in abundance as well as a couple of sneaky wombat sightings. It was a lovely stay, just wish it could have been longer. Very comfy bed too.
Emma
2016-05-23T00:00:00Z
Room Type
Private room
---
Property Type
House
---
Accommodates
2
---
Bedrooms
Kangaroo Valley, NSW, Australia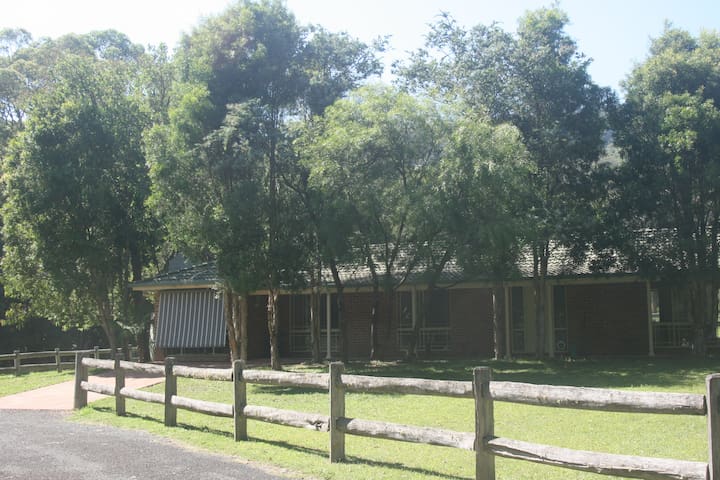 Grey Gums is a recent owner built, eco friendly, unique cottage offering great value accommodation. Surrounded by tall gums in a rural setting, The light, airy house is all yours to enjoy on 12 acres with the kangaroos, wombats and the birds.
Grey Gums is hand crafted from recycled materials and sandstone coloured Timbercrete bricks. The house features quality woodwork fittings and furnishings for you to enjoy. It is light and spacious and exudes serenity. There are 4 bedrooms, each with a queen sized bed and one has a king single also. We supply quality linen for you. There is a 3 way bathroom and an ensuite bathroom with the master bedroom. 3 spacious showers and 2 bath tubs add to the comfort of your stay. This will enable many guests to get ready for a wedding or to relax after a long day in the outdoors. We can accommodate a small 10th person on our fold out bed. There is a hot outdoor shower and bathtub in which to soak providing soothing relaxation under the stars amidst the serenity of grey gums, scribbly gums and other native bush, rain or shine. Enjoy al fresco dining in our new outdoor covered area. There are 4 sets of outdoor tables and chairs for different uses. Outdoor fire pit surrounded by rustic seating enhances your stay on cosy nights. We provide all the wood for the outdoor fire pit and the indoor wood heater. View the night sky and constellations with no light pollution. There is a large, well equipped modern kitchen with a coffee maker and an outdoor barbecue. A selection of teas, coffee, milk and olive oil are provided. You are welcome to add to your meals with tasty treats from our kitchen garden and citrus trees when the veggies, herbs and fruit are in season. As we make our own electricity and solar hot water, collect rain water, and take care of sewage on site, you can minimize your environmental impact. We recycle all the plastics, metal, glass, paper and organics in the bins provided. You don't need to bring bottled water as the rain water is very clean to drink and tastes fantastic but is safe as we use a UV light to kill microbes, not chlorine. Relax in front of the cosy, wood fired heater to watch TV ----- or lose yourself in a good book. There is a variety of indoor games and lots of perfect holiday reading in our collection of books and magazines for both children and adults and many nooks for relaxing. Kangaroos, wombats and a variety of native birds frequent the property, which backs on to a nature reserve overlooking the Kangaroo River. Spring time is the time to see the echidnas out on a walkabout. For those energetic souls, or those who love a casual stroll, this provides for some very scenic bush walking. There is also a 150m bushwalk on the property with many local plants identified and discussed. Because of our natural setting with many wild animals and that we border the Kangaroo River Nature Reserve which has fox (and DOG!) poisoning bait stations, means that we cannot be a pet friendly accommodation. Bushwalk (medium difficulty) for approximately 30 minutes to the Kangaroo River through scribbly gum forest and dry and shallow creek bed for a refreshing swim.
We are a five minute drive from lovely Kangaroo Valley Village but as we are set on 12 bush acres, it feels like you are far removed from the city. Our neighbours are quite far away and will not impact upon your stay. Drive further on down the road to view the many kangaroos and wombats that come out if the late afternoon.
Dennis is definitely a great host. We stayed there for 2 nights, the whole experience is relaxing. The house is very clean with everything we needed. The vege garden on the back of the house is awesome, we picked quite a lot peas to cook, which is delicious. We definitely will recommend this place to everyone. Well done Dennis!
David
2016-11-01T00:00:00Z
Thank you so much for having us at your stunning house. The fire place was already lit when we got there so the house was warm and cosy. The house is everything plus more. They have thought of everything. Even things you haven't thought about bringing away for a holiday. The board games are brilliant. The dvd/video selection is brilliant. You must be coffee and tea drinkers because you had the best their. The beds are so comfy. It rained all weekend and we didn't leave the house and we didn't feel the need to. It's such a comfortable house. Even my two year old was devastated that we had to go. Thank you for making a home away from home. We would love to come back.
Christine
2016-06-06T00:00:00Z
We had an amazing stay at the Kangaroo Valley property for my boyfriends birthday. I definitely feel the house is even more lovely than the photos. We were surprised by how big the house was when we arrived and really enjoyed the high ceilings, lots of natural light and big bedrooms. There were a number of nice touches in the house - electric blankets, Sheridan sheets/towels, plenty of outdoor seating areas. Dennis was able to greet the other members of our group on arrival and even setup the indoor fire for us so that the house would be warm before the sun set. The hosts actually live on the same property in a separate house but it still felt quite private. We spent a lot of time around the fire pit outside, playing music and kicking the ball around so I definitely appreciate Dennis and Helen's patience if there was any noise. All of my friends were raving about the weekend stay, I would definitely stay again and recommend to others.
Katherine
2016-08-01T00:00:00Z
Place was quiet, beautiful and had everything we needed. Close to Kangaroo Valley (town) - about a 5 min drive. Hosts were lovely, especially Misty. Gorgeous house with modern amenities, including wifi. Only negative is needing to go out side to make/receive phone calls (due to no signal indoors). Fire pit outdoors was also great!
Sarah
2016-02-09T00:00:00Z
Room Type
Entire home/apt
---
Property Type
House
---
Accommodates
9
---
Bedrooms
Kangaroo Valley, NSW, Australia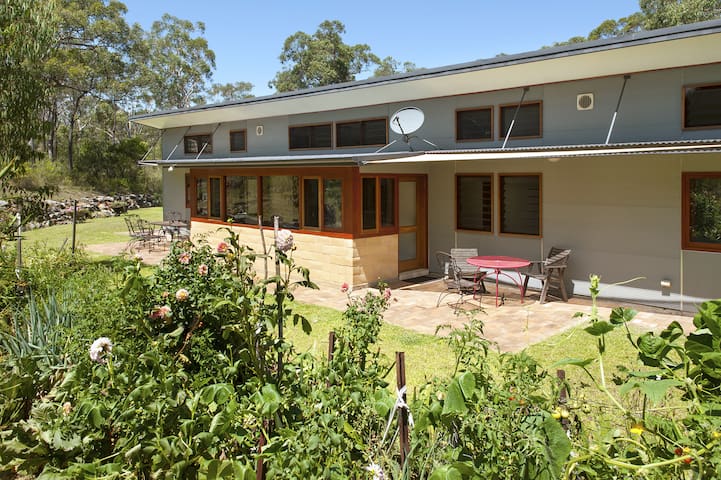 A beautiful mudbrick home lovingly restored with elegant rustic charm. Nestled in the foothills of Berry Mountain on 5 acres but only 10 minutes from centre of village. A well equipped kitchen,lounge, dining room , and stunning bathroom.
Very Nice place, some parts od the house are a bit dated and in need of some TLC, but overall its a nice House with serene surroundings in a very good location. Bedroom and Bathroom upstairs are fully renovated. Very Harsh bright lights throughout The House not to our liking, they dont create a warm atmosphere...turning them off and using The fireplace and candles helps;)
Jacek
2016-03-29T00:00:00Z
The house is in a really nice spot, out of the way enough for you to feel that you have escaped into the valley yet close (10 min) drive to kangaroo valley town. The upstairs feels more modern, down stairs and some of the outdoor space could probably do with a bit of a refresh, but on the whole its a fantastic place to stay. Fully stocked in terms of amenities, everything from Wifi to Playstation and games, books, table tennis and bikes. There's obviously been a lot of thought gone into what guests (with families in particular) would want from a holiday house. Thank you Julie for providing us with a great getaway and for making the whole booking a breeze.
Rhydian
2016-08-15T00:00:00Z
Best holiday house I've ever been to! It offers a lot more than what the pictures shows. Entertainment house, fully equipped kitchen, vintage style house decor, candles everywhere and I saw wombats running around at the backyard which was a real bonus. Beautiful backyard with forest view and lots of sunlight, love this house so much, my friends and I had lots of fun. Thank you so much and really appreciate for all the preparation owner provided. Have already shown to my colleagues and they all wanting to pay a visit next holiday.
Kimmie
2015-12-31T00:00:00Z
We loved Allawah. It's a lovely, spacious house in a beautiful setting. just what our small group of friends were after for a weekend getaway. we could have happily stayed for longer.
Yuri And Harry
2016-10-29T00:00:00Z
Beautiful home and grounds and the games room barn was a massive hit with our two boys. We had a lot of rain during our stay but with the barn we were able to get the boys out for hours playing table tennis, darts and fuseball competitions followed by board games around the fire and movies in the movie room. Fabulous break despite the weather and we will be back in summer to hang up the hammocks, set up the badminton and take the kayaks out.
Fiona
2016-07-10T00:00:00Z
This is a great house to stay in for a weekend away. It's beautiful, so comfortable and has everything you could need. My family and I really enjoyed our stay.
Holly
2016-10-03T00:00:00Z
Such a beautiful home, peacefully set amongst the valley. Kids loved the bushwalks and wildlife, especially the friendly wombat that would come to visit of an evening while we were sitting around the outdoor fire. The kids also enjoyed the barn and helping the local Bower Birds build there nests by putting out anything that was blue. Such a lovely location, clean home, great host and with everything you would need for a well deserved break away. Highly recommend. Thanks Julie, we will be back!
Nathan
2017-01-28T00:00:00Z
Great stay in Kangaroo Valley. Location beautiful and quiet - was fantastic to just switch off. Especially enjoyed the well stocked fireplace. Would recommend
Johan
2017-04-09T00:00:00Z
Room Type
Entire home/apt
---
Property Type
House
---
Accommodates
8
---
Bedrooms
Kangaroo Valley, NSW, Australia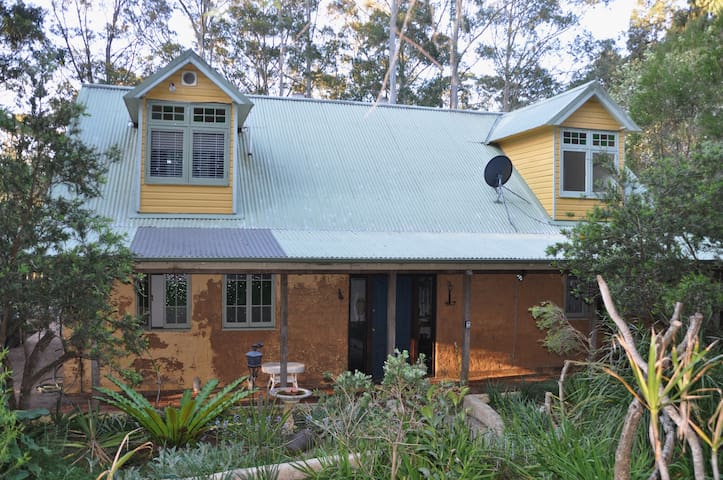 Kangaroo Valley - Airbnb
:
Average

4.89

out of

5

stars from

439

guest reviews
1

–

18

of

300+ Home Rentals
Enter dates to see the total trip price including additional fees (but excluding any taxes).