Enter your check in date in the format dd-mm-yyyy
Enter your check out date in the format dd-mm-yyyy
Listings you can book without waiting for host approval.
Enter dates to see the total trip price including additional fees (but excluding any taxes).
This July and August, you can try one of these 100 highly-rated homes, at all price points, and experience a local's view of Sonoma. 24-hour check-in, Instant Book, and local wine and snacks let you just sit back and enjoy your trip.
Close to Amish shops, LDS Church History, great hunting, hiking, fishing, Kansas City/St. Joseph, Missouri Star Quilt Co. and more. Nestled on 13 wooded acres. Family friendly but also perfect for couples getaway or friends get-together. Wifi, 6 TVs, satellite w/ sports package, video/board games, foosball, bar, leather couches, w/d, yard area, outdoor games, fire pit & more. Space for tents. Also, there's a house adjacent to the cabin we're remodeling to hopefully rent during summer 2017.
Woods Crossing is located just outside of Lock Springs, MO, conveniently between Chillicothe and Jamesport, the largest Amish community in the state. The facility is nestled on 13 acres of wooded land, full of bright stars and peaceful countryside. The facility sleeps 8 with a full bathroom and shower, washer and dryer, kitchen, tables and chairs, bar with seating, leather couches and recliner. There's free WiFi, 6 TVs with satellite and sports package, video games, board games, foosball and more. There is also a large yard area for outdoor games, a basketball hoop, a horseshoe area and other sports equipment available. The entire cabin is private for your use only. We'll be available via texting if you have any questions or problems arise during your stay.
The cabin at Woods Crossing is practically invisible from the highway with no neighbors' homes in sight. It is farm country so you might hear the occasional cow or tractor. And there are train tracks about a mile away; the train can be heard in the distance a few times a day. There are no services in Lock Springs where we are located and Jamesport services close early, so make sure you fill up with gas and supplies before you arrive. There is a house on the property adjacent to the cabin that is being remodeled on the inside to prepare to rent out along with the cabin. If we're doing work on the house while you're staying in the cabin, we can be as quiet and invisible as you'd like us to be. Or available, too. Or, if this is a problem, we can discuss the possibility of not being there while you are there.
Really enjoyed the openness and it was just as pictured. Everything was clean and we enjoyed covering up in the quilts. Great place to stay with girlfriends as we shopped in Jamesport all day Saturday. Host was very accommodating and even provided a dvd player at our request. Only one toilet and shower, but we managed. Beds were just okay...somewhat hard, but everything else made up for it. Would definitely recommend Woods Crossing! Thanks for the hospitality!
Laura
August 2016
This location was even better than described. The perfect spot for a weekend getaway with friends. Really enjoyed the "tavern" like feel the inside had. It was a great spot to play cards, relax, and chat. This location was incredibly clean and well maintained. I would definitely come back here.
Josh
June 2016
This space was perfect for me and my friends. We had my friends bachelor party at this space. We just wanted to have a fire and beers. It was perfect for that. If you are in the city it's a little bit of a hike but well worth it.
Matthew
November 2016
Fantastic hosts, beautiful home and quiet location. The home has great amenities, the land was fun to explore, fire pit and stars dreamy and Jamesport was cute to visit. We highly recommend Woods Crossing!!
Shari
November 2016
We had a great weekend stay. We were visiting the Cameron area for a grandmother's 100th birthday party, and this cabin gave us a perfect retreat from all of the festivities. Lots of room for kids to run and play outside, the game closet was well-stocked, and the cabin had everything we needed. Jacki made sure we knew how to arrive and alerted us to early closing hours of local services, which was really helpful.
Joseph
November 2016
We had a great time at Woods Crossing. A quiet peaceful place, well furnished, and beautifully decorated. Enjoyed sitting out at night because the stars were magnificent!! We plan to return again to Woods Crossing.
Janis
May 2016
Wonderful getaway. Lots of thoughtful items provided for everyone's entertainment... toys, TVs, board games, basketballs. Had a great time.
Pat
August 2016
We loved this place. I came to town to visit Missouri Star Quilting and my kids did not run out of stuff to do when they stayed back at the house with my husband. It probably was one of the best houses we have stayed in to provide entertainment for the kids. The only issue we had is we bought steaks before we realized there was not a grill; however, we did find a cast iron grill pan so it wasn't a loss.
Jennifer
October 2016
Room type
Entire home/apt
---
Property type
---
Accommodates
8
---
Bedrooms
1
Jamesport
Whether you're traveling to the quaint small town of Hamilton ("Quilt Town, USA") to visit the Missouri Star Quilt Company, or for another reason, we would love for you to stay with us. We're about 30 miles from Jamesport, an Amish community, and 60 miles from Kansas City. You'll love our place because of the peace and quiet, yet close proximity to Hamilton and surrounding towns. Our farmhouse is on 40 acres of gently-rolling hills, with a beautiful 5-acre pond and a treed property line.
Our spacious guest room was recently redecorated. Fresh paint on walls and trim, new bedding, decor, etc., will ensure a comfortable, restful stay. The bathroom has a new shower and paint, and soon the loft will have a cozy reading chair and extra seating, allowing people traveling together to find their own space. This is the perfect place to unplug and unwind. The guest room is stocked with a selection of books, games, jigsaw puzzles, and even an adult coloring book and markers! Wi-Fi is available, but slow, and there is no TV in the room. The queen bed is a Select Comfort (now called Sleep Number), and is adjustable on both sides to individual preferences. You can make one side of the bed firm and the other soft, if needed. The twin bed is from Ikea, and is somewhat firm. Because I am picky about pillows, we offer a variety for you to choose from. They all have allergen covers which will be washed frequently. Even the removable covers on the decorator pillows will be washed frequently for your protection. You're welcome to our kitchen and living room - where we do have a TV and DVD player. During nice weather, you might enjoy getting out into nature - watching for deer and other wildlife - or fishing from the pond bank. Down by the pond is a covered shelter area with a porch swing under cover, and a fire pit nearby. I'll welcome you and show you around, answer any questions, etc. I will probably be home during your entire stay, but generally spend quite a bit of time in my home office. I'll be accessible, but not underfoot.
We're in the country, just about two miles from Hamilton. Our home is on a beautiful 40 acres, with a large pond and trees around the perimeter of the property. Our road is gravel, and we're about 1/2 mile off blacktop. There is a fair amount of traffic that goes by, and on a dry day the dust can be a bit annoying when you're outside and near the house. (If you have severe allergies, this might be important to know.) We're just 60 miles northeast of Kansas City (probably 70 from the airport), two miles south of Hamilton (and US Hwy. 36), and about 30 miles from Jamesport. Interstate 35 is about 15 miles west of us, and Country Cabin Village is only about 3 miles west of Hamilton. We have a grocery store, gas stations, and a handful of restaurants (ranging from burgers and Subway to BBQ and a fine dining place), along with the phenomenal Missouri Star Quilt Company. We do not have pets now, but did have two cats until recently. The carpets have been shampooed since then, and the bedding is all new, but I wanted to mention it, in case you have severe allergies.
Room type
Private room
---
Property type
---
Accommodates
3
---
Bedrooms
1
Hamilton
Just three blocks from MSQC and the local grocery store, we have everything you need within walking distance! The house has a wonderful open feel that allows for plenty of space to quilt and sew. Spend the evenings on the back deck by the grill and the mornings listing to the birds and sipping a cup of coffee on the front porch.
Hardwood floors, stainless steel appliances, luxury style mattresses and bedding, a washer and dryer on site... We even have a sewing room stocked with sewing essentials so you can start experimenting while still on vacation! There's a nice large back deck (with ramp access), a spacious living room (equipped with TV, Dish, and DVD player), and an overflowing vegetable/herb garden all at your disposal. Take some time to explore Hamilton and enjoy a peaceful sanctuary away from the pressures and concerns of the world. I am always available to answer your questions and help out if you need something! I also respect your space and privacy - this is YOUR vacation after all!
Room type
Entire home/apt
---
Property type
---
Accommodates
6
---
Bedrooms
2
Hamilton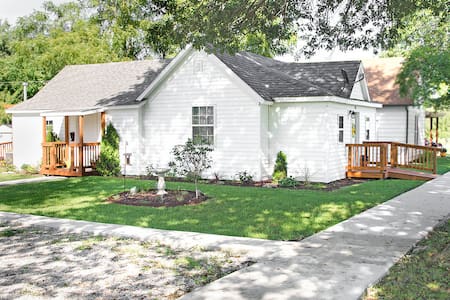 This lakeside cottage in the cove is 19 x 23 all inclusive studio apartment. Includes full bath with washer and dryer. Full kitchen, completely furnished. All linens furnished. Microwave, toaster, coffee pot, etc. No pets!
The cottage has a wonderful view of Upper Lake Trenton!! Guests are allowed to fish from the dock or walk around the 7 acres of lakefront land. No smoking is allowed inside or outside on the property. A grill is provided if you wish to cook outside! Guests may use the 7 acre grounds around the cottage. It is located within walking distance of Wright Memorial Hospital and a walking trail. North Central Missouri College is about a 5 minute drive. Guest may fish from the dock or shoreline. We like to use a personal touch with our guests if they wish. For those seeking privacy, we are respectful of that too.
Even though the cottage is located in the city limits, guest enjoy a country feeling. It is very peaceful and quiet. The cottage is located on Business Highway 6 East in Trenton and is near Highway 65 just 23 miles north of Chillicothe, MO. North Central Missouri College, Wright Memorial Hospital, Modine Manufacturing, and Conagra are all conveniently located. Our guests love the fact that they can park right in front of the cottage with no steps. There is plenty of room for clothing storage. Those seeking long-term stays can request custom furnishings based on their needs, such as additional beds, seating, etc.
Terri has been wonderful. Everything about this property has been amazing. It has worked out perfectly for me. What was advertised is accurate plus more.
Deborah
November 2015
This was such a nice place to stay. The cottage has an open floor plan with a great amount of space, and the little TV even has good cable to watch. The kitchen is stocked with dishes and silverware to use and cookware as well. The fridge is a good size, so you can stock it with plenty of food for your stay. The lake is beautiful, and it's a nice walk to go down by the water. Such a neat place!
Tyler
October 2016
We loved our stay with Terri! She was a gracious and kind host and sought to make us as comfortable as possible! The room was nice, clean, and well decorated. We thoroughly enjoyed it.
Dalton
November 2016
Had a lovely time. Nice time down by the lake.
Jarvis
October 2016
Terri was super friendly, and the room was clean and fresh. I would definitely stay here again.
Charlie
October 2016
Room type
Entire home/apt
---
Property type
---
Accommodates
2
---
Bedrooms
0
Trenton
Mooresville Guest House with all the amenities of home. Close to Missouri Star Quilt and Jamesport, Mo. Enjoy peace and quiet of rural Missouri.
Enjoy a quiet, relaxing and fun stay at our Mooresville Guest House, with easy access to the Missouri Star Quilt Co., Chillicothe, Mo. and the historic Amish community of Jamesport, Mo. There is no need to settle on a mundane room and the irritating traffic noise of a motel. Enjoy our open concept guest house which offers a fully equipped kitchen (from small to large meals),large leather sofas, comfy beds, a large clean bathroom. We are happy to supply a Keurig coffee pot w/coffee, water, fruit and snacks. The large yard is great for outdoor games or enjoying a BBQ. If we are not booked we can be flexible on check in/out times to help you accommodate your schedule . Visitor information is provided for the surrounding area. The entire house and surrounding yard. We are retired but still have very active schedules. We will try to meet and greet all of our guests but if not my contact numbers are available so guests may call or text. The guesthouse has a key pad entry for easy enter and exit without a key.
We live in a small and quiet rural area. The best environment for relaxing and enjoying your stay. There is no public transportation in our area.
This was a very pleasant, quiet, relaxing and clean place! Our host went above and beyond to stay in contact with us and met our every request! We will be back!
DEB
October 2016
This place is fabulous!! If you are going to Missouri Star Quilt or to Chilliclothe, this is a great place to stay!! The hosts were so nice and the place is cozy, quaint and full of nice decorations to make one feel comfortable and at home!! Please check it out!! If we are in the area, we will definitely stay again!!!
Jacob
September 2016
A super clean and charmingly decorated space as advertised. Judith was very communicative and friendly, and kindly checked in one or twice to make sure we had everything we needed. And then she brought over hot out of the oven apple cake! A welcoming host and a clean, affordable rental located conveniently close to the highway. Would definitely stay again.
Andrea
October 2016
Judy was a fabulous host and the guesthouse was wonderful. We thoroughly enjoyed our stay. The guesthouse was very neat and clean. It is very nicely decorated and has everything you need including kitchen supplies for any cooking you want to do. The front porch is inviting, a great place to enjoy the quiet of the rural location. Rural Missouri Gem is a very apt description.
Lisa
September 2016
We had a wonderful first time experience with Air BNB and Judy. She was so thoughtful to supply us with all we needed for a restful and peaceful three days as well as information of the surrounding area. This place truly is a gem and so is Judy. She made sure that we were comfortable and even brought us a some warm delicious apple cake! Very high standards were set by Judy for our next stay with and Air BnB host.
Tammie
November 2016
Truly wonderful experience and the host couldn't have been more accommodating. Even baked us a delicious apple cake. Total gem.
Ryan
November 2016
We loved this cabin, easy to find, in a peaceful country setting. It has a full kitchen with all the tools you need to fix a meal. They provided snacks, candy and water. The deco is beyond cute, so many fun things to see. With a couch, love seat and recliner, there was plenty of seating. The kitchen table was hand made by one of the owners out of wood from an old barn. The bathroom is very cute and super clean. I would go back in a minute. Wish we could have stayed longer than one night.
Ray
September 2016
We were very happy to find an AirB&B near Missouri Star Quilt Shop. Our plans changed and we needed a place to stay as we were driving from Springfield IL to somewhere near Hamilton MO. I found this great spot. We arrived to find a clean and comfortable place to spend the night. Judith greeted us as we drove in. She brought us some fresh tomatoes from the garden. The kitchen had pots and pans, dishes, a full size stove and fridge. Everything I needed to make dinner and breakfast. We had brought food with us. Judith also left us some fruit, coffee, muffins and fresh corn. Lots of fresh cut flowers. In the morning we got to the quilt shop soon after it opened to do some shopping. I would recommend this B&B to anyone needing a great spot for the night or longer. It is nicely decorated with a great TV to watch the Olympics.
Deborah
August 2016
Room type
Entire home/apt
---
Property type
---
Accommodates
4
---
Bedrooms
1
Mooresville
Very spacious and clean home with two bedrooms. Master bedroom has queen bed, second bedroom has two twins. All new mattresses and bedding. 25 miles from the quilt shops Of Missouri star in Hamilton. 22 miles from the Amish shops of Jamesport.
I've tried to include all the comforts of home. If anything is missing, let me know and I'll try to supply it. The whole house. Only as much as necessary. They won't have to see me at all if I've done my prep right.
The lady to the north is crazy in a good way, heart of gold. Everyone else keeps to themselves. You are very close to good eating and shopping. There is a deck in the fenced in back yard. Very private.
Room type
Entire home/apt
---
Property type
---
Accommodates
4
---
Bedrooms
2
Chillicothe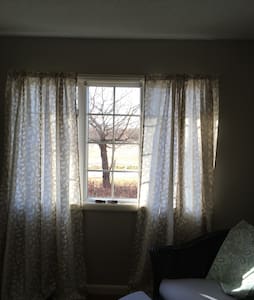 Beautiful family-friendly home on 15 acres with two ponds. Get away from it all and enjoy the simple life with all the amenities you could want. WIFI, satellite TV for Dad, full kitchen for Mom, garage, lots of space to run and play for the kids.
Room type
Entire home/apt
---
Property type
---
Accommodates
10
---
Bedrooms
2
Hamilton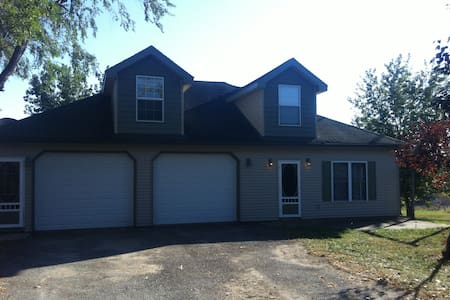 My place is close to Grocery Stores, Small Town Restaurants, Gas Stations, Corn Fields, Hay Fields, Rural Living, Churches. You'll love my place because of the kitchen, the outdoors space, the comfy bed, and the neighborhood. My place is good for couples, solo adventurers, business travelers, and families (with kids).
My son, McCoy, is buying this cute little brick home in September. We would like guests to share our adventure as we update and remodel things. So depending on when you come a project or two may be in progress. That is why we are offering a reasonable price for our first visitors. So come on the adventure with us. Private Bedroom with small closet, Shared Bathroom, Shared Living Area/Entry Room, Shared Kitchen, and Small Front Porch. Step in tub with Shower. Toilet handrail. Ramp to front porch. It would be helpful to be able to walk some with a walker as the home is small. We will provide breakfast at home or take you out to breakfast at a local restaurant within walking distance your first morning with us. Beyond that you are on your own unless one of us is available to contract for more separately, such as English tutoring, etc..
Small Town Rural Living Friendly People Come visit the Heartland of America! The train does come by Small Town Street Parking 1 Block from Downtown Area Will need a vehicle to get here. Several small restaurants and a grocery store are in Braymer, MO. Polo, MO also has several small restaurants and a grocery store. TREX a newer truck stop off I-35 has a great restaurant as well with the Enchanted Frog Antique Mall is next door. Come stay a few days up to several years with us. I would love to meet you, share a pitcher of ice tea, and have breakfast your first morning with us.
Room type
Private room
---
Property type
---
Accommodates
2
---
Bedrooms
1
Braymer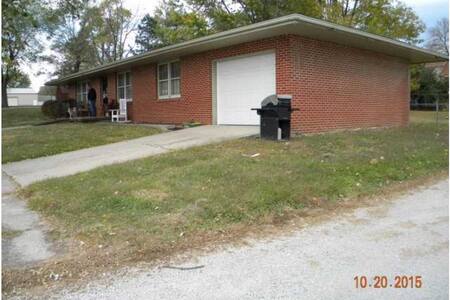 Excellent lodging for fresh air and country sunshine. A short drive to Maryville, MO to support NWMSU Bearcats! Great for your next vacation or hunting trip in Northwest Missouri. Clean, Wifi, wireless printer, central heating/AC, laundry, Tempurpedic mattresses, garage, kennel, kitchen, freezer. Located on pavement road with easy access.
Part of Gladcrest Farms, a Missouri Century Farm continuously operating in the family since 1848. Raising Angus cattle, corn and soybeans, it is an active agricultural operation. Guests are welcome to request a farm tour, depending upon the time of year, calving season, cow/calf operation, corn and soybean row crop operation. Although the farming operation is going on in the surrounding pastures and farm ground, interaction is very minimal. Guests have a great deal of privacy.
Very rural setting, cattle and horses in pastures adjoining property. No public transportation. Although if you go stand down at the road, someone will most likely stop and ask you if you need a ride somewhere. There are a number of Amish settlers in the area that offer baked goods and produce at their farmsteads. If guests are interested, we can give you locations and days.
My wife and I were passing through and initially planned to stay for a day or two on Susan's farm. However, the views, amenities, and peacefulness of the property made us fall in love with this place. We booked an additional 2 days because we didn't want to leave. My wife has a bad back, but slept without any problems on the Tempurpedic mattress. We worked for a good length of time during our stay and found that the WiFi was reliable. We enjoyed walking around the property and saw the lake, cows, and crops, which was fun for us. Susan was a fantastic host and was great with communication. We truly felt like this was our home away from our own. We would definitely stay again when in the area. Thanks for an awesome experience Susan!
Wendel
July 2016
We stayed at Susan's home while my husband hunted. It was a perfect setting with beautiful views and greetings from the horses and cows that surrounded the farms. She welcomed our dogs and the house couldn't have fit our needs better. We had to leave late on the day of our departure and she was totally accommodating. We look forward to returning for future hunting trips. This is an adorable house, very comfortable and Susan is a great person to deal with.
Daniel
November 2016
We were looking for a place to stay for Homecoming weekend at NWMSU. We stumbled onto this AMAZING home! We were so lucky to have amazing weather for our stay. Susan was very helpful and readily available to answer any questions. Our kids (11, 14) were outside the entire time. They were able to take a tour of the farm, bottle feed a baby calf, ride on a tractor.....for my "city kids" it was so nice to see them interact with nature. The property is well kept, easy to find, and a great location. The house itself was adorable! So beautifully decorated. A nice mix of contemporary and country chic. I just LOVE the rocking chair in the sitting room! My kids loved the twin beds upstairs. They were able to adjust the beds so that they were sleeping sitting up. The queen bed on main level was comfortable and had cozy sheets. The bathroom had a tub and shower. The motion-sensored lightening was a great touch. Never had a problem with WIFI. We turned the TV on at nights only. There is a DVD player available, if needed. We used the gas grill several times during our stay. We are looking forward to returning to the farm!
Jamie
November 2016
This lovely house is in a beautiful spot, with a wonderful view. The host couldn't have been more accommodating. We had a great time!
elizabeth
September 2016
Susan is a great host. She made us feel welcome and made checking in and out a breeze. The home is lovely with views of the farm and rolling hills. Easy parking on the driveway, great ac, fast and reliable wifi. We loved sitting on the front porch swing as we enjoyed the cool summer evening and watched the moonrise. Our son had a great time exploring the yard and seeing neighboring cows go by. Grocery shopping was close by at the town of Grant City. Thanks so much for having us, Susan!
Myr
June 2016
Description was perfect and the home is even more cozy than the pictures show. Host made access super easy and instructions to the house were convenient and clear. Comfortable bed, state of the art appliances, clean in every way, exceptional office with excellent internet connection.
william
June 2016
Room type
Entire home/apt
---
Property type
---
Accommodates
5
---
Bedrooms
3
Worth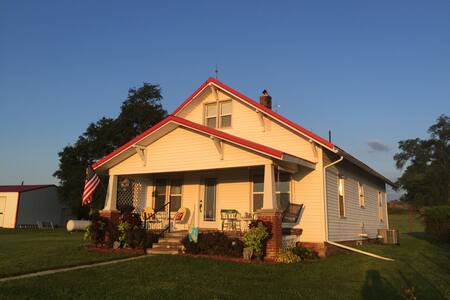 We live on 36 acres in the rolling hills of MO, just 30 minutes north of Kansas City. We are a small family farm, with a nice variety of farm animals on hand. The wife is a massage therapist, only charging $45 for 60 min.
Basically, renting our guest room, private 1/2 bath with queen size bed. Plenty of floor space for kids, $5 ea. Some exra bedding available, recommend bringing sleeping bag for them. You will enter through our front door. You are welcome to hang with our family, join in farm chores, or just sleep and leave. Breakfast can be provided if desired. If you are willing to chip in for groceries, you may share in our family lunches / suppers as well.
36 acres of rolling hills in rural Missouri, about 30 minutes north of Kansas City. We have 3 ponds on our acreage. . We are near 2 state parks for other recreation. We are 1/2 mile from paved road, only 15 min to I-35. We do have house dogs / cats that do not have access to your space, as long as you keep your door closed! Upon arrival, the dogs will welcome you.
When you first arrive on the property, critters of all sorts rush to greet you, seeking your attention. And speaking of attention, that given by the host, hostess, and kids was top notch. They provided a clean private room, two chef-made meals, a coconut-butter Swedish massage, and good old Midwestern hospitality, all for less than $100. What a nice, relaxing experience. I need to go back!
Kevin
November 2016
Janel welcomed us warmly. She gave us lots of ideas for places to go or visit even after we left there. The children are so polite. I will say that you MUST love critters if you want to stay here. They have a lot of cats and dogs that come inside. They are very friendly and do not cause problems - unless you are allergic, which we are not. They truly have a menagerie of animals on their farm. They are in the process of building and renovating, so it is in a less than ideal state. Other than that, though, you will get a warm welcome.
Doreen & Bill
June 2016
Room type
Private room
---
Property type
---
Accommodates
2
---
Bedrooms
1
Lawson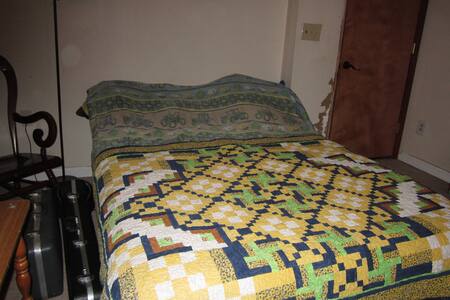 My place is within Plattsburg, MO. You'll love my place because of it is an early 1900 Victorian style home.. My place is good for couples and families (with kids).
Room type
Entire home/apt
---
Property type
---
Accommodates
9
---
Bedrooms
3
Plattsburg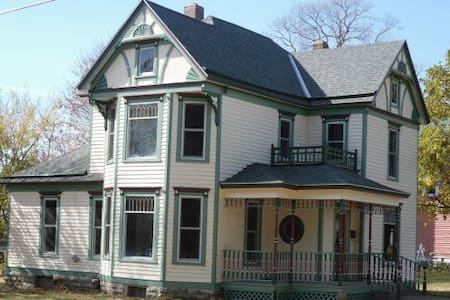 My place is located in Plattsburg, MO. You'll love my place because The Farm House is a large and roomy turn of the century 2 story home. Located on a double lot with plenty of room outdoors and parking.. My place is good for families (with kids) and big groups.
LOVED the Farm House. We are so lucky Jeff opened his home to us. He has thought of literally everything to make our stay PERFECT!
Jackie
September 2016
Room type
Entire home/apt
---
Property type
---
Accommodates
14
---
Bedrooms
4
Plattsburg