Vacation paradise right on the golf course. Nicely furnished, very spacious comfortable and located in a very quiet neighborhood. From the pool deck you have a great view over the golf course. The club house is in walking-distance and can be reached in less then five minutes.
Beautiful house with well maintained furniture, pool and landscaping. Kitchen and bathrooms are well equipped with everything you could possibly want. Quiet neighborhood and the house backs up to the local golf course.
Carole
2017-03-14T00:00:00Z
A beautiful house in a quiet neighborhood. The pictures are accurate. The only issue we experienced was intermittant wifi. Everything else was great.
Pauline
2017-03-29T00:00:00Z
This very large upscale home is great for families, several couples, singles or just one couple like us. The decor is very nice, the bedrooms & baths are large and comfortable. We loved having breakfast or lunch on the screened in lanai by the pool. The pool temp. was 72 F as it was warmed by solar hoses on the roof. In February, we North Easterners found it just right! There is a formal dining area where we could entertain our dinner guests. It was great to be able to keep our car in the garage out of the Florida sun. You will find all the items you need for the beach, coolers, ice packs, beach chairs & beach towels & even a beach umbrella. As has been mentioned in other reviews all the instructions & labels are in German, but Roman, the property manager, is always available to help or explain things. The city of Lehigh Acres is quiet and not near beaches or upscale restaurants so as long as you realize that you will drive at least a half an hour to get to them you have no limit to the places Ft. Meyers or Ft. Meyer Beach have to offer. The home & area are very convenient to super markets, churches & casual restaurants. A wonderful stay in a beautiful home!
Bill
2017-03-02T00:00:00Z
The home was just as it was presented in the pictures. I enjoyed my stay and would recommend this home to others. The home is spacious and has wonderful natural light. It is very clean and well-stocked with kitchen and bath items. I was met at the home by Roman when I arrived. He went over the essentials with me. The Internet was not working. However, Roman took care of the issue immediately and it was fixed by the following morning. One drawback was everything (labeled light switches, guide to home and the area) was written in German. While I found it quaint, I could not use any of the information because I do not read or speak German. However, this would not stop me from renting this home. again
Trisha
2016-07-13T00:00:00Z
Wery lovely, clean and nice house with a great location - everything was top
Johnny
2017-02-04T00:00:00Z
Pristine place in a quiet neighborhood. Very well maintained and comfortable home. The pool is solar heated so it wasn't warm enough for swimming, but that's the only thing we had during our stay resembling a complaint!
Andrew
2017-02-13T00:00:00Z
Great house in a quiet neighborhood. Loved the pool and kitchen. Everything was super-clean. Would definitely stay here again!
Jeff
2016-05-31T00:00:00Z
Thanks for a great stay! Loved the size of the house and the beds were massive. Swimming pool was lovely really enjoyed our stay.
Peter
2016-09-27T00:00:00Z
Room Type
Entire home/apt
---
Property Type
Bungalow
---
Accommodates
6
---
Bedrooms
Lehigh Acres, FL, United States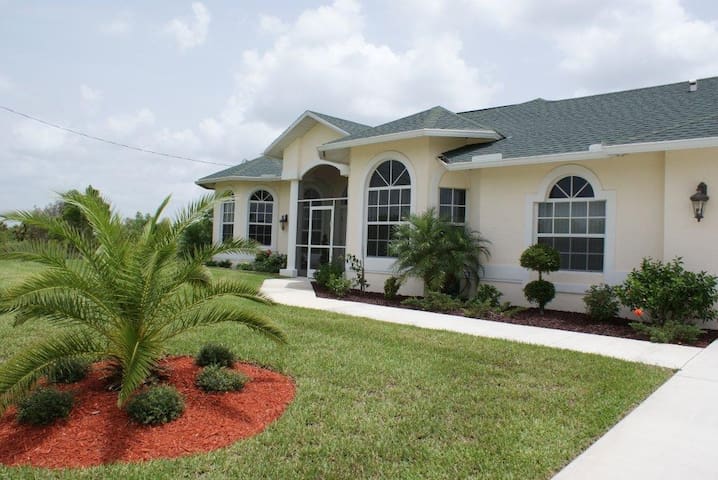 Fully equipped quiet and spacious home where up to 10 people can enjoy a comfortable stay in sunny Southwest Florida. Covered, heated pool with waterfall. Large Florida room facing south is fully furnished with patio table, Adirondack chairs and BBQ. Double garage, tile throughout the house and recently renovated bathroom. Everybody that stayed in our house said that it has something magical about it making them feel right at home.
it was a wonderful Christmas vacation with my family!wonderful hosts, good organization and cozy, airy home with Christmas decorations. all the issues were resolved in a timely manner. All current issues were resolved in a timely manner. clean and warm pool. The house is equipped with all the necessary things and beach accessories. very grateful to the owners for detailed instructions with photos)) were pleasantly surprised the wishes of the mother tongue and a bottle of wine;) I recommend couples with kids for a wonderful holiday in Florida! Thank you!
Jane
2016-01-03T00:00:00Z
The house was better than we expected. It had all the amenities that was described. It even had bikes and beach chairs and stuff for the kids to bring. We all enjoyed the pool! The hosts were very accomodating responding to all of our questions on a timely manner. We would definitely stay here again on our next trip to Florida! Thank you, Richard for having us!
Ana maria
2016-08-28T00:00:00Z
The property was nicer than advertised, because the rooms were more spacious than the photos showed and the kitchen was fully equipped, but also the owners made us feel welcomed into their second home, and the experience was like being a guest in a friend's lovely home. The spices and basics in the pantry were there for our use, the pool was serviced every week, the house included beach equipment, bikes, beach towels, etc. We met the neighbors, who are friends of the owners and who do the cleaning, as well. The internet service is fine, and the Wi-Fi also. The tv is not by cable, so the full range of channels was not available, but the antenna brings in many of the major channels. We were very impressed that the owners tried to get cable tv for us, but the cable company equipment could not provide both high speed internet and full tv; the owners made a major effort to work on this for us, and were able to improve the antenna reach. Again, we were made to feel like family. This is the ideal property for Florida in mid-winter, because the heated pool is what you want. The beaches are 45 minutes away, but the Gulf water is still cold in February.
Denis
2016-03-15T00:00:00Z
Great place to stay, nice and neat. The kids loved the pool and there was lots for them to do at the house.
Rebecca
2016-06-09T00:00:00Z
This was a great experience from start to end. Very accommodating. We enjoyed the bottle of wine when we arrived, thank you! We appreciate the kindness from the hosts as well as their professionalism and quick email/text responses. A+ experience! Will recommend to everyone I know.
LIVIA
2015-11-01T00:00:00Z
Nice clean home the screened in pool is a nice touch as well. Very convienant with all kitchen utenicals towels etc
Danny
2016-10-29T00:00:00Z
The waterfall house was a wonderful experience for us. We've spent two weeks in the house and have found nothing to complain about. The neighborhood appears a bit rough upon the first few, but it is quite the opposite. Everyone is really nice and friendly. Communication with the hosts was also very friendly and helpful, every question we had was answered quickly. We wish everyone who stays there a nice time!
Martin
2016-12-03T00:00:00Z
We totally enjoyed our stay in the spacious home that provided a beautiful heated pool in a quiet, safe area close to Fort Myers. The hosts were helpful, professional, courteous, and polite.
Joseph
2016-02-08T00:00:00Z
Room Type
Entire home/apt
---
Property Type
House
---
Accommodates
10
---
Bedrooms
Lehigh Acres, FL, United States
My place is 30 miles from the beach, near nightlife, restaurants and dining, family-friendly activities, and public transport. You'll love my place because of the comfy bed, the coziness, and the views. My place is good for couples, solo adventurers, business travelers, families (with kids), and furry friends (pets).
Awesome, awesome, awesome spot to stay. I went for a week of spring training baseball and knowing where I was going to stay every night was quite helpful. It's in a nice quiet area and the house is very well kept, and Ashley is extremely nice and a good communicator. I highly recommend staying here if you're doing anything remotely close to Fort Myers.
Troy
2017-03-21T00:00:00Z
Room Type
Private room
---
Property Type
House
---
Accommodates
2
---
Bedrooms
Lehigh Acres, FL, United States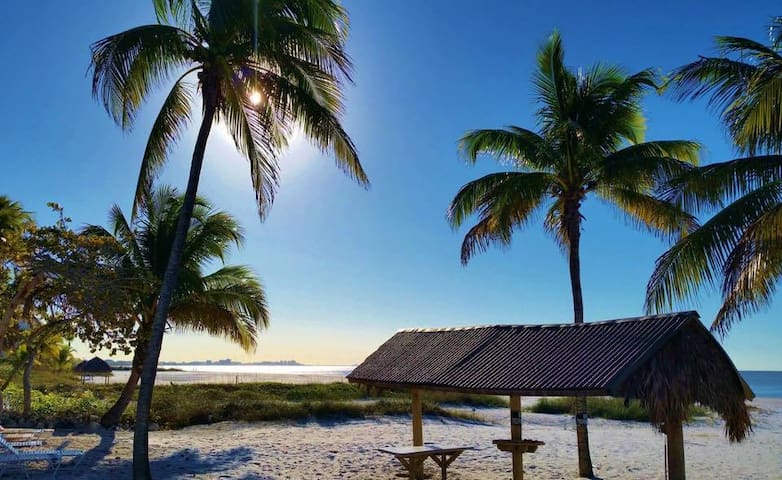 Beautiful house with heated pool and SPA, fully furnished, 3 bedrooms, 2 bathrooms, 45 minutes from the most beautiful Beaches in Florida. 3 golf courses within 15 min, groceries 5 min, Walmart and restaurants 15 min,
Very Private, no neighbors
Thank you, Andre, for a comfortable home and hospitable welcome! New Year's surprise was the massage chair for us, which we used as a family. this is what we needed after working days. The house has everything you need, the owner came out to communicate in a timely manner. Pool has a temperature that the owner could not change. for our family and for the winter in Florida, it was cold. so we waited until the water warms to a comfortable temperature, and bathed only from 12 to 5 pm. overall we had a wonderful vacation! Recommended for large family or company!
Jane
2017-01-02T00:00:00Z
Room Type
Entire home/apt
---
Property Type
House
---
Accommodates
8
---
Bedrooms
Lehigh Acres, FL, United States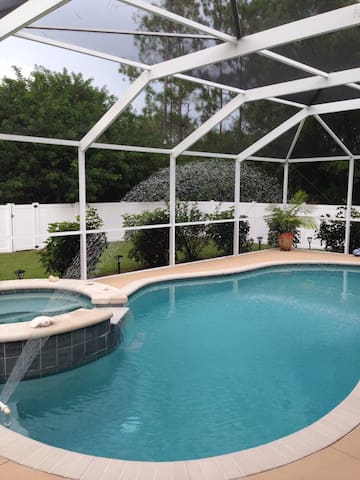 I live in the same town with my wife and use this quiet place for reading and writing, so I am mostly not there, especially during your stay for your privacy. There are two bicycles available for exercise or to get around locally. Four golf courses.
Two bedroom pool home on a small lake.
Convenient for shopping but quiet. Four golf courses, public pool and tennis courts nearby as well and a riding stable.
Will was an excellent host! He was there to greet us when we arrived and showed us around. The house was exactly as described with plenty of space and all of the amenities needed for a relaxing vacation. We loved sitting out on the patio in the morning and evening looking out on the lake. It was so peaceful! We had a great time and highly recommend staying at Will's place. We couldn't have asked for an easier, more pleasant trip!
Caitlin
2016-03-19T00:00:00Z
I think host Will is one of the nicest people I have ever met. He is socially concerned, spiritual and very flexible about his guests' needs. He even had food in the refrigerator for us! Plus maps of the area and suggestions about our interests. The pool and pond were such wonderful visuals; the house has the feel of a laid-back summer camp. For birders, the pond was a gift of Ibis, Osprey and Great Egrets. It is a quiet neighbors and has lots of streets to walk or ride bikes on. Really fun vacation.
Heather
2015-03-26T00:00:00Z
Will was very helpful. He gave us a tour of the house and explained everything. He was interesting to talk to. We felt comfortable in the completely furnished house which had almost anything we needed. He furnished bikes and a canoe. I took a ride around the neighborhood. We had access to both bedrooms and the place to ourselves. It was a good jumping off place for accessing the nearby nature reserves though it took about an hour to get to them.
Nancy
2015-01-11T00:00:00Z
We had a great experience at Will's home. He is a personal host and has a lovely home. Will was helpful in telling us places to eat and provided food for breakfast - bread eggs, fruit, milk, and coffee. We enjoyed sitting in the screen room and watching birds on the small lake. The location is a little remote, but worth the drive.
Leon
2014-03-18T00:00:00Z
Second stay for me at Will's house, it is exactly as advertised. I really like staying here for the convenience (on business travel - it is close to my worksite). Also, Will was kind enough to loan me his bicycle for some great exercise. As noted elsewhere, the hot water is a bit funky in this house, but with patience it will arrive. I particularly appreciate the access to washer/dryer, kitchen, and bicycle. Will is a fine host, I hope to come back again and again.
Bill
2014-12-15T00:00:00Z
Will was very welcoming and a pleasure to visit with. His home was quite comfortable and quiet - just what we were looking for. A nice community for walking and close proximity to all our needs. We had a wonderful time soaking up some sunshine and catching up on some much needed rest! Thanks Will!
Kim
2015-04-04T00:00:00Z
This was a great find for our family as we visited the Ft Myers area. Will was a gracious host, and the house fit our needs perfectly. It was really nice to get the kids to bed and be able to go out to the living room to watch TV. Also, it was convenient to have access to a stove, microwave, and refrigerator. I recommend this home to anyone. People with no kids can enjoy the small lake and the canoe, and families with kids can utilize the separate living room.
Diana
2014-03-15T00:00:00Z
My wife and me lived three days at the Will's place. We were in a beautiful place and Will was a perfect host. You thanks him for everything.
Richard
2014-02-23T00:00:00Z
Room Type
Entire home/apt
---
Property Type
House
---
Accommodates
4
---
Bedrooms
Lehigh Acres, FL, United States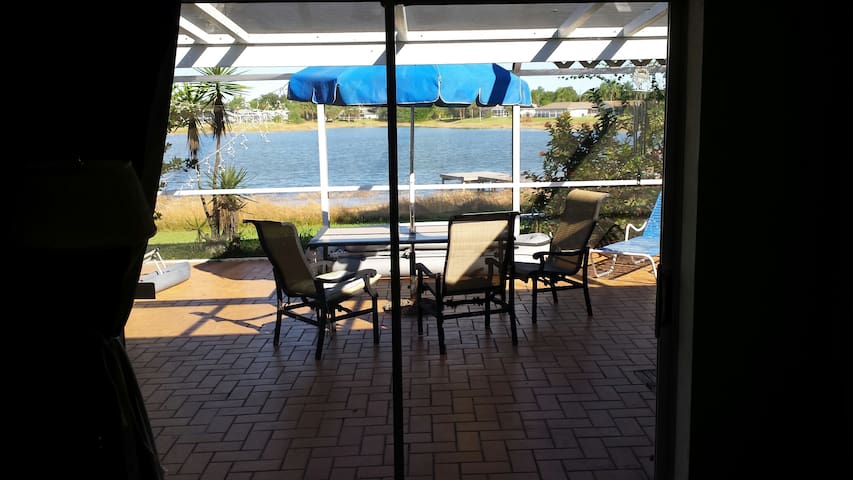 Villa Banyan: Beautifully furnished Floridian Home, large solar-heated Pool - perfectly equipped with everything for a relaxing time in Florida; 5 Golf courses within minutes from the house, over 100 within 1-hour-drive, endless Shopping opportunities.
it was really a great experience there. We loved the pool, the neighbors. There are groceries stores close by. Beaches are not far away. We will definitely pick here next time if we visit.
Yiliu
2015-05-26T00:00:00Z
The house was great, big an clean- we really loved it. It's close to an supermarket and about 1 hour to Fort Myers, 1 1/2 to Naples or Sanibel Island. We enjoyed our vacation and would really recommend it!
Melanie
2015-12-31T00:00:00Z
Andrea manages this house and she was really fast in responding and helping us with all the issues that we had. The house itself is older than it looks in the pictures, needs a lot of updates. But overall the house served for what we needed that was a safe place to stay away from Hurricane Mathew. The downsize was that we didn't have WiFi for 2 days, and we really needed for work. There are supermarkets less than 4 miles away from the house.
Tati
2016-10-08T00:00:00Z
Comfortable and clean accommodations in a quiet neighborhood.
Robert
2016-12-12T00:00:00Z
A comfortable home with a nice hot tub and fair pricing. We enjoyed our stay.s
Robert
2015-12-15T00:00:00Z
Great overall experience! Andrea is awesome! Thanks!!!
LIVIA
2015-11-27T00:00:00Z
Very clean, spacious and comfortable. In a quiet neighborhood, minutes away from 2 grocery stores. Highly recommended.
Anthony
2017-02-16T00:00:00Z
Had a great time visiting family in the area. Enjoyed the open space one the kitchen and living room.
Ricki Jo
2017-01-29T00:00:00Z
Room Type
Entire home/apt
---
Property Type
House
---
Accommodates
6
---
Bedrooms
Lehigh Acres, FL, United States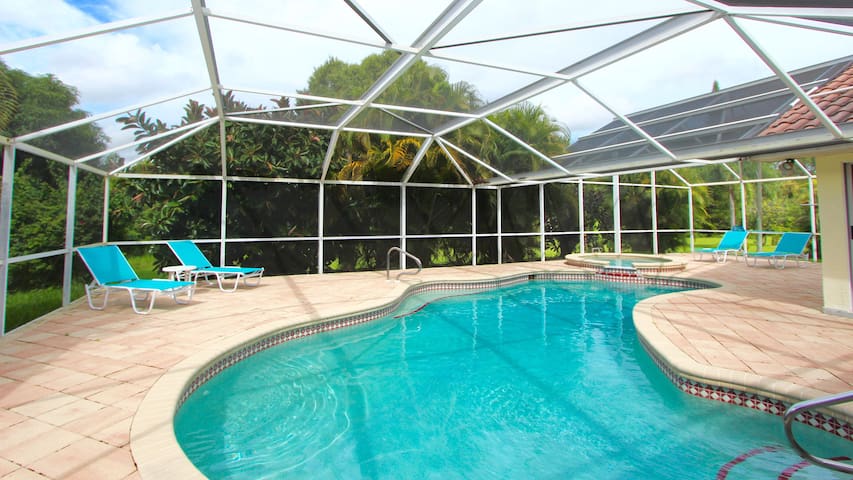 Our place is close to a Nature Preserve. You'll love our place because of its privacy, peace and quiet, and tropical landscape.. Our place is good for couples, solo adventurers, business travelers, and families (with kids).
This 3-bedroom home will comfortably accommodate a family of six. But it's also perfect for three couples traveling together, or as a romantic and extra-spacious getaway for two. JUST BRING YOUR SWIM SUIT, GOLF CLUBS, & A GOOD BOOK.
Take a leisurely morning or evening walk through our Quiet Neighborhood. Upon your return, cool off in our Private Pool.
Very nice property. The pool and hot tub are great. Nice quiet neighborhood.
Lou Ann
2017-03-25T00:00:00Z
Beautiful home, great price. Lehigh did not seem dangerous at all. I watched spotcrime for 6 months before and nothing much came up. If you leave for the beach at 9 you can get a good park at Fortmyers beach and the traffic is not to bad. The best place to eat is the Ocean Crab House on Homestead for fresh seafood. 30 min. from the airport and 55 min. from the beach.
Toni
2017-03-08T00:00:00Z
Room Type
Entire home/apt
---
Property Type
House
---
Accommodates
6
---
Bedrooms
Lehigh Acres, FL, United States
Great for college kids on a budget. It's a 2 bedroom house with just me so it's pretty quiet & drama free. I work in retail & due to my hectic work schedule, I don't have many visitors to the house. I work nights so I get home late at night & sleep in past 10am. If you're an early riser, that's fine. As long as you don't make a lot of noise in the morning, we will get along great.
Quiet neighborhood about 15 min from the airport & interstate. Got a screened in lanai & porch, but mostly for storage. Washer & Dryer in the laundry room.
I have stayed at this place a couple times now, you can't beat the price and it's super nice and quiet and clean. I highly recommend staying here.
Jason
2017-03-25T00:00:00Z
perfect for what I needed. Ryan was great and was available for answering any questions I had promptly
Chase
2017-02-24T00:00:00Z
Perfect place for a single traveler.
Todd
2017-03-23T00:00:00Z
Excellent value and good location in Lehigh Acres. I would recommend this location to anyone.
Chase
2017-03-12T00:00:00Z
Ryan's house is very clean, but just be prepared for the fact that Ryan is a bit of a pack rat :-)
Jeff
2017-03-19T00:00:00Z
His place was clean, I was able to do laundry, and you honestly can't beat the price. It is about a 25 to 30 minute drive from Fort Myers depending on traffic.
Jason
2017-03-08T00:00:00Z
Perfect place for my budget, quite area, stay was perfect...
Abraham
2017-03-06T00:00:00Z
Once again Ryan proved to be an excellent host. Will definitely be back. Highly recommended.
Oxana
2017-03-14T00:00:00Z
Room Type
Private room
---
Property Type
House
---
Accommodates
1
---
Bedrooms
Lehigh Acres, FL, United States
If you wish to enjoy your vacation in the sunshine state Florida with a lower budget, but still require a high standard in our house will meet your expectations. Our property with large garden invite you to relax and unwind. Our house has been newly renovated and equipped with new furniture. You can expect a new bed, new mattress, TV in the bedroom and your private bathroom. We use together living room and kitchen. The neighborhood is very safe. We look forward to guests from around the world!
We hope that you feel fine in our cottage and enjoy your time here. The house, our property with the large garden invite you to relax and unwind. Perhaps you enjoy your morning breakfast on the terrace. Our house has been newly renovated and equipped with new furniture. You can expect a new bed with new mattress in the bedroom and your private bathroom and TV. The neighborhood is very safe. We want you to feel completely comfortable , just like home.
There are many attractions nearby. Restaurants, shopping malls , fishing on pine island, Yacht Club, Kajak, Art and Music Walk in historic district of Fort Myers, Classic Car shows and museum, Golf courts , Bike Night in Fort Myers, beautiful Sanibel and Captiva Island and lots of other interesting locations are quit near.
We highly recommend staying here; Lubash and Claudia are wonderful hosts, very easy to communicate with, and willing to do the small details that keep a guest satisfied. They really make you to feel welcome. Their place is perfect to stay after a sunny and free of stress day at the beach (if you have your own transportation). It has clean, comfortable, and cozy amenities; it has a nice patio with mosquito mesh (perfect for morning café). The room is nice and clean. More important you won't be able to leave their place without making two new wonderful friends. My husband, my baby and myself are looking forward to visit Claudia and Lubash again.
Ricelys Cecilia
2016-12-22T00:00:00Z
Claudia & her husband are wonderful, they made me feel right at home! She showed where everything is in the kitchen, & told me that I can enjoy my breakfast on the patio, gave me an iron etc...felt very comfortable staying there! The room was perfect, the bed has an excellent mattress, has a TV, the bathroom is inside the bedroom. I traveled to the area for an event job in Ft.Myers, the location was only 13 min away, very convenient, (from Gateway Blvd in Ft.Myers).
Merrie
2016-12-30T00:00:00Z
Claudia and Lubos were amazing hosts. Starting from the initial communication to the final checkout everything was perfect. We enjoyed greatly spending time with Lubos. He went over and above to make our stay comfortable and to help with any information that he could. We look forward to staying here again during out next visit.
Leo
2017-03-01T00:00:00Z
Claudia's house it's a very relaxing place to stay at, she and her husband are great hosts, very friendly and communicative. I highly recommend this place!!!
Reinaldo
2016-12-27T00:00:00Z
Thanks very much! Very kind host plus a very nice room. 10 out of 10
Sam
2017-02-11T00:00:00Z
Claudia and Lubos were amazing hosts! From the first day we set foot in their home to the day we left, they made us feel like their home was our home. We had many amazing conversations with these two! Their home is in a quiet, cute neighborhood, and is a beautifully renovated. We will miss them, but look forward to seeing them again!
Cat
2017-01-13T00:00:00Z
Lovely couple; clean and tidy room. Thank You
Sylvia
2017-01-22T00:00:00Z
very pleasant accommodation in a nice quiet neighbourhood that was perfect for me on business trip with well presented room that had everything I needed....clean and tidy....very good value!
Christopher
2016-11-20T00:00:00Z
Room Type
Private room
---
Property Type
House
---
Accommodates
2
---
Bedrooms
Lehigh Acres, FL, United States
Fully equipped: washing machine, dryer, utility room, double garage with automatic door,satellite, DVD/CD player, alarm, air conditioning, beach furniture. 1 bedroom with a king size bed and 2 bedrooms with queen size beds. 2 bathrooms with shower
super quiet neighbor.
THIS HOME HAS ALL THE AMMENITIES YOU NEED FOR A RELAXING GET AWAY. ENCLOSED LANAI, HOT TUB , IN GROUND , (CLEAN), POOL, QUIET NEIGHBORHOOD. CENTRAL TO OTHER ACTIVITIES.
mary
2017-03-18T00:00:00Z
My stay at your home was exceptional. On arrival you were there for any questions, much appreciated. Everything was very clean. The space was amazing. Security made all activities inside and out very comfortable. Thank You
mary
2015-03-29T00:00:00Z
Karel's place was great! Clean, quite and everything we needed. We enjoyed the pool and patio in the privacy of the backyard. It was a great value for the price, and I would book with Karel again.
Michael
2016-04-04T00:00:00Z
The house was secluded and clean. The amenities were just as described. Overall great place to get away from the town while not being too far away from it. It's about 30 minutes from downtown Ft. Myers and 50 minutes from Sanibel if you don't mind the drive.
Benjamin
2017-01-30T00:00:00Z
Wonderful place to stay. Very clean and neat house with tons of room. Really enjoyed the hot tub and pool.
Kyle
2016-03-04T00:00:00Z
First, The host, Karel, is very nice!!!! He is always available to any inquiry you may have, responsive and diligent. He showed us everything around the house and gave us some tips about different places to visit. The house is very nice. It comes with a heated pool, hot tub, cable, wifi and it is surrounded by a lot of trees. Just picture this: At 7am, a nice cup of coffee, inside the hot tub and just chilling while you hear all those birds singing around the house.....priceless. If you want to relax, this is the place to go! Have fun!!
Jhon
2015-07-06T00:00:00Z
This house is off the beaten path, and provides a very quiet and private setting. Especially nice when you just want to lounge by the pool. Our host, Karel, personally welcomed us and was very accommodating to our needs.
Paula
2015-02-08T00:00:00Z
The house is more than awesome. I stayed in lots of houses in US but this was a great surprise. Heated pool, hot tub, big garage, safe neighbourhood... that's just a few of stuff that made my experience in this house awesome. Karel was really friendly, which means a lot nowadays. The house has all you need to spend a month there.. It was clean, everything was working perfect, beds are comfortable, big TV in living room, loud HI-FI.. and most important, pet friendly. It was one of the best experiences here and thank you Karel for being the best host so far.
Matic
2015-04-10T00:00:00Z
Room Type
Entire home/apt
---
Property Type
House
---
Accommodates
6
---
Bedrooms
Lehigh Acres, FL, United States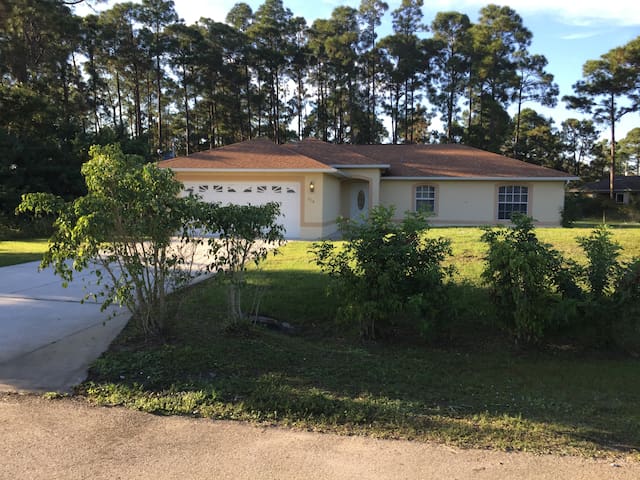 Spacious and elegant house, surrounded by palm trees, southern exposure, clean and quiet, perfect winter retreat. After June 2017 we will have WLAN and TV. 20 minutes from Fort Myers International Airport, 30-40 minutes from beaches.
Room Type
Entire home/apt
---
Property Type
House
---
Accommodates
2
---
Bedrooms
Lehigh Acres, FL, United States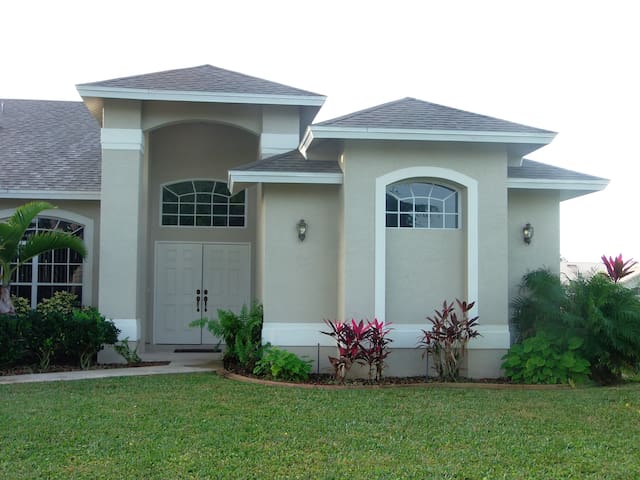 This is a lovely pool home in a quiet secluded area. Off the beaten path, for those who want to avoid the hustle and bustle but would like to enjoy Florida and its weather. The solar heated pool and patio are covered by a screened lanai. It's a short drive to shopping and dining. Beaches are about a 30 minute drive. The Ft Meyers and Punta Gorda airports are about 35 minutes away.
Room Type
Entire home/apt
---
Property Type
House
---
Accommodates
4
---
Bedrooms
Lehigh Acres, FL, United States
My accommodation is good for families (with children).
Room Type
Entire home/apt
---
Property Type
House
---
Accommodates
5
---
Bedrooms
Lehigh Acres, FL, United States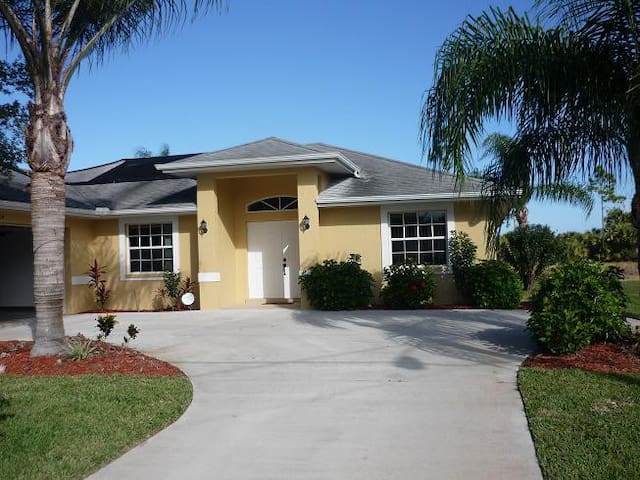 Nice clean comfortable private room, can fit 2 people. Bathroom is private and there is a mini office space which you can use. House is close to Publix, Win Dixie, Save a Lot supermarkets, Car rentals among others. 19 mins away from RWS international airport, 24 min to FGCU, Miromar Outlets and Gulf Coast Town Center and Germain Arena for concerts and events! E75 N and S,Boston Red Sox Stadium and Coconut Point Mall are fairly close!
Room Type
Private room
---
Property Type
House
---
Accommodates
2
---
Bedrooms
Lehigh Acres, FL, United States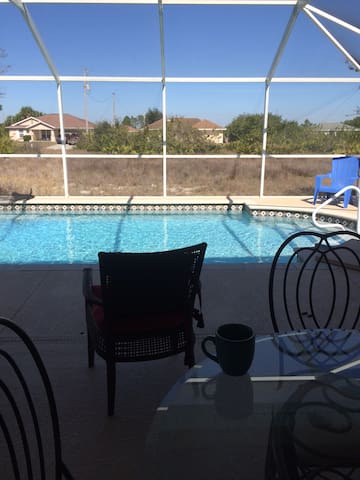 A perfect vacation retreat, this beautiful fully renovated 1500 sqf., 2 car garage, 3 bedrooms, 2 bathrooms house, 20 min. from the airport, 45 min. to the beaches, is just waiting for you! Enjoy this quiet, safe, well established neighborhood. Come to Villa Aurora and enjoy our private heated swimming pool & screened lanai. Sit down, relax and admire the view of Lake Camille. There are 6 golf courses, one within 2 miles. Satellite TV, telephone, internet and utilities included. Sorry, NO pets.
Room Type
Entire home/apt
---
Property Type
House
---
Accommodates
6
---
Bedrooms
Lehigh Acres, FL, United States
Retreat to a private acre of tropical paradise, with tons of palm trees. Enjoy a panoramic lake view on a nature preserve while you enjoy a poolside beverage and over sized, heated jacuzzi. 2,000 sq. ft. lanai. Relax in 3 bedrooms & den. All tile. Designer faux walls. Modern, granite kitchen with new appliances. Three big flat screen TV's with every movie channel and sports. Wi-fi. Note that our beautiful pool doesn't include a heater. So secluded and serene, you'll never want to leave!
There are very few places that offer tropical tranquility, on a one acre preserve and with no neighbors! This pet friendly home has a property so large, leashes are not necessary!
Lehigh Acres is a small town. My street is exceptional as it was designed and erected and sold to German vacationers seeking tranquility by the preserve. I think it is the best street in the entire town! I have no neighbors to the front, left or back - only one home to the right that is a German vacation home that the owner seldom rents. Thus, you have 100% privacy. Turn up the music on the lanai. It's OK. No one else will hear it. My home is perfect for relaxing.
The host canceled this reservation 30 days before arrival. This is an automated posting.
Ron
2016-12-26T00:00:00Z
Room Type
Entire home/apt
---
Property Type
House
---
Accommodates
8
---
Bedrooms
Lehigh Acres, FL, United States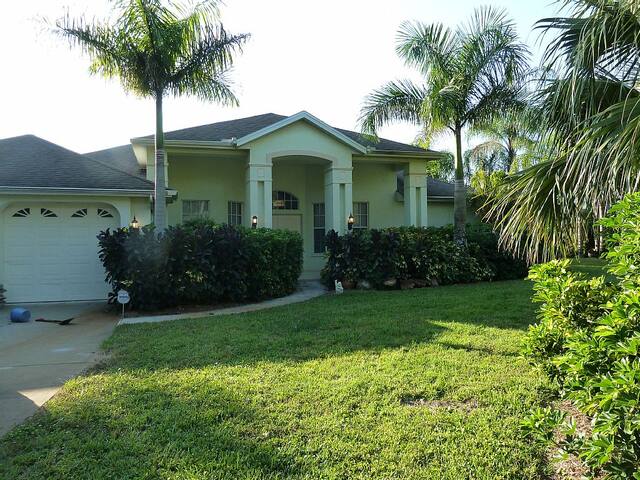 Villa Sebring: This awesome Pool Home is tastefully furnished, with tile, and has all comforts. A nice Lanai lays on seating, relaxing and entertaining as well to indulge in Florida's outdoor living!
The house is better than in pictures. very ample room for family. We were 6. and 3 generations and we all enjoyed the place. Close enough to the beach but quiet enough to forget about the noise. One of our best Airbnb experiences ever.
Francisco
2015-12-27T00:00:00Z
The neighborhood was very quite, the listing was exactly as shown. Ms. Andrea walked me through getting the keys which was very easy. Enjoyed my stay.
Vanessa
2015-07-30T00:00:00Z
The listing and photos were accurate to what we had. The neighborhood was very quiet. The pool area was nice and inviting. The space was perfect for or visit with family and friends that lived in nearby Naples, Fort Myers and Cape Coral areas.
Wanda
2017-01-03T00:00:00Z
perfect! clean! comfortable! convienent! everything!
YORK
2016-12-25T00:00:00Z
The house is very comfortable and clean. The pool is heated with a solar blanket, which does not have a roller so can be a bit of a challenge. The location requires a fair drive to reach retail shopping, restaurants and many other attractions, however there are grocery stores and a Walmart close by for quick retrieval. The surrounding residential areas are very quiet and good for bike riding. Nice, reasonably priced golf courses in very close proximity to the house. Wouldn't hesitate to rent again.
Debbie
2017-03-31T00:00:00Z
Vi boede 3 dage hos i Andreas hus, i Lehigh Acres. Huset fremstår pænt og nydeligt og der er god plads til en familie som vores, med store børn. Vi havde 3 dejlige dage her og kan varmt anbefale stedet til andre.
Morten
2015-12-31T00:00:00Z
Room Type
Entire home/apt
---
Property Type
House
---
Accommodates
6
---
Bedrooms
Lehigh Acres, FL, United States
Enjoy a private bedroom, bathroom, and relaxation room in house that is a quick 10-15 minute walk to the Ave Maria Oratory and town center. The rooms are spacious and furnished very simply for your quiet relaxation. The full-sized bed sleeps 2, and the relaxation room has a couch and TV. *Please take note that there is a pet in the house that makes noise most mornings from 8 - 11:30am.*
Top things guests might love or not love about my space: ***Top 3 things that guests love: 1. Proximity to the Ave Maria Oratory and Ave Maria University, and other local gems 2. Quiet and restful rooms 3. Wonderful neighborhood, perfect for afternoon/evening strolls ***Three things that some guests might not prefer: 1. I have a pet bird who instinctively makes bird calls and whistles in the mornings between about 8 -11:30am. 2. Cooking in the kitchen is okay, but minimal cooking is appreciated. This may not be the place to stay if you wish to hold a dinner party. 3. Unfortunately the screen doors for my back porch patio do not close property and the near by pond attracts mosquitos. Therefore, I do not recommend relaxing on the back porch. This is a very simple and quiet place to rest during your visit to Ave Maria and the Naples area. Your stay will include the private use of two rooms: a bedroom and adjoining relaxation room. You will also have a private bathroom with double sinks. The kitchen is also available for your use, with appreciated minimal cooking unless discussed with the host. Breakfast ingredients and coffee/tea are provided.
Very comfortable digs. Very friendly and flexible host. Very reasonable price. Very agreeable stay. We were looking for a place near Corkscrew Bird Sanctuary and Diana is 20 minutes away. We were only there one night, would've been happy to stay longer. Highly recommend.
Joe
2017-03-29T00:00:00Z
It is really a very good superhost!! Every detail was taking care. Host is a super nice person, property location at good nice neighborhood not far from grocery store. I wil definitely come back next time.
Henry
2017-04-06T00:00:00Z
Room Type
Private room
---
Property Type
House
---
Accommodates
2
---
Bedrooms
Ave Maria, FL, United States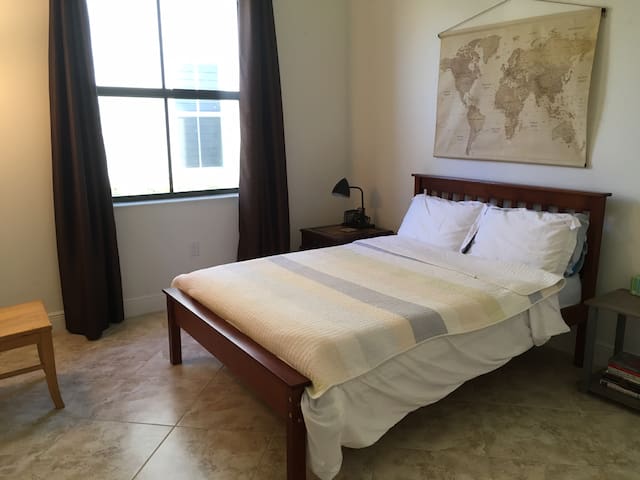 Enter dates to see the total trip price including additional fees (but excluding any taxes).