A true country get-away, this unique guest house started life as a real barn in 1880. Today, it's a comfortable, sunny, immaculate home with an open floor plan, massive decks, and furnished with antiques. Surrounded by meadows and woodlands. Pets ok.
The Barn House is a unique get-away. Hardwood floors, knotty-pine interiors, cathedral ceilings, furnished with antiques and heirlooms, this comfortable home is situated next to a year-round creek. Massive decks run the length of the barn with a barbeque and seating/dining areas. The open floor plan features a well-equipped kitchen (full-size appliances), a dining alcove with full-size dining table, conversation areas, and a rustic fireplace crafted from stones gathered from the property. Guests are likely to see more wildlife than cars passing on the paved road that passes through the property.
This is a rare opportunity to spend time in a genuine rural setting. The Barn House is situated by a paved, one-lane country road, with meadows on either side. The property is surrounded by woodland and a year-round creek runs the length of the property. An impressive array of wildlife--bear, wild turkey, bob cat, deer, and many species of birds--call our woodland home.
The Barn is a gorgeous space, full of light and with room to breathe. It is well furnished for a comfortable stay. The heater in the bedroom kept us toasty warm, even with temps down to 28f, and the pellet stove in the main room soon warmed the place up after a days hiking. The hosts were very welcoming and Denise was quick to respond to any requests we had. I would definitely stay in the Barn again if I was in the area.
Rachel
2016-12-29T00:00:00Z
Loved staying at the Barn House. Denise and Lisa were such gracious hosts. The barn was packed with all the things we needed to have a truly great stay in a beautiful part of Northern California. Kitchen and bathrooms were well stocked, we really only needed to buy our groceries. It's a true gem.
Mary
2016-06-03T00:00:00Z
I travel for business all over the country and I felt most at home. Denise and Lisa went out of their way to make sure I was I had everything I needed and communicated with me. I never felt without.
Aaron
2016-11-09T00:00:00Z
(URL HIDDEN)truly, an incredible place to fully exhale. I stayed here with my husband, my mother and our dog and all four of us were so comfortable. We couldn't stop talking about what a great place this is! And don't even get me started on how awesome Denise & Lisa are as hosts. We can't say enough. This is a gem!
Danielle
2016-10-19T00:00:00Z
The cabin is located in a rural and secluded environment. Stepping out of your car you immediately breath the clean refreshing and peaceful air. The cabin is tastefully decorated in a country style. Many books and literature is available on the Whiskeytown area and on the cabin's history. The kitchen is well eqipt, although you may have to hunt for some items. They have a wonderful setup of bring a bottle of wine and take one, or pay $10 a bottle. This is a dog friendly rental with dog dishes and dog rags. There is a small fenced area for dogs. Just below the cabin is a year round creek with a small waterfall and a dunking area. Down the road there is a spot to picnic belonging to the cabin. Yes, I had a wonderful time. Thank you so much, Lisa and Denise for making tis experience available to us!
cheryl
2016-09-11T00:00:00Z
We had a wonderful time at the Barn House. It is a perfect get away cabin with lots of charm. It is very spacious as well. Dennis was very welcoming and made sure we had everything we needed. Highly recommended!
Bethany
2016-11-27T00:00:00Z
What an absolute gem! You can really feel the love that was put into the restoration of the barn house. Denise couldn't have been more helpful, and the place was immaculate. Flocks of blue birds in the morning, families of deer grazing, listening to the creek, all while bbq'ing & drinking wine on the huge back deck. We are already trying to find another excuse to come and spend more time. Thank you Lisa & Denise!!!
don
2016-08-30T00:00:00Z
The host canceled this reservation 55 days before arrival. This is an automated posting.
Porter
2017-02-25T00:00:00Z
Room Type
Entire home/apt
---
Property Type
Cabin
---
Accommodates
4
---
Bedrooms
Igo, CA, United States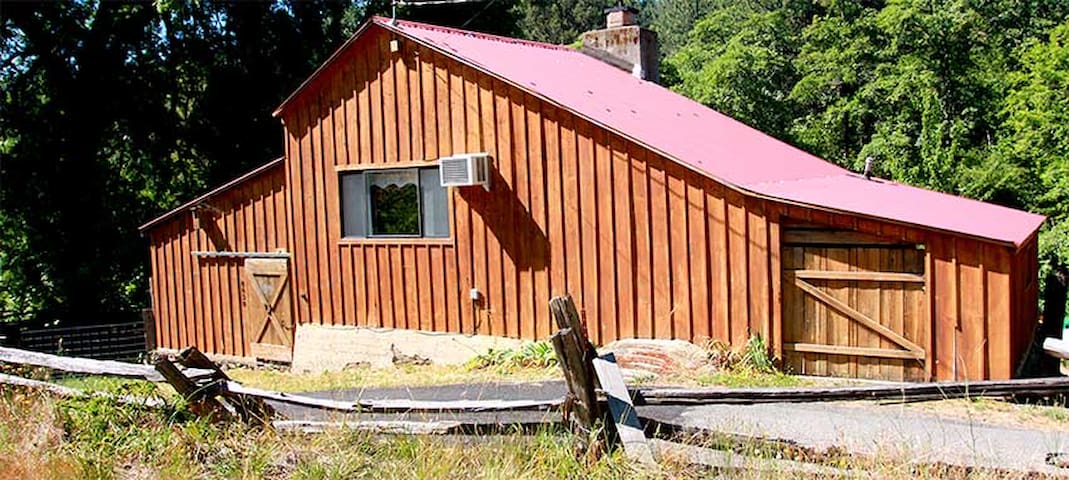 Over 750+ acres to explore on horseback, motorcycle, ATV, hunting and more. A covered, lighted riding arena, 6 stall barn, pastures galore and full equine setup for the horse enthusiasts. 1/2 acre stocked pond for the bass master. Year round creek with swimming hole and natural water slides.
There is endless beauty to engage the senses and unlimited amenities to satisfy the spirit. Luxury home that sleeps over 12.
The serenity, privacy and the vast beauty.
Room Type
Entire home/apt
---
Property Type
House
---
Accommodates
12
---
Bedrooms
Igo, CA, United States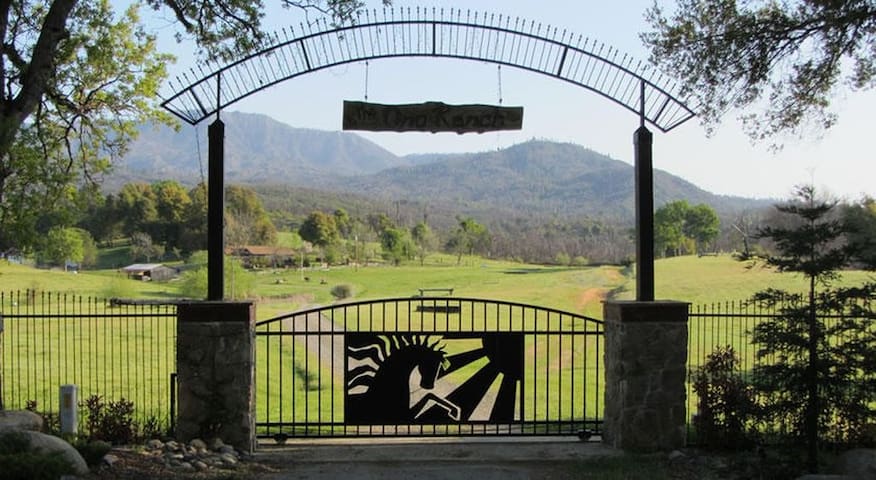 Our cool and comfortable two bedroom duplex is located in Redding, California. It's tucked away in a quiet neighborhood and just minutes away from local amenities. We would love for your stay to be an enjoyable experience, so please let's us know if there is anything you need. Location: Interstate 5 = 3 miles John Reginato River Access (Sacramento) = less than 2 miles away Sundial Bridge= 7.2 miles away Bethel= 8.8 miles ( 15 min)
Our beautiful and comfortable two bedroom duplex is located in Redding, California. It's tucked away in a quiet neighborhood and just minutes away from local amenities. We would love for your stay to be an enjoyable experience, so please let's us know if there is anything you need.
Our neighborhood is a quite older neighborhood with lots of beautiful trees.
Jill's place was very clean and outfitted to make your personal stay equipped with all the amenities you would need in the kitchen. I personally found it not yet suitable for the business traveller as the internet was very sketchy on and off most of the day and definitely in the evening. This duplex house is minimalist, therefore tends to be quite cool but the furnace and blower worked well for me. I did not hear the owner next door at all and I was there most of the day. There are not restaurants within any sort of walking distance and it's very dark at night so you will need your gps. The area is residential and older and although the neighbors do not keep up their houses or yards well, theirs was inviting and the curb appeal was better than most in the area. Jill had quick responsive time and offered solutions to solve internet problem. I think this would be a great place to stay for couples! The ensuite off the master is a bonus especially if you're coming with family! Jill is really sweet and you will enjoy communicating with her!
BonnieNDave
2017-02-15T00:00:00Z
Jills place is great. Very clean and simple in furnishings, sweet kitchen, nice quiet location.
Christi
2017-03-25T00:00:00Z
Nice, quiet, private place. Very comfortable and clean. Jill is a nice hostess!
Michelle
2017-02-17T00:00:00Z
Jill and her husband were extremely friendly and helpful. The home we stayed at is actually an extension of their home, so if and when we needed any help, they were ready to help. Jill was very quick on communicating with me when I had any questions and was very welcoming when we arrived. I'd recommend this place for anyone needed a place to stay for the night :)
Anabelle
2017-03-05T00:00:00Z
We had a great experience at Jill's place. Quiet, clean and love having all I could need to cook :) I was happy to see the coffee maker and all I need it to make some coffee :)
Yerling
2017-03-04T00:00:00Z
the best place we have experienced . highly recommended. jill is such a nice and helpful host . we love her so much
郭丛
2017-02-09T00:00:00Z
Such a great little duplex. Private, clean, updated, and close to everything. Yard was nice and they also had some great little details that are often over looked. Coffee and Netflix were a great touch. The rooms were spacious and very comfortable. We set up a crib in the master bedroom and it still had PLENTY of extra space. Three adults and a toddler had more than enough room. We will be back soon. Thank you!
Tony
2017-04-02T00:00:00Z
Excellent stay in a quiet and central location
Lance
2017-03-19T00:00:00Z
Room Type
Entire home/apt
---
Property Type
House
---
Accommodates
4
---
Bedrooms
Redding, CA, United States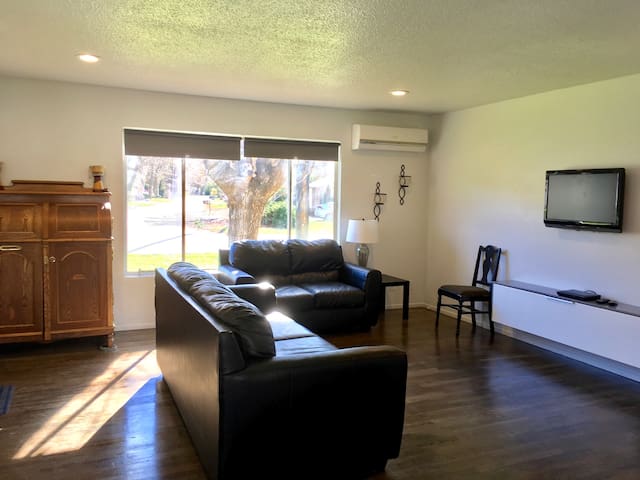 Private master bed and bath suite, with your own private entrance and private patio area. The room has been newly remodeled and has a new comfy queen bed, along with room-darkening curtains. There is a mini-fridge, microwave, and Keurig coffee maker in the room, with an assortment of coffee and tea provided, along with a basket of small snacks.
This suite has a new comfy queen bed and room-darkening curtains. There is a mini-fridge, microwave, and Keurig coffee maker with an assortment of coffee and tea provided, along with a basket of small snacks. There is high-speed wireless internet available. No TV/cable at this time, but will be coming by the end of April. Stroller & crib available upon request. Laundry available upon request for guests who stay 5+ nights.
Our neighborhood provides a country-like feel that is still close to town.
We couldn't be happier. Coming from a long drive we wanted to just rest our heads and have some privacy. Breanne was very accommodating and her studio unit was perfect. Great bed, super clean, all amenities that were listed were accurate. I would definitely come again.
Maya
2017-04-04T00:00:00Z
Room Type
Private room
---
Property Type
House
---
Accommodates
2
---
Bedrooms
Redding, CA, United States
Our place is close to Whiskeytown Lake. We have beautiful Mt Lassen views and incredible peace & quiet. We built the house on 10 acres in 2015, and the guest room has an attached double vanity bath. We can possibly accommodate another guest in an additional room. We also have plenty of parking for larger vehicles.
This is a plus ten!! Daryl & Cindy are excellent hosts with a beautiful home. We wish we could have stayed weeks rather than only 1 night. Everything you could ever want in a room including mints.
Penny
2016-07-26T00:00:00Z
My husband and I loved staying with this family! They were sweet and helped tell us a lot about the area. Their house was beautiful and very cozy. I would def recommend staying here if you would like a peaceful resting place.
Tiffany
2016-09-22T00:00:00Z
The host was incredibly welcoming. They provided a great space to stay! The host is incredibly welcoming and has a beautiful home. They even suggested local dinner options and went above and beyond by providing water and candy in the room! I highly recommend staying here! You won't be disappointed.
Lindsey
2016-07-05T00:00:00Z
Beautiful home in a lovely rural country setting. Worth going out of your way if you have the time.
Wendolyn
2017-01-10T00:00:00Z
A quiet setting, clean room, and the hosts were welcoming and friendly.
Kevin
2017-02-10T00:00:00Z
Thank you Daryl and Cindy for opening your beautiful home to us! My mom and I were driving through to Seattle and stayed there for the night. Not too far from town and its in an absolutely gorgeous area! I would definitely recommend staying here:)
Taylor
2016-07-30T00:00:00Z
Cozy and quiet
XUEPU
2016-10-03T00:00:00Z
One of the most beautiful places I've ever seen. Cindy was super kind for the brief time that I met her. Very comfy bed, too!!
James
2016-10-05T00:00:00Z
Room Type
Private room
---
Property Type
House
---
Accommodates
2
---
Bedrooms
Redding, CA, United States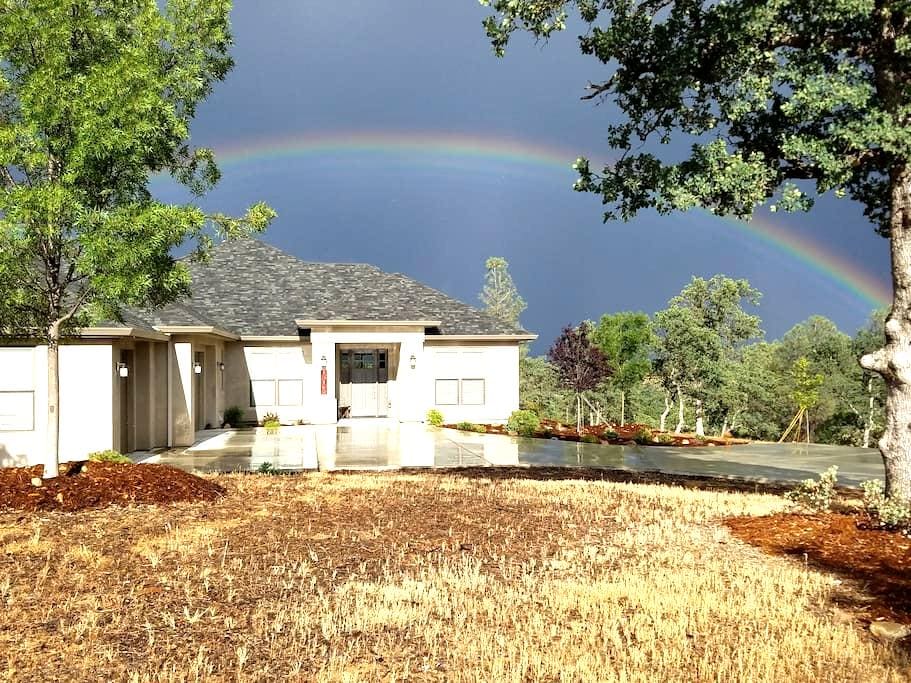 This private room is located a quiet west Redding neighborhood. The room includes a queen bed, desk, and closet space. There are also plush towels and robes for your comfort and enjoyment. Your stay includes access to a shared bathroom, kitchen and wifi. Washer and dryer access are available to guests staying 1 week or longer. The neighborhood is home to a park, scenic walking trails park and Whiskeytown lake is a short 15 min drive away! The home is shared with a sweet young family.
Jesse was very warm and welcoming. Her 2 year old son was adorable! The room was clean and the home was comfortable. I had access to the refrigerator and the bathroom was spotless! The thing that surprised me the most was the comfort of the bed! A great location.
Bobbie
2017-03-19T00:00:00Z
Great place, very clean, awesome hosts!
Elaine
2017-03-25T00:00:00Z
My boyfriend Josh and I had a great stay at Jesse's place. We were driving back from Portland to CA and their home was a perfect stop. (actually we stayed their twice! On our dive up as well!) It was easy to find from the highway, the bed was super comfy and everything was very clean. Their hospitality was great!
Valerie
2016-10-15T00:00:00Z
Thank you guys for the incredible couple of days I got to spend with you. They are a wonderful family, insipiring and willing to help with anything. Would recommend 100% ! I'll definitely go back when I come back to RDD :)
Juan
2017-02-01T00:00:00Z
Jesse's place is beautiful, clean and lovely. The room is extremely cozy and comfortable - with soft blankets galore. Robes await you in the closet and the shower is the best ever. I highly recommend staying here!
Greta
2017-02-24T00:00:00Z
Jesse and Jared are super kind and sweet young couple. We shared a lot and have a good conversation. Their place feels like home for me. The room is clean and the bathroom is large. Yes, the bed is very comfortable. Definitely will come back again.
Jing
2016-12-31T00:00:00Z
Jesse and her husband were the most hospitable hosts. They gave me a warm welcome into their home and even helped unload my bikes and roof luggage. The house is so cozy and clean and the bed is super comfortable! The house and room is exactly as described and shown in pictures. Thanks for a great stay!
liz
2017-01-12T00:00:00Z
Jesse is great host. We enjoyed our stay a lot. The bed is super comfortable and Jesse and her family are wonderful host.
Tanu
2017-03-24T00:00:00Z
Room Type
Private room
---
Property Type
House
---
Accommodates
2
---
Bedrooms
Redding, CA, United States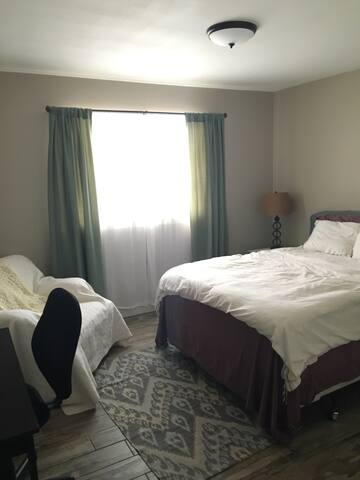 Our home is located in the heart of Redding, within minutes of I-5, downtown shops and restaurants, the civic center and Bethel church. This newly built master suite is attached to our main home, and has its own private entrance, allowing you the freedom to come and go as you choose.
This suite features a California king bed, plush linens, soaps, shampoos, a mini fridge and microwave, coffee and electric tea pots, cable Tv, high speed internet, and access to our family's outdoor patio, grill, and hot tub. And for our guests who book a week or longer, a washer and dryer. Our goal for you is that you will leave our home feeling pampered, rejuvenated, and rested for wherever the journey takes you!
We live in a neighborhood filled with quaint homes and shaded by great towering oaks. It is a wonderful area for taking early morning walks and is within walking distance of the Sacramento River and the Sun Dial Bridge. We are a 7-10 minute drive to Bethel and approximately 15 minutes to whiskey town lake and an hours drive to both the Shasta and Lassen Mountains.
Room Type
Private room
---
Property Type
Guesthouse
---
Accommodates
2
---
Bedrooms
Redding, CA, United States
My cozy two story home, fitted with elegant windows bringing in natural light, is the perfect place for a weekend away or home base for weeks of adventure. Two bedrooms, one bath, new appliances, and recently updated and decorated for all your vacation needs. My place is also very close to the grocery store, Jamba Juice Starbucks and other restaurants.
The loft is well-furnished and in a walkable neighborhood and my stay was very enjoyable.
Kate
2017-03-20T00:00:00Z
Amazing Place then bed is incredibly comfy and the pillows are too! Loved the place!
Brian
2017-03-26T00:00:00Z
Great windows, very comfortable dining and family room areas.
Ron
2017-03-24T00:00:00Z
Ian has a lovely house! Lots of space, feels very private, and its in a beautiful area. Clean & very comfortable! It was just what we needed! Would come back the next time we are in Redding!
Danielle
2017-03-16T00:00:00Z
This is a great place to stay! Very clean and nice. Great, quiet neighborhood. Super close to sundial bridge/gardens and arboretum/downtown/retail and restaurants, etc. Ian was awesome and check in and stay was seamless and easy. I would highly recommend Ian's place!
Elisabeth
2017-03-13T00:00:00Z
This place was cute and clean, but in need of a little updating. Floors and doors were creaky. Bed was a little creaky too which made it tough to sleep. Neighborhood was quiet and overall it was good for the price.
Kayla
2017-03-25T00:00:00Z
Room Type
Entire home/apt
---
Property Type
House
---
Accommodates
4
---
Bedrooms
Redding, CA, United States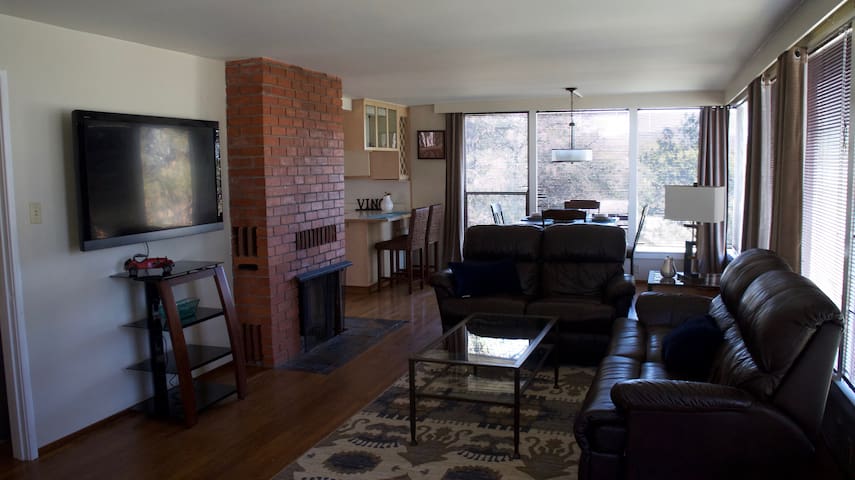 Our large single family home is quiet, clean, and well appointed. 5 miles to Sundial Bridge, 4 miles to Bethel Church, 1/2 mile to Enterprise Park. We have varying schedules and would be happy to accommodate your arrival. We have two dogs, but they are outside exclusively. We can possibly add an air mattress to the floor of the bedroom to accommodate a second guest. Message for details.
The bedroom has closet and drawer space, with room for an air mattress (provided) on the floor. The single bed is comfortable with a 3" memory foam topper. It is right across the hall from the bathroom with tub and shower. Desk, with WiFi modem in the room so you can plug right into the internet with your Ethernet cable. We have a TV equipped with Chromecast, but not cable, that we can put in the room. Just ask!
Short walk to large park with Disc Golf Course, Roller Hockey Rink, playground with water features, and creek trails.
First-class, Executive-style accommodations, well-stocked with everything you'd need to feel comfortably at home on the road. Great, quiet location not far from all the downtown action. Leslie and Dave are top-notch Airbnb hosts, gracious, considerate and kind. Would definitely stay again.
Andrea
2017-03-07T00:00:00Z
Excellent value, great location, friendly dogs, awesome hosts, what more do i need to say!
Walter
2017-04-01T00:00:00Z
Personable, kind, and accommodating - I would definitely stay here again! Thank you Leslie for being an awesome host!
Melinda
2017-04-07T00:00:00Z
Everything was absolutely perfect. Your hospitality, your home, the extra amenities and the bed and pillow felt a little bit like heaven may be. Perfect place to stay. My first Airbnb experience.
Michelle
2017-04-08T00:00:00Z
Leslie and Dave's home was as described and pictured. It was a great stop, in a quiet neighborhood and conveniently located to I-5. The hosts were very welcoming, attentive and friendly. I would definitely recommend a visit to their home.
Jeane
2017-04-02T00:00:00Z
Leslie n Dave are a wonderful Godly couple whose love n warmth make you feel right at home. This is one of my favorite places to stay now in Redding. Peaceful n beautiful home :)
Nancy
2017-03-21T00:00:00Z
Another pleasant stay :)
Nancy
2017-04-05T00:00:00Z
Leslie's place is beautiful, quiet, clean and spacious. She and her husband are lovely people, very welcoming and warm. The bedroom was well furnished. I loved the Air BnB experience there and would go back to stay again in a heartbeat.
diane
2017-04-03T00:00:00Z
Room Type
Private room
---
Property Type
House
---
Accommodates
1
---
Bedrooms
Redding, CA, United States
My place is close to parks, great views, the city center, and restaurants and dining. You'll love my place because of the comfy bed, the kitchen, the views, and the coziness. My place is good for couples, solo adventurers, business travelers, families (with kids), big groups, and furry friends (pets).
Great value. Very clean. Good place for a stop over if you're heading somewhere.
Brian
2017-03-18T00:00:00Z
Good inexpensive option to stay.
Mark
2017-03-24T00:00:00Z
I loved my short stay at Rafaela's apartment. Unfortunately, I never got to meet her as she was out of town for the weekend I was there, but she made sure that everything was prepared for my arrival and maintained ready communication about anything regarding my stay. It's a tremendous value, and I wouldn't hesitate to stay there again.
Jeremy
2017-02-27T00:00:00Z
Very clean place and great for the price.
Joyce
2017-03-20T00:00:00Z
Great place
Beau
2017-03-11T00:00:00Z
This is a great deal for the low price. The bed was a mattress on some wooden pallets on the floor, which was not bad but just not what we expected. Hopefully there are more pictures in the future. The bathroom was clean, the parking spot convenient and overall this was a great one night stay on the road.
Shreyas
2017-03-25T00:00:00Z
Rafaela'a place is hard to describe. It's worth $22, but all you get is a bed basically. There were no stocked towels, or welcome note, or wifi codes. The house was semi-cleaned up which just felt like we were staying at her house that she cleaned up a bit before she went to work. I would have liked to have more communication from her too amen clear instructions. I would give it 3 stars. Just change a few of those things and it'll be great.
Bryan
2017-02-19T00:00:00Z
Really great communication and fastacceptance. Tidy room and cozy setting by restaurants and shops.
Brian
2017-04-04T00:00:00Z
Room Type
Private room
---
Property Type
Apartment
---
Accommodates
2
---
Bedrooms
Redding, CA, United States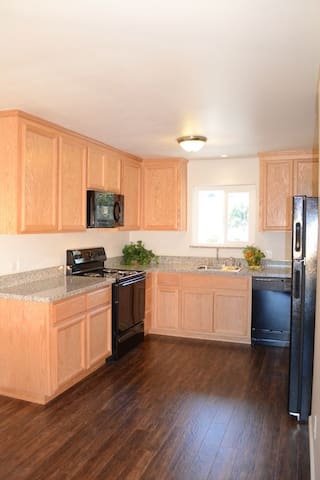 New listing in March 2017. Stunning Mediterranean style, studio apartment on the West side of Redding. This is a private unit with your private gate. It is within 10 minutes drive to restaurants and cafes, popular landmarks such as Whiskeytown, Sundial Bridge, and Bethel Church. This modern loft overlooks the green belt, with a deck to enjoy the peaceful and gorgeous view. House of Olives is a perfect haven for personal retreat and relaxation. Stay with us for a memorable experience!
It is newly furnished and includes a loft bedroom with a Queen size bed, a Queen sofa bed, kitchen, bathroom, closet, living room, wifi, and TV (limited channels but full access to Netflix), and DVD player. Has A/C and pellet stove for heat. No washer/dryer. Laundromat is close by (3 minutes drive).
Very safe neighborhood. Popular Whiskeytown Lake is nearby. MoonBistro is a classy, healthy, and yummy restaurant we like. It's just down the street, next to Starbucks. ANYTIME Fitness/Gym and Holiday Market/Groceries is also in the same plaza. Downtown is 5 minutes away with its variety of restaurants and eateries. Jogging tracks are at the foot of the street.
We were 3 adults for 3 nights and the place was perfect for us. It's a great place to rest and soak up the atmosphere in Redding. The bed is new and firm but we enjoyed it. The 3rd person was on the futon couch which was also new and firm. All the facilities are in excellent working order as everything is basically new. The place is impeccably clean. The balcony, and hammock are beautiful spots to soak up the sun and beautiful views. We found it to be a wonderfully peaceful place! We were careful going up and down the stairs and had no issues. When we're in Redding again we'd like to come back here!
Tim
2017-03-13T00:00:00Z
Cornelius & Tiffany's place was exactly as pictured but offered more than just comfort, cleanliness and amenities. The oasis they have built felt like home away from home. I was pleasantly surprised by how quiet it was at night even with a couple of windows open. I was lucky to fall asleep to the many frogs and crickets and wake up to the quiet chirping birds.
Farren
2017-03-17T00:00:00Z
Cornelius and Tiffany are highly accommodating and have done such a great job in creating such an adorable little getaway. We are so thankful to have found such a clean, comfortable and ever so restful little place for the weekend.
Ashley
2017-03-20T00:00:00Z
Cornelius and Tiffany's house was fantastic! Such a beautiful setting, the house is on a pretty hill with a great view from the balcony. The loft bed was cool and comfortable. I highly recommend staying here!
Valerie
2017-04-02T00:00:00Z
Cornelius was very communicative throughout the reservation. He greeted us initially and wanted to make sure we were familiar with the city, the sights to see, and more importantly made sure we were comfortable with the house itself. He told of the history behind the very modern-hip style to the home- which we loved right away. The house itself was beautiful, very clean, warm and crust perfect! We would definitely love to come back and stay next time we are in the area. I would highly suggest to book with Cornelius and Tiffany- they answer any questions and very communicative throughout. You never feel like you have to "figure" your way in and out.
Mark
2017-03-30T00:00:00Z
Room Type
Entire home/apt
---
Property Type
Apartment
---
Accommodates
4
---
Bedrooms
Redding, CA, United States
Casa de Luces is located in the beautiful Sunset Terrace area of Redding. We have a fully furnished one-bedroom apartment with a private entrance and off-street parking. Our guests love the privacy of the location surrounded by oak and pine trees. You can enjoy glorious views of the eastern horizon and Mt. Lassen. Located close to the city center, shops, grocery stores and Bethel Church. Casa de Luces is good for couples, solo adventurers, and business travelers. Redding bed tax is 12% per day.
RESTAURANTS: Clearies (URL HIDDEN) View 202 (URL HIDDEN) Nello's Italian (URL HIDDEN) Moonstone Bistro (URL HIDDEN) Anselmo Vineyar(URL HIDDEN) From The Hearth (URL HIDDEN) Cheesecakes (URL HIDDEN) Trader Joe's (URL HIDDEN) Top's Market (URL HIDDEN) EXPLORING REDDING: Sundial Bridge Sacramento River Trail Mt. Shasta Mt. Lassen Park Whiskeytown Lake Shasta Lake
Such a fantastic little gem! This apartment is in a very nice, quiet, neighborbood tucked away on the west side of Redding. It's a perfect little spot for a get away. Katharine and Mike greeted us and showed us the in's and out's of this adorable spot, and they were incredibly gracious hosts. They've clearly gone out of their way to make sure this location is comfortable and very well appointed. All the furnishings and decorations are nice, clean, cute, and comfortable. The kitchen and bath were both fully stocked and had every thing you could possibly need. There was even a nice bottle of red wine waiting for us when we arrived! We stayed over a weekend where temps reached over 100 each day but the apartment stays totally cool and comfortable with out having to have the AC on a lot. It was a nice relief from the heat. We usually stay at a hotel on Hilltop Drive when visiting our family in Redding, but my husband and I both agree that it's worth it to drive a little extra for how incredibly nice it was to stay at Casa de Luces. I cannot recommend this space enough! And we can't wait to go back!
Cyndi
2016-06-26T00:00:00Z
Our stay at Casa de Luces was super, and the apartment was just fantastic. The area itself is safe, private and has easy access to lots of sites such as Whiskeytown Lake etc. The apartment was clean, spacious and very stylish. It has everything you from good wifi to a fully functioning kitchen and handy parking. Both Mike and Katherine were both so welcoming and helpful, we could not have asked for more. I would not hesitate to stay here again.
Deirdre
2016-08-07T00:00:00Z
Mike and Katherine are great host. They greeted us as we pulled up, Katherine showed us around and was very welcoming. Once we where settled they made sure we knew how to get in contact with them but then pretty much left us to our adventuring. The space was very sweet and clean. They provided everything we needed to get along comfortably. We where able to make meals, the kitchen was well equipped. The bed was very comfortable and great to come back to at the end of a long day of hiking. I would happily stay here again and am definitely recommending this place to friends.
Annamarie
2016-08-28T00:00:00Z
No matter if you are here for work or leisure, you will love this place! It smells nice, the view is good (sunrise!), and the hosts consider every detail! I LOVE this place! Mike & Katharine are wonderful, the location is BEAUTIFUL & the local grocery store is AMAZING!!
Ananda & Russ
2016-11-11T00:00:00Z
Katharine & Mike were wonderful hosts. After the introduction and tour of the place, they did not bother us unless we needed something, The place was very cozy with a modern feel. They supply all the necessary amenities, and even a sweet surprise welcome gift! I'd highly recommend their place to others.
Lucie
2017-03-10T00:00:00Z
Mike & Katharine's place was amazing! Hands down the best Airbnb experience I've ever had :) The place was really clean and beautifully decorated, provided everything we could need and more. It was especially nice to have air conditioning after a long day of hiking. I could tell they really make time and effort to provide the best experience possible. Thank you so much!
Han
2016-09-18T00:00:00Z
Their place is at an ideal location, close to down town Redding and the nearby mountains. I had a wonderful stay and would recommend the location to anyone.
Aramati
2017-02-10T00:00:00Z
Mike and katharine were greats hosts. their place is amazing, cozy , private and had everything you needed to stay very comfortably. Very close to downtown and yet with lots of hikes around it. They are so sweet to welcome us with a bottle of wine. We enjoyed our stay and we will definitely come back for our next rip to Lassen when the park re-opens :-)
Jai
2016-11-26T00:00:00Z
Room Type
Entire home/apt
---
Property Type
Apartment
---
Accommodates
2
---
Bedrooms
Redding, CA, United States

Cozy downstairs room with a comfy queen mattress in a murphy bed. Bathroom and kitchen are shared homeowner and a young couple who live upstairs. Off-street, gated parking. Price is for single occupancy $5/person for an additional person
Lydia was a fantastic host! The room was beyond comfortable and clean and she provided towels and whatever else I needed. She was also very understanding when my plans changed and I had to come back late. I would definately stay at her place again! Thanks for everything!
Amanda
2016-02-02T00:00:00Z
It was wonderful to stay at Lydia's house. Both Lydia and the house were charming and welcoming, I would definitely stay there again!
Diane
2016-05-04T00:00:00Z
Great space, gracious host, quiet neighborhood...what more is there to say? It was a quick stop, but we definitely enjoyed our stay here.
Jason
2016-09-25T00:00:00Z
Lydia was away, but her housemates (Githa and Simon) were very welcoming and helpful yet unobtrusive. The house if very homey and comfortable, and the bed is super-soft. A very good experience!
Alan
2016-10-16T00:00:00Z
Ahh wow what a wonderful stay - a delightful home beautifully decorated with such a heart, quiet, easy to access the city. This stay was a highlight of my visit to Redding. Lydia was a fantastic host caring, generous, and helpful. As a new Airbnb user, stays like this spoil hotels for ever... thank you.
Deane
2016-01-25T00:00:00Z
Lydia was a fantastic host. She was very gracious and accommodating, with clear expectations and communication. The room and her whole house were very clean, quiet, and comfortable, as promised. I enjoyed my stay at her home.
Kari
2016-05-23T00:00:00Z
It was a pleasure staying here. Everything about the process was smooth and easy, the place was clean and warm, and everything was as described. Lydia was away when we came, so I didn't meet her, but the couple that was housesitting were the nicest and friendliest people. Would absolutely stay here again!
Adam
2015-12-29T00:00:00Z
Githa and Simon were great folks to talk and swap stories with! Communication after I booked the reservation was good and they were very helpful in showing me the lay of the land and making me feel comfortable. I would definitely stay here again if I'm up that way.
Aaron
2016-10-08T00:00:00Z
Room Type
Private room
---
Property Type
House
---
Accommodates
2
---
Bedrooms
Redding, CA, United States
Our cozy private room is in a quiet neighborhood walking distance to the river. Hot tub & pool. 15 miles to Shasta or Whiskeytown Lake, 1.8 miles to Mercy Hospital. 10 miles to Bethel. Great outdoor activities in all directions!
Hot tub & pool, massage available by Jenny. Desk available in room. TV with cable and Netflix.
Quiet neighborhood
Jenny's place was well set up. I had my own bathroom across the hallway from the extremely comfortable bed, fully equipped with everything I needed to complete my business. A full desk with hutch was added recently, a large dresser for all my clothes, my own TV, Netflix, lots of closet space and a HOT TUB and pool! I also LOVED to interact with Maya, the golden lab, but know, she is very flexible to take Maya with her to her work if you don't enjoy animals. Maya is super friendly and very loving and playful and left me alone when I walked away or shut my door. :) Great place to stay, peaceful and Jenny is a Certified Massage therapist and has a room right next door if you choose into that luxury as well! Enjoy you stay! :)
BonnieNDave
2017-02-16T00:00:00Z
I always have a wonderful time at Jenny's. She is always so accommodating. I will stay again when in the area.
Charles
2017-03-06T00:00:00Z
Staying with Jenny and Ken was a pleasant surprise after a long drive from Sacramento. The ability to get a message from a cmt was a bonus. I plan to stay with them again in the coming weeks.
Charles
2017-02-09T00:00:00Z
Jenny is an amazing host and a good-hearted individual who truly cares about those she's hosting. When I was staying in her house, I felt safe and welcomed. The house was clean, and the room that I had slept in was beautiful, and not to mention the bed was extremely comfortable. During my stay with Jenny, she would offer to give me a ride to the conference which was very kind of her. She also took the liberty of showing me the city when she wasn't working. I would highly recommend staying with her if you are going to Redding, you'll truly enjoy it.
Sidonia
2017-02-26T00:00:00Z
Charming room, comfortable bed, kind and accommodating couple, nice breakfast setup, excellent privacy, and the hot tub was awesome. In short, incredible value. Highly recommended!
Daniel
2017-03-01T00:00:00Z
Jenny and Ken had everything we needed for a very comfortable and cozy stay. Would definitely recommend staying here if you're visiting the Redding area
Ariana
2017-03-04T00:00:00Z
Room Type
Private room
---
Property Type
House
---
Accommodates
2
---
Bedrooms
Redding, CA, United States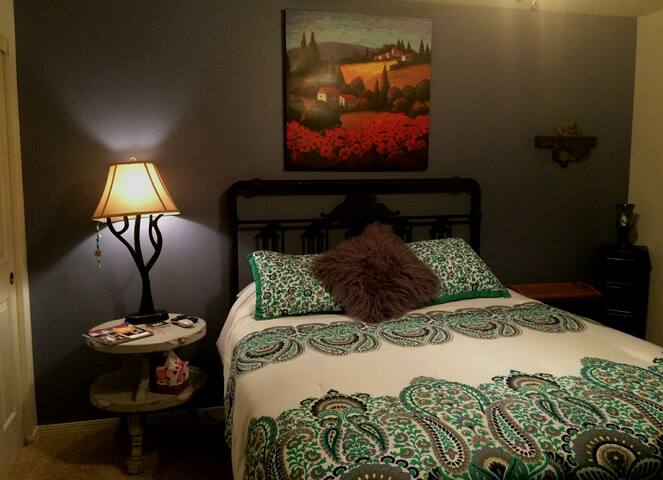 With more modern decor and yet a cozy feel to the home. The bed is a Sterns and Foster Cal Queen pillow top mattress that is top of the line for the best nights sleep. There's a larger living area with a very comfortable sectional couch, big screen with Bose surround sound and an open computer. It's within walking distance to Trader Joe's and just a couple of miles from Bethel, shopping, restaurants and Simpson University. It's close to everything yet you don't feel like you're in the city.
Room Type
Private room
---
Property Type
House
---
Accommodates
2
---
Bedrooms
Redding, CA, United States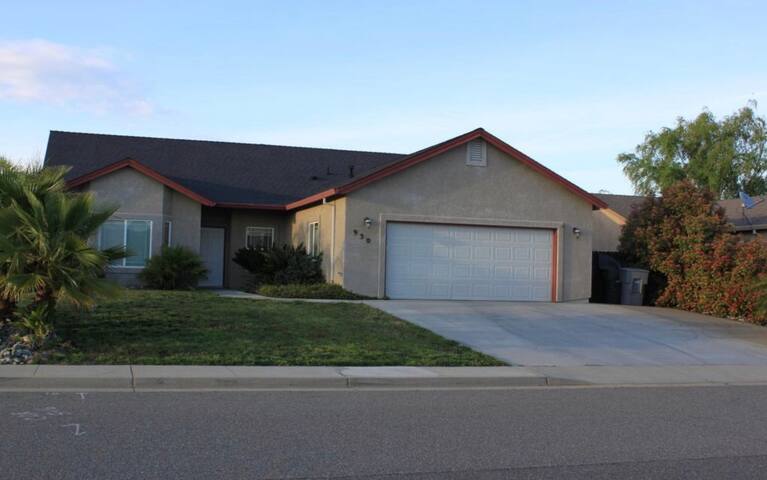 Professionally designed home located in the heart of Redding, within walking distance to the Sundial Bridge and minutes away from popular coffee shops, restaurants and Bethel. Its fresh urban style and accommodations will give you just the get away you need.
A recent complete remodel of this home by a Professional Interior Designer will surely make this home pure enjoyment by those who stay in the 5 star thought-out design. It has been given all new amenities, stainless appliances, central air & heat, lighting, flooring, furnishings, art, fully stocked kitchen, Keurig Coffee maker and coffees/teas/hot chocolate for your pleasure, luxury linens, bath robes, wonderful bath soaps/shampoos/ etc. and is found in a delightful quaint neighborhood with large trees and sidewalks. This home is located within walking distance of downtown, the Civic Auditorium, the Sundial Bridge, walking/bike trails, the community favorite 'River Trail' for walks or bike rides, the farmers market, coffee shops, restaurants and a short driving distance to I-5 for easy travels and/or those attending Bethel (only 5 minutes away). A perfect place for travelers, honeymooners, conference attendees, short-term physician/nurse assignments (walking distance to 2 hospitals, close to the 3rd), and those vacationing in our beautiful city. Guest reviews clearly show that guests agree this home is a beautiful, peaceful, extremely clean, comfortable, cozy, 5 star experience where guest want to stay longer and always want to come back.
This neighborhood is one of the older, quaint 'sought after' neighborhoods in Redding with sidewalks and minutes away from walking trails, bike trails, Turtle Bay, the Civic Auditorium, the Sacramento river, Farmers Market, restaurants, coffee shops and more.
Part of my job is hosting visitors who come to Redding when we are recording an album or hosting an event. The Resting Place is the perfect accommodation for the people we are working with, and we do our best to use this space whenever possible. Jacque is the most accommodating of hosts, and is quick to respond to any and all questions you may have. You can tell that she cares for every single person who stays in her unit, and she goes above and beyond to make visitors feel welcome. The Resting Place is clean, cozy, and perfectly located. I would recommend this space and its host to any looking for an affordable/classy stay in Redding.
Robby
2015-10-05T00:00:00Z
Everything about the house was pristine. We loved the space for our guests to relax while they were visiting us.
Chrysti
2016-11-10T00:00:00Z
This house was sooo nice and just perfect for what we needed. It felt safe and is beautifully decorated and cozy. Jacque made us feel so welcomed and went over the top for us. We plan on staying here again soon.
Camille
2015-03-20T00:00:00Z
AirBnB only allows you to rate something with 5 stars, i'd like to put 10 stars for The Resting Place. I felt like I was staying at a very wealthy friends guesthouse. Jacque named it "The Resting Place" and that's exactly what it is, I haven't slept that good in I don't know how long. Everything about it was luxurious, all the amenities were top-notch, the location was central and perfect, and Jacque could not have been more accommodating. We cannot wait to return!!
Greg
2017-01-16T00:00:00Z
We thoroughly appreciated our stay at this exceptionally designed home. The space is an absolute pleasure to be in - comfortable, luxurious, and anticipating your every need! Jacque's truly thought of everything - with throw pillows and blankets creating cozy spaces to relax, plush robes and an assortment of soaps for a spa-like bathroom experience, a well-appointed kitchen for your cooking, coffee, and (in our case) smoothie needs, and beautiful outdoor spaces for enjoying the well-landscaped yard. She's responsive and easy to coordinate with. The home is convenient to the Sundial Bridge and downtown Redding and was our base for trips to Lassen Volcanic National Park and Shasta Lake. We'd be thrilled to stay here again.
Laura
2016-09-06T00:00:00Z
It was the perfect peace filled home. Pictures don't do it justice.
Brandy
2016-08-26T00:00:00Z
The Resting Place is the perfect name for this cozy home. Jacques was very quick to respond which was ideal as this was a last minute extension on a holiday weekend. She was very pleasant and helpful and just a sheer delight to work with. The home is beautifully decorated, wonderfully inviting and extremely comfortable. The kitchen was fully equipped to prepare meals if desired, even provided an outdoor grill. The bathroom is well equipped with an amazing shower...great water pressure...and bathtub plus wonderful extras that you know Jacques added with her own personal touch...shampoos, soaps, robes, etc. The bedroom is absolutely gorgeous and more comfortable than you can ever ask for. The bed itself is delightful but Jacques outdoes herself again with the extra touches she adds with the bedding that makes you feel like you are sleeping in the clouds. This place is just a hit all around. It is safe, quiet, comfortable, and gorgeously decorated. And I didn't even get to the manicured yard with trees full of fruit and beautiful landscaping. Definitely a must stay!!!
Zanne
2015-04-06T00:00:00Z
"The Resting Place" was wonderful! Absolutely our favorite place to stay in Redding. A picturesque, cozy and immaculately cared for home in an ideal downtown location. Jacque was a great host and made sure everything was in good order.
Jared
2014-11-29T00:00:00Z
Room Type
Entire home/apt
---
Property Type
House
---
Accommodates
4
---
Bedrooms
Redding, CA, United States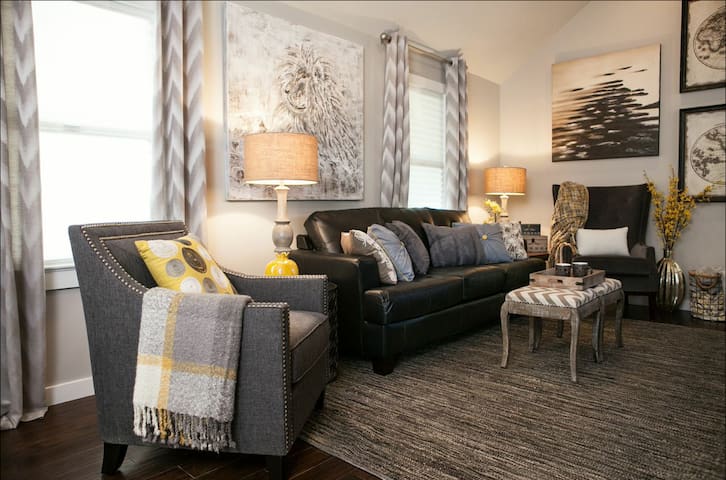 Our private room is downstairs from the main house. It has its own private entrance. We live in a quiet wooded neighborhood. If you like the country feel but close to City amenities, this is it. We are only 15 minutes from the main part of Redding and up the street from WinRiver Casino, if you like that kind of thing. The room is very large with a private full bath. The room has a Queen size bed, microwave and small refrigerator. We are a quiet couple with no children.
Great place! Very friendly and loved the kitten!!
Liz
2016-10-20T00:00:00Z
Wao this place is AWESOME!!!! Private!! Huge!!... With a great view!! Very quiet!! And equipped with everything you need! Steve is a very nice and gentle man. I absolutely recommend this place!!
Claudia
2016-12-19T00:00:00Z
We enjoyed our short stay with Steve and Debra. They were both very hospitable and available if ever anything was needed, yet we had lots of privacy to enjoy the beautiful setting. The studio is easy to access, large, and bright. We liked sitting outside and enjoying the view. Thanks Steve and Debra!
Susan
2017-04-02T00:00:00Z
The view was great! The location was peaceful and quiet. The room was very clean and comfortable. It was just what we were looking for and Steve was very welcoming.
William
2016-12-31T00:00:00Z
Very nice to have a clean, comfortable room with private bath at the end of a long day's drive. We got in rather late in the evening, but our host, Steve, was there to greet us and make sure we had everything we needed. The quiet neighborhood and setting, as well as the comfortable bed assured us of a good nights sleep so we were ready to hit the road again in the morning. We will definitely consider using this room again if we pass this way in the future.
Kim
2017-02-25T00:00:00Z
Beautiful, clean space. Scenic views and quiet area.
Erin
2017-02-12T00:00:00Z
We stayed here for a quick night in between a long drive. I'm happy to say that one night was much too short of a stay -- it was a wonderfully pleasant home, area, and region which we'd love to take the opportunity to get to know better! These hosts will be "superhosts" in no time. In our few short minutes with Steve, we'd definitely love to pass through here to get to chat him up more and explore the areas in this part of California. Both were also very accomodating with checkin and check-out. Thanks for a good short stay! -------- ROOM: Very comfortable room, bed, and living area NOISE/LIGHT: Dark and quiet. Those here in the summer might find a lot of light from the nearly due-east facing room/windows, but nothing a simple facemask won't solve. As it was on our winter morning waking up with the sunrise anyway, this was no issue. BATHROOM: Lovely! Good shower, very pretty decorations and lots of shampoos and bathroom products one might need. INTERNET/AMENITIES: Barely used the internet so can't comment. Nice coffee maker, small fridge and a few other nice amenities in the room. / They had freshly home ground coffee for us, wow! LOCATION: Exactly like described, about 10-15 minutes from Redding proper. Very nice, peaceful and quiet neighborhood. Finally, the TOILET PAPER REPORT: Good soft home stuff! 8/10.
John
2016-12-07T00:00:00Z
I was surprised how big the room was compared to the pictures! It almost felt like a studio apartment without a mini kitchen. It did have a mini fridge and microwave which was nice. It has its own private entrance which you can easily go in and out from the room to your car. The room was really nice because it had two heaters and the bathroom had a heater too. It's a perfect place during the winter when it can get pretty cold. During my stay here with a friend, the power went out except the bathroom light. We were using too much power because we were using 2 heaters and a blow dryer. Luckily, it was towards the end of the night and we were getting ready for bed so it wasn't a big deal. The host was very apologetic about the situation so they gave us $20 to treat ourselves to breakfast the next morning. They were so very generous and very kind to care about us. If I'm in Redding again, I'd come back Steve & Debra's place!
Tina
2017-01-25T00:00:00Z
Room Type
Private room
---
Property Type
House
---
Accommodates
2
---
Bedrooms
Redding, CA, United States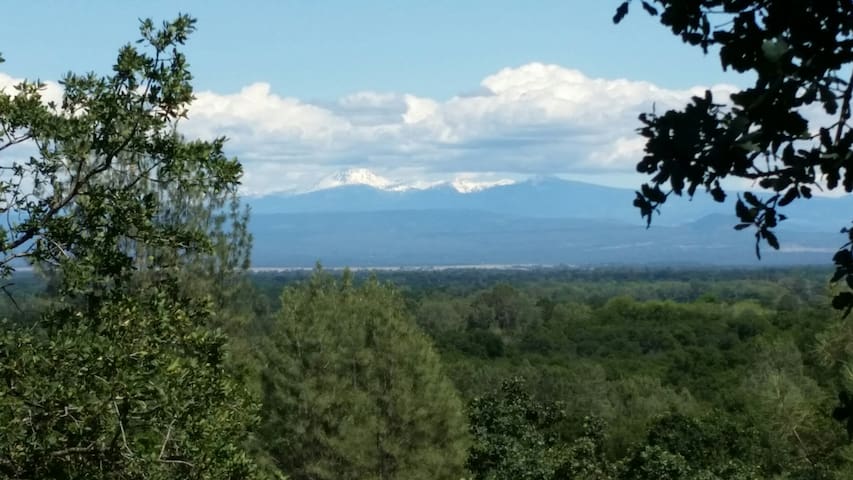 Enjoy a first class and caring B&B experience when you stay in our home. We share our gift of hospitality combined with lots of travel experience to show you the kindness and quality you are worth. This from a recent guest, June 6, 2016: "Words are not enough to express our deep gratefulness to God and to you for opening your home up to us and making us feel like family. We feel rested, rejuvenated and loved connecting with two amazing people."
Welcome to our home for your visit to Bethel Church, Simpson University or to explore the beauty of Northern Calif. Located on a quiet, safe, street. Perfect for a single or married couple. Our peaceful and quiet home is conveniently located a quick and easy 4 mile drive from Bethel Church. The western views of the sunsets over the local mountains are stunning right off the deck! Mornings on on your private patio in the summer are a great place to enjoy your coffee. Your room is furnished with beautiful bedding and accessories with a very comfortable Queen bed that our guests rave about and declare they get the best sleep ever! Free wifi during your stay. Your private bath is attached. You have your own private entrance, or you can come and go through our front door using the easy-to-use digital lock. Because we both have allergies we maintain a smoke-free environment without pets. You'll be greeted with a healthy snack, such as fruit and nuts, a chocolate treat and mineral water. You're room has fresh, clean, soft sheets, blanket (washed after each guest) and/or a down comforter in a freshly washed coverlet, depending on the season. Your bathroom has fresh towels, shampoo, conditioner, body wash, hand lotion, hair dryer, and makeup removers. * 2 night minimum stay. * The room rate is for 1 person. There is an extra $15 per night charge for a second guest. * There is a one time $25 cleaning fee. The City of Redding requires 12% Transient and Occupancy tax which is collected AFTER you book your room. You will receive a notice from me through Airbnb asking you to pay the 12%. ***SPECIAL CANCELLATION POLICY FOR ANY STAY IN THE MONTH OF JULY*** If you book your stay for anytime during the month of July, please be aware of the cancellation policy: If your cancellation is within 60 days of your scheduled arrival, you will be refunded 50% of your reservation, less cleaning fee and Airbnb fees. If your cancellation is within 30 days of your scheduled arrival, you will be charged for the entire stay, less your cleaning fee and Airbnb fees. **When you book your stay for any dates in July, you are automatically agreeing to this cancellation policy.
Quiet cul-de-sac with little traffic. Wild turkeys visit ocassionally. It's fun to watch them parade down the street during mating season. Deer are often spotted off your patio. A rare red fox has been seen only seldom. Gorgeous views and sunsets. Distant sounds of the train add to the ambiance.
What to say? There's so much I could! First, Claudia and Stephen are amazing hosts. It's my first Airb&b experience, so I think I got the "cream of the crop". The practicalities. The bedroom was lovely just like the photo and bathroom really well equipped with the smallest details - like facial wipes. Such a lovely touch for any traveller. The breakfasts were great - fresh fruit, cereal, muffins -: and an extra large mug for my Aussie cup of tea! They set me up for my daily adventures whether to Bethel, exploring the beautiful Northern California countryside or shopping!! Claudia and Stephen made me feel very welcome and at home. There is a real peace, happiness and HS presence in this home, which they generously shared. I loved the deck - didn't get to spend much time on it. But any Aussie will love it - saw my first deer at back gate. Claudia and Stephen were very helpful with travel, car rentals, provided maps and shared their local knowledge of sights and walking trails. Prior to coming to Redding, Claudia let me know about a church conference coming up while I was there. I registered immediately, and was very blessed by attending. One of the many highlights of my stay (as a single traveller) was that they took the time to listen to my rant about my adventures for the day! That's really nice as I'm used to staying in hotels where you can't tell anyone!! I could go on with more but I just finally want to add - they are generous, warm and gracious hosts with a great gift of hospitality and whether travelling to Bethel, visiting Redding for business, or holidaying - this is definitely one couple and home you should stay in!! PS I'll be back
Rose
2015-04-30T00:00:00Z
We were warmly welcomed into Claudia and Steve's beautiful home after a long drive. The bedroom and bathroom were immaculate. We had the best sleep of our entire trip! They were both very warm and kind people and we highly recommend staying with them.
Sophie
2014-11-06T00:00:00Z
This was a great place to stay! I will for sure stay again! Claudia and Steve are amazing hosts!!!! Such a peaceful home!
Tim
2017-01-29T00:00:00Z
Claudia and Steve were amazing hosts and now friends. We were so blessed by them and by their peaceful home. They were exceedingly generous with their space, time, and prayers. Their home was immaculately clean and Claudia had added many thoughtful provisions to our room that made our stay so welcoming and comfortable. It's like she knew exactly what would bless me before even coming (cheese and crackers, apples, nuts, teal bedspread and towels!) They are definitely a couple that have inspired our marriage and lives.
Josie
2014-10-13T00:00:00Z
It was a pleasure staying with Steve and Claudia. They are a lovely, welcoming couple. I was greeted by Steve who offered to help me with my luggage and gave me a tour of the house. The house is beautifully updated with a scenic view in a nice, quiet, established neighborhood. The room was clean and luxurious and there were little snacks waiting for me when I arrived. Down the hallway, is a nicely decorated private bathroom fully stocked with lotion, soaps, shampoo and towels for guest use. Every morning, I was provided with a healthy breakfast. I would highly recommend this listing and would love to stay with them again.
Elizabeth
2016-05-21T00:00:00Z
absolutely outstanding experience. Beautiful home, comfortable bed, amazing healthy breakfast, kind beyond words my host. I am in awe of their generosity and desire to make me feel welcome and comfortable. Thank you so much fora wonderful 3 days. I will be back. A+++++++++++
Kathleen
2016-04-12T00:00:00Z
Steve and Claudia's beautiful home was the perfect place to stay and be refreshed during our road trip. They are wonderful hosts, friendly, helpful and they provided all that we needed to be comfortable and more! There was even a welcome pack filled with goodies. The room was lovely, clean, comfortable bed and bedding, and we appreciated the private bathroom which was also very clean and well supplied with face tissues, body wash, shampoo, moisturiser etc. We enjoyed a lovely breakfast each morning, and the view to the mountains from their back deck is spectacular especially at sunset. We would definitely stay here again if we return to Redding.
John and Wendy
2015-05-04T00:00:00Z
This home had a very intimate & peaceful feeling. I would highly recommend as a very clean & comfortable stay. God Bless anyone who stays here, as you will be blessed!
Julie
2017-01-21T00:00:00Z
Room Type
Private room
---
Property Type
House
---
Accommodates
2
---
Bedrooms
Redding, CA, United States
Enter dates to see the total trip price including additional fees (but excluding any taxes).