Location, location, location! Large, classy, timeless, comfortable, entire top floor with private entrance in our private house out of a 1890's novel in Williamsburg, Brooklyn one block from the East River. So easy to get to Manhattan by subway, ferry, cab or even foot, and all the best places in the "Burg" Wifi/cableTV/air/heat. (We stay in our separate floor below you never compromising your privacy!)
Perfect location on the Northside Williamsburg, Brooklyn Waterfront scene, my place is a wood beamed classic, with hard wood floors and restored original brick wall. It is the top floor of a 1894 restored house on a very nice semi residential street block. The nicely outfitted place, "the country in the sky" as I refer to it, has a beautiful totally functional "Peerless" antique prewar stove for cooking, generous amounts of pots, a wood burning fire place and a full size refrigerator in the kitchen. The feelings are cozy, warm, cabin like yet elegant. The kitchen and living room are in the same open area. There is a dining room table that seats 4, a beautiful brand new couch that folds down to become a very comfortable queen size bed that sleeps 2. Beyond the living area is the large master bedroom with a queen size bed that sleeps 2 with a large antique dresser and 2 riverside windows. Off the master bedroom is a large tiled classic bathroom with an antique skylight and large tub with shower, and a small bedroom with a twin size bed and riverside window that is nice as a separate rest area, a great place for a child to sleep, or an out of sight room to put your luggage and things. My location is beyond great and safe. 10 minutes maximum in a cab or car service over the Williamsburg Bridge and you are in Manhattan. It is a short walk (3 min) to the North 6th Street East River Ferry ( the scenic quick river route to Midtown Manhattan or lower Manhattan, please check schedules). Subways: L train ( gray line): First stop in Brooklyn, only one stop to Manhattan and a neat 10 minute walk from my place going by shops, restaurants and street vendors to the very frequent Northside L train subway stop at Bedford Ave and North 7 St, (Everything you want to pick up to take back to my place is on Bedford Ave or Kent Avenue which are the walking routes to the subway. (Among the small shops, restaurants and bars, there is now a "Whole Foods" supermarket and a Iphone store on Bedford!) The JM subway that goes over the Williamsburg Bridge with wonderful views of the river and NYC skyline to lower Manhattan (Chinatown etc), is a little further (13 min walk ) through the South Side. After a night out in the neighborhood, you will find this quiet, comfortable, timeless place to come home to that is the top floor of a restored Williamsburg house. All East River parks are a short walk away with their spectacular river and skyline views. During the warm months the weekend flea/food markets down Kent Avenue/North 8 on weekends are fun and back dropped by the river and Manhattan skyline. Grand Street River Park is only a block and a half away. I love going there in the mornings with a cup of tea and taking in the NYC view. The quaint restaurants and music clubs are amazing and abundant, the "Williamsburg Foodtown" Market has all the groceries you need and frankly the only reason I would leave the "Burg" would be to go to a museum, St. Patrick's, Grand Central's Oyster Bar or ice skating at Rockerfeller Center. Indoor Flea Market on North 7th right off Kent Ave, "Mast Brothers Chocolate" on North 3rd off Berry, "Beer Garden" restaurant lunch, dinner, brunch with live music on Friday nights on North 3rd and Berry, "Sea" restaurant (Thai) on North 6, "Sweet Water" (Bistro) restaurant on North 6, "Dumont Burger" for awesome burgers on Bedford between South 2-3, "Aurora" (Northern Italian) with great brunches, lunches and dinners is right around the corner as is "Coxley's" sport bar with 40 beers on tap and great chicken wings on Grand St. "Teddy's" rest and bar (American Bistro) on North 8, a landmark that serves brunch, lunch and dinner and also has music sometimes at night, and the "Knitting Factory" music performance space and bar is 6 blocks away on Metropolitan. The best NY steak house, "Peter Luger's" reservations only, is in the vicinity. The floor is divided in 4 areas: upon entering you are in the kitchen and living, dining room with a wall and door that separates this space from the large bedroom in the front, the large tiled bathroom and the smaller front bedroom. The living area can easily convert to a sleeping area for 2. The place is adorable and sleeps four comfortably. Much quieter than most places in the area. Heat, air conditioning, wifi, fine linens/towels and kitchen utensils are provided for my guest. Full laundry drop off service and dry cleaners is available a couple of blocks up the street at "Berry Cleaners" or 302 Bedford Ave. My personal assistant/butler and I will check with you on your arrival time, hand over keys and be close at hand for anything you need during your stay. I and my husband are on our private lower floor of the house.
The neighborhood feels like a small village. It is very safe and has such a mixture of different foods, cultures, and restaurants. The Manhattan skyline views along Kent Ave can get no better and the wonderful Pier off North 5 on a Sunday afternoon is full of families, tourist and the occasional fisherman. During the warmer months there are outdoor flea markets and food markets of North 8 on the East River side. Bedford Avenue (3 blocks away) on the North and South side is filled with non chain restaurants, bars and shops.
Maria is helpful and welcoming, her place is great its comfortable with rustic charm and is in a fantastic location.
Beth
2014-02-11T00:00:00Z
Thank you, Maria and Azul. The apartment was perfect. Great location for exploring Williamsburg and Brooklyn. I'm sure we will be staying with you again!
Jeff
2015-08-14T00:00:00Z
Maria and Azul were more than accommodating. When we found out we were going to be running late, they were extremely understanding. The apartment was as beautiful as it looks in the photos. Very warm and has LED lighting- so they are energy saving! Azul was also helpful with parking information for the big snow storm! Definitely suggest it to others and hopefully will be back.
Dan
2016-01-23T00:00:00Z
Nice apartment in a nice area. Everything worked fine.
Tomas
2016-05-09T00:00:00Z
It was a pleasant stay. The place was described as the website. I didn't meet Maria in person but she replied email promptly and I can tell she is a warm person. Check out this place when you get a chance; it has such a character!
Ariel
2015-06-15T00:00:00Z
We LOVED Maria's apartment. It was the real New Yorker experience right in the heart of Williamsburg, and so close to Manhattan, not that you even need to go in there to have a good time. It was comfortable and cosy and everything we needed. Will definitely be back!
Caroline
2017-02-18T00:00:00Z
Our stay at Maria's Williamsburg apartment was perfect. The space was the perfect size for my sister and I: clean, warm & charming. The location for Brooklyn was great and Manhattan is just a subway or ferry ride away. Booking & check-in was flawless. Thank you!
Kelley
2016-08-24T00:00:00Z
Myself and my boyfriend just arrived back from Maria and Gregs apartment. The apartment is amazing with some great features, like the old school oven and cooking equipment, exposed brick walls and lovely big fireplace. The location is great and within in a 10 minute walk to the subway which gets you on to the L train into manhattan in no time. Williamsburg itself is a cool area and Greg made some great recommendations on places to go off the main Bedford avenue drag. We always had a quick response from Maria or Azul (who manages the apartment) to any questions. Would definitely stay again if returning to NYC. Thanks for having us. Michelle and Pete :-)
Michelle
2013-12-28T00:00:00Z
Room Type
Entire home/apt
---
Property Type
House
---
Accommodates
4
---
Bedrooms
Brooklyn, NY, United States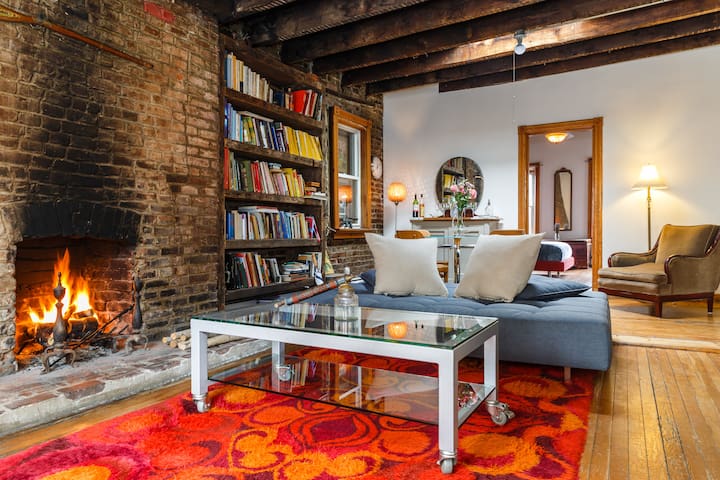 Clum house is a 2 story renovated house with a fully equipped kitchen and wood burning fireplace. The location is great year round. Close to Woodstock, Saugerties, Hudson, the Hudson River and Hunter and Wyndham ski resorts. The house is in a rural community so the water comes from a well. We've had water problems in the past but as of February 23, 2017 installed a new 4 part water treatment and filtration system. ***The well water is now crystal clear and scent free!***
The House was originally part of Camp Ontiora, a girls camp that operated from the 20's through to the 60's. Our property includes several of the original camp buildings and cabins. We use Clum as a Guest House and rent it when not occupied. My partner Daniel and I are architect/designers and rehabilitating the camp has been a labor of love over the past decade. It's in a great neighborhood with terrific neighbors. Over the past couple of years we helped our good friends renovate the camp lodge a few doors away which is also available for rent on Airbnb. Christopher has great info about the area in their listing and it's a wonderful place to stay if Clum is booked. https://www.airbnb.com/rooms/1257258
Below is a list of local places to eat and get food. Our favorites are indicated with a *. Palenville (5 minute drive) *Story's Farm Farm stand Corner of 23A and 32 Open late spring through to Thanksgiving *Circle W 3328 New York 23A, Palenville, NY (phone number hidden) -Breakfast/Lunch/Coffee and general store Good food and groceries. A new liquor wine store recently opened across from Circle W. I don't have the name or any information on it yet. Catskill (10 Minute drive) Price Chopper 320 W Bridge St (Hwy. 23A) Catskill, NY (phone number hidden) -big chain supermarket for basic supplies Kaaterskill Farm Natural 24 Grandview Ave Exd Catskill, NY 12414 Beside Dunkin Donuts on 23A (phone number hidden) -small health food store There are 3 liquor stores in Catskill. None of them have a very good selection but in a pinch you can find something drinkable. Saugerties (15 minute drive) *Miss Lucy's 90 Partition St Saugerties, NY (phone number hidden) -good restaurant. Great desserts. Reservation recommended on the weekend   Mother Earth's Storehouse 249 Main St Saugerties, NY (phone number hidden) -decent health food store Partition Street Wines 102 Partition St Saugerties, NY (phone number hidden) -ok selection of wines but doesn't compare to Hudson Wine Merchants Price Chopper (near thruway exit 20) 138 Ulster Ave Saugerties, NY (phone number hidden) Veteren (15 minute drive) (between Saugerties and Woodstock) The Smokehouse of the Catskills 724 New York 212 Saugerties, NY (phone number hidden) -good old style german butcher Woodstock (20 minute drive) *Cucina Italian 109 Mill Hill Rd (route 212) Woodstock, NY (phone number hidden) -good food, nice room. Reservation recommended on the weekend Sunflower Natural Foods Market 75 Mill Hill Rd (hwy. 212) Woodstock, NY (phone number hidden) Health food store Kingston (20 minute drive) Outdoors on Wall St on Saturdays May-November 9-2 -good farmers market *Fleischer's Grassfed and Organic Meats 307 Wall St Kingston, NY (phone number hidden) -great butcher Adam's Fairacre Farms 1560 Ulster Ave, Lake Katrine, NY 12449 -good market Hudson (20 minute drive) Farmers Market May-November 6th and Columbia Street Restaurants: *Bonfiglio & Bread 748 Warren St Hudson, NY (phone number hidden) -amazing bread. Very good breakfast Swoon Kitchenbar 340 Warren St Hudson, NY (phone number hidden) -reliable food. Very popular Fish and Game 13 S 3 St Hudson, NY (phone number hidden) -recently opened by the chef/owner of Fatty Crab & Fatty Cue Daba 225 Warren St Hudson, NY (phone number hidden) -good burgers & decent Swedish food. The Red Dot 321 Warren St Hudson, NY (phone number hidden) -not particularly good food but can be fun. A popular place. Watering hole for many of the locals.   Baba Louie's 517 Warren St Hudson, NY (phone number hidden) -good pizza Stores: *Hudson Wine Merchants 341 Warren St Hudson, NY (phone number hidden) -very good wine store Olde Hudson 421 Warren St Hudson, NY (phone number hidden) -good small cheese and gourmet foods Philmont (25 minute drive) *Local 111 111 Main St Philmont, NY (phone number hidden) -very good fresh local cooking
This was our second stay at Clum House and we had a wonderful time once again. The house is gorgeous (exactly as pictured), clean, and located on a beautiful property.
Leah
2016-12-04T00:00:00Z
Communication was excellent. Entering the property went smoothly. All necessary supplies were there and conveniently located, including fire wood. The house was immaculate and beautifully designed. Everything worked perfectly. The location was convenient to all nearby towns. The property was beautiful and good to walk on. It made one feel a lot more then 120 miles from NYC. I highly recommend staying here.
Paul
2016-12-25T00:00:00Z
Wonderful cozy secluded stay. Perfect for a romantic getaway.
Lexi
2017-04-02T00:00:00Z
We love Clum House. From the beauty of the property to the amenities and gorgeous decor, we always feel immediately relaxed and at home. Kevin is a wonderful host. As is Dusty, the manager of the property. Highly recommend. We will be back. And soon.
Jonathan & Anne
2016-08-13T00:00:00Z
The house and surrounding area are beautiful! This was a great spot for a winter weekend getaway, as it's close to downhill and cross country ski areas. Kevin was very responsive throughout the booking process. We would love to stay here again if we're ever back in the area.
Kristen
2014-03-03T00:00:00Z
An impeccably designed, well-appointed space-- comfortable living space, great bedrooms, and awesome kitchen. Kevin the host and Dusty the caretaker were extremely responsive and accommodating. Even though it rained most of the weekend, we couldn't have been happier- there was plenty of firewood! I highly recommend it and can't wait to go back. The window seats on the 2nd floor are the best.
Chloe
2014-04-28T00:00:00Z
We had a lovely time at the Clum House, celebrating Thanksgiving. The house is super cosy, just like the pictures. Kevin was very friendly and welcoming, and communication was good. Highly recommend this place!
anne
2016-11-25T00:00:00Z
Loved it! Will be back
Ian
2017-01-16T00:00:00Z
Room Type
Entire home/apt
---
Property Type
House
---
Accommodates
5
---
Bedrooms
Catskill, NY, United States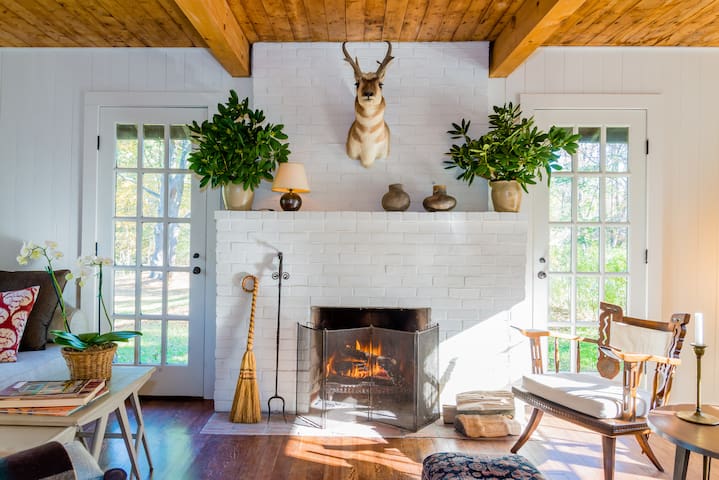 A Beautiful Private Room on a Roof! See our hundreds of 5 star reviews from past guests! ONLY A FEW SPRING DATES REMAIN! May 4th, 11th, & 19th at DISCOUNT Please see calendar for summer!! This is a legal listing--a private room that is a part of our 2-family home, and we are always around to help if needed! Please read and agree to our house rules before sending a reservation request. We hope to see you soon!
Roof-Top Room in Williamsburg This is a legal listing--a private room that is a part of our 2-family home, and we are always around to help if needed! A newly green-built beautiful single room with queen-size bed, organic linens & towels, private bathroom with shower & tub. Outdoor cedar deck, perfect for morning coffee or evening nightcap! We provide organic coffee & tea, Plus delicious fresh-baked goods upon arrival. The roof-top room includes a small fridge, coffee and tea maker, and Flat screen tv with cable. We provide free wifi. Air-conditioning in the summer Radiant floor heating in the winter Located up one (longish) flight of stairs. We are a non-smoking guesthouse Please note: The Roof-Top Room is a single room and bath and does not have a full kitchen. There is a small fridge, coffee & tea maker and a few plates and cutlery. It is listed as entire home as the space is completely private. Similar to a well-appointed hotel room, for a much lower rate! The Roof-Top Room is part of the building where we live. Someone is always nearby to answer questions or offer assistance. Sleeps up to 2 guests $148 per night + $80 one-time cleaning fee* (only eco-friendly products used!) SPECIAL SEASONAL RATES! Located in Williamsburg, Brooklyn. A destination neighborhood with tons of food, fashion, and culture. First stop on the L train, Bedford Ave. station, 5 minutes from Manhattan. Walking distance to great restaurants, bars, markets, shops, nightlife and more. Easily accessible to all NYC points of interest. Return to a quiet apartment with all amenities. For guests who will be flying in: We are very close to both JFK and LaGuardia airports. Newark airport is further away and a much more expensive taxi ride, or you may take public transportation.
A destination neighborhood with tons of food, fashion, and culture. Williamsburg is a young, vibrant, artistic and URBAN area. Think Soho, not Central Park.
A great flat, great location, and I couldn't have been more appreciative of the radiant heating. Leslie & crew were very friendly and the doughnuts they left were amazing. I just wish the check-out time had been later than 10am. This flat might be easier for American travelers than for travelers arriving from overseas. Because the hosts meet you at the flat with the key, they require your flight information a month before the booking, and charge you for arriving late without advanced warning. This could be very challenging and frustrating for guests with no phone capabilities.
Jessica
2015-01-11T00:00:00Z
This room ticks all the boxes- clean, ideally located, comfortable and quiet. I thoroughly enjoyed my stay here and having this refuge during a busy trip in the city. The 'welcome donuts' are amazing and a great touch!
Lauren
2015-12-08T00:00:00Z
This was the perfect place for my business trip to Williamsburg. The description of the room was very accurate. Great location! The donuts on day one and the ability to make coffee everyday in the room was ideal. The hosts were very accommodating even if I didn't see them except on day one to get the keys. I had one concern with some noisy guests in the other unit but it was addressed immediately by the hosts. I would stay here again on my next trip to NYC.
Kimberly
2015-01-16T00:00:00Z
Awesome location! Williamsburg is a great little spot and close enough to be able to catch the subway to Manhattan in no time. The roof-top room was clean and comfortable and checking in and out was a breeze. Enjoyed our time here immensely!
Kate
2012-03-01T00:00:00Z
I was really impressed with this room. The location, twelve blocks away from the Bedford stop and a couple from the J stop, (not to mention its proximity to all kinds of restaurants and delis) is very convenient. The room itself is pretty cool! you have to climb up a set of stairs to reach it but it really feels like you're in a summer cabin in the middle of craziness that is nyc. It was a great escape and I would love to repeat it.
Andrea
2012-08-13T00:00:00Z
We stayed for a week. The room was clean, comfortable and warm. The central location made it easy to access The Bedford restaurants / bars / shops and easy access to the subway mean we could get to manhattan easily and quickly. Great room, great location! Safe, clean and warm!
Lydia
2013-10-27T00:00:00Z
A lovely stay in the heart of Williamsburg... Great, private room with big, comfy bed, fridge and TV, delicious doughnuts on arrival, a terrace with table and chairs and well-equipped bathroom. Lots of local suggestions/ ideas/ contacts supplied too to really make the most of our stay. Much better value than a hotel!
Fiona
2013-11-10T00:00:00Z
Great location, beautifully appointed room and bathroom. Lots of cabinet space and hangers. Warm welcome with huge donuts from across the street. Super comfy bed. Totally organized host. If you are not used to city noise, bring ear plugs or use the white noise machine they thoughtfully provide. Excellent hosting! Thanks, Leslie & Susan & Emily
Carol
2015-10-14T00:00:00Z
Room Type
Entire home/apt
---
Property Type
House
---
Accommodates
2
---
Bedrooms
Brooklyn, NY, United States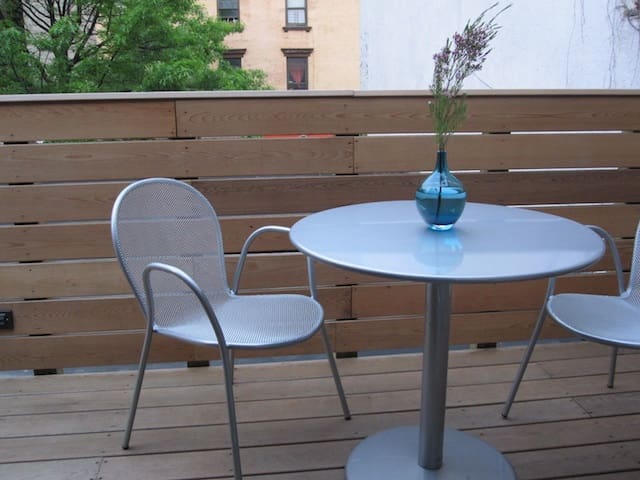 Reginald Marsh's family estate. Idyllic setting bordering public preserve with trails leading into town, a few minutes walking distance to the center of Woodstock. 800sft architect renovated house, with views to the stream. High season rates apply.
Woodstock Historic Artist Estate - The Cottage House If you want to fall asleep to the stereo lullaby of frog croaks while watching the spectacle of fireflies competing with stars, this is the place. Frederick Dana Marsh, father of the well known Social Realist painter Reginald Marsh, married Mabel Van Alstyne in 1930, starting a notable artistic partnership as the Van Alstyne Marsh Collection that was later acquired by the Smithsonian Institution. Their home was unique for Woodstock—'It was in the background of the Mona Lisa; a Van Gogh landscape; a train ride through Tuscany—ball shaped junipers;  a pond that bracketed the house;  expansive lawns; a gathering of birches.  But most of all, big cone shaped cedar trees.  It is a marvelous thing to look up at backlit clouds at sunset—see the intrusion of cedar peaks, pointing up like soft missles and the erratic flight of mosquito catcher bats making ninety degree turns down the channels between the trees.  A photographer friend was here last weekend and I told her, "Don't worry about framing the picture, just point and shoot.  The landscaper framed it for you seventy years ago." ' Here I quote Austin Metze, who knows this piece of land long before it put a spell on us. To be there is to inhabit an idyllic painting. Sit in the property's own Hidden Chair Waterfall or chill at the secluded sandy beach swim hole a one minute stroll away through enchanted woods, take a hike up Milk Mountain or across the stream up the trails of the neighboring nature preserve for a Sunday brunch in town and visit to the flea market. Or just read a good book under a cypress tree. The Cottage House is on the same property as the Pond House, occasionally available for rent at 'Woodstock Historic Artist Estate' listing. Both houses are very private. There are three houses next to each other, the Cottage House, the old Farm House that is permanently rented to our dear Lainey and Austin, and the Pond House, currently owner-occupied. The Cottage House faces the stream with waterfall and small swim hole and the great lawn on one side and the woods and 'Milk Mountain' on the other, with an outdoor chaise overviewing the legendary Indian Head mountain ridge. The house is an architect-renovated 800sft two bedroom, one bath, sleeping 5 by means of a sofa bed in the living room. We provide linens, towels and other necessities. The house has an outdoor dining area with charcoal grill, as well as lounge chairs by the waterfall. Rates November-March: (except holidays): Weekends $225/night Week Days $150/night Entire Week $1,050 Monthly $3,000 Cleaning Fee $150 CHECK IN 2pm CHECK OUT 10am Rates April-October: Weekends $275/night Week Days $225/night Entire Week $1,575 Monthly $5,250 Cleaning Fee $150 CHECK IN 2pm CHECK OUT 10am
The property is set back and private, surrounded by preserves on two sides, yet within walking distance to town. A long driveway leads to the house, you will hear no car whatsoever.
We had such a lovely, warm weekend at Nin's cottage. The whole space was very very clean and impeccably designed. It was lovely to sit in the living room and look out into the stream just a couple of yards away. The bed was very comfortable--I had the best sleep I've had in a while and the bathroom was spa-like with a lovely tub and sleek design. The grounds were also lively with lovely areas to walk/hike along the stream. While we didn't make the hike, the town seems to be a short walk away which is convenient. And while the town of Woodstock was lovely, I honestly would have liked to stay in the cottage the whole time :) Can't wait to stay here during the summer. This spot made for a great getaway from the city.
Elizabeth
2016-03-13T00:00:00Z
Beautiful little cottage with a huge window looking onto the stream. We brought our 1 year old up here for the week and walked to town a number of times (about a 15 minute walk). Other than that, we just tried to unwind. Nin was very responsive and checked in with us, although she had already provided us with everything we needed. We would definitely stay here again. Thanks, Nin!
Natalie
2016-08-18T00:00:00Z
This place is ridiculously beautiful and our hosts were lovely! Highly recommend!
Joy
2014-10-21T00:00:00Z
Adorably quaint cozy cottage with the best backyard view ever! It was just beautiful with a running brook in the backyard. Few minutes to town with good food and fun shopping. A great get away from the city. We will definitely be back! We loved our stay.
Amy
2016-06-11T00:00:00Z
Great house and wonderful property to walk around!
David & Rachele
2015-12-06T00:00:00Z
the house and the grounds were truely amazing. the place was so tastefully done that we actually never left the property. we truely highly recommend this to anyone going to Woodstock. i have rented many many places in Woodstock and Nin's place is by far the best one we have stayed at wit my family.
aymen
2012-08-07T00:00:00Z
Nin was a great host and the property is absolutely beautiful! We had a relaxing stay and our kids really enjoyed the woods and visits from Nin's dog, Marvin!
Vannie
2016-11-11T00:00:00Z
This cottage is quite something. The location is magical: set at the bottom of a field, with a sweeping view of birch trees and Overlook Mountain, and the vast lawn rolls down to a millstream. The house is silent, but it's just 15 minutes walk to the center of town, or less if you boot up and cut across the millstream. Nin has styled the house beautifully, with Danish furniture, natural materials and desaturated colors. And, unlike many county homes, stuff actually works: underfloor bathroom heating, wifi, cellphone signal, Nest-controlled heating. It's even child friendly. Ideal for an intimate family weekend.
Tom
2016-03-27T00:00:00Z
Room Type
Entire home/apt
---
Property Type
House
---
Accommodates
5
---
Bedrooms
Woodstock, NY, United States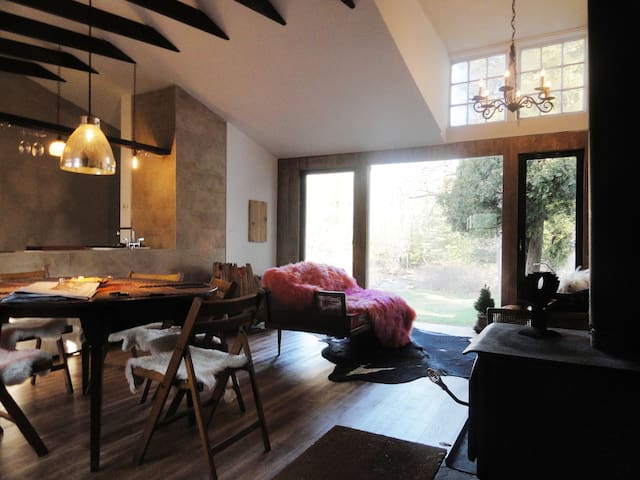 A Stunning private suite in an 1800's Harlem Brownstone FEATURED IN THE NEW YORK TIMES HOME SECTION! This room has exceptional design features (read below), luxury amenities, brand new bathroom & kitchen. Located on Lenox ave and iconic 125th street.
This suite has been reimagined from scratch. A two floor walk-up through a gorgeous hallway with beaten silver walls and moroccan tiles brings you to the front door of your suite. The entry corridor of the suite is covered in custom wallpaper used at the Ritz hotel in London. The sensuous black kitchenette with stove/oven, sink & under counter fridge, tea and coffee maker and beautiful dishes has a hand antiqued mirror backsplash & vintage Miles Davis Poster plus a historic brass lamp. The floors throughout are Mongolian teakwood. Lighting is on dimmers with a large vintage iron chandelier as accent. The window surrounds have been clad in mirrors to view the Harlem street life and the Late Victorian Gothic Revival style church (the birthplace of the Boys Choir of Harlem) across the street. The brick walls have been hand aged to a soft glow and moldings have been added to the windows and ceilings. The signature queen bed is fitted with a dream "Casper" mattress made of two technologies for a better night's sleep as well as stone washed linen sheets and special pillows. Antique furniture, artwork, photos and lamps fill the space. The bathroom is unique with exquisite Roman tiles, new glass shower, a rain shower head, exposed brick walls and an ornate baroque mirror. New in wall air-conditioning and heating add to the amenities of this very fine living space. I call this suite "EARTH" because it has pure elements, rejuvenates you and connects you to your intrinsic self. None of the photos you see have been retouched at all. Our guests are surprised when they arrive and all say this is better then the photographs.
Located on the wide Lenox Avenue, this suite is one block from the subway and 125th street - the main hub of bustling Harlem with its cosmopolitan culture. Old "landmarks" like Marcus Samuelsson's Red Rooster, Lenox Lounge, and the Apollo Theater are complimented by new additions to the neighborhood, such as the upcoming Whole Foods directly across the street and tasteful French cafes lining the blocks. Harlem is a truly special and vibrant neighborhood - one of the most unique in the city.
My girlfriend and I had an amazing time staying at Anita's flat. The flat itself was really well presented with all the essentials we would need, and for the days where we were too tired, Netflix was very welcomed. Well thought out space with a homely touch. It was also a bonus having the restaurant Chaiwali downstairs, we felt very welcomed when we popped in for a drink (or two) plus the performance on Friday night was brilliant - great staff, a real credit to the restaurant. Perfect location just next to the subway stops and very easily navigated our way around. We also both fell in love with Harlem, great neighbourhood with even friendlier people. Will definitely stay here again
Zeeshan
2016-06-02T00:00:00Z
We had a great time staying in Anita's place. We love Harlem and the neighborhoods around the apartment! It's also very conveniently located next to the 2/3 subway lines. The bed was so comfortable that I think we're going to look into a Casper for our next mattress. The room was beautiful and the windows let some great light. The only minor issue was that the wifi was very slow - we weren't able to watch Netflix or anything. Not a huge problem since we weren't visiting NYC for the Netflix. Thanks, Anita! We had a great stay!
Andrew
2015-08-11T00:00:00Z
This place is very special - right in the heart of Harlem with very easy access to all of Manhattan. People are friendly in the cafes around and make sure you check out the lamb chops at the lovely restaurant below you! They're amazing ! I would definitely stay here again.
Judy
2017-03-11T00:00:00Z
Anita's place was a perfect place for us! I felt inspired to stay in such a tastefully, creatively done space. Everything was meticulous in the studio. It is well situated in terms of both getting to other parts of the city and exploring Harlem. Anita was very responsive and accommodating before and after our arrival. We got there 1.5 hours earlier than the time we communicated with Anita. We got in touch with her as we get on the subway, and she and Diego, her husband accommodated our last minute change. I also want to mention that the mattress she had on the bed was the most comfortable mattress that I've ever slept on (In fact, I wrote it down the brand, Casper mattress, so we can get one for ourselves). We would definitely come back and love to dine at her restaurant downstairs (it is almost ready!). Thanks, Anita for such a wonderful stay!
Lana
2015-05-25T00:00:00Z
We had a very pleasant time at Anita's Airbnb. very good experience, Anita was always helpful if we needed anything and place was tidy and clean. if you want to stay in this area of Manhattan, its a good spot as easy to get to transport etc.
Lynda
2016-05-27T00:00:00Z
We had a great stay! Beautiful room and very convenient to public transportation. We would definitely stay here again.
Angel
2016-03-17T00:00:00Z
Hello Anita, I wanted to Thank you for all your help with makeing my suprise getaway such a success . First you accomedaited my every need . From my request for a cake for boyfriends birthday to a extension of our stay for a late basketball game . We were so impressed with you property. it was immaculant and the furnishing was esquisite . Your attention to detail was impeccable . This building is beautiful from the front door to the closets . Ms Jewel Reid Sicklerville NJ
Jewel
2014-12-14T00:00:00Z
Gorgeous place, phenomenal host, lovely spot!
Gina
2017-02-25T00:00:00Z
Room Type
Entire home/apt
---
Property Type
House
---
Accommodates
2
---
Bedrooms
New York, NY, United States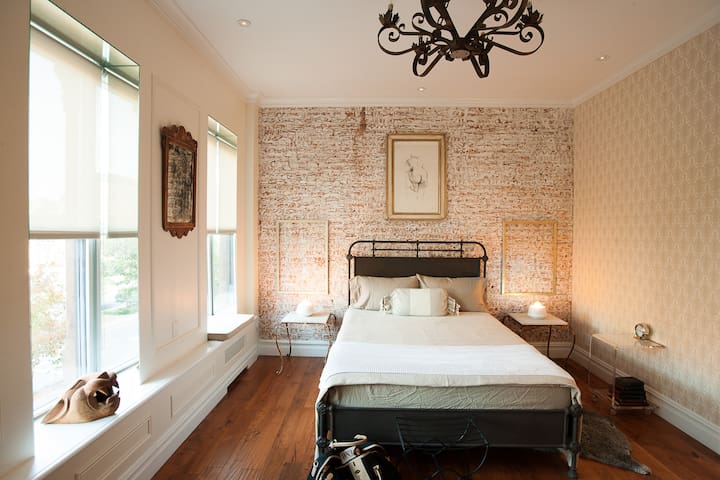 A stunning private suite in a 1800's Harlem Brownstone FEATURED IN THE NEW YORK TIMES HOME SECTION! This room has exceptional design features (read below), luxury amenities, brand new bathroom and totally renovated with historical flair.
A two floor walk-up through a stunning hallway with beaten silver walls and moroccan tiles brings you to the front door of your suite. The studio apartment is a serene space in dreamy shades of white and pale lavender-grey. Two walls are covered in contrasting trompe l'oeil wallpapers. The "tongue in cheek" looks create depth, vision and perspective. One displays a wall of "books" and ivy, and the other ornate molding panels with visuals of antique garden urns. Instant drama! The fireplace (which is non-working for now for your safety) is dressed in carved ledges and faded mirrors. The floors throughout are Mongolian teakwood with hand aged original brick walls and soft lighting, including a signature old light fixture which casts radiant rays on the ceiling. The graceful cream queen four poster bed is fitted with a dream "Casper" mattress made of two technologies for a better night's sleep, as well as Belgian stone washed linens and waffle weave towels. Antique furniture including a French resting chaise, a 60's bench, marble side tables, old folk art figurine and vintage photos fill the space with comfort and lightness. The bathroom glows with an entire wall of beveled mirrored panels that could not be photographed here and with exquisite Roman tiles, new glass shower, and a rain shower head. A "smart" tv with netflix movies, air-conditioner and heating add to the amenities of this very fine living space. The suite also incudes a compact wet bar area with kitchen sink, marble counter, small fridge, microwave, slow cooker, toaster oven coffee & tea maker. There are lovely handmade plates, glasses, cups and dishes for your use. Please note there is no stove top. I call this suite "HEAVEN" because it relaxes you and allows you to dream. The windows outfitted with new solar shades overlooks the beautiful backyard. This space comfortably fits two people. What people say upon arrival is that this is better then the photos which I have to admit are good:) But these are totally untouched photos, nothing has been altered or changed. Expect the best!
Located on the wide Lenox Avenue, this suite is one block from the subway and 125th street - the main hub of bustling Harlem with its cosmopolitan culture. Old "landmarks" like Marcus Samuelsson's Red Rooster, Lenox Lounge, and the Apollo Theater are complimented by new additions to the neighborhood, such as the upcoming Whole Foods directly across the street and tasteful French cafes lining the blocks. Harlem is a truly special and vibrant neighborhood - one of the most unique in the city.
Anita's Airbnb is absolutely fantastic. The studio is decorated beautifully and is such a comfortable and relaxing space - especially after a long day of sightseeing! Such quick, easy and simple access to a main subway station as well. The space was clean and comfortable and Anita was very helpful and quick to respond whenever we had questions. Would definitely stay here next time we are in New York! P.S. The restaurant downstairs is such a treat!
Tanisha
2016-07-08T00:00:00Z
Very kind welcoming, cute little appartment, very clean, bed is very confortable. Aproximity to the subway is good. Perfect to stay for a few days in NYC. Thanks for everything!(-:
Victoria
2015-06-03T00:00:00Z
The apartment was just like that shown in the photos on the website, which had caught our attention in the first place. We really enjoyed our week long stay. The neighborhood proved to be a great part of our New York experience, something we probably wouldn't have experienced if we hadn't stayed in Harlem. Anita was very helpful and resolved any problems we had, so all in all it was ab great experience
Des
2016-06-23T00:00:00Z
We had a very pleasent stay at Anita's apartment. We expected that we could cook there, but there not really cooking amenities, only an oven and a sort of fast cooking stove. One day, Anita was in our apartment without letting us know up in front. Luggage was moved. Later, we texted Anita and then it turned out to be that it was her to check the electricity. Maybe it would have been better when she told us before. Now we felt a little bit touched in our privacy. Lots of noise from the downstairs restaurant on the weekend and sometimes during the week. Sometimes a little bit annoying, when you had a long day in the city. The neighborhood was lovely, lots of people on the street. We didn't see Anita at all during our stay, only the housekeeper Vernalize, which was really nice! We had an amazing time in New York and would definitely be coming back!
Marieke
2016-09-20T00:00:00Z
This review will be difficult due to the numerous great things about Anita's place but I'll try my best to capture it all -location is perfect. A few steps away from the subway. Great restaurant downstairs for when your super lazy or just tired! - the studio is beautiful. Clean. Bed is beyond comfortable. Great energy - Anita was extremely accommodating in difficult circumstances and I'm so glad we went ahead with this booking - arranging check in was super easy and Diane was also super sweet when she let us in. The flexibility of check in time was so appreciated. Would def return. Harlem is def a great place to stay.
Laura
2016-02-22T00:00:00Z
This is a beautiful, quiet respite in the midst of historic Harlem. The room is bright and beautifully decorated, and looks just like the photo. The room is in the back of the building so it is shielded from all of the city noise of busy Lenox/Malcom X Ave (although some music and sounds from the restaurant below drift up until 11 pm). Small touches add to the luxurious feeling - super-absorbent soft waffle bath towels, memory foam mattress with Belgian cotton sheets, rain shower and natural bath products. Chaiwali, the restaurant below, is a must-try - fabulous food and cocktails with similarly enchanting decor. Other great, famous eateries - Red Rooster and Sylvia's are a short walk. The hub of Harlem, 125th street, is just around the corner and many historic sites are nearby. There are a couple of reasonably priced parking garages within a couple of blocks, so out-of-towners can safely leave their cars and take the subway that is just a few doors up the street. This was a great place to stay, and we will be back!
ingrid
2016-09-03T00:00:00Z
This was not my first stay with Anita, The B&B is lovely , it has all the comforts of home, is beautifully decorated, , a warm and cozy environment, & the location is easy to access. Anita is very accomodating and a wonderful host! I'll be going back again soon !
Donna
2016-03-01T00:00:00Z
Anita's place was wonderful ! A truly place of peace and relaxing after all the noise in Manhattan. We chose this place because of the decoration and it was exactly like the picture on the website, even better! Everything in the room was cozy and comfortable, the bed was great, the products in the bathroom were awesome! It felt like our second home! We fell in love with the body wash, so we decided to bought it and bring it back to France! Anita and her husband are very nice and I can tell that they care about people! They did everything they could to make us comfortable and fell like home! When I'll come back in NY I'll for sure return here! I already miss this wonderful place.
Marie
2015-06-14T00:00:00Z
Room Type
Entire home/apt
---
Property Type
House
---
Accommodates
2
---
Bedrooms
New York, NY, United States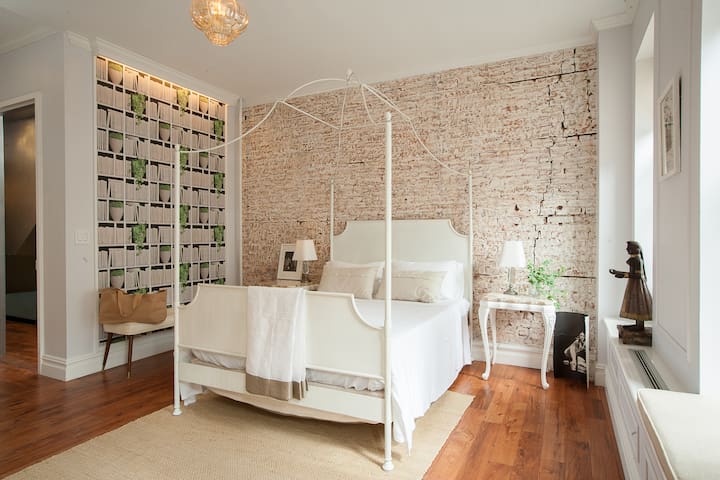 Newly-renovated, rustic contemporary home with 25-foot ceilings with tons of glass and sunshine. The main floor is a large open space with wide-plank, antique pine hardwood floors and floor-to-ceiling windows throughout the living and dining areas. The fully-equipped kitchen has an open floor plan with views of a wood-burning fireplace and outdoors beyond. Designed as a weekend retreat for writing and relaxation, this house is also great for entertaining or full-time living. New washer and dryer with storage area on lower level. There are three bedrooms plus an open sleeping loft (six separate beds) and two and one-half baths, spread out on three floors for added privacy: -- The lower level has a queen bedroom, full bath and living area; plus, a separate open sleeping area with a twin bed. -- There is a full bath and two bedrooms on the main floor. One bedroom has a queen bed and one bedroom has two twin beds. -- The open loft, above the living room, has a double bed and a half bath . The house is located on a quiet cul de sac on a wooded one-acre lot with 300' of landscaped lake front. Private 10' x 20' dock, three kayaks (one is a two-person), one canoe, outdoor sitting areas, enclosed organic vegetable garden, and new 300 sq. ft. deck with lake and tree views. The house includes all the toys including 46' flat screen TV, blue ray, stereo, satellite TV, internet, Weber Gas BBQ, kayaks, etc. The house is located in Sleepy Hollow Lake, a private community in Athens, NY (lake: 324-acres, 2.5 mile long). The community offers a lodge, beach, tennis courts, basketball courts, swimming pools and 24-hour, on-call security. Four-season recreation surround this beautiful area including fabulous hiking, snow shoeing, cross country and downhill skiing (Windham and Hunter Mountains), paddle boarding and fishing nearby. Located just 2.25 hour drive from New York City and 3 hours from Boston, this home is a perfect weekend getaway from the city. The charming towns of Hudson (with an Amtrak station) and Saugerties are 20-25 minutes away and offer upscale restaurants, arts, entertainment and world-famous antiquing. Woodstock, Rhinebeck and Albany are 40 minutes away and offer more great restaurants, performance centers, museums, shopping, bars and music. Please see house rules for additional information.
Sleepy Hollow Lake is a unique community offering a wide range of
We stayed in Robin's beautiful house over Christmas and it was wonderful. The view from the giant windows is spectacular, the kitchen is really fun to cook in, and the fireplace gives it a cozy feel. we loved it! Robin was an amazing host, totally response in advance of our stay - providing contacts to local christmas tree farms, describing running routes for me, and even had her cleaning person go in advance and turn the heat on for us since we have a baby. Once we were at the house, there was a binder full of helpful goodies - I only wish we could have taken advantage of the place in the summer, because it looked like there was even more fun to be had! Still, we had a great time grilling, watching movies (she has netflix!), playing games and listening to Robin's cds. Anyone who has Boyz to Men AND Ella Fitzgerald in the same cd collection is fine by me. My ONE caveat would be that the house is a little creaky/the water/heat in the walls is loud - but we were probably more sensitive to that because of the babies. Other than that, it was just perfect.
Becky
2015-12-29T00:00:00Z
Robin's house was gorgeous...her pictures really do give you a good idea of what the house is like. Unfortunately, it was quite snow covered while we were there, but I am sure the view of the lake from the house is phenomenal.
Namrata (Nimi)
2015-03-08T00:00:00Z
Robin's place was amazing. Three friends and I had a great weekend in the early spring seeing the beautiful Hudson valley and staying at her lakeside house. She had great cooking materials, and a warm fireplace. Kayaking on the lake was a pleasure. Thanks Robin!
Max
2015-04-12T00:00:00Z
Wonderful holiday rental in serene perfect environment. Robin is most organized and immediately available to answer any interrogatories. Hudson NY has cool things to do and highly rec lunch place for organic meats called Grazin. Again, quiet place to read, ponder ànd relax while watching ducks on lake.
vincent
2013-12-02T00:00:00Z
Robin was an incredibly accomadating host and the communication before our trip was extremely helpful and professional. She provided me with information about nearby activities and destinations that fit the needs of my family group. My family and I were able to visit other small towns near Athens such as Hudson and Troy. We also got to see the Omi Scuplture Garden and Kaaterskill Falls. The house is located in a nice community neighborhood and we enjoyed having the lake right in the backyard! The rooms were pretty clean and the dining/living room was a great place to relax and spend time together. The place has everything one may need in terms of appliances and the directions provided were very clear. We were here during a really hot and humid Memorial Day weekend and the house took a while to cool down, especially the loft area. Overall, it was a great stay for the long weekend!
Daphne
2016-05-31T00:00:00Z
The house was clean and in good shape, and Robin was a very accommodating and responsive host. One minor caveat about the house is that it took a few hours to warm up when we first arrived, even with all five heaters going. So, perhaps ask Robin to have the cleaning person turn on the heat in advance of your arrival if it's really cold outside. I would return again, perhaps in the summertime when the lake is not frozen.
Yoshiki
2015-02-01T00:00:00Z
Robin's place was perfect. Everything was well-kept, clean and organized. Bathroom and kitchen had everything we needed and bedrooms were cozy with clean sheets and towels ready for us. I'd definitely recommend Robin's home.
Angela
2013-11-25T00:00:00Z
Robin was very responsive to questions and concerns. The lake access was excellent and the property had a serene and pretty atmosphere. The pictures of the home were very professional and represented an almost real depiction. The house was also clean with plenty of towels.
Berdj
2016-06-13T00:00:00Z
Room Type
Entire home/apt
---
Property Type
House
---
Accommodates
9
---
Bedrooms
Athens, NY, United States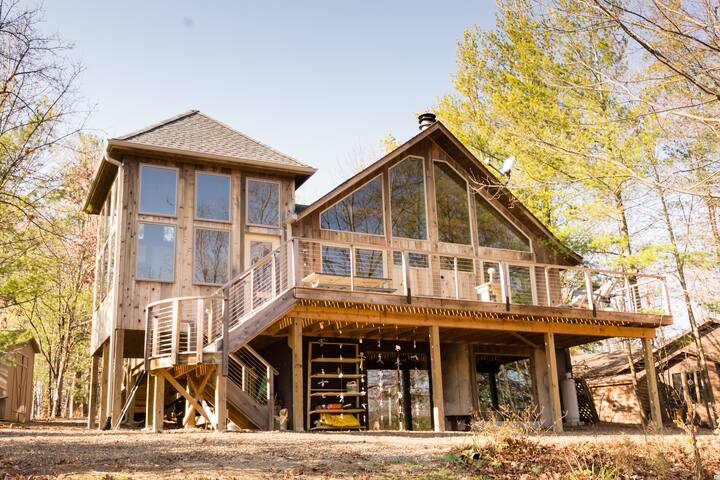 Renovated. Sauna, Jacuzzi, Old Swim Hole. The Lewis House of Lewis Hollow - Old Woodstock, Pre-Columbian Indian Kairns. Deed reads, "This property starts at the ancient stone heap between Gradus Lewis and Peter Livingston's farm." (DESC Robert)
The newly renovated Lewis House (of Lewis Hollow) was built in 1822 and pushed up McGee Hill in the 1850s. The house is next to State Preserve and hiking trails that lead for miles through old bluestone quarries, streams and waterfalls. There is a sauna and a Jacuzzi on the property as well as a natural 5 foot deep swim hole.
secluded and wooded
When you're listening to some Grateful Dead on the jacuzzi speakers, sipping a glass of wine and looking up at the stars, you'll know you've made the right choice. This is a great place with wonderful hosts. Jack met us, gave us a tour and sent a text with some great local restaurant recommendations. Very tasteful and homey decor. We spent a lot of time by the woodstove listening to the collection of old records. Very close to Woodstock. Great choice for a weekend out of town with exceptionally friendly hosts.
Ian
2016-04-18T00:00:00Z
This was our second time staying at Jacks and it was just as amazing as the first time. We had an excellent time sitting in the private yard, soaking in the giant hot tub and going for dips in the crystal clear stream. Just a great house to enjoy the beautiful Catskills. Looking forward to stay number three. Thanks Jack, you're a great host!
Ron
2016-06-27T00:00:00Z
Jack was a fantastic host, he goes way beyond what's expected to deliver a truely memorable experience. Nothing is to much trouble for him, he's a great credit to Air BNB. His priority is ensuring you have the best trip possible. The property is incredible, tucked away in a beautiful part of Woodstock. The facilities and general spec are second to none. It's clear he's thought about every last detail. The sauna and hot tub are great additions also! Myself and my partner had a great trip and will definitely be returning. Thanks.
Chris
2015-02-23T00:00:00Z
We loved staying here! The house is amazing and comfortable. Jack was a great host and we would definitely come back!
christopher
2016-03-16T00:00:00Z
When I arrived I knew it would be good cause of the many great reviews but I didnt expect to love the house this much.. It really was a wonderful delight! Hottub, small sauna, free standing shower tub in the bedroom with a comfy king bed, balcony, fireplace, brand new retro style kitchen.... just so many little details and spots in the house that make it a wonderful chill time to be there! perfect for little retreat from the city, I have been telling friends about this spot and I WILL BE BACK! Jack was super nice, so helpful and just such a rad personallity. dealing with him is the cherry on top of this property. best bang for your buck as well.. can not wait to return!
Lisa
2015-11-05T00:00:00Z
Jack was the best host! Even before we arrived he was super accommodating! I fell in love with every little detail of this house because there isn't a nook or cranny that was overlooked in regards to comfort and quality while still feeling like you are in an old farmhouse in the woods. Sitting in the hot tub near the trees while snow was falling was amazing, not to mention relaxing in the aromatic sauna. My boyfriend and I took advantage of the great vinyl collection provided while we cooked dinner in the beautiful kitchen. Very close (but not too close) to the main street of Woodstock with cute shops and yummy eats, grocery store etc. We also hiked Overlook Mountain which is very close and has amazing views! Jack is a great communicator and really makes you feel welcome and comfortable. We are already planning on returning to take check out the nearby trails and swimming hole in warmer weather!
Lauren
2015-03-05T00:00:00Z
The house is lovely and very cozy. The interior has been completely remodeled in a fantastic 60's/farmhouse style that's very inviting. The kitchen is fully stocked with cooking and dining supplies (which we used quite a bit!), and there's a record player and a varied collection of records. My boyfriend and I really enjoyed listening to music while cooking and relaxing on the screened-in porch; the jacuzzi was easy to use. Overall, a very peaceful place, but also just about a 10 minute drive into the Woodstock main town area.
Zina
2015-06-13T00:00:00Z
Jack was such an accommodating host. He reached out several days before check in with a very thorough email with directions and recommendations for the area. The whole property was stunning! The house was beautiful and relaxing. I only wish we had time to stay a few more nights. There is so much to do in Woodstock. We will definitely be back.
Kate
2015-06-18T00:00:00Z
Room Type
Entire home/apt
---
Property Type
House
---
Accommodates
4
---
Bedrooms
Woodstock, NY, United States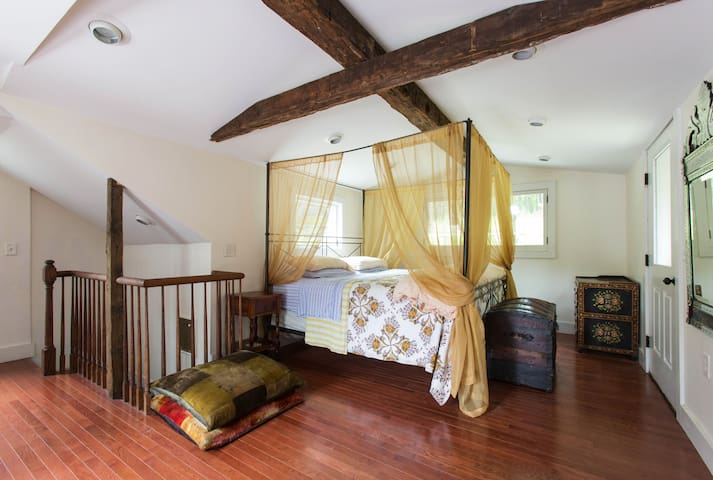 1)Very nice, safe &quiet neighborhood,lined with trees.2)Very Clean and well ventilated rooms,lots of Closets,wall to wall carpets,with ADT Security Cameras.3)F Express Train to Manhattan is 2 Blocks away 4)Q25 & 34 Buses, 2 mins away. Close to JFK & LaGuardia Airports(10 Mins by Car)6.)From JFK by AirTrain to Sutphin&Q25 /34 Bus to our house(85th Drive) just 15minits.Spacious Rooms,modern kitchen & Parking.8)Lots of Shopping & Dining places around. Good for couples,business travelers,&families
It is a very ventilated room, with lots of sun light all around. Lots of Closet space. Free Washer and Dryer. Parking Space available. Spacious kitchen and Living Room. ADT Security Cameras fixed.
It was an amazing stay at Dr Shirin's house. If you want to book her place, the first thing you need to observe is hygiene and cleanliness. I personally find that the "no-nonsense" approach to cleanliness is awesome as you want a host who puts our health and wellbeing in the first place. Other than that, the location was accessible to downtown via metro, flushing via bus and both LGA and JFK were stone thrown away. Dr. Shirin and Dr. Ali (both Medical Doctors) are awesome host. Water, coffee and tea were often offered without reservations. Any request are taken seriously and almost none are rejected. I enjoyed my stay and will return the next time when I visit New York. For sure. =)
Jacky
2016-12-29T00:00:00Z
Very nice place very polite and caring host really felt safe and comfortable
maria
2017-03-27T00:00:00Z
Ask the detail of the facility she will provide in advance. It is not what you see on the website and instinct thought as normal.
志豪
2017-03-08T00:00:00Z
Room Type
Private room
---
Property Type
House
---
Accommodates
2
---
Bedrooms
Queens, NY, United States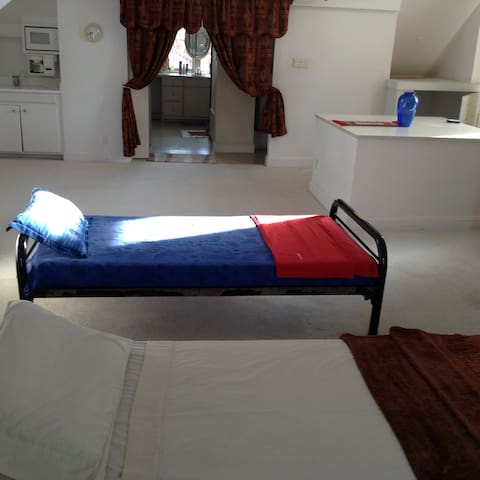 Convenient, quick & easy access to Manhattan Interesting, popular, SAFE New York NY neighborhood. Very close to the subway and Manhattan. Spacious room + garden area + an extra foyer room bargain shopping, restaurants, galore More peaceful and calm than Manhattan New York Ny Astoria queens
* we will provide you with a clean, comfortable and quiet place. The space is naturally quiet at night because it is in a secluded part of the house in a quiet neighborhood. During dinner time (6-8pm) you may hear a little "family" noise but we will keep this subdued (we have only 1 child). please inquire through airbnb with your profile+photo before you book our place. * we cannot host young children. You will have your own private space consisting of a large, interesting room + private bathroom/shower + your own private entrance + a private foyer area + a private garden/patio area. You will have privacy on your own separate level (the ground level/1st floor) of the house. The space includes a sink, a countertop, a microwave, a toaster, an electric kettle, wi-fi for your computer or device, a hairdryer and a refrigerator. We also provide linens, sheets, and essentials (shampoo and soap). And we provide plates, cups, silverware etc. We can comfortably accomodate up to 3 guests. Please note that all the 3 beds are located in the same room. You could squeeze up to 5 guests into our place if you don't mind being crowded. The private garden area is always available to lounge in or to eat outdoors. Our home was built in the late 1939 at the end of the art deco era. We particulary admire American design from this time period so we have some vintage furniture from the 1930's in the apartment New York NY Manhattan
Our neighborhood within NYC is called Astoria. We think Astoria is a hidden gem in the New York NY metropolitan area. We are located in a serene and very SAFE neighborhood. It is a wonderful and interesting neighborhood....... Astoria is very close to midtown Manhattan and so it is an ideal location in which base yourself to enjoy and explore NYC. This is especially true for our house because we are so close to a major subway stop and subway line. Astoria is known as a "Greek" community (people from Greece live here). Our area of Astoria is a vibrant mix of greeks, italians, "hipsters", midsters, oldsters, brazilians, yuppies, japanese, chinese, and just about everyone else in the world is represented. It is fun and interesting to be mixed into the multi-cultural atmosphere. Astoria has a unique small town atmosphere but located very close to Manhattan. Astoria is loaded with restaurants, bars, clubs, and shopping galore. Just about anything that you would want to buy you can find it here. Marshalls and many other discount retailers are very close to our house. Our neighborhood is considered to be one of the most "up and coming" and popular neighborhoods in NYC.. People often describe Astoria as the east part of Midtown or the east side of the east side of Manhattan. Astoria is a much sought after neighborhood. It is easy and fun to walk around Astoria and soak in the many different subcultures of people groups within Astoria. You will find authentic and inexpensive restaurants from literally all over the world. There are coffee shops, pubs, bars, clubs and parks galore. It's fun here. New York Ny
Had wonderful Christmas holiday with my best friend in New York. Dennis and Naoko were extremely kind and helpful :)
Natalia
2011-12-28T00:00:00Z
Everything was as described. I would definitely stay there again. You will have your own private space and it is very quiet and spacious.
Claudia
2012-06-16T00:00:00Z
Nice location, the transportation here is convenient! The host is also nice.
詣函
2015-12-27T00:00:00Z
My husband and I enjoyed our stay at Dennis and Naoko's. It was so convenient to the city and we didn't have any trouble finding it. Dennis was always available if we needed anything and checked on us by message a couple of times while we were there. The room was clean and the bed was very comfortable. All in all it was a great experience.
Noelle
2015-11-23T00:00:00Z
One of the best values in staying in New York. It is quiet, large comfortable. Really enjoyed it
Albert
2011-11-29T00:00:00Z
I spent during 3 weeks at Dennis ´s place since I had my art exposition in Chelsea. The room was big,clean and very comfotable as I was at my own house. The couple were very kind and helpful . Even bought a new small refregirater which helped me a lots. It is very safe area and there are lots of stores around, and I found it was very easy to get everywhere in NYC. I difinitely recommend who does not want to pay too much for hotel so can enjyoy more the city which never sleeps.
takako
2012-03-30T00:00:00Z
Dennis made us feel welcome. He had all the neccessary information ready for us (map of the area, restaurants, ...). The appartment is quite dark, because its in the basement, but clean and has a beautiful garden. The neighbourhood is safe and the house is very close to the subway station. It's easy and quick to get to Manhatten, however, public transportation to the appartment is a nightmare in the evening (after 9.30pm) and at the weekends. I'd advise you to take a taxi if you want to go out late. During daytime travelling is easy. For restaurants: The Mexican around the corner was great, but make sure to go to 30th ave as well. There are lots of restaurants there. The only thing that could be improved is the bed. It's a sofa bed, which is fine for a few nights, but a 'real' bed would be a little more comfy. We would always go back there.
Jonas
2016-08-07T00:00:00Z
Stayed here with my girlfriend for several days during the week while doing some sightseeing in New York (we got the CityPass). Great value for the location. It was one block to the M,R trains which take you into Midtown Manhattan in abount 15 minutes. The space is in the basement of a townhouse. Although the fixtures and building itself were a bit old, the space was clean and comfortable. The host Dennis was very welcoming and helpful. I would definitely recommend for students/couples and those on a budget.
Yuan
2016-10-21T00:00:00Z
Room Type
Entire home/apt
---
Property Type
House
---
Accommodates
5
---
Bedrooms
Queens, NY, United States
Newly built, 4000 sqft house with 2400 sqft of decks, 4 bedrooms 4 bathrooms, all bedrooms have outdoor sitting areas. Theres also a brand new Hot Tub next to the pond. 1 hour 10 min from Manhattan , great hiking trails and near cold spring.
**As far as the doggy , the guest suite has travertine floors and its large ( 500 sq feet ) . It has the sleeping area , sitting area & bath room plus it leads out to the garden. If you can assure us the doggy stays there and does not enter the main house , we can accommodate you :) ** How can you make a 4000 square feet living & dining area feel cozy and warm while maintaing the great scale ? Yes we did it! The first thing you will get is the scale and hight of the place , each part of the house being unique and special in it's own way. You will feel the architectural & design influences from around the world co existing in harmony at The Mission . The French Provincial & Haussmann , the Moorish elements as well as modern , they are woven together but never overwhelming or exhausting . All that just 1 :10 H from Manhattan… We spent 2 years building this house and did most of the work ourselves , when possible. We have been collecting elements that went into this house for years , be it an reclaimed exposed beam , a lantern or a selection of coffee table, books that makes a particular room complete. Master bedroom and en suite are heated by hydro radiant floor heating system hidden under Haisa woodgrain marble tile,it has a king size bed. Both the bedroom & bath have a luxurious view of the pond and open onto a terrace with sitting area. The rest of the house is cooled & heated by a central air heat pump. The house is equipped (email hidden) stand by generator ready to supply abundant power in case there is an outage. The open concept living/dining/kitchen/library area in on the main level with view of the pond through 9' tall windows & voulted ceilings and it opens onto a dining deck overlooking the pond. The Chefs kitchen features a 13' marble island , 36" Wolf Radiant cooktop , Wolf Ovens , wine fridge and a 48" Sub-zero fridge. You should find in the kitchen most everything you could possibly need to create memorable meals. There are 2 faucets in the kitchen, the smaller one is filtered drinking water . There is cutlery and all kitchen tools including blender , toaster , coffee machines. In the living area you will find a grand scale wood burning fireplace and a 70" LCD TV ( Cable & Apple TV equipped ) . Second bedroom & en suite bath is located in the Tower , it features queen size bed , tons of natural light and it's own terrace as well as a wood burning fireplace. The third - Moorish bedroom is in the art studio , it has a king size bed and a day bed as well it's own en suite bath as well as access onto the living /dining terrace and private entrance. The fourth and final bedroom is actually a guest suite/house featuring , living area , private en suite bath , full size bed , coffee/tea station. It also has access to the pond, hot tub, outdoor seating area and a seperate private entrance ( NOT accessible from inside the house ) . The pond & the wooded lot is full of fish , frogs & birds and critters . You can walk around to the other side and wade through a bubbling creek on the other side of the pond.Near Canopus lake ( 8 min ) . The generator makes the house one of the few not to be troubled by frequent power outages.
The house is completely secluded in the middle of a greatly wooded & landscaped 4 acres yet only 5 minutes from and exit on the scenic Taconic Parkway. Wild raspberries , working horse & fruit farms as well as apple & peach orchids are our neighbors. 0.8 miles from the house and you'll hit the historic Appalachian Trail , go for a hike and you will run into hikers heading from Georgia to Maine and back. 18 minute drive and you'll find yourself in enchanted village of Cold Spring on the Hudson River. Is also the Metro North Railroad station for those coming by train and home to a fantastic farmers market , dining & shopping.
It was a great experience staying in the house. Kay is a great host, she gave us a tour to the beautiful and interesting house that they built together.
Cecilia
2015-04-27T00:00:00Z
The Mission House met our expectations spot on. Piotr & Kay were welcoming, considerate and very kind and truly provide a relaxing and modern escape in the woods. Local farms, brewery's, hikes and seclusion made our stay quite memorable. The property is easy to get to and while there are other houses around its very easy to quickly feel like you've left society behind. The amenities in the house are fantastic. Amazing kitchen and common space stack up and provide a great communal space for all visitors. The bathrooms were super clean and comfortable and everything from the couches, TV, beds and window trimmings were new and taken care of. We went during the winter and I can only imagine the summer and fall being spectacular. We hope to return during another season
Frederick
2015-01-19T00:00:00Z
Our stay at The Mission House Sanctuary was amazing from start to finish. The photos make the house look stunning and I will say they are completely representative of reality. The home is beautiful and it is obvious that an incredible amount of thought went into the building and furnishing of the home. There are a ton of beautiful, unique pieces throughout the home and it truly makes you feel like you are staying somewhere special. The house is very secluded and the pond in the backyard makes it very serene and peaceful for a weekend getaway. You can't even compare a home like this to an upscale hotel because there simply are none in this area with this level of luxury (we looked). Our family (5 adults, 1 toddler) stayed there for 2 nights for my mother-in-law's 60th birthday. We loved the fact that there was a full, large bathroom in every bedroom, offering everyone a good level of privacy. The beds and couches are not just great looking, but also very comfortable. The outdoor spaces are amazing as well with many terraces and every bedroom leads directly to a terrace or outdoor area. The bathrooms are very clean and modern. We cooked a few meals in the beautiful open kitchen. The kitchen was fully stocked with everything we needed. The living area is open but also cozy. The sound system is fantastic and the TV is really massive. Location wise, the home itself sits on a large wooded lot and is very secluded. Cold Springs is a very short drive away and we visited town and went hiking. There are also some local farms nearby for apple or pumpkin picking. We also made a drive to Poughkeepsie for a nice dinner one night which was about 30 minutes away. Piotr and Kay were amazing hosts. Very friendly and accessible throughout our entire stay and even afterwards--we forgot something at the house and Piotr brought it into NYC and we were able to get it back. Instructions for the house both written and verbal were very complete. They literally think of everything. They had a bunch of Apple chargers lying around, which was great for those of us who forgot ours. They even burnt some incense and left us a bottle of Prosecco to enjoy the first night! Overall, we were very happy with the experience.
Albert
2014-10-20T00:00:00Z
Piotr and Kay have the most amazing homes in Hudson Valley! It is always a pleasure to deal with them and their homes are immaculate and provide more comforts that any visitor would ever require. This was only our second time staying in one of their homes and it's like we have new friends in the Airbnb community!
Ronan
2015-11-29T00:00:00Z
A one of a kind property, dressed smartly by the talented hosts makes a wonderful weekend away. My friends and I had all the luxuries necessary to spend the weekend cooking, catching up on movies and above all, relaxing. The kitchen was magnificent and exceeded all of our expectations. I would definitely recommend this property for a relaxed weekend getaway with a bunch of friends. The hosts are accessible and engaged, I can't wait to work with them again. 5 of 5 stars!
mike
2015-01-12T00:00:00Z
Our stay at the Mission House Sanctuary was to celebrate the graduation of our son from West Point. The week was a whirlwind of activity and a bit of stress however each day ended with a fabulous "homecoming" to our sanctuary. We only met Kay; she was wonderful and joyful, I immediately felt as if I had known her for years. We feel very fortunate to have been able to share in her beautiful home.
Nancy
2016-05-24T00:00:00Z
I had a fantastic time at Piotr and Kay's house that I used to host a bachelorette party for 8 girls! Because the bride is not into the typical loud party, Vegas type parties, I knew that this house was perfect for a relaxing weekend away. All the guest were blown away by how beautiful the property was. The rooms were all unique and luxurious. Kay greeted me when I arrived and she was the most adorable and bubbly person; super passionate about the home she built (as she should be!). She made us feel welcome and even allowed us to stay for late check out. One thing to note is that we actually brought a lot of supplies, but this home has EVERYTHING!!! The only thing we really needed to bring was clothing and food. I LOVED this property and the bride was so blown away by it that she had mentioned she would bring her mother here for a birthday weekend. :)
Bonnie
2016-02-22T00:00:00Z
One of the appealing concepts of AirBNB is that one chooses to stay in unique dwellings. This house, location, pond and gardens are fabulous. You will have an out of the box, luxurious and pampered experience. Kay was so hospitable and helpful!! The solitude and privacy coupled with fashion decor and splendor were delightful. when you select this house please understand that it is not friendly for those with movement issues. It is perfect for able bodied adults who enjoy stairs,stairs, an more stairs ( winding stairs, marble stairs, granite stairs, high thresholds ). My 88 yo mom had trouble, as did I because of a recent hip injury. You would be insane to bring a child. There are 4 bedrooms with ensuite baths; each eye catching and distinct. Our night owl who requires a dark cave for sleeping did not like the lack of curtains or black out drapes, so if you identify with vampire needs then bring an eye mask. The commode for the main living area is in the moroccan bedroom so that room gets assigned to someone without massive privacy needs. Enjoy this special house it is an adventure and a retreat.
Margaret
2016-09-12T00:00:00Z
Room Type
Entire home/apt
---
Property Type
House
---
Accommodates
14
---
Bedrooms
Hopewell Junction, NY, United States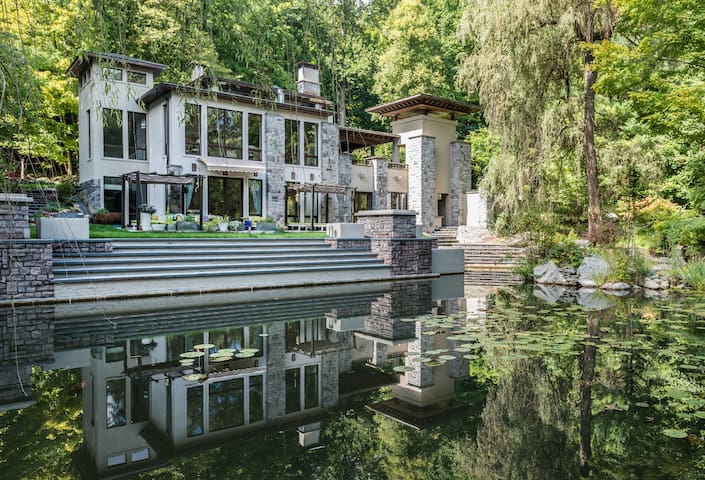 Brownstone living on the Upper Upper East (URL HIDDEN) Spanish Harlem!! Enjoy real New York City living in a unique and QUIET "island" like surrounding. The owner occupied well cared for home has been gut renovated to reveal a distinctly urban edge. The spacious 900 sqft (90smt), full floor apartment is sun filled with floor to ceiling walls of windows. Accessorized with 5 star features like an all marble bath, GIANT soaking tub, bidet, dishwasher, washing machine, large screen TV, DVD player, and wifi. Oversized Bedroom and Living Room with three large windows. Fully furnished. Did you know there are only 500 brownstones in New York City? Two short blocks to the main subway line which runs completely north and south full length of the city on the east side. 10 minutes to midtown. The neighborhood is three blocks from Central Park. And Museum Mile, where you will find an entire stretch of New Yorks famous museums; the Met, the Guggenheim, the Whitney and many more. Neighborhood services range from supermarkets, deli, cute restaurants. A short walk to a string of restaurants and lounges featuring inexepensive fare from kitchens around the world. Please no inquiries without photo, profile and contact info verified. We will not respond and automatically decline. Since our space is for one person or a couple, we provide one set of keys. Thank you
Great place and great host! The flat is very secure and ... big! I'm looking forward being back there. Thanks Amy.
Arnaud
2014-05-16T00:00:00Z
Nice apartment. Excellent host Amy and his brother Steven the neighborhood is not very good
Julio
2016-04-01T00:00:00Z
This apartment is fantastic! Its super easy to get to on the 6 line. It's a great size and a perfect place to relax after seeing the sites and recover from the miles of walking you will do each day. It truly is a home from home as Amy has thought of everything you might need from a clothes airer to dry washing and umbrellas available to borrow if you are unlucky with the weather. The apartment is jamm packed with character and quirky touches which really add to your NYC experience. Amy and Steven are superb hosts and were extremely accommodating with our booking and always got back to us quickly with answers to any questions we had.
Emma
2016-04-17T00:00:00Z
Amy was a great host and her flat is wonderful! She was very accommodating when my flight was delayed and extremely concerned with our comfort in the New York "heatwave". The apartment was comfortable, charming and conveniently located to subway access. We are really looking forward to staying again!
Amanda
2016-06-21T00:00:00Z
Amy and her brother Steven made sure we had a great stay at their apartment which is btw even better than pictures! They were super helpful and friendly, and provided useful information about the neighbourhood and everything needed for a comfortable stay. Kitchen was fully stocked with pans, plates, glasses and utensils, there were more than enough towels, tourist guides, and other essentials. The apartment is terrific, it's beautifully bright and sunny, living room is perfect for dining and hanging out, bedroom is adorable and has a huge mirror (there is another one in the bathroom). We absolutely LOVED it, highly recommend to everybody.
Anna
2015-05-09T00:00:00Z
My stay in Amy's apartment was most excellent! Amy is a wonderful host and very friendly, she took the time to explain all the particulars about the apartment and the neighborhood. She has prepared a very helpful neighborhood guide which I took full advantage of. The space is very nice, well decorated (love that bathroom), spacious, and set up for a multiple night stay. The kitchen and bathroom were stocked with all the necessities and the location is top notch. Close to the subway and good food, but tucked away on a private, quiet street. I would overwhelmingly recommend it to anyone.
Kitou
2014-10-02T00:00:00Z
Very comfortable. Roomy. Thank you for the welcome beverages and coffee for the morning. Went perfectly with our bagels! Would stay there again when we have the chance.
Joan
2016-02-28T00:00:00Z
Amy's home was more than I could have ever expected. The apartment was absolutely gorgeous and I'm so glad I stayed here! It's a little out of the way of all the main stuff happening in Manhattan, but incredibly close to the subway and easy to get to and from. Amy's brother, Steve, was super helpful and showed me around the apartment and even came to help me when I couldn't get the door open. He made my stay special!
Heather
2015-06-06T00:00:00Z
Room Type
Entire home/apt
---
Property Type
House
---
Accommodates
2
---
Bedrooms
New York, NY, United States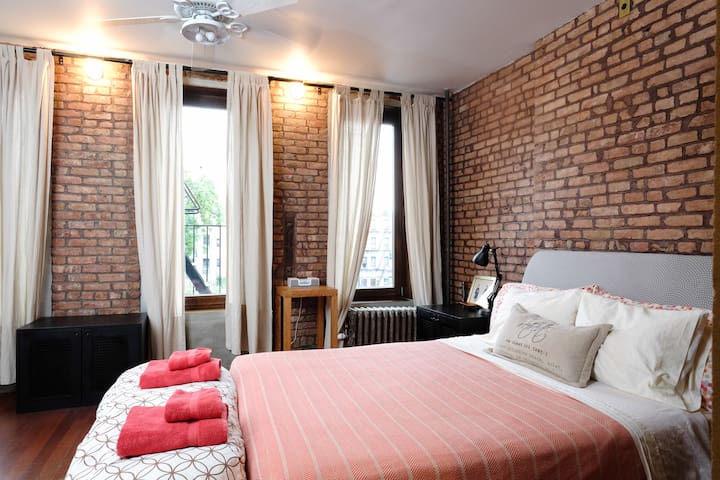 This private Br w/ bath just down the hall is ideal for 3-6 guests. Clean & comfortable. 100% great time!
Just a block away from the 6 train (email hidden). 3rd Ave. and a few more blocks from the 4,5, 2 train is this amazing 3 bedroom 2 bath duplex in a brown stone. 3 stops and 20 Minutes away from Grand Central. 4 stops to Union Square/ NYU. Any destination in the city is within your reach. The house sits on a quiet, tree-lined block, and filled with an abundance of natural light. The house was recently renovated, and is always clean, and peaceful! The 1st floor of the apartment has the kitchen where daily breakfast is served. Living room has a large couch and arm chair, 60" a desk with computer for your use upon request. Guest room comes with two NEW queen sized beds and another twin trundle, full dresser and vanity, nightstand, small couch and air conditioner! This room is just down the hall from the bathroom which will be stocked with fresh towels, and toiletries are available on request. The 2nd floor has the washer-dryer, along with our room
The apartment is just a block away from the train, with plenty of different restaurants (even Thai & Sushi are available for delivery), and shops. I would highly recommend checking out the clock tower by the water and the new Art Gallery which opened up down the block. The police station on the corner is across from several local delis and convenience stores.
We really enjoyed our stay. Unfortunately, the owners were not there at the beginning but the housekeeper Damon was awesome ! They made experience very comfortable for us. We felt like home. We'll keep a great memory of our stay. The house is just by the Subway. It's very easy and fast to go to Manhattan. We had a great breakfast every morning, that was just perfect to start a new walking day ! That was a wonderful first experience in NYC, I recommend Chip's house for sure !
Chloé
2016-01-02T00:00:00Z
Chip, Alexis and Anne were incredibly welcoming and went out of their way to help us whenever we needed anything. The apartment is located next to a subway station which made for easy access of the rest of the city. The apartment itself is lovely and very homely with a spacious room and comfortable beds with air conditioning. I would recommend staying here in a heartbeat! 10/10
Benjamin
2016-05-31T00:00:00Z
Chip was extremely accommodating and even cleared up a misscomunication I had regarding the AIRBNB website in regards to the pet symbol listed regarding the Airbnb hosts. How accommodations allowed me and my guests weekends to go as planned without a hitch. Clean rooms cleans bathrooms and a beautiful house overall.
Bryan
2016-08-15T00:00:00Z
The host canceled this reservation the day before arrival. This is an automated posting.
Jonathan
2015-07-16T00:00:00Z
Our stay with Chip, Anne and Alexis was great! They were really nice and helpful during the whole time. The apartment is very comfortable and a subway station is just around the corner, so you can get everywhere very easily. The breakfast was delicious and always selfmade!!! Thanks again for the great time!
Sophie
2016-07-21T00:00:00Z
This apartment was a great place to come home to in New York. Alexes, Chip and Anne are very friendly and make you feel at home. And it is even more beautiful than on the pictures! I would definitely recommend this place to anyone.
Delphine
2015-04-02T00:00:00Z
Chip and Anne were helpful, welcoming, unobtrusive. The apartment is really spacious, especially by NY standards. The location was perfect for us. Being right around the corner from the 6 train, it was convenient for getting even subway newbies from the provinces like us to the upper east side, Central Park, Grand Central and other sights. The neighborhood is a little gritty, but the historic police station, library, brownstones and other architecture are great. St Jerome's Church a block away is awesome. Easy to come and go early and late with the coded entry system. Coffee and muffins in the morning. Street parking not as difficult to find as some New York locales.
Anita
2016-03-15T00:00:00Z
When we arrived, the hosts were not there but we still got the entry pass via text message. So all was good. The place is very neat and everything was well laid out for us. It takes just 30 minutes to reach Times Square with the metro. There's a police station nearby, so for people who are worried about their security, it's not a problem. One issue we had was with sleeping arrangements. We were initially a group of 6 and then we added one more guest. Chip made us aware of our sleeping arrangements only late on the day of arrival. The room we stayed at definitely didn't have space for 7 people. One of us ended sleeping in a couch half his size. Apart from this issue, we enjoyed our stay here thoroughly ! Highly recommended for people who want cheap yet clean and comfortable place in New York.
Manoj
2016-04-05T00:00:00Z
Room Type
Private room
---
Property Type
House
---
Accommodates
6
---
Bedrooms
Bronx, NY, United States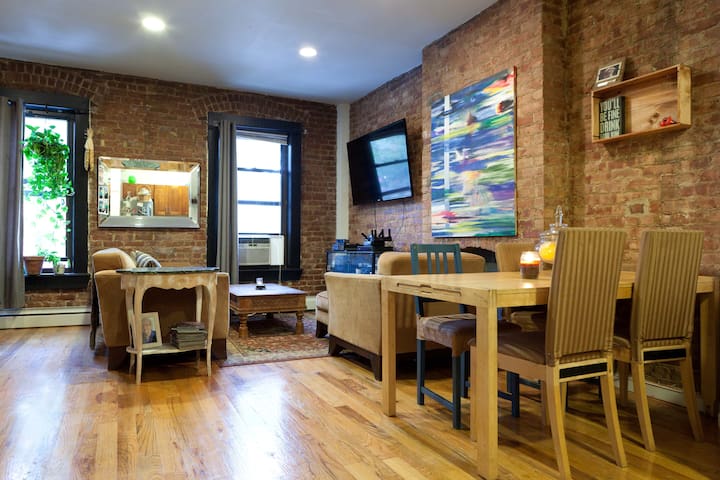 Close to public transport, one of two cozy little guest rooms for two. This room is a 10 x 12 converted front porch, located on the first floor of a two family home. Your host lives on the third floor. Come visit Flushing Queens!
This is a small space, big enough for two people sharing a bed. It is located right by the front door so it is perfect for guests that plan on arriving late at night and do not want to disturb anyone. Because it is located street side, you are sure to hear cars and buses as they pass by in the night. It has 5 windows and does not have black out curtains. In the mornings, you will receive a soft glow as the day gets brighter. I'll be on the second floor making coffee. I'll be happy to make you a cup if you let me know. The bathroom is a shared space with another guest room and is on the second floor. I have two cats so, not a good match for those of you with bad allergies or cat phobias. Yes I have had guests here with cat phobias. Ha ha.
Flushing is the biggest China town in all of New York!! We are a foodies paradise! In the morning, be sure to visit one of the many Asian pastry shops in the neighborhood to try a coconut creme bun or a red bean bun. For lunch or dinner, don't miss the opportunity to try some authentic Korean BBQ. There are Korean BBQ restaurants all over Flushing! We are just a 13 min walk from the 7 train and downtown Flushing, or, just catch the bus on the corner. I can help you find your way around NY!
Linda was gracious and her place was quiet, clean, warm and (URL HIDDEN) was all that we could have asked for and then some. We didn't get to see each other much as it was the holidays and we all had family stuff to do but everything we needed was provided for and she was quick to respond to any inquiries. We really enjoyed getting the opportunity to thoroughly explore Flushing for the first time as well and took advantage of some pretty amazing places in the neighborhood. For one, Ganesh temple, a block down Bowne, was quite the experience along with countless Korean and Chinese places. The walk to the 7 or LIRR is short, 10 minutes tops, but if your feeling less adventurous there are plenty of buses that service the neighborhood, including the Q65 bus which stops literally next door and goes straight to the Main St #7 stop so it really couldn't be any easier. (Tip: use westbound express trains in the morning and eastbound at night, to save time on your trips in and out on Manhattan. Another is LIRR 'city pass' which costs only $4 on the weekends and gets you to Penn in under 20 minutes and in relative comfort.) Thanks again Linda and family!
aaron
2013-12-31T00:00:00Z
I stayed 11 nights at Linda's with a friend. Linda was friendly, the room and bathroom were very clean and the room was equipped with air conditioning which was great because the summer in NYC can be quite hot ! We felt very welcome :) The few negative items are related to the neighboorhood : although it feels very safe, it can be a little noisy at night. Plus, it is far from Manhattan (about 1 hour to reach the Met for example). But for budget travelers as we were it is still quite convenient and easy to access with public transportation and definitely worth the price. Thank you Linda for this nice stay !!
Pauline
2015-07-01T00:00:00Z
Linda, the host, was extremely helpful and got in touch with me two days before my arrival to inform me about the directions and how to get into the house. She offered to hold my bags before and after the stay if needed and also provided me with ironing board and iron for my clothes. The location is not bad depending on what your travel plans are. Her directions to get to the house were tremendously helpful and the subway and buses to get to the house have a right frequency from the central city. On arrival, I was greeted by her pet cat which was very friendly. The room was clean just a bit smaller than I thought but nothing of a big issue. Had windows all around in the room. The bathroom is on the second floor and is shared with other House members it was clean and stocked with towels and toiletries for guests. Even though the room is next to the main entrance, it was not noisy during the day or night. The house has the bus stop just down the lane to go to the metro station and has a nearby cafe room which opens at 7 am and has a variety of good breakfast options. Linda was lovely to talk with and helpful. Would recommend this place to anyone looking for a pleasant stay in Flushing.
Priya
2016-11-08T00:00:00Z
Linda and her husband are such a nice hosts! We enjoyed our visit with them and can recommend to stay with them in New York. The House is in such a good area and totally easy to get to the subway in a short walk. The bedroom and bathroom are clean and comfortable.
Esra
2016-05-26T00:00:00Z
Linda's guestroom is clean,warm and comfortable .She gave me detailed advice on how to get to my next destination.She is a very good and kind host。
Helen
2014-02-10T00:00:00Z
An amazing stay, Linda was there to greet me and show me everything I needed to know. Quiet home and comfy bed..will book again!
Lou
2015-12-14T00:00:00Z
It's a nice and warm place for visitors. If you are cats lovers, you better to live here. Linda has two adorable cats and they will "Say hi" everyday. In this house you need to share bathroom with others and Linda will provide extra towels for you. You can use the kitchen to serve self on the second floor. It's just a such lovely small house for every life lovers to live.
Roy
2017-02-21T00:00:00Z
The stay with Linda and Robert was very nice! The room was small but cosy, the location quite perfect - you do not live in the center of NY, but the public transport is near and very convenient, and we felt safe in the neighborhood. I think the description of the place is very accurate, so if that sounds good to you, go for it :)
Matej
2016-12-18T00:00:00Z
Room Type
Private room
---
Property Type
House
---
Accommodates
2
---
Bedrooms
Queens, NY, United States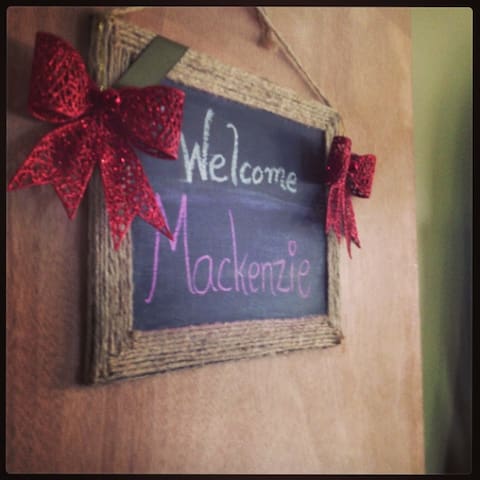 Charming studio cottage in the woods, walking distance to the center of Woodstock, NY. Light-filled cottage is privately set up a tree-lined drive with a stone pathway leading to the front door. Cook in your own kitchen or use the charcoal grill.
The Woodstock Cottage was built by a Woodstock artist 75 years ago, and has been thoughtfully renovated by a local architect. This is the perfect retreat setting for a writer, musician, artist, or other creative type who is looking for privacy, yet not total seclusion. Sleeps 1 to 2 people, or a couple or single parent with a child. Cottage has sleeping loft and a brand new (Dec 2014), extremely comfortable sofa-bed. Year round rates: $150/night .. $700/week .. $2000/month Please note there is a 2 night minimum, unless it is very short notice. Holiday weekends have a 3 night minimum.
We love walking to town along the blue stone sidewalk the Woodstock Volunteers built a few years ago. We like checking out the shops - it seems new ones are popping up all the time (Pacama Handmade is new and great for understated, modern, hand-thrown pottery. Shop Little House has adorable vintage items. And don't miss our independent Golden Notebook for new books.) In the warmer months we get in line at Aba's Falafel at the Farmer's Market, or we eat outside on one of Woodstock's many patios (the Garden Cafe has a great outdoor dining space). In the coldest months, we walk through the snow and treat ourselves to breakfast at Oriole 9.
The cottage is absolutely beautiful and cozy. It's the perfect amount of space for two people for a weekend and we wish we could have stayed longer! The surrounding neighborhood is lovely and it's only a short walk to town. Jennifer and Chris left us a big book of recommended local spots that was super helpful. We'd stay here again in a heartbeat!
Erin
2016-05-16T00:00:00Z
We had a wonderful, relaxing stay at the Woodstock Cottage. Very private, quiet, clean, and comfortable. It was a perfect Upstate getaway spot for my wife and I, as we just wanted a place to unwind and relax. We really liked the comfy living room and basic kitchen, as well as the ladder to the loft/bed area. The cottage is set back from an already quiet road, so it really feels like you're getting away from it all. Excellent communication from the host, and in the cottage there's a binder full of tips and recommendations to help you plan out your activities and restaurant choices. Highly recommended. We look forward to booking another stay soon.
Jeffrey
2017-02-23T00:00:00Z
The Woodstock Cottage was even better in person, extremely well stocked, perfect for anyone wanting to cook and be cozy for a getaway. My mother and I came for a girl's weekend and had plenty of room to stretch out and sew all weekend. We took a few walks around the area and saw many deer, rabbits, it was just lovely. The cottage has a great binder with tips and information that are perfect for someone who didn't do any research on the area or things to do. Highly recommended.
Leah
2015-05-25T00:00:00Z
This was such a great place to stay! Our experience here was unforgettable. Everything was perfect! Highly recommended. AAA+++
Melvin
2015-02-22T00:00:00Z
Great place, great location, great hosts. Private, clean and stocked with everything you need.
Tarikh
2011-06-03T00:00:00Z
This cottage was very enjoyable. The sleeping loft may pose problems for folks who may have issues getting up and down the steps or who are tall. Otherwise, it was clean, well-appointed and convenient to the main drag in Woodstock.
Scott
2016-07-18T00:00:00Z
Jen's cottage is true retreat. We loved the location - short walk into town and nice, quiet residential street. Every morning and night the same cardinal couple, trio of deer and turkey came by for us to watch. The cottage is super clean and stocked with basic essentials and cooking supplies. The sleeping loft was also super cozy, although may be a challenge for those physically unable to crawl into it. Jen was a great host - there when we checked in and then left us to the privacy of the cottage. Also - great movie library. Although we mostly hiked and sat on the patio, it was nice to have the option to pop in an episode of Breaking Bad or a movie before bed. Would totally book again!
Erin & Tony
2011-06-21T00:00:00Z
The cottage was PERFECT. Extremely cozy, quiet, and cute. And Woodstock is a great town to hang out in. A perfect escape from the city. Jen was very helpful and responsive with directions and information. We are hoping to come back again as soon as possible.
JonMolly
2013-12-09T00:00:00Z
Room Type
Entire home/apt
---
Property Type
House
---
Accommodates
2
---
Bedrooms
Woodstock, NY, United States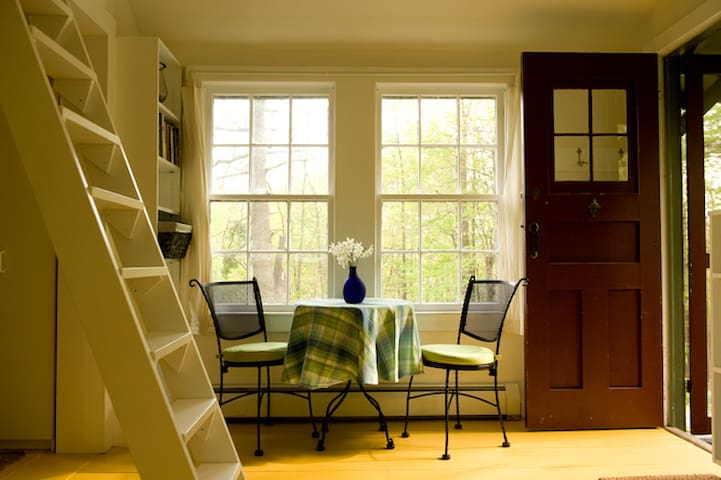 FEATURED IN THE NEW YORK TIMES this 1000q ft penthouse apartment is located in an 1800's Historic Harlem Brownstone. Completely renovated.
This penthouse has been dreamed up as refined sanctuary. A two-flight walk-up through a striking silver hallway brings you to the front door of your space and the private entry vestibule which is covered in exotic black & gold wallpaper with a signature 1970's light fixture and a third flight of original wooden stairs that takes you to the top. In the apartment the long airy corridor has a dramatic Palace Mirror, skylight, Mongolian teak wood floors (that run throughout the apartment) and modern tempered glass balustrades that connect the master bedroom and the open plan kitchen-dining-living space. The large bedroom like the rest of the apartment has hand aged original brick walls and thirteen feet beamed wood ceilings. It overlooks the back garden and has a huge king size bed, stone washed linen sheets with a romantic cotton canopy. Accents include a crystal chandelier, gas fireplace (non-working for safety), a unique Parisian trompe l'oeil wall, Anglo-Indian chaise and a vintage leather topped desk. Plus a flat screen Smart TV with Netflix. The Gourmet kitchen with 1950's wallpaper, has bespoke marble island and counter tops with stove, oven, fridge, dishwasher, hand picked kitchen accouterments and a back lit feature wall, perfect for cooking or just hanging out. The living area is anchored by a historic mantelpiece, oriental rug, mirrored coffee table, a long sectional and Danish modern couch both which turn into comfy sleep beds at night. The window surrounds have been clad in mirrors to view the Harlem street life and the Gothic Revival style church (the birthplace of the Boys Choir of Harlem) across the street. The lighting is unique with striking theatre light fixtures and old-fashioned brass chandelier, which nestle amongst the wood beams. Traditional furniture, artwork, photos and lamps fill the space, including aged teakwood & marble octagonal dining table with Moroccan ottomans for sitting down to a romantic meal. Your apartment also includes one & half bathrooms with exquisite Roman tiles. The large master bath has a glass shower with rain showerhead and wonderful details; the half bath has a sink, toilet, stamped wallpaper & a big washer-dryer. New in wall air-conditioning and heating add to the amenities of this very fine living space. Pure elements and timeless high end design. None of the photos you see have been retouched at all. I provide tea & coffee and simple pantry supplies in your apartment. All amenities listed in the space. We will welcome you and familiarize you with the space and the neighborhood. We are available at any time via phone or e-mail Located on the wide Lenox Avenue, this apartment is one block from the subway and 125th street - the main hub of bustling Harlem with its cosmopolitan culture. Old "landmarks" like Marcus Samuelsson's Red Rooster, Lenox Lounge, and the Apollo Theater are complimented by new additions to the neighborhood, such as the upcoming Whole Foods directly across the street and tasteful French cafes lining the blocks. Harlem is a truly special and vibrant neighborhood - one of the most unique in the city. The brownstone is located one block from the 2 & 3 express trains, both of which will get you to Times Square/Midtown in 15 minutes, and downtown Manhattan & Brooklyn in 30. There are also buses available to take you crosstown to the East side and other subways, plus easy access to La Guardia & JFK airports. There are two other equally fabulous suites available in this brownstone, "Heaven" and "Earth" Both of these can be rented out in combination with this one for a large family vacation or special event. On the ground floor we have our beautiful restaurant Chaiwali.
Located on the wide Lenox Avenue, this apartment is one block from the subway and 125th street - the main hub of bustling Harlem with its cosmopolitan culture. Old "landmarks"
What a gorgeous space! Easily accessible. Anita was very responsive whenever we had questions. It was our home base for a girl's weekend away, and we could not have loved it more. Washer/dryer, heaps of mirrors to brighten everything up, AIR CONDITIONING!!!, gorgeous floors and exposed brick walls, COMFY bed, great kitchen, fun shower. Highly recommended. Hope to stay here again sometime!
Sarah
2016-08-27T00:00:00Z
My parents stayed at Anita's apartment for a week. I spent a few nights with them as well. We were all blown away by the beauty and chicness of the place. I was expecting a lot based on the pictures and I was not disappointed. My parents were very comfortable in the main bedroom and I slept comfortably on the couch. (There's also a pullout sofa bed with sheets, etc but I'm more of a couch girl myself.) The air conditioning was awesome. Above all, the location was what I liked most. It is located a block from a subway station and right in the middle of the Harlem downtown scene. Also near the Apollo theatre. I recommend checking out the open mic night there--it is fabulous! Thanks for the great place, Anita!
Shelby
2015-07-05T00:00:00Z
Anita's team was GREAT! Diane waited for me (due to late arrival) till 10:30pm at night so I could check in! The place is spectacular! Should cost way more than the rent! We used it for my wedding morning for hair and makeup through wedding night. Loved it so much! Thank you, Anita and team!
Peipei
2016-11-01T00:00:00Z
Great stay at Anita's!
Jaelin
2017-02-27T00:00:00Z
We arrived late but still received a very lovely welcome and immediately felt at home. The penthouse apartment is beautiful and a wonderful place to celebrate our 25th anniversary. The listing description was accurate but be sure you can climb a fair amount of stairs. It is the penthouse after all! We also enjoyed the restaurant downstairs. Thanks Anita!
Angela
2016-08-29T00:00:00Z
We arrived very late but still there was someone there to greet us and show us around the apartment. We found the apartment to be lovely and clean and would certainly recommend it to anyone.
Helen
2016-10-29T00:00:00Z
Anita was right on top of it! Over a week before we arrived she was in communication about our trip and making sure the keys were available. The property is stunning. The pictures don't do it justice. Such a nice spot, clean, had all the amenities and the BEST towels EVER. The view from the front windows was just charming, looking right over the busy street and at an old church. Across the street from some of the best patty melts and malts we've ever had. Easy access to the 2 and 3 trains which take you directly to Times Square or 9-11 Memorial. Anita continued to touch bases with us throughout our stay and was so very helpful. We spent out last evening in the restaurant downstairs and got to spend some time with Anita and her bartender, Ugo. What a character! Certainly one of the highlights of the trip. We loved it! We'd absolutely recommend this spot to anyone looking for Airbnb in NYC. Thank you Anita and crew!
Julie
2016-12-18T00:00:00Z
We spent two weeks in Anita's lovely penthouse while our daughter recovered from surgery. There was room for us and for her and it was comfortable and clean. We cooked quite a bit in the kitchen but also took full advantage of the neighborhood haunts. Anita and her manager, Diane, were very responsive and a pleasure to work with.
Rudolph
2017-01-15T00:00:00Z
Room Type
Entire home/apt
---
Property Type
House
---
Accommodates
4
---
Bedrooms
New York, NY, United States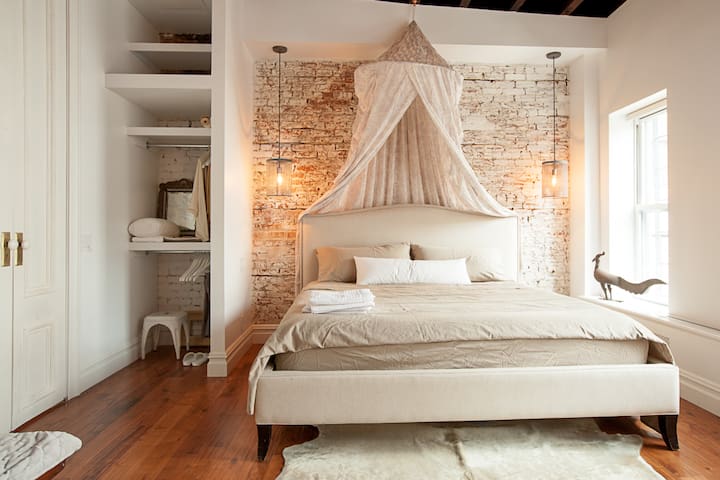 Step into history at Windrift Hall, a tastefully restored 1790s Federal Style Manor house on 14 acres with a private pond overlooking meadows, woods, a gently flowing creek and manicured gardens.
Old world elegance meets new world charm in this classic manor house in the picturesque Hudson River Valley. It features 4 bedrooms with 7 queen/single beds, 2 baths, library, study, gracious center hall, a beautiful country kitchen and sleeps comfortably 12 guests. The house is filled with a mixture of European and American antiques of the Hudson Valley. Every room including the kitchen has a wood burning fireplace. If you like cooking you will love the kitchen. We're passionate cooks, so it's fully equipped with a professional Viking stove, fridge and dishwasher and tons of cooking machines and tools. But the best is the view. The windows are facing the pond. So while you're chopping your vegetables you might be lucky to see a blue heron landing gracefully at the shore or study the hawks circling in midair. Nature is all around you. The house is situated on a hill overlooking beautifully landscaped meadows with fields, mature trees and plantings, stone walls, gardens, a pond and the gently flowing creek which is surrounding the property. In summer you might like to take your meals in the shadow of the 250 old maple tree in front of the house or on the shaded terrace in the back. To cool off you could swim in the pond or lounge in the chaise lounges and deck chairs placed throughout the property. Invigorating or restorative yoga classes and bodywork at reasonable rates are availble in our designated 1100sf pavillion overlooking the pond. Please inquire at our site Windrift Hall for a custom tailored retreat package for your friends and family ranging from yoga, meditation, reiki, deep tissue body work and facials as well as workshops in ceramics and soap and body lotion making. Having wedding plans? We'd be happy to work with you. Set in a secluded and bucolic location, we're very different from the usual corporate venues out there. You will be able to spend some time with your family and friends in a beautiful setting and will have the freedom to create your vision and add your very personal touch to every detail of your special day. Please take a look at our site windrifthall_dot_com for more details and logistics. Since this is a much bigger event than just a small family gathering there are some logistics to keep in mind. We have worked closely together with the Town of Coxsackie and have all the necessary permits to assure you can host your event in a safe and nurturing environment. We are not a wedding factory. The people who come to us are looking for a unique, unforgettable experience in an intimate setting without the usual rush of other places. If that sounds like something you're interested in, we would love to talk to you. Please refer to our calendar for open dates, we'd be happy to show you around and talk about all details of your upcoming event. Looking forward to meet you.
Conveniently located at the corner of Route 81 and 9W, you'll find a supermarket, a gas station, a pharmacy, a pizza restaurant, a wine shop and a medical emergency center. Personally I love to shop at the Black Horse Farm on 9W towards Athens. They have a huge selection of fresh organic produce. While listening to the classic radio station, you can sample their delightful spreads of homemade products while browsing through the shop. Our 300sf spring fed pond is set in a dramatic natural setting and perfect for swimming, but if you feel like going to an outdoor swimming pool, there's the Catskill Valley Pool in the nearby town of Athens. Are you a yogi? You will love our Manduka Pro-Lite mats and props. We're happy to recommend local teachers for an invigorating or restorative yoga class at the pond. You're welcome to use the public tennis courts of Coxsackie or you might enjoy a round of mini-golf on 9W while trying one of the 26 delicious ice cream flavors served at Tom's next door. If you feel like watching a movie we have a flat screen TV with a Netflix account or you might like to see the latest flic at the charming Drive-In Theatre on 9W. If you're interested in historic places don't miss out on a tour through the Broncks House and Museum. It's in walking distance and one of the oldest houses in America. Our library has books about all the historic places in the Hudson Valley, Olana across the river at the Rip van Wrinkle Bridge or Clermont on 9E are just a few other beautiful mansions to visit within 1/2 hours drive. If you stay with us I'm sure you have a love for old and beautiful things. Our place is the best starting point for your antique treasure hunt. For antiquing around the corner we recommend the Coxsackie Antique Center on 9W showcasing the wares of 100 local dealers and across the river is the town of Hudson, famous for some of the most eclectic antique shops in the country. A stroll along picturesque Warren Street takes you to dozens of shops ranging from high-end stores with fine period pieces to unique little boutiques. There are also some nice restaurants. My personal favorites are the Swoon Kitchenbar and Crimson and Sparrow. Some of the best hikes are in the Catskills. You'll find maps, hiking and walking guides as well as other information about Greene County in our library. Within 30min drive there are 2 great ski resorts in the town of Hunter and Wyndham. After a day on the slopes, you will really enjoy to snuggle up in front of one of the 5 working fireplaces in the house. Please refer to the guidebook on this site for exact locations.
This the perfect place for a cozy getaway with some great friends or family. The house is decorated beautifully and the beds are so comfortable. i slept like a baby. Threes plenty of room to roam the grounds and go on nice long walks. I love that the grocery store is only minutes away for everything you need. Sue is super sweet and checked in on us to make sure we settled in nicely. I cant wait to come back!!
Chellise
2012-10-16T00:00:00Z
We had a wonderful weekend at Windrift Hall. Long days filled with burning fires, art, piano, guitar, reading, singalongs and visits to nearby country towns. Long nights of five course dinners (cooked in the gorgeous kitchen), flowing cocktails and live music. The house is perfect for a weekend getaway from the city. We had a group of 8 which was perfect for the house - anymore and it would have been slightly cramped with the 2 bathrooms. My definitely recommended Windrift Hall and can't wait to visit in the summer time.
Emma
2015-03-15T00:00:00Z
We held our wedding just last weekend at Windrift Hall, and we had the most amazing time- if anything, we just wish we had gone swimming in the pond more. Susanne was a delight to deal with the entire time, and I would absolutely recommend Windrift to anyone looking for a unique spot or a rustic retreat. All of our friends thought the house & property were beautiful, and I agree with them.
Michelle
2016-09-13T00:00:00Z
Our host was very welcoming! The description of the house was accurate. Its a great place and we had an awesome time there!
Angelica
2016-04-17T00:00:00Z
We had marvelous time at the sanctuary in Coxaskie! Just the relaxing getaway we all needed. The house is so peaceful and unique, and we truly enjoyed the cozy and well equipped kitchen. The house is so secluded that you don't have to see or hear another soul, but is close enough to town that you can easily restock. Susanne was very helpful and accommodating. Great communication and quick to respond to all inquiries. She kindly let us bring along our small dog, and when the house wasn't ready for the noon check in, she extended our checkout time so we were able to fully enjoy our stay. Great experience and would be very happy to return.
Lora
2016-02-28T00:00:00Z
We had an absolutely magical stay at Windrift Hall this past weekend. This house looks exactly as it does in the pictures, although even more charming in person (however, be advised that it can get very drafty and cold especially on the first night, so dress in layers). We were a group of 13, and spent the majority of our time in front of the roaring fireplaces in the kitchen and living room. The perfect weekend getaway from NYC - and the hosts were a pleasure to deal with!
Lauren
2015-01-11T00:00:00Z
Amazingly beautiful house in the Catskills! Had an amazing time- the hosts were very responsive and helpful. I hope I can come back some time in the future for a longer stay!!
Kristina
2010-12-20T00:00:00Z
The house was beautiful! It had a great aura, was very comfortable and had touches of antique and historical design. The outdoors is a beautiful space, and the lake was very accessible. Had a very peaceful and lovely time.
Lorraine
2016-09-25T00:00:00Z
Room Type
Entire home/apt
---
Property Type
House
---
Accommodates
12
---
Bedrooms
Coxsackie, NY, United States
Experience NYC like a New Yorker! What was once an unfinished basement has been newly renovated into a beautiful & spacious (legal) 1 bedroom apartment. Astoria is a wonderful neighborhood that is quiet, safe and has a great community feel within a huge city. In a few minutes of walking you have a wide array of bars, cafes, restaurants, lounges, shopping stores, and many more to choose from and enjoy. 4 blocks from the R and M subway 46 St. station, 3 train stops to Manhattan.
Basics: - First Level - Private Entrance - Location: Astoria, Queens - Freshly Updated House: SPACIOUS Kitchen: New appliances and fully equipped with PLENTY of utensils, pots & pans, dishes and basic groceries (coffee, tea, sugar, salt, butter, etc.) Dining area: Large table & comfy chairs; sits 4 people Comfortable Living-Room: Couch that pulls out into a queen size sofa bed (with foam mattress for extra comfort), large TV with FREE Netflix account and dozens of DVD selection Crystal Clean Bathroom: Bath/Shower combination, new shower head, essentials: shampoo, conditioner, liquid body wash, new quality soap, iron, hair drier, shower cap, toothpaste, mouth wash, etc. Bedroom: Queen size bed, two windows (with blackout AND shades for extra darkness during the night), spacious dresser, and closet near the bedroom
Astoria has a great community feel to it. It is a lovely neighborhood where you can hear birds chirping all day rather than the non-stop honking you often here in Manhattan. Within a few minutes of walking from various restaurants, diners, lounges, entertainment centers, clubs, bars, cafes, parks, churches, shopping stores, grocery stores, delis, laundry/ dry clean facilities, and more!
Really enjoyed my stay in Michelle's apartment. Apartment was very clean a cozy.
Julia
2016-12-26T00:00:00Z
I had a really good stay ! Michelle is very kind and reactive. The apartment is everything i needed. The only inconvenience was the lack of natural light because it is in the basement.
Marine
2016-12-10T00:00:00Z
This place was amazing! Very clean and neat. Michelle was fantastic and it was in an adorable little community! I have been to NYC many times and this by far was the best!
Samantha
2016-12-13T00:00:00Z
Really cozy apartment, spacious, clean and everything new. Nice place and better host I absolutely recommend it!
Roberto
2017-02-08T00:00:00Z
This is the perfect spot for a NYC trip. It is close to public transit into NYC with many fun restaurants and spots to explore nearby. Michelle is a great host! The apartment is clean and comfortable. We were able to communicate with her easily with any questions. We can't wait to stay here again!
Paige
2017-01-22T00:00:00Z
It is a fantastic place to stay. Very quiet and secluded but still with great proximity to Manhattan. Michelle was always on top of all communication and the place was just as described. Highly recommend!
Thomas
2017-01-15T00:00:00Z
Great accommodations and great value. Full kitchen, comfortable living space. I would highly recommend to anyone. Just a 13 minute walk to subway. Just minutes away from LGA. Try Primos pizza just across the street in the corner.
Aaron
2017-01-02T00:00:00Z
This place was so lovely. Michelle was as accommodating as you could ask. It's a short walk to the train station. Also the bed is big and comfy :) can't recommend this place more. If you have a chance to stay here jump on it!
Christopher
2017-03-01T00:00:00Z
Room Type
Entire home/apt
---
Property Type
House
---
Accommodates
4
---
Bedrooms
Long Island City, NY, United States
Hudson River - Airbnb
:
Average

4.87

out of

5

stars from

2921

guest reviews
1

–

18

of

300+ Home Rentals
Enter dates to see the total trip price including additional fees (but excluding any taxes).