Quiet studio apartment 15 minutes from mid-coast area of Camden, Rockport, and Rockland, Maine. Apartment is large (1400 sq. ft.), sunny, bright, set in a large meadow with expansive views of blueberry fields and surrounding hills of Hope and Appleton. Fully equipped for a comfortable stay or retreat. Couples, solo adventurers, business travelers, and families welcome. Comfortably sleeps 4. Note: Cat in adjacent apt. and our well behaved dogs visit the barn downstairs from time to time.
Apartment is on second floor of new/traditional Maine barn/garage. It is well lit, bright, comfortable with windows on 3 sides. The surrounding fields and hillsides are a lovely backdrop and beautiful in any weather or season. We love this space and the surrounding land. We think others will love staying here too. There is a queen size bed and a full size futon bed upstairs (see pictures). The upstairs area is open to the living area downstairs and the two sleeping areas upstairs are also open to each other. The living room is spacious. The large bathroom is on the first floor. Soap, body wash, towels in the shower/bathroom. Tea/coffee, sugar/cream and very basic cooking materials (salt, pepper, olive oil) in kitchen. There is also a dishwasher and dishwashing/dishwasher soap.
This is a very quiet area. We are five minutes from the little village of Hope, home to the Hope General Store and a few other attractions. The scenic coastal towns of Camden, Rockland, and Rockport are about 15 minutes away, and have many small shops, art galleries, and excellent restaurants (some world class), and walking opportunities. Rockland alone has 18 art galleries and
Mary and Margaret went above and beyond the stars to make us feel welcome. Walking into the beautiful barn suite, we were greeted by breathtaking woodwork, freshly cut flowers, a wonderful note and a gift of artisan soap and delicious jam. These small gifts made us feel like royalty along with amenities of the beautiful barn suite. The barn itself is in an amazing location overlooking the mountains nestled in a nice field surround by trees. At night we turned on the radio as the four of us enjoyed the gorgeous sunset and the blissful silence of being away from the city. If you're looking for a relaxing getaway that's strategically accessible to the Camden, Rockport, Rockland and Thomaston area...this is your place. We truly loved our stay at George Hill Farm and are already dreaming of a return trip to what our boys call their "barn". Thanks again Mary and Margaret for one of the best vacations in recent memory. Cheers!
Antonio & Maha
2016-06-27T00:00:00Z
Loved this spot. Great for a little get-away. Took a cab from C&R Merritt Transportation into Camden for dinner for only $30 roundtrip! What a steal (here's their phone number: Phone: ((PHONE NUMBER HIDDEN)). Really enjoyed this little palace. Would love to come back soon.
Maddison
2016-10-16T00:00:00Z
Beautiful place, just far enough away from busy tourist areas.
Kimberly
2016-09-25T00:00:00Z
Beautiful space in a beautiful setting. Everything we needed, with great hosts. Our 4 year old loved the space.
Ren
2017-03-25T00:00:00Z
Margaret was welcoming and communicative. She made booking very easy. The barn was easy to find, as Margaret gives excellent directions! The property was lovely and exactly like the photos. We enjoyed amazing sunset views and watching the snow fall during our stay. We loved how secluded and quiet it was. We will definitely be back!
Christine
2016-12-29T00:00:00Z
This was quite the find! The barn/studio apartment was beautiful! We had a night out in Union with friends and this was the perfect place to spend a quiet night. Mary and Margret were awesome hosts and we will definitely stay here again the next time we are in the area! Highly recommended!
Jamie
2017-03-19T00:00:00Z
Beautiful building/apartment in a scenic area! If you need peace and quiet this is the place for you. Mary and/or Margaret are quick to respond and make the checking in and out very easy. The apartment is exactly as pictured.
Donna
2017-03-18T00:00:00Z
This place is a gem! The pictures hardly do it justice. My partner and I were craving some quiet solitude after the stressful holiday season. We escaped to Maine from NYC, and this cabin of sorts was everything we wanted, plus even more of what we didn't even know we wanted. We came in off-season, with feet of snow on the grounds. We were woken every morning to the sun reflecting off the surrounding snow, every way we looked for as far as we could see. The kitchen was well-appointed with plenty of pots and pans and equipment, and we never were in want for anything. Wifi was strong, but we found ourselves putting the phones on airplane mode to further enjoy lack of distraction. The hosts were lovely and easy to reach, and we ran into zero issues the entire stay. You're but a 20 minute drive into nearby Rockland with plenty of galleries and shops (though off-season hours may affect this.) We have every intention of coming back and staying here, but this time for the blues festival in August. HIGHLY recommended for anyone wanting a romantic getaway. Beautiful!
Janna
2017-02-20T00:00:00Z
Room Type
Entire home/apt
---
Property Type
Apartment
---
Accommodates
4
---
Bedrooms
Hope, ME, United States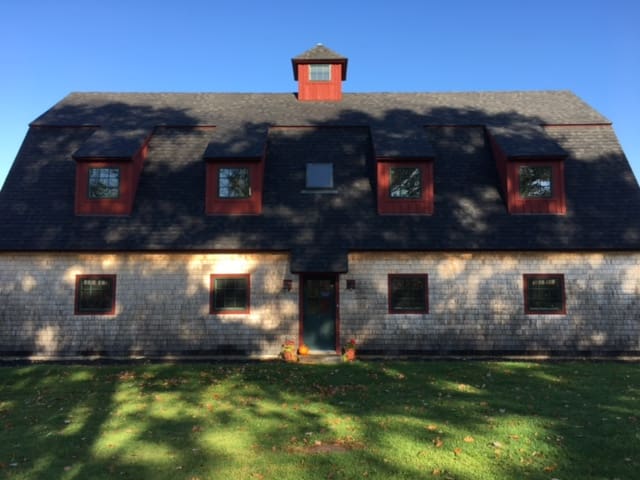 Enjoy a peaceful Maine country setting with convenience to ocean and mountain activities.
Quiet, peaceful, contemplative environment bordered by a hundred acre blueberry field and woods. The apartment is on the second floor and has a private entrance and deck. One bedroom with two twin beds (or combined to king bed), kitchen with stove, refrigerator, microwave, toaster, coffee maker. Living room area with couch and chairs. Full bath with tub/shower. Mind/Body Therapies available for those wanting deeper relaxation or assistance with life changes. Easy access to the coast of Camden and Rockland. Smoke free environment.
the property resides on a quiet rural road yet 2 1/2 miles from the main road. Camden center is a very easy 12 miles away and Rockland center is an easy 15 miles.
Terry was most welcoming! The home/apt. was clean and ready for our stay----- everything that you need regarding apt. accommodations. Terry was a wonderful host. A great peaceful and restful place that is just, far enough away from, and close enough to, the Camden area and all that it has to offer.
James
2015-09-02T00:00:00Z
Terry was a great host, with clean and well maintained apartment. We had very relaxing stay, just what we needed. We enjoyed walking and taking day trips too local towns. Terry was very helpful with sightseeing suggestions.
Levon
2014-07-27T00:00:00Z
Great host. Terry was friendly and welcoming. She even had a fresh pie waiting for us. The apartment is located in a convenient area, very quiet, clean and spacious. Great place to rest and relax. Complete with kitchen, fridge and everything you need to make yourself feel at home away from home.
Cheol
2012-08-13T00:00:00Z
Terry was an excellent host, calling me ahead of time to coordinate my arrival and keeping in touch just enough to make sure I had all the information I needed. Her airy apartment is a perfect place for a quiet stay, the kitchen is well-equipped, the bed is very comfortable, and the location is a great place from which to explore mid-coast Maine. Make sure to ask Terry to point out good places to relax around the property, walks to take, and the way to the pond. You will enjoy your time at her place.
Wendy
2015-05-26T00:00:00Z
Terry was a wonderful host — incredibly warm and welcoming. We arrived somewhat late in the evening and she was there to greet us and show us the place. It wasn't until the sun rose the following morning that I saw the stunning gardens surrounding her home, which aren't quite captured in the photos. The apartment itself is lovely and bright, while the surrounding land is lush and verdant. The blueberry fields are just a moment's stroll from the door. The drive to nearby towns is about as scenic as I can imagine. "Meditate in Hope" is a befitting title for this space; it filled me and my grandmother with the utmost serenity and we do hope to one day return!
Jacqueline
2015-08-03T00:00:00Z
Terry is so welcoming and her space is so warm and comfortable, we were delighted to make a return trip this November. As writers, we value our quiet and our solitude, and Terry is so respectful of both - after being greeted warmly, she leaves us to our own devices. We plan to keep coming back as long as her space is available! :)
Jenny
2014-11-10T00:00:00Z
Terry is wonderful! Excellent communication from the start. She welcomed us as if we were family. The space is full of light and it was so peacefully quiet. We slept the best we have all month--the bed felt like luxury! Terry's well equipped space even had a delicious surprise treat awaiting us! We look forward to visiting again and again.
Amber & Luke
2014-02-18T00:00:00Z
Terry was an amazing host! My sister and I really wanted to visit Maine because we heard so many things about it's nature and wildlife that we couldn't resist going. She was very kind. Our beds were already made, she laid out some snacks for us and made us feel right at home. The place is wonderful too! It's exactly what we needed. Her yard is beautiful as well you feel like you live in a garden. I would stay here again in a heartbeat if I ever come back to Maine.
Luka
2015-06-20T00:00:00Z
Room Type
Entire home/apt
---
Property Type
Apartment
---
Accommodates
2
---
Bedrooms
Hope, ME, United States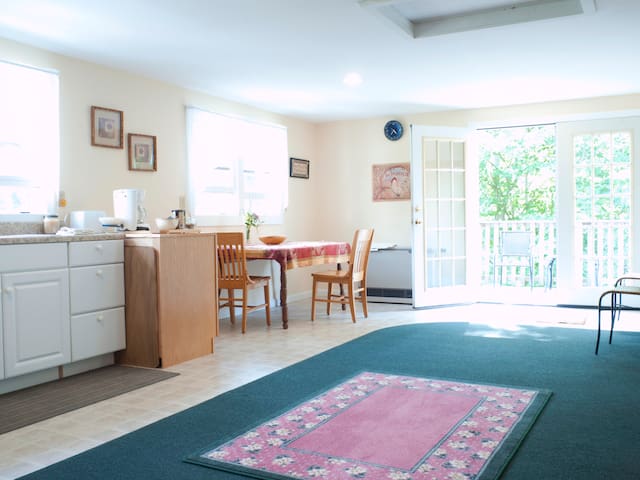 2 bedroom cottage conveniently located 1mile from Pemaquid Light House and less than a 3 miles to beautiful Pemaquid beach. This stand alone property is located on a quiet private road with a right of way to walk along Maine's rocky coast. New Harbor. Bristol.
Bright & sunny 2 bedroom cottage conveniently located 1mile from Pemaquid Light House and less than a 3 miles to beautiful Pemaquid beach. This property is located on a quiet private road with a right of way to walk along Maine's rocky coast. Many local restaurants with waterside dining and a quick drive to local many lobster pounds where you can watch the lobsterman bring in their daily catch. You'll enjoy the water view of Johns Bay from the deck and the smell of ocean air. A great get away for couples, friends or small families. Local activities include kayaking, canoeing, paddle boarding, sailing, biking, yoga & more. Local boat cruises to Monhegan Island, puffin tours & sunset cruises less than 5 minutes away. (URL HIDDEN)
GROCERIES REILLY'S GROCERY, located across from Hanna's Garage in the Center of New Harbor Village provides all of your grocery needs and has beer, wine, fresh meats, fish, produce, bakery and deli. Hours 8:00-6:00 Daily. HANNAFORD SUPERMARKET, 20 min drive. Located 469 Main Street, Damariscotta. (phone number hidden) SHOPPING THE SEA GULL SHOP is located next to the Pemaquid Lighthouse with Maine gifts for all, including Pemaquid Point memorabilia, jewelry, and pottery. (website hidden) THE WALPOLE BARN is located at 135 on State Route 129 in Walpole. They have an array of wines, fresh oysters, and unique gifts. Open daily from 10am – 6pm. (website hidden) PEMAQUID CRAFT CO-OP on New Harbor Hill has a selection of handmade treasures from local artists. Located in the big red building in New Harbor Village. OUT TO EAT SHAW'S FISH AND LOBSTER WHARF is the place to be. The menu offers many seafood choices, steaks, and simple burgers in a very casual atmosphere. The Wharf has live lobsters that can be hand selected in the "Lobster Room" below. The "Raw Bar" is a full outdoor bar where most enjoy evening cocktails, but may enjoy appetizers or dinner. Their hours are 11:00-9:00 daily. (phone number hidden) THE HARBOR ROOM great atmosphere with pub food & more. 11:00-9:00 THE CONTENTED SOLE provides dockside dining with fresh local seafood and homemade pizza. Open daily for lunch and dinner 11:30-9:00 Located near Fort William Henry at Colonial Pemaquid. (phone number hidden) THE ANCHOR Is located in Round Pond with beautiful views of the harbor. THE CUPBOARD CAFÉ is a must during your stay. Located on the Huddle Road, they are known for outstanding breakfast and lunch. They have amazing homemade food with fresh cinnamon rolls & sticky buns. They are open Tues-Sat 8:00-3:00 & Sunday 8:00-12:(phone number hidden) (website hidden) THE SEAGULL SHOP is located next to the Pemaquid Point Lighthouse and serves breakfast, lunch, and dinner. Tues-Thursday 7:30-3:00 Friday –Monday 7:30am-8:00pm BYOB (phone number hidden) COVESIDE RESTAURANT & PUB is located on Coveside Road in South Bristol. It provides fine dining overlooking Christmas Cove or a burger from the pub. They offer entertainment Friday & Saturday night in the pub and on the deck. Thu 4-9:00, lunch & dinner Friday & Saturday (PHONE NUMBER HIDDEN) and Sunday (PHONE NUMBER HIDDEN) PEMAQUID FISHERMANS CO-OP is located overlooking Pemaquid Harbor. This is a very casual lobster pound. BYOB MUSCONGUS BAY LOBSTER is located in Scenic Round Pound. Eat your lobster outside on a spacious deck overlooking the ocean. Open daily 11a-8.p. BYOB
We had a wonderful time in New Harbor. On our first full day, an intense rainstorm drenched the whole coast. We still were able to get out and visit the Cupboard Cafe and Shaw's for great food. And then followed that up by enjoying the coziness of the cottage, drinking cider and playing board games. The following day things cleared up a bit and we were able to venture 20-30 minutes away to nearby Damariscotta for a fun time out. Once back, we took a short walk down to the beach. The beach is rocky like a lot of Maine, but the water was calm so were able to get fairly close. As far as amenities, everything was perfect. Traveling with an infant can be difficult so the laundry facilities we amazingly helpful. The stovetop and the fridge made enjoying light snacks and drinks all very doable. I'm sure we would have cooked dinner more often if there was not so much great food to eat nearby and we were there longer. We drank coffee and tea on the small porch in the mornings and evenings with the view of the bay just beyond the trees. One night it did get a little cold, so we turned up the gas (wood) stove to heat things up. It worked like a charm and really did add to the experience. All in all, we would definitely come back. I wish were closer so it could be a regular place for us to visit. It was pretty much everything we were look for when we planned our trip. The weather could have been more pleasant, but in a way, it being rainy allowed us to enjoy the cottage even more so.
Mathew
2015-10-03T00:00:00Z
What a perfect place for our family vacation! Great location, just out of town and a private beach a short walk down the road. House was soo welcoming when we arrived! Fresh flowers on the table and a couple beers in the fridge, my husband enjoyed! We were surprised our first morning there with fresh warm blueberry muffins. What a treat and soo yummy!! Above and beyond making sure guests are happy and have everything they needed. House was clean and had everything we needed. Washer & Dryer downstairs , keurig in the kitchen, lovely little deck, frog pond out front ( my 2.5 year old loved) ,toys for the kids and big towels in the bathroom! Could actually dry off. We can't wait to go back agIn!! Soo peaceful and relaxing with the perfect hosts .
Heather
2016-08-20T00:00:00Z
What a beautiful location!! Jenn was wonderful to communicate with and really made my wife and I feel welcome. The space was perfect and super close to the beach. When we find ourselves back in the area, we will surely be staying here again! Thanks, Jenn!
chris
2015-06-23T00:00:00Z
This little place was perfect for my little family! We loved the little town and getting to experience driving up and down the coast to experience Acadia, Freeport, and Portland. It was the perfect place inbetween everything and Jennifer was a great host with lots of recommendations and always checked in to make sure we had everything we needed.
Morgan
2016-10-04T00:00:00Z
Jennifer has been a very nice host. She introduced herself and was available to answer any questions. The cottage itself is spacious and is beautifully located five minutes from a private rocky beach which is stunning. Lots of activities are to be reaches easily and quick by car. We were staying as a family of five and really enjoyed our stay!
Miriam
2016-07-31T00:00:00Z
Jennifer was a great host. The place was beautiful. Very clean and cozy. Loved all the brochures and directions to guide us around New Harbor and the neighboring areas. Beaches were amazing and so was the neighborhood. Thank you for a wonderful stay :)
Dave
2016-09-07T00:00:00Z
My husband and I stayed at the cottage for our honeymoon. We had a wonderful experience. We were warmly welcomed with an informative packet of things to do, places to eat, fresh flowers, and thoughtful welcome cards. The neighborhood was peaceful and scenic. The location offers the perfect combination of a quiet get a way while still being only an hour or so from other towns and things to do. We enjoyed local attractions such as the lobster co-op, the lighthouse, and the private access to the shore line just steps from the cottage. We were also able to visit the national park and Portland, both within driving distance. We loved our stay! We would highly recommend it for anyone looking to vacation in Maine.
Ellie
2016-06-08T00:00:00Z
Everything was in order when I arrived. The key was on the table in the unit and Jennifer left a nice note of greeting. The accommodations were great! There's a nice open space for the living and dining room and kitchen. The bathroom was spotless and the shower was terrific! There's a nice private path to a beautiful and quiet bay which was a plus.
Jeffrey
2015-10-06T00:00:00Z
Room Type
Entire home/apt
---
Property Type
Apartment
---
Accommodates
4
---
Bedrooms
New Harbor, ME, United States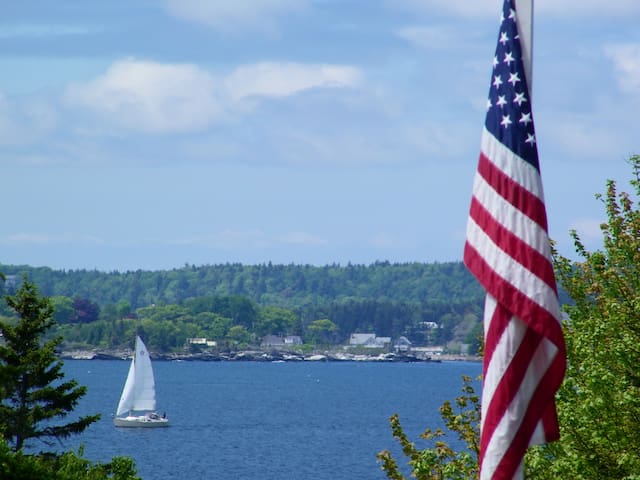 Relax on your own deck and watch the wildlife or explore mid-coast Maine. The apartment has a separate entrance and a huge deck facing the water. We are on a quiet, dead end road with sweeping views of the saltwater river. Great restaurants and outdoor activities nearby.
Relax in your own apartment with an incredible water view. Full kitchen which includes a full size refrigerator with freezer, oven, toaster oven, microwave, dishwasher (soap included), full set of dishes, pots and pans, wine glasses, blender, crockpot, and lobster pot. The bedroom has a queen-size bed, large closet, dresser, and a quiet corner with a desk. The bathroom has a shower and includes a high-efficiency washer and dryer. All linens and soaps are provided. The living room has a pull-out couch and a large screen TV, cable, DVD/CD player. Wifi is accessible throughout the apartment. The apartment comes with its own deck facing the water. On the deck is plenty of seating to enjoy your morning coffee and evening glass of wine. There is also a large table, with an umbrella, and a BBQ for your own use so you can enjoy dinners outside.
Our house is on a quite dead-end road a quarter mile off Route One. Easy access to Boothbay Harbor, Wiscasset, and Damariscotta.
We loved our stay! We stayed here for the weekend to attend a wedding at the Sheepscot Harbour Resort down the road. We had a great experience and highly recommend staying here. Elaine was very welcoming and even made us homemade bread that was delicious. The place was very clean and the view was amazing. We loved the big private porch and having access to the water. I only wish we had stayed longer!
Kasia
2016-08-22T00:00:00Z
Great house. Great location. Can't wait to come back!
Laura
2017-01-29T00:00:00Z
This place is amazing - quaint home, expansive deck, private space and incredible view. Elaine was helpful and accommodating with our early arrival. There were snacks on the counter, cozy blankets in the closet, and lobster fisherman right in the cove. An absolutely delightful, beautiful place to stay!
jayne
2016-05-16T00:00:00Z
Elaine and Jeff were lovely hosts and the waterfront view could not be beat. The apartment was quiet and clean, the picture of tranquility. The area was also wonderful- there were many excellent restaurants and hiking trails in the area also. This is the perfect place for a getaway!
Erin
2016-05-23T00:00:00Z
Elaine's house was clean, comfortable and fully equipped. Also it was located at a quiet wooded setting. But the best part was the beautiful view from it's deck!!! We had a very good time here and will recommend this house to everyone who come to Maine. Thank you, Elaine and Jeff for sharing your house with us. Hai & Kyu from South Korea
Kyu Young
2016-10-08T00:00:00Z
Elaine was the sweetest! We had problems with our car on the way to Maine and got there super late, and she waited for us to get there. The place is absolutely beautiful, and she even left us a personalized guide with what to do around the city. Pictures can't do justice to how beautiful the place is!
Taciana
2016-03-27T00:00:00Z
Elaine is lovely and had answers for any questions I had. If she didn't know she was very prompt at finding out.
Janet
2016-07-07T00:00:00Z
Another great trip with lovely hosts. Lovely scenery that provided immediate relaxation. We made dinners in the well-stocked kitchen and enjoyed them while looking at the sea. My daughter explored the mud flats and the nearby fort. Family friendly and stocked with movies and games. Thanks for the weekend!
Tobie
2016-03-16T00:00:00Z
Room Type
Entire home/apt
---
Property Type
Apartment
---
Accommodates
4
---
Bedrooms
Edgecomb, ME, United States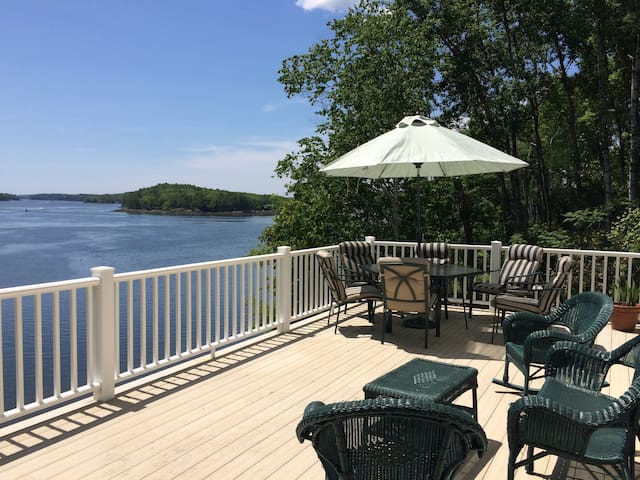 Studio apt. with a deck, overlooking the ocean. This apartment is located over the garage on our oceanfront property. Located in the Pemaquid area (mid-coaat Maine) which includes Pemaquid lighthouse, Pemaquid beach and historic Fort William Henry. Air BnB will add on and collect an occupancy tax of 9.5%
Bold coast, a beautiful sand beach - 2 miles from the apartment. Restaurants in the area and in New Harbor daily boat excursion available to Monhegan Island.
Claire and Dan's home was perfect to visit boothbay. The place is charming, clean and comfortable. Claire and Dan are very nice. Our only regret : We should have stayed longer at their place. Nico and Clémence (from Paris)
Nicolas
2016-07-19T00:00:00Z
We loved Dan's place! It was quiet and tucked away in such a gorgeous part of the coast. We loved our view and the sound of the ocean. Dan and Claire were so wonderful and always available. This was perfect for our stay in Maine, would certainly go back.
Anjuli
2016-08-23T00:00:00Z
Everything was as described in the listing. Very welcoming and helpful hosts. Would absolutely recommend staying at Dan's place to anyone. Fantastic experience.
Andrew
2016-07-06T00:00:00Z
The place was nice, comfortable and cozy. We really enjoyed it. Claire and Dan were welcoming and great hosts!
Katherine
2016-08-01T00:00:00Z
The location is fantastic, overlooking the ocean, with access down to walk along the rocks. The studio apartment is sweet, with a deck and an ocean view.
Eve
2016-08-11T00:00:00Z
Dan and Claire made us feel very welcome and at home. The appartment is in a beautiful spot and it was so peaceful listening to the waves while we slept. Everything we needed was provided. we wish we could have stayed longer. There is so much to do and see in the area. We will definitely return when we have more time and hope Dan's appartment is available for us then. I will recommend it to any friends heading that way.
Edel
2016-08-30T00:00:00Z
Dan was there to show us the apartment when we arrived, and point out all the features! Such a perfect spot for some "ocean therapy". We loved falling asleep each night to the sound of the waves, and relaxing on the deck during the day! Such a peaceful spot on the Maine coast!
Charles
2016-08-27T00:00:00Z
Great location, quiet and picturesque. Hosts were friendly and accommodating to our needs. Would visit again.
Robert
2016-07-16T00:00:00Z
Room Type
Entire home/apt
---
Property Type
Apartment
---
Accommodates
2
---
Bedrooms
Chamberlain, ME, United States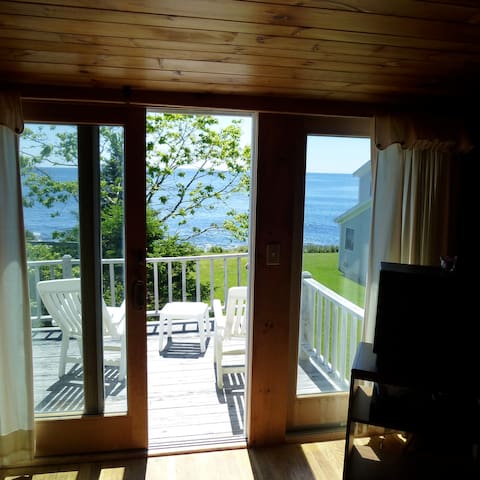 My home is close to ocean, ponds & lakes, great views, Rockland & Camden, art & culture. You'll love my place because of the interior light, the comfy beds, the kitchen & sunny yard. The cozy layout is good for couples, solo adventurers, and families. For maximum happiness & satisfaction read details carefully before booking.
The apartment is 800 sq. ft. and in a Victorian era farmhouse on the second floor and newly renovated. All of the charm of the style is intact and has been enhanced by the separate space.
This is a social and busy spot, not remote nor secluded, the house is located on Rt.1, Maine's coastal highway route, in an area called Glen Cove(URL HIDDEN) . It is busy with traffic during the day and much quieter in the evening. And also here, is a small sandy beach across Rt.1 to which my neighbors are generous to allow us to share access. When the tide is out, one can pack a picnic and 'hike' for a couple of miles along the coast to the Rockland Breakwater; proper athletic footwear enhances the experience! The proximity to so many great places here at Glen Cove are within short driving distance. Rockland has interesting shops and restaurants & draws international favor for its summer festivals, Summer Solstice, Blues Festival, Lobster Festival and May - September First Friday Art Walks(URL HIDDEN) Rockport proper is less commercial with it's pretty harbor and walkable Beauchamp Point trail bringing one as far as Aldemere Farm, Children's Chapel and back through neighborhoods(URL HIDDEN) In Camden where shopping & dining is good & great the town hosts The Windjammer Festival, Christmas by the Sea and The International Toboggan Race at the Camden Snow Bowl Recreation Area (it is a very cheery winter event). Bicycling, kayaking, paddle boarding, Vespa (scootering) is all possible here as well as more Sloth-like activities such as beach blanketing. There are so many creatures birds and deer, fox, ground hogs, beaver and BIRDS in the neighborhood that I call it a highway, through a forest, across from the ocean. We love it!
Sarah is friendly and clear about the details. She met us with some treats and had local food suggestions that were helpful. On our one stormy day she checked in to be sure we were all set. We were very happy with the nicely appointed apartment and found it convenient for our travel.
Cindy
2016-10-30T00:00:00Z
This is a wonderful place to stay if you are looking for all the amenities in a central location. Close to everything and has everything you will ever need (i.e. fully stocked kitchen, washer/dryer, ironing board, TV w/Netflix etc.) Sarah has really put a lot of thought into getting all the details right and it shows. Place is super clean as well and has a nice comfy bed.
Travis
2016-10-04T00:00:00Z
Exactly as described and very near to everything we wanted to do in Maine. Sarah was a very kind and considerate host and we could not have asked for more. The space was clean and tidy and ready upon our arrival. We would recommend this rental to anyone coming to this part of Maine. We will also very fondly remember your cute and special dog 'Light'. Thanks again for all of your hospitality!
Jeffrey
2016-07-27T00:00:00Z
Sarah was an AMAZING host! She was so thoughtful with little details....she provided us with fresh local coffee beans, fresh cow's milk, organic lemonade and a few more treats! Her house was quite a haven in Maine and we look forward to coming back soon! Her loft is a MUST SEE :)
Jessica
2016-08-07T00:00:00Z
Sarah was a wonderful host and we were very happy with our stay. On the first night of our stay we arrived much later than anticipated and Sarah was kind enough to stay up for us and give us a tour of the apartment. The space is adorable! Sarah has spent a lot of time and effort making it comfortable and homey - the photos do not do it justice. The beds were comfortable and everything was incredibly clean. We would definitely come back!
Sabrina
2016-09-05T00:00:00Z
Sarah was a fantastic host! If I could give 6 stars for every category, I would! The place was spotless. All amenities top notch! The beds were very comfortable. The kitchen and bath had everything we needed. The location was perfect. Easy to find, convenient parking, explicit instructions for check-in. Very convenient to Owls Head, Rockland and Rockport, ME. We will definitely return to Sarah's place!
Mimi
2016-11-13T00:00:00Z
My wife, toddler and I stayed in this lovely apartment for 4 nights. It is situated in an ideal location, close to the water, restaurants and shops. The space itself is beautiful and inspiring. The apartment is thoughtfully furnished, clean and cozy. It's obvious that Sarah, the host, has put a lot of time and effort into creating a special experience. Sarah was genuinely hospitable, mindful of any needs we may have had. Overall, we had a wonderful time. The apartment exceeded any expectations we had. We look forward to staying here again!
Angel
2016-07-05T00:00:00Z
Sarah is swet and genuine. I was very happy to have met her and her generosity for letting us into her home. I am very happy with the experience and would definately do it again.
Denise
2016-07-17T00:00:00Z
Room Type
Entire home/apt
---
Property Type
Apartment
---
Accommodates
4
---
Bedrooms
Rockport, ME, United States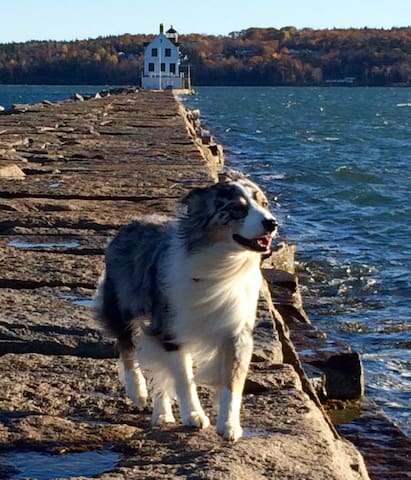 My place is close to antique shoppes with walking distance to Red's Eats. Also near Boothbay Harbor, Brunswick, Bowdoin College, Popham Beach, Reid State Park Beach and Portland. You'll love my place because of period architectural charm, quiet riverside neighborhood, clean and comfortable amenities. My place is good for couples, solo adventurers, and families (with kids).
Enjoy a peaceful weekend in beautiful mid-coast Maine in our charming cozy apartment. Our apartment features modern rustic decor amid a Federal style period home. There is a full kitchen on the first floor with an open plan living room/dining area. Upstairs, the lofted bedroom features a queen-sized bed. The second bedroom has two twin beds and a staircase for private entry.
The apartment is located in a quiet residential neighborhood. It is a quick walk (5 minutes) to Route 1 which is the main street of Wiscasset Village. On Route 1 you'll find many art galleries and antique shops, restaurants (our favorites are Treats and the famous Red's Eats) and a post office. Don't forget to stroll down the side streets on either side of Route 1. There are many shops and galleries tucked away from the main road. Treats also carries a few groceries and specialty items as well as outstanding baked goods and snacks. Their adjoining space is a wine shoppe. If you're looking for a standard grocery store, there is a Shaw's market south on Route 1. Across the street is also a laundromat should you need one during your stay. Another grocery option is the Rising Tide Co-op located in Darimascotta (about 15 minutes up Route 1). You do not need to be a member to shop there and they offer a wide selection of organic produce and meats as well as sundries and bulk items. Montsweag Flea Market is open Friday-Sunday during the summer. They offer dozens of tables of great flea market finds. The market is located south of the apartment and is just a short drive on Route 1.
Jean was very responsive to the one question we raised about wi fi, which in the end worked perfectly well. Wiscasset is a great, understated, town.
Eric
2016-11-25T00:00:00Z
Our stay at Jean's Wiscasset property was great!! The thing that you always hope happens, happened.. We walked in to the apartment and it was better than we anticipated, much better!! The location was great and we have absolutely no complaints! Thanks to Jean for a great stay!!
Cori
2016-09-11T00:00:00Z
Great place. Thanks!
Charles
2016-11-20T00:00:00Z
We had a great stay!
Molly
2016-12-11T00:00:00Z
Nice place. Clean. Great neighborhood. Price was nice.
Jennifer
2016-11-30T00:00:00Z
Jean was fantastic to work with, she provided quick communication and went above and beyond to help us identify places to go with our two young boys. Her home was in a great shape and everything was as described. Location was very convenient to area attractions. Highly recommended, thanks Jean!!!
Cliff
2016-09-26T00:00:00Z
Great apartment in wish asset. Convenient and accessible. Jean was excellent at communicating and ensuring my arrival and stay was comfortable.
Jillian
2016-10-14T00:00:00Z
Jean was great! Everything looked just as photographed in the pictures for her listing. It was a very quiet neighborhood after dark, just what my husband and I wanted for our relaxing trip and tour of Maine. I like that there where Maine travel guides and books in places of the apartment. It was helpful for us to figure out other things we wanted to do while on our trip. Thank you so much for providing this space. We apologize for not understanding how to operate the shower. But thank you so much for being a text/call away for us! We look forward to staying here again.
Tiffany
2016-10-02T00:00:00Z
Room Type
Entire home/apt
---
Property Type
Apartment
---
Accommodates
4
---
Bedrooms
Wiscasset, ME, United States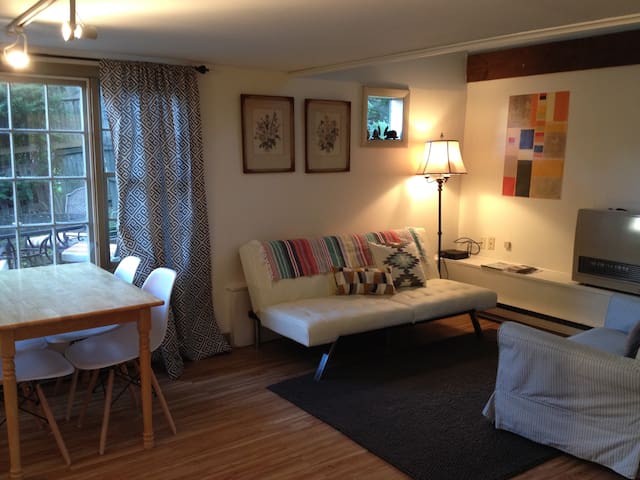 This charming studio apartment is in the heart of historic downtown Rockland and has breath-taking views of the harbor and ocean beyond. Contact us for special 30 day rates.
This charming apartment is located on the main floor of a fully restored historic building which is directly across the street from the harbor. The view and location can't be beat. This efficient studio includes sleeping, sitting and dining areas plus your own private patio in the rear.
The studio apartment is in the heart of Rockland's quaint shopping district. Steps from the front door enjoy seaside restaurants, the Farnsworth Museum, shops, galleries and The Market. Thursdays have fun at the Farmers' Market in Harbor park
Perfect! First time AirBnB experience and it could not have been better! Jeannine was warm and accommodating. The seaside studio is exactly as described. We loved our stay!
Tim
2016-09-07T00:00:00Z
One of our best Airbnb experience! The studio was perfectly located, very well decorated, and fully equipped. Perfect size for a couple. Very comfy bed. The patio was also really nice for a drink after a day of visits in and around Rockland. Jeannine was the perfect host, communication was smooth. She greeted us and gave us a tour of the place when we arrived. Fresh bagels, muffins and blueberry jam were waiting for us in the studio. We would love to stay there again, and we strongly recommend it!
Jennifer
2016-08-29T00:00:00Z
This is a perfect spot for a quiet getaway in downtown Rockland. Easy access across the street to the shore path and to all the shops. If you need a place to hang your hat while exploring the Rockland area, Jeannine's place is an A+.
Ben
2016-08-30T00:00:00Z
If every Airbnb host gave as much thought to the presentation and preparation of their property as Jeannine clearly has the world would be a better place and hotel chains would be struggling to survive. Exactly as described, great position, charming hostess, etc, etc, etc. I doubt we'll be back in Maine in this lifetime, but if we are..............
Barry
2016-10-25T00:00:00Z
Very clean and neat space that was a pleasure to stay in. Jeannine greeted me when I arrived and was very welcoming. The apartment is located right next to the harbor and is a very close walk or drive to many places in Rockland and other beautiful towns. Highly recommended, I would happily stay here again.
Alex
2016-11-11T00:00:00Z
Jeannine's place is great. Jeannine does everything possible to make her guests feel at home and comfortable, including meeting you with muffins and bagels when you check in. The efficiency apartment is spotless and equipped with anything you could possibly need. I highly recommend this place.
Judith M
2017-01-09T00:00:00Z
Jeannine and her lovely studio made my trip home an amazing one. Jeannine was welcoming, helpful and extremely thoughtful. I arrived to bagels and local jam, a fridge with bottles of water and a beautiful studio looking over the harbor. The location was perfect for walking throughout downtown Rockland! The next time I come back home I will most definitely be reaching out to Jeannine for another stay.
Jason
2016-06-26T00:00:00Z
Jeannine's studio is a fantastic and relaxing escape. She has designed the space in a very functional and cozy fashion. It is surprisingly spacious and well equipped. Those who love to cook will be surprised at the wealth of cooking tools. The views of the Harbor are stunning and the location is an easy walk to local shops and restaurants. Jeannine has excellent recommendations for dining options and things to explore nearby.
Jesse
2017-01-17T00:00:00Z
Room Type
Entire home/apt
---
Property Type
Apartment
---
Accommodates
2
---
Bedrooms
Rockland, ME, United States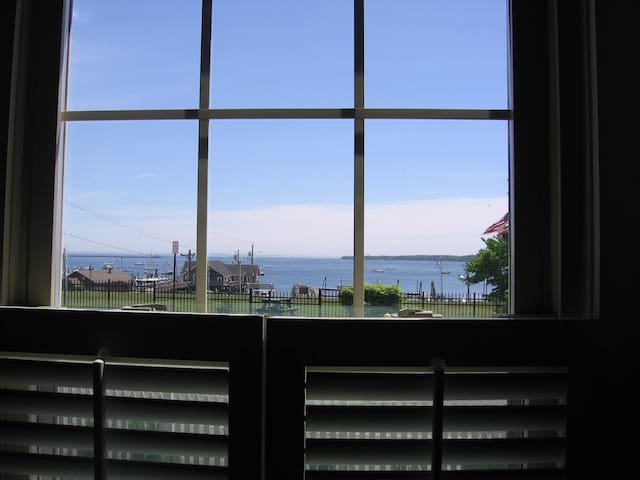 Condo/apartment in the "Lodge" building at the Sheepscot Harbour Village & Resort. Living room/sofa bed, full efficiency kitchen (no stove) microwave, toaster oven, elec. skillet , bedroom/two queen beds and full bath/ shower/tub combo. Patio area.
The cottage is clean, cozy, and well-appointed (WIFI!). The location couldn't be more perfect--an easy walk over the bridge to Wiscasset town. The price was also quite reasonable, and Audray answered all my questions in a timely fashion.
Lora
2015-08-09T00:00:00Z
The condo is ideally located, perfect for exploring the area. It is well furnished and very clean. Audray has been very helpful and friendly and we all had a great time.
lise
2015-07-14T00:00:00Z
Amazing condo & super accommodating hosts. Thank you Audray!
Peter
2016-06-18T00:00:00Z
A lovely condo, thanks for sharing it! We enjoyed the beautiful view, pier, and fire pit very much.
Alicia
2016-07-09T00:00:00Z
We enjoyed our stay at Audray's condo. It was a beautiful place in a beautiful location. We enjoyed walking over the bridge to Sarah's for dinner and spent time visiting family in nearby Gardiner (go visit Monkitree and the A-1 Diner!) and Boothbay. It was a pleasure interacting with Audray.
Laura
2015-11-29T00:00:00Z
Audray's place was so adorable, clean, easy to access and in a convenient location to enjoy the local restaurants and sights. We would love to come back again!
Natalie
2016-10-16T00:00:00Z
The condo complex is located in a lovely setting, and was very convenient to the town I needed to be in to attend a wedding. The room was very comfortable, and was relatively quiet, with a beautiful view of the river. It was a great value compared to what others paid for similar rooms. It was my first Airbnb experience, and for the most part, it was a positive experience.
Robin
2016-07-25T00:00:00Z
Great spot to visit local area. Very central to mid coast and easy drive to all attractions.
Michael
2016-11-27T00:00:00Z
Room Type
Entire home/apt
---
Property Type
Apartment
---
Accommodates
6
---
Bedrooms
Edgecomb, ME, United States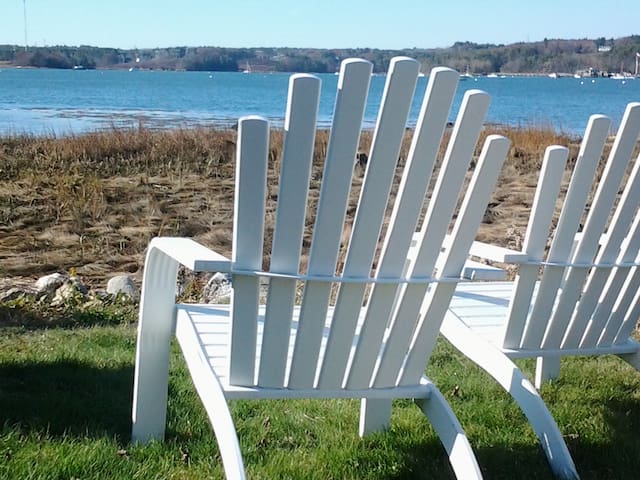 Charming, airy and spacious 1300 sq ft. 2nd floor apartment. Convenient 15 min walk to town of Rockland (3-4 min by car). 3 bedrooms, sleeps 5, fully equipped kitchen. Linens, cooking equipment, etc., everything you will need is included. Back yard w grill. Children & dogs welcome. 2 min walk to ocean.
You will have 2 generous sized bedrooms with queen size beds and a TV/relaxing room with a twin daybed/couch that can accommodate 1 more person. The bedrooms are airy, private and very peaceful, each with it's own fan. It has a large, airy, fully functional, fully equipped eat in kitchen. This combined with the backyard's propane grill lets you prepare anything from breakfast, to a pot of lobsters or grilled steaks. The kitchen is also where music, games and books are kept because families seem to enjoy gathering there. One full bath with a bathtub and shower, and a roomy half-bath which can accommodate morning shaves or makeup, anything except a bath.
The South End offers easy car access to Rockland downtown (3-4 minutes) or walking (15-20 minutes), Rockport/Camden (20 minutes), the Owlshead Lighthouse (10 minutes), Lucia Beach at Birch Point State Park (15 minutes) for beautiful beach and woods walks and the best ocean swimming in the area, Port Clyde (25 minutes or so) for fishing and rental of kayaks, and Thomaston (10 minutes) a sweet quaint little Maine town. Thomaston is home to one of the best restaurants in the area, located where the St George river enters the ocean. We often spend our summer evenings sitting on their deck. Locally we have Sandy Beach and Harbor Park on your walk into town, and Snow Marina, a 2-3 minute walk to the water. It is a lovely little cove with big green park on one side for walking the dog or allowing the children to run free, watching the boats, or just enjoying a beautiful Maine morning or evening sunset. Snow marina is also the site of the Children's Museum and the Sail, Power and Steam Museum. (A note for the hardy- locals swim off the docks on hot days.) Our location means the ocean provides us with fresh ocean breezes all day. And for convenient quick shopping we have a small local grocery store and Jess's fish market just down the street, where everyone comes to buy the freshest fish and lobster for that night's dinner, and a bottle of good wine or local micro-brewed beer too.
Carol's house is perfect, it is a very beatiful and comfortable place, located in the best place of Rockland. Carol is very kind and she gave us all instructions to make our visit a very interesting experience. She is the perfect host, we recommend her house for quite people.
Dolores
2015-09-06T00:00:00Z
We had a great time at Carol's home!! She stayed up to greet us despite our later than expected arrival time. The apartment was spacious and very clean! Carol provided us with great recommendations for restaurants and activities in the area. We will definitely be back!
Ellie
2016-07-05T00:00:00Z
This was my first experience using an Airbnb and it was fantastic. The home was welcoming, the beds good and the kitchen was set up in a great way so it was easy to find everything you might need. Though we did not cook outdoors, there was a great area to barbecue and lots of sitting space with a nice garden. Carol was welcoming and helpful but not intrusive. She also left a booklet with information regarding restaurants, grocery stores and tours and interesting things to see in the area which was also very helpful. I would recommend staying at this home.
Judith
2016-09-06T00:00:00Z
This was really a home away from home. The appartment has everything you can expect, and it is very cosy. And beautiful renovated by Carol herself! You might don't want to go out at all...The kitchen is very well equipped, just in case if you want to prepare your own lobster. Carol is a very nice host and she helps with every question you have plus she already has a brochure with restaurant and other tips about what to do. And there is a lot around Rockland to explore. We really loved our stay at this wonderful place. Thank you Carol!
Birgit
2016-10-11T00:00:00Z
Carol was just awesome. She stayed up late when our flights changed to welcome us and show us what we would need to be comfortable. Each day she gave us new and great reccommendations for things to do and see. Her house was just beautiful, clean and comfortable. We had more than we needed. The beds are SO COMFY! She's in a great location to visit Rockland, Camden, Belfast and so many other places. We were sad to leave.
Jessica
2016-09-29T00:00:00Z
Can't say enough good things about our stay. The house was perfect for our vacation. It felt like the vacation home I wish I could own. Carol was an excellent host and made us feel comfortable plus she has great suggestions for things to do and see. I'm hopeful that we can come back again.
Margaret
2015-09-09T00:00:00Z
Wonderful place in Rockland Maine ... We had a great stay and after a day of sailing it was great to come back to such a delightful apartment.
Perry
2016-07-25T00:00:00Z
The stay with Carol was wonderful. The apartment space is super nice, very clean and spacious and has all the amenities you will need for an extended or short stay. Carol is very welcoming and friendly and she provided written information on local restaurants and other activities to do in the area as well as a handy little map of Rockland, Camden and Rockport. I personally like to fish so she recommended going down to the bay which was a short five minute walk form the house. There were board games available in the apartment for family fun time if you have children and plenty of books to read from the classics to books about the local area. I would highly recommend a visit to Rockland and the surrounding towns and beaches, including a ferry trip out to the islands. The restaurants in Rockland that we visited were very good and reasonably priced and there were plenty of options for breakfast, lunch and dinner. The local boutique markets were also excellent and I would especially recommend Jess's seafood market if you plan tasting the local catch and making dinner. This area in Maine is a beautiful part of the country and there is plenty to see and do for families and/or couples and individuals away for a vacation. Thank you Carol for being such a great host!
Sarah
2015-07-02T00:00:00Z
Room Type
Entire home/apt
---
Property Type
Apartment
---
Accommodates
5
---
Bedrooms
Rockland, ME, United States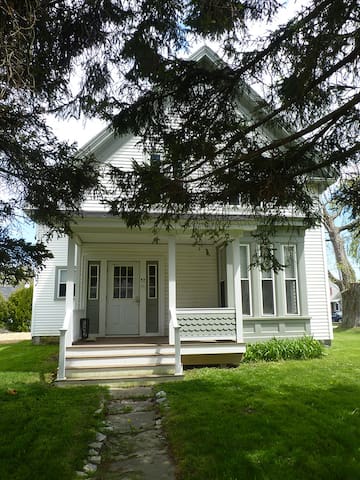 Cute 1 bedroom deckhouse with private wrap-around deck in the inner harbor. Walking distance to downtown Boothbay Harbor. Great spot in the harbor!
Oceanfront cottage-style décor. 1 bedroom with full bathroom, kitchen and living room.
Great location right in the inner harbor! This apartment is ON the East End of the Footbridge.
Stephanie was very communicative in the days leading up to our trip. After we arrived, our host checked in to make sure we had everything we needed. The rental is snug, cozy, and inviting, with everything you might need to feel at home. There are lots of windows in the common area that let in an abundance of sunlight to brighten the place up! We didn't use the porch because it was a bit cold while we were there, but in the summer it would be a great place to hang out. The apartment is a short 5-minute walk from downtown Boothbay Harbor if you take the foot bridge into town. Definitely a great getaway spot!
Adam
2015-10-13T00:00:00Z
Stephanie's Mom was our host, and she gave us great advice on where to swim and have dinner. They graciously lent us their backgammon set when we asked about games, which was great fun for us to play while sitting outside enjoying the view. We absolutely loved the deck house and very much want to return for another visit to Boothbay Harbor. I was also grateful for the flexibility Stephanie showed me in the booking process for this reservation. Thanks again!
Alison
2015-08-21T00:00:00Z
If you're visiting Boothbay Harbor, this is THE BEST place to stay. The proximity, the view, the hospitality...the deckhouse has it all! Margaret and Steve are very accommodating hosts. You have plenty of privacy, while knowing they are there to answer questions if needed. And the location....really can't be beat!
Pam
2016-08-06T00:00:00Z
All was good. Host gave us some great tips on where there were good views of the area. The best view was right on our front deck of the harbor.
pam
2016-07-13T00:00:00Z
Stephanie's apartment was so lovely! Stephanie's parents let us into the apartment, and they were very kind and hospitable. The house was cozy and very clean. There is no a/c, but fans were provided, and the house is so close to the water that a great sea breeze kept things very comfortable. There was a full kitchen complete with stove, microwave, and full-size refrigerator, and towels, soap, and shampoo were all provided, which we felt was so considerate. There is a beautiful deck that looks out on the harbor, and one of our favorite things to do was to sit outside and watch the tide come in or go out, listening to the seagulls crying. Stephanie's parents were such lovely people. They were friendly and helpful, suggesting restaurants and giving us directions to nearby attractions. Everything was very easy and flexible. Such a perfect place for a relaxing weekend!
C. Webster
2016-07-24T00:00:00Z
Stephen and Margaret we're incredible hosts. The views overlooking the harbor and the town of Boothbay are unsurpassable, and it's proximity to the footbridge made getting into town easy, but left the noise on the other side of the bay. We felt right at home! Stephen and Margaret had some great recommendations for everything from places to swim to restaurants. It was surely a trip to remember.
Georges
2015-08-17T00:00:00Z
Thanks for having us again this year. We love your place and hope to come next year again. It is wonderful to have the harbor view and the walking distance to town. Just a perfect place!
Susann
2016-08-17T00:00:00Z
Margaret was great! We were greeted warmly upon arrival and we enjoyed our 2 night stay very much. Clean, comfortable and great location. Very nice experience overall.
Mary Beth
2016-10-02T00:00:00Z
Room Type
Entire home/apt
---
Property Type
Apartment
---
Accommodates
2
---
Bedrooms
Boothbay Harbor, ME, United States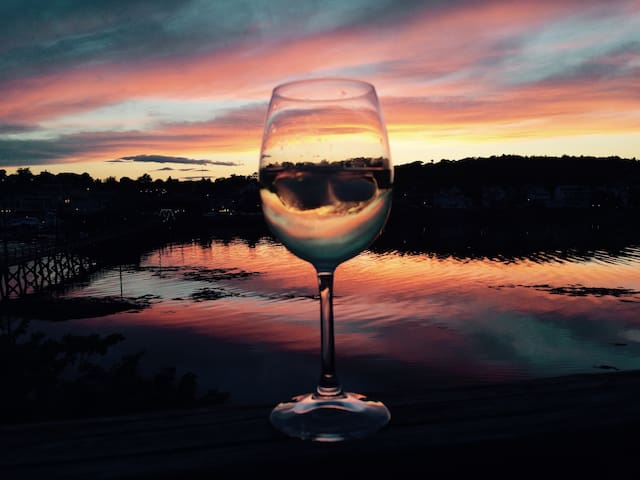 Retreat into the romance of coastal Maine: this exquisite 1800s Boothbay Harbor cottage (1BR, 1BA, sleeps 4) bursts with vintage character and antique charm. Right next door is Mama D's where you can enjoy a home cooked brunch or lunch. Pet friendly!
Retreat into the romance of coastal Maine: this exquisite 1800s Boothbay Harbor cottage (1BR, 1BA, sleeps 4) bursts with vintage character and antique charm. Right next door is Mama D's where you can enjoy a home cooked brunch or lunch. Other activities include sailing the Eastwind or whale watching. Pet friendly! INSIDE THE RENTAL This cottage, "Snug Harbor," is located across the road from the water's edge, where guests can sit and gaze out over the harbor. Access the home via a back deck with bench seating. Inside, you'll find a fully equipped eat-in kitchen with with seating for 2. Deep blue cabinetry, spacious counter-top, with modern white appliances, including an electric glass top stove/oven provide all the conveniences for your vacation needs. A door from the kitchen conceals the original wooden staircase that leads down to the basement, which equipped with washer and dryer. Back upstairs, a carpeted hall leads to the living area, where original hardwood floors underpin a thoughtful collection of antique decor and seating for 3. Modern conveniences haven't been overlooked: a 24" Insignia TV is mounted on the wall. If you want room for 2 more guests, no problem: the couch pulls out to a full sleeper bed. In the bathroom, features include a tub/shower combo and single granite vanity. Up another flight of stairs lies the bedroom and antechamber sitting room. Under lofted ceilings sit a dresser, side table, bench, and armchair, all set on original 1800s wood floors. Walk through to the bedroom, where a brand new queen bed rests on a gold metal frame. Note: Unit has a portable ac unit and baseboard heating THE LOCATION You're right in the center of downtown Boothbay Harbor, with splendid food and fascinating attractions to choose from. Mama D's, brunch favorite for the locals, is just next door, Walk down to Commercial Street, just half a mile, and choose from whale watching at Maine Whale Watch, several great cruise operators, or renting your own boat at Schooner Eastward. When all that fresh sea air's whetted your appetite, head back to shore and take your pick. Locals recommend lobster rolls at Shannon's, or there's tapas and wine at the Boathouse Bistro. Check out the Coastal Maine Botanical Garden, 10 minutes' drive, as well as the many nature preserves in the area. An intimate getaway for just 2 or your group of 4 in a vintage charmer, this centrally located Snug Harbor is your retreat from the world. THE TURNKEY ADVANTAGE Our property is TurnKey Rental Certified. All photos, amenities, calendar, and rates are 100% accurate. We will notify you proactively when early check-in / late check-outs are possible and you'll receive the comforts of home with a starter supply of shampoo, soaps, paper products and hotel-quality towels and linens. And we make it easy to stay with us! Drive straight to your rental and access the rental with a unique lock code that we give only to you. When you book, we will send you our mobile app with directions, lock code, and instructions. We're available 24 hours a day with live help. All Turn Key Vacation Rentals follow local and state tax rules. Each reservation includes applicable taxes, a cleaning fee, and a Property Damage Protection policy.
Room Type
Entire home/apt
---
Property Type
Apartment
---
Accommodates
4
---
Bedrooms
Boothbay Harbor, ME, United States
Small studio apartment attached to a main house in a small mid-coast Maine village. Kayaking, swimming, hiking and sight seeing nearby. Dog friendly with extra deposit.
This was a great little place with the right price and a very quick drive to downtown Rockland. It was nice to have a private bathroom and mini kitchen with a fridge for our left overs from the amazing Cafe Miranda in town. Another great feature was the little breakfast bar to enjoy the fruit and water provided. Be sure to check with Ev on how to get in the house of she is not home. It is simple, but a little weird when it's dark and your not sure how to get in or if you're at the right place. This was partially my fault for not being clear but it is super easy to find even in the dark!
Melissa
2015-11-02T00:00:00Z
Excellent experience, great host. Very private, quiet, and comfortable. Great furnishings. Close to everything, short walk to the beach. Perfect location for my extended stay while in town for work, couldn't have been any better. Thank you.
isaac
2015-10-07T00:00:00Z
Ev's place was perfect, very clean,and bright. The beautiful flowers were welcoming as was the fruit and coffee. It was so easy to communicate, and she gave me some great recommendations for fun things to do. Her house is on a quiet street and at the end is a secluded beach where my dog could run. Lots to do in the area I hope to come back soon!
Patricia
2016-06-20T00:00:00Z
My girlfriend and I had an incredible time! Wonderful little set up and if we are ever in the area again we will most definitely stay here.
Alex
2016-06-04T00:00:00Z
Nice rooms, almost an apartment itself. Well furnished. Friendly host.
Michael
2015-10-24T00:00:00Z
We enjoyed our brief stay in this rural area. The small, clean space-- an area off the main house-- is cleverly designed so it felt spacious. Lots of windows so you could see the outdoors. There was a cheerful little garden in the rear. You can sit and contemplate the waving stalks of Queen Anne's Lace, one of Maine's wild flowers. Location is excellent for those seeking nearby island adventures. We met Ev , who was very pleasant, and her lovely, sweet and quiet black and white dog. The price is economical for those who would like to stay in this otherwise very expensive area in the summer. Oh and a rooster crowed one morning! I was pleased but it only crowed once ...
Margaret
2016-08-21T00:00:00Z
I loved this apartment! It was really clean, quiet and very cute! It had everything I needed to be comfortable and was in a beautiful location.
amy
2016-08-08T00:00:00Z
Evelyn is an extremely nice and caring host. Cannot recommend her enough!
Tristan
2016-08-09T00:00:00Z
Room Type
Entire home/apt
---
Property Type
Apartment
---
Accommodates
2
---
Bedrooms
Owls Head, ME, United States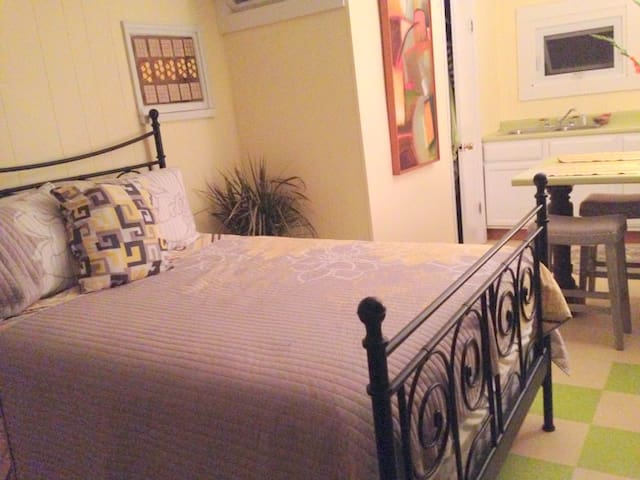 Inquire about winter discount . Our vintage modern cottage apartment is just the perfect space for your Camden vacation . We are walking distance to town , one block from the public launch . Private entrance separate from main house. The Apt is located on first floor of our two family home .
Decor is fun and we are walking distance to everything .
The views , the shops , food , location . So Maine!
This spot and accommodations were amazing! The cottage and it's use of space was fantastically done, and made for a wonderful get-away spot. I have to say I'm very impressed with the accomodations, my friends heard me go "Ooh!" as I explored every provided room - everything was laid out thoughtfully ahead of time - even down to the nutcrackers for lobsta that was laid out on the table - we appreciated every bit of it. Great stay :-)
Eric
2015-08-19T00:00:00Z
Ana is a great host, very friendly and prompt to answer any request. The apartment is well located. The two bedrooms are very large and beds are comfortable. The apartment is nice and we will gladly come back.
Claire
2015-04-30T00:00:00Z
Nice location that is an easy walk to town. Would rent again.
Vincent
2016-09-05T00:00:00Z
Harbor Breeze-Cottage was lovely and our host, Ana Luisa, made us feel very welcome through email and phone calls. Directions and access were clear and easy, and the accommodations were wonderful: wide plank floors and comfortable beds and sofa, plus lovely designer touches in all the rooms, while preserving that beachy down east feel. The kitchen was well-appointed and we made use of if for morning coffee and simple breakfasts. Harbor Breeze is situated well for taking advantage of everything Camden has to offer, and the views from just a few steps outside are stunning. The neighborhood is quiet and friendly, which we appreciated on our morning walks. Three adults easily shared the space with plenty of room and privacy. Frankly, we really did not want to leave at the end of our stay and will definitely return again. Ana Luisa is right: life really is better in flip flops!
Sarah
2014-08-23T00:00:00Z
Great location that is a quick walk into Camden. Place was very clean, well kept and private.
Peter
2015-08-17T00:00:00Z
We had a great stay in Camden! The property was lovely and the in-town location was perfect for our needs. It's just a quick 1/2 mile walk to shops and restaurants. Ana Luisa was super friendly and helpful through the whole process.
Kathryn
2017-01-29T00:00:00Z
Our stay at Ana Luisa's property was absolutely amazing. The apartment exceeded our expectations. The apartment was well equipped and comfortably fit all four of us with additional room. We felt very safe and secure. The host was kind and helpful upon our arrival. We would definitely rent this apartment again.
Jennifer
2017-03-13T00:00:00Z
Great place. So charming:
Regina
2017-03-28T00:00:00Z
Room Type
Entire home/apt
---
Property Type
Apartment
---
Accommodates
4
---
Bedrooms
Camden, ME, United States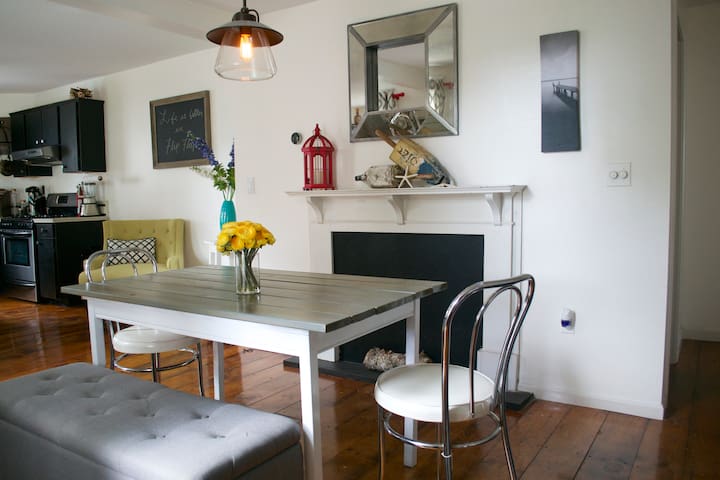 This Tiny House Cottage is located on the same property as Lobster Cove Cottages and has great views, restaurants and dining are within walking distance, the beach is just across the cove. My place is good for couples, solo adventurers, and business travelers. A 9% Maine Lodging Tax will be added to your reservation as well as $100. cleaning fee.
Room Type
Entire home/apt
---
Property Type
Apartment
---
Accommodates
1
---
Bedrooms
Boothbay Harbor, ME, United States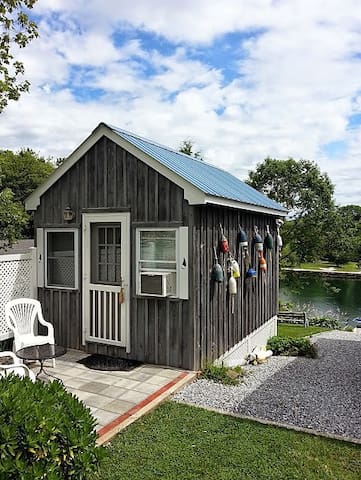 OAK HAVEN Pemaquid Peninsula--- Waterfront, quiet, private, fully furnished, apartment on 50 acres of conservation land. Located on a private peninsula in the village of Walpole, in the town of South Bristol in Midcoast Maine, on a tidal estuary (The North Branch) of John's River. The apartment has private deck with table & chairs and gas grill, with your private waterside picnic table and sitting area. The apartment was built in 2007 and has everything you might need. Maximum 4 people.
Very private and quiet peaceful space. Watch the tide fill up and empty the tidal estuary every 6 hours. 10 minutes to white sand Pemaquid Beach. 5 minutes to Pemaquid Harbor Fishermen's Co-op restaurant. Freshest seafood ever, lobsters, etc. Picnic benches overlooking working harbor. We provide, at no cost to you, all products that find their way to the septic system: Bio Degradable, all Natural, shampoo, conditioner, hand & face soap, dishwashing detergent and laundry detergent.
Beautiful Midcoast Maine; Working Fishing villages, Lobsters, Organic Farms, Whale watching boat rides, Lobsters, spectacular Pemaquid Light house on the cliffs, Lobsters, bold ocean, art galleries, , fishing, Lobsters, Kayaking, white sand beach on John's Bay, and Lobsters. Famous picturesque Boothbay Harbor only 38 minutes away with tourist attractions & many restaurants.
I traveled to Maine for a college friend's wedding and Samuel and Louisa's place was the perfect location, although a bit hard to find in the dark. They were great at communicating right away and provided all the essentials like towels and even a wine bottle for the weekend. So nice! The house was very clean and there was plenty of space for all four of us. The outdoor area was cute. I wish I had more time to relax and enjoy it. I hope to come visit Maine again and if I do, I would definitely stay here again. Thanks you Samuel and Louisa for being amazing hosts!
Alyssa
2016-09-26T00:00:00Z
Wow! We can't say enough good things about Samuel and Louise, or their place in South Bristol. What a wonderful home from which to enjoy quiet time with nature in the Pemaquid area. The place is situated on an estuary where you can watch the tides come in and out twice a day. It is super private and still close to all the things you might want to see, do, and enjoy in this part of Maine. The apartment itself is perfectly appointed with all-new furnishings, warm comforters for cold nights, wifi, a deck and grill, and a fully functional kitchen space. This was a perfect getaway for our family of two adults and two kids (ages 5 and 7). Samuel and Louise are gracious hosts. They took time out to give us the full rundown on the place, tell us about the surrounding land, and chat about other fun things. We have stayed in a number or Airbnb's in Maine during this past summer. This was the prize-winning place and the consummate Airbnb experience. The memories alone will last a lifetime!
David
2016-08-05T00:00:00Z
Samuel and Louisa were waiting for us at the driveway to the home we rented. That was a great and personal touch. The home was spotless and more than we could have asked for. We really did not need to bring anything. They supplied everything. 4 of us went, 2 couples, and there was more than enough room for all of us. The home is in the woods where all you can hear is nature. Perfect after a day in Boothbay with all the hustle and bustle. I am definitely booking again next year or sooner. They recommended a breakfast spot that was the best ever. When we got there they took the time to show us everything about the house and did not spend too much time doing so. they really showed that they cared about us having a good time and all that we needed. they even brought us nut crackers so we could enjoy our lobster feast.(URL HIDDEN)would recommend them to any one who wants a beautiful quiet home all to yourselves in the middle of nature and close to everything. It was perfect.
wayne
2016-09-06T00:00:00Z
What a lovely, peaceful spot! This is a great place to stay if you want to be surrounded by nature. We were greeted by Samuel and given a thorough orientation. He was very helpful with where to go for dinner, etc. The space is so clean! I loved that they use all organic cleaning products. The kitchen and grill were great for cooking at home. I would definitely stay here again and recommend it to others.
Jenn
2016-08-24T00:00:00Z
We really enjoyed our stay at Oak Haven! The apartment was very clean and had everything we needed. It was very private, quiet and relaxing. Samuel was a great host. He was welcoming and gave us alot of information about the area.
Lauren
2016-08-14T00:00:00Z
Beautiful views, very comfortable stay, great price. My family and I stayed in this apartment while visiting the area. The hosts are so kind and everything was thought through to make our stay perfect. The kitchen and living room provided my family a home away from home and the beds are cozy. I would love to stay here again.
Allison
2017-03-06T00:00:00Z
We had a terrific time staying at Samuel and Louisa's place over Thanksgiving. The apartment was very clean and cozy and we felt very welcome. This was one of the best Airbnb experiences that we've had yet--we are looking forward to staying here again in the future!
Skyelar
2016-11-26T00:00:00Z
Our hosts were very kind and thoughtful and sweet and we were given all the privacy we wanted but also felt that they were right there if we needed anything. We've stayed at several airbnbs over the last couple of years and this one was the MOST fabulous. The pristine quiet, woodsy estuarine space, the most fetching abode and a feeling of calm were all pervasive. It was beautiful. At one point I sat out in the chairs by the estuary, watching the tide go out and playing my guitar, and a mixed flock of songbirds came into the trees above me -- Red Breasted Nuthatches, Chickadees, Brown Creepers, Golden Crowned Kinglets, American Redstarts, Black and White Warbler, Black Throated Green Warbler, Red Eyed Vireos, Prairie Warbler and Blackpoll Warbler, maybe 35 individuals all around me, totally magical. This place is akin to paradise and the warmth and beauty is just plain perfect. Thank you! We will be back!
Oen
2016-08-21T00:00:00Z
Room Type
Entire home/apt
---
Property Type
Apartment
---
Accommodates
4
---
Bedrooms
South Bristol, ME, United States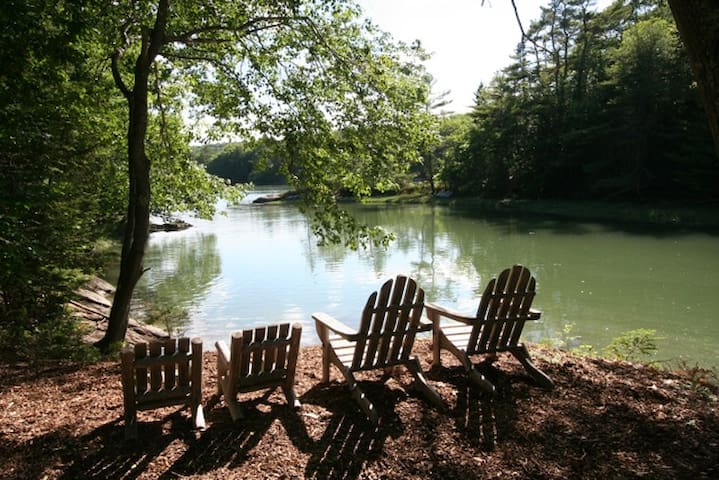 Just off Rockport Harbor, and situated on a stream, this one bedroom apartment has it's own private entrance and small deck. Located on the back side of RAYR - the wine shop and Sea Biscuit Bakery, this charming apartment is within a 10-minute walk of two wonderful restaurants in the village of Rockport, Nina June and 18 Central, as well as a deli, The Market Basket. A wonderful getaway space for couples and solo adventurers, you'll love it because of the location and ambiance.
Room Type
Entire home/apt
---
Property Type
Apartment
---
Accommodates
2
---
Bedrooms
Rockport, ME, United States
My place is close to art and culture, great views, the beach, and restaurants and dining. You'll love my place because of the quiet and location. My place is good for couples, solo adventurers, and business travelers.
This is a quiet, lovely year round neighborhood.
Great place in a quiet and beautiful location! The house had everything I needed for a week at Maine Media Workshops, and Joan was a perfect host. I was pleasantly surprised to find a hiking/running trail up the street that leads to a gorgeous harbor overlook, wow. Walking to the bathroom at night could be tricky for some as it involves one step down and three steps up. This place has beautiful morning light and I'd recommend it to anyone who wants a peaceful stay in the Rockport/Camden area.
Ben
2016-08-28T00:00:00Z
Beautiful view of the water. Fresh flowers awaited our arrival and there were snacks in the fridge and oatmeal and coffee:tea available for breakfast. Joan was kind and gracious. A lovely hostess.
Janet
2016-08-08T00:00:00Z
We had an amazing time staying at Joan's apartment!! The space was very welcoming and had a nice homey feel that we felt very comfortable in right away. We were doing a lot of traveling within Maine during our stay so this was a perfect location equidistant to both Acadia National Park and Portland, but also close to other harbor cities we wanted to visit. We truly appreciated Joan's thoughtfulness and personal touch for having fresh-cut flowers on the kitchen table, some staples in the fridge, as well as a nice welcome note with a bottle of wine since my husband and I were celebrating our first anniversary. If you are looking for a quiet, beautiful place to stay that truly feels like home, this is it! We completely recommend this listing, and when we (hopefully soon) return to Maine - this will be the first listing we check! Thank you Joan!! We were so happy to be your first Airbnb guests!
Danielle
2016-06-19T00:00:00Z
Joan met me and showed me around, showed me where/how to find answers to questions and had everything ready. Thank you for a wonderful place to work from....I want to come back for a non working stay!
Carolyn
2016-08-16T00:00:00Z
Wir haben uns bei Joan in der kleinen gut ausgestatteten Wohnung sehr wohl gefühlt. Der Raum ist hell, freundlich und mit schönem Ausblick ausgestattet. Man kann sogar durch die Bäume auf die Bucht sehen. Ruhige Lage. Rockport ist ein kleiner Ort, in dem es einiges gibt, sogar eine kleine Oper. Die Umgebung ermöglicht viele Aktivitäten (Meer, See, Wandern, Kunst in Rockland, geselliges Treiben im Nachbarort Camden). Joan ist eine ausgesprochen freundliche und beeindruckende Person. Wir wären gern länger geblieben.
Doris
2016-08-21T00:00:00Z
Room Type
Entire home/apt
---
Property Type
Apartment
---
Accommodates
2
---
Bedrooms
Rockport, ME, United States
Friendship - Airbnb
:
Average

4.93

out of

5

stars from

518

guest reviews
1

–

18

of

110 Apartment Rentals
Enter dates to see the total trip price including additional fees (but excluding any taxes).