The apartment is very nice as you can see on the pictures! It's fully equipped for short or longer stays! It's suited for 6 guests: It has 3 rooms with 6 beds in total! Public transport takes you to the Citycenter Stephansplatz in less than 25min: 2 stations by tram (or 10min by feet) and than 5 stations with the underground! Parking is free on the streets around the apartment (rare in Vienna) even in the evenings you will find free space. The reviews below are ususally very good!
Smartphone App "Quando" is very helpfull for all ways you are doing in vienna with public transport. The Apartment: The apartment is located in a quiet street without much car traffic. It is in the second floor. There is no elevator, but the stairs ar wide and the steps are low. So they are easy to go. The apartment has 3 bedrooms with 21m2 , 18m2 and 11m2 . The 11m2 large room is located behind the 18m2 large room . The 21m2 room is equipped with a very large double bed , two bedside tables , a couch and coffee table , a desk and a large built-in box . The 18m2 large room also has a double bed , 2 sofa chairs plus table , a large bedside table and a desk. And a flat screen TV with cable channels . In 11m2 large room has two single beds and a very large sliding-door-closet . In the kitchen is a dining area for 5 people, a washing machine and dishwasher Getting to the apartment / Arrival with train or from aiport: Underground line 1 (U1) is very good to get to the apartment the station is Reumannplatz. Viennas Central Train Station is connected to it as well. It is also possible to go there from te aiport. J ust 3 Stations to Reumannplatz. You reach the apartment from Reumannplatz with the tramway. Its Line 6 and 2 Stations in direction to Burggasse/Stadthalle to the Station Neilreichgasse. The Herzgasse is just 50 Meters away from that. .) From the Central Train Station it is also possible to go directly by tramway. Line O is leaving from there. Direction Migerkaserne, its 4 Stations till "Arthaberplatz". Than its 4 min walk the Davidgasse to the Herzgasse and the apartment Getting to the City Center from the apartment: .) Tramway Line 6 goes in the "Quellenstraße" You get there if you turn right when you walk out of the House of the Apartment and go down the Herzgasse to ist beginning. There you see the tramway station Nelreichgasse. Its two Station in Direction Fickeystraße/Zentralfriedhof to Reumannplatz. .) By feet it takes less then 10min (800m) to get to Underground Station Reumannplatz. Turn right when you leave the house and than turn right again at the next crossing. The Rotenhofgasse leads directly to the Underground Station Reumannplatz.
Wenn man aus der Wohnung nach rechts geht kommt in 30 Metern die Rotenhofgasse. Diese nach rechts mündet nach 800 Metern in die U1 Station Reumannplatz. Gehzeit ist weniger als 10 Minuten. Im direkten Umfeld der Wohnung (200 Meter) befinden sich 5 Supermärkte darunter Eurospar und Lidl, Hofer (Aldi) in 400 Meter Entfernung. Weiters finden sich im direkten Umfeld sehr viele Gastronomiemöglichkeiten. Tankstelle mit beinahe Supermarktpreisen in 100 Metern Entfernung. Offen jeden Tag 6.00 bis 22.00. Bäcker ebenfalls in 100 Metern Entfernung.
The apartment is well equipped with good instructions and information about Vienna. It is outside of the centre but with good transport links. There are loads of supermarkets in the area. If you're looking for delicious traditional Austrian food you have to go to Meixner's Gastwirtschaft within walking distance or two tram stops. Tino arranged a friend to be at the apartment for our arrival, much appreciated. He provided great directions and then showed us around the apartment on arrival.
Nadine
2016-12-04T00:00:00Z
The Tino's apartment is clean nice and comfortable. Not far from the center and from the metro station. Strongly recommended!
Federico
2016-02-29T00:00:00Z
We had a great time at Tino's apartment. He was very helpful giving directions on how to get to the flat, and also left instructions on how to use different things inside the house. The apartment is beautiful and comfortable, just like the pictures. The neighborhood is nice, quiet, with fast food restaurants and cafés. The flat is very close to a tram stop, and from there you can easily reach more central metro stations within a few minutes.
Victoria
2015-12-18T00:00:00Z
Tino was not available for the handover for keys, thus organized his friend to be there. All worked out well and fine, very nice welcome and chat for the handover. The apartment was clean all what was needed for a two days & night stay. The equipment was ok, not the most comfortable setup but enough for two nights and price. The place is ok to be reached via tram and underground within 30 min in the city centre, however not in the most secure area.
Claudia
2016-07-06T00:00:00Z
Tino is super welcoming host and made sure we have everything. Apartment is not in the centre but easy to reach to using tram and metro. I can recommend this apartment.
Ksenia & Igor
2016-12-14T00:00:00Z
Tino couldn't meet me at arrival but sent his friend Walter who was equally as helpful and was already waiting for us. It's in a great location close to everywhere on the metro with loads of shops near by. I would definitely recommend this place to anyone coming to Vienna. It has everything you need!
Katherine
2016-10-27T00:00:00Z
the rooms are big, as the.picture, and confitable. we had staid 5 nights. the more we stay, the more we felt convinient. the host is young, and active,but still new in this business. Trust soon will be even better.
Grace
2015-10-30T00:00:00Z
We are very happy that we have stayed at Tino's apartments. It's close to public transport and it doesn't take a lot of time to get to the city center. Apartments have everything for comfort living, a lot of supermarkets and small shops nearby.
Andrii
2016-11-27T00:00:00Z
Room Type
Entire home/apt
---
Property Type
House
---
Accommodates
6
---
Bedrooms
Wien, Wien, Austria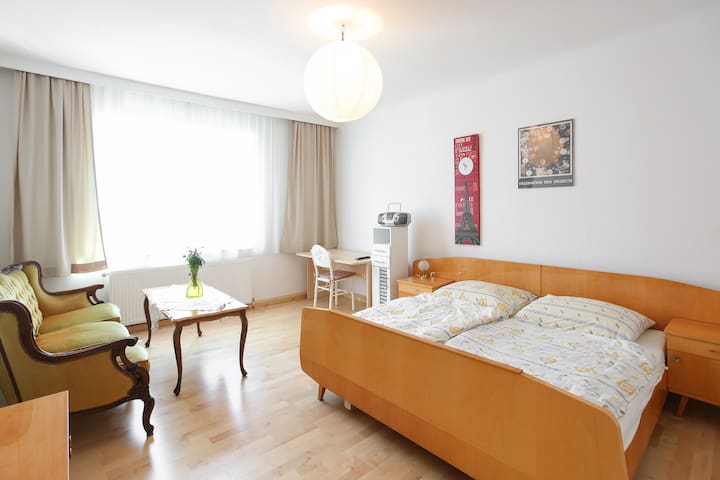 I am a mother of three children who study classic music. My family are Koreans. Usually my children practice musical instrument before 10pm, sometimes you can hear the sound vaguely. I like to travel....I am interested in music, all kinds of art. My house is located near the Vienna Central Station. Your can park your car for free on the roadside around my house. Only non-smoker can stay in my house. In my house, wearing the sleeper(we provide) is recommend.
This room is located at first floor. The room size of the room is 5*5.20m.
Kyongah and her family are very welcoming. They are very nice people. The room is spacious and very comfortable. I highly recommend the room. I was very happy with everything there.
Ivona
2017-03-17T00:00:00Z
Pretty good experience, clean room, location is acceptable and friendly host
Michael
2015-08-22T00:00:00Z
I enjoyed my stay in the piano room. The room is gigantic and the bed is very comfortable.
Scott
2014-11-17T00:00:00Z
Room is very nice, l like it! Mr.Lee also a nice man, I had a feeling such like " I am coming home". There is a few train stop to center, walk about 5 minutes can reach the train station.
Ted
2014-12-01T00:00:00Z
Very clean and quiet apartment, extremely clean, fantastic location, very friendly host - I had to have an operation in Vienna and she made sure I knew the location of the hospital, very helpful indeed. I would highly recommend this accomodation - for the price it was simply fantastic.
Michael
2015-08-07T00:00:00Z
Calm, clean and very spacious room in a calm neighbourhood near the main trainstation of Vienna. Very friendly hosts in a peaceful and agreeable atmosphere and lovely little details –there was fruit, tea and candles in my room! Thank you, Kyonga!
bianca
2017-04-02T00:00:00Z
I am so happy to have chosen the piano room! Kyongah and her family are very kind and provided tea and fruit (there is a water boiler in the room -very convenient). The room was very large, yet warm in winter, quiet, and the location is perfect! I could also use the kitchen, the refrigerator and the washing machine. The appartment is very spacious and authentic. Thanks a lot for hosting me!
Laura
2014-12-24T00:00:00Z
Kyongah and her husband Lee were very welcoming and helpful. The room is large, with plenty of space to store clothes, and to sit and do some work. Staying there was a lovely way to begin my visit to Vienna.
Toni
2015-08-12T00:00:00Z
Room Type
Private room
---
Property Type
House
---
Accommodates
3
---
Bedrooms
Vienna, Vienna, Austria
The house can be undisturbed alone use without the owner. Furthermore the house is just 3 km walk 50 meters from the tram and 500 meters from the Metro is the central station
'Cottage', Vienna 10 The house is in the English style (listed) SIGHTSEEING 7-minute walk from Reumannplatz / U1, 2 blocks to tram. 6 "Kaiser Franz Josef Jubilee Foundation". The building built by Josef Unger. The family house is unusual and unique in this form for Vienna. Idyllischer yard (British Style) Secluded, sunny (website hidden). 80 m² living space on two floors, central heating. Ground floor: kitchen + large living room, toilet 1st floor: bedroom, bathroom, Fully equipped kitchen with a dishwasher, 4-burner stove with oven, microwave, TV, DVD, stereo, etc. Nice cozy living. Garden furniture. Child-friendly, for the holidays is a laundry washing machine. By car Motorway A23 favorites (five minutes). Free parking in front of the house on the street. Very good accessibility Vienna: Sights (Wien Center 1 District reached in 10 minutes from the house by public transport). Vienna is old, Vienna is new - and so varied: from the magnificent Baroque through the 'golden' Art Nouveau to the latest architecture. And more than 100 museums attract ... Follow in the footsteps of the Habsburg monarchy of yore, visit the splendid baroque palaces Schönbrunn and Belvedere (2 km), take in the Hofburg a look at the control center of the former giant empire and take a walk on the magnificent Ringstrasse. With horse-drawn carriage through Vienna They belong to Vienna as St. Stephen's Cathedral and the Riesendrad: the cab. A ride on one of the two-horse carriages part of the culmination of many tourists. A more comfortable way to explore the beauty of Vienna, it almost does not exist. Art Nouveau: Visit Klimt and Schiele at the sites of their activity. 'Age its art - the art its freedom.' This is inscribed above the portal of the Secession, one of the most famous buildings of the Viennese Art Nouveau about 1900. Nearby (500 meters) you will find many shops (Favoritenstrasse). There are some taverns and many restaurants (100m) in the area. Oberlaa Spa, Spa is located 10 minutes by tram to reach (2 km). Visit the Therme Wien - The thermal bath in Vienna offers relaxation for body and soul. Treat yourself to the luxury and see purely! The Bohemian Prater can be reached on foot in 5 minutes. The Bohemian Prater recreational needs As a family destination of Bohemian Prater is perfect, and has been for over 150 years as it stand out of the history of the 'brick Böhm' (website hidden) many options to choose from to spend a relaxing or exciting day. But the sport is not neglected. When the Bohemian Prater, a BMX track, as well as a running checkpoint is located. Furthermore, you can walk through the recreation area on the Laaer Berg. The Bohemian Prater is also an amusement park and amusement park in Vienna. Attractions: theme restaurants, autodrome, Jumpin 'Tower, Samba Tower, Rockin and many rides for children and Erwachsene.Für children are numerous attractions available, as well as special events. You will find Vienna travel guide and information on all events in and around Vienna. We would be pleased to welcome you to our home as guests! Respect for our house is not a parking area but are free parking on the street available!
Free Oarkplätze before on the road
Nice and kind owner. The property is practical as it has good connectons. We were well assisted during the stay. A nice bakery is very close to the property. Full recomendations from our family. We would use it again.
Aleksandar
2016-05-09T00:00:00Z
Dean kept in communication with me as I traveled to the space and greeted me with the keys and a tour upon arrival. The home was quiet and comfortable and exactly like it looked online. He is next door and available and his family is kind. The patio was where I spent a lot of time. Dean even took me to watch the rest of the Austria final game (Soccer for us Americans) at the local pub when the cable went out. He promptly had it serviced the next day. The neighborhood is 10th district and only about a km from Reumannplatz Ubahn station, which was great for me. There are plenty of bakeries, restaurants and stores nearby and several modes of transportation. Staying in a neighborhood instead of a tourist area was perfect for me and gave me a much better feel for parts of Vienna. As a new visitor it may be helpful if there were more information provided regarding tram and train maps, for example, but I also figured it out pretty quickly on my own. I had a great stay and would be happy to stay again!
Angus
2016-07-03T00:00:00Z
Was great . Perfect location , quiet area,very clean...we come back soon.
Sabrina
2016-12-24T00:00:00Z
The house is big and well equiped, with a lot of natural light. The terrace is great.
Vane
2016-10-30T00:00:00Z
Everything as described... and even better. We are really satisfied, house was clean, got everything we needed. Quiet and peaceful neighbourhood.
Radovan
2016-06-05T00:00:00Z
The description given was accurate and the neighbourhood was quiet. Neighbours seemed friendly and welcoming too. Dean was kind and made sure to check if all was ok or if we needed additional help. All facilities such as cafe, high st are quite close to the location.
Rachna
2016-10-26T00:00:00Z
Dean is a very nice and friendly host. The house is nice and clean. It's located in quiet neighbourhood close to a big park.
Paweł
2016-05-21T00:00:00Z
Molto bella comoda e pulita ve la consiglio vivamente
Dario
2016-11-13T00:00:00Z
Room Type
Entire home/apt
---
Property Type
House
---
Accommodates
4
---
Bedrooms
Vienna, Vienna, Austria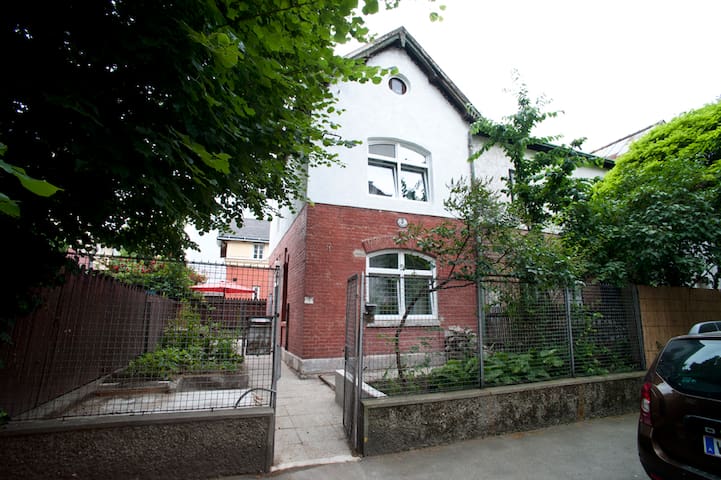 beautiful house with garden for holidays or work in Vienna, 15 minutes to city center with public transport. Perfect for families or couples. Fully equiped kitchen. big living room, big room, bathroom w/bathtub, toilet, and great garden.
Unpretentious really comfortable family house with big Garden, close to the big green woods called Böhmische Prater. 15/ 20 minutes to city center. Fully equipped and decorated with love. If you had enough of ikea houses this is maybe for you.
The house is amazing and you feel like in another world, quiet and restful. Fantastic!
Vlad
2015-08-16T00:00:00Z
The House is very nice, beautiful garden, nice place with a good neighborhood, shops nearby..lovely
Marco
2017-04-03T00:00:00Z
Staying at this house was a great experience. The house had a lot of space, a beautiful garden and very quiet at night. Although it isn't close to the center, you are 10 minutes walk from the Metro Station. The kitchen is well equipped. We had breakfast every morning and ate dinner most of the nights. There's wi-fi available and it worked great. Great shower. Raul was a great host, gave us all the information that we needed.
Manuela
2016-08-30T00:00:00Z
Very nice place with a wonderful garden. I recommend it to all users :)
Paweł
2015-09-10T00:00:00Z
I never met Raul, but his friend Adriana was waiting for us when we arrived. She showed us how to use different things and where things were. There was a list on the fridge on how to use things, and important numbers. The place was comfortable for our family (wife and two kids 4 and 6). We ate outside on the back patio and cooked most of our meals there. The bus is a 5 -8 minute walk and from there you head can be at Reumannplatz in about 5 minutes. There is a great Nature walk not far from the house with two small lakes and a few small playgrounds. The place was clean and comfortable and filled with culture; books photos, records, etc. It was great for our kids to be there...
Thomas
2015-07-19T00:00:00Z
Le logement est bien placé, à proximité des transport en commun. Les photos sont identiques à la maison. Nous avons passé un très bon séjour et les enfant ont pu apprécier de jouer dans le jardin aussi.
Mandana
2016-08-01T00:00:00Z
Room Type
Entire home/apt
---
Property Type
House
---
Accommodates
4
---
Bedrooms
Wien, Wien, Austria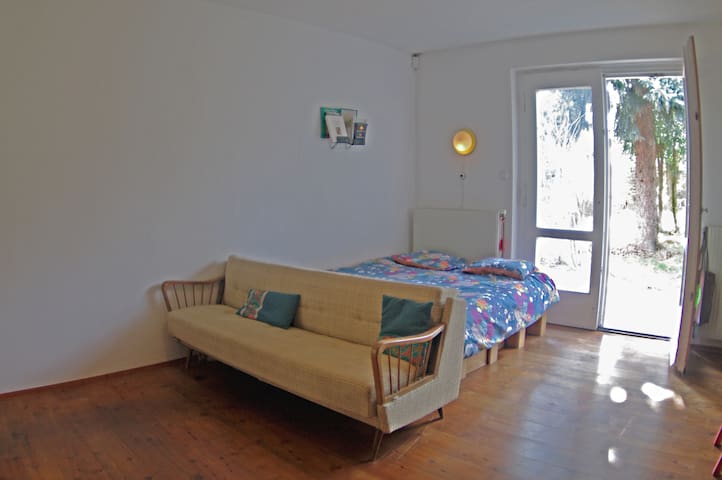 I am a mother of three children who study classic music. My family are Koreans. Usually my children practice musical instrument before 10pm, sometimes you can hear the sound vaguely. I like to travel....I am interested in music, all kinds of art. My house is located near the Vienna Central Station. Your can park your car for free on the roadside around my house. Only non-smoker can stay in my house. In my house, wearing the sleeper(we provide) is recommend.
This room is located at first floor. The room size of the room is 5*5.20m.
The host canceled this reservation 4 days before arrival. This is an automated posting.
Hugo
2015-07-29T00:00:00Z
Thanks again Kyongah and your family! We spent a lovely weekend and we felt like home. All of you were so kind and helpful to us and the flat was really comfortable! We could use the kitchen and we had some fruits and coffee when we left.
Amélie
2015-12-02T00:00:00Z
Neighbourhood was fine. Kyongah engaged with us with good communication. We asked for an extra hour to checkout and she was okay with that (our transport was only available at 12 instead of 11. We left the room clean/empty at 9am and put our suitcase downstairs so even though we checked out one hour later we checked out of the room at 9am.
June
2016-08-15T00:00:00Z
Spacious and clean apartment. The host is very nice even provide free tea to us. Appreciate it:)
Ying
2016-03-03T00:00:00Z
Nice place with lots of important things closeby. Kyongah and her husband was really nice and helpful.
Dipankar
2015-08-12T00:00:00Z
Kyongah and her husband were very, very friendly and helped us get settled right away. They also made us coffee on the last day. The room was as described, very spacious, and we even had some tea on the table. The neighborhood was safe and quiet. We had a very pleasant stay at Kyongah's apartment!
Andreea
2015-08-30T00:00:00Z
Every thing ok. Thank you.
Jorge
2016-08-12T00:00:00Z
Our experience in Kyongah's apartment is really nice. Although we don't meet Kyongah, we are served well by her husband, Lee. He is really nice and dilligent I thought. Location is good, and bedroom is very big. We really enjoy our last time in Vienna there. We can borrow a weightscale, so our luggage not overweight in airport. Thank you so much for your help. Gamsahabnida!
Mario
2015-01-05T00:00:00Z
Room Type
Private room
---
Property Type
House
---
Accommodates
5
---
Bedrooms
Wien, Vienna, Austria
Meine Unterkunft ist in der Nähe von Ankerbrot AG, OstLicht Gesellschaft mbH, Favoritenstraße, Ankerbrotfabrik Fürsorge-GmbH und Laxenburger Straße 66. Meine Unterkunft ist gut für paare, alleinreisende abenteurer, geschäftsreisende und familien (mit kindern).
'Cottage", Wien 10 Das Haus ist im englischen Stil (denkmalgeschützt) SEHENSWERT 7 Gehminuten vom Reumannplatz / U1, 2 Häuserblocks zu Straßenbahnlinie 6. "Kaiser-Franz-Josef-Jubiläumsstiftung". Das Gebäude wurden von Josef Unger errichtet. Das Einfamilienhaus ist in dieser Form für Wien ungewöhnlich und einzigartig. Idyllischer Vorgarten (British Style) Un einsehbarer, sonniger Garten. Ca. 90 m² Wohnfläche auf zwei Etagen, Zentralheizung. Erdgeschoss: Küche + großes Wohnzimmer, WC 1. Stock: Schlafzimmer, Bad, Voll-ausgestattete Küche mit einer Spülmaschine, 4 Plattenherd mit Backofen, Mikrowelle, TV-Gerät, DVD, Musikanlage, u.v.m. Schönes gemütliches Wohnen. Gartenmöbel. Kinderfreundlich, für die Urlaubswäsche steht eine Waschmaschine zur Verfügung. Mit dem PKW Autobahnabfahrt Favoriten A23 (fünf Minuten). Gratis Parkplatz vor dem Haus auf der Strasse. Sehr gute Erreichbarkeit Wien: Sehenswürdigkeiten (Wien Zentrum 1 Bezirk in 10 Minuten vom Haus mit öffentlichen Verkehrsmitteln erreichbar). Wien ist alt, Wien ist neu – und so vielfältig: von den Prachtbauten des Barock über den 'goldenen' Jugendstil bis zu aktueller Architektur. Und mehr als 100 Museen locken... Wandeln Sie auf den Spuren der Habsburger-Monarchie von einst, besuchen Sie die prächtigen Barockschlösser Schönbrunn und Belvedere (2 km entfernt), werfen Sie in der Hofburg einen Blick auf die Schaltzentrale des einstigen Riesenreiches und spazieren Sie über die prächtige Ringstraße. Mit dem Fiaker durch Wien Sie gehören zu Wien wie der Stephansdom und das Riesenrad: die Fiaker. Eine Fahrt mit einer der zweispännigen Kutschen gehört zum Höhepunkt vieler Touristen. Einen gemütlicheren Weg, die Schönheiten Wiens zu erkunden, gibt es fast nicht. Jugendstil: Besuchen Sie Klimt und Schiele an den Stätten ihres Wirkens. 'Der Zeit ihre Kunst - der Kunst ihre Freiheit.' So steht es über dem Portal der Secession, einem der wohl berühmtesten Gebäude des Wiener Jugendstils um 1900. In der Umgebung (500 Meter) finden Sie Viele Einkaufsmöglichkeiten (Favoritenstrasse). Es gibt einige Heurige und viele Restaurants (100m) in der Umgebung. Therme Oberlaa, Kurbad liegt 10min mit der Straßenbahn entfernt (2 km). Besuchen Sie die Therme Wien - Das Thermalbad in Wien bietet Ihnen Entspannung für Körper und Seele. Gönnen Sie sich den Luxus und schauen Sie rein! Der Böhmische Prater ist zu Fuß in 5. Minuten erreichbar. Der Böhmische Prater als Erholungsgebiet Als Familienausflugsziel ist der Böhmische Prater bestens geeignet, und das schon seit über 150 Jahren, wie es aus der Geschichte des 'Ziegelböhm' hervorgeht. Es stehen zahlreiche Möglichkeiten zur Auswahl, um einen erholsamen oder auch spannenden Tag zu verbringen. Aber auch der Sport kommt nicht zu kurz. Beim Böhmischen Prater befindet sich eine BMX-Bahn, sowie ein Running-Checkpoint. Weiters kann man durch das Erholungsgebiet am Laaer Berg wandern. Der Böhmische Prater ist zugleich ein Vergnügungspark und Freizeitpark in Wien. Attraktionen: Themenrestaurants, Autodrom, Jumpin' Tower, Samba Tower, Rockin und viele Fahrgeschäfte für Kinder und Erwachsene.Für Kinder stehen zahlreiche Attraktionen zur Verfügung, wie auch spezielle Veranstaltungen. Bei uns finden Sie Wien Reiseführer und Informationen über alle Veranstaltungen in Wien und Umgebung. Wir würden uns freuen, Sie in unserem Hause als Gäste begrüßen zu können! Achtung vor unserem Haus ist kein Parkplatz vorhanden jedoch sind gratis Parkplätze auf der Straße vorhanden!
Laaerberg, Böhmischer Prater, Oberlaa
The host canceled this reservation 54 days before arrival. This is an automated posting.
Georgi
2016-11-06T00:00:00Z
Room Type
Entire home/apt
---
Property Type
House
---
Accommodates
6
---
Bedrooms
Wien, Wien, Austria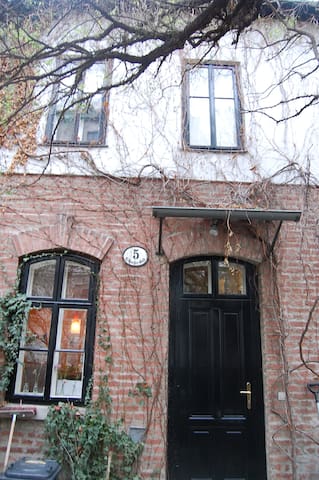 Favoriten - Airbnb
:
Average

4.48

out of

5

stars from

199

guest reviews